All the news for Saturday 30 January 2021

Countdown to Tokyo: Steve Horgan explains the role of an Olympic Umpires Manager




Steve Horgan is a man utterly devoted to umpiring. The American blew his whistle at both the Atlanta 1996 and Sydney 2000 Olympic Games as well as World Cup and Champions Trophy events. Since 2012, he has regularly been appointed to FIH events as an Umpires Manager, putting those years of international umpiring experience to very good use.

Later this year, Steve – who is also Director of Umpiring at USA Field Hockey – will attend the Olympic Games Tokyo 2020 as one of four Umpires Managers, working alongside Marelize de Klerk (RSA), Philip Schellekens (NED) and Minka Woolley (AUS) of Australia overseeing a team of 28 umpires.

But what exactly is an Umpires Manager? In a special interview, Steve Horgan gives some insight into what it takes to ensure that the umpires can perform at their best on the biggest stage in world sport.  

Steve Horgan, thanks for talking to us! You have been appointed as one of four Umpires Managers for the upcoming Olympic Games in Tokyo. You must have been thrilled about the appointment, which was made some time ago now!

Steve Horgan: "It's been 20 years, I guess! My last Olympics [as an umpire] was Sydney 2000, and now we are in 2021, with the extension. I'm very honoured. I am the luckiest person when it comes to hockey, to be able to do what I've been able to do. I'm very blessed, having great support from USA Field Hockey, friends, family, you name it. I could not be more thrilled. I'm very honoured that the FIH appointed me to the Tokyo Olympics. It's been a lot of work. It's going to be two years preparation for it, given the first [postponement]."

Can you give a summary of the roles and responsibilities of an Umpires Manager at an FIH events? For the Olympics we know you will be working alongside Marelize de Klerk of South Africa, Philip Schellekens of the Netherlands and Minka Woolley of Australia. There is a lot of experience there. How does that all combine together to help the umpires do their jobs?

Steve Horgan: "What we try to do is monitor them leading up to the Olympics.  They have their on-field practice, we have communications, fitness reports. It is just like a team would prepare. However, teams can stay within their group and know what they are doing. But for umpires, we have to reach around the world to make contact with them and understand what they are doing. Their challenges, their successes. So that's kind of how we do it, to keep them going. We know that the FIH Hockey Pro League is a little slow right now, so the opportunities of high-level hockey have been minimal, but we try to monitor their domestic hockey, their international hockey and just try to get them prepared, thinking about the game. We are just getting ready to have our first full Zoom meeting with all of the umpires, but we've been in contact with them for over a year now. It's been a bit of a roller-coaster, as you can imagine. But our job is to prepare them the best that we can remotely, so that when we hit Tokyo, we know that they are fit, we know that they have practised and studied, ensuring that they are as ready as they can be to go for the Games.

"Once we get there, our job is to manage them just like a team manager would. We manage the appointments; we make sure that their hotels are taken care of. Any issues that they have, they come to us. With the umpires, I believe that on six of the first seven days in Tokyo there are eight games a day, so you can imagine four Umpires Managers trying to manage eight games a day! The umpires are going to be coming and going, and we have to make appointments – there will be four appointments for each match, when you factor in the video umpire and reserve umpire and of course the two on the pitch. There is a lot of work to do there, but we basically manage. We know we are not going to sleep, which is okay! We also do video review of their games with them, things of that nature. We try to keep them as positive and engaged as possible when we are at these events, trying to manage everything from the on-field to the off-field issues that they might have."

You umpired at both the Atlanta 1996 and Sydney 2000 Olympic Games. Clearly those experiences stand you in good stead for when you are trying to communicate with the umpires and what they are experiencing, especially when it might be their first Olympics.

Steve Horgan: "The things I hope to be able to bring to a number of them is things that we lived through. My point being that nerves are through the roof! When you walk onto that pitch at your first Olympic Games, it is like 'oh my gosh, this is real, and I am here'. You can go to all the other events, but when you walk onto that pitch, I really cannot explain it other than saying it is awesome. But you cannot let that shatter you, knowing where you are. One of the things I know we can bring to them is yes, you are going to be in awe at the beginning of it. But once you start blowing your whistle, you pretty much get into your element. You just do what you do, and have fun doing what you do. You can block the rest of it out, it is another hockey game – a very important hockey game, don't get me wrong! But you can enjoy it by inserting yourself into the match like you would normally do. Yes, there is a lot of tension, but trying to keep the nerves down will probably be the biggest goal as an Umpires Manager, because [playing] teams don't accept second best. You have to be sharp as soon as you walk in and cannot let some of these outside things bother you a whole lot."

#HockeyInvites
#Tokyo2020

FIH site


---

India hockey skipper Manpreet Singh: Our goal is to finish on the podium in Tokyo

The Indian hockey team captain spoke highly of coach Graham Reid

By Samrat Chakraborty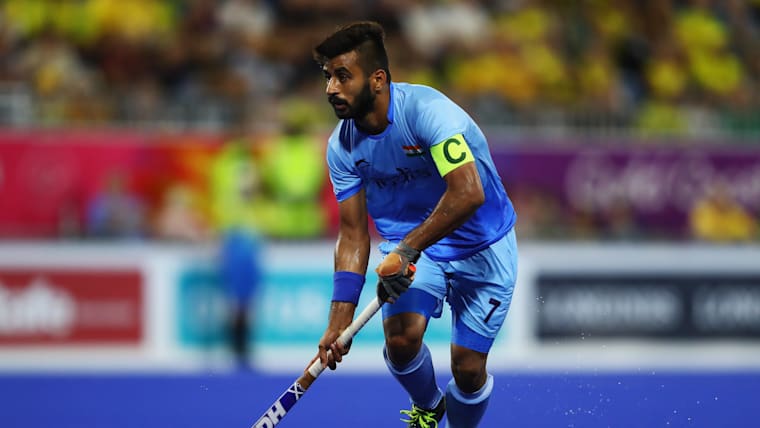 Indian men's hockey captain Manpreet Singh is gearing up for his third Olympic appearance at the national camp in Bengaluru.

The Coronavirus pandemic played spoilsport in 2020 as many tournaments were cancelled. But the hockey squad has been training since the government permitted it.

"It has been a challenging period for sports across the globe. But we are very fortunate to have the support of Hockey India and SAI, who ensured the entire team is housed on one campus (in Bangalore). We had all the assistance needed to stay fit and, more importantly, there was - and still is - much focus on mental health," Singh told The Telegraph.

The hockey team returned to Bengaluru on January 5, after a three-week break to resume preparations in a bio-secure environment with the Tokyo Olympics in sight. Singh being a senior member is doing his best to keep the squad motivated in these challenging times.

"It was important to keep the younger players in good spirits. I chat with them on a regular basis, I check on how their families are doing, tell them that in case they require anything, they can ask without hesitation. The best way to bond is over PlayStation. That is when we get together, lighten the mood and have a good time.

"I think the only thing that has changed is we are not allowed to leave the campus on weekends. We play cricket on off days or a round of snooker or learn a new sport. SAI also sometimes organises a movie night."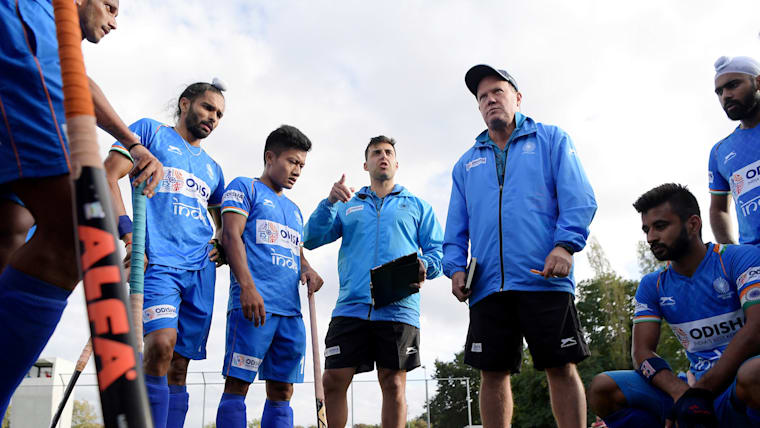 Graham Reid along with India players

But Singh does not believe that the lack of competitive action is a cause of worry. The Indian contingent was supposed to tour South Africa but due to an increase in the number of Coronavirus cases the tour was cancelled.

"While exposure ahead of the Olympics is important, we understand there are several challenges with many travel restrictions, quarantine requirements etc. We know the Federation is in touch with several top hockey-playing nations to work out a tour. In the meantime, we are focused on our fitness and improving our game in all aspects. We create small match scenarios among ourselves to see the level of play. I believe under the current situation, we are doing everything we can to be best prepared."

The Indian team is slated to compete at the Asian Champions Trophy in Dhaka from March 11, followed by the away leg of the FIIH Pro League against Argentina in April.

India finished 2020 with their highest-ever ranking of fourth and Singh believes that Graham Reid's methods in training are helping the team achieve success.

"He is a brilliant guy with decades of coaching experience. He has inculcated that 'team comes first' attitude among all players.

"Regular international competition, round-the-year camps and the federation's emphasis on strengthening the core group of players helped us reach the fourth spot. A systematic and scientific approach in our training and competitions over the last decade has helped us," stated the 28-year-old.

Olympic Channel


---

Field Hockey Canada announces cancellation of 2021 National Championships

With inter-provincial travel limited and safety at front of mind, the organization has made the early decision to cancel the event in conjunction with members




Field Hockey Canada's Hosting Committee is announcing the difficult decision to cancel the 2021 National Championships. The decision comes due to the ongoing COVID-19 pandemic and uncertainty surrounding national and regional travel restrictions.  

Where possible, and with COVID protocols foremost in mind, Field Hockey Canada will be hosting talent identification camps around the country during 2021 to ensure all athletes have an opportunity to be scouted and enter FHC programs. Field Hockey Canada CEO Susan Ahrens said the decision was not made lightly and now the effort shifts to making sure local opportunities are provided in a safe and strategic way.

"We truly regret that we have to make this call, as nationals is our annual opportunity to bring together our whole community in competition and celebration," she said. "We hope, however that by making this call now, we can all plan alternative local opportunities with certainty. We are committing to providing opportunities for identification into FHC programs. Information will be shared with our community as these are confirmed. We continue to wish everyone our very best regards and hope that you and your families are staying healthy and safe."

Field Hockey Canada continues to follow national and provincial health guidelines and urges our community to do the same.  We will continue to monitor the regional restrictions in order to plan alternative opportunities at a local level.

Field Hockey Canada media release


---

English Midland league becomes first to cut short hockey season



Leagues have decision to make over season

Midland Men's Hockey has become the first English league to curtail its season due to the pandemic.

The midland league committee issued a statement on Thursday outlining the prospects of domestic play in the five weeks left of the season after Feb 13.

It concluded that there was "no realistic prospect of hockey prior to the end of March" and all men's league fixtures were therefore cancelled with insufficient games to make a meaningful programme.

In declaring the season null and void, the league also stated that there will be no promotion or relegation.

However, with England Hockey planning to increase the number of teams in the EHL in 2021/22, the men's committee will now decide a process to identify two teams from Tier 1 Midlands Premier as the new entries to the EHL from the Midlands.

The committee said: "Our guiding principle will be, if at all possible, to identify those two teams from T1 MP via the field of play." How this is determinded will be revealed "at a later date".

The midland women's league has yet to make a decision on its league outcome.
SIGN UP for The Hockey Paper's returning newsletter: Promotions, exclusives and our best coverage
---

THT hope for better news after MCO2

By Jugjet Singh



Coach K. Rajan and his men are hoping that come Feb 4, the end of MCO 2.0, there will be better news for sport. - NSTP/ Zulfadhli Zulkifli.

KUALA LUMPUR: Terengganu Hockey Team (THT) were able to play three friendly matches before the second Movement Control Order (MCO) derailed the Malaysia Hockey League (MHL) calendar.

Now, coach K. Rajan and his men are hoping that come Feb 4, the end of MCO 2.0, there will be better news for sport.

"We played three matches in January - against Tenaga Nasional, TNB Thunderbolts and UniKL (Universiti Kuala Lumpur) before the MCO was announced. And sports went back into online hibernation.

"THT are looking forward to snatching some titles away from treble winners UniKL but it will not be easy if we train only on fitness and the players do not get to use their hockey sticks on the artificial pitch," said THT coach K. Rajan who previously coached the Singapore national team.

UniKL won the Charity Shield, League and TNB Cup last season with help from some outstanding foreign players. But this season, the pandemic has turned the MHL into an all-local affair.

Earlier, both the Sabah men's and women's teams arrived in Kuala Lumpur for the MHL but after MCO2 was announced, they had to go back with the competition postponed.

Initially, the men's MHL was scheduled to start on Jan 14 and the women's on Jan 20.

"Fitness-wise, I can monitor their progress online but it's not the same as being on the pitch with ball and stick.

"We can't train set pieces or penalty corners online and this will be a disadvantage to some teams.

"And since there is no possibility of any team in the MHL bringing in foreign players, everybody will have an equal shot at the titles this season," said Rajan.

"The longer players are online and not on the field, the more bored they will get and so hopefully, MCO will end on Feb 4 and sports are allowed to train and play friendlies under strict SOP.

"It has been done before and MHC have even held the Razak Cup under SOP successfully.

"I believe the MHL can be hosted by March in place of the postponed ACT (Asian Champions Trophy). The rest of the year might be jam-packed with previously postponed international tournaments for the national men's and women's teams."

THT will have penalty corner flickers Akhimullah Anuar Esook and Faizal Saari, while UniKL will bank on their tried and tested national No 1 Razie Rahim.

The men's MHL has eight teams in treble holders Univesiti Kuala Lumpur, Terengganu Hockey Team, Tenaga Nasional, Maybank, TNB Thunderbolts, UiTM, Sabah and NurInsafi.

The women's teams are PKS UniTen, Police Blue Warriors, Mutiara Impian, Sabah, Young Tigress and UniKL Ladies.

New Straits Times


---

Covid disrupts MHC hearing

By Jugjet Singh



The Malaysian Hockey Confederation (MHC) appeals committee was supposed to listen to Kuala Lumpur HA (KLHA) president Datuk Seri Megat D. Shahriman's appeal over his 18-month suspension from hockey. - NSTP/File pic

Covid-19 has postponed another event, and this time, it was the Malaysian Hockey Confederation (MHC) appeals committee hearing.

The committee was supposed to listen to Kuala Lumpur HA (KLHA) president Datuk Seri Megat D. Shahriman's appeal over his 18-month suspension from hockey yesterday.

However, it has been postponed to March 5 due to the Movement Control Order (MCO) in Kuala Lumpur.

The MHC had suspended him on Nov 4 after he breached the Malaysia Hockey League (MHL) code of conduct.

Megat had written to the MHL sponsors and the media querying about the status of sponsorship money before getting MHC's clarification.

"We had to postpone the hearing of the appeal as we did not want to create an MHC cluster (Covid-19)," said committee chairman Shahrizal M Zin.

Megat and his lawyers did not request for an online hearing.

KLHA are likely to hold their elections in June or July, and if Megat's appeal is thrown out, there would be a dilemma in defending his post for a second term.

New Straits Times


---

Mvimbi loves helping hockey teams win

Mvimbi admits that every time he gets to score is a rush.



Photo: Supplied

Tuks and South African hockey player Samkelo Mvimbi says one thing that gets his adrenaline pumping is to give him a hockey stick and tell him there is a team's honour at stake.

As a midfielder, the Tuks player lives for the moment he gets to catch the opposition's defence off-guard and seeing the ball hit the back of the net.

Mvimbi admits that every time he gets to score it is a rush, but he is also quick to point out there is no "I" in team.

"Playing hockey is always about what is best for the team. That is why I will never be obsessed with personal statistics. If the team wins, I win. Sometimes it is a bigger thrill setting up that scoring opportunity that changes the outcome of a game," he said.

It is this tactical savviness and selflessness that led to Mvimbi consistently coming through ranks to represent South Africa in each age group.

Last year, he got to make his big breakthrough when selected to play for the Proteas against Namibia. Since then he has gone on to play another seven tests.

Currently, he is part of the Protea squad facing off against Germany.

According to Mvimbi, it has changed his whole perception of the game.

"Playing against Germany for me is taking hockey to a whole new level. We got hammered in the first test. I now realise what it is going to take to be at your best at an international level."

There is a real chance that Mvimbi might be in the South African squad competing at the Tokyo Olympics. it will be a dream come true for the young player

Peabo Lembethe, who captained Tuks to glory two years ago in the Varsity competition, ought also to be in the Olympic team.

Both Tuks players play as midfielders Mvimbi, however, does not perceive them to be rivals.

"Peabo and I bring something entirely different to the team. Peabo has got an unbelievable work rate and an ever sense of what is happening on the field. He is possibly one of the best distributors who will never pass the ball only for the sake of doing so. There is a clear plan with every pass. I aim to do the same, but I tend to be perhaps a bit more aggressive. I like to take the game forward, setting up scoring opportunities."

He still views Tuks winning the Varsity tournament in 2018 as a personal highlight, and rightly so.

Within the first seven minutes of the final against Maties, he outfoxed Maties defence with brilliant foot and stick work to score a two-point goal.

If Mvimbi can help Tuks defend the Varsity title later this year, it would be mission accomplished as far as he is concerned.

Pretoria Rekord


---

Naughalty: "It Will Always Be An Amazing Feeling & A Huge Sense Of Achievement"




When Buckingham Hockey Club won the women's England Hockey Jaffa Super 6s in 2020, it was a proud day in the club's history.

The 4-3 victory over Bowdon Hightown was exciting, thrilling and nail-biting in equal measure. It was also remarkable as it was only the club's second season in the top division of the Indoor competition; the previous year they had also reached the final but lost to a dominant East Grinstead side.

It is hard to believe that the moment captain Alex Naughalty lifted the trophy was just a year ago. Since then the world of hockey, along with every other aspect of life, has become a shell of its normal exuberant self as activities have stopped and players have resorted to training alone in back gardens or home gyms.

With these dramatic changes still very much in force, we thought now was an appropriate moment to look back at one of the undoubted highlights of hockey in 2020.

"I think it will always be an amazing feeling and a huge sense of achievement," says Alex Naughalty, as she reflects on her team's achievements a year ago. "The whole day seems a bit of a blur now. I do remember that, going into the final, we had a lot of confidence in our own ability and it was brilliant to be able to prove that to everyone else. That confidence, along with the emotions in the moment the final whistle blew, are certainly incredible memories."

Buckingham had come close the year before. In the 2019 final, they had lost to East Grinstead – the wrong side of a 10-2 scoreline. Naughalty says the memories of that outcome were playing on the players' minds as they prepared for their encounter with the reigning champions.

"There were, of course, a lot of nerves and memories from the 2019 final playing in peoples' minds, however we knew what we needed to do and how we needed to play. We also knew that if we performed as we knew we could, we could get the right outcome, so we did have the self-confidence. It is a long day to keep your concentration and hold back the nerves and excitement but I think as a team we did this very well, which put us in a great position to perform for the final."



Buckingham claim the 2020 Super 6s title

Masterminding the entire campaign was Head Coach Zak Jones. He says the victory was not so much about the performance on the day as much as it was the result of qualities that had been developing within the team over months, if not years.

"While there are obviously key moments in the games themselves like goals or saves, actually I feel the qualities that allowed us to succeed were embedded long beforehand. I feel there were three key qualities which had been built over a long period of time.  

"Being a small club with very limited resources and not one of the most fashionable clubs, we continually have to fight against the odds. This builds real resilience and determination. This resilience was probably fuelled further by the final the year before and the feeling that, whilst East Grinstead were outstanding, we didn't really show our real selves in that game.

"Lastly but most importantly, there was a real sense of belief in ourselves and each other. This again had been building over time, but I feel only really came together when we drew with East Grinstead in the league phase. It was just that little bit of proof the girls needed to show that we could not only compete but succeed against the best."

While the victory was a huge moment of pride in itself, both Jones and Naughalty believe the effects of the win are being felt by the entire outdoor league squad and throughout the club. Jones speaks of the pride felt by a small club with no real pedigree [until now]. Naughalty says the victory has led to much higher levels of confidence and a belief that, despite limited resources, the team can compete at the highest level.

"It was just an unbelievable day for all those directly involved and also for the club as a whole," says Jones. "Thinking about it now brings a huge smile to my face and I am still so proud of the girls. It was also great to have so many neutrals get behind us and recognise and identify with the traits and values the team showed both on and off the pitch. Definitely a very special day."

And Naughalty adds: "It is amazing to know what a little hard work and belief can result in. We learnt to trust the process and to not get bogged down with previous history and expectations. As a team we cannot wait for the European tournament and hopefully we will be able to do England Hockey justice, showing what we are capable of achieving."

England Hockey Board Media release


---

Vandals rip up EL hockey astro turf




Buffalo City Metropolitan Municipality in South Africa said it had halted renovations to the hockey facility in Buffalo Flats after vandals stripped away large sections of the astroturf.

The sports ground was one of the dozens of municipal facilities to have fallen victim to vandalism during the lockdown.

Municipality spokesperson, Samnkelo Ngwenya, said people have been stripping down sports stadiums, municipal halls and substations, among other infrastructure, since the beginning of lockdown last year.

Damage assessments are being done and insurance claims instituted.

This week the Municipality also issued a statement with the image of a male suspect who was seen breaking into a sub-station in Buffalo Flats.

Algoa FM News visited the hockey stadium in Buffalo Flats this past week to find that the fencing had been demolished, no security and large chunks of astroturf removed.

Buffalo City Stadium appeared forlorn and neglected, with the Municipality saying it was busy finalising a lease agreement with "the tenant".

Ngwenya said the issue of security at municipal sites, particularly sports grounds, is being addressed before any upgrades of facilities will commence.

He also appealed to communities to help safeguard infrastructure and to report any incidents of vandalism and appealed for information on the suspect seen in the screengrab.

Anyone who can assist with the suspect's identity should contact the Municipality or their nearest police station.




Algoa FM


---

Lil Shelton built Severna Park field hockey into a dynasty with generosity, advocacy — and snacks

By Kyle Melnick



Lil Shelton and Severna Park field hockey celebrate a victory in 2005. (JOEL RICHARDSON/TWP/TWP)

While becoming one of the country's most accomplished high school field hockey coaches over 37 years at Severna Park, Lillian Shelton placed a Tupperware box of snacks near the front of her tiny office. That way, her players could grab food after school while heading to the locker room.

But mice sometimes found their way into Shelton's office, and when they reached the snacks, Shelton had to throw away the food. Instead of exterminating the mice, Shelton fed them. When one was stuck in her trash can, she helped it escape.

Shelton suffered a hemorrhagic stroke and died Sunday at University of Maryland Baltimore Washington Medical Center surrounded by family, said her daughter, Lorie Hankins. She was 90.

Lil Shelton, who coached Severna Park field hockey to 20 state championships, dies at 90

Shelton's name will likely never leave field hockey record books: She won a record 20 Maryland state championships and helped grow the sport across the state. But her former players and coaches remember her most for her kindness — even making invasive rodents feel welcome in her office.

"There wasn't a mean bone in her body," said Amy McKusky, who coached Severna Park's junior varsity team between 2000 and 2011.

Shelton, an Atlanta native who went by "Lil," began at Severna Park as a substitute physical education teacher in 1972. When she was offered a full-time job, she said she was too busy raising her four children. Her students wanted her to teach so badly, they offered to help around her house. Shelton took the job.

In 1973, Shelton started Severna Park's softball team. One day, she opened a closet near the school's gym to find old field hockey sticks. She wanted to give girls another sport to play in the fall, so she started Severna Park's field hockey program in 1975.

The sport began as an intramural, with the team practicing on the school's front lawn because the boys' teams occupied the fields. A magnolia tree grew in the middle of the lawn, so players ducked under its branches during practice. Shelton believed that taught her girls to play with control and ball security.

Shelton pushed for more opportunities for field hockey. Her team moved from the school's front lawn to the softball field, which was mostly dirt. She mowed the lawn herself.

A local recreational league refused to provide field hockey, Hankins said, so Shelton offered a summer field hockey league, which was open to children and teenagers across Anne Arundel County. Shelton charged $15 to participate.

"If she didn't find those hockey sticks in the 1970s and commit herself to bringing athletic opportunities to women in Anne Arundel County, so many women wouldn't be who they are today," said Maeve Doherty, who played at Severna Park from 2010 to 2014. "I definitely wouldn't be who I am today."

Shelton founded the Maryland State Field Hockey Association and the state's field hockey championships. Her squad won its first state title in 1979. When she retired in 2011, Shelton held a 544-60-10 record along with 29 regional championships and 31 county crowns. Young field hockey players in Anne Arundel County idolized her. Former players and coaches said Shelton had success because of a fun and cohesive culture she created.

During practice on nice days, she asked her players to drop their sticks, stand in one place, throw their hands into the air and enjoy the breeze. Before games, she placed a smiley face sticker on all of her players' jerseys, which they plopped on their sticks after games.

Every game day, Shelton ordered Einstein Bros. Bagels and Food Lion's strawberry-banana juice, and her team ate breakfast in the gym before school. About an hour before state championship games, Shelton distributed York Peppermint Patties to her players and instructed them to split them in half and savor the smell.

She also facilitated a program in which every varsity player mentored a junior varsity player. And then there were the snacks — granola bars, pretzels, fruit snacks — Shelton bought in bulk at Costco and placed in her office. While she wanted to feed her players, the act also granted her an opportunity to chat with players before practice.

"She was like this caring, loving grandmother in a way to her players," said Kaylee Pohlmeyer, who played at Severna Park from 2004 to 2008. "She was always leading with love and a kind heart, which is not normally something you hear in a coach. That might be one of their traits, but not the core of who they are as a coach, which really made her different and one of the most successful and winningest coaches of all time."



Severna Park coach Lillian Shelton receives the trophy from her school principal, Patrick Bathras, after winning the Maryland Class 4A field hockey championship game in 2009. (Toni L. Sandys/The Washington Post)

In 2000, McKusky moved to Severna Park from Pennsylvania. She interviewed with Shelton for an opening as the school's junior varsity field hockey coach. They were halfway through their coffees at Starbucks when Shelton made her decision.

"What's the most important thing about coaching field hockey?" Shelton asked.

"I just want the girls to have fun," McKusky replied.

"You're hired on the spot," Shelton declared with a laugh.

When Shelton retired in 2011 at the team's end-of-season banquet, everyone present cried. Ann Andrews, a longtime assistant coach under Shelton, learned the news earlier that day and wrote a speech, but she couldn't get the words out through her tears.

Shelton remained a local celebrity, and whenever she visited Starbucks in Severna Park, people approached. Starbucks even kept Shelton's order for her mocha behind the counter and named it "Mema," which Shelton's eight grandchildren called her.

"So many of the girls are saying, 'The things she taught me, those values, have carried me through my life and made me who I am,' " said Hankins, 63. "The stats are amazing, but more than the stats, that to me is her legacy."

Kelsey Mills, who played at Severna Park between 2007 and 2011, became Northern High's junior varsity field hockey coach last summer. For hours last weekend, she fretted about which drills to conduct when practice resumes. Then she heard Shelton died.

Mills deleted all of the notes in her Google Doc. She recognized Shelton would have worried more about earning players' trust and admiration than choosing the best drills. So she focused on building a culture in her program similar to the one she experienced in high school. That way, her favorite coach's legacy would endure.

The Washington Post