All the news for Thursday 28 January 2021

Argentina came from behind to beat Indian women 3-2



Sharmila equalised

Buenos Aires: World No. 2 Argentina came back strongly in the final quarter to overturn a 1-2 deficit and beat World No. 9 India 3-2 in a hockey international here on Tuesday. The visitors fell 0-1 behind but Sharmila's goal in the 34th minute restored parity. Gurjit Kaur then put away a well-executed penalty corner to make it 2-1 for India five minutes later.

Though India set-up an early lead with Sharmila's equaliser in the 34th minute and Gurjit Kaur scoring off a brilliantly executed PC in the 40th minute to lead 2-1, the experienced Argentinian side fought back in the final quarter scoring in the 50th and 57th minutes through Augustina Gorzelany and Granatto Maria respectively.

"We were close to a win but against an opponent like Argentina, you have to stay concentrated till the final hooter. The biggest take away from this match is to keep up the consistency in all four quarters," opined Chief Coach Sjoerd Marijne after the well-fought match.

Though Argentina put India on the backfoot early in the match, earning a PC in the 6th minute, India goalkeeper Savita made a splendid save to ward off early danger. Argentina continued to push for opportunities all through the second quarter too, creating PCs in the 21st and 23rd minutes but India's PC defence held the fort. It was Micaela Retegui who fetched the 1-0 lead for the home team in the 25th minute with a swiftly converted goal.

After the ten-minute half time break, India made a strong comeback into the game, playing disciplined structure, closing the gaps in the 25yards mark, not allowing Argentina to make easy forays into their circle. The forwardline, in the meantime hunted for goals and succeeded in the 34th minute when Navjot Kaur setup young forward Sharmila to make the strike. Though Argentina earned a PC in the 38th minute, India did well to hold the home team at 1-1.

In the 40th minute, India's lone drag-flicker Gurjit Kaur setup a crucial 2-1 lead with a powerfully struck goal. In the following minutes, both India and Argentina traded a PC each, but none managed to convert. It was eventually a penalty stroke awarded to Argentina in the 50th minute that changed the course of the match.

"After we scored 2-1 lead, we were in a few situations where we could have stayed calmer and try to increase the goal-difference by scoring more. Against a team like Argentina, you have to lead by more than a goal to secure a win else they will catch-up. These are valuable lessons for us, and this is what we would like to improve in the next game," stated Marijne.

So far

The team drew two matches (2-2,1-1) and suffered two losses (1-2 and 2-3) in matches against the Argentina junior and 'B' squads.

What Next

India take on the Argentina on Friday, 29th January at 0200 hours IST.

The remaining fixtures of the Argentina Tour (Sr. Women) will be telecasted on the Watch.Hockey platform. (Both phone and web version available)

    Argentina vs India Women's -29/01/21 @ 02.00am (IST)
    Argentina vs India Women's -30/01/21 @ 09.30pm (IST)
    Argentina vs India Women's -31/01/21 @ 08.30pm (IST)

Link for Download the app is mentioned below and web version is also available (Watch.Hockey)

For Apple users: apple.co/2FsIaoh

For Android users: rb.gy/qkrhcx

Stick2Hockey.com


---

Late goals sink Indian women's hockey team versus Argentina seniors

Youngster Sharmila and defender Gurjit Kaur scored the two goals for India against the Argentina senior team, who are ranked No. 2 in the world.

By Utathya Nag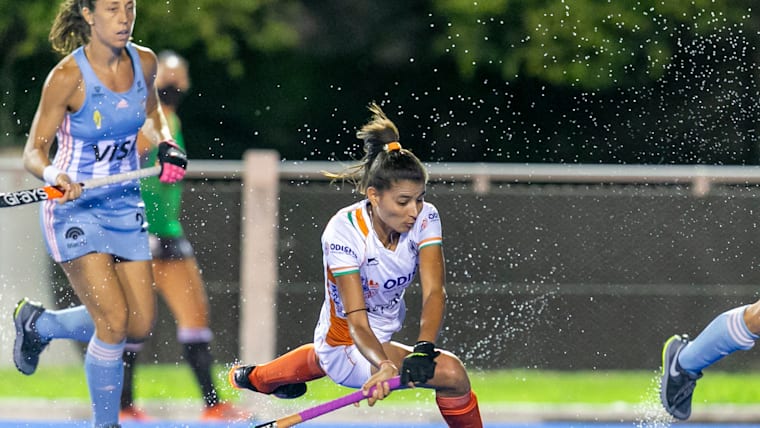 Photo: Hockey India

The Indian women's hockey team put up a valiant effort against world No. 2 Argentina but conceded two late goals to eventually suffer a 3-2 defeat on Tuesday.

Though it was their fifth match of the ongoing tour in Argentina, it was the first time the Indian eves went up against the full-strength Argentina senior squad.

India drew the first two against the host nation's junior team before narrowly losing the next two against Argentina's B team.

In the clash against the seniors, Argentina took the early initiative, keeping the Indians on the back foot. But some splendid saves from goalkeeper Savita Punia ensured the Indian women finished the first quarter on level terms.

Savita and the Indian defence held the fort for the majority of the second quarter as well, but the resistance was eventually broken by Argentina's Micaela Retegui in the 25th minute.

A goal down heading into half-time, the Indians came out with a sense of purpose in the third quarter and were duly rewarded. Navjot Kaur set up young forward Sharmila for the equaliser in the 34th minute before Gurjit Kaur struck six minutes later to give India a 2-1 lead.

Having had the tables turned on them, Argentina responded brilliantly in the final quarter. Despite the Indians' best efforts to thwart the Argentine onslaught, the match turned in the 50th minute with the hosts winning a penalty stroke, which Augustina Gorzelany promptly converted.

Three minutes to the final whistle, Argentina forward Granatto Maria made it 3-2 to break India's heart.

"We were close to a win but against an opponent like Argentina, you have to stay concentrated till the final hooter. The biggest takeaway from this match is to keep up the consistency," India's chief coach Sjoerd Marijne said after the match.

"Against a team like Argentina, you have to lead by more than a goal to secure a win. Or else, they will catch-up. These are valuable lessons for us, and this is what we would like to improve in the next game," Marijne added.

India will play the Argentina senior team again on January 29.

Olympic Channel


---

India suffers narrow defeat in thrilling contest against Argentina

India women put up a valiant fight before suffering a 2-3 defeat against World No. 2 Argentina.



Sharmila celebrates with Lalremsiami after scoring a goal. - HOCKEY INDIA

India women put up a valiant fight before suffering a 2-3 defeat against World No. 2 Argentina in a thrilling contest here.

Goals from Sharmila (34th) and Gurjit Kaur (40th) helped India take the lead after the home team scored in the 25th minute via Micaela Retegui. Argentina came up with back-to-back strikes in the final quarter through Augustina Gorzelany (50th) and Granatto Maria (57th) to eke out the win on Tuesday.

"We were close to a win but against an opponent like Argentina, you have to stay concentrated till the final hooter. The biggest take away from this match is to keep up the consistency in all four quarters," chief coach Sjoerd Marijne said.

Though India was put under pressure early in the contest, earning a Penalty Corner (PC) in the sixth minute, India goalkeeper Savita made a splendid save to ward off danger.

Argentina continued to push for opportunities all through the second quarter, too, creating PCs in the 21st and 23rd minutes, but India's defence held fort. It was Retegui who fetched the 1-0 lead for the home team in the 25th minute with a swiftly converted goal.

After the 10-minute half time break, India made a strong comeback into the game, playing in a disciplined structure, closing the gaps in the 25 yards mark, and not allowing Argentina to make easy forays into its circle.

The forward-line, in the meantime, hunted for goals and succeeded in the 34th minute when Navjot Kaur setup young forward Sharmila to make the strike. Though Argentina earned a PC in the 38th minute, India did well to hold the home team at 1-1. In the 40th minute, India's lone drag-flicker Gurjit set up a crucial 2-1 lead with a powerfully struck goal.

In the following minutes, both India and Argentina traded a PC each, but none managed to convert. It was eventually a penalty stroke awarded to Argentina in the 50th minute that changed the course of the match. "After we scored 2-1 lead, we were in a few situations where we could have stayed calmer and try to increase the goal difference by scoring more," Marijne said.

"Against a team like Argentina, you have to lead by more than a goal to secure a win else they will catch-up. These are valuable lessons for us, and this is what we would like to improve in the next game," he added.

Sportstar


---

Unbeaten Indian Junior Women's Hockey Team returns after a successful Tour of Chile




New Delhi: A confident and satisfied looking Indian Junior Women's Hockey Team returned to the country's national capital in the early hours of Wednesday after remaining unbeaten in their Tour of Chile. The team landed here at the Indira Gandhi International Airport after having won five out of the six matches they played during their Tour of Chile, with one match ending in a draw.

"We are very happy to have got the opportunity to resume competitive hockey after the pandemic. It was a very good experience for all the players and members of the support staff and it gives us huge confidence as we approach an important year ahead," expressed Suman Devi Thoudam, who served as the Captain of the Indian Junior Women's Hockey Team.

The Indian team had started the tour by playing two matches against the Chile Junior Women's Team, both of which ended in India's favour with score-lines of 5-3 and 4-2 respectively. "We felt like we were back at our best when we took to the field in Santiago. Whatever we have done in our training sessions, we could execute on the pitch against our opponents from Chile. Everyone was a bit rusty at the start, but we quickly got into a great rhythm, and you could see that with our performances against their Senior team," commented Suman, who plays as a Defender for the Indian team.

The two wins in the opening matches were backed by three wins in four matches against the Chile Senior team. With score-lines of 3-2, 2-0 and 2-1, India registered three wins against the experienced Chilean team, with their second of the four matches ending in a 2-2 draw. "The best part for me about our performances is that, not only were we strong in attack, but were very solid defensively. They tried to use their experience in the forward areas, but we showed great unity and resilience, so I'm really proud of the team," added the 21-year-old.

With the team now on a two-week break, Suman believes they will come back high on confidence and prepare for the rest of the year. "I think we showed great fitness in our matches against Chile, playing six matches in eight days, and still winning five of them. Now, it is about recovering and spending some time with our families, following all the SOPs and guidelines, and then ensuring we are back in the National Camp from 10th February onwards to prepare for this important year."

"We are definitely keeping our eyes on the Junior Women's Asia Cup and the FIH Women's Junior World Cup both scheduled later this year," expressed Suman.

Stick2Hockey.com


---

Winning was always more important than personal records, says Paumen




In Part 2 of our special interview with Netherlands great Maartje Paumen, the double Olympic gold medallist talks about how her record-breaking individual achievements paled into insignificance compared to the importance of success for the teams she represented.

Maartje also gives her thoughts about how the Netherlands women's team are shaping up for the Olympic Games in Tokyo, the best players she played both with and against, as well as the excitement surrounding some very special personal news for Maartje and partner Savannah Hamming.

You set numerous scoring records during your playing career, including two very significant Olympic markers. At Beijing 2008 you helped the Netherlands win gold by scoring 11 times, the most ever by an athlete in the women's competition. Following further goals at London 2012 and Rio 2016, you are the highest female scorer in Olympic history with 19 goals. You have also scored more international and Hoofdklasse goals than any other Dutch woman in history. Whilst in your playing days you always stated that the success of the team was more important than anything else, have these records taken on greater significance to you in the years since you retired?

Maartje Paumen: "I think so, because when you are playing you have so little time to think about the tournaments you have won or the gold medals. When I retired, I had more time to think back or see it on TV, you think that was a really good time, and it was a nice time that I had as a player. The only thing I was thinking was always about wanting to win the tournament. I was always thinking about the team, and not about the records. When I retired, it is nice to have those records, that you see your name sometimes on the lists. But when I was playing the only thing I was thinking was 'I want to win this tournament', or 'I want to win this game, no matter what'. When I see myself playing a few years back, I can see it on my face that I only wanted to win. It was always game face on."

The Netherlands women have been in superb form over the past few years, and will go into the Tokyo Olympics as favourites to reclaim the gold medal. What are your thoughts about the current group, and which teams are the biggest threat to the Oranje's gold medal quest?

Maartje Paumen: I think that they are still an amazing team. They have so many good players, so much talent. In my opinion, they are the number 1 for Tokyo, if we can play. I haven't seen them play for a few months already because of covid, so it is not easy to tell you who is going to win the Olympics, but if look to the other countries, Germany is always a really good team. Of course, Argentina, as always. It's always a big battle between Netherlands and Argentina. I think those teams are threats for the Oranje. Yeah, but I think the Oranje can go for the gold medal in Tokyo. They still have so many good players; a good goalie, a good penalty corner, so I'm going for the Netherlands!"

I wouldn't expect anything less, Maartje! You were twice named FIH Player of the Year, winning the crown in 2011 and 2012. Can you tell us the best players you played both with and against during your career, and what made them so good?

Maartje Paumen: I'll start with who I played with. I have two. The first is Minke Booij, who I played a lot of years together with for the club and also with the national team. I think she was an outstanding defender. She had no fear, she would go for every ball. She was also a great leader of the team, so I learned a lot of things from her. Number two, I'm going for Naomi van As. She was also a really good team-mate. Her skills were amazing, and she had so much stamina – she could go on and on.  She always wanted to win, so it was really nice playing with her over the years. I think I played 12 years on the national team with her. Who I played against, I think it was [Luciana] Aymar [of Argentina]. We played 12 years against each other, and they were always really big battles between Argentina and the Netherlands. What she can do with a ball is crazy. Her skills were fantastic, and also, she was a really fast player. I wasn't, so it was always a big struggle to face her! She was a really good one and was named seven or eight times the best player in the world, so I'm going for her."

It has been lovely catching up with you. Finally, we understand that you have some happy news! Would you like to us more?

Maartje Paumen: "Yes! It is a really exciting time for us here at home because we are expecting our first baby in one or two weeks, but from now on it can come at any day, I think! Exciting times, but we are totally ready for it and I cannot wait to meet the little one."

Congratulations to both of you and thank you once again for talking to us!

Maartje Paumen: "Thank you!"

FIH site


---

From school to stardom: Hockey development in China




In 2008 hockey in China, particularly for women, seemed all set to explode as the women's national team won silver at the Beijing Olympic Games. While China has maintained its place in the top echelons of the world rankings, neither the men's nor women's teams have quite reached that level again. A school-based initiative being launched country-wide is hoping to change that.

A total of 20 schools have been added to the number of schools that provide for hockey athletes of the future via a number of schools being designated National Olympic Reserve Bases for Hockey Talents. Among the places that are benefiting from the increased focus on hockey development are Inner Mongolia, Liaoning Province, Jilin Province, Shanghai, Jiangsu Province, Guangdong Province, Sichuan Province and Gansu Province.

A spokesperson from the China Hockey Association explained that coaching in the schools will be provided by provincial club teams, while the overall coaching programme is overseen by the General Administration of Sport of China. The driving force behind the schools' initiative is to help hockey participation develop and grow across the entirety of China.

And then, of course, this will strengthen the talent pool from which regional and national teams are selected.

The added incentive for the talented young hockey players to keep progressing within the sport is the increased opportunity to secure places at university. Many opportunities exist for athletes with the potential to make the national teams.

Talented young hockey players in the Gansu Province of China are among those being offered more hockey coaching opportunities through the programme.

Gao Xiang, principal of the Sports School of Jingyuan County in Gansu Province, is inspired by the fact that his school is on the list.

"Three schools on the list are in Gansu. This is a new start for us to explore more field hockey talents. And I hope that my school could be a cradle for them," Gao said

The Sports School of Jingyuan County already has a strong recent history in hockey. The school's hockey team was established in 2008 – the year of the China women's team's silver success. The progress is self evident. Since the school started specialising in hockey, more than 20 players from the school have progressed to represent Gansu Province and the national youth teams. The school currently has 150 potential hockey stars in its ranks at the moment.

FIH site


---

Hockey camp established in Lahore

LAHORE: The Pakistan Hockey Federation (PHF) established a training camp for senior team players here at the National Hockey Stadium on Wednesday.

An official of the PHF said the training camp started under the supervision of National Coach Olympian Khawaja Junaid.

PHF president Brigadier (R) Khalid Sajjad Khokhar visited the camp. PHF Secretary Olympian Asif Bajwa briefed Khokhar about the postponement of Asian Champions Trophy.

Khawaja Junaid gave a detailed briefing about the training camp and the performance of the athletes to PHF president. Encouraging all the camp trainees, the PHF president said that all the players should continue practising with special care as per the government SOPs to remain safe from coronavirus.

"Considering the current situation of COVID 19, the PHF has decided to divide the players selected for the camp into three sections so that they can perform effectively in the training camp. Pakistan Hockey Federation fully supports its players".

The News International


---

Another four matches decided in Quaid Inter-Division Hockey

LAHORE - Some thrilling matches of 1st Quaid-e-Azam Inter-Division Hockey Championship continued to entertain a large number of hockey enthusiasts here at the National Hockey Stadium on Wednesday.

Director General Sports Punjab Adnan Arshad Aulakh, Secretary Punjab Olympic Association (PbOA) Idris Haider Khawaja and other top officials also witnessed competitive matches on the third day of the championship. Four teams Multan, Faisalabad, Sahiwal and Sargodha emerged victorious in the four matches played on the third day.

Multan division began the third day's proceedings with an overwhelming 4-1 victory against Rawalpindi at National Hockey Stadium. Usman Iftikhar of Multan division struck the first goal in the 3rd minute and then converted three more goals through M Musa in 8th, M Arsal in 21st and Kashif Sadiq in 26th minute of the game. Hamza Fiyyaz of Rawalpindi hit the consolation goal in the 42nd minute.

In the second match of the day, Faisalabad routed Gujranwala Division by 2-0. Shahbaz Ahmed of Faisalabad netted both the goals in the 32nd and 56th minute of the match. Sahiwal came from behind to defeat DG Khan by 4-3 in the third match of the day. In the fourth and last match of the day, Sargodha stunned strong Lahore by 4-3.

The Nation


---

U.S. Masters Athletes Lead Efforts to Reinstate Stanford Program



Photo Courtesy of Stanford Athletics & Lyndsay Radnedge/isiphotos.com

On July 8, 2020, Stanford University announced plans to cut their varsity field hockey program, along with 10 other nationally ranked, Olympian-producing teams, citing "no pathway to excellence" or other viable financial solutions to support them. This decision impacted 22 current field hockey student-athletes, including U.S. Women's National Team members Kelsey Bing and Corinne Zanolli, as well as coaches and recruits with aspirations to play for the Cardinal. The decision also impacted more than 400 Stanford alumni including Alison Smith and Melissa Weiss, both active U.S. Masters players who competed in the 2018 EXIN Masters World Cup in Teressa, Spain. Smith and Weiss are collaborating with other alumni to restore field hockey at Stanford and have provided a glimmer of hope for the possible reinstatement of the program.

When the news broke last July, Smith was shocked by Stanford's decision.

"Stanford never asked for help and this decision blind-sided everyone," noted Smith, who is also a former U-21 USWNT athlete. "In addition to upending the lives of the current team and staff, this decision erased a 117-year history of field hockey tradition and national excellence. Furthermore, it threatens the future existence of all West Coast field hockey at the high school, club and collegiate levels. We want to preserve this scholar-athlete experience as well as the lifelong impact the sport has on our leadership and resilience in our personal, professional and community lives."

Presently, Stanford alumni are mobilizing more than 400 former teammates with targeted outreach to university decision-makers, sustained public pressure from a growing coalition of field hockey allies across the country and a $20 million fundraising campaign, in hopes that an endowment will lead to reinstatement.

"This is about more than Stanford," added Weiss. "Field hockey is a family and when one program is impacted, it weakens our entire sport across the country. Stanford, the University of California Berkeley and University of California Davis are critical Division I anchors on the West Coast. Growing up in southern California, I have witnessed the efforts to strengthen and spread West Coast [field] hockey and want to see it flourish."

Another part of the reinstatement strategy has been collaborating with the other 10 programs that were cut, as well as representatives from all 36 varsity sports programs, to engage Stanford's President and Board of Trustees in a problem-solving dialogue. 36 Sports Strong formed and issued an open letter signed by alumni who are Olympians, current and former professional athletes and Hall of Famers urging the university to reconsider.

USA Field Hockey applauds the leadership efforts of Smith and Weiss and recognizes that current athletes, parents and alumni have the most powerful voice in collegiate decision-making. USA Field Hockey has been continuously working to sustain and grow college field hockey, recognizing the important position this level of the game has in the overall landscape of the sport.

"With the Los Angeles 2028 Olympic Games around the corner, we have an opportunity to grow the game, not see it shrink," urged Simon Hoskins, USA Field Hockey's Executive Director. "With help from our field hockey family, we have to protect every program that might come under threat amidst the current health, financial, political and social challenges we face, preserving every opportunity to play and compete. We were terribly disappointed by Stanford's sudden decision to drop field hockey. College field hockey plays an important role in the overall field hockey landscape, and Stanford's program was one of the finest. Stanford developed national team players and hosted international competitions as recently as 2018. Stanford was a pillar of field hockey on the West Coast and we would love to see the program reinstated."

When asked how the field hockey community can help Stanford's reinstatement efforts, Smith stated, "As with any advocacy effort, please speak up and give. We need to sustain the pressure by contacting Stanford leadership and demonstrating our support for the program through endowment pledges. Every email and every dollar count."

Weiss added, "We are grateful for every gesture and are ready to return the favor. Now more than ever, we need to stick together."

For more information about efforts to reinstate Stanford Field Hockey and to make a donation, go to SaveStanfordFieldHockey.com, Facebook, Twitter and Instagram. There are a lot of ways to get involved and help save Stanford Field Hockey. Click here to see how to help.

"Stanford's dropping their field hockey program was extremely painful, obviously devastating to those directly impacted, including the Stanford and greater West Coast field hockey community, as well as to the entire field hockey family," continued Sally Goggin, USA Field Hockey's National Development Director. "Alison and Melissa are perfect examples of the impact and power alumni voices can have on administrative decisions."

Recognizing vulnerability in the college space, USA Field Hockey started working to sustain and grow college field hockey a few years ago. In 2019, USA Field Hockey received a grant from the United States Olympic and Paralympic Committee and worked with Sarah Wilhelmi, USOPC Director of Collegiate Relations, to form a College Advocacy Group. USA Field Hockey hired consultant Marlene Bjornsrud to lead the committee discussions and develop an action plan.

"One thing we learned is that sports that are invisible are vulnerable," said Goggin. "Our sport needs to toot our own horn, promote the amazing things our players, coaches, umpires and stakeholders do in our world on and off the field."

This understanding and additional learning and recommendations from the Advocacy Group were presented to college coaches in January 2020. At the same time, USA Field Hockey began taking action behind the scenes when the coronavirus (COVID-19) pandemic encompassed the world, sidelining play and disrupting schools and sports across all levels. More than 121 collegiate sports programs have been dropped since the beginning of the pandemic, including two field hockey programs: Stanford and Becker University in Worcester, Mass. Nineteen of those programs have been reinstated.

Becker's program competes at the Division III level and was extremely successful having won four national championships and more than 18 divisional titles. At this time, USA Field Hockey is not aware of Becker alumnae discussions.

In an effort to update the entire field hockey community on the collegiate outlooks and the Stanford situation, USA Field Hockey will be hosting the free "Protecting and Preserving College Field Hockey" webinar on Tuesday, February 2, 2021 from 8:00 p.m. to 9:00 p.m. ET.  All individuals interested in learning more about protecting and preserving field hockey at the collegiate level, and specifically Stanford, are welcome to attend. USA Field Hockey will provide a brief update on the collegiate landscape; Smith, Weiss and their leadership team will share their learnings and recommendations from their work to date to reinstate Stanford, much of which can be applied at other institutions. USA Field Hockey will conclude the webinar with an introduction of the California State Chapter leadership team who is eager to help reinstate Stanford Field Hockey and grow the game in California.

To register for USA Field Hockey's "Protecting and Preserving College Field Hockey: The Stanford Situation" Zoom webinar, please click here. For questions, please contact Sally Goggin, USA Field Hockey's National Development Director, at This email address is being protected from spambots. You need JavaScript enabled to view it..

USFHA media release


---

New Chair & Vice Chair Appointments to USA Field Hockey Board of Directors

COLORADO SPRINGS, Colo. - Following the most recent meeting, USA Field Hockey's Board of Directors has elected a new Chair and Vice Chair. Catherine P. Bessant will serve as the Chair of the Board and Jeanne O'Brien will serve as the Vice Chair of the Board starting immediately, both for two-year terms.

"On behalf of the Board, I would like to congratulate Cathy and Jeanne on their officer appointments of Chair and Vice Chair," said Bree Gillespie, USA Field Hockey's At-Large Director and former Chair of Board. "While there is work to be done, the future holds great hope for our sport and the sport that unites us all. I look forward to their strong leadership within the Board of Directors."



Catherine P. Bessant

Bessant, who first joined the Board in 2019, is a high-profile figure in the banking industry. She is the chief operations and technology officer at Bank of America and is a member of the company's executive management team. Since 2010, Bessant has led Global Technology and Operations, delivering end-to-end technology and operating services across the company through nearly 95,000 employees and contractors in more than 35 countries.

Active in the field hockey community and region, Bessant helped fund Queens University of Charlotte's new field hockey facility which opened in April 2020. Bessant Field is Charlotte's only water-based turf facility and is home to the Royals field hockey program and Charlotte Ambush Club. Bessant and her family coordinated a matching gift "in recognition of the important role the sport has had in their lives."

"Field hockey is a fantastic sport," commented Bessant. "Success requires athleticism, brains, rigor and courage. USA Field Hockey exemplifies everything a governing body of a sport should be. I am honored to serve as Chair of this incredible organization and look forward to continuing to advance our game, our athletes, coaches, umpires, athletic and organizing staff and fans."



Jeanne O'Brien

O'Brien, who is one of the longest serving current Board Members with 4 years of service, will serve as the Vice Chair. For more than 40 years, O'Brien has been an active volunteer for USA Field Hockey. Her experience includes recruiting and training umpires for the Northeast Region, as well as nationally, through clinics, play days and, more recently through virtual technology. She also develops and implements the schedule for umpires for the National Indoor Tournament and National Hockey Festival.

O'Brien has worked as an umpire, technical officer, umpire manager and umpire coordinator at many Regional and National Club, Futures and AAU Junior Olympic Games events and NCAA Tournaments. Further, she trained and oversaw the ball managers for the Junior World Cup and Pan American Games. She is a Level III Certified Umpire with experience at the NCAA Division II and III Finals.

O'Brien has a deep love and respect for the game; and an understanding of the hard work and support necessary to develop quality and available training programs for umpires at all levels and in all regions to "Grow the Game"!

"One might ask why a person would seek a leadership role in a sport governing body during a pandemic when the opportunity to play and compete is constantly being challenged," said O'Brien. "To me, there is no better time! I am very excited to have an opportunity to work with our USA Field Hockey Board of Directors as we emerge even stronger from this year of turmoil. In some ways, the restrictions caused by the pandemic have opened up new avenues to grow our game. Athletes, coaches and umpires, at all levels, have benefitted by the virtual programs developed out of necessity, but with the benefit of reaching into homes and local organizations at the grassroot level. Out of difficulties often comes new vision and opportunities. It is my honor to be a part of a Board that has persevered, worked hard and continually looked forward."

"A huge thank you to Bree and to Chip who have given to much time and energy these past years," said Simon Hoskins, USA Field Hockey's Executive Director. "Also, congratulations to Cathy and to Jeanne, who are so engaged in our sport at every level and are well prepared to help guide the organization to achieve our mission to Grow the Game, Serve Members and Succeed Internationally."

USA Field Hockey extends its congratulations to both Bessant and O'Brien as well as its gratitude toward Bree Gillespie and Chip Rogers as the baton of leadership is passed.

Follow USA Field Hockey on Twitter @USAFieldHockey for more sport-related updates.

USFHA media release


---

Just wanna have fun, said this girl, but a Hockey star she became

Life and times of 80s star, captain, double World Cupper and Asian Games Gold medalist, who had a colourful career that inspired a generation of youngsters

By ERROL D'CRUZ




Selma Juliet Christina D'Silva had more paper kites in her collection than her four brothers. That wasn't too much of a surprise. As the local tomboy, she vied with the lads in the neighbourhood – be it flying kites, playing marbles and a host of sports. "I don't remember playing with dolls as a little girl. But sports, be it football, cricket, basketball, 'gilly-danda'… you name it, I played with the boys," Selma says with a chuckle.



Star forward Selma, 1980s

She also wielded the hockey stick with aplomb.

"Yes, I just loved playing the game," Selma says from her home in Dabul, Mumbai, cherishing the memories of her girlhood. "I played with the boys on whatever patch of land we could get, often times on a concrete ground. But I never dreamed of nor expected to play for India," the crack inside-left of India's gold medal winning 1982 Asian Games team reveals.

But there were watchful eyes who believed she would one day. Those belonged to coach Romauld Pereira who settled for no less than seeing the nine-year-old play for St Anne's Girls' High School, Dabul. "He talked to my mother and then did his best to influence the Principal of the school to develop a team for inter-school competitions," 60-year-old Selma flashes back. Pereira's efforts were successful. St Anne's took the pitch with a gutsy little Selma raring to go, little realizing that she was much the fulcrum of change when it came to women's hockey in the locality. The coach's initiative also paved way for Selma's own pathway towards donning the coveted colours of her country.




Romauld was the first in a string of coaches Selma is deeply grateful to. "Pat Crasto and Willie Anton also moulded my skills and gave my talent a firm foundation," she says. "Then, as I moved up levels, Jaswant Singh, Satinder Pal Walia and Balkishen Singh fine tuned my skill set to meet international standards. By 11, she represented Bombay (now Mumbai) in the Junior National championships in Pune. At 15, she participated in the Senior Nationals in Goa and that very year received a call-up to the national team. Concurrently, she went through the grind and toil, pursuing a sport which she once thought only as a source of fun and joy. "In school, it was my responsibility to get my teammates to the ground for practice. "So there I was knocking on their doors at 5.30am, awakening them from deep slumber and making sure they made their way to our training sessions.



Selma D'Silva (c) in action during the Delhi Asiad, 1982, where top scored. Photo Ashok Vahie

After finishing school, Selma took her twinkling blade to Higher Secondary where she shone for St Sebastian Goan High School at the Police Gymkhana Ground where she was the cynosure of all eyes. When it came to University, the famous coach Jaswant Singh of Khalsa College – an institution known for its promotion of hockey – was determined to see Selma on campus. "Most of my friends joined St Xavier's and I was keen on doing so too but Jaswant persuaded me to join Khalsa. I was saddened to part company with my close friends. Besides, travelling to Khalsa at Matunga from Dabul was demanding since it meant changing trains from Western to Central Railway," Selma explains some of the travails of pursuing a sport in Mumbai. "But I made that decision and hockey-wise it was the best thing I did. Especially because I then came under the tutelage of Jaswant – the man who moulded me. I owe it to him for making me the player I was," Selma reveals, her voice tinged with emotion.



With coach Jaswant Singh

But it wasn't easy by any reckoning. Especially going by Jaswant's dik-tat. "We trained three and a half hours in the morning and another session of the same duration in the evening! "It was hockey 365 days of the year with neither Christmas nor Diwali breaks. And no Sundays off!  'Do you take a break from eating on Sundays?'," was his reply when we asked for a Sunday off. "When we (the Catholic girls in the team) pleaded of him to give us some time off to attend Sunday morning Mass, he was quick to point to Don Bosco's church just across where we could go to fulfil our obligations and return for practice! We were a familiar sight in church on Sundays. A clutch of girls, clad in track suits!

"Jaswant was a disciplinarian to the core," says Selma. "He was first at the ground and there was little sympathy if we turned up late. My neighbours caught me sprinting to catch a train in order to avoid being late at training and word reached my mum. I thought it was OK for Jaswant to land up at training on time. After all, he lived just opposite the ground. He later moved to Borivali in the suburbs but still remained the first to be present on the ground!

"There were no compromises for hard training," recalls Selma. "Jaswant focused on the fundamentals – trapping, flicking, pushing, hitting and dribbling. My skills were in good shape but they were fine tuned by him. Jaswant never went easy on building our basics in the game. Nor did he when it came to developing stamina and we took to long-distance running often."



Selma with her mother and brothers Vincey (l) and Alvito

Selma went from strength to strength. She was selected to the India B team for the Begum Rasool Cup in Chennai in 1975 but the team was scrapped at the last moment and Selma had to watch the tournament from the stands. "That may have been a bit disappointing but it hardly affected my enjoyment or progress in the game," she says. In 1979, however, Selma was selected to the Indian team proper and it led to a colourful career.

She represented India at two World Cups – Vancouver 1979 and Kuala Lumpur 1983 where she was captain. Selma was also a member of the 1980 Moscow Olympic team where women's hockey debuted and toured with the national team in Russia, Germany, Singapore and Japan. Her high moment, however, was at the 1982 Asian Games where women's hockey made its first appearance.

Selma scored 12 goals (the highest number of field goals scored by an individual) as India stormed to the gold medal. It was there that she formed a fearsome trio with Naazleen Madraswala (now Namrata Shah) on the left-wing and Rajbir Kaur at centre-forward. "Rajbir and I had superb rapport on and off the pitch," Selma recollects. "Sudha Chowdary is another player I jelled very well with but I fondly remember all my teammates of that gold medal victory and the feeling of pride on the podium, hearing the national anthem being played… all this is deeply etched in my memory," Selma says.

"To know that my older brother Alvito was in the crowd made it even more special. After all, he took me along to watch the Gold Cup and Aga Khan matches where I watched  great players like Govinda, MP Ganesh and Balbir Singh. My younger brother Malcolm played at the University level and it inspired me to work hard at my game. We (the Bombay team) trained with the Tata's men's team and I recall playing with Gilbert Lobo, Nasir Ali and Olympio Fernandes… those were fabulous days," Selma, says, going back in time.

There are other memories that stand out for Selma. "At the 1980 Moscow Olympics, I turned 20. I received flowers and a gift from the organizers in the Olympic Village," she fondly recalls. "

"I cannot forget receiving the Padma Shri award in 1991. My mother (Julema) and two of my brothers Alvito and Vency, who maintained my playing CV, were present at the ceremony. Then, when I returned home, my father (Thomas) was there to walk me home from the lane amid fireworks and festoons.  And how can I forget the sweet gesture of my brother Gilroy, who is no more. He displayed this huge card with the word congratulations in our living room! Or the citation that went with the award that he placed in the family album."



A rare moment: Flanked by President of India (l) and Prime Minister after receiving Padamshree award, 1991

Selma gushes with admiration for coach Balkishen Singh. "He deeply influenced my development at the India level. He was my mentor at the camps in Patiala and Delhi as we prepared for the Asian Games," Selma says, reflecting on days of hard training in the hot sun.

There were moments of deep dejection too. One that was shared by the team — the 1980 Moscow Olympic failure to clinch a medal, something that still rankles.

"We were expected to win the tournament (marred by the US-led boycott) but we lost our way towards the end and finished fourth.  We failed to convert chances that came our way and to make matters worse had a goal wrongly awarded against us in the match with Zimbabwe, the eventual champions."



Receiving the Asiad gold medal at the hands of former Prime Minister Rajiv Gandhi

But for the most part, Selma remembers the struggle and sacrifice to represent the country. "I used to study for my University examinations in the SPRF barracks we were put up in Pune," she recollects. Selma, however, is grateful for employment provided by the Railways, in particular Western Railway where she eventually rose to the post of Assistant Sports Officer.

"Hockey was never a lucrative sport, especially for us women. The men, however, had opportunities provided by the banks and some corporate entities such as Tata's, Mahindras. The Railways, though, played a major and pioneering role for women players as much as it did the men. The fact that it dominated National championships bears testimony," says Selma, a vanguard for the Indian Railways team in the national championships where the team won umpteen titles.

Even as she thumbs up the India women's team of today, she laments the lack of opportunity to play hockey with the demise of the many and varied tournaments existent in her heyday like the Abel David Cup in Pune.



With her late handicapped brother Gilroy

Selma's tenure with the Indian team came to an end when she quit in 1983 owing to personal commitments. She, however, continued playing domestic hockey for the Railways before retiring altogether from the game in 1996. Selma opted for voluntary retirement in 2004 to care for her mother and is now involved in social work.

She still lives in her childhood home at Dabul in the locality where she tackled and dribbled past male players during her days of 'gully' hockey. The kites she flew have long been tucked away but the memories of those days full of joy, exuberance and energy haven't. It forms the basis of advice that Selma offers to girls embarking on sports.

"If you're passionate about a sport, pursue it with hard work, give it your all but don't focus too much on getting results which will come in the long run.

"Most of all," she says, "enjoy the process."

Photos: Ashok Vahie & Selma's personal collection

Stick2Hockey.com


---

David J Prosser: Wales and GB International



David being presented with his GB cap by Lewis. Picture: Courtesy of The Hockey Museum

It is with deep regret Hockey Wales report that David Prosser passed away on 24 January.

David was a true legend of Welsh Hockey. He learned his hockey at Kingston Grammar School, playing in the famous 'cage' – a very large cinder square playground. David was first capped for Wales whilst still at school, aged 17 and his first international was the game v Ireland at Newport on 19th March 1960.

David represented Wales at international hockey from his debut on 19 March 1960 until 15 April 1972. In total he represented Wales on 69 occasions and on 29 March 1967 broke the then Wales record for the number of caps, held at that time by Graham Dadds. He played in the first ever European Cup in Brussels in September 1970. David also played for Wales in 6 indoor internationals and played in the first ever indoor tournament in Paris 1973. David captained the Welsh side and was the captain of the famous first ever victory against England on 9 August 1970 at Colston's School, Bristol. His final cap was the 1-1 draw against Scotland at Wrexham.

After his distinguished playing career was over David coached the Wales Senior outdoor squad in 23 internationals including finishing 6th in the European Cup 1978, Wales' best ever finish, as well as coaching the indoor squad in 43 internationals.

He represented Great Britain in 16 internationals, at a time when very few Welshmen were selected for GB and captained them at 23 years of age on the 6-week Australian Tour as well as later Madrid Tournament and the Pre-Olympic Tournament of 1967.

David spent much of his life involved in hockey both with Wales, GB and domestically. He started mini-hockey in South Wales in the early 1980's and branded it Mini Magic – a very popular form of the sport. David coached Marlborough Hockey Club juniors, where he started with just 14 players and expanded the section to over 130 junior players. He played for Old Kingstonians Hockey Club from 1961 onwards and captained the club for 9 years; he also represented Middlesex at county level, again captaining the county. He was also involved with Whitchurch HC, coaching them in league and European tournaments.

He was very proud of his son, Lewis, following in his footsteps and travelled to watch him at every opportunity. The crowning glory was when Lewis became the record caps holder at that time.

David continued to help hockey in Wales on the marketing and sponsorship front using his many business links in the British media. He was very supportive of The Hockey Museum together with the Wales Cap Project and the History of Welsh Hockey, supplying information about games, players and his time playing for Wales.

A true icon of Welsh hockey has sadly left us.

Our deepest condolences go to his family and friends.

Hockey Wales media release


---

Obituary: David Prosser



David Prosser

Great Britain Hockey are sad to hear of the passing of former international player and Wales captain David Prosser earlier this month.

Described as a 'true legend of Welsh hockey', David won his first cap against Ireland on 19 March 1960 when he was just 17. He went on to represent Wales for another 12 years and played a total of 69 times, holding the record for the most number of caps for several years.

He also captained the side, leading them to a first ever victory over England on 9 August 1970. In addition, David played 16 times for GB and captained them on a tour of Australia.

After finishing his playing career, David coached Wales' senior indoor and outdoor squads, leading the latter to sixth place at the 1978 EuroHockey Championships, which remains their equal-highest finish.

David also started mini-hockey in south Wales in the 1980s and coached at Marlborough HC and Whitchurch HC, whilst also playing for Old Kingstonians HC and Middlesex.

Through his work in marketing and sponsorship, David continued to help hockey in Wales and would always be found watching his son Lewis, who also went on to captain Wales and has played 149 times for them to date.

Our thoughts are with David's family and friends at this time.

Great Britain Hockey media release