All the news for Wednesday 27 January 2021

Four more matches decided in Quaid Inter-Division Hockey




LAHORE-Four more matches were played on the second day of the 1st Quaid-e-Azam Inter-Division Hockey Championship here at Pakistan's National Hockey Stadium on Tuesday.

Director General Sports Punjab Adnan Arshad Aulakh was the chief guest on the second day of the championship and witnessed the thrilling matches. Lahore, Sahiwal, Multan and Faisalabad exhibited excellent performances and scripted entertaining victories against their respective rivals.

Sahiwal Division defeated Gujranwala by 2-0 in the first match of the second day. Sahiwal took the lead in the 5th minute through a goal scored by penalty corner. Sahiwal's second goal came in the 29th minute of the match through the field effort. Lahore Division won the second encounter of the day against strong Bahawalpur by a narrow margin of 2-1.

Bahawalpur grabbed the lead when M Uzair converted a penalty stroke in the 27th minute but after just two minutes gap, Lahore leveled the score when M Rabiya netted a beautiful field goal. Exhibiting wonderful stick work and dodging captain Hanan Shahid of Lahore team scored another field goal in 56th minute which proved decisive and Lahore won the match 2-1. Lahore and Bahawalpur teams got three and two penalty corners respectively.

Multan defeated DG Khan by 3-0 in the third match of the day. Multan scored their three goals in 2nd, 10th and 13th minutes through field efforts. M Musa scored two goals while Shamoon Said contributed one goal for the winning team. Faisalabad Division outpaced Rawalpindi by 5-2 in the last clash of the day. Rawalpindi scored their goals in the 2nd and 59th minutes. They got six penalty corners as compared to four by victorious Faisalabad, whose goals were netted in 4th, 11th, 32nd, 39th and 47th minutes of the match.

The Nation


---

PHF president optimistic about revival of international hockey in Pakistan

ISLAMABAD: PHF president Brig (r) Khalid Sajjad Khokhar Tuesday expressed his optimism about foreign hockey teams' visit to Pakistan, saying that all-out efforts were being made to invite foreign teams to the country for a series of matches and a tournament.

However, the prevailing wait-and-see policy adopted by the Pakistan Hockey Federation (PHF) will be fetching no positive results when it comes to regaining lost glory as such the go-slow policy would only make the matter worse as far as the ranking and the country's image in the world of hockey is concerned.

It has been over a decade now that any leading international or even an Asian team has visited Pakistan for a series of matches, be it friendly or something else. While all other sports events, national and international, are being organised by respective federations and boards, the PHF has yet to make any concrete efforts to lure international outfits to visit Pakistan. So far, what the hockey lovers have got are merely a lot of hollow promises and empty slogans.

The security as well as Covid-19 situation in Pakistan is far better than any other Asian or European countries, yet no progress has been seen when it comes to inviting foreign teams, organise international events and national team's visits to other countries.

The majority of nations are busy playing against each as they know that such an engagement is meant to increase the standard of their game. The worst-ever ranking, which is at the lowest 17th, may fall even further unless and until leading teams visit Pakistan and Greenshirts go abroad for friendly series to raise a competitive unit for future international events.

When a question was put to PHF president Brig (r) Khalid Sajjad Khokhar as to why all-out efforts were not being made to get positives out of the ongoing Covid-19 situation, he admitted that the time was ideal to make a move.

"You are right as foreign teams in games of cricket, tennis, and squash have been visiting Pakistan but there had been no real international hockey activities in the country for the last so many years. We have not lost hope and are trying to invite teams for a series of matches and a tournament. For the purpose, we are in touch with the Asian Hockey Federation (AHF). Things were gone tough for international hockey due to the pandemic. In Pakistan, the Covid-19 situation is much better that's why South Africa team is here and PSL VI is around the corner."

Khokhar added that hopefully some good news will be coming up in the future.

"I assure you that some good news would come up in the near future as efforts are being made to make the best use of the available time. Leading teams across the world need international outings and we are ready to host them."

He also admitted that there were no security concerns, which were there in the past.

"There is no security issue at all as the foreign teams as well as players are now feeling at ease to travel to Pakistan for sports engagements. We are confident we will succeed in hosting a team or teams in the near future. You would see international hockey teams visiting Pakistan this year," the PHF president added.

The News International


---

India junior women's hockey star Beauty Dungdung showed the potential to play for senior team: Poonam Rani

Dungdung scored a hat-trick in the inaugural game of Indian junior women's hockey team's tour to Chile and scored a brace in the final game

By Samrat Chakraborty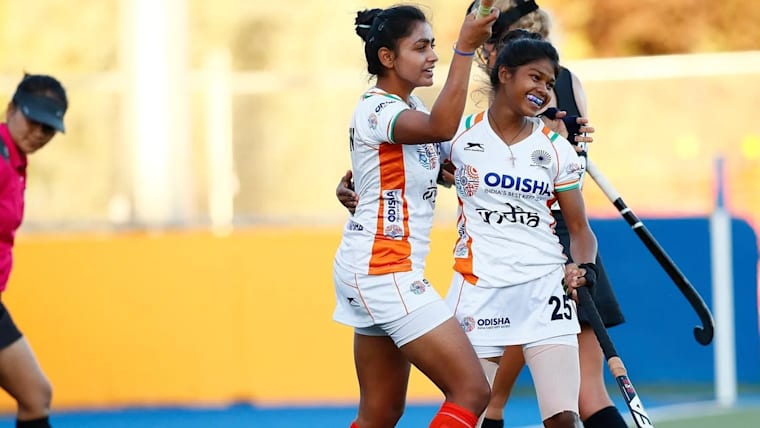 Indian junior women's hockey team made the most of their exposure trip to Chile as they remained unbeaten and won five of their six matches.

Poonam Rani, who was part of the team that represented India at Rio Olympics, was mighty impressed by the performance of junior team and feels that striker Beauty Dungdung was the standout performer.

"There were a lot of young players in the junior team and everyone gave their best. I'm happy with their performance. Beauty Dungdung has been playing exceptionally," Poonam Rani to the Olympic Channel.

"A lot of players from this team have the potential to enter the senior team set up in due course. I want more such young talents to come up so that our team becomes stronger with time," she added.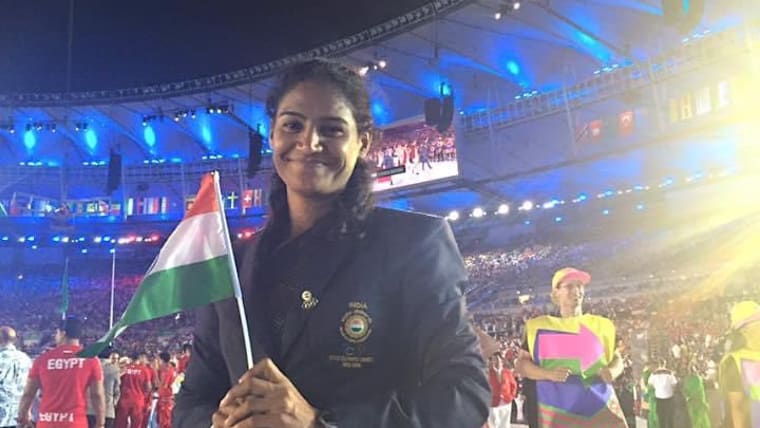 Poonam Rani representing India (Courtesy: Twitter)

The Indian eves began their campaign with a 5-3 win over the Chile Junior team before clinching a 4-2 victory against the same opponents.

The visitors then continued to show their dominance against the Chile senior team as they bagged a 3-2 win before holding the hosts to a 2-2- draw and then won the last two matches 2-0 and 2-1.

Dungdung, who looks up to former India hockey player Asunta Lakra as her role model, scored a hat-trick in their inaugural game and concluded the tour of Chile with a convincing brace.

Rani, though, believes that there was one area that still needs to be tweaked.

"As a senior player, my view is that I want them to improve on their set-pieces," said the 27-year-old, who is hoping to make a comeback into the national set-up.
The results for the India junior women's hockey team will be a massive boost ahead of the 2021 Junior World Cup in Potchefstroom, South Africa. The team had previously played against Australia and New Zealand in a three-nations tournament in December 2019.

Olympic Channel


---

Marvellous Maartje! Dutch legend Paumen talks about astonishing career




She is a double Olympic gold medallist and the highest scoring female athlete in Olympic hockey history. She is also the all-time top scorer for the Netherlands, a world and European champion and a two-time winner of the FIH Player of the Year Award.

In Part 1 of a special two-part interview, Maartje Paumen – who stepped away from international hockey following a silver medal at the Rio 2016 Olympic Games – tells us what she has been up since retiring, reflects at her sensational career and provides insight on the relentless dedication required to become one of the best drag-flickers to have ever played the game.

Hi Maartje, thanks for talking to us! It been a few years since you retired from playing international hockey – are you missing it, and what have you been doing since?

Maartje Paumen: "Yes, sometimes I miss it, but most of the time I'm happy that I retired. What I'm doing now is being the assistant coach of the ladies team at Tilburg, so I'm still doing a lot with hockey. I also have my own school for teaching kids how to drag-flick, which is really nice to do. So, most of the days in the week I am still on the field and teaching what I have learned over all the years. Next to that, I started a company together with my girlfriend (Savannah Hamming), giving personal training and teaching people how to deal with healthy food. It is a really nice combination, making people aware of what good food does to your body.

"It's called 'Fit Happy Healthy', and we combine good healthy food with personal training. We make people aware of what good food is doing for your body, not only physically but also the mental part of it. When you are physically fit it will help you, especially during this time with covid, we have a lot of people who we can help at this moment. We are really happy that we started."

Going back to your playing days, you had an incredible career both at international and club level, winning every major title in the sport, some many times over! Olympic gold medals, World Cups, European Championships as well as ton of national and European titles with Den Bosch. Is it hard to choose highlights from all of those achievements?

Maartje Paumen: "Yes, it is, because we had a lot of highlights during all the years. When I think about highlights, I think about London 2012, which was the second time we won the gold medal at the Olympics [after Beijing 2008]. It was really special to me because it was not our best tournament, but we were there as a team and that was really nice. If you win a gold medal at the Olympics, that is really great, but if you want to be successful over a lot of years then the second time you win the medal, it is maybe more special than the first time. I cannot choose between the two, but if I had to choose, I'd go for London 2012. There was also the World Cup in The Hague in 2014, of course. Playing a World Cup in your own country in a really big stadium, where every game we played saw the stadium full of orange people, it was great to play there. And of course, when you win the gold medal at the World Cup in your own country, I really cannot forget that from my highlights. That was a really nice one! As a third highlight, I'm going for all the successes with the club for which I played 13 years, Den Bosch. We won a lot of titles. As I mentioned before, winning once is great but if you can do it over so many years, it is really special for me. Club hockey was really important for me and my development over the years. I think Den Bosch made me who I am as a person, so that is also a highlight. I played 13 years for the club, and 11 times we won the Dutch championship, and 11 times the European Cup with the club."

As well as being a world class defender and midfielder, you are regarded as one of the finest drag-flickers in the history of the sport. It is a skill that can take years to perfect. Can you give people an idea about the level of dedication and hard work required to master such a difficult skill?

Maartje Paumen: "It took a lot of commitment, of course. I started training when I was 13 or 14 years old and started training together with my drag-flick coach Toon Siepman when I was 18 years old, when I started playing for Den Bosch. I trained with him every week next to my normal training with the club and the national team, I was going with him to the field every week and only doing drag-flicking. I was also going to the gym one or two times extra in a week. I did that from 18 or 19 years old until the day that I stopped playing for Den Bosch and the national team."

"Now I teach young kids how to drag-flick through my own school, together with the coach of Den Bosch. I do the part only on drag-flicking, and kids between 12 and 16 years old can train with me. I tell them all the stories about how many hours you have to train, that they don't have to think that after ten sessions they have a really great drag-flick."

Yes, there are a lot of hours in it, and I think that if you want to be successful in what you are doing, you have to train and repeat it again, and again, and again. But for me, when I was doing it myself, I always had a mind that I wanted to have the best drag-flick in the world, so for me it was not hard to go to the field and train on my drag-flick. I really loved to do it, but it took a lot of hours."

It must be nice to pass on that knowledge to the next generation. Do you get a lot of satisfaction from that?

Maartje Paumen: "Yes, especially when you see them growing, and that their flick is getting better. I really love it."

Part two of the interview with Maartje will be available on FIH channels later this week.

FIH site


---

Athlete wellbeing at heart of Tokyo Olympic speculation



The Oi Olympic Hockey Stadium is in the waterfront area of Tokyo Bay

Are they on? Are they off? Speculation around the staging of the already-rescheduled Olympic Games ramped up another notch last week.

Olympic hopefuls are currently having to train in lockdown with no elite matches against opposition in sight.

Amid this monotony are the reports over whether the Games will go ahead, some officials taking a negative stance and the IOC forced to come out with upbeat responses.

The raft of stories on the back of The Times' report that the Tokyo Olympics were in doubt – only for the IOC to deny it – left many athletes in a spin.

"Dangerous to lead people on without having it fully confirmed, especially for athletes like myself who are aiming for their potential first games," Great Britain's Brendan Creed wrote on Twitter.

Meanwhile, the cancellation and denial stories left Ireland's goalkeeper David Harte to admit "just how detrimental some writing can be to athletes' mental well-being."

There seems to be no let up. The IOC now appears to have doubled down on the vaccination issue, with athletes now set to be given priority in a bid to make sure the 2020 Games can go ahead at the second time of asking.

The will it, won't it Olympic issue will continue for some weeks yet.

The Torch Relay is due to begin in late March, with 10,000 runners carrying the Olympic flame on its journey ahead of the July Games.

If the relay begins, it would herald a sign the Games will be staged.
SIGN UP for The Hockey Paper's returning newsletter: Promotions, exclusives and our best coverage
---

Gosport HC Rising To The Challenge To Support NHS Workers




The last year has been tough for many of us but it has been so heartening to see so many hockey clubs continuing to stick together and help others in spite of it all.

Gosport Borough HC are the latest example, having set themselves a challenge to raise funds to create hampers for NHS and other frontline workers in their area.

Unable to take to the pitch due to the current restrictions, organisers Donna Sutton and Lisa Mortimore asked their fellow members to keep active by completing 5km by running, walking or cycling.

Each member was asked to complete the physical feat in their club kit and donate a £5 match fee which was to be put towards buying food, drink and other items for those who are doing such phenomenal work.

Having set an initial target of just £200, they have raised nearly four times that amount already and are well on their way to reaching the £1,000 mark. They've also donated six hampers to local hospitals, hospices and other organisations and will be putting together even more soon.

If you'd like to get involved or donate, you can visit their page here.

England Hockey Board Media release


---

David Dix-Perkin




Scottish Hockey is sad to hear that David Dix-Perkin has passed away and our thoughts are with all his family and friends.

David was a well-known and respected figure throughout hockey in Scotland with a long involvement in the sport.

Having been a member of Grange for 70 years, David also served as Secretary of Grange Club for 16 years; Trustee for 15 years; and Honorary President of Grange Hockey for over 30 years. David also held an honorary position at Edinburgh University Men's Hockey.

David was Chair of Scottish Hockey Umpires Committee and made a big contribution to umpiring for many years.

David was also a contributor to the 100 Years of Scottish Hockey celebrations. The first meeting of the Centenary Committee was held on 23 January 1995, where he was appointed Honorary Secretary, along with the then SHU President, Alistair Gray and Chair, Evlyn Raistrick.

As a player David was capped by Scotland twice. David also featured in the first 'Home Scots' side who competed against Ulster. The Home Scots v Ulster fixture started in 1953 (played till 1968) undoubtedly, brought about a team spirit amongst home-based players.




David was well-known for his personality which shone through when organising tours, such as Picts Tours – which were always noted for a great camaraderie orchestrated by David. Games, social exchanges were enjoyed in Scarborough, Denmark, Paris and Barcelona. In Paris the Picts were presented with the cup for the best 'sporting side' and David on the return flight celebrated by passing the cup around all the passengers.

He was founder of Grange Easter Festival – which was a huge event – bringing top class teams to Edinburgh from Europe and beyond.

Chair of Scottish Hockey, Martin Shepherdson, said, "David was a warm, engaging personality – very much a gentleman. Always full of life and stories, he spoke at the Grange Men's Dinner every year for nearly 40 years.

"He gave a huge amount to hockey at Grange and indeed to all of Scottish Hockey and will be greatly missed."

Scottish Hockey Union media release