All the news for Tuesday 26 January 2021

Jrs win again while senior lose again




Indian juniors notched up their third win, defeating Chile 2-1 today in the last of the three matches in Santiago while the senior women in Argentina went down valiantly 2-3 to the B team of the hosts at Buenos Aires.

Senior women and Argentina B were 1-1 at half time.

Buenos Aires: India went down 2-3 to Argentina 'B' in a thriller on Sunday. The tourists put in a plucky performance against an experienced Argentine side who held fort against a late Indian surge. Sol Pagela (25'), Constanza Cerundolo (38') and Agustina Gorzelany (39') scored for Argentina 'B'. Salima Tete (6') and Gurjit Kaur (42') were on target for India.

The visitors were off to a flyer, forcing a penalty corner in the opening minute. A deliberate foul during the set-piece led to a penalty stroke which was saved. India put the missed opportunity behind them and took the lead in the sixth minute through young Salima Tete who has shown good form on the tour.

"We had a very good start to the match and though we couldn't score off the penalty stroke, we were able to convert after a good interception in the sixth minute. In the first quarter, we were in control and kept a check on Argentina but the second quarter, they upped their game," explained chief coach Sjoerd Marijne of the Netherlands.

The Indian defence erred in the second quarter and the home side struck through Sol Pagela's 25th minute goal to make it 1-1. Argentina 'B' then grabbed the match by the scruff with goals in the 38th and 39th minutes. "I believe these two goals could have been stopped. We had restricted their circle entries to just five in this quarter but allowed them to convert twice in those five attempts. Though Gurjit scored in the following minutes to reduce the lead by one goal, we missed some good scoring opportunities thereafter. I feel we were a bit too rushed in our pursuit to convert. We must do much better to win from Argentina in the next following matches," stated Marijne.

Touring Argentina after covid-19 restrictions kept the Indian team out of competition for a year, India have tested their core group in the past four matches. The team drew two matches (2-2,1-1) and suffered two losses (1-2 and 2-3) in matches against the Argentina junior and 'B' squads. Sterner challenges lie ahead. India, led by Rani Rampal, take on the World No.2 squad, the Las Leonas, the full Argentina national squad.

"In the third and fourth matches, Argentina played with an experienced side that had recently won against Australia 'A' and this was a perfect platform for our players to adapt to their level. In these four matches, all the players in the Indian core group got a chance to show their best. In the upcoming four matches we will field our best side to see what we can create against the World No.2 team. There have been good learnings from these four matches, and I want to see how our main team performs against them," Marijne said.

What next

India take on World No.2 Argentina on January 27 at 0400 hours IST.

Stick2Hockey.com


---

Indian women's hockey team's winless run in Argentina continues

India slumped to a second straight loss against Argentina B. Earlier, they had drawn two matches against the juniors. India face the Argentina senior team next.

By Utathya Nag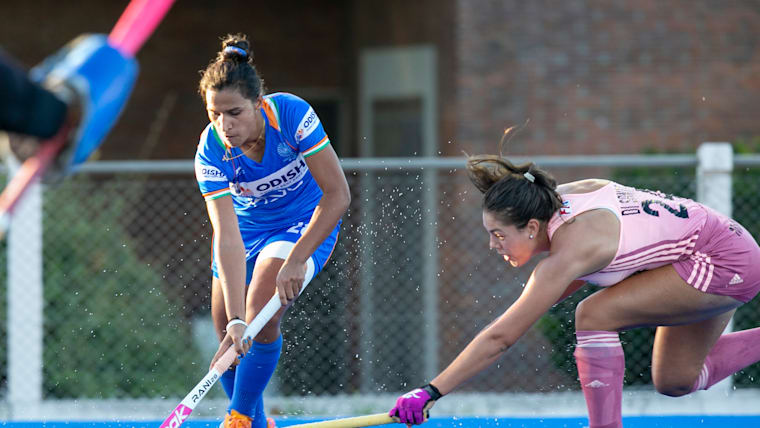 Photo: Hockey India

The Indian women's hockey team's wait for its first win in the ongoing Argentina tour continued after suffering a 3-2 defeat against Argentina B in Buenos Aires on Sunday.

India have, so far, secured two draws against the Argentina junior team but slumped to narrow defeats in both their clashes against the Argentina B team.

"In the third and fourth matches, Argentina played with an experienced side that had recently won against Australia 'A' and this was a perfect platform for our players to adapt to their level," India chief coach Sjoerd Marijne pointed out.

In the latest match, the Indian girls started with purpose. The team squandered an early opportunity to go ahead after failing to convert a penalty stroke but made amends soon after as young forward Salima Tete gave India the lead in the sixth minute.

"We had a very good start to the match and though we couldn't score off the penalty stroke, we were able to convert after a good interception. In the first quarter, we were in control and kept a check on Argentina," coach Marijne said.

However, the tables turned in the second quarter and Argentina B seized control of the game.

Sol Pagela equalised in the 25th minute before Constanza Cerundolo and Agustina Gorzelany scored in the 38th and 39th minutes, respectively, to put the hosts firmly in the driver's seat.

"I believe these two goals could have been stopped. We had restricted their circle entries to just five in the third quarter but allowed them to convert twice in those five attempts," Marijne opined.

Gurjit Kaur did pull a goal back for India in the 42nd minute but that was not enough.

"I feel we were a bit too rushed in our pursuit to convert. We must do much better to win from Argentina in the following matches," stated Marijne.

The Indian team is getting back into competitive mode after almost a year-long COVID-enforced hiatus, and the four matches so far have been a good platform for Rani Rampal and Co. to ease themselves back in.

However, the Indian women will need to up their game in the remaining four matches of the tour, which will be against the Argentina senior women's team.

"In the upcoming four matches, we will field our best side to see what we can create against the world No. 2 team. There have been good learnings from these four matches, and I want to see how our main team performs against them," Marijne said.

India's first match against the Argentina senior team is on January 27.

Olympic Channel


---

India women's hockey team suffers second straight loss, goes down 2-3 to Argentina B

Indian have tested their core group in the past four matches where they secured two draws (2-2, 1-1) and suffered two narrow losses (1-2 and 2-3) in the ongoing tour.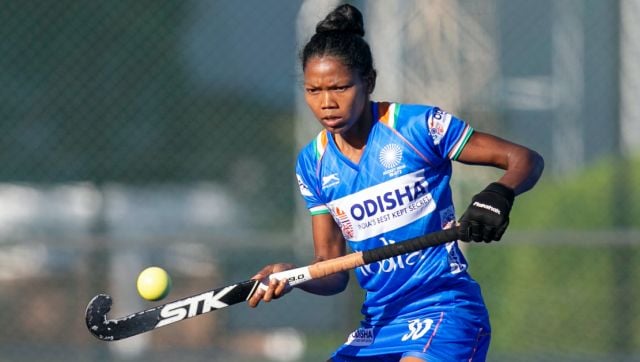 Salima Tete scored the opening goal for India against Argentina B. Image: Hockey India

The Indian women's hockey team suffered their second consecutive loss on the tour of Argentina, going down 2-3 to the hosts' B side in a thrilling clash.

Salima Tete (6th) and Gurjit Kaur (42nd) scored for India while Sol Pagela (25th), Constanza Cerundolo (38th) and Agustina Gorzelany (39th) registered their names on the scoresheet for the home side.

In the first quarter, it was India who got off to a flying start winning a Penalty Corner in the first minute. An intentional foul by Argentina while defending the PC led to the visiting side being awarded a penalty stroke.

Unfortunately for India, the goal was saved. Without letting this missed opportunity slow their rhythm, the tourists struck in the 6th minute through the in-form Tete to take the lead.

"We had a very good start to the match and though we couldn't score off the penalty stroke, we were able to convert after a good interception in the 6th minute. In the first quarter, we were in control and kept a check on Argentina but the second quarter, they upped their game," said chief coach Sjoerd Marijne.

A slump in India's defence in the second quarter was well-capitalised by the experienced home team. Pagela's 25th minute goal equalised the score line to 1-1. But the game tilted in their favour when India gave away two goals in the 38th and 39th minute.

"I believe these two goals could have been stopped. We had restricted their circle entries to just 5 in this quarter but allowed them to convert twice in those five attempts," Marijne said.

"Though Gurjit scored in the following minutes to reduce the lead by one goal, we missed some good scoring opportunities thereafter. I feel we were a bit too rushed in our pursuit to convert. We must do much better to win from Argentina in the next following matches," he added.

Indian have tested their core group in the past four matches where they secured two draws (2-2, 1-1) and suffered two narrow losses (1-2 and 2-3) in the ongoing tour.

In their upcoming matches this week, the Rani-led side, will face the formidable world no.2 Argentina squad.

"In the upcoming four matches we will field our best side to see what we can create against the World No.2 team. There have been good learnings from these four matches, and I want to see how our main team performs against them," he said.

Firstpost


---

Beauty Dungdung stars as India Jr. women's hockey team end Chile tour on a high

The eves defeated Chile 2-1 to maintain their unbeaten run at the exposure trip...

By Samrat Chakraborty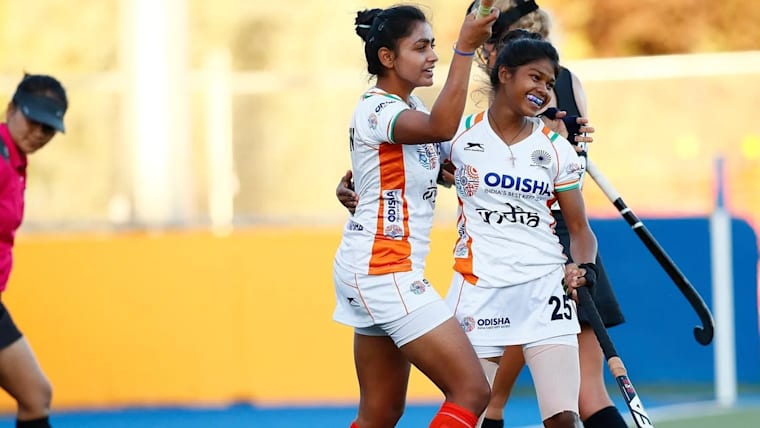 India junior women's hockey team emerged 2-1 winners against Chile at the Prince of Wales Country Club, Santiago in the small hours of Monday to end their South American trip on a high.

Beauty Dungdung (6', 26') scored both the goals for India while Chile's Francisca Tala (40') scored just after half-time to reduce the deficit.

Chile wanted to make amends for their previous losses and hence started the match with attacking intent. Within the first couple of minutes, they earned a penalty corner. India not only defended it successfully, but they also sparked a swift counter-attack. In the end, Dungdung found the net with an exquisite strike to give India an early lead.

The Blues, dominated proceedings in the second quarter and won their first penalty corner. Dungdung converted the set-piece with precision to double India's lead. Right at the end of the first half, Chile tried to pull one back from a penalty corner at the opposite end but failed to breach India's defence.

After the break, Chile started on a bright note as they cut the deficit into half.

They kept piling pressure on India's backline but the eves held their shape and defensive organisation to thwart their plans. In the final quarter, the hosts earned another penalty corner but once again failed to convert.

With their narrow win in the sixth and final match of Tour of Chile, the young Indian team returns to the country with an undefeated streak, winning five and drawing a match during their outing in Chile's national capital of Santiago.

This was their first trip since they travelled to Australia in December 2019, where they locked horns against the hosts and New Zealand in a three-nation tournament. This was a vital trip as it not only provided competitive minutes under their belt but also served as a vital launch pad for the Junior World Cup later this year.

Olympic Channel


---

India junior women's team remains undefeated, beats Chile senior side 2-1

Forward Beauty Dungdung's brace helped India win its sixth and last match of the Tour of Chile.



Beauty Dungdung celebrates India junior's goal against Chile with teammates.   -  Hockey India

A fruitful and exciting Tour of Chile came to an end after the Indian junior women's hockey team defeated the Chile senior side 2-1 in its sixth and last match held at the Prince of Wales Country Club on Sunday evening.

Forward Beauty Dungdung's brace in the 6th and 26th minute gave India a much-deserved win. The lone goal for the host was scored by Francisca Tala (40').

India started proceedings on the front-foot as it created pressure on the host to open the scoring, with Dungdung converting a beautiful team move. The early advantage worked in India's favour as it maintained the pressure on its opponent to end the first quarter with a 1-0 lead.

The second period also saw India create opportunities and get rewarded for its efforts as Dungdung scored again but this time through a penalty corner.

India's dominance, however, was under threat just two minutes later when Chile was awarded a penalty corner for an infringement inside the striking circle. But the visitor's defensive skills came to the rescue.

It was Chile's turn to dominate proceedings in the third quarter as it pulled a goal back through Francisca Tala, who finished off a team move.

Chile tried to force its way back into the match in the last quarter as well but India showed resilience and grit to avoid conceding an equalizer.

The visiting team itself had a few opportunities to extend its lead, but could not take chances. With six minutes remaining on the clock, Chile had a glimmer of hope to score, through another penalty corner, but India maintained a solid back-line to see out the victory and an undefeated streak, winning five and drawing one.

Sportstar


---

Practice matches aid Olympic preparations for Argentina and India women



Photo credit: Hockey India

At a time when very little international sport is taking place due to the ongoing battle against the COVID-19 global health pandemic, a series of friendly matches between hosts Argentina and visitors India – which will be live streamed on the Watch.Hockey App*, more details of which can be found below – feels like a positive step forward towards a possible return to normality. Significantly, it also provides a wonderful opportunity for two talented and ambitious teams to progress their preparations for what is without question their most important competition of the year: July's Olympic Games in Tokyo, Japan.

India – who in Tokyo will compete in Pool A alongside reigning world champions the Netherlands, reigning Olympic gold medallists Great Britain, Rio 2016 bronze medallists Germany, 2018 World Cup silver medallists Ireland and African continental champions South Africa – have been following strict health protocols since arriving in Argentina for their eight-match tour, their first away fixtures for almost 12 months. At the time of writing, India head coach Sjoerd Marijne has witnessed his charges play a total of four games at Cenard in Buenos Aires, drawing twice Argentina's Under-21 team before two narrow defeats against the Argentina B team.

"In the third and fourth matches, Argentina played with an experienced side that had recently won against Australia 'A' and this was a perfect platform for our players to adapt to their level", said coach Marijne. "In the four matches [played so far], all the players in the Indian core group got a chance to show their best. In the upcoming four matches [against Las Leonas] we will field our best side to see what we can create against the World No.2 team. There have been good learnings from these four matches, and I want to see how our main team performs against them,"

On 26th, 28th, 30th and 31st of January, Marijne's team have the opportunity to test themselves against one of the very best sides on the planet. The contests against Las Leonas – who sit second in the FIH World Rankings compared to India's ninth position – will certainly provide Marijne with a good indication about the level at which India is currently operating at, as well as providing useful insight into the steps that may need to be taken in the crucial months ahead leading into Tokyo 2020.

The fixtures are also hugely beneficial to Argentina coach Carlos Retegui, the man currently overseeing both the women's and men's international teams. It is a much-needed opportunity for Argentina's charismatic tactician to see a wide range of his athletes in action against a skilful and unpredictable India team. Retegui will be determined to learn as much about his talent pool as possible, especially in the light of the recent retirement of legendary attacker Carla Rebecchi.

For those 'fringe' players that played for the Under-21s and Argentina B teams, the India matches provided a chance to impress the coach and stake their claim to be selected for Tokyo, where Las Leonas have their sights set firmly on the target of finally securing that elusive Olympic gold medal following silvers at the Sydney 2000 and London 2012 Olympiads.

In Tokyo, Argentina will compete in Pool B against fellow FIH Hockey Pro League giants Australia, New Zealand and China, as well as World Cup 2018 bronze medallists Spain and Japan, the hosts and the continental champions of Asia.

Can Las Leonas follow the glorious success of their men's team at Rio 2016 by winning gold in Japan? With six months to go, no stone will be left unturned in the quest to turn that dream into reality.

Results

17 January: Argentina Under-21s 2-2 India
19 January: Argentina Under-21s 1-1 India
22 January: Argentina B 2-1 India
24 January: Argentina B 3-2 India

Upcoming fixtures
To be live streamed on the Watch.Hockey App*

26 January: Argentina v India – 19.30 local time (UTC/GMT -3)
28 January: Argentina v India – 17.30
30 January: Argentina v India – 18.00
31 January: Argentina v India – 17.30

*In Argentina, the matches are available on the CAH YouTube channel.

FIH site


---

Arul and company 'immune' to bad news

By Jugjet Singh



Arul Selvaraj

NATIONAL men's coach Arul Selvaraj and his trainees were well-prepared for a second postponement of the Asian Champions Trophy (ACT) even before it became official on Friday.

And they are "least disappointed" with the outcome. They are, in fact, intensifying their online efforts.

Arul and his men are keeping things positive as the Covid-19 pandemic continues to wreak havoc worldwide.

The ACT was moved from November last year to March before the Asian Hockey Federation (AHF) postponed it again due to the pandemic.

The men and women's ACT in Bangladesh and South Korea respectively will likely take place after the Tokyo Olympics in July.

Malaysia will battle India, Pakistan, Korea, Japan and Bangladesh after the new dates are confirmed for the men's event.

The women's ACT comprises Malaysia, China, Japan, Korea, Thailand and India.

"The players knew about the situation, and instead of feeling disappointed, we should look ahead," said Arul yesterday.

"We hope the Movement Control Order (MCO) will be lifted soon.

"Hopefully, the Malaysia Hockey League (MHL) can take place sometime in March.

"The MHL would be a good opportunity to observe my players when they represent their clubs," Arul added.

The men's MHL comprises defending champions Univesiti Kuala Lumpur, Terengganu Hockey Team, Tenaga Nasional, Maybank, TNB Thunderbolts, UiTM, Sabah and NurInsafi.

PKS UniTen, Police Blue Warriors, Mutiara Impian, Sabah, Young Tigress and UniKL Ladies will battle for honours in the women's MHL.

New Straits Times


---

Ashran learning to be a leader as hockey team's wait for action continues

By T. AVINESHWARAN



Ready to lead: Ashran Hamsani (centre) celebrating after scoring for UniKL in the Malaysian Hockey League last February.

PETALING JAYA: National midfielder Ashran Hamsani will look at the positives from the postponement of the Asian Champions Trophy for the second time.

The tournament in Bangladesh was deferred from Nov 17-27 to March 11-19 this year due to the Covid-19 pandemic but now, it's likely to be held later this year.

The 25-year-old Ashran was initially heartbroken as he had been really looking forward to it.

"All of us were preparing for the tournament but it's sad to see it being postponed again. We've to look at it positively though as it's done for our own safety, " said Ashran.

"We can use this time to strengthen the team further by taking our own initiative to work on our fitness and weaknesses.

"Whether it is through training or video analysis, it is a good time to boost our performance.

"We'll make sure that we will be 100 per cent ready when the Asian Champions Trophy starts. The target is to be in the final."

The players are undergoing daily online training and Ashran said that everyone is committed, which is a good sign.

"I try to jog everyday to get some fresh air too, " he said.

Besides building up his physical and mental strength, Ashran says he has been learning about leadership under the guidance of coach A. Arulselvaraj.

"I've been given the responsibility to lead and it actually helps a lot with my confidence in the game, " he said.

"I've to minimise the mistakes. Midfield is an important position and, understandably, the competition will always be stiff. There are some new boys in the mix, " added Ashran.

The Star of Malaysia


---

Van Oost links up with Red Sticks in the Canaries




Waterloo Ducks defender Maxime van Oost has linked up with the Belgian Red Sticks in the Canary Islands this week as part of their preparations for the Pro League's return in early February.

Several senior panelists will not be in situ due to the early return of the Dutch men's Hoofdklasse, giving the 20-year-old van Oost a chance to impress alongside the likes of Tommy Willems, William Ghislain, Nelson Onana, Maxime Lootens, Romain Delavignette, Thibeau Stockbroekx and Jérémy Wilbers.

"I just finished my exams and I'm delighted to be able to train with the Red Lions again. This had already been the case in May and last June," van Oost told Le Soir about the call-up and what he needs to work on. "We are currently following specific physical sessions with Wouter Blondeel, our Under-21 physical trainer. I still have to increase my muscle mass.  

Dutch-based Arthur Van Doren, Loïc Van Doren, Sebastien Dockier, Alexander Hendrickx, Thomas Briels, Thibeau Stockbroekx and Tanguy Cosyns, meanwhile, have a bust spell ahead to meet all the requirements necessary to keep playing.

 "We will be tested three times," said AH&BC Amsterdam striker Cosyns. "Before our departure, then on our arrival in the Netherlands and once again taking resuming our flights to Valencia on February 1, to play the two Pro League matches. But hey, by then, we will have to see if the snow comes along and that the matches are not postponed in any case."

The Red Lions are due in Valencia from February 3 for their two Pro League duels against Spain on February 5 and 6.

Euro Hockey League media release


---

A Look at the USWNT's Incoming Coaching Staff




With the resumption of the FIH Hockey Pro League underway, the U.S. Women's National Team will find themselves under the new leadership in 2021 of Anthony Farry and Greg Drake. As the squad anticipates returning to the pitch as a collective unit, get to know the new USWNT head coach and assistant head coach.

The Australian duo have developed a strong bond over the past several years across multiple continents and compliment each other in a multitude of ways, from coaching philosophy to international experience.

"Certainly my philosophy as a coach is centered around balance, more importantly life balance and a real holistic approach to both athlete and program," said Farry. "I firmly believe that the real reason you grow, learn and mature is by surrounding yourself with people better than you so they can tell you what to do, not the other way around. Trial and error has been fundamental to getting me to this spot now and there has been plenty of error that's for sure."

"My philosophy is focused on trying to obtain the highest possible performance from individuals and teams while maintaining enjoyment," added Drake. "This includes promoting an environment that allows players to learn, improve and enjoy their experience, as well as being mindful of the future, when coaching in the present. It also means to challenge norms to seek improvement, respect the sport, administrators, volunteers and participants at all levels, and be a thoughtful, approachable, respectful, honest, creative and contemporary coach."

"In order to arrive at these philosophies, I've drawn on my varied experiences across my career," continued Drake. "In addition to my coaching, I've balanced a career in a range of government and private organizations in social planning, infrastructure planning and community development. These experiences have been invaluable in learning what success and failure look like."

Along with his own personal growth, Farry added that a major impact through the game of field hockey has also been watching the subtle changes in people as they progress through their careers and personal lives.

"Added with this is the impact those people have had on my family as well," continued Farry. "Being away from home and coaching in another country is a dream, but it can also be quite lonely as you don't have that family network to fall back on. So to have my wife and kids interact with the teams I'm working with has been nothing short of magical, they end up being your extended family."

Now as their focus shifts to Team USA, Farry and Drake are both eager to get to know the entire USWNT, as well as preparing for the team's continuation in the FIH Hockey Pro League.

"I always find this to be really exciting as you're provided with the chance to help shape someone's life, both from a professional and personal standpoint and the same the other way around," said Farry. "It really is something that over the years I've learned not to take for granted and I must say that I have had the pleasure of working with some absolute superstars, from a hockey and life perspective."

As Farry quickly noted, he, along with Drake, are excited to push forward with USA.

"I think this program has amazing potential and hopefully we can look to unlock that potential during the [FIH Hockey] Pro League as you're playing against the best teams in the world, no better time to show what you've got!"

"I cannot wait to get to training," added Drake. "I'm one of those people that really enjoys the process. I'm also really excited to work within a program with such significant potential. [FIH Hockey] Pro League is an opportunity to benchmark ourselves against the best. These opportunities should always be embraced."

USFHA media release


---

Pakistan's Senior hockey team's training camp starts today in Lahore

KARACHI: The training of the national senior team will start from Tuesday (today) in Lahore and will have only 10 players in the first phase because of COVID 19, 'The News' learnt on Monday.

PHF has drawn up a plan for training keeping in view all possible measures to prevent COVID 19 cases. The PHF president Brig (rtd) Khalid Sajjad Khokar, when contacted, confirmed that the training camp would begin in Lahore at National hockey stadium from Tuesday.

He further said that the training camp of national junior hockey team would be startd at the same place in Lahore from next month and its final date is yet to be decided. Khwaja Junaid, the chief coach of the senior team, said that the training camp would be organised on rotational basis. "When one group of players completes its training it will be sent home and the other group of players will be called," he said.

He said that there would be a total of 30 players in the senior team's training programme. He added that ground training would be started from Tuesday. "After the postponement of Asian Champions Trophy — which was to be held in March in Bangladesh — we have enough time to engage our players in camp training, matches and domestic events because now the Asian Champions Trophy will be held in October," Junaid said.

The News International


---

Quaid Inter-Division Hockey begins

LAHORE - Lahore, Gujranwala, Sargodha and Bahawalpur won their 1st Quaid-e-Azam Inter-Division Hockey Championship opening day matches played here at the National Hockey Stadium pitch-2 on Monday.

It is pertinent to mention here that Sports Board Punjab is organizing the event in collaboration with Pakistan Hockey Federation (PHF) from Jan 25 to Feb 7. Gujranwala Division defeated Rawalpindi Division by 4-0 in the first match. Gujranwala Division team launched the match in dominating style and struck the first goal through penalty corner in the second minute of the match. They netted three more goals through field efforts in 29th, 42nd and 53rd minute of the game to win the game 4-0.

Sargodha Division emerged triumphant by 2-0 against Sahiwal in the second match. Both the teams failed to avail any of their penalty corners, however, Sargodha struck two field goals in 21st and 25th minutes. In the third match, Bahawalpur thumped DG Khan 5-0. Bahawalpur strikers converted three penalty corners while the remaining two goals were the result of beautiful field moves. Lahore Division won the fourth and last match against Multan 2-0. Lahore scored their first goal in 7th minute through a penalty corner while the second goal was struck in 49th minute through field efforts. Today's fixtures: Sahiwalvs Gujranwala 9:00am, Lahore vs Bahawalpur 11:00am, Multan vs DG Khan 1:00pm and Faisalabad vs Rawalpindi 3:00pm.

The Nation