All the news for Monday 25 January 2021

India junior women's hockey team sweeps past Chile senior side 2-0

This was the Indian junior team's their fourth win during their tour of Chile

By Samrat Chakraborty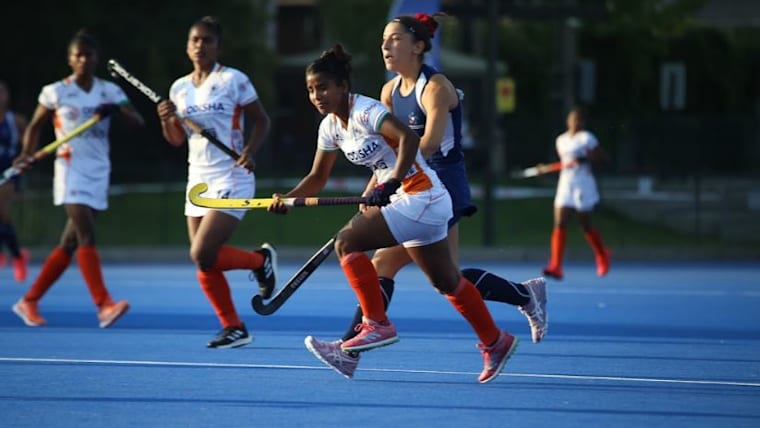 India junior women's hockey team maintained their unbeaten run as they blanked Chile senior side 2-0 with a dominating performance at the Prince of Wales Country Club in Santiago on Sunday.

Sangita Kumari (48') and Sushma Kumari (56') scored the final quarter for the visitors to register India's fourth win in five matches during their tour to Chile.

The match began on an even keel in the first three quarters as both sides failed to find the back of the net.

The Indian eves looked on the back-foot in the second quarter as they conceded consecutive penalty corners. But the defense stood tall and cleared all the danger coming their way.

It was a similar story in the third quarter as a penalty corner for India was well defended by the Chilean senior team in the 32nd minute. And three minutes later the hosts were denied an opportunity to score from another penalty corner.

India, however, broke the deadlock in the fourth quarter as Sangita set up a brilliant move and took a confident shot which ended up at the back of the net. Incidentally, minutes later, Chile had a glorious chance to put the scores level but the rushing Indian defenders cleared off the danger with ease.

The match was put to bed in the 56th minute from a penalty corner after a well-executed drag flick fell in space for Sushma on the rebound and she made no mistake to guide it home. The visitors were then able to maintain their lead in the dying minutes to register their fourth win in Chile.

India junior team will next take on the Chile senior side on Monday.

Olympic Channel


---

Indian junior women's hockey team beats Chile senior side to extend unbeaten run

Playing their fifth match of the tour of Chile, goals from Sangita Kumari (48th minute) and Sushma Kumari (56th minute) in the last quarter gave India the win.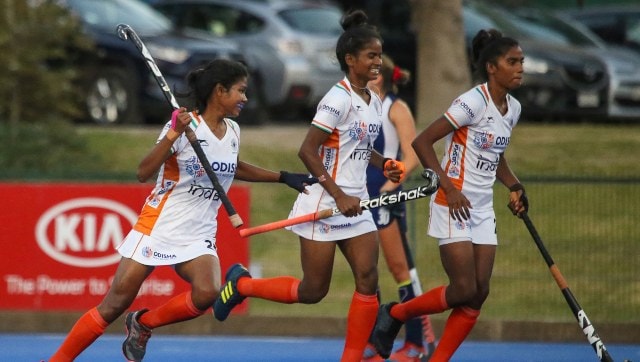 India have won four out of their five matches in Chile. Image: Hockey India

Santiago: The Indian women's junior hockey team extended its unbeaten run by notching up a 2-0 victory over the Chile senior side at the Prince of Wales Country Club here.

Playing their fifth match of the tour of Chile, goals from Sangita Kumari (48th minute) and Sushma Kumari (56th minute) in the last quarter gave India the win.

It was a very open contest between the two teams during the first three quarters, with neither team managing to break the deadlock. There were chances for both the teams through open play and set pieces, but the defenses stood tall to deny their opponents.

India looked like they were under pressure during a phase of play in the second quarter when they conceded back-to-back penalty corners, but some good defending inside the striking circle made sure the hosts didn't take the lead.

A similar story unfolded in the third quarter, but it was India who were on the attack, seeing a penalty corner execution being defended well by Chile's senior team in the 32nd minute. The hosts themselves had a penalty corner three minutes later, but again it was the defense that was successful.

India opened the scoring through a beautiful team move. The young forward took her chance confidently and maintained her goal-scoring form.

Minutes later, Chile had a glorious chance to equalise through a penalty corner, but India's rushers performed their task decently enough.

In the 56th minute, it was the visiting team's turn to get a penalty corner, which proved to be the decisive moment in the match.

A well-executed drag-flick and a successful strike off a rebound by Sushma Kumari hit the back of the net and extended India's lead to two goals, which they were able to maintain for the remaining few minutes to snatch their fourth win in five matches in Chile.

Firstpost


---

A legendary career comes to an end as Dani Hennig announces retirement from women's national team

With 200 international matches to her name, Hennig retires as the second most capped woman in Canadian Hockey history




When Dani Hennig was hitting the ball around before her first national team identification camp, she could never have predicted the career she was about to have. Fast forward over 10 years later, and she has 200 caps to her name, she's played in more than 50 tournaments and has etched her name into the stone wall of Canadian hockey history.

The Kelowna native took her first big stride when she moved to Vancouver Island to play for the University of Victoria Vikes. She scored the game-winning goal in the 2008 CIS final proving herself as a big-game competitor. She soaked up every piece of information and improved her game so much that she was invited to take part in a national team camp after only one year of university play. Hennig made her first national team appearance in June 2010 and never looked back.

"The whole time I've been a part of the program, there have been women paving the way"

With the support of experienced team members, coaches and mentors, Hennig found her role and continued to develop into a starting player. Hennig notes Steph Jameson, Tyla Flexman and Katie Baker as role models and drivers of the program at the time.

Baker, a national team captain from 2010-2012 and Hennig's former club teammate with the Meralomas, said that Hennig was immediately one of those players that stood out.

"I remember at the 2011 Pan Ams, she was put in a high-pressure situation and took on the challenge so well," Baker said. "She was relatively new at the time…but that was the time she really took off. It was obvious that she could perform under pressure and you could tell she was going to have a long, successful career."

According to Hennig, she jumped at every opportunity to grow and learn and quickly became enamoured with the prospect of carrying forward the team culture that had been developing around her.

"I was very raw when I started, but over the years, the little bits of success, the challenge of pushing yourself to be better every day, you learn to love it. The whole time I've been a part of the program, there have been women paving the way," Hennig said. "They were pushing the boundaries in terms of fitness and creating a team mentality and team culture."

She surged through the lineup and became a mainstay on the defensive line by 2012. And by 2013, she was considered a top player and emerging into a team leader. Alongside current team captain, Kate Wright and a handful of other leaders, Hennig led the team to new highs throughout the past 10 years. Baker said that her and Hennig though they only crossed over for a few years, she can see the impact she has had on the team over the past decade.

"Dani made everybody around her better, and she pushed those around her to be better and bring the best of themselves and to expect more," Baker said. "She's done so much for the program."

Dani Hennig received her first international cap in 2010 and her final senior cap in 2019. Her 200 caps is the second most Canadian women's hockey history.

In 2019, as Hennig retires, the Canadian Wolfpack is ranked 14th in the world, a decade-high ranking. They improved their Pan American standing each year since Hennig joined the team, culminating with a historic silver medal in 2019 in Lima. The team was inches away from an Olympic bid as they fell to Ireland in sudden death shootout during the 2019 fall qualifier.

Wright, who has over 225 international caps, has played the majority of her career side-by-side Hennig. She said that Hennig brought a unmatched dedication and commitment to the program and that Hennig's impact on and off the field will long be remembered, celebrated and emulated.

"As leaders, we knew we wanted to build a foundation and culture for the team," Wright said. "Dani was a huge part of this. She was always was 100 per cent in We wanted to be a high-performing program but also be supportive to the younger athletes."

With that in mind, Wright said that Dani's leadership style was supportive and communicative, and she paved the way for the younger generations to step up.

"She always led by example. She put her body on the line, she made diving tackles, she brought the type of energy that everyone builds off of" Wright said. "And even though she leaves a big hole, she always encouraged others to step up."

As Hennig reflects on her career, she has countless memories of joy and heartbreak on the field. She highlighted the 2015 Toronto Pan American Games and the 2019 Olympic Qualifiers as two events that stand out to her.

"In 2015, to win a bronze medal on home soil was hugely impactful, it was the first time in 15 years that we had medalled at Pan Ams," she said. "But honestly, the last two games, the Olympic Qualifiers. That was the some of the most fun I've had playing hockey. The hockey we played was probably the best hockey we had played during my career. Just the level it was, where we were, the absolute confidence that I had in our team."

Despite the heartbreaking defeat, Hennig reflects on the 2019 Olympic qualifier as some of the best hockey of her career.

Hennig recently moved back to her hometown of Kelowna and decided this was the right time to hang up the stick and cleats. And although saying goodbye to international hockey is never easy, according to Hennig, it was simply the right time for her. She has received nothing but support from teammates, friends and family.

Dani Hennig retires with 200 caps as the second-most capped woman in Canadian hockey history. Her impact and legacy will be felt long after her retirement. Congratulations Dani, on a tremendous career.

Field Hockey Canada media release


---

MHL gets fresh breath of life

By Jugjet Singh



MHC president Datuk Seri Subahan Kamal.

THE Malaysia Hockey League (MHL) is back on the radar following the postponement of the Asian Champions Trophy (ACT).

The Asian Hockey Federation (AHF) have postponed the men and women's ACT in March due to the Covid-19 pandemic. The tournaments are likely to be held after the Tokyo Olympics (on July 23-Aug 8).

MHC president Datuk Seri Subahan Kamal said the postponement of the ACT could turn out to be a blessing for the MHL.

"While we lost an opportunity to play international matches against Asia's best teams, the postponement of the ACT opens up available slots for the MHL.

"Depending on the Covid-19 situation, we might host the MHL in March and complete it before the fasting month," said Subahan.

Meanwhile, MHC competitions committee chairman Datuk Seri Anil Jeet Singh said the MHL will be hosted once it gets the green light from the relevant ministries.

"While March looks like a good slot to hold the MHL, we are even ready to host it in late February, if we get the approval.

"I believe the Covid-19 situation will be brought under control soon, and if it happens, competitions will return to our fields.

"We can host the MHL any time as everything is in place, and teams are also ready to play," said Anil, who is also the Sabah HA president.

The men's MHL was supposed to start on Jan 14 while the women's on Jan 20, but both were postponed following the reintroduction of the Movement Control Order (MCO).

Anil said Sabah teams are also ready to play on short notice.

"Sabah will be ready to travel and compete in Kuala Lumpur once the MHL dates are confirmed," said Anil.

New Straits Times


---

Where is she now? Hockey star Jenny McDonald was one of the world's top strikers

Paul Montague



Jenny McDonald, who scored more than 200 goals for New Zealand, remains the only individual hockey player - female or male - inducted into the NZ Sports Hall of Fame. Supplied

One of hockey's most prolific goal scorers, former NZ captain Jenny McDonald remembers the disappointment of the 1980 Olympics boycott, the thrill of playing for the World XI and the battle to move from grass to turf

Twenty kilometres south-west of Whangarei sits the tiny township of Maungakaramea. It's where one of New Zealand's greatest-ever hockey players, Jenny McDonald, grew up in the 1950s and '60s.

It's the kind of place from which many top Kiwi sportspeople typically hail; where a kid might try all kinds of sports in the backyard and at primary school, before properly settling on one or two.

But if it wasn't for her father, McDonald's outstanding hockey career may not have got off the ground.

"I was into all sports back then," recalls McDonald, who was then Jenny Bint. "It's what we did when we were young. But I did have a [hockey] stick in my hand as far back as I remember."

She played tennis and table tennis, but wanted to play more hockey.

"The problem was there weren't any teams or clubs or local schools to play against. So my dad actually gathered people who wanted to play from the local area, and we created a competition," she says. "I started playing hockey in actual games from about the age of nine."

And having three brothers to compete against meant McDonald had to work extra hard on everything to get the better of them, or to at least stay even.

McDonald left Maungakaramea for a place at teachers' training college on Auckland's North Shore, and after graduating in 1969, taught at Outram School, near Dunedin. Around this time, she met her future husband, Rex.

"That was how I ended up in Otago. Rex is from here, so that was it, really - I couldn't get him to move. And we're still here," she laughs.

McDonald would teach at Outram School for almost the duration of her hockey career, which internationally stretched from 1971 to 1986.

She was a goal scorer with a freakish conversion rate - scoring at an average of more than a goal a game in the black uniform. In a total of 192 matches, she was on the scoresheet more than 200 times.

Probably the most famous of those goals she scored on the hallowed turf of Wembley Stadium, against England in 1977. The goal came from a penalty corner and turned out to be the match-winner in a 1-0 victory.

Incredibly, there were around 65,000 people in attendance. In those days it was an annual tradition for thousands of hockey-playing schoolgirls to go to Wembley to see the national women play.

McDonald remembers the crowd being completely deafening. "The noise was just horrendous; we couldn't really hear each other at all. But obviously it was great to play there, in front of 65,000 people for goodness sake. Fantastic."

There was also an unexpected thrill following the goal: "We were running back to halfway and one of the girls said 'Look, Jenny', and there was my name in lights on the board. That was pretty amazing."



Jenny McDonald was the top scorer at world tournaments in 1973 and 1975. Supplied

New Zealand had a strong women's team throughout the 1970s. In 1975, they competed in what were ostensibly the world championships in Scotland. The previous year the inaugural Women's World Cup had been won by the Netherlands, but New Zealand were to beat them 3-2 in a penalty shoot-out at the 1975 tournament and finish third.

McDonald was the top overall goal scorer. To some of the players from the other nations, this was a big deal.

"A German player asked me what I would receive for being the top tournament goal scorer," she says. "And when I asked her what she meant, she said that if I'd been playing for them I'd have probably have been given a Mercedes Benz."

It was no easy road being a New Zealand international in women's hockey in the 1970s - the players had to fork out for half of the travel expenses. "That's why most of us had full-time jobs," McDonald says. That changed in 1984 when New Zealand made the Los Angeles Olympics.

The Kiwi women had held high hopes of a medal finish at the 1980 Moscow Olympics - the first time women's hockey was included at an Olympic Games.

"We thought we had a pretty good team before those Games," McDonald says. "We were a solid group of girls and we'd all played together for a while. That's what you really want. It's the experienced players who tend to get you far in big tournaments.

"You add in a couple of younger players and the older ones can let them show off their flair without them having to worry about too much responsibility."

However, they never got to prove it. History shows the New Zealand government fell in line behind the United States in boycotting Moscow after the Soviet-led invasion of Afghanistan. It was only at the eleventh hour the New Zealand Olympic Committee, at the behest of our government, announced there would be no official New Zealand team going.

The decision not to send a New Zealand team came as no great surprise to McDonald. "We'd heard the rumours already and the political stuff had been swirling around for a long time. All the other sports were pulling out, and the government was putting the pressure on not to go."

McDonald had that year been named as the New Zealand captain for the first time – a responsibility she would hold through till 1986.

There was a slight silver lining to the cancellation - the national associations of some of the major nations who had boycotted got together and hastily organised a five-city tour of the United States.

"I think we only lost one game and it was just by a single goal to the Netherlands, who'd been the best team in the world for years," McDonald says. "So at least something good came out of the whole Olympics thing."

McDonald also received a huge honour - the only New Zealander in a World XI to take on the world champion Netherlands in a one-off encounter in Scotland. It was a chance to mix and play with the Germans – who with the Dutch were the only semi-professional female nations in world hockey.

It was also a time when players in New Zealand began transitioning from grass to artificial turf.

"There was quite a bit of adjustment to be done after that," explains McDonald. "Even though the good grass pitches weren't dissimilar to turf, in New Zealand the grass pitches sometimes had bumps, or were muddy, or occasionally were even just about underwater. Or we had snow where I was.

"The ball moved a lot faster on turf and to adjust you had to be a lot more accurate - it was mostly a matter of getting used to what we could now do."

Then there was an international rules overhaul – no offside or obstruction and "free hits you could just take yourself and play on," McDonald says. "And less restrictive umpiring sped the game up, which was another good thing. Because of the changes there seemed to be more space to do things."

But only when the Kiwis played abroad. In New Zealand, the installation of turf was slow, even though McDonald pushed hard throughout the 1980s for as many turf pitches nationwide as possible.

"I kept coming back from overseas and saying that we needed to get turf put in. On grass in the 70s, we were ranked number three in the world for some years, and then as soon as turf came in we lost that ranking, and unless we could play on it more here we'd slip down even further."

New Zealand finished sixth, and last, at the 1984 Olympics. McDonald, though, says the build-up and games on turf were enough, and there were other factors influencing their performance.

They were taken aback by the restrictive security at the athletes' village, with ID cards and bag checks, lasers, wire fences and helicopters with search lights at night.

Tiny Outram in Otago must have seemed a world away. And forgetting their Athlete ID was a big no-no: "One of our girls took a shower, went out for dinner and then wasn't allowed back in the village. She had to wait for a long time at what we called 'the police station' before our manager could get her out."

What perhaps threw them the most was having no practice fields available: "The only time we could practise with a stick in our hand was in a 10 to 15-minute warm-up before the game. What we missed completely was the whole thing of being together. Our play became disjointed; you could see it happening, but couldn't do anything about it."



Jenny McDonald has now retired as a primary school principal and Otago hockey president.. Supplied

McDonald represented New Zealand until the age of 36, but in 16 years only played 94 test matches; a far cry from the current era where a player can bring up that number of games in five years or less.

Would she have preferred to have played in the modern, professional environment with its myriad tournaments?

"It's hard to know, or compare, because it depends so much where you are in your life journey," McDonald says. "My love for the game, the desire to improve and be the best possible kept me involved.

"The modern rules allowing greater freedoms and skill-sets would excite me. But in any era, the team combinations and shared experiences create great and enduring friendships. What's not to enjoy in any era? The whole experience was fun."

She continued playing for Otago until the late 1980s, closing in on age 40. "A nice way to finish off with Otago was winning the K Cup for provincial hockey in 1986 and 1987. It was quite a big thing getting a K Cup badge for three Cups won as a player."

But old hockey habits die hard, and after a season off, McDonald played in a Masters tournament, out of which was born a team called The Evergreens - who made it into the top league in Dunedin club hockey.

"My husband told me I was much better when playing hockey. Not quite so grumpy," she laughs.

She finally pulled the pin at 53 years old after breaking her wrist. Later, McDonald became president of the Otago association, then chair of Southern Regional Hockey.

She retired from education in 2014 after being principal of Elmgrove School for 10 years. "I'd been in school since I was five, so I felt it was time to let go of all that," she says.

These days she's busy taking the couple's St Bernard dog, Whitney, for walks, and tending to a garden of roses and vegetables. McDonald still follows local hockey and accompanies Rex on vintage car rallies around the south of the South Island.

"We also have a place at Glenorchy where we can escape to and appreciate nature and the simplicity of life," she says.

After a career dedicated to hockey and education, who could argue Jenny McDonald doesn't deserve the best retirement possible?

Stuff


---

GB hockey stars welcome baby boy and girl




Hockey is celebrating double baby joy as former GB women's captain Alex Danson-Bennett gave birth to her first child, while current GB men's captain Adam Dixon welcomed his first child.

Both stars took to Instagram to announce their news, with Danson-Bennett beginning a new chapter with husband Alex and the "greatest team" after her stellar career on the field.

"When life as you know it changes forever," Danson-Bennett wrote.

"Welcome to the world little Ava Louise Danson-Bennett 💕

"We are completely besotted, all well, and feeling part of the greatest team @ab_ormiston."

Meanwhile, Dixon took to Instagram to welcome the birth of son Rafe last Tuesday, with a simple #gamechanger tag.

Congratulations from The Hockey Paper.
SIGN UP for The Hockey Paper's returning newsletter: Promotions, exclusives and our best coverage