All the news for Saturday 23 January 2021

Indian women's hockey team suffers first defeat in Argentina

The Indian women's hockey team suffered its first defeat on the tour of Argentina as it lost 1-2 to the B side. In the previous matches, India drew 2-2 and 1-1 respectively.



The Indian women's hockey team suffered its first defeat in Argentina. (File Photo)   -  hockey india

Indian women's hockey team suffered its first defeat on the tour of Argentina when it lost 1-2 to 'B' side of the host, letting Agustina Gorzelany strike late in the match.

Sol Pagella (11') put the Argentina side while Indian forward Salima Tete (54') scored in the final quarter.

However, the Indian defence let Gorzelany score three minutes after finding the equaliser. In the previous matches, India drew 2-2 and 1-1 respectively with the Argentina junior team.

"Today we played against a stronger Argentina squad consisting many of their senior players. This was a perfect practice match for us ahead of next week's schedule where we play against the Senior side. Unfortunately, we conceded a PC goal minutes before the regulation time and this is what we need to manage better," said chief coach Sjoerd Marijne.

India began on a backfoot with Argentina 'B' playing tough, attacking hockey right from the start. Conceding two back-to-back penalty corners (PCs) within six minutes of play and putting pressure on the visiting side but the Indian goalkeeper Rajani did well to save the goals.

In the 11th minute, however, a fierce circle penetration and well-timed strike by younger Sol Pagella put the home team ahead by 1-0.

With a strong defence put up by the Argentinian women, PCs were hard to come by for India and circle entries were restricted too. Though India managed to earn a PC in the 23rd minute, dragflicker Gurjit Kaur's attempt to equalise was well saved by the opposition's goalkeeper.

It was a battle India had to fight hard against a strong Argentinian forwardline as they earned two more PCs in the 43rd and 51st minutes. But India's PC defence held sway to ensure the lead was not further extended.

In the 54th minute, when India bagged a PC, an alert Salima Tete swiftly struck the ball off a rebound into the goalpost fetching her team a much-need equaliser.

The sturdy home team upped the ante in the following minutes with a circle penetration that resulted in a PC. This was the deciding moment as an experienced Gorzelany converted the goal in the 57th minute to seal the match.

India will next take on Argentina 'B' on Sunday.

Sportstar


---

Indian Junior (w) hold Chile Senior Women an entertaining 2-2 draw




Santiago (Chile): A resilient performance from the Indian Junior Women's Hockey Team against the Chile Senior Women's Team in their fourth match of Tour of Chile saw the two sides play out a well fought 2-2 draw here at the Prince of Wales Country Club on Thursday evening. India's two goalscorers on the day were Deepika (40′) and Gagandeep Kaur (55′) who led India's fightback after Chile had twice taken the lead through goals from Mariana del Jesus Lagos (21′) and Fernanda Villagran (51′).

With three wins from three matches in their Tour of Chile, Indian Junior Women's Team started the match brightly, as they tried to penetrate Chile's defence, but could not find a clear opportunity inside the first 15 minutes. On the other hand, Chile tried to push the young India team on the counter attacks, with their tactic paying off in the second quarter.

It was in the 21st minute that Chile's Mariana del Jesus Lagos found herself with enough time and space in front of goal to get her shot away, and give her side an important lead in the match. India were quick to fight back, and tried to take control of proceedings to find the equalizing goal before the half-time break, but came up against some resolute defending from the hosts as Chile maintained their one goal advantage.

A charged up Indian team took to the field in the third quarter, and were able to create a lot more going forward. After having been denied from multiple Penalty Corners, the Indian team finally found the equalizer in the 40th minute through Deepika, who finished off a beautiful team goal to make it 1-1.

However, Chile did not get bogged down after conceding, and tried to look for an opportunity again in the match to take the lead. It was in the 51st minute that their efforts were rewarded, as the umpire awarded them a Penalty Stroke for an infringement by India inside the striking circle. It was Chile's Fernanda Villagran who converted from the spot to restore the hosts' one-goal advantage.

A late fightback from India resulted in another equalizer being scored, with Chile conceding a Penalty Stroke this time after their player was found to be infringing the rules inside the striking circle. Gagandeep Kaur stepped up to take the resulting stroke, and slotted it past Chile's Goalkeeper to make it 2-2 in the 55th minute. Both teams tried to look for an opening in the last five minutes, but the goal never came for either, and the two teams finished level at 2-2.

The Indian Junior Women's Hockey Team will continue their Tour of Chile as they play their fifth match on Saturday evening (locally) / early Sunday morning (Indian Standard Time), taking on the Chile Senior Women's Hockey Team at 0400hrs IST.

Stick2Hockey.com


---

Asian tournament is postponed again

By Jugjet Singh



Datuk Tayyab Ikram

The men and women's Asian Champions Trophy (ACT) have been postponed again due to uncertainties caused by the Covid-19 pandemic.

Asian Hockey Federation (AHF) chief executive officer Datuk Tayyab Ikram confirmed the matter yesterday.

The men's ACT was moved from November last year to March 11-19 in Dhaka, Bangladesh while the women's event was scheduled on March 31-April 7 in Donghae, South Korea. However, the AHF have yet to release new dates for both tournaments.

"After consulting with hosts Bangladesh and Korea, participating teams and the International Hockey Federation (FIH), the AHF would like to state here that the men and women's tournaments have been postponed," said Tayyab.

"The decision was motivated by concerns about athletes' safety, health, and welfare.

"The AHF believe teams should have an equal chance to prepare their athletes.

"The vastly different conditions our member countries face, with some currently training and competing in their countries while others are from even training by strict lockdowns, had also influenced our decision."

New Straits Times


---

Asian Champions Trophy postponed again due to COVID-19 pandemic

The deferred men's edition of the ACT was supposed to be held in Dhaka from March 11 to 19, while the women's event was to be organised in Donghae, South Korea from March 31 to April 6.



Manpreet Singh and P.R. Sreejesh during a training session at the Sports Authority of India centre, in Bengaluru.   -  File Photo/ K. Murali Kumar

The already-deferred Asian Champions Trophy (ACT) hockey tournaments for both men and women were on Friday postponed "till the second half of the year" by the Asian Hockey Federation (AHF) due to the ongoing COVID-19 pandemic.

The deferred men's edition of the ACT was supposed to be held in Dhaka from March 11 to 19, while the women's event was to be organised in Donghae, South Korea from March 31 to April 6.

Originally, both the tournaments were scheduled to be held last year but were postponed because of the deadly virus.

While the original dates of the men's event was from November 17 to 27 last year, the women's tournament was scheduled from June 14 to 21.

"We had to arrive at this decision keeping in mind a number of factors but first and foremost was the safety, health and welfare of the players. AHF did not want to put athletes in any danger under these challenging circumstances," AHF chief executive Tayyab Ikram told PTI.

"We have been in touch with all the participating nations, hosts as well as FIH over the past few months and while there are government restrictions and travel restrictions, another major factor to postpone the AHF's most awaited event, was the challenges countries faced in holding national camps." Ikram said they also had to factor in teams' preparation, the lack of it in this case.

"Different scenarios emerged from different countries. While some countries have resumed training, some are in complete lockdown. They are uncertain when they will be able to open up and train.

"Holding the event when teams have not been able to prepare due to the COVID situation was another major concern for us at AHF as it is against the basic principle of equal opportunity," he added.

He further said that the postponement of both the events has been approved by the International Hockey Federation (FIH) and new dates, which are likely to be in September (for women)/October 2021 (for men), will be "finalised and communicated as soon as possible." "We are now in discussion with FIH to find the right window between the Olympics and Junior World Cup to host the ACT for both men and women.

"The threat of uneven circumstances and unfavourable conditions faced by the participating teams is another factor," Ikram said.

Sportstar


---

Olympic Hockey at Tokyo 2020: Top five things to know

When do the Olympic Hockey matches take place at Tokyo 2020 in 2021, and where? What is the history of hockey at the Olympic Games? Which stars can you expect to see? Find out here.

By David Childs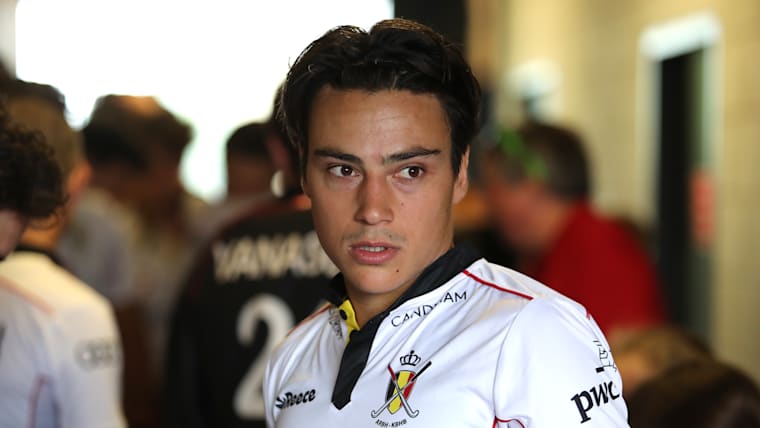 Belgian hockey player Thomas Briels

Hockey is one of 33 sports that will take place at the Olympic Games Tokyo 2020. But who are the ones to watch? When will competition take place, and where will it be held? Ever wanted to know about the sport's Olympic history? Here is our guide to the top things to know about Olympic hockey.

Olympic Hockey Format at Tokyo 2020

Men's and women's hockey follow the same format at Tokyo 2020, with 12 nations in both competitions. This consists of Japan, who qualify automatically as hosts but also as Asian champions (for both men and women), the four continental trophy winners plus seven teams from the 2019 FIH Olympic Qualifiers.

The 12 nations will be split into two round-robin groups of six, where the top four teams from each group will progress to the quarterfinals.

In hockey, three points are awarded for a win, and one for a draw. Once the groups are decided it is a standard, single-match knockout until the final, along with a bronze-medal match between the two semi-final losers.

Top Hockey Players to Watch at Tokyo 2020

If there's one team that will be eyeing up a first Olympic gold in Tokyo this summer, it has to be the men's hockey squad from Belgium.

The current world and European champions have spent time at the top of the FIH Pro League, and will be desperate to go one step further than their silver medal at Rio 2016.

Legendary players like Thomas Briels and John-John Dohmen, both 33 by the time the Games, will be aiming for gold.

There'll be plenty of players out there to try and stop the Red Lions though – keep an eye out for Manpreet Singh as he attempts to revive India's fortunes, as well as Argentina's Luca Vila and Eddie Ockenden of Australia.

Although the Netherlands missed out on a third consecutive gold medal in women's hockey at Rio 2016, they will be going to Tokyo as the team to beat.

Lead by the two-time FIH World Player of the Year Eva de Goede, the current FIH Pro League leaders will be looking to regain a crown that they lost to Great Britain in a dramatic Olympic final.

Ireland, the team that the Dutch defeated in the 2018 World Cup final, are making their Olympic debut this summer; keep an eye out for the likes of Katie Mullan and Deidre Duke in Tokyo.   

Outside of Europe, New Zealand's Olivia Merry has been a star of a COVID-disrupted FIH Pro League, netting 10 goals so far for the Black Sticks. Argentina will be hoping that Agustina Delfina Merino and Maria Granatto can lead their front-line to glory.

Olympic Hockey Schedule at Tokyo 2020

After the Opening Ceremony, hockey starts the following morning on Saturday (July 24), beginning with the opening match of Men's Pool A between Japan and Australia at the Oi Hockey Stadium's North Pitch. It will be one of eight matches to take play that Saturday, with all six opening men's fixtures taking place along with two women's fixtures – including Ireland's women's hockey Olympic debut against South Africa at 19:00 JST.

The group stages feature matches every day until July 31, with the quarter-final stage kicking off on Sunday 1 August. The gold medal matches are on Thursday 5 August (men's) and Friday 6 August (women's), both on the North Pitch.

A Brief History of Olympic Hockey

A constant in the Olympic programme since 1920, the sport has evolved to now include technology like video reviews and "hawk-eye".

Playing surfaces are different as traditionally hockey was played on grass, compared to modern, water-based, artificial "turf".

It has meant that the skills and abilities required for a modern hockey player could not be more different to what they once were.

The conditions of the sport have changed, and so have the nations to dominate the men's hockey medals tally too.

The mid-20th century belonged very much to India – their men's team won six gold medals consecutively without losing a single fixture from 1928 until losing out to Pakistan in 1960 - but, despite success at Moscow 1980, success has been hard to find.

Since 1996 Netherlands and Germany have both won back-to-back golds, and Argentina became the first South American men's team to win gold at Rio 2016.

Women's hockey was first seen at the Olympics in 1980, with six different gold medallists in that time.

Olympic Hockey Venues at Tokyo 2020

All of the hockey matches at Tokyo 2020 will take place at the Oi Hockey Stadium, which was officially inaugurated in August 2019.

The facility, which sits in the waterfront area of Tokyo Bay, will have two pitches and is a first of a kind due to the use of regrowable raw materials.

In line with the carbon-neutral targets of Tokyo 2020 and the International Hockey Federation's sustainable hockey commitments, the pitches are 60 percent sugar cane which mean that only one-third of the water required for previous Olympic pitches will be required this summer.

Olympic Channel


---

Kolkata to get an international hockey stadium

An international hockey stadium with astro-turf will be built inside the Salt Lake Stadium Complex here, Bengal Sports Minister Aroop Biswas announced on Friday.

Y.B.Sarangi



The hockey infrastructure will be situated on the northern side of the Salt Lake Stadium near Gate No. 1.   -  K.R. Deepak

An international hockey stadium with astro-turf will be built inside the Salt Lake Stadium Complex here, West Bengal Sports Minister Aroop Biswas announced on Friday.

The stadium, to be built over an area of approximately three acres at an estimated cost of ₹20.53 crore, will have grass hills and can accommodate 6500 spectators. It will have two players' dressing rooms.

The colour combination of the astro-turf will be blue and yellow. The field of play will be 110m x 75m.

"Chief Minister Mamata Banerjee, Hockey Bengal (HB) and Olympian Gurbux Singh always wanted an astro-turf hockey stadium here. This is a gift from the Chief Minister to Gurbux Singh and HB in the new year," said Biswas.

Gurbux said, "Happy to know that an astro-turf stadium is coming up here. Hope Bengal hockey will benefit from this."

The hockey infrastructure will be situated on the northern side of the Salt Lake Stadium near Gate No. 1.

Sportstar


---

Odisha Naval Tata Hockey HPC begins boys' resident programme



The Odisha Naval Tata Hockey High Performance Centre (HPC) in Bhubaneswar started its boys' resident programme at the Kalinga Hockey Complex on Friday.   -  Special Arrangement

The Odisha Naval Tata Hockey High Performance Centre (HPC) in Bhubaneswar started its boys' resident programme at the Kalinga Hockey Complex on Friday.

A total of 31 cadets have been selected for the programme. These players - in the age group of U-17 - have been chosen from the two-week long selection camp that was held from November 17 to December 1, 2020 in Bhubaneswar. The camp was attended by 100 cadets.

While 21 players are from Odisha, seven are from Manipur, two from Uttar Pradesh and one from Assam. The Hockey HPC has also created a standby list of eight talented players (five from Odisha).

According to a statement, "the HPC has also recommended some players to sports hostels run by the Department of Sports & Youth Services, Govt. of Odisha, in Panposh and Sundargarh. These hostels are also Regional Development Centres and serve as a stepping stone to the Odisha Naval Tata Hockey HPC."

On the occasion, two grassroots centres in Dhenkanal and Deogarh were also launched, thus taking the tally of grassroots centres to 12 with deployment of 25 coaches.

Tusharkanti Behera, Minister for Sports and Youth Services, Electronics & IT, Govt of Odisha, said: "I am delighted to be here for the inauguration of the boys' resident programme at the Odisha Naval Tata Hockey HPC. I congratulate each and every cadet who has successfully cleared the selection trials and has been inducted into our Hockey High Performance Centre. This is an elite opportunity and platform for you to excel in Hockey and you should feel extremely proud. This is the first step towards achieving your sporting dreams. This HPC will play a crucial role and along with experienced and expert coaches will endeavour to groom you all into future national and international players."

Sportstar


---

Exclusive: International Hockey Federation made $700,000 loss in 2019

By David Owen



The FIH has posted a loss in its 2019 figures ©Getty Images

The International Hockey Federation (FIH) lost more than CHF633,000 (£519,000/$715,000/€589,000) in 2019, more than doubling its 2018 deficit.

While the latest figure pre-dates the devastating spread of COVID-19, it comes as little surprise.

A note in the 2018 accounts warned of "an important negative result in 2019".

This was attributed to the FIH Pro League, a "first-of-its-kind global home and away league", which was launched in January 2019.

The cost of getting such a competition off the ground meant, the note said, that it was "not foreseen to have a positive financial result…or even a break-even in year one".

Moreover, "TV production costs were underestimated while, at the same time, revenues from broadcasting deals were overestimated".

More detailed consequences of this mistake are now visible, with the new 2019 accounts indicating the Pro League produced a deficit of just over CHF1.5 million (£1.2 million/$1.7 million/€1.4 million) over the course of the year.

Income was put at CHF1.98 million (£1.6 million/$2.2 million/€1.8 million), divided between sponsorship, which yielded CHF1.13 million (£925,000/$1.28 million/€1 million) and TV rights - just under CHF850,000 (£697,000/$960,000/€790,000).

Expenses totalled CHF3.48 million (£2.85 million/$3.9 million/€3.2 million).

This included CHF1.1 million (£900,000/$1.2 million/€1 million) labelled "TV & Broadcast".

The federation as a whole is reporting total operating income of just over CHF11 million (£9 million/$12.4 million/€10.2 million).

This is down approximately CHF2.5 million (£2 million/$2.8 million/€2.3 million) from the previous year.



TV production costs for the Hockey Pro League were underestimated and broadcast revenue was overestimated ©Getty Images

Well over half of this 2019 income - CHF6.25 million (£5.1 million/$7 million/€5.8 million) - came from the International Olympic Committee (IOC).

Total operating expenses were also down - from CHF13.3 million (£10.9 million/$15 million/€12.4 million) in 2018 to CHF11.7 million (£9.6 million/$13.2 million/€10.9 million).

More than CHF1 million (£820,000/$1.1 million/€930,000) of this reduction was shaved from Corporate & Directorate costs.

Payroll and fees dipped more than CHF400,000 (£328,000/$452,000/€372,000) to just over CHF5 million (£4.1 million/$5.65 million/€4.65 million), while office costs were slashed by close to CHF300,000 (£245,000/$340,000/€280,000).

It was noted that office rent of CHF200,000 (£164,000/$226,000/€186,000) was "waived by the Foundation in 2019".

The CHF633,000 (£519,000/$715,000/€589,000) loss came after a loss on receivables of some CHF455,000 (£373,000/$514,000/€423,000).

This was said to be "referring to TV and Media Rights from 2017 and 2018".

There was also more than CHF476,000 (£390,000/$538,000/€443,000) of extraordinary income.

This was said to be "composed by write-off of unapproved payable documents from 2017 and 2018".

The balance-sheet shows that the federation's assets had dwindled to CHF7.34 million (£6 million/$8.3 million/€6.8 million) at the end of 2019, compared with CHF9.67 million (£7.9 million/$10.9 million/€9 million) a year earlier.

Cash was down slightly year-on-year to CHF4.47 million (£3.7 million/$5 million/€4.15 million).

Since then, the federation is known to have received a loan, of unstipulated size and terms, from the IOC.

The accounts conclude by stating: "FIH Budgets for 2020 to 2022 are secured and show an important profit in 2022, following the FIH World Cups."

The 2019 figures may be the last annual accounts to enter the public domain before the FIH Congress in May.

This is when Narinder Batra's current - extended - term as FIH President is scheduled to expire.

It is not yet clear whether the Congress will be able to take place in New Delhi as planned, or indeed whether Batra, assuming he seeks a new term, is likely to face a challenger.

Olympic Channel