All the news for Friday 22 January 2021

Indian junior women's hockey team rally to 3-2 win over Chile seniors

The eves scored three goals to seal a memorable comeback win over the senior Chile team for their third successive triumph

By Samrat Chakraborty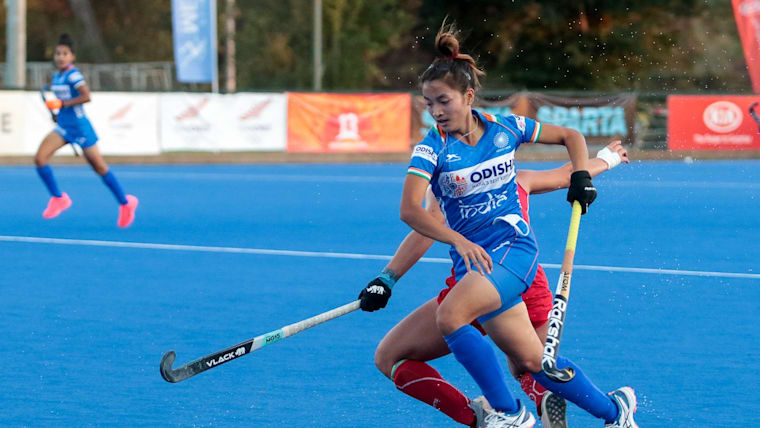 India junior women's hockey team scored thrice in quick succession to inflict a 3-2 defeat on Chile senior women's hockey team.

Goals from Deepika, Sangita Kumari and Lalrindiki ensured that India picked up their third win. The match started on an even keel with both teams sharing an equal amount of possession in the first quarter. However, it was the hosts who started taking the initiative and earned a penalty corner. Some resolute defending from India kept the scoreline unchanged as the two teams headed for the two-minute break.

Chile continued their ascendancy and got another penalty corner and this time they made no mistake to convert. At half-time India were lucky to head towards the dressing room with just a one-goal deficit as the second quarter belonged to the South American side.

But, India came out stronger than before and stated raiding Chile's defence with purpose and intent. They earned a penalty corner and Deepika equalised to get back into the match.

They continued to press high and the pressure yielded them another penalty corner. This time Sangita converted to put India in front for the first time in the match.

Making the most of the momentum, India fired in the third goal courtesy of some clinical finishing by Lalrindiki.

In the final quarter, Chile threw caution to the wind and rushed forward in their quest for two goals. A late fightback from the hosts saw Simone Avelli score their second goal of the evening in the 56th minute.

It was a nervy last few minutes for the Indian side but they weathered the storm to register a commendable win over Chile seniors. The two teams will face-off once again on Friday morning, according to Indian Standard Time.

Olympic Channel


---

India junior women's hockey team stuns Chile's senior side, clinch 3-2 win

It was India's third consecutive victory on the tour. They had defeated Chile's junior side twice earlier this week.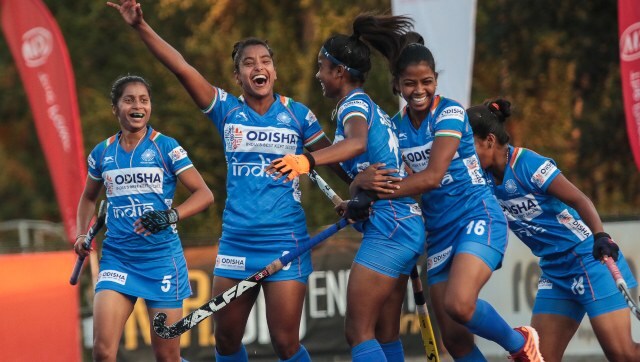 It was India's third consecutive victory on the tour. Image: Hockey India

Santiago (Chile): The Indian women's junior hockey team rallied from a goal down to script a stunning 3-2 win over the Chilean senior side at the Prince of Wales Country Club.

Deepika (39th), Sangita Kumari (45th) and Lalrindiki (47th) scored for India after Fernanda Villagran (21st) had given the hosts the advantage. Chile's Simone Avelli (56th) pulled one back late in the match, but it was not enough to force a comeback as the Indian junior team secured a creditable win.

It was India's third consecutive victory on the tour. They had defeated Chile's junior side twice earlier this week.

India started the match on the front-foot, twice penetrating inside Chile's striking circle, but without causing much damage. The home side's first real attack came in the 10th minute when they earned a penalty corner, but to no avail as the visitors defended it well.

The second quarter, however, was dominated by Chile as their experienced players took control of proceedings in the midfield, setting the tempo of the match. As a result, they won back-to-back penalty corners in the 21st minute, the second of which saw India conceding the opening goal scored by Villagran.

India's young players tried to create a clear-cut opportunity in the latter stages of the second quarter, but saw their efforts get thwarted as Chile took their one-goal lead into the half-time break.

A dominating start to the third quarter saw India win as many as five penalty corners inside the first nine minutes, and they were rewarded for their efforts as they scored the equalizing goal in the 39th minute through Deepika who finished off a collective move.

Piling the pressure on their opponents and taking control of proceedings, India then went on to take the lead in the 45th minute through a penalty corner as Mariana Kujur's drag-flick was deflected into the back of the net by striker Sangita.

India maintained the pressure on the hosts by looking to create chances in the fourth quarter. They were yet again rewarded for their efforts in the 47th minute as forward Lalrindiki found herself clear just in front of goal to deflect Sangita's pass from the left flank into Chile's goal and give India a 3-1 lead.

A late fight back from Chile saw Avelli score their second goal in the 56th minute. But, it was not enough for the hosts as India held on to their lead to win the match.

Firstpost


---

Harendra Singh in line for USA field hockey men's role



Former India coach Harendra Singh PIC: Hockey India

India's Harendra Singh is a frontrunner to take over as USA Field Hockey men's head coach, The Hockey Paper understands.

USA Hockey has been searching for a full-time coach since June when Rutger Wiese's contract ended and the governing body announced staff and coaching cuts following the pandemic.

USA Hockey announced Anthony Farry as national women's coach in October after leaving his role with the Japan team after three years.

Singh last coached at senior level with the India men's team before being axed in January 2019 after the World Cup in Bhubaneswar.

It is understood that he has been in talks with USA Hockey for some months and is currently awaiting a visa before joining a programme currently ranked world No.24. USA Hockey wouldn't confirm to THP whether Singh had been appointed.

Singh was involved in various coaching roles over the years with India from 2000 up until the hosts exited the 2018 World Cup.

He coached India women to gold at the 2017 Asia Cup, took India men to bronze at the 2018 Asian Games and was also at the helm of India's Junior World Cup-winning men's side in 2016. As a player, he was capped 43 times for India.
SIGN UP for The Hockey Paper's returning newsletter: Promotions, exclusives and our best coverage
---

Hockey retains social media Olympic ranking as younger sports make hay




In a year where the digital sphere played a leading hand in virtual engagement, the International Hockey Federation (FIH) retained its position in the top 10 of most followed Olympic sports in the annual social media rankings of Olympic federations.

The FIH was listed as eighth with nearly 1.9 million followers across social media in the annual study conducted by global agency Burson Cohn & Wolfe's research into how the international sports federations communicate via social media.

For the first time, the study also included non-Olympic sports, which saw cricket, teqball and cheerleading leap into top 10 of engagement lists.

And Lars Haue-Pedersen, of BCW Sports, said that more traditional Olympic federations, like hockey, need to act on their social media if they are to stay relevant.

He said: "Our study shows that smaller, younger IFs have already gone through what many traditional IFs are forced to be going through right now: A digital transformation.




"These younger IFs were forced to do so because of lack of coverage in traditional media and are now in the fast lane. It is absolutely stunning to see Teqball and Cheerleading in the top ten, clearly ahead of many larger, Olympic IFs.

"These more well-established IFs need to act soon if they want to catch up with the younger ones, who for sure will continue to move fast forward. This will indeed be an interesting development to follow post-COVID."

Hockey was outside the top 10 of the sports with the highest'true reach', while it was seventh on the most posts per day on Instagram, eighth on the highest number of page likes on Facebook and sixth with the most tweets per day. Hockey averaged 11 per day, with cricket coming out on top with 24.
SIGN UP for The Hockey Paper's returning newsletter: Promotions, exclusives and our best coverage
---

Fiona Crackles: "You Realise You're Playing The Sport You Fell In Love With When You Were Eight"



Fiona Crackles Debut

How would you feel making your international debut against the world's top ranked team on their home territory?

That's the reality Fiona Crackles had to face in October 2020 having been called up to the GB squad for the first time to play The Netherlands in the FIH Hockey Pro League.

A solid and assured performance as she helped Mark Hager's side to a creditable draw may have suggested to those watching that the 20-year-old was unfazed by the situation. But inside she couldn't have been more nervous.

Recalling how she felt before stepping onto the pitch, she said: "I was bricking it! It was incredible playing the Dutch - they're in another world - so to have my first cap against them was just something else.

"Stepping on the pitch, I felt incredibly sick and shaky. Pre-game I tried to put a hydrating tablet in my water bottle and I was physically shaking, I couldn't get it out and I was like'oh my God, I need to re-group!'

"But once the whistle goes and you start playing, you realise they're just other players and normal people. Yes they're incredible but you just get so engrossed in the game. That was the quickest game of hockey I'd ever played, it was over in a flash. I can barely remember any of it, it's just a blur."

During that tour, Crackles and her team-mates experienced their first taste of playing hockey under Covid restrictions, with no fans allowed in the stadium and the team following strict social distancing protocols.

But rather than be a dampener on the experience, the Durham University student admitted that in some ways it made it even more special.

She said: "I felt very lucky and very fortunate to be with a group of girls who were so supportive the whole time. I spoke to a couple of the senior players before my first game and they said'you deserve to be here, we're all in this together'.

"Even at meal times or when we had to socially distance from each other, in some ways we actually felt closer metaphorically because we were all in this strange situation together. So when we got on the pitch and could actually be closer to each other and play, everyone had this energy and camaraderie because finally we could be together."

That maiden appearance against the Dutch was the culmination of a whirlwind year for Crackles.

In October 2019 the former Ben Rhydding HC player received her first call up to the GB Elite Development Programme and featured for the senior team in a non-capped friendly against India.

Just 12 months later she was appearing in her maiden competitive international fixtures and performing so well that she was awarded a full-time place on the squad in the lead up to the Tokyo 2020 Olympics.

But the moment that it all finally started to seem real for her was the moment she first touched the ball in that game against the Dutch before reality fully hit when she checked her phone afterwards.

"The first time I got on the ball, it all sinks in and you just realise you're playing the sport you fell in love with when you're eight years old," she said.

"After the game, I went back to the hotel and had hundreds of messages of amazing support on my phone from family and friends and that's when I realised that this was really cool, people had just watched me on TV.

"Just a few months before I could not have predicted or expected it. It still gives me goosebumps thinking about it, it was an incredible couple of days."

Fast forward a week and, for many people watching, the perception of Crackles had quickly changed from seeing her as a promising newcomer to a must-have member of the team, so impressive were her performances.

This was reflected by the defender being named Player of the Match by the FIH in the final game of the tour against Belgium, something which took her by surprise.

"That was a strange one; I was very shocked," she recalled.

"I got a card right before the end so I came off the naughty seat and went to thank the other girls and the Belgians and the official came up to me and said'we've awarded you Player of the Match'.

"I actually turned around because I thought he was talking to someone else, not to me. That was really, really bizarre but an amazing thing to top off the trip really. I've got the trophy next to me and I keep looking at it thinking'oh yeah that did happen, it wasn't just a dream'."

Great Britain Hockey media release


---

Niklas Wellen:'Always wanted to play in the Netherlands'



Image by Koen Suyk

Despite the corona pandemic, Niklas Wellen is feeling good about himself. The 138-time German international is fit and having a good time at Pinoké. With the switch to the ambitious club from the Amsterdamse Bos last summer, a long-cherished wish came true for 26-year-old Wellen. "I've always wanted to play in the Netherlands."

'In the summer of 2018 I had the plan to do my master's degree abroad,' says Wellen. At the time, the forward played for Crefelder HTC, where he had played in the first team since he was sixteen. However, the team fell apart that summer. Players left or quit. I was captain at the time and decided to stay to keep the team together as much as possible. After the team had recovered, I announced that I would leave in February last year.'

Finally, I decided to go to Pinoké. That was the most exciting choice for me.

Niklas Wellen could not complain about interest in the Netherlands

For Wellen, it was clear where he wanted to play in the Tulp big league.'I think I got a call from every club from the Netherlands. I wanted to live in Amsterdam, so the Amsterdam clubs and clubs in the area were eligible for me. Finally, I decided to go to Pinoké. That was the most exciting choice for me. From the first day, I was well received and I felt welcome,'Wellen explains.

That excitement lies in Pinoké's ambition. The club has the strongest men's selection in club history this season and therefore wants to compete for the playoff spots.



Niklas Wellen on the ball for Pinoké on the skin by Bloemendaal player Daan Dullemeijer. Photo: Koen Suyk

High expectations

In addition to Wellen, the Belgian international Sébastien Dockier was also recruited last summer. Added to the young talent, the routiners who have been playing in the first team for years and the other foreign toppers such as the Belgian penalty corner cannon Alexander Hendrickx and the Argentines Agustin Mazzilli and Martin Ferreiro, the expectations at Pinoké are high.

'It is a good group with talent and quality, in short, with a lot of potential. With the Belgian and Argentinian internationals we have a team that fits well together,'says Wellen.

Different role than at Crefelder

One of the roles of Wellen and the other foreigners is to speed up the development process of the young players at Pinoké.'Previously I had the role of leader at Crefelder. Relatively speaking, that team had less quality than Pinoké. At Crefelder it depended on one or two top players. That is not the case with Pinoké. The role I play Pinoké is therefore different from Crefelder. When I talk to the young players, they accept what I say and they take everything from me.'

In addition, Wellen tries to put a German accent in Pinoké's playing.'If an attack starts from the right in the Netherlands, the ball also stays on the right, while in Germany it sometimes changes sides. There is also an eye for the other side of the field. In this the German game is more structured than the Dutch. But, the Dutch game of give-and-go suits me', Wellen explains.



Niklas Wellen (Pinoké) with Gijs Campbell (Den Bosch) and Sebastien Dockier (Pinoké) during the first game of the season in the Tulp Dutch Major League. Photo: Koen Suyk

Pinoké in fifth place

After the previous season ended prematurely, the new season was scheduled to start in September. However, the competition was closed after the seventh day of play, in early October. At that moment Pinoké occupied fifth place and the team was level with number four HGC in points.

"Although the first seven games were okay, it didn't really work out what was in it," Wellen admits.'We have won important games against competitors such as HGC and Oranje-Rood, but we also lost unluckily to Den Bosch in the first game of the season. We could have won that game, given the odds and the amount of corners we had. But, it was also the first game of the season with a new team that had to get used to each other. That we lost to Bloemendaal and Kampong, that can happen. These two teams are in my opinion the top favourites for the title.'

Satisfied with your own performance

Wellen was satisfied with his own game in those first seven games. The German started at Pinoké as a striker, then dropped a line and then ended in the attack again.'And that's where I feel most comfortable. All in all, I am satisfied with my own performance. I have decided to get more into scoring position. I have scored two goals in seven games. This is partly due to the fact that I played in midfield, but I hope to create more opportunities and score goals in the second half of the season.'



Niklas Wellen in action for Pinoké in the derby with Amsterdam in the Wagener Stadium. Photo: Koen Suyk

"We are on the right track," Wellen says about Pinoké.'We will soon meet Little Switzerland, Almere and Tilburg. We have to take points against that and then we play against our direct competitors. Those duels will determine who will participate in the play-offs.'

Continue training

The competition had stopped since the beginning of October, Wellen trained a lot in recent months. At Pinoké in groups of four and recently with the entire team again. In addition, Wellen went to work a number of times with the German national team in Mannheim, where they trained in a blow hall.

"I was able to train throughout the entire period and I was happy with that," says Wellen.'In Germany the players could not train at their club (because of the strict lockdown, ed.). I had the advantage that that was possible with Pinoké. It was different in groups of four, less fun without contact, but you have to get the best out of the situation. After we had all been tested, I was able to train fully with the national team. At the moment I definitely feel good and fit.'



Niklas Wellen in the shirt of Germany.

Ambitions with Germany

Wellen has ambitions not only at club level, but also at an international level. For Germany, besides duels in the Pro League, the European Championship and the Olympic Games are also on the program.

"I think Germany is in good shape at the moment," says Wellen.'We trained hard in Mannheim and developed ourselves. We only lacked competitions. In March when we play for the Pro League against the Netherlands, we know where we stand. I look forward.'

Not a top favorite

Wellen:'We are not the top favourite, but we will certainly compete for the medals. The quality and talent is there. Australia and Belgium are the big favourites for Olympic gold. If we have a good day and can deliver a top performance, we will be hard to beat.'

Hockey World News


---

Equity-One Sign as HC Melbourne's Major Partner for Second Season




Victoria's number one Hockey team, Hockey Club Melbourne, has confirmed its major partnership with Equity-One ahead of the Sultana Bran Hockey One League's second season due to start in September, 2021.

After a successful season in 2019 with both Men's & Women's teams making the final series, Hockey Club Melbourne is pleased to welcome back Equity-One as its major partner for Season Two.

Equity-One™ is a Public non-listed Financial Institution which specialises in both investment and finance.  It provides secured fixed interest investments offering attractive returns to investors and fast and competitive finance solutions for borrowers.

Dean Koutsoumidis, the Executive Chairman of Equity-One said "We are delighted to once again partner with Hockey Club Melbourne in 2021, the continuation of our relationship with everyone at Hockey Victoria remains built around our same strong values, to support and enhance the health and wellbeing of all children, it is our belief participation in sport is one of the most important ways to achieve this."

"We are proud to support Hockey Club Melbourne Men's and Woman's teams. We look forward to the return of competitive hockey in the Hockey One League in 2021 and following the undoubted growth of the sport in Australia in the years to come."

Equity-One's unwavering support in 2019 was a key driver to Hockey Club Melbourne's on and off-field success in the Sultana Bran Hockey One League's inaugural season. Equity-One will feature in the most prominent position on all of the playing gear, pitch signage and throughout HC Melbourne's media profile, in what is promising to be a huge year of hockey.

Hockey Victoria's CEO, Andrew Skillern said "I am delighted to confirm that Equity-One will continue to be the major partner of Hockey Club Melbourne in our second season.  It's an exciting time for hockey in Victoria and around the country, and to share our journey with a company with similar values is really important to us."

Sultana Bran Hockey One League Media release


---

Isabelle Jouin becomes France hockey's first female president




Isabelle Jouin has outlined her four-year objectives ahead of the Paris 2024 Olympics after becoming the first female president of the French Hockey Federation.

Jouin received 65 per cent of the votes cast at the General Assembly as she also became the second woman to hold a presidential post of a French Olympic sport.

In her first statement, she said: "Important challenges are to be taken up on the increase the number of licensees, finance, club development and structuring, training, communication and the search for new partners, the championships and the Paris 2024 Olympic Games."

Jouin, of Carquefou HC, beat opponent Jean-François Boyer at the weekend elections and succeeds Olivier Moreau, who was president since 2013.

Calling on the French hockey community, Jouin added: "We will need all the positive energies, your ideas, cooperation and mutual aid between all of us and you can count on our commitment and our work as elected officials."

Before the elections, Dutrieux, of Lille HC, had outlined his concerns in the sport. France has 120 clubs, but only 10,000 members.

He said: "Everything is currently centered on the national teams and we forget the clubs. I can obviously understand the need to develop our elite, but we forget the natural terrain where they develop. There is a lack of identification of our players: 60 per cent of our boys are abroad, 100 per cent for the girls. It's a brutal change for the clubs and the French championship has lost its quality. A real problem. With the Fed, there is a relationship problem between it and the clubs.

"The Olympics will undoubtedly shine a light on hockey with the participation of our two teams. The stake is enormous. This will attract new licensees to our sport and it will be necessary to be ready: the clubs must be prepared to welcome the arrivals. Our Fed is not in good health; it has a deficit of more than 600,000 euros for a budget of 2.5 million: it is heavy."

Hockey at Paris 2024 will take place at the Yves du Manoir stadium, which hosted the 1924 Olympic Games.
SIGN UP for The Hockey Paper's returning newsletter: Promotions, exclusives and our best coverage