All the news for Thursday 21 January 2021

India struggle for a draw against Argentina colts




Buenos Aires: India's women's team forced a last gasp 1-1 draw against Argentina Juniors  here on Tuesday, thanks to captain Rani Rampal's goal with two minutes remaining

It was a second successive draw by the tourists after a 2-2 scoreline against the Argentina Juniors in their opener.

"Today the quality of play was better and that's why we are here – to improve in every match. Today players got the chance to show their best and these are players who normally don't get a chance to make the 18-member squad so it's good they are able to get international exposure. It is also good for the core group that we are getting to try more players and see how different combinations work," expressed Chief Coach Sjoerd Marijne.

India began in an attacking mode, displaying speed and precision in rotating the ball and a nose for potential openings in the striking circle. The pressure they exerted fetched them a penalty corner in the very first minute but Gurjit Kaur's power-packed drag-flick was dealt with by the goalkeeper.

The visitors forced another penalty corner in the fifth minute but Deep Grace Ekka's essay went wide.

The home side, however, wrested the initiative, forcing three penalty corners in the ninth, 11th and 13th minutes and found the net to take the lead. India created opportunities in the second and third quarter thanks to frequent circle penetrations but the Argentine defence stood firm.

Four more penalty corners came India's way in the 37th, 43rd, 48th and 58th minutes before the much-sought equalizer arrived – thanks to a precise and powerful injection by Navneet Kaur which set up Rani to score.

"We created enough opportunities to score more and this is an area we need to keep working on. We have a break of two days before our next game against the Argentina B team and we look forward to the challenge," stated Marijne.

India play Argentina B on 23rd January at 0230 hours IST.

Stick2Hockey.com


---

Rani Rampal helps India draw second game against Argentina juniors

Captain Rani Rampal's goal steered India to a 1-1 draw, their second-consecutive one, against the Argentina junior women's team.

By Rahul Venkat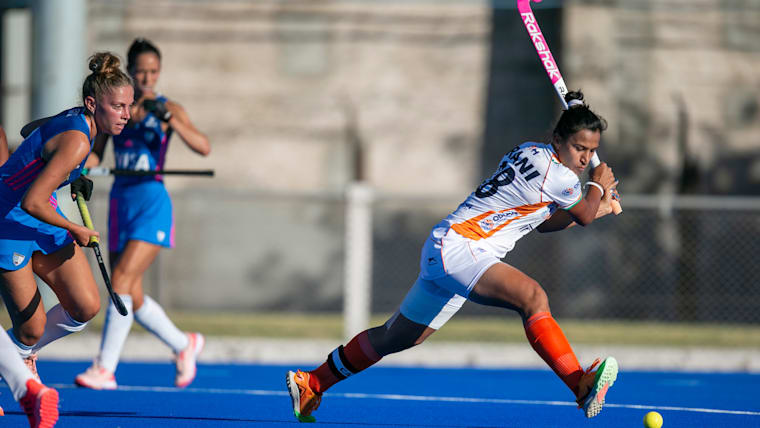 The Indian women's hockey team played out a second straight draw against the Argentina junior team on Tuesday at the Cenard in Buenos Aires.

Captain Rani Rampal's goal from a penalty corner helped the Indian women's hockey team come back after being a goal down in the 13th minute.

India attacked from the first minute, earning a penalty corner but penalty corner specialist Gurjit Kaur dragged her shot wide as did defender Deep Grace Ekka – who scored in the 2-2 draw previously – in the fifth minute.

The hosts then mounted attacks and made India pay for their profligacy, scoring the opening goal in the 13th minute from a penalty corner.

Playing in just their second competitive match in a year, the Indian girls did not back down from the challenge, creating several attacking opportunities but the goal remained elusive.

The equaliser finally came 12 minutes from the end when Navneet Kaur's rapid injection from a penalty corner gave Rani Rampal the time and space she needed and she duly put it away into the far corner.

Chief coach Sjoerd Marijne was impressed with the improvement from the previous game.

"Today the quality of play was better and that's why we are here - to improve in every match," Marijne said. "Today players got the chance to show their best and these are players who normally don't get a chance to make the 18-member squad so it's good they are able to get international exposure

"It is also good for the core group that we are getting to try more players and see how different combinations work. We created enough opportunities to score more and this is an area we need to keep working on."

The Indian hockey women's team continue the practice tour of Argentina with a match against Argentina B on Friday.

Olympic Channel


---

Rani Rampal's goal helps India salvage 1-1 draw against junior Argentina side

It was a second straight draw for the Indian team following a 2-2 result in the tour-opener.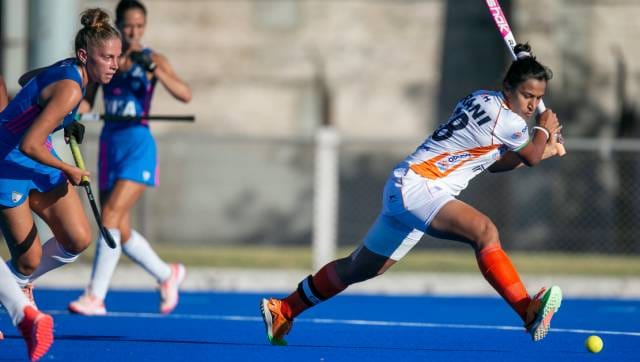 Rani Rampal scored the goal in 1-1 draw with Argentina. Image: Hockey India

Buenos Aires: The Indian women's hockey team wasted a number of penalty corner chances before skipper Rani Rampal's fourth-quarter strike helped the visitors salvage a 1-1 draw against Argentina's junior side, here.

It was a second straight draw for the Indian team following a 2-2 result in the tour-opener.

India began on an attacking note, earning a penalty corner in the very first minute of the match but Gurjit Kaur's powerful drag was saved by the Argentine goalkeeper.

India won another penalty corner in the fifth minute, but Deep Grace Ekka's shot went wide.

In the following minutes, the home side won three penalty corners and succeeded in converting the last one for a 1-0 lead in the 13th minute.

While India created plenty of opportunities to score in the second and third quarters by making a number of circle penetrations, they were unable to beat the Argentine defence.

India earned four more penalty corners (37th, 43rd, 48th and 58th minutes) in the course of the game and eventually succeeded in drawing level in the 58th minute when a powerful injection by Navneet Kaur was well received and powerfully struck by Rani.

"Today the quality of play was better and that's why we are here - to improve in every match. Today players got the chance to show their best and these are players who normally don't get a chance to make the 18-member squad so it's good they are able to get international exposure," said chief coach Sjoerd Marijne in a Hockey India release.

"It is also good for the core group that we are getting to try more players and see how different combinations work."

"We created enough opportunities to score more and this is an area we need to keep working on. We have a break of two days before our next game against the Argentina B team and we look forward to the challenge," added Marijne.

India will take on Argentina B team on 23 January.

Firstpost


---

Ireland women satisfied after international hockey return




Ireland women's head coach Sean Dancer expressed his satisfaction at being able to play international hockey again after returning from a five-match friendly series against Spain.

Ireland recorded two wins, two draws and a defeat in Murcia against world No.7 Spain, the world and European bronze medallists.

Dancer said: "You can train all you want, but nothing beats playing international hockey again. Not just for the competition, but also the mindset of the group.

"It has been a tough year for everyone, everywhere and we are very lucky that we are able to continue some quality development towards our Tokyo goals."

The Green Army finished their tour by coming from 4-2 down to level up thanks to Lena Tice's pair of PC flicks.

Dancer added: "Even though our performances where not consistent, we did shows periods of high quality play, including scoring field goals in every game. Always pleasing to see development in key areas that you are working hard on.

Performance director Adam Grainger said: "It was great to see the team back on the pitch playing international hockey, there's a great energy in the group. The whole squad have been meticulous in following the appropriate COVID protocols which has allowed us to do this successfully."

Meanwhile, India secured a second straight draw of their tour of Argentina.

After holding the senior team hosts to a 2-2 opener, the Eves drew 1-1 with Argentina juniors on Tuesday.
SIGN UP for The Hockey Paper's returning newsletter: Promotions, exclusives and our best coverage
---

Kelly Hoyng-Jonker:'Orange is a closed book'




Sunday afternoon, Oranje-Rood against Pinoké. In the circle, the tip-in-queen lurks for the ball like a heron on a goldfish. Above number 23, her white shirt only shows Hoyng, her husband's last name. The name Jonker is missing. As if she symbolically left her hockey life before her comeback ( 168 international matches, 68 goals ) behind.

After her pregnancy and since her return to the Hoofdklasse, her new club Pinoké played seven league games. Hoyng-Jonker missed two of them because she was in quarantine. In a doubles weekend, she also skipped a game because she was not fit enough to play hockey on both Friday and Sunday. Thus, the game in which she first fully participated in the substitution schedule against hdm on October 11, was only her fourth league game for Pinoké. And her last for now. Corona then stopped the big league.



Kelly Hoyng-Jonker laughs after she made the 2-2 against Orange-Red last Sunday. Photo: Willem Vernes

To be honest, it didn't even come out that bad for me that the competition was stopped. I am fitter now than I was in October and November.

'I only played competition again five months after I gave birth. That I succeeded is actually quite special. But of course, I was still a long way from my top level. Or at least the level that I wanted to achieve', Hoyng-Jonker looks back on the first half of the competition, in which she scored one goal.'To be honest, it was not even so bad for me that the competition was stopped. I have used the last few months to catch up. I am fitter now than I was in October and November.'

At Pinoké she came across an old acquaintance of hers: Doris van der Laan. She is an exercise physiologist at the KNHB and has collected all kinds of data from Hoyng-Jonker at Oranje over the years. It was easy to see how far the striker was from her top level in those first matches. She hadn't even lost much on her fitness, but on her start and sprint speed. Her most important weapons to get in front of her husband at the right time and to tip the ball in.

Hoyng-Jonker used the past hockey-free months by doing many short sprints on the training field.'As a result, my start and sprint speed have improved. Compared to a few years ago, it only saves a few tenths of a second. Now I mainly need competition rhythm to get to my top level. If I ever make it again. That's how honest I have to be. I am thirty years old, not 26 anymore. What I especially hope is that I can reach a level that allows me to be important to the team. That was not the case in October. Fortunately, that is now starting to happen. Now I do come in front of my opponent.'



Kelly Hoyng-Jonker tips the 2-2 against Oranje-Rood last Sunday. Photo: Willem Vernes

Goal against Oranje-Rood

It is around half past one on Sunday afternoon when a ball hits the Oranje-Rood circle from the left. Her instinct will do the rest. The Olympic champion and two-time world champion estimates where the ball is going, hits exactly the right place for her husband and puts her stick against the ball: 2-2.

Almost automatically thoughts go back to the many almost identical goals she made in Orange. Partly due to injuries, Hoyng-Jonker was not always sure of a place in the Dutch national team, but she always fought back into the team. She was a cat with nine lives.

I never had the ambition to play for Orange again

Halfway through July, when Pinoké announced her comeback, she said about a possible return to the Dutch team : "I cannot see the future, so I do not rule out a return to Orange." Now she takes away all doubts.'I never had the ambition to play for the Orange again. What I meant is you never know what's coming your way.'

But now that the Olympic Games (23 July-8 August) are approaching, is Orange a closed book?'Yes. I started playing hockey at Pinoké because I believe in the team and the path they have taken. Not because I wanted to play in Orange again. The European Championship was my last tournament. I am proud, happy and grateful for what I was able to experience, but at a certain point, it was good.'

Hockey World News


---

Resilience - A Key to Success

By Steve Horgan, USA Field Hockey's Director of Umpiring




We all know there are many skills required for an umpire to be successful. Knowledge, fitness, personality, understanding, empathy and communication, just to name a few. But one skill that can make or break an umpire is his/her ability, or lack thereof, to recover quickly from challenges or difficulties during his/her career. Maya Angelou said, "I can be changed by what happens to me, but I refuse to be reduced by it." Resilience is one the most important skills for an umpire to be successful.

Umpires never come to a match thinking, "I'm going to screw this one up today". We certainly know umpires are human and mistakes, or perceived mistakes, will be made. Good umpires always look out for the best interest of the game even though they know they will never call a perfect game. Additionally, umpires have to work through many situations that may be difficult, especially when dealing with emotions from players, coaches, parents and spectators. There is always the expectation of outstanding performance and 100 percent correctness in the eyes of all involved. In reality that is not possible.

However, umpires can learn to be realistic and gain confidence in their officiating by not allowing any real or perceived mistake to "reduce" them to a state that will take the game or their career into a downward spiral. We all should learn from our mistakes. As umpires, when we realize that nothing can be done to change a mistake, we need to be able to keep the right frame of mind and allow the game to continue in control and with the trust of the participants.

Every umpire, at one time or another, has thought to themselves, "I think I got that one wrong". But once they come to the realization that they have to be resilient and keep moving ahead allowing the game to take its natural course, the more successful they can be. When the umpire can continue in a way that keeps the focus on the players and not themselves, the mistake or perceived mistake is forgotten rather quickly. So, when mistakes happen to you, whether by your own doing or just a result of the circumstances, the best you can do is address it later after the game. For the rest of the game, you need to focus on the many more important decisions you will need to make.

At the moment when a possible umpiring mistake is made, everyone around is looking at the umpire. This is when it is important to remember that, "It's not about the mistake you made, but how you react and recover after that mistake". The sooner an umpire can get back into his/her "element" of confidence, control and presence, the sooner the mistake becomes a memory. The time for trying to correct or determine why the mistake was made is after the game whether it be in a post-game discussion or watching the video of the match. Mistakes that are allowed to remain in the mind of an umpire, will only "snowball" into bigger issues as the game continues.

Umpiring is a vocation that so many of us love. We all accept the fact that every call is a "game changing" decision. The average umpire has about a 90 to 95 percent correctness rate during a match. That is an "A" average by almost every grading system. However, it is that small 5 to 10 percent margin of error that when dwelled upon and can reduce an umpire's capability to be at his/her best. Resilience is a skill that can only be developed by practice, experience and work. Learn as you go along in your career, try not to repeat mistakes. Be realistic when assessing your performance so that each time you take the field, you do so in a better frame of mind than before. Don't allow anything that happens to you in field hockey reduce your ability or capability to be the best you can be!

USFHA media release


---

PAHF Sets New Date for 2021 Junior Pan American Championships

PAHF understands that COVID 19 still has a big impact in the Region, therefore a new date for the Junior Pan American Championships (Qualifiers to WC) was agreed with host country, Chile.

The Event will take place from 16-29 August 2021 in Santiago, Chile.

PAHF is already working in a document that will serve as framework for the safe return to competition. The evolution of the COVID 19 impact, continues to be very dynamic so we will continue updating our document and work with the host country to inform in due time about the protocols and requirements to enter Chile.

Regarding the age of players and the extension of the window to play the qualifier, the FIH announced:

FIH Competitions Committee, unanimously agreed, that the window to hold these events (Jr World Cup Continental Qualifiers) has been extended until the end of August and that the age limit for all Junior Continental Championships held in 2021 shall be "All players shall be under 21 years of age as of 31 December 2019, that is all players shall be born on or after 1 January 1999" regardless of which month the event takes place in this year. The qualification document on the website will be updated accordingly.

For clarity, the age group limit for the Junior World Cups in December, remains as it has always been: "All players shall be under 21 years of age as of 31 December 2020 that is all players shall be born on or after 1 January 2000".

Pan American Hockey Federation media release


---

'Force of nature' world grand hockey master leader passes away

By Richard Bright




Tributes have poured from around the masters hockey community following the passing of Wim van Noortwijk, the former World Grand Masters Association president.

Dutchman Van Noortwijk died last month and the hockey community has paid tribute to his "immense contribution" to the grand masters scene.

"For the past six years Wim, as President, has been the dynamo that has driven WGMA and it has been a pleasure and a privilege for us – his fellow Board members – to work alongside him," the WGMA board said.

"Whatever might have been going on behind the scenes at WGMA events – and it wasn't always plain sailing – Wim was able to smile through it all with an outward calm which assured everyone that all was well with the world."

Wim was born in Rotterdam in 1941 and grew up in an environment where football rather than hockey was the main game. After a spell in the military, he enjoyed a fast rise in the business world which meant that there wasn't much time for sport although he had the innate Dutch love of small boats and watersport and also gained a pilot's licence to fly light aircraft.

Wim's colourful and highly successful business life included a spell as Kerry Packer's man in Europe – the source of many of Wim's favourite stories. He became President of ISSA (International Shipsuppliers and Services Association) in 2000 and served two four-year terms during which he made a significant contribution to the organisation.




His hockey career began in the early 1990s when his young daughter Edith started playing at HC Voorne, the local club in Hellevoetsluis. He was soon encouraged to join the club himself and to play in their 'social' veterans team.

He was instrumental in the formation of World Masters Hockey and resigned in August 2019 to concentrate on the future of WGMA. Unfortunately ill health made it impossible for him to give as much time and energy to WGMA and a successor to lead the association was found when John Willmott took over in November.

"Without Wim Masters Hockey would not be anywhere near the success it is today," said Ben Rea, a former IMHA president. "I will miss him greatly both personally and as a tower of hockey strength."

"He was a very fine man, a gentleman and a man of integrity and bearing," added South African Tom Lawless, while his passing was felt elsewhere across the globe.

"Belgian Old Lions will never forget Wim and his immense contribution to Grand Masters Hockey," said Alain Mertens. "I am sure he is already planning new games for us in Hockey Paradise."

Bernie Morrison, Scotland LX president, added: "He was an absolute "force of nature", a good friend to us, an accomplished competitor on the hockey field and an organiser and leader without compare."
SIGN UP for The Hockey Paper's returning newsletter: Promotions, exclusives and our best coverage