All the news for Wednesday 20 January 2021

India Junior women's hockey team continue winning run in Chile

Gagandeep Kaur scored a brace while forwards Mumtaz Khan and Sangita Kumari netted one each

By Samrat Chakraborty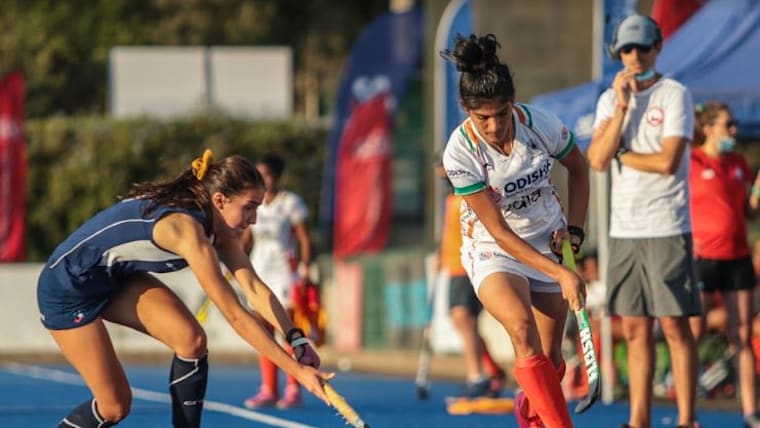 India Junior women's hockey team continued their winning momentum as they came from behind in the last quarter to register a 4-2 win over Chile Junior side in Santiago on Monday.

Gagandeep Kaur (51', 59') scored a brace for the Indian eves while forwards Mumtaz Khan (21') and Sangita Kumari (53') netted one goal each. The hosts got on the scoresheet through Amanda Martinez (4') and Dominga Luders (41').

The visitors had registered a convincing 5-3 win in the first match on Sunday with striker Beauty Dungdung scoring a hat-trick.

Like they had in the opening contest on Sunday, Chile started the game with an attacking flair, immediately putting the pressure on Indian defenders. As a result, the hosts earned their first penalty corner in the fourth minute and Martinez hit it home, putting her side into the lead early.

India, however, displayed fighting spirit to equalize in the 21st minute as Mumtaz was placed right in front of the goal and produced a brilliant finish.

Both teams then went in search of a lead but failed to find the net as the scores remained level at half-time.

The hosts, again, returned with attacking intent in the third quarter and were able to earn a penalty corner in the 31st minute. The Indian defense, however, stood strong on this occasion to deny them the goal.

Ten minutes later Chile took the lead through Luders as she shot past the Indian goalkeeper to turn the game in favour of the home team.

The visitors, however, excelled under pressure in the last quarter as they scored thrice in nine minutes. Kaur converted two penalty corners while Kumari scored once to guide the visitors to their second consecutive victory on their tour to Chile.

India junior women's hockey team will look to take a lot of inspiration from their performances as they are next slated to take on Chile Senior Women's team early on Wednesday.

Olympic Channel


---

Gagandeep Kaur brace sees India junior women's hockey team complete comeback win against Chile

A brace from Gagandeep Kaur (51st, 59th), and a goal each from forwards Mumtaz Khan (21st) and Sangita Kumari (53rd) ensured India's second victory in as many days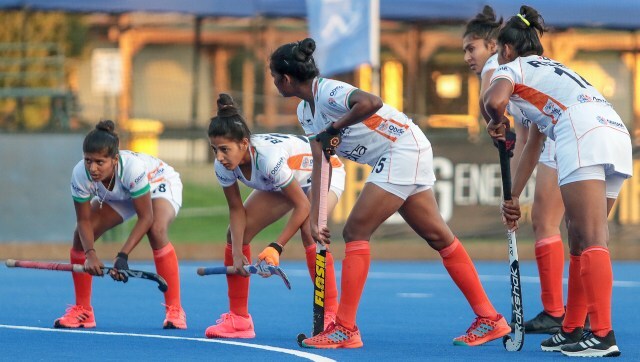 Action from the India women's junior hockey team's match against Chile. Twitter@TheHockeyIndia

Santiago: The Indian junior women's hockey team scored thrice inside the last nine minutes to register a come from behind 4-2 victory over its Chilean counterpart at the Prince of Wales Country Club.

A brace from Gagandeep Kaur (51st, 59th), and a goal each from forwards Mumtaz Khan (21st) and Sangita Kumari (53rd) ensured India's second victory in as many days.

Chile's goals were scored by Amanda Martinez (4th) and Dominga Luders (41st).

The match started with Chile putting pressure on the Indian defence and earning themselves a penalty corner in the fourth minute, which was converted by Martinez to give her side the lead.

India tried to fight back into the match and their resurgence paid off in the 21st minute when striker Mumtaz found herself in a fantastic position in front of goal, and produced an exquisite finish to score India's equalizer.

Both teams tried to look for opportunities to score and get a lead in the match, but neither could find an opening until the half-time break.

In the third quarter, it was Chile that started on the front foot, and earned themselves a penalty corner in the 31st minute.

However, the resulting execution was well defended by the Indian team to deny the hosts. Another glorious opportunity came for Chile ten minutes later as Dominga Luders found herself through on goal, but this time she did not hesitate in shooting past India's goalkeeper to make it 2-1 in Chile's favour.

Playing under the pressure of trailing by a goal, the Indian team produced a scintillating performance in the last quarter of the match by scoring thrice inside the last nine minutes.

Firstpost


---

FIH Hockey Pro League the perfect stepping stone for Tokyo Olympics: PR Sreejesh

Sreejesh believes that the upcoming FIH Pro League will be a perfect dress rehearsal for the national team ahead of the Tokyo Games.

By Samrat Chakraborty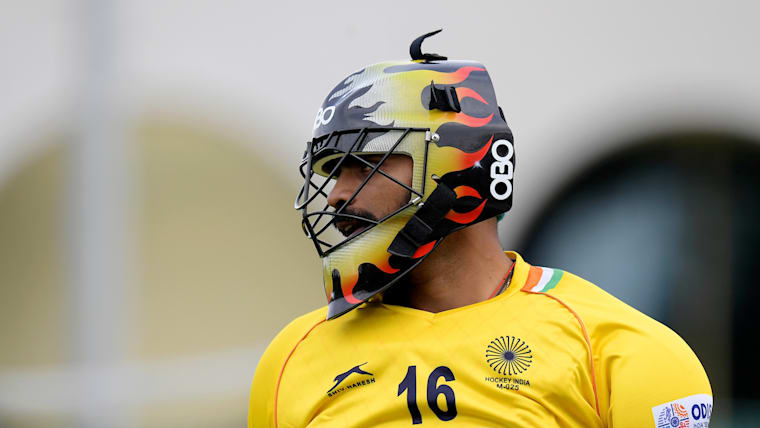 All roads lead to Tokyo, as far as Olympic athletes are concerned. And it's no different for veteran Indian hockey goalkeeper PR Sreejesh.

Sreejesh believes that the upcoming FIH Pro League will be a perfect dress rehearsal for the national team ahead of the Tokyo Games.

"It was a great learning experience and each of us worked on bringing out our individual best and execute our roles to perfection, " Sreejesh told Hockey India. "The FIH Hockey Pro League was the perfect stepping stone for the Olympics."

India is slated to take on Argentina in April, Great Britain, Spain and Germany in May during the next leg of the league. They will also host New Zealand at home in May.

India is the most successful hockey team in the Olympics – having won a total of 11 medals, including eight gold medals.

But the team has been struggling of late. At the Rio 2016 Olympics, India finished a disappointing eighth after winning only two of their six matches.

Sreejesh will be the key for India in the goals at Tokyo. India made their FIH Hockey Pro League debut in January 2020 with a convincing 5-2 win over the Netherlands at Bhubaneshwar's Kalinga Stadium.

The 32-year-old goalkeeper was in the thick of action in the next game against their Dutch rivals, as India won 3-1 in the shootout.

Reliving his memories from the past edition, Sreejesh said, "It was one of the most memorable matches. I feel all of 2019, our true potential was not tested and we longed to play top teams like Netherlands, Australia and Belgium. FIH Hockey Pro League gave us that opportunity and we wanted to make it count."

Sreejesh highlighted that the league will ensure the final team selection for the Tokyo Olympics depending upon the performances of the players.

"We are hopeful the FIH Hockey Pro League matches are held as per schedule this year, that way we get good matches against strong teams ahead of Tokyo Olympics in July. These matches will be a perfect test for us as players as well as a team and I am sure the final team selection for the Olympics will depend on how well we do in these matches," he said.

Olympic Channel


---

FIH Pro League will be the perfect test ahead of Tokyo Olympics, says PR Sreejesh

In the next leg of FIH Hockey Pro League matches, India is scheduled to play against Argentina in April, Britain, Spain and Germany in May.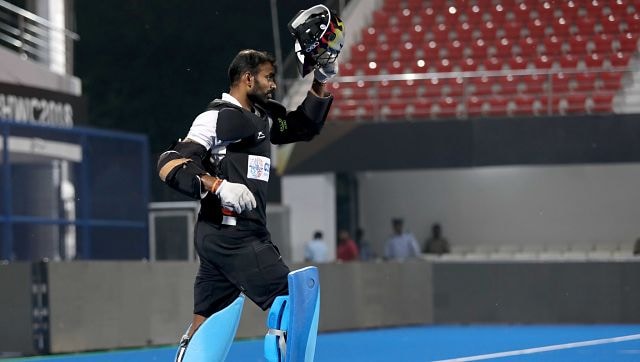 File image of India men's hockey team goalkeeper PR Sreejesh during the Men's Hockey World Cup 2018 held at Bhubaneswar. Image courtesy: Hockey India

Bengaluru: Hopeful that the next leg of FIH Hockey Pro League will go ahead as per schedule in April, Indian men's hockey team goalkeeper PR Sreejesh feels competing against strong teams in the tournament will be the perfect test ahead of the Tokyo Olympics.

In the next leg of FIH Hockey Pro League matches, India is scheduled to play against Argentina in April, Britain, Spain and Germany in May. The team will also compete against New Zealand at home in May.

"We are hopeful the FIH Hockey Pro League matches are held as per schedule this year, that way we get good matches against strong teams ahead of Tokyo Olympics in July," Sreejesh was quoted as saying in a Hockey India release.

"These matches will be a perfect test for us as players as well as a team and I am sure the final team selection for the Olympics will depend on how well we do in these matches," Sreejesh added.

The men's team played its last international match against Australia on February 22 last year at the FIH Hockey Pro League.

The Indian men's team had made a sensational debut at the FIH Hockey Pro League with a 5-2 win against the Netherlands last year.

Though in the next game, the Dutch bounced back to hold India 3-3 in regulation time, Sreejesh's heroics in the shootout ensured India began the coveted League with back-to-back wins.

The 32-year-old said training in a bio-secure environment, has made the players mentally tough.

"In the last 12 months, the kind of challenges we have faced has made us mentally tough.

"While Hockey India and SAI have provided us with the best of training environment despite an ongoing pandemic, we as players have sought out various activities to keep our minds healthy."

Firstpost


---

China bolsters hockey talent with national Olympic hubs




China is looking to bolster its talent hub in the west of the region by setting up national Olympic reserve bases, writes Richard Bright.

The Chinese Hockey Association has listed 20 schools as centres for hockey talent, with 10 of those located in west China, including the Inner Mongolia Autonomous Region.

At the 2018 men's World Cup, all of China's 18-member squad hailed from the Mongolia region and drew praise during the event after holding England to a 2-2 draw.

"Three schools on the list are in Gansu. This is a new start for us to explore more field hockey talents. And I hope that my school could be a cradle for them," school principal Gao Xiang Gao told local media.

At his school, over 200 hockey players had come through its coaching model after a team was first set up in 2008.

Youth hockey is on the rise in places such as Lanzhou City, Jiayuguan City, and other areas in Gansu Province.

At the 2018 World Cup, China made its men's debut. Its previous best result was a silver medal finish at the 2006 Doha Asian Games.
SIGN UP for The Hockey Paper's returning newsletter: Promotions, exclusives and our best coverage
---

Malseed taking "everything as a win" following impressive first series




Zara Malseed is taking "everything as a win" following her hugely impressive first international trip with the Irish senior women's panel.

The Ulster woman netted three times in three appearances against Spain in Murcia last week despite breaking her thumb in the second game, continuing her incredible rise from obscurity to genuine contention for an Olympic spot.

"To even be where I am now, I am just enjoying every minute," she told the Hook. "I will try my best to get my chance to play any games in a competitive situation and hopefully take that opportunity but anything is a win at this stage."  

An Irish Under-18 international six years ago, her move to Edinburgh for university was far from an instant success as she found herself dropped to the second team in her second year.

It is why she considered international hopes "were a dream I thought were dead a long time ago" before a remarkable rise. It started in Scotland with a first team recall leading to captaincy and then a domestic club treble.

Since returning to Ireland, she netted over a goal a game for her original club, Ards, who have the added benefit of Irish assistant coach Gareth Grundie in their setup, witnessing her exploits first-hand despite playing outside the top tier EY Hockey League.

That got her foot in the door last February with an invite for trials but last March's abrupt hiatus came at the right time to allow her to focus on building the physical side.

"I had been out of international hockey so long. It is now such a completely different experience for the body; lockdown suited me because it gave me the chance to get the running shoes on and focus completely on that to get more opportunities when we finally got back on the pitch.

"The intensity is so completely different and what I have been working towards since I got brought in because that is the way we are trying to play hockey. It was so good to put it into practice."

A natural goalscorer, the trio of goals was a welcome boost but she took almost more pleasure from a delightful cut-inside to wrong-foot a marker before setting up a Deirdre Duke goal on Sunday.

And it provided Irish coach Sean Dancer with extra justification for her inclusion in Ireland's carded panel of 23 from which the 16 to go to Tokyo will be selected.

"The first game was very nerve-wracking but then I settled into it," Malseed continued. "I made it a focus to try not to think about scoring goals – that's kind of when it doesn't happen. It is quite relaxing when you get stats like that. I was focusing on other things like my pressing which are important to get right because this was also the team's first proper test of structural game play.

"But to just even be where I am now, I am just enjoying every minute. I will try my best to get my chance to play any games in a competitive situation and hopefully take that opportunity but anything is a win at this stage."  

For Dancer, meanwhile, he said it was a hugely productive first series in almost 12 months, winning two, drawing twice and losing once against the world number seven side in uncapped encounters.

"You can train all you want, but nothing beats playing International hockey again," he said. "Not just for the competition, but also the mindset of the group. It has been a tough year for everyone, everywhere and we are very lucky that we are able to continue some quality development towards our Tokyo goals.

"We travelled with our full current squad, providing all players the opportunity to get some game time again. Even though our performances were not consistent, we did shows periods of high-quality play, including scoring field goals in every game."

Hockey Ireland Performance Director Adam Grainger added: "A huge amount of planning and effort went into making sure these matches could go ahead. Sport Ireland and Sport Northern Ireland have been essential to the organisation of this trip.

"Each member of the team was tested prior to leaving for the camp, followed by an isolation period before travelling, and will face testing again on return to Ireland.  

"It was great to see the team back on the pitch playing international hockey, there's a great energy in the group. The whole squad have been meticulous in following the appropriate COVID protocols which has allowed us to do this successfully."

The Hook


---

Holly Stewart announces retirement from Women's National Team Program



Photo Credit: Yan Huckendubler

After an eight-year career with the WNP, Stewart hangs up the cleats and moves onto the next phase of her life

Canadian forward Holly Stewart announced her retirement from international hockey in September 2020, more than twelve years after she first made the sport part of her identity.  

Stewart joined the national team program in 2012 on the junior squad, and eventually battled her way up into the starting senior rotation. She played club hockey for West Vancouver FHC and most recently in Belgium for Royal HC Namur and Royal Evere White Star HC. She comes just shy of the 100 mark, with 99 international senior matches under her belt.

The Vancouver native recorded her first cap in June 2013 against Ireland and scored 21 goals over the span of her senior career. Notable competitions include two Pan American Games, where the national team won silver at Lima 2019 and bronze at Toronto 2015, as well as the 2014 Commonwealth Games in Glasgow.

"I had been battling with the decision for quite a few months," she said. "COVID-19 forced me to look at some of my other goals that had completely just taken out of my mind for years, because I was focused solely on qualifying for Tokyo. It forced me to slow down and remember some other things that I'm passionate about."

As far as reflections and career highlights, Stewart recalls the Hockey Series Final in 2019 in Valencia as a fond memory, having defeated Italy in the semi-finals, and gushes as she remembers scoring a goal during her first cap against Ireland and a game-winner against Korea at a tournament in New Zealand a few years back. Patrick Tshutshani, Women's NextGEN Director and Women's National Team assistant coach, has worked with Stewart since 2018 and describes her as an extremely hardworking athlete with always a smile on her face.

"She strived to be at her best all the time and had an unbelievable work ethic," Tshutshani said. "Holly was a coachable individual who was always adapting and evolving with the game…and was well respected by her teammates, friends and certainly by her coaches. I wish Holly all the best in her future endeavours and I know that she will continue to make life a success."

Though injuries and setbacks have put her to the test, there is much to be proud of, even if retirement presents some challenges of its own.

"The toughest part was figuring out a way to let go of caring about other people's expectations," Stewart said. "It was hard learning how I could be okay with where my career was and be happy with it, without having certain medals and accolades and even ending my career at one cap away from a hundred, which is a big milestone.

"It took some time and I don't know if I can let it go right now, but I've come to terms with it. I'm super proud of being an athlete, but it's not the only thing I have to offer. And it's not my only success in life."

Stewart plans to stay close to sport, currently coaching at West Vancouver Field Hockey Club, and wishes to impart her wisdom and experience to the next generation, particularly girls growing up and moving through the system.

She said, "I think a lot of girls playing field hockey are afraid to mess up. Like so many girls I coach, they don't want to do a backhand hit because they're scared it's going to stop on the turf or they're just going to miss the ball. It's important realizing that mistakes only make you better."

Congratulations Holly Stewart on a tremendous career!

Field Hockey Canada media release


---

From small beginnings...




A hockey coaching programme that has introduced more than 70,000 children to our sport is something to be celebrated.

Small Sticks has been running in New Zealand since 2012 and, since its introduction, the nationally branded junior participation programme has offered children from 5-13 years old a fun way of learning the skills and concept of the game.

Even during the Covid-19 pandemic the programme has continued to roll-out across the country, with Tinui School, 35 miles from Masterton, the most recent school to sign up to the programme.  

Set in a rural location at the southern end of the North Island, Tinui School has 37 students. Thanks to the efforts of teacher Nicky Brown and support from hockey equipment suppliers Kookaburra, this small school has been able to offer hockey to all its pupils and is on the verge of entering its first tournament.

Talking to Hockey New Zealand, the national governing body, Brown said: "The kids have loved it. In particular last term with Fun Sticks, we had lots of good feedback from parents as the kids had been going home sharing their experiences during the day. Even better we have kids keen to play hockey next year as well".

Small Sticks offers four modules, which are based on a child's development stages. The activities and equipment are all appropriate to the child's learning and development stage and are delivered by qualified coaches and teachers. At least four sessions are delivered by an accredited coach, who also provides the regular teachers with appropriate knowledge and teaching resources to continue with the programme.

The first module is Fun Sticks and as the name suggests, it's all about introducing children to hockey in a safe and exciting way. Aimed at 5-6-year-olds the focus is on developing fundamental movement and basic hockey skills such as running, striking, as well as body and spatial awareness.

As children get older and their skills progress, so they move on to different phases of the junior programme, continuing to learn basic hockey skills and being part of a team.

When the children reach 7-9-years, they move into Mini Sticks, which introduces them to a six-a-side version of the game divided into two options; development and standard competition streams.

This provides those new to the sport an opportunity to join in at their level and experience.

By the time the children reach 9, they're moving on to Kiwi Sticks, before continuing through the programme on to Kiwi and finally Kwik Sticks.

At all stages of the programme, the childrens' parents and carers are encouraged to get involved as coaches, umpires and team managers.

FIH site