All the news for Wednesday 23 December 2020

A message from FIH President Dr Narinder Dhruv Batra




Dear Members, dear Colleagues, dear Friends,

As we are nearing the end of a very challenging year for everybody, I would like to look back on the last 12 months and also look towards all the events which lie ahead of us in 2021.

Despite the worldwide COVID-19 pandemic, hockey has been played in most of the countries whenever the health conditions were there to enable it, in full respect of measures taken by the local authorities. In order to help hockey return on the pitch, FIH provided all Continental Federations and National Associations with detailed guidelines.

Since the development of hockey is the number one mission of the FIH, we have made a point in continuing to deliver courses to hockey coaches, officials and administrators. These courses have been provided online and they have proven to be a true success!

We have managed to play almost half of the FIH Hockey Pro League matches for this season, and not only before the pandemic outbreak but also, whenever it was possible, in the last few months.

With "Watch.Hockey", available both as an application and a web version, we've launched the foundations of our new digital home of hockey. In just a couple of weeks and with only a few international matches, we have managed to register approximately 60'000 users.

Also, despite the lack of international matches, our social media handles have continued to perform increasingly better, which is a very encouraging sign.

These achievements come in addition to all the initiatives taken for the development of our game, for the growth of Hockey5s, for a more gender-equal sport, for a high-level quality programme, for good governance, etc.

Now, I'm looking forward to 2021, a year full of exciting events!

First and foremost, I can't wait to see the Olympic hockey tournaments start in Tokyo! I know the tremendous efforts which are being done by everybody involved to make this event a resounding success, which I'm sure it will be!

Also, we will enjoy the second stage of the current FIH Hockey Pro League season, with lots of thrilling matches ahead of us! And already before the end of 2021, Pro League – Hockey at its Best ! - will be on the agenda again, as the new schedule of our home-and-away League, running from October to June, will be implemented for the first time.

The Junior World Cups, hosted by South Africa for the Women and India for the Men, will once again reveal the latest greatest talents of our sport, the stars of tomorrow!

Meanwhile, all Continental Federations and National Associations will have gathered for the 47th Congress of FIH in May, in New Delhi, India.

At this stage, I'd like to extend thanks to our broadcast and commercial partners for their invaluable support, to our preferred suppliers, to the entire hockey community, including all hockey fans and volunteers around the world, for their passion and dedication, and to all those members of the hockey community who have been at the front of the fight against COVID-19!

This time, more than ever, I wish all of you good health!

Season's greetings and a happy, peaceful and successful 2021!

Stay safe, stay healthy, God bless!

Dr Narinder Dhruv Batra
President, International Hockey Federation (FIH)

FIH site


---

Magical moments in a challenging year




No-one would disagree that this has been an unusual year. As the pandemic swept the globe, its impact was felt in every sphere of life. Uncertainty, a sense of challenge and a certain amount of fear were the prevailing emotions for much of 2020.

All of which means that our reflections on the year are also not the normal memories and moments. In an usual year, it would be all about the hockey, but this year, there were other stories that made the headlines as well.

Of course, before lockdown restrictions were imposed, there were international matches and they were of the highest quality. Who can forget those breathtaking skills on display as India men made their FIH Hockey Pro League debut and got off to a cracking start with a 5-2 win over the Netherlands? This was followed by an equally absorbing 3-3 draw with India going on to take the bonus point as they won the shoot-out. India's captain Manpreet Singh experienced his own moment to triumph when he was voted FIH Player of the Year (men).

Netherlands men were also involved in a battle royale with near neighbours Belgium as the FIH Hockey Pro League re-started in September. The 4-4 draw between the two teams was the last match before a second lockdown put a halt to all international fixtures, but what a match to end on – fans will be waiting in real anticipation for the league to burst back into action in February based on the excitement levels created during that brief window of FIH Hockey Pro League action.

Another FIH Hockey Pro League fixture which really demonstrated the FIH's commitment to an equality agenda was the appointment of mixed gender umpiring teams for the New Zealand v Belgium men's and women's matches in February. Wanri Venter, Adam Kearns, Aleisha Neumann and Steve Rogers were the umpires who took to the field and the message was loud and clear – FIH is an international sports federation that is fully committed to gender equality and is leading by example.

In one of the New Zealand v Belgium games already mentioned, Olivia Merry had her own moments of glory as she enjoyed the first of two four-goal hauls in the FIH Hockey Pro League. Merry was crowned top scorer in the inaugural season and looks to be following that up with a second successful season. She has 10 goals to her name so far, including four scored against Argentina.

Away from the field of play, the world's hockey community has been playing its part in the fight against Covid-19. While we published a story outlining the amazing work of some of our athletes and their role in battling the virus, we know that people from across the entire hockey family have been doing their bit – volunteering, offering expertise and often putting the welfare of others before their own safety.

While some athletes were working on the frontline, others were doing their part to help with the physical and mental health issues associated with social isolation. Again, there are countless examples of athletes using their own standing to motivate and inspire other people to get active. One of the most creative of these was the stream of social media posts from Sam Ward. His Isolation Olympics showed videos of the hockey star using household items to re-create the Olympic Sports - both summer and winter. Comedy and creativity were used to full effect by the England and Great Britain star.

One thing that has really taken off in the wake of the Covid-19 pandemic and subsequent lockdowns has been the use of technology. Whether it is WhatsApp keeping umpires connected; Zoom meetings for teams to discuss training or simply to enjoy a catch-up; or social media posts to keep a wider audience entertained – the digital world has come into its own. For the FIH Academy, the use of technology to deliver online courses has been invaluable While these will never replace the need for people to attend courses, the ability for elements of training and learning to be delivered online has already revolutionised the way the hockey workforce will develop in the future.

The use of platforms such as Zoom and Teams has allowed the FIH to engage with its worldwide community on an unprecedented scale. The recent Gender Equality webinar was a prime example. More than 70 participants from across the globe joined in a wide-ranging discussion that shone a spotlight on gender equality and how each continent and nation can push forwards on their own agenda, while working to a common goal of equality.

FIH has also upped the ante when it comes to bridging the gap between athletes and hockey fans. The Insta Live chat between Argentina's Delfina Merino and the Netherlands' Eva de Goede was a piece of magical broadcasting. Seeing two fierce competitors engaged in a lively and warm chat about all things hockey has set a precedent for future similar interviews.

This in turn leads neatly onto the launch of Watch.Hockey and Hockey Pod. The Watch.Hockey app is a hockey fan's dream. All the news, views, match replays, stats – it is everything a sports fan could want, all in one place.

Hockey Pod is the FIH monthly podcast, and two episodes in is already proving a hit. The guests are relaxed and open as they chat at length to the hosts and each other. It is a very different way of engaging in the sport.

The final mention in our hockey moments of 2020 goes to the courageous hockey athletes of the Afghanistan national women's team. Defying a regime which denied them the right to play sport, the women persevered, often under the threat of severe punishment. That they now have a national team and are allowed to train and compete is one of the brightest moments in a year that has often appeared to be a very dark time.

FIH site


---

Wilson returns after a four-year absence – 2021 Vantage Black Sticks National Squad




The return of two-time Olympian Nick Wilson for the first time since the 2016 Rio Olympics has bolstered the 2021 Vantage Black Sticks Men's squad named today.

The 25-man squad, which recently lost more than 550 caps of experience following the retirements of Arun Panchia (287 caps), Marcus Child (171 caps) and Cory Bennett (110 caps), also features three new caps and a potential four-time Olympian.

Wilson, who has been focusing on his career as a commercial real estate agent since Rio, impressed the selectors as one of the top goal scorers in the recent Sentinel Homes Premier Hockey League (PHL). A veteran of two previous Olympics, Wilson will be looking to stake his case for a third games and adding to his 170 caps for the Vantage Black Sticks.

The experienced Shea McAleese is striving to be selected for his fourth Olympic Games, having been part of the squads at Beijing, London and Rio. McAleese is currently sitting on 310 caps and next year he could overtake Ryan Archibald for second place on the all-time caps for the Vantage Black Sticks.

There are three uncapped players in the 2021 squad with the Central Falcons duo of Sean Findlay and Sam Hiha being rewarded following strong performances in the PHL. Hauraki Mavericks player Oliver MacIntyre also joins them in the squad for the first time.

The world has changed a lot since the Black Sticks last took the turf Darren Smith says "Much has happened since we last took the field against Argentina on 1 March. After the lockdown and subsequent delay in Tokyo Olympics, we took the chance to re-set the program, connect with our up and coming talent and look over the squad that will take us to Tokyo and beyond. It gave the chance for all of us to look at the other aspects of our lives and think about what is important heading into 2021".

We have some new Vantage Black Sticks Players coming into the squad "We have lost some experience in the group but we also have gained some players who have taken their chance in training and during the recently completed Sentinel Homes Premier Hockey League. Congratulations to new Vantage Black Sticks players Sean Findlay, Oliver MacIntyre and Sam Hiha who have performed well and we are looking forward to seeing them perform in the black jersey. We also welcome back Nick, who has been in fantastic form over 2020 and is highly motivated to continue his decorated career".

The Central Falcons, who were victorious in the PHL,  have been rewarded with 10 of their team named in the national squad.

Falcons striker Jacob Smith was in outstanding form during the PHL, receiving the Archibald Trophy as the tournament's Most Valuable Player. Smith will be looking to continue his outstanding form in 2021 as he pushes for a place at his first Olympic Games.

Veteran striker Simon Child has made himself unavailable for the first part of 2021 as he continues to balance work, family and hockey commitments.

The Vantage Black Sticks will now shift their focus to the 2021 season "We now look forward to getting everyone back together in 2021 to start working on our team both on and off the turf. We will do this knowing that we still have a lot of uncertainty in the content of our program. It will be important no matter what our calendar looks like that we focus on being ready for Tokyo and that we are primed for performance against top opposition in difficult conditions".

The squad will return to training in January as they build for a season which features an Oceania Cup (TBC), the postponed Tokyo Olympics and the resumption of the second season of the FIH Hockey Pro League.

2021 Vantage Black Sticks Men's squad
| | | | | |
| --- | --- | --- | --- | --- |
|   |   | Caps |  Association | PHL team  |
| David | Brydon | 53 | Canterbury | Alpiners |
| Dom | Dixon | 3 | Hawkes Bay | Falcons |
| Steve | Edwards | 220 | North Harbour | Tridents |
| George  | Enersen | 61 | Canterbury | Alpiners |
| Sean | Findlay | Uncapped | Hawkes Bay | Falcons |
| Leon | Hayward | 7 | Auckland | Mavericks |
| Sam | Hiha | Uncapped | Hawkes Bay | Falcons |
| Hugo | Inglis | 232 | Otago | Alpiners |
| Stephen  | Jenness | 250 | Wellington | Falcons |
| Sam | Lane | 65 | South Canterbury | Alpiners |
| Dane | Lett | 77 | Wairarapa | Falcons |
| Oliver  | MacIntyre | Uncapped | Wellington | Mavericks |
| Shea | McAleese | 310 | Hawkes Bay | Falcons |
| George  | Muir | 141 | North Harbour | Tridents |
| Dominic  | Newman | 58 | Canterbury | Alpiners |
| Jared | Panchia | 134 | Auckland | Mavericks |
| Brad | Read | 34 | Wellington | Falcons |
| Nick | Ross | 130 | Otago | Alpiners |
| Kane | Russell | 161 | Otago | Alpiners |
| Aidan | Sarikaya | 46 | Thames Valley | Mavericks |
| Jacob | Smith | 86 | Wellington | Falcons |
| Blair | Tarrant | 212 | Otago | Alpiners |
| Dylan | Thomas | 27 | Hawkes Bay | Falcons |
| Nick  | Wilson | 170 | Manawatu | Falcons |
| Nic | Woods | 128 | Waikato | Mavericks |
2021 Vantage Black Sticks Men's management

    Head Coach: Darren Smith
    Manager: Kevin Marr
    Team Services Manager: Dana Bisset
    Assistant Coach (Defence): Dean Couzins
    Assistant Coach (Attack): Glenn Turner
    Goalkeeper Coach: Hugh Biss
    Skills Coach: Mike Delaney  
    S&C Coach:  Scott Logan  
    Performance Analyst: Julia Herbst
    Physiotherapist: Ben Park

Hockey New Zealand Media release


---

Black Sticks veteran Nick Wilson returns after last appearance at 2016 Rio Olympics



Nick Wilson, left, is training with the Black Sticks again. He last played in black at the 2016 Rio Olympics. David Rogers/Getty Images

Two-time Olympian Nick Wilson is returning to the Black Sticks after last playing in black at the 2016 Rio Olympics.

Wilson, 30, was named in the 25-man New Zealand hockey squad on Wednesday and his comeback will help offset the loss of more than 550 caps of international experience.

Arun Panchia (287 caps), Marcus Child (171) and Cory Bennett (110) have all retired but the Black Sticks' 2021 squad includes Wilson (170), three-time Olympian Shea McAleese (310) and three debutants: Sean Findlay, Sam Hiha and Oliver MacIntyre.

Findlay and Hiha have earned their selections after starring in the inaugural Premier Hockey League with the Central Falcons, who were crowned champions last month.

McAleese, meanwhile, is targeting a fourth Olympic Games in Tokyo next year, Covid-19 permitting.

The Black Sticks haven't played since March because of the pandemic but hope to return to the field in an Oceania Cup next year, although details for it are still to be confirmed.

"Much has happened since we last took the field against Argentina on 1 March," Black Sticks coach Darren Smith said in a statement.



Black Sticks coach Darren Smith has named a 25-man squad for 2021. Mark Metcalfe/Getty Images

"After the lockdown and subsequent delay in Tokyo Olympics we took the chance to re-set the program, connect with our up and coming talent and look over the squad that will take us to Tokyo and beyond.

"It gave the chance for all of us to look at the other aspects of our life and think about what is important heading into 2021".

The squad will begin training for next season in January.

AT A GLANCE

2021 Black Sticks men's squad: David Brydon, Dom Dixon, Steve Edwards, George Enersen, Sean Findlay, Leon Hayward, Sam Hiha, Hugo Inglis, Stephen Jenness, Sam Lane, Dane Lett, Oliver MacIntyre, Shea McAleese, George Muir, Dominic Newman, Jared Panchia, Brad Read, Nick Ross, Kane Russell, Aidan Sarikaya, Jacob Smith, Blair Tarrant, Dylan Thomas, Nick Wilson, Nic Woods.

Stuff


---

Year in Review 2020, Biggest Sports Stories: Indian hockey's grand old man, Balbir Singh Senior, passes away

Balbir arguably led the limitless pantheon of country's hockey stalwarts, and his passing leaves a mighty hole in Indian hockey firmament.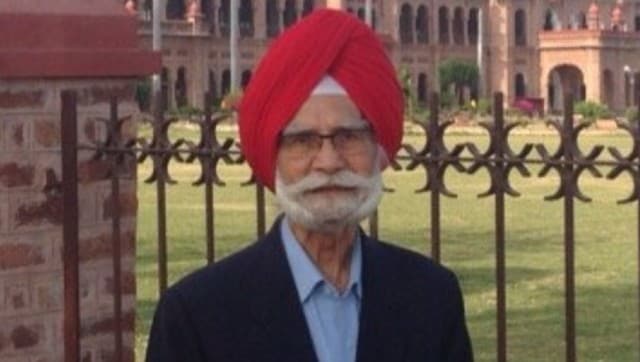 It is 25 May, 2020. Sweating, sweltering, simmering. It is COVID-19 ; relentless, inexorable, undefeated. What could possibly be worse? The phone beeps one early morning, and without a trigger warning, the announcement arrives in five words of ruthless finality. Thus broke the news of the passing away of the genial giant of Indian hockey. Balbir Singh Senior – he, of fluffy white beard and red turban, of effortless goals and three Olympic golds, of 95 years of blissful life and a lifetime of memories – gone.

Death puts life in perspective, no matter how enriching, celebrated, or demanding. You see hope fighting its way through medicines and intravenous tubes, through wistful smiles and hearty laughs, through a doting pet and a rickety hockey stick perched by the bedside, and you feel a sense of permanence, until one May morning, it fizzles out on a hospital bed.

Those fortunate to have spent some time with Balbir do not remember him for his six goals on Olympic debut or five goals in the 1952 Olympics final alone. Sporting achievements, even as mighty as Balbir's, do not define you. Sure, he will be revered for his peerless skills, but remembered for the boundless joy he brought to a newly-independent nation still struggling for relevance.



Balbir Singh Senior passed away on 25 May, 2020.

It is important to note that he was a witness to the largest, and perhaps the bloodiest, mass migration in human history. A clutch of his friends from Amritsar's Khalsa College – Maqbool Hashmat, Aziz, Shahrukh, Ali Iqtidar Shah Dara, and Khurram, all of whom would represent Pakistan with distinction – went to their new country, but that did little to diminish their bond. Balbir held no grudges, harboured no biases, and the cross-border bonhomie blossomed well into their sunset. In polarised times as these, such virtues and such tales are rarer by the day.

Speaking to Balbir was an education. Blessed with an elephant's memory, he could reel off names of his long-dead colleagues and opponents, and to the utter amazement of this writer, remembered each of his Olympic goals and how he scored them. An old-school disciplinarian when it came to training, he also guided India to their only World Cup win (1975), and introduced the concepts of nutrition and scientific training to Indian hockey.

Balbir arguably led the limitless pantheon of country's hockey stalwarts, and his passing leaves a mighty hole in Indian hockey firmament. He wanted India to win an Olympic gold, and while that may take a few years coming, one can be rest assured that he'll be egging the national team on from a different place.

Firstpost