All the news for Tuesday 22 December 2020

Belgium men and Netherlands women finish 2020 at top of FIH World Rankings




Lausanne, Switzerland: As we approach the end of a challenging year, the International Hockey Federation (FIH) can confirm that Belgium men and the Netherlands women will finish 2020 sitting top of the FIH World Rankings.

In January, FIH introduced its new match-based model for the calculation of the FIH World Rankings, with the FIH Hockey Pro League matches that were played in early part of the year seeing regular fluctuations in the standings before the COVID-19 global health pandemic brought the competition – and all international hockey – to a standstill in March.

The brief but wonderful return of the competition between September and November saw further exchanges of points between the men's and women's national teams of Belgium, Germany, Netherlands and Great Britain.

The Netherlands (2631.99 points) are 457 ranking points ahead second placed Argentina (2174.61) at the top of the women's FIH World Rankings, with Germany (2054.28) occupying third position, climbing one place following their FIH Hockey Pro League results against Belgium in September. Australia (2012.89) finish the year in fourth place, with England / Great Britain (1952.74) and New Zealand (1818.98) fifth and sixth respectively. Spain (7th place - 1802.13), Ireland (8th place - 1583.09), India (9th place – 1543.00) and China (10th place – 1521.00) complete the top ten.

In the men's FIH World Rankings, reigning world and European champions Belgium (2496.88 points) sit at the summit in front of 2019 FIH Hockey Pro League winners Australia (2nd place - 2385.70), Netherlands (3rd place – 2257.96) and India (4th place – 2063.78). Olympic champions Argentina (1967.39) are in fifth, followed by Germany (6th place – 1944.34), England / Great Britain (7th place – 1743.77), New Zealand (8th place – 1575.00), Spain (9th place – 1559.32) and Canada (10th place – 1417.37).

The rankings calculations model that FIH introduced on 1st January 2020 moved away from the previous tournament-based rankings system to a dynamic, match-based method where opposing teams exchange points in official, FIH sanctioned games. The number of points exchanged depends on the result of the match, the relative ranking of the teams and the importance of the match.

While the impact on the number of international matches being played in 2020 was dramatically reduced due to the pandemic, FIH Sport and Development Director Jon Wyatt felt the new approach to the FIH World Rankings was having a positive impact.  

"Clearly with so few matches played this year compared to what we would expect in any normal year, the movement in rankings, now that we are using a match-based system, was not as great as it will be", said Wyatt. "However, even in the limited number of matches that were played we saw the system working well, with points being exchanged that resulted in some movement up and down the rankings table after each match. We are all looking forward to seeing the dynamism of the system working to its full potential once the complete programme of international matches restarts again, so that the rankings will reflect the current form of each team. Let's hope that's not too far away."

FIH World Rankings: The new model explained
Based on the Elo rating system, which is used as the basis of many other sports ranking systems
When two nations play against each other, a number of ranking points are exchanged between them
In every match, the number of points gained by one team is exactly matched by the number of points lost by the other
Teams will win more points for beating teams ranked above them, and therefore teams will lose more points for losing to a team ranked below them
Teams will win less points for beating teams ranked below them, and therefore teams will lose less points for losing to a team ranked above them
If a draw occurs, the lower ranked team will gain a small number of points and the higher ranked team will lose the same number of points
The number of points exchanged is dependent on the result of the match (win, lose, shootout win/loss or draw), the importance of the match (part of a major tournament, or a test series for example), and the relative difference in ranking points between the teams before the match
For the full new match-based FIH World Rankings, please click here.

To see our frequently asked questions information document, click here.

FIH site


---

FIH rankings: Indian men finish 2020 in fourth position, women ninth

The International Hockey Federation (FIH) on Monday confirmed that the Belgium men's and the Netherlands' women's teams will finish the year at the top of the world rankings.



Manpreet Singh (Left), captain Indian men's hockey team, and Rani Rampal (Right), skipper of the women's team.

The Indian men's and women's hockey teams will finish 2020 in fourth and ninth positions, respectively, after a major part of the year was disrupted by the COVID-19 pandemic.

The International Hockey Federation (FIH) on Monday confirmed that the Belgium men's and the Netherlands' women's teams will finish the year at the top of the world rankings.

According to a statement issued by the FIH, the "brief but wonderful return" of the competition between September and November saw further exchanges of points between the men's and women's national teams of Belgium, Germany, Netherlands and Great Britain.

In the men's FIH world rankings, the reigning world and European champion Belgium (2496.88 points) sits at the top ahead of 2019 FIH Hockey Pro League winner Australia (2nd place - 2385.70), Netherlands (3rd place – 2257.96) and India (4th place – 2063.78).

Olympic champion Argentina (1967.39) is fifth, followed by Germany (6th place – 1944.34), England (7th place – 1743.77), New Zealand (8th place – 1575.00), Spain (9th place – 1559.32) and Canada (10th place – 1417.37).

Netherlands in pole position

Among women, the Netherlands (2631.99 points) is at the top followed by Argentina (2174.61). Germany (2054.28) occupies the third position, climbing one place following its FIH Hockey Pro League results against Belgium in September. Australia (2012.89) will finish the year in fourth place, with England (1952.74) and New Zealand (1818.98) occupying fifth and sixth spots respectively.

Spain (7th place - 1802.13), Ireland (8th place - 1583.09), India (9th place – 1543.00) and China (10th place – 1521.00) complete the top 10 list.

Sportstar


---

Sudeep Chirmako: I hope to play alongside Akashdeep Singh for India in future

The junior team forward harbours hopes of representing India senior team in the big tournaments...

By Samrat Chakraborty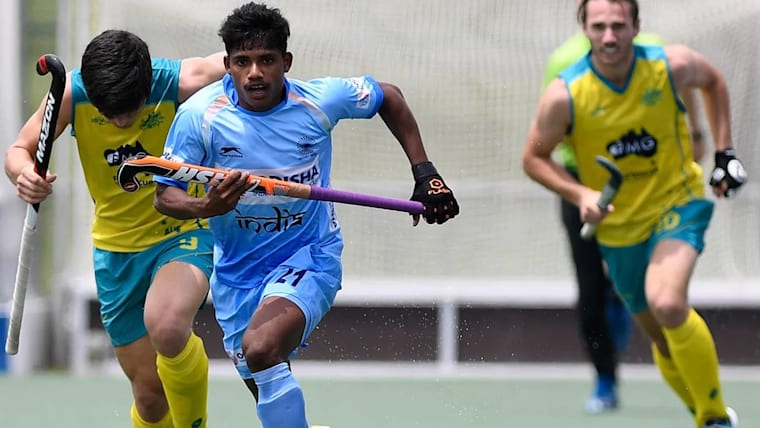 India junior men's hockey team's forward Sudeep Chirmako is certainly a talent to watch out for in the future. His performances in the junior circuit have been noteworthy and many expect him to make the step up sooner rather than later.

Chirmako made his junior team debut for India at the 8-Nations Invitational Tournament held in Spain in 2018. He was instrumental behind India's silver medal at the 3rd Youth Olympic Games held in Argentina in 2018.

But now he wants to take a step forward and dribble his way into the senior team and rub shoulders with his idol - current India striker and 2018 Asian Champions Trophy Player of the Tournament Akashdeep Singh.

"I think the area I play in on the field is very similar to what Akashdeep Singh does for the senior team. He's always very quick with the ball, and his positioning and off-the-ball runs are always very useful for the team, so I always keep a close eye on him, and I hope to one day be able to play alongside him for the Indian team," said Chirmako, who hails from Sundargarh district in Odisha, in a Hockey India media release.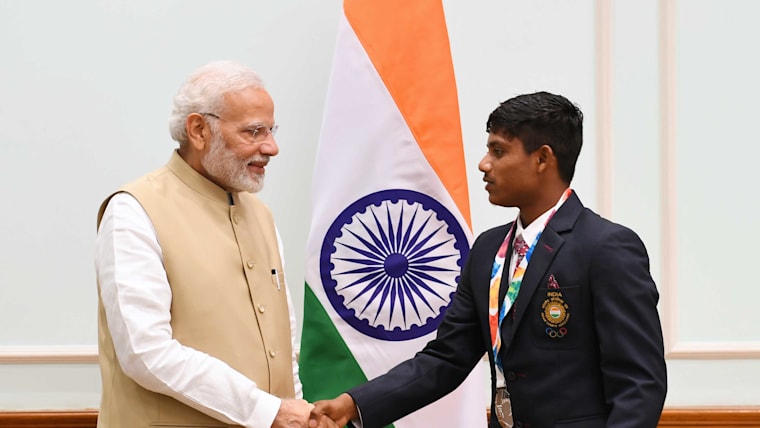 Sudeep Chiramko meeting Prime Minister Narendra Modi

Chirmako has already built a reputation as prolific and has the distinction of being the top-scorer at the Youth Olympic Games with 11 goals. He is ready to do what it takes to train under Graham Reid and fulfill his parent's dreams.

"It is a wonderful phase in my life and in my young career. I've had the honour and privilege to have represented my country at the highest level with the junior team, and want to keep working hard to one day be able to play for the senior team," said Chirmako.

"I have a dream which I want to fulfil for my parents, and that is to play for the country for many years. I come from a region which is known for its hockey, and several players have represented India, and I wish to do the same by excelling in my duties with the national team," added Chirmako.

But the 18-year-old is well versed with the challenges that lay ahead of him, as there is stiff competition amongst the players in the junior side. He also feels that there's much room for improvement in his game before breaking into the senior team.

"I think the best thing about our sport at the moment is that there is so much competition for places, even at the junior level. We've got so many talented players coming through across the country, and what I want to do is pick up and learn stuff from all of them, and make myself better.

"I think if you want to be a forward player for the Indian team, you need to have everything in your game. I know it is a huge challenge, but I am ready to do everything to improve every day and earn my position in whichever team I am selected to play in," stated Chirmako.

Olympic Channel


---

Project Tigress target 2026 Asian Games

By Jugjet Singh



Malaysian Hockey Confederation (MHC) president Datuk Seri Subahan Kamal (2nd-right) introduces the Young Tigress coach A. Kannagi (2nd-left) during the ceremony in Kuala Lumpur. - BERNAMA pic

Young Tigress were officially introduced yesterday, and their participation in the Women's Malaysia Hockey League (WMHL) on Jan 14-Feb 20 is part of an ambitious project to see the national team finish top two at the 2026 Asian Games.

Malaysia are ranked fifth in Asia behind India, China, South Korea and Japan in the women's hockey.

Tigress are being groomed to beat this 'monopoly'.

"This team will be together for two months for the WMHL.

After the tournament, they will break camp and return to their respective states.

"We will not keep them together like the women's national team or the men's junior or senior teams.

"Tigress are a back-up to the women's national team," said Malaysian Hockey Confederation (MHC) president Datuk Seri Subahan Kamal yesterday.

The other confirmed WMHL teams are Universiti Kuala Lumpur (UniKL) Ladies, PKS Uniten, Police Blue Warriors, Mutiara Impian and Sabah.

"We will be playing in the next Asian Games with no target for the women.

"But in 2026, we expect a top-two finish.

"The Tigress team are being groomed for this mission," he added.

Former national player A. Kannagi will manage Tigress.

New Straits Times


---

Setting New Goals

Ashley Morrison

When writing Australia's Hockey Grail about the Australian Men's Hockey team's quest for Olympic Gold, and a nation's expectation that they will deliver, a common theme arose. Players of every generation stated how when the Olympics, a World Cup or a Commonwealth Games came around suddenly everyone wanted to be on the Kookaburras train. Suddenly the media wanted a piece of the action when they had not given the team, players or tournament successes in between these events a mention.


---

Hi-Tech Under 17 Hockey Tournament Kicks off from Wednesday at Lahore

By Ijaz Chaudhry




Lahore: These days securing private sponsorship for hockey in Pakistan is a herculean task even for the Pakistan Hockey Federation.

But Dar Hockey Academy, country`s premier hockey nursery, is being run through private sponsors without any aid from the government since 2006.

The faith of sponsors is being repaid as the academy is continuously churning quality players in numbers for the national teams as well as the top domestic outfits.

Dar Academy`s vibrant president Olympic gold medallist Tauqeer Dar is always on the move.

He has roped in Hi-Tech Grain Mills, a leading exporter of quality basmati rice, to patronise an under 17 tournament at Lahore`s National Hockey Stadium from December 23-26.

Hi-Tech Under 17 Tournament would feature four leading hockey academies of the country:

Dar Hockey Academy (Lahore),
Ustad Aslam Roda Hockey Academy (Gojra),
Tahir Zaman Hockey Academy (Gojra),
Fiaz Hockey Academy (Sargodha).

For last three decades, the tiny tehsil of Gojra in district Toba Tek Singh has given the largest number of players to Pakistan`s national team.

Two sides from Gojra are participating. One is Ustad Aslam Roda Hockey Academy.

Over a period of almost half a century, late Aslam Roda, at his Gojra Sports club, trained more internationals than anyone else in Pakistan. The colts section of the Gojra Sports is named after him                                

Second team from Gojra is Tahir Zaman Hockey Academy. It was established in 2010 under the patronage of Pakistan`s former captain Tahir Zaman, World Cup winner (1994). Products of this academy have also been gaining national selection.

Fourth team is Fiaz Hockey Academy, Sargodha. The town of Sargodha too is a fertile hockey area, and a number of players from here have represented Pakistan including 1994 World Cup winner Malik Shafqat.

Tauqeer Dar is also grateful to the Punjab Sports Board which apart from providing the ground has also arranged accommodation for the out station teams.

Dar Hockey Academy`s head coach, World Cup winner Danish Kaleem is the organising secretary of the event.

Danish is also the current head coach of Pakistan`s national junior team.

Some exciting young talent would be on display in the Hi-Tech under 17 tournament over four days.

After the single league, the top two sides will play the final on Saturday with the the bottom teams figuring in the third position match.

Ijaz Chaudhry writes on hockey & other sports. For more about him and his work, visit: www.sportscorrespondent.info

Fieldhockey.com


---

PAHF Umpiring Committee hosts potential Umpire Managers Workshops

PAHF Umpiring Committee



PAHF Umpire Managers Workshop   

Building on the library of virtual educational opportunities embraced by PAHF in the midst of the 2020 worldwide pandemic, the PAHF Umpiring Committee (PAHF UC) turned their focus to the need to expand and develop the next generation of potential Umpire Managers to support their Umpires when hockey's continental events resume.

Late in 2019 before the world's doors closed to international travel, five potential Umpire Managers – Audrey Gaynor (JAM), Donny Gobinsingh (TTO), Fernando Gomez (ARG), Daniel Lopez Ramos (URU), and Constantine Soteriades (USA) – were selected based on their successful careers as international Umpires and the basis of skills they already held showing their potential to transition their hockey careers successfully into the role of Umpire Manager.  These five potential Umpire Managers were invited to meet in Miami for two days of learning from the experience of: Roger St. Rose (TTO), PAHF Umpiring Committee Chair and current International Elite Panel Umpire Manager; Soledad Iparraguirre (ARG), ProLeague Panel Umpire Manager; Laura Macchiotti, PAHF Events & Development Coordinator; and Irene Presenqui (ARG), Olympic Umpire and professional Sports Psychologist.

It is not necessarily a straightforward step to go from managing the world's top athletes under the bright lights of the hockey pitch to a more behind-the-scenes role of managing and preparing the world's top umpires to take the same stage.  To help initiate these potential Umpire Managers to their new responsibilities the following topics were highlighted in Miami:

    FIH Skills Matrix for Umpire Manager/Coach                                                
    Roles and Responsibility of Umpire Manager/Coach                                               
    FIH Skills Matrix for Umpires                                                                         
    Managing the Environment- relationship between the Event Coordinator and the preparation of the External environment for the Umpires
    Managing the Environment – The relationship between the TD and the UM
    Managing the Umpire Manager - Soft skills competency challenges
    Managing the Umpire Manager - Pre-tournament preparation
    Managing the Environment - Overseeing and Assessing the Umpires
    Managing the Umpire Manager - Reflection Interview- working with your observation
    Managing the Environment - Post tournament preparation  

To build on their successful experience in Miami the five potential PAHF Umpire Managers were invited to extend their learning opportunities with the timely online second workshop that was held over 8 sessions during September and October 2020. A wide variety of topics was selected by the participants to complement and challenge their progress since their first face to face workshop in Miami in December 2019. Susie Gomes (TTO), International Umpire Manager joined the team and provided support to the group during the online program, by sharing her experiences and wisdom.

As the concept of running a complete workshop fully online was still new to the PAHF UC, the planning process for the second workshop began in April 2020.  For the second workshop, four additional experienced PAHF hockey members were selected to join Roger St. Rose as Facilitators: Edmundo Saladino (ARG), ProLeague Umpire Manager; Wendy Stewart (CAN), ProLeague Panel Umpire Manager and PAHF UC member; Steve Horgan (USA), ProLeague Umpire Manager and one of the four UMs selected for the Tokyo Olympics; and Lurah Hess (USA), ProLeague Panel Technical Official and PAHF UC member.  Lurah, who brought a Technical Official's perspective to the workshop, was the lead coordinator. Lurah explained, "The PAHF Umpiring Committee recognized a shortage of Umpire Managers in the PAHF region and the need to educate and develop those that are responsible for coaching and supporting Umpires to achieve their best potential. There was a lot of time involved, with the virtual workshop requiring over a dozen planning meetings to prepare a great product for the participants, but ultimately we wanted to ensure the potential Umpire Managers were able to find value from the time they were investing in the sessions."

Roger St Rose acknowledged "We wanted to continue supporting the potential UM's by creating a balance of delivering the prerequisite needs of umpire managing and having their input to the specific subjects they wanted. This was essential and it worked out extremely well."

It came as no surprise that although each online session was allocated two hours, such was the interest and passion shown by the participants – and the presenters – every session ran over time. Questions were answered and lots of interesting discussions ensued. Everyone had the chance to share their experiences, and importantly be able to take time to reflect on the weekly content.  Audrey Gaynor (JAM), who is heavily involved in Jamaica hockey and a current PAHF UC member expressed "The overall workshops certainly made an impact.  I think both were necessary and the progression from the first one in Miami to the online one was evident. It was beyond my expectation. The topics were very relevant and were well presented. I learnt a lot and enjoyed all the sessions.  I commend the conceptualizers as well as the presenters who were excellent. I actually looked forward to the session days and the ease of the interactions was special".

The facilitators had regular online planning meetings. Wendy Stewart highlighted "In face to face workshops you have the ability to have break-out group intervals, which we know is important in terms of healthy exchanges, getting to the nitty gritty of ideas, the why, who, how, etc. As facilitators we knew we had to be creative in planning our presentations to keep within the possible time restrictions we faced. We also wanted to aim for similar, if not better, interactions in our group work.  Some of the topics included 'homework' which allowed them time to discuss and prepare their specific presentations. Though this was extra work for them, it did give them time to be confidently prepared. The participants went above and beyond and we were extremely pleased with what they achieved and shared with us."

One of the hot topics included in the workshop was Understanding Diversity (very current in our everyday world). This was presented by Roger. PAHF alone has 26 different national associations as members and diversity in PAHF, like other hockey federations, goes far beyond the economical challenges, umpiring, technical, overall membership and language barriers that our hockey family experiences.  As potential umpire managers, they will be connecting with many other umpires and officials around the world, so the need to embrace and be sensitive as to how diversity in our hockey world impresses on us and others is extremely important. To be tuned into and understand cultural, financial, gender, ethnic, sexual, etc. biases is key when working at a tournament. For example: what we say, or don't say, how we say something, or how we act can make or break a situation.  

A full list of the topics covered during the second workshop, include:

    Understanding the ideal Umpire profile
    Umpiring Team Dynamics – especially building a team
    Working with Different Levels of Umpires and Different Levels of Teams
    Understanding Continental Diversity and Bias
    Soft skills and Managing Conflict
    Working with multiple Umpire Managers
    The Technical Delegate/Umpire Manager relationship
    Briefing Preparations
    Appointments
    Grading System and Match Debrief
    Post Event Responsibilities

Of course, the main learning opportunity that awaits all the potential umpire mangers is ultimately gaining the practical experience in the international arena. The postponement of the various PAHF and domestic NA tournaments has certainly hindered, but they have not been put off, quite the opposite they are realistic and eager to start on their UM journey.

Fernando Gomez (ARG) officially retired from umpiring in January 2018. To date, he has been fortunate to experience his role as an assistant umpire manager at PAHF tournaments. He enthusiastically voiced "The workshops have enhanced my learning, specifically, I feel that I have acquired what is referred to as soft skills, and I still feel that I must continue training on this subject.  I consider it very necessary and important to always develop my function as UM. I have asked myself several questions, such as - What kind of UM do I want to be? Which is my goal as UM? Do I have enough tools to help others?

Donny Gobinsingh (TTO) has been an indoor and outdoor FIH international umpire for over 18 years and looks forward to moving into umpire managing and the leadership role. He conveyed "If I compare my understanding of what I thought UM's did before I attended the workshops …, my understanding has expanded and I acknowledge the vast responsibilities that come with being in the role. Transitioning into the UM role from an umpire will be difficult but my desire to be a UM has definitely increased throughout these workshops. It has given me lots of information and knowledge. From my own personal experiences, I feel quite competent to face what ever opportunity that may come my way.

The PAHF Umpiring Committee wants to sincerely thank all the participants and facilitators for their commitment to the workshops, especially giving up their time, providing the necessary support, valuable feedback and an avenue to explore new learning opportunities.  And a final word of thanks to the PAHF Board of Directors for supporting the overall vision to expand educational opportunities through the use of virtual meeting platforms while the world waits until it is safe to come together again on the hockey pitch.

Pan American Hockey Federation media release


---

Dawn Bonner's Umpiring Journey - Proving Failure Leads To Success



Dawn Bonner

For Dawn Bonner, hockey has quite literally encompassed her entire life.

From first picking up a stick aged just three to being an umpire manager at international competitions, the sport has taken Dawn on a journey she could never have expected.

One of the first non-white women to become a Level 3 Umpire Coach in England, she is proud of everything she has achieved in her career so far and is grateful to hockey for everything it has allowed her to accomplish.

"It's fair to say that I have always been treated fairly in my hockey career as a person of colour and I have created some life-long friendships," Dawn said.

"I have been inspired by a number of my colleagues over the years but Liz Pelling is the one person I admire most because she and I were never National League umpires like a lot of umpire managers but we worked hard and I followed her lead to be the best I could be and I made it."

It's not been entirely plain sailing for Dawn though and she has had to overcome some setbacks along the way. But her passion and spirit for the game has remained unwavering and led to her becoming a hugely respected individual within the game.

A keen school player, Dawn joined Ealing HC aged 15 as a forward and went on to captain the women's 3rd XI while also representing Bedfordshire too.

A few years later, Dawn was encouraged to try umpiring for the first time and has not looked back since. While she didn't enjoy the smoothest of starts to her umpiring career, she loved the opportunity and continued to officiate alongside playing until told she was good enough to take it to a higher level if she wanted to.

Dawn said: "I first picked up a whistle when I was 26 and took my Level 1 assessment three times! I was determined to succeed. And I did so under the gloomy lights at a pitch in Feltham.

"I continued to play as well as umpire until someone in the umpiring community said 'you could make a really good umpire if you wanted to.' I thought they could be right because I definitely wasn't going to get any better as a player!"

In 1991, Dawn achieved her Level 2 badge before spending 15 years umpiring across the south of England 'until I decided that I wanted to give back to my sport and started to coach'.

Having worked her way through the ranks, by 2008 she was set to take her assessment to try and qualify as a Level 3 Coach Umpire. And despite a difficult start to the weekend, she did just that and became one of the first non-white people to achieve the qualification.

Recalling it, she said: "My assessment was at an U18 tournament at Beeston HC. It was a weekend tournament and it's fair to say my first day was not my best - the Umpire Coach Assessor James O'Hara [an ex-FIH Umpire) told me so and gave me the kick I needed to do better. After all, if I was not better on day two, I was not going to pass.

"I am pleased to say that I performed better than I imagined and I passed my award. To say I was proud is an understatement."

There has been no stopping Dawn since then either. She joined the NPUA shortly after and has been an umpire manager across the England Hockey National League for 12 years now, being named the Umpire Support Of The Year last season. In addition, she also hold several roles across a number of committees.

And the list doesn't end there for Dawn either. In 2014, she was accepted as a Trainee FIH Umpire Manager and undertook her first tournament in Austria later that year. Since then she has umpired at European Hockey Federation (EHF) events every year and was appointed as an assistant umpire manager at the World Masters Championships this year, only for the tournament to be postponed and eventually cancelled due to Covid-19.

In spite of the setbacks, Dawn has certainly experienced plenty of success in her career so far and looks set to achieve much more in the coming years.

She is a shining light for so many and wants to encourage as many people as possible to let nothing hold them back and follow in her footsteps.

"What would I say to a youngster? Follow your dreams, work hard and the rewards are there. Failure is part of your learning and I have had some hiccups along the way but overcome them. You can succeed if you believe!"

England Hockey Board Media release


---

Hockey Ireland Receive Further Funding from COVID-19 Supplementary Funding for Sport

The newly elected Board of Hockey Ireland had its first meeting on Wednesday 16 December by conference call.  We have all been affected by COVID-19, in these difficult and uncertain times, the Board as part of our ongoing work with Sport Ireland are delighted to announce that Sport Ireland has approved the allocation of €400,000 in response to our application under the Covid-19 Supplementary Scheme in the Republic of Ireland.

Further guidance will be given to Clubs and Branches regarding their applications in January 2021. We would like to thank the Government and Sport Ireland for this additional round of funding, which is crucial to the sustainability of the hockey community during the difficult circumstances caused by the Covid-19 restrictions.

For the Ulster Clubs, Sport NI and the Department for Communities has launched a £25 million Sports Sustainability fund and applications by hockey clubs can be made via Ulster Hockey.

Hockey Ireland is fully focused on the return to hockey; with recent announcements in relation to vaccines there is great hope as we move in to 2021. The Hockey Ireland Board has approved the outline of a submission to the Government that will be aimed at increasing hockey activity as a virtually non-contact sport and allowing for competition when it would be safe to do so.  We are seeking priority for school aged players and hopefully we will be allowed return to competition in the early stages of 2021.

The Board would like to thank the clubs, branches and volunteers running our sport under the Covid-19 protocols, who have been successful in the safe and compliant running of training sessions and games. This will help to support our argument that we can run our sport safely.

It has been a difficult year and no doubt there will be more challenges ahead. However, we are looking forward to the opportunities ahead with great optimism and excitement.  In particular, the prospect of seeing the Irish Women's hockey team playing their games in Tokyo next summer. On behalf of Hockey Ireland, we would like to wish you and your family a Merry Christmas and a Happy New Year.

The Sport Ireland Press Release can be found HERE: https://www.sportireland.ie/news/eu58-million-in-covid-19-supplementary-funding-for-sport

Irish Hockey Association media release


---

Anurita Saini: The 1982 Asian Games Hockey Gold winner leaves a void

Saini was one of the stars of the Indian women's hockey team in the 1980s and has served the team as an official.

By Samrat Chakraborty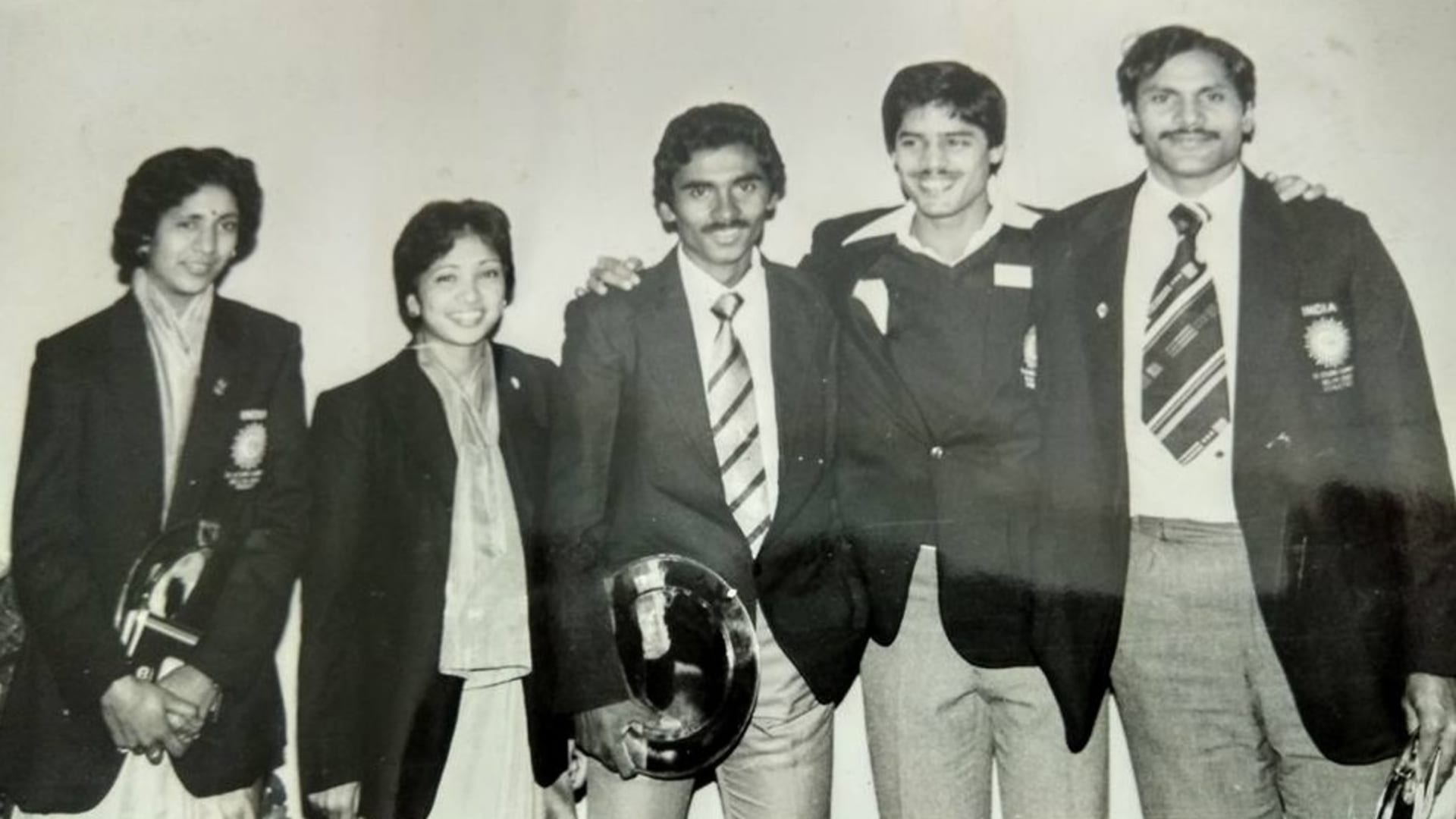 Former India women's hockey team player Anurita Saini passed away earlier this week at the age of 60 after suffering from jaundice.

Saini was one of the stars of the Indian women's hockey team in the 1980s and has served the team as an official as well.

Anurita came to the fore for her brilliant performance as a midfielder at the 1982 Asian Games, where India women's team beat South Korea, to bring home the gold medal.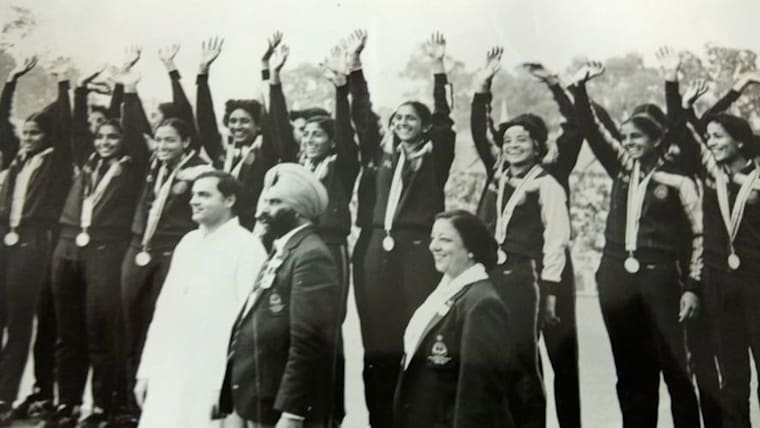 The 1982 team with Rajiv Gandhi

Hockey career

Anurita was born in Faizabad, near Ayodhya in Uttar Pradesh. She underwent her early hockey training at the KD Singh Stadium in Lucknow.

Her career, in Lucknow, began under the watchful eyes of Ms. Bula Ganguly. She excelled in hockey from a very young age and it was no surprise to her coach that she managed to earn a place for herself in the Indian team for the 1982 Asian Games. The women's team was making its first Asiad appearance in that event.

"She used to be funny as well as supportive to everyone off the field, but never compromised with her game. Her approach to the game was special. It was something to learn from for the rest of the girls," Prem Maya, her captain and hostel mate in Lucknow, told The Bridge.

After calling time on her playing career, she joined the Indian women's team as an assistant manager and manager in between 2002 and 2006. She also served as Technical Delegate in various international tournaments.

1982 Asian Games performance

The 9th Asian Games were held in India in 1982. And India's performance in the Games was exemplary. India finished on the fifth spot by clinching 13 golds, 19 silvers and 25 bronze medals. One of those golds was won by the Indian women's hockey team who were participating in their first-ever Asian Games.

Indian women's team delivered an exceptional performance at the 1982 Asian Games. The squad consisted of stars like Eliza Nelson, Razia Zaidi, Varsha Soni and Anurita was also considered a key member of the team. They began their campaign with an emphatic 22-0 win over Hong Kong and scored 37 goals in five matches, letting in just one goal. They won all their matches and won the gold.

It still remains the Indian eves' best-ever performance at the Asian Games.

Anurita featured as a right-half in the team, with her tackling and passing technique coming in for praise.

She was also a part of the Indian team which took part in the 1983 World Cup in Kuala Lumpur.

Several members of the 1982 Asian Games champion hockey team, including Rajbir Rai, Naaz Shah, and Prem Maya have expressed shock at her untimely death.

"She was a wonderful human being and an adorable teammate," said Naaz Shah.

Olympic Channel