All the news for Thursday 17 December 2020

India's triumph over Belgium voted 3rd Best Match of FIH Hockey Pro League in 2020



India claimed a 2-1 victory over world champions Belgium in February at the Kalinga Stadium in Bhubaneswar. Copyright: Hockey India.

India men's superb 2-1 victory over reigning world champions Belgium, played in Bhubaneswar in February, has been voted as the 3rd best FIH Hockey Pro League match of 2020 by fans on the Watch.Hockey app.

To mark the occasion, we spoke with India captain and 2019 FIH Men's Player of the Year Manpreet Singh about this fascinating encounter at the Kalinga Stadium.

Manpreet Singh: "It was a great match, if you look back at it. We won by 2-1, but the way Belgium played was outstanding – obviously they are the best in the world."

FIH: And that is the thing, isn't it? In the FIH Hockey Pro League you do have to play the very best teams in the world and boy did you play well against them this year. You must be very proud of the way you played, particularly against Belgium, the world champions.

Manpreet Singh: "Yes, that is true, because whenever we play against Belgium it is always a good match, because they are a really good team and they always create opportunities, score good goals and have good, experienced players."

FIH: What can you remember about the atmosphere in Bhubaneswar on that day? I seem to remember, as a viewer watching on TV, thinking it was pretty special, but what was it like for you as an athlete?

Manpreet Singh: "Whenever you are playing in Bhubaneswar, it is outstanding because of the crowd. They are not only supporting the Indian team; they are supporting other teams as well. Actually, I spoke to some of the people in Bhubaneswar and they said that Belgium is their 'second team'. So actually, they like to support Belgium as well, because they enjoy the way that Belgium play."

FIH: The fans in Bhubaneswar have a lot of hockey knowledge - they recognise good hockey when they see it, and always give a lot of respect to the visiting teams. It was a very special match, and special for your team. Would you say it was the best performance of your season, although the season was cut short due to COVID-19?

Manpreet Singh: "It was a good performance, not only against Belgium but other games too. We played six matches, with two matches against Australia, and the Netherlands as well. I'd say that we had a good performance in all six matches; we were playing very well and looking forward to the [Tokyo 2020] Olympics. The team had good confidence with all the support – they were doing great. Unfortunately, with the covid situation, we didn't play any other international matches [after that]."

FIH: Looking ahead to 2021 when hockey resumes, whether it's the FIH Hockey Pro League or the Olympics later in the year. How is preparation going for 2021, with the India men's team?

Manpreet Singh: "Actually right now we are in a national [training] camp in Bangalore, so we are working on our skills and fitness levels. It has been such a long gap as we haven't played any international matches, which could affect our fitness levels. We are working to maintain our fitness levels for 2021, because that will be crucial for us with the Olympics, and also the Asian Champions Trophy in March. We are really missing international matches. In September [in the FIH Hockey Pro League] we saw Belgium play against other teams. We were watching and really wanted to play, actually! We are looking forward to international matches, playing with the good teams."

FIH: Well, I'm sure like the rest of the world we are all desperate to see everyone back on the field again. We really hope to see you in action in the FIH Hockey Pro League in 2021. Thanks so much once again for joining us and congratulations once again.

Manpreet Singh: Thank you so much!"  

We will reveal who the fans have selected as the second best FIH Hockey Pro League match of 2020 on Thursday 17 December, with the winner being revealed on Friday 18th December.

Don't forget to download the Watch.Hockey app, where you can find the latest news and interviews as well as action replays and highlights. Simply search Watch.Hockey in the App Store or on Google Play. A desktop version of the app is available at www.watch.hockey.

#WatchHockey
#FIHProLeague
#HockeyInvites
#PlayHockeyStayHealthy

FIH site


---

Steffens sole addition to Men's 2021 National Development Squad




Kookaburras Head Coach Colin Batch has named a largely unchanged Men's Hockey National Development Squad (NDS) for 2021, with Victorian Damon Steffens the one new inclusion.

The minimal changes to next year's Development Squad echoes that of the 2021 Kookaburras squad announced earlier this month that also had one addition, Dylan Martin elevated from the NDS to the senior list.

The Men's National Development Squad comprises athletes knocking on the door of the Kookaburras squad and adds to the already strong depth of Australian men's hockey.

The impact of COVID, which resulted in selectors having limited occasions to see athletes in action, was also considered in regards to maintaining the majority of this year's NDS group.

"Damon Steffens made himself available for the National Camp in November and we were pleased with his play in the intra-squad matches against guys in the Kookaburras squad, so the selectors agreed to add him to the National Development Squad," said Batch.

"He is a product of our junior program and played a season in the Netherlands to gain more experience at the elite level."

"There is the opportunity to add more players to the NDS once we have assessed them at various Visitor Athlete Agreements, an institute training camp or the next Sultana Bran Hockey One season next year.

"Due to COVID there were few opportunities for the selectors to assess the NDS players against the wider group."

Athletes in the National Development Squad will train at their home National Training Centre (NTC) programs under the guidance of the national program coaches.

In addition, the athletes may be invited to train with the Kookaburras squad in Perth as part of a Visitor Athlete Agreement and be involved in training and match environments.

Athletes in the National Development Squad are identified as potential incumbents for the 2022 Birmingham Commonwealth Games, 2023 World Cup in India and Paris Olympics in 2024.

Men's National Development Squad 2021
| | | |
| --- | --- | --- |
| Name | State/Territory | Hockey One Team |
| Kiran Arunasalam | VIC | HC Melbourne |
| Hayden Beltz | TAS | Tassie Tigers |
| Lachlan Busiko | SA | Adelaide Fire |
| James Day | ACT | Canberra Chill |
| Hayden Dillon | NSW | NSW Pride |
| Matthew Finn | QLD | Brisbane Blaze |
| Liam Flynn | WA | Perth Thundersticks |
| Hugh Pembroke | QLD | Brisbane Blaze |
| Ryan Proctor | NSW | NSW Pride |
| Jayshaan Randhawa | VIC | HC Melbourne |
| Joel Rintala | QLD | Brisbane Blaze |
| Jake Sherren | VIC | HC Melbourne |
| Ben Staines | ACT | Canberra Chill |
| Damon Steffens | VIC | HC Melbourne |
| Nathanael Stewart | NSW | NSW Pride |
| Ash Thomas | NSW | NSW Pride |
| Blake Wotherspoon | QLD | Brisbane Blaze |

Hockey Australia media release


---

Pint-sized Faiz lets his skills do the talking in national hockey team

By T. AVINESHWARAN



Experienced: Faiz hopes to be around for the World Cup in 2023.

PETALING JAYA: Do not for a second think of trying to out-muscle pint-sized Faiz Helmi Jali on the hockey pitch.

He is only 156cm (5'1") tall but he's never daunted by his frame as the 28-year-old veteran stands tall as a defender in the national team.

And Faiz can certainly measure up to national coach A. Arulselvaraj's demand that experienced players have to step up and be noticed as possible leaders to the rest.

He does not have the muscular frame of a defender but he makes up for it with his movement, interceptions and – definitely – his communication.

Faiz is one of the loudest players on the pitch and often keeps teammates on their toes with his bellowing.

And he's not one to think that too many leaders in the team may spoil team cohesion.

"I think it is good that the coach is relying on several players to be the leaders of the side. He is not just relying on one but wants many to be part of the decision making and leadership process, " said the Johorean.

"I guess with more leaders on the pitch, the instructions on the field would be much clearer. Also, it keeps your mates alert when you shout instructions to them. It's good if you ask me."

Faiz is part of the 30-men team training for the Asian Champions Trophy which will be held in March next year in Bangladesh.

Having played in the 2018 World Cup in Bhubaneswar, India, Faiz hopes to be around for the next World Cup in 2023 in India. Malaysia must reach the semi-finals of the Asia Cup to earn a place in the World Cup.

"Our chance looks good. We are ranked second in Asia. However, we have not played international hockey for quite a while, I think for almost a year now. We have yet to face the likes of India, Pakistan, Japan, and South Korea.

"We do not know what would happen, but I guess the unpredictability is good. Whoever gets into the semis will be at the 2023 World Cup. But first we have to do well in the Champions Trophy before thinking of the Asia and World Cup."

The Star of Malaysia


---

Manpreet Singh marries Malaysian partner Illi Saddique in Jalandhar

Manpreet Singh met Illi Saddique while captaining the Indian junior hockey team at the Sultan of Johor Cup in 2012.

By Utathya Nag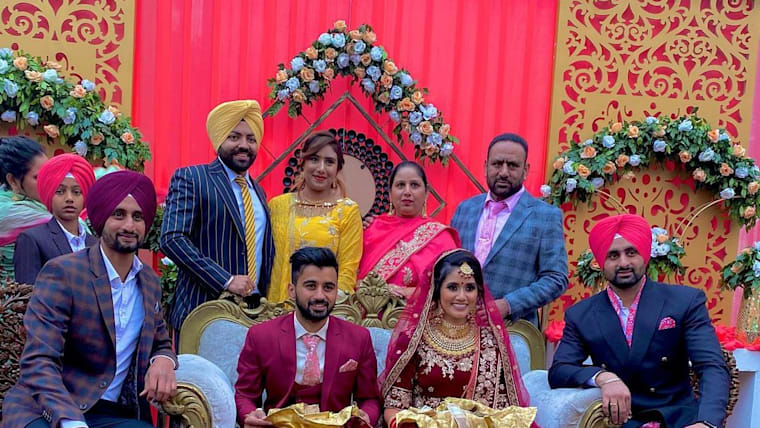 Manpreet Singh marries Malaysian partner Illi Saddique in Jalandhar

Indian men's hockey team captain Manpreet Singh tied the knot with long-time fiancée Illi Saddique at the GTB Nagar Gurudwara in Jalandhar on Wednesday.

Manpreet Singh first met Illi Saddique, a Malaysian national of Pakistani descent, while captaining the junior Indian hockey team at the Sultan of Johor Cup in 2012.

Saddique works for a private University in Malaysia. Her mother Masita used to play hockey for the Malaysian army.

The couple got engaged in February 2014 and were set to marry in April this year. Their plan, however, was delayed due to the COVID-19 pandemic.

Illi Saddique reportedly had to get special permission from the Malaysian authorities and India's Home Affairs Ministry to fly down for the wedding.

The wedding ceremony, attended by family, friends and Manpreet's India team-mates Mandeep Singh and Varun Kumar, was held at Manpreet's hometown in Mithapur village in Jalandhar, Punjab, abiding by strict COVID protocols.

Former India hockey player Pargat Singh, who captained the national side at the Barcelona '92 and Atlanta '96 Olympics, also attended to give the newlyweds his blessings.

Manpreet tested COVID positive back in August during India's hockey national camp in Bengaluru but has made a full recovery. The 28-year-old is expected to captain the Indian men's hockey team at the Tokyo Olympics in Japan, which starts from July 2021.

Saddique, in a previous interview, had asserted that Manpreet's focus would be on hockey even after marriage and she would be rooting for her husband to make India proud in Tokyo.

"The only difference now will be that I will be with him at home whenever he is on a break from the national camps or tournaments," Saddique said.

"An Olympic hockey medal next year will be the perfect start to our married life. I'm confident Manpreet and his team are on track to make India proud in Tokyo. It will be an honour for me to be by his side, seeing him achieve his dreams," she said.

Olympic Channel


---

Hockey captain Manpreet Singh marries Illi Siddique in Jalandhar

The couple have been going around for the past eight years




Hockey team captain Manpreet Singh tied the knot with Illi Siddique of Malaysia at GTB Nagar gurdwara on Wednesday, here.

The couple have been going around for the past eight years.

Earlier, they had revealed that they would get married before the Tokyo Olympics next year.




Manpreet hails from Mithapur village in Jalandhar.




The Tribune


---

Former Hockeyroo Lily Brazel claims mental health concerns not taken seriously, will front Hockey Australia independent inquiry

By Tracey Holmes

The Hockeyroos are a team always under pressure, but seven months out from the Tokyo Olympic games they are facing a very different pressure — the type that breaks people.

Since winning back-to-back gold medals in Atlanta 1996 and at home in Sydney 2000, Australia's women's hockey team is expected to win gold every time they enter a tournament.

And Tokyo 2021 is no different.

But there is an internal crisis happening on the eve of what was meant to be the biggest moment of their lives.

Comparisons have been made to the Matildas, who were forced to confront their own crisis months out from the 2019 FIFA Women's World Cup.



A lot is expected of the Hockeyroos, so losing in the quarter-finals of Rio 2016 was a major disappointment.(AP Photo: Hussein Malla)

The timing for football then, as with hockey now, was devastating.

Stories have been circulating. Past senior players featured in a statement by the Australian Hockey Players' Association (AHPA) pointing to a "toxic environment" involving cultural and leadership issues.

Governing body Hockey Australia responded by commissioning an independent review, but that was criticised by players for not being independent enough, nor coming soon enough.

There are selection appeals in the wings and legal action underway in Western Australia's Equal Opportunity Commission.

Hockeyroos defender says mental health concerns brushed aside

Until recently, Lily Brazel was a Hockeyroos midfielder whose life for the past 18 years was dedicated to becoming an Olympian.

Rather than preparing for Tokyo, she's preparing for a day in court.



Lily Brazel with the ball on her hockey stick for the Hockeyroos. Brazel has 52 caps for the Hockeyroos since her 2017 debut.(Supplied: Lily Brazel)

Today, she will describe her experiences and grievances to the independent panel conducting the Hockey Australia inquiry, chaired by the Australian Institute of Sport's manager of conduct and professionalism, Richard Redman.

She will tell the inquiry about her mental health struggles and her request for some time away — a request she claims was denied and her concerns never taken seriously.

"During August … I brought it to their attention how much I had been struggling over the course of the year, which I had mentioned and been sort of communicating to them since COVID," she said.

"They had been quite aware of what was going on for me mentally and that I was seeing an external psychologist."

Request for leave sparked contract ultimatum, Brazel claims

Brazel says she asked for six weeks off to reconnect with her club team in the hope she could rediscover her love of the game, which she said was missing for "well over a year, if not two years" in the national program.

"I was in a pretty dark space, I wasn't able to get out of bed, I had anxiety going to training and most days when I came home I was feeling pretty empty and I expressed all that to them," she said.

"I needed to step away to find this headspace that I could live in. I just couldn't do that remaining in the program."

Brazel claims that during meetings with Hockey Australia she was constantly made to feel like she didn't have a real problem, that her issue wasn't serious, and was told if she wanted to take leave she would lose her spot in the team.

Hockey Australia did not wish to comment on any aspect of Brazel's allegations because they are a part of her legal claim for unfair dismissal.

Brazel said choosing her mental health over her commitment to remain in the Hockeyroos squad was the right choice at the time but an unfair one for her to have to make.

"I felt like I wasn't quite being true to myself by being in there because it felt so wrong and I felt so unhappy and I was just trying so hard to hold on to this idea that I had created when I was seven, when I was 10, when I was 14, 16, 18, and just hang on to that with everything that I had," she said.



A grainy old photo of Lily Brazel in the uniform of her junior hockey team. Brazel wanted to be a Hockeyroo since she was a kid, and giving that up wasn't easy.(Supplied: Lily Brazel)

"But at 25 my values had changed, my mental state had changed, and holding to that dream no longer felt true for me."

Since leaving the team, the months that have passed and the conversations she has had have not been easy.

"I felt so lost and broken. I felt like I had walked away from that dream and was so uncertain what life looked like now, and who I was, and what I would do," she said.

"It's been, and it still is, really hard to not give up that dream but [it's even harder] to see it disappear over an issue I think could have been handled so differently."

Her case will be heard by the WA Equal Opportunity Commission, with a date to be set in the new year.

High-performance programs being questioned across sports

Meanwhile, the independent inquiry is expected to deliver its report to Hockey Australia in February.

The players association has actively pushed for the report to be made available to key stakeholders outside of the Hockey Australia board, including the AHPA.

Hockey Australia chief executive Matt Favier told The Ticket the allegations made were serious and warranted investigation.

"It's fair to say 12 months ago when we were looking forward to what was the 2020 Olympic Games, we felt we were in a very good place," he said.

"I think 12 months on, the level of complexity around many factors to our program have certainly been something that we didn't anticipate — the extent of this particular set of challenges."

COVID-19 and the delayed Tokyo Olympics may have added an extra layer of pressure to hockey's high-performance unit, but the nature of these sorts of programs is being questioned more often.

Cricket Australia held a culture review, not long after the Australian Olympic Committee had its own.

There's currently a review of Gymnastics Australia being done by the Human Rights Commission, which was also tasked with reviewing racial equality inside Basketball Australia.

The Collingwood Football Club is due to release its own culture review after allegations of racism.

Brazel said athletes expected pressure in any top-level sport, but there should be alternatives in the models used.

"There needs to be that pressure, I suppose, to have successful teams, but I think what Hockey Australia has got wrong, and many sports have, is this 'disposable approach' we have to our athletes that we're just trying to get the best out of them instead of creating this environment where they can be their best selves and be the best player they can be," she said.

"We just often feel so undervalued and so drained and empty that we give ourselves and give ourselves and it's either not enough and even when it is really good, it needs to be better, it needs to be more.

"It's just like constant seeking for better, and for improvement, that can really derail you if you're not appreciated or valued for other things or just who you are as a person and the environment doesn't notice you.

"I think that's where Hockey Australia is really failing the women's side of the program."

ABC News


---

To be Frank, he was no less a hero than anyone at Bangkok 1966

By K. ARUMUGAM




One name from the epic 1966 Bangkok Asian Games gold medal triumph seems to have faded into oblivion long after that famous 1-0 victory against arch rivals Pakistan in the final played in this week 54 summers ago.

How many remember Anderson Liesle Frank? The quiet, hardworking left-half, definitely a tough and tactically demanding position to play in field hockey?

Two people do. And they have good reason to. They are Frank's teammates Gurbux Singh and Harbinder Singh. Legends both and key players in the triumph in the Thai capital.



A.L FRANK, 1966 Asiad Gold winner

Remarkably, Frank (A L Frank to his peers) played every match in the Bangkok campaign and that fact is a point both Gurbux and Harbinder highlighted as they fondly remember the largely forgotten hero.

Harbinder Singh, who at centre-forward played his first of three Asian Games, goes down memory lane:

"He was a dependable left-half. A perfect teamman and always cheerful. I happy to tell the present generation that AL Frank played all matches at the 1966 Asian Games in Bangkok. "He is no more now, but his role in us getting the Bangkok glory was no less than anybody else."

Gurbux Singh, one of three vice-captains in the historic Indian team at Bangkok, was equally appreciative.

"He was a decent left-half. Not very flashy but solid.  By nature, he was a very quiet person. We heard only praise about him and never a complaint. He was so solid at left-half that he was a unanimous choice for all the matches. He proved himself, showed fitness and remained unchallenged in his position."

This is profound appreciation, coming straight from the heart.

Frank rose to fame in domestic hockey from his hometown Bareilley in western Uttar Pradesh. That he was the lone international hockey player from this town, made famous by legendary singer Asha Bhosle's ever-green classic Jhumka gira re Bareilly ke bazaar mein, speaks volume of this unassuming player.

Frank's entry into hockey was, quite frankly (excuse the pun) a quirk. Much like the legend Leslie Claudius.



A newspaper item highlighting Frank's goal

His first sporting choice in boyhood was football which he loved playing day-in and day-out. His older brother Austin, however, was a hockey player of repute and played for the famous Spartan Hockey Club, Bareilly.

Before a match one day, Spartan were short of players and Austin asked his junior sibling to play at centre-forward.

Frank appeared to take to the game as fish does to water and impressed one and all. From that day he switched sports and hockey became his only sporting pursuit. He was simply charmed by the ball-and-stick game.

Austin, not surprisingly, became his coach and, well, the rest is history.

Hockey in Uttar Pradesh was highly competitive in those days. Yet, Frank could force his way into the team with sheer excellence and Indian Railways, the foremost hockey institution was quick to absorb him. Very soon, Frank joined the Gorakhpur unit of the Railways. His career graph improved steadily and he was an integral part of Indian Railways triumphs in the National Championship in 1962, 1963 and 1964. His contribution to Railways' success was immeasurable. Inevitably, he caught the eye of the selectors.

Frank travelled with the India to the Hamburg 10-Nation Cup. With four wins and three draws, Olympic champions India won the event in May 1966 and set sights on the Asian Games gold that followed five months later.



IHF president Ashwini Kumar appreciating Frank for Bangkok feat

With the Hamburg title in the kitty and having played no mean role in the success, Frank cemented his place in the squad.

He had already won accolades for his splendid display in a test series in Japan the previous year during which he scored a splendid goal and showed fine adjustment in trying climate.

A European tour followed as the build-up to Bangkok continued and Frank proved his worth right through, quietly and efficiently, displaying the attributes required to fill the most difficult position on the hockey pitch.

When the Bangkok Asian Games triumph comes to mind, a host of images come to mind. It was a team effort to say the least. Every member pulled their weight. The images of Shankar Laxman, goalkeeper and captain pop up as does that of Harbinder Singh who provided a pair of fleet-footed heels.

And who can forget Balbir Singh Grewal of the Western Railways who put the icing on the cake with dream match-winning goals including the one in the final which will be etched in the memory. Then there was Gurbux Singh, Prithipal Singh and Dharam Singh Singh – the solid defensive trinity. right-half Balbir Singh (services) and VJ Peter are remembered for purposeful, selfless games while pivot Harmik Singh's role kept him in the frame for almost another decade and beyond that as a coach.

It is a glittering list of heroes and the adulation for making good recent setbacks against Pakistan was only to be expected.

The nation still reeled from the 1960 Rome Olympic defeat in the final when India were toppled from the top podium after reigning supreme for 32 years. The 0-1 defeat was India's first in the history of the Games. And that, being sustained against Pakistan, benumbed the country who regarded it a national calamity.



The iconic 1966 Asian Games gold winning team. Frank is standing 6th from right

Pakistan had given hints that India's time at the top was up. At the first hockey event in the Asian Games at Tokyo 1958, India ended bridesmaids after the title went to Pakistan on goal difference following a goalless draw. The Jakarta 1962 Asian Games turned out to be another disaster. India were humbled 0-2 by Pakistan which meant a hat-trick of lost causes at the hands of the old foe.

India came into their own at the 1964 Tokyo Olympics by regaining the gold by reversing the Rome scoreline against their arch rivals and came Bangkok 1966, India were pumped up to carry that forward by adding the gold medal. It remains the only instance of a double crown in Indian hockey history.

But there also was tremendous pressure to keep the nation's hockey legacy going and avoid any further ignominy caused by Pakistan. Deservedly, several players got their space in history and in the roll of honour of awards be it the Arjuna, Padamshree or state awards.

Spare a thought, however, for players like Frank — a tireless workhorse, doing his job quietly and efficiently in a manner that went unnoticed. So much so that despite being part and parcel of that epic effort in Bangkok, he has been largely forgotten with no recognition and sadly no one having endeavoured to perpetuate his memory.



Gold winning Hamburg team. AL Frank is standing third from left (top row)

Photos: K. Arumugam Collection & AL Frank family sources

Stick2Hockey.com