All the news for Sunday 25 October 2020

Hager hopes to regain momentum




Mark Hager has had quite a stop-start beginning to his tenure as England and Great Britain Head Coach. He picked up a team that had recently seen a spate of retirements and was in the very early rebuilding stages. His youthful squad had started to gain momentum, qualifying for the Tokyo 2020 Olympic Games and then competing fiercely in the FIH Hockey Pro League, including two highly competitive matches against Australia and New Zealand.

Then the Covid-19 pandemic put a halt to all hockey training and matches, bringing a pause to the momentum Great Britain were building up with Hager.

During the Covid lockdown, Great Britain and England appointed Katie Glynn as assistant coach to Hager. The former New Zealand forward has had a short few months to get to know her new squad but Hager is hoping that she will add another layer of attacking nous to his team.

As a return to action, you couldn't ask for a sterner test than an away visit to the Netherlands in their iconic Wagener Stadium, but it is a challenge the New Zealander is relishing.

Your squad had started to build momentum when the enforced break happened. How are you ensuring you return to international action at that pace and intensity?

Mark Hager: Over the past five or six weeks we have really upped the ante in training. We have started to have more matchplay. We have played against boys, to try to increase the tempo and get back to where we were when we finished. But now is the starting point. Just to be able to play international games is the exciting part.

It is early days but what impact has Katie Glynn's appointment had on the squad, particularly the forwards?

Mark Hager: Katie has had a really good influence. She has been well-welcomed by the squad. She has come up with some different ideas that are about leading in the circle and creating more space and how they can work on their goal-shooting and looking for far post and guard positions. That has been a real benefit for the group and something that Katie is working very, very hard on.

What are you expecting in terms of style of play from the Netherlands and how will you counter their strengths?

Mark Hager: They are a strong team all round. They have strength in each line, they have speed on the counter attack, they are a very hard pressing team. If they win the ball in the attacking third, they can really punish you. So from our point of view we have to make sure we are strong in our one-on-one contests, we have to secure the ball as much as possible and then we must create our own counter-attacking opportunities. We have to be prepared to back ourselves and build through the layers and make sure we pressure them as well.

What descriptors would you like to be able to use about your team's performance when you reflect on the results of the two matches against the Netherlands?

Mark Hager: Exciting and hard-nosed in our approach. That we valued every situation and every one-on-one contest.

The FIH Hockey Pro League matches between Netherlands women versus Great Britain women takes place on 27 and 29 October. Click here for more details.

#FIHProLeauge
#HockeyInvites

Official FIH Pro League Site


---

Four set for Great Britain Hockey debuts in Pro League




Four Great Britain players are set to make their international senior debuts next week in the FIH Pro League.

Fiona Crackles, Emily Dark, Sophie Hamilton and Ollie Payne are all selected for games against Holland and Belgium.

There are changes afoot in the men's and women's squads, with several players not making the trip on the women's side, while Ashley Jackson is a high-profile omission for GB men. It is understood he has opted out of the European tour.

Laura Unsworth will captain the women, while goalkeeper Miriam Pritchard could also play her first GB match, having appeared twice for England in 2017. There are also call ups for Holly Hunt and David Goodfield, who last played in an international nearly two years ago.

Mark Hager said of the women's additions: "It is very exciting to provide an opportunity to these new players; all four have been training with us over the last few weeks and shown great development.

"For them to now test that on the world stage is what dreams are made of."

Payne has enjoyed a meteroic rise after he was added to the men's programme recently.

Coach Danny Kerry said: "Ollie is an outstanding young talent and has excelled in training since joining the squad. He now needs to experience the senior international game."

Players not travelling:

WOMEN: Maddie Hinch, Amy Tennant, Giselle Ansley, Esme Burge, Hannah Martin, Emily Defroand, Shona McCallin, captain Hollie Pearne-Webb, Leah Wilkinson and Charlotte Watson.

MEN: David Ames, Harry Gibson, Chris Griffiths, Liam Sanford, Ian Sloan, Sam Ward, Henry Weir, Ollie Willars.

Injured: Griffiths, Sloan, Ward and Weir miss out through injury.


---

Evans ready for Dutch adventure




As Great Britain enter the final stages of preparation for their FIH Hockey Pro League matches against the Netherlands on Tuesday 27 October and Thursday 29 October, we caught up with England and Great Britain's Sarah Evans to discover how Great Britain was planning to counter the multiple attacking threats posed by the world number one team.

With 112 combined England and Great Britain caps to her name, the midfielder is well aware of the strengths of the Dutch. The last three meetings between the two sides have resulted in victories for the Oranje, but after a period of centralised training over the past few months, once lockdown restrictions eased, and additional time spent with Head Coach Mark Hager, there is optimism in the Great Britain camp.

What have you been doing as a team to maintain a sense of togetherness and momentum.

Sarah Evans: "While we were locked down earlier in the year, we really embraced the new virtual  world and we were able to stay connected as a squad online, whether it was baking, doing yoga as a squad, stretching sessions, and quizzes. We stayed connected with each other, checked in with each other and checking everyone was okay during these uncertain times. But, obviously, everyone has loved coming back together as a whole squad and training together. We have managed to bring some of that virtual world into our day-to-day now, obviously having team meetings on line as well as being face-to-tac as squad has been really great."

What will you say to the team to ensure they all get on the pitch full of confidence?

Sarah Evans: "We are really excited to get the games under way. We are very appreciative of the opportunity for these games to go ahead and we know a lot of work has gone in behind the scenes to ensure we are able to get these games going in the current climate. It is a long time since we played an international fixture so we will be going out there ready to enjoy the games. We all enjoy playing the Dutch, they are a great opposition. We know it will be a tough game but we are focused on what we need to do as a squad to get out there on the pitch and perform to our best. We have had a great block of training, so we feel really prepared as a team and we are excited to get the games going."

What do you see as the strengths that Great Britain will take into this game?

Sarah Evans: "We are a high energy team. We are quick in attack and we have some brilliant ball carriers. We are also a big passing team, so we will use that in the speed of our attacks but also we want to be hard to beat and we like to defend as a whole unit. So we will really bring that as a strength to our game. We make it hard for our opposition whenever they play against. We are really looking forward to getting the games underway and we will just really enjoy them."

#FIHProLeague
#HockeyInvites

Official FIH Pro League Site


---

Unique: Dutch umpires whistle Orange in Pro League



Coen van Bunge Instagram

The Orange Men will be whistled by two Dutch referees during the match in the Pro League with Great Britain (27 and 29 October) and Belgium (4 November). Coen van Bunge and Jonas van 't Hek have been appointed by the FIH to supervise the duels. Unique, because it is normally impossible for – during an official tournament – the arbitral duo to have the same nationality as one of the teams.

The International Hockey Federation (FIH) had actually designated a Czech and German referee on the encounter between the Orange Men and Great Britain, but the international duo decided to refuse this offer. "They have indicated that it was not profitable for them to come this way," explains Coen van Bunge. He understands that choice. 'It was uncertain for a long time whether the games would continue. They would also have to be quarantined for ten days on their return. '

In consultation with all teams, it has therefore been decided to choose referees from their own country. Since this would be the safest situation at this time, all countries agreed. A special moment for Van Bunge: he already whistled the Orange squad during an exhibition match or during the Rabo super series, but never in an official top international match.

Nothing is as beautiful as international whistling

'I whistled my last international match in February. That was then for the Pro League in India. We are now more than eight months later, I am of course very much looking forward to it. ' Since then he had to wait a long time for a game at all, from September he was able to regain some rhythm during the seven rounds of the Tulp big league men. 'There is nothing better than international whistling. These are therefore very nice competitions. That it is Orange, so be it . It is unique to be able to do this together with Jonas . '

Although Van Bunge cannot wait for his first whistle, his choice did not happen overnight. A strict regime also applies to flutists. The Orange teams will be in a so-called 'bubble' from Sunday. Van 't Hek and Van Bunge are also in a kind of' home bubble '. The Dutch duo is in home quarantine and gets a corona test every four days.

'Orange does not have to expect presents'

After the duels with the Orange and Great Britain, Van 't Hek and Van Bunge also whistle the games of the English in and against Belgium (October 31 and November 1). Then accompany the game between Belgium and Orange on November 4 in Brussels. The Oranje Dames are called against Great Britain by referees with a different nationality: two Belgians. They are allowed to come to the Netherlands and do not need to be quarantined because they are present for less than 48 hours.

Van Bunge emphasizes that it does not matter to him which nationality he whistles. 'We are impartial as referees. Normally you are not allowed to whistle your own country. Need now breaks the law. I am super neutral. Orange really does not have to expect presents from Jonas and me. '

Hockey World News


---

Gurjit Kaur: India's lone ranger in the world of drag flicks

Having taken up drag flicks to cement her place in the Indian women's hockey team, the young defender is one of the finest exponents of the art in the world.

By Naveen Peter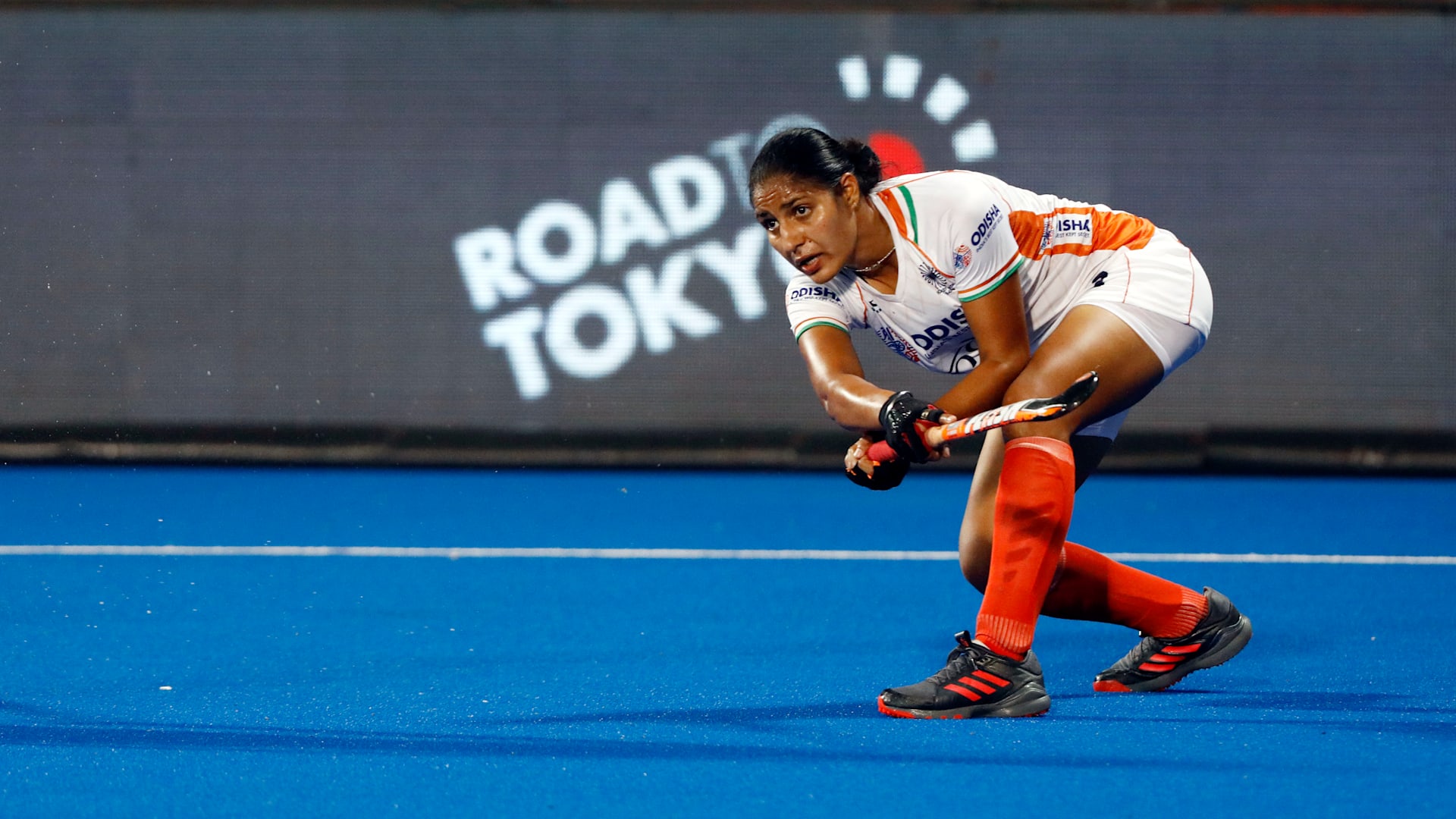 Drag flicks are an indispensable part of modern-day hockey. With teams spending hours on perfecting their defensive structure to prevent field goals, penalty corners are often a relatively easy way to score goals.

And what better way to exploit this than to have someone run in, scoop and flick the ball at a pace upwards of 130kph.

Teams at the international level usually have more than one penalty corner specialist in their squad. While the Netherlands have Caia van Maasakker and Yibbi Jansen, Olympic champions Great Britain bank on Grace Balsdon and Laura Unsworth. Australia, meanwhile, rely on Edwina Bone, Jodie Kenny and Karri McMahon.

But for the women's Indian hockey team, Gurjit Kaur has been a lone warrior in this department for long.

Ever since establishing herself in the Indian women's hockey team in 2017, Gurjit Kaur has not only been a pillar in India's defence but an astute goal scorer from short corners.

Be it the 2018 Asian Games - where India won a silver - or the FIH Series Finals in Japan, a competition where Gurjit Kaur ended as the top scorer (11 goals), the Indian drag flicker is an indispensable component of the Indian set-up today.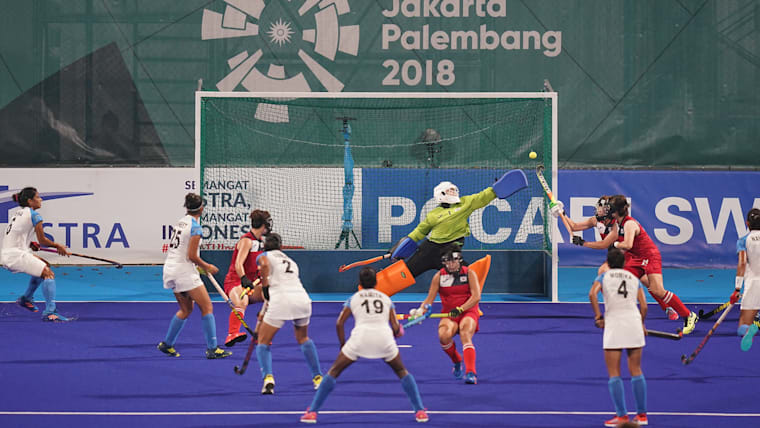 Gurjit Kaur ended the 2018 Asian Games as the top-scoring Indian with 10 goals to her name.

But until a few years back, this was not the case. In fact, Gurjit Kaur's initiation into the game was more by chance than choice.

Education first for Gurjit Kaur's family

Born in a farmer's family in Miadi Kalan in Amritsar, hockey was alien to Gurjit Kaur's household. And for her father Satnam Singh, education was always the priority.

The two sisters - Gurjit and Pradeep - spent their early years in a private school close to their village before moving to a boarding facility in Kairon in the Tarn Taran district, around 70kms from their village.

It was here that they chanced upon hockey. "Hum bas kuch naya try karna chahte the (we just wanted to try something new)," Gurjit Kaur told the Olympic Channel.

"I wasn't aware what this game was all about but it looked fun. No one from my family had played hockey. So, seeing girls playing, we wanted to join them."

At the Government Girls Senior Secondary School, considered as the nursery for women's hockey in the country, the two sisters soon found their passion and worked their way up to earn scholarships. It guaranteed them free schooling and boarding.

Gurjit Kaur continued to follow her passion post her school days as well. Joining the Lyallpur Khalsa College for Women in Jalandhar for her graduate studies, the youngster soon made her mark at the national stage. But it wasn't until 2014 that she was called to the Indian national camp.

Gurjit Kaur's need for an x-factor

A defender with no standout quality, the Punjab player frequented the national camp awaiting her maiden call-up for the next three years. It was here that Gurjit Kaur realised that she needed something special.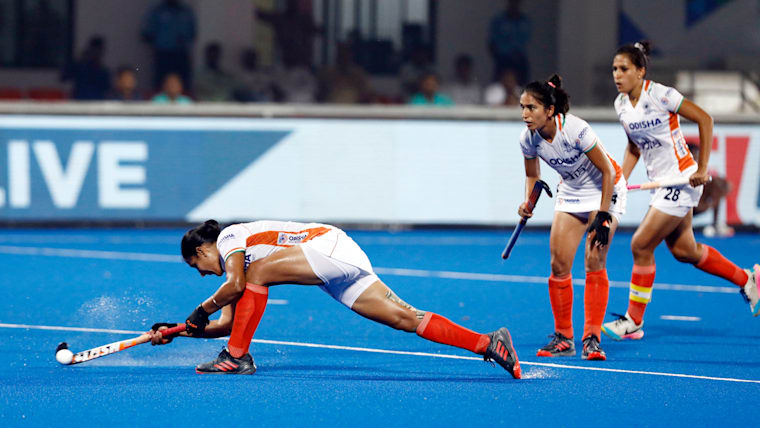 Eager to cement her place in the Indian team, Gurjit Kaur worked on perfecting her drag flick skills. Photo: Hockey India

"Kuch toh khaas lagta hai India khelne (you need something special to play for the Indian team)," Gurjit said. "I used to try drag flicks before but I wasn't much aware about it. During my school and college days, it was just about trying to copy what I had seen in various videos.

"But the initial years in the national camp helped me learn the basics, techniques, what's different, what's not different… So I decided to make it my x-factor."

However, with no woman player in India to reach out to, Gurjit Kaur was left to fend for herself. Though she picked up enough watching videos, it wasn't until the team toured Europe in 2017 that she got some first-hand training.

In the Netherlands, Gurjit Kaur had the opportunity of working with Toon Siepman - a drag flick guru who trained the greats like Pakistan's Sohail Abbas and Dutchman Mink van der Weerden. The Indian defender believes the weeks spent with Siepman has gone a long way in improving her drag flicking.

"I had some of my best time with him. Though I knew some bits about flicking, he (Toon Siepman) taught me every minute detail, going into the technicalities. Be it my posture or my footwork or the way I twist my waist before leaning in for the flick... All he would do was ask me to change a bit and the result would be completely different."

Back from her Dutch stint, Gurjit Kaur had her technique tweaked once again, this time by the then head coach Harendra Singh who worked on adding more force to her flicks.

No looking back

The learning helped at the 2017 Asia Cup, where Gurjit top-scored with eight goals to help India win the title ahead of favourites China. There has been no looking back since.

All through these years, Gurjit Kaur is the only drag flick expert in the Indian women's hockey team. While it still lacks a quality back-up, a problem that has haunted them on a few occasions, the Indian defender isn't worried.

"I don't see it as a disadvantage. I think every player adds in her special way to the team. We have a drag flicker in me, while few others can do the slaps (flats hits). That helps in having options from a penalty corner," Gurjit reasoned.

But with a handful of senior team regulars taking lessons on drag flicks, the objective is that the India women's hockey team can boast of a handful of top-quality exponents of the art of drag flick.

Olympic Channel


---

Belgian Hockey League falls victim of Covid-19

Belgian hockey competition temporarily shuts down

The Belgians fears were realised when the call came that the Audi Hockey League for the World & European Champions is to grinds to a halt- at least for adults – due to the increase in the number of corona infections. This week, the sports protocol was further examined and it became clear during a press conference on Friday morning that all amateur sports will also be cancelled in Belgium, for the time being until 19 November.

The professional sports competitions will continue, but without an audience. Just like in the Netherlands, it was unclear what the highest Belgian competition would fall under. It is now known that the Top Hockey League will not take place for the time being.

Belgium will play against Great Britain and the Netherlands for the FIH Pro League at the end of next week. It is not yet clear whether those international matches will go ahead as planned.

    All senior/adult matches are cancelled from today, at least until Thursday 19 November included

    A joint communication from the KBHB/ @hockeyfr /@hockeyvl, valid for the whole of Belgian hockey, is planned for this afternoon.https://t.co/K0Mecu1dAe
    — Hockey Belgium (@hockeybe) October 23, 2020

Hockey World News


---

ROUND-UP: Men's Hockey League Round 6




Surbiton suffered their first defeat of the season, losing out 1-0 to hosts Oxted in the Men's Hockey League Premier Division on Saturday evening.

Tim Guise-Brown's 49th minute goal from a penalty corner proved the only goal of a tense game, the result of which gives Oxted their second win of the season.

Elsewhere a last minute strike from Louis Gittens helped East Grinstead salvage a point from a thrilling 3-3 draw with visitors Beeston.

Beeston led three-nil after 22 minutes with Chris Proctor scoring twice from open play in the first eight minutes, and Henry Croft's goal put them in the driving seat.

Joe Naughalty pulled one back on the stroke of half time from a penalty corner, and after he had done the same again on 61 minutes, Gittens' goal ensured the spoils were shared.

Wimbledon got the better of plucky visitors the University of Durham, eventually running out 6-4 winners after an entertaining match.

Eddie Way got Wimbledon off the mark after three minutes, only for Ross Vides to level four minutes later for Durham and give his side the lead with a second field goal on 14 minutes.

But Wimbledon hit back with goals from Jack Turner, Ben Tibble, Ben Francis (2) and another from Way to lead 6-2 heading into the final few minutes.

Matthew Dobbison scored on 67 minutes for the University of Durham and Vides completed his hat-trick in the last few moments, but it wasn't enough to avoid defeat.

Holcombe got the better of visitors Hampstead & Westminster, winning 3-2.

Nick Bandurak's first goal put Holcombe ahead on 12 minutes, and his second goal on 46 minutes put the home side two-nil ahead.

Joe Sharp pulled one back for Hampstead & Westminster, but Tom O'Keeffe restored their two-goal advantage a minute later. Sam French scored for Hampstead on 58 minutes, but Holcombe held out for the victory.

Division One North

Trailing two-nil at half time, Deeside Ramblers battled back to win 5-4 over hosts Olton & West Warwicks and secure their first win in Division One North.

Olton were 2-0 up through goals from Joseph Paul and Harry Lankfer but Paul Kroeze pulled one back for Deeside in the 46th minute.

The two sides then traded goals until Warwick Ryan-Beswick won the game for Deeside at the death with his second of the match.

A first half penalty stroke from Conor Williamson was enough for the University of Nottingham against the City of Peterborough.

Division One South

Division One South leaders Teddington dropped their first points of the season when they were held to a 2-2 draw at bottom of the table Havant.

After Jamie Rawlings' early strike for Havant Teddington went into a 2-1 lead thanks to goals from Ed Greaves and Kyle White. However, Eryk Bembenek pulled the home side level with a 43rd minute field goal.

There was also a tense draw between Brighton & Hove and visitors Sevenoaks.

Brighton raced into a two-nil lead with Adam Flett converting penalty strokes on three and five minutes, but Tim Warrington halved the deficit with Sevenoaks' first goal on 24 minutes.

Ben Allberry's 32nd minute goal levelled the scores briefly, but Sam Rose made it 3-2 to Brighton just before half time.

Ben Cooke's 44th minute goal put Brighton 4-2 ahead, but Allberry added a second and Andrew Ross scored on 67 minutes to ensure Sevenoaks took a point.

Elsewhere Old Cranleighans were 2-1 winners over Reading, while Team Bath Buccaneers and Southgate finished 1-1.

And in the day's late match Oxford Hawks ran out 4-3 winners over Canterbury.

Conference North

There was only one game played in the Conference North but it proved to be a cracker with Barford Tigers coming back from 4-0 down to beat Belper 5-4.

Dan Legg put Belper a goal up in the first minute of the game and goals from Matthew Dear, Jake Read and Edward Stanhope made it 4-0 after just 22 minutes.

But Abu Saahil sparked the fightback for Tigers just before half time and after the restart, Mark Ganly pulled another back immediately.

Franco Ramponi hit a brace to level the scores and with three minutes left on the clock, William Hewer found the winner.

Conference West

Tom Brooks scored a hat-trick in nine minutes as Isca came from behind to beat Chichester 6-3 for only their second win of the season in the Conference West.

Cuthbert Shepherd also made a telling contribution with two goals.

The University of Bristol dropped their first points of the season but still top the table after a 1-1 draw with Harborne.

Jack Dinnie hit a double as Ashmoor beat Cheltenham 3-0 and Plymouth Marjon beat Fareham 2-1 away from home.

Conference East

Wapping are the only unbeaten team in the Conference East table after beating rivals London Edwardians 8-1 with two goals each from Michael Batstone and Jonny Verity helping them to victory.

Elsewhere Richmond are second after a 5-0 win at Harleston Magpies, Muhammad Irfan scoring a hat-trick along the way.

Spencer were also 5-0 winners over visitors Bromley & Beckenham, while Old Loughtonians won 2-1 at London Wayfarers and West Herts beat St Albans 3-0.

RESULTS

Men's Hockey League (Sat, 24 October 2020):

Premier Division: East Grinstead 3, Beeston 3; Wimbledon 6, Univ of Durham 4; Holcombe 3, Hampstead & Westminster 2; Oxted 1, Surbiton 0.

Division One North: City of Peterborough 0, University of Nottingham 1; Olton & West Warwicks 4, Deeside Ramblers 5.

Division One South: Old Cranleighans 2, Reading 1; Havant 2, Teddington 2; Team Bath Buccaneers 1, Southgate 1; Brighton & Hove 4, Sevenoaks 4; Oxford Hawks 4, Canterbury 3.

Conference North: Barford Tigers 5, Belper 4.

Conference West: Ashmoor 3, Cheltenham 0; University of Bristol 1, Harborne 1; Fareham 1, Plymouth Marjon 2; Isca 6, Chichester 3.

Conference East: London Wayfarers 1, Old Loughtonians 2; Harleston Magpies 0, Richmond 5; Spencer 5, Bromley & Beckenham 0; West Herts 3, St Albans 0; Wapping 8, London Edwardians 1.

England Hockey Board Media release


---

Ric Charlesworth Classic aims to develop Western Australia talent

By Richard Bright




A week-long new competition to add development starts in Western Australia – with the backing of the sport's greats.

A first in Australian hockey, Ric Charlesworth Classic opens with a full round of matches at Perth Hockey Stadium on Sunday.

Hockey WA recently announced a new concept to provide the state's plethora of top-quality development players an opportunity to experience high-level competition. The Classic is a tournament comprising of 140 of Western Australia's most talented players.

"It's an honour – when you get to my stage, if it makes a difference I'm happy to do it," Charlesworth said.

"I recognise we're lucky locally, but a lot of players have had their opportunities truncated – our role is to provide an opportunity for them to progress. I'm pleased I can play a role in that."

The competition comprises of four new women's and four new men's teams. Each team will play a total of three rounds over the week, culminating in the finals matches to earn a bronze, silver or gold medal. Coaches, including the great Jamie Dwyer, have been allocated to each team.

"I think it'll be very competitive. All the teams will want to beat one another and because they've been drawn in a draft, they're going to be very close in talent and ability," Charlesworth said.

"There's a whole bunch of players who are aspirational, young players, trying to make their claims."


---

Last-second goal gives Louisville 2-1 win over Virginia Field Hockey

By Mike Shiers



The Louisville field hockey team scored the game-winner with :09 left in regulation. (Source: wvir)

CHARLOTTESVILLE, Va. (WVIR) - The Louisville field hockey team scored the game-winning goal with nine seconds remaining in the match, and the undefeated Cardinals held off Virginia 2-1 on Saturday.

Louisville's Madison Walsh scored the game-winner on a breakway, following a Cavaliers' turnover.

After a scoreless first half, the Cardinals got on the board first, with a goal by Mercedes Pastor in the 3rd quarter.

Virginia got the equalizer in the 4th, when Anneloes Knol passed the ball in front of the goal, and Laura Janssen chipped it past the keeper.

UVA goalie Lauren Hausheer made six saves in net, as Cards outshot the Cavs 10-8.

Virginia (3-5, 2-2 ACC) will play its regular season finale next Saturday at Duke.

NBC29.com