All the news for Saturday 24 October 2020

Recharged Great Britain ready for Netherlands challenge




Danny Kerry is the quiet, thoughtful and meticulous Head Coach to England and Great Britain men's team. Which is why there is no doubt that, while his team have been working hard on their fitness during lock down, Kerry will have been plotting and planning his team's journey through the pathway that encompasses the FIH Hockey Pro League, EuroHockey Champions and, ultimately, the Tokyo 2020 Olympic Games, to be held next year.

Great Britain didn't get off to the best of starts in the opening matches of the second FIH Hockey Pro League season. They currently sit at the bottom of the league table, with just one win to their name. This situation will not bother Kerry one jot. He knows, from prior experience with the Great Britain women's team, that to win, his players have to experience loss and build resilience as a result.

That said, the Great Britain coach will be looking for his players to take all they know into the next set of FIH Hockey Pro League matches. Key to the centralised programme that England Hockey runs, is the search for growth, development and learning. The past few months may not have seen much international hockey action, but the players have been back in training and Kerry will be looking for his team to show just how much they have developed as a squad in that time.

The next series of matches can be seen as a fresh start for the team after the early four matches. What are the key changes we can expect to see from Great Britain in the next round of fixtures?

Danny Kerry: There are some fantastic matches coming up for the Great Britain lads in the next few weeks. It has obviously been an awfully long time since we last played. We were travelling home from our last matches against New Zealand in Auckland last January. The good news is that the lads have used the break really well. They have looked after themselves, they have recharged their batteries and come back in good physical shape. We have been fortunate enough to return to training in the last few months and, in that training, the lads have worked really, really hard. So, we are in good spirits and looking forward to the games. We have definitely been working on aspects of our play in a really good and focused fashion. So, all good so far.

The break has given many players a chance to recover from injury and re-set mentally. While no-one would ever wish a situation such as this pandemic to happen, is there a value that has perhaps not been appreciated before in having an enforced period away from the game?

Danny Kerry: The enforced break has been challenging on some levels and on other levels it has helped us get off the hamster wheel that performance sport can be. You don't often get that opportunity. Some of the lads have also faced some challenging times around decisions around their continuation in the sport. Some have definitely been planning to retire post the summer Tokyo 2020 Olympics Games. They were thinking about starting families, getting married, starting new careers so that has created some challenging decisions for those lads. They have had some excellent support from our staff and some excellent conversations and I think we are now at the other side of that.

Where do you expect the main dangers to come from when you face the Netherlands?

Danny Kerry: With the Netherlands and then Belgium, we face two of the leading teams in the world. They contested the World Cup final in 2018, so we are looking forward to the quality that those teams bring.

In regard to the Netherlands, you have major threats at penalty corners with the likes of Mink van der Weerden, Jip Janssen and now, I think, I have just been seeing Terence Peeters score a few good goals in the Hoofdklasse. And he has been in and around the Dutch squad as well. So they have multiple options at corners. They have traditionally been strong in the counter attack with the likes of Billy Bakker and [Jeroen] Hertzberger setting up good counter attack opportunities. They have excellent goal scoring prowess in the likes of Mirco Pruijser, so they are a strong side with some experienced individuals in it. They have good attacking invention, so we will have to be on our A game and we look forward to that challenge.

Of course two wins is the ultimate but what outcomes, at this stage of the season, would you be satisfied with?

Danny Kerry: I'm not really worried too much about the outcome. We always play hard and we always play to win but, for me, the success will be around putting our game out there and playing the way we want to play, particularly in the areas we are looking to change and grow. As all the teams are starting in different places, it is a bit like a massive athletics race unfolding with everyone at different points, at the moment, in that race but all aiming for the same end point, this year and into Tokyo 2021. It is difficult to call in terms of outcomes, the main thing is that we want to go hard at our game and do what we can with our game. We are really looking forward to it.

#FIHProLeague
#HockeyInvites

Official FIH Pro League Site


---

Dixon's belief in Great Britain's collective strength




Adam Dixon is the England and Great Britain men's team captain. He currently has 174 caps for England and is approaching 100 caps representing Great Britain. A long international career, that started back in 2009, has seen Dixon win gold at the EuroHockey Championships in 2009 and bronze medals at the past two Commonwealth Games. The 33-year-old is now a senior figure in the team and will be busily directing activity from deep at the heart of the Great Britain defence.

What does it mean to you and your team to be able to play international hockey again?

Adam Dixon: "The upcoming FIH Hockey Pro League fixtures are really important for us. They have been highlighted in the calendar for quite some time now as ones that we want to be hitting the ground running in. It is also really nice to check how well training has been going and how we are progressing as a team. There is a big year coming up with the Olympics next summer. We have been training really hard and I feel that the squad has been improving but without those games it is hard to know where we are improving. These FIH Hockey Pro league fixtures will provide that knowledge."

Are you concerned about players being 'off the pace' or has the team training and the restart of the domestic league erased any rustiness?

Adam Dixon: "No, I am not concerned about our players being off the pace, not at all. First of all, coming out of lockdown, it was obvious the guys, back at home, had been training really hard, looking after themselves and taking a mental break while keeping physically sharp. When we came back to Bisham Abbey [Great Britain's training base], the level of intensity was really high. The inter-squad games we have played have been really close to international standards and competition for spots is really, really high. That [the pandemic] is not going to be an excuse we will be using going into these games."

What are you expecting from the Netherlands in terms of playing style and strategy and what are you looking for from your teammates to put pressure on them?

Adam Dixon: "I think the Dutch are going to be really up for these games and they are going to want to be playing on the front foot: aggressive, counter-attacking, fluid – the style of play they are famous for. The challenge for us will be to match them toe-for-toe and to come into the matches with the attitude that these games are winnable. We have proven over the years that we can be a real thorn in the side of the Dutch team. We are aware fully of some of their individual threats and the strengths they possess but as a GB team we are more than capable of dealing with that and we have proven it time and time again. Our strength is as a collective, as a team and we are looking to put a marker down in these two games.

#FIHProLeague
#HockeyInvites

Official FIH Pro League Site


---

Several New Faces As GB Prepare For Long-Awaited Return To International Hockey



Luke Taylor Scores v Australia 2020 FIHPL

Four players could make their senior international debuts next week as Great Britain's men and women prepare to play their first competitive matches in more than seven months.

Fiona Crackles, Emily Dark, Sophie Hamilton and Ollie Payne have all been selected for games against The Netherlands (27 and 29 October) and Belgium (31 October and 1 November) as Great Britain return to action in the FIH Hockey Pro League.

Goalkeeper Miriam Pritchard could also play her first GB match, having appeared twice for England in 2017. Furthermore, there are also call ups for Holly Hunt - whose only previous GB appearance came against China in the 2019 FIH Hockey Pro League - and David Goodfield, who last played in an international match nearly two years ago.

In addition, Harry Martin and Adam Dixon are in line to win their 100th Great Britain caps while Sarah Robertson could make her 50th appearance.

The postponement of the Olympics has meant several of the women's squads have undergone planned surgeries, including captain Hollie Pearne-Webb. This has provided head coach Mark Hager with the opportunity to give an outing to several young talents.

Dark, 19, has appeared 23 times for Scotland and won the 'U21 Talent Award' as she helped them to gold at last year's EuroHockey Championships II.

She is also a part of the GB Elite Development Programme (EDP) alongside Loughborough Students goalkeeper Pritchard, 21, Hampstead & Westminster midfielder Hunt, 22, and 19-year-old Durham University defender Crackles, who captained the England U18 team to bronze at the 2018 EuroHockey Youth Championships.

Clifton Robinsons and UConn Huskies player Hamilton, 18, was also part of that squad before representing England's U21s at last summer's EuroHockey Junior Championships.

Experienced defender Laura Unsworth will captain the team while Amy Costello and Sarah Evans could make their first international appearances of the year.

Hager said: "I'm excited to start developing our game again and to get back into competitive action. The opportunity to challenge ourselves, especially against one of the world's best teams in The Netherlands, is something we are all looking forward to.

"It is very exciting to provide an opportunity to these new players; all four have been training with us over the last few weeks and shown great development.  

"For them to now test that on the world stage is what dreams are made of."

"As we look to 2021 and the Olympic Games, this trip provides a fantastic opportunity for us to compete, develop and get used to some of the new Covid-19 protocols which could be in place over the coming months."



GB Women sing the National Anthem

After joining the squad back in July, men's goalkeeper Payne could get his first taste of senior international action against two of the world's most attacking sides.

Another graduate of the GB EDP, the 20-year-old was part of the GB U21 teams that won Sultan of Johor gold in 2018 and 2019 and helped England's U21s to an impressive EuroHockey Junior Championship silver last summer.

Goodfield's return to international hockey comes nearly two years since he won the last of his 40 caps for England. He also previously featured eight times for Great Britain, notably scoring twice in a thrilling 4-3 win over Australia in the 2017 Sultan Azlan Shah Cup final.

There could also be first appearances in the second instalment of the FIH Hockey Pro League for Brendan Creed, David Condon and Rhys Smith, while Chris Griffiths, Ian Sloan, Sam Ward and Henry Weir miss out through injury.

Head coach Danny Kerry said: "We're very excited to get going. We train hard to play matches and, being competitive people, we look forward to match play. I'm very grateful to the people who have put in an absolutely enormous amount of work to enable these matches to happen.

"Ollie is an outstanding young talent and has excelled in training since joining the squad. He now needs to experience the senior international game. David Goodfield brings a differing set of skills and, following an initial disappointment of not being included in the senior squad, has demonstrated the qualities needed to make his way back. We are looking forward to seeing his play over the coming matches.

"Both Brendan and David have been fantastic in the way they have dealt with such lengthy rehabs and I know they are looking forward to playing international hockey again."



GB Men sing the National Anthem

Women's squad
4) Laura Unsworth (C) – England
5) Sarah Evans – England
6) Anna Toman – England
9) Susannah Townsend – England
10) Sarah Robertson – Scotland
13) Ellie Rayer – England
14) Tess Howard – England
17) Sarah Jones – Wales
22) Lizzie Neal – England
25) Sabbie Heesh (GK) – England
26) Lily Owsley – England
27) Jo Hunter – England
31) Grace Balsdon – England
32) Amy Costello – Scotland
33) Izzy Petter – England
36) Emily Dark – Scotland
37) Sophie Hamilton – England
38) Fiona Crackles – England
39) Holly Hunt – England
40) Miriam Pritchard (GK) - England

Men's squad
1) George Pinner (GK) – England
3) Luke Taylor – England
7) Alan Forsyth – Scotland
8) Rupert Shipperley – Wales
9) Harry Martin – England
15) Phil Roper – England
16) Adam Dixon (C) – England
18) Brendan Creed – England
19) David Goodfield – England
20) Ollie Payne (GK) – England
21) Liam Ansell – England
22) David Condon – England
25) Jack Waller – England
26) James Gall – England
29) Tom Sorsby – England
30) Rhys Smith – England
31) Will Calnan – England
32) Zach Wallace – England
33) Jacob Draper - Wales

The dates and times (all GMT) for the matches can be found below. They will all be available to watch on BT Sport. Both games on Tuesday 27 October will be free-to-air – download the BT Sport app to watch them.

Tuesday 27 October: 15:30 – Netherlands v Great Britain (W)
Tuesday 27 October: 18:00 – Netherlands v Great Britain (M)
Thursday 29 October: 15:30 – Netherlands v Great Britain (W)
Thursday 29 October: 18:00 – Netherlands v Great Britain (M)
Saturday 31 October: 13:00 – Belgium v Great Britain (W)
Saturday 31 October: 15:30 – Belgium v Great Britain (M)
Sunday 1 November: 13:00 – Belgium v Great Britain (W)
Sunday 1 November: 15:30 – Belgium v Great Britain (M)

Great Britain Hockey media release


---

Laura Unsworth to captain new-look GB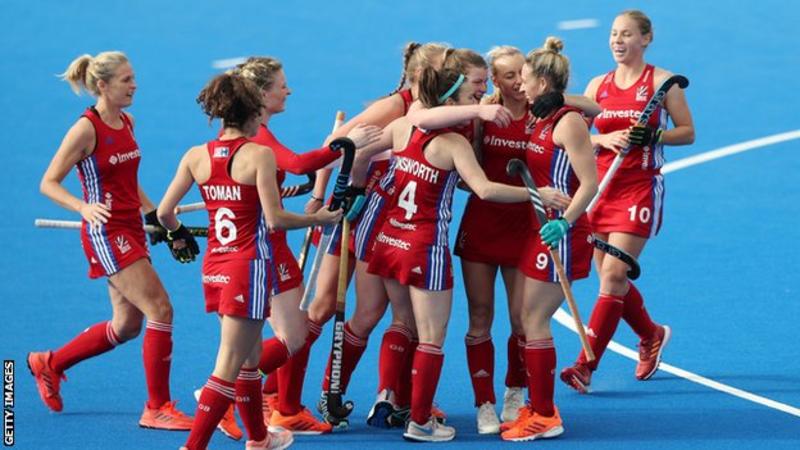 GB women beat Chile in November to secure qualification for the Tokyo Olympics

Four players could make their senior Great Britain debuts as the women and men's teams prepare for their first competitive matches in seven months.

Fiona Crackles, Emily Dark, Sophie Hamilton are in the women's squad and Ollie Payne in the men's for two FIH League double headers.

GB face fixtures in the Netherlands on 27 and 29 October and Belgium on 31 October and 1 November.

Laura Unsworth will captain the women's team, who won Olympic gold in 2016.

Unsworth is one of only three members of that team named in the latest squad, alongside Lily Owsley and Susannah Townsend.

Amy Costello and Sarah Evans could make their first international appearances of the year.

Goalkeeper Miriam Pritchard may also play her first GB match, having appeared twice for England in 2017.

Head coach Mark Hager said: "It is very exciting to provide an opportunity to these new players who have been training with us over the last few weeks and shown great development."

In the men's squad, Harry Martin and Adam Dixon are in line to win their 100th GB caps.

Head coach Danny Kerry said of Payne's inclusion: "Ollie is an outstanding young talent and has excelled in training since joining the squad. He now needs to experience the senior international game."

GB women's squad:

Laura Unsworth (capt), Sarah Evans, Anna Toman, Susannah Townsend, Sarah Robertson, Ellie Rayer, Tess Howard, Sarah Jones, Lizzie Neal, Sabbie Heesh (GK), Lily Owsley, Jo Hunter, Grace Balsdon, Amy Costello, Izzy Petter, Emily Dark, Sophie Hamilton, Fiona Crackles, Holly Hunt, Miriam Pritchard (GK)

GB men's squad:

George Pinner (GK), Luke Taylor, Alan Forsyth, Rupert Shipperley, Harry Martin, Phil Roper, Adam Dixon (capt), Brendan Creed, David Goodfield, Ollie Payne (GK), Liam Ansell, David Condon, Jack Waller, James Gall, Tom Sorsby, Rhys Smith, Will Calnan, Zach Wallace, Jacob Draper.

BBC Sport


---

Tumilty casting the net wide to get Green Machine motoring again




While Mark Tumilty only dropped the "interim" part of his title of Irish men's head coach this week, the former Banbridge boss has already laid plenty of groundwork for his tenure, assessing almost 70 potential players to date.

Current restrictions notwithstanding, Tumilty is keen to scour all options and he strongly believes there is a wealth of talent to tap into ahead of a potentially busy 2021 with August's European Championships and the lead up to the World Cup qualifiers.

He took on the role "out of the blue" for the infamous Olympic qualifiers in Canada last October before agreeing to continue in the interim role, knowing the post would be re-advertised to align with the original end date of Tokyo 2020.



Mark Tumilty (right) chatting to Lisnagarvey coach Errol Lutton and Irish women's coach Sean Dancer at the Irish Senior Cup finals. Pic: Adrian Boehm

Tumilty duly was successful in the interview process and can now progress further with his initial plans put in place on a more secure basis, though he does say it changes things slightly.

"It adds a bit more pressure," he says of losing the 'interim' status. "It's a role which once I got involved, I was very keen to hold onto. Hopefully the work I have done over the last six months, the players grasp what I am trying to do and hopefully the club coaches can also see what I am trying to do – they have a very important role."

Given the opening and shutting of lockdown, it has been a case of day-by-day and week-by-week to get things in place. Leinster and Ulster regional sessions were back up and running by June while Tumilty is delighted to see a David Hobbs-led Munster group of 16 players introduced from August.

"I want to see Munster treated like everyone else and give the same exposure because there is definitely talent. Kevin O'Dea is in the senior squad and has been excellent and there are other guys like Mark Collins and Jack O'Meara who are both in the Under-19 squad but have been training with us and do not look out of their depth."  

He sees a strong southern province as an imperative is to get a far wider range of players involved in high performance hockey, something achieved under Paul Revington who capped almost 35 players in one calendar year.

More recently, this has been evident with the women's Irish Under-23 squad able to put in bigger programmes with more funding secured, providing more stepping stones to rise the ranks.

"We need to look at more players and give them more exposure to a high performance environment. We come out of Under-18s, have a bit of a break then [the men's] Under-21s was just a short few months in the summer and then guys drop out and we lose them.  

"We have to work with them consistently. The Ulster and Leinster groups are every fortnight on alternate weekends so I can attend both. The guys there will have all the necessary support, their S&C, their physio, their nutrition looked after.  

"I definitely see the talent is there. There are some players who, to be honest, weren't on my radar – or even many other coach's radars – and there's guys who were in university across the water and there's a few lads we haven't been able to see yet because of Covid.  

"We are really pleased with Munster and have involved five of that group with the main Sunday groups. It's creating the pathway from regional to Sunday sessions and then try to get into the main squads, get caps and then fight for [tournament] selection."



Mark Tumilty during the Olympic qualifiers in Vancouver. Picture: Chris Wilson

International friendlies will not be possible for the forseeable future, a big drawback which leaves the coach unable to test players out in competitive settings, particularly with no EY Hockey League action.

As such, he is harking back to his days as an international player under Cees Koppelaar who set up fiercely fought in-house games with official umpires and designated coaches.

"It's in-house and a cheap way of getting exposure to high standard stuff in the current environment.

"It's good contact with the guys because it is difficult for them not having competitive games. Club hockey is very important to them and is very important to me but circumstances are working against it this season.

"The league is key; it's what I watch every Saturday to see who is coming through. I have added a few players from there recently; like I am impressed with Mark Samuel having seen the Irish Senior Cup final and the UCD game against Monkstown.  

"He has joined the Leinster regional squad and there will be others based on [club] games. It's a key element for the senior programme. Guys have to be playing well with their clubs; you can't 'just' be good at international level. There is a conversation about club and international not being the same thing but the best players in the world are all brilliant for their clubs as well.

"Obviously, it would be better if Covid went away and we could get some games and give the young players exposure to international hockey.  

"But every session we have at the moment is possibly one more than the teams around us and we are making good progress. They are progressing physically and I am pleased with what we have been able to do."

The Hook


---

A sticky poser for Arul

By Jugjet Singh



Arul Selvaraj

To camp or not to camp? That's the nagging question on Malaysian national men's hockey coach Arul Selvaraj's mind right now.

And the dilemma can only be answered after Oct 27, and that too if the Conditional Movement Control Order (CMCO) is over, and not extended.

"Right now we are in camp and training as usual. All the players and officials are in good health and there are no problems.

"However, I am not sure what will happen after the MCO ends on Oct 27 and I will have to plan accordingly after that.

"The players in camp will be shortlisted from 37 to 25 at the end of the month and after that, it's up to the management on what to do with them next."

Arul has not made up his mind whether the players should remain in camp or go back to their families after the final training squad is named.

"I have not decided on keeping them in camp or releasing the players to go back to their families.

"The MHC (Malaysian Hockey Confederation) and NSC (National Sports Council) will have the final say on this matter because these are not normal times, but a global pandemic threatening not only sports but lives as well," said Arul.

The men's seniors and juniors, as well as the women's teams, have been in centralised training since Oct 5 and all three squads will be trimmed to manageable size at the end of the month.

"There are no tournaments slated for this year, and for the senior men, they only have the ACT (Asian Champions Trophy) in March to train for.

"So, to camp or not to camp will be decided after Oct 27 with help from the NSC and other government regulatory bodies," said Arul.

The men's ACT is on March 11-19 in Dhaka, Bangladesh.

New Straits Times


---

Media gets cold shoulder with NSC's new protocols

By Jugjet Singh



Nasihin Nubli. - NSTP/File pic

Serious issues or not, national women's chief coach Nasihin Nubli has never failed to answer any questions posed to him.

But yesterday he cut an apologetic figure.

"Sorry, I can't take any questions from you until you get clearance from the NSC (National Sports Council) hockey liaison officer," said the former Olympian who is entrusted to chart Malaysian women's hockey fortunes.

A call to the NSC hockey and rugby liaison officer Rabiatul Adawiyah, a former national hockey player herself, revealed that to interview any hockey players or coaches, one must submit questions to her first.

"I will then forward the questions to the NSC PRO (public relations officer) and if your questions are OK, you can then call Nasihin," said Rabiatul.

The Timesport questions were forwarded to her and after getting clearance from the NSC PRO, only then can Nasihin be contacted for this phone-interview.

All these "barriers" were put up after the team went into quarantine-mode at their training camp in Bukit Jalil.

"I'm so sorry you had to go through the hassle just to ask about the team.

"My apologies again," said Nasihin when called again after the red tape runaround.

It's not Nasihin's fault, but why make life difficult for sports journalists who are just doing their job and promoting the sport?

True, safety precautions have to be in place for players and officials when in training and with strict SOP on and off the pitch.

But a simple phone call to players and officials does not need such Gestapo-like treatment.

Selangor, Kuala Lumpur and Putrajaya have come under CMCO from Oct 14-27 following a spike in Covid-19 cases at several locations.

But the men's seniors and juniors, as well as women's national players, have been in training since Oct 5, and when the CMCO was announced, they were immediately placed under the care of NSC for centralised training and housed at the Bukit Jalil hostel.

So now, the players "belong" to the NSC and are under their total care and control.

While it is good that the SOP on Covid-19 is followed to the letter, controlling news flow, especially sports, is really going to the extreme, even for a pandemic.

After all, the virus can't travel through the phone and infect you.

New Straits Times


---

Athlete Spotlight: Anna Dessoye




Each athlete that wears the red, white and blue has a unique story to how their careers came to fruition. From the junior level to the senior squad, USA Field Hockey is putting national team athletes under the spotlight to share their journeys.

When Anna Dessoye saw her next door neighbor playing field hockey nearly two decades ago, she never imagined it would turn into a lifelong passion. From that fateful encounter she transformed into a lucrative young career so far now as a familiar face on the U.S. Women's National Team.




While Dessoye's chance meeting started her along the path of field hockey, she also gives an immense amount of credit to her high school head coach, Elvetta Gemski.

"I was inspired by Gemski, who retired with nearly 650 wins with the program," said Dessoye. "She was a humble, no nonsense leader who brought the best out of each individual player. She encouraged me to keep learning and introduced me to Futures and USA Field Hockey. I admired her selflessness and work ethic throughout the years we spent together. She was someone who really molded me early in my field hockey career."

Dessoye's competitive nature was center stage under Gemski's guidance at Crestwood High School as a four-year starter on the varsity squad. She served as captain her senior year and gained First Team All-State and All-American honors while helping the team to the District II state tournament each season and back-to-back championships in 2009 and 2010.

She drew the attention of many at the collegiate level, and while several institutions stood out to her, Dessoye elected to attend and compete at the University of Maryland. In the end it was a perfect fit for the Mountaintop, Pa. native: close to home, diverse culture, academics and an atmosphere that matched well.

"My experience at Maryland was incredible," continued Dessoye. "Missy Meharg is a fearless leader and demands excellence. I learned so much from her and her staff throughout my four years. I made a lot of amazing friends and made some of my favorite field hockey memories."




Dessoye went on to play 94 total games in the Terrapins' midfield from 2012-15 and was a starter in 89 of them. What made her collegiate career most unique was playing two years in the Atlantic Coast Conference (ACC) and two in the Big Ten Conference when Maryland made the transition to the latter. Because of this, Dessoye is one of just a handful of student-athletes to claim both ACC and Big Ten Championships across her career. She also helped Maryland to two Final-Four appearances and picked up First-Team All American and First-team Mid-Atlantic honors.

Across her four years at Crestwood and Maryland, Dessoye also excelled in the U.S. Women's Olympic Development Pathway. She first took part in Futures at the age of 14 and soon found herself on the U.S. U-17 and U-19 Women's National Teams, another rare experience as she toured internationally with USA while balancing high school studies. She enjoyed every moment of her early days in the Olympic Development Pathway and credits everyone she learned from along the way to where she is today.

"I felt like a sponge absorbing as much information and criticism as I could," noted Dessoye. "It made me better. I worked hard and made a lot of sacrifices, which seemed huge at the time when I was younger but looking back I'm glad I made the decisions I did. Whether it was going late to prom because I was at a Regional Futures Tournament or missing summer trips to the beach with friends because of Junior National Camp. There was always something but I always put field hockey first and that ultimately opened a lot of doors for me and put me in the best spot possible to go to my dream school and afterward, play for the USWNT."

In college, she moved up to the U-21 USWNT and shortly after graduating from Maryland, Dessoye made her dream a reality when she named to the senior squad in 2016. A few months later, she recorded her first international cap in a friendly match against New Zealand. Since then she has been a reliable individual for the red, white and blue.

Regardless of personal or team achievements over the years, the game has provided Dessoye with many life lessons and experiences she admits would be absent without the time and commitment on the field.

"The sport has taught me to be resilient," said Dessoye. "To always persevere through the ups and downs of a game, season, career. It's taught me to be tough, mentally and physically, and never give up!"




Dessoye has appeared in 59 international matches so far for the USWNT, but while the team waits to return to the pitch as a full unit once more, she has volunteered her time to providing lessons for eager young athletes near her hometown. She is also currently a volunteer assistant coach for Wyoming Area High School this fall.

She has had an exciting career to this date, from the early middle school days playing with the Valley Stix club team to her time as an elite-athlete. It's funny to look back on how one's journey starts. For Dessoye, picking up a stick from watching an acquaintance is a reminder that the next generation's elite aspirations could be in a neighborhood near you.

"The sport has taught me to be resilient. To always persevere through the ups and downs of a game, season, career. It's taught me to be tough mentally and physically, and never give up!"
Anna Dessoye

USFHA media release


---

Holcombe look to end Hampstead & Westminster dominance at Holcombe Park

East Grinstead can extend their lead at the top of the WHL Premier Division to six points with a home win over the University of Birmingham. East Grinstead are on a twenty game unbeaten run and Birmingham have failed to score in their last three matches, so the formbook would suggest a home win.

Second placed Loughborough are on their bye week, but will have two games in hand over East Grinstead. Wimbledon can go above Loughborough into second with a win at Beeston, but the Nottingham club will have ideas of their own about pulling away from the foot of the table.

Holcombe and Hampstead have won two and lost two of their first four matches and meet in Kent on Saturday. Holcombe have lost both their home matches and Hampstead have won both their home matches and neither club will want to lose ground in the fight for a top six place in Phase 2.

The Covid-19 situation is beginning to have an effect on hockey fixtures. The Welsh fire break has forced Swansea's trip to Surbiton to be postponed and has deprived Clifton Robinsons of some key players before their visit to Buckingham was also postponed.

In the Men's Hockey League, Surbiton come back from their bye week to travel to Oxted. Oxted will still be recovering from their intense battle at Old Georgians where they led 6-4 before Old Georgians recovered to win 10-6 in a record breaking encounter. Surbiton have won all four games so far, whilst Oxted have beaten the University of Exeter 2-0 and been competitive in a 2-1 loss at East Grinstead and a 3-1 home defeat by Holcombe.

Old Georgians' victory cut Surbiton's lead to two points but Old Georgians' visit to Brooklands Manchester University has been postponed. A bigger threat to Surbiton is Hampstead & Westminster who trail by two points but have also played four games. Hampstead are at Holcombe where they have come away with big victories over the last two seasons. Holcombe have had the last two weeks off due to Covid-19 related postponements and will have to find some momentum quickly if they are going to make Hampstead slip up.

Wimbledon host the University of Durham. Durham suffered big defeats in their first two matches, 8-0 at Old Georgians and 6-1 at home to Surbiton but an improved performance saw them go down 3-1 at Beeston. Wimbledon opened the season with a 3-3 home draw with Beeston, but after winning 4-1 at Brooklands and 2-1 at Holcombe, were taught a lesson at home by London rivals, Hampstead, who won 4-1 before Wimbledon's visit to the University of Exeter was postponed.

Exeter have the bye week and Beeston will want to follow up two successive 3-1 home wins over the University of Durham and Brooklands when they visit East Grinstead. Beeston and East Grinstead have had some interesting match ups over the years and recent form has been in Beeston's favour as they have won on their last three visits to West Sussex.

Hockey World News


---

Scottish Conference game week two brings more competitive action to Midland and North




The second weekend of competitive hockey is upon us and again the focus is on Midland and North as the conference competitions enter game week two.

Grove Menzieshill`s women are in a stage of transition as they start their conference campaign against Tayside rivals Dundee Wanderers on Saturday. The developmental aspect of the conference is a source of good opportunity for all clubs, and it's one that Grove Menzieshill will be looking to use to bring through young talent from their system.

Manager Niall Joss explained, "We have only eight of last year`s squad continuing with the club.

"The squad will be young, using the best of the talent that our youth development structure is building, so the opportunity to give game experience at the higher level in the conference is welcome.

"So hopefully, it's exciting times to come."

So the more relaxed conference set-up is ideal for a Grove Menzieshill side in transition. Katie and Ellie Stott, daughters of Great Britain Olympic captain Pauline Stott MBE, have joined Watsonians; Lucy Smith and Rhiannon Carr have moved to Glasgow University; while others including Lauren Kingston; Jude McMullan and Holly Duval have also moved away.

There is a welcomed return however for Corrie Hay who has been out of action for a long time after a knee reconstruction.

The conference is a good challenge for new coach Graham "Geeg" Stuart with Joss doubling as his assistant as well as manager – a completely new management team.

Dundee Wanderers will look forward to another local encounter. They did win last season`s sole clash 3-2 with goals from Vikki Bunce, Emily Dark and Michaela McCarthy. Any side with the evergreen Bunce in the ranks has goals almost guaranteed in every outing.

However, Dark is away making waves with the GB women`s squad and McCarthy has departed for Durham University. Also gone are Jess Ross to Edinburgh University; Orla Thompson to Dundee University; and Ailsa Millar to Glasgow University.

Wanderers had a bizarre experience last season prior to the lockdown. They romped to the top of the Premiership with five straight victories, and Bunce scoring in every outing. Then, were on the wrong end of back-to-back 6-0 defeats at the hands of Edinburgh University and Western Wildcats, and although the wheels came back on the Dundonians finally ended the truncated campaign in fourth spot.

Elsewhere, although Ellon lost 6-2 to Gordonians last weekend, captain Louise Gordon left the occasion on a high note, "It was a really good game, closer than the score line suggests, so Ellon heads are still up and we`re raring to go again next week."

So the challenge is there again on Saturday as second division Granite City Wanderers come calling at high noon.

Last weekend`s winners FMGM Monarchs and Grove Menzieshill clash this Saturday at Dalnacraig. Both sides ended their season in March in the runners-up position, but with Monarchs a couple of divisions lower than Grove Menzieshill in the top flight Premiership. The game offers a great developmental opportunity for players on both sides.

The Glashan family monopolised the goals in Monarchs' hard-fought 3-2 win over Perthshire, but confronting Dundee`s top performing outfit will be a much sterner task.

Grove Menzieshill seem to have made a shrewd acquisition in former Clydesdale`s Chris McFadden, his penalty corner expertise was put into good effect in their 4-1 victory over Dundee Wanderers with a double from the set piece.

Wanderers did take the lead over their rivals Grove Menzieshill last weekend through Elliott Sandison but were unable to build on their early advantage and succumbed 4-1 in the end.

The North Conference gets underway with the confrontation between Ellon and division three`s Granite City Wanderers, making a double-header between the two alongside the women's contest.

Ellon enjoyed a 100% league record last season, and will hope to carry that form into the conference. The league season ended for Granite City Wanderers in March with them sitting in third spot, but just a point shy of second place and four points from the top with a game in hand. This should be an interesting contest and a good chance for both teams try some new developmental ideas in the competitive sphere.

Scottish Hockey Union media release


---

UVA Field Hockey drops hard-fought 5-2 game against Louisville

By Mike Shiers



UVA Field Hockey (Source: wvir)

CHARLOTTESVILLE, Va. (WVIR) - The Virginia field hockey team lost 5-2 against Louisville on Friday at UVA Turf Field.

The Cardinals jumped out to a 2-0 lead in the first quarter, but a goal by Adele Iacobucci cut the deficit to one at halftime.

Louisville extended its advantage to 3-1 less than two minutes into the second half.

Sophomore Laura Janssen answered with a UVA goal just three minutes later, and the lead was once again down to one.

The Cardinals scored late in the 3rd to push the score to 4-2, and added an insurance goal in the fourth for the final margin.

The victory gave Louisville at least a share of the regular-season ACC title, as well as the No. 1 seed in the ACC Championship.

UVA head coach Michele Madison says, "Louisville brought a really physical game, and they took it to us. It looked like they were playing for a championship, and they certainly got the job done."

Virginia (3-4, 2-2 ACC) and Louisville (6-0, 5-0 ACC) will square off again on Saturday at 2pm at Turf Field.

NBC29.com