All the news for Friday 23 October 2020

Pre-match praise belies Caldas' fierce will to win




Max Caldas and Danny Kerry have a lot in common. Notably they are both Olympic gold-medal winning coaches of women's teams who are now seeking to achieve the rare double with men's national teams. They are also both coaches who are happy to be creative in their coaching and push the boundaries with new ideas. In the next set of FIH Hockey Pro League matches, the two men come head to head as the Netherlands seek to inflict defeat on Great Britain.

In this interview, Caldas is full of praise for his counter-part but the telling phrase comes when the former Argentina international says: "Now, more than ever, our focus is on us, purely." While Caldas may be happy to throw his opponents compliments ahead of the FIH Hockey Pro League encounter, once the players are on the pitch then Caldas will be employing every bit of his coaching experience to get a win over his rival.

The next series of matches will be a fresh start for the team after mixed results in the opening matches. Will there be any key changes ?

Max Caldas: "I think we are looking forward to the next games. It has been some time coming to play the next games. Our last games were in February so we are looking forward to playing against Great Britain. They are always a tough team to play against and very well coached.

"Will it bring some changes for us? Yes, I think it will because at this moment in time we should be enjoying our whole post-Covid hockey. The fact the tournament didn't go all the way through gives us the chance to re-set and re-think some things about our game and challenge ourselves from within. So, yes, we are going to change some stuff but mainly it is about trying to get our heads out again. We are going to get a full-on game as the national team so that's going to be our first challenge. "

The break has given many players a chance to recover from injury and re-set mentally. Is there a value that has perhaps not been appreciated in having an enforced period away?

Max Caldas: "Mainly, I think we live in a really crazy world at this point in time. We need to be very aware that what we do now is not a given and in lots of countries people are in lock-down and cannot actually go out of their house. There are a lot of deaths in the world so we are very aware of the privilege that we have to play these games. For us, for sure, it gave us a chance to re-assess our programme with an extra year.

"I think clubs in Holland had a chance to prepare themselves for a season where they had the players for four to six weeks when normally they would get them back from us for two to three weeks before the start of the next tournament. So, we are aware it brought us many more things. Having to stop the Olympic Games gave us a chance to have a fresh start as a group. That is something we really cherish and we are trying to make the most out of it."

Where do you expect the main dangers to come from when you face Great Britain?

Max Caldas: "I think Great Britain has a lot of really good players and individuals. They are always a very well coached team. Danny [Kerry] is very smart in what he does. Running a full-time programme means they have a lot of time to train with each other.

I think what we always see and expect of them is that they are relentless and never stop. They believe in what they do and they are very thorough in following suit so they are always close games. In the women's game, when Danny was coaching the women's team it was the same story. Very tough, very thorough, very well-coached and they always tried to do something different to what they used to do and that is also a challenge for us. But, having said that, more than any other time of the season, the focus is going to be on ourselves, purely."

How much time will you have had with the squad before the FIH Hockey Pro League matches?

Max Caldas: "We have had enough time I think. You always want more, that's the character of the coach, but the clubs in Holland have been very helpful this season and we have been able to train with each other since 7 September. So, it's been okay. This break in the Hoofdklasse now because of the pandemic gave us a chance to readjust and actually add more days. So, we should be okay, although we still don't know as we haven't played together since February but I am happy with our preparation."

#FIHProLeague
#HockeyInvites

Official FIH Pro League Site


---

Billy ready to re-enter the FIH Hockey Pro League fray




Billy Bakker is the Netherland's inspirational captain and midfielder. Highlighted by Great Britain Head Coach Danny Kerry as one of the danger players in the Dutch side, Bakker is a player who, with his strength on the ball and extraordinary ability to read the game, can really make things happen.

Bakker has been a fixture in the Netherlands team since 2009, and has has 217 international caps to his name. A silver medal at the London 2012 Olympic Games, a silver at the 2018 World Cup and two gold medals from the EuroHockey Championships are just some of the trophies Bakker has accumulated over his long career. As the Netherlands restart their FIH Hockey Pro League campaign with two matches against Great Britain, Bakker will be looking to add to his medal haul in the next 12 months.

What does it mean to you and your team to be able to play international hockey again?

Billy Bakker: "In these times, it is always a pleasure to play again, because our last game was in February. We are looking forward to playing an international game again. We embrace those games."

Are you concerned about players being 'off the pace' or has the team training and the restart of the domestic league erased any rustiness?

Billy Bakker: "No, I am not worried at all because we train a lot and also, during the Covid-19 period, we trained several times with the Dutch team and we also play in a [league] competition every Sunday, so I am not worried.

What are you expecting from Great Britain in terms of playing style and strategy and what are you looking for from your teammates to put pressure on them?

Billy Bakker: "When I look to the earlier games we played against Great Britain they gave a lot of energy, of course, and they give a lot of strength and power hockey. They also have a lot of skillful players so it will be a tough game of course. They have a lot of talent and a lot of young energy. We are looking to attack them with a lot of speed. We have a good penalty corner routine. It will be a good clash and we will see what the outcome is."

#FIHProLeague
#HockeyInvites

Official FIH Pro League Site


---

Great Britain Hockey set for biosecure week in Holland, Belgium

By Rod Gilmour




Great Britain's hockey players will enter a biosecure bubble on Friday morning ahead of their first FIH Pro League matches since February.

GB men and women will travel on four coaches – instead of the normal two – and arrive in Holland on Sunday ahead of FIH Pro League double header matches against Holland and Belgium next week. Their tour comes amid rising coronavirus cases in both countries.

Players will arrive individually and be Covid-tested at their Bisham headquarters on Friday and then go into self-isolation at a hotel, with results expected within 24 hours, before they travel out.

Preparations for the short continental tour started three weeks ago. Players and staff had been able to opt in or opt out and GB Hockey said some had opted out of travelling.

Since last week, the squad had been urged to take "an incredibly conservative approach" to daily life ahead of Friday's testing.

When the squads are announced prior to departure, both teams have injury concerns, while women's captain Hollie Pearne-Webb is not expected to travel. Goalkeeper Ollie Payne, the new addition to the men's programme, could be set for his senior debut.

Meanwhile, GB's participation on the continent means that English club hockey will be without its top stars this weekend, while Surbiton men look set to be without all seven of their outfield players.

When the GB team arrive in Holland on Sunday they won't be quarantined at the hotel, while players will be able to leave the confines in small groups to venture outside.

At the 2018 World Cup in India, England men opted to use their own restaurant in Bhubaneswar to stave off illness. And Ed Barney, GB Hockey's performance director, told THP that the upcoming matches had some of the same aspects of preparation.

"There are parallels with more of the more challenging environments and we drive a lot of confidence from that," said Barney. "If you look at the Olympic Games and what it will look like, we are beginning to adjust to that."

GB Hockey has used a ranged of mental health support to aid the men's and women's programme since the pandemic, including calling upon an organisation which had helped in crisis management around the Christchurch earthquake in 2011.

GB's matches will be a first marker ahead of their Tokyo 2020 preparations. The double headers against Holland will start on Tuesday behind closed doors at Amsterdam's Wagener Stadium, venue for next summer's EuroHockey Championships.

Nick Pink, England Hockey's chief executive, said: "We know how important this next week is, for the sport, and on a wider context for Great Britain hockey."

The Dutch Hoofdklasse league, billed as the best in the world, was halted last week.

The Dutch teams will be tested on Sunday while players will stay in their own hotel room in isolation until the tests are known. While GB players will be allowed to go outside, next week looks set to be different for the Dutch squad.

Holland men's coach Max Caldas told Hockey.nl: "You are not allowed to go outside, except to train and play. In that respect it will be no different tha when we play hockey in Bhubaneswar. But it is nice that we can play. We are in a privileged position."
---

Indian hockey team is shaping up well for Tokyo Olympics, says Kothajit Singh

The national camps for the men's and women's hockey teams resumed at the Sports Authority of India centre here in August after a 45-day break because of the COVID-19 pandemic.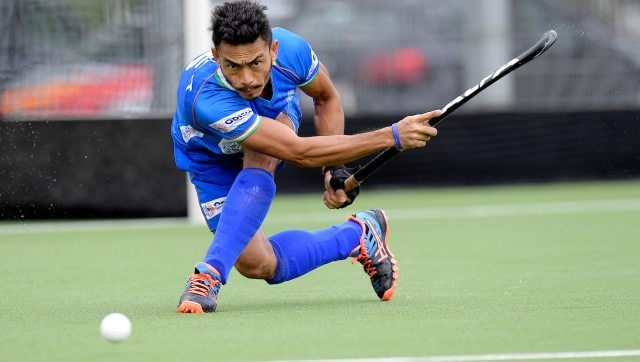 File image of Kothajit Singh. Image courtesy Hockey India

Bengaluru: The Indian men's hockey team has resumed training at just the right time after a break forced by COVID-19 and will be in a strong position for next year's Tokyo Olympics, believes senior defender Kothajit Singh.

The national camps for the men's and women's hockey teams resumed at the Sports Authority of India centre in August after a 45-day break because of the COVID-19 pandemic.

"It's been great to be back on the pitch. We have seen a lot of improvement over the last two months and we are shaping up well for the Olympics," said the Manipuri player, who has represented India in over 200 matches.

"We have returned to the pitch at the right time and therefore we have enough months to get back to our full form and get even better as a side."

Having returned to the national team in the FIH Hockey Pro League earlier this year after missing out on the Olympic Qualifiers, Kothajit very well understands the pain of warming the bench. He is keen to cement his place in the upcoming months.

"Being out of the side is never easy and therefore I am determined to work as hard as possible to cement my spot in the team," he said.

"I analysed my game thoroughly during the lockdown and I know the aspects of my game that I need to work on.

"The next few months are very crucial for all of us and with the Olympics being postponed, and we have a great opportunity to strengthen our individual and team game," said the 28-year-old.

Firstpost


---

Dipreet: My immediate goal is to get selected for the Tokyo Olympics



Photo: K. Arumugam

Bengaluru: Olympic dream is what drives emerging hockey sensation Dilpreet Singh in these difficult times. The young but World Cup player says that he is determined to utilize the next few months to the fullest to get better at his game so that he can fulfill his desire of getting into the Indian Olympic team.

Says the Champions Trophy silver medalist: "I am very determined to utilize the next few months to the fullest to get better at my game so that I can find a place in the Indian Olympic team. It was great to be back in the senior team for the FIH Hockey Pro League earlier this year. I have jotted down all the aspects that I need to improve on and I am working on them one by one. We have a great forwardline and it will be fantastic to play alongside brilliant players and perform for the national side in the quadrennial event."



Dilpreet in action against Pak (U-18 Asia Cup). He rose from ranks to climb up the ladder in a short span of time. Photo: K. Arumugam

Dilpreet Singh, who missed out the Lucknow Junior World Cup had already made out for that being part of the many memorable moments including winning Silver at the Breda Champions Trophy  and getting selected for the latest home World Cup.

He feels that the current phase is very crucial for the youngsters in the Indian team.

"With the Olympics being postponed to 2021, a huge opportunity has emerged for the youngsters to hone their skills further and make it to the Indian Olympic team. The months leading up to the Olympics is a very crucial phase for the youngsters as opportunities like this don't come everyday. Playing in the Olympics is a dream for any sportsperson and all of us have a great chance of turning our dream into reality in a few months' time."

Dilpreet Singh added that he has been even more enthusiastic about playing hockey after returning to the pitch for sports activities in August.

"It's been certainly wonderful to be back on the pitch again. I have found a new zeal in myself for the sport and I'm loving every minute of it. We are taking things slowly at the moment, but we are improving and moving forward every day, which is the most important thing. Hockey India and SAI have been exceptionally helpful in the last few months. They have understood our requirements perfectly and executed all the safety measures seamlessly so that we can focus on our game".

With inputs from Hockey India

Stick2Hockey.com


---

Junior probables back on the turf after six months




Bengaluru: Indian junior core group girls are back on the turf after six months' of Covid-19 induced break.  The Core Probable Group arrived in SAI, Bengaluru on 5 October 2020 and underwent a two-week mandatory quarantine period before commencing activities this week.

Expressing the team's excitement, Mumtaz Khan, talented young forward who had scored a total of 10 goals at the Youth Olympic Games 2018 in Buenos Aires where India won the Silver Medal, said it's a relief to be back on the field again.

"It was a new and challenging experience to be in quarantine for two weeks. It reminded me of my injury days when I had to limit my movement and was advised rest. I am happy and kind of relieved that we are finally back on the field," stated Khan, who hails from Lucknow said.

The youngster who also has the Bronze medal from the U-18 Asia Cup in 2016, Silver from the Six-Nation Invitational Tournament from 2018 and the Gold medal from the Cantor Fitzgerald U-21 Four-Nation tournament last year feels the regime the players were asked to follow when they were on a break helped them maintain their fitness.

"When players come into Hockey India's National Program, a lot of awareness is created about fitness and diet. We are always told what to do when we are on a break, how to take care of ourselves, our weight etc. when there is no camp. We are usually given a particular regime to follow and when we were on a break, we were doing basic workouts at home during the lockdowns and once it ended, we would do basic running etc to work on our aerobic fitness," she said.

Khan also expressed gratitude towards her senior compatriots who egged them on via video calls during their quarantine period.

"The Senior Women's Team who are also here would often make video calls to keep us encouraged and they would tell us about their experience in quarantine and how we can keep ourselves occupied. We are thankful to Hockey India and SAI for commencing our National Camp again and providing such a safe environment to train," she said.

The Junior Women's Core Probable's Group will be working on hitting their old form and prepare for the Junior Asia Cup which will be a qualifying event for the FIH Junior Women's World Cup.

"I feel we were in very good rhythm before the pandemic began. We had won important matches against good teams. Now we need to work on getting back to that same rhythm," she said.

With inputs from Hockey India

Stick2Hockey.com


---

Watch live English Hockey League coverage this weekend!




After a hugely entertaining 16-goal thriller between Old Georgians and Oxted was shown live on the England Hockey Facebook page last week, you can look forward to seeing more top-flight action again this weekend.

Tune in to the England Hockey Facebook page from 14:00 on Saturday 24 October to watch Beeston host Wimbledon in the Women's Premier Division for what looks set to be a gripping game.

You can also watch East Grinstead's double header on Saturday when their men face Beeston at 13:00 before the women's team take on the University of Birmingham at 15:00 live on their YouTube channel – available HERE.

Since you can't be on the side-lines spectating matches, make the most of free to watch EHL coverage straight to your home with three live games this weekend and more to come in following rounds.

England Hockey Board Media release


---

Oxted taking positives from round 5 thriller




It was goals galore last weekend, with just three matches yielding 26 goals – including a rip-roaring 10-6 scoreline between Old Georgians and Oxted. The fact this match was streamed online meant that hockey fans everywhere were able to enjoy the goal feast.

Oxted fired six goals past Old Georgians but conceding ten meant the points went the other way. So this week their Head Coach Nick Giles will be hoping his team concede fewer while still finding the net.

The last time a losing side scored six goals in the Premier Division was 2012, when East Grinstead lost to Beeston 8-6. It is not a record Oxted will be celebrating, but Giles is determined to look at the positives.

"There are so many positives for us to take from the game," he said. "Many of the things we talked about before the game we put into action and were able to exploit the opposition's weaknesses.

"The main thing we learnt is that we have the ability to beat some of the top teams in the league. We didn't phase the game out well at all, but we have to believe that we are capable of putting ourselves in these positions again and next time execute our phase out. A number of things we have previously talked about regarding phasing out a game we can improve, we just need to make sure we readdress these going into next weekend."

That said Giles admits his team were "gutted" at the result, but on reflection being 6-4 up against one of the league's top teams has boosted their confidence ahead of the match against Surbiton this weekend.

With that in mind, Giles says there will be very little difference in their preparations for the encounter with the reigning champions.

"Our overall preparation will be very much the same as other weeks. We will have two good training sessions this week catered to working on some important areas for us, as well as identify some of the opportunities available for this weekend."

The focus for those sessions will be on closing down the Surbiton attacking penalty corner routine and creating quick turnover counter attacking opportunities. The other focus will be on physically and mentally performing for the duration of the match.

For their part, current league leaders Surbiton enjoyed a bye last week but still maintain top spot. They will be looking to quickly regain earlier momentum and ensure they finish the weekend ahead of the pack.

Old Georgians lead the chasing duo, ahead of Hampstead & Westminster on goal difference, albeit the North London side has a game in hand.

Both Durham University and Wimbledon were impacted by Covid-19 restrictions last weekend. The students were unable to host Holcombe, while Wimbledon's visit to Exeter University was postponed. If Covid restrictions permit, both sides will want to find winning ways. Wimbledon lost their last match 1-4 to an in-form Hampstead & Westminster, while Durham have yet to get any points on the board.

Were the team from the North East to taste victory, they could well leapfrog both Exeter and Brooklands MU and leave the bottom of the table. Exeter have a bye this weekend, while Brooklands MU's game against Old Georgians has been postponed.

An intriguing clash is scheduled between Holcombe and Hampstead & Westminster. With Matt Guise-Brown popping in penalty corners with regularity and the team-wide confidence that comes from roundly beating East Grinstead, Kwan Browne's team will be ready to do battle with Holcombe and continue to push for a top two place in the league.

However, Holcombe's enforced week away from the action could be just what was needed for Julian Halls to get his team back on track after their loss two weeks ago to Wimbledon.

Level on points and with two wins apiece, the match between East Grinstead and Beeston has all the promise of a feisty affair. Both teams have played some good hockey this year but both are yet to really hit their stride and find consistency. A prediction for this game is an exciting, evenly-matched encounter, with little room for error.

FIXTURES:

Men's Hockey League (Saturday, 24 October):
Premier Division
East Grinstead v Beeston 13:00
Holcombe v Hampstead & Westminster 18:00
Oxted v Surbiton 18:30
Wimbledon v Univ of Durham 17:30

Division One North
City of Peterborough v Univ of Nottingham 13:30
Olton & West Warwicks v Deeside Ramblers 12:00

Division One South
Brighton & Hove v Sevenoaks 17:00
Havant v Teddington 13:15
Old Cranleighans v Reading 14:30
Oxford Hawks v Canterbury 17:30
Team Bath Buccaneers v Southgate 12:30

Conference East
Harleston Magpies v Richmond 13:30
London Wayfarers v Old Loughtonians 14:30
Spencer v Bromley & Beckenham 13:30
Wapping v London Edwardians 18:00
West Herts v St Albans 13:30
 
Conference North
Barford Tigers v Belper 13:00

Conference West
Ashmoor v Cheltenham 14:30
Fareham v Plymouth Marjon 13:30
Isca v Chichester 12:00
Univ of Bristol v Harborne 14:00

England Hockey Board Media release


---

East Grinstead looking to assert their advantage




With Loughborough Students on their bye week and missing a game because of Covid-19 restrictions, the opportunity opens up for East Grinstead to extend their lead at the top of the Women's Hockey League Premier Division to six points.

The University of Birmingham, who lost 2-0 to Wimbledon, will have to plug their defensive gaps if they hope to swap the consistently forceful East Grinstead attack.

There are some intriguing fixtures to look forward to this weekend, not least when Holcombe play host to Hampstead & Westminster. It is an encounter between two well-matched teams who are level in the league and who both aspire to play innovative and creative hockey.

"We had a really good competitive game against Clifton," said Holcombe's Head Coach Kevin Johnson. "They are a good side I have always had a lot of respect for, so to travel there and pick up the three points in a tough battle was great for us and a real lift after a break week and a frustrating result and performance two weeks previous.

"We just need to keep adding more quality into our performances. Every game so far has been competitive and the team is working very hard and giving everything for the cause, but we have been unable to produce consistent outcomes in key moments and phases at times so far. I will be asking us for more of this in future games and to keep demanding more from each other in training to help achieve this."

The fact that Holcombe has taken time to settle is no real surprise; there were a number of comings and goings over the summer, so gelling as a team was always going to take time.  

It's a fact that Johnson highlights: "It's been a steep learning curve with so many players leaving in the summer and a number of new arrivals to bed in, as well as me returning as coach.

"We have all had to work out what we can achieve with this different group; how to efficiently go about it to bring the best out of each other; and to continually review and challenge our processes around achieving that.

"It's been really fun though, despite the need to work hard and fast and there is a great spirit developing in the group. A good example of this is the way we have picked ourselves up after two losses to respond with better performances in the following games. This gives a lot of confidence that we all care a lot about doing the right things and to not focus on the negatives for too long.

"There is still a long way to go with where I want us to be but I'm also grateful in the current climate to just be able to be on a pitch regularly with the team and to enjoy what we do when so many people are compromised in this way currently in wider society with the COVID situation."

Looking ahead to the match against Hampstead & Westminster, Johnson says the London-based team has a lot of experience and have been delivering a consistently good performance.

However, he adds: "For us right now it is about finding some consistency ourselves and worrying about the parts that are in our control. The focus for us will be purely about that, seeing if we can back up a good performance with the next good performance and then I know we are continuing to move forward as a group."

When Wimbledon were promoted, they probably did not expect to find themselves in third place in the league at this stage of the season. The players have found their feet quickly and have shown they have both the physical and mental attributes to not just survive but also thrive at this level.

It helps to have the positivity of Olympian Alex Danson-Bennett urging them on from the bench while refining some of their attacking strategies, and the team will certainly travel to Beeston with high hopes of another three points. A match that promises plenty of entertaining action, you can watch the game live on the England Hockey Facebook page from 14:00 on Saturday 24 October.

Buckingham's win over Swansea moved them up to joint fourth in the league and they will be looking to hit Clifton Robinsons while the Bristol side are still recovering from their unexpected loss to Holcombe.

Swansea will be without a game this weekend with their trip to Surbiton having been postponed.

FIXTURES

Women's Hockey League (Sat, 24 October 2020):
Premier Division
Beeston v Wimbledon 14:00
Buckingham v Clifton Robinsons 12:00
East Grinstead v Univ of Birmingham 15:00
Holcombe v Hampstead & Westminster 16:00

Division One South
Canterbury v Surbiton 2s 15:00

Conference East
Bromley & Beckenham v Horsham 12:30

Women's Hockey League (Sun, 25 October 2020):
Division One North
Belper v Leicester City
Ben Rhydding v Stourport 13:30
Univ of Durham v Olton & West Warwicks 14:00
Univ of Nottingham v Gloucester City 12:30
 
Division One South
Reading  v Harleston Magpies 13:30
Sevenoaks v Trojans 13:30
Slough v Wimbledon 2s 14:00

Conference East
Chelmsford v Barnes 14:00
East London v Hampstead & Westminster 2s 12:00
Southgate Canterbury 2s 14:30
St Albans v Bedford 14:00

Conference West
Bristol Firebrands v Oxford University 13:00
Cheltenham v Oxford Hawks 12:30
Clifton Robinsons 2s v Basingstoke 14:00
Exe v Univ of Birmingham 2s TBC
Sutton Coldfield v Team Bath Buccaneers 13:30

England Hockey Board Media release


---

FIH approves reviewed gender equality policy




Lausanne, Switzerland: Meeting today via online conference under the chairmanship of FIH President Dr Narinder Dhruv Batra, the Executive Board (EB) of the International Hockey Federation (FIH) ratified the reviewed FIH Gender Equality Policy.

The review had been conducted by the FIH Women in Sports Committee, chaired by FIH EB Member and European Hockey Federation President Marijke Fleuren, who is also a member of the IOC Women in Sport Commission.

In doing so, FIH has reiterated its commitment to reach a gender-equal representation off the field of play (for example, in the composition of its Committees). The reviewed policy also stresses the need to implement gender balance across all hockey institutions (FIH, Continental Federations and National Associations). FIH will be holding a number of webinars to promote gender equality, with the first one planned in November.

Furthermore, the EB approved the applications of Gambia, Saudi Arabia and Timor-Leste as provisional FIH Members. The applications of these three countries to become full FIH Members will be submitted to the next FIH Congress in May 2021.

All Continental Federations reported on their activities which, despite the challenges caused by the global COVID-19 pandemic, are going on with full commitment and dedication.

On the pitch, the FIH Hockey Pro League will resume next week, with fourteen matches involving the national teams of the Netherlands, Great Britain, Belgium and Germany scheduled over the next three weeks.

For more information about FIH and hockey in general, please download the Watch.Hockey app or follow the FIH social media channels - Facebook, Instagram and Twitter – and website.

FIH site


---

A stroke in time! How Indian hockey team won gold back from Pakistan at Tokyo 1964

Having lost their Olympic crown to Pakistan at the Rome 1960 Summer Games, the Indian hockey team regained the title beating its arch-rivals at Tokyo 1964.

By Naveen Peter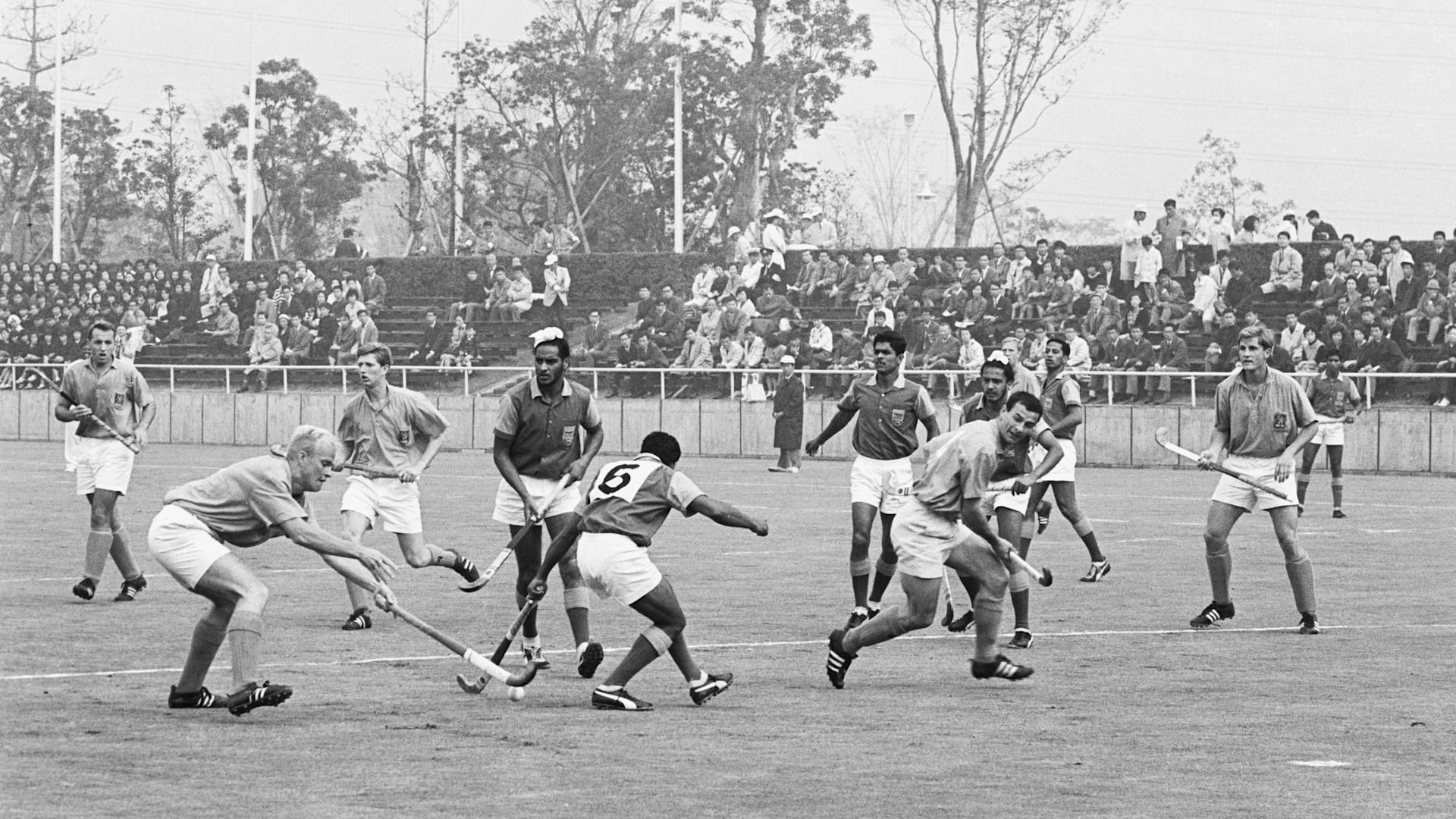 For an Indian hockey team that dominated the early years of the game — a run that included six consecutive gold medals at the Olympics — the loss to neighbours and arch-rivals Pakistan in the final of the 1960 Olympics was a setback.

Determined to regain its lost crown, the Indian hockey team did everything to ensure that the Olympic title returned home four years later.

"There was a lot of pressure after the defeat in 1960. There was so much passion for the sport in the country that nothing less than gold was acceptable. More so, because Pakistan had also beaten India in the 1962 Asian Games final." Harbinder Singh, one of the key members of the Tokyo 1964 Olympics team told Indian Express.

The selection of the team for the 1964 Games began with the national championships in New Delhi. As many as 77 players were shortlisted for a month-long camp in Jalandhar under coach Habul Mukherjee. But making it the final list was a herculean task for many

"We used to play positional hockey those days and it was very tough for the selectors to prune the numbers," Harbinder Singh, the former Indian forward, said.

"The initial group of 77 was first reduced to 55 and then 36. The final squad of 18 was to be decided after a three-day selection trial but such was the competition that it had to go into the fourth day before the team was finalised."

Moreover, with no major disagreements within the team and regionalism yet to creep into the set-up, the Indian hockey team for Tokyo 1964 was a strongly-knit unit.

India's preparatory tours to New Zealand and Malaysia ahead of the Games only strengthened this claim as convincing wins gave the side enough confidence heading into the Olympics.

Tokyo Olympics: The Asian debut

At the 1964 Olympics, the Indian hockey team had its task cut out. With hockey establishing itself in Europe and Southeast Asia catching up, the campaign -- held in Asia for the first time -- was going to be anything but easy.

Meanwhile, former Indian hockey greats like William Goodsir-Cullen, Kishen Lal and Richard Carr took up coaching roles with other teams. And with the Indian diaspora growing, many talented players who couldn't make the Indian team chose to join the teams of their 'second' nation, making the competition fierce.

This period also saw hockey in India evolve. They ditched their skilful artistry with the stick and banked on a more physical game while relying on short corners for the bulk of their goals.

This change helped India keep the Europeans in check but it also allowed their opponents enough opportunities to challenge them. And this was evident in the way the Indian hockey team went about its business at Tokyo 1964.

Led by captain Charanjit Singh, India won 2-0 against Belgium in the opening group match and it was followed by their first-ever draw at the Olympic Games.

Against Germany, the Indian hockey team trailed from the 20th minute and even stared at a rare possibility of a group-stage defeat. But Prithipal Singh, who impressed many at his debut Games four years ago in Rome, ensured that his team pulled one back from a penalty corner.

That draw was followed by another 1-1 result against Spain before India got into their groove and recorded four consecutive wins to make it to the semi-finals as the table toppers.

Defender Prithipal Singh was in top form netting 11 goals while the forward line of Harbinder Singh and Joginder Singh proved to be a terror for the opposition defence.

Incessant rain in the semi-finals didn't slow them down either as India beat Australia 3-1 in slushy underfoot conditions.

It meant that the Indian hockey team now had a chance to win back their Olympic title. And once again standing in their way was Pakistan.

India vs Pakistan for Olympic gold

India vs Pakistan is a match that hockey fans across the world crave for. And things were no different at Tokyo 1964.

While India had grown from strength to strength as the competition progressed, Pakistan looked menacing from the first match.

Comfortable wins over Australia, Great Britain and hosts Japan had seen them lay down the marker. But their biggest challenge was yet to come.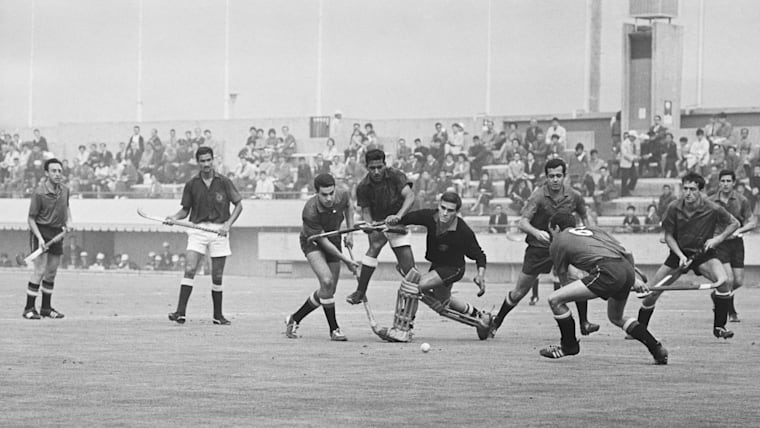 Pakistan came into the Tokyo 1964 Olympics final having won all their matches.

Hockey matches between India and Pakistan - each boasting of quality players - are largely free-flowing and a delight to watch.

But the final at Komazawa Hockey Field was very different.

"Relations between the two teams were not very cordial. We were not on talking terms. Against India, Pakistan employed a very rough game," explained Harbinder Singh.

"Those days, there were no television cameras and video referrals, and it was very difficult for the umpires to spot all the fouls and infringements."

At a point, the match got so rough that the umpire had to intervene and lined up both the teams asking to 'behave' themselves.

Goalless at half time, India pushed for the opener in the second half and were soon rewarded with a penalty corner five minutes after half-time.

Though Prithipal Singh drove in with a fierce hit from the top of the striking circle, his shot struck Pakistani captain Manzoor Hussain's foot on the goal line, handing India a penalty stroke.

This time, Mohinder Lal made no mistake from the spot to hand Indian the lead.

Defending champions Pakistan, however, came back roaring and created opportunities to score but only just. Standing like a rock was Indian goalkeeper Shankar Lakshman, who ended with the man of the match award.

The shot-stopper from Mhow - a cantonment in Indore in the state of Madhya Pradesh - pulled out two brilliant saves from Munir Dar's short corners as India held on to the slender lead to regain the Olympic title.

India played nine matches - winning seven and drawing two - in just 12 days and celebrated with a traditional bhangra dance once they had sealed the gold medal.

As India prepares to return to Tokyo for another Olympic adventure next year, the memories of the 1964 Games will be a guiding force for the team.

Olympic Channel


---

East Syracuse Minoa's Field Hockey Coach Challenged Players to be Weird. They had a Very Formal Response.



Content Courtesy of Lindsay Kramer, Syracuse.com

Syracuse, N.Y. - Working with a young and inexperienced team, East Syracuse Minoa field hockey coach Kate Harris figured this might be a challenging year.

She was right about that. The Spartans have started the schedule 0-4-1.

But in this uncertain era of coronavirus (COVID-19) concerns, Harris thought that more should be milked out of this season than just scoring and wins. Fun was at the top of her priority list.

And that's where Harris saw her team really coming up short. The players had good personalities individually, but as a group Harris said she thought the Spartans were too reserved and even "boring." So she recently told the players to liven it up a bit.

CLICK HERE FOR THE FULL STORY AND GALLERY

USFHA media release