All the news for Thursday 22 October 2020

Alyson takes a step back to reflect and move forward




Alyson Annan is Head Coach to the ultra successful Netherlands women team. Under her guidance and leadership, the Netherlands have not just maintained their spot at the top of the world rankings, but have cemented it. Annan herself has been voted FIH Coach of the Year for the past three years – tribute and recognition of her own desire to keep pushing the boundaries of excellence. But, even though her team were building up momentum in the FIH Hockey Pro League before the enforced break, the chance to step back and reflect on the game over the past few months has been valuable time for the coach and her squad.

Ahead of their return to action, Annan reflects on how her squad will regain momentum and the threat posed by their next opponents – Great Britain.

Your squad had built good momentum when the enforced break happened. How are you ensuring you return to international action at that same pace and intensity?

Alyson Annan: "We have been very fortunate during the Corona period with the very strict rules which meant we were able to keep a little bit of momentum in our training. There were periods of time when we didn't see the girls due to them going back to their club. The last period we had an enforced break from [club] competition, which meant we were able to train together which we didn't count on. So, we are happy to have the continuation in our programme so we have been able to prepare for these matches. I look forward to putting a team together that has been able to train together a week before playing the matches."

What will be the main areas of performance that you and your team will focus on?

Alyson Annan: "The main areas we will focus on in the games is just getting momentum in our play and getting back to some sort of international level. Given everyone has the same challenge, we haven't played since February, it is important to get out there, play together and get some continuation and patterns into our play. And also, knowing it is only to be a few games, so we need to make sure they come out of the other end fit."

What are you expecting in terms of style of play from Great Britain and how will you counter their strengths?

Alyson Annan: "Great Britain are a strong team. They are very physical and very fast and I expect they will be the same. They have always played that way so I think their physical strength on and off the ball will be very challenging for our girls. That will be something we will need to focus on when playing against them. But really, our focus is on how we play, not how they play but our focus will be on their physical strength."

The break has given many players a chance to recover from injury and re-set mentally. While no-one would ever wish a situation such as this pandemic to happen, is there a value that has perhaps not been appreciated before in having an enforced period away from the game?

Alyson Annan: "No-one would ever want this to happen to anyone anywhere. The world is standing still at this point in time. But, it has given us a time and a chance to give the players rest, not only physically but mental rest from the game. Just taking a look back at why we are playing the game. And when you can't do something that you love, then you love it more, so it has brought back a little bit of passion in the game. The girls have also given us a little more passion and creativity - thinking about what are we doing, why are we doing it and what can we do better. And also, it has given us, as a coaching staff, the chance to do that too, Even though it is not a great situation, it has really given us the chance to step back and look at what we are doing and also have a bit of rest ourselves, so it has been okay."

#FIHProLeague
#HockeyInvites

Official FIH Pro League Site


---

Eva set for return to biggest hockey stage




With two Olympic gold medals [2008 and 2012], two World Cup gold medals [2014 and 2018], plus numerous other awards and trophies, Eva de Goede is a central part of the most successful women's squad this century. De Goede herself has been individually recognised as she picked up FIH Player of the Year awards in 2018 and 2019.

De Goede has 240 international caps to her name, despite taking a break from the game in 2017. Since that break, which was partly for injury recovery and partly for mental recovery, she has returned to the sport, possibly even stronger and with greater game understanding, than ever before. In the matches against Great Britain, expect to see the agile midfielder dictating play from the centre of the Dutch midfield.

What have you been doing as a team to maintain a sense of togetherness and momentum throughout the lockdown?

Eva de Goede: At first during lock-down we spent a lot of time individually, running a bit because we couldn't play, we've done a lot of Zoom calls and meetings to feel a sense of togetherness. When we could go back on the field we were just so happy to be playing hockey again and actually that is what we have been doing mostly ever since we could play."

How pleased are you and your team mates at the prospect of international hockey again?

Eva de Goede: "We are super-excited to be back and we are looking forward to our game next week against Great Britain. It is going to be amazing to be back playing at the highest level and in the FIH Hockey Pro League. It has been great to play in the [domestic] league but to be playing internationally again that is what we play for, so we are super-excited about it."

How important has the return to club hockey been for erasing rustiness from the players' performances and, at the same time, how will time spent in opposition with each other in the domestic league impact the way you play together as a team in the national team?

Eva de Goede: "It is great to be playing in our league [Hoofdklasses] again because our league is great and it is nice to play for your club teams but on the other hand, of course, we play against our Dutch team mates as well. I don't think it is too bad that we play each other because we play the best players in the world, in my opinion. That has been good and then, when we get together with the national team, then we get that togetherness again as we wear the orange shirt.

What will be your main strengths as a team going into these games?

Eva de Goede: "It is just about enjoying hockey, enjoying being together and showing everyone our best because we have missed this so much so that will be our biggest strength. We will enjoy being back and being on the biggest stage again.

#FIHProLeague
#HockeyInvites

Official FIH Pro League Site


---

Hockey Ireland Announce Men's Head Coach




Hockey Ireland is pleased to announce the appointment of Mark Tumilty as Head Coach for the Irish Senior Men. The appointment comes as the squad looks ahead to the European Championships next August.

Tumilty was initially appointed to the Head Coach role for the Irish Senior Men's squad on a short term basis as they faced into their final weeks of preparation for their Olympic Qualifier against Canada last October. However, the position was extended into 2020 in line with a normal Olympic cycle. With European Championships scheduled for August 2021 and the World Cup qualification process getting underway in early 2022, Tumilty has used the past year to widen the Men's panel and provide some younger players with the opportunity to step up, with the aim of making the squad more competitive.

Speaking on the announcement, Head Coach Mark Tumilty said, "It is an honour and privilege to be given the opportunity to coach the Irelands Senior Men's team. I am really excited by the players we have available and look forward to developing those players over the next period. I want to develop an attacking style of hockey and to create an environment for all players to fulfil their potential during our preparation for the 2021 European Championships."

Hockey Ireland Performance Director, Adam Grainger, had this to say on the announcement, "Hockey Ireland High Performance is delighted to reappoint Mark Tumilty as Senior Men's Head Coach. Despite the disappointment of the unsuccessful qualification for Tokyo 2020, it was very clear from existing players and staff feedback that the leadership of Mark was well received leading into Vancouver qualifiers and subsequently. To date, 2020 has not allowed regular programme activity for the Senior Men, yet Hockey Ireland is very much looking forward to working with Mark, his Management Team and the players as they move forward towards their 2021 European Championships and beyond".

Irish Hockey Association media release


---

Tumilty confirmed as head coach of full-time basis after year as interim boss



Mark Tumilty during the Olympic qualifiers in Vancouver. Picture: Chris Wilson

Mark Tumilty has been confirmed as the Irish men's head coach on a full-time basis following close to a year holding the post on an interim basis.

He initially took on the job for the month leading up to last October's Olympic qualifiers in Vancouver after Alexander Cox vacated the role in the wake of European Championship relegation two months earlier.

Tumilty provisionally remained in situ while the post was re-advertised when the Olympic Games was originally due to conclude with the former Banbridge boss among the applicants.

He duly got the nod and will now look forward to a hectic 2021 – despite no Olympic campaign – with August European Championships and the World Cup qualification process close on the horizon.

To that end, he has significantly widened his panel during the summer with the likes of Cork C of I's Kevin O'Dea, Conor Empey, Troy Chambers, Johnny Lynch, Ryan Spencer and Mark McNellis among those joining training sessions.

In addition, David Hobbs has been working with a Munster group to try and increase levels of representation from the southern province.

Tumilty said of the confirmation of the full-time role: "It is an honour and privilege to be given the opportunity to coach the Irelands Senior Men's team. I am really excited by the players we have available and look forward to developing those players over the next period.  

"I want to develop an attacking style of hockey and to create an environment for all players to fulfil their potential during our preparation for the 2021 European Championships."

Hockey Ireland's High Performance Director Adam Grainger, meanwhile, added: "Despite the disappointment of the unsuccessful qualification for Tokyo 2020, it was very clear from existing players and staff feedback that the leadership of Mark was well received leading into Vancouver qualifiers and subsequently," he said.

The Hook


---

Mark Tumilty appointed men's coach after filling short-term role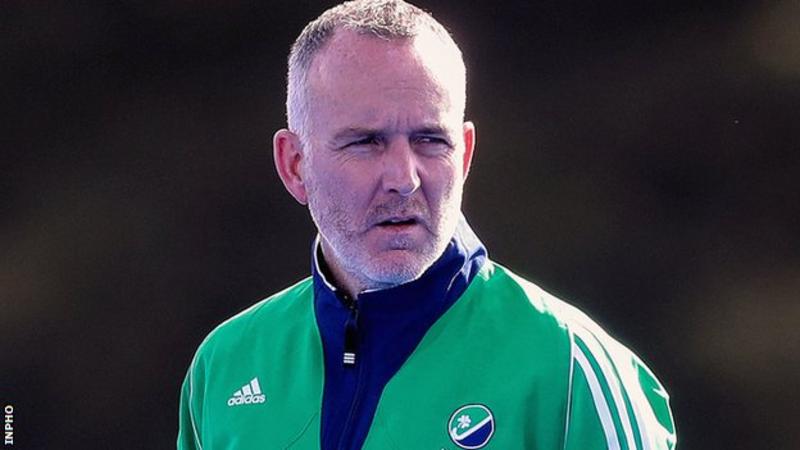 Mark Tumilty was appointed temporary head coach for Ireland's Olympic play-off

Mark Tumilty has been named Ireland men's hockey coach after stepping into the role on a short-term basis for the Olympic play-off against Canada.

Tumilty took charge for the play-off after Alexander Cox's exit following the team's EuroHockey relegation.

The Irish suffered a controversial loss in their play-off against Canada last October after the awarding of a last-second penalty stroke in normal time.

Tumilty's term was extended to December before Wednesday's announcement.

The coach's main focus in 2021 will be preparing the squad for the European Championships in August.

"It is an honour and privilege to be given the opportunity to coach the Ireland's senior men's team," said the Ulsterman.

"I want to develop an attacking style of hockey and to create an environment for all players to fulfil their potential during our preparation for the 2021 European Championships."

Hockey Ireland performance director, Adam Grainger said the governing body was "very much looking forward" to Tumilty's continuing input.

"Despite the disappointment of the unsuccessful qualification for Tokyo 2020, it was very clear from existing players and staff feedback that the leadership of Mark was well received leading into Vancouver qualifiers and subsequently," said the Hockey Ireland performance director.

The global pandemic has severely restricted activity for the Ireland men's squad but Hockey Ireland is hoping to be able to step up work in the weeks and months ahead.

After Ireland's play-off defeat in Vancouver, Tumilty said players in his squad had "given up careers and relationships" to chase their Olympic dream.

After winning the first leg 5-3, Ireland were already celebrating a 6-5 aggregate win when Canada asked for a video referral after Lee Cole's challenge on James Wallace inside the Irish circle.

Video umpire Diego Barbas astonished the Irish by awarding a penalty stroke, which Canada scored before prevailing in the subsequent shoot-out.

BBC Sport


---

Hockey Ireland Coronavirus (COVID-19) UPDATE No. 10 regarding Level 5 COVID-19 Restrictions

As of midnight, on Wednesday 21st October, the Republic of Ireland is moving to Level 5 COVID-19 restrictions. These restrictions will remain in place for a period of 6 weeks. The effect of these restrictions on Hockey activity have been highlighted below.

These restrictions will apply to all Clubs in the Republic of Ireland.

Under Level 5, individual training only is permitted, and no matches are to take place. The exemptions to this are:

    Non-contact training can continue for school-aged children, outdoors in pods of 15. This means that at no point during the session should a player come within 2m of another player. Exercises involving tackling (such as 1v1s), marking or match play should not be undertaken.

    Elite sports* are permitted to continue behind closed doors – For Hockey this has been defined as the National Senior Men's and Women's Programmes. They are permitted to train and play behind closed doors.

*Please note: This category has been defined by the 'Return to Sport Expert Group' which has been established by the ROI government to provide guidance to Ireland's sporting bodies to prepare for the phased return to sporting activity.

Under Level 5, while domestic travel restrictions do not allow movement outside of a 5-kilometre radius of home, it is permitted to take school-aged children to club training sessions. Club coaches may also travel to training sessions.

Northern Ireland

Ulster Hockey has advised that all hockey club training is suspended until 14 November 2020.  This coincides with the timing of the NI Executive's current restrictions. Please check the Ulster Hockey website for the latest guidance.

Hockey Ireland will continue to follow the developments and will respond as soon as possible to any changes in the situation. Hockey Ireland would like to thank all branches and clubs that worked hard to get hockey competition back under the strict protocols.  We hope we will be back again as soon as possible.

The Hockey Ireland Return to Play and Competition Protocol will be updated shortly and available at https://hockey.ie/covid-19/

Please see below for current clarification on Level 5.



Irish Hockey Association media release


---

Kick in the teeth for Harte as Hoofdklasse considered 'amateur' competition



David Harte celebrates a wonder save to deny Pinoké's Sebastien Dockier. Picture: Koen Suyk/World Sport Pics

While last Thursday's deferral of the EY Hockey League's has seen many at the top end of the game question what esteem Ireland's top competition holds locally, David Harte is enduring the same travails in the Netherlands.

Widely regarded as the world's best club league, the Hoofdklasse was put on hold following a lengthy meeting of the tweede kamer, the second chamber of the Dutch government, when it was deemed an 'amateur' sport.

For Harte, he described it as "a kick in the teeth" having moved to SV Kampong in Utrecht with the express purpose of playing the sport on a full-time basis.

"It's all been a bit of a shambles," the Kinsale man told the Examiner. "Initially, just the Eredivisie and the Eerste Classe [equivalent to England's Championship] got the go-ahead.  

"They initially said the women's [soccer] league would not go ahead because it's considered amateur sport but 90 minutes later they did a big u-turn on that and it did get the go-ahead.

"Straightaway, that opened up a window for hockey, volleyball and water polo to allow an 'amateur sport' as they have described it to play."

But that door was quickly shut down with Harte joining a chorus of top players questioning how their sport is viewed in a country where they are world leaders.

Lidewij Welten – a two-time Olympic and World Cup gold medalist – has been most vocal, saying: "It I'm not a top athlete, I've lied to a lot of people for years. I do everything for my sport; it is painful to be called amateur."

Harte – a candidate for the Olympic athletes commission next year – added: "Lidewij summed it up well on our social media channels. What are we doing differently, committing our lives to our sport, training five times a week, going to the gym four times then playing a match.  

"We don't get the same level of financial remuneration naturally but clubs have sizeable budgets here the equivalent of a championship or maybe the bottom half of the Eredivisie.

"The messages have been so inconsistent with the messages coming out. While we are disappointed on the one hand, we also know how important it is for the well-being of people.  

"Saturday saw a record level of positive tests; we do get it but it's hard to take being described as 'amateur'. I am one of the players who has moved his life over here to play and compete at a professional level; you feel second or third class being told you are an amateur. It is a kick in the teeth."

For now, he and his Dutch club are now only allowed train in pods of four with one coach in a 23-metre area, limiting the value of sessions.

Harte says the Dutch federation, the KNHB, was willing to foot clubs' bills for increased testing to show a level required to ensure safety, a pricey promise with tests per player costing €100 per player with weekly costs of €5,000 per game.

Such a situation is prohibitive for Irish clubs but there is still a degree of frustration the EY Hockey League – featuring Olympians and the guts of the World Cup silver medal winning panel – was not included in the "elite" category of sports allowed to go ahead in Ireland.

Instead, it was pegged as on the second tier "senior club championship" on the exemption list, a decision which rankled when compared with other levels of competition that got the go ahead this week prior to the introduction of Level 5, Under-17 Gaelic football and intermediate camogie among them.

"It's always the catch-22," Harte added. "The GAA wants to be considered an amateur sport but then to be considered elite. There is obviously issues with the wording with the descriptions, but it is similar to what has happened to us.  

"I have obviously been keeping an eye and saw clubs who decided not to travel which threw a lot of headaches Hockey Ireland's way. But the big concern is the unknown – all matches are cancelled 'indefinitely' for an unknown time. When we will see hockey again?"

The Hook


---

Scottish umpires selected for EuroHockey development opportunity

Lewis White has been selected for the Umpires for Europe (U4E) programme and Fraser Munro has been selected for the EHF Umpires for Nations (U4N) programme by the EHF Umpire Education Group.

It's the latest success for Scottish umpires on the international stage and enhances Scotland's excellent reputation for producing top-class umpires and officials.

EuroHockey recently announced the selection decision offering great opportunity for umpires to develop their skills, share knowledge and friendship, and build the standard of umpiring throughout Europe.

The total number across both programmes is 36 (18 for U4N and 18 for U4E). It is very competitive to get on the courses and it is a great achievement to be selected, and testament to the fantastic desire of Lewis and Fraser to learn, improve and further their umpiring careers.

Both the U4E and U4N are 1-year programmes, and include mentoring, a new module base, observational learning and practical appointments across the two set seminar weekends.

Scotland's John Heron has also been nominated as a mentor for the programme, and will once again share his expertise to develop the best emerging umpires from across Europe as part of these programmes.

Scottish Hockey Union media release


---

Innovative coaching pushing Hampstead & Westminster on




Sarah Kelleher has been steadily making a name for herself with her innovative coaching practices. Whether at club level, national junior team level or within a business sphere, here is a woman not afraid to push the boundaries of her own work, or her group's physical and mental resilience.

Among the notable transgressions from cones and commands, the former Irish international has tapped into players' creativity with song writing exercises and she regularly pushes individuals well beyond their comfort zones to reach personal heights of performance or achievement that they didn't know were possible.

As any coach will know, to introduce ideas that fall well outside the conventional box of training tools takes a huge element of trust on the part of those being coached. From reactions and interactions, trust is something the engaging Irish woman instils in her charges with abundance. When she describes the sense of togetherness that exists among the team at Hampstead & Westminster, where Kelleher is co-coach with Kate Richardson-Walsh, much of the credit for the atmosphere must lie with the environment that the co-coaches have worked hard to create.

"Kate and I have always agreed that we have to create an environment where people can flourish and be their best selves," says Kelleher. "You are at your best when you can express yourself as a person and as a player and that comes from having the trust and the confidence to be open.

"At the heart of being confident is action, and to take action and try new stuff out you have to be confident – that is a positive loop. If you can get that loop going and not worry if something doesn't work then you have a great recipe for unlocking peoples' potential."

Although determined to unleash the creative beings, Kelleher also talks about the importance of helping their players attain balance between risk and reward.

"We help them understand risk and reward, to recognise when they can try things and when they may have to play it more safe. You have to pendulum swing people into creativity because there is a tendency to play it safe too often. You have to give them bandwidth to try things out."



Sarah Kelleher

It is concepts such as these that have made Kelleher such a success in both the sports coaching and business consultancy world. Alongside her role at Hampstead & Westminster, which included guiding the team into the top division of the EHL, she was also coach to the England U18 side – a role that saw her really explore how much creativity and trust you could release through coaching.

Her most recent coaching appointment sees Kelleher join the European Hockey Federation's Top Coaches Programme as one of the team's coach educators. The principles and ideas that form the bedrock of her still-developing coaching philosophy extend into the world of business, where, as she says, there are so many intersections with sport.

"Whether it is a business or sports team, you are trying to create an environment where you, as leaders or coaches don't need to push values; instead the players step up and lead. That is where you get great leaders emerging. In fact, if we look at women in business as an example, successful businesswomen often come through a sports team because sport gives us that high performance, team-leading attitude."

It is an approach that is certainly working at Hampstead & Westminster where Kelleher says she and Richardson-Walsh get plenty of feedback from their players.

"It is," she assures with a laugh, "a good thing."

While the Covid situation has made this a difficult year in particular, when it comes to getting together after matches or to have those informal conversations where so much team-building happens, Kelleher says the environment at Hampstead & Westminster is approaching the way she and her co-coach would like it.

"You have to be clear about your purpose and why you are all here. It is important to get to know people beyond the pitch. For example, Kate and myself are having a meeting with the players to really dig down about what do we really want during Covid times. Together, we are co-creating our purpose and who we want to be. This provides the anchor that you can keep coming back to."

Besides creativity, Kelleher is also a firm believer in resilience and its essential role in personal growth.

She says: "Resilience is part and parcel of club life. There are players whose journey is towards playing in the Olympics, other players are juggling working or returning from injury. To cope with those issues, we are creating an environment where vulnerability is okay and actually, we want people to have personal connections and feel they can have difficult conversations with myself and Kate."

As Kelleher says, she is not yet the finished article as a coach and, at Hampstead & Westminster, they have not yet created the perfect environment. And the current pandemic is not helping in that particular quest.

"This is a difficult time but we are navigating it together and we are always open to listening to our players and becoming an even better high performance team. We have so much potential to go further and I am excited about that."

Hampstead & Westminster's next game is away against Holcombe on Saturday 24 October.

England Hockey Board Media release


---

North West Hockey issues Covid-tier 3 edicts



North West Hockey issues guidelines PIC: Bury HC

Following the UK government's introduction of Covid-tier levels, the North West Hockey League has outlined that Tier 3 sides can only play matches against other teams from the same area.

As well as cross tier matches not being allowed, players from Tier 3 clubs can not enter a Tier 1 or 2 area to train or play, said Peter McInulty, NWHL's league secretary.

"It's the League's understanding that the majority of clubs and players want to play hockey this season and are happy to do so whilst following the EH return to play guidelines," he added. "The league will try to facilitate that in any way it can."

The English areas for the NWHL are Cheshire, Cumbria, Greater Manchester, Lancashire and Liverpool City Region, with the latter three all now placed in Tier 3.

The statement added: "As a league we will be looking to create some new divisions. We will look to create reduced side leagues that contain teams from the same area which will mean that teams. It is expected that these will be have a maximum of 10 teams in each so that the season can continue to as close to its normal conclusion as possible."

The NWHL is still planning on using a points per game calculation to conclude placings and any matches already played as league games will still have their results counted.

Next season will see a major restructure of the league as it merges into becoming the West Pennine League with some of the North Hockey League teams.

In order to also allow anyone that wants to play hockey to do so, the league said that it will be introducing a loan scheme, where players can play for a different club in a different area if it means that they get to train or play hockey.
---

The unsung stars of the show




When we consider what elite performance in hockey means to us, our first thought is related to the athletes. We may then consider the role of the coaches. Sometimes, we think about the team around the team: video analysts, strength and conditioning experts, assistant coaches. Rarely do we consider the other element of elite performance that is crucial to the smooth running of the game, namely the umpires.

The men and women who officiate matches also need to be at the top of their game if the match is to flow smoothly and be action-packed, exciting and full of sporting drama. Yes, athletes need to be fit, skilful and able to read the game, but so too do the people who are ensuring that the competition is played fairly, within the rules of the game and managed with the necessary amount of control.

Like the athletes and the coaches, umpires are constantly developing their knowledge and understanding. The levels of professionalism shown by umpires both within the UK and at European and world level is a source of pride for the sport. Here we meet three of these professionals and learn a little more about the men and women who control the game from the sidelines.

Karen Fynn, Rebecca Woodcock and Matt Parry are three people who are operating at the top of their game, as umpires. They all umpire at Premier League level and Rebecca now umpires at both European Hockey Federation (EHF) and International Hockey Federation (FIH) events, most recently at a Four Nations Tournament in Breda.



Umpires Rebecca Woodcock and Matt Parry

Matt and Rebecca both started their umpiring journeys when they were at school. Matt began umpiring younger age groups while he was at school and then began a rapid rise through the ranks to reach Level 3 in 2015, the A* panel just recently and several international matches – junior and test events – along the way. As Matt says, "exposure to elite level hockey and tournament environments has helped me develop quicker and reach my goals faster."
 
For Rebecca, the upward trajectory has been even steeper. The chance to miss a day's school was the springboard to an umpiring career but Rebecca, or Bex as she is known, has made the most of every opportunity since. An invitation to a junior regional tournament from Margaret McLoughlin also provided a chance for Rebecca to connect with umpire coaches. The experience inspired her to throw herself into umpiring seriously and in 2018 she was appointed to the Women's Premier Panel.
 
Rebecca was also invited to a number of junior international tournaments and it was here she learnt about tournament umpiring, the differences between domestic and international umpiring, and, in her words, "the chance to meet some amazing colleagues and umpire mentors from Europe and around the world".
 
She has recently been promoted to the FIH Advancement Panel for both indoor and outdoor hockey and has received appointments to both EHF and FIH tournaments. It was at the Four Nations in Breda that she first experienced video umpiring and now her knowledge and experience will move up another level as she has been chosen to be part of the EHF Umpires Development Programme (UDP) Group 13.



Karen Fynn Umpire

For Karen, it was a different pathway altogether. She freely admits that, as a player at national league level, she didn't much care for umpires. She is now the classic poacher turned gamekeeper with a rapid rise through the ranks as evidence.
 
Karen first picked up a whistle during a summer league tournament six years ago, Three years later and she had moved through the levels to join the NPUA national programme. In 2019, she was promoted to the Women's Premier Panel and appointed to her first Premier League game.
 
While their journeys may have been along different channels, all three umpires agree on the key qualities needed to be a successful umpire. Knowledge and good interpretation of the rules, excellent communication skills and high levels of fitness are the three key qualities Matt, Rebecca and Karen identify.
 
Two additional factors that Karen stresses are composure and resilience. She says: "Keeping composed in high pressure situations can help to provide players with confidence in your decisions, and also helps you to stay as relaxed as possible so you're able to make the best decisions. No one gets it 100 per cent right. Having the resilience to listen to feedback and learn from it, but also know when to 'park it' is important for improvement."
 
Matt also identifies the importance of building rapport with the players: "Building good rapport helps players 'buy in' to what you are trying to do and creates an environment that helps promote 'good' hockey. If the players are happy and trust you, the game is a lot easier to manage when flash points arise."



Matt Patty Umpire

With her international experience, Rebecca highlights the importance of appropriate communication to mirror the situation.
 
"The ability to vary your style and methods of communication depending on the game in front of you. Umpiring Wimbledon and Hampstead & Westminster at a weekend demands a very different approach to China against Japan or Belarus versus Russia! The best umpires are able to effectively get across their messages with the minimum disruption to the game."
 
And that is one of the strongest messages that all top level umpires understand. They should never be the focus of the match but if the game goes well and everyone leaves the pitch knowing they have had an enjoyable and rewarding experience, then actually the umpires have been the stars of the show without anyone else actually realising it.
 
If you would like to learn how to start off on your own umpiring journey, please either visit the Hockey Hub or click HERE for more information.

England Hockey Board Media release


---

Weekend College Games: Atlantic Coast Conference



Image Courtesy of Duke Athletics

As the only conference playing field hockey this fall, the Atlantic Coast Conference's (ACC) sixth weekend of action will have two games Friday and one game each on Saturday and Sunday. All of this weekend's matchups are available to watch on the ACC Network.

FRIDAY, OCTOBER 23

No. 1 Louisville at No. 3 Virginia | 2:00 p.m. ET | ACCN

To kick off the weekend, No. 1 Louisville (5-0, 4-0 ACC) will travel to Charlottesville, Va. to take on No. 3 Virginia (3-3, 2-1 ACC) for a two-game stint. The Cardinals and Cavaliers last met mid-October 2019, where Virginia scored two fourth quarter goals to come out victorious 2-1.

The last time Louisville played was almost two weeks prior, when they matched up with No. 6 Wake Forest. In what was supposed to be a two-game series, the heavy rains and saturated field from Hurricane Delta limited the schools to playing only one game. The Cardinals opened up the game scoring in the ninth minute as Erica Cooper tapped the ball in from close range with an assist from Madison Walsh. Both defenses battled for the remainder of the half as Louisville took a 1-0 lead into the break.

Wake Forest found an answer in the third quarter when Anne van Hoff fired a missile on a penalty corner directly from Alexis Grippo who inbounded the ball. Van Hoof read the play and patiently waited for her opportunity to clear some space and take the shot, evening the game 1-1.

Louisville's Emilia Kaczmarczyk handed the Cardinals the lead in the opening minute of the fourth quarter, connecting on a penalty corner from Alli Bitting and Meghan Schneider. Wake Forest was awarded two more penalty corners in the final quarter, but couldn't convert.

The match featured 15 penalty corner opportunities with eight for Louisville and seven from the Demon Deacons. After an eight-shot third quarter, including five penalty corners, the Cardinals controlled a 12 to 10 shot advantage over Wake.

Virginia also hasn't played in roughly ten days, as they were supposed to meet No. 5 Boston College last weekend but the match was postponed due to one positive COVID-19 test of a student-athlete on the Boston College team. The previous weekend, the Cavaliers fell to No. 2 North Carolina in a two-game series. In the conference counting game, Tar Heel Erin Matson opened the scoring in the 21st minute on an assist from Hannah Griggs. Griggs carried the ball just inside the circle and passed left to Matson, who sent a rocket from the top of the circle. Virginia goalkeeper Taylor Henriksen got a hand on it but couldn't stop it and North Carolina went up 1-0. The score stood there at halftime, with UNC totaling 10 shots to Virginia's 3.

UNC scored quickly after halftime, two minutes into the third period, on a penalty corner. Cassie Sumfest took the initial hit and Paityn Wirth redirected it into the goal for a 2-0 Tar Heel lead. Just under two minutes later, North Carolina made it 3-0. Kiersten Thomassey grabbed a ball out of the air on the left side and passed to Eva Smolenaars in the middle of the field. Smolenaars carried it into the circle and shot from the top, sending the ball cleanly into the cage. Wirth's second goal came in the 43rd minute of play. Bryn Boylan took a shot that was saved by Henriksen, but the rebound bounced out to the middle of the circle, where Wirth one-time swept it in to put UNC up 4-0. In the 50th minute of play, the Cavaliers got on the board with a goal by Laura Janssen. Meghen Hengerer passed out from the right baseline to Janssen, who buried it to make the score 4-1. The fifth Tar Heel goal came with just 12 seconds on the clock, courtesy of same duo that connected for the first goal, but this time with the roles reversed. Matson passed behind her back to the left side of the circle, where Griggs grabbed and sent a hard shot into the right corner for the final score. UNC finished with 21 shots to Virginia's 10, seven of which came in the fourth quarter.

In their second matchup, UNC got on the board early, less than four minutes into the game. Smolenaars gathered a pass from Matson at the top of the circle. As she carried it into the arc, Virginia goalkeeper Hausheer came out to try to play the ball, but Smolenaars got by her and carried the ball to the right side of the circle. With Hausheer out of the cage, Smolenaars sent a shot in, past a Cavalier defender, to put UNC up 1-0.

The Tar Heels outshot Virginia 10 to 1 before halftime, 7 to 0 in the second quarter, but the score still stood at 1-0 through the break and through most of the third quarter. With two minutes to play in the third period, Virginia freshman Anneloes Knol got her team on the board when she sent a hard shot from the top of the circle past UNC goalkeeper Amanda Hendry to tie the score.

The teams were even heading into the fourth quarter, but UNC changed that just under two minutes into the final frame. From the left side of the field, Smolenaars sent a ball into the circle to Matson. She gathered it and sent a cross to the front of the cage, where Sholder was waiting to deflect it behind Hausheer and in for what would prove to be the game winner. UNC finished with 15 shots to Virginia's four and six penalty corners to the Cavaliers' three. Hausheer made seven saves for UVa. Hendry had one for UNC.

No. 7 Duke at No. 6 Wake Forest** | 3:00 p.m. ET | ACCN

No. 7 Duke will head west to Winston-Salem, N.C. for an in-conference, in-state match-up with No. 6 Wake Forest (1-5, 0-3 ACC) on Friday before meeting in Durham, N.C for an out-of-conference game on Sunday. The last time these two teams met was mid-October 2019, where the Blue Devils shutout the Demon Deacons, 4-0.
 
Duke is coming off a heartbreaking overtime loss to No. 2 North Carolina on Sunday. The game was back-and-forth throughout. Duke struck first, in the fourth minute of play, when Josie Varney took a pass from Alayna Burns and sent the ball into the upper right corner of the cage to put the Blue Devils up 1-0. North Carolina answered just 19 seconds later, on the first penalty corner opportunity when Cassie Sumfest sent her drag low and inside the left post to tie the game, 1-1.

Duke scored early in the second quarter to retake the lead. This time it was Lily Posternak on the goal, assisted by Hannah Miller. Again, the Tar Heels answered, scoring just over four minutes later on their second penalty corner of the game. Matson received the ball from Sumfest and got around one defender then split two others before sending a shot into the lower left of the cage to make it 2-2 at halftime.

Tar Heel Smolenaars scored back-to-back goals, one in the third quarter and again in the fourth, to give UNC a two-goal lead. In the 41st minute of play, Madison Orobono sent a ball through the circle from the right side and Smolenaars redirected it just inside the left post to give North Carolina their first lead, 3-2. Early in the fourth quarter on a break, Smolenaars got a pass from Matson at the top of the circle, spun and sent backhand past Duke goalkeeper Piper Hampsch for a 4-2 advantage with 13:28 to play in the game.

Duke answered just under two minutes later on a penalty corner. Eva Nunnink passed to Leah Crouse for the score, coming within one. The dramatic tying goal came with 10 seconds on the clock, when the Blue Devils were awarded a penalty stroke and Lexi Davidson buried it to tie the game at 4-4 and send it into overtime.

The teams played through 4:16 of extra time before Matson connected with Griggs for the game winner. Duke was a player down at the end after drawing a yellow card 2:12 in to the period.

Wake Forest will only have three days of rest after hosting No. 4 Syracuse on Sunday and Monday, and falling to the Orange in very close contests. On Sunday, Meike Lanckohr scored for Wake Forest just three minutes into the game off a pass from Eleanor Winants. Syracuse answered back just two minutes later to even the game on an unassisted backhand goal from Charlotte de Vries. Wake Forest's defense held the Orange to just one shot in the first half, while the Demon Deacons controlled the offensive tempo with seven.

Syracuse came out hot in the second half taking 11 shots to the Demon Deacons' four. After a two-quarter defensive battle, Syracuse found the back of the net on an unassisted short-range goal from Carly Bothof to give Syracuse the late 2-1 lead and win.

On Monday, Wake Forest's offense came out firing in the first quarter getting off 10 shots and as the Demon Deacons controlled a 12-1 shot advantage at halftime, but Syracuse goalkeeper Syd Taylor had a career day making six first half saves to keep the Demon Deacons off the board.

After three quarters of scoreless action, Wake Forest took a 1-0 lead when Nat Friedman worked past Taylor on a quick pass from Winants. Syracuse emptied its net as the clock was winding down and was awarded a penalty corner with under a minute remaining on the clock, trailing by one. Eefke Van Den Nieuwenhof became the hero for Syracuse converting the penalty corner on a pass from de Vries to send the game into overtime. The Orange capitalized, scoring in the sudden death overtime period on a goal by SJ Quigley to seal the 2-1 victory.

SATURDAY, OCTOBER 24

No. 1 Louisville at No. 3 Virginia** | 2:00 p.m. ET | ACCN

SUNDAY, OCTOBER 25

No. 6 Wake Forest at No. 7 Duke | 12:00 p.m. ET | ACCN

USFHA media release


---

JMU field hockey soars with help from players from the Netherlands

 Madison Hricik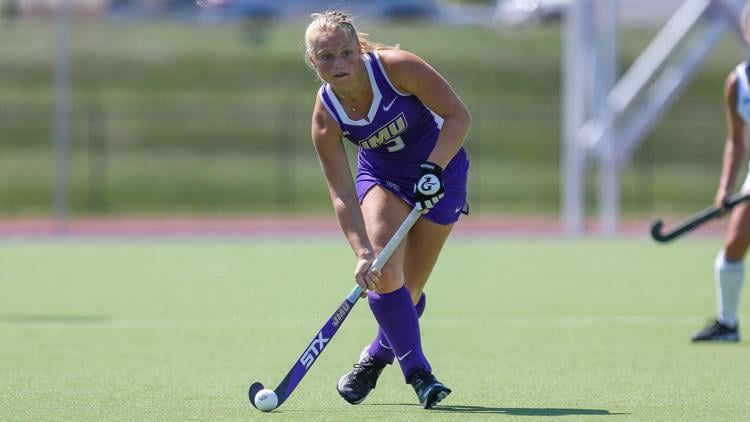 Sophormore forward Eveline Zwager carries the ball down the field. Courtesy of JMU athletics

 Sophomore forward Eveline Zwager and sophomore midfielder Diede Remijnse both grew up playing field hockey in the Netherlands, where the best players in the world train and compete. The girls gained years of experience playing for the Dutch, competing on travel and national squads.

Yet these two players decided to leave their native country and travel to the U.S. to play in Harrisonburg. Coming to JMU was a big decision for both girls, and the two said they've enjoyed their experience so far.

The Netherlands has been the best nation for field hockey for many years. Holding a record-breaking eight gold medals during the Olympics, seven World Cup championships, six Champion Trophies and nine European Cup championships, the women's field hockey team has become a dynasty in the field hockey world. Being the most successful national team in the country, the sport is taken seriously. There are over 350,000 registered players across the country, which doesn't include players like Zwager and Remijnse who are playing around the world.
advertisement

"The coaching styles between the two countries were very different," Zwager said. "The U.S. focuses a lot more on the mental aspect, and back home focuses a lot on the physical skills, so that was something new to get used to. And I loved the need for connection between JMU and the U.S."

The Dutch have the best technique and agility in their stick skills, and this comes from a strong focus on basics from a very young age. Most players in the Netherlands begin playing as young as four years old and will play through college and beyond. These young players are introduced to professionally made fields known as astroturf, which is what national, collegiate and international teams compete on. In contrast, the U.S. focuses more on being mentally engaged while playing, such as seeing a pass or play forming and keeping a positive mind.

However, the recruitment process was much different from how domestic athletes are recruited. Neither teammate met Morgan and the coaching staff in person until they arrived last fall. Instead, the use of websites, highlight videos and Skype chats became the reason Morgan was able to see what they could do. When the time came to choose which school the girls were going to, JMU was a standout choice.

"I made the decision fairly late," Remijnse said. "But I knew I wanted to broaden my perspectives of the world and experience something new while continuing to play field hockey. That's when I realized the U.S. and JMU were the perfect fit for me."

Both joined the Dukes' roster in 2019 and hit the ground running. Zwager became a statistical leader for the Dukes, scoring four goals and two assists on 14 shots on goal. Remijnse started every game last season for the Dukes as well. The two are paired together on the lineup, often passing the ball to each other up the field.

The two girls endured many changes even before stepping onto the field for the first time. Coaching styles are different, the ages are different and even the rules are different. However, the girls agreed that the hardest part was adapting to U.S. culture and college life all at once.   Moving across the globe nearly a month before classes start as a freshman is as terrifying as it sounds, but the two were excited to join the JMU family.

"I think picturing how close everyone was here was something I hadn't had the chance to experience before," Remijnse said. "It made me really love JMU even more when I got here to play."

Remijnse explained that there was uncertainty during the beginning of the pandemic, and she was unsure if they could return home and lost nearly all of the spring training she'd been looking forward to. However, once she returned home for the remainder of the semester, Remijnse focused her mindset on controlling what she could –– something head coach Christy Morgan had been training the girls to do.

"The Dutch players already are trained with really sound fundamentals," Morgan said. "So already they become leaders in that aspect even as sophomores. They take the lead and are committed people both on the field and off the field to their teammates, themselves and the community."

Morgan worked with the team quite a bit during quarantine and throughout the summer on how to keep a straight mindset. Many players, including Zwager and Remijnse, connected to Morgan via Zoom and grew closer to her and the rest of the team.

"I think the biggest change was getting into that mindset," Zwager said. "Both in field hockey and in life. Both countries are similar but also were very different during this time."

Now that the team's back together and the NCAA has announced approval for fall sports to play in the spring, the girls are preparing as much as they can. Having a year of experience now, they've begun focusing on being leaders for the team. Morgan's been helping prepare the team but also has been relying on Zwager and Remijnse's leadership and knowledge to help guide the team to new levels.

"Both of them are elite level players, but more than that they have passion for the game," Morgan said. "There's nothing better than coaching athletes who love to be coached, and I love that about them both."

The NCAA has announced that fall athletes will receive an extra year of eligibility, though it's all at the discretion of coaches and the athletes. Depending on what happens in the spring, it's likely that a few members on the roster will take advantage of the extra year. However, the two players said they're just happy to be back on the field practicing with their teammates and coaches.

Zwager has always had a close connection with her teammates prior to committing to JMU, but her friendships were different than in the U.S. She said that her field hockey friends were separate from school friends because the idea of playing for a school isn't common. However, at JMU, her teammates are essentially her sisters, and she said it's her favorite part of being a Duke.

"I love just being on the field with the team I love so much," Zwager said. "My teammates and coaches get along so well, so it doesn't feel like I'm far from home, but I feel like I am home, just in a different setting."

JMU field hockey has resumed on-field practices; however, a spring schedule has yet to be revealed. Morgan's known for challenging the Dukes with game schedules, so it's likely that will feature some high ranked teams. However, Zwager and Remijnse are excited for the challenges and what a spring season could bring.

The Breeze