All the news for Monday 26 October 2020

Top choice for armband

By T. AVINESHWARAN



Leadership material: Police officer Razie Rahim (centre) is expected to be named skipper to replace Mohd Sukri Mutalib, who has not been called up to the national training squad.

PETALING JAYA: Old-timer Razie Rahim is the frontrunner to become the captain of the Malaysian hockey team. The 33-year-old midfielder is responsible, has good interpersonal and communication skills and even calm in challenging situations.

In fact, as a police officer, these credentials are second nature to him.

The spot as the team skipper is vacant in the absence of former captain Mohd Sukri Mutalib. He has not been included in the current 37-member training squad under coach S. Arul Selvaraj and Razie seems like the obvious choice for the skipper's armband.

Arul has not discussed the captaincy with his assistant Mohd Amin Rahim, manager Datuk Mirnawan Nawawi and Malaysian Hockey Confederation's (MHC) management committee chairman Datuk Ahmad Najmi Abdul Razak but says he is impressed by Razie's dedication.

"There's leadership in Razie. As a senior player or because he is a police officer, he is taking charge of the team. I am very happy, " said Arul.

"Even though we have not selected anyone, he is beginning to take responsibility in our group chats and also on the field.

"It's not just the way he communicates but from his performance in training and sparring matches, I can see he is pushing to the maximum and setting an example to others."

Razie is one of the top players around – thanks to his ability to marshal the defence and also his prowess in penalty corners.

This year Razie scored 14 goals for Universiti Kuala Lumpur (UniKL) in the Malaysian Hockey League (MHL) and in the Razak Cup, he scored 10 goals for Police.

Since making his national debut in 2006, Razie has amassed more than 250 caps and won two Asian Games silver medal in 2010 and 2018. He also helped Malaysia finished third four times (2011,2012,2013 and 2016) in the Asian Champions Trophy.

The Malaysian hockey team are preparing for the Asian Champions Trophy which will be held in March next year.

The centralised camp is held under strict protocols due to the conditional movement control order in the Klang Valley which is scheduled to end tomorrow.

The team will be trimmed down to the final squad of 25 by next month.

The Star of Malaysia


---

Hockey players given two months to show their mettle

By Jugjet Singh



National women's coach Nasihin Nubli. Bernama pic

NATIONAL women's coach Nasihin Nubli is in no hurry to axe players from his training squad.

Nasihin has given his 30-member squad until the end of the year to prove themselves before he drops five players.

His decision is rather surprising as men's coach Arul Selvaraj is only giving his 37 trainees a month to shine in training. He will trim his squad to 25 players by the end of the month or early next month.

"Yes, Arul will come up with his final list soon. My plan was also to do the same.

"But because of the Conditional Movement Control Order and studies, five of my players have not joined training.

"And to be fair, I am giving the entire squad until the end of the year to prove themselves," said Nasihin.

The five are Norasfarina Ishafiqa Isyahiddun (SSTMI), Dayang Nuramirah Abg Mahadani (SSTMI), Siti Zulaikha Husain (SSTMI), Iren Hussain (Sabah) and Nur Hazlinda Zainal Abidin (Negri Sembilan).

"I have time on my side as there are no local and international assignments left this year," said Nasihin, whose main task is to prepare a strong team for the 2026 Asian Games.

New Straits Times


---

Ask away: NSC say journos free to pose questions

By Jugjet Singh



NSC director general Datuk Ahmad Shapawi Ismail said: "We welcome journalists who want to ask coaches and players sports-related questions. They do not need to submit questions to us for vetting. - NSTP file pic

THE National Sports Council (NSC) have clarified that journalists do not need to submit questions to them for approval before conducting interviews with hockey coaches and players.

NSC director general Datuk Ahmad Shapawi Ismail said: "We welcome journalists who want to ask coaches and players sports-related questions. They do not need to submit questions to us for vetting.

"There was some miscommunication on Friday, which led to this confusion. However, let us know in advance so that we can arrange matters if there is a need to interview face-to-face, which is our only concern.

"This is because we want to follow the Covid-19 standard operating procedures (SOPs).

"Phone interviews are not an issue as we also understand that journalists want to know what is the latest from coaches.

"But on Covid-19 matters, the NSC would like to advise more discretion from all parties as we want the right news to be published," said Shapawi.

On Friday, Timesport was given the runaround by several NSC officials for an approval to interview national women's coach Nasihin Nubli.

Nasihan had informed the journalist to get NSC's approval when contacted.

The questions from the journalist were vetted by the NSC.

Safety precautions have been in place for players and officials in camp since Oct 5, and they follow strict SOPs on and off the pitch.

Face-to-face interviews were allowed by the Malaysian Hockey Confederation (MHC) when national training camps resumed after the government eased Covid-19 related restrictions.

However, when the Conditional Movement Control Order (CMCO) was enforced in Selangor, Kuala Lumpur and Putrajaya on Oct 14, journalists were barred from training grounds but not phone interviews.

The trainees are currently under the care of the NSC for centralised training and housed at their hostel in Bukit Jalil.

New Straits Times


---

ROUND-UP: Women's Hockey League Round 6




Nicola White snatched victory for Hampstead & Westminster as they took a 1-0 win at rivals Holcombe in the Women's Hockey League Premier Division on Saturday.

With the clock running down, it looked like time had run out for the visitors to claim their third win of the campaign.

But White latched on to a penalty corner in the 67th minute, driving her shot into the net to snatch the win.

The result keeps Hampstead in the top four and adversely, the defeat leaves Holcombe fourth from bottom.

Two goals from Sophie Bray helped East Grinstead take a 3-2 win as they hosted the University of Birmingham.

Jess Denniff put East Grinstead ahead after 11 minutes and Bray doubled their advantage just five minutes later.

Millie Atwell gave the visitors hope in the 45th minute, but just three minutes later Bray bagged her second to make it 3-1. Coca Hall scored what proved to be a consolation for Birmingham on 67 minutes.

Undefeated East Grinstead top the table with the University of Birmingham still searching for their first win.

A Phoebe Nixon strike just after the half hour mark was the difference as second-placed Wimbledon secured a 1-0 win on the road at Beeston.

Division One South

Reading hold top spot in Division One South after Jo Ellis scored a late winner in a closely-contested 1-0 win over Harleston Magpies.

The Magpies looked on target to take a share of the spoils until Ellis struck in the 64th minute.

Sevenoaks are just one point behind Reading in second, they beat Trojans 2-0 at home with Lily Elliott and Sophie Maunder striking in the first half.

Canterbury occupy third place in the standings after a 1-1 draw at home to Surbiton's Seconds.

Hannah Denison gave Surbiton the lead but Anna Baker earned a point for her side with a goal in the 55th minute.

Wimbledon Seconds continued their push up the table with a 2-2 draw at home to Slough.

They led 2-1 through goals from Sophie Shakespeare and Sam Smith but couldn't hold on for all three points with Lizzy Totten's goal levelling things up.

Division One North

The University of Durham came out on top in an eight-goal thriller in Division One North on Sunday.

They beat Olton & West Warwicks 6-2 after racing into a 4-0 half time lead. Katie Brough led the scoring with a brace.

Leicester City made it four wins from five as goals from Jeorgia Carr, Zoe Norton, Katie Long and Alice Page helped them to a resounding 4-0 win over Belper.

A Lizzy Pocknell brace for Stourport kept them at the top of the table, beating Ben Rhydding 2-1.

Gloucester City left it late but Megan Brazil's 70th minute winner saw them beat the University of Nottingham 1-0.

Conference West

Sutton Coldfield still lead the Conference West table despite being held to a 2-2 draw at home by Team Bath Buccaneers.

The hosts led at half time after Laura Groves' first half penalty corner goal, and they doubled their lead through Sophie Davies shortly after half time.

But Sophie Byrne and Flora Brett goals levelled for Team Bath.

Clifton Robinsons Seconds are second in the table after a 3-0 home win over Basingstoke with Holly Savage scoring two and Abi Porter one.

Cheltenham and Oxford Hawks shared the points after an entertaining 3-3 draw.

Charlotte Roberts, Philly Roberts and Emily Hobbs were on target for Cheltenham with Rachel Moore, Claire Werlinger and Kate Lowe replying for Hawks.

An Emma Allroggen penalty stroke five minutes from time rescued a point for the University of Birmingham's second team as they drew 2-2 at Exe and Bristol Firebrands won 2-1 against Oxford University.

Conference East

Canterbury Seconds led twice at high-flying Southgate, but they are still looking for their first point after losing out 4-3 in the Conference East clash.

Canterbury got off to a perfect start with Dominique Masters slotting home in the very first minute to give them the lead. After Southgate had levelled through Lucy Sheffield, Alice Brett's 17th minute goal gave the visitors the lead again.

Milly Berndes-Cade and Masters traded goals as the game looked to be heading for a draw, until Scarlett Spavin's last minute strike gave Southgate all the points.

Only three points separate the top four teams but it's Barnes who top the table after a 2-0 defeat of Chelmsford with goals from Charlie Bowman and Aleesa Ferguson.

Elsewhere, East London beat Hampstead & Westminster Seconds 4-1, Bromley & Beckenham beat Horsham 4-2 and St Albans played out a 1-1 draw with Bedford.

RESULTS

Women's Hockey League (Sat, 24 October 2020):

Premier Division: Holcombe 0, Hampstead & Westminster 1; East Grinstead 3, University of Birmingham 2; Beeston 0, Wimbledon 1.

Division One South: Wimbledon 2s 2, Slough 2; Canterbury 2s 1, Surbiton 2s 1.

Conference East: Bromley & Beckenham 4, Horsham 2.

Women's Hockey League (Sun, 25 October 2020):

Division One South: Reading 1, Harleston Magpies 0; Sevenoaks 2, Trojans 0.

Division One North: University of Durham 6, Olton & West Warwicks 2; Ben Rhydding 1, Stourport 2; University of Nottingham 0, Gloucester City 1; Belper 0, Leicester City 4.

Conference West: Sutton Coldfield 2, Team Bath Buccaneers 2; Bristol Firebrands 2, Oxford University 1; Cheltenham 3, Oxford Hawks 3; Clifton Robinsons 2s 3, Basingstoke 0; Exe 2, University of Birmingham 2s 2.

Conference East: Southgate 4, Canterbury 3; Chelmsford 0, Barnes 2; St Albans 1, Bedford 1; East London 4, Hampstead & Westminster 1.

England Hockey Board Media release


---

Oxted men end Surbiton six-year goalscoring record

By Richard Bright



Tim Guise-Brown celebrates Oxted's winner PIC: Debbie Christopher

Before Saturday night, Surbiton and Oxted had never met in the National League but had done so in the Men's Cup over the years. And this felt like a Cup match, the driving rain propelling Oxted to a superb victory over champions Surbiton after putting in what goalscorer Tim Guise-Brown described as a "massive shift".

Coming just a week after their 10-6 defeat to Old Georgians, a 49th-minute Guise-Brown penalty corner settled this encounter and ended two notable records for Mark Pearn's side, who were missing seven outfield players to Great Britain duties.

For defeat marked an end to their performances on the road (they last lost away in March 2018), while their failure to find the net saw a six-year run of scoring in every Premier Division match come to a shuddering halt.

In an ever so tight mid-table, victory has put Oxted right in the mix for a top six place in Phase 1 of this season's league format.

Guise-Brown, who now has six PC strikes this season, said: "The boys put in a massive shift. After last week's disappointment we worked really hard on correcting our counter cover defence.

"We knew Surbiton would be very dangerous on the counter so we worked extremely hard on slowing them down as soon as they gained possession of the ball."



Man-of-the-match Chris Porter

Guise-Brown's goal came at a crucial time, knowing how Old Georgians finished their last game with a speight of goals in the last quarter.

"This week we took alot more care of the ball in the last quarter of the game," he added. "It was a massive result for us as a club and probably one of the biggest in the club's history. We are all really proud of our effort but know a lot more work has to go in to ensure we are where we want to be come Christmas time."

Captain Brenden Bissett added: "We worked a lot on our defensive play after last weekend's performance and also our game management during key moments of the match. I think those two focuses were behind our performance. PC defense and killing momentum in the later stages of the game really helped us get the win."


---

Excellent Midland and North contests in conference game week two




On game week two of the conference competitions, in Midland Dundee Wanderers took the women`s accolade with a 3-2 win over Grove Menzieshill in the Tayside derby, but in the men`s Luke Cranney`s four goals was the highlight in Grove Menzieshill`s win over FMGM Monarchs. While in the North Ellon recorded their first triumph of the season and former Scotland striker Nikki Kidd bagged a brace in the process.

Dundee Wanderers came from behind for a 3-2 win over Tayside rivals Grove Menzieshill in the opening game of the women`s Midland Conference at Dawson Park.

A back post touch-in by newcomer Tess Warby put Wanderers in front in the opening exchanges. But Grove Menzieshill retaliated, Sam Sangster levelled at a penalty corner, then teenager Ciara Forgie`s shot from the top of the circle gave her side a 2-1 lead at the interval.

A brilliant diving deflection at the near post by Hannah Young brought Wanderers level in the second half. The winner was an opportunist move by former Scotland stalwart Vikki Bunce, she picked up the ball from a Grove Menzieshill defender, moved into the circle and found the net from a narrow angle for the winner.

Niall Joss, Grove Menzieshill`s manager, reflected: "It was a good, pretty even game, so a great learning experience for our team.

"They held their own for long periods, but were just a little naive when playing against experienced internationalists such as Vikki Bunce and Katie Robertson."

Joss then paid tribute to keeper Lucy Camlin who he said was "excellent."

Ellon fulfilled captain Louise Gordon`s optimism with a hard-fought 3-2 win over second division Granite City Wanderers at Meadows Sports Centre.

It was the home side who took the early initiative with an opening goal from Abby Wilson. Ellon moved into a three goal lead with two further strikes from Nikki Kidd. Granite City retaliated in the final quarter and reduced the lead to one with two late goals, but Ellon held on for the three points.

Gordon`s only comment at the end was "a brilliant game, delighted with the result."

Ellon men didn't have the same success this time round as they were defeated 5-1 by Granite City Wanderers.



Photo by Martin Boag

Grove Menzieshill moved to the top of the Midland Conference league with a convincing 6-1 victory over FMGM Monarchs. Grove Menzieshill were 3-1 up at the interval, Luke Cranney had scored twice while William Evans got the other with Callum Boag netting a consolation for Monarchs. Grove Menzieshill added three more in the second half, Cranney got another two while Chris McFadden added a penalty corner strike to the tally.

Meanwhile at Dalnacraig Dundee Wanderers new coach Benny Gibson Jr recorded the first success of his tenure with a convincing 6-2 victory over Perthshire. Kennedy Gibb score twice while the other goals came from Euan Borland, Bobby Ralph, Frank Mulgrew and Sean Dowie at a penalty.

Scottish Hockey Union media release


---

Mexico 1968 Olympics: Two captains hurt rhythm, Indian hockey team gets bronze

Internal rift and the ever-improving world standards saw the powerhouse of the sport, the Indian hockey team, finish third place at the 1968 Olympic Games in Mexico.

By Naveen Peter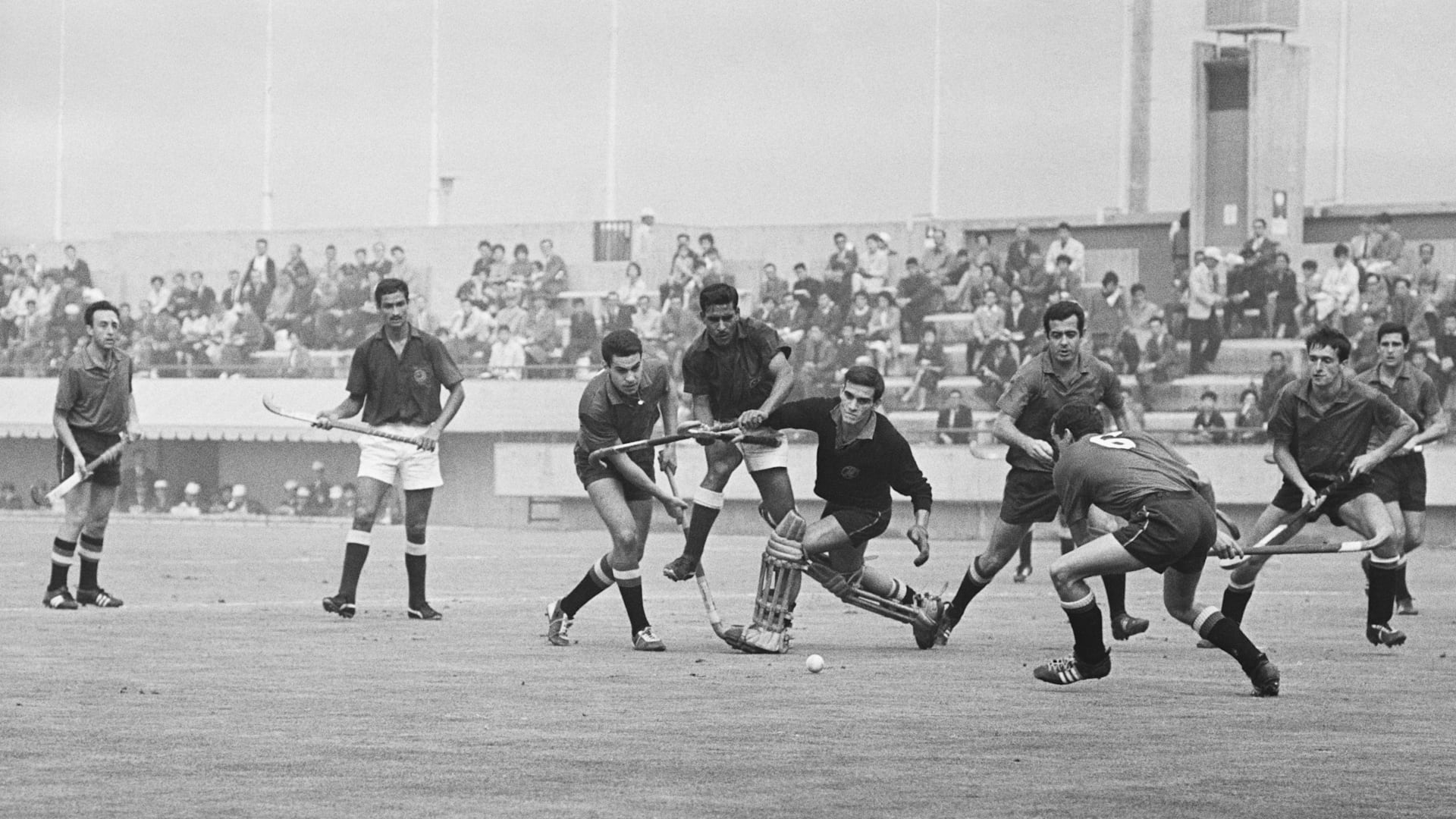 During its early days, India were the undisputed king of field hockey. With gold medals at every Olympic Games, the Indian hockey team was the most respected side in the world.

But this changed as the game started spreading its wings in Europe and Asia from the late 1950s.

While India's stranglehold continued for a few more years as they won a silver medal at the 1960 Olympics and regained their crown four years later in Tokyo, the Mexico 1968 Olympics marked the first major step in the shift in power.

On the face of it, though India's build-up to the Mexico 1968 Games looked on track, a closer look revealed some serious issues troubling the Indian hockey team as the Olympics drew closer.

Having beaten Pakistan for the 1966 Asian Games gold in Bangkok, the quality in the Indian hockey team was unquestionable. With three to four players available to play for each position, India looked destined to retain their Olympic gold.

This included as many as three Balbir Singhs' in the squad. The unique blend though didn't create any confusion as they featured together only in the bronze-medal play-off.

Moreover, the 1968 Games in Mexico City was special for Sansarpur, a village in Punjab, with as many as seven players from the hamlet competing at the Games. While two of the Balbir Singhs' along with Jasjit Singh, Tarsem Singh and Ajit Pal Singh featured for the Indian hockey team, Jagjit Singh and Harvinder Singh represented Kenya.

Joint captains for Indian hockey team

But problems arose after the Indian Hockey Federation's (IHF) decision to appoint the experienced Prithipal Singh as the captain of the Olympic-bound side didn't go well with the team.

With Gurbux Singh leading India for the majority of the Olympic cycle, the team was divided following the national federation's decision to snub the full-back just ahead of the Games.

The Pakistan-born Gurbux Singh didn't sit quietly and made his disappointment public. This forced IHF to name joint-captains for the Olympics for the first time in the team's history.

The rift, however, had a deep impact on the team spirit which was evident in the way India performed at the Games. Add to this the complacency that set in following the Asian Games triumph, the Indian hockey team was in for some serious test at the 1968 Summer Olympics.

Up against New Zealand in the opener, the Indian hockey team got off to a disappointing start, losing their first-ever game in the group stage of the Olympics.

Shaken by the result, the team soon got its act together and recorded back-to-back wins to top the group and made it to the semi-finals.

Though the team spent enough time ahead of the Olympics in the Nilgiris, a high-altitude region in South India, preparing for the geographical shift in Mexico City, their performance was far from convincing.

The only match that India dominated was against hosts Mexico as they pummeled the debutants 8-0 and against Spain, they won 1-0 but only after goalkeeper Muneer Sait stopped a whopping 12 penalty corners.

"And we did not have face masks or chest pads those days," Muneer Sait told the Sportstar.

Meanwhile, their tie against Japan was awarded to the Indians 5-0 following the Japanese walkout in protest of a penalty stroke awarded against them in the 55th minute.

Only a bronze

The weakness in the Indian team was thoroughly exploited by Australia in the semi-final. Having played India in the past, the Aussies tweaked their gameplan to frustrate the Indian hockey team and force them into making mistakes.

And India played into the Australian trap as they let their opponents find openings at will and threaten the Indian goal. This proved costly for the side as Australia -- who came into the Games as the top-ranked team -- clinched the match in extra time to make it to the maiden final. It relegated India to the bronze medal playoff match for the first time.

Hurt by their semi-final loss, the Indian hockey team came out roaring in the play-off to beat West Germany 2-1 to return home with the bronze medal.

"We could only win the bronze," Muneer Sait summed up. "This remains my biggest disappointment."

Pakistan won the gold medal after they beat Australia 2-1 in the 1968 Olympic hockey final to become champions for the second time at the Games.

Olympic Channel


---

'Wounded warriors': Field hockey athletes recover from injury together

By Madi Kirkman



Redshirt junior forward Meredith Shoulder (2) gains possession of the ball against Syracuse on Oct. 16, 2020 in Karen Shelton Stadium in Chapel Hill, N.C. UNC beat Syracuse 1-0. Photo: Angelica Edwards

Coming home from spending another game on the sidelines, Meredith Sholder came to a realization: she would never take the field with the Tar Heels' senior class again. She had spent the whole of her junior season last year with the UNC field hockey team out with a foot injury.

Sholder said that realization really took a toll on her when one of her teammates returned home to the Netherlands following graduation.

Cassie Sumfest, who also lives with Sholder, tore her ACL the spring before the start of the 2019 season, and she admitted feeling the same way. In that moment, Sholder and Sumfest realized how grateful they were that they had each other to go through recovery with.

"Being able to understand each other was super special because I knew that everything she said was 100 percent genuine, and 100 percent valid," Sholder said.

Sholder and Sumfest were injured prior to UNC's undefeated national championship run in 2019. They were both from Pennsylvania and knew each other during high school through Junior National teams. They lived together at UNC throughout their shared injuries, recoveries and triumphs. Now both are back and ready for action during the shortened 2020 season.

Both women were members of the 2018 undefeated National Championship season their sophomore years. In the spring of 2019, Sumfest tore her ACL when she planted to shift directions with the ball. She was able to walk off the field and hoped the injury wasn't serious as she went into the training room for testing.

"I went into a squat, like I did a squat jump," Sumfest said. "And as I came back down, my knee just gave out. So after that I knew."

For Sholder, she went into the 2019 season healthy, feeling like she was in better shape than ever before.

"I was really excited," Sholder said. "But yeah, unfortunately, it was the second day of preseason, and I was going to cut for a ball and I twisted my ankle and fell."

X-rays revealed that she fractured her fifth metatarsal, a long bone on the outside of the foot. At first, there was still some possibility of her returning at the end of the season, but her recovery regressed and she had to return to crutches. Sholder then had to accept the fact she would miss the entire season.

UNC's head athletic trainer, Scott Oliaro, said when Sholder's setback happened, Sumfest gave her comfort and encouragement.

"I think that helped Meredith out, knowing that there was somebody else that was in her boat and that was going to be doing the same thing she was," Oliaro said. "She wasn't alone in going through it, which I think was helpful."

'The wounded warriors'

Sumfest and Sholder would go together to Stallings-Evans Sports Medicine Center, where they got treated. Oliaro said they would do mostly injury-specific recovery work but would be with each other as they did their exercises.

UNC field hockey head coach Karen Shelton said during team practices, the two would be off on their own, working together on their respective recoveries. She said that time seemed to bring them closer.

"You know, they just worked together," Shelton said. "Some things they could do together, some things they couldn't, but I think they handled it very well."

Sholder said there were times when the team would win a game and she would feel happy for the team in the moment, but later shared with Sumfest that she wished she could have been a bigger part of the win. Sharing concerns like this with each other was a major part of their recovery process.

"No one will be able to understand until they are injured," Sholder said. "It was like we were fortunate enough that we were injured at the same time."

Ali Rushton, a senior in 2019, also tore her ACL and was out for the season alongside Sumfest and Sholder. She said the three of them sat together in the same place every game as a superstition.

"We were the three injured people, so we called ourselves the wounded warriors," Sholder said. "So for every game, we would sit on the sideline or we'd stand on the sideline, and we would make it a goal to be as loud as possible."

'They were certainly ready'

Even though Sumfest and Sholder recovered and were ready to play by spring, COVID-19 hit and any games they could have played in were canceled.

"That had to be frustrating for them because they waited so long," Oliaro said. "But to their credit, they just kept improving from the middle of March until the summer, and when they got back they were certainly ready to play and participate."

In the pair's first game back against Wake Forest, Sumfest and Sholder both scored goals to contribute to the team's 3-1 win.

"When you have something that you love taken away, you tend to come back with a renewed attitude about it and you tend to appreciate the little things even more," Shelton said. "And so they have come back. They've been terrific both contributing largely to our success this fall."

Sumfest said she was grateful to be able to play in the 2020 season after spending so much time off the field. She was a little nervous to return, but once she stepped out onto the field and the match started, her nerves disappeared and muscle memory took over. Sholder said she felt lots of support when she returned and was also thankful to be able to step on the field again.

"I'm really happy with where I am right now, and a year ago today I probably wouldn't have thought that," Sholder said.

Rushton said the 2019 season was different without Sholder and Sumfest, but they were perfect examples of becoming stronger because of their injury. She said UNC field hockey wouldn't be where it is today without them.  

"I think with both Meredith and Cassie this year, they have a 100 percent chance of winning the National Championship again," Rushton said.

The Daily Tar Heel


---

"Everybody helps everybody": Maryland field hockey's freshmen foster off-field connection

Jacob Richman



Maryland field hockey huddles before its 2-1 victory over Rutgers on Sept. 28, 2019 at Bauer Stadium in Piscataway, New Jersey. (Julia Nikhinson/The Diamondback)

Before moving onto the University of Maryland's campus for the first time, field hockey freshmen Logan Anderson, Anna Castaldo, Anoushka Chiswell and Rayne Wright got to know each other on a weekly Zoom call.

They talked about family, where they grew up and, of course, field hockey. But what has connected this group is coping with the COVID-19 pandemic together.

"We were going back and forth about how we felt about the situation," Wright said. "It was a bonding experience, knowing that each of us were scared of what was going to happen."

This summer, Maryland field hockey's freshman players prepared each other to join the rest of coach Missy Meharg's squad. And now, as roommates, they're also dealing with daily student life.

"Sometimes we have our days and sometimes we don't," Anderson, a defender from Medford Lakes, New Jersey, said. "But each of us steps up one day after the other and pushes us to work harder … We are a great team, the four of us."

Since uniting on the campus, the four Terps said, they have built a bond that extends beyond the field. Between shared courses, weekly practices, lifting sessions and the time they spend together at their shared on-campus apartment, chemistry is not proving to be a problem.

"Chemistry … is just so there for them right now," Meharg said. "They love to see each other everyday."

Wright said the unit has grown closer as it's faced challenges in practice and in classes. When one of them has a difficult outing on the field or needs someone to edit their paper, they have a support system.

"Everybody helps everybody," Wright said.

Chiswell was able to give her teammates a different perspective on playing field hockey through the pandemic. The former New Zealand U18 player was able to continue competing with minimal interruptions in her home country — largely due to the country's handling of the COVID-19 pandemic.

The other three members had their senior seasons cut short as the pandemic spread. All three were expected to have banner years for their high schools.

However, Wright says she doesn't plan to dwell on the loss.

"Maturity is the word for this whole pandemic, especially for kids our age," said Wright, a defender from Bethlehem, Pennsylvania. "It was so saddening losing our senior year, but you just have to grow up and move on because time is of the essence."

Since arriving at Maryland, they have been met with a rigorous regiment of fundamentals and skills-based training sessions.

Meharg said field hockey has become a sport of endurance — a concept her freshman cohort has bought into.

"It's not all about competition right now, it's about skill," Meharg said. "And that's ruthless to work on day in and day out … very rarely do you have that time as a fall sport to do that concentrated, outcome-oriented, skill work."

Meharg noted the freshmen have kept pace with their upperclassman colleagues during practices so far. She believes it's because they came to the team already fit and they treat practice personally.

As the team's freshmen continue their time together on and off the field, this additional opportunity to connect with each other and their veteran teammates is invaluable to the high standards the program dictates.

"This is all that we know," Anderson said. "It's not what we were expecting but I think this … is a really great opportunity for us. I want to take advantage of that and be in this moment right now."

The Diamondback