All the news for Monday 12 October 2020

ROUND-UP: English Men's Hockey League Round 4



Matt Guise Brown celebrates his goal for Hampstead and Westminster v Wimbledon, Oct 10 2020. Credit Mark Clews

Reigning champions Surbiton gave their hopes of retaining the Men's Hockey League Premier Division title a big boost with a 7-2 victory over rivals East Grinstead on Saturday evening.

Alan Forsyth's hat-trick helped them remain top of the table as the only team with a 100% record so far.

Tim Nurse put them ahead from open play after seven minutes, and although Simon Faulkner levelled with a penalty stroke after 16 minutes, Surbiton raced into a 4-1 lead with three goals in seven minutes.

First Forsyth opened his account on 21 minutes, and then Arjan Drayton Chana netter a minute later. Ben Boon added another six minutes later, all their goals coming from open play.

Luke Emmett pulled one back for the visitors shortly before half time, but Surbiton's defence shut them down after the break and they made sure of the win with Forsyth adding further goals on 46 and 58 minutes, before Luke Taylor's 68th minute penalty corner shot completed the scoring.

Also on Saturday evening Hampstead & Westminster showed their good form with a 4-1 win over Wimbledon.

Ben Arnold had put the home side ahead with a seventh minute goal, but Rupert Shipperley equalised for Hampstead & Westminster three minutes from half time.

After the break it was all Hampstead, with Shipperley adding a second on 55 minutes before Matt Guise Brown and Mark Edwards added further goals on 59 and 69 minutes respectively.

Old Georgians also enjoyed a convincing victory, beating visitors the University of Exeter 5-1 on Sunday afternoon.

James Tindall put them ahead after 17 minutes, and Tom Carson doubled their advantage from a penalty corner on 25 minutes.

Owen Evans-Evans got Exeter off the mark two minutes before half time, but the second half belonged to Old Georgians with Dan Shingles scoring from open play after 40 and 62 minutes.

Elsewhere Beeston were 3-1 winners over the University of Durham.

It took just four minutes before they led with Adam Dixon firing home from a penalty corner, and Ollie Willars scored in similar fashion seven minutes later.

Henry Croft added one from open play just before half time, and Josh Powell's 60th minute goal for the visitors was just a consolation.

The game between Brooklands MU and Holcombe was not played.

Division One North

Loughborough Students took their third straight win in Division One North with a 5-0 defeat of the University of Birmingham on Sunday.

Five different scorers pitched in with the goals as efforts from Toby Stanley, Alex Pendle, Joshua Greaney, Ben Hooper and Matthew Ramshaw kept them at the top of the table.

An Adam Wilson hat-trick fired Cambridge City to their first win of the season as they beat the City of Peterborough 4-2 away from home.

And Bowdon also had a hat-trick hero with Simon Egerton scoring all the goals in their 3-0 win over Deeside Ramblers.

Division One South

Sevenoaks came out on top in an eight-goal thriller in Division One South, beating Havant 5-3 on the road.

Goals from James Speke and Andrew Ross set the pace with the score at 1-1 inside six minutes.

But it was Sevenoaks that outscored their opponents courtesy of further goals from Ben Allberry, Jason Doherty-Bigara, Edward Matts and Craig Morton.

Canterbury top the division with their 100% start intact, largely thanks to Tom Bean's brace in their 2-1 defeat of Southgate.

Kyle White ensured that Teddington also kept their perfect start going, his goal the difference in their 1-0 win over Old Cranleighans on Saturday.

Oxford Hawks had to come from behind after Scott Rawlings put opponents Team Bath Buccaneers ahead on 30 minutes.

It took just three minutes for Edward Tristem to level the scores before Andy Watts saw Hawks take the lead from the penalty spot. Jack Biggs put the result beyond doubt with brace.

In the other game in the division, Andrew Oxburgh's brace helped Reading to a 4-2 win over Brighton & Hove.

Conference North

Two goals from Damian Jarzembowski helped Lichfield hold Conference North leaders Didsbury Northern to a 2-2 draw on Sunday.

He gave his side the lead after 27 minutes and added another penalty corner goal ten minutes into the second half. But Didsbury hit back through Dominic Ashley and Anthony Symondson to take a point.

Meanwhile Timperley moved to within one point of Didsbury Northern with a 4-2 win over Preston, with all their goals coming from Connor Miller.

Conference West

Szymon Oszyjczyk's two goals for Khalsa Leamington helped them secure their first win of the season so far – a 2-1 victory at Cheltenham in the Conference West.

Fareham maintained their 100% record so far with a 3-1 win at Isca, while the university of Bristol were 4-2 victors over Cardiff university, and Harborne also have a perfect record following their 3-0 win at Plymouth Marjon.

Conference East

Old Loughtonians secured their first win of the season in the Conference East, beating hosts St Albans 5-3 with Tom Watson scoring twice in that thriller.

There were nine goals in the clash between West Herts and London Edwardians, with Edwardians winning 5-4 after a closely-fought match.

Elsewhere, Richmond are still top with a 100% record following their 2-1 win at Bromley & Beckenham on Saturday.

* Some clubs have requested a postponement of matches this weekend in line with our Covid regulations. In a small number of cases where there is clear and detailed evidence of mass unavailability this request has been granted. The teams who have been granted a postponement are University of Nottingham Men's and Women's teams and Sheffield Hallam Men.

RESULTS

Men's Hockey League (Sat, 10 October 2020):

Premier Division: Surbiton 7, East Grinstead 2; Wimbledon 1, Hampstead & Westminster 4.

Division One South: Old Cranleighans 0, Teddington 1.

Conference East: Bromley & Beckenham 1, Richmond 2; St Albans 3, Old Loughtonians 5; Wapping 3, Spencer 0.

Conference North: Timperley 4, Preston 2.

Men's Hockey League (Sun, 11 October 2020):

Premier Division: Beeston 3, Univ of Durham 1; Old Georgians 5, Univ of Exeter 1.

Division One North: City of Peterborough 2, Cambridge City 4; Bowdon 3, Deeside Ramblers 0; University of Birmingham 0, Loughborough Students 5.

Division One South: Havant 3, Sevenoaks 5; Oxford Hawks 4, Team Bath Buccaneers 1; Reading 4, Brighton & Hove 2; Canterbury 2, Southgate 1.

Conference East: Harleston Magpies 1, London Wayfarers 2, West Herts 4, London Edwardians 5.

Conference North: Lichfield 2, Didsbury Northern 2; Univ of Birmingham 2s 3, Leeds 2; Univ of Durham 2s 1, Belper 1.

Conference West: Cheltenham 1, Khalsa Leamington 2; Chichester 0, Ashmoor 2; Isca 1, Fareham 3; Plymouth Marjon 0, Harborne 3; Univ of Bristol 4, Cardiff University 2.

England Hockey Board Media release


---

ROUND-UP: English Women's Hockey League Round 4



Action from Loughborough Students v Buckingham. Credit Andrew Smith

Hannah Cozens' second half goal helped East Grinstead snatch a 1-0 victory at Surbiton as their good start to the Women's Hockey League Premier Division continued.

Her 56th minute penalty corner strike proved enough to take a third win, and leaves East Grinstead tied at the top alongside Loughborough Students.

Loughborough have an identical record to East Grinstead after securing a 2-0 win over Buckingham.

First half goals from Lucy Millington and Hannah Grieve earned them the points, with Millington scoring from open play after 18 minutes while Grieve struck from a penalty corner on the stroke of half time.

Eloise Laity, Catherine Macaulay and Claire Thomas were all on target as Clifton Robinsons beat Swansea 3-0.

The result sees the Bristol side occupy fourth place in the table with a game in hand over all three teams above them, while Swansea are yet to record a point or score a goal.

Kate Mccaw hit a goal in each half to guide Hampstead & Westminster to a 3-1 win on the road at Wimbledon.

Grace Balsdon scored Hampstead's other goal and Lucy Holder grabbed a consolation for Wimbledon.

The University of Birmingham got their first point of the season, holding Beeston to a goalless draw.

Division One North

Brooklands-Poynton made it three wins from three to go top of Division One North, condemning Belper to their third straight defeat with a 1-0 result.

Annie Mills scored the only goal of the game on 58 minutes.

Just behind Brooklands on goal difference are Bowdon Hightown. They also continued their perfect start by beating the University of Durham 2-0 with goals from Sian French and Rosie Bailey.

Elsewhere, Leicester City built on a Jeorgia Carr goal after just two minutes to take a 3-1 win over Ben Rhydding.

Two goals from Lizzie Pocknell helped Stourport to a 4-0 win over Gloucester City, with Sarah Parkinson-Mills and Harriet Bradley scoring the others.

Division One South

Reading are top of the Division One South table after playing out a thrilling 3-3 draw at Cambridge City.

A brace from Lisa Williamson and a goal from Maddie Axford put Cambridge into a 3-2 lead with the clock running down.

But Fran Clements scored on 63 minutes to ensure Reading left with a share of the spoils, their other goals having come from Lizzie Gittens and Jo Ellis.

Sevenoaks have scored just four goals in three games but their resolute defence means that they are level on points with Reading, winning two and drawing one.

They picked up three points today as Susie Rowe's strike from a penalty corner on 52 minutes gave them a 1-0 win over Canterbury.

A Faye Curran goal in the first minute set Wimbledon seconds on their way to a 2-0 win over Isca, and Slough prevailed 2-0 against Harleston Magpies with Briony Anyon and Shona McNab on target in the first half.

Trojans also scored twice in the first half as they beat Surbiton seconds 2-0 at home.

Conference East

Bedford stormed to the top of the Conference East table with a 7-1 win against Canterbury's second team. Kate Costin led the scoring for the visitors, bagging a hat-trick.

Stephanie Holyoak, Kelly Bingham, Rebecca Downing-Holmes and Robyn Gribble were also on target in the victory which leaves Bedford on nine points.

Hampstead & Westminster's second string were also big winners with Amy Askew scoring four goals as they beat Horsham 8-0 away from home.

Elsewhere, Southgate beat St Albans 2-0 and Bromley & Beckenham beat Chelmsford by the same scoreline.

Barnes are second in the table after playing out a 0-0 draw with East London.

Conference West

Sutton Coldfield are the early leaders of the Conference West after beating Oxford Hawks 3-1 to maintain a 100% record.

Emma Mccabe scored a brace for the victors but saw a penalty stroke saved to deny her a hat-trick.

Victoria Mccabe also scored two goals as Team Bath Buccaneers beat Basingstoke 4-0 to move up to third.

Clifton Robinsons seconds are second in the table after a 2-1 win over Cheltenham and Bristol Firebrands drew 2-2 with Exe.

Conference North

Wakefield and Doncaster both went into their Conference North clash with two wins from two but it was Wakefield who maintained their 100% start with a 2-1 win, courtesy of two goals from Tayla Britton.

Ellie MacKenzie hit a double as Loughborough Students seconds got off the mark for the season with a 5-0 win over Alderley Edge, who are still without a win.

Two Hattie Madden goals saw Fylde to a 2-0 defeat of Didsbury Northern and Leeds snatched all three points against Pendle Forest with two goals in the last seven minutes.

Two goals each from Leonnie Molloy and Dana Bettany helped Timperley to a 9-1 home win over Cannock.

* Some clubs have requested a postponement of matches this weekend in line with our Covid regulations. In a small number of cases where there is clear and detailed evidence of mass unavailability this request has been granted. The teams who have been granted a postponement are University of Nottingham Men's and Women's teams and Sheffield Hallam Men.

RESULTS

Women's Hockey League (Sat, 10 October 2020):

Premier Division: Surbiton 0, East Grinstead 1; Wimbledon 1, Hampstead & Westminster 3; University of Birmingham 0, Beeston 0; Loughborough Students 2, Buckingham 0; Swansea 0, Clifton Robinsons 3.

Division One North: Ben Rhydding 1, Leicester City 3; Belper 0, Brooklands-Poynton 1; University of Durham 0, Bowdon Hightown 2; Stourport 4; Gloucester City 0.

Division One South: Sevenoaks 1, Canterbury 0; Cambridge City 3, Reading 3; Wimbledon 2nds 2, Isca 0; Slough 2, Harleston Magpies 0; Trojans 2, Surbiton 2nds 1.

Conference East: Chelmsford 0, Bromley & Beckenham 2; Southgate 2, St Albans 0; Canterbury 2nds 1, Bedford 7; Horsham 0, Hampstead & Westminster 2nds 8; Barnes 0, East London 0.

Conference West: Clifton Robinsons 2nds 2, Cheltenham 1; Bristol Firebrands 2, Exe 2; Team Bath Buccaneers 4, Basingstoke 0; Sutton Coldfield 3, Oxford Hawks 0.

Conference North: Timperley 9, Cannock 1; Wakefield 2, Doncaster 1; Leeds 2, Pendle Forest 0; Didsbury Northern 0, Fylde 2; Loughborough Students 2nds 5, Alderley Edge 0.

England Hockey Board Media release


---

English Hockey Premier Division round-up: Surbiton serve up seven



H&W celebrate against Wimbledon on Saturday PIC: Mark Clews

Alan Forsyth got in on the act for Surbiton with his first goals of the season – a hat-trick – as the champions moved clear in the men's Premier Division.

Forsyth, who has turned provider for the opening games, starred in Surbiton's 7-2 win over East Grinstead, the Sugden Road faithful seeing evening cheer after the women earlier suffered a 1-0 defeat to East Grinstead women.

Dan Shingles netted a rare double, including a sumptuous run and chip goal, as Old Georgians moved into second following a 5-1 win over University of Exeter.

Hampstead & Westminster are one of four teams level on seven points in second after powering to a 4-1 win over Wimbledon.

Beeston were 3-1 winners over the University of Durham, while Holcombe were unable to travel to Brooklands MU due to Covid-19 within the squad.

Hannah Cozens' second half goal helped East Grinstead snatch a 1-0 victory at Surbiton as their good start to the Women's Hockey League Premier Division continued.

Her 56th minute penalty corner strike proved enough to take a third win, and leaves East Grinstead tied at the top alongside Loughborough Students.

Loughborough have an identical record to East Grinstead after securing a 2-0 win over Buckingham.




First half goals from Lucy Millington and Hannah Grieve earned them the points, with Millington scoring from open play after 18 minutes while Grieve struck from a penalty corner on the stroke of half time.

Eloise Laity, Catherine Macaulay and Claire Thomas were all on target as in-form Clifton Robinsons beat Swansea 3-0.

The result sees the Bristol side occupy fourth place in the table with a game in hand over all three teams above them

Meanwhile Kate Mccaw hit a goal in each half to guide Hampstead & Westminster to a 3-1 win on the road at Wimbledon.

Grace Balsdon scored Hampstead's other goal and Lucy Holder grabbed a consolation for Wimbledon.

The University of Birmingham got their first point of the season, holding Beeston to a goalless draw.
---

Irish EYHL Men's Weekend Round-Up, Oct 11th 2020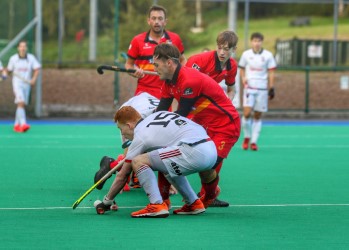 Banbridges Eddie Rowe tackled by YMCAs Ben OGrady. Pic: Sinead Hingston

YMCA's incredible start to the season continued apace as they held off Banbridge at Havelock Park to take a surprise share of top spot with Lisnagarvey after three rounds of the men's EY Hockey League.

Pre-lockdown, they sat in the relegation playoff place before the season was voided but this year they look in no such danger as Ross Henderson, Grant Glutz and Peabo Lembethe helped them run up a 3-0 lead.

Bann did get back in the mix via Eugene Magee and Eddie Rowe but, like last week against UCD, YM's penalty corner defence withstood a late barrage to record a big away win.

They sit on nine points now alongside Lisnagarvey who were much too strong for Corinthian who slumped to a third successive loss, falling 6-0. Troy Chambers was the star man, scoring twice and having a hand in a couple of the other goals.

Monkstown's perfect record was broken by UCD in a 4-4 thriller at the Merrion Fleet Arena in a game where the lead changed hands four times. Town led 1-0 and 3-2 by half-time but also trailed 2-1 and 4-3 late in the game as they struggled to contain Mark Samuel's roving efforts down the right. Davy Carson, however, popped up with the equaliser to share the spoils.

Pembroke landed their first points of the season with a 2-1 win in a bruising encounter against Glenanne at Serpentine Avenue. Shane O'Donoghue put the Glens in front but fellow Olympian Alan Sothern equalised before half-time and the winner arrived in the fourth quarter from Cian Murphy from Julian Dale's assist.

Three Rock Rovers, meanwhile, were far too strong for Annadale, recording a 10-0 victory at Grange Road with Ben Johnson bringing his tally to six goals in three games to date.

Dale's cause was not helped by injury to goalkeeper Sam Hamill at 6-0 with 22 minutes to go. With no recognised goalkeeper on the bench, they decided against padding up an outfielder with the additional complication of having to sanitise the full kit.

Men's EYHL – day three results: Banbridge 2 (E Magee, E Rowe) YMCA 3 (G Glutz, R Henderson, P Lembethe); Lisnagarvey 6 (T Chambers 2, J Lynch, A Williamson, B Nelson, M Aughey) Corinthian 0; Monkstown 4 (D Carson 2, S Cole, R Nichols) UCD 4 (S Walker 2, G Sarratt, P Lynch); Pembroke 2 (A Sothern, C Murphy) Glenanne 1 (S O'Donoghue); Three Rock Rovers 10 (B Johnson 3, B Walker 2, L Adams, J Walker, H Morris, A Haughton, R Canning) Annadale 0

Saturday, October 17th: UCD v Three Rock Rovers, Belfield, 1pm; Monkstown v Banbridge, Merrion Fleet Arena, 2.15pm; Glenanne v Lisnagarvey, St Andrew's, 3pm; Annadale v Corinthian, Lagan College, 3.30pm; YMCA v Pembroke, Wesley College, 4pm

Day three – extended reports

Pembroke 2 (A Sothern, C Murphy) Glenanne 1 (S O'Donoghue)

Pembroke came from a goal down to record their first win of the season from a bruising affair at Serpentine Avenue. Eric Foy was shown a yellow card just a couple of minutes in for swinging out at a Glens' player off the ball following a tangle and the visitors went on to have the best of a tight first quarter but two corners pushed wide was the sum of the chances.

From corner three, however, Shane O'Donoghue found his bearings and planted a drag-flick in the bottom right corner for 1-0. Pembroke woke up from there and were the side the ascendancy; they saw Iain Walker punch away Alan Sothern's drag and had another effort saved at the left post while Nick Burns reversed wide.

The goal was certainly coming and it arrived before half-time from a neat variation, the stopper sliding the ball left to open an angle for Sothern to flick home. Harry Spain kept it level with a save off the line on the half-time whistle from Glenanne's fourth corner.

Pembroke continued in the ascendancy in the second half with Fionn O'Leary and Julian Dale going very close from big chances. They went in front early in the fourth quarter when Sothern picked up Foy's long pass in the corner and cut inside to shoot. He took contact in that phase but the ball fell to Dale on the baseline who got the ball back to Cian Murphy to flick into an open goal.

Glenanne fought back, requiring Richard Sweetnam to put his body on the line to deny Richard Couse – taking a nasty blow to the hand into the bargain – and Mark Ingram pull out all the stops to keep out Couse and two more O'Donoghue corner attempts.

Monkstown 4 (D Carson 2, S Cole, R Nichols) UCD 4 (S Walker 2, G Sarratt, P Lynch)

Monkstown and UCD shared an eight-goal battle which saw the lead swap four times at the Merrion Fleet Arena. The tempo was set from the very outset with Peter Lynch's spectacular volley fizzing wide with barely a couple of seconds on the clock. Monkstown had the lead in the second minute when Ryan Spencer's shot hit Sam Walker's foot on the line, Stephen Cole converting from the spot.

UCD quickly turned things around with Mark Samuel rampant down the right flank for the students and was the game's most influential performer. He won a corner which Conor Empey slipped into the path of Walker who chipped over Dave Fitzgerald for 1-1.

Samuel was bundled over for a third UCD corner which Guy Sarratt skapped home at the second attempt from mid-circle. UCD were the side on top for most of the half and could have been further in front but for a huge Fitzgerald save from Ewan Ramsay but they found themselves trailing 3-2 at the big break.

First, Rory Nichols whipped in a high drag-flick and, within seconds, Davy Carson got his first of the day, guiding in a Keith Kenning push after a sustained wave of attacks.

It remained that way through the third quarter before UCD went back into the lead. First, from an unstopped corner, Town vacated the area in front of the goalkeeper where the ball was returned to the waiting Peter Lynch to bash in to control and bash in from close range.

Then Samuel ghosted around the back to the baseline and crossed for Walker to sweep in for 4-3. The lead did not last long, however, as Nichols got to the endline and picked out Carson to finish off.

Banbridge 2 (E Magee, E Rowe) YMCA 3 (G Glutz, R Henderson, P Lembethe)

YMCA continued their excellent run of form to start the men's EY Hockey League and they now have almost as many wins as they managed in the whole of the 2019/20 campaign after just three weeks. It was built on a remarkable opening phase with Ross Henderson opening the scoring in the 12th minute, dragging the ball onto his reverse before slipping it through Luke Roleston.

Grant Glutz got his fourth of the season soon after when he powered home from mid circle and he played an instrumental in the third goal from a corner which Peabo Lembethe got a vital finish on.

Bann got a foothold in the game when Luke Witherow weaves his way to the backline and passed for Eugene Magee to score. The Co Down side held most of the play in the second half but found clear chances tough to come by.

They were right back in it, though, when Philip Brown went on a gallop before assisting Eddie Rowe to score his third goal in two games. Bann had four corners in the final quarter but YMCA's defensive unit was immaculate once again to keep each of them out and preserve the points.

Lisnagarvey 6 (T Chambers 2, J Lynch, A Williamson, B Nelson, M Aughey) Corinthian 0

Lisnagarvey made it three wins from three with a comfortable win over Corinthian at Comber Road. The reds held them at bay until just before the end of the first quarter when great work from Daniel Nelson, driving into the circle, created the chance for Johnny Lynch to slot in.

From the restart, they almost instantly doubled the advantage when Harry Morris picked up the ball and strode forward and while the goalkeeper got a block, Troy Chambers pounced to lift the ball in. Andy Williamson dragged in the third from a corner for 3-0 after 25 minutes.

Ben Nelson's sweet reverse-stick strike from James Corry's assist started the second half scoring and it was 5-0 before the end of the third quarter courtesy of Matthew Aughey, finishing off from Chambers' assist. Chambers then closed out the win with his second goal in the final quarter.

Three Rock Rovers 10 (B Johnson 3, B Walker 2, L Adams, J Walker, H Morris, A Haughton, R Canning) Annadale 0

Nine second half goals saw Three Rock Rovers race clear of Annadale to record their second win of the campaign with Ben Johnson's hat trick making it six goals in three games. The first half saw plenty of pressure for Rovers but the only breakthrough came in the second quarter when Ross Canning's through ball was touched in by Luke Adams.

But six goals in the third quarter saw the game quickly change complexion. Johnson's corner started the run before Daragh Walsh set up Ben Walker for 3-0.

Johnson added the fourth with a backhand shot before completing his hat trick from a brilliant diving effort following Adams and Evan Jennings' excellent approach work. James Walker's wonder strike stretched the lead to six and Dale endured further pain when goalkeeper Sam Hamill was forced off injured with a hamstring problem.

With no recognised replacement on the bench, they considered putting an outfielder in the pads but decided against it with the requirement to sanitise the equipment. With no keeper in place, Harry Morris tapped in for 7-0 at the three quarter break and Ali Haughton, Ben Walker and a Ross Canning stroke completed the win.

Irish Hockey Association media release


---

Irish EYHL Women's Weekend Round-Up, Oct 11th 2020



Railway Union in Action against Pegasus

Railway Union continue to set the pace in the women's EY Hockey League as they ground out the points 1-0 from their home date with reigning champions Pegasus at Park Avenue.

It means, with three wins, they now have as many as they managed in the whole of last season while Pegs returned to Belfast from Dublin with nothing to show for their efforts for a second successive week. Kate Lloyd provided the only goal, finishing off from Ailish Long's baseline pull-back early in the second half to make the difference.

Limerick's Catholic Institute are the other form side and they recorded the biggest win, 5-1, in the women's EYHL since back in March 2019 when they swept aside Muckross at Rosbrien.

Naomi Carroll and Louise McCollum traded goals before Roisin Upton nailed a pair of set pieces while Rosie Pratt and Aoife Hickey put Insta on course for seven points out of nine and second spot.

Old Alex lost their perfect record at the hands of Dublin rivals Loreto 4-3. The Beaufort club were good value for the result as they swept into a 4-1 lead with defenders Hannah Matthews and Grace McLoughlin combining for their first three and Grace Donald got the all-important fourth.

Alex fought back brilliantly with Nikki Evans and Deirdre Duke among the goals but Loreto held on for their second win.

Pembroke got their first points of the campaign with a strong 3-0 win at UCD with Sophie Dix and Emily Beatty putting them 2-0 up and Tori Wensley added to that early in the second half.

Cork Harlequins did not travel to play Belfast Harlequins over Covid concerns in the weekend's other tie on the schedule.

Women's EYHL: Catholic Institute 5 (R Upton 2, A Hickey, R Pratt, N Carroll) Muckross 1 (L McCollum); Old Alex 3 (N Evans 2, D Duke) Loreto 4 (H Matthews 2, G McLoughlin, G Donald); Railway Union 1 (K Lloyd) Pegasus 0; UCD 0 Pembroke 3 (S Dix, E Beatty, T Wensley)

Off: Belfast Harlequins v Cork Harlequins

October 17th fixtures: Cork Harlequins v Railway Union, Farmers' Cross, 1pm; Old Alex v Catholic Institute, Milltown, 1.30pm; Belfast Harlequins v Pegasus, Deramore Park, 2.30pm; Pembroke v Loreto, Serpentine Avenue, 2.30pm; UCD v Muckross, Belfield, 2.50pm

Day three extended reports

Railway Union 1 (K Lloyd) Pegasus 0

Kate Lloyd struck her third goal of the season to keep Railway Union's excellent start to the season, meaning they now have as many weeks after three of this season as they did from the entirety of last term.

They shaded the first quarter in terms of possession and had the only corner saved by Megan Todd with chances at a premium. Sarah Hawkshaw almost unlocked the door for Lloyd and Martha McCready but their shots just went off course before Grace O'Flanagan – back into the side for this tie – was called on to make a couple of saves on the half-time hooter, notably from Shirley McCay at full stretch.

The goal came early in the second half with Ailish Long making a great dart to the back line and she found Lloyd waiting in the middle to push in.

Pegasus upped the ante with Emma Quinn drawing the best from O'Flanagan while Olivia Berry won a corner which McCay again fired in dangerously but was repelled. The pressure was relentless in the final quarter but Pegasus could not find a way through and so they ended their second successive trip to Dublin without a result as Railway march on.

Catholic Institute 5 (R Upton 2, A Hickey, R Pratt, N Carroll) Muckross 1 (L McCollum)

Catholic Institute recorded their largest winning scoreline in the women's EY Hockey League in over 18 months to move into second place in the competition with seven points from nine thus far. It took them seven minutes to get off the mark with a long corner move worked into Naomi Carroll who turned and fired home from mid-circle.

Muckross got back on terms in the 21st minute when Emma Mathews' sumptuous pass found Louise McCollum rushing on at pace and she entered the circle before finishing off a great goal. Roisin Upton made sure parity was short lived with a powerful hit from the top of the circle and then Rosie Pratt struck for 3-1 from the second phase of a corner on her backhand.

It was 4-1 eight minutes into the second half when Aoife Hickey finished off an overload down the right wing with Roisin Begley to the fore in its conception. Upton dragged in the fifth goal as the Limerick side continue their excellent start to the campaign.

UCD 0 Pembroke 3 (S Dix, E Beatty, T Wensley)

Pembroke produced an all-action performance to get their first win of the season as UCD's tough start continues following a 3-0 home defeat. The visitors were good value for the result as they controlled long periods of the first half and should have been in front when Aisling Naughton drove through and slipped the ball past goalkeeper Clodagh Cassin to Ava Beatty but she could only slam the ball onto the post with her shot.

It was 1-0 when Gillian Pinder's pin-point cross from the left baseline was met first time by Sophie Dix arriving at pace and it was another powerful ball into the mix that created goal number two. This time, Leah McGuire strode forward from the back and bashed into the circle where Emily Beatty met the ball perfectly for 2-0.

Pembroke had a couple more corner chances – one which was initially awarded as a stroke before being down-graded – but they had to wait until the second half for their third goal. Pinder's first-up shot was well blocked by Cassin but Tori Wensley was there to poke home the rebound.

UCD improved after that but never looked like threatening a comeback with Emma Buckley very assured between the posts while Hannah McLoughlin's pair of corner sweeps were both dealt with well.

Old Alex 3 (N Evans 2, D Duke) Loreto 4 (H Matthews 2, G McLoughlin, G Donald)

Defenders Hannah Matthews and Grace McLoughlin provided the set piece goals that laid the base for Loreto's second win of the season against title hopefuls Old Alex. They built a healthy lead and looked in good shape until Alex stormed back in the last quarter but too late to take anything from the tie.

The Beaufort peppered the Alex goal in the first quarter with Carolyn Crampton making a string of saves while they also had a goal disallowed in favour of a corner before taking the lead with Matthews on the left behind-the-back switch to sweep in.

They looked more likely to score again but were undone by some quick-thinking by Jeamie Deacon whose free was perfectly worked to Nikki Evans on the right post to deflect in, 1-1.

But Matthews soon had Loreto back in front with a carbon-copy corner routine, a step-over switch and a powerful slap-shot. And while their numerous shots from play were repelled by Crampton, Loreto kept running up the corners to move 3-1 up in the second half with Grace McLoughlin this time going direct.

Grace Donald extended the lead to 4-1 when she finished off from open play following a swift attack down the right wing.

Alex got one back when Deirdre Duke brilliantly took down an overhead and rode a hefty tackle before driving on a smacking into the bottom corner. A volley of four corners for Alex were snuffed out but they got further back into the tie when Duke drove on again and while her shot was blocked, Evans snapped up the rebound with two minutes to go.

Irish Hockey Association media release


---

Tarf and C of I advance in ISC as Trinity and Avoca start strong in 1A

Men's Irish Senior Cup and Leinster Division 1A round-up




Clontarf got the best of Kilkeel to advance to the second round of the men's Irish Senior Cup along with Cork C of I from the two ties that went ahead in the competition.

For the Bulls, they are temporarily calling the Sutton Park smurf turf home as Mount Temple is under construction but the change of venue proved no imposition as they showed up well.

They held the majoirity of the ball early on against the Mourne men and scored two from turnovers high up the pitch. The first came from Kevin Mullins, finished with reverse sweep; his brother John got the next, a sweep into the top corner.  

Kilkeel got a goal in second quarter against the run of play via John Finlay, a back post finish after a counter-attack move. Kilkeel had chances to equalise but Dave Lawless saved well twice before the third goal in third quarter from Jordan Edmonds proved critical.  

He went one v one with the goalkeeper, spun onto his reverse and slipped in. John Mullins added the fourth from a tight angle and while Kilkeel had a number of corners in the final quarter, Tarf were well out of reach and en route to a date with Lisnagarvey.

It also gives them a good psychological boost ahead of two EYHL2 meetings with Kilkeel during the season.

Just up the coast on the Donabate peninsula, Portrane were making their first appearance in the Senior Cup since meeting Cork Harlequins in 2003, this time meeting their city counterparts C of I.

Pre-match, the Garryduff men donned masks to mark they were playing the tie "under protest" over the play or concede position this season in the cup.

C of I were the side on top for the most part with Kevin O'Dea scoring twice and Jonny Bruton getting the other before Andy Darroch pulled one back from a corner switch.

Cork Harlequins and Rathgar chose not to travel to their first round ties at Railway Union and Instonians, respectively, due to Covid-19 concerns.

In Leinster Division 1A, there were 4-1 wins for Avoca and Dublin University over Bray and Kilkenny, respectively.

Trinity were 2-0 up going into the final quarter before Eamonn Walsh got one back but another two-goal salvo in the last eight minutes sealed the deal.

The first was a Tom Cole solo effort along the baseline before Daniel O'Donovan added the second in the third quarter, capitalising on a defensive mistrap, scoring off a rebound.

Walsh replied with a sweet first-time hit, following up on some neat dribbling from Eddie Dore, but Trinity hit back with Matthew Simons and Sanil Gupta scoring.

Avoca got their campaign started with success at Templecarrig. The first half was scoreless with Eoin Murphy having a stormer between the posts but Finn MacAnna's touch finally got the best of him in the third quarter.

Jack Lacey-Curtis, however, equalised early in the final quarter with a control and strike from Andy Hopkins' long ball. Avoca, though, responded with a trio of goals to ease the tension with Jonathan Elmes scoring a stroke and a corner to go with MacAnna's second.

Men's Irish Senior Cup – Round 1: Clontarf 4 (J Mullins 2, K Mullins, J Edmonds) Kilkeel 1 (J Finlay); Portrane 1 (A Darroch) Cork C of I 3 (K O'Dea 2, J Bruton)

Off: Railway Union v Cork Harlequins, Instonians v Rathgar

Leinster Division 1A: Bray 1 (J Lacey Curtis) Avoca 4 (J Elmes 2, F MacAnna 2); Dublin University 4 (T Cole, D O'Donovan, M Simons, S Gupta) Kilkenny 1 (E Walsh)

The Hook


---

UCC and Banbridge through in women's ISC

Women's Irish Senior Cup/Leinster Division One




UCC and Banbridge took up their places in the second round of the women's Irish Senior Cup with exciting 2-1 wins each, getting the best of Glenanne and Monkstown.

Bann owed their win to two goals in the first four minutes of their contest at St Andrew's when Stef McCullough stormed 50 metres up the pitch on her own from an intercept before slipping to Paula Haugh.

Her shot was half-saved but McCullagh picked up the bouncing ball and gleefully slammed into the net. Barely a minute later, a raking pass from right back found its way to Haugh who coolly rounded the goalkeeper and slotted home for 2-0.

Marie Goulding got one back in the last seven minutes but Bann held on for the second round berth.  

For UCC, they produced an immaculate performance to come from a goal down to defeat a strong Monkstown side.  

Natasha Twomey put the Dubliners 1-0 up early in the second half amid a goalmouth scramble but the students replied in kind with a cracking piece of work from Jenny Clein. She ghosted right before applying a deft lift over the goalkeeper.  

And Amy Stokes finished off the killer goal from Breana O'Gorman's excellent assist, earning a place in the second round away to Belfast Harlequins.

Cork C of I decided against travelling to Corinthian in the other game that was on the agenda.

In Leinster Division One, meanwhile, Naas got their first win of the season when goals from Amy Coyle, Isobel Collins and Saidhbh Farrell earned them a 3-1 result against North Kildare whose reply came from Lucy Small.

Midweek sees another trio of refixes with Trinity meeting Glenanne on Monday night in a contest between last year's third and fourth placed sides.

Wednesday's tie between Corinthian and Monkstown could have a bearing on the title if last term is anything to go by while Avoca meet Rathgar, hoping to extend their winning run.

Women

Irish Senior Cup – Round 1: Glenanne 1 (M Goulding) Banbridge 2 (P Haugh, S McCullagh); UCC 2 (J Clein, A Stokes) Monkstown 1 (N Twomey)

Off: Corinthian v Cork C of I

Leinster Division 1: Naas 3 (A Coyle, I Collins, S Farrell) North Kildare 1 (L Small)

Fixtures

Monday: Trinity v Glenanne, Santry Avenue, 8pm

Wednesday: Avoca v Rathgar, Sion Hill, 7.15pm; Corinthian v Monkstown, Whitechurch Park, 8.30pm

The Hook


---

Cork sides progress in Irish Senior Cup

Both Harlequins men and women declined to travel for their games while C of I's women also pulled out of their game. UCC's women and Cork C of I's men both progressed in the Irish Senior Cup

Stephen Findlater

Munster's last two sides standing, UCC's women and Cork C of I's men, both made the most of their Irish Senior Cup first round dates after a week of debate over the rights and wrongs of playing out of province matches in the current climate.

Both Harlequins men and women declined to travel for their games while C of I's women also pulled out of their game at Corinthian in the Cup with a forfeit the likely punishment.

For UCC, though, they produced an immaculate performance to come from a goal down to defeat a fancied Monkstown, a side they may meet again in EYHL Division 2 playoff stages should the season reach that far.

Natasha Twomey put the Dubliners 1-0 up early in the second half amid a goalmouth scramble but the students replied in kind with a cracking piece of work from Jenny Clein. She ghosted right before applying a deft lift over the goalkeeper.

And Amy Stokes finished off the killer goal from Breana O'Gorman's excellent assist, earning a place in the second round away to Belfast Harlequins.

C of I's men eventually travelled to Portrane for their Senior Cup with the decision in the balance until Friday. Club management had expressed their preference not to take part but agreed to let the players decide provided they took on a range of extra precautions including not training nor undertaking coaching sessions with youth players for the next week.

Kevin O'Dea's double and one from Jonny Bruton put them out of sight before Andy Darroch pulled one back for Portrane late in the day. Next on their agenda is a date with UCD.

In Munster Division One, Rory Treacy got the only goal for Waterford as they made it three wins from three in the men's competition.

The Irish Examiner


---

After a crushing loss, UNC field hockey dominates in win over Virginia

BY Ryan Wilcox



UNC freshman midfielder Katie Dixon (14) makes a pass in Karen Shelton Stadium on Oct. 11, 2020. The Tar Heels beat the Cavaliers 4-1 in their first home game of the season.By Abe Loven

In an already unusual season for the North Carolina field hockey team, it took an unusual week of practice — which followed an even more unusual game — to vault the team to a dominant, standard-issue, unremarkable, all-too-predictable 5-1 win over Virginia on Sunday.

First, the Tar Heels dropped the second game of their 2020 slate, losing to Louisville 3-1 on the road last Friday. That ended a 47-game win streak and dashed UNC's hopes of a third straight perfect season. As in, two seasons in a row without a loss— yes, current juniors on the team couldn't accurately describe to you what a college field hockey defeat felt like before that game — before scoring just one goal and being out-passed, outshot and out-cornered by the Cardinals.

The Tar Heels turned around and handled business two days later, eviscerating rival Duke in a 4-0 rout. That one, admittedly, wasn't too out of the ordinary. Since then, though, UNC had what head coach Karen Shelton admitted was a mostly "dead" week of practice, their first real chance to reflect on the Louisville game. It felt at times like pulling teeth, Shelton said, trying to bounce back from a rare loss in an already dreary, pandemic-shortened nine-game season.

Noticing a pattern here?

But humans are creatures of habit, after all, and the Tar Heels seemed to be aching to get back to their normal routine against Virginia. The week ended with a much better practice on Saturday, then a mojo-changing lead-up to Sunday's game — complete with the requisite pregame music, according to star forward Erin Matson. It all culminated in a three-goal explosion in the third period that signed, sealed and delivered a win against the Cavaliers.

"We reflected a lot, learned a lot," Matson said of the previous week. "We just wanted to learn from the loss and put it behind us. You have to be happy with a 47-1 record (over the last three years), so I think it was just about keeping the good energy and playing our game."

Matson got things started in a drenched Karen Shelton Stadium, finding the back of the cage early in the second period with an assist from junior Hannah Griggs. At the half, UNC led 10-3 in shots and 4-1 in penalty corners but still only had one goal to show for it.

Enter sophomore midfielder Paityn Wirth, playing in her fourth game as a Tar Heel after transferring from Penn State in the offseason. There, she started all 20 games and recorded five goals and five assists. Through her short UNC career, though, she had yet to notch a goal or assist — until the third period on Sunday, when she scored twice in less than 10 minutes to put the game out of reach.

"She's had a lot of 'almosts,'" Shelton said. "But I think perhaps she needed to break the ice. So getting one, and then the other, was important for her."

Wirth played for an 8-12 Nittany Lion team in 2019, so she's a bit more acquainted with defeat than her teammates. Still, it looked like she felt the importance of staying on the right track Sunday, tapping in one goal and rifling in another in her only two shots on goal.

"That loss taught us a lot of things as a team," Wirth said. "You don't win as much from winning as you do from losing. Obviously I wasn't a part of those wins in the past two years. However, for the team, it definitely took a toll on them, and I felt for them."

Matson mentioned that despite what the past two years would suggest, this team is still figuring out how to play with each other, still getting a sense of where your teammate will be and when they'll be there. Wirth showed on Sunday that she could be a crucial piece of that championship puzzle moving forward.

A Tar Heel doing her part in the chase for another title? That doesn't seem altogether unusual.

The Daily Tar Heel


---

UNC field hockey coasts by Virginia, 5-1, in home opener

By Grace Guin



UNC redshirt junior forward Meredith Sholder (2) defends against UVA sophomore midfielder Adele Iacobucci (13) in Karen Shelton Stadium on Oct. 11, 2020. The Tar Heels beat the Cavaliers 4-1 in their first home game of the season. Abe Loven

The North Carolina field hockey team (3-1, 2-1 ACC) took the field in Karen Shelton Stadium on Sunday afternoon for its home opener against Virginia (3-2, 2-1 ACC) and defeated the Cavaliers 5-1 in a blowout win.

What happened?

With no goals in the first quarter, the match started out slow. North Carolina had 4 attempts all miss, but was able to keep Virginia from taking any shots at the goal with some excellent defense. Sophomore back Romea Riccardo was a large part of that defense and did an exceptional job at keeping the ball away from the other team and stealing it back when it slipped away. Junior forward Erin Matson had a close shot with a few minutes left in the first period but wasn't close enough to score.

The second period began with Matson earning the Tar Heels' third penalty corner. She had another close shot, but Virginia goalkeeper Taylor Henriksen successfully deflected it. Not even three minutes later, Matson opened the game's scoring with an assist from junior forward Hannah Griggs. The second quarter ended with Virginia missing its first attempt at a goal.

Three minutes into the third quarter, junior back Cassie Sumfest took a shot at the goal and sophomore midfielder Paityn Wirth tapped it in, making the score 2-0 for UNC. Just two minutes later, senior midfielder Eva Smolenaars scored a third goal for North Carolina. To end the action-packed third quarter, Wirth scored her second goal of the game, leaving the score at 4-0 heading into the fourth quarter.

Virginia scored its first goal of the game five minutes into the fourth quarter with a shot by sophomore striker Laura Janssen. North Carolina ended the match with a final score of 5-1 after Griggs sent one last shot into the goal with nearly 11 seconds left.

Who stood out?

Wirth scored twice in her fourth game with the Tar Heels after transferring from Penn State. Griggs had both an assist and a goal, playing a strong offense consistently throughout the entire match. Matson scored the first goal of the game and used her strength to win her foot races and bring the ball up the field.

When was it decided?

Even though the match started off slow, the third quarter picked up the momentum after Smolenaars scored almost right after Wirth. From that point on, the energy was on North Carolina's side and the team would not back down.

Why does it matter?

This is North Carolina's second game after losing for the first time in 47 matches. The Tar Heels bounced back with a 4-0 win against Duke and Sunday's 5-1 win against Virginia, leaving them with a 3-1 record in such a shortened 2020 season.

When do they play next?

North Carolina will look to extend its winning streak to three games when it faces Virginia at home again on Monday at noon.

The Daily Tar Heel


---

The Army Sports Control Board: Its origin and stellar role

By DILJIT SINGH BAHRA




The Indian army's hockey teams have been prominent on the national scene as far as one can remember, be it the National Championship or a plethora of All India tournaments where their units have been regular on the podium.

The most illustrious army exponent to wield the stick was The Wizard Dhyan Chand, doing so from the rank of Sepoy to Major, and, in his wake propagating the Indian hockey magic that was to take the world by storm. The great legacy commenced with the formation of Sports organization in the Army in the early 1910s.

During the British era itself, hockey was a very popular sport in the army with some 130 regiments, fielding two or three teams, playing hockey with much enthusiasm and vigour. At one time almost half the British army was stationed in India just after the Great War (World War I, 1914-18).

The Army Sports Control Board (A.S.C.B.) India was formed in March 1919 in line with the Army Sports Control Board in Aldershot, UK. Its purpose was to promote and supervise sports in the army in India and co-ordinate sports with civilian sides.



34 Sikh Pioneers' Physical Training  Instructors Course, 1919. Photo: Edward Ricketts family collection

With its own officers appointed throughout the channels of command, the Board worked closely with welfare officers and with the Directorate of Physical Training to organise sport in the military all across the country. In 1922, the post of Inspector of Physical Training was instituted. The post holder also became the Army Sports Control Board's honorary secretary.

Lt. Colonel Bruce Turnbull was appointed as Inspector of Physical Training in 1922. Thus, he has become ex-officio honorary secretary of the Army Sports Control Board India. He had a general interest in all sports but became heavily involved in Indian hockey, both military and civil. While holding the post, Bruce Turnbull was promoted to Colonel midway through next year.

An All India central school of physical training was established at Ambala in winter and the hill station of Kasauli in summer.

Soldiers could play in the civilian tournaments under the aegis of the local association and also play for their army regimental teams under Army Sports Central Board jurisdiction.

The A.S.C.B. (India) had a proper structure in conjunction with the parent body in the UK for umpiring. Candidates appeared for theoretical and practical examinations while progressing, if eligible, from Class III to II and finally to I, each with a year's duration. A theory paper also entailed offside questions done on a table with 'Halma' (little plastic cones) men.

Major Ian Burn-Murdoch OBE of 32nd  Sikh Pioneers was appointed Commandant and Superintendent of Physical Training East Command in November 1923 and posted to the headquarters in Ambala in  February 1924. Thus he succeeded Bruce Turnbull as President of Indian Hockey Federation, and was largely responsible for selecting the team for the Amsterdam 1928 Olympic Games.

Turnbull represented the ASCB (India) at meetings with the civilian associations and he championed the need for a central association for hockey in the country. Major Edwards Ricketts, also of 23 Sikh Pioneers, was a member of the Umpires Committee (Turnbull and Ricketts umpired at the 1928 Amsterdam Olympic Games).

The Army Sports Control Board India organized the hockey tour of New Zealand in 1926. Not many would have imagined that the tour would have an impact on, not just Indian hockey, but also on the sport worldwide. And that the expedition to the antipodes would reveal a player worshipped by the sport as the best ever of all time.



Ambala Brigade Inter-Unit Sports Day, 1919. Photo:  Edward Ricketts family collection

Brigadier General A.T. Anderson, who had earlier served in the Indian Army, wrote the following about hockey in India, in the Hokitika Guardian (Australia) on 28 July 1926:

'The regimental teams showed the greatest keenness and enthusiasm for the game, and the interest displayed at an inter-regimental match was a sight to remember. The officers, N.C.O.'s and sepoys of each regiment would turn up en masse, and give way to a delirious excitement compared with which even the scene at our G.P.S. lamb races fades into insignificance, but I can never remember any unpleasant incident or unsportsmanlike behaviour'.

'One of the most stirring things I have ever seen is the match of the 15th Sikhs from the top of the Malakand Pass to the plains below, on their way to watch a hockey match between their team and one drawn from our two mountain batteries. It was not a parade, and the men were not in uniform but the whole battalion put themselves into "fours," and swung down the hill singing with all the strength of their lung an old arid well-known Indian song called "Zakhmi Dil." The tune is one of the very few Indian airs that a European ear can understand'.

'Zakhmi Dil' means 'the wounded heart', but anything less suggestive of a wounded heart than the boisterous melody as sung that day could hardly be imagined. The effect was tremendous, overwhelming. Whether we won or they, I have long since forgotten, but I do remember taking one of my opponents, a splendid and dignified Sikh officer, into the mess after the game for a little refresher".

Hockey was very popular in the army circles and was of good standard. However, Bruce Turnbull, who had watched, played and umpired international level hockey in England and Scotland had said:



Dhyan Chand (sitting), 1923

"I know of only one Indian who would find a place in a national side, and he is Dhyan Chand of the 4/1st Punjab Regiment, the centre-forward who scored over 100 goals for the Indian Army in New Zealand. His 'selling the dummy' must be the envy of many a rugger player".

'I would here just like to mention four army teams which have done a very great deal during the past 20 years towards raising the standard of both civilian and army hockey. These are The Royal Sussex Regiment, The Royal Munster Fusiliers, The 33rd Punjabis and The 47th Sikhs. For many years before the war all four teams could be relied upon to play consistently first-class hockey, and I would like to pay a tribute to the late captain "Mango" Brown of the 47th Sikhs, to whom a great deal of credit is due for his untiring efforts to raise the standard of hockey in India.'

There is no doubt that The Army Sports Control Board had a key part in developing hockey in India leading to the formation of the Indian Hockey Federation. Subsequently, be it colonial India or after Independence,  Army Sports Control Board in India blossomed into a provenance of legendary hockey players. The Services team, which pooled hockey talents from Air Force, Naval and Army shone both on the domestic and national scene.  Triple Olympians Shankar Laxman and Hari Pal Singh, winger RS Bhola, Balbir Singh Jr, Col Balbir Singh, Padamshree Ignace Tirkey etc are products of the Services team, to name a few.

Stick2Hockey.com