All the news for Sunday 27 September 2020

Perak grab their 10th Razak Cup title

By Jugjet Singh



Perak players celebrate after winning the Razak Cup at National Stadium Bukit Jalil.- NSTP/AIZUDDIN SAAD

Perak defeated Terengganu 4-2 to win their 10th Razak Cup title at the National Hockey Stadium in Bukit Jalil yesterday.

Haziq Samsul was the toast for Perak with a hat-trick in the 30th, 32nd and 46th minutes while Azrai Azad netted the other goal in the 17th minute.

Faizal Saari responded for Terengganu with a brace in the first and 56th minutes.

In the women's final, Pahang edged Selangor 2-1 to regain their title last won in 2016.

National player Nuraini Abdul Rashid netted a brace for the champions through penalty corner attempts in the third and 52nd minutes.

Fatin Syafikah Sukri replied for Selangor in the 20th minute.

"It's a great feeling to snatch the Razak Cup from a strong Selangor team and bring it back to Pahang," said Nuraini, who ended her campaign with 10 goals.

"We knew Selangor would come at us, so we had to play extra hard to beat them.

Being the best penalty corner flicker in the country, Nuraini will surely be welcomed again into the national squad when new coach Nasihin Nubli names his trainees after the Razak Cup.

Pahang coach Sabri Mohamad said he only had two weeks to prepare his team.

"We only trained as a team as nine players were in national training. However, the players played to instruction to deny Selangor back-to-back wins," said Sabri.

RESULTS — Men's final: Perak 4 Terengganu 2; Third: Kuala Lumpur 3 Pahang 2.

Women's final: Pahang 2 Selangor 1; Third: Kuala Lumpur 3 Penang 1.

New Straits Times
---

Perak take 10th Razak Cup

By T. AVINESHWARAN




PETALING JAYA: Perak have won the Razak Cup after beating Terengganu 4-2 in the final at the National Hockey Stadium in Bukit Jalil on Saturday (Sept 26).

Mohd Haziq Shamsul was the hero when he scored a hat-trick (29th minute, 32nd and 46th), while Azrai Aizad Abu Kamal (16th) scored the other goal.

Faizal Saari scored Terengganu's goals in the first and 58th minute of the game. This is Perak's 10th Razak Cup title.

As for the men's third and fourth placing match, Kuala Lumpur beat Pahang 6-3 in a pulsating game that saw KL's Shahril Saabah scoring five goals. Pahang won the women's final by beating Selangor 2-1.

RESULTS

MEN

Final

TERENGGANU 1 PERAK 4

3rd and 4th placing playoff

K. LUMPUR 5 PAHANG 3

WOMEN

Final

SELANGOR 1 PAHANG 2

3rd and 4th placing playoff

PENANG 1 K. LUMPUR 3

The Star of Malaysia
---

ROUND-UP: English Women's Hockey League



Surbiton defend in numbers at Loughborough. Credit Andrew Smith

Battling Loughborough Students held last season's champions Surbiton to a goalless draw in the Women's Hockey League Premier Division on Saturday.

Surbiton have stamped their authority on the Premier Division in recent years, winning the title for seven consecutive seasons.

But Loughborough, who finished seventh in the table last campaign, showed great resolve to keep a clean sheet against a side that scored 45 goals in 18 games last season.

Their head coach Brett Holland said: "The game was really balanced, but Surbiton had chances in the second half and we had to defend with everything we had.

"We would've lost this game last year, but our maturity is growing exponentially and we had some really good spells of possession.

"We learned a lot from our first season in the division last year and we've had a really good pre-season. We've retained a lot of our players so feel that this is a really special year for us."

Elsewhere Holcombe inflicted a 5-0 defeat on top-flight newcomers Swansea.

Eloise Richards and Lorna Jane Cruickshank put visitors Holcombe into a 2-0 lead by the halfway mark and Argentinian duo Agueda Moroni Malgarejo and Ivana Pessina made it four.



Clifton's Aline de Visser makes a save from the Wimbledon attack. Credit: Peter Smith.

Beth Bingham slotted home from a penalty corner on the hour to complete the scoring.

A seven-minute goal rush saw East Grinstead beat Beeston 3-0 with Tess Howard and Sophie Bray both scoring in the 20th minute before Bray bagged a second in the 27th minute. The result puts East Grinstead top as the only team with two wins from two.

Clifton Robinsons got their first win of the season at the second time of asking with a 3-1 win over Wimbledon.

Megan Crowson and Catherine Macauley gave them a 2-0 lead at the break and Maria Jones wrapped up the points in the 52nd minute.

Georgie Blackwood scored for the second consecutive game for Wimbledon, but it proved to be just a consolation.

Buckingham came back from 2-1 down to claim victory over the University of Birmingham.

Goals from Rebecca Manton and Lauren Hunt had seen Birmingham go in front after Lauren Thomas' opener for Buckingham. But a second from Thomas and then an Emma O'Nien strike straight from the restart saw Buckingham snatch three points.

Women's Hockey League Division One South

A penalty stroke in each half from Lizzie Gittens saw Reading open their account in the Women's Hockey League Division One South as they beat Isca 2-0.

Anna Dalton, Tamsyn Naylor and Morgan Hampson were all among the goals for Wimbledon seconds, who finished last season with a 100% record, as they beat Trojans 3-2.

Elsewhere, Canterbury and Cambridge played out a 1-1 draw with Elizabeth Jenkins and Kate Axford scoring the goals, strikes from Alice Beales and Lizzie Clymer helped Harleston Magpies beat Surbiton seconds 2-0 and Slough drew 1-1 with Sevenoaks.

Women's Hockey League Division One North

Five goals from five different players helped the University of Durham top the early Division One North table in the Women's Hockey League.

Their victory over Gloucester City saw goals from Natalie Konerth, Kerry-Anne Hastings, Megan Cottee, Hannah de Selincourt and Hannah Smith.

Two goals in the space of 60 seconds from Lizzy Pocknell were enough for Stourport to win 2-0 at home against Leicester City, while Brooklands-Poynton were 3-1 victors at Ben Rhydding.

Elsewhere Olton & West Warwicks won 2-0 over Belper and Bowdon came away from the University of Nottingham with a 2-1 victory.

Women's Hockey League Conference North

Charlotte Hartley scored a hat-trick as Pendle Forest began their Women's Hockey League Conference North season in style, putting five past Fylde with no reply.

Nicky Kellett hit a brace as Didsbury Northern beat Cannock 4-2 and Alderley Edge drew 2-2 with Leeds.

Wakefield recorded a narrow 1-0 win over Timperley thanks to a Leah Davis goal.

Women's Hockey League Conference West

There were 21 goals in four games as the Women's Hockey Conference West got off to an explosive start.

A Livvy Hoskins brace helped Clifton Robinsons seconds earn a 4-2 win over Team Bath Buccaneers.

Sutton Coldfield beat the University of Birmingham's second team by the same margin. Bristol Firebrands got the better of Oxford Hawks by the odd goal in a 4-3 thriller and Exe beat Basingstoke 2-0.

Women's Hockey League Conference East

Six goals from Ellie Scott helped Bedford make an emphatic start to their Women's Conference East fixtures, running out 7-0 winners at Horsham.

Sophie Reynvaan scored twice as East London fought from behind to win 3-2 at home against Bromley & Beckenham, while St Albans were 3-1 winners over Canterbury.

Elsewhere Southgate won 1-0 against Chelmsford, while Barnes beat visitors Hampstead & Westminster 2s by the same margin.

RESULTS:

Women's Hockey League (Sat, 26 September 2020):

Premier Division: Buckingham 3, Univ of Birmingham 2; Clifton Robinsons 3, Wimbledon 1; East Grinstead 3, Beeston 0; Loughborough Students 0, Surbiton 0; Swansea 0, Holcombe 5.

Division One North: Olton & West Warwicks 2, Belper 0; Univ of Durham 5, Gloucester City 0; Univ of Nottingham 1, Bowdon Hightown 2; Ben Rhydding 1, Brooklands-Poynton 3; Stourport 2, Leicester City 0.

Division One South: Canterbury 1, Cambridge City 1; Isca 0, Reading 2; Surbiton 2s 0, Harleston Magpies 2; Slough 1, Sevenoaks 1; Wimbledon 3, Trojans 2.

Conference North: Alderley Edge 2, Leeds 2; Fylde 0, Pendle Forest 5; Wakefield 1, Timperley 0; Didsbury Northern 4, Cannock 2; Loughborough Students 2s v Doncaster – away walkover.

Conference West: Basingstoke 0, Exe 2; Team Bath Buccaneers 2, Clifton Robinsons 4; Bristol Firebrands 4, Oxford Hawks 3; Sutton Coldfield 4, Univ of Birmingham 2s 2.

Conference East: Barnes 1, Hampstead & Westminster 2s 0; St Albans 3, Canterbury 2s 1; Horsham 0, Bedford 7; Southgate 1, Chelmsford 0; East London 3, Bromley & Beckenham 2.

England Hockey Board Media release
---

Irish Hockey League season openers suffer setback as Cork trio say 'no' to travel while Banbridge game also off

John Flack




The new Irish Hockey League season has hit a major snag even before it has started with confirmation last night that three Cork teams are refusing to travel to Dublin to fulfil today's opening fixtures while Banbridge's game is also off.

The women's teams of Cork Harlequins, Cork Church of Ireland and UCC have opted against making the trip to the Irish capital due to concerns over the spread of the coronavirus there.

Banbridge then announced on Saturday morning that Dublin side Pembroke would not be travelling to County Down for their scheduled opener in the men's game, the host club reporting that a member of the opposition squad had tested positive for Covid-19 with the remainder of the panel advised to self isolate.

The Irish capital was upgraded to Level Three status last week meaning the cancellation of many sporting fixtures but the Irish Hockey League is classed as an 'elite' activity and Sport Ireland and hockey's national governing body have given approval for games to proceed.

A week ago, Cork side Blackrock refused to travel to Dublin to play NI Civil Service in the third-tier national knockout final and were initially told they would have to forfeit the tie until the Belfast side generously agreed to a rematch.

Hockey Ireland said last night that no decision had been made on what, if any, sanctions would be imposed on the three Munster sides who have pulled out of today's games.

C of I - who have one player confirmed with the virus - and UCC were to have been involved in the second-tier IHL while the biggest casualty is the top-flight game between Harlequins and Muckross.

Quins captain Yvonne O'Byrne, a World Cup silver medallist with Ireland in 2018, took to social media to voice her concerns, exacerbated by the fact several of her players work in the health service and were told they would have to self-isolate for 10 days on their return to Cork if they travelled to Dublin.

O'Byrne said: "Personally, I feel that Hockey Ireland should cautiously open the first two rounds of this year's IHL with provincial fixtures in order to limit players' travel during what is a very dangerous tipping point for the country in terms of the spread of the virus - then review the situation."

"(It seems to be a question of) forfeit points or ask amateur players to take an extra risk that seems to contradict government advice.

"I ask Hockey Ireland and Sport Ireland to please stop dismissing clubs' concerns over player welfare."

Belfast Telegraph
---

Saturday round-up – September 26




All the results from the first day of the 2020/21 EY Hockey League

Men  

EYHL Division 1: Lisnagarvey 4 (B Nelson 2, J Lorimer 2) Three Rock Rovers 2 (B Johnson, P Blakeney); Monkstown 6 (L Cole 2, J Duncan, R Spencer, M Guilfoyle, S Cole) Corinthian; UCD 2 (G Sarratt 2) Glenanne 2 (S Boucher, S O'Donoghue); YMCA 3 (G Glutz 3) Annadale 0; Banbridge v Pembroke – off

Munster Division 1: Ashton 1 (J Allen) Cork Harlequins 7 (D Egner, A Dale, S Dale, J Whyte, M Holland, J O'Meara, R Bailey); Bandon 1 (A Seigne) Catholic Institute 0; Cork C of I 9 (K O'Dea 4, P Sweetnam 2, S Wolfe, J Bruton, M Gallagher) UCC 0; Midleton 0 Waterford 2 (D Gahan, B McInerney)

Women  

EYHL Division 1: Belfast Harlequins 2 (N Barr, J Allison) Old Alexandra 3 (A Connery, S Robinson, N Evans); Catholic Institute 2 (A Hickey, L Foley) UCD 0; Loreto 1 (H Matthews) Railway Union 2 (K Lloyd 2); Pegasus 2 (N McIvor, O Berry) Pembroke 0; Muckross v Cork Harlequins – off

EYHL Division 2 – Pool A: Ards 3 (Z Malseed, K McKenna, A Benson) Corinthian 0; Trinity v UCC – off

Pool B: Queen's 3 (J McMaster, R Quinn, A Jebb) NUIG 1 (M Corcoran); Monkstown v Cork C of I – off

Leinster Division 1: Avoca 3 (K Ryan, L Halpin Doyle, Z Watterson) Naas 1; Clontarf 2 (R Merrey, H Goss) Rathgar1

Munster Examiner Cup – Group A: Belvedere 2 (A Kelly, S O'Regan) Waterford 0; Cork Harlequins II 2 (Z Bowles, I Lyons) Bandon 2 (L Carey, L Rowe)

Group B: Ashton 5 (E O'Sullivan 2, C O'Toole, K Harvey, L Lynch) Limerick 0

Sunday 27th September 2020

Men  

Irish Junior Cup Final: Lisnagarvey II v Corinthian II, Comber Road, 4.30pm

Women  

Irish Hockey Trophy Final: Lisnagarvey v North Kildare, Comber Road, 1.30pm

The Hook
---

Bermuda Field Hockey Season Gets Underway

The 2020/21 Bermuda Field Hockey season got underway at the National Sports Center yesterday.

The first two matches in action was a mixed team affair with the Griffins falling 4 – 1 to the BHA Pirates.

The Pirates took the lead in the 7th minute when Donnie Simmons scored a field goal, but in the 29th minute, the score was level when Alyssa DaSilva scored for the Griffins.

The Pirates would extend their lead in the 34th minute when Jude Mosely scored and then in the 40th minute, Mosely scored again to make it 3 – 1 and then on the 46th minute X Smith scored a Field Goal to make it 4 – 1.

Ber News
---

National hockey team coaches don't want to rush sporting activities

Samarnath Soory



File photo of Graham Reid with S.V. Sunil during a training session at the SAI Centre in Bengaluru.   -  K. Murali Kumar

Indian men's and women's national teams' coaches Graham Reid and Sjoerd Marijne stressed on being patient with the players' fitness as they resumed training after a long time away from the pitch. The national team players have returned to the Sports Authority of India campus in Bengaluru in August for the national camp after a month-long break and are going through basic skill development.

"Most of the coaches have huge expectations from the players and push them too hard in training which could lead to injuries. If you look at competitions like the Bundesliga, Premier League and NFL where they had several hamstring and ligament injuries," Marjine said during the Hockey India webinar on Saturday.

Men's team coach Graham Reid concurred with Marijne as six men's team players, including captain Manpreet Singh, have recently recovered from COVID-19 and are on the road to regain their full fitness.

"I can say that the players (who recovered from the virus) are doing well and are a little behind the others in getting back to fitness. It's necessary not to rush into sporting activities," Reid said.

India will not play international hockey for the remainder of 2020, after the men's Pro League matches were pushed back to April next year and women's schedule is still unclear. Marijne said that it could take 4-5 weeks before the players return to rigorous practice sessions and a few more weeks to play practice matches.

"It might be 4-5 weeks before we begin sporting activities and few more weeks after that to start practice matches. It depends on how the group is responding. The situation is not in our control. It is what it is," the Dutchman said.

Despite the long wait, Marijne said that it is important for the teams to keep preparing for the upcoming Olympics.

"Michael Phelps was working throughout the year to be able to win so many Olympic medals. We cannot just train for 3-4 months and hope to be successful. For example, the Netherlands had already started matches, so we need the national camp," he said.

Life in bio-bubble

Indian goalkeepers P.R. Sreejesh and Savita spoke about adjusting to the bio-bubble environment at the national camp and focusing on individual fitness.

"We were playing well in the Pro League, going out on weekends and all of a sudden it felt like we were in a cage. The break we got in between, we did a lot of homework to prepare for the new routine," Sreejesh said.

"When the lockdown began, we had no idea when we would play hockey again. We were determined to maintain our fitness during this time. We strictly followed our workout routines which is why we have benefited when we came from the break," Savita said.

According to Sreejesh, the bio-secure environment at the SAI campus, has brought the team closer than ever.

Sreejesh said: "Previously we used to have meals at our leisure, but now it happens during a limited time. Sitting with the cell phone would make you bored after a while. We have been engaging ourselves with battles on PlayStation and there is a small reading room as well. It's good to see that the players are talking more to each other. The conversations range from COVID-19 situations across the world, funny pranks and back to serious discussions about the Olympics."

Sportstar
---

SA Hockey Statement - Move to Alert Level 1

The Level 2 Sport Directions as issued on 28 August 2020 on Gazette 43667 remain in effect. SA Hockey made a submission in compliance with the Level 2 directions for approval for the return to train and play for the greater hockey community. This submission was made on 03 September and is yet to be approved by the Department of Sport, Arts and Culture.

We further note that South Africa has since moved to Level 1 as at midnight on Sunday 20th September. This move to Level 1 is regulated by Gazette 43725 as issued by the Minister of Co-operative Governance on 18 September. Gazette 43725 directs the further easing of regulations for various activities including sport for both professional and non- professional matches. This easing of regulations, however must follow the directions of the Minister of Sport, Arts and Culture. Level 1 directions for sport have not as yet been made available. SA Hockey will make further adjustments, if needed to the submission already made, if the Level 1 Directions determine a need for it.

The National State of Disaster has been extended till 15 October 2020. Whilst the National State of Disaster remains in effect, South African Hockey as a National Federation need to continue to observe and comply with all regulations as issued by the Minister of Sports, Arts and Culture.  

We are acutely aware that the delayed return to play for hockey has created a lot of uncertainty and anxiety, as members are desperate to get back to playing the sport they love. We are hoping that the wait will not be much longer given the positive weekly feedback received from the department to date. We request that members continue to observe and comply with regulations as & when they are issued by national government, the relevant Ministers and SA Hockey. School Sport remains under the jurisdiction of the Minister of Basic Education and the relevant directives issued by that department.

SA Hockey Association media release
---

Megat D. Shahriman "a free man for now"

By Jugjet Singh



KLHA president Datuk Seri Megat D Shahriman. NSTP FILE PIC.

KUALA LUMPUR: The Malaysian Hockey Confederation (MHC) executive board sat on Saturday but could not come to a conclusion on two pending cases against Datuk Seri Megat D. Shahriman.

The board could only confirm that three-time Olympian Datuk Mirnawan Nawawi has been appointed as team manager of the senior men's national team.

Megat, the president of the Kuala Lumpur HA, had breached the Malaysia Hockey League's (MHL) rules of conduct by writing to sponsors asking about the delay in disbursing prize money.

He had also allegedly breached Covid-19 SOP by entering the National Hockey Stadium in Bukit Jalil on Sept 19 to watch the match between KL and Negri Sembilan in the men's Razak Cup.

Megat was seen without his special pass provided for the closed door tournament.

"The disciplinary committee could not come to a conclusion and present their case to the board as the president T. Thavalingam is ill and could not attend the board to report.

"This is regarding the MHL prize money breach of conduct.

"On his second case of breaching Covid-19 SOP during the Razak Cup, competitions committee chairman Datuk Seri Anil Jeet Singh will hand in his report next week," said MHC president Datuk Seri Subahan Kamal.

Subahan said the MHC and their competitions are governed by rules and regulations, and not a 'cowboy town'.

"Both cases were discussed. However, we could not make a decision as the reports are not ready. But I would like to state here that the MHC are governed by rules and regulations and 'Cowboy' rules have no place in our set-up," said Subahan.

Megat is currently under suspension from all hockey activities for breaching MHC's code of conduct over statements to the press and MHL sponsors over MHL prize money.

New Straits Times
---

Life Member Profile - Donald Prior




Donald (Don) Prior is one of the best credentialed umpires produced by Australian hockey.

In a career spanning 18 years at the international level, Don officiated at four World Cups from 1986-1998 and four Olympic Games from 1988-2000, including two Olympic Finals in 1988 and 1996, and the 1994 and 1998 World Cup Finals.

He also enjoyed his time and success as a player having competed in the Senior Australian Championships from 1974 to 1982 and was part of championship winning teams in 1978 and 1980. Don also played in successful South Australian sides at the national Under 21 Championships in 1973 and 1975.

But it was officiating where Don put his greatest stamp on the game around the world. Don was awarded the FIH Golden Whistle Award in 1996 for officiating at 100 international matches. He also won the Australian Sports Awards official of the year 1980.

He also pioneered video and computer software for sports analysis including worldwide performance analysis system Sportscode which was first used by Australian hockey teams to conduct the first performance analyses that are commonplace today in elite sports.

This innovation and attention to detail is also reflected in the approach to trends in coaching. He also worked with the FIH in the preparation of the technology for the third umpire system.

Don's Life Membership follows his induction into Hockey Australia's Hall of Fame in 2015. Don's Life Membership was ratified in 2019.

What he said…

"Hockey has been a large part of my life since primary school. I was lucky enough to represent my club and state as a player and umpire. Taking up umpiring in the 70's and being able to officiate at the highest level cemented hockey as my lifelong sport.

I have been fortunate enough to mix with the best players, coaches, officials and spectators throughout the world during 30 plus years of umpiring. I have friends in nearly every country in the world and in every state of Australia thanks to hockey. To become a Life Member of Hockey Australia is a great honour and very humbling, as now I'm included in a list of friends of the great Australian hockey family. Many thanks to Hockey Australia for the opportunities." Don Prior

From those in the know…

"Don Prior is amongst the elite of hockey umpires. His International career spanning 16 years including four Olympics is testament to how good Don was and how highly he was regarded by players and FIH officials across the hockey world. I always remember his outstanding performances in the cauldron of an Olympic Hockey Final at the Seoul and Atlanta Olympics – Don Prior was a great umpire. There might be others as good but in my opinion none better." Richard Aggiss (former Australian Hockey Coach)

Hockey Timeline

Player
South Australia
1970 South Australia U16
1973-1975 South Australia U21
1974-1982 Australian Senior Championships

Umpire
International
1985 Champions Trophy
1986 Champions Trophy
1986 World Cup
1988 Seoul Olympic Games
1990 World Cup
1990 Champions Trophy
1993 Champions Trophy
1994 World Cup
1996 Atlanta Olympic Games
1998 World Cup
2000 Sydney Olympic Games

Umpire Manager
International
2002 World Cup
2003 Champions Trophy
2006 World Cup
2007 Champions Trophy
2010 FIH World Cup
2014 Champions Challenge

Awards
1996 FIH Golden Whistle Award
1998 Australian Sports Award, Official of the Year

Hockey Australia media release
---

UNC field hockey dominates in season opener against Wake Forest

Sruthi Kocherlakota

Like most other athletics this year, many Division I field hockey programs chose to forgo the season amid the COVID-19 pandemic after many athletic programs cited outbreaks during preseason training. Nearly every Division I field hockey conference canceled their fall seasons in hopes that they could hold their championship games during the spring.

On Tuesday, the NCAA Division I Board of Directors green-lit spring 2021 championship play for several fall sports, including field hockey. This plan involves reducing bracket sizes to 75%capacity and setting championship sites ahead of time. The field hockey championship game is set to be held in early May.

The ACC remains the sole conference among the field hockey programs that is competing during the fall season. This conference includes the University of North Carolina at Chapel Hill (UNC), Syracuse University, Duke University, Wake Forest University, the University of Louisville, the University of Virginia (UVA) and Boston College.

The ACC began conference play last Sunday, with UNC and Wake Forest competing at Chapel Hill after a slew of postponed games. Despite the large COVID-19 outbreaks at UNC that forced thousands of students to return home in August after a mere week on campus, the Tar Heels hosted the Deacons for the matchup.

UNC, the reigning Division I champion for the past two years, dominated during the matchup. This game marked UNC's first game back since defeating Princeton University by a score of 6–1 in the championship game last year. The Tar Heels added another tally to their win streak, now at 47 games consecutively undefeated, and have yet to lose a game in over 1,000 days.

The Tar Heels came out strong during the first period with four shots, three of which from junior forward and captain Erin Matson. Currently, Erin plays for the U.S. women's national team, leading the team to a bronze at the 2019 Pan American Games. Matson also was chosen as the 2019 First Point USA/NFHCA Division I National Player of the Year, after being the leading goal scorer for the Tar Heels' undefeated 2019 season. Safe to say, Matson is a firecracker on the field, unafraid to put high pressure on any team she comes across.

During the first period, UNC was unable to capitalize on their short corner, and both teams entered the second period with no score on the board. When the Tar Heels set off for their third short corner play of the day, junior forward Cassie Sumfest swept the ball into the lower left corner of the cage, straight past two of Wake Forest's defenders and past first-year goalie Tori Glaister. Sumfest scored UNC's first goal of the season after missing the entire 2019 season due to an injury.

Shortly after the Tar Heels scored, Wake Forest's sophomore midfielder Nat Friedman received the ball from junior defender Eleanor Winants. Dribbling down the right side of the field, Winants nailed a pass to Friedman, who was able to tuck the ball into the cage for Wake Forest's first goal of the season.

Minutes later the Tar Heels revived a penalty corner, hoping to regain their lead prior to the second half of play. The penalty corner was set up with junior midfielder Abby Pitcairn putting the ball into play, reaching sophomore defender Madison Orobono straight at the top. Orobono lined up the ball at the top of the short corner for Matson to nail into the goal. Matson fired off a shot without hesitation and found the right corner of the goal for her 54th career goal for the Tar Heels. With this goal, Matson is now tied for 10th place in UNC history for most goals scored, only one game into her junior season. Maston has quickly risen to the top of several records in the Tar Heels record book, already leaving a legacy for her time at UNC.

Entering the third period of play, the Tar Heels held a one-point advantage. With senior goalie Amanda Hendry in the cage for UNC, scoring was made even more challenging for Wake Forest. Matson quickly dribbled into the Deacons' corner, slipping a ball past the Deacons' defense to teammate and junior forward Meredith Sholder who pulled the ball left. Sholder dodged a Wake Forest defender, setting up the ball for herself at the left and fired a reverse sweep shot into the goal, bouncing off the Deacons goalie as she attempted to make a save.

The Tar Heels, who were now up by two points, steadily held their lead throughout the rest of play, thwarting any attempts on goal by the Deacons' offense. The game ended with neither team adding another tally to the score, and the Tar Heels came away with the season-opening win.

UNC is scheduled to play Louisville away next Friday, Oct. 2, while Wake Forest will play UVA away this Saturday.

Tufts Daily


---

Virginia field hockey team drops season opener to Wake Forest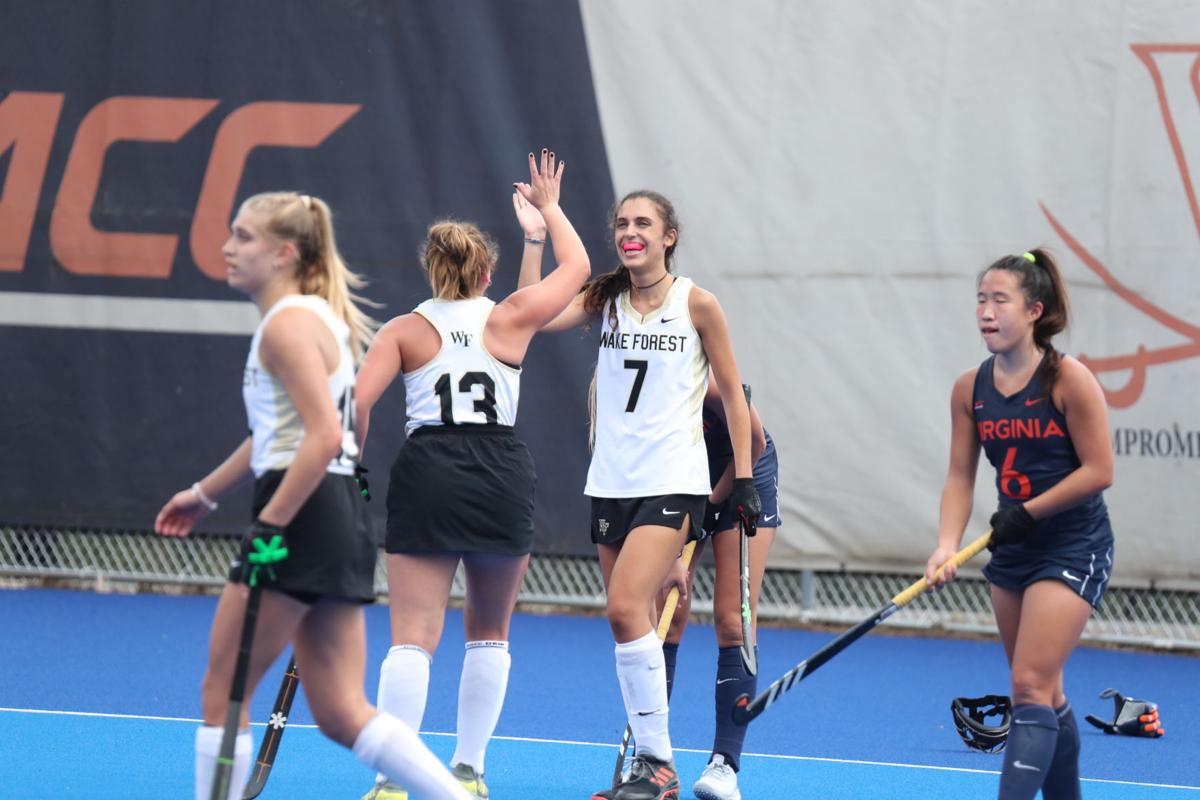 Wake Forest players celebrate during their 2-1 victory over Virginia on Saturday at the UVa Turf Field. UVa media relations

The Virginia field hockey team opened the 2020 season with a 2-1 loss to Wake Forest on Saturday at the UVa Turf Field. The loss does not count in the conference standings for the Cavaliers.

Virginia (0-1) took an early 1-0 lead, but Wake Forest (1-1) scored two goals in the second half to pick up the victory.

The Cavaliers got on the scoreboard early, when sophomore midfielder Adele Iacobucci deflected in a shot from junior back Amber Ezechiels after a corner just 3:31 into the game.

After its initial goal, Virginia had two other first-half shots make it into the corner of the net, including a bullet from freshman midfielder Anneloes Knol, but both goals were whistled off by the officials.

"It was a really good game," Virginia coach Michele Madison said. "I thought in the first half we were able to come out and establish our passing game and put some pressure on the goal. To have two goals called back, we just didn't respond. We didn't rebound from that. It could have been a different game if one of those goals had gone in."

Wake Forest tied the game in the third quarter on an Eleanor Winants goal. Four minutes into the fourth quarter, the Demon Deacons fired off a flurry of shots at sophomore goalkeeper Taylor Henriksen with the fourth attempt making it in to give Wake Forest the lead for good.

"I thought Wake Forest owned the second half," Madison said. "They were able to beat our press, especially in the fourth quarter. We have some tape to look at to figure it out."

Despite the season-opening loss, Madison was grateful for the chance to be on the field again with her team after an offseason of uncertainty caused by the COVID-19 pandemic.

"It was amazing to be out on the field playing today," Madison said. "I was waiting for that whistle to blow. And that whistle blew and it was awesome. And it was awesome to compete against another opponent."

The two teams play again Sunday at noon, with that match counting in the ACC standings. The match will be televised on the ACC Network.

Wake Forest 2, Virginia 1

Season opener

Key player: Adele Iacobucci scored Virginia's lone goal.

Daily Progress
---

India's hockey soul in Spain, Ranjit Singh is no more




Its with sadness we inform the untimely death of hockey buff 71-year old Ranjit Singh. He was an unofficial brand ambassador for Indian hockey in Europe. The famed player of Indian origin, who migrated to Spain in the 70s, breathed his last yesterday according to his daughter Rosa. She posted the information on her social media page which saw a sea of his fans, beneficiaries and students inundate with heart-melting messages.

Ranjit Singh started playing hockey in the Khalsa school in New Delhi, and then studied at Kirorimal College in South Campus, also in New Delhi. He graduated to represent his State, Delhi in the National hockey championships many times. Later, he joined the famed domestic brand Indian Airlines. He went for playing in Spain league. He later settled at Spain's hockey home, Terrassa. There he manufactured inter alia 'Ranjit' brand of hockey sticks.



Rest of India captain Harbinder Singh introducing Ranjit Singh to dignitary Ram Niwas Mirdha, 1974

His connection and passion with Indian hockey continued despite he not being in India. He was always the first to extend hospitality to visiting Indian teams in Europe.

Fittingly, the hockey soul was invited to be part of Indian team at Busan Asian Games and Sydney Olympics in one capacity or other.

In Spain, he is a very popular name with Spanish hockey as a fan, patron and coach. He gained affection of so many in the hockey fraternity in the settled place that it is sheer matchless.

For instant the following is what one of his admirer, Kike Suarez, a professional coach,  had to say on hearing the news of Ranjit's death. '



Ranjit with Indian Airlines team, also seen are Inam-ur-Rahman (l), P Krishnamurthy & triple Olympian RS Gentle (r)

I've shed many tears in these last 3 years, more than in my entire life, but rarely for someone's death, right now I didn't remember any. I did it for Ranjit Singh today. A good man, a great loss. Spanish hockey without Ranjit jamàs figure will be the same. Always spoke proud of all the personalities and friends I had in hockey. and I did it from thankfulness, admiration and kindness. I was only about 20 years old when I met him, but it's been when I tried him the most, and I got to know him a little more personally. Life goes on they say but I don't like it going on like this, taking good people away. A very sad loss. My deepest condolences to Rosa Kalsi, Balbir Xavi Singh Kaur, and his whole family. Goodbye friend, rest in peace'.

ALBERTO CARDADOR, goalkeeper of fame, said: 'Thank you for being one of those responsible for so many kids being able to grow up playing our favorite sport. Thank you for being a pioneer of distribution when no one else dared to do so. Thank you for being at the foot of the canyon so many years. Always willing to chat about every novelty you mattered, in every Cup, in every major tournament. You were still on the front line… I'm convinced, Ranjit Singh that you're already talking to Fray, discussing the best price for a lot of sticks and balls that could play future generations of champions with. Rest in peace'

www.stick2hockey.com is deeply anguished at the death of one of our Indian heroes in Europe.

Its so melting that he died two days after he celebrated his 70th birthday on Friday. That time his daughter Rosa posted: 'You are the man I love most on the planet and on this day of your birthday I wish you knew how important you are to me as well as how proud I am to have grown by your side. You are brave, loyal, honest and a person you can trust. Thank you for raising me with such fierce values. Wishing you many more to come'.

Stick2Hockey.co