All the news for Saturday 26 September 2020

Perak must stop Saari brothers

By Jugjet Singh



Faizal Saari (right) and Fitri Saari.

PERAK will gun for a perfect 10 when they meet Terengganu in today's Razak Cup men's final at the National Stadium in Bukit Jalil.

If the nine-time champions can neutralise Terengganu's 16-goal hero Faizal Saari and his brother Fitri, half the battle is won.

Perak, whose last back-to-back wins were in 2017 and 2018, were just floating around during the early stages.

They were held 3-3 by Johor, won 2-0 against Sabah and drew 2-2 against Selangor to top Group B.

But they started playing as a team in the knockout stages, ousting Perlis 2-0 in the quarter-finals and Kuala Lumpur 4-3 in the semis.

Terengganu, on the other hand, went on a rampage in Group C scoring 24 goals and only letting in one in their matches against Police (5-0), Armed Forces (5-1) and Kelantan (14-0).

In the last eight, they edged Sabah 2-1 before subduing Pahang 4-3 in the semi-finals.

The stats show that while Perak are slowly gaining momentun, Terengganu started furiously but slowed down at the knockout stage.

Terengganu coach Tai Beng Hai said: "Perak have six national seniors and three national juniors on their side which is practically half the team.

"They will be very dangerous in the final.

"They are good in every department and will score even if we give them half a chance.

"However, I believe my players are ready to claim their third Razak Cup title on Sunday."

Perak coach, Roalan Jamaluddin who is a former national goalkeeper, said after his team scraped into the final, they will not wait and live dangerously until the final moments today.

"We barely made it (4-3) in the quarters against Kuala Lumpur.

"We were in control of three quarters but they made a last quarter attempt and we almost caved in.

"We can't afford this script against Terengganu as they have very skilful and fast forwards," said Roslan.

TODAY: Men's final - Terengganu v Perak (8.30pm, Pitch I); Third-fourth: Pahang v Kuala Lumpur (6pm, Pitch II).

Women's final: Selangor v Pahang (6pm, Pitch I); Third-fourth: Penang v Kuala Lumpur (4pm, Pitch II).

New Straits Times


---

Roslan hopes for Perak victory again, this time as coach

By K. RAJAN



Tough fight: Perak head coach Roslan Jamaluddin giving pointers to his players during the Razak Cup. Perak are playing Terengganu for the title today. — Photo courtesy of MHC

PETALING JAYA: Terengganu's nemesis Roslan Jamaluddin is back to haunt them.

Former national goalkeeper and now a first-time coach for Perak, Roslan has stopped Terengganu from taking home the Razak Cup twice since he started playing in the competition at the age of 18.

The 41-year-old keeper has four Razak Cup titles under his belt (2013,2014,2017 and 2018) with Perak but his last two were probably the best.

In 2017, Perak edged Terengganu 3-2 in the final and denied them again in 2018 through a penalty shoot-out after the final ended 2-2 in regulation time.

Today, the silver state take on favourites Terengganu in the final again at the National Stadium in Bukit Jalil and Roslan hopes to be the party pooper from the sidelines – for a third time.

Perak started their campaign on a snail pace playing to a 3-3 draw in their opening Group B match.

They bounced back to beat Sabah 2-0 and then drew 2-2 against Selangor to top the group. They downed Perlis 2-0 in the last eight and then knocked out Kuala Lumpur 4-3 in the semis.

Roslan said winning the Razak Cup as a head coach in his first attempt would be fantastic but was quick to give credit to assistant coach Azlan Misron and the team's senior players for their role in Perak's run to the final.

"I was unsure whether to play or coach the team when Perak approached me. I felt it's better for me to coach and let other players have a chance to play and develop, " said Roslan.

"Having Azlan as my assistant is another advantage, he has the experience and it certainly has helped the players prepare for our matches.

"Terengganu would be the favourites in the final, they are strong and have a balanced side. But we are ready to surprise them."

Roslan added that training under current Terengganu coach Tai Beng Hai in the national team and also playing with the east coast's dangerman Faizal Saari, gives him a good idea on what to expect in the final.

"Terengganu would have studied our game and will be well prepared. Faizal is on form as he wants to get back into the national team."

"We have our plans for the match. Nothing is impossible. We have our strength and we will try to use it to win, " added Roslan, who will be banking on his seniors Sukri Mutalib and Hafifihafiz Hanafi to guide the youngsters in the final.

The Star of Malaysia


---

Subahan: Success will come, but we need time, patience and funds

PETALING JAYA: Success cannot be achieved overnight. It takes time, funds and patience.

That's the answer the Malaysian Hockey Confederation (MHC) president Datuk Seri Subahan Kamal gave in response to criticism of the national hockey team.

Former hockey great Datuk R. Yogeswaran stated that there was not a big base of players to choose from and the MHC should think out-of-the-box to scout for new talents.

The Olympian also took to task the national team's failure to qualify for the Tokyo Olympics after squandering a 5-2 lead against Japan in the Jakarta Asian Games final in 2018. Victory ensures an automatic berth to the Games.

Subahan said he understood Yogeswaran's grouses but pointed out that success would take time.

He said the national body had already made several changes.

"We are now focusing on preparing the national team for the next Olympics cycle and have brought in several talented youngsters since last year, " said Subahan.

In fact, juniors like Mohd Akimullah Anuar Esook, Amirul Hamizan Azahar, Azrai Aizad Abu Kamal and Arif Syafie Ishak have shown progress in the senior team.

"We are also launching a new and much improved National Hockey Development Programme (NHDP) next month to find the next generation of national players, " he said.

"Last month, we appointed a new coach (S. Arul Selvaraj) and he's scouting for talents in the ongoing Razak Cup. So things are working well."

"A new project and development technical director will be joining us soon. We have learned from past shortcomings and we are now looking at improving."

Subahan however, said the defeat to Japan in the Asiad final should not be considered a failure.

"In the 60-year history of our hockey in the Asian Games, Malaysia qualified for the finals twice (Guangzhou 2010 and Jakarta 2018). The silver medal achievement in Jakarta should not be underplayed, because we beat India, the world No. 5 en route to the final, " said Subahan.

Malaysia lost to Pakistan in the Guangzhou final.

Subahan also stressed on the lack of funds to support hockey in a big way.

"Other countries are now dominating the game due to the infrastructure that has been put in place much earlier because they have consistent funding, " he said.

"I agree that we've a lot of catching up to do but we need more financial assistance so we can do things consistently and comprehensively."

"The pool of players have widened now with more than 2,000 players in the set-up. It could be bigger with more funding. As of now, only 30% of the funding is from the government and the rest is sourced by MHC."

The Star of Malaysia


---

20 years ago on this day; "It was destiny, nothing else", Baskaran

s2h Team



Photo: K Arumugam

Twenty years on, Vasudevan Baskaran does not allow the trauma of missing the Olympic semifinal by a whisker to rankle him. As head coach, he watched from the dugout on this day at the 2000 Sydney Olympics. The captain of the gold medal winning team at Moscow 1980 was on the threshold of guiding India to their first Olympic semi-final spot after that triumph which brought the country its eighth Olympic title.

As little as 106 seconds stood between India and a place in the medal round. Their opponents Poland though, nurturing ambitions of their own – that of making it to the Champions Trophy qualification zone – were not ready to give up the ghost.

India saw visions of a semi-final spot after Dilip Tirkey shot them ahead but Poland exploited a lapse in defence when captain and left-half Ramandeep Singh slipped on a rain-affected turf and failed to cut out a long cross-field pass.

Striker Tomacz Cichy latched on to the ball and beat goalkeeper Jude Menezes to doom India to fight for minor placings yet again.



Vasudevan Baskaran in the 70s. Photo: K. Arumugam

The 1-1 draw propelled South Korea who pipped India to take on Pakistan in the semifinals which they won 1-0. India and Korea had similar Goals Aggregate, Goal Difference (GD) and points, all factors for deciding rank in the pool. India could have entered the semis on better Goal Aggregate if the Poland match would have been a 2-2 draw. However, what went in favour of the Koreans was the fact that they beat India in the league! The Koreans, however, settled for silver after losing to the Dutch via the tie-breaker in the final.

India, smarting from failure to make the semifinals, slipped to seventh place after losing to Britain 1-2 and a 3-1 win over Argentina was hardly consolation.

Looking back, Baskaran refuses to be drawn into who was at fault.

"We were not destined to reach the semifinals and South Korea were," he says fatalistically.

"Of course, our inability to beat Poland on the day was unpardonable, especially since we were good enough to beat them even with five players short," Baskaran says with a tinge of wry humour.

The Arjuna awardee, however, prefers to look forward rather than brood over that defeat which sustained a medal drought at the Olympics or World Cup that is more than 40 years old.



A rare photo of V Baskaran (r) with his three other brothers (l-r) Jeyasekaran, Vasikaran and Prabhakaran. Photo: K. Arumugam

Baskaran who manned the left-half position – the toughest on a hockey pitch — comes from a family of five hockey-playing brothers. He is the third of the illustrious quintet, having achieved the most by going on to captain India to gold at the Olympics. However, siblings Prabhakaran (centre-forward), Rajasekaran (centre-half), Jayasekaran (defender) and Vasikaran (half-back) were also accomplished players with all but the last named representing India.

As director of TruCoach CSS-Baskaran Centre for Hockey in Chennai, the 70-year-old will attempt to realize his dream of nurturing the grassroots.

"I always believed Indian hockey could regain its glory if the grassroots were given scientific training," he says.

An avowed critic on how the game has been governed in India and globally, Baskaran didn't take kindly to the change from natural grass to artificial turf – a much touted reason for India's downward spiral in the game.



Senior players failed at the crucial juncture at Sydney. Photo: K. Arumugam

"The change was done way back in 1975 without gaining the consent of the global hockey community," Baskaran reveals. "It was forced upon countries," he adds.

"When we went to the 1976 Montreal Olympics, Ajit Pal Singh, Ashok Kumar, Govinda and myself, to name a few, were made to look like novices.

Baskaran is also bitter about rule frequent and sweeping rule changes that have changed the face of the game.

"Rule changes must be made once in four years. Then again, how many members of the FIH rules committee have been former players at a high level?", he retorts.

Baskaran asks hockey to look at football. "There has been little or no change to the game," he says. "The rules are easy to understand for fans and that's why football is the cynosure of the world."

The view that hockey has to cope with a little hard ball and a "weapon" called the stick — factors football has been spared of – when it comes to framing the rules to increase safety doesn't draw much sympathy from Baskaran. He affirms that danger is part of any sport and is something one should accept.

And Baskaran certainly isn't a fan of some major changes in hockey's format and rules.

"Why was the bully-off to start a match abolished? India had a clear advantage in a bully-off with Dhyan Chand winning such duels nine times out of 10," he says. "Why four quarters to a match? If increasing commercial breaks was a motive, has there been a significant growth in this area?"

Baskaran also scoffs at off-side being removed and the ensuing situation of forwards camping near the opponents goal — farcical from his point of view.



Photo: K. Arumugam

And the last straw appears to be an outfield player replacing the goalkeeper, a rule in existence for a decade to enable teams have numbers in attack as they chase a match in the closing stages.

"A goal without a goalkeeper, that's ridiculous!" he booms.

Baskaran, however is fine with the self-pass as it helps speed up the game, and supports Hockey Fives, even as many other icons have frowned upon this version of the sport.

"I have been been involved in the organization of several five-a-side and seven-a-side tournaments and I think these reduced versions will help promote the game," he opines.

And promotion is what the sport badly needs in India. "We need to revive schools, college and university hockey. We also need to attract the very young to the sport with upgrading our administration and organization," he recommends.

Baskaran is a link to a vestige of India's fast-fading memory of the glorious past. Despite his resentment of all that has plagued the game India and abroad, he works with a zeal at the logical starting point – the grassroots.

And it's here that India's hockey future will be shaped even though hopes of a podium finish at the postponed 2020 Tokyo Olympics next year have soared in recent times.

Stick2Hockey.com


---

Why Rani Rampal sees a bright future for Indian sportswomen

Indian women's hockey team captain Rani Rampal felt that timely recognition and awards for good performances boosted girls to take up sport.

By Rahul Venkat ·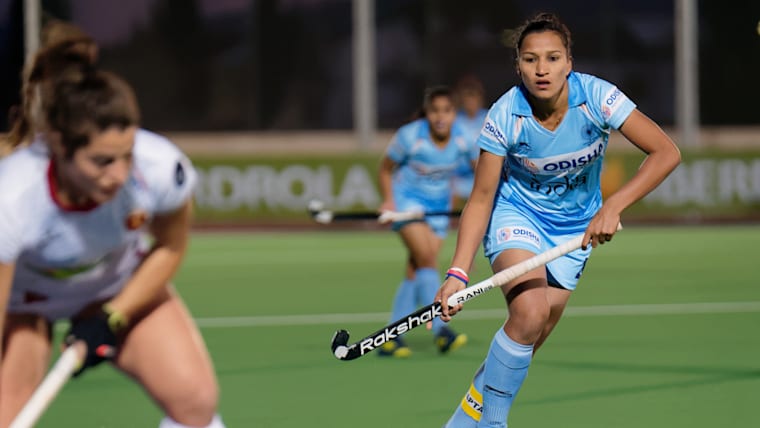 Hesitant to choose a career in hockey? Indian women's team captain Rani Rampal believes that things have dramatically shifted for women pursuing their dreams in the sport.

"I think 10 or 15 years ago, people would ask how hockey could help make a living. But things have changed drastically now," stated Rani.

"Aspiring players get an opportunity to show their talent and consistently perform at the national championships which could assure a player of a job as well as a chance to make it to the national team."

The concerted efforts to develop sports is what has propelled the Indian hockey women's team to do well at the international level, explained Rani.

In recent years, the Indian hockey women's team has won a silver medal at the 2018 Asian Games and the 2018 Asian Champions Trophy. The team, which qualified for its first Olympics in 36 years at Rio 2016, followed it up by making it to a second-consecutive Summer Games in Tokyo next year.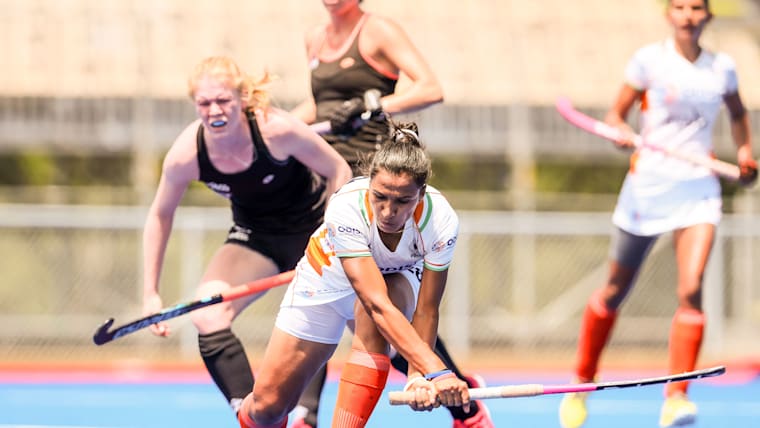 Rani Rampal feels Indian hockey will benefit from the efforts to develop the sport in the years to come. Image: Hockey India.

Awards a major boost

Another influential factor in the rise of the Indian hockey women's team has been the timely recognition in the form of awards and the subsequent monetary benefits, felt Rani.

"For a young player like Lalremsiami (awarded the 'Upcoming Player of 2019'), winning a cash purse of Rs 15 lakhs makes a huge difference because it takes away the financial burden her family is facing especially after her father passed away last year," she said.

"The monetary support ensures that we can focus purely on hockey."

Lalremsiami was also named as the international hockey federation's (FIH) Rising Star of the Year in February.

And Rani, who won the Rajiv Gandhi Khel Ratna award this year, knows that a good performance at the Olympics will only enhance their status as strong, independent women.

"PV Sindhu and Saina Nehwal are not only sporting icons but also self-sufficient, independent women who achieved it through sport," noted the Indian hockey women's team skipper.

"We are working towards having similar success as a team. We have that fire and hunger to excel and we know doing well at the Olympics will change our lives for the better," she concluded.

Olympic Channel


---

Athlete Spotlight: Will Holt




Each athlete that wears the red, white and blue has a unique story to how their careers came to fruition. From the junior level to the senior squad, USA Field Hockey is putting national team athletes under the spotlight to share their journeys.

He is fueled by his favorite sports quote, "Believe where others doubt, work where others refuse, stay where others quit, and you will win where others lose." With more than a decade of experience on the international stage, Will Holt is a recognizable leader on the pitch as a member of the U.S. Men's National Team.

Holt's athletic journey is rooted from watching the Atlanta 1996 Olympic Games as an eager child on the couch in the living room. Seeing the smiles, tears and pride of athletes under the United States flag forged a dream to one day represent the red, white and blue on the sports world's biggest international stage. In 2000, he zoned in on his sport of choice when he attended a two-week program in his physical education class at Bedford Open Elementary School.

"During that time you signed-up for a class that wasn't offered in general education," explained Holt. "It was a variety of courses like geology, sculpting, origami, etc. There was only one sport on that list and it was field hockey. I had no idea what it was, but all I wanted to do was play sports. I had no interest in anything else, so I felt I had to do it."

The Camarillo, Calif. native then met an individual by the name of Coralie Van Marken, who was involved with the Ventura Roadrunner Field Hockey Club, and at the time did not realize this would be a life changing encounter. Van Marken demonstrated field hockey to the ambitious young Holt, which according to him at the time, was a sport "so weird, so strange and made absolutely no sense.:

"I hated the idea of not being good at something, and I was terrible at hockey," continued Holt. "I grew up playing basketball and the idea of using a candy-cane shaped stick to smack a golf ball-looking baseball was beyond me. But Coralie told me that I had potential, she set me up to play for the Ventura Roadrunners. I joined at the end of their normal season. The very next year, my very first official U-12 coach was Malachi Mahan, now an assistant coach at the University of California, Berekly, and a very close friend of mine. That mini-course at Bedford with Coralie, forever changed the trajectory of my athletic career - and I will be forever grateful."




A few years later Holt, still holding his Olympic dreams close to his heart, tried out for the U.S. U-16 Men's National team at the age of 13. He did not make the cut, but from the experience he knew his dream could be reality if he truly put in the extra training and mentality to achieve.

He didn't have to wait much longer. In 2007, just seven years after his fateful introduction to the game, Holt was named to the senior USMNT. The following year he recorded his first international cap for USA on the doorstep of the Olympic Games: the Kia Kaha Olympic Qualifying Tournament in Auckland, New Zealand, which consisted of six teams looking to punch their ticket to the Beijing 2008 Olympic Games.

"I got to see some of the guys I looked up to, watched on the internet playing in World Cups and Olympic Games," noted Holt. "One of my favorite players at the time was there playing for New Zealand, Hayden Shaw. He was a massive defender who was one of the strongest dragflickers in the game at that point. Along with guys like Phil Burrows, Mario Almada, Kwandwane Browne, the list goes on. We're talking field hockey legends and in an amazing country like New Zealand! It was such an amazing experience."

Though on opposing sides of the field, Holt and the rest of USA dueled his idols of the game to a fifth place finish in the tournament. Over the last 13 years the dream of the Olympic stage is as bright as ever as Holt has tallied 85 goals in 146 international matches for the red, white and blue.

He found additional playing opportunities in Europe over the years. Holt recalled his athletic contract for Royal Oreé THC in Brussels, Belgium in addition to the fierce competition and great atmosphere of the club. After an injury while playing he knew college was the next logical step, but knew he wanted to return to club life eventually.

"I had been to two great hockey countries, and I had decided that I wanted to play in a new country each season and gather as much hockey knowledge and culture that I could," said Holt.

Academically, sports have remained near and dear to Holt. Following high school he went on to earn a bachelor's degree in health and human performance (2014) and a master's degree in athletic administration (2015) from the University of Louisville. Like his encounter with Van Marken, Holt made a life altering choice after visiting campus and a conversation with head coach Justine Sowry.

"I had absolutely no intent on going to Louisville," admitted Holt. "One of my best friends from high school, Michael Roman, had just transferred from UCLA to Louisville to play college soccer. Another friend and I decided to fly out and watch Michael and Louisville play against UCLA in the NCAA College Cup. While I was there, I had the opportunity to meet the legendary Justine Sowry. I got to sit down with the Australian legend for about an hour and just talk field hockey and Louisville. The next day I submitted my application to the university. I had to go there."

But while his goals remain the same as an athlete, Holt has amassed a significant resume as a coach of the game as well. In the U.S. Men's Olympic Development Pipeline, he served as assistant coach of the U-21 USMNT before taking on the roles of associate head coach of the U-16 USMNT and head coach of the U-18 USMNT.




Overseas he has been a head coach and assistant coach for several club teams, including the U-16 Boys team for Royal Oreé T.H.B (2010), U-16 and U-18 Boys teams for Royal Pengouins HC (2016), U-16 Boys first team for V.M.H.C. Cartouche (2018) and U-14 Girls for NMHC Nijmegan (2019). Several of these positions corresponded with Holt's return to club play after acquiring his master's.

"After I got my masters degree from Louisville, I returned to Belgium to play for Royal Pengouin HC, followed by Southgate HC in the United Kingdom," continued Holt. "I then returned to my first club, VMHC Cartouche in Holland, where I got to play with and against some Dutch legends. The last dance for me was NMHC Nijmegen in Holland. I had the opportunity to play for a great coach, Bas Bogaard. My time in Europe was special, really special."

In 2017, he was also the director of strength and conditioning for HC Ludwigsburg. Stateside, he was named assistant coach at Indiana University in January, 2020. It hasn't been the start that he expected as the ongoing coronavirus (COVID-19) has shifted the Hoosiers' plans significantly to train this summer and the fall season put on hold.




"There was a lot of anxiety heading into preseason for our athletes," said Holt. "So many regulations and protocols, uncertainty all around. Not to mention our first official day of preseason is when the Big Ten announced the postponement of fall sports. That was a big blow, we gave them a day or two to take a step back and reflect, had a team hike, and set up training that Monday. They came out with a fire and motivation to train ans play proper hockey. I'm so proud of the way they approach each and every training. The level of professionalism is really high, and the quality of hockey has just gone through the rough, we've been really impressed with the level of improvements. We just wish these athletes would have had the opportunity to showcase their hockey this fall, but they'll be ready to turn some heads this spring. I'm very excited to be a part of it."

Off the pitch, Holt still stays close to the game as a member of the USA Field Hockey Judicial Committee, a position he has held since 2017. He also served two terms on the Athlete Advisory Council, the liaison to the United States Olympic and Paralympic Committee and USA Field Hockey Board of Directors. He was most recently elected as Athlete Director and will serve two terms.

Whether as an elite athlete, a coach or administrator, Holt's ambitions have taken him around the world and provided invaluable life experiences. While he remains busy, the spark that was ignited watching the Opening Ceremony in Atlanta on television remains as bright as ever.

USFHA media release


---

Previews: English Men's Hockey League Round 2




The second weekend of competition in the Men's EHL Premier Division sees some fascinating clashes between the ten teams in action.

"We are really looking forward to hosting Surbiton this weekend, they are a good, family club that try and do the right things on and off the pitch," says Head Coach Mark Wadsley in a generous tribute to Beeston's next opponents.

"We have had some great battles in the past and aim to be competitive on Sunday. Surbiton have threats all over the pitch and can score from open play and set pieces, so we can't worry too much about what they can do.

"Our focus is more on us and how we can take care of the ball better to create opportunities, but also reduce cheap turnovers which Surbiton will pounce on.

"The group are in a better place this season, we have some more depth but more importantly greater focus within the team. This had led to better individual performances during pre-season and part of that resulted in us winning the Tier 1 Championship. However we are very aware the level of opposition has now increased and we need to match that."



Beeston 2020 EH Champs

Meanwhile Oxted, who narrowly lost to East Grinstead in the opening weekend, will face Holcombe, who had an equally narrow 3-2 win over Old Georgians.

Head Coach Nick Giles said: "As soon as we finished the game [against East Grinstead] we were all absolutely gutted that it wasn't the fairytale start to the season that we thought and believed could happen.

"Having gone over the game there are so many positives to take." he added. "When you look at attacking circle entries we had triple the amount to East Grinstead, but ultimately we weren't clinical and they were. We paid the price for that but we are in a good head space going into the next match against Holcombe."

For the match against Holcombe Giles, who has the challenging position of player/coach, says he is not planning on changing too much.

"We are taking one game at a time, we will set up slightly differently to combat how they play but not too much will change. We trust in our principles. We will make sure our tempo is high from the start and that belief levels throughout the squad are high."

In the other matches taking place at the weekend, the University of Exeter will be looking to continue to put the goals away as they did in their opening fixture against Hampstead and Westminster but sharpen up on their defence as they seek to take points from seasoned campaigners East Grinstead.

Old Georgians travel north to take on the University of Durham, who are opening their league campaign this weekend. In some ways this is a step into the unknown for both sides – the University of Durham will get their first taste of life in the top flight of hockey while, this early in the season, Old Georgians will have little information about the playing style of the student side.

Wimbledon are also heading up the country to take on Brooklands MU. The South West London side will be looking to improve on their performance that saw them held to  3-3 draw by Beeston in the opening weekend. For their part, Brooklands MU will want to forget last week's 8-1 drubbing at the hands of Surbiton and put together a more flowing, attack-minded form of hockey.

You can follow the action in the Premier Division including live scores at https://englandhockey.altiusrt.com/

Arrangements for spectators at clubs in all Divisions of the league will vary depending on their individual circumstances. Anyone wishing to attend a game is advised to check with the home team before travelling.

FIXTURES

Men's Hockey League (Saturday, 26 September 2020):

Conference East
Spencer v London Wayfarers 13:30
Bromley & Beckenham v London Edwardians 14:30
Richmond v Old Loughtonians 16:30
St Albans v Wapping 18:30

Men's Hockey League (Sunday, 27 September 2020):

Premier Division
University of Exeter v East Grinstead 12:30
Old Georgians v University of Durham 13:00
Brooklands MU v Wimbledon 13:30
Beeston v Surbiton 14:00
Oxted v Holcombe 14:00

Division One North
University of Birmingham v University of Nottingham 12:30
Bowdon v Sheffield Hallam 13:30
Cambridge City v Loughborough Students 13:30
Deeside Ramblers v Cardiff & Met 13:30
City of Peterborough v Olton & West Warwicks 14:00

Division One South
Havant v Southgate 12:30
Reading v Teddington 13:30
Sevenoaks v Canterbury 13:30
Oxford Hawks v Brighton & Hove 14:00
Old Cranleighans v Team Bath Buccaneers 14:30

Conference North
Belper v Timperley 12:00
University of Durham 2s v Barford Tigers 13:00
Doncaster v Preston 14:00
Leeds v Didsbury Northern 14:30
University of Birmingham 2s v Lichfield 14:30

Conference East
Harleston Magpies v West Herts 14:00

Conference West
Cheltenham v Isca 12:30
Cardiff University v Fareham 13:30
Khalsa Leamington v University of Bristol 13:30
Ashmoor v Plymouth Marjon 14:00
Chichester v Harborne 15:00

England Hockey Board Media release


---

Previews: English Women's Hockey League Round 2




It is the turn of Birmingham University to enter the fray of the EHL Women's Premier Division as they travel south to take on Buckingham on Saturday.

The university side has undergone some changes recently after long-serving Head Coach Phil Gooderham retired after 15 years' service to the team. Richard Chambers has stepped up from his role as assistant coach to take over the reins and will be calling on all his experience to make sure the students hit the turf at full tilt.

Chambers' opposing number Zak Jones is hoping that, with a match already under their belts, his side will be able to rectify the errors they made in their tough opening match against Surbiton. He is calling on his squad to demonstrate their intense, fast-paced playing style to gain the advantage over Birmingham University.

Jones explained that Buckingham's opening match, which they lost 3-0, was made more difficult as two of his relatively small squad were out of action, meaning the travelling playing roster was reduced to 14.

"It was two key midfielders and we couldn't risk them," said Jones. "So in the second half we got pretty tired. In the first half we were unlucky not to go ahead. I am hopeful that, against Birmingham, at least one if not both of the players will be fit for this weekend."

Ahead of the encounter with Birmingham University, the Buckingham team will be working on some key points that Jones felt had deserted his team in their opening fixture.

"It was frustrating because we had a really good pre-season, but last weekend there were some nerves and that showed in our ball handling and retention. We can cope with that if it is just a couple of players but it just wasn't going for us. Also, our defence wasn't as tight as it can be.

"It was a typical, scrappy first game performance really -It would be nice if Birmingham are where we were last week," he added wryly.

Swansea and Holcombe will also be on the hunt for points after both sides lost their opening fixtures. The Welsh team were on the wrong end of a 4-0 scoreline against Wimbledon while, against Loughborough Students, Holcombe were undone by an Izzy Petter goal early in the game.

Clifton Robinsons host a Wimbledon team who have one of Clifton's most celebrated former players helping decide the tactics from the sideline. Alex Danson-Bennett has joined the coaching staff at the South West London club and will be hoping that her new team is able to continue the winning ways they showed in the opening fixture.

Loughborough Students will need to be on top of their game if they are to maintain winning ways as they face a visit from Surbiton, who put three goals past Buckingham last week. Among the danger players from Surbiton is Lottie Ross, who has risen through the ranks from junior to senior via a spell at Nottingham University with some aplomb and scored a brace in the first league game of the season.

Saturday's action will be rounded off with the last scheduled match of the afternoon taking place at East Grinstead as the West Sussex side plays host to Beeston. The Nottingham-based side will need to be alert to the quality that East Grinstead possesses over all areas of the pitch. A strong show against Clifton Robinson last weekend signals the intent of East Grinstead to challenge for honours this season.

You can follow the action in the Premier Division including live scores at https://englandhockey.altiusrt.com/

Arrangements for spectators at clubs in all Divisions of the league will vary depending on their individual circumstances. Anyone wishing to attend a game is advised to check with the home team before travelling.

FIXTURES

Women's Hockey League (Sat, 26 September 2020):

Premier Division
Buckingham v University of Birmingham 12:00
Swansea v Holcombe 12:00
Clifton Robinsons v Wimbledon 13:30
Loughborough Students v Surbiton 14:00
East Grinstead v Beeston 15:00

Division One North
Olton & West Warwicks v Belper 12:00
University of Durham v Gloucester City 12:00
University of Nottingham v Bowdon Hightown 12:30
Ben Rhydding v Brooklands-Poynton 13:30
Stourport v Leicester City 18:00

Division One South
Isca v Reading 12:00
Slough HC v Sevenoaks 12:15
Canterbury v Cambridge City 14:00
Wimbledon 2s v Trojans 14:00
Surbiton 2s v Harleston Magpies 14:30

Conference East
Barnes v Hampstead & Westminster II 12:00
St Albans v Canterbury 2s 13:00
Horsham v Bedford 13:30
Southgate v Chelmsford 14:30
East London v Bromley & Beckenham 18:00

Conference West
Bristol Firebrands v Oxford Hawks 12:30
Oxford University v Cheltenham 12:30
Sutton Coldfield v University of Birmingham 2s 12:30
Team Bath Buccaneers v Clifton Robinsons 2s 13:30
Basingstoke v Exe 14:00

Conference North
Loughborough Students 2 v Doncaster 12:00
Didsbury Northern v Cannock 12:30
Fylde v Pendle Forest 13:30
Alderley Edge v Leeds 14:00
Wakefield v Timperley 15:00

England Hockey Board Media release


---

Coach on league season: 'We can't see families, but we can play hockey'

By Richard Bright



Portsmouth start action this weekend PIC: Lauren Stewart

As grassroots hockey gets under way across England this weekend, one coach says that he would be 'over the moon' if the league was suspended this season.

Portsmouth HC men's coach Chris Wimshurst believes that grassroots hockey shouldn't be resuming, instead they host Sunbury & Walton Hawks in the Hampshire/Surrey Regional 2.

Wimshurst says it is a shared view with other coaches.

"At the moment we can't go and see our families, but we can play competitive hockey," he told Portsmouth's The News.

"I don't think this has been thought through, and we're stuck in the middle."

Restrictions at matches mean that changing rooms are out of action with players expected to arrive and leave in kit.

"It's ok now when the weather is fine, but in winter you'll be asking people to drive two hours into central London in their kit, possibly get soaked, and then drive home," Wimshurst added. "And as we're an amateur club we'll be charging them £10 to do so!"

The south coast coach said that localised leagues should have been implemented. According to Wimshurst, Portsmouth had agreed friendly, competitive matches with rivals Havant, Chichester and Fareham if the leagues had failed to start.

Like many clubs, Portsmouth have had their pre-season restricted as they play at university and school pitches which opened late, while other clubs which own pitches have fully prepared.

SIGN UP for The Hockey Paper's returning newsletter here: Promotions, exclusives and our best coverage



The Hockey Paper


---

Hockey fans urged to adhere to social distancing at league matches




Spectators attending English domestic hockey matches have been urged to check social distancing measures at venues.

League hockey started last weekend and some readers raised concerns that measures weren't properly in place.

Video highlights from some of the Premier Division matches showed that social distancing or the rule of six wasn't being properly adhered to.

England Hockey said on Friday: "If your area is not under any further local restrictions then spectators are permitted.

"However, you should check venue capacities to make sure spectators can remain socially distanced safely around the venue."

Swansea women host their first ever Premier Division game against Holcombe on Saturday with no fans allowed due to local lockdown restrictions.

England Hockey added: "If you are in an area under further local restrictions, you may be advised against having spectators. To check if your area is advising against spectators check the Government local restrictions here and refer to the section titled 'Team sport and physical activity'.

"If this is the case only those directly linked to the activity, e.g. a parent of an under 18 player, should attend as a spectator. General public and additional family members should be discouraged from attending and all those in attendance must remain social distanced around the venue."

SIGN UP for The Hockey Paper's returning newsletter here: Promotions, exclusives and our best coverage



The Hockey Paper


---

EY Hockey League Returns

EY Hockey League, Ireland's Highest Level of Domestic Hockey Competition, to Return this Weekend.




The first round of the EY Hockey League (EYHL) gets underway this weekend on the 26th of September. After a sudden end to last year's league due to COVID-19 causing the 2019/20 season to be declared null and void, the all-island EYHL will see Ireland's top ten male and top ten female clubs battle it out to become league champions over 18 weeks of exciting, fast-paced hockey.

The Women's EYHL2 will also commence this weekend, with the Men's EYHL2 preparing to take to the pitch on the 10th of October, with each of the EYHL2 teams vying for promotion to the EYHL for the following season. The 2020/21 season will see an additional three teams added to the Men's EYHL2 for this season only; one team from each of the three Provincial Branches that compete in the Men's EYHL2: Munster, Leinster, and Ulster.

The EYHL and EYHL2 showcase some of Ireland's top players and is seen as an integral part of Hockey Ireland's athlete development, the EYHL provides an opportunity to further develop high performance players for the challenge of international hockey. The winners of both the Men's and Women's EYHL will earn themselves a spot in the Euro Hockey Club Trophy. The top four teams in the EYHL will battle it out to win the EY Champions Trophy over an exciting weekend to close off the league season. The winners of the EY Champions Trophy will claim the much coveted prize of a place in the Euro Hockey League for the following season.

Frank O'Keeffe, Managing Partner for EY Ireland, said: "We are proud to continue our support all of the amazing men and women in this incredible sport, and we look forward to celebrating their continued success this year in both the EYHL and EYHL2. The great contribution that hockey makes to our lives became even more apparent this year. We all felt the acute loss of our favourite sport at the height of the pandemic, but it is fantastic to see that spirits remain high as we embark on a new season and we are all very excited at what this year's league will bring."

Graham Reid, Partner, Head of Markets, EY Ireland, commented: "The all-island sport provides men and women the opportunity to build high performance teams, and develop and enhance their skills, as they compete at such a high level throughout the year. When it comes to leadership, dedication and developing winning strategies, there is a great deal to learn from such high calibre athletes."

Jerome Pels, CEO of Hockey Ireland, said "It is fantastic to see the return of the EYHL and EYHL2 after the unfortunate sudden end to last season. Hockey Ireland is really looking forward to some top-class matches taking place again weekly all around the island. The EYHL and EYHL2 are the pinnacle of the domestic hockey scene here in Ireland and we're very grateful to have the continued support of EY throughout the season.

EY's support is invaluable to us in assisting with the organisation and promotion of the EY Hockey League, its high quality of matches, and ensuring clubs across the island are able to compete at the highest levels."

Irish Hockey Association media release


---

Men's EYHL starts here – international returns to raise the bar



Shane O'Donoghue captained Glenanne to EYHL victory in 2018. Pic: Adrian Boehm

The quality of the men's EY Hockey League is expected to ramp up this season with the return of several international stars to the competition from the pro ranks in Belgium and beyond.

Glenanne – winners two seasons ago – have been the biggest movers in the transfer market with all-time Irish top goalscorer Shane O'Donoghue back after his latest two-year stint with Dragons.

He will be the player-coach for this campaign and he welcomes back fellow Ireland player Sam O'Connor as well as coaxing Richard Couse and Iain Walker back into the fold.

It means they will be hugely competitive with their opening tie against UCD a tester. The students showed up well against Lisnagarvey in last weekend's Irish Senior Cup final but have to quickly switch squads with Dave Nolan, Jazze Henry, Andrew Meates and Ziggy Agnew moving on with Harry Lynch, Sam Walker, Scott Ruttle and Gearoid O'Brien replacing them.

Monkstown are another side likely to be serious challengers with top class performaers Lee Cole and Jeremy Duncan back in Ireland after extended spells in Europe and are looking forward to a first date with Corinthian.

Pembroke welcome Julian Dale for Harlequins, adding to the long line of Cork-men to play for the Ballsbridge club. Mark Ingram is back from Rotterdam, too, to give them a big boost between the posts for their away date at Banbridge who have seen Jonny McKee depart for Crefeld in Germany.

Daragh Walsh is Three Rock Rovers comeback kid after a year in Leuven as they go on the road to Garvey on day one. The Comber Road club are the side to catch but are one of the few sides not to add to their lot with promotion from within their method of strengthening.

Last year's ninth and tenth placed sides – YMCA and Annadale – meet at Wesley with the former adding South African international Peabo Lembethe to their line-up. Dale got a major reprieve last season by the null and void situation with relegation pending but departures this summer of Ben Wallace and Ryan Burgess means they have another tough year ahead.

Saturday 26th September 2020

Men's EYHL Division 1: Banbridge v Pembroke, Havelock Park, 2.45pm; Lisnagarvey v Three Rock Rovers, Comber Road, 3pm; Monkstown v Corinthian, Merrion Fleet Arena, 4.15pm; UCD v Glenanne, Belfield, 1pm; YMCA v Annadale, Wesley College, 2pm



TRR's Daragh Walsh and Lisnagarvey's James Lorimer in 2019. Pic: Adrian Boehm

Annadale

Last season (at lockdown): Tenth, Irish Senior Cup first round, Kirk Cup group stages

Coach: Richard Fairman (2nd season), Assistant Coach: Stephen Galway (1st Season); Manager: Kim Collins (1st Season)

Players in: tbc

Players out: Ben Wallace (Banbridge), Ryan Burgess (Bangor)

Season overview: Last season was tough outing with the lockdown saving Annadale from what looked certain relegation to the Ulster Premier League. The departure during of the summer of captain and drag-flicker Ryan Burgess back to Bangor as player-coach and Ben Wallace and Banbridge will mean they will be in for a tough season again. Coach Richard Fairman's brief to continue to develop the youngsters from their impressive academy and trust they will rise quickly like Patrick Rose did last term.

Irish Senior Cup draw: Corinthian (h), November 14

Banbridge

Last season (at lockdown): second, Irish Senior Cup second round, Kirk Cup winners

Coach: Gordon Cracknell (2nd season), assistant coaches: Scott McCandless, Suzanne Evans and Gareth Lennox  

Players in: David Finlay (Kilkeel), Ben Wallace (Annadale)

Players out: Jonny Mckee (Crefelder HTC), Jamie Wright (Portadown), Ross Beattie (Portadown)

Season overview: Bann improved as time wore on last season and have the honour of being the only side to defeat Lisnagarvey when they won the Kirk Cup final. Preseason has been slow with matches hard to pick-up due to Covid-19 protocols and included a 3-2 loss to Garvey and beating Cookstown 3-1.  

They used those game to bring in some new exciting talent from their junior ranks and give them the opportunity to begin their senior careers alongside the experience of Olympian Eugene Magee and former international Bruce McCandless. Of the new arrivals, they have signed prolific goalscorer David Finlay from Kilkeel as well as Ireland Under-21 defender Ben Wallace from Annadale.  

Irish Senior Cup draw: Monkstown (h), November 14

Corinthian

Last season (at lockdown): seventh, Irish Senior Cup first round; Mills Cup semi-final

Coach: Joe Brennan (2nd season), assistant coach: Peter Caruth

Players in: George Dagg, Joe Brennan (re-registered to play)

Players out: Jonathan Roberts (year out), Henry Micks  



Corinthian's Peter Caruth and YMCA's Harry McCarthy. Pic: Sinead Hingston

Season overview: "The upcoming Irish Junior Cup has created a real buzz for preseason with a really big group training for that and hopefully can put up a good show," now player-coach Joe Brennan says of the season ahead. Ashley Kemp had planned to go travelling but is still around due to the Covid-19 situation while he also welcomes back in George Dagg.

The likes of Max Neill, Max Wright, Craig McKay, Ross Howard, Matt McCabe and Calum Adair are maturing into the first team  

Irish Senior Cup draw: Annadale (a), November 14

Glenanne

Last season (at lockdown): Fifth, Irish Senior Cup semi-final, Mills Cup quarter-final

Player/coach: Shane O'Donoghue (1st season), assistant coach: Lisa Jacob (1st season)

Players in: Ian Walker (YMCA), Matt Michie (Timperley HC, England), Richard Couse (Avoca), Kevin Mellott (Avoca), Shane O'Donoghue (KHC Dragons, Belgium), Sam O'Connor (Royal Beerschot, Belgium), Alex Henry (Railway Union), Michael Small (North Kildare), Simon Pearson (Weston HC), Alfie Jones (Limerick HC), Zack Waters (Pembroke Wanderers)

Players out: Leo Micklem (studies abroad), Enda Tucker (Weston)

Season overview: The biggest movers in the summer, the Glens have strengthened significantly with the obvious marquee returns of Ireland's all-time top goalscorer Shane O'Donoghue and Sam O'Connor from Belgium. Add in Richard Couse coming back after a year top scoring in the Leinster league with Avoca, bringing Kevin Mellott with him, and they have a wider squad to work from that will be in a hugely competitive contest for a top four spot.

Irish Senior Cup draw: Bandon (h), November 14

Lisnagarvey

Last season (at lockdown): first, Irish Senior Cup winners, Kirk Cup finalists

Coach: Erroll Lutton (8th season). Assistant Coach: Stephen Arbuthnot (3rd season) and Raymond Geddis (8th season). Manager: Dean Beckett (6th season)

Players in: n/a

Players out: Ollie Kidd (Nottingham Trent University/Beeston), Peter McKibben (Grossflottbeker), Scott McCabe (Queens University)

Season overview: Erroll Lutton's view on preparatinos: "A solid preseason which gave us good preparation for the Irish Senior Cup semi final and final. Games against Cookstown, Banbridge, Dublin YMCA, Ireland and Monkstown also allowed us to include some of our Under-18 players who have been added to our training panel. As always it looks to be set up for a very competitive season and one we are looking forward to."

The clear side to beat last season, they will know this season is likely to be more competitive with most of the chasing pack strengthening during the summer with lots of international talent returning. Nonetheless, the likes of Ben Nelson, Johnny Lynch, Troy Chambers and Mark McNellis are coming along all the time and make them the side to catch.

Irish Senior Cup draw: Clontarf/Kilkeel (a), November 14

Monkstown

Last season (at lockdown): Third, Mills Cup final

Coach: Gareth Watkins (3rd season), Eddie O'Malley (1st season); Manager: Sam Farrar

Players in: Lee Cole (Royal Oree, Belgium), Jeremy Duncan (Royal Oree, Belgium), David Nolan (UCD), Jazze Henry (UCD)

Players out: Gareth Watkins (retired)



Monkstown's Lee Cole. Pic: Adrian Boehm

Season overview: Monkstown have certainly strengthened significantly with Lee Cole back at the club after two seasons while Jeremy Duncan is a prize addition following his stint in Belgium at Herakles and Oree. Add in David Nolan and Jazze Henry and that is a very significant bit of business, tempered only by Gareth Watkins' decision to focus on coaching. Indeed, it will be strange not to see him leading the line up front after so long as the club's forward talisman.

Irish Senior Cup draw: Banbridge (a), November 14

Pembroke

Last season (at lockdown): Eighth, Irish Senior Cup quarter-final, Mills Cup semi-final

Coach: Paudie Carley (3rd season); assistant coaches: Alan Sothern (2nd season), Devin Donnelly (2nd season); manager: Colm O'Hare

Players in: Cian Murphy (UCD), Julian Dale (Cork Harlequins), Richard Sweetnam (Cork C of I), Isaac Johnson (Waterford), Fionn O'Leary (Bandon), Wisse Albers (Kampong), Mark Ingram (Rotterdam HC)

Players out: none

Season overview: Coach Paudie Carley: "Pre season has gone reasonably well considering the circumstances we are all challenged by. The boys are raring to get back at it and right the wrongs of last season."

Another club to welcome back wandering stars with goalkeeper Mark Ingram back from Rotterdam, they also have serious extra firepower with Julian Dale following the well-worn path from Cork to Serpentine Avenue. Alongside Alan Sothern, that makes for a delicious forward combination and should mean they move well clear of last season's troubles which saw them linger around the relegation playoff place.

Irish Senior Cup draw: YMCA (h), November 14

Three Rock Rovers

Last season (at lockdown): fourth, Irish Senior Cup quarter-final, Mills Cup final

Coach: Elun Hack (2nd season). Manager: Fraser Morris

Players in: Daragh Walsh (KC Leuven, Belgium), Rob McKinley (Stellenbosch University HC, South Africa), Ravin Nair (year out)

Players out: Harry Lynch (UCD), Mark English (Railway Union), Jack McAllister (year out), Sam Walker (UCD)

Season overview: Preseason was interrupted for 10 days with a Covid-19 scare but practice matches resumed with friendlies versus Banbridge, Glenanne, Monkstown, Pembroke and UCD. "With many players returning from Europe, I expect the EYHL to be very competitive this year", commented Elun Hack.

Midfield maestro Daragh Walsh is their returning international following a year with KHC Leuven while Ravin Nair is also back after a year out. Former internationals Peter Blakeney and Mick Maguire have made themselves available from the start of the campaign to widen their panel as they bid to have a strong season leading into a fourth successive season in the Euro Hockey League next Easter following this summer's appeals.

Irish Senior Cup draw: Cookstown (a), November 14



UCD's John Guilfoyle. Pic: Adrian Boehm

UCD

Last season (at lockdown): sixth, Irish Senior Cup final, Mills Cup semi-final

Coach: Michael Styles (second season)

Players in: Harry Lynch (TRR), Sam Walker (TRR), Gavin Gleeson (Monkstown), Scott Ruttle (YMCA), Gearóid O'Brien (YMCA), Stephen Dawson (year abroad)

Players out: David Nolan (Monkstown), Jazze Henry (Monkstown), Ziggy Agnew (Avoca), Matteo Romoli (Belgium), Andrew Meates (YMCA)

Season overview: A lot of preparations for the ISC final meant the squads were changing around quite frequently from week to week but they showed a lot in that final to suggest they will be a strong force again with Conor Empey and Guy Sarratt vital elements.  

Harry Lynch is a big addition to mitigate against the departing experience of David Nolan, Jazze Henry and Ziggy Agnew. Last year was one of contrasts with a blistering start countered by five successive pre-lockdown losses but they will be stronger for the experience.

Irish Senior Cup draw: Cork C of I/Portrane (h), November 14

YMCA

Last season (at lockdown): Ninth, Irish Senior Cup first round, Mills Cup second round

Coach: Jason Klinkradt (6th Season), Manager: Sam Mawhinney (2nd Season)

Players in: Peabo Lembethe (University of Pretoria), Andrew Jones (London), Andrew Meates (UCD)

Players out: Eric Prehn (Studying in Amsterdam)

Season overview: "After retaining the majority of the squad, YM's youthful squad, with a few new additions, look to build on solid performances of last year and are excited to start again!" coach Jason Klinkradt. After a couple of summers of big movement, it has been much more settled this year for the Y as they look to build on some impressive performances last season.

South African international Peabo Lembethe – known as The General – is their big addition. He has 28 caps to his name and was part of the 2018 World Cup squad.

Irish Senior Cup draw: Pembroke (a), November 14

The Hook


---

Women's EYHL starts here – team by team preview for 2020/21



UCD and Pegasus in the women's Irish Senior Cup final last weekend. Pic: Adrian Boehm

Six months since lockdown, the women's EY Hockey League gets back into action on Saturday but not without one last talking point as the sport still comes to terms with the Covid-19 crisis.

Cork Harlequins confirmed on Thursday night they would not travel to meet Muckross, meaning this weekend's card is reduced to four fixtures but plenty of intrigue.

Old Alex made perhaps the biggest move of the summer when landing Lena Tice to link up with a wealth of former UCD team mates – and World Cup medalists Nikki Evans and Deirdre Duke. They were within touching distance of the top last term and – should Abbie Russell find fitness – they are significantly bolstered for a title charge.

Their first contest is an away date to Belfast Harlequins who have also added a huge name to their line-up in Megan Frazer who is keen on getting game time in Olympic season. Bad news, though, for Serena Barr who has sustained a serious knee injury and is out for quite some time.

Irish Senior Cup winners UCD have had six days to turn things around with a new team following their success which deployed three of departing graduates.

They have a tricky road trip to Catholic Institute who have done well over the summer with three back from UCC and goalkeeping options with international experience as both Pam Smithwick and Hannah Humphreys have signed up.  

Loreto already have two competitive 1-0 wins under their belt in the Jacqui Potter Cup and have added young forward fire in Nicola Torrans and Yasmin Pratt but will miss Sarah Twomey's calm efficiency and Niamh Small's experience as the latter starts her head coaching journey with Trinity.

Pegasus have a trio of players returning for this campaign and start off against an ambitious Pembroke side at home, boosted by Emma Buckley's return to Ireland following two successful seasons with Racing Club de Bruxelles.

Saturday, September 26

EYHL Division 1: Belfast Harlequins v Old Alexandra, Deramore Park, 2.30pm; Catholic Institute v UCD, Rosbrien, 3pm; Loreto v Railway Union, Beaufort, 1.15pm; Pegasus v Pembroke, Queens, 4.15pm

Not being played: Muckross v Cork Harlequins

Women's EY Hockey League

Belfast Harlequins

Last season (at lockdown): Tenth, Irish Senior Cup second round; Ulster Shield final

Coach: Phil Mills (2nd season) Manager: Roisin Walsh

Players in: Ella Agnew (Lisnagarvey), Emma Uprichard (Mossley), Rachel Johnston (USA), Megan Frazer (Ulster Elks)

Players out: Rhiannon Coulter (Queen's), Abi Edwards (Armagh)

Overview/aspirations: "Unlike last year when we had no access to our internationals (and the Barrs were new signings), we have been able to train as a unit. Phil is happy to see progression. EY1 is a tight league with no margin for error as our results last season indicate.  

"We know that it will be just as competitive this season and are excited that it will be a main match play outlet for our International players and therefore not as disjointed as previous seasons, particularly last year. Due to Covid and the uncertainties it brings, the default will be to play as much hockey as possible whilst we (safely) can!"

Of the new arrivals, Ulster Under-18 Ella Agnew played all her junior hockey with Quins but moved to Lisnagarvey in 2019/20 and rejoins. Emma Uprichard was part of the Belfast Royal Academy Schools cup winning side and an Irish Under-16. Both these young players are forwards and are bringing energy into the squad.  



UCD and Loreto in action in the Jacqui Potter Cup semi-final. Pic: Adrian Boehm

Megan Frazer, meanwhile, needs no introduction but the club did suffer a big blow on the eve of the season with news Serena Barr has sustained a cruciate knee ligament injury.

Irish Senior Cup draw: UCC or Monkstown, November 28

Catholic Institute

Last season (at lockdown): Sixth, Irish Senior Cup first round;

Coach: David Passmore (2nd Year), Assistant: Ger O'Carroll; Manager: Brenda Moloney  

Captain: Roisin Upton; Vice Captain: Laura Foley  

Players In: Michelle Barrett (University of Massachussets), Aebhfhinn Bourke (UCC), Hannah Humphreys (UCC), Aine Ryan (Trinity), Lauren Ryan (UCC), Muireann Scanlon (UCC), Pam Smithwck (Old Alex), Kate Ryan (Crescent HC)  

Players Out: Anna Horan (UConn Huskies, USA), Sophie Clein (exams), Nicole Griffin (exams), Jilly Edwards (exams)  

Young Players to watch out for: U16 internationals Sarah Fitzgerald and Kate Ryan have fitted in well at training along with U19 triallist Becky Foley who has returned after an extended break with an ACL injury.  

Overview/seasons aspirations: "The spine of the team will be key led by last year's captain and sweeper Christine O'Shea and this year's skipper Roisin Upton who brought an attacking threat to the team in the second half of last season after she return from the wrist injury sustained in the Olympic Qualifiers.  

"The addition of four players from UCC, three returning to the club will add strength and depth which was lacking last year. After struggling to cope with the intensity of the league in the early part of the season last time out we are hoping that the form shown post Christmas can allow us to consolidate our EYHL1 status  

Dave Passmore: "It has been great to have a larger squad to prepare with more intensity over the summer and fitness levels are improved on last time around which should allow us to be competitive.  There is a great buzz around training and the players are looking forward to the season ahead."

Irish Senior Cup draw: Armagh (a), November 28



Catholic Institute against Pembroke last season. Pic: Adrian Boehm

Cork Harlequins  

Last season (at lockdown): Seventh, Irish Senior Cup first round

Coach: Darren Collins (3rd year) Manager: Vanessa Sargent (1st year)  

Captain: Yvonne O'Byrne; Vice Captain: Michelle Barry  

Players In: Siri Forde (Cork C of I), Niamh Sexton (Lock Haven, USA)  

Players Out: Emma Barber (Cork C of I), Niamh O'Leary (Cork C of I), Becky Maye (Cork C of I), Alex O'Grady (Cork C of I), Nikki Barry (UCC), Sarah Murphy (UCC), Enya O'Donoghue (UCC).  
 
Season Aspirations/overview: "We are looking forward to competing in the EYHL 1 league for another season after last year finished so abruptly. We have lost some very good players but have some promising younger players coming through and allied with our core of experienced players we hope to have a successful season."

Irish Senior Cup draw: Loreto (h), November 28

Loreto

Last season (at lockdown): First, Irish Senior Cup quarter-final; Jacqui Potter Cup winners

Coach: Paul Fitzpatrick (5th season); Assistant coach: Ian Clarke (second season); Manager: Anne-Marie Curran (6th season)

Players in: Yasmin Pratt (Muckross), Nicola Torrans (Corinthian)

Players out: Sarah Twomey (Monkstown), Niamh Small (coaching Trinity), Jessica Meeke (Corinthian)

Season overview: Competitive 1-0 wins over UCD and Pembroke in the Jacqui Potter Cup have given their preseason a boost, doing so without the services of big players like Nicci Daly and Caitlin Sherin. It has them in good shape to be one of the major contenders yet again with Ali Meeke and Sarah Torrans in red-hot form.

Irish Senior Cup draw: Cork Harlequins (a), November 28



Muckross against Old Alex. Pic: Adrian Boehm

Muckross

Last season (at lockdown): Seventh, Irish Senior Cup second round; Jacqui Potter Cup third round

Coach: Simon Pearson (2nd season) Assistant coach: Anna O'Flanagan (2nd season); Manager:  Freda Canavan

Players in: Louise McCollum (Trinity), Annabelle Sweetnam (Loreto), Becky McMullen (Clontarf), Katie Miller (GK, Railway Union), Catalina Paz Montino Mena (Hounslow & Barnes HC), Erika Hinkson (Old Alex)

Players out: Jessica McGirr (travelling), Nikki Keegan (year out)

Season overview: Simon Pearson – "Very positive preseason with an exciting group of new young talent using this time for them to gain experience as we look to build on some good results from last season. With Ellie McLoughlin thriving on the Irish senior call up and as with Sarah McAuley with the Irish Under-23s. Welcoming also Louise McCollum from Trinity who is a really strong addition to the squad.

Irish Senior Cup draw: Corinthian/Cork C of I (h), November 28

Old Alex

Last season (at lockdown): Third, Irish Senior Cup second round; Jacqui  Potter Cup quarter-final

Coach: Niall Denham (2nd Season), Assistant Coach: Fiona Connery (1st Season), Manager: Chloe Bolton (1st Season)

Players in: Lena Tice (UCD), Abbie Russell (UCD)

Players out: Rebecca Evans (London for work), Paula Pena (Miami University Redhawks), Hannah Mangan (University of Albany), Erika Hinkson (Muckross)

Season overview: Manager Chloe Bolton states "The start of pre season was a slow burner due to injuries but the squad is fighting fit now and ready to kick off the season in Belfast on the 26th. Our squad has always been a force to be reckoned with and this year we have a few new faces in the pack such as Lena Tice and Abbie Russell to add an additional punch. We are very much looking forward to the season ahead."

Indeed, Tice looks like the signing of the summer and adds to their array of international talent alongside Deirdre Duke and Nikki Evans while Aine Connery is back in the mix after a long-term injury. Within touching distance of top spot last season when lockdown fell, they are likely to be major players this season.

Irish Senior Cup draw: Pembroke (h), November 28

Pegasus

Last season (at lockdown): Second, Irish Senior Cup final; Ulster Shield winners

Coach: Greg Thompson (3rd season); Asst Coach: Andy Smyth (2nd season); GK Coaches: Jessica Perry (3rd season) & Neil Russell (1st season); Manager: Gerry McIvor (1st season)

Players in: Kate Gourley (University of Delaware), Amy Moheit (University of Richmond), Leah Paul (Ulster Elks), Emma Quinn (Ulster Elks)

Players out: Molly Dougan (University of Exeter), Charlotte Hart (University of Bristol)

Sesson overview: Plenty of strong players back in the fold with Kate Gourley returning after one year at University of Delaware while Amy Moheil (née Cook) is back after eight years with University of Richmond's Spiders. Four warm up matches resulted in four good wins against Ulster U18s, Queens, Ards and Belfast Harlequins before last week's Irish Senior Cup final.

Youngsters like Niamh McIvor and Olivia Berry will hopefully continue to thrive with the guidance of Shirley McCay, Ruth Maguire, Kerri McDonald, Steph Thompson Alex Speers and Michelle Harvey.

Irish Senior Cup draw: Railway Union (a), November 28



Railway Union's Niamh Shaw. Pic: Adrian Boehm

Pembroke

Last season (at lockdown): fifth, Irish Senior Cup quarter-final; Jacqui Potter Cup finalists

Coach: Gavin Groves (3rd Season), Assistant Coach: Stephen Brownlow (3rd Season), S/C: Sami Dowling (3rd Season)

Players in: Emma Buckley (Racing Club de Bruxelles), Sally Campbell (Trinity)

Players out: Laura Noble (Trinity), Jilly Ringwood, Sinead Loughran (returning after Christmas)

Season overview: Coach Gavin Groves: "The players had worked hard to maintain their fitness through the lock down. We have picked up wins over UCD and Muckross in recent friendlies. It was good to get a competitive game in before this week in the JPC Final.  

"The atmosphere around the club is positive, we feel we have built a really good squad over the last few years, not just with some really good established players coming in but with the development of some of our younger players who are ready to take on important roles in the first team."

Irish Senior Cup draw: Old Alex (a), November 28

Railway Union

Last season (at lockdown): ninth, Irish Senior Cup second round; Jacqui Potter Cup quarter-final

Coach: Una McCarthy (1st season); assistant coach: Gareth Myburgh; goalkeeper coach: Stephen O'Keefe; S&C: Darragh Curley; manager: Margaret Shaw; Video: Aaron Passmore, Tristan Stedham

Players in: Ailish Long (Trinity), Ali O'Leary, Jane Fennelly, Millie Regan (East Grinstead), Orla Patton (UCD), Sarah Patton (UCD)

Players out: Sophia Cole (UCD), Katie Miller (Muckross), Kate Sullivan (Trinity)

Season overview: Irish Senior Cup winners Orla and Sarah Patton are among a number of strong additions to the panel with Irish indoor international goalkeeper Millie Regan among them. Sophia Cole, though, will be a big loss in midfield. Una McCarthy takes on the coaching reigns.

Irish Senior Cup draw: Pegasus (h), November 28

UCD

Last season (at lockdown): fourth, Irish Senior Cup winners; Jacqui Potter Cup semi-final

Coach: Miles Warren (6th season), assistant coach: Keith Crawford (2nd season); manager: Marty Burke (6th season)

Players in: Rachel Kelly (Kilkenny HC), Sophia Cole (Railway Union), Eva Lavelle (Railway Union)

Players out: Lena Tice, Abbie Russell (both Old Alex), Sarah Patton, Orla Patton (both Railway Union), Suzie Kelly (Monkstown)

Season overview: Miles Warren: "Its been an extremely difficult and disruptive preseason due to having two competitive games on the two weekends prior to the IHL starting. This has meant potential new players can't play in those games and made it difficult to play matches together as a new squad for 2020/21 season."

Notwithstanding those issues, Warren's side did land the Irish Senior Cup title last weekend and they have midfield options of Amy Elliott, Ellen Curran and Hannah McLoughlin that are the envy of the league with Sophia Cole adding to that mix, allowing Michelle Carey to move further up the field.  

Irish Senior Cup draw: Glenanne/Banbridge (a), November 28

The Hook


---

Life Member - Cyril Dakiniewicz




Cyril Dakiniewicz deservedly joins the list of Hockey Australia Life Members after being a longstanding and highly respected official at national and international level.

Heralding from South Australia, Cyril obtained his international umpiring badge in 1980 which saw him go on to officiate as a Senior Championship panel umpire for seven years from 1981-1987.

He then turned his focus to umpire managing, a role which he held down at numerous Australian championships as well as the 2007 Indoor Asian Games.

Cyril spent 28 years on the Hockey Australia Appointments Committee and was also a key umpire selector for all age level national championships across both outdoor and indoor hockey.

Furthermore, his love and passion for the game saw him undertake various Technical Official roles including at a number of World Cups and the 2008 Olympic Games.

Cyril was awarded the Australian Sports Medal in 2000, the award given to recognise those who have contributed to making Australia a nation of sporting excellence.

Throughout his various roles, Cyril continued to play with Sturt Hockey Club (now known as Adelaide Hockey Club), a club he played at for 40 years, while he also represented South Australia at Under 21 level.

Cyril's Life Membership was ratified in 2019.

What he said…

"It is a great honour and a very nice surprise. I have been involved in hockey in many ways, playing, umpiring, administering, technical and umpire coaching and development. I was also involved in those roles with Indoor hockey. They all gave me a great deal of enjoyment and satisfaction and I have met and worked with many great people. I really appreciate being awarded life membership." Cyril Dakiniewicz

From those in the know…

"His service to hockey over so many years is quite amazing. In addition to what is included in his CV, Cyril has been involved in assessment of umpires at national championships (indoor and outdoor) for over 30 years. He has also been involved in umpires coaching courses (indoor and outdoor) throughout SA and nationally for decades. He is a great servant of our game." Dennis Meredith (Hockey Australia Life Member)

Hockey Timeline
Player
South Australia
Played with Sturt Hockey Club (now Adelaide Hockey Club) for 40 years including Premier League
Represented South Australia at National Under 21 Championships

Umpire
International
1980 International Badge
1981-1987 Senior Championship panel umpire (Outdoor)
Senior Championship panel umpire (Indoor)

Umpire Manager
Australia
1987-2010 Indoor National Championships
Outdoor National Championships (multiple age groups)

International
2007 Indoor Asian Games

Tournament Director
Multiple National Championships

Umpire Administrator
Member of Hockey Australia Officiating (Umpire, Umpire Manager and Technical Official) Appointments Committee for 28 years until 2016
Responsible for the selection of all outdoor and indoor men's national championship umpire panels from U13s to international matches

Technical Official
International
FIH Outdoor 4 Nations (China)
2007 Indoor World Cup Technical Officer
2003 Indoor World Cup Judge
2001 Junior World Cup Judge
2008 Olympic Qualifier Judge
2010 World Cup Qualifier Technical Officer

Hockey Australia media release


---

When hockey is a family tradition




As a sport, hockey has a global family of supporters and volunteers. From people maintaining the grounds through to the administrators who ensure junior programmes, clubs, regional and national level hockey teams all run smoothly, ours is sport that relies on its volunteer army.

The volunteers work tirelessly behind the scenes and rarely get the recognition they deserve.

Which is why FIH is paying tribute to the hockey volunteers with a series of articles highlighting the work of just a few of these unsung heroes.

What do you do when your brother is better at a sport that you love than you are? You make sure you are involved in a different capacity.

This is the story of Louis Tengey, whose older brother Anthony, nicknamed 'Pozo', was a  member of the Ghana national hockey team that won the African Cup in 1974 and represented Africa at the World Cup in 1975.

While Louis loved the sport, he acknowledged that he would not make the national team. However, as a volunteer Louis has enjoyed a lifelong and fulfilling involvement in the sport - at the national level he dreamt of.

The younger Tengey sibling's first move, in 1977, was to start a hockey team. Together with a group of hockey-loving friends, Louis collected sticks, balls and other equipment and launched a neighbourhood hockey team. It was called Pozo Sticks, in honour of his brother's achievements.

This team grew and eventually participated in the Greater Accra hockey league.




In 1993, Louis realised that to sustain the growth and interest in hockey in the neighbourhood he needed to start a development programme for boys and girls. In time, he had ambitions of running youth teams that would open up opportunities for the young players to compete.

Louis was not a man to ignore his ambitions or put them to one side for later. In a short while the Hopefuls Youth team was formed, offering competitive hockey to the young players in his community. Louis thus became one of the pioneers of the now famous neighbourhood youth hockey development programmes that have sprung up in various parts of the country.

Louis himself took on the dual roles of team manager and coach. He used his personal resources and lobbied friends and relations to help provide kit and equipment for the team.

A few years earlier, in the 1989/90 season, Louis volunteered to become the groundsman/manager at the national hockey stadium. He saw to the mowing of the grass and marking the field and generally ensured that the facility was ready for hockey matches.

Later in the 1990s he became involved in technical official duties and over time rose to become a nationally rated technical official. Louis officiated at several Africa Cup for Clubs competitions as a technical official and in 2007 he was a judge at the Africa Olympic Qualifier held in Nairobi Kenya. In 2012 he was also a technical officer at the U20 Africa Cup for Nations.

Louis was also the Team Manager for the U20 National hockey team that participated in the Africa Cup for Club nations in 1984.

Currently Louis is still working at the national hockey stadium and also assisting the Greater Accra Hockey Association to run its competitions.​

Volunteering and hockey administration runs in the family. Louis' mother, Madam Grace Aku Tengey was a successful entrepreneur and an ardent supporter of hockey. As a life patron of Pozo Sticks Hockey Club, she guided and financially supported her sons in managing the club. It is clear that her love of the game and her ability to run things smoothly was passed to her sons.

FIH site