All the news for Sunday 13 September 2020

Leuven begin Belgian men's league with a bang




KHC Leuven produced the performance of the night as the Belgian men's season started off with a bang, the university club getting the best of Dragons 3-1.

The returning Jérôme Dekeyser made a big impact with a trio of goals, two coming from the penalty spot. Henri Raes got the reply for Dragons but this was a strong statement of intent from Leuven who also have Lucas Vila on board this season alongside Simon Gougnard and Irish midfielder Sean Murray.

Royal Léopold are among the favourites for the title and they started on the front foot with a 3-1 victory at Beerschot. Nick Catlin had given the hosts the lead but Tom Boon equalised before Maxime Plennevaux put his side in front; Boon completed the win from a stroke.

Waterloo Ducks were 2-0 victors over Herakles thanks to Tommy Willems and Victor Charlet goals; Orée edged out Antwerp 1-0 thanks to Max Branicki's goal.

Conor Harte was the big scorer of the day when he nailed four penalty corners in a 7-1 success for Racing Club de Bruxelles against Namur while La Gantoise hammered the newly promoted Old Club 11-1. Daring tied with Braxgata 2-2.

The women's competition began a day earlier, La Gantoise were again in high scoring form with an 8-0 win over Wellington with two goals each from Emilie Sinia, Ambre Ballenghien and Stephanie van den Borre.

Most of the other fixtures ended 2-1; Daring saw off Braxgata, White Star beat Léopold, Racing won against Mechelse and Herakles beat the WatDucks. Kim van Rosmalen earned Victory a 1-0 success against Antwerp while Dragons started with a 3-0 against Leuven.

Euro Hockey League media release


---

Second match called off in Dutch league due to coronavirus

A second Hoofdklasse match has been postponed due to coronavirus in Holland.

Following the postponement of the the Amsterdam-HGC women's match last weekend, the Den Bosch-HGC clash in the men's competition has also been affected.

The opening day call off in the women's league led Robert Tigges, into his second season as Amsterdam coach, to admit that there could be more curtailments after three players were infected.

He told hockey.nl: "In the hockey world there are fears for more corona infections. Players are not preventively tested for the virus, because the financial means are lacking according to the hockey association.

"Our protocols at the club have saved us. It could have been a lot worse. The infected trio had dinner in a restaurant last week. Chances are it started there. The three other players have been tested negative, but are in quarantine because they have had close contact."

Roelant Oltmans, the new coach of Kampong men, has also stated his fears with no pre-match tests.

The Dutchman said: "I had just returned from Malaysia where the measures are very strict. If I see that there are regular positive tests in other sports, you can wait for the virus to emerge somewhere in the hockey league soon. And what should be done then? We don't live in a bubble. Then you can better prevent it by testing beforehand."

A third head coach, Robert van der Horst of Oranje-Rood, has said: "We are simply not an NBA sport that can live in a bubble.

"Incidentally, the players of the Dutch national team are tested. Apparently the status of the clubs is not high enough for the hockey association."



The Hockey Paper


---

PlaySafe: Track & Trace system for your players and visitors




As play begins to get underway, teams and clubs are required to track and trace all players, spectators and social members using their facilities to protect themselves and the wider community.


---

EH Champs Day 3 Round Up



University of Nottingham v Tower Hamlets 2020 EH Champs

Men's O50s T3 Final – Old Cranleighans 1-2 Shrewsbury

Shrewsbury claimed the first trophy of the day with a hard fought victory over Old Cranleighans.

Despite both sides showing plenty of attacking endeavour in the first half, the score remained goalless at half-time. But just over 10 minutes into the second half Steve Parnham gave his side the lead.

He then doubled their advantage four minutes later, sweeping the ball home with a fine first time finish after a great interception from a team-mate.

David Knapp reduced the deficit for Old Cranleighans to set up a grandstand finish with four minutes left but it wasn't quite enough to overcome the Shropshire-based outfit.

Men's T4 Final - University of Nottingham 5s 4-0 Tower Hamlets

A fine first half display helped the University of Nottingham claim the men's T4 trophy for a second successive year.

They led 3-0 at half-time, Matt Horton giving the local side the lead in just the third minute from a penalty corner before Dan White and Alastair Curran also found the back of the net.

Tower Hamlets grew into the game and had a chance cleared off the line during the second half but Ed Burns converted a penalty corner late on to seal the title for University of Nottingham.

Men's O40s T3 Final - Harborne 3-3 Taunton Vale (0-2 shootout)

Captain Martin Lawrence proved to be Taunton Vale's hero as he produced two fine saves in the shootout to hand his side victory.

Having trailled 2-0, Harborne looked to have completed a remarkable comeback when Dan Fox put them 3-2 ahead with just three minutes remaining.

But less than 60 seconds later Vale were back level as Pike completed his hat-trick before Lawrence stepped up to the plate for his team in the shootout.

Men's T2 Final - Repton 3-2 Surbiton

Repton exacted revenge on Surbiton for beating them in last year's final by overcoming them this time round in an exciting game.

In what was a feisty affair, defending champions Surbiton took an early lead through Tom Beaumont. But James Sookias equalised for Repton shortly before half-time with a stunning deflection.

Simon Claris then struck in the 49th minute before adding a second with just four minutes remaining to seemingly secure the title for his team.

Liam Doidge set up a tense finish with a penalty stroke just one minute from the end but there wasn't enough time to muster another opportunity, meaning this time round it was Repton who secured the trophy.

Men's O50s T2 Final - Broxbourne 4-3 Stockton

A game with two teams who had scored goals for fun in the qualifying rounds didn't disappoint as Broxbourne came out narrowly on top of a seven goal thriller.

The Badgers initially took the lead through Vernon Brown, only for Stockton's Geoff Bunn to equalise just a few minutes later. The team from the north east then took the lead early in the second half courtesy of Leigh Brown, only for Broxbourne to draw level through Pete Hayward.

Stockton regained the advantage again through Jason Mulroy but a 65th minute equaliser from Hayward drew the sides level for a third time to set up a nailbiting climax.

With less than two minutes remaining, captain Andy Law then stepped up to the plate to hand Broxbourne a memorable victory.

Men's T1 Final - Beeston 9-1 Fareham

Beeston completed an EH Champs double as their men claimed the T1 title their women also won last week.

Sam Apoola scored four times and Gareth Griffiths bagged a hat-trick as the Nottinghamshire-based team swept past their opponents under glorious sunshine.

They led 4-1 at half-time with captain Adam Dixon opening the scoring before Apoola, Griffiths and Henry Blumfield also found the target.

Fareham gave themselves hope just before the break through Alex Boxall but Griffiths and Apoola took centre stage in the second half to secure the title.

Men's O40s T2 Final - Old Cranleighans 3-3 Blueharts (2-3 shootout)

Blueharts claimed the Men's O40s T2 title in dramatic circumstances on the final game on Pitch 2.

They took the game to a shootout with the final touch of the game, Graham Burr beating the Old Cranleighans goalkeeper just as the final whistle went.

That was the second time they had come from behind during the tie, having initially trailed 2-0 early on thanks to brilliant deflection goals from Gavin Adair and Charlie Packham. But before half-time they were level thanks to Burr and Ashley Hammond.

Chris Brewer thought he had sealed the win for Old Cranleighans just nine minutes from time before Burr equalised. Kevin Macnamara then provided the shootout heroics to secure a brilliant victory.

Men's T3 Final - Atherstone Adders 2-1 Southport

The last trophy of the day was secured by Atherstone Adders in another closely fought encounter.

Martin Webb scored both the goals for the Adders to ensure they lifted the trophy at the end of the day.

He initially fired home from a penalty corner before squeezing the winner home in the 61st minute after Connor Jamieson had equalised for Southport.

England Hockey Board Media release


---

Beaufort brings the joy as Meeke 'thrilled' to finally get shot at Jacqui Potter silverware



Sarah Torrans celebrates her goal. Pic: Adrian Boehm

There was ring-rust and some dodgy touches but, mostly, there was a sense of joy to be back in action at Beaufort as Loreto edged out UCD 1-0 in the Jacqui Potter Cup semi-final.

"It's brilliant; it took me a bit by surprise but I was a bit emotional when we were talking after the game because it has been so long," Ali Meeke said of what it felt like to hit the turf once again.

This game was originally scheduled for March 11 but was pulled at very much the last minute with the two teams in the changing rooms on a drizzly night when news came through that Leinster hockey was on hiatus.

 "It's my longest break that I can remember. I was a little bit lost at the beginning but, on reflection, it was a really good thing for me from a headspace point of view. We all need a bit of space from what we love at times.  

"It gave me time to get that real passion, desire and emotion back and I absolutely loved it. Little bit rusty on both sides but also some really good hockey so it was nice to see we all hadn't all lost our touch completely."

Both sides were missing key names; Loreto's Mia Jennings and Aoife Taaffe were in Dublin Ladies Gaelic senior championship final action for Kilmacud Crokes while Caitlin Sherin, Kate Crotty and Nicci Daly were out, too.

For UCD, Ellen Curran and Niamh Carey were both injured and are doubts for next Saturday's Irish Senior Cup final. Suzie Kelly did drop in as a guest, eligible from last season's registrations, but is Monkstown-bound this term, but Miles Warren could only work with 14 players as he did not have access to any freshers for the competitions leftover from last term.

Loreto started stronger, forcing four corners and really should have gone one up but injector Hannah Matthews contrived to miscue a bouncing ball with the goal beckoning, an early season aberration.

UCD's hard-working midfield trio of Hannah McLoughlin, Amy Elliott and Michelle Carey did create inroads of their own. McLoughlin robbed the last defender before testing Liz Murphy while Grace McLoughlin did well to scoop a looping ball out of the goalmouth from a corner.

The only goal arrived in the 38th minute, a lovely specimen. Ali Meeke glided left before slipping the ball to the back post where Sarah Torrans attacked it first time, connecting beautifully to rise it into the roof.

"It worked out well! I don't know if I could fully see [Sarah] Torrans back there – I just saw a head around there – but she gave it a super finish," Meeke said of her involvement. "I don't really know how she got on the end of it but she did!"

UCD did create plenty in the third quarter but Murphy was composed to glove away Nina Heisterkamp and Elliott shots.

They ran out of steam in the fourth phase, however, but just about stayed in the tie when Matthews slipped a penalty stroke wide with three minutes to go. Loreto, however, killed off the tie well and go on to meet Pembroke in the final.

"Thrilled," Meeke said of having the chance of winning the Jacqui Potter Cup for the first time having missed the 2016 decider.  

"The last few years, if we made that far, we [the Irish internationals] have missed the semis and the final, normally over in England for a camp, racing to our phones to see how the girls were getting on.  

a"It's something we missed out on so it will be special to take part in it and enjoy the day. No silverware from the Jacqui Potter for me so wouldn't mind getting my hands on it!"

Jacqui Potter Cup semi-final  

Loreto 1 (S Torrans) UCD 0

The Hook


---

India's resurgence in hockey the result of systematic approach, two-way communication, says SV Sunil

The 31-year-old forward from Karnataka said senior players are now consulted by Hockey India, to ensure everything is on the right track.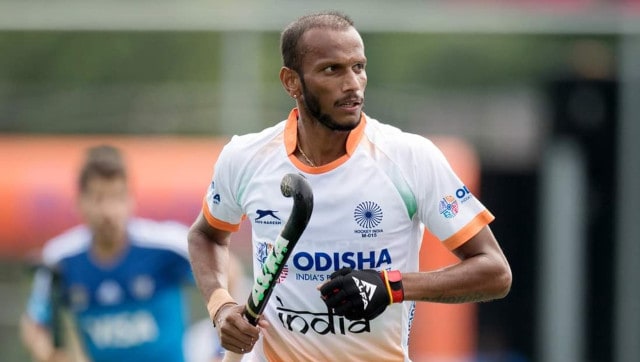 File image of SV Sunil. Image credit: Twitter/@TheHockeyIndia

Bengaluru: Senior Indian men's team striker SV Sunil on Saturday said scientific approach coupled with a two-way communication between the players and support staff has played a key role in the former Olympic champions' resurgence in world hockey.

Emphasising on the reasons behind the growth of the national teams, both men and women, over the past decade, Sunil said: "It was very different when I came into the senior India Team in 2007. A lot has changed in terms of how the national team is managed now in comparison to 10-12 years ago. There is a lot more professionalism and accountability."

"This systematic approach has definitely contributed to the team's improvement over the years.

"Earlier, we would do what the coach would say without questioning or without reasoning. But this has changed drastically over the years and there is a two-way communication approach where players are equally involved in planning training sessions," Sunil added.

The 31-year-old forward from Karnataka said senior players are now consulted by Hockey India, to ensure everything is on the right track.

"I think these aspects have not only made the players as well as support staff more responsible and accountable but it has also largely helped in India's climb up the world rank to No 4."

Sunil also expressed his happiness with the way things were handled during the COVID-19-forced lockdown and the subsequent resumption of the ongoing national camp in Bengaluru.

"We were particularly happy with the kind of care taken by Hockey India and SAI to ensure we have a safe environment in SAI, Bengaluru.

"It is like a bio-bubble here with zero contact from outside and the Federation keeps a close check on every player's well-being through constant communication with team's chief coach," he said.

Firstpost


---

Training camps of senior, junior hockey teams in Abbottabad

KARACHI: Pakistan's senior and junior players are going to be ready to attend the physical fitness training camp in Abbotabad from later this month or early next month, 'The News' learnt on Saturday.

PHF will announce the names of the probable players in a couple of days for the training camp and also its schedule.

Informed sources said that Pakistan junior hockey team would have to participate in the Junior Asia Cup in January 2021 in Bangladesh. This will be after many years that the junior team will participate in an international tournament. The Junior Asia Cup 2021 is also the qualifying round for Junior Hockey World Cup, which Pakistan has not played for past eight years due to which there is an acute shortage of talented players at the senior level.

The seniors are to participate in the Asian Champions Trophy in March 2021 in Bangladesh. The seniors will participate in an international competition after around one and a half years. The other teams in the evnt are India, South Korea, Japan, Malaysia, and China.

Top PHF officials recently met PM Imran Khan, President Dr Arif Alvi, and COAS General Qamar Javed Bajwa. All of them promised support for hockey and said that all efforts would be made to revive the national game and funds would be given to PHF. The COAS has already provided Rs50 million to PHF, which had been facing shortage of funds.

The physical training camps of both strings would be held separately in Abbottabad, said sources.

Meanwhile, it was learnt that PHF would organise one or two big domestic competitions in October. The dates of the these events would be decided in a few days, said sources. It is also learnt that PHF secretary Asif Bajwa would visit Karachi next week to examine the condition of PHF-owned Abdul Sattar Hockey stadium, which was devastated during the recent heavy rains in Karachi.

The News International