All the news for Thursday 27 August 2020

How London 2012 heartache inspired GB's women to Rio 2016 success



GB Beat New Zealand Rio 2016

Missing out on the final of any tournament can be difficult to take but when it's an event you've worked towards for four years, it can be heart-breaking.

Nicola White and Georgie Twigg know that feeling well, having lost in the semi-finals of the London 2012 Olympics.

Four years later and faced with another chance to reach to reach the final of hockey's pinnacle event in Rio, they were determined to make up for it.

Speaking on #InsideTheCircle: The Podcast, White recalled how she and her team-mates felt leading into the first ever Olympic final for a GB women's hockey team.

"For me, the disappointment of not making the final [in London], when I went to bed on the night before the semi-final I had that in my head. I had the disappointment of that, almost a flashback to that moment of what happened and how distraught we were.

"It's a horrible feeling to lose out, when that thing that you've chased for so long has just gone.

"Contrast that to [24 hours later when] we've got a chance at it, the dream is alive and we're going for gold. It was like 'oh my God, we're going for gold. It's here, the moment we've all been waiting for'."

The squad booked their place in the final with a 3-0 win over New Zealand, sparking joy amongst the players and staff on the pitch after the game.

It was a hard fought affair though, with several players taking heavy knocks in a brutal encounter. Twigg was one of those, sustaining a nasty blow to her jaw which led to a slightly uncharacteristic response when GB emerged victors at the end of the game.

"To be honest, I was all a bit phased because I got hit in the semi-final," she recalled.

"Actually I was very emotional. I had a very weird reaction; I remember crying after the semi-final and my mum saying 'Georgie, are you ok? What's wrong?' I was just overcome with emotion.

"It had been one of those games where so many things had happened – there had been four injuries – and I was still a bit unsure as to what was going on with my jaw, I had to go and have scans afterwards. So that was probably quite a good distracting thing for me.

"There was no question I would be playing in that final, 100%."

Subscribe to Inside The Circle: The Podcast to hear this episode in full and catch up on any others that you may have missed:
Great Britain Hockey media release


---

Arul: More 'freedom' to the players

By Jugjet Singh



(From left) Arul Selvaraj, MHC coaching chairman Datuk Ahmad Najmi Razak and assistant coach Amin Rahim at a press conference in Kuala Lumpur yesterday.

NATIONAL men's hockey coach Arul Selvaraj came out of his 14-day quarantine, fully charged and ready to empower his players with "more freedom" on the field.

There will no longer be the you-just-do-what-I-tell-you-to-do approach after Arul succeeded Roelant Oltmans as national coach.

It will be a more friendly atmosphere in training as well as in matches in getting his men to give their best for the country.

"I want to be a buddy to the players on and off the pitch, understand their needs and problems. This will help to get the best out of their abilities," said Arul who came in from Dublin and was holed up in a hotel waiting for the all-clear Covid-19 clearance.

"At the end of the day, I want to empower them to make quick decisions on the pitch on their own, and no longer look towards the bench on what to do next.

"The players, especially those with more than 150 caps, will need to show their leadership on the field and have a winning mentality when they play, and not just play for the sake of playing."

Arul was the assistant coach to German master Paul Lissek in Malaysia before he moved to South Africa and later Ireland to assist Paul Revington before coming back to Malaysia.

After making a full circle, Arul said he will give his full commitment to the national players as his family is back in Dublin.

"With my family in Dublin, I have all the time in the world to be with the players, and there will be bonding times as well as BBQ sessions to turn the team into a family."

But the players should bear in mind that there is a limit to everything, and it is Arul who holds the reins in steering the national team.

"The reins are in my hands and the players need to respect that. I want all of them to take responsibility if they don't give their best in any match, be it a win, lose or draw.

"My responsibility is to be answerable to the MHC (Malaysian Hockey Confederation) and in the end, achieve their goal."

MHC target the gold in the 2022 Asian Games and quick qualification for the Paris Olympics. And Arul has been tasked to make that happen after Malaysia narrowly missed the gold at the last Asian Games.

New Straits Times


---

Coach Arul eager to start work under new norm

By T. AVINESHWARAN



New tasks: Arul (left) having a chat with Malaysian Hockey Confederation national team management committee chairman Datuk Ahmad Najmi Razak and assistant coach Mohd Amin Rahim.

PETALING JAYA: National hockey coach S. Arul Selvaraj will join the national team training today but under a new norm.

"I wish I could give them a hug but of course, I can't due to the pandemic situation," said Arul, the former Universiti Kuala Lumpur (UniKL) coach.

"I know most of the players, but there are several young new faces. I have been catching up on the team by talking to caretaker coach Amin (Rahim). I do not want to disrupt anything. After all, the mood is good.

"For me, the important things are team atmosphere and mood. They must be happy and be willing to come to training."

Arul's 14-day quarantine under the Covid-19 movement control order after returning from Dublin ended on Monday, and yesterday, he was officially unveiled as the new national coach.

No tournaments are scheduled for this year following the postponement of the Asian Champions Trophy to March next year.

Arul has reminded all players to give their best in next month's Razak Cup tournament if they want to earn a place in the national squad.

"My family is still in Dublin, so I am a bachelor here. The boys are my kids, so I have a lot of time for them," he joked.

"Every team and every coach has the same intention and focus – that is to improve. My main aim right now is empowering players. I am also spending a lot of time analysing the players' data given by the National Sports Institute.

"I will watch the Razak Cup tournament to look out for potential players. I hope to give them more responsibilities to make decisions and share the ideas that they have.

"I do not want to come to a scenario where something is going on at the field and the players are looking at the bench and coach for decisions. No, I want to throw away that habit.

"I want the players with 100-150 caps to realise that they are leaders, naturally, they have to take responsibilities and make decisions.

"This attitude will give them the winning mentality."

The Star of Malaysia


---

Rani Rampal says she 'could not hold back tears' upon learning of Khel Ratna announcement

The 25-year-old Rani said she couldn't stop herself from crying when she first got to know of being one among the chosen five, leaving her parents quite worried because they, apparently, had no idea about the magnitude of the award and why it made their daughter so emotional.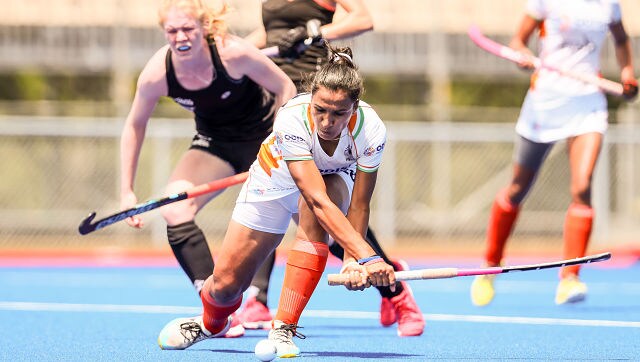 Rani Rampal never expected the Khel Ratna to be bestowed on a woman hockey player and that's one reason why she could not hold back tears on being named for it this year, calling the country's highest sporting honour a testament to her hard work and sacrifices.

In an unprecedented move, the Sports Ministry named five athletes — cricketer Rohit Sharma, wrestler Vinesh Phogat, table tennis player Manika Batra, Rani and Paralympian Thangavelu Mariyappan — for this year's Khel Ratna.

The 25-year-old Rani said she couldn't stop herself from crying when she first got to know of being one among the chosen five, leaving her parents quite worried because they, apparently, had no idea about the magnitude of the award and why it made their daughter so emotional.

"Honestly, being a woman hockey player I was not expecting that I will be awarded the Khel Ratna. When I found out about the announcement, I was extremely emotional and could not hold back my tears," she told PTI in an interview.

"I called my father first to give him the good news...Since I was crying on the call, he was worried if everything was OK with me. My parents didn't really know how significant it was to receive this honour and when I explained it to them, my father particularly was very happy and got emotional," she said.

Rani is a spectacular rags-to-riches story in Indian sport. The daughter of a cart-puller from that cradle of Indian hockey, Shahbad (Haryana), she rose to prominence as a 15-year-old when she became the youngest player to make the national team.

Her next target is the Olympic medal that has eluded Indian hockey for decades now.

"While I do feel this award comes as a recognition of my hard work, sacrifices and commitment to the sport over the years, winning the Olympic medal will remain the ultimate goal. We will work hard as a team to achieve this goal in Tokyo next year," Rani said.

The Games have been delayed by a year thanks to the COVID-19 pandemic and Rani dedicated her award to the doctors and other frontline workers, who are fighting to save lives from the dreaded infection.

"I dedicate this award to the Corona Warriors who have put their lives in the frontline to save lives. I also dedicate this award to my team, this is a recognition of their hard work and success too," she said.

Rani said the Khel Ratna recognition will motivate her and her teammates to achieve greater laurels for the country in future.

"It (the Khel Ratna) is extremely encouraging and a big boost to do well at the Olympic Games. Over the past years, I am very happy that the Indian women's team is getting their due recognition and this has only motivated us to do better and better at the international level," she said.

Talking about coronavirus-forced break, Rani said not just India, it will take some time for every hockey-playing nation to get the intensity back amid the global health crisis.

She said the break helped the Indian team to refocus on its goals.

"Though this has been a forced break, we have utilised this time well to refocus on our goals, areas of improvement and have deeply analysed our opponent teams," she said.

"Though it will take at least 3-4 months before we go back to the same level we were in at the beginning of the year, this is the case with so many teams around the world. We just need to be patient and stay persistent."

There was scare at the Sports Authority of India's South Centre in Bengaluru when six men's team players, including skipper Manpreet Singh tested positive for COVID-19 after returning to the national camp on August 4, but all the members of the women's squad returned negative.

Rani thanked the SAI officials for taking good care of them in these difficult times.

"We have just begun very basic sports activities. It is good to run on the pitch again.

"I thank SAI for the way they have taken care of us during quarantine and are ensuring everyday that we have a safe environment here. We never felt any fear as we know we will be taken care of well," she concluded.

Firstpost


---

Prime minister instructs PHF to make structural changes for uplift of hockey

Mohammad Yaqoob



A PCB-like structural change by the PHF - reducing the number of teams - may leave several hockey players in significant economic trouble - Online/File

LAHORE: Prime Minister Imran Khan, the patron of the Pakistan Hockey Federation (PHF), has instructed the management of the federation to make structural changes in its set-up, reduce the number of teams for national championship and establish centres of excellence in all four provinces.

PHF secretary Asif Bajwa disclosed this to Dawn after he, along with the federation president retired Brig Khalid Sajjad Khokhar, met the prime minister in Islamabad on Wednesday.

Interestingly it was the prime minister's first meeting with the PHF delegation since taking charge as PM two years ago. Despite being the PHF patron, it took two years for the PM to meet top officials of the hockey federation while the national game faced alarming decline in the country.

"The prime minister issued some instructions for the uplift of the game and promised full support by the government for raising the standard of Pakistan hockey to bring it back on the right track," Bajwa said.

"The PM asked the delegation to present a detailed presentation during the next meeting in which changes should be made in the [PHF] structure after making necessary amendments in the constitution of the federation," he added.

"The prime minister is also interested in getting the number of teams [on domestic circuit] reduced in order to focus more on quality, not on quantity," Bajwa stated.

It may be mentioned here that on the same instructions of the PM, the Pakistan Cricket Board (PCB) has reduced its number of domestic circuit teams from 16 to six. However, the move has left many cricketers jobless and several among them are now compelled to do odd, lower level jobs or do business while several departments abolished their cricket teams in the new domestic system.

Like cricket, hockey also has a significant number of departmental teams and a PCB-like structural change by the PHF — reducing the number of teams — may leave several hockey players in significant economic trouble.

"The PHF delegation told the prime minister that unlike the PCB which gets considerable financial support from the ICC, we need full support of the government to revive our hockey," he said.

Bajwa said the prime minister also urged the delegation to organise national championships for different age groups, starting from Under-14, 16, 19.

It may be mentioned that for the last three years the PHF has not received any special grant from the federal government. Due to lack of funds, the PHF could not fulfil its commitment of participating in the FIH Pro League last year as a result of which it faced a fine of $100,000 from the game's world governing body.

However, despite several reports carried by media that Pakistan's participation in the FIH Pro League was in the doldrums no action was taken by the government. Moreover, recently the Pakistan Sports Board snubbed the PHF by excluding it from its Executive Board, giving no weight to it, and included football which currently has no elected body.

Dawn


---

Australian hockey icon to partner with national junior program




One of Australian sport's all-time greats, Kookaburras legend Jamie Dwyer OAM has signed a four year association with Hockey Australia and its national introductory hockey program Hookin2Hockey.

Dwyer, through his exclusive hockey brand Jamie Dwyer Hockey (JDH), will become the Official Hockey Equipment Supplier of Hockey Australia and an Official Partner of Hookin2Hockey.

The partnership will see JDH supply the contents of the Hookin2Hockey and school hockey packs, and also provide the equipment for the Pilbara Community Hockey Program.

The announcement of the partnership fittingly comes 16 years to the day that Dwyer scored the famous goal in extra time to secure the Kookaburras' solitary Olympic gold medal.

"This partnership with JDH fills a crucial void in our grassroots program Hookin2Hockey," said Hockey Australia CEO Matt Favier.

"As the recognised introduction to the sport of hockey for kids, Hookin2Hockey is a highly important element of Hockey Australia so it is fantastic to have Jamie, one of the best and most identifiable hockey players of all time, and his highly respected global brand JDH partnering with us."

"Jamie's contribution to Australian hockey over a long period as an athlete, ambassador, and now a partner of HA and particularly Hookin2Hockey is a testament to Jamie's love of the game and passion to see it continue to grow and excel."




Dwyer, whose achievements include an Olympic gold medal, five times World Player of the Year, dual World Cup winner and three-time Commonwealth Game gold medallist, expressed his excitement of JDH's involvement with grassroots and start up hockey.

"I grew up playing hockey from the age of four, and now my children are playing, so to be involved in the grassroots of hockey in Australia means a lot to me," said Dwyer, pictured above with current Kookaburras goalkeeper and Hockey Australia Commercial Partnerships Manager Tyler Lovell.

"After spending over 16 years playing for the Kookaburras and being a part of the Hockey Australia High Performance Program, I'm thrilled that my brand and I can have this association and connection with our national setup as the official equipment supplier."

"At JDH, we strive to make the best hockey equipment for hockey players, from kids picking up a stick for the first time to the world's elite, so knowing that children as young as four will be using JDH equipment when they participate in Hookin2Hockey is really exciting."

For more information on JDH, visit jamiedwyerhockey.com

For details on Hookin2Hockey and how to get involved in the program, visit hookin2hockey.com.au

Hockey Australia media release


---

Malaysian hockey icon Havelock dies at 86



Titus W. Havelock. - Pic Courtesy of MHC

KUALA LUMPUR: Titus W. Havelock, a former national hockey player and world class umpire, died at the age of 86 in Melbourne today.

He was also the Director of Development for the then Malaysian Hockey Federation in 1985.

A school teacher from Perak, he moved to Penang and captained the state team for 12 years.

Havelock played hockey with two eras of great players. He saw action with the Chua brothers, Eng Cheng and Eng Kim, M. Shanmuganathan, Peter and Lawrence van Huizen and Gian Singh.

The other era was with Ho Koh Chye, A. Francis and Datuk R. Yogeswaran.

After retiring from top flight hockey, Havelock started umpiring in 1970, and by 1979 he was among the top 29 umpires in the world and was on the International Hockey Federation's World Cup and Olympics list.

Havelock's umpiring career spanned 40 international matches in 11 tournaments including a Junior World Cup final and three Champions Trophies.

And at the 1973 World Cup in Amsterdam, he was Malaysia's assistant coach.

Friends and officials remembered Havelock fondly.

"Titus was not only a dashing looking guy but was also a good player and a very reliable international umpire. He used to ride a Ducati bike in his younger days in Penang and was a very good singer. His favourite song was 'Cottonfields Back Home." said former hockey great M. Mahendran.

"Titus brought to the game a unique brand of individualism and flair. A great friend, good company, humble, honest, sincere and always ready to help." said M.P. Haridas, former Olympic Council of Malaysia general manager.

"I first came to know Titus in 1973. He umpired my first appearance for Selangor against Perlis. I always admired his umpiring as he was so stylish – very fair and a world class umpire. He inspired the youngsters," said K. Tharmanathan, former cricket coach.

"It's very difficult to get good umpires and Titus was an exception. Very fair and good," said N. Sri Shanmuganathan, 1975 World Cup hockey skipper.

"A very disciplined, sharp, neutral and fair hockey umpire," said Leslie Armstrong, former athletics coach.

"First time I met coach Titus was when I was in junior in St Marks in Butterworth. He was my PE teacher. When I was selected to the Penang team, he was the coach. He took me aside and gave me RM100 to buy a pair of boots and stick.

That was a lot of money in those days. A true friend and the best coach ever," said former national hockey player V. Ravindran.

"Without a doubt, Titus was a very capable and fair international umpire whom all players liked," said former national player R. Pathmarajah.

Former New Straits Times sports writer George Das has penned a poem titled "Passion, sweat & dedication" in memory of Havelock.

The poem:

Sweat drips down his temples
A shrill whistle pierces the humid air
Whistle in one hand
And the other indicating an infringement
Titus Havelock stood out like a music conductor
A very stylish international umpire
Fair and very well respected by all
Hockey was his passion as a player, coach and umpire
He was intense, dedicated and devoted to the game
Watching you handle a match was a pleasure Titus.

New Straits Times


---

Hockey legend Titus passes on




PETALING JAYA: Malaysia lost another legendary sportsman and a very dedicated sports official with the passing of Titus Havelock (pic).

The hockey great, 86, passed away yesterday in Melbourne due to coronary related illness. He leaves behind wife Ivy and sons Darren and Travers.

A former school teacher, Titus had dedicated most of his life to hockey as a player, coach, umpire and administrator. The Ipoh-born moved to Penang in 1957, where he found a regular spot in the state team and captained the team for 12 years.

He played alongside hockey greats of two different eras in Chua brothers Eng Cheng and Eng Kim, M. Shanmuganathan, Freddie Vias, Allen Koelmayer, Benny Manuel, Peter and Lawrence van Huizen, Gian Singh, Gerry Toft, S. Selvanayagam, Philip Sankey, Noel Monerasinghe, B. Coutes and down to the times of Ho Koh Chye, C. Paramalingam, A. Francis, Hanif Taib, K. Yogeswaran and the rest from this period. After retiring as a player, he turned to umpiring in 1970 and within nine years, he was one of the top 29 umpires in the world. He was in the world federation list of umpires for World Cup and Olympic Games.

He also served as an assistant coach of the national team for the 1973 World Cup in Amsterdam and was appointed as the then Malaysian Hockey Federation director of development in 1983. for his vast knowledge and experience.

Titus will be deeply missed by the sports and hockey fraternity.

The Star of Malaysia