All the news for Friday 28 August 2020

Women's hockey team not finalised

by Helge Schütz



Namibia captain Magreth Mengo in action against the Czech Republic at the 2018 Indoor World Cup. Photo: Helge Schütz

NAMIBIA's national men and women's hockey teams have been announced for the Indoor Africa Cup in South Africa next month, although the women's team can still change over the next week.

The Namibia Hockey Union (NHU) announced the teams on Wednesday evening for the Africa Indoor Cup which will be held in Ballito, South Africa from 25 to 27 September. The tournament will serve as a qualifier for the Indoor World Cup which will be held in Liege, Belgium from 3 to 7 February 2021, with only the winning men and women's teams qualifying for the global showpiece.

The national women's coach, Erwin Handura, however said that his squad had not been finalised yet.

"That's not my final team. We were supposed to have a training camp from 13 to 16 August to select the final team, but then the new lockdown guidelines were announced so it didn't take place. I even asked the Namibia Sport Commission for special permission to hold the training camp, but it was not approved.

Ï wanted to give two players from the coast - Zanne-Marie Niemand and Anri Els - a chance to prove themselves and to see how they would fit into my plans, because it would be unfair not to do so. They arrived on the 11th and then joined our first session on the 12th, but the next day the lockdown was announced so we couldn't train anymore.

"But we still have time to change the team till 4 September when we have to apply for national colours at the Sport Commission," he said.

The vice president of the NHU, Coenie Wessels, concurred.

"The international hockey federation, FIH, still allows one to make changes till 24 hours before a match so that can still be done, but we submitted the names because we didn't want to miss the deadline. But I'd say that squad is about 95 percent certain, Erwin just wanted to give the two coastal players a fair chance to make the team," he said.

Handura, however, said the coronavirus pandemic had thrown their preparations into disarray.

"The players I have selected are good, but we are not well-prepared. We were supposed to have had four or five training camps by now, but due to the lockdown we haven't even had one yet.

"At the 2018 World Cup we had four training camps so we were well prepared, but now we are not and we can't expect the same results. If we are not well prepared we cannot expect to do well," he said.

The women's team is very young with only the captain Magreth Mengo older than 23, while the team includes six players under 20.

Despite their youth, the team is quite experienced with half of the members having represented Namibia at the 2018 Indoor World Cup in Germany.

The women's team is as follows:

Petro Stoffberg, Magreth Mengo, Gillian Hermanus, Sunelle Ludwig, Dure Boshoff, Kiana Cormack, Kaela Schimming, Phia Gerber, Tara Myburgh, Cele Wessels, Danja Meyer and Jivanka Kruger.

The Namibian men's team is also very young, with eight of the 12 players still under 22 years of age.

The men's team is as follows:

DJ Strauss, Richter van Rooyen, Ernest Jacobs, Dakota Hansen, David Brits, Nico Neethling, Cody vd Merwe, Liam Hermanus, Damien Schutz, Fagan Hansen, Brynn Cleak and Percy Barthram.

The national men's coach Trevor Cormack could not be reached for comment.

The Namibian


---

Making Malaysia 'durable' on the field

By Jugjet Singh



Arul Selvaraj has been tasked to whip up a side strong enough to win gold at the 2022 Asian Games, and qualify for the Paris Olympics. - NSTP/File pic

MALAYSIAN hockey players are famed for their agility and skill, but not their fitness.

Now new national men's coach Arul Selvaraj wants their act to be a "lasting" one that translate into better results.

"Malaysian players are known around the world for being nimble-footed and fast on short sprints.

"And based on my international experience, we are only lacking in term of fitness when compared against the big guns, especially Europeans.

"I will try to balance training by incorporating our strengths while working on our weaknesses.

"I will work on the data we've collected over the years, where speed is our strength. So, I will plan everything to suit the needs of our players to ensure they can play at the optimum level," he said.

There are 32 national players in training now: four goalkeepers and 28 outfield players.

Seven of them are also "commuting" between the juniors and seniors.

Presently, assistant coach Amin Rahim is still using former national coach Roelant Oltmans' training methods, but they are set to change after the Razak Cup in September.

"Basically, high intensity training around the world is the same, and only tactics, motivation and approach toward individual players vary.

"So, Oltmans' training methods will continue until the Razak Cup, after which I will start implementing my own style.

"This is to allow a gradual change instead of a forced one," said Arul.

Dutchman Oltmans handled the team for two years after Malaysia failed to win the Jakarta Asian Games gold with the Malaysian Hockey Confederation taking a drastic step to overhaul their coaching set-up.

But Oltmans also failed to bring the best out of his players especially during the FIH Series Finals where Malaysia lost 3-2 to Canada in the final at a packed National Stadium in Bukit Jalil.

The defeat, which saw Malaysia miss two penalty strokes, resulted in the team playing Britain instead of Ireland in the two-legged Olympics Qualifiers.

Britain thrashed Malaysia 9-3 on aggregate, and the national team again failed to qualify for the Olympics.

Arul has been tasked to whip up a side strong enough to win gold at the 2022 Asian Games, and qualify for the Paris Olympics, a feat which Malaysia last achieved in 2000 at the Sydney Olympics.

New Straits Times


---

Tests, monitoring, reduction in load for hockey players who have recovered

Five of the six players, including captain Manpreet Singh, who had tested positive for the virus upon returning for the training camp at the National Centre of Excellence in Bengaluru, completed their post-recovery isolation period on Wednesday.

Written by Mihir Vasavda



The recovered players are yet to merge with the rest of the players, who have begun 'sporting activities'. Manpreet Singh is one of the five such players.(FILE)

For the next six-to-eight weeks, the heart and lung conditions of the Indian hockey players, who have recovered from Covid-19 disease, will be closely monitored. A raft of tests – from electrocardiograms to pulmonary function tests – will be carried out at regular intervals and their workload could see a sharp reduction in the coming months.

This cautious approach has been necessitated because of very little material available on how much impact can the novel coronavirus have on an elite athlete and concerns raised by medical experts that some of the effects could be 'career-ending.' In milder cases of Covid-19, doctors say they have noticed cases of 'weight loss, weakness, nutritional problems and easy fatigability', all of which could affect an athlete.

Five of the six players, including captain Manpreet Singh, who had tested positive for the virus upon returning for the training camp at the National Centre of Excellence in Bengaluru, completed their post-recovery isolation period on Wednesday. But they are yet to merge with the rest of the players, who have begun 'sporting activities' – a bureaucratic term used for light, socially-distanced training during the pandemic.

"Initially, their workload will be different (than rest of the players)," chief coach Graham Reid says. "We have been reading up on how the players elsewhere are returning after recovering from the infection. But the more you read, the more you discover that it is still very early days. They are starting to get a body of data for normal people but not elite athletes."

It's a challenge a lot of trainers are facing worldwide.

There is growing evidence, infectious disease experts and pulmonologists say, about the effects of Covid-19 on the heart and respiratory systems. These studies have not been athlete-centric, but their findings can have implications.

Risk factors

Dr SK Chhabra, the pulmonary medicine head at Delhi's Primus Hospital, says one of the fallouts of Covid-19 is there is a scar on the lungs. "The condition is called lung fibrosis. If the scar is large, then it will reduce the lung capacity," Dr Chhabra says. "Once the lung capacity is reduced, then the capacity to exercise is reduced as well. So if it's an extensive scar formation, then the players will have breathing difficulties when they run fast and that will impair their ability to play."

In hockey, especially, speed is a significant factor. The matches are played at an extremely high pace, the players have to make extra efforts to bend a bit while running, which can be energy-sapping. In fact, the Indian team's progress in the last few years is largely attributed to their improved fitness and the speedy counterattacks are one of their hallmarks.cancer chemotherapy

There isn't conclusive data available on how Covid-19 can impact an athlete's heart and lungs. Recently, a paper published in the Journal of American Medical Association revealed that 78 per cent of middle-aged patients who had recovered from Covid-19 (two-thirds of whom had mild or no symptoms) developed some kind of cardiac abnormalities and 60 per cent showed inflammation of heart muscles.

Dr Chhabra adds that in patients aged over 45-50 years, the lung capacity in severe cases of Covid-19 had reduced to as much as 60 per cent.

But in both cases, there isn't enough data available to conclude how Covid-19 can impact an athlete's lungs. "(But) There could be some players whose career would end with this," Dr Chhabra warns. "It depends on the severity of the disease. Fortunately, all these players are young and healthy. Because they don't have any underlying disease, the risk factor is not there."

Regular screening

One way to understand the impact Covid-19 has had on the six hockey players, if any, is constant monitoring. Reid says the medical experts from a Bengaluru hospital are helping the team to work out a testing programme for the initial six-to-eight weeks. "These tests will be things like an electrocardiogram… Standard tests, but it gives you an idea of where they are now, whether there has been any damage to lung capacity, heart muscles, and all those sorts of things. It will be a real team effort as to how we best bring them back as slowly and safely as we can," Reid says.

Dr Chhabra says the screening should be done routinely for up to six months after recovery. He shares a long to-do list for the returning players. "With these players, they should have chest x-rays and see if it shows any scar, a CT scan of the chest may be required and then they should have a lung function test," he says. "This should be followed-up with their weight (management), so nutritional deficiencies should be covered up. This should happen for five-six months after recovery post-Covid. Even if it shows 100% recovery, the monitoring should continue. And after that, there should be a pulmonary rehab, which means they should do some breathing exercises."



Medical experts from a Bengaluru hospital are helping the team to work out a testing programme for the initial six-to-eight weeks. (Manpreet Singh in the picture/FILE)

Reid adds that the team management is in no hurry, given the national team does not have any engagements this year.

Apart from Manpreet, the other players who had been infected and have now recovered are goalkeeper Krishan Pathak, defender Varun Kumar, midfielder Jaskaran Singh and forward Mandeep Singh. Defender Surender Kumar had to be readmitted last week after a blood clot formed in his arm.

"We will certainly be on the conservative side," Reid says. "It's their health, their future, their life. The most important part is the athlete's welfare and that will be a guiding factor in our decisions."

Indian Express


---

After Award star Deepika eyes comeback




Deepika Thakur, nee Dahiya, who was nominated rather belatedly for the  Arjuna award recently is happy that the prize has finally come her way. Believing for years that she richly deserved the honour, the one of the most capped Indian women's players makes it clear in the same breath that her game is not over yet.

"The Arjuna award is important. You play for such a long period and then if your services are not recognized in the traditional way, say, like the Arjuna award, you feel dejected. Most importantly, without this kind of recognition, people tend to forget you and your service to the nation. I am happy I got the award," she says, savouring the moment, even as having a huge laughter.

"I expected it this time because not only my employers Indian Railways but my state Haryana as well recommended my name. I was fourth time lucky."



Deepika in 2008

The only player in India till date to have commendably endured a 14-year career in the demanding synthetic turf era, Deepika hastens to add: "At the same time, I don't think the award is end of my career. I take this as motivation and I wish to come back and play for India."

Deepika is now posted at Karnal, Haryana, and goes to office daily. She's also mother of a year-old child. Would it be easy for her to make a comeback? Her last appearance for India was at the Jakarta-Pelembang Asian Games, a good two years ago.



Determined and resolute Deepika Thakur. She always means business

But Deepika is optimistic. "You see, my child is a year old. My family is backing me. I have also started doing fitness training. I have begun running to start with and I will vie for a place in my state team and prove myself at the National Championship. Then let's see what happens."

"You see, hockey mera koon mein hain, jigar hain, meri atma mein hai. Hum ise nahin chhod sakthi hoon, mere dimaag se niklta nahin hain (hockey is in my bood, it's my heart, it's my soul. Therefore, I can't leave hockey out of my thoughts and actions).

Reminding her that she's 34 draws laughter. And pat comes her response, "to kya? (so what)".

"I had already made a comeback after getting married, after a knee operation and so on… I will give my best," she says with conviction.

Her reminiscing could melt any heart and is a veritable lesson to understand how a sportsperson's mind works.   "For almost two decades I used to be on the ground day in and day out. I want to do so even now. I played the 5-a-Side Nationals in Pune and returned home just two days before my wedding. Hockey is my all," she explains.



Vandana (centre) and Deepika in a celebratory action; a common sight not long ago

"Do you know what it takes to be a hockey player? You have to forgo your comforts and a lot else. But it's all pleasure at the end of the day and end of career."

Deepika, who hails from Yamuna Nagar in Haryana, is confidence personified. A trait that hasn't left her.

On the eve of her day of celebration (the announcement of the award winners), she has a word for youngsters. Jaan se khelo, khup mehanat karo. (play heartily, work hard).

"Keep working hard, hard work never fails you," she affirms.

Even as she keeps options open, Deepika acknowledges the efforts of her father Ram Narain Singh and husband Vikram Dahiya for keeping her motivated.



Awards are a galore in her long career. She gives enormous credit to Jaswinder Bhangu, her coch

"Of course, I also remember my SAI coach in Chandigarh Jasvinder Singh Bhangu. His role in moulding my game is immense"

Interestingly, Deepika is fourth hockey player from the stable of Jasvinder Singh Bhangu to get the nation's top honour. In the past such great players as Saba Anjum, Sita Gussein (Mehta) and Mamta Kharab, all Arjuna awardees, won Arjuna.

Deepika faces no easy task. But borne out of nearly a decade and a half in the cauldron of international hockey and a big heart to match her resolve, one may just see her in the thick of things deep in the India defence.

Stick2Hockey.com


---

Indian hockey midfielder Vivek Prasad on his learnings from Youth Olympics

The 20-year-old Vivek Prasad captained the Indian hockey boys' side to a silver medal at the 2018 Youth Olympics.

By Rahul Venkat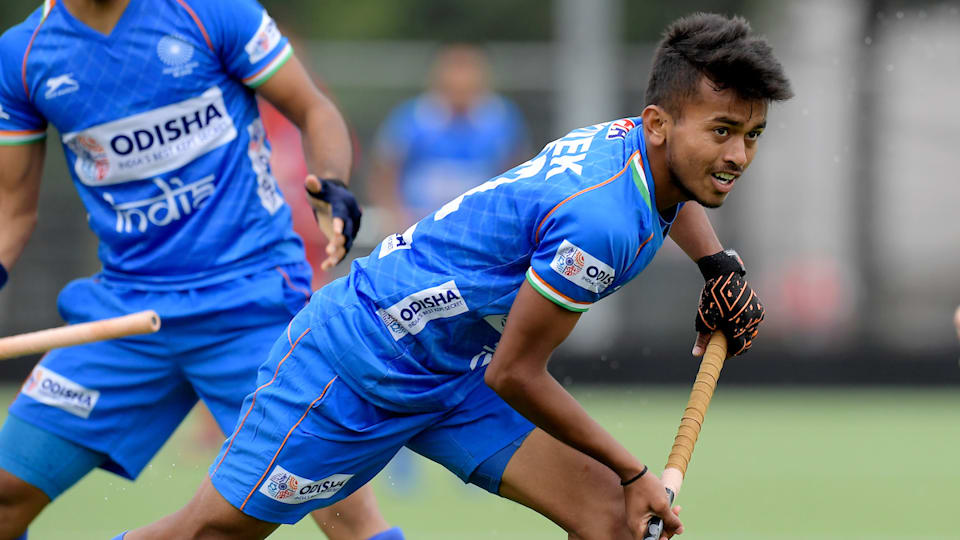 Vivek Prasad has become an integral part of the Indian hockey team since his debut in 2018. Photo: Hockey India

Midfielder Vivek Prasad has been one of the stand-out performers for the Indian hockey men's team over the last couple of years.

Prasad's instincts and energy have made him a natural fit in head coach Graham Reid's attacking style of play with the Indian hockey team, and the youngster's quick passing is one of his strengths.

Vivek Prasad credits his experience at the 2018 Youth Olympics for it.

"In that tournament, we decided that we should move forward with short passes. The tactic proved to be successful throughout the Youth Olympics.," Vivek Prasad told Hockey India.

"It was one of my biggest learnings from there and it is something I have applied during my time with the senior side as well."

Twenty-year-old Prasad, who was awarded the FIH Rising Star of the Year for 2019, was named captain of the Indian hockey team for the 2018 Youth Olympics in Buenos Aires, Argentina.

The then 18-year-old scored eight goals in eight games to help India win the silver medal.

It capped off an incredible story for Vivek Prasad, who just three years ago was unsure if he would ever play hockey again. An injury prevented him from playing the 2016 Junior World Cup, which is considered the platform for identifying talent.

However, the Indian hockey midfielder's impressive performances since returning meant that Prasad was fast-tracked to the senior team. He ended up becoming the second-youngest player to make his debut for the senior Indian hockey team in 2018.

Indian hockey at the Youth Olympics

Though the senior Indian men's side enjoys a golden legacy at the Olympics, the Indian hockey boys' team made its Youth Olympics debut in 2018 after missing out on the inaugural 2010 and 2014 editions.

In the new five-a-side concept, which was introduced for field hockey at the 2014 Youth Olympics, the Indian hockey boys' team registered wins over Bangladesh, Austria, Kenya and Canada.

India's only group-stage loss came in a close 4-3 defeat against Australia.

The Indian hockey boys' team then comfortably beat Poland and home team Argentina in the quarter-finals and semi-finals, respectively, before falling 4-2 to Malaysia in the summit clash. Vivek Prasad scored both goals for India.

The Indian hockey girls' team campaign also followed a near-similar path. They beat Austria, Uruguay and Vanuatu but fell to Argentina and South Africa in the group stages.

The Indian hockey girls' team then beat Poland and China by identical 3-0 scorelines in the knockouts before falling once again to home team Argentina 3-1 in the final to end with the silver medal.

Olympic Channel


---

Junior hockey player joins bakery to supplement family income

The Covid-19 pandemic and its impact has hit India hard. In a case of compulsion changing priorities, an aspiring hockey player finds himself working in a bakery to support his family.

By Srinidhi PR



S Karthi of Tamil Nadu's Ariyalur district was part of the India junior men's camp in Bengaluru in March

CHENNAI: The Covid-19 pandemic and its impact has hit India hard. In a case of compulsion changing priorities, an aspiring hockey player finds himself working in a bakery to support his family. S Karthi of Tamil Nadu's Ariyalur district was part of the India junior men's camp in Bengaluru in March.

The family of five was dependent  on his father's income  as a watchman. Once that reduced due to shorter working hours during lockdown, Karthi had no choice. "I decided to work in a bakery to meet our family expenses during the lockdown.

It fetches me around Rs 5,000 per month, which is very handy during these times. I also try to save from that. It's a part-time job, from 10am to 3pm. Now that grounds are open, I go for training after work," said Karthi, who is also pursuing BA in history. Hockey India has given a few players a one-time assistance of Rs 10,000. Despite that, Karti is still compelled to work in the bakery.

New Indian Express


---

Denys Cooper – Field Hockey Canada Hall of Fame Inductee

Legendary Ottawa administrator enters the hall on the back of a 50-year career on and off the pitch

By Josh Rey




When he heard that he was being inducted into the Field Hockey Canada Hall of Fame, Ottawa's Denys Cooper was shocked and honoured. "Gobsmacked is the word," said Cooper. "I'm delighted. Much appreciated."

Cooper is being inducted in the Builder Category after a 50-year career playing, umpiring and technical directing at local, provincial and national levels. Cooper has been instrumental in the development of umpiring and the technical aspects of the game and continues to set a positive example for the next generation.

His playing days started in England before he moved to Canada. Upon his arrival, he made an immediate impact, both on the field but also off the field, contributing to the creation of the Quebec Field Hockey Association and by way of his involvement with the Canadian Field Hockey Umpires Association. He was involved in setting up the Eastern Region Hockey Association for the different clubs in Ottawa and still remains a dedicated member of the Outaouais Field Hockey Club.

"I attended over forty-three annual general meetings of the club," said Cooper. "The main changes as being a new club, the Nighthawks [had registered] 200 youth players, which is larger than all the other clubs put together."

Among many appearances on the global stage, Cooper's international experience included representing Canada as an umpire at the Pan American Games in Mexico City in 1975, and was a member of the technical official crew for the Montreal Olympics in 1976.

Cooper's induction into the Field Hockey Canada Hall of Fame is a celebration of longevity, dedication and involvement in his community.

Click here view a presentation and interview with Denys Cooper

Field Hockey Canada media release


---

Le CREPS High Performance Centre welcomes new Polytan field in readiness for Paris 2024




With the start of the delayed Olympic Games Tokyo 2020 still 11 months away, it is easy to forget that preparations for the 2024 Olympiad, which takes place in Paris, France, are very much in full flow.

At Le CREPS (Centre de Ressources d'Expertise et de Performance Sportives) High Performance Centre in Châtenay-Malabry – located in the south-western suburbs of Paris, around twenty minutes travel time from the city centre – a brand new hockey field has been put in place with Paris 2024 very much in mind.

The new surface has been installed by FIH Global Suppliers Polytan, in consultation with the FIH to ensure that it meets the high standards and requirements of the FIH Quality Programme for Hockey Turfs.

Funding for the new surface was secured as part of the city's preparations for the 2024 mega-event, with Le CREPS being one of numerous potential Games-time training venues for the 24 participating teams. 

"The quality of the field is exceptional", said Michel Godard, Director of Le CREPS. It [the surface] will be used to welcome international hockey teams to prepare for the Paris 2024 Olympic Games, whilst also helping national and regional development of field hockey in France."

FIH Facilities & Quality Programme Manager Alastair Cox said: "We are delighted to see this new field, benefiting from the latest synthetic turf technology, developed to satisfy the sports performance, player welfare and sustainability criteria of the FIH's Quality Programme."

For more information about the FIH Quality Programme for Hockey Turf, please click here.

FIH site


---

Hockey player Afshan an example for all females

LAHORE: Pakistan National hockey player Afshan Noreen is a living example for female players as she is the only female player to train with 30 boys daily and then play matches.

Afshan plays with boys from local clubs at the Johar Hockey Stadium in Lahore, including players from the Pakistan hockey team.Afshan, in an interview on Thursday says: "I have been coming here to play for four or five years. There is no other girl except me. When I started playing with the boys here, then I had some problems but slowly I adjusted and now I don't have any problem."

"I never hesitated to train and play matches with boys and there was no issue from the boys either. We all have a respectful relationship," Afshan said."All the players give me confidence and encourage me. They have also improved my game. I think I've played hockey in England in one season. They also trained with the boys," she said and added: "That's why it's possible and I hope I can continue to play abroad."

The national hockey player said "when I do not come to training or are late, they ask why I did not come. I did not face any obstacle from my family."She further said that there are not many camps for girls and there are no tournaments and playing here fills my gap.

"My message is that women should go to the field to play. I want to tell them that girls are respected in our society and they should play so that the positive image of Pakistan is built in the world."

National hockey player Azfar Yaqub said that Afshan was never allowed to feel that she is the only girl here and all the players respect her a lot. "The atmosphere becomes very good because of her presence among the boys."Azfar said that Afshan is very fond of hockey. "Whether it is hot or cold, she comes to the field regularly and participates in training sessions equal to boys."

The News International


---

She went to Stanford to play field hockey. Then her sport got cut.

By Larry Rubama



Former Norfolk Academy field hockey player Liz Heckard returns to Stanford University this week. She's excited to be reunited with her teammates but they also have to deal with the news that the program has been cut. Courtesy photo

Have you ever had something you love taken away from you?

Something you've worked hard for, and then, without warning, it's been snatched away?

How would you feel? Angry? Frustrated? Or cheated?

Liz Heckard feels all three.

Heckard's been playing field hockey since she was 7 years old. Starring at Norfolk Academy, she earned first-team all-state honors and led the Bulldogs to three state titles.

Field hockey led Heckard to Stanford University.

As a sophomore defender last season, she helped the Cardinal win the America East championship and earn a spot in the NCAA tournament, though Stanford lost to top-ranked North Carolina in the first round.

Heckard and her teammates were excited about what they could do this season. But those feelings were dashed when Stanford announced last month it would discontinue 11 varsity sports, including field hockey, at the conclusion of the 2020-21 academic year. Stanford officials said the university was unable to support 36 varsity sports financially at a championship level.



Former Norfolk Academy field hockey player Liz Heckard returns to Stanford University this week. She's excited to be reunited with her teammates but they also have to deal with the news that the program has been cut. Courtesy photo

Heckard, 20, got the news in a text while working her summer job at Graze Kitchen in Virginia Beach. She was a bit confused because she hadn't heard it firsthand. She didn't know if the season was canceled or if the program had been cut. So, she called one of her teammates. The news was devastating.

"I totally had the inclination to cry," she said. "I was very uncomfortable because I was in a public setting, so I couldn't really cope with it initially."

The emotions, she said, would hit her later.

Heckard and some of her teammates have thought about transferring, but they don't want to leave.

"My teammates are some of my best friends, and I don't just want to leave them," she said. "I obviously love field hockey, but it got me into a great school. I do want to finish my education there because that's most important."

Heckard, a human biology major, called it ironic because she learned this summer in her field about COVID-19 and how it affects colleges and workplace environments.

Stanford is one of many Division I programs to be affected by COVID-19. Locally, Old Dominion, citing financial challenges exacerbated by the pandemic, announced in April it was eliminating its wrestling program after 63 years. The move, effective immediately, came after four wrestlers qualified for the NCAA tournament.

Eliminating sports also impact alumni. In 2007, when Ohio University cut the men's track and field program – the team I ran on – because of Title IX issues it was difficult to wrap my head around. The track program that taught me discipline and shaped my work ethic was no more.

Heckard said many of the sports Stanford eliminated were successful. According to the Associated Press, Stanford placed 29 athletes on the 2016 U.S. Olympic team; 15 of them stood on the medals podium, more than any other school in the country. Another 10 Stanford athletes won medals for other countries.

"I was looking at the different sports and what they had given back to Stanford in terms of Olympic medals and Division I championships," she said, "and it's surprising that all of that hard work and what they've done for the Stanford program is coming to a close, and that's very sad."

Heckard said she and her teammates felt blindsided by the news of the program.

But a glimmer of hope remains for them because Stanford officials said it was a possibility the women could play this spring if circumstances surrounding COVID-19 allow it.

On Sunday, Heckard heads to California with classes scheduled to begin Sept. 14. She carries a lot of uncertainty with her as she prepares to return. She's used to being busy with field hockey taking up much of her life. Now, she doesn't know what she'll do as the school hasn't told them yet about when or if practices will resume.



Former Norfolk Academy field hockey player Liz Heckard returns to Stanford University this week. She's excited to be reunited with her teammates but they also have to deal with the news that the program has been cut. Heckard, middle, is shown with her Stanford teammates, Juli Porto, No. 17, and Jessica Welch, No. 19. Courtesy photo

But she will have her teammates for support.

"I'm still angry and disappointed," she said. "I don't think I've fully realized it because I'm not at school yet, but I think it will be even harder when I get back to school."

"So, I'll have to adjust, and my teammates will have to adjust. But we'll do it together, which is good."

The Virginian Pilot


---

Aslam Sher Khan challenges Batra's position in Hockey India

The Delhi High Court has asked both the Sports Ministry and Hockey India to file a response on a plea filed by 1975 World Cup winner Aslam Sher Khan, who has challenged the continuation of Narinder Batra as a life member of Hockey India and Elena Norman as its CEO. Norman also enjoys voting rights in Hockey India. A High Court Bench comprising Chief Justice DN Patel and Justice Prateek Jalan has issued a notice to the Ministry, Hockey India, Batra and Norman to file their replies by September 28, which is the next date of hearing.

Khan, a two-time Congress MP, has cited violations of sections of the National Sports Development Code of India (NSDCI) to seek immediate dismissal of Batra and Norman. He has also sought the appointment of an independent administrator or an ad-hoc body to run the day-to-day affairs of the federation until the time its Memorandum of Association (MOA) is amended as per the NSDCI. There is no provision for a life member in the NSDCI, which accords voting rights to only members of associations from States or Union Territories.

Khan has also asked that both Batra and Norman should provide details of all financial benefits that they have enjoyed since their appointments as life member and CEO, respectively, of Hockey India. Khan has made serious assertions of nepotism in team selection and even claimed that "there are serious apprehensions that the Respondent No. 3 (Batra) by exercising perpetual and direct control through Respondent No. 4 (Norman) is siphoning funds of Respondent No. 4 (Hockey India)".

The case is another setback for Batra, who is also the Indian Olympic Association president. There will be a question mark over Batra's position as the IOA chief if the judgement goes against him as he was allowed to fight for the post on the back of his life membership of Hockey India.

The Tribune


---

Delhi HC seeks sport ministry's stand after plea claims Hockey India created posts in violation of sports code

The plea filed by former India player Aslam Sher Khan alleges that Hockey India violated the national sports code by creating posts, like 'life member', 'life president' and CEO, which are not permitted under the rules.



Former president Narinder Batra has been appointed as Hockey India's 'Life Member'. Image courtesy: International Hockey Federation

New Delhi: The Delhi High Court Thursday asked the Centre and Hockey India (HI) for their stand on a plea alleging that the sports federation has violated the national sports code by creating posts, like 'life member', 'life president' and CEO, which are not permitted under the rules.

A bench of Chief Justice DN Patel and Justice Prateek Jalan issued notice to the Sports Ministry, HI and the two persons who have been appointed in the sports body as life member and CEO, seeking their stand by 28 September on the petition by a former hockey player.

Petitioner Aslam Sher Khan, who was part of the Indian team which won gold in the 1975 Hockey World Cup, has sought quashing of the articles in HI's Memorandum of Association (MOA) under which the posts of 'life member', life president' and 'CEO' with unlimited tenure and full voting rights have been created.

Senior advocate Gopal Sankaranarayan, appearing for Khan, said these posts are not contemplated under the National Sports Code of 2011 and have been created in violation of the rules, circulars and guidelines governing functioning of the national sports federations (NSFs).

The petition, filed through advocate Vanshdeep Dalmia, has also sought quashing of the appointments of Narinder Dhruv Batra and Elena Norman as 'life member' and CEO, respectively.

Khan, in his plea, has alleged that "various acts of nepotism and favouritism" by Batra and Norman was "causing loss, financial and otherwise to the sport of hockey".

He has contended that under the sports code and the model election guidelines for NSFs, only seven office bearers and five additional members are to be elected for specific durations and the three posts created by HI are not contemplated therein.

Delhi HC seeks sport ministrys stand after plea claims Hockey India created posts in violation of sports code

He has also contended that similar provisions relating to creation of the post of 'life member' in the Amateur Kabaddi Federation of India have been quashed by the High Court.

The plea has also sought directions to Batra and Norman to provide accounts of money and financial benefits received by them from HI from their time of appointment and to refund the same.

It has further sought that an administrator or ad-hoc committee of eminent sports persons be appointed to administer the affairs of HI and oversee its day to day functioning, until its MOA is amended and fresh elections in accordance with the guidelines are held.

Khan has also sought a direction to the ministry to cancel affiliation of HI till its MOA is amended, appointments of Batra and Norman are terminated and fresh elections are held.

Firstpost