All the news for Friday 3 July 2020

Koreans ahead of Malaysians

By Jugjet Singh

WHILE the national hockey team reported for duty after more than three months on Wednesday, the South Koreans had completed their league fixtures post-Covid-19.

The Malaysia Hockey League (MHL) ended on Feb 22 and all players, seniors and juniors, went into hibernation close to a month after that to adhere to the Movement Control Order (MCO).

Korean players, however, were able to continue their activities earlier.

The Korea HA (KHA) successfully organised the KBS Men and Women's Cup on June 24-30 in Donghae City, Gangwon Province.

A total of 41 teams competed in four categories — Middle School, High School, Univerity and Seniors.

They played under strict guidelines, and the league concluded without any hiccups.

Locally, coach Nasihin Nubli was not impressed with the first day performance of his charges.

"Of course, it was a long layoff and most players were a little rusty. I am not happy with their form.

"I believe, however, they will be back in the driver's seat in a few weeks," said Nasihin.

Coaches Nasihin and Amin Rahim did some light set-pieces, and did not push the players at the National Hockey Stadium in Bukit Jalil on Wednesday.

"We can't push them just yet, as they might pick up injuries. Training will be gradual, and in due time we will also put them through a fitness test.

"Training at home on their own is not the same as field training, so I do expect some players' fitness to drop a little," Nasihin added.

However, time is on the senior players' side as their only assignment this year is the Asian Champions Trophy in Dhaka, Bangladesh in November.

New Straits Times


---

India was confident of a good performance in Junior Asia Cup, says women's hockey team captain



Suman Devi Thoudam led her team to victory in the three-nations tournament held in Australia in December, 2019. - HOCKEY INDIA

The Indian junior women's hockey team was confident of a good performance at the Junior Asia Cup in Kakamigahara, Japan, before the COVID-19 pandemic intervened, according to team captain Suman Devi Thoudam.

The Indian team had been preparing for the tournament at a national coaching camp in the Sports Authority of India campus in Bengaluru. A win in the competition, which was scheduled to begin on April 6, would have given Suman's side a berth in the FIH Junior World Cup, 2021. "We had shaped up well as a team and with some good performances last year, we were quite confident of a good show in the Junior Asia Cup in Japan," Suman said in an interaction with Hockey India.

Like the senior men's and women's team members, Suman stayed back at SAI, Bengaluru, for more than three months.

"My tickets were booked for March 22 but due to the Janta Curfew I couldn't travel. Though my tickets were rebooked for 24 March, I decided to stay back in SAI because I felt it was safer there and there was a lot of uncertainty at the time," she said.

Support from senior players

Elaborating on how she coped with the confinement, she said, "At first, I was scared and felt that there was so much uncertainty. Myself and three others who were going through rehab due to their injury were the only ones from the junior team who had stayed back in SAI during this period and it probably would have been difficult if not for the constant support from senior players and Wayne Lombard (Scientific Advisor)."

She added: "I focussed on core strengthening workouts which could be done indoors and some conditioning work which Wayne used to give us. Also, he would tell us that it's important to improve our immunity and stay fit to fight this pandemic which made us motivated through this period."

Suman returned home in Imphal, Manipur, on June 19 and had to undergo institutional quarantine for two weeks. She will further remain in home quarantine for another two weeks. "Now, I just look forward to spending time with my family," she said.

Father's influence

Suman said her father, a carpenter in Imphal, had a big influence on her in her career. Despite financial constraints, he always encouraged his daughter to make her own mark in the sport. In 2014, she was picked by the Madhya Pradesh Hockey Academy where she further honed her skills as a player.

"My father has been the biggest influence in my life. He has been extremely supportive and wherever I play in Manipur, he comes to watch me. At first, I never liked hockey but I was quick to make friends at the Seyo Club and when they said if I go regularly for practice, I would be given a stick and a ball for myself, I was motivated to continue. Getting my own stick was like the biggest incentive for me at that time," she said.

The junior team now awaits a call-up to return to SAI, Bengaluru. "There is a lot of openness in the team where we discuss our strengths and weaknesses and each of us have improved individually as well as a team over these past years. When we are called back, we will refocus on our goal to do well at the Junior Asia Cup," Suman said.

Sportstar


---

India's star hockey forward Vandana Katariya's journey from Haridwar to the Olympics

Indian hockey team forward Vandana Katariya talks to HerStory about her journey so far, her Arjuna Award nomination, the upcoming Olympics, and more.

By Nirandhi Gowthaman



Vandana Katariya

India's star forward Vandana Katariya rose to prominence in 2013 with her stellar performance in the Women's Hockey Junior World Cup. She was India's top scorer in the tournament with her five goals playing a huge role in helping India win bronze.
 
Vandana grew up in Haridwar with three sisters and four brothers. Her father was a sports enthusiast and wanted her to excel in sports. At a young age, she began playing at the Roshnabad stadium in Haridwar but due to lack of facilities she shifted to the Government Sports Hostel in Lucknow in 2006.

Incidentally, she also made her junior national team debut in the same year. In 2007, she was called up for her first senior national camp, and four years later, made her debut for the national team.

In her 13-year-long career, the 28-year-old forward has played over 240 matches and added 64 goals to her international tally. She was recently nominated by Hockey India for the prestigious Arjuna Award along with teammate Monica Malik.

Reminiscing about her journey, Vandana says, "It was tough when I first started to play hockey. My family wasn't very well-off so it was a bit difficult for them to provide me with facilities. However, they always put my interests in front of their own."

Growing up, Vandana's dream was to play at the highest level and she has now fulfilled her dream of playing in the Olympics. She is now focussed on her next goal - winning an Olympic medal.

In a conversation with HerStory, Vandana talks about her journey, the Arjuna Award nomination, preparing for the upcoming Olympics, and more.

HerStory (HS): How do you feel about you being nominated for the Arjuna Award?

Vandana Katariya (VK): It is a huge honour to be nominated for the Arjuna Award. I have been able to perform consistently only because of my teammates, who have always been there through my ups and downs. We try to help each other as much as we can, and ensure that all players grow and evolve. The fact that Rani Rampal has been nominated for the Rajiv Gandhi Khel Ratna Award and Monika for the Arjuna Award shows that the team is moving in the right direction.

HS: What kind of challenges did you face to follow your passion for sport?

VK: Since there were no facilities in Haridwar, my family, apart from my father, was opposed to me playing hockey at one point. But once I moved to the hostel in Lucknow and started getting called for state and national camps, my entire family supported me. It was a challenge to take up sports in Haridwar because girls were discouraged to play sports in our neighbourhood. I am glad I believed in my abilities and got into the Indian team against all odds.

HS: How did you deal with the naysayers?

VK: Yes, it was difficult to deal with a situation where people in the neighbourhood discouraged girls to take up sports, but I knew what I wanted to do. I wanted to play hockey, and I was ready to work very hard to achieve success. I think the only way to deal with such situations is to keep believing in your talent and move forward no matter what comes your way.

HS: Playing in big events like the Asian Games and Olympics, how do you prepare yourself, especially mentally? How do you deal with the pressure?

VK: Whenever we step on the field, we have to face pressure. Yes, the Asian Games and Olympics bring in a different kind of pressure, since they are among the biggest tournaments in the world. However, as a team, we just try to focus on the process and we know that if we execute our plans properly then we will achieve the right results. So, I think preparation is the key for any sportsperson. If a player prepares well during practice, then she will definitely play well during matches.

HS: What do you love about hockey the most?

VK: I love scoring goals and putting the team in front of any match we play. Playing for the country is a huge honour, and I am fortunate to be living my dream. I have been lucky to form friendships during my journey. I have been very lucky to have great teammates, who always support me. Hockey has given me the best life I could ever ask for.

HS: Are there any memorable moments or experiences in hockey that inspire you to keep playing?

VK: Defeating Japan in the final of the FIH Women's Series Finals Hiroshima 2019 will always be special for me. Since we lost to them in the Asian Games Final in 2018, it was great to defeat them in 2019. The way we defeated the USA at the FIH Hockey Olympic Qualifiers was incredible as well. I can never forget the way our home crowd supported us during those matches. We play for such moments and it inspires us to play even better in the future.

HS: What was your feeling after the Indian team qualified for the Olympics in 2020?

VK: It was quite tough to digest the news after I missed a few chances in the Asian Games Final against Japan in 2018. We should have won the gold and qualified for the Tokyo Olympics directly. I had sleepless nights because of the chances I missed, but our senior players Rani Rampal and Savita Punia told me that this happens in sport and it wasn't my fault entirely as everything depends on how the entire team is playing. However, it was great to qualify for the Olympics after defeating USA at the FIH Hockey Olympic Qualifiers.

Clinching a berth at the Olympics in front of the home crowd was magical.

HS: What did you think when the Olympics 2020 was postponed? How do you think the Indian team will do at the 2021 Olympics?

VK: I think we can certainly use the extra year to our advantage. We will have more time to prepare and build on the excellent results we produced in 2019. It's all about peaking at the right time and we will prepare accordingly. Our team is balanced, and I am confident that we will be able to do well in the Olympics next year. Once our international schedule is confirmed, then we can start preparing for the Olympics in full flow.

YourStory


---

Iconic Olympians appeal to save Mumbai Hockey.

K. Arumugam

Iconic Olympians including MM Somaya, Dhanraj Pillay and Eliza Nelson appeal for restoration of Mumbai Hockey, an outfit that was backbone of national governing body of hockey when formed in 1926. Its BHA (Bomaby Hockey Association Ltd), which organizes one of the oldest domestic hockey tournaments.

Their appeal is made to the Hon'ble Minister of Youth Affairs & Sports, Dr. Narendra Batra, President IOA, Mr. Rajeev Mehta, Secretary General IOA, and Mr. Mushtaque Ahmad, President Hockey India.

BACKGROUND: The 'one-State-one-Association' ruling as directed by the Indian Olympic Association has been implemented by Hockey India (HI) with effect from 1st July 2020. As a result of this new regulation there will henceforth be only one Association from Maharashtra that will be directly affiliated to HI.

Hitherto there have been three Associations in the state:
i) Mumbai Hockey Association ( based in Mumbai)
ii) Vidarbha Hockey Association (based in Nagpur)
iii) Hockey Maharashtra (based in Pune)

With the new ruling Mumbai and Vidarbha Associations have ceased to have direct affiliation to HI and shall instead come under the umbrella of Hockey Maharashtra (Pune) who henceforth shall be the only Association from the state directly affiliated to HI. In addition to voting powers Hockey Maharashtra (Pune) will also be vested with the authority of selecting and sending state teams for the National Championships.

IMPORTANCE OF NATIONAL CHAMPIONSHIPS:

The National Championships are annually held for Men and Women across Senior, Junior and Sub- Junior categories. The National Championships held under the aegis of HI are important since they form the basis of selection of Teams that will represent India in various International tournaments. This tournament is similar to Ranji Trophy in cricket where states and a few organisations compete for supremacy.

As a result of the new ruling henceforth only one team will be sent from the state under the banner of Maharashtra XI for the Nationals.

MUMBAI HOCKEY ECOSYSTEM

Mumbai has been a nerve centre for hockey over many years. Along with Punjab and U.P, Mumbai has been providing the maximum number of players to the Indian teams. This is due to a strong ecosystem for hockey that has been built over many decades. Being the Industrial and Financial capital of the country many business houses and PSU banks have provided employment to hockey players and have been maintaining their own teams. Western Railway, Central Railway, Navy, Union Bank, Central Bank, Mumbai Customs & Excise, Mumbai Port Trust and many other organisations have established excellent hockey teams.

The opportunity for employment has shaped a robust process of talent identification and grooming. The chain starts from School and College competitions and then progresses to club level participation. There are three Divisions (Leagues each comprising 20-25 teams) of club hockey. Outstanding players at the club level eventually get recruited by the top teams featuring in the Mumbai Super League.

Besides the Division hockey for local teams, All -India tournaments like the Mumbai Gold Cup and Tegh Bahadur Tournament are conducted under the aegis of Mumbai Hockey Association. These open tournaments give an opportunity for Mumbai teams to improve their skills while playing against the best teams in the country.

Being selected to represent Mumbai in the National Championship is a key factor for availing employment in organisations under the sports quota. Playing for Mumbai also means vying for a place in the Indian team. Employers provide encouragement and also incentivise players who are representing the country. In the past Mumbai based organisations like TATAs, Mahindras, Air India, Western Railway and Mumbai Customs have had a host of players representing Indian teams. The employers sit at the top of the hockey ecosystem and it is the prospect of securing employment for their wards that drives schools and colleges to nurture hockey talent at the grassroots.

LEGACY OF MUMBAI HOCKEY

Due to this robust hockey system Bombay/ Mumbai has a rich legacy of hockey having produced a long list of Olympians and Internationals. Leo Pinto, Walter Dsouza, R. S. Gentle, Govind Perumal and Kishen Lal were all Olympic gold medalists of the 40's and 50's. In the 60's and 70's Balbir Singh Grewal, Gurubax Singh Grewal, Joe Antic, Cedric Pereira and Kulwant Arora were Olympic medalists. In the 80's and 90's Dhanraj Pillay, Mervyn Fernandis, Joaquim Carvalho, Marcellus Gomes, M. M. Somaya, Daryl Dsouza and Mark Patterson won accolades for the country in international tournaments. After the turn of the century Viren Rasquinha, Jude Menezes, Gavin Ferreira, Yuvraj Walmiki and Devendra Walmiki have represented India with distinction. There are many more outstanding International players that have earned their spurs while being based in Mumbai.

In women's hockey Eliza Nelson, Selma Dsilva, Fiona Albuquerque, Margaret Toscano, Angela Dsouza, Donita Dmello and many others have made their mark internationally.

Mumbai have been National Hockey Champions in 1989 and 2010 and have been Federation Cup winners in 1990. The team has featured in the Quarter Finals/ Semi Finals/ Finals in almost every Championship.

NEGATIVE IMPACT OF NEW REGULATION

In the present situation wherein only one team will be permitted from the state there will be a substantial reduction in number of players from Mumbai who will play under the Hockey Maharashtra banner. This would happen since players from other districts would also need to be accommodated. A rough estimate is that the reduction of Mumbai players in the National Championship would be between 30-50%.

Most employers in Mumbai seek participation in Nationals Championships as a base line qualification for recruitment. With reduction in numbers of eligible Mumbai players these organisations would be reluctant to recruit players and may not want to maintain teams. Organisations like TATAs and Mahindra & Mahindra have discontinued hockey teams some years ago already leading to lesser job opportunities. In case the existing organisations withdraw their support to hockey then it would have a cascading impact on the entire chain. Schools, colleges and clubs will further reduce focus on the national sport. As a result fewer youngsters would take to the game seriously.

A weakened hockey system in the Industrial & Financial capital of the country would mean a weakened hockey talent pool for the country.

BCCI's JUDICIOUS IMPLEMENTATION

It is our view that the Lodha Committee recommendation of 'one State one Association' should not be applied as a thumb rule across all sports Federations. If implemented in toto some sporting hubs would face possible extinction and this would be contrary to the primary objective of setting up the Committee.

The BCCI that oversees the game of cricket has been prudent in the application of the Lodha Committee recommendations. A Supreme Court judgement dated 9th August 2018 has empowered them to provide Full Membership status to Associations like Mumbai and Vidarbha in Maharashtra. Similarly Full Membership has also been accorded to Saurashtra and Baroda in Gujarat. As a result of this, States like Maharashtra and Gujarat have been allowed to field more than one team in the Ranji Trophy. Maharashtra, Mumbai and Vidarbha participate in the Ranji Trophy and so do Gujarat, Saurashtra and Baroda. The results have been very encouraging. Vidarbha and Saurashtra have won the Ranji Trophy in recent years. This has ensured that established centres continue to thrive and the wide talent base remains unaffected.

Since the rationale is the same, the Supreme Court judgement delivered for Cricket could be made applicable for Hockey as well. If accorded Full Members established hockey centres like Mumbai would then be able to continue participating in the National Championship and contributing to the growth of hockey at the national level.

REQUEST FOR ACTION - FULL MEMBERSHIP FOR MUMBAI IN HI

In summary we would like to say that there are two significant drawbacks of not permitting a separate Mumbai team to participate in the National Hockey Championship. These are:

a) Indian hockey talent pool would get weakened. With fewer players from the city of Mumbai representing Maharashtra in the Nationals, there would be less opportunities to showcase their talent. Many deserving players would not get spotted by national selectors.

b) with Hockey Maharashtra being based out of Pune and fewer players from Mumbai getting National colours, job opportunities for hockey players in Mumbai would reduce. Employers would consider discontinuing sponsorship of hockey teams. This will destabilise the hockey ecosystem in Mumbai

Bombay/ Mumbai has been one of the founder members of the original governing body Indian Hockey Federation (IHF). To be excluded from membership despite contributing significantly over so many decades would be grossly unfair.

Officials of Mumbai Hockey Association have indicated that they fear alienation by HI and Hockey Maharashtra if they pursue this matter legally. They have therefore chosen the easy way out by accepting the IOA directive and agreeing to be an affiliate of Hockey Maharashtra (Pune).

As former hockey players, who have represented India, we seek your intervention to save Mumbai hockey and ensure that the city continues to be a nerve centre for hockey in the country.

It is our fervent plea that Mumbai be allowed to continue its present independent status with direct affiliation to Hockey India as a Full Member. Other centres in India which are in a similar position as Mumbai could be also considered for Full Membership.

If needed an amendment in constitution should be urgently considered by IOA/HI to save Hockey in Mumbai as well as in other high potential centres.

From:

Dhanraj Pillay (4 time Olympian and Captain of 1998 Asian Games Gold medal winning team)
M. M. Somaya (3- Time Olympian and captain of 1988 Olympic team)
Joaquim Carvalho (Olympian 1984)
Mervyn Fernandis ( Olympic Gold medalist 1980 and 3- time Olympian)
Marcellus Gomes ( Olympian 1984)
Balbir Singh Grewal ( 1966 Asian Games Gold medalist and 1968 Olympic bronze medalist)
Gurubax Singh Grewal ( 1968 Olympic Bronze medalist)
Viren Rasquinha ( Junior World Cup gold medalist and Olympian 2004)
Iqbaljit Singh ( Olympian 1984)
Eliza Nelson ( Captain of 1982 Asian Games Gold medal winning team and Olympian 1980)
Selma Dsilva (Olympian 1980 and Asian Games Gold medalist 1982)
Margaret Toscano ( Olympian 1980)

Stick2Hockey.com


---

Legends want continuity of Hockey India membership for Mumbai

Former players have written to Sports Minister Kiren Rijiju and the IOA seeking continuity of Hockey India full membership for Mumbai.

Uthra Ganesan



Joachim Carvalho, Merwyn Fernandes and M.M.Somaya have written the letter to the sports minister and the IOA.   -  Special Arrangement

With Hockey India's one State-one association policy coming into effect from July 1, several Olympians and former players from Mumbai have written to Sports Minister Kiren Rijiju and the IOA seeking continuation of a separate identity.

Maharashtra had three associations — Maharashtra (based in Pune), and Mumbai and Vidarbha as associate units. Under the new rule, Hockey Maharashtra will be the sole HI-affiliated unit and can field a team at the National championships.

"As a result of the new ruling, only one team will be sent from the State under the banner of Maharashtra XI. Many business houses and PSUs in the city have provided employment to hockey players and maintain their own teams, including Western Railway, Navy, Central Bank, Mumbai Customs & Excise, Mumbai Port Trust. The opportunity for employment has shaped a robust process of talent identification and grooming from schools and colleges to a three-division club level participation.

Cascading effect

"In the present situation, there will be a substantial reduction in the number of players from Mumbai and these organisations would be reluctant to recruit players and may not want to maintain teams. This would have a cascading effect on the entire chain," read the letter written by M.M. Somaya and signed by several players, including Dhanraj Pillay, Mervyn Fernandes, Viren Rasquinha and Joaquim Carvalho.

Ruing that the Mumbai hockey officials had not been too willing to pursue a legal course, fearing repercussions from HI – Vidarbha has challenged the decision with a final disposal scheduled for July 31 — the players referred to the BCCI's "judicious implementation" of the rule to accommodate major centres like Mumbai, Saurashtra and Baroda as independent members, and sought full membership of HI.

Sportstar


---

Mumbai hockey legends send SOS to sports minister Kiren Rijiju about one-state-one-unit rule

Dhanraj Pillay, Viren Rasquinha and other hockey Olympians from Mumbai have written to sports minister Kiren Rijiju against the one-state-one-unit rule, which they fear could be the 'final nail in Mumbai hockey's coffin'

Amit Kamath

Some of the biggest names in hockey to have emerged from Mumbai have written to sports minister Kiren Rijiju against the one-state-one-unit rule, which they fear could be the 'final nail in the coffin of hockey in Mumbai.'

In an email sent to Rijiju — and also addressed to IOA president Narinder Batra, IOA secretary general Rajeev Mehta, and Hockey India president Mushtaque Ahmad — on Thursday, the former hockey players have urged the sports minister to intervene and 'save Mumbai hockey' contending that the implementation of the one-state-one-unit rule would weaken the city's hockey ecosystem. The players have pleaded that Mumbai be allowed to continue its present independent status with direct affiliation to Hockey India as a full member.

The email ― which has been accessed by Firstpost ― has been written by Olympians Dhanraj Pillay, MM Somaya, Viren Rasquinha, Joaquim Carvalho, Marcellus Gomes, Iqbaljit Singh, Mervyn Fernandis, Balbir Singh Grewal, Gurubax Singh Grewal, Eliza Nelson, Selma Dsilva, and Margaret Toscano.

"Mumbai has a great hockey culture, tradition and ecosystem of 'gully' hockey, school hockey, club hockey and Mumbai players going on to represent India, even at the Olympics. We must not let our Mumbai kids lose out on the opportunity to represent Mumbai at the National Championship in sub junior, junior and senior categories — men and women. Else that will be the final nail in the coffin of Mumbai hockey. Indian hockey will lose out on one of its most important nurseries and feeder system of good young hockey talent," Rasquinha told Firstpost on Thursday.

The one-state-one-unit rule, which came into effect from Wednesday, effectively means that Hockey Maharashtra will be the only affiliated association from the state of Maharashtra with Hockey India. This leaves Mumbai Hockey Association Limited and Vidarbha Hockey Association (based in Nagpur) in the lurch, with no voting rights and, more importantly, no power to send independent teams to the National Championships. This would mean that instead of three teams from Maharashtra competing at the Nationals, there will now just be one team, picked by Hockey Maharashtra. The players said the move would reduce the number of players from Mumbai at the National Championships by roughly 30 to 50 percent.

"Most employers in Mumbai seek participation in Nationals Championships as a baseline qualification for recruitment. With reduction in numbers of eligible Mumbai players, these organisations would be reluctant to recruit players and may not want to maintain teams. Organisations like TATAs and Mahindra & Mahindra have discontinued hockey teams some years ago already leading to lesser job opportunities. In case the existing organisations withdraw their support to hockey then it would have a cascading impact on the entire chain. Schools, colleges and clubs will further reduce focus on the national sport. As a result fewer youngsters would take to the game seriously," the players wrote in the email.

Besides states like Punjab and Uttar Pradesh, Mumbai has been a nerve centre for hockey over the decades. Many business houses, and PSU banks like Western Railway, Central Railway, Navy, Union Bank, Central Bank, Mumbai Customs & Excise, and Mumbai Port Trust have provided employment to hockey players from Mumbai.

The Mumbai-based players have urged Hockey India to follow the example of the Board of Control for Cricket in India which they say has been prudent in the application of the Lodha Committee recommendations. The players pointed out that a Supreme Court judgment, dated 9 August, 2018, has empowered them to provide Full Membership status to Associations like Mumbai and Vidarbha in Maharashtra. Similarly Full Membership has also been accorded to Saurashtra and Baroda in Gujarat.

While Vidarbha Hockey Association is said to have moved the Nagpur bench of Bombay High Court asking for a stay, MHAL officials have shown no inclination to pursue the matter legally.

"Mumbai has been one of the founder members of the original governing body of hockey in India, the Indian Hockey Federation (IHF). To be excluded from membership despite contributing significantly over so many decades would be grossly unfair," the players added.

Firstpost


---

Allan back to his roots and aiming high with CALA

By Nigel Duncan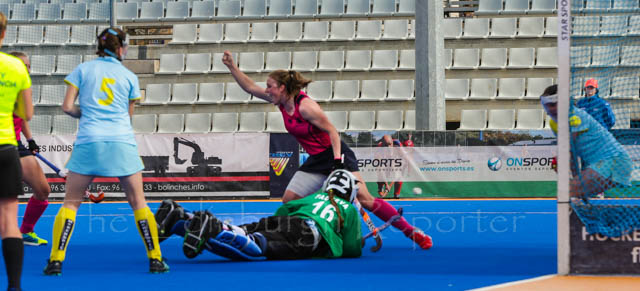 Neil Allan has gone back to his roots having played for and coached the men at CALA Edinburgh during a period of success in men's Division One.

He has targeted a rise to the top flight of Scottish domestic hockey for the club.

Currently, the women's team are seventh in Division One and have been out of Scotland's elite for three seasons.

The men's side has been struggling to get back into the highest level for nine years.

Allan, who coached men's Premiership side, Grove Menzieshill, for the past two seasons, taking them into Europe, runs the Complete Hockey Coaching organisation.

And his ambitious plans include the development of a five-year programme at CALA which includes linking with local schools to find new talent.

Allan, whose wife Sarah has been a member of the club for 20 years, said: "We are developing a pathway through the club from the bottom to top. For me, it's going back to a club which I played for.

"Everybody here wants to reach the highest possible level and we are re-structuring to do that."

There is raw, young talent at the club and Allan said: "Our oldest player in the women's team is 20 and the youngest 14. Several players are still at school and there is a lot of potential in this squad.

"They are seventh in the second tier having won three and drawn five of their 11 games so far this season but we want to be way better than that."

It will, he acknowledged, take time but he said: "There is real enthusiasm to get it right."

The Edinburgh Reporter


---

New Zealand's 2021 National Masters to be held in Tauranga




The 2021 National Masters Tournament will be held in Tauranga for the first time since 2005. The tournament will be held from Sunday the 28th February and will run through until Saturday the 6th March.

The Venues will be Tauranga Hockey who have opened up their third turf for the 2020 season as well as Tauranga Boys College which will provide the fourth turf.

Tauranga Hockey are no strangers to hosting large events like this as they welcome a large contingent of teams each year for the Aims Games, they will be looking forward to hosting Hockey New Zealand's largest Domestic Tournament alongside their incredibly strong and passionate local masters community.

The 2020 National Masters Tournament was the biggest tournament yet and we look forward to this increasing again in 2021 as the Masters Community look to flock to sunny Tauranga at the end of Summer.

The Tauranga City Council and Tauranga Hockey Association are pleased to be able to deliver such a quality event to their area which will see more than 1000 participants descend on the picturesque town for a week of quality hockey and amazing experiences.

Hockey New Zealand Media release


---

USA Field Hockey Accepting Applications for USMNT Head Coach

COLORADO SPRINGS, Colo. – USA Field Hockey is currently accepting applications for the position of U.S. Men's National Team Head Coach. The successful candidate will be the head of the USMNT program and be responsible for developing and implementing a comprehensive structure for men's field hockey in the United States across all levels of the game.

The successful candidate will develop and deliver programming to support an ever-strong male pathway for field hockey. This includes the Senior and Indoor USMNT and working closely with the Senior Manager of Coaching and Performance and for Junior USMNT and regional development.

Click here for the full job description or to apply for the USMNT Head Coach position.

USFHA media release


---

Hockey provides passport to a better life




Tunza Sports Academy is a Kenyan-based sports programme that harnesses the power of hockey to give girls in rural communities the chance of an education and a way out of poverty.

Meaning 'to nurture', Tunza is the brainchild of Rael Nyte, an inspiring individual who herself was a child in a rural Kenyan village and so knows firsthand the challenges faced by young girls and women.

"I wiggled out of the cycle of poverty and it was very hard," says Rael. "You inherit poverty from your parents and your grandparents. Through sport, we are showing girls that they can be more than what they are now. We focus on education because that is where the biggest inequality exists."

Rael is the founder and President of Tunza, although she has lived in the USA for many years. Hockey proved to be her passport out of poverty as she used her playing ability and coaching qualifications to fund her way through college. Rael studied politics and diplomacy before getting a job with the United Nations. She says, when she arrived in the States she had very little, but the hockey community welcomed her with open arms. She plays hockey for the Big Apple Club in New York and is developing her skills and experience as a technical official for PAHF. Tunza, she says, is her way of giving back to the sport that broke her own 'cycle of poverty'.

Denis Owoka is the director of coaching for the Tunza project. A member of the Kenyan Military Defence Forces, there is a humorous glint in his eye when he talks about the discipline he instils in the children at the Academy. Denis has a strong hockey playing and coaching pedigree. He played and coached one of the top teams in Kenya as well as representing the armed forces. In 2019, he won the Kenyan Coach of the Year award.

Denis turned his back on the medals and national competition when he joined Tunza. He now runs a team of five coaches – all young hockey players themselves – who are gradually learning and developing coaching skills under his tutelage and guidance.




The problem that Tunza addresses is the cycle of poverty that exists in Kenya's rural communities, particularly among girls. Without support, very few girls go to high school and college as their families just cannot afford it. The usual pathway, which continues from one generation to the next, is for girls to get a basic primary school education and then work and marry.

With unwavering frankness Rael explains the situation faced by girls in the villages: "In the communities where we work there are problems with Aids, malaria, malnutrition, female genital mutilation, a lack of sanitary products. From my own personal experience, I can say that domestic and sexual abuse is rife. We want to raise awareness of the problems faced by communities. We try to show the kids there is something better and we are doing that through the medium of hockey."

Rael and Tunza's avowed long-term mission is to end impoverishment by nurturing successful community role models who will give back to their community to promote economic growth. By empowering females, so the community becomes empowered. Rael is the living embodiment of that vision.

The short-term mission, which is already being witnessed among the first cohort of participants, is to help the students develop self-confidence, get fit and healthy and become motivated to study and reach their aspirations. And, as Denis with his military training adds, to learn life skills such as time-keeping, planning and self-discipline.

For the participants, Tunza offers stability as well as opportunity. The students, who are all aged six to 11 years old, are expected to do all their household chores and any school work alongside their hockey training.




Tunza came into being in 2017 and it was Denis and Rael's task to persuade the local parents that their children should take up a sport that very few people had even heard about. "We literally showed them a stick and a ball and said the aim was like football, you had to get the ball into the goal," says Rael. "It was only later, when they had started playing that we showed them a match being played. We started with the basics and built on that."

And Denis added: "The parents were unsure at first. The sticks look like walking sticks and the ball is hard – it was a real task to convince them."

The factors that swayed the parents was the real life stories that Rael, Denis and other members of the Tunza team could tell. Guest coaches who are employed as hockey coaches, Denis and Rael's own experiences. As Rael says: "Hockey got me a ticket to the USA."

For the future, the main challenge is sustainability. Already there are more children than the small coaching team can really cope with. Equipment is given with staggering generosity by Rael's contacts in the USA, but shipping is mightily expensive. For the project to really develop and for the game to continue to grow then an artificial pitch is needed, with a hostel so that travelling teams or players who live away from the centre can stay. But that all costs money.

As an aside, but as a clear indicator as to the importance of this programme, Denis recounts a story about two sisters who joined the programme in its first year. "They were both autistic and the other children didn't know how to interact with them. They were perceived as being ignorant and different. We started giving them leadership roles and encouraging them to try new skills and activities. Gradually, the barriers between the sisters and the other children were broken down. That wouldn't have happened in the community they lived in."

Rael, Denis and the team have a clear vision but a financial boost is needed to make it a reality. But as Rael points out, the importance of projects such as Tunza is far wider than purely hockey. "Even if the children no longer want to play hockey at a later stage, the game will have set them on a path to success, given them a shot at life as they will still have the skills necessary to survive."

FIH site