All the news for Thursday 2 July 2020

Back on the blue pitch and under blue skies

By Jugjet Singh



Coach Amin Rahim (second from left) putting the national players through the paces during their first training session together since the RMCO at Bukit Jalil Hockey Stadium yesterday. -NSTP/AIZUDDIN SAAD

THE senior national hockey players walked into the stadium in Bukit Jalil yesterday, looking like they had just come out of underground World War II bomb bunkers after the all clear siren was sounded.

There was the SOP to be followed diligently before they could enter the stadium and look up at the clear blue skies and start hitting the ball as hard as possible.

It was about 5pm, and some of them seemed scared like on the first day of kindy, some happy to be among friends again, and some walked in with blank faces.

But by the time training ended at 7pm, they looked much more comfortable on the blue pitch that was home to them for years before March 18 rocked the globe to its core.

The players had of course, bought food from supermarkets for their families or themselves during the height of the Movement Control Order (MCO).

They had also dined at mamak stalls and "crossed borders" back to their kampung when the rules were relaxed recently.

But still, returning to their "work place" was a trepid experience. The players and officials are yet to be tested for Covid-19, while Dutch coach Roelant Oltmans had arrived in Malaysia, but under house quarantine.

Oltmans, who reached Kuala Lumpur on Monday, has undergone three Covid-19 tests so far. Two in the Netherlands and one upon arrival.

All three tests turned out negative, but immigration rules still saw him miss the first day of training.

Health Ministry regulations were followed to the T yesterday.

The MySejahtera app was scanned to register close contacts, temperatures recorded, no handshakes, and there was the one-metre distancing rule, which includes listening to coaches' instructions.

It is three to five metres distancing among one another when training, one changing room and toilet for all, drink from your own water bottle and spitting not allowed.

The hockey balls and sticks must be sanitised after training, and the players must leave the stadium immediately after all the above instructions were adhered to.

All these preventive measures would have looked strange and become the butt of paranoid jokes if done during the Malaysia Hockey League final on Feb 28. But now it is a matter of life and death.

After more than three months of home workouts, the players did not look like they have been raiding the kitchen refrigerator, and they seemed hungry for action.

The national juniors will be the next to come out and play, on Sunday, and the women the next day.

But they can only train for now, as matches are still out of bounds.

For now, their training is only to regain speed and handling, before getting into full flight again after the Recovery Movement Control Order (RMCO) ends on Aug 31.

Coaches Amin Rahim and Nasihin Nubli were in charge of the 31 players who reported for training. They have only the Asian Champions Trophy to look forward to in Dhaka in November, if Covid-19 doesn't stick around anymore.

New Straits Times


---

Another week, another Black Sticks departure

By Dylan Cleaver



Black Sticks assistant coach Katie Glynn. Photosport

The Black Sticks women's programme has seen another abrupt departure, with assistant coach Katie Glynn resigning.

High Performance Sport New Zealand has confirmed there are ongoing issues within the high-performance set-up, but stopped short of saying whether they had demanded personnel changes.

Glynn is the third high-profile departure from the squad in the past six weeks following the retirement of defender Brooke Neal in May and last week's re-retirement of Gemma McCaw.

Hockey New Zealand released a statement indicating Glynn had resigned from her role to "take a break" from professional hockey.

"Katie is a valued member of our coaching whanau and she has a bright future in the sport. Hockey New Zealand is keen to stay connected with Katie about future coaching opportunities to further develop her immense talent," Ian Francis, Hockey NZ chief executive, said.

Glynn made no comment.

The defections follow a Weekend Herald report that highlighted a fractured squad still struggling to deal with the fallout associated with the departure of former coach Mark Hager and the subsequent Dew report, which pointed to a "negative" environment.

Glynn's name featured prominently in the report as multiple sources indicated that squad members were surprised the staunch Hager loyalist was appointed to the role.

Responding to those concerns, Hockey New Zealand chairman Mike Bignell said: "With Katie we feel that we have an excellent coach with a proven track record that complements the rest of the Black Sticks coaching set up well.

"It has been very important to HNZ that going forward, no one should be disadvantaged… because of any role they may have played in the review process."

Coach Graham Shaw has been trying to implement significant culture changes within the programme, including throwing more decision-making onus on the players but has achieved limited cut through. More than one source told the Herald that there were elements within the squad and management team actively working against the changes.

Olympic hockey remains one of the most extravagantly publicly funded campaigns, with the recent KPMG Report into Covid's effect on the sporting sector indicating that close to $4.7 million was invested into the men's and women's programme in the 2019 financial year.

Despite the ongoing drama, HPSNZ does not appear to have buyer's remorse.

"HPSNZ believes the women's Black Sticks team has the potential to achieve impressive results in Tokyo next year," chief executive Michael Scott said.

"We are aware of some concerns within the squad and are working with Hockey NZ to create a more cohesive team environment and ensure the programme remains fully on track for the Olympic Games.

"As part of this we are working with Hockey NZ to review its progress on the recommendations outlined in the Dew Report. Some very good work has been done since the report was released, however there are some areas where more work is required."

The New Zealand Herald


---

Lockdown halted preparations for junior women''s hockey WC, says captain

Imphal: The Indian junior women''s hockey team was preparing for the 2020 Junior Asia Cup in Kakamigahara, Japan which was to begin on April 6 this year when COVID-19 pandemic halted the team''s quest to achieve a berth for the Junior Women''s World Cup by winning the continental championship.

"We were in the national coaching camp since first week of March and we were very focused on performing well at the Junior Asia Cup which would have got us direct qualification into the FIH Junior World Cup 2021 to be held in South Africa. But the COVID-19 pandemic and subsequent lockdown halted our preparations," expressed Suman Devi Thoudam, who successfully led the Indian team in the Cantor Fitzgerald U21 International 4-Nations Tournament and the Belarus Tour last year.

She was also instrumental in the team''s winning performance at the 3-Nations Tournament in Australia held in December last year.

"We had shaped up well as a team and with some good performances last year, we were quite confident of a good show in the Junior Asia Cup in Japan," Suman added.

With the national camp for junior women ending on March 19, Suman''s compatriots left for home however she decided to stay back in SAI, Bengaluru where the senior teams were housed. "My tickets were booked for March 22 but due to the Janta Curfew I couldn''t travel. Though my tickets were rebooked for March 24, I decided to stay back in SAI because I felt it was safer there and there was a lot of uncertainty at the time," she said.

On asked how a young player like her faced the challenges of staying indoors during the nation-wide lockdown, she said, "At first, I was scared and felt that there was so much uncertainty. Myself and three others who were going through rehab due to their injury were the only ones from the junior team who had stayed back in SAI during this period (lockdown) and it probably would have been difficult if not for the constant support from senior players and Wayne Lombard (Scientific Advisor)."

"I focused on core strengthening workouts which could be done indoors and some conditioning work which Wayne used to give us. Also, he would tell us that it''s important to improve our immunity and stay fit to fight this pandemic which made us motivated through this period," Suman added.

Returning home after three months on June 19, Suman was in institutional quarantine for 14 days as per state rules in Manipur and will further remain in home quarantine for another 14 days.

"The institutional quarantine in Imphal was quite comfortable. There were about seven students who were in quarantine along with myself and the facilities including the food, everything was good. Also the volunteers there were mostly from my home club where I began playing hockey, so they were quite helpful too. Now, I just look forward to spending time with my family," she said.

While the junior team awaits to receive a call-up to return to SAI centre, Suman is confident her team can bounce back after this setback in their preparations.

"There is a lot of openness in the team where we discuss our strengths and weaknesses and each of us have improved individually as well as a team over these past years. When we are called back, we will refocus on our goal to do well at the Junior Asia Cup," she said.

Outlook India


---

Namibian Hockey welcomes MTC backing

by Helge Schütz



Emilia Kashopola in action for Namibia against Zambia.

MARC Nel, the president of the Namibia Hockey Union has welcomed MTC's entry into hockey, following Tuesday's announcement of a N$3 million sponsorship to the sport code over the next three years.

The sponsorship will go towards the national men and women's teams to help them cover their international commitments, with each squad receiving N$500 000 per year for the next three years.

The teams will be known as the MTC national men and MTC national women's teams and will have MTC logos on their clothing and kits. Nel on Wednesday said the sponsorship was a long time coming.

"We have been engaging with MTC since 2016, but it just never got off the ground, because of their huge involvement in soccer, with the Premier League sponsorship amounting to millions. But now that agreement has not been renewed and the MTC board decided to rather sponsor different sport codes and cultural groups to give a bigger spread over the Namibian market, so we were one of the lucky recipients to receive sponsorships," he said.

"This is great news because in the past the players had to cover their own expenses to go and compete internationally, but now if they have to make a contribution, it will be marginal. It's always a costly affair to attend international tournaments, especially in central, east or northern Africa, so this will help us a lot," he said.

The chances of Namibia participating in international matches this year, though, are diminishing by the day due to the ongoing Covid-19 pandemic.

Namibia is supposed to compete at the Africa qualifying tournament for the 2021 Indoor World Cup, in Durban, South Africa in September, after it was postponed from June.

With the Indoor World Cup taking place in Belgium in March 2021, time is running out and Nel said it was unlikely that the qualifiers will still take place.

"I chatted to the CEO of the South African Hockey Association yesterday and at this stage it looks highly unlikely. No one knows when the borders will open and there is no way that a team will agree to going into quarantine two weeks before and two weeks after a tournament, because that will put them at a distinct disadvantage," he said.

"If that's the case then the International Hockey Federation's directives regarding Covid-19 will come into force, which states that the country with the highest world ranking will then qualify for the World Cup. In that case Namibia's women's team will qualify because we are ranked 11th in the world, while South Africa is ranked 14th, while for the men, South Africa will qualify because they are ranked higher than us," he said.

Two other international tournaments, the Afcon qualifiers and the Afcon Junior Cup, which were due to take place this year, have already been postponed till next year, although the new dates and venues still have to be be finalised.

Nel, meanwhile, said they hoped to start playing soon again so that they can complete their local league obligations for the year.

"We recently had an exco meeting and will have a council meeting next week when we will propose to finish the Bank Windhoek Indoor League in July, because we just need three more weekends to finish it. Then we hope to hold the Bank Windhoek Outdoor League from the end of August to the end of October," he said.

Nel, however, warned hockey players to stick to the stringent guidelines that they have set.

"The NHU will now forward its guidelines for training and practise games, and league games at venues to the Namibia Sport Commission, which must approve them before we can start. There are a lot of precautions that we have to take, like sanitising the venue, taking players' temperatures, and regularly cleaning the balls - there's a long list that we have to implement,"he said.

"We hope to start practising next week, but we told the clubs and training squads not to do anything unless we get the green light from the government. The NHU will distance itself if one of our groups is caught by the authorities

training without any guidelines in place, and we will definitely also not pay the N$2 000 fine. I know everyone is keen to start playing again, but they will just have to wait a bit longer," he said.

The Namibian


---

Mumbai hockey gets the stick

Mumbai Hockey Association decides against challenging Hockey India's one-state-one-unit ruling that came into effect on Wednesday; no more Mumbai teams at Nationals

Subodh Mayure



Mumbai hockey players after winning the Sr Nationals in Bhopal in 2010

Representing Mumbai at the National Hockey Championships has always been a matter of pride and the list of India stalwarts this city has contributed over the past, is endless. However, Mumbai hockey teams will not be part of the Nationals now.

The Mumbai Hockey Association Ltd (MHAL) has decided against legally contesting Hockey India's (HI) move to withdraw MHAL's associate membership and recognise Hockey Maharashtra as the state's sole representative body for the sport as per the Lodha Panel's one-state-one-unit recommendation. The HI directive, issued in January, came into effect on Wednesday. Vidarbha Hockey Association, whose membership was also similarly cancelled, have approached the High Court.

"MHAL decided not to approach the courts, fearing we could lose not only our Hockey India membership but also our affiliation to Hockey Maharashtra. This would leave Mumbai hockey nowhere. However, while we have accepted Hockey Maharashtra's affiliation for now, we will await the court's verdict on Vidarbha [next hearing is on July 31]. If that goes in their favour, we can then approach the court with our case," MHAL secretary Ram Singh Rathore told mid-day on Wednesday.

For the players, however, it's an emotional detachment from a sport that has provided most of them a livelihood. "It's a sad day given Mumbai's hockey legacy," said 1980 Moscow Olympics gold medal-winning team member MM Somaya, who won the Junior National title with Mumbai back in 1976 in Belgaum. "Currently, only Union Bank and Central Bank are recruiting city players and that too on a contractual basis. Teams like Western or Central Railway and Indian Navy recruit players from outside Mumbai. Now, Mumbai companies will think twice before hiring hockey players as their chances of going on to represent the state and hopefully India will reduce drastically," said Somaya.

Conroy Remedios, who was captain when Mumbai won their last Senior National title in 2010 at Bhopal, said his Mumbai jersey remains his most cherished possession. "I feel proud to have represented Mumbai consistently from 1998 to 2015. At National tournaments, people always looked up to Mumbai players, given our contribution to the Indian team over the years. All that is over now," rued Remedios.



Ramsingh Rathore & MM Somaya

Somaya felt the uniform application of the Lodha Panel recommendations is inappropriate. "The Lodha recommendations were made for better administration but cannot be uniformly applied everywhere. A case in point is Mumbai, which has a thriving hockey eco-system, including the best leagues, employers, players and sponsors. A representation should be made to the Indian Olympic Association, asking them not to weaken Mumbai's hockey system as that will hurt the national hockey scenario," said Somaya.

Remedios said the consequences will be felt right down to the grassroot level. "If there are no jobs for hockey players in Mumbai, why will kids take up the game here? I hope our current players get a fair chance in the Maharashtra team," said Remedios.

MHAL president Mangha Singh Bakshi assured they will. "Hockey Maharashtra has been very cooperative and assured us that Mumbai players will be well represented in the state team. Besides, other than our top tournaments like Guru Tegh Bahadur, Bombay Gold Cup and the Super League, we plan to add a few more to provide more opportunities for our city players," said Bakshi.

Mid-Day


---

Hockey Ireland EuroHockey Club Competitions Representatives for 2020/21

On the 6th of May earlier this year, the 2019/2020 EYHL season was declared null and void by the Hockey Ireland Board due to the ongoing COVID-19 situation. It was also decided that the European representatives for the EuroHockey Club competitions were to remain the same for the next season, and in the same order.

This decision has since been appealed by Lisnagarvey Hockey Club under the rules of Hockey Ireland. The appeal panel met on Monday the 29th June with the relevant parties and concluded that the appeal should be upheld.

The Panel determined that Lisnagarvey Hockey Club shall be given the first place in the nominations for European Club Competitions for the 2020/2021 season, which means the club will be the representative for Ireland for the EuroHockey League. With the order changed by this decision the Irish representatives for Europe are as follows:

- Pegasus Hockey Club Women will retain their position as the representative in the Euro Hockey League Final

- Lisnagarvey Hockey Club's Men are now the representative for the Euro Hockey League

- Loreto Hockey Club Women retain their position as the representative for the EuroHockey Club Trophy

- Three Rock Rovers Hockey Club Men are now the representative for the EuroHockey Club Trophy II

Irish Hockey Association media release


---

Anna O'Flanagan: Ireland's record breaker




Remarkably, almost two years have passed since Ireland striker Anna O'Flanagan and her Green Army team stunned the sporting world by claiming the silver medal at the Vitality Hockey Women's World Cup London 2018.

Their run to the final was as unexpected as it was brilliant. Ireland entered the competition with an FIH World Ranking of 16 – the second lowest of any of the 16 nations competing in London – but finished second highest in the standings behind Alyson Annan's all conquering Netherlands team. 

The achievement in London captured the imagination of sports fans globally and, as star striker O'Flanagan herself admits in this interview, has dramatically raised the sport's profile in Ireland, as proven by the 6000 fans that flocked to Dublin's Energia Park Stadium for two sell-out FIH Olympic Qualification matches against Canada in November 2019. Two incredibly tense clashes against the Canadians finished scoreless, but the home fans did not leave disappointed. Ireland's women secured Olympic qualification for the first time in their history thanks to a dramatic 4-3 victory in the shoot-out.

At what is clearly a very special time for Irish women's hockey, Anna O'Flanagan – Ireland women's all-time top scorer with 81 goals in 207 appearances – talks to FIH about her team's monumental achievements in London and Dublin, their ambitions for next year's delayed Tokyo Olympics and the importance of enjoyment whilst striving to become a better hockey player.

Hi Anna, thanks for talking to us. You have enjoyed some wonderful times with the Green Army in recent years, famously claiming silver at the Vitality Hockey Women's World Cup London 2018 and securing a first ever Olympic qualification for the now delayed Tokyo 2020 Games with a dramatic shoot-out win over Canada in front of 6000 fans at Dublin's Energia Park Stadium. How do you reflect on these incredible moments, and what is your biggest ambition in the years ahead?

Anna O'Flanagan: "The World Cup was just absolutely magical for us, there is probably no other way to describe it. It was just incredible from start to finish. To get a silver medal and reach that final was absolutely amazing. I think the Olympic Qualifier was something special for our team as well, it probably wasn't pretty on the day, but we got there in the end and that is the most important thing. Securing that ticket to Tokyo was all that mattered to us. Our ambitions for the road ahead are really focussing on getting to Tokyo and doing the best we can. Not only 'just' getting to Tokyo, but also really performing at the Olympic Games, trying to compete at the top level."

Who or what first influenced you to pick up a stick and play hockey?

Anna O'Flanagan: "I suppose when I was younger, I just played every sport that I could. I played football, tennis, golf – anything that I could really do. I think my parents knew that hockey was quite popular in Dublin amongst girls, and they knew a lot of my friends would probably be playing it as I grew older, so they got me involved. I was maybe around seven or eight [years old] when I got my first stick, and absolutely loved it from the get-go."

Who has been the biggest influence on your career and why?

Anna O'Flanagan: "I think it is really hard to pick just one person. I think I've learned a lot from every single coach that I've had. I also think I'm probably quite self-driven, so I really push myself as much as I can, putting pressure on myself. Obviously, there has been a lot of girls that I've played with that I really look up to, and I aspire to be like them. I've definitely gained inspiration from a lot of different sources."

How would you best describe your playing style or attitude on the pitch?

Anna O'Flanagan: "I think I'm pretty passionate when I play – I really care a lot about all of the teams that I play for, and I am definitely pretty ruthless. I just want to win at all costs, so definitely very competitive."

What moment on the pitch are you most proud of and why?

Anna O'Flanagan: "It has to be qualifying for the Olympic Games. It certainly wasn't the prettiest or the nicest hockey that has ever been played, or the nicest conditions, but for us as a team and me as an individual, it is something that we have always aspired to achieve. We've been working on it for so many years, so to eventually achieve that dream is so special. To be able to do it in Dublin in front of a home crowd was incredible."

What would be the best advice you could give to aspiring young hockey players?

Anna O'Flanagan: "I think that young players just need to get out there and try as many things as you can. Don't specialise too early in certain things, just learn as many skills as possible and try to get good at as many as you can. I also think, just enjoy it. Enjoy playing with your friends and don't put too much pressure on yourself early on."

The ongoing COVID-19 global health crisis has had a profound effect on every aspect of life, sport included. Have you been able to resume any level of on-field training activities at this stage?

Anna O'Flanagan: "The last few months have been very difficult, I think, for everyone around the world. For us, we were busy training for the Olympics and, with the postponement there, things were all put on hold. Luckily, over the past couple of weeks we have been able to get out and train a bit more, and we'll be getting back out onto the pitch very shortly. We haven't quite got back out onto the pitch just yet, but we are getting close to it and we are looking forward to that."

Finally, your fairy-tale story at the 2018 World Cup in London, not to mention the sensational welcome you received on your return home, is well known and very well documented! How has what happened in London changed both your life and also the profile of hockey in Ireland?

Anna O'Flanagan: "Obviously the World Cup was incredible for Irish hockey – the welcome we received when we came home was something that I would never have anticipated in all my years playing hockey. I think for us, as a team, we are a little bit more recognised now, and we are really lucky that we have got a couple more sponsors on board, which has allowed us to train a bit more full-time. I think it terms of our lives, I know that my life hasn't changed a whole lot. I'm still having to balance everything, playing for Ireland and other things. Yes, it is amazing for Irish hockey. We have definitely put it on the map, and we have big ambitions as to where we want to go. It has definitely changed the sport in Ireland forever."

Profile*: Anna O'Flanagan – Ireland
Position: Forward
Shirt number: 26
Age: 30
International appearances: 207
International goals: 81
Club: Muckross HC (IRL)
Hometown: Dublin (IRL)

You can follow Anna O'Flanagan on Twitter and Instagram.

* Information correct as of 1 July 2020.

FIH site


---

From a wheelchair-bound hockey player to being sports minister — The journey of Sandeep Singh

By Suraj Iyer



Sandeep Singh (Source: Facebook)

Popular known as Flicker Singh in Indian Hockey, Sandeep Singh has a comeback story like none other. Portrayed by Diljit Dosanjh in the movie Soorma which is based on Singh's life, a lot of factors came into the journey of Sandeep Singh from humble beginnings to holding the position of Sports Minister of Haryana today.

Singh's initial fascination wasn't with the sport in the first place. It started by feeling jealous over his brother Bikramjeet Singh's kit and hockey gear. After pleading to his mother Daljit Kaur Singh, she agreed to get him his own kit and gear if he starts playing hockey. This initial fascination for the hockey gear turned into his debut for the Indian national hockey team in 2003 for the Junior world cup held in Karachi. This was Singh's defining moment by scoring the highest number of goals in the entire tournament – 12 goals, which was the first time India secured the cup in its history. It was also his first steps towards becoming the best drag flicker in Indian hockey. He was later selected for the 2004 Athens Olympics, being the youngest member of the Indian hockey team who got selected by national selectors after witnessing his impressive skills in the Sultan Azlan Shah Cup.

His impressive streak continued until an incident at the age of 20 that changed him forever. Singh was on a journey from Chandigarh to Delhi by the Shatabdi express, a train that was frequented by politicians and other important personalities which automatically resulted in travel of armed guards. An RPF officer seated behind his compartment accidentally pulled the trigger while cleaning his rifle which rendered Sandeep in a coma for days. This bullet resulted in damage to his spine, kidney and other organs which resulted in drastic weight loss. Willing to change his mental attitude to being positive, he called his brother for a hockey stick so he could sleep with it. Bikramjeet Singh was stated as one of the major motivational factors for Sandeep's recovery.

After being discharged from the hospital, the Indian Hockey Federation covered costs for Sandeep Singh's physical rehabilitation in Netherlands. Sandeep trained rigorously for nine months to make a comeback that would leave everyone impressed. He was in a wheelchair for six months but his brother's inspiring words kept him going. His determination and grit saw a comeback in the 2008 Azlan Shah Cup for the entire country as he scored nine goals which bought India in the finals after 12 years.

His main objective later was to keep pushing for India's Olympic dream by turning captain and qualifying for the 2012 London Olympics, but sadly Team India couldn't perform as expected.



Sandeep Singh the Sports Minister of Haryana (Source: Facebook)

Since his journey in hockey, Sandeep Singh now holds a DSP rank in Haryana. He made his debut in politics when Bharatiya Janata Party approached him and he contested in the assembly elections. This resulted in his victory of becoming and MLA and the sports minister of Haryana which has allowed him to bring many necessary reforms in Indian hockey including female coaches for the women's team, increase in allowance for sportspersons and a structured system of applying for leave for coaches.

To once think that a boy from a small town called Shahabad in Haryana would become one of India's best talents in hockey and later the sports minister is an inspiration that many hockey players today look up to. Sandeep Singh's story is nothing short of grit, dedication, discipline and passion for hockey.

The Bridge


---

SASHOC | ??????? ??? ????? ????????!

We are super sad that the South African Schools Hockey 2020 inter-provincial tournaments (IPT) have all been cancelled! Together, SportWays together with SASHOC and the Ayakhanya Foundation, we are making history and have created the virtual hockey experience of the decade! Join us!
 
????????? ??? ??-???? Web Series
 
Together we will relive the u16 girls, u16 boys, u18 girls and u18 boys inter-provincial tournament (IPT) 2019 FINALS with the head coaches of the teams! We will watch footage of the games from WebSports and discuss key moments and performances! It's going to be truly EPIC! The skills.... the drag flicks.... the goals... the umpiring decisions .... the tactics!! We are going to have it all!

Watch the best u16 and u18 players in the country! Watch these players play in the high pressure IPT finals and make the SA teams!

Want links to watch ALL the finals?? We will post in the comments below!
 
Details
7pm 02 - 28 July 2020 (every Thursday starting today!)
R100 all-access tickets! (4 x live events so only R25 each)
ONLINE ~ Join us on your laptop, tablet or cellphone. You will not need a fancy device or front camera to connect with us, for a seamless live-stream experience you simply need a stable internet connection.

This is an ???????? ?????? ?????-?? ???????????? ?????????? and promises to be a hockey experience like no other! SportWays SA has teamed up with SA Schools Hockey Association (SASHOC) to help the Ayakhanya Foundation to deliver food parcels to our hockey community in Khayelitsha.
Grab your IPT Re-Live ticket here 
Join the FREE Umpires Episode here 
 
#Relivethemagic #StickTogether

SA Hockey Association media release


---

On The Surface

Ashley Morrison

When he was elected President of the International Hockey Federation in Dubai in November 2016 Dr Narinder Batra stated in his presentation prior to voting, "I would like to take Hockey across the globe, extend the boundaries." He went on to say "if you want to grow and you want Hockey to remain in the Olympics hockey has to spread, and nowadays everything is calculated in terms of how much is your viewership, how much you earn out of it, which I call reach and revenue. Reach means expand your boundaries. We can't restrict ourselves to Top 10 or 12, it has to be spread, and spread across the globe. That is when your reach will increase."


---

Loddon pub landlord sets up hockey pitch in car park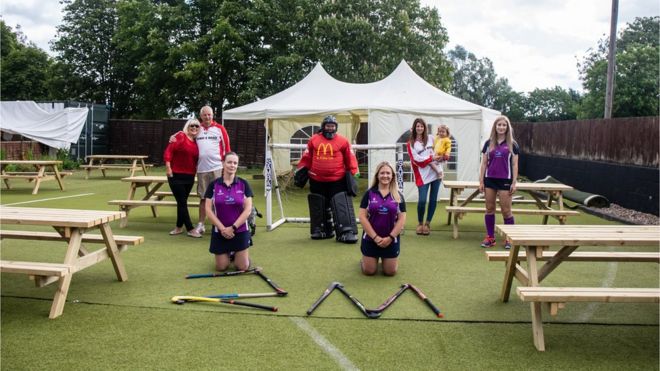 Philip Taylor got members of the local women's hockey team to help set up social distance markings. Image copyright Carl Davison

A landlord has taken a novel approach to social distancing for when he reopens his pub's doors - by setting up a hockey pitch in the car park.

Phil Taylor said he needed some more outside space to accommodate patrons when the Kings Head in Loddon, Norfolk, opens on Saturday.

He said when he spotted the artificial hockey pitch - complete with sticks and net - on eBay, he snapped it up.

Hockey sticks have been used to mark out more than 2m (6ft) between benches.

Mr Taylor said: "I needed some more outside space because we are not a huge pub and the social distancing is something we must all adhere to.

"I thought why not put something on the car park, I went online for artificial grass and on eBay there was this hockey pitch.

"I thought what a brilliant idea, I'll buy that."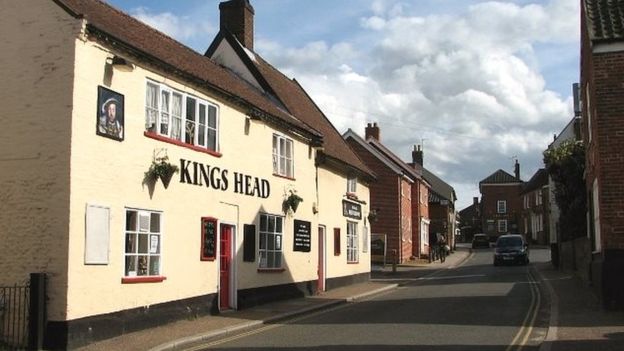 The Kings Head is on Bridge Street in Loddon, Norfolk. Image copyright Evelyn Simak/Geograph

Mr Taylor, who has been at the Bridge Street pub for 16 years, said the pitch is about 600 sq m (6,460 sq ft) and cost £400.

He said it was fitting to have a hockey pitch as he sponsors the local club.

Players helped him set out all the sticks to mark the space between the benches.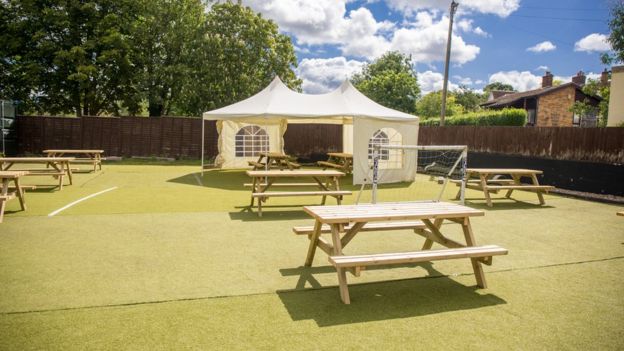 Mr Taylor said he put the hockey pitch on the car park to enable more space for social distancing. Image copyright Carl Davison

"We can all stay safe and have a good time," said hockey fan Mr Taylor.

"Loddon is only a small village and people are waiting for this, people need to get out, people have had enough of it really.

"We need to all be sensible, stay safe, I've got screens up and I've got staff training going on, we should all be OK."

BBC Sport