All the news for Monday 22 December 2019

Indian Hockey: A season of optimism

India's hockey teams made the most of the opportunity to not only qualify for the Olympics but also prepare for the test ahead

By Naveen Peter

2019 will be remembered as a year when the India hockey teams took most of their opportunities: including the biggest one of them all: Olympic qualification.

While India were devoid of some major competitions to participate in, their commendable performances at the FIH Olympic Hockey Qualifiers in the end of the season stole the limelight for both the men's and women's hockey teams of the country.

The men's team, led by Manpreet Singh, enjoyed a relatively easy season that culminated in them handing Russia an 11-3 drubbing on aggregate to seal their place at the Olympics.

Meanwhile, the women had their inspirational captain Rani Rampal to thank for, who showed great character to eke past the USA in a nail-biting match-up and punch their tickets to Tokyo next year.

A season of opportunities

With most of the top teams engaging themselves in the brand new FIH Pro League, the Indian teams were largely restricted to playing teams ranked below them on the FIH charts this season.

Not dismayed by the situation at hand, the Indian hockey team chose to make the most of the opportunity and fielded a number of youngsters as they set sights at their long-term future. While the men's team had the likes of Vivek Sagar Prasad and Hardik Singh, the women's team saw the rise of Lalremsiami and Sharmila Devi.

Prasad, the 19-year-old who was a part of India's silver-medal run at the 2018 Youth Olympics, was a constant fixture in the Indian side often sharing the midfield responsibilities with his captain Manpreet Singh and others.

Vivek Prasad: India's big hope for the future

Hardik, meanwhile, has proven to be a trusted link between the Indian defence and midfield and also carries an attacking flair that can prove to be of interest in the future.

Among the women, while Lalremsiami's rise to prominence has been a well-documented story, with her being nominated for the FIH Rising Star of the Year, it's Sharmila's performance that has taken many by surprise as well.

The 18-year-old has been a reliable force in the attack often, using her skills to stretch the defence and also has a knack of running into spaces to create goal-scoring opportunities.

Getting it right

With a new head coach, comes a new philosophy as well as a new playing style. While this can prove to be dangerous if not adapted in time, a smooth transition at times sees the team raise their game a few bars higher.

Caught in this conundrum of uncertainty were Manpreet and boys, who welcomed the experienced Aussie Graham Reid as their new head coach.

For a man who took the Kookaburras to the top of the rankings chart and helped them pocket a handful of titles during his tenure, the Indian job was meant to be a daunting one. But with a series of matches that were all but a tune-up to the Olympic qualifiers in the winter, Reid had enough opportunities to get his team combination right before the all-important matches.

While the squad rotation policy remained intact throughout the season, Reid slowly worked through his way with the team till he got it right. Helping him in this endeavour was his trusted lieutenant Chris Ciriello, India's analytical coach. Having worked with Reid in the past as a player, Ciriello knew exactly what his fellow countryman wanted from the side in various situations.

Though nothing much changed in the women's team concerning their backroom staff, head coach Sjoerd Marijne got an entire season to fine-tune his team into a well-oiled machine that could challenge the best in the business on any given day.

The Indian women's team grew from strength to strength throughout the season as they took the learnings from their tours and bettered themselves at every possible turn.

Be it going toe-to-toe with the reigning Olympic champions Great Britain, or dominating the FIH World Series Finals in Japan, or the nail-biter against the USA for a place at the Olympics, the Rani Rampal-captained side barely disappointed anyone with their efforts.

Reserves to the fore

Talk to Indian goalkeeper PR Sreejesh about his time with the senior team and he will inadvertently take you back to the time when he was a deputy to the likes of Bharat Chettri and Adrian D'Souza, spending long hours sitting on the bench and watching the senior pros guard the stick.

While Krishna Pathak, Suraj Karkera and Rajani Etimarpu spent most of their time on the same iron benches till this season, a relatively less daunting season saw the Indian teams give their reserve goalkeepers enough opportunities to get valuable match experience ahead of the Olympic year.

The move not only saw the goalkeepers only come up with some fine performances that helped them build confidence, but also commit some rudimentary errors that ended up costing the team. Like the one Pathak made during the shoot-off against South Korea in the final of the Sultan Azlan Shah Cup.

Banking on the performances this season, one can hope to see the Indian hockey teams shift gears and take their game much higher as they prepare for the all-important Olympic challenge next year.

Olympic Channel


---

Action-packed day of Scottish Men's Indoor National League 1




Both Inverleith and Grove Menzieshill were triumphant in their final league encounters, leaving the Edinburgh side top of the pile by two points.

Dundee Wanderers finished in third place after a win, draw and defeat, while Grange were only a point behind in fourth following seven points from their three games.

The opening session of the day provided two crucial encounters, and none more so than the Tayside derby between Grove Menzieshill and Dundee Wanderers, the former emerged 4-2 winners to stretch their lead over their rivals to four points.

However, there was only a goal between the sides at the interval, Albert Rowling converting from the spot for Grove Menzieshill.

Grove Menzieshill proceeded to add to their tally after the break with Rowling completing his hat-trick and Jamie Golden adding the other for a four goal lead going into the final minutes. Wanderers suddenly came to life with Sean Dowie and Bobby Ralph finding the target, but much too little too late to change the course of the match.



Photo by Mark Pugh

Leaders Inverleith were also facing a difficult opener against champions Western Wildcats and triumphed 4-1 to keep their two point advantage over second placed Grove Menzieshill at the time.

After a goalless first 13 minutes the Edinburgh side took the lead through Patrick Christie and Jack Jamieson.

Christie added a third from the spot midway through the second half. Joe McConnell pulled the score back to 3-1 soon after, but the result was finally sealed with a penalty corner conversion by Ewen Mackie.

In the other games of the opening session Grange moved up the table to fourth with a comfortable 5-1 win over Uddingston, the catalyst was a hat-trick from Dan Coultas.

Simon Naughton scored first for Grange in ten minutes, to be followed by two set piece strikes by Coultas for a 3-0 half-time lead.

Uddingston`s Blake Hinton made it 3-1 but it failed to alter the course of the game with Coultas and Naughton again adding to their tally.

Grove Menzieshill`s second outing of the day came at the end of the first session, and the former champions swamped Clydesdale 12-4 to move into pole position, now a point ahead of Inverleith.

It was 4-0 at the interval courtesy of a hat-trick from Cameron Golden and Olly James got the other.

The avalanche continued to flow for Grove Menzieshill after the break, Golden added another two to his personal tally making five for the match, Luke Cranney scored three, while other goals came from Jamie Golden, Albert Rowling and finally Ross McPherson.

Clydesdale`s Struan Walker also made his mark on the occasion with his own hat-trick with captain Gordon Amour getting the other.

In the second session Inverleith confirmed their pole position with a 3-0 win over Uddingston, thereby preserving their two point lead at the top.

Veterans Derek Salmond with a double and Stephen Dick with the other were the men on target Inverleith without reply.

The tussle for third place was finally decided when Dundee Wanderers and Grange fought out a 4-4 battle, leaving the Dundonians a point ahead.

Grange romped into a 4-1 lead with a double from Callum Milne and other strikes by Alan Johnston and Josh McRae while Elliott Sandison replied for the Taysiders.

However, Wanderers were not to be outdone, Sean Dowie and a brace from Bobby Ralph brought the score back to 4-4, and that how the contest finished. The result was that Wanderers finished in third spot and Grange fourth.

Earlier Grange put a dent in Wildcats` day with a 4-2 win, leaving the champions in the lower reaches of the competition.

The contest was tied at 2-2, Andrew McConnell`s double was countered by Simon Naughton and Dan Coultas from a penalty corner. But it was the Edinburgh side that took the initiative with two further strikes by Callum Milne for the three points.

In the other games Dundee Wanderers beat Dunfermline 4-2 but the Fifers recovered to to see off Clydesdale 6-5 leaving the Titwood-based side bottom of the pile.

Scottish Hockey Union media release


---

Hockademy boost for KL juniors

KUALA LUMPUR: Youngsters in the capital city will get a chance to feature in the Malaysia Hockey League again with the entry of Hockey Academy of Kuala Lumpur in the tournament which begins on Jan 10.

The club are owned by the KL Hockey Association (KLHA) president Datuk Seri Megat D. Shariman Zaharudin and will compete in both the men's and women's national league.

The objective of the Hockey Academy, better known as Hockademy KL, is to provide a platform for juniors to play in the MHL.

"We want to have a KL club to groom players for the future. We used to have KL Hockey Club taking part in the MHL for more than a decade and they did well to win silverware in the MHL.

"But the club have stopped competing in the league for the last two years. So we decided to have a club from KL. By having Hockademy, we can develop the juniors to put up a strong challenge in the league in five years.

"We also want to have a larger pool of players for both the national juniors and senior teams," said Megat, who will be forking out close to RM250,000 for both the men's and women's teams in the MHL.

Megat said that they hired two former internationals, midfielder Harvinder Singh and defender Baljit Singh Sarjab to lead the men's team in the MHL.

"Most of our players are juniors and we have two players who are 16. It will be more of exposure for the players in next year's league," said Megat.

The men's team will be coach by ex-international S. Selvaraju and they will start training next week.

The women's team are handled by K. Gobinathan and powered by six national players Wan Norfaiezah Saiuti, Fatin Syafika Mohd Sukri, Nuraini Abdul Rashid, Kirandeep Kaur, Nuramirah Syakirah Zulkifli and Qasidah Najwa Mohd Halimi.

Eight teams will feature in the men's league. The others are overall reigning champions Terengganu, league champions Universiti Kuala Lumpur (UniKL), Tenaga Nasional, TNB Thunderbolt, Maybank, Nur Insafi and Universiti Teknologi Mara (UiTM).

Six teams will compete in the women's league and the other teams in the fray are Terengganu Ladies Hockey team, Blue Warriors, PKS-Universiti Tenaga Nasional, Mutiara Impian-MSSPP-PSHA and Sabah.

The Star of Malaysia


---

Irish hockey twins Bethany and Serena Barr use sport to continue sister's legacy

By Tori Watson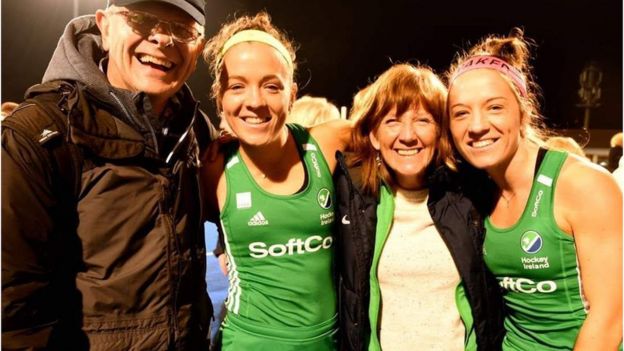 Bethany and Serena Barr pictured pitchside with their mum and dad. Image copyright Barr family

For the Irish women's hockey team, 2020 will be a year not to be forgotten with the squad set to make its Olympic debut.

But for County Armagh team members, Bethany and Serena Barr, it will also be significant as it marks the tenth anniversary of their sister's passing.

Charlene Barr, who was born with cystic fibrosis, died at the age of 20.

Before her death, Charlene began raising money to build a school in Uganda - a legacy her family continues.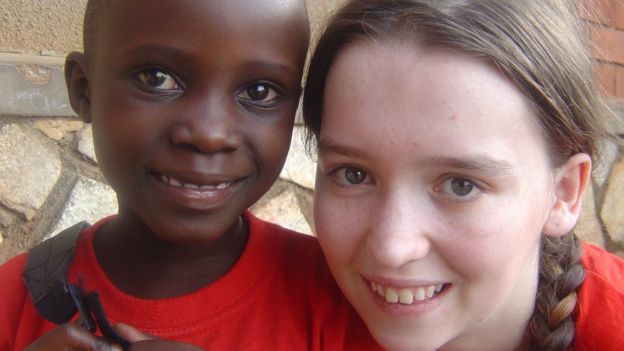 Charlene pictured during a family holiday to Uganda in 2008. Image copyright Barr family

"Charlene had to drop out of school while she was on the double-lung transplant waiting list," explained Serena.

"She decided: 'If I can't go to school, I want others to be able go to school.'

"But unfortunately, Charlene passed before the school could be built."

Serena added: "Through reading her journals when she died, we as a family knew this wasn't a one-off thing - so we've kept going at what she started."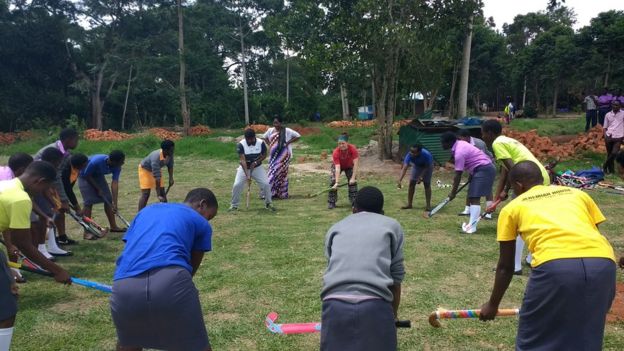 Bethany coaching hockey at a school supported by Charlene's Project in Uganda. Image copyright Barr family/ Charlene's Project

Since then, the twins and their family have travelled to Uganda on numerous occasions to visit the schools they have been supporting, and have even managed to incorporate their beloved sport.

"We brought hockey to some of the work we were doing in Kampala and to the rural schools," said Bethany.

"Some of them had played hockey before, but some of the others had never seen it.

"But the kids absolutely loved it. They loved the opportunity to try a new sport and to have fun.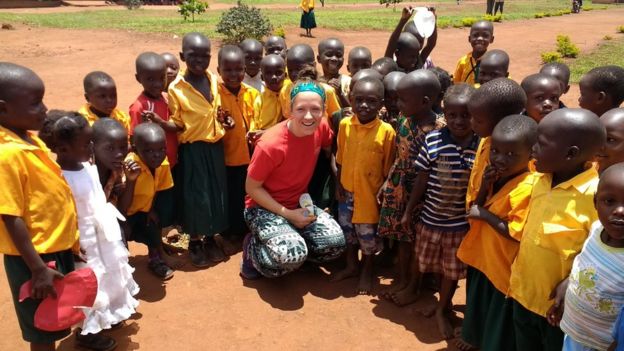 Charlene's Project now supports eight schools in Uganda. Image copyright Barr family/ Charlene's Project

"In a lot of cases, the children don't get the chance to just be kids and play, so it's really great to be able to do something that can make that happen."

And when it comes to how the 24 year olds perform on the pitch, they believe a lot comes down to shared experience.

"We love playing beside each other, or in front of each other," said Bethany.

"You just know what the other twin is going to do.

"Maybe it's a twin thing, or maybe it's just because we've played our entire hockey careers together.

"Either way, we're very blessed."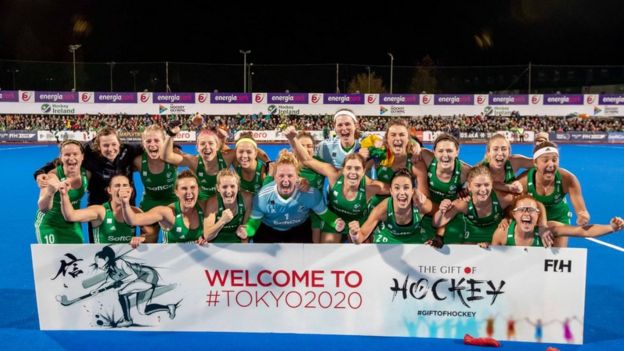 The Ireland women's hockey team qualified for the Olympics for the first time, following a shootout win against Canada Image copyright Barr family

Anyone who watched Ireland's play-off against Canada will know it was a nail-biting affair, right to the bitter end.

But how do the twins cope with the pitchside pressure?

'Steeliness and stubbornness'

"In sport, I think, it's easy to allow your last performance to dictate how you're going to play," said Serena.

"We have it tattooed on our arms and we constantly say it to each other that we are playing for an audience of one, and that's God."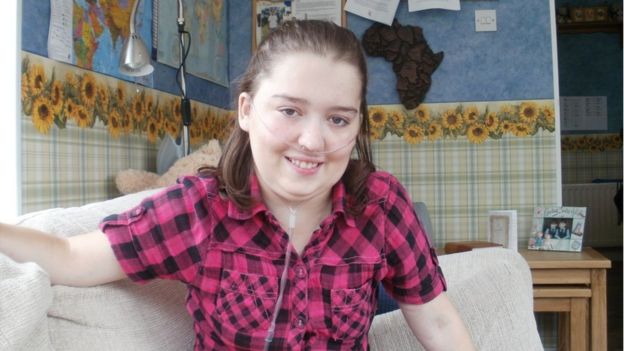 Charlene Barr. Image copyright Barr family

The "steeliness and stubbornness" of their sister Charlene is also a massive inspiration, said Bethany.

"She didn't let any of the difficulties or setbacks in her life hold her back.

"Something we've learned is to face obstacles head on. We're lucky that we can do that together, and that's what gets us through the hard days."

BBC Sport

---

Kenyan Sports Legend Jack Simonian passes away

by Dil Bahra



Jack Simonian at a hockey event in London on 19 November 2019

Kenya's Sporting legend Jack Simonian passed away in Sydney, Australia last night. He was 84, having just celebrated his birthday on the 15th December.

Jack, who lived in the UK, had gone to Australia for a three months holiday on 5th December.

He was a household name in Kenya from the late fifties until the late eighties, firstly as a motor cycling Champion, then motor Rallying and hockey. He represented Kenya at three Olympic Games.

Full article to follow

Sikhs in Hockey

This is particularly sad for me as Jack was a very good friend of mine. He represented Kenya in Rome !960, Tokyo 1964 and Mexico 1968 Olympics where he was awarded the Goalkeeper of the Tournament accolade. His award was an FIH tie (a relic of the strictly amateur status of the Games at the time) which he presented to me for my 50th birthday without explanation where he got it from. Only many years later I figured out how he might have come by the tie and asked him to elaborate which was when I discovered about his award. He should have gone to the Munich 1972 Olympics, but work commitments kept him at home.

Rest in Peace my friend, you will be sorely missed.