All the news for Monday 9 December 2019

2019 Indoor Test matches RSA v IRL - 4th Test
Cape Town

8 Dec 2019     RSA v IRL     6 - 1

FIH Match Centre


---

Hat-trick Hero Hack leads the Hosts Home




The fourth test of the inaugural indoor hockey test series between SPAR South Africa and Ireland Indoor Hockey took place at the Bellville Velodrome in the Western Cape last night. The South Africans headed into the game on the back of a 17-match unbeaten run stretching back to January and led the series 3-0. They were expecting a backlash from the Irish in game four in front of about 2000 spectators.

Although Ireland were probably hoping to strike early, they were met by a wave of South African attack that was not of the surfable variety. The hosts hit the post early on from a penalty corner as Cindy Hack deflected Jess Lardant's pass. They did not have to wait long to take the lead though. Amy Greaves fired the ball through to Hack, who with her back to goal spun and fired home with the instinctive feel of someone who is playing in her 98th test match.

Hack may be the dream of many young players in the crowd, but she turned into a nightmare for the Irish defence. South Africa moved a ball up field quickly to Hack, she found a pocket of space and surged forward before the inch perfect pass to Robyn Johnson. Johnson herself then squared a ball timed more perfectly than AB de Villiers for Hack to walk into the goal and give the hosts a 2-0 lead.

There was an element of fortune for South Africa in the second quarter when Eloise Walters scored to make it 3-0. The shot from Walters, returning from a cruciate ligament injury in her knee, was powerful and it caused the error from O'Brien in deflecting it into her own net. There was no fortune for South Africa in the fourth goal. 10 seconds after Jess Lardant was given a green card, Amy Greaves produced another sublime ball through which Hack ran onto and slid into the bottom left corner to seal her hat-trick and a 4-0 half time lead.

The South Africans refused to slow down though and in the third quarter added another 2 goals and more gloss to the score line. Jess Lardant got her first of the series from a 24th minute penalty corner, showing just how good the South African options at PC time are. Kara Botes added her own goal late in the quarter to make it 6-0 to the hosts.

The Irish girls would give their travelling fans as well as those watching on the live stream something to smile at in the final quarter. Orla Patton took a quick free hit, caught the South Africans napping and a flat ball across found Amy Benson who made no mistake for her first ever Indoor International Goal. Although it turned out to be nothing more than a consolation there was a lot of delight for the European team as the goal went in.

SPAR Test Series

Durban – Danville Park Girls High School
First Test - Wednesday 4 December – South Africa 2-1 Ireland
Second Test – Thursday 5 December – South Africa 2-1 Ireland

Cape Town – Bellville Velodrome
Third Test – Saturday 7 December – South Africa 5-0 Ireland
Fourth Test – Sunday 8 December – South Africa 6-1 Ireland
Fifth Test – Tuesday 10 December – 10:20
Sixth Test – Tuesday 10 December – 19:00

SA Hockey Association media release


---

SEA Games 2019 (Men) - Day 5
Laguna (PHI)

8 Dec 2019     SGP v THA (RR)     1 - 1 (0 - 1)
8 Dec 2019     MAS v PHI (RR)     5 - 0 (3 - 0)

Pool standings
| Rank | Team | Played | Wins | Draws | Losses | Goals For | Goals Against | Goal Difference | Points |
| --- | --- | --- | --- | --- | --- | --- | --- | --- | --- |
| 1 | Malaysia | 4 | 4 | 0 | 0 | 19 | 0 | 19 | 12 |
| 2 | Thailand | 4 | 2 | 1 | 1 | 10 | 4 | 6 | 7 |
| 3 | Singapore | 4 | 2 | 1 | 1 | 8 | 10 | -2 | 7 |
| 4 | Myanmar | 4 | 1 | 0 | 3 | 6 | 14 | -8 | 3 |
| 5 | Philippines | 4 | 0 | 0 | 4 | 2 | 17 | -15 | 0 |
---

SEA Games 2019 (Women) - Day 5
Laguna (PHI)

8 Dec 2019     THA v SGP (RR)     10 - 0 (5 - 0)
8 Dec 2019      CAM v MAS (RR)     0 - 10 (0 - 5

9 Dec 2019     THA v SGP (SF1)     4 - 0 (2 - 0)

Pool standings
| Rank | Team | Played | Wins | Draws | Losses | Goals For | Goals Against | Goal Difference | Points |
| --- | --- | --- | --- | --- | --- | --- | --- | --- | --- |
| 1 | Malaysia | 4 | 3 | 1 | 0 | 30 | 2 | 28 | 10 |
| 2 | Thailand | 4 | 3 | 1 | 0 | 23 | 3 | 20 | 10 |
| 3 | Singapore | 4 | 1 | 1 | 2 | 4 | 16 | -12 | 4 |
| 4 | Philippines | 4 | 1 | 0 | 3 | 4 | 24 | -20 | 3 |
| 5 | Cambodia | 4 | 0 | 1 | 3 | 7 | 23 | -16 | 1 |
---

Men's Junior AHF Cup 2019 - Day 5
Muscat (OMA)

8 Dec 2019     UZB v IRI (Pool A)     2 - 0
8 Dec 2019     SGP v OMA (Pool B)     1 - 4

Pool standings
| Rank | Team | Played | Wins | Draws | Losses | Goals For | Goals Against | Goal Difference | Points |
| --- | --- | --- | --- | --- | --- | --- | --- | --- | --- |
| 1 | Uzbekistan | 3 | 2 | 1 | 0 | 7 | 3 | 4 | 7 |
| 2 | China | 2 | 2 | 0 | 0 | 8 | 2 | 6 | 6 |
| 3 | Thailand | 2 | 0 | 1 | 1 | 2 | 4 | -2 | 1 |
| 4 | Sri Lanka | 2 | 0 | 1 | 1 | 3 | 7 | -4 | 1 |
| 5 | Iran | 3 | 0 | 1 | 2 | 2 | 6 | -4 | 1 |
---

New Zealand U21 Women return from Australia with plenty of experience gained




The New Zealand U21 Women's team took off for tri-series in Canberra where they would take on the best U21 players from Australia and India in a two-round competition.

The New Zealand side featured several players with international experience and they were looking to those players to help them throughout the week-long tournament.

New Zealand got their week started off in the best possible fashion when they stunned the home side Australia 3-1 thanks to goals to Olivia Shannon and a double to Hope Ralph. The side looked composed in the opening match and play some outstanding hockey as the stopped the Australians from finding their way back into the contest.

Next up was India where the side struggled to overcome an against the run of play goal at the end of the first quarter as India would go on to take the contest 2-0.

The New Zealand Women had a day off between their next match and would look to refocus and put in two great performances to finish off the week.

Australia were a renewed team in their second match with New Zealand as they came out firing and put themselves in the lead 2-0 before New Zealand looked to claw their way back into the match with a 53rd minute goal to Olivia Shannon that gave New Zealand a chance at the comeback, unfortunately the Kiwis were unable to overcome the deficit as Australia would score a goal just before the end of the match to take the win 3-1.

Heading into the final match of the week for the Kiwis against an Indian side who still had a chance to win the tournament, New Zealand got themselves on the front foot early when Olivia Shannon scored her third goal of the tournament. India then stormed back into the contest with 4 goals as they would go on to take the match 4-1.

New Zealand Head Coach Katie Glynn commented on the week "We were really happy with how the team played throughout the week, playing in the hot conditions against quality sides who have been preparing for this series for a long time was always going to be tough, The side will return to New Zealand having had the chance to be competitive and grow as hockey players. The team was able to see the bigger picture and played some outstanding hockey throughout the week".

New Zealand's Olivia Shannon finished the competition as the leading goal scorer with 3 goals from the 4 matches that she played in.

Match One

New Zealand 3 (Olivia Shannon 3 min, Hope Ralph 47, 52 min)
Australia 1 (Aisling Utri)

Hockey New Zealand Media release


---

India women's hockey team turn attention to Tokyo 2020

Back in Bengaluru for the national camp, head coach Sjoerd Marijne insists the team is focused on delivering consistent performances.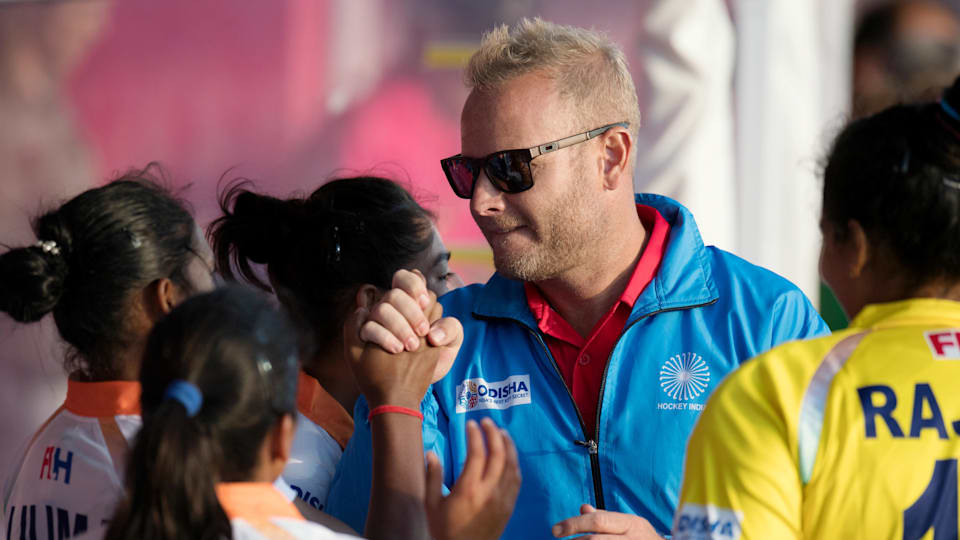 The head coach of the Indian women's hockey team Sjoerd Marijne believes that its important to keep the players fresh building up to the 2020 Olympic Games. Image courtesy: Hockey India

It's been a year to remember for the Indian women's hockey team.

While qualifying for their second straight Olympic Games was surely the highlight for the Sjoerd Marijne-coached side, the team also put on some great displays throughout the season as they lined-up against some of the big names in women's hockey in Great Britain, Spain and South Korea.

But with the all-important 2020 Olympics around the corner, the team knows that they have no time to enjoy the highlights reel and will have to hit the ground running as soon as possible.

Sjoerd Marijne: Target Tokyo 2020

Back in Bengaluru for the national camp just weeks after their dramatic win over the USA at the FIH Hockey Olympic Qualifiers, Marijne was keen to ensure that the team was already working towards the Tokyo Olympics next year.

"We have chartered out our plans for the next seven months and we have a clear vision of what we need to improve on and the level we seek to achieve ahead of the Olympics," Marijne shared to Hockey India.

"While we play some very good teams in the lead up to the Olympics where we look forward to achieving consistent performances, it is very important to keep the players' minds and legs fresh."

Looking back at the two-legged qualifiers, Marijne insisted that he was not pleased with the way the team almost threw away the tie, however, their fighting ability gave him enough reasons to hope, going into the Olympic year.

Sjoerd Marijne's honesty

"The review meeting earlier this week was not all about 'well done, congratulations' but it was more about how we almost threw away the second match. I expressed my anger without mincing any words. The way we played the first two quarters in the second match against the USA in the Olympic Qualifiers was something we never want to repeat again," said the Dutchman.

"A major take away from that match was the team's ability to fight back. That is the quality I really like about this team. They will never give up and they have on several occasions shown that burning desire to win and to play at home against a strong team calls for a lot of nerves."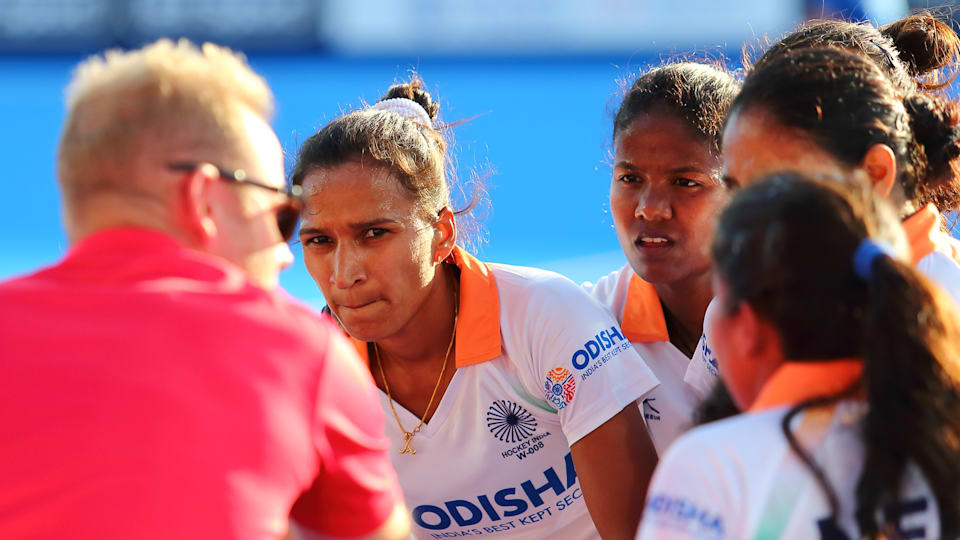 Indian skipper Rani Rampal believes that the presence of 10 players who played the 2016 Rio Olympics will help the team to prepare well for Tokyo 2020. Image courtesy: Hockey India

A better prepared Rani Rampal

Meanwhile, skipper Rani Rampal sounded confident building towards the 2020 Olympic Games and insisted that the team will be better prepared for the challenge that awaits them at Tokyo 2020. "We did not have a great tournament in Rio, but we got the experience of playing at an Olympic Games," she said.

"Currently, we have 10 players in our squad who were a part of the team that participated in Rio, and with the huge improvements that we have made to our game since then, I am really confident of targeting a podium finish in Tokyo."

Olympic Channel


---

ROUND-UP: Men's Hockey League




A hat-trick from Ed Horler helped Wimbledon beat play-off rivals Old Georgians 4-2 in the Men's Hockey League Premier Division on Saturday, in the final set of matches before the winter break.

He struck first after ten minutes, and after Tom Carson had levelled for the visitors Horler's second goal on 35 minutes put the hosts ahead at half time.

Ian Sloan added another on 38 minutes from open play before Horler completed his hat-trick to put Wimbledon 4-1 ahead. Carson pulled another goal back for OG on 55 minutes, but it wasn't enough to salvage the win.

Leaders Surbiton secured an emphatic 7-0 win over the University of Exeter on Saturday evening, with Alan Forsyth also scoring a hat-trick while other goals came from Luke Taylor, Ben Boon, Tom Sorsby and David Goodfield.

Elsewhere, East Grinstead overcame Holcombe 4-3 in Saturday evening's other match.

Joe Naughalty bagged a brace for EG while other came from Chris Griffiths and Tijn van Groesen.

Nick Bandurak scored a hat-trick for Holcombe, but it wasn't enough to take the win.

Hampstead & Westminster are third in the table after a 4-3 win at Brooklands MU on Sunday.

Sam French opened the scoring from open play after nine minutes before Peter Flanagan levelled for Brooklands in the 23rd minute.

Hampstead went ahead with Chris Cargo scoring on 29 minutes, before further goals from Rhodri Furlong and Rupert Shipperley put the visitors 4-1 ahead with 12 minutes left.

Brooklands added further goals from James Sutcliffe and Peter Flanagan, but they couldn't quite do enough to avoid defeat.

Harrison Smith's two first half goals helped Reading to a 2-1 victory over visitors Beeston, for whom Elliot Barton was the scorer nine minutes from time.

Division One North

Three goals from Jack Pritchard plus two each from Gareth Furlong and Charles Hunte helped Cardiff & Met win 8-1 over Sheffield Hallam and narrow the gap at the top of the Division One North table.

With Ellis Robson also scoring, Cardiff's win on Saturday night helped bring hem to within one point of leaders University of Durham, who could only draw with Loughborough Students on Sunday.

Max van Laak scored both Durham's goals, but Laurie Bowden and Matt Ramshaw struck for Loughborough to ensure a share of the points.

Elsewhere Leeds and the City of Peterborough had to settle for a point each from a 2-2 draw, while the University of Birmingham were 3-1 winners at the University of Nottingham. Bowdon came away from Olton & West Warwicks with a 4-0 win.

Division One South

Six different players got on the scoresheet for second-placed Sevenoaks as they beat Brighton & Hove 6-2 in the Men's Division One South.

Tim Warrington, Sam George, George Torry, Ed Matts, Jason Doherty-Bigara and Craig Wild claimed goals, while for Brighton it was Mike Burney and Steve Perry.

Leaders Oxted were 3-1 winners over Southgate with their goals coming from Nick Giles, Sam Driver and Chris Webster.

Elsewhere Havant were 5-0 winners at Canterbury with Manuel Silvetti scoring two and others coming from Atiq Arshad, Michael Deller-Merricks and Miguel Rodrigues.

Fareham and Oxford Hawks drew 1-1, while Team Bath Buccaneers ran out 5-3 winners over Teddington.

Conference East

Leaders Wapping emerged 4-3 winners in Saturday evening's match at Spencer in the Conference East, goals coming from Will Cairns, Ben Bull, Michael Batstone and Aaron Blumfield.

Cambridge City are second after a 2-0 win at Harleston Magpies, Matthew Anderson and Eddie Harper claiming their first half goals.

Like Wapping, Chichester secured a good away win thanks to goals from Oscar Pacey, Alex Holton and Ollie Baxter. which gave them a 3-2 win at St Albans.

Conference North

Belper's lead at the top of the Conference North table was cut to one point as they lost out 3-2 at Lichfield, who had Rob Gray (2) and Seb Sellner to thank for the goals.

Second-placed Timperley also lost, 6-2 at Barford Tigers, for whom Damian Jarzembowski scored four goals.

Deeside Ramblers also missed a chance to go top of the table after drawing 5-5 at Doncaster, while elsewhere Preston ran out 3-1 winners over Didsbury Northern.

Conference West

Goals from Will Jones and Cameron Green helped the University of Bristol to a 2-0 win at Cheltenham which boosts their title hopes in the Conference West.

Elsewhere, Harborne were 7-1 winners over strugglers university of Exeter 2s with Louie Morris scoring twice.

And Cardiff University won 4-3 at Khala Leamington with goals from Isaac Hocking, Matt Goldsmith, Will Hopkins and Oskar Kolk.

* Statistics, full scores and tables from the Men's Hockey League are available by clicking here.

England Hockey Board Media release


---

Cookstown stun Pembroke as UCD end Rovers' reign; Tarf and Railway on track for big showdown



Paul Thompson tackles Alex Burns. Picture: Alan Donnelly

Ulster Premier side Cookstown produced a thrilling comeback to defeat top tier Pembroke to reach the final four of the Irish Senior Cup joining UCD, Glenanne and Lisnagarvey on a weekend where Three Rock Rovers were dethroned.

Cookstown came from two goals down to win 3-2 in a tie which will live long in the memory.

"That was a brilliant game," said Cookstown's Greg Allen. "We were 2-0 down and were a bit slow getting into the game, but we rallied and changed a few things around the back at half time. That seemed to make all the difference.

"At 2-2 I don't think we looked like losing. We just kept at it and kept at it, and in the fourth quarter Scotty McCabe popped up with the finish from a great move.

"Pembroke were definitely good for their lead in the first half though. They're a quality side with a lot of quality players, and they made it very tough.

"Being two down made our job pretty simple in the second half. We had nothing to lose – it's the quarter final of the Irish Senior Cup after all – and we knew that we had to throw everything at them, give it a rattle and see what happened. Thankfully, we got the goals we needed for the game to go our way."

Alan Sothern sent Pembroke ahead in the first quarter with a superb deflection before Jack Ryan doubled the Dubliners' advantage from the tightest of angles. Pembroke were good value for their 2-0 half time lead, slinging the ball around at pace and causing problems across the pitch.

Cookstown came out swinging in the second period, however, with Stuart Smyth smashing home from the short corner set piece to halve the deficit in quarter three.

Jack Haycock had a memorable half, finding himself on the sidelines through a green card before sending Cookstown level with an unstoppable drag flick at the start of quarter four. He then missed a penalty flick, but finished the half on top with a series of big tackles to keep his team in the match.

The moment of the game came with two minutes to go. Mark Crooks started the move inside his own half, finding Smyth infield. His reverse pass beat the tiring Pembroke defence to pick out Greg Allen on the baseline. The striker used all his experience to draw the Pembroke goalkeeper out and square for Scott McCabe to force the ball over the line for 3-2.

Pembroke managed a final foray into the Cookstown circle, but Josh McCabe in goal was equal to the danger, saving well to send the Reds into the next round where they will meet UCD.

The students inflicted a first cup defeat in Irish knock-out competition on Rovers since February 2017, ending a run of 34 successive victories for the Rathfarnham club.

Michael Styles' student side held on for a 3-2 success at Belfield, a brilliant first half performance laying the base for the result.

Andrew Meates put them in front in glorious fashion, his deflection hitting the top corner from Jazze Henry's reverse-stick cross. Iain Styles added the next two for a commanding 3-0 lead at the big break and seemingly set fair.

Rovers, though dominated the second half and were back in the mix courtesy of third quarter efforts from Ross Canning and James Walker, setting up a tense final quarter.

UCD held on, however, with Max Maguire making a string of awesome stops while Ziggy Agnew made some big last-ditch tackles. Canning was denied from a penalty stroke for a potential equaliser and UCD went through to the semi-final and a shot at a first ever Senior Cup final appearance.

It ended Rovers' two-year reign in this competition, winning nine matches along the way in this competition along with 12 in the Neville Cup, nine in the Mills Cup and four in the EY Champions Trophy.

The other side of the draw saw Glenanne get the best of Monkstown 2-0, overturning a heavy league defeat against the same opposition.

Johnny McCormack put the Glens 1-0 up in the second quarter before Shannon Boucher made the game safe at the start of the final stanza.

They were reasonably good value for the results, hitting the post in the first quarter from a penalty corner rebound too while edging the corner count 4-2.

Lisngarvey never looked in any danger of relinquishing their unbeaten record as they swept past Cork C of I at Comber Road.

Indeed, they could easily have racked up an even bigger score had they not been uncharacteristically wasteful in front of goal.

It took them just seven minutes to break the deadlock as Daniel Nelson swept home a pin point cross from Ollie Kidd.

Andy Williamson and Nelson both went close and then, from a rare Cork attack, Ireland captain Jonny Bell made a brilliant goal-line clerance.

But Garvey added to their tally in the 29th minute when Williamson sent a drag flick low into the net from a penalty corner.

Two minutes from the break, Troy Chambers made it 3-0 in similar fashion as Garvey continued to dominate.

In the 42nd minute, after James Corry had fired over, Peter McKibbin put the game to bed when he scored from the penalty spot after Kidd had been upended by the Cork keeper.

Williamson's penalty corner effort crashed off the post in the 47th minute but Garvey had the final say when he made amends to score his second shortly afterwards following a terrific assist from Ben Nelson.

In Leinster Division One, Railway Union and Clontarf continued their winning streaks to set up a huge showdown next Saturday in the battle for Christmas number one.



Three Rock Rovers Ben Walker tries to shoot under pressure from UCD's Jazze Henry. Pic: Adrian Boehm

Railway beat Avoca 3-2, shaking off the Blackrock side who twice had the game level courtesy of goals from the prolific Richard Couse. But a Michael Fulham double and one from Daragh Curley saw the Sandymount side home.

Tarf, meanwhile, were too strong for Kilkenny with an 8-2 win. The first came from a corner rebound from Jordan Edmonds; Kevin Mullins got the next before David McClure scored a stylish reply, a great individual run which ended with a strike from the top of the D.

Davyn Keuter, however, made it 3-1 before half-time; Alan O'Malley put further distance between the teams with a great lobbed effort. Mullins, O'Malley and Edmonds all got their second with Kevin Murray getting in on the act with Eddie Healy getting the Kilkenny single response in the second half.

Portrane were 4-3 winners over Rathgar to go up to third place. They took the lead five minutes in after being awarded a stroke for a poor tackle; Imran Khan converted to make it 1-0, the first of an eventual hat trick.

Rathgar were level by the end of the first quarter after Andy Malcolm deflected in a Stuart Malcolm pass from a corner.

Portrane were counter attacking well and won a short corner in the second quarter. While the push out was poor, the ball was worked to Khan to grab his second after he slotted his shot into the corner.

He then completed his treble after winning the ball in midfield and beat three players and the goalkeeper, 3-1 at half-time. Rathgar pulled a goal back to make it 3-2 from a Mark Holland deflection. Portrane restored their two-goal lead with a miraculous deflection from Stephen Rogan.

Stu Malcolm made it 4-3 with five to go but Rathgar were unable to find an equaliser.

Dublin North got their second win in a week with Adrian Sweeney, Paddy Gahan, Michael Gahan and Shane Dempsey contributing to their 4-2 win over Bray.

Irish Senior Cup quarter-finals: Cookstown 3 (S Smyth, J Haycock, S McCabe) Pembroke  2 (A Sothern, J Ryan); Glenanne 2 (J McCormack, S Boucher) Monkstown 0; Lisnagarvey 5 (A Williamson 2, T Chambers, D Nelson, P McKibbin) Cork C of I 0; UCD 3 (I Styles 2, A Meates) Three Rock Rovers 2 (J Walker, R Canning)

Leinster Division 1: Avoca 2 (R Couse 2) Railway Union 3 (M Fulham 2, D Curley); Dublin North 4 (A Sweeney, P Gahan, M Gahan, S Dempsey) Bray 2 (S Fleming, S Brennan); Portrane 4 (I Khan 3, S Rogan) Rathgar 3 (A Malcolm, M Holland, S Malcolm); Kilkenny 2 (D McClure, E Healy) Clontarf 8 (A O'Malley 2, J Edmonds 2, K Mullins 2, D Keuter, K Murray)

The Hook


---

UCD end Three Rock Rovers's remarkable run in Irish Senior Cup

Michael Styles' student side hold on for a 3-2 success in the Irish Senior Cup quarter-finals



UCD's Mark Samuel (right) takes on Three Rock Rovers's James Walker during their Irish Senior Cup match at Belfield. Photograph: Inpho
 
UCD inflicted a first cup defeat on Three Rock Rovers since February 2017, ending a remarkable run of 34 successive victories for the Rathfarnham club.

Michael Styles' student side held on for a 3-2 success in the Irish Senior Cup quarter-finals at Belfield, a brilliant first half performance laying the base for the result.

Andrew Meates put them in front in glorious fashion, his deflection hitting the top corner from Jazze Henry's reverse-stick cross. Iain Styles added the next two for a commanding 3-0 lead at the big break and seemingly set fair.

Rovers, though dominated the second half and were back in the mix courtesy of third quarter efforts from Ross Canning and James Walker, setting up a tense final quarter.

UCD held on, however, with Max Maguire making a string of awesome stops while Ziggy Agnew made some big last-ditch tackles. Canning was denied from a penalty stroke for a potential equaliser and UCD went through to the semi-final and a shot at a first ever Senior Cup final appearance.

It ended Rovers' two-year reign in this competition, winning nine matches along the way in this competition along with 12 in the Neville Cup, nine in the Mills Cup and four in the EY Champions Trophy.

In the semis, UCD will meet Cookstown after the Ulster Premier side stunned Pembroke 3-2. The top tier Dubliners seemed to be cruising at 2-0 at half-time thanks to Alan Sothern and Jack Ryan goals.

But Stu Smyth's goal gave the Co Tyrone side hope before Jack Haycock became the central figure.

He emerged from the sin-bin to net the 2-2 goal but missed a stroke soon after. Atoning for that, Haycock made some heroic defensive interventions, keeping his side level long enough before Scott McCabe nicked in with a 68th minute winner.

The other side of the draw saw Glenanne get the best of Monkstown 2-0, overturning a heavy league defeat against the same opposition.

Johnny McCormack put the Glens 1-0 up in the second quarter before Shannon Boucher made the game safe at the start of the final stanza.

Their opponent will be Lisnagarvey who had far too much in the tank for Munster Division One side Cork C of I, 5-0. Daniel Nelson, Andy Williamson and Troy Chambers had them well clear by the big break to keep the visitors at bay.

The Irish Times


---

McCay's last second magic completes another amazing Pegasus comeback



Pegasus celebrate Shirley McCay's last minute winner. Pic: Billy Pollock

Pegasus produced yet another almighty comeback to beat Pembroke and move clear in women's EYHL; Old Alex and UCD recorded good wins while Corinthian added yet another victory in EYHL2

Pegasus 4 (L McKee, N McIvor, A Speers, S McCay) Pembroke  3 (A Ward, A-K Trevor, A Naughton)

Pegasus staged an incredible comeback to move three points clear of Pembroke at the top of the EY Irish Hockey League after trailing 3-0 to the Dubliners in an enthralling contest at the Dub, writes John Flack.

The defending champions looked dead and buried and strangely out of sorts as they conceded three times in the opening quarter.

But the fact they had more than 50 minutes to regroup proved to be a blessing in disguise as they fought back brilliantly, scoring three goals in the space of 12 second-half minutes to level.

With the game seemingly heading for a draw, Shirley McCay popped up to score the winner with the last play of the game.

Pegasus coach Greg Thompson declared: "We started really slowly and they punished us but I always thought we could came back even at 3-0 down although I didn't expect us to leave it so late."

Alice Ward ghosted behind the home defence to net the opener after only three minutes and, three minutes later, Amy Kate Trevor doubled the Pembroke lead with a superb backhand shot.

Ireland star Gillian Pinder was causing Pegasus all sorts of problems at that stage and she released Sinead Loughran, whose cross was converted by Aisling Naughton at the back post on 18 minutes.

After a scoreless second quarter, Lucy McKee started the fightback in the 43rd minute with a terrific solo effort, displaying excellent camogie skills before firing high into the net.

Three minutes later, Alex Speers set up schoolgirl Niamh McIvor who converted at the back post and, all of a sudden, it was game on.

With 15 minutes left, Speers hammered home the equaliser from the edge of the circle after a great 'advantage' from umpire Linda Coughlan and Pegasus sensed the game was there to be won.

As the game entered the final 30 seconds, Pegasus were awarded a penalty corner and McCay swept the ball home for a dramatic winner.

Cork Harlequins 2 (N O'Leary, E Barber) Old Alex 3 (N Evans 2, O Bools)

A Nikki Evans inspired Old Alex moved back into the top three a they held Cork Harlequins at bay at Farmers' Cross for their fourth win from six outings to date in the league. The Irish international tipped in for a seventh minute opening goal from an Emma Russell pass for the only goal of the first quarter.

Orna Bools tapped in the second from a nice move down the left wing that was crossed into her path. Evans then fired in her second of the day before half-time from another flowing move.

Niamh O'Leary pulled one back in the 47th minute before Emma Barber made it three penalty corner goals in two games but it came with less than two minutes to go. It means the Cork side are still waiting for their first win of the campaign.

Muckross 1 (E Hughes) UCD 3 (N Carey, C Cope, H McLoughlin)

Early goals from the in-form Niamh Carey and Charlotte Cope put UCD in the frame for their third win of the season, strengthening their place in the top half of the table.

They were ahead from minute one as Sara Patton embarked on a typical run down the right flank and while her cross was blocked, Hannah McLoughlin retrieved and weaved an opening. Her push beat the goalkeeper with Carey on the right post to make extra sure.

Cope's goal was a strong backhand shot from top D after Katie-Jane Marshall's pass against the grain from halfway gave her enough space to work the opening. Muckross worked hard throughout the second quarter with Marshall and Lena Tice soaking up the pressure to limit the damage.

The Donnybrook hosts were right back in contention in the 43rd minute – with Tice in the sin-bin –  when Jane O'Brien sped away from her marker and picked out Estelle Hughes in the circle. She brilliantly met the ball to control into the path of her second touch, a rasping reverse-stick shot that beat the sliding Clodagh Cassin.

But the game was settled toward the end of the third quarter when McLoughlin's penalty corner slap skipped all the way into the backboard down the goalkeeper's stick-side.

EYHL Division 2 round-up

Corinthian continued their awesome form as they raided Lurgan for all four points on offer, giving them a full 16 out of 16 to date in EY Hockey League Division 2's Pool A.

It was a real battle with Lurgan taking an early lead courtesy of Charlene Hull with a penalty corner strike. The reds, meanwhile, saw Rebecca Spence save a penalty stroke soon after but they kept plugging away and equalised before half-time thanks to Milly Lynch.

And Jodie Douglas won the day in the third quarter for Corinthian who had to defend a late series of penalty corners for their 2-1 success.

Trinity strengthened their hold on second place in the group with a 6-2 win over Cork C of I. Ruby Keating opened the scoring in the 14th minute from some lovely link play; Ailish Long got a second when Issy Delamer's perfectly weighted overhead pass was controlled and finished.

And the students were 3-0 up at half-time from a cracking hit by Alex Burns into the circle which Amy Buttimer was able to deflect in. Sally Campbell and Rachel Burns added goals in the second half before Kay Gaffney got one back for the Cork side from a well-worked set piece.

Erica Markey made it 6-1 before Mel Ryan converted a C of I stroke. The result lifts Trinity to 12 points with Lurgan on eight and Cork C of I on six with the top two to go through.

Monkstown won the one game on in Pool B, 2-1 against UCC. Jenny Clein had given the Cork side the advantage from a corner but Aine Naughton equalised before the end of the first quarter.

Jen Hamill won it for Town in the third quarter, lifting the Dubliners up to second place on 12 points while UCC's losing bonus point leaves them on nine. Ards remain top on 14 with Queen's on four and Greenfields on 1. The latter two sides have a game in hand which will be played in February.

Pool A: Lurgan 1 (C Hull) Corinthian 2 (M Lynch, J Douglas); Trinity 6 (R Keating, A Long, A Buttimer, S Campbell, R Burns, E Markey) Cork C of I 2 (M Ryan, K Gaffney)
Pool B: UCC 1 (J Clein) Monkstown 2 (J Hamill, A Naughton)

The Hook


---

McCay's late strike completes Pegasus fightback against Pembroke Wanderers

Defending champions seal 4-3 victory having trailed 3-0

Mary Hannigan



Pegasus's Shirley left Pembroke shattered when she fired home with the last action of the game. Photograph: Inpho
 
Shirley McCay completed a remarkable Hockey League comeback for Pegasus at Queens on Saturday when her goal on the stroke of full-time gave the Belfast side a 4-3 victory over Pembroke Wanderers, having trailed 3-0.

It's the second time in the space of a week that the defending champions produced a gutsy recovery having beaten UCD 3-2 the previous Saturday after falling 2-0 behind early in the game.

Pembroke, top of the table on goal difference ahead of Pegasus going in to the tie, had a dream start when Alice Ward and Amy Kate Trevor put them 2-0 up in the opening seven minutes, with Aisling Naughton's fourth goal of the season making it 3-0 by half-time.

But two goals in the space of three third quarter minutes brought Pegasus back in to it, Lucy McKee and Niamh McIvor their scorers, with Alex Speers then levelling the game with a quarter of an hour to go.

The flow of goals ceased, though, until the home side won a short corner right at the death, McCay leaving Pembroke shattered when she fired home with the last action of the game.

Pegasus, then, return to the top of the table, three points clear of Pembroke who are now joined on 12 points by Old Alexandra who survived Cork Harlequins' own attempt at a big comeback on Saturday.

Alexandra were cruising come half-time, a Nikki Evans double helping them to a 3-0 lead, but their advantage was narrowed to a single score when Niamh O'Leary and Emma Barber pulled two back for Harlequins. They held on, though, to make it three wins out of three from their away games in the campaign so far, moving up from fourth to third in the table.

UCD, meanwhile, moved up to share fourth spot in the table with Loreto, who weren't playing at the weekend, after beating Muckross 3-1, Niamh Carey's fifth of the campaign giving them the lead in the first minute, before Charlotte Cope doubled their advantage. Estelle Hughes pulled one back for the home side, but Hannah McLoughlin wrapped up the points for the students from a third quarter penalty corner.

Results: Hockey League - Saturday: Pegasus 4 (L McKee, N McIvor, A Speers, S McCay), Pembroke Wanderers 3 (A Ward, A K Trevor, A Naughton); Cork Harlequins 2 (N O'Leary, E Barber), Old Alexandra 3 (N Evans 2, O Bools); Muckross 1 (E Hughes), UCD 3 (N Carey, C Cope, H McLoughlin).

The Irish Times


---

Great opening day to Women's Indoor National League 1




Champions Dundee Wanderers, Clydesdale Western and Inverleith share top spot in the women`s indoor National League 1 table after the first day`s round of games at the Bell`s Sports Centre in Perth.

So also do Watsonians after a 3-2 win over Grange in the final game of the day, although the Edinburgh side have played a game more.

Champions Dundee Wanderers opened the defence of their title with a bang, a commanding 10-0 victory over Grange to lay down their stall for the season.

A hat-trick from Amy Snell was the only thing that divided the sides by the interval. But in the second half the goal avalanche continued to flow, there were doubles for Emily Dark and Milly Skidmore while the singles emanated from Heather Howie, Vikki Bunce and Ellie Wilson for Wanderers to move into double figures.

In the second match Watsonians seem to take their good outdoor form to the indoor version of the game with a 6-2 win over Edinburgh University.

But it was not always plain sailing as the contest stood poised at 2-2 at one point, Nikki Stobie and Bethan Mann put Watsonians ahead twice, only to be pegged back by Sophie Pettegree and Ella Watt replying for the students.

Watsonians then moved well ahead, Emily Newlands scored a hat-trick and Heather Tait got the other in a comfortable victory in the end.

Grove Menzieshill have for years been a major force in the indoor game but today they went down 7-2 to Inverleith. Two from Sophie Hinds and another by Sarah Jamieson gave the Edinburgh side a three goal lead before Sam Sangster pulled one back for the Taysiders.

However, the second half belonged to Inverleith with Sarah McKay getting a double and both Hinds and Jamieson adding to their first half strike, Rhiannon Carr getting Grove`s consolation.

The final game in the first session saw Clydesdale Western see off Hillhead 5-2.  There were two strikes each for the Titwood-based outfit from Jen Eadie and Bronwyn Shields with Millie Steiger getting the other. Hillhead`s goals came from Jenny Sinclair and Carla MacNiven.

Edinburgh University opened their account this indoor season with a 5-2 win over Grange. The students roared into a five goal lead, Sophie Pettegree scored three times and Ella Watt twice, but Grange finally got a couple of consolations through Laura Protheroe and Beth Goodyear.

Wanderers continue to look impressive, in their second outing they produced a commanding display to defeat Watsonians 8-2. The champions were three up at the interval through Nina Becker, Emily Dark at a penalty corner and Amy Snell.

The Taysiders advanced their tally to seven through a double from Vikki Bunce and also from Dark again and Jess Ross. A mini-revival from the Edinburgh side with strikes from Heather Tait at a penalty and Catriona McLellan bringing the score back to 7-3, but in overtime Bunce completed her hat-trick at a set piece.

Clydesdale Western also joined Wanderers at the top of the table with a 6-4 win over Grove Menzieshill.

The first half was an even affair on the scoresheet with Bronwyn Shields and Jen Eadie netting for the Glasgow side and Ellie Stott and Molly Godfrey replying for the Taysiders.

In the second half Clydesdale moved into the gallop with two goals from Millie Steiger and another by Eadie putting them into a 5-2 lead. Although Pauline Stott scored twice for Grove Menzieshill near the end, any revival was cut short by another strike from Eadie for her hat-trick.

Inverleith continued their impressive form with a magnificent seven against Hillhead in their second outing. Sarah Jamieson was top scorer with a hat-trick, a total of five for the day, Sarah McKay got two while the others came from Katie Swanson and Carly Bisset.

In the final additional game of the day Watsonians beat Grange 3-2 courtesy of a hat-trick by Emily Newlands.

Scottish Hockey Union media release


---

Wapda win Pakistan's National Junior Hockey C'ship




LAHORE-Pakistan Wapda outclassed Pakistan Customs to emerge as title holders in the 36th National Junior Hockey Championship 2019, which concluded here at the National Hockey Stadium on Sunday.

In the final, Wapda men were off to flying start as they fully dominated the final right from the beginning till the end. Wapda opened their account in the 9th minute through Ibrar Hussain, who fired in a field goal to provide his side 1-0 lead in the first quarter. Electricity men continued their dominance in the second quarter, as they netted another field goal through Yasir in the 23rd minute to double their lead.

Hammad Anjum also struck a field goal in the third quarter to give his side 3-0 edge in the third quarter while Wapda players were more severe in the fourth and last quarter, where they thrashed two more goals to win the match by 5-0. This time, Rana Waheed and Waqas Butt were goal scorers from the winning side. In the third position match, SSGC defeated Punjab A.

Pakistan Hockey Federation (PHF) President Brig (R) Khalid Sajjad Khokhar and former PHF Chief Chaudhry Akhtar Rasool graced the concluding ceremony as chief guests and distributed prizes and trophies among the position holders. Other notables present on the occasion were former Olympian and golden player of his era Manzoor Ahmad Junior, Khalid Hameed, Waseem Feroze, Qasim Khan, PHF Secretary Asif Bajwa and others.

The Nation


---

Mombasa club to play in top league

By AGNES MAKHANDIA



Kisumu Youngstars' Bonface Aliwa (left) vies for the ball with Mombasa Sports Club's Brian Magombe during their Kenya Hockey Union Super League match played at City Park Stadium on December 8, 2019. PHOTO | CHRIS OMOLLO |  NATION MEDIA GROUP

Coastal side Mombasa Sports Club (MSC) will play in the Kenya Hockey Union men's Premier next season.

MSC joined champions of the second-tier Super League, Parkroad Badgers, who finished the league with 48 points in qualifying for the top-fligh league after Sunday's matches played at City Park Hockey Stadium in Nairobi.

Parkroad finished five points ahead of MSC and Kenya College of Accountancy College.

MSC returned to the top-tier league, thanks to their 2-1 win against Impala on Saturday and a deserved 3-0 win against Kisumu Youngster.

But it was team's captain Mariano Emadau who had a perfect 33ed birthday gift as he scored the team's first goal in the 16th minute before Adaka Kilaini (20th) and Marvin Barasa (48th) scored one goal each.

MSC last played in the top league in 2016 and coach Fredrick Arika has welcomed the opportunity to play among Kenya's top teams.

"It's one thing to earn the promotion and totally a different thing to stay at the top. Ours has been a team effort and I believe the script will not be any different in the premier league," said Arika.

He added: "We are reaching out to sponsors and people of good will to come on board and support us. Whereas we get support from MSC, it has not been enough to sustain the club the whole season. I'm happy that we are back in the top-tier league," he said.

Daily Nation


---

Kampong's David Harte in the running for International Olympic Committee's Athletes' Commission




David Harte has been confirmed by the IOC as one of 30 athletes who will be seeking election onto the International Olympic Committee's Athletes' Commission next summer.

Four athletes will be elected at the Tokyo 2020 Olympics by Olympians onto the commission that was established in 1981 as an official body that serves as a link between athletes and the IOC, with a focus on ensuring that the athletes' viewpoint is at the heart of the Olympic Movement decisions.

The SV Kampong goalkeeper represented Ireland in the 2016 Olympic Games in Rio and has been recognised as one of the world's best goalkeepers, winning the accolade of FIH World Goalkeeper of the Year on two occasions.

The Cork man has been a member of the Olympic Federation of Ireland Athletes' Commission since 2017 and is currently the Secretary of the European Olympic Committees (EOC) Athletes' Commission.

Harte is an advocate of equality and fair play in sport. Learning about the confirmation of his inclusion on the panel of candidates seeking election next summer, he said: "I am very proud and pleased to be Ireland's candidate for election for the IOC Athletes' Commission.

"I really believe in the mission of the IOC Athletes' Commission in placing athletes at the heart of the Olympic Movement, and I would relish the opportunity to further implement this.

"As hockey team captain at Rio 2016 and World Cup 2018, honesty, trustworthiness and mutual respect were key to my leadership, and these are values which I will base my campaign on in the coming months.

"To have an opportunity to be the link between athletes globally and the IOC is something that really excites me and motivates me to be elected. I am not a fan of being a 'hurler on the ditch' and like to be proactive about being a voice for athletes.

"I believe strongly in providing equal opportunities for all athletes to support a successful Olympic campaign regardless of their background. My three main priorities in my campaign will be gender equality, athlete transition and focusing on the areas of anti-doping and the prevention of manipulation in sport."

Euro Hockey League media release