All the news for Sunday 8 December 2019

2019 Indoor Test matches RSA v IRL (W) - 3rd Test
Cape Town

7 Dec 2019     RSA v IRL     5 - 0

FIH Match Centre


---

SPAR South Africa sublime in opening Cape Town Test




The third test of the SPAR Indoor Series moved to Cape Town and to the Pro Series Indoor at the iconic Bellville Velodrome. The Velodrome that has played host to Kanye West, Kendrick Lamar, the Offspring and Bruce Springsteen previously is no stranger to iconic events and is the perfect host for the first ever indoor hockey series between the South Africans and the Irish.

After two very tight test matches in Durban, the two sides were preparing for an epic battle in front of a packed crowd at the Velodrome. Ireland started well with Zimi Shange forced into an early save an early penalty corner was awarded to the Irish. After Shange repelled the attempt from McKenna South Africa surged forward and got themselves an early goal.

Jessica O'Connor showed her class and danger at the penalty corner time and fired a bullet into the top corner giving Millie Regan no chance. The goal was particularly pleasing for the South Africans after their lack of finishing in the first two tests. SPAR South Africa would get a second before the end of the quarter as Kara Botes completed her own trademark goal from a penalty corner.

The South Africans continued to dictate play with coach Lennie Botha using an uncharacteristic full rotation of players and tactics that left Ireland trying to adapt as they worked out the change in plan. The best was yet to come through for the vociferous crowd backing their home team. Cindy Hack, playing in her 97th test match, produced a stunning moment of individual brilliance. Spotting a gap, the South African captain produced a slalom run that would make Winter Olympians proud and her finish past Regan was full of composure and class. It was a reminder of why Hack is so highly rated around the world and why so many kids look up to her.

Hack would turn provider for Robyn Johnson next. Johnson, playing on her birthday, made a perfect run that Hack picked out and Johnson got the inch perfect touch to guide the ball into the bottom left corner. The goal was a highlight for any sports person and the perfect birthday present for RJ.

Ireland continued to push forward but in Kara Botes, Jess Lardant and Jamie Southgate they were constantly being denied by defensive brilliance. In South Africa our mini-bus taxi's always have space for more, but the tackling of Jess O'Connor was consistently of the bus is full variety. And although O'Connor got a second goal, but the defender will be almost be more delighted with the tackling on display.

An international indoor hockey clean sheet, a 3-0 series lead and a thrilling performance in front of a packed velodrome sees South Africa in a good place half way through the series. More of the same? Yes Please.

SPAR Test Series

Durban – Danville Park Girls High School
First Test - Wednesday 4 December – South Africa 2-1 Ireland
Second Test – Thursday 5 December – South Africa 2-1 Ireland

Cape Town – Bellville Velodrome
Third Test – Saturday 7 December – South Africa 5-0 Ireland
Fourth Test – Sunday 8 December – 19:00
Fifth Test – Tuesday 10 December – 10:20
Sixth Test – Tuesday 10 December – 19:00

SA Hockey Association media release


---

3 Nations Invitational Tournament - Canberra (AUS) - Day 6
Under 21 Women's Outdoor

8 Dec 2019     AUS v IND (RR)     2 - 1

Final Pool standings
| Rank | Team | Played | Wins | Draws | Losses | Goals For | Goals Against | Goal Difference | Points |
| --- | --- | --- | --- | --- | --- | --- | --- | --- | --- |
| 1 | India | 4 | 2 | 1 | 1 | 8 | 4 | 4 | 7 |
| 2 | Australia | 4 | 2 | 1 | 1 | 7 | 6 | 1 | 7 |
| 3 | New Zealand | 4 | 1 | 0 | 3 | 5 | 10 | -5 | 3 |
---

India women beats New Zealand 4-1

Sharmila Devi (12th, 43rd), Beauty Dungdung (27th) and Lalrindiki (48th) scored the goals for India in their impressive victory against New Zealand.



Sharmila Devi (l) scored a brace in India's win over New Zealand.   -  BISWARANJAN ROUT

Sharmila Devi struck twice as the Indian junior women's hockey team secured a superb 4-1 win over New Zealand in its third match of the Three-nations tournament on Saturday.

India came from a goal down to defeat their opponents after New Zealand's Olivia Shannon (4th minute) had scored for her side.

It was Sharmila Devi (12th, 43rd), Beauty Dungdung (27th) and Lalrindiki (48th) who scored the goals for India in their impressive victory.

In a shaky start to the match, India conceded a penalty corner in the 4th minute, and New Zealand made the most of it as they scored through Olivia to make it 1-0 in their favour.

India fought back inside the first quarter and found the equalizer when Sharmila finished off a crisp team-move to make it 1-1 in the 12th minute.

Both teams had several chances in the second quarter as well, but neither could convert until India finally managed to convert their penalty corner in the 27th minute.

It was India's forward Beauty, who produced a sublime finish to give her team a much-deserved lead.

New Zealand did have a penalty corner at the stroke of the half-time break, but India's Bichu Devi Kharibam made a decent save to ensure India retained their 2-1 lead.

The start of the third quarter was slightly slower for both teams as they tried to implement different strategies.

Indian goalkeeper Bichu was called into action again in the 40th minute, but she made a diving save to protect her side's lead.

Three minutes later, it was India's chance to break away on the counter which saw Sharmila score her second field goal to extend India's lead to 3-1.

The confidence levels rose within the Indian team after scoring their third goal, and it was visible in the last quarter when they started aggressively.

In the 48th minute, India won themselves a penalty corner, and the resulting execution saw young forward Lalrindiki score past New Zealand's goalkeeper Kelly Carline to make it 4-1, and secure the win for her side.

New Zealand did try to pose a threat in the remaining minutes, but could not penetrate through the Indian defense which meant India registered their second win in three matches of the Three-nations tourament.

India will face hosts Australia in their fourth and final match on Sunday.

Sportstar


---

Indian junior women's team wins 3-Nations hockey tournament

India had seven points from four matches, ahead of host Australia on goal difference, with New Zealand finishing third with only three points from its four matches.



The Indian junior team and staff pose with the trophy after winning the Three-Nations Tournament in Australia on Sunday.   -  Special Arrangement

The Indian junior women's team tasted its first loss of the competition on Sunday, going down 1-2 to host Australia in the fourth match but still won the 3-Nations hockey tournament after finishing top of the points table.

India had seven points from four matches, ahead of hosts Australia on goal difference, with New Zealand finishing third with only three points from their four matches.

In the final match, Gagandeep Kaur scored the solitary goal for India in the 53rd minute to cancel out Abigail Wilson's 15th minute strike. However, the Australian youngster scored yet again in the 56th minute to give her team a 2-1 win.

It was a difficult first period for the Indian team as it was constantly put under pressure by the host. The visiting side had some chances of its own inside the first 15 minutes but failed to make the most of it.

In the 15th minute, Australia were awarded a Penalty Corner, and it was Abigail Wilson who stepped up for the hosts to make it 1-0.

India tried to make up ground in the second quarter, but some resolute defending by the home team meant that the visitors could not equalize inside the second quarter.

The Indians had a Penalty Corner in the 22nd minute, but could not force it on target. Another Penalty Corner came India's way in the 26th minute but Australia's Hannah Astbury made a diving save to help her team retain their one-goal lead.

Two minutes later, Australia had a glorious chance of extending their lead to two goals through a Penalty Stroke, but India's Goalkeeper Bichu Devi Kharibam made a fine save to keep the score down to 0-1 at the half-time break.

Both the teams had chances through Penalty Corners in the third period, but some good defending by both the sides meant that the outcome of the match would be decided in the last period. India had a couple of Penalty Corners in the third period but was denied by Australia's Astbury.

However, the start of the fourth quarter was different for India as it put the host under pressure from the start, and that resulted in the visiting team winning a Penalty Corner in the 53rd minute.

It was Gagandeep who stepped up to take the execution, and scored past Astbury to equalize for India.

But India could not stay on level terms for too long as three minutes later, it was Australia's Abigail who scored her second goal of the match through a Penalty Corner to snatch a 2-1 lead.

India tried to equalize for the second time during the remaining four minutes, but could not make the most of its chances as Australia registered a 2-1 win.

Sportstar


---

SEA Games 2019 (Men) - Day 4
Laguna (PHI)

7 Dec 2019     THA v MAS (RR)     0 - 2 (0 - 1)
7 Dec 2019     MYA v SGP (RR)     2 - 3 (1 - 1)

Pool standings
| Rank | Team | Played | Wins | Draws | Losses | Goals For | Goals Against | Goal Difference | Points |
| --- | --- | --- | --- | --- | --- | --- | --- | --- | --- |
| 1 | Malaysia | 3 | 3 | 0 | 0 | 14 | 0 | 14 | 9 |
| 2 | Thailand | 4 | 2 | 1 | 1 | 10 | 4 | 6 | 7 |
| 3 | Singapore | 4 | 2 | 1 | 1 | 8 | 10 | -2 | 7 |
| 4 | Myanmar | 4 | 1 | 0 | 3 | 6 | 14 | -8 | 3 |
| 5 | Philippines | 3 | 0 | 0 | 3 | 2 | 12 | -10 | 0 |
---

SEA Games 2019 (Women) - Day 4
Laguna (PHI)

7 Dec 2019     MAS v THA (RR)     2 - 2 (1 - 1)
7 Dec 2019      PHI v CAM (RR)     4 - 3 (3 - 1)       

8 Dec 2019     THA v SGP (RR)     10 - 0 (5 - 0)

Pool standings
| Rank | Team | Played | Wins | Draws | Losses | Goals For | Goals Against | Goal Difference | Points |
| --- | --- | --- | --- | --- | --- | --- | --- | --- | --- |
| 1 | Thailand | 4 | 3 | 1 | 0 | 23 | 3 | 20 | 10 |
| 2 | Malaysia | 3 | 2 | 1 | 0 | 20 | 2 | 18 | 7 |
| 3 | Singapore | 4 | 1 | 1 | 2 | 4 | 16 | -12 | 4 |
| 4 | Philippines | 4 | 1 | 0 | 3 | 4 | 24 | -20 | 3 |
| 5 | Cambodia | 3 | 0 | 1 | 2 | 7 | 13 | -6 | 1 |
---

Men's Junior AHF Cup 2019 - Day 3
Muscat (OMA)

7 Dec 2019     THA v UZB (Pool A)        1 - 3
7 Dec 2019     SRI v CHN (Pool A)         1 - 5
7 Dec 2019     HKG v TPE (Pool B)        0 - 4

Pool standings
| Rank | Team | Played | Wins | Draws | Losses | Goals For | Goals Against | Goal Difference | Points |
| --- | --- | --- | --- | --- | --- | --- | --- | --- | --- |
| 1 | China | 2 | 2 | 0 | 0 | 8 | 2 | 6 | 6 |
| 2 | Uzbekistan | 2 | 1 | 1 | 0 | 5 | 3 | 2 | 4 |
| 3 | Iran | 2 | 0 | 1 | 1 | 2 | 4 | -2 | 1 |
| 3 | Thailand | 2 | 0 | 1 | 1 | 2 | 4 | -2 | 1 |
| 5 | Sri Lanka | 2 | 0 | 1 | 1 | 3 | 7 | -4 | 1 |
---

Ayeisha McFerran listed for FIH Hockey Stars award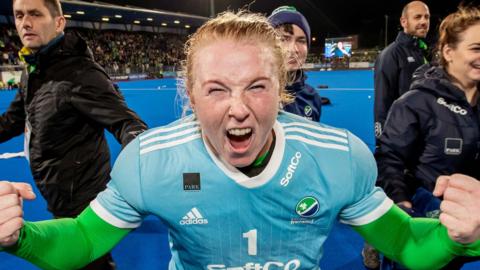 Ireland's Ayeisha McFerran has been nominated for the International Hockey Federation's Hockey Stars Goalkeeper of the Year award.

McFerran was an integral part of the Irish side which qualified for the Tokyo 2020 Olympics after a tense shootout victory over Canada.

The 23-year-old was put forward for the award last year but missed out to Great Britain's Maddie Hinch.

The winner of the accolade will be announced in February 2020.

Although McFerran was edged out by Hinch at the awards last year, the Antrim stopper was named Goalkeeper of the Tournament at the 2018 World Cup, where Ireland finished a surprise second.

If she was to be successful this time around, McFerran would be the first Irish player to win an award since David Harte's men's Goalkeeper of the Year double in 2015 and 2016.

McFerran will face competition from Australia's Rachael Lynch, Spain's Maria Ruiz, France's Mathilde Petriaux and Megumi Kageyama of Japan.

Nominees for the FIH 2019 Hockey Stars Awards

WOMEN

Player of the Year: Carla Rebecchi (ARG), Janne Müller-Wieland (GER), Eva de Goede (NED), Frédérique Matla (NED), Stacey Michelsen (NZL), Olivia Merry (NZL)

Goalkeeper of the Year: Rachael Lynch (AUS), Maria Ruiz (ESP), Mathilde Petriaux (FRA), Ayeisha McFerran (IRL), Megumi Kageyama (JPN)

Rising Star of the Year: Julieta Jankunas (ARG), Zhong Jiaqi (CHN), Nike Lorenz (GER), Lalremsiami (IND), Frédérique Matla (NED)

MEN

Player of the Year: Eddie Ockenden (AUS), Aran Zalewski (AUS), Lucas Vila (ARG), Arthur Van Doren (BEL), Victor Wegnez (BEL), Manpreet Singh (IND)

Goalkeeper of the Year: Tyler Lovell (AUS), Vincent Vanasch (BEL), David Carter (CAN), Quico Cortes (ESP), Victor Aly (GER)

Rising Star of the Year: Maico Casella (ARG), Blake Govers (AUS), Zachary Wallace (GBR), Vivek Prasad (IND), Jonas de Geus (NED)

BBC Sport


---

ROUND-UP: Investec English Women's Hockey League



Lucy Walton and Phoebe Richards in action during Loughborough Students v Clifton Robinsons. Credit Andrew Smith

Surbiton returned to winning ways after their draw last weekend in the Investec Women's Hockey League Premier Division.

The top of the table side recorded their 11th win of the campaign as they won 3-1 at Beeston on Saturday.

Erica Sanders gave the away side the lead in the 19th minute from open play before Augustina Fernandez Merlo levelled for Beeston one minute in to the second half.

Darcy Bourne and Hannah Martin went on to score two more for Surbiton as they head into the winter break with a six-point advantage at the top of the table.

Hampstead & Westminster remain in second place after picking up three points for the ninth time this season, this time winning 3-1 at the University of Birmingham.

Lauren Turner, Fran Tew and Joanna Leigh all netted for the away side while Caroline Spence was the only scorer for the University of Birmingham.

Buckingham also secured victory on Saturday as they won 3-2 at home against bottom of the table Bowdon.

Natasha James bagged a brace and Lucy Wood scored the other for the home side.

Xenna Hughes and Emma Rainey were the goal scorers for Bowdon.

Elsewhere, Loughborough Students versus Clifton Robinsons ended 2-2 at full time.

Madeline Pearce and Beth Peers found the net for the home side while Jenny Hughes and Kathryn Lane were on the scoresheet for Bowdon.

Sophie Bray netted a hat-trick as her East Grinstead side won 4-0 at home against Holcombe.

Ellie Rayer gave the home side the lead in the 10th minute before Bray netted a double before half time and her third mid-way through the second half to secure the victory.

Investec Division 1 North

Olton and West Warwicks produced an excellent performance on Saturday in the Investec Women's Hockey League Division One North as they beat bottom of the table Leeds 9-1 at home.

Katie Brough bagged herself a hat-trick, Sade Gerald and Sally Walton netted a brace apiece and Alice Conquest and Abigail Forsythe scored one each as the home side secured all three points. Becky Blades was the goal scorer for Leeds.

Leicester City top the table after securing a 1-0 win at Belper, although Swansea could leapfrog them with a victory on Sunday.

Elizabeth Honarmand scored the winner when she netted from open play in the 16th minute.

Elsewhere, Stourport versus the University of Durham ended 1-1 at full time.

Investec Division 1 South

Reading added another three points to their tally as they ran out 3-2 victors at home to St Albans in the Investec Women's Hockey League Division One South on Saturday.

Elisa Filarmonico gave St Albans the lead in the 10th minute before Jennifer Crossley hit back for Reading nine minutes later from a penalty corner.

Amy Kokkinos restored St Albans lead in the 21st minute before a double from Sophie Shakespeare secured the points for Reading who remain second in the table.

Elsewhere, Canterbury won 1-0 at home against Slough.

Aimee Plumb scored the only goal of the game for the home side.

Wimbledon head into the winter break top of the table after securing their ninth consecutive victory, this time winning 7-0 at home against Sevenoaks.

Investec Conference East

Barnes remain top of the table in the Investec Women's Conference East after an excellent performance to win 6-0 at home against Canterbury.

Catalina Montino, Triona Doyle and Helen Stubbs shared the goals equally as Barnes extended their advantage at the top of the table with a healthy goal difference.

Elsewhere, Wimbledon maintained their pressure on Barnes as they won 2-1 at Bromley and Beckenham to remain in second on goal difference.

Rose Winter netted both goals for the away side while Anna Frizoni scored the only goal for Bromley and Beckenham.

Investec Conference West

Surbiton 2s will remain top of the Investec Women's Hockey League Conference West going into the winter break after picking up three points from a 3-1 win at Oxford University on Saturday.

Hannah Denison netted a brace for the away side and Tasmin Cookman scored the third as the away side picked up maximum points for the eighth time this season.

Shona McNab was on the scoresheet for Oxford University.

Elsewhere, Team Bath Buccaneers produced an excellent performance to win 2-1 at home against third place Oxford Hawks.

Gillian Kane gave the home side the lead after five minutes before Di Bevan doubled their advantage eight minutes before half time.

Claire Werlinger hit back for the away side late in the second half but it was in vain as the home side held out to secure three points.

Investec Conference North

The University of Nottingham maintained their 100% record in the Investec Women's Conference North on Saturday as they beat second place Sutton Coldfield 5-0 at home.

Esme Burge and Ella Bromley both scored twice for the home side while Robyn Bentley netted the fifth.

Elsewhere Timperley closed the gap on second place to only one point as they won 2-0 at Cannock.

Leonnie Molloy gave the away side the lead in the seventh minute from a penalty corner before Sarah Chancellor doubled their advantage and secured the points eight minutes later.

England Hockey Board Media release


---

Scottish Men's Indoor National League 1 gets off to a flying start

Grove Menzieshill drew first blood on the opening day of the men`s indoor National League 1 campaign at the Bell`s Sports Centre in Perth with a narrow 5-4 win over champions Western Wildcats. Inverleith were the other side to emerge unbeaten on the day after seeing off Grange and Dundee Wanderers.

However, the eye-catching result of the day came in the final match – Dunfermline Carnegie defeated champions Western Wildcats 2-1 to finish Vishal Marwaha`s pack on the back foot.

Grove Menzieshill started the ball rolling with an 8-1 win over Dunfermline Carnegie. It was relatively tight in the first half, Jamie Golden from a penalty corner and Albert Rowling three minutes later put the Taysiders two up. But a spot conversion by Dunfermline`s Andrew Doyle pulled the score back to 2-1, and that is how it stood at the interval.

But in the second half the Dundonians, under the tutelage of Billy McPherson (manager) and Bruce Cuthill (coach), cut loose and added six more to their tally. Golden scored three more with Ross McPherson, Euan Cuthill and Olly James getting the others.

Next up were champions Western Wildcats and they purred to a seven goal mauling of Uddingston. The contest was over by the interval, Rob Harwood scored twice and there were singles for Craig Sinclair, Adam McKenzie at a penalty corner and Andrew McConnell for a five goal lead.

Two more were added after the interval through Fraser Moran and McConnell again – while at the other end keeper Gavin Sommerville produced the first shut-out of the season.

The third match of the day between Dundee Wanderers and Clydesdale was a much closer affair where there were as many cards as goals in the feisty action.

In only four minutes Bobby Ralph put Wanderers in front but the Titwood-based outfit replied with strikes from Andrew Allan and Ciaran Crawford, only for Ralph to level by the interval.

The winner for the Dundonians came mid-way through the second half through Sean Dowie for a narrow 3-2 victory.

The final contest in the opening session was an all-Edinburgh affair, Inverleith were 2-1 winners over Grange in a game that was somewhat short of goals.

After ten minutes Inverleith had moved into a two goal lead, a penalty corner conversion by Kyle Taylor was followed by an open play strike from Charlie Jack.

In the second half there was no further goals for the former champions, but Callum Milne did pull one back for Grange, but not enough to prevent an Inverleith victory.

In contrast, there were no shortage of goals in the Dunfermline – Uddingston clash, the latter won 8-7.

The Lanarkshire side galloped into a four goal lead, Blake Hinton scored twice while Josh Cairns and Josh Baxter got the others. By the interval Uddingston`s lead had been reduced to 5-3, Andrew Doyle, Mickey Ross and Martin Dan had replied for the Fifers while Baxter added a second to his tally.

A hat-trick in four minutes from Dunfermline`s Doyle was largely responsible for the score being tied at 6-6 in the second half, Cairns again found the net for Uddingston during this period.

Baxter`s third and a strike by Dunfermline`s Jamie Stewart advanced the score to 7-7 approaching the denouement. But in the final minute a penalty corner conversion by Cairns for his hat-trick provided Uddingston with the belated three points.

Then in the game of the day, it was Grove Menzieshill that triumphed 5-4 over champions Western Wildcats in a ding-dong affair.

The Dundonians were two up at the interval, a penalty corner from Albert Rowling and open play strike by Keir Robb were responsible.

Five minutes into the second half Wildcats had clawed their way back into the contest with Rob Harwood and Andrew McConnell on target.

But three goals in seven minutes put the Taysiders in charge, Olly James, Jamie Golden and Robb again were the scorers. In the closing minutes Wildcats` Adam McKenzie scored twice from set pieces… but too little too late.

Inverleith were the other side to emerge from the day undefeated with a 5-3 win over Dundee Wanderers.

It was 2-2 at the interval, Wanderers` strikes from Bobby Ralph and Frank Mulgrew were cancelled out by a double from Stephen Dick.

Midway through the second half the score had advanced to 3-3, Alex Wilson`s counter for Inverleith was matched by Rob Alexander.

It was Inverleith who took control of proceedings in the final eight minutes, Wilson got his own second while Derek Salmond added a fifth with a few minutes left.

Having both lost their opening fixture of the day, Clydesdale and Grange proceeded to fight out a 3-3 draw for a point each.

It was two each at the interval, Grange`s goals from Simon Naughton and Callum Milne were cancelled out by Chris McFadden and Ben Galloway for Dale.

Andrew Allan`s 37th minutes strike seemed to point to a Dale victory, but almost immediately Duncan Riddell levelled for the Edinburgh side.

However, the final match produced the shock of the day, having lost both of their earlier fixtures Dunfermline rose to the occasion and produced the shock of the day with a 2-1 victory over Western Wildcats.

All the goals came in the first half and all from penalty corners. The Fifers went two up through Steven Glass and Michael Ross, but just on half-time Andrew McConnell pulled one back for the champions.   But with a second half devoid of goals, Dunfermline picked up their first points of the campaign, and leaving the Wildcats to lick their wounds.

A hat-trick from Amy Brodie contributed to Edinburgh University`s 5-0 over Glasgow University in the women`s outdoor Premiership catch-up fixture, the result propels the champions into pole position on goal difference from Clydesdale Western, Watsonians and Dundee Wanderers.     Edinburgh`s other goals came from Jika Nyirenda and Georgia Jones.

Scottish Hockey Union media release


---

Lakers Hockey Club savour inaugural season in Premier League

By Washington Onyango



Lakers Hockey Club players celebrate after winning a past match in Kisumu. [Washington Onyango, Standard]

Lakers Hockey Club captain Linnah Baraza has told her teammates and supporters to enjoy their top-four finish in their debut season in the 2019 Kenya Hockey Union (KHU) Women Premier League.

The Kisumu-based outfit edged out Amira Sailors 1-0 in their last match to seal their fourth-place finish in the standings with 21 points after winning five matches, drawing six and losing three games out of the 14 matches played.

Speaking to the Standard Sports, Baraza said they have enjoyed their inaugural season in the top flight and they are proud of their performances.

"It was scary at first being our first season without experience in the league but after playing half a season unbeaten, our confidence improved. We lost three matches against experienced sides in Blazers, USIU and Sliders and registered many draws but we are happy at the end," she said.

Lakers Team Manager John Otieno was full of praise for his charges, attributing their continuous success to their youthful and vibrant players who sacrificed themselves for their passion for hockey.

He said they have learnt a lot as a team and the ladies have gained experience, exposure and a feel of playing in the premier league.

"As a team, we have resolved that winning the league is not that hard and we are going to work smart next season to clinch the title or settle for the second position."

Remember only three teams won against us and we are going to review the mistakes and loopholes that might had affected our performance so that come next season we will not repeat what happened," Otieno said.

For Lakers head coach Austin Tuju, it is all about the players who came together from various college programs.  He encouraged them to enjoy what could have been the best team debut in the league.

"Coming to the premier league as underdogs and becoming number four is an achievement for us. Being a team that all teams have to have strategies in place before playing us including Blazers who are have played hockey for more than two decades. That just shows Lakers is a team to watch out for," Tuju said.

Even though managing team in the Premier League is expensive without funds, Otieno credited their success of honouring all their matches to team unity and thanked well-wishers for their support.

"We lacked modern equipment to use, we always borrow sticks before getting to the pitch and right now we don't even have a pitch to use for training and we don't even know what will use next season as our home ground pitch."

"These are some of the challenges we faced but we hope we can resolve them ahead of next season," he added.

Tuju, who said that most of their targets were achieved, echoed Otieno's sentiments.

The duo revealed they need to work hard and bring the Premier League title to Kisumu in the next two seasons.

Lakers striker Alice Owiti was voted the league's Most Promising Player of the Year after finishing third in the top scorers' list with six goals behind Blazers's Jacky Mwangi and Strathmore's Gilly Okumu.

Blazers were crowned the 2019 league champions for a record 20th consecutive time after finishing the season unbeaten with 38 points.

The Standard Digital


---

Wapda, Customs in Pakistan's 36th National Junior Hockey final

LAHORE - Wapda and Customs squeezed into the final of the  36th National Junior Hockey Championship after beating their respective opponents in the semifinals played here at the National Hockey Stadium on Saturday.

In the first semifinal, Customs edged out Punjab A by 1-0 after a tough battle. Both the sides kept on attacking each other's goal but they couldn't convert a single one. In the 48th minute of the match, Sami converted a penalty corner successfully to steer his side to a well-deserving 1-0 victory.

In the second semifinal of the day, Wapda outpaced SSGC 1-0 in a thrilling encounter. Both the teams kept on struggling till the end but no goal was converted till the 60th minute, when Wapda's Ali Aziz fired in a match-winning field goal to guide his side to 1-0 triumph.

The Nation


---

Decathlon acquires hockey brand Dita

French sports chain Decathlon has acquired Dutch hockey brand Dita from All Weather Sports. The former owner will retain control over the distribution of Dita products to hockey specialist stores.

Expansion of offer

Decathlon already sold Dita products, but is now taking over the hockey brand itself for an undisclosed amount. Dita was founded in 1896, and entered Dutch ownership in the 1980s, FashionUnited reports. The takeover enables Decathlon to further expand its offer, but it does not mean that the French chain will stop working with other hockey brands. "Dita is behind a series of great innovations in hockey, and we will certainly cherish this rich history. At Decathlon, Dita will have access to our unique research and development tools," says Pierre Vernet, responsible for partnerships at the French retail chain.

The takeover does not mean that the role of All Weather Sports is over at Dita: the company will remain responsible for the distribution to specialist stores, brand development and sponsorship, Belgian newspaper L'Echo writes.

Retail Detail


---

Decathlon Ties Up with Iconic Hockey Brand Dita

By Decathlon; Nederlands MerkGoed

UTRECHT, Netherlands and LILLE, France - A new hockey team is born. French sports manufacturer and retailer Decathlon has reached agreement on the acquisition of the hockey brand Dita from All Weather Sports. The iconic hockey brand, which was brought to the Netherlands in the 1980s by the famous hockey family Kruize, will receive an extra boost for further innovation and global growth. As the largest sports retailer in the world, Decathlon can further substantiate its position in hockey by adding Dita to its in-house developed korok while continuing its partnerships with other key international hockey brands. The distribution of Dita to specialist hockey retailers will remain in the hands of All Weather Sports, which focuses on the development and distribution of sports brands.

Founded in 1896 during the inception of the game of hockey, Dita is one of the oldest hockey brands in the world. In recent years, Dita has been one of the most important brands for Decathlon, with special editions for sticks and shoes being part of the jointly developed range. Now both companies have further joined forces by transferring Dita's trademark, product knowledge and sourcing partners while teaming up their respective distribution capacities.

Complementary propositions

Decathlon's Pierre Vernet is proud to add one of the most renowned hockey brands to the Decathlon proposition: "Dita has been focusing for years on skilled engaged players and has delivered many innovations in field hockey. We will for sure cherish this legacy while welcoming Dita's product conception staff in our team, giving them access to the unique Decathlon research and development capacities and offering specialty hockey retailers the possibility to continue their win-win partnership with Dita. Synergies will otherwise give a further boost to our korok signed hockey products and their unique player centric, global experience and right price proposition."

More power

Arnaud van der Vecht of All Weather Sports: "Dita is a truly Dutch brand 'by and for hockey players'. Hockey is of course already a major sport in our home market with a top three position in team sports. The sport is also growing rapidly internationally. With a global partner like Decathlon, we can now guarantee that hockey players on all continents can take maximum advantage of the innovative products from Dita. The sponsorship of Dita internationals will remain a responsibility of All Weather Sports, since we have been doing this for decades and understand exactly what modern top hockey players demand."

About Decathlon

Decathlon was founded in 1976 in Lille, France. With more than 90,000 teammates working in more than 500 cities and some 1,600 stores and outlets, it generated a turnover of €11.5 billion worldwide in 2018. The company carries more than 80 sport signatures, each with a dedicated product development team consisting of enthusiasts from the relevant sport.

About All Weather Sports

All Weather Sports B.V. is based in Utrecht and serves more than 600 retailers in 28 countries with the Nomad and Dita brands. After private equity firm Nederlands MerkGoed took over Dita in 2015, it later reached an agreement in 2018 on the full acquisition of outdoor specialist Nomad. In order t

PR Newswire