All the news for Monday 30 September 2019

India eases past Spain in 5-1 win

Veteran forwards Ramandeep Singh and S.V. Sunil got on the scoresheet as Indian men's hockey team outclassed Spain 5-1 in the second Test match at Antwerp.



Indian forwards Ramandeep Singh (L) and Akashdeep Singh celebrate a goal against Spain at Antwerp. - Hockey India Twitter

Dragflicker Harmanpreet Singh scored yet another brace as Indian men's hockey team made it three wins on the trot in the tour of Belgium with a 5-1 thrashing of Spain on Sunday in Antwerp. Akashdeep Singh scored the first goal for Graham Reid's men while goals from S.V. Sunil, Ramandeep Singh and a brace from Harmanpreet Singh helped India cruise to a second straight victory against the European runner-up.

Spain started on an aggressive note and went ahead in the 3rd minute through Alvaro Iglesias' strike. It did not take India too long to score the equaliser as Akashdeep Singh's 5th-minute strike pulled the Men in Blue level. In the 11th minute, Spanish custodian Quico Cortez made a brilliant save to thwart Harmanpreet's drag-flick as both teams ended the first quarter on level terms.

Veteran striker S.V. Sunil put India in the lead in the 20th minute when he latched on to a through ball from the midfield and finished from close range.

India looked intent on extending its slender lead as it dominated the possession in the second half. The intensity paid off as forward Ramandeep Singh made it 3-1 in the 35th minute with a field goal. Harmanpreet Singh(41',51'), who scored in Saturday's 6-1 victory, added gloss to the scoreline by converting two penalty corners.

It was a memorable outing for Indian goalkeeper Krishan Pathak who saved three penalty corners in the final minutes to deny Spain a second goal.

India will next face reigning World and European champion Belgium in the second Test match on Sunday, beginning at 5.30 pm IST.

Sportstar


---

Lalremsiami's strike helps India hold Britain to 1-1 draw



Lalremsiami scored in the 32nd minute to help India draw against higher-ranked Great Britain. - Hockey India Twitter

Indian women's hockey team held host Great Britain to a 1-1 draw in the second match of its tour of United Kingdom at Marlow, England on Sunday.

Striker Lalremsiami scored the equalizing goal in the 32nd minute after Great Britain had taken an early lead in the match.

India was out of the blocks quicker, and earned a couple of penalty corners within the first two minutes. Britain's custodian Maddie Hinch was at hand to ensure India didn't get an early lead though.

Soon it was Great Britain, which reciprocated, winning a penalty corner from a swift counter.

Despite a smart save by the Indian defence, an infringement meant the host was awarded a penalty stroke, which was duly converted in the 8th minute, giving them a 1-0 lead. It was that slender lead it took into the first break.

Much like the first quarter, it was India again, which took the initiative early in the second period, winning another short corner and Britain custodian Maddie Hinch pulled off another save.

In the third quarter, India finally restored parity after Lalremsiami finished off a counter attack to draw the scores level. With both teams locked at a goal apiece and all to play for, the game opened up. Neither the defence caved though as the teams went into the final quarter tied at 1-1.

Indian women are scheduled play their third game on Tuesday, October 1.

Sportstar


---

Vantage Black Sticks Men bolstered by former Olympians to take on Japan in Stratford




The Vantage Black Sticks Men have named a strong side for their test series against Japan which starts on the 10th of October in Stratford.

Steve Edwards returns to the side after being an integral part of the North Harbour side that won the 2019 Ford NHL. Edwards hasn't featured for the Vantage Black Sticks Men since the Oceania Cup in 2015. He will bring a wealth of experience to the side having been capped 207 times and been to two Olympic Games.

Former Kookaburras Goalkeeper Leon Hayward has been included in the side. Hayward who was capped 13 times for the Kookaburras and last played for the side in 2015 has made himself eligible for the Black Sticks going forward. Leon is the older brother of current Kookaburras drag flicker Jeremy Hayward their mother was born and grew up in New Zealand.

Shea McAleese will bring up his 300th cap for the Vantage Black Sticks Men in match two of this series. McAleese will join Phil Burrows (343), Dean Couzins (318) and Ryan Archibald (327) as the only other players who have managed to play 300 matches for the New Zealand hockey team.

The New Zealand side features seven players who have over 200 caps for the Vantage Black Sticks Men. Darren Smith will be turning to this experience as his side builds towards the Tokyo 2020 qualifying tournament at the start of November.

Vantage Black Sticks Men's Coach Darren Smith commented on what his side is wanting to see this series "We get 9 days together at the venue of the Olympic Qualification to prepare including getting familiar with the environment and turf. This includes 4 high quality matches to test our systems both on and off the pitch to finalise our planning for the important fixtures that follow this series"

The Black Sticks have been able to bring in plenty of experience for the series "Steve Edwards is a two time Olympian who has been in good form for North Harbour in the recently completed NHL. He is a man of high skill and has the ability to unlock the opposition defence. It is great to have Steve back with us for the first time since 2015"

"Leon Hayward was very solid in goal for Auckland for their NHL campaign. He is quick, mobile and we wanted to take this opportunity to see him in our environment both in training and against Japan."

"We also welcome back into the group Brad Read and Dylan Thomas after strong NHL performances. Brad has recovered from hip surgery having last played against Canada in 2018 and Dylan returns for the first time since Pro League"

Darren Smith commented on the challenge that the Japanese team will bring "Each time we get the chance to play the Japanese team they get better. Quick, skilful and full of energy we have had some great matches against them over the last 18 months including a game in Tokyo last month where we nicked it in the last seconds."

"It is an ideal build up to the Olympic Qualifier with a quality opponent playing us at the same venue where we will be a few weeks later against Korea"
| | | | |
| --- | --- | --- | --- |
| Name | Position | Region | Caps |
| Richard Joyce | Goalkeeper | North Harbour | 79 |
| George Enersen | Goalkeeper | Canterbury | 58 |
| Leon Hayward | Goalkeeper | Auckland | Uncapped |
| Shea McAleese | Defender | Central | 298 |
| Cory Bennett | Defender | North Harbour | 96 |
| Dane Lett | Defender | Capital | 63 |
| Brad Read | Defender | Capital | 26 |
| Blair Tarrant © | Defender | Southern | 201 |
| Kane Russell | Defender | Southern | 150 |
| Arun Panchia | Defender | Auckland | 280 |
| Nic Woods | Midfield | Midlands | 116 |
| Nick Ross | Midfield | Southern | 117 |
| Marcus Child | Midfield | Auckland | 161 |
| Steve Edwards | Midfield | North Harbour | 207 |
| Hugo Inglis | Midfield | Southern | 230 |
| Simon Child | Midfield | Auckland | 274 |
| Dylan Thomas | Midfield | Central | 15 |
| Jared Panchia | Midfield | Auckland | 122 |
| George Muir | Striker | North Harbour | 132 |
| Jacob Smith | Striker | Capital | 74 |
| Stephen Jenness | Striker | Capital | 239 |
| Sam Lane | Striker | Canterbury | 52 |
Schedule

Thursday 10th October, 6:30pm vs Japan
Saturday 12th October, 2:00pm vs Japan
Monday 14th October, 6:30pm vs Japan
Tuesday 15th October, 6:30pm vs Japan

Hockey New Zealand Media release


---

Hockey India names 33-member probables for junior women's camp

India is scheduled to play a three-nations tournament starting December 3 in Australia, where the team will play against the host and New Zealand.

Hockey India on Sunday named a 33-member probables list for the junior women's national coaching camp beginning on Monday at the Sports Authority of India here to prepare for a tour of Australia.

Players will report to coach Baljeet Singh Saini for the camp that concludes on October 26.

India is scheduled to play a three-nations tournament starting December 3 in Australia, where the team will play against the host and New Zealand.

"I expect those matches to be tough and it will be a good exposure tournament for the athletes. Our aim will be to up our fitness levels with a lot of emphasis on speed and the team needs to be able to keep up with the high-intensity hockey the Australians and New Zealanders play," said Saini.

He emphasised on every player giving their 100 per cent in the camp.

"They (players) will be watched closely and if they intend to make the squad then they need to show improvement in every aspect of the game."

"I am quite pleased with the talent coming up and each passing year there is at least one player from junior ranks making their senior team debut so in that sense the performance at the 3-nation tournament will be important," he added.

Core probables list:

Goalkeepers: Rashanpreet Kaur, Khushboo and F. Ramengmawii

Defenders: Priyanka, Simran Singh, Marina Lalramnghaki, Gagandeep Kaur, Ishika Chaudhary, Jotika Kalsi, Sumita, Akshata Dhekale, Usha, Parneet Kaur.

Midfielders: Baljeet Kaur, Mariana Kujur, Kiran, Prabhleen Kaur, Preeti, Ajmina Kujur, Vaishnavi Phalke, Kavita Bagdi, Baljinder Kaur, Sushma Kumari.

Forwards: Mumtaz Khan, Beauty Dungdung, Gurmail Kaur, Deepika, Lalrindinki, Jiwan Kishori Toppo, Rutuja Pisal, Sangita Kumari, Yogita Bora, Annu.

Sportstar


---

Sultana Bran Hockey One League Season 2019 – Round 1 Review

The opening round of the Sultana Bran Hockey One League 2019 Season produced a feast of goals and a host of tight results as Australia's new reimagined national hockey league took centre stage.

There were 28 goals scored across the six (three women's and three men's) matches as Sydney, Canberra and Perth hosted the first round of double headers.

In the women's competition, Adelaide Fire sent an early statement as they defeated NSW Pride 2-1 at the Sydney Olympic Park Hockey Centre. Karri McMahon scored the first ever goal of the Sultana Bran Hockey One League in the 34th minute but the lead lasted barely a minute as Alice Arnott equalised for the hosts. However, Miki Spano's strike with four minutes to go in the third quarter proved the winner.

The Sultana Bran Hockey One League's first match to be decided by a penalty shootout came in the nation's capital as the Canberra Chill edged out the Brisbane Blaze 3-2 on penalties after scores were locked 2-2 at the end of regulation time.

Naomi Evans and Rosie Malone found the back of the net for their respective teams, and both then managed to score the extra goal from their subsequent one-on-one shootout with the keeper, which is one of the exciting new initiatives that has been introduced for the competition (when a field goal or penalty stroke is scored during a match, the same player will get to have an automatic one-on-one shootout with the goalkeeper for the chance to score an extra goal).

HC Melbourne were the other Round 1 winners on the women's side as they recorded a 3-1 win over the Perth Thundersticks in Perth. Captain Claire Messant gave HC Melbourne an early lead before Shanea Tonkin tied it up at 1-1 just before half time.

In a tense finale, Madi Ratcliffe was the hero for the Victorians as she struck in the final minute and then converted her one-on-one with the keeper to make the final score 3-1.

The opening round of the men's competition saw NSW Pride, Brisbane Blaze and HC Melbourne all record first up victories.

In a match where all the scoring came within the space of five minutes, goals from Ehren Hazell and Blake Govers was enough for the NSW Pride to scrape past Adelaide Fire.

Canberra Chill put up a brave fight against the highly fancied Brisbane Blaze with scores level 1-1 at half time with goals from the Blaze's Joel Rintala and Chill captain Aaron Kershaw.

But a third quarter double from Justin Douglas and another from Jacob Anderson ensured the Queenslanders kicked off their campaign with a win.

The round concluded with a nine-goal thriller between the Perth Thundersticks and HC Melbourne at the Perth Hockey Stadium.

A Tom Wickham double for the Perth Thundersticks was replicated less than 60 seconds later at the other end by HC Melbourne striker Nathan Ephraums to make it 2-2 inside the opening 10 minutes.

HC Melbourne captain Russell Ford pounced to make it 4-2 after he converted his one-on-one with the keeper after finding the back of the net but Trent Mitton was not going to be outdone as he responded with his own double in the 20th minute to tie the scores at 4-4 at the main interval.

The match would be decided in the 32nd minute when Ford fired in a reverse stick to complete his hat-trick and give HC Melbourne a confidence boosting win on the road ahead of their opening home game this Sunday.

Every match of the Sultana Bran Hockey One League 2019 Season is LIVE and exclusive on Kayo. Tickets for all matches are available through Ticketek.

Sultana Bran Hockey One 2019 Season – Round 1 Results

Women's Competition

NSW Pride 1 (Arnott 35')
Adelaide Fire 2 (McMahon 34', Spano 41')

Sunday 29 September 2019
Sydney Olympic Park Hockey Centre (NSW)

Full Match report

NSW Pride Women's team: 2.Sarah Johnston, 12.Mikaela Patterson, 14.Kaitlin Nobbs, 19.Morgan Blamey, 20.Maddison Smith, 21.Alice Arnott, 22.Kate Jenner (c), 23.Abby Wilson, 24.Mariah Williams, 27.Renae Robinson, 28.Casey Sablowski, 29.Courtney Schonell, 30.Jocelyn Bartram (GK), 31.Emma Spinks

Adelaide Fire Women's team: 1.Linzi Appleyard, 3.Brooklyn Buchecker, 6.Jane Claxton, 7.Emma de Broughe, 8.Holly Evans (c), 13.Sarah Harrison, 15.Euleena Maclachlan, 17.Karri McMahon, 19.Gabi Nance, 20.Hattie Shand, 21.Miki Spano, 23.Gemma McCaw, 25.Kate Denning, 28.Amy Hammond (GK)

Canberra Chill 2 (3) (Evans 53'/53')
Brisbane Blaze 2 (2) (Malone 43'/43')
Canberra Chill win 3-2 on penalties

Sunday 29 September 2019
National Hockey Centre (ACT)

Full match report

Canberra Chill Women's team: 3.Brooke Peris, 4.Jess Smith, 7.Naomi Evans, 9.Sassie Economos, 10.Rebecca Lee, 11.Sophie Gaughan, 13.Edwina Bone (c), 15.Yui Ishibashi, 16.Shihori Oikawa, 17.Beckie Middleton, 19.Anna Flanagan, 23.Kalindi Commerford, 27.Meredith Bone, 31.Sakiyo Asano (GK)

Brisbane Blaze Women's team: 1.Savannah Fitzpatrick, 2.Madison Fitzpatrick, 3.Layla Eleison, 4.Ashlea Fey, 5.Rosie Malone, 6.Morgan Gallagher, 7.Jodie Kenny (c), 8.Jordyn Holzberger, 14.Meg Pearce, 15.Hannah Astbury (GK), 19.Morgan Mathison, 21.Renee Taylor, 22.Britt Wilkinson, 25.Georgia Hillas

Perth Thundersticks 1 (Tonkin 26')
HC Melbourne 3 (Messent 5', Ratcliffe 60'/60')

Sunday 29 September 2019
Perth Hockey Stadium at Curtin University (WA)

Full Match report
2nd Full Match report

Perth Thundersticks Women's team: 3.Candyce Peacock, 4.Jemma Buckley (c), 6.Jacqui Day, 8.Georgia Wilson, 9.Shanea Tonkin, 11.Rachel Frusher, 14.Roos Broek, 15.Caitlin Pascov, 16.Karri Somerville, 17.Annie Gibbs, 18.Renee Rockliff, 19.Aleisha Power (GK), 29.Agueda Moroni, 30.Chloe Pendlebury

HC Melbourne Women's team: 1.Sophie Taylor, 5.Krissy Bates, 6.Claire Messent (c), 7.Kary Chau, 8.Olivia Colasurdo, 9.Lily Brazel, 10.Laura Desmet, 14.Laura Barden, 21.Florine van Grimbergen, 22.Madi Ratcliffe, 23.Sam Snow, 25.Hannah Gravenall, 27.Rachael Lynch (GK), 33.Amy Lawton

Men's Competition

NSW Pride 2 (Hazell 42', Govers 45+')
Adelaide Fire 1 (Busiko 47')

Sunday 29 September 2019
Sydney Olympic Park Hockey Centre (NSW)

NSW Pride Men's team: 2.Tom Craig, 5.Ash Thomas (GK), 6.Matthew Dawson, 8.Nathanael Stewart, 11.Hayden Dillon, 12.Kurt Lovett, 13.Blake Govers, 18.Tristan White (c), 19.Jack Hayes, 22.Flynn Ogilvie, 23.Ryan Proctor, 24.Dylan Martin, 26.Ehren Hazell, 29.Tim Brand

Adelaide Fire Men's team: 3.Lachlan Busiko, 6.Angus Fry, 7.Scott Germein, 9.Fred Gray, 11.Cameron Joyce, 13.Luke Larwood, 15.Andy Leat, 18.Al Oliver, 19.Glyn Tamlin (c), 23.Cameron White, 24.Hirotaka Zandana, 25.Kota Watanabe, 26.Liam Alexander, 29.Eddie Chittleborough (GK)

Canberra Chill 1 (Kershaw 21')
Brisbane Blaze 4 (Rintala 20', Douglas 41'/41', Anderson 52')

Sunday 29 September 2019
National Hockey Centre (ACT)

Canberra Chill Men's team: 1.Aaron Knight, 2.Ben Staines, 3.Anand Gupte, 4.James Day, 5.Lewis Shepherd, 7.Kazuma Murata, 8.Daniel Conroy, 10.Owen Chivers, 11.Garry Backhus, 12.Jake Staines, 13.Manabu Yamashita, 17.Aaron Kershaw (c), 22.Jay MacDonald, 30.Andrew Charter (GK)

Brisbane Blaze Men's team: 2.Shane Kenny, 3.Corey Weyer, 4.Hugh Pembroke, 5.Scott Boyde, 7.Joel Rintala, 9.Jacob Anderson, 10.Robert Bell, 12.Jake Whetton, 14.Luke Tyne, 15.Justin Douglas, 16.Tim Howard, 20.Matthew Swann (c), 26.Dylan Wotherspoon, 32.Mitchell Nicholson (GK)

Perth Thundersticks 4 (Wickham 7'/7', Mitton 20/20')
HC Melbourne 5 (Ephraums 7'/8', Ford 11'/12'/32')

Sunday 29 September 2019
Perth Hockey Stadium at Curtin University (WA)

Full Match report

Perth Thundersticks Men's team: 1.Brayden King, 3.Tim Geers, 4.Jake Harvie, 5.Frazer Gerrard, 6.James Collins, 7.Tyler Lovell (GK), 8.Coby Green, 9.Dave Gavranich, 10.Tom Wickham, 14.Liam Flynn, 15.Will Byas, 17.Aran Zalewski (c), 25.Trent Mitton, 27.Marshall Roberts

HC Melbourne Men's team: 2.Max Hendry, 3.Simon Borger, 5.Andrew Philpott, 8.Josh Pollard, 9.Nathan Ephraums, 10.Russell Ford (c), 13.Jayshaan Randhawa, 14.Jonathan Bretherton, 15.Josh Simmonds, 17.Kiran Arunasalam, 18.Johan Durst (GK), 21.Jake Sherren, 23.Joel Carroll, 25.Aaron Kleinschmidt

Women's Standings
| | | | | | | | | | |
| --- | --- | --- | --- | --- | --- | --- | --- | --- | --- |
| Club | GP | W | SW | SL | L | F | A | GD | Points |
| HC Melbourne | 1 | 1 | 0 | 0 | 0 | 3 | 1 | 2 | 5 |
| Adelaide Fire | 1 | 1 | 0 | 0 | 0 | 2 | 1 | 1 | 5 |
| Canberra Chill | 1 | 1 | 1 | 0 | 0 | 2 | 2 | 0 | 3 |
| Brisbane Blaze | 1 | 0 | 0 | 1 | 1 | 2 | 2 | 0 | 2 |
| Tassie Tigers | 0 | 0 | 0 | 0 | 0 | 0 | 0 | 0 | 0 |
| NSW Pride | 1 | 0 | 0 | 0 | 1 | 1 | 2 | -1 | 0 |
| Perth Thundersticks | 1 | 0 | 0 | 0 | 1 | 1 | 3 | -2 | 0 |
* GP - Games Played; W - Win; SW - Shootout Win; SL - Shootout Loss; L - Loss; F - Goals For; A - Goals Against; GD - Goal Difference

Men's Standings
| | | | | | | | | | |
| --- | --- | --- | --- | --- | --- | --- | --- | --- | --- |
| Club | GP | W | SW | SL | L | F | A | GD | Points |
| Brisbane Blaze | 1 | 1 | 0 | 0 | 0 | 4 | 1 | 3 | 5 |
| HC Melbourne | 1 | 1 | 0 | 0 | 0 | 5 | 4 | 1 | 5 |
| NSW Pride | 1 | 1 | 0 | 0 | 0 | 2 | 1 | 1 | 5 |
| Tassie Tigers | 0 | 0 | 0 | 0 | 0 | 0 | 0 | 0 | 0 |
| Perth Thundersticks | 1 | 0 | 0 | 0 | 1 | 4 | 5 | -1 | 0 |
| Adelaide Fire | 1 | 0 | 0 | 0 | 1 | 1 | 2 | -1 | 0 |
| Canberra Chill | 1 | 0 | 0 | 0 | 1 | 1 | 4 | -3 | 0 |
* GP - Games Played; W - Win; SW - Shootout Win; SL - Shootout Loss; L - Loss; F - Goals For; A - Goals Against; GD - Goal Difference

Round 2 Fixtures

Canberra Chill v NSW Pride
Saturday 5 October 2019
National Hockey Centre (ACT)
Match Start: Women's 2:00pm local, Men's 3:30pm local

Tassie Tigers v Adelaide Fire
Saturday 5 October 2019
Tasmanian Hockey Centre (TAS)
Match Start: Women's 5:00pm local, Men's 6:30pm local

HC Melbourne v Brisbane Blaze
Sunday 6 October 2019
State Netball and Hockey Centre (VIC)
Match Start: Women's 1:00pm local, Men's 2:45pm local

Sultana Bran Hockey One League media release


---

ROUND-UP: English Men's Hockey League



Simon Hujwan saves for Beeston. Credit David Kissman

Surbiton are the only team with a 100% record in the Men's Hockey League Premier Division after thumping hosts Brooklands MU 12-0 on Sunday.

Luke Taylor, Alan Forsyth and Ben Boon all scored two to put Surbiton up 6-0 at the half.

Forsyth added two more goals and Taylor completed his hat-trick after the break with Rob Farrington, Sam Spencer and David Goodfield also scoring for Surbiton.

Samuel Ward scored a hat-trick for Old Georgians in their 3-3 draw with Wimbledon on Saturday.

Wimbledon went ahead twice in the game; first through Phil Roper and then Ed Horler, but Ward's goals ensured Old Georgians stayed in touch before Jack Waller found the back of the net for Wimbledon in the dying seconds to salvage a point.

Last season's champions Hampstead & Westminster went third with a 6-1 win over Holcombe.

Matt Guise Brown opened the scoring with two first half efforts before Kei Kaeppeler and Hywel Jones joined the scoresheet for the London outfit.

Holcombe's Barry Middleton scored but Samuel French quickly hit back before Marc Edwards added the sixth goal for Hampstead & Westminster.

Two first half goals from Robbie Green and Chris Proctor gave Beeston a 2-1 win over East Grinstead; Liam Ansell scored for East Grinstead.

The University of Exeter capitalised on a first half lead to finish with a 3-0 away win over Reading; James Ferguson, Sam Hooper and George Carson were the scorers.

Men's Division 1 North

The University of Durham made an emphatic start to their Men's Hockey League Division 1 North campaign on Saturday, beating hosts Leeds 7-0.

Daniel Edwards found the back of the net twice for the visitors, while other goals came from Richard Jackson, Benedict Park, Max Van Laak, Phillip Jansen and James Sookias.

Alf Dinnie and Gareth Furlong scored two goals each in Cardiff & Met's 7-3 victory over Olton & West Warwicks.

The University of Birmingham put four second half goals past City of Peterborough as they went onto win 6-3.

Elsewhere, the University of Nottingham beat Sheffield Hallam 4-0 away from home on Saturday while Bowdon came away 3-2 winners over Loughborough Students on Sunday.

Men's Division 1 South

Southgate beat Canterbury 8-1 as they made a strong start to life in the Men's Hockey League Division 1 South on Saturday.

Alex Williams scored a hat-trick of goals from open play to send Southgate top of the table after the first round of fixtures.

Oxted held on to beat Havant 3-2 in their fixture away from home.

Robert Mugridge and Chris Webster put Oxted two goals to the good before Timothy Guise Brown added a third after Federico Bertoni had cut the earlier lead in half.

Scott Rawlings scored a goal at the death for Team Bath Buccaneers to take all three points against Sevenoaks in a slim 1-0 home win.

Elsewhere, Brighton & Hove beat Oxford Hawks 2-1 while Teddington beat Fareham by the same scoreline.

Men's Conference East

A late goal from Martyn Lear couldn't stop Spencer beating Old Loughtonians 5-4 in the Men's Hockey League Conference East.

Three goals from Ross Watkins helped Spencer to a 4-2 half time lead before Ashley Smith's 48th minute strike put the game to bed.

Andrew Sparshott scored two goals in Chichester's 5-2 victory over hosts Bedford; the three-goal deficit sees Chichester go top of the table.

Wapping beat Harleston Magpies 2-0, London Edwardians were victorious 3-1 against Bromley & Beckenham and St Albans beat Cambridge City 4-1.

Men's Conference North

Alderley Edge's 6-0 win over Timperley lifted them to the top of the Men's Hockey League Conference North table.

James Warburton and Angus McCormick scored two goals each in the win.

Greg Moorhouse's goal four minutes from time salvaged a point for Wakefield in their fixture against Deeside Ramblers which finished 3-3.

Belper beat Preston 4-0, Doncaster came up trumps in a 2-0 win over Lichfield and Didsbury Northern edged Barford Tigers 2-1.

Men's Conference West

Old Cranleighans toppled the University of Exeter's second team 4-0 to go top of the Men's Hockey League Conference West on the opening day.

Ashmoor beat hosts the University of Bristol 4-2 while Marcus Howard scored a last-minute penalty stroke to give Richmond all three points in a 3-2 win over Harborne.

Khalsa Leamington beat Isca 2-1 away while Cardiff University and Cheltenham's fixture ended 2-2.

* Statistics, full scores and tables from the Men's Hockey League are available by clicking here.

England Hockey Board Media release


---

Garvey and UCD set the pace in Irish men's EYHL goal-fest




A mammoth 37 goals in five men's EY Hockey League games marked an explosive day two of the competition with Lisnagarvey, Three Rock Rovers, UCD and Pembroke cashing in.

Annadale 1 (C Tremlett) Lisnagarvey 10 (D Nelson 3, A Williamson 3, B Nelson 2, T Chambers, O Kidd)

Lisnagarvey ran up their second imposing win of the men's EY Hockey League season as hat tricks from Daniel Nelson and Andy Williamson saw them cruise to a 10-1 win over Annadale.

It was 2-0 inside the first six minutes with Nelson getting a deft touch to Jonny Bell's ball driven into the circle. A Willamson penalty corner doubled the lead and Troy Chambers made it three before the end of the first quarter via a driving run and reverse-stick finish.

Williamson whipped in another corner shot and it was five at half-time when Daniel Nelson worked well with his younger brother Ben, the latter moving the goalkeeper before flicking in.

Chris Tremlett got one back early in the second half but a Williamson stroke in the 46th minute made it 6-1. Ollie Kidd got the seventh before Daniel and Ben Nelson both scored within two minutes of each other. Daniel then completed his treble from the flick-spot. It makes it two wins from two for Garvey with 16 goals scored.

Banbridge 2 (B McCandless, Ph Brown) Three Rock Rovers 5 (B Walker 2, J Hosking, S Grace)

Three Rock Rovers came back twice in the first quarter from a goal behind to beat Banbridge with a sharp performance as they bounced back from last week's shock opening loss to newly-promoted UCD.

Bruce McCandless gave Bann the perfect start when he turned and shot home after collecting a great ball from Magee. But the lead lasted for just 30 seconds as Rovers went straight to the other end and Harry Morris tapped in at the far post for the equaliser.

In the 16th minute, from the first penalty corner of the game, Philip Brown hammered home to make it 2-1. But the Leinster side levelled straight from the restart, Ben Walker diving to deflect the ball home from close range.

Walker got his second on the half-hour mark, this time from an excellent penalty corner variation. Two minutes into the second-half, the hosts had a let-off when a brilliant effort from Ross Canning crashed off the underside of the bar.

But with 11 minutes left, Rovers got their reward when, with Bann committed to attack, Jody Hosking fired home after playing a one-two with Canning.

Sam Grace made it 5-2 from a set-piece in the last minute to complete the scoring and a bad day at the office for the home team.

Bann captain Eugene Magee declared: "Conceding twice within a minute of going 1-0 and 2-1 up cost us ultimately. I thought we played quite well in the first-half and there were some decent individual performances.

"We had a game plan but let in slip in the second-half and they took advantage and deserved their win so we'll have to learn from it."

Pembroke 6 (A Sothern 2, R McCollum 2, J Ryan, H Spain) Glenanne 1 (S Brownlow)

Three goals in the first nine minutes meant Pembroke had a comfortable first home win of the season, reversing some of the damage of their opening day 6-0 defeat to Lisnagarvey.

Alan Sothern is set to be a key figure following his return to Ireland and he showed his predatory instincts in front of goal with a one-touch finish in the first minute. Rob McCollum swept in the second soon after and he doubled his total soon after from a penalty corner move that came off the post, cleaning up the rebound.

It was 4-0 at half-time with Jack Ryan taking the initiative following Greg Chambers work in the D. The Glens did get one back in the third quarter via a Stephen Brownlow penalty corner but Harry Spain replied in kind with a drag-flick of his own. And Sothern completed the victory on the final hooter from another penalty corner for a 6-1 success.

UCD 6 (G Sarratt 2, A Meates, J Guilfoyle, P Lynch, A Flynn) YMCA 4 (G Glutz 2, B O'Grady, T Brophy)

UCD backed up their opening day win against Three Rock Rovers with a comprehensive victory over YMCA, tempered somewhat by a few late concessions.

YM did score first with star man Grant Glutz turning powerfully and slamming home a fourth minute goal but the students were soon 4-1 up by just the 14th minute. John Guilfoyle equalised before Peter Lynch added the next within a minute to take the lead.

An Andrew Meates goal, against his former club, made it 3-1 before Guy Sarratt netted his first of the day from a penalty corner. Glutz pulled one back in the 20th minute but a second Sarratt goal made it 5-2 at half-time and they were out of sight in the 37th minute when Alex Flynn scored his first goal for the club since his summer move.

Ben O'Grady and Tony Brophy scored in the closing quarter for YMCA to half the deficit to 6-4. UCD sit level at the top with Lisnagarvey on six points while YM are the only side yet to register a point.

Corinthian 1 (I Stewart) Monkstown 1 (R Nichols)

Corinthian and Monkstown both recorded their second draws of the season from two games to date after a late exchange of penalty corners.

For the reds, they were left to rue a late concession for the second week running to deny them a maiden win in the EY Hockey League. They led via the prolific Ian Stewart's 53rd minute goal but they could not hold on for the victory as Rory Nichols responded in kind with his equaliser coming from the last play of the game. Town were without skipper David Cole for the tie.

The Hook


---

Pembroke, UCD and Alex through in goalfest as Trinity go 50 unbeaten in Leinster



Jane Murphy and Sinead Loughran collide. Pic: Adrian Boehm

Pembroke, UCD and Old Alex all ran up high-scoring wins as the three women's Irish Senior Cup ties provided 25 goals, a tasty starter for the season ahead.

UCD produced an amazing last 20 minutes to come back to beat Catholic Institute to record a remarkable 7-4 victory in Limerick, coming back from 4-2 down.

The result came despite a goal on her return after 14 months out injured from Naomi Carroll. In a remarkable tie, the Limerick side led 4-2 with 20 minutes to go but contrived to lose 7-4 to perennial contenders UCD.

Aoife Hickey and Rosie Pratt gave them a dream start before UCD tied things up by half-time but the two-goal buffer was restored in the third quarter via Carroll and Christine O'Shea.

But, inspired by a Hannah McLoughlin hat trick and a Niamh Carey double, the students completed their comeback.

Cork Harlequins' reign as Irish Senior Cup holders ended at the first hurdle as their overhauled panel could not keep pace with Pembroke at Serpentine Avenue.

After last May's joy, their panel has undergone a major overhaul with Ingrid Burns and Olivia Roycroft returning to Bandon, Julia O'Halloran taking a break while Saoirse Griffin and Caoimhe Perdue have been co-opted by UCC.

With Cliodhna Sargent out long-term with an ACL injury and Yvonne O'Byrne unavailable due to international commitments, it meant it was always going to be a huge ask to replicate last season's heroics with Saturday's squad's average age being under 19.

And so it proved as they were dismantled 5-1 by a fired-up Dublin side who have ambitious plans this term. Former Cork C of I and UCC player Amy-Kate Trevor hammered in their first before Alex O'Grady replied in kind for 1-1 at quarter-time.

But that was as good as it got for Quins as Jilly Ringwood swept home for 2-1 before Eanna Horan, Aisling Naughton and captain Orla Macken all netted.

At St Andrew's, a blistering spell of four goals in four minutes in the third quarter saw Old Alex shake off the attentions of Glenanne in another goalfest.

It was 1-1 at half-time with Ann-Marie Cave and Paula Pena exchanging goals. Alex, though, raced into a 5-1 lead all of a sudden early in the second half and while Marie Goulding got one back, the Milltown side were safe.

Leinster Division One provided plenty of thrills and spills with the pick of the games between Naas and newly promoted Clontarf. The Caragh Road hosts went 2-0 up inside 10 minutes via a Ruth Gardiner penalty corner which deflected high into the goal and Saidhbh Farrell's close range effort.

Tarf got back to parity through a classy Becky McMullen corner switch and Nicola Taylor's goal just before half-time. Naas returned to the lead in the final quarter with Jane Brownlee's first goal since joining from Pembroke but Robyn Merrey levelled late on for 3-3.

Genesis beat Rathgar 1-0 courtesy of Lorna Fox's single goal in the final quarter. The Stillorgan club had strong performances from Laura Barrie at the back, the energetic Annie Kavanagh in midfield and Fox up front while Aisling and Aoife Lardner impressed on their debuts.

They also needed the returning Sorcha Cunningham to make a number of great saves to survive sustained pressure from a volley of corners at the end.

Former Suttonians' Issy Delamer and Erika Markey scored in Trinity's 2-0 win over Avoca. The result sees the student club extend their unbeaten run in the province to 50 games in Leinster Division One, encompassing the entirity of the 2016/17 and 2018/19 seasons as well as 13 games in the 2015/16 campaign. The last loss was on November 9, 2015.

Corinthian began their season in confident fashion with a 5-1 win over North Kildare. Jessica McGrane set them on their way before Sarah Quill made it 2-0 at half-time.

Her second and one each for Nicola Torrans and Jodie Douglas stretched out a 5-0 lead before Niamh Delaney got one back. Wednesday night sees Monkstown take on Glenanne in a tie postponed due to the first round of the Irish Senior Cup.

Women

Irish Senior Cup – Round 1: Catholic Institute 4 (A Hickey, R Pratt, N Carroll, C O'Shea) UCD 7 (H McLoughlin 3, N Carey 2, S Kelly, S Thomas); Glenanne 2 (A-M Cave, M Goulding) Old Alexandra 6 (F McDermott 2, P Pena, H McDermott, E Russell, O Bools); Pembroke 5 (A-K Trevor, J Ringwood, E Horan, A Naughton, O Macken) Cork Harlequins 1 (A O'Grady)

Leinster Division 1: Corinthian 5 (S Quill 2, J McGrane, N Torrans, J Douglas) North Kildare 1 (N Delaney); Genesis 1 (L Fox) Rathgar 0; Naas 3 (R Gardiner, S Farrell, J Brownlee) Clontarf 3 (R McMullan, N Taylor, R Merrey); Trinity 2 (E Markey, I Delamer) Avoca 0

The Hook


---

Scottish Hockey Premiership – Change at the top

Grove Menzieshill and Wildcats take over pole position in the Premiership




While this year`s Premier Championship is only two weeks old Grove Menzieshill (men) and Wildcats (women) have the initiative, albeit by a single goal.

Menzieshill were again in rampant form, this time they put Kelburne to the sword with a crushing 8-2 victory at Glasgow Green, this time the catalyst was a hat-trick from Keir Robb for his fifth strike of the season.

After Jamie Golden`s penalty corner flick cannoned off the bar Robb did find the net with a fierce reverse stick shot to put the `Hill one ahead.

The Taysiders quickly doubled their tally with a spot conversion by captain Albert Rowling. With Kelburne reduced to ten players – Johnny Christie was in the sin bin with a yellow card – Luke Cranney took advantage to add the third for the Dundonians.

Finn Halliday pulled one back for the Paisley outfit but any comeback proved illusory with a fourth following a counter-attack at pace finished off by Robb. for 4-1 at the interval.

Jamie Golden made it 5-1 at a penalty corner, Christie found himself in plenty of space and finished to bring the tally back to 5-2, but a solo effort from Cranney restored Menzieshill`s four goal advantage.

In the final quarter Golden added a seventh from another penalty corner powerful flick, then in the final seconds Robb notched his own third with a low shot after he was given the freedom of the circle.

Grange were also comfortable winners at Watsonians with a 5-1 victory at Peffermill.

It took the champions just before the interval to demonstrate their superiority with a penalty corner conversion from Austrian Clemens Rufjnak.

But the Edinburgh piled on the goals in the second half, Robbie Shepherdson doubled their tally with a shot that went into the net off a defender.

Then there were two clever deflections at penalty corners from Alan Johnston and player/coach Callum Milne to advance the tally to 4-0. Johnston then claimed his second of the contest, this time from open play, for a 5-0 lead.

Danny Cain notched a consolation for the home side in the closing minutes with a reverse stick shot from the top of the circle.

Western Wildcats roared back into contention with a seven goal win against Hillhead at Auchenhowie.

The `Cats purred into a four goal lead at the interval through Rob Harwood, Niall Sommerville, Fraser Moran and Andrew McConnell.

After a goalless third quarter Wildcats put their paws on the accelerator with further strikes from McConnell (2) for his hat-trick and Moran again.

Interestingly, all the `Cats goals came from open play.

Hat-tricks from Struan Walker and Andrew Allan was the foundation of Clydesdale`s 7-0 win over newly promoted Dundee Wanderers, the other goal came from Alistair Douglas.

Edinburgh University bounced back with a powerful 5-1 win at Uddingston.

The students had a three-goal advantage at the interval, both Peter McKnight and Ian Moodie found the net following a penalty corner rebound. McKnight scored his own second of the match, this time from open play.

Although the home side pulled one back through Blake Hinton, the students were not discouraged, Robbie Croll converted a set piece with a fierce drag flick, then in a flowing counter-attack move Costa Stylianou finished off with a tap in at the back post.

A hat-trick by Lucy Findlay was the catalyst in Wildcats six goal win against Glasgow University at Auchenhowie in the women`s competition, a result that pushed them to the top on goal difference

The opener originated from a rampaging run by Kaz Cuthbert which ended when Ava Smith guided the ball over the line. Wildcats continued to dominate proceedings and Findlay confirmed their superiority with a brace of tap ins at the back post for a 3-0 half-time lead.

A great through ball from Megan Cox set up Findlay for her hat-trick. Unselfish play from Alex Stuart set up Cox to add a fifth. The scoring was completed with a power shot from the top of the circle by Becky Ward.

But man-of-the-match was designed as Lucy Findlay.

Clydesdale also preserved their perfect record with a similar 6-0 score line against Merlins Gordonians in Aberdeen. There were two goals each for Lexi Sabatelli and Heather Lang with Laura Mann and Naomi Harkness adding the others.

Dundee Wanderers overcame the banana skin visit to Watsonians and came away with a slender 1-0 victory. After a goalless first half, four minutes into the second veteran Vikki Bunce broke the deadlock, a goal that proved to be the winner.

Watsonians had the better of the second half, they struck the bar and the post and put a couple of other chances on the wrong side of the post, but no equaliser… and it was the Taysiders who left with the three points.

Grove also finished the day on six points with a 3-1 win at GHK. The home side were ahead at the interval through a penalty corner conversion by Katie Allison.

But any suggestion of an upset was quashed in the second half, Grove`s Sam Sangster scored twice while Ciara Forgie netted her first foal at this level.

Scottish Hockey Union media release


---

Lakers drown Scorpions in Kisumu

By AYUMBA AYODI and DONNA ATOLA



Alice Awiti (right) of Lakers Hockey Club dribbles past from Lynn Ayuma of Strathmore Scorpions during their Kenya Hockey Union women's Premier League match at Jomo Kenyatta Sports Ground on September 28, 2019. Lakers won 3-2. PHOTO | ONDARI OGEGA | NATION MEDIA GROUP

Lakers shocked visiting Strathmore University Scorpions 3-2 in a women's hockey Premier League at Jomo Kenyatta Sports Ground in Kisumu on Saturday.

The victory saw Lakers uphold their unbeaten run in the league as they scaled one place to fourth with 15 points drawn from three wins and six draws.

Strathmore stay second in the log with 18 points from three losses, five wins and three draws. Champions Telkom top with 26 points from a clean run of eight wins and two draws.

Telkom and Lakers are the only sides yet to concede defeats this season.

That happened as men's Premier League champions Butali Sugar Warriors crushed Nairobi Simba Union 4-1 to not only extend their unbeaten run, but also their lead at the top to seven points.

Butali, who now have 10 wins and three draws, are seated pretty at the top with 33 points.

Lakers and Strathmore went for the break tied at 1-1. Lynn Ayuma put the visitors head in the seventh minute from field play, before Linah Naliaka levelled for Lakers in the 19th minute also from field play.

Alice Awiti would score from a penalty corner five minutes into the second quarter, before sealing a brace in the 49th minute from field play to put Lakers ahead 3-1.

Lynn Tumunai pulled one back for Strathmore in the 55th minute as Lakers put up a tight defence top hold on for victory.

Overwhelmed about his team's performance, Lakers' coach Austin Tuju said beating the Scorpions was an uphill task.

"Scorpions' have a well experienced coach Meshack Senge, who has coached for over a decade. They are a difficult team to beat so we are very excited," said coach Tuju.

Crest-fallen Senge hailed Lakers display, but expressed disappointment in his team's performance that was dominated with many wasted chances.

"It was not a very difficult game we ought to have won but unfortunately we missed numerous opportunities," said coach Senge, who also took issue with the match officials.

"I am not sure if it outright incompetence or it was deliberate to push the game in a certain way," said Senge. "Well, that should not be a big excuse since we ought to have scored."

Daily Nation


---

Champions Melaka showcase youth power for Sukma



Four-gone conclusion: Melaka players and officials celebrating their fourth Razak Cup title after beating Johor on Saturday.

PETALING JAYA: Melaka have sent an early signal to their Malaysia Games (Sukma) rivals by winning the Razak Cup.

Melaka, powered by youngsters, bagged their fourth Razak Cup title after pulling off a stunning 3-1 victory over Johor in the Division One final at the National Hockey Stadium in Bukit Jalil on Saturday.




They were dominant throughout the match and their scorers were Luqman Nurhakim Saiful (18th minute), Muhibuddin Moharam (34th) and Amirullah Zainol (53rd) - all via field goals.

As for Johor, their consolation was a penalty stroke by Shello Silverius in the 45th minute.

Melaka, who had previously won the Razak Cup in 2005,2009 and 2015, took home RM10,000 prize money while Johor received RM7,000.

Melaka coach Azrul Effendy Bistamam said he used the Razak Cup to expose his youngsters as part of their preparation for the Johor Sukma next year.

"I'm happy with the players' performance. They followed our tactical plans and instructions against Johor, who are a good side, " said Azrul.

"We scrutinised and studied Johor's previous match to identify their strengths, especially in the short corners. Our plan worked against them.

"We fielded eight players from our Sukma squad to expose them early and they did well to win the title."

In the Division Two final, national player Najmi Farizal Jazlan's two late penalty corner goals helped Perlis upstage Selangor 2-1.

The hard-fought win also ensured Perlis' promotion to Division One next season.

Hosts Selangor opened the scoring with Fikri Amer Runnizar's field attempt in the third minute but Najmi turned on the heat with goals in the 47th and 56th minutes to complete the comeback win.

The Star of Malaysia


---

No. 1 UNC Blows Out James Madison 9-0, Improves Record to 9-0

by Avery Trendel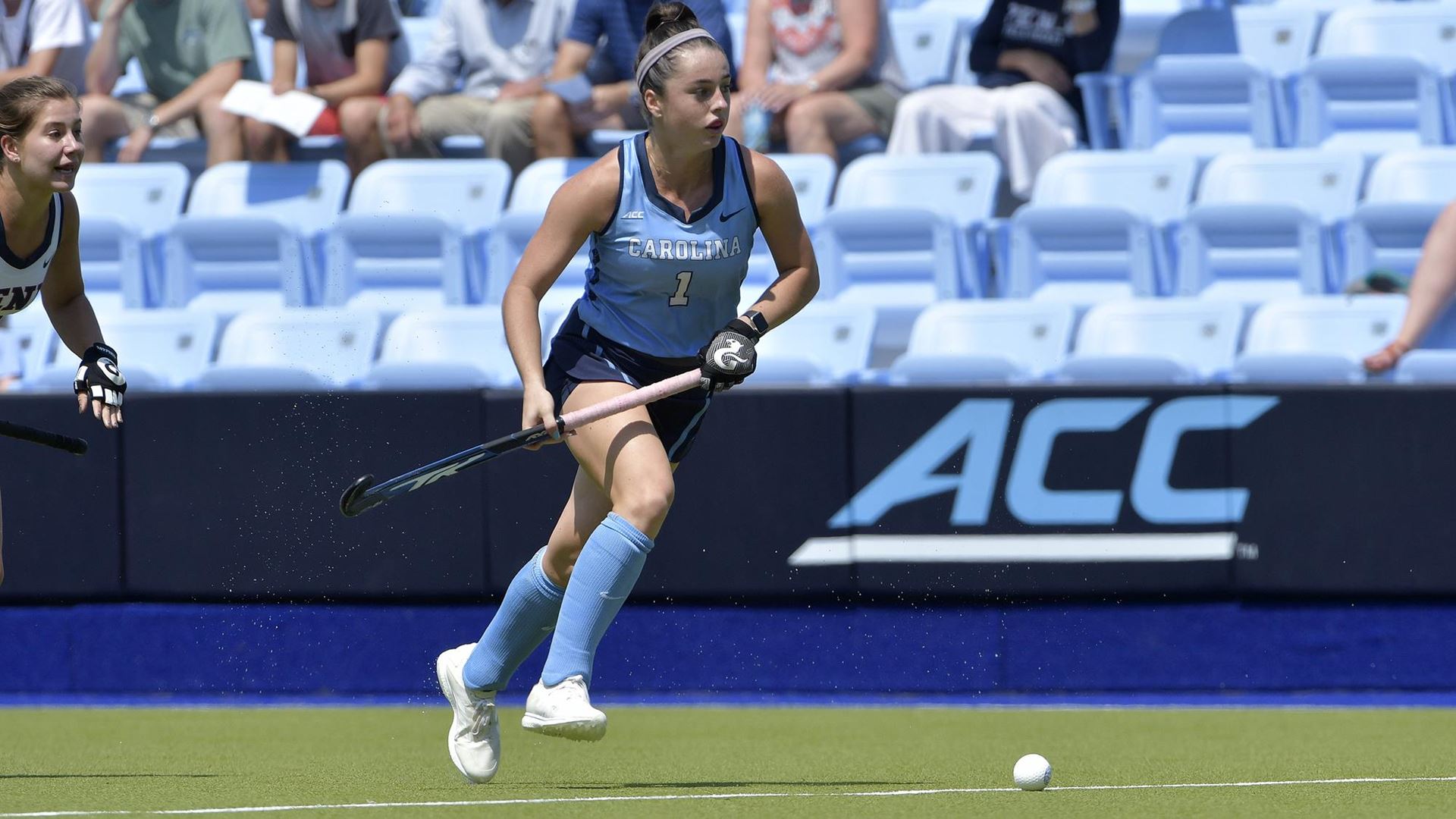 Photo via UNC Athletics

Despite missing head coach Karen Shelton for a second straight game while she attended a family wedding, the top-ranked UNC field hockey team continued its unparalleled run of dominance on Sunday–demolishing James Madison 9-0 to also improve its season record to 9-0.

Sophomore star Erin Matson scored four times in the game, while senior Catherine Hayden added a hat trick of her own to lead the Tar Heel offensive outburst. The team also received a goal apiece from senior Marissa Creatore and sophomore Abby Pitcairn.

The Tar Heels led 5-0 by halftime, and manufactured 14 shots on goal for the game compared to only two for James Madison (3-6).

This victory also extended UNC's winning streak to 32 games overall, with its last loss coming in the 2017 NCAA Tournament.

"We're happy with the shutout," associate head coach Grant Fulton said afterwards. "We passed the ball really well, and once again we took advantage of our opportunities."

Up Next:

With the win, UNC sets up a massive rivalry showdown on Friday–as it will host the No. 2 Duke Blue Devils in a matchup of the nation's top two teams. That game is set to begin at 4:30 p.m and will be televised on the ACC Network.

Chapelbro.com


---

Linda Cobano scored in her Maryland field hockey debut. She hasn't stopped since.

David Suggs



Linda Cobano pushes the ball forward during Maryland field hockey's 2-1 win over No. 18 Rutgers in Piscataway, New Jersey on Sept. 28, 2019. (Julia Nikhinson/The Diamondback)

When Maryland field hockey midfielder Linda Cobano was growing up, her dad — and childhood coach — taught her the importance of two-way play and flexibility, a lesson that has stayed with her throughout her career.

So when she arrived at the Field Hockey and Lacrosse Complex this summer, Cobano hoped to make a mark on both sides of the ball as a holding midfielder.

However, the sophomore has since developed into a potent goalscorer over the season thus far, scoring a team-leading six goals for the No. 4 Terps. And her goalscoring form reached its peak in games against No. 10 Princeton and No. 18 Rutgers, as she bagged braces in both games to propel Maryland to dramatic victories.

"Fortunately for us, she's played all over the field before she came to Maryland," coach Missy Meharg said. "We're in a position to move her up into a more attacking midfielder and when we get into the front field, she actually can play in the circle."

In her last season at Grossflottbeker, a club team in Germany, Cobano played as a fullback, meaning she was expected to contribute defensively while also pushing forward to provide width in the attack.

Cobano's versatility was particularly enticing to Meharg, who envisioned Cobano as a box-to-box midfielder whose skills would complement the ball-carrying qualities of players such as Brooke and Emma DeBerdine and Madison Maguire.

Cobano languished on the bench for the first two games, though — she was ruled ineligible following her transfer.

"It was harsh for me to sit out the first two games," Cobano said. "But it also made me so excited to be on the pitch."

Since becoming eligible, Cobano has been a standout presence in Maryland's lineup, scoring in her debut against then-No. 13 Boston College on Sept. 6 and starting each of her eight games.

And the Hanover, Germany, native has hit her stride in the last week, providing Maryland with a legitimate scoring threat from the midfield.

"In the first couple of games, she was in more of a defending position, but right now she's in the attacking midfield," defender Bodil Keus said. "It really helps us get some chances off in the forward [area]."

Against the Tigers, Cobano showed off her shot power, firing a couple of long-range efforts into the back of the cage to keep Maryland in the game.

On Saturday, though, Cobano displayed her nous in the shooting circle, deflecting Keus' shot into the net for her first goal. She found herself in the shooting circle again in the third quarter, cutting across a Rutgers defender to tap the ball past goalkeeper Gianna Glatz.

Buoyed by Cobano's performances, the Terps have been on a hot streak in recent weeks, winning six straight games — four of them against top-25 competition.

And given her impressive showings over the past few matchups, Cobano has become the center of Maryland's attack, even if it's from the midfield.

"She's helping people around the forwards, like where to stand and how to do things," Keus said. "She's really a threat for the opponents that we are playing against."

The Diamondback


---

Stanford women drop 1-0 field hockey match at Duke



Stanford fell to Duke 1-0 on Sunday. Kelsey Bing recorded three saves. Photo by Cody Glenn/ISIPhotos.com.

Senior Kelsey Bing recorded three saves but the No. 15 Stanford field hockey team failed to score in a 1-0 loss to host No. 2 Duke on Sunday in a nonconference contest.

The Blue Devils (8-1) scored in the 18th minute and recorded their fourth shutout to keep Stanford (6-5) winless on its two-game road swing against ranked opponents.



Lynn Vanderstichele /Stanford Athletics

The Cardinal outshot Duke 4-2 in the second half but was unable to finish its scoring opportunities.

Stanford meets No. 19 Syracuse in a nonconference match in Berkeley on Saturday. The Orangewomen (7-2) upset Duke 2-1 in an ACC contest on Friday.

Lynn Vanderstichele came off the bench to lead Stanford with three shots, ytwo of which were on goal. The nation's leading scorer Corinne Zanolli was limited to one shot by the Blue Devils defense. Rose Winter also had a shot on goal.

Palo Alto Sports Online


---

Penn field hockey records first two wins of season against Cornell and Temple

The Quakers had previously lost five straight games to start the year

By Tyira Bunche



Sophomore forward Maddy Fagan scored the game-winning goal in Penn field hockey's 2-1 victory against Temple on Sunday. Credit: Son Nguyen

For the first time this season, Penn field hockey is in the win column.

Coming into this weekend, the Quakers were dangerously close to being on the wrong side of history. Their five consecutive losses to start the season were tied with the 2001 Penn team for the worst start in program history. However, the group ended its losing streak with a 5-2 win against Cornell to open Ivy League play. Penn then rode that momentum to a thrilling 2-1 win over Temple.

On Saturday afternoon, the Quakers (2-5, 1-0 Ivy) began their Ivy League season at home against Cornell (3-2, 0-1). Penn came into the game with only four goals scored throughout its first five games, but the team scored five in one game against the Big Red. Penn's offensive breakout got started with a first quarter goal from senior forward Alexa Schneck, which was her first goal of the season.

With the game tied at one after the first quarter, the Big Red would take their first and only lead of the game at the start of the second quarter. However, the Red and Blue responded with four unanswered goals to regain and keep the lead. Freshman defender Elita Van Staden and sophomore forward Maddy Fagan both got their first two goals of the season during Penn's four-goal stretch.

This offensive outburst couldn't have come at a better time for a Penn team that has had a problem converting chances into goals.

"If you look back in the statistics from some of the past games that we were even walking away with a loss, we still were producing a lot of offense and a lot of offensive opportunities; we just weren't capitalizing on every single one," coach Colleen Fink said.

The defense also had a strong showing, allowing just six shots on goal with senior goalkeeper Ava Rosati tallying four saves.

It was a quick turnaround for the Quakers, as they traveled across town to face off against Temple (4-4) on Sunday. Unlike the Cornell game, this contest was much tighter and was decided in the final minutes.



Credit: Son Nguyen

The Owls opened up the scoring in the first quarter, but that would be the only goal they would notch for the rest of the day. The Red and Blue went into the third quarter trailing, 1-0, but that didn't hold for long as sophomore forward Madison Jiranek tied the game up.

Penn allowed only three shots on goal, an opponent's lowest against the Quakers this season. Penn's defense kept Temple off the board until Fagan ultimately put the game away with the game-winning goal with 5:27 left on the clock in the fourth quarter. For the Red and Blue, that could be the goal that turns their season around.

"It's a great feeling to score, and I'm just really thankful for my team," Fagan said. "It really was a team effort, but obviously I'm pretty happy right now."

"To win a big game [Saturday] was a bit emotionally taxing, and so it is very easy to have a deflated sense of urgency and deflated mentality going into the second game of the weekend," Fink said. "It is very easy to have a little lapse, and I think this shows that they are going to maintain their mentality of resilience and grit and support of one another."

With the team not starting the season the way it planned, it could have been easy for the team to be dejected.

"It is a true testament to the girls' ability to just believe in themselves and to continue working hard, continue staying focused, and continuing to support one another through those trying times," Fink said. "This team has been displaying a tremendous amount of character and I really couldn't be more proud of them."

Now, with a two-game win streak under their belt, the Quakers will take a trip to Massachusetts to face off against Harvard and Boston University next weekend.

The Daily Princetonian


---

No. 14 Ohio State snaps losing streak with win over Indiana

Johnny Amundson



Ohio State senior back Whitney Harris (11) runs down the field during a game against Louisville on Sept. 15. Ohio State lost 2-1. Credit: Rachel Jaycox | For The Lantern

The Ohio State field hockey team won its first Big Ten matchup of the year against Indiana Sunday, snapping a three-game losing streak.

Two Buckeyes scored two goals as No. 14 Ohio State (5-4, 1-2 Big Ten) outshot Indiana (4-5, 1-2) 34-5 in the 6-2 victory.

Buckeye freshman midfielder Mackenzie Allessie scored twice off a team-leading nine shots and five shots on goal. Sophomore forward Jessica Hourihane also scored twice, and the pair were two of nine Buckeyes to place a shot on net –– a season high.

After a scoreless first half, Ohio State freshman forward Sarah Charley opened the scoring with an unassisted 36th minute goal.

Indiana senior midfielder Kelsey Giese, who scored both of Indiana's goals Sunday, responded eight minutes later.

Giese led her team with five shots, four shots on goal, and two goals.

Ohio State picked up two more goals in short order, with Allessie and Hourihane each knocking home their first.

Giese's second goal cut the Buckeye lead to one with 6:30 left, but Ohio State quickly responded with three goals in the last five minutes to comfortably put Indiana away.

Ohio State' continues its season against Ohio Sunday at 2:00 p.m.

The Lantern


---

20 yrs on, hockey stadium to get new AstroTurf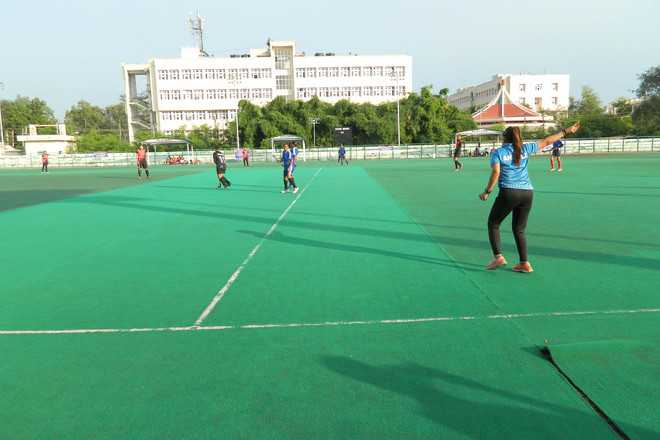 Hockey players practise at the KK Hakku Stadium. File Photo

After much delay, the long-pending demand of hockey players will soon be accepted as the foundation of a new synthetic turf was laid at the KK Hakku Stadium here on Sunday.

A few days ago, Adviser to Governor K Vijay Kumar had inaugurated and laid the foundation of a series of sports projects. It also included the illumination of KK Hakku Hockey Stadium, which was established with Rs 75 lakh, besides laying the foundation of AstroTurf to be raised at an estimated cost of Rs 600 lakh.

"Earlier, the AstroTurf was inaugurated at the KK Hakku Stadium in 1999. The average life of an AstroTurf is 10 years after which it has to be replaced but unfortunately that did not happen. Now, the foundation of the new turf has been laid after a long gap of 20 years. We are hopeful that the stadium will have the new turf soon to host national-level tournaments," GS Bakshi, secretary, Hockey J&K, told The Tribune.
"It was a long-pending demand of hockey lovers to have a new AstroTurf at the stadium. The national-level tournaments can be played only on the new turf as the existing one is not even fit to hold exhibition matches," he added.

"Moreover, the floodlights installed in the stadium last month also seem to be of substandard quality. These are not functioning properly, which makes it difficult to conduct matches at night. The matter has already been taken up with the authorities," Bakshi added.

"The turfs outside J&K are in excellent condition. We are happy that the government has agreed to our demand for laying a new AstroTurf at the stadium," said Anajali Kumari, a hockey trainee.

The Tribune