All the news for Sunday 29 September 2019

Harmanpreet Singh scores brace as India men's hockey team hand Spain 6-1 hammering



Harmanpreet Singh led the way for India with a brace. Image credit: Hockey India

Antwerp, Belgium: Drag-flicker Harmanpreet Singh scored a brace as the Indian men's hockey team defeated world number 8 Spain 6-1 in their second match of Tour of Belgium at Antwerp on Saturday.

Harmanpreet (28th, 32nd minutes), skipper Manpreet Singh (24th), Nilakanta Sharma (39th), Mandeep Singh (56th) and Rupinderpal Singh (59th) were the goal scorers as world number 5 India capped off a brilliant performance.

India started the match aggressively and almost immediately were in the ascendancy by creating problems for the Spanish defence with a host of circle penetrations.

Despite the possession, India found it tough to win a penalty corner or create clear scoring opportunities in the first quarter.

It was, in fact, Spain who won the first penalty corner of the game towards the end of the first quarter, forcing India's goalkeeper PR Sreejesh into a fine, reflex save to keep the scores level.

India started making more inroads towards the Spanish goal in the second quarter, and forced Spanish custodian Quico Cortes to make some smart saves.

Finally in the 24th minute, it was captain Manpreet who broke the deadlock as he slotted home to give India the lead.

Within four minutes, the lead was doubled as Harmanpreet scored India's second of the game from a penalty corner.

However, it was Spain's turn to open their account as they pulled a goal back right before half-time, which meant the teams went into break with India leading 2-1.

India pressed hard after the change of ends and their efforts bore fruit when Harmanpreet scored his second of the day by converting another penalty corner in the 32nd minute to restore his side's two-goal cushion.

Midfielder Nilakanta Sharma then scored a superb field goal in the 39th minute to make it 4-1 in India's favour at the end of the third quarter.

India kept control of the game in the final quarter and showed their quality as they did not allow Spain any chance to mount a comeback.

In the 56th minute, Mandeep scored India's fifth goal before Rupinder converted a penalty corner just a minute from the hooter to register the comfortable win for his side.

India will take on Spain again in the third match of the tour of Belgium on Sunday.

Firstpost


---

Harmanpreet shines as India smash six goals against Spain

Drag-flicker scored two goals for India's hockey stars.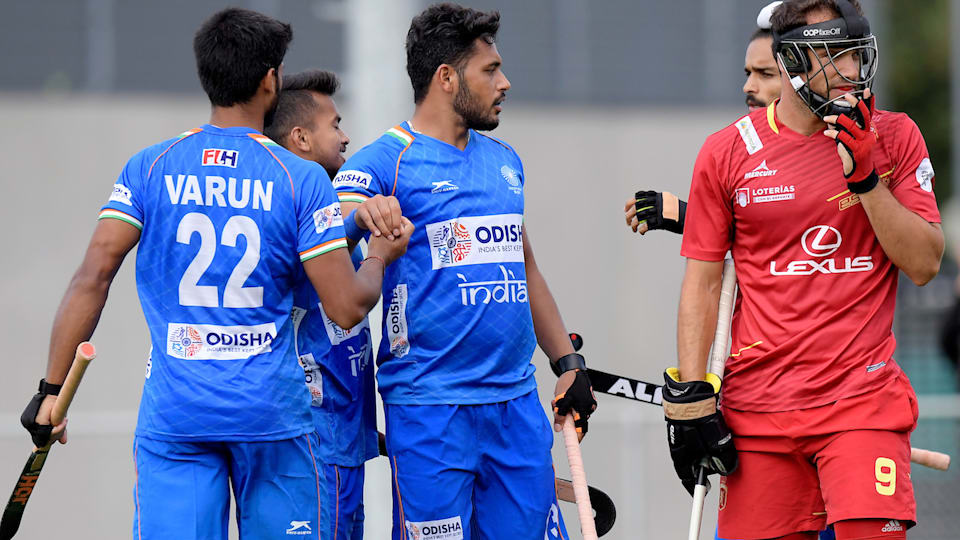 India's Harmanpreet Singh celebrates after scoring against Spain. Image courtesy: Hockey India

Days after winning the opening game of their Belgium tour, the Indian men's hockey team registered a thumping 6-1 win over Spain on Saturday.

Spain, ranked eighth, fell into the trap early in the game as defender Harmanpreet Singh scored a couple of goals (28', 32'), while the likes of Manpreet Singh (24'), Nilakanta Sharma (39'), Mandeep Singh (56') and Rupinderpal Singh (59') also found themselves on the scoresheet to complete a resounding victory.

Silent first quarter

Getting straight into the act, India did everything to unsettle the Spanish backline. Despite enjoying the majority of possession though, they failed to win even a solitary penalty corner let alone create a clear goal-scoring opportunity in the first quarter.

Spain, on the other hand, managed to trouble the Indian goalkeeper PR Sreejesh by forcing him into a fine reflexive save off the game's first penalty corner.

India showed their intent in the second quarter. After forcing the Spanish 'keeper, Quico Cortes, into a couple of saves, captain Manpreet Singh finally broke the deadlock in the 24th minute to put his team in the lead. Four minutes on, and defender Harmanpreet Singh was on hand to convert through a penalty corner with a perfect drag-flick to make in 2-0 in no time.

Spain responded right before the half-time, pulling one back to ensure the teams go into the break with the score-line reading 2-1.

Goals galore

Shifting up a gear, India launched a barrage of attacks after the restart, forcing the Spanish team to stay within their own half. The relentless pressure paid off as Harmanpreet, in the 32nd minute, restored India's two-goal cushion by slotting home through another penalty corner.

Seven minutes later, midfielder Nilakanta Sharma kept his cool to give India a comfortable 4-1 lead. The final quarter, too, belonged to India, with forward Mandeep Singh hammering home his team's fifth before full-back Rupinderpal Singh – through a brilliantly taken penalty corner - added the sixth.

Following this resounding win, India will again square off against Spain on 29 September 2019 at 1730 IST.

Olympic Channel


---

Stats Speak: 6-1 is the biggest ever win of India against Spaniards

By B.G.Joshi (Sehore-Bhopal, India)

In international men's hockey India met Spain in London Olympics (1948) first time. Stalwarts Kunwar Digvijay Singh 'Babu' and Penalty corner expert Tarlochan Singh Bawa scored the goals in 2-0 triumph versus mighty Spanish.

Yesterday in Antwerp (Belgium) Harmanpreet Singh (28',32') and Rupinderpal Singh(59') have scored by penalty corners, while  Captain Manpreet Singh(24'); Mandeep Singh(56') and Neelakanta Sharma(39') have netted field goals in 6-1 magnificent victory. It is the biggest ever win of India against Spaniards.

Previously in Lyons International (1963) India won by 4-0 against Spain. In elite tourneys India beats Spain by 3-0 in Chennai Champions Trophy (1996) and Kuala Lumpur World Cup (2002).However Spain outclassed India by 8-2 in August 2009 in test match played in test series. Here are statistical highlights:
India-Spain in men's hockey: at a glance
Particulars

India's

Wins

Spain's

Wins

Drawn

Goals For

India

Goals For

Spain

Total-62

26

23

13

117

114

Total matches

In test series-20

9

8

3

46

46

In elite tourneys

matches played-22

9

7

6

39

37

In India-Spain ties: India's biggest ever win 6-1 on Sept 28, 2019; Spain's biggest ever win 8-2 on Aug 9, 2009.
 FIeldhockey.com


---

Ireland beat China as Green Army qualifier ticket details released



Ireland won their series with China. Pic: Adrian Boehm

Ireland won their series against China with two wins from two of the formally capped matches at Belfield this week.

The Green Army won last Sunday's first test 4-2 before winning Thursday evening's tie 1-0 at the same venue, Anna O'Flanagan getting the only goal in the 17th minute.

For captain Katie Mullan, she said it was a strong series as preparations continue for November's Olympic qualifiers against Canada.

"Excellent preparation," she said. "China play very quick hockey and swarm the ball  a lot so we didn't have time to think on the ball and so it is really positive to come out with clean sheets in today and Tuesday's [uncapped] game. That's massive.

"As well to score four goals the first day, it's really positive. We are ticking along nicely now. The new style of hockey we are playing is proving promising so we are delighted."

She adds that coach Sean Dancer is quickly managing to get across a more attacking style of play which Mullan is enjoying.

"We feel positive in the way we are playing and Sean has pushed us. We are training harder than we ever have before and are fitter than ever. That's showing in the way we play and it is a really enjoyable style. It suits us and suits our physique. It's promising when you change some things and you get the results. It helps you believe in it."

Ticket for the Olympic qualifiers go on sale on October 1 via the hockey.ie website. There will be two categories of day ticket available – covered seating and terrace standing – with terrace standing prices from €10 for under 16s and €25 for adults.

Seats in the covered stand are €40 on Saturday and €35 on Sunday with a combined weekend ticket for €70.

Hospitality tables for 10 people will be available to book via https://www.hockeyqualifierticketsdublin.com/ next week along with full details of what is included.

SoftCo, the team's main sponsor, will be running a competition in October to find mascots! This will be open to boys and girls and you will find details shortly at https://twitter.com/SoftCoGroup

 "Donnybrook is an exciting adventure for us," Mullan continued. "Most importantly, we hope there is a massive crowd and a sea of green supporting us. That's all we can hope for."

Those sentiments were echoed by Lena Tice.

"We are certainly working as hard as we can be. We are really being putting through our paces and are excited for the day to come around and we will be ready. The idea of playing in front of a reall big home crowd is something special and it will give us a real boost. It is something which hasn't been done before in Ireland!"

She won her 100th cap earlier in the week alongside Zoe Wilson.

"It was a really special day and to share that occasion together. We have been playing together side by side since we were about 13 years old!"

Women's senior international test match Thursday:

Ireland 1 (A O'Flanagan)
China 0

Ireland: A McFerran, Y O'Byrne, S Barr, L Tice, E Beatty, G Pinder, L Colvin, A O'Flanagan, Z Wilson, E Curran, K Mullan
Subs: B Barr, N Evans, R Upton, S McCay, N Daly, A Meeke, E Buckley

China: J Ye, X Zhang, J he, Y Chen, J Zhonhg, H Li, X Xi, Q Cui, B Gu, M Liang, J Li
Subs: W Xu, X Song, X Xi, Z Ou

The Hook


---

Melaka are champions

By Jugjet Singh



MELAKA defeated Johor 3-1 to win the Razak Cup Division One title at the National Hockey Stadium in Bukit Jalil yesterday. - NSTP/ZULFADHLI ZULKIFLI.

MELAKA defeated Johor 3-1 to win the Razak Cup Division One title at the National Hockey Stadium in Bukit Jalil yesterday.

Luqman Nurhakim Saiful (18th), Muhibuddin Moharam (34th) and Amirullah Zainol (53rd) delivered for Melaka while Shello Silverius scored off a penalty stroke for Johor in the 45th minute.

In the Division Two final, national player Najmi Farizal Jazlan left it late in the fourth quarter to score two penalty corner goals in the 2-1 win over Selangor to not only hand Perlis the title, but also a promotion spot to Division One next season.

Hosts Selangor drew first blood with a third minute strike through Fikri Amer Runnizar's field attempt. However, they could not increase their tally from their subsequent opportunities.

A patient Perlis grew in confidence and turned on the heat in the final quarter.

The towering Najmi, who last played for the national team in the Japan Four-Nation in August, flicked home high in the 47th and 56th minutes to hand Perlis the title.

"It's a super feeling to help my state win the title as well as promotion into Division One next year.

"Selangor were hard to crack but when I scored the first goal, they were rattled and the second came easy," said Najmi, who was named man of the match.

Najmi also topped the scorers' chart with 12 goals.

In the bronze playoff, Armed Forces overcame Negri Sembilan 4-2 with goals from Hafizi Ramli (eighth), Yazid Yahya (34th), Luqman Sufi Jaafar (49th) and Fahmi Abdullah (53rd).

Aiman Haquim (10th) and Nazrul Ashraf (38th) netted for Negri.

RESULTS — Division One final: Johor 1 Melaka 3; Third-Fourth: Terengganu 3 Kuala Lumpur 2.

Division Two final: Selangor 1 Perlis 2; Third-Fourth: Armed Forces 4 Negri Sembilan 2.

Women's final: Kuala Lumpur 0 Selangor 1; Third-Fourth: Armed Forces 3 Police 3 (Police win 4-2 on shootout).

New Straits Times


---

Nur Farah's first strike seals title for Selangor



Selangor players celebrate after winning the Razak Cup women's title following a 1-0 win over Kuala Lumpur in the final yesterday. PIC BY ZULFADHLI ZULKILFI.

SIXTEEN-YEAR-OLD Nur Farah Hanis Azharuddin's first goal of the tournament could not have come at a more opportune time.

The 141cm tall girl netted the solitary goal — in the 11th minute — for Selangor to defeat defending champions Kuala Lumpur in the women's Razak Cup final at the National Hockey Stadium in Bukit Jalil yesterday.

"I never expected to score the winner in the final because I've had a difficult tournament. I could not find my rhythm right until the very end," said Nur Farah, who studies at the Tunku Mahkota Ismail Sports School (SSTMI).

So, what's her next plan?

"I'd like to play for the National Juniors some day," said Nur Farah.

Hosts Selangor, silver medallists last year, had earlier topped Group B with wins over Armed Forces, Malaacca and Terengganu before ousting Police 3-0 in the semi-finals.

Selangor also pocketed RM2,000 after winning the Fair Play Award.

Johor's Nuraini Rashid was the women's top scorer with four penalty corner goals.

New Straits Times


---

ROUND-UP: Investec English Women's Hockey League



Bowdon Hightown celebrate a late winner against Loughborough Students. Credit Andrew Smith

Two goals in the final five minutes helped Hampstead & Westminster beat plucky rivals Clifton Robinsons 3-2 and remain top of the Investec Women's Hockey League Premier Division on Saturday.

The London outfit looked to be heading for their first defeat of the season until late strikes from Grace Balsdon and Jo Leigh helped them hit back.

The visitors from Bristol had taken the lead after 17 minutes through Catherine Macaulay, and although Melanie Wilkinson levelled on 32 minutes Clifton Robinsons retook the lead with Phoebe Richards scoring from open play on 36 minutes.

However, Balsdon's 65th minute goal from a penalty corner and Leigh's 67th minute field goal proved the difference.

Surbiton kept pace at the top with a 2-1 win over East Grinstead.

Emily Gucklan and Darcy Bourne's first half field goals gave the reigning champions a half time lead. East Grinstead got one back through Ellie Rayer but couldn't find the equaliser as Surbiton stay second on goal difference.

Buckingham scored three second half goals to stay undefeated, beating the University of Birmingham 3-1.

Rafaela Brandao-Lee opened the scoring for University of Birmingham in the 18th minute but two goals in four minutes from Kitty Higgins and a clincher from Natasha James gave Buckingham all three points.

Alice Wills' 57th minute strike proved decisive for Holcombe as they snatched a 3-2 win at Beeston.

Candice Manuel scored two goals for the eventual winners before Beeston's Ali Eadie and Lauren Burrell drew Beeston level.

Wills' strike helped Holcombe stay fourth as Beeston are still without a win and lie bottom of the table.

Bowdon Hightown overtook hosts Loughborough Students with a 2-1 victory.

Beth Peers gave the hosts and newly promoted team a 45th minute advantage. Aine Curran levelled two minutes later before Sian French put Bowdon Hightown ahead in the 69th minute.

Investec Women's Division 1 North

Sally Walton was in great goalscoring form, netting three times in Olton & West Warwicks' 4-2 win over Swansea in the Investec Women's Division 1 North.

Swansea led 2-0 before Walton's nine-minute hat-trick after the half, while Lara Knowles added Olton's fourth in the 61st minute.

Anna Faux bagged two goals in Leicester City's 4-0 victory over Brooklands Poynton to top the table after round one of the season.

Stourport's Hannah Corcoran scored a last-minute penalty corner to see her side edge a 3-2 victory against hosts Gloucester City.

Ben Rhydding beat Belper 2-1 while the game between Leeds and University of Durham ended in a goalless draw.

Investec Women's Division 1 South

Wimbledon kicked off the season in good fashion with a 6-1 win over Isca in the Investec Women's Division 1 South.

Five different players found the net for Wimbledon with Olivia Chilton scoring twice to send them top of the table on the opening weekend of fixtures.

Trojans went 3-0 up after 52 minutes and despite conceding, managed to hold on for a 3-1 home win over St Albans.

Sevenoaks came from a goal behind to beat Cambridge City 2-1.

Jen Wilson equalised for Sevenoaks after Heidi Baber's third minute goal for Cambridge; Nicola Skrastin ultimately gave Sevenoaks the three points with her 55th minute strike.

Jo Ellis' 63rd minute field goal proved to be the difference as Reading beat visitors Slough 1-0.

Elsewhere, Canterbury and Harleston Magpies played out a 1-1 draw.

Investec Women's Conference West

Surbiton's second team are top of the Investec Women's Conference West table after an emphatic 6-1 victory over Basingstoke.

Maddie Long was the pick of the bunch as she netted a hat-trick, while Hannah Denison also netted twice.

Cheltenham also opened their season with a win, beating Oxford University 3-1. Emily Hobbs found the net twice with Alice Shea scoring the other for Cheltenham.

Clifton Robinson's second team edged a narrow win as Dayzee Moss' 24th minute field goal proved the difference in a 1-0 win over Oxford Hawks.

Two goals from Olivia Sherwen gave the University of Bristol a point as they drew 2-2 with the University of Birmingham's second team.

Elsewhere, Team Bath Buccaneers and Exe drew 0-0.

Investec Women's Conference North

Sutton Coldfield were in fine form on the opening day of the Investec Women's Conference North, securing a resounding 9-0 victory over Cannock.

Emma McCabe found the net five times for Sutton Coldfield while Charlotte Cross and Vicky Woolford both scored twice each to go top of the table.

The University of Nottingham beat Fylde 3-0 with two goals coming from Jordan Homann.

In a Yorkshire derby, two goals from Leah Davis gave Wakefield the spoils over Doncaster as the game finished 2-1.

Elsewhere, Timperley beat Alderley Edge 2-1 while Pendle Forest prevailed against Beeston's second team by the same scoreline.

Investec Women's Conference East

Bromley & Beckenham are top of the Investec Women's Conference East following a 3-1 victory over hosts Chelmsford on the opening day of the season.

The eventual winners fell behind after just three minutes, but second half goals from Emma Greenway, Flor Zappulla and Vallisa Armstrong gave the visitors maximum points.

Goals in either half gave Broxbourne a 2-0 win over Ipswich while Southgate beat Canterbury's second team by the same scoreline.

Elsewhere, Barnes finished 2-1 winners over Horsham and a goal in the last ten minutes helped Wimbledon's second team edge Bedford in another 2-1 victory.

England Hockey Board Media release


---

Linda Cobano's two goals power No. 4 Maryland field hockey to 2-1 win over No. 18 Rutgers

David Suggs



Defender Bodil Keus takes a shot, resulting in a deflected goal for midfielder Linda Cobano, in Maryland field hockey's 2-1 win over Rutgers on Sept. 28, 2019. (Julia Nikhinson/The Diamondback)

When Tayla Parkes' rebounded effort squirted past goalkeeper Noelle Frost to cut Maryland field hockey's lead over No. 18 Rutgers down to one, the game appeared to be headed for a dramatic finish, similar to the Terps' first Big Ten contest of the year against then-No. 24 Penn State.

Maryland had held control for most of the game, passing its way around a stout Scarlet Knights defense to put two goals past goalkeeper Gianna Glatz. With Parkes' goal, though, Rutgers looked to attack a Maryland backline that looked shaky late against Penn State on Sept. 20, conceding 11 shots in the fourth quarter.

However, the Terps remained composed, holding on to not concede another effort while racking up four of their own to secure a 2-1 victory over the Scarlet Knights for their second conference win in as many tries.

The Terps opened the scoring, with midfielder Linda Cobano deflecting Bodil Keus' speculative effort into the back of the cage.

Meanwhile, Maryland's defense was resolute, surrendering one shot in the first frame.

Both sides found their attacking edge in the second quarter, with the Terps earning four penalty corners within the first three minutes. Rutgers' backline keyed in on Maryland's attacking penalty corner threat, though, blocking each of the Terps' three attempts.

The Scarlet Knights created dangerous chances for themselves, too. Forward Rachel Houston flashed her skill midway through the second, knocking the ball past a Maryland defender before closing onto Frost, who kicked the ball away.

It was Rutgers which looked the brighter of the two teams as the first half came to a close, forcing the Terps into three saves, including an acrobatic Bodil Keus clearance to prevent Katie Larmour's effort from crossing the goal line. But despite their increased pressure, when the game clock hit zero, the Scarlet Knights' goal total read the same.

After the two squads combined for 14 shots in the first half, the third quarter promised to be an intriguing affair. The Terps got off to an inspired start, with Cobano combining with midfielder Emma DeBerdine to get her second of the day, matching her brace against No. 10 Princeton.

The goal set off a dominant third quarter display for the Terps, who outshot Rutgers 5-1 in the frame. And if not for Glatz's two saves on midfielder Madison Maguire, the scoreboard would have been far more convincing in Maryland's favor.

As the game entered its final stage, it was clear that the next goal would prove to be the most important, as a third goal for the Terps would effectively wash out any chance of a comeback. If Rutgers were to strike, though, a more tense and open disposition would likely commence.

Parkes' goal ensured the latter would be the case, rebounding Redlingshoefer's penalty corner attempt past goalkeeper Frost less than three minutes into the fourth quarter.

However, Maryland continued to play the game at its own pace, dominating possession for long periods and pressing Rutgers' defense into turnovers. The Terps racked up four shots — all saved by Glatz — while failing to allow a shot against after Parkes' goal, eking their way to a 2-1 victory.

The Diamondback


---

Cardinal women drop field hockey contest at Wake Forest
 


Phoebe Crosthwaite, Megan Frost (4), Corinne Zanolli and Fenella Scutt (5) talk things over. Photo by Karen Ambrose Hickey/Stanford Athletics.

Corinne Zanolli scored for the 15th-ranked Stanford field hockey team but it wasn't enough as the Cardinal dropped a 3-1 decision to host No. 21 Wake Forest in a nonconference contest Friday.

The Cardinal (6-4) was opportunistic early on, as Corinne Zanolli padded her nation-leading goal total with her 15th score of the season in the 21st minute.

Zanolli is on track to outpace her breakthrough sophomore year, in which she scored a single-season school record 26 goals.

Wake Forest (3-5), which controlled play throughout and owned a 12-6 shot edge, tied the game at 1-1 in the 37th minute following the first of two goals from Alexis Grippo.

The match remained level until the 57:41 mark when Grippo converted a penalty stroke and the Demon Deacons added an empty-net goal one minute later.

Stanford concludes its road trip on Sunday morning at Duke

Palo Alto Online