All the news for Tuesday 24 September 2019

The pressure is on Germany, says Austria ace Stanzl




In the latest of a series of video interviews with the teams that will participate in the upcoming FIH Hockey Olympic qualifiers, Austria (FIH World Ranking: 20) attacker and 2018 Indoor World Cup winner Benjamin Stanzl looks ahead to his team's crucial two-game clash against neighbours and four times Olympic gold medallists Germany (WR:6). The all-important matches will take place in Germany at Mönchengladbach's Hockeypark on 2/3 November 2019, with timings to be confirmed in the coming days. A transcription of the interview can be found below. 

The FIH Hockey Olympic qualifiers will be taking place very soon. How will your team prepare for these hugely important matches?

Benjamin Stanzl: "The main preparation for this event started already in August. Right now, we are divided into two groups. We have one group which is training in Vienna, they are playing in the competition over there and they train two to three times a week together. Then we have the second group, which are players who are playing abroad, in Holland and Belgium and a lot of guys are playing in Germany, which can also be a bit of an advantage for us because the guys know the league and know the players we are playing against. I think we will be prepared pretty good for this event."

What can we expect to see from your team in the FIH Hockey Olympic qualifiers?

Benjamin Stanzl: "We will have a good game plan for these two games. It will start with a strong defence, of course. That fits us really good, also with our indoor skills. We have a lot of quality in our team, and we will try to be a bit uncomfortable for the German defence. In the end we will see what the outcome is from these two games, but I think we are ready for this."

What are your thoughts about the Germany team, and how is your squad feeling about these matches?

Benjamin Stanzl: "I think the style of the Germans is a bit similar to our style. Their main focus is defence, and of course they have good, skilful players in offence as well. It will be a really hard task for us, but they are number six in the world and we are number 20, so all the pressure is on them. I think it will be a good event, close to Austria, so hopefully a few people are coming [to support] us. I think everybody is looking forward to these two games and hopefully we can make it in the end."

Finally, what would qualifying for Tokyo 2020 mean to you and your team?

Benjamin Stanzl: "Qualifying for the Tokyo Olympics would be the biggest achievement for everyone in our team. I think that is also the reason why we are training so hard, why we go abroad and are away from our families, to achieve these things. Playing at the Olympics is one of the biggest goals of every hockey player. It would also be really good for Austrian hockey, I think. We will try everything to make the dream come true."

Each qualifier consists of two back-to-back matches which will be played in the same venue. The winners of these FIH Hockey Olympic qualifiers will qualify for the 2020 Olympic hockey tournaments which will be staged in Japan's capital city from 25 July to 7 August next year and involve 12 Men's and 12 Women's teams.

#Tokyo2020
#RoadToTokyo
#GiftOfHockey

FIH site


---

Oman hockey team to tour Pakistan

ISLAMABAD: In order to prepare players for the 2020 Olympics qualifiers, Oman's hockey team would be touring Pakistan in late September for a four-match series against the probables of the national training camp currently in progress at Lahore's National Hockey Stadium, Pakistan Hockey Federation (PHF) secretary Asif Bajwa said on Sunday.

"I am in touch with Oman's head coach and former Pakistan captain Tahir Zaman to confirm the dates of the team's tour to Pakistan. Oman's team will tour Pakistan on Sept 29 or 30," Bajwa told APP, adding the plan was to play a four-match series in Lahore.

Speaking about the national team's chances in the Olympic qualifier against the Netherlands, Bajwa said it was a challenging task as Pakistan — currently ranked 17 — would be up against world No.3 Netherlands. "However, nothing is impossible as the PHF is doing its best efforts to train players for the qualifier," Bajwa claimed and added that the final Pakistan squad for the qualifiers would be announced on Oct 10.

Meanwhile, the PHF secretary said the federation would be sending the national junior team to Malaysia for a series in October.
Article continues after ad

"Our Malaysia counterpart had requested us to play a hockey series in early October," he said.

He said due to the hectic schedule of the national players, the PHF had asked the Malaysian Hockey Federation (MHF) to reschedule the series later in the month.

"We have to apply for the no-objection certificate and other matters related to the tour," he said. "They have not yet received any reply from MHF but hopefully the series would be finalised in the coming days."

Dawn


---

Negri suffer heavy defeat

By Jugjet Singh

NEGRI Sembilan paid the price for sloppy defending when they were hammered 6-1 by Perlis in a Razak Cup Division Two match in Bukit Jalil yesterday.

The defeat caught Negri team manager S. Chandran by surprise as his team were convincing when they defeated Kedah (5-0) and Kelantan (3-0) in their opening matches.

When asked if former Junior World Cup player G. Kevin Kartik, 27, was overweight and too slow in defence which led to yesterday's defeat, Chandran reluctantly agreed.

"I am also shocked with the margin of defeat, but Perlis do have some good strikers," said Chandran at first but when pushed on the Kevin issue, he agreed.

"Yes, I agree Kevin was slow to respond in many situations."

For the record, Kevin is only the second Malaysian to play in two Junior World Cup editions (2009 and 2013).

(M. Devendran, also a defender, was the first to feature in two Junior World Cup editions in 1985 and 1989).

Kevin was fit as a fiddle in his heyday.

However, Kevin is now overweight and too slow. His weight issues could dent Negri's hope of winning the second-tier tournament.

Meanwhile, Malaysia edged South Korea 2-1 in an international friendly at the Jincheon National Training Centre yesterday.

Razie Rahim scored a brace through penalty corner attempts in the 34th and 37th minutes while Jang Jong Hyun replied for Korea in the 44th minute.

Results

Men's Division One — Group A: Police x Perak x;

Group B: Penang x Terengganu x, Pahang x Kuala Lumpur x.

Division Two: Perlis 6 Negri Sembilan 1, Kelantan 1 Armed Forces 4, Selangor x Kedah x.

Women's Group B: Terengganu 1 Selangor 2, Armed Forces 2 Malacca 1.

Fixtures

Today

Men's Division One Group A: Johor v Malacca (Pitch 2, 8pm).

Group B: Terengganu v Pahang (Pitch 1, 6pm), Penang v Kuala Lumpur (Pitch 1, 8pm).

Division Two: Perlis v Kedah (Pitch 2, 4pm), Negri Sembilan v Armed Forces (Ptich 1, 4pm), Selangor v Kelantan (Pitch 2, 6pm).

Women's Group A: Police v Penang (Pitch 2, 7.30am), Kuala Lumpur v Johor (Pitch 1, 7.30am).

Group B: Terengganu v Malacca (Pitch 2, 9.30am), Selangor v Armed Forces (Pitch 1, 9,30am).

* all matches at the National Hockey Stadium, Bukit Jalil.

New Straits Times


---

Johor boys stand out in Razak Cup

PETALING JAYA: Johor's young armada are making their presence felt in the Razak Cup.

They shocked defending champions Perak 3-1 in the opening day and nearly pulled off another big win against Police on Sunday before they settled with a 2-2 draw in the Division One battle at the National Hockey Stadium in Bukit Jalil.

The Police took the lead through Mohd Rahimi Iskandar in the 16th minute, but Johor fought back through Mohd Shafiq Hassan (17th) and Muhajir Abdu Rauf (43rd) before Baljit Singh levelled the score in the 53rd minute.

Johor led by Sarjit Singh are the top team in Group A with four points, and need just another point against Melaka today to secure a spot in the semi-finals.

"Without national players, we are fielding many youngsters, and I believe it's an excellent opportunity for them to showcase their talents," said Sarjit.

The team comprises Under-21 boys except for Mohd Amirul Firdaus Samsudin (23) and captain Mohd Nor Aqmal Abdul Gaffar (25).

Last year, Johor finished fifth in the Razak Cup.

The Star of Malaysia


---

Loughborough Students aim to turn the tide of history

Rod Gilmour



Loughborough and Hampstead were both promoted last season Credit: Simon Parker

Loughborough Students last graced the women's Premier Division 19 years ago. But such is the regular turnover of staff and players for university sides that it wasn't immediately known on Saturday whether a convincing 5-1 victory over East Grinstead was their biggest in the women's top flight. For the record, in only their second season in the Investec Premier Division, they have started out in exactly the same fashion as their first stint in 2000-01. where they also lost their opener 3-2 before a 5-1 victory.

It was followed back then by two victories in three games before a 13-game winless streak. Only this time they hope to avoid relegation straight back to the Conference. Against East Grinstead, Brett Holland's side produced a performance suggesting they have the squad to cope with the demands of playing midweek BUCS league and weekend Premier Division hockey.

A Lucy Millington double helped the Students to their first points as overall fitness, a classy performance from Lizzie Neal and the elimination skills of Izzy Petter - both are in the GB programme - proved a major factor in West Sussex. Neal and Petter, who scored a delightful third with a full-pelt hit at the top of the circle, will be key players for Holland this season after losing Welsh international Hannah Cozens, to East Grinstead, and captain Charlotte Daly moving to Holcombe this season.

"We've worked hard in the first couple of games to develop leaders," said Holland. "We got it in the second half and our last goal where we ended up getting a stroke, we kept the ball, made them come out to us and we were able to capitalise on the space. You can teach the skills pretty comfortably but it's the savviness which is difficult."

After a 7-0 defeat to Loughborough in pre-season, East Grinstead have yet to find their rhythm following two opening defeats.

Numbers game

6 - Six of Loughborough's squad weren't born when the team were last promoted at the end of the 1999/2000 season. "That history and heritage is strong but it was quite a while ago, so it's exciting and a nice place to be," said Holland.
16 - The last time Buckingham produced a scoring draw came 16 matches ago, the run ending when Bowdon Hightown's 16-year-old Beth Alexander netted a late penalty corner to earn a 1-1 draw.

Newcomers on a roll

It's no coincidence that two of England Hockey's emerging sides, Hampstead & Westminster women and Old Georgians men, are currently flying high at the top of their respective divisions. Both promoted teams strengthened over the summer and the additions of Lily Owsley, Grace Balson and Joie Leigh have given impetus to Hampstead & Westminster in their Premier Division debut. Playing their first home game at Paddington Rec, eased to a 3-0 victory over University of Birmingham.

"We looked dangerous going forward and there were some nice signs of link up and combination play between our lines," said co-coach Kate Richardson-Walsh. "Sarah [Kelleher] and I have been impressed with how quickly the new players have gelled on and off the pitch which is a credit to the squad and their values. We're pleased with the start and know there is a lot more to come from this side in the coming months and years."

Pop-up pitch for Irish bid

'Big Stadium Hockey' will be witnessed for the second time this year after the decision to use a portable pitch at a rugby arena for Ireland women's bid to qualify for the Olympics for the first time.

Following England Hockey's project at Twickenham Stoop, Hockey Ireland will roll out the pitch at Energia Park, Donnybrook, home of Ireland women's 6 Nations rugby. The 3G turf will mean a three-day turnaround, a shorter time frame than the naturally grass at The Stoop.

Ireland hope to sell 6,000 tickets for the women's back-to-back matches against Canada in November to make it financially viable.



Ireland's women are looking to qualify for the Olympics for the first time

Investec Women's Premier Division results

East Grinstead 1 Loughborough Students 5
Surbiton 3 Beeston 0
Hampstead & Westminster 3 University of Birmingham 0
Bowdon 1 Buckingham 1
Clifton Robinsons 2 Holcombe 1

What's on this weekend - September 28
Buckingham v University of Birmingham, 12pm
Surbiton v East Grinstead, 12pm
Hampstead & Westminster v Clifton Robinsons, 1.30pm
Beeston v Holcombe, 2pm
Loughborough Students v Bowdon, 2pm

The Telegraph


---

Missy Meharg is building a reputation as a player and coach developer

David Suggs



Head coach Missy Meharg talks to the team during Maryland field hockey's match against Ohio State at the Field Hockey & Lacrosse Complex on Sept. 21, 2018. (Andi Wenck/The Diamondback)

When Maryland field hockey takes the field on Tuesday to face off against No. 6 Princeton, it will be greeted by two of its most decorated players.

Carla Tagliente and Dina Rizzo, members of the Terps' 1999 championship team, are the head and assistant coaches at Princeton. The duo helped the program return to prominence after a couple of down seasons, making the Final Four in two of the last three campaigns.

The pair are part of a group of more than a dozen coaches who have played or coached under Missy Meharg's tutelage — an indication of Meharg's influence across the world of college field hockey.

This pipeline has shown no signs of stopping, with Meharg's tactical acumen and player management skills rubbing off on the current crop of Maryland's talent.

"I actually implement a lot of things that Missy and [Marvin] Bam do for us, and how she approaches us," goalkeeper Noelle Frost said. "It really gives you a different perspective on how other kids think and how you can manipulate how they think into the tactical way to think."

Meharg's coaching philosophy — which centers on quick attacking play and an intense system of pressing — has helped the program develop from a band of plucky overachievers into a force of perennial national championship contenders over the course of her three-decade career with the Terps.

"If you're a passing team, you have a better chance of winning the game," Meharg said. "And if you put pressure on the ball defensively, you have a better chance of stopping the other team's momentum."

But it's her ability to manage the various personalities on her squad that has stuck with players. Her coaching staff features three former players — Katie Bam, Kasey Tapman and Sarah Holliday. And while they demand a lot from their players, they communicate these demands clearly and respectfully.

In turn, Maryland players have a better idea of what their role is and how it fits into the team's overall style of play.

"Missy, Katie and Bam have just helped me understand what they need me to do," defender Hannah Bond said, "and what the team is technically and tactically aiming for."

These communication skills have trickled down to the team, best evidenced by Frost's burgeoning partnership with defender Bodil Keus. The two have impressed so far this season, earning three clean sheets. Much of their success can be attributed to their constant cooperation on the pitch.

Furthermore, Meharg's effective communication has drifted into the lives of some of her players, many of whom spend their summers coaching local youth field hockey teams.

"These past couple summers, I've been working with Katie and Bam, helping them out with their camps and working with the Maryland field hockey camp," midfielder Madison Maguire said. "This summer, I've just grown in my individual skill because I've been teaching people what they teach me, and I've broken it down in my mind. … It's helped."

Meharg and her coaching staff have helped to  foster an environment where players can freely develop and become adept at the skills necessary to play her intense, fitness-driven style of play.

Arming players with her tactical nuance and her dedication to effective coordination, Meharg has helped develop the next crop of talented young coaches, especially out of Terps like Maguire.

"I think anyone would really do it," Maguire said. "I would love to [coach]."

The Diamondback


---

Northwestern wins twice in Ohio, extends winning streak to six

Andrew Golden



Kristen Mansfield looks at the field. The senior scored in the second half against the Redhawks. Photo by Katie Pach

Looking to continue their four-game winning streak, Northwestern traveled to Ohio for two games against No. 12 Ohio State and Miami University (Ohio).

By the end of the weekend, the Wildcats (8-2, 1-0 Big Ten) had extended their streak to six games, beating both teams by three goals. After a disappointing season last year, NU has played at a much higher level and with the win over the Buckeyes, the Cats have won four games against ranked opponents, matching their total from last season.

The Cats had no trouble scoring this weekend, putting nine goals in the back of the net in two games, led by freshman redshirt forward Bente Baekers, who outscored NU's opponents 6-3 herself.

NU beat the Buckeyes 4-1, with its offense being sparked by the Netherlands native, who became the first Wildcat to record a hat trick since 2017.

The point barrage started less than five minutes into the game, when junior midfielder Lakin Barry scored off a rebound to catapult the Cats to an early lead. Less than ten minutes later, Baekers scored her first goal of the game from the top of the circle to double the lead.

Ohio State scored a goal to cut NU's advantage in the first half, but the Cats kept the Buckeyes off the board in the second half while Baekers took over the game. Right before the end of the third quarter, she scored her second goal of the game and almost six minutes later, completed the hat trick.

Two days later against the Redhawks, the Cats had to play from behind after a back-and-forth first ten minutes of the game. The Redhawks scored just over three minutes into the game, but less than a minute later, senior midfielder Saar de Breij tied the contest when she scored off of a penalty corner. Just when it seemed like the Cats took momentum, Miami scored their second goal of the quarter to quickly retake the lead.

Fortunately for NU, Baekers picked up right where she left off in Columbus, scoring two goals within 27 seconds of each other early in the second quarter to put the Cats ahead for good. Two more goals later, one from senior defender Kirsten Mansfield and another from Baekers, and the game was out of reach by the end of the third quarter.

With her back-to-back hat tricks this weekend, the redshirt freshman phenom earned Big Ten Freshman and Player of the Week. Baekers has been the key to NU's success this season, as she has scored in eight of the Cats' wins this season and her 14 goals are the most in the nation.

This is the second straight week that Baekers has won the Big Ten Freshman Player of the Week and, for back-to-back weeks, NU has had a Big Ten Player of the Week as Barry took home the award last week.

Daily Northwestern


---

JMU field hockey defeats Old Dominion 3-1 to snap losing streak

Jason Clampitt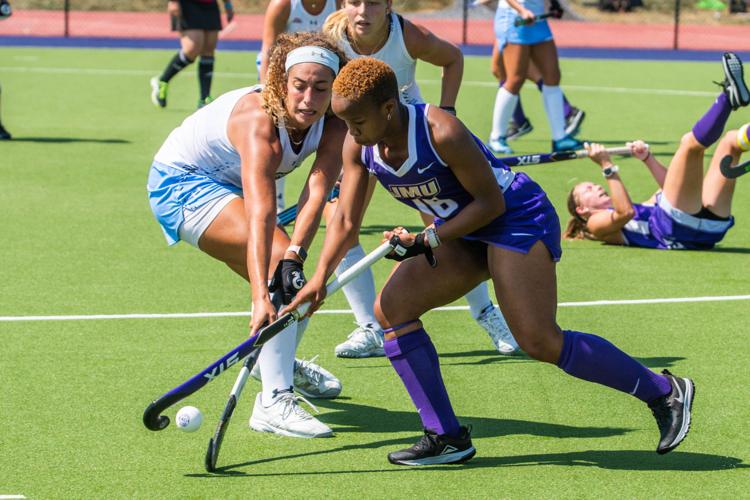 Christine Brady

JMU field hockey defeated No. 22 Old Dominion 3-1 on Sunday at home to end its two-game losing streak. Redshirt senior forward/midfielder Miranda Rigg scored the game-winning goal late in the second half to give JMU the win.

"We just talked about playing team hockey again, using a lot of 2 v. 1s," Rigg said. "[We] just took the ball on the move and tried to create some space and to get a shot off in the circle."

The Dukes opened the game with an early scoring opportunity but were unable to capitalize as sophomore forward Ongeziwe Mali's shot went wide. Later in the half, JMU failed to score on two separate penalty corners.

Old Dominion was held without a shot until the 14th minute and only had one shot in the first half. In the final minutes of the opening frame, the Monarchs threatened to score with three-straight corners but failed to find the equalizer.

"I saw a belief in them, and the start to greatness is the belief in themselves," JMU head coach Christy Morgan said. "The defensive corner, they were a force — they definitely had a confidence about them that you could see it, you could see the way they stood back there … It was full engagement."

After JMU's defense shut down Old Dominion's corners, redshirt sophomore forward Marina Rupinski scored the first goal of the game in the final minute of the first half. Despite the Monarchs having a 5-4 advantage in corners in the half, the Dukes took a one-goal lead.

In the second half, Old Dominion tied the game in the 39th minute when senior midfielder Jess Miller scored on a deflection off a corner. JMU responded in the 45th minute with Rigg scoring to make it 2-1 The Dukes put the game away in the 54th minute when freshman midfielder Emily Harrison scored the first goal of her collegiate career.

"We were super excited," Rigg said. "But, there was two minutes left in the game, and we wanted to play go solid defense not let another goal in and secure the win."

Redshirt sophomore goalkeeper Kylie LeBlanc started in goal for JMU and earned the victory. She allowed one goal and saved five shots. Redshirt sophomore goalkeeper Cam MacGillivray suffered the loss for Old Dominion. She allowed three goals and saved three shots.

With the victory, JMU snaps its losing streak and improves to 3-4 on the season. It looks to keep the momentum going when it travels to Charlottesville, Virginia, to take on in-state rival U.Va on Tuesday at 6 p.m.

"It helps tremendously," Morgan said. "The psyche is so fragile, so when you can have a belief and you can prove it, you can execute it then that belief becomes stronger. We have to go into these next games believing everything is possible and doing the work to create that possibility."

The Breeze


---

Huskies crush Quinnipiac, stun Princeton in OT

By Andrew Morrison



The field hockey team defeats Harvard 3-0 this past Sunday. Photo by Maggie Chafouleas

For the sixth time this season, the No. 4 UConn field hockey team took down a ranked opponent over the weekend, defeating No. 6 Princeton in overtime two days after a dominant 5-0 victory over Big East rival Quinnipiac.

As the majority of UConn's other athletics programs prepare to join the Big East, field hockey, which remained an associate member of the Big East even after the split in 2013, looks to win its eighth-straight Big East title.  

That goal certainly looked within reach on Friday, as the Huskies (7-1, 1-0 Big East) put a beating on Quinnipiac (2-5, 0-1) in the conference opener, setting a new season high in goals scored with a 5-0 victory in Hamden.

Freshman Sophie Hamilton scored twice, her first multi-goal game in a Husky uniform, and senior Svea Boker added two goals of her own. Sophomore Maddy Wray also scored, her fourth of the season. The five-goal differential could've been even larger, as UConn outshot the Bobcats 25-4 and 16-3 on goal. 

Boker's weekend was far from over, as the star senior came up big when UConn needed her most on Sunday at No. 6 Princeton (3-3). 

Coming off a 1-2 loss to No. 21 Rutgers, the Tigers were eager to get back in the win column, especially against a quality opponent. But it was UConn who struck first, as junior Kourtney Kennedy ripped a shot off a corner that deflected off a Princeton player into the net right before the half to give UConn a 1-0 lead at the break. 

That score appeared like it was going to hold for the remainder of the game, but the Tigers kept the pressure applied, finally breaking through with less than just three minutes remaining to send it to overtime. It was the first goal allowed by UConn goaltender Cheyenne Sprecher, who has already recorded four shutouts this season, in three games.  

In overtime, it was the veteran presence of Boker that was the difference maker. In the 64th minute, Boker dribbled up the left side and whipped a shot past the keeper for the game-winner, her team-leading sixth goal of the season. 

Last time the Huskies played at home, head coach Nancy Stevens talked about Boker's importance to the team, even when it's not reflected on the scoreboard.

"We're led by Svea Boker on the offensive end, she's one of the best strikers in the country," Stevens said. "She is breathtaking, and she's not going to get the credit unless she scores goals. She's everything, she's the engine of the attack."

Given her three-goal weekend and a game winner to boot, it's safe to say Boker will get some well-deserved credit this week. 

With two more road win tallies, the Huskies are now 5-1 away from home this season. After a loss to No. 9 Michigan last weekend knocked UConn from No. 3 to 4 in the national rankings, this weekend sweep will certainly get UConn back in the top-three conversation. UNC and Duke should both stay atop the rankings with wins this weekend, but perhaps the win over Princeton will elevate UConn over Maryland in next week's poll. 

Up next for UConn is a return home to the George J. Sherman Family Sports Complex as Big East foe Old Dominion comes to town on Friday, followed by a meeting with Boston University on Sunday. 

The Daily Campus