All the news for Monday 23 September 2019

Ireland v China Match Report




Despite a string of penalty corners awarded in Ireland's favour in the opening quarter, it was China who were first to get themselves on the scoreboard this afternoon at the National Hockey Stadium in UCD. Both sides had opportunities available to them in the opening quarter. However, Dongxiao Li of China played well to prevent Ireland taking an early lead, while Lena Tice and Yvonne O'Byrne were strong in defence to keep China at bay. The quarter ended with a chance for Nikki Evans going wide leaving the sides level as the buzzer went.

The opening goal of the match came from China's Xiayun Xi. Roisin Upton played well to keep a shot from Peng from adding to China's lead, with Evan's securing the equaliser moments later. China secured a number of penalty corners in the minutes that followed, but Grace O'Flanagan was in control and had Hannah Matthews and Katie Mullan on hand to help dilute the threat. Half time again saw the team's level.

Action resumed in the second half with a great shot at the goal for Nicci Daly, however Dongxiao Li was on form again and saved well. Ireland created a number of opportunities for themselves in the third quarter, with China defending well each time. A chance for Deirdre Duke resulted in Dongxiao Li coming out to meet her and Duke securing a penalty corner for Ireland. Matthews inserted and Upton dummied, with McCay finishing it off finding the back of the goal to give Ireland a 2-1 lead over China. The quarter ended with a near goal for China being kept out by Grace O'Flanagan.

Ireland secured a penalty corner early in the final quarter. Mullan inserted this time and a deflection from Duke gave Wilson the opportunity she needed to extend Ireland's lead 3-1. China went on the attack after this, a shot from Li into the Irish circle sailed wide of the goal. However, Jiangxin He managed to tap the ball over Murphy's shoulder from a rebound moments later to bring the score to 3-2.

Ireland increased their possession in the closing minutes of the game. Mullan manged to get the ball into the Chinese circle however was met by China's defence. A minute later Chloe Watkins found herself just inside the Chinese circle with a chance. A lovely clean shot sailed past China's Dongxiao Li to make it Ireland 4-2 China with less than four minutes remaining on the clock.

China removed Dongxiao Li shortly after to increase their outfield numbers in the closing minutes of the game. Liz Murphy saved well when China managed to secure a chance on the goal, however a penalty corner was awarded shortly after. The final two minutes saw a second penalty corner awarded. Murphy saved both attempts well, with Tice and Upton there to push the second attempt clear of any rebound danger. The final buzzer sounded, full-time score Ireland 4-2 China.

Ireland 4 (Evans, McCay, Wilson, Watkins),
China 2 (Xi, Song).

Ireland: G O'Flanagan, R Upton, N Evans, K Mullan, S McCay, E Tice, C Watkins, L Colvin, S Hawkshaw, A O'Flanagan, Z Wilson,
Subs: Y O'Byrne, G Pinder, N Daly, H Matthews, E Murphy, D Duke, E Curran

China: X Zhang, J He, Y Chen, Q Guo, J Zhong, J Zhang, Z Ou, Q Cui, B Gu, M Liang, D Li
Subs: W Xu, Y Peng, X Song, H Li, X Xi, J Li, J Ye

Irish Hockey Association media release


---

Ireland run-up lively win over China as O'Flanagan returns and Tice and Wilson hit 100




Ireland's women ran up a lively 4-2 victory over China on Sunday evening at Belfield as they ramp up their preparations for November's Olympic qualifying ties against Canada.

It was a first win against the Chinese from four meetings since 2015, an entertaining win in front of a healthy crowd at Belfield.

The match saw Grace O'Flanagan make her return to action in a first appearance of any kind since the 2018 World Cup final having taken a break from the game while Lena Tica and Zoe Wilson both won their 100th caps.

Despite a string of penalty corners awarded in Ireland's favour in the opening quarter, it was China who were first to get themselves on the scoreboard with Xiayun Xi on the mark.

Chinese goalkeeper Dongxiao Li had done well to prevent Ireland taking an early lead while Tice and Yvonne O'Byrne were strong in defence to keep the visitors at bay. The quarter ended with a chance for Nikki Evans going wide leaving the sides level as the buzzer went.

Roisin Upton did well to keep a shot from Peng from adding to China's lead, with Evans securing the equaliser moments later. China secured a number of penalty corners in the minutes that followed, but Grace O'Flanagan was in control and had Hannah Matthews and Katie Mullan on hand to help dilute the threat; 1-1 at half-time.

In the second half, Nicci Daly fired the first warning shot with Dongxiao Li saving again. A chance for Deirdre Duke resulted in the goalkeeper coming out to meet her and Duke securing a penalty corner for Ireland.

Matthews inserted and Upton dummied with McCay finishing it off, finding the backboard for a 2-1 lead. They moved further in front in the fourth quarter via Zoe Wilson from another corner.

China fought back via Xiaoming Song managed to tap the ball over Lizzie Murphy's shoulder from a rebound moments later to bring the score to 3-2.

But Ireland clinched the win in the closing minutes when Chloe Watkins found herself just inside the Chinese circle with a chance. A lovely clean shot sailed home for 4-2 with four minutes to go.

The two sides will meet again on Tuesday in an uncapped challenge match before closing out the series on Thursday evening at 8pm. The venue was initially pencilled in to be at the National Sports Campus but has now been switched to Belfield.

Women's international test match

Ireland 4 (N Evans, S McCay, Z Wilson, C Watkins)
China 2 (X Xiayun, X Song)

Ireland: G O'Flanagan, R Upton, N Evans, K Mullan, S McCay, L Tice, C Watkins, L Colvin, S Hawkshaw, A O'Flanagan, Z Wilson
Subs: Y O'Byrne, N Daly, H Matthews, D Duke, E Curran, L Murphy, G Pinder

China: L Dongxiao, X Zhang, Y Chen, Q Guo, Jiaqi Zhong, Jinrong Zhang, Z Ou, Q Cui, B Gu, M Liang
Subs: W Xu, Y Peng, X Song, H Li, X Xi, J Li

The Hook


---

Ireland prepare for Olympic qualifier with 4-2 victory over China in Dublin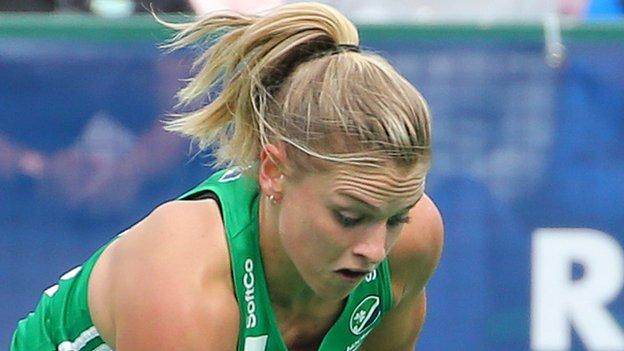 Chloe Watkins scored Ireland's fourth goal at the National Hockey Stadium

Ireland recovered from going a goal behind to beat China 4-2 at the National Hockey Stadium in Dublin.

China's Xiayun Xi opened the scoring in the second quarter before Nikki Evans equalised for Ireland.

Shirley McCay turned the game on its head before Zoe Wilson added a third after a penalty corner.

Jiangxin He brought China back into before Chloe Watkins sealed a 4-2 win for Ireland ahead of next month's Olympic qualifier against Canada.

After Xi's opener, Roisin Upton prevented Peng from doubling China's lead before Evans struck the equaliser moments later.

Heavy pressure from China resulted in a string of penalty corners but stout Irish defending kept them on level terms, with Grace O'Flanagan, Hannah Matthews and Katie Mullan all making important contributions.

Nicci Daly saw her effort turned away by China 'keeper Dongxiao Li but Ireland got their noses in front when McCay benefited from Upton's dummy before finding the back of the net.

Wilson netted the third from a penalty corner before Jiangxin He pulled one back.

Watkins then struck an excellent shot past Li to score Ireland's and seal a morale-boosting win.

BBC Sport


---

Singapore women aim for 2022 Asian Games berth, a first in almost 30 years

Nicole Chia



The victorious Singapore team, celebrating after winning the AirAsia Women's Junior Asian Hockey Federation Cup.PHOTO: SW SINGAPORE

SINGAPORE - Almost three decades after Singapore's women's hockey team last featured at the 1994 Asian Games in Hiroshima, the Singapore Hockey Federation (SHF) has now set its sights on qualifying its under-21 side for the 2022 Asiad in Hangzhou, China.

The signs are promising, as this under-21 team clinched a historic title at the Women's Junior AHF (Asian Hockey Federation) Cup last week after claiming four wins and a draw during the week-long tournament.

SHF president Mathavan Devadas said: "We're looking to have a bigger pool of young athletes who will be able to move into the national team ... the end goal in the near term is to get to the 2022 Asian Games and the bulk of the players will come from this team."

The Singapore team, whose average age is 18, also earned one of two spots in next year's Women's Junior Asia Cup, which is a qualifier for the Hockey Junior World Cup in 2021.

Asian powerhouses China, Japan, Korea, India, Malaysia and Thailand did not compete in Singapore as they had already secured their places at the Women's Junior Asia Cup based on their results from the last edition in 2015.

Mathavan believes the victory is a result of the SHF's Under-14 programme, which was reinstated in 2015 after the SEA Games which was held here.K

There are currently 30 girls and 30 boys in the Under-14 programme. Of the 18 girls who were part of the Women's Junior AHF Cup squad, five are in the senior team.

Mathavan said: "These girls have been playing outside Singapore with opponents of a higher level and a different style of hockey, and they've got used to this kind of competitive hockey."

He also noted that the players across all age groups - Under-14, development squad (between ages 16-21) and senior team have become battle-hardened. This is a result of the younger and senior players training together frequently, and the women's team competing in tournaments such as the June FIH (International Hockey Federation) Hockey Series Finals.

Teams have to be ranked sixth among the Asian Games countries in order to qualify for the Asiad, according to the Singapore National Olympic Council's (SNOC) qualifying benchmark for team sports.

The women's team competed at the Asiad in 1994 while the men featured at the 2014 Games in Incheon, South Korea.

With their world No. 39 ranking, the Singapore women are now the eighth-ranked Asian team. The top six teams in Asia are India (ninth), China (10th), Korea (11th), Japan (14th), Malaysia (20th) and Thailand (29th).

Mathavan is confident the women can leapfrog Thailand and Indonesia (36th), adding that the SHF need to "map out what their commitments are for the next three years and plan the programme".

He said: "A lot will depend on what their plans are because some are entering university and some are going to start working, so the high performance team has to work individually with them to find out what their work and education plans are between now and 2022."

The Straits Times


---

Tiger Turf North Harbour reign supreme at 21st Ford NHL




Tiger Turf North Harbour have for the first time in the regions history taken out both the Men's and Women's Ford NHL titles with impressive performances across both finals.

In the first final of the day, the Tiger Turf North Harbour Women looked astute from the start and were playing to a well thought out game plan that was nullifying the Northland teams strengths. Tournament MVP Steph Dickins got her side off to the best possible start when in the 4th and 10th minute of the match she found the back of the goal through two well placed drag flicks. From that point forward the Mark Cromie Motor Group Northland side was playing catch up, despite the best efforts of their Vantage Black Sticks Northland trio of Stacey Michelsen, Brooke Neal and Ella Gunson they were unable to break through the North Harbour defence. The win for North Harbour was their second in a row after they defeated Central in 2018 for the Ford NHL title.




Canterbury went on to take the bronze medal in the competition when just before the half time break Lydia Shirley's penalty corner sweep found its way past the Central defence. Brittany Wang then sealed the result in the 54th minute when she eliminated two Central defenders in the circle before rocketing the ball into the goal. Central went on to score a late goal in the match but it was too little too late as Canterbury took the win.




Gemma McCaw from Bayleys Midlands took out the 2019 Ford NHL Women's top goal scorer award with 8 goals throughout the tournament. McCaw's hometown Midlands side took out 5th place in the tournament.

On the men's side, Auckland entered the final as the form team in the competition and were playing with aggression and put Tiger Turf North Harbour under the pump early on. Despite the way the match was going, it was Tiger Turf North Harbour who would get on the scoreboard first when a small overhead into the Auckland defensive circle would find an open Robbie Capizzi who chipped the ball into the goal on the near post. Tournament MVP James Coughlan would then put his side in a commanding position just before the half with a rocket reverse shot into the Auckland goal.

Auckland would come out firing in the second half and were eventually rewarded in the 42nd minute with a goal of their own when Shae Iswars great elimination receive in the circle set up a one on one with the North Harbour goalkeeper. Auckland continued to push hard but ultimately couldn't find the equalising goal as North Harbour went on to take out the 2019 Ford NHL title.

In the bronze medal match the competitions two leading goal scorers battled it out for the top goal scoring title. Canterbury came out firing as they built a commanding 4-0 lead with 8 minutes to go in the match. Capital then got two late consolation goals; however it was not enough to stop a clinical Canterbury side from taking the 2019 bronze medal match. Sam Lane and Joel Rintala both scored in the match which meant that they ultimately shared the 2019 Top Goal Scorer Trophy.

Day 8 Men's Results

Bayleys Midlands 2 (Maks Wyndham-Smith 3, 32 min)
Tasmania 3 (Brenton Watson 15 min, Benjamin Read 33 min, Alexander Hogan-Jones 56 min)

John Turkington Forestry Central Mavericks 3 (Andrew Scanlon 2 min, Sam Hiha 5 min, Koji Yamasaki 50 min)
Southern 3 (Jordan Ward 20 min, Nathan Gilbert 49 min, Kieran O'Connor 54 min)

*Southern won shootout 3-2

Canterbury 4 (Llewellyn Heale 14 min, Moss Jackson 21 min, Sam Lane 43 min, Brad Shaw 53 min)
Ricoh Capital Cobras 2 (Joel Rintala 54 min, Jacob Smith 58 min)

Tiger Turf North Harbour 2 (Robbie Capizzi 17 min, James Coughlan 29 min)
Auckland 1 (Shae Iswar 42 min)

Final Standings – Men

    Tiger Turf North Harbour
    Auckland
    Canterbury
    Ricoh Capital Cobras
    Southern
    John Turkington Forestry Central Mavericks
    Tasmania
    Bayleys Midlands

Day 8 Women's Results

Capital 3 (Megan Hull 4 min, Felicity Reidy 11, 23 min)
Southern 1 (Lucy Turner 21 min)

Bayleys Midlands 3 (Agui Mornoi 6 min, Natasha Brill 43, 57 min)
Auckland 2 (Deanna Rictchie 19 min, Rose Tynan 26 min)

John Turkington Forestry Central Mysticks 1 (Kayla Whitelock 60 min)
Canterbury 2 (Lydia Shirley 30 min, Brittany Wang 54 min)

Tiger Turf North Harbour 2 (Steph Dickins 4, 10 min)
Mark Cromie Motor Group Northland 0

Final Standings – Women

    Tiger Turf North Harbour
    Mark Cromie Motor Group Northland
    Canterbury
    John Turkington Forestry Central Mysticks
    Bayleys Midlands
    Auckland
    Ricoh Capital
    Southern

Hockey New Zealand Media release


---

Gemma McCaw bounces back from 'ridicule' to be top goalscorer at nationals



Gemma McCaw was top goalscorer in the women's National Hockey League for fifth-placed Midlands in her comeback tournament. GEMMA MCCAW/INSTAGRAM

Former Black Sticks hockey star Gemma McCaw rediscovered her goalscoring groove, topping the charts at the National Hockey League in Tauranga.

McCaw scored eight goals in her comeback tournament as her Midlands team finished fifth in the women's competition.

North Harbour won both titles for the first time on Sunday, beating Northland 2-0 in the women's decider and Auckland 2-1 in the men's final.



Long-serving Black Sticks international Gemma McCaw last played for Midlands at the 2017 nationals (file photo). PHOTOSPORT

McCaw made her return to top level provincial hockey in August after giving birth to her first child, daughter Charlotte, with husband Richie in December.

McCaw earlier spoke of being "ridiculed from the sideline" during a match in the preliminary rounds.

The 246-cap Black Stick last played at the nationals in October 2017 and hasn't worn the black kit since the Rio Olympics in 2016.

Asked in August whether the door was open for a return to international hockey at next year's Olympics, McCaw told One News: "You can never say never, but at the moment I'm just focusing on Midlands and NHL."

McCaw posted on Instagram on Sunday: "I've loved playing this week and I'm happy to come away with top goal scorer which wouldn't have been possible without my amazing team.

"It sure has been a busy week juggling mum life and playing again but I'm so very grateful for all the help I've had both on and off the field."

In the women's final, North Harbour defended their title thanks to tournament MVP Steph Dickins who seized control for her side with drag flick goals in the fourth and 10th minutes.

Northland couldn't peg Harbour back despite the best efforts of Black Sticks trio Stacey Michelsen, Brooke Neal and Ella Gunson.

Canterbury beat Central 2-1 in the playoff for third, with former Black Sticks captain Kayla Whitelock scoring the Mysticks solitary goal.



North Harbour men's and women's teams celebrate their double success in the National Hockey League finals in Tauranga on Sunday. HOCKEY NZ

In the men's decider Harbour started strongly via Robbie Capizzi and tournament MVP James Coughlin to give them a 2-0 halftime lead over Auckland who were the form team leading in.

Auckland replied in the 42nd minute when Shae Iswars converted a one on one with the North Harbour goalkeeper but they couldn't produce the equaliser.

In the playoff for third Canterbury beat Central 4-2, leaving Sam Lane (Canterbury) and Joel Rintala (Central) as equal top goalscorers.

The NHL was the last in its current format after Hockey NZ confirmed an overhaul for 2020 whereby eight regional teams will be scrapped in favour of a return to an association-based tournament.

The NHL will be replaced by the National Hockey Championship comprising teams from the 32 associations.

AT A GLANCE

National Hockey League finals day in Tauranga:

Women:

Final: North Harbour 2 (Steph Dickins 2) Northland 0

For third: Canterbury 2 (Lydia Shirley, Brittany Wang) Central 1 (Kayla Whitelock)

Final standings: North Harbour 1, Northland 2, Canterbury 3, Central 4, Midlands 5, Auckland 6, Capital 7, Southern 8.

Men:

Final: North Harbour 2 (Robbie Capizzi, James Coughlan) Auckland 1 (Shae Iswar)

For third: Canterbury 4 (Llewellyn Heale, Moss Jackson, Sam Lane, Brad Shaw) Capital 2 (Joel Rintala, Jacob Smith)

Final standings: North Harbour 1, Auckland 2, Canterbury 3, Capital 4, Southern 5, Central 6, Tasmania 7, Midlands 8.

Stuff


---

Star-studded Rot-Weiss happy to be meeting new opponent in KO16



Timur Oruz taking on Elliot van Strydonck in last season's EHL GRAND FINAL. Pic: ©: Frank Uijlenbroek / World Sport Pics

Rot-Weiss Koln's Timur Oruz jokes that "it could be proof that the EHL really do a draw" as his club finally avoided playing SV Kampong, this time being paired with newcomers Royal Beerschot from Belgium.

Rot-Weiss, the 2017 champions, had been paired with the Dutch giants in the KO16 for the last three seasons by the draw while they have met five times since October 2013.

It means a very different challenge this time around as they will come up against a side playing in their first EHL game, an opponent the German side have never encountered before.

"I am sure that it will be a tough match against a good Belgium team," Oruz told the EHL website. "Our coach, André Henning, will prepare us during the next weeks and then we will see what will happen in Barcelona.

Henning's side have started their season in good form, most recently beating reigning German champions Uhlenhorst Mulheim 3-2 thanks to a late Jonas Gomoll goal.

Such success has been achieved despite resting a number of key players in the early weeks of the season. Four wins out of five games has them top of the league ahead of Berliner HC and Harvestehuder THC with usual challengers Uhlenhorst and Mannheimer HC seven points back in mid-table.

Managing the squad to be in peak position for the EHL has been a balancing act with the Europeans in August and the Olympic qualifiers also on the agenda.

"The biggest problem for our national players is they haven't had a break for holidays," Oruz continued. "That is probably the reason that we haven't played one of the league games with our whole squad so far due to injuries.

"Nevertheless the results are quite good and, especially, our youth players have been convincing. We will have to use the upcoming games for our team development and maybe the most important goal is to have every single player back fit."

Should they do that, they will have their usual star-studded line-up available with Mats and Tom Grambusch, Thies Ole Prinz, Johannes Grosse, Jonas Gomoll, Victor Aly and Christopher Ruhr but goal-poacher Marco Miltkau has moved on to La Gantoise in Belgium.

They have plenty of experience of the big stage thanks to that 2017 success but also their run to the GRAND FINAL in the spring this year, missing out at the hands of the Waterloo Ducks.

Back then, they had plenty of the game but got caught cold in the second half by the Ducks who soon ran away to win 4-0.

"Last year was an interesting and important experience for our team. If someone asked us before whether we would be happy with a silver medal beating Kampong, Amsterdam and Polo, I am sure that most of us would have taken it.

"But, of course, losing a final is disappointing every time. All in all, it was an incredible tournament and we played some really good hockey as a team but, in the end, it was not enough for winning gold. You can't win a game without shooting at goal!"

Euro Hockey League media release


---

Polo superstar Lleonart feeling good for home support against Surbiton in Barcelona




Real Club de Polo superstar Xavi Lleonart says he is feeling good and raring to go for their EHL KO16 tie with Surbiton as virtual hosts in Barcelona in early October.

Lleonart overcame injury issues to play a central role in Spain's run to European Championship silver, producing a virtuoso performance in the semi-final defeat of the Netherlands.

The Spanish national team is taking no risks in terms of their Olympic qualifier in six weeks time, delaying the start of the club league until November.

As such, their EHL KO16 tie will be Polo's first major match of the season, making the short trip across the city to the Pau Negre Stadium where they hope their fans will arrive in big numbers to support.

"I'm feeling good right now," Lleonart told the EHL website. "I got injured during the Euro preparation but, luckily, I could still play and perform well in the important games to achieve an important result for us.

"The calendar is really busy this year that's why it is so important how you manage injuries. You just need to be at your best in the key games of the season, the problem is that there are a lot of those games this year!"

It means something of a split focus at the moment with Lleonart – along with club mates Matias Rey, David Alegre, Roc Oliva, Llorenç Piera and the recently joined Vicenç Ruiz – stepping out of the Catalonia Cup where Polo ran up an impressive 3-2 win over Junior FC.

That tie was a first meeting for new Polo coach Roger Pallarols against his former club with whom he enjoyed a fine couple of seasons.

Pallarols has taken over from Carlos Garcia Cuenca who enjoyed a hugely impressive seven-year spell in charge, landing six regular season titles, five Copa del Reys and four national championships.

"Carlos meant a lot to Polo and for the players as well," Lleonart said of the outgoing coach. "He is an outstanding coach and he showed it during his seven years with us, not only with all the trophies and championships but also for the relationship with the players and with the supporters.

"The EHL FINAL4 [last season] was something we were looking for the past seven seasons and it was a very special moment when we beat Egara in the KO8!

"It was the only goal that we hadn't achieved and it was amazing to reach the FINAL4 in his last season. Personally, Carlos is the best coach I've ever had. He is a leader and I'm sure he will have a lot of success in the future as a coach and he will be one of the best.

"Roger is also a great coach; he will give us another way to play and understand hockey. He's a breath of fresh air for the club and the team after seven intensive years; we needed some change. A new Polo is growing and I hope that we can keep improving."

And what better stage to do it than the EHL in his home city? It is a competition he has lit up before, winning the GRAND FINAL MVP award with HC Bloemendaal in 2018 and he is keen to do so again.

"The EHL, after the Olympics, is my favourite competition. Playing for your club in front of your crowd is magical and even more if we consider that Spain does not usually host international hockey competitions.

"It is going to be a tough game against Surbiton but we hope to go through the next round with the help of our supporters in the stands."

Euro Hockey League media release


---

Sultana Bran announced as naming rights partner for Hockey One League

Nic Kerber




The new Hockey One League has secured a major partnership with iconic Australian brand Kellogg's Sultana Bran, signing on as the league's inaugural naming rights partner.

The new league will be known as the Sultana Bran Hockey One League for at least the first two editions of the competition as part of the partnership with Kellogg.

As part of the deal, the Sultana Bran logo will also feature on the front of all 14 Hockey One teams (seven men's, seven women's) uniforms, in addition to an array of other benefits.

Sultana Bran Hockey One General Manager, Tony Dodemaide says landing a company of the calibre and profile of Kellogg's as a major sponsor would provide the league with a huge boost and significant enhancement in recognition and prominence.

"We are absolutely thrilled to have Kellogg's Sultana Bran as the naming rights partner for Hockey One," said Dodemaide.

"Securing a naming rights partner with a company of the stature of Kellogg is a magnificent fillip for the new Hockey One League and seriously increases the potential of the competition making a significant mark in the crowded Australian sporting landscape."

"Kellogg's has been a part of Australian households and family life for almost a hundred years. The company has a long history of supporting sports with the likes of Nutri-Grain support for the Iron Man & Iron Woman Series and Special K with AFLW and now another one of their flagship brands with Sultana Bran and Hockey One."

"We are thrilled that Kellogg's has recognised the synergies and alignments of their values to those of Hockey One."

"We look forward to working with them throughout the Sultana Bran Hockey One League when it begins with the opening matches on Sunday 29 September."

Tamara Howe, Marketing and Corporate Affairs Director, Kellogg's Australia, says:

"We're very proud to be the inaugural naming rights partner to the Sultana Bran Hockey One League, and extend our partnership with Hockey Australia to the National senior and junior, Men's and Women's leagues.

"Sultana Bran has been a family favourite in Australia for decades, and the values of Hockey as a sport and sporting organisation are well aligned to our values as both a brand and organisation. We're a company that truly values diversity, inclusion and equality. The Hockey One League will be played equally by both men and women, equally billed on game day, and, importantly, players will be equally paid - values we truly believe align to ours."

Notably, the partnership with Kellogg's and Sultana Bran will also roll over to Hockey Australia's two highly ranked women's and men's national teams – the Hockeyroos and the Kookaburras, as well as encompassing the wider hockey community.

Sultana Bran will be a supporting partner and official breakfast cereal of the Kookaburras and Hockeyroos, with the brand logo to have presence on the playing shirts of both and the national junior teams – the Burras and the Jillaroos.

"We are delighted to have Kellogg's and Sultana Bran affiliated with our high-performance national program and as part of Australian hockey's corporate family," said Hockey Australia CEO, Matt Favier.

"To have Sultana Bran across Hockey One and our national teams is great for hockey but it also highlights the potential Kellogg's sees in the sport."

"A lot of work was done to make this partnership happen and we also want to acknowledge YouGov Sport for their contribution in providing data and insights which played an important role.

The new partnership will be officially launched at a Sultana Bran Hockey One 'Captains Call' media event in Sydney's Martin Place at 10am AEST on Wednesday 25 September 2019.

For more information about Kellogg's and Sultana Bran please contact Georgy Searles at This email address is being protected from spambots. You need JavaScript enabled to view it. or visit https://www.kelloggs.com.au/en_AU/home.html

Hockey Australia media release


---

Irish EY Round-Up and Match Reports 21/09/2019




UCD produced a superb performance to mark their comeback to the men's EY Hockey League with a big 3-1 win over reigning EY Champions Trophy holders Three Rock Rovers.

Former Rover Conor Empey started the run and while Ben Walker levelled, third quarter goals from Jazze Henry and Guy Sarratt earned them the spoils at Grange Road in a composed display.

It marks the students out as a danger side in the division who will cause plenty of problems. Lisnagarvey, meanwhile, showed they are likely to be big contenders for the regular season they won last term as they hammered Pembroke 6-0 at Comber Road.

Brothers Daniel and Ben Nelson started off the run before James Lorimer ran up a hat trick either side of half-time. Troy Chambers completed a 6-0 success for Garvey against a Pembroke side who are expected to challenge this year.

Stephen Brownlow's cracking last minute goal saw Glenanne beat YMCA 3-2 at Wesley College. The Glens had led 2-0 courtesy of goals from Brad Venter and Shannon Boucher before YM got back into the game via Tony Brophy's effort.

Harry McCarthy equalised with two minutes to go but Brownlow gave his side all the points when he slammed in a shot with the final touch of the contest.

The other promoted side, Corinthian, played out a 2-2 draw with Annadale at Whitechurch Park in front of a big crowd. The Dubliners fell behind before half-time to James Cox's goal but a Jack Perdue double turned things around going into the closing stages. Ryan Burgess's drag-flick with seven minutes to go meant a share of the spoils.

Monkstown and Banbridge also drew 2-2. Bann opened the scoring before half-time via Chris Curry but two Geoff Cole goals made it 2-1 to Town – former Irish international Bruce McCandless levelled matters.

Next weekend sees six more games in the competition. There is a full round of matches on Saturday while UCD meet Glenanne on Sunday. The four other ties scheduled for that date, however, are cancelled due to an international training camp.

Men's EY Hockey League – day one results: Corinthian 2 (J Perdue 2) Annadale 2 (S Cox, R Burgess); YMCA 2 (T Brophy, H McCarthy) Glenanne 3 (S Brownlow, S Boucher, B Venter); Lisnagarvey 6 (J Lorimer 3, D Nelson, B Nelson, T Chambers) Pembroke 0; Monkstown 2 (G Cole 2) Banbridge 2 (C Curry, B McCandless); Three Rock Rovers 1 (B Walker) UCD 3 (C Empey, J Henry, G Sarratt)

Fixtures

Saturday, September 28: UCD v YMCA, Belfield; Corinthian v Monkstown, Whitechurch Park, 1.30pm; Pembroke v Glenanne, Serpentine Avenue, 2.30pm; Banbridge v Three Rock Rovers, Havelock Park, 2.45pm; Annadale v Lisnagarvey, Strathearn, 4pm

Sunday, September 29: Glenanne v UCD, St Andrew's, 2.30pm

Day one – extended reports

Lisnagarvey 6 (J Lorimer 3, D Nelson, B Nelson, T Chambers) Pembroke 0

Lisnagarvey started the new campaign where they left off as James Lorimer's penalty corner hat-trick steered the regulation season defending champions to an impressive 6-0 win over Pembroke at Comber Road.

The Hillsborough team weren't six goals better than Pembroke but their more clinical touch in the final third was the telling factor. Garvey managed to convert three of their four penalty corners while the Dubliners had a nil return from the same number.

Lorimer said: "It was good to see the goals go in and we had been practising corners a lot in pre-season so it was pleasing that the hard work paid off. We have a predominantly young squad like last season and it's a good start for us so long may it continue."

The hosts had a couple of half-chances in the opening moments as Pembroke gave the ball away all too frequently. Garvey went in front in the seventh minute when, after a great move down the left, Dan Nelson smashed the ball home from 10 metres out.

In the 21st minute, it was Dan's brother Ben's turn to score after his sibling supplied a perfectly weighted pass for him to fire into the far corner of the net. James Milliken pulled off three decent saves in quick succession as Pembroke enjoyed a spell of pressure around the half-hour mark.

But Garvey made it 3-0 in the 33rd minute when Lorimer got his first with the aid of a deflection at a penalty corner. Two minutes later, Lorimer did it again with a straight strike and he completed his treble in the 51st minute with a thunderous effort which flew into the roof of the net. With 17 minutes remaining, Troy Chambers completed the scoring when he scrambled the ball home from close range.

Three Rock Rovers 1 (B Walker) UCD 3 (C Empey, J Henry, G Sarratt)

Newly promoted UCD produced a superb performance to deserve their impressive 3-1 win over the reigning EY Champions Trophy winners Three Rock Rovers at Grange Road.

Both sides were handing a half dozen players their first appearances for the club with the students fielding five former Rovers in their line-up. The students were the ones who settled first with Conor Empey – in his first game since moving from Rovers – poking home from close range for 1-0.

Ben Walker equalised in the second quarter but UCD pulled away after the big break. Jazze Henry fired home a cracking reverse-stick shot in the 38th minute from a cracking reverse-stick shot. And it was 3-1 with 24 minutes left when Guy Sarratt whipped a drag-flick into the roof of the net, another goal on debut.

From there, they were always in good control with Rovers having some good chances late on but strong tackles from Cian Murphy and blocks from Max Maguire endured the win.

UCD coach Michael Styles was also in his first formal game in charge and he is excited about the season ahead with some strong additions to his line-up.

"We took in a lot of players, around nine players – two from Three Rock so maybe we did weaken our opposition today! We are starting to gel but it is just the first game of the league. We were always going to be excited, the task now is to keep that up for the rest of the season."

The students face YMCA and Glenanne next weekend in a double-header which could have a big impact on their early season form.

"Double weekends tend to separate the teams very quickly – two tough games against YMCA and Glenanne. We focus on Saturday then recover for Sunday and go again. We want big games; this is why the lads are so excited to be in the EYHL. They want top opposition.

"With the EYHL, there are a lot of Leinster teams in it now so most of them are derbies! Hopefully, we can use that emotion to help us rather than hinder us."

YMCA 2 (T Brophy, H McCarthy) Glenanne 3 (S Brownlow, S Boucher, B Venter)

Stephen Brownlow's cracking strike with the last touch of the game earned Glenanne all the points at a tie swiftly switched from St Andrew's to Wesley College. Glenanne made the better start and they went in front when Brad Venter peeled away and got off a shot on his back foot to make it 1-0.

YM had a good few short corners in the second quarter but could not find a way past Leo Micklem and the lead was doubled after the main interval via a Shannon Boucher drag-flick.

Tony Brophy snuck the ball over the line to give YM a lifeline just before the end of the third quarter, his first goal since his summer move from Cork. And they were back on level terms when Grant Glutz crashed a ball into the area which fell nicely for Harry McCarthy – another new arrival from Waterford – to slam in.

That was with just two minutes to go but Glenanne nicked all the points when Brownlow thrashed in his goal for 3-2.

Corinthian 2 (J Perdue 2) Annadale 2 (S Cox, R Burgess)

Corinthian drew their first ever EYHL match as they played out a lively 2-2 draw with Annadale in front of a big crowd at Whitechurch Park on Saturday. The visitors went in front with less than five minutes to go to half-time following an attack to the right baseline which flipped up into Simon Cox's path and he clipped in a lovely finish.

The reds responded in kind in the second quarter with Jack Perdue making in 1-1 wihthin a minute of the restart and he netted his second 40 seconds into the fourth quarter to build a 2-1 lead.

Ryan Burgess, however, dragged in a penalty corner with six minutes to go to earn a share of the spoils and a potentially important away point.

Monkstown 2 (G Cole 2) Banbridge 2 (C Curry, B McCandless)

Monkstown and Banbridge shared the spoils at the ALD Merrion Fleet Arena to get their seasons started with a point apiece, Geoff Cole's double cancelled out by goals from Chris Curry and Bruce McCandless.

Bann were without Eugene Magee, Jamie Wright and Peter Brown for the clash which was Gordon Cracknell's first game in charge since taking over from Mark Tumilty. Goalkeeper Luke Roleston was in impressive form in the early stages, denying Davy Carson and Ross Quirke before Bann went close with a Philip Brown corner saved off the line.

The tie continued to ebb and flow at great pace with goalmouth scrambles at either end before the deadlock was broken in the 34th minute. Jonny McKee created it, wrapped the ball around to the back post where Chris Curry was waiting to turn in the goal; 1-0 Bann at half-time.

Monkstown took up the pace in the second half and were back on terms within four minutes when Nick Dee took a quick free which Cole picked up, his first touch taking the ball air-bound and he fired into the backboard.

The striker doubled up in the 47th minute when a quickly taken sideline ball from Stephen Cole found Davy Carson who brought the ball along the endline. He picked out Geoff Cole to deflect in.

Bann replied in kind with 13 minutes to go when McCandless stole the ball off Dee and a quick pass to McKee lead to a shot which David Fitzgerald saved well but McCandless was on hand to tap into the net. The goalscorer would soon after see a yellow card and Alexander Tinney followed him off to reduce Bann to nine players but Town could not find the killer touch. Indeed, McKee had the best chance to win it but he saw his one-on-one chance denied by Fitzgerald.

Irish Hockey Association media release


---

Police put Johor's semis spot on hold

By Jugjet Singh

JOHOR failed to confirm their semi-final spot in Malaysia's Razak Cup after they were held 2-2 by Police in yesterday's Division One Group A match at Bukit Jalil.

Sarjit Singh's side must now beat Melaka in their final group game tomorrow to reach the last four.

Police took the lead through Rahimi Iskandar (16th minute) but Johor fought back and netted through Shafiq Hassan (17th) and Muhajir Abdul Rauf (43rd).

However, Baljit Singh Sarjab (53rd) earned a point for Police by converting a penalty stroke.

"The penalty stroke should not have been awarded but since there is no video referral, we can't do anything about it.

"Looking forward, we must beat Melaka at all cost to qualify for the last four," said Sarjit yesterday.

RESULTS

Men: Division One — Group A: Johor 2 Police 2, Perak 0 Malacca 0;

Division Two: Kedah 1 Armed Forces 3, Kelantan 0 Negri Sembilan 3, Selangor 5 Perlis 1;

WOMEN: Malacca 1 Selangor 2, Armed
Forces 1 Terengganu 1.

FIXTURES

TODAY

Men: Division One — Group A: Police v Perak (Pitch One, 8pm); Group B: Penang v Terengganu (Pitch 2, 6pm), Pahang v Kuala Lumpur (Pitch 2, 8pm);

Division Two: Perlis v Negri Sembilan (Pitch 1, 4pm), Kelantan v Armed Forces (Pitch 2, 4pm), Selangor v Kedah (Pitch 1, 6pm).

Women: Terengganu v Selangor (Pitch 1, 8am), Armed Forces v Malacca (Pitch 2, 8am).

* all matches at the National Hockey Stadium in Bukit Jalil.

New Straits Times


---

Scottish Premiership action - Week 1 results



Clydesdale v Western Wildcats

Mixed fortunes for champions on the opening day of the Premier League, Grange men were 8-0 winners over Kelburn, but in the womens' competition Edinburgh University lost 4-3 to local rivals Watsonians in their opening encounter.

Grange may be in transition mode but they began the defence of their Premier League title with an eight goal win over Kelburne at Fettes.

After a fairly even opening ten minutes the champions took the lead with a reverse stick shot from new Aussie import Josh McRae.  The game was effectively over as a contest following further strikes by Andy Graham with a dink over the keeper and a tap in from Jacob Tweedie for a three-goal half-time lead.

Grange really turned the screw in the third quarter with a further four goals, Dan Coultas at a penalty corner, a double from Duncan Riddell and another by McRae, this time high into the net from a narrow angle.

There was some let-up in the scoring in the final quarter although Coultas added the eighth from another penalty corner shot.

A Jamie Golden hat-trick was the catalyst in Grove Menzieshill`s seven goal victory over Hillhead on Tayside.  Keir Robb scored twice while Luke Cranney and Albert Rowling were the others on target.

The all-West clash between Clydesdale and Western ended in a 2-2 draw. David Clark gave the home side the advantage in the first quarter and then Ewan Lindsay doubled the tally for Clydesdale.

However, in the final quarter Rob Harwood pulled one back for the Wildcats and with four minutes left Andrew McConnell secured a share of the points.

Watsonians took the early initiative with a 4-3 win over neighbours Edinburgh University.   Guy Rowson put the students in front but Watsonians stormed back with four goals in a row from Ally Dougall (2), Danny Cain and Euan Burgess.   University came close to levelling the match, they scored twice through Costa Stylianou and Matt Taylor, but fell at the final hurdle when Watsonians` keeper Luke Campbell saved their effort from the spot.

Women's champions Edinburgh University were on the wrong end of a shock on the opening day, they went down 4-3 to local rivals Watsonians.

The first quarter finished level, Georgia Jones, ironically a Watsonians` player last season, opened for the students only for Lucy Lanigan`s diving deflection to cancel it out.

Hanna McKie put Edinburgh 2-1 ahead in the following quarter but by the interval Watsonians had a 3-2 lead through Bella Fiskin on her debut and Lanigan again.    Sarah Jamieson seemed to seal the points for the underdogs with a great deflection and although Jones scored again for University, Watsonians held out for a famous victory.

No such problems for title challengers Wildcats with a 5-0 win against newly promoted Merlins Gordonians.  Their international keeper Siobhan Cowie pulled off some excellent saves however Wildcats dominated this game.

For Wildcats Ava Smith scored on her debut, Alex Stuart notched a brace while the other strikes came from Catriona Booth and Rona Stewart.

Further Dundee Wanderers laid down their mark for honours with a 8-0 win over GHK on Tayside.   Vikki Bunce (2), Lucy Williamson and Hannah Young gave Wanderers a four goal advantage at the interval.   In the second period the victory was completed with further goals from Emily Dark (2), Williamson again and Hannah Young.

Grove started their campaign with a 4-2 win over Glasgow University.  Sam Sangster put the Taysiders ahead in the first half with a penalty corner strike. After the break further goals followed from Katie Stott, Sangster again from the spot, and an overtime strike from Lauren Kingston.

In the last game of the day Clydesdale Western ran out 5-1 winners over Hillhead, the goals came from Karin Belch, Fran Lonergan, Ali Howie, Holly Steiger and finally Lexi Sabatelli.

Scottish Hockey Union media release


---

Sailors stun USIU to move fourth

By AYUMBA AYODI



Yvonne Madowo of Amira Sailors (left) vies for the ball with Florence Karanja of USIU-A during their Kenya Hockey Premier League match at City Stadium. PHOTO | LUCY WANJIRU |  NATION MEDIA GROUP

Leah Omwadho notched a double as Amira Sailors stunned United States International University-Africa (USIU-A) 2-1 in a closely contested women's hockey Premier League match at City Park Stadium on Sunday.

That happened a day after Strathmore University's Scorpions crushed Jomo Kenyatta University of Agriculture and Technology (JKUAT) 4-0. Lakers and Kenyatta University drew 2-2 at the same venue.

The results, especially USIU-A's defeat and Lakers' draw, favoured league leaders and defending champions Telkom.

USIU-A and Lakers now have slim chances of catching up with Telkom, who are sitting pretty at the top of league with 26 points from eight wins and two draws.

While Strathmore scaled one place to second with 18 points from five wins, three draws and two losses, USIU-A, who now have conceded twice, but have five wins and two draws, dropped one place to third with 17 points. USIU-A's victory could have piled pressure on Telkom at the top.

Sailors scaled once place to fourth with 14 points from three wins, five draws and two defeats as Lakers dropped one place to fifth with 12 points.

Notably, Lakers - which has six draws and two wins - is the only other side yet to concede defeat this season besides Telkom.

On Sunday, Omwadho latched on a penalty corner shot to put Sailors ahead in the ninth minute but USIU-A stepped up in the second quarter.

Sheila Nazi floated in a cross from the right which Veronica Maua met with a tap to sound the boards for the equaliser in the 19th minute.

Sailors got another penalty corner and the ball was floated before Omwadho controlled it to smack home in the winner in the 55th minute for sweet revenge. USIU-A had beaten Sailors 2-0 in the first leg.

"My girls were really determined and wanted this win after we let USIU-A win easily in the first leg," said Sailors coach Thomas Mucheni. "We tended to lose the bearing halfway but recovered to score and keep composed for the win."

USIU-A coach Willis Otieno rued the missed chances that has seen his side's title hopes go in smoke with the loss. "These are matches that you should put away if you want to win the title but the loss has derailed us big time," said Otieno. "For sure, we can only battle for second place now."

On Saturday, defending champions Butali Sugar Warriors opened a four-point lead at the top of the men's Premier League standings with a comprehensive 5-0 victory against Strathmore University's Gladiators at the same venue.

Francis Kariuki scored a brace while George Mutira, Calvins "Kanu" Omondi and Nixon Amadi added one each to uphold their unbeaten run in the league.

Butali tops the log with 30 points from nine wins and three draws.

Daily Nation


---

Unstoppable Butali thrash hapless Strathmore lads

By Elizabeth Mburugu



Butali Warriors top the standings with 30 points from 12 outings. [JENIPHER WACHIE, STANDARD]

Champions Butali Warriors thrashed Strathmore University Gladiators 5-0 in a Kenya Hockey Union men's Premier League match at City Park.

The victory on Saturday night saw Butali maintain an unbeaten run and consolidate their top spot on the standings.

Former Strathmore captain Francis Kariuki who led the students to the 2016 league title netted twice to condemn his former club to their eighth loss of the season.

Evergreen George Mutira, Calvins Omondi and Nixon Amadi were also on target as Butali completed a double against Strathmore who they had whipped 7-0 in the first leg.

Warriors lead top the standings with 30 points from 12 outings while Strathmore are eighth with 10 points having won three matches, drawn one and lost eight.

Warriors captain Kenneth Nyongesa said it was not an easy game despite the score line.

"It was a good game and Strathmore played very well especially in the first half and it is notable that they have improved.

"We played our hearts out because victory in each game is very crucial to us as we look to defend our title and I'm glad we bagged maximum points and moved closer to achieving our main objective," Nyongesa said.

Butali made their intentions known from the whistle surging into the Gladiators territory from the onset. Their efforts paid off three minutes into play as Kariuki converted a penalty corner to give his side a 1-0 lead.

The goal ignited the fighting spirits of the students as they tightened their defence thwarting the opponents every attempts to score more goals as they intensified their hunt for an equaliser.

The Gladiators duo of Job Jerry Ogaso and Basil Wekesa put up a spirited fight to restore parity but Butali defence led by Nyongesa would not let them have their way.

Strathmore defended well with Kariuki's goal making the difference between the two sides at the breather.

Strathmore contained goal hungry Butali strikers for the better part of the match as they held on to their slim lead.

After several failed attempts Mutira got it right to give Butali a 2-0 lead from a successful penalty corner in the 41st minute. A lapse in defence would see Butali score three goals in the fourth quarter.

In the women's Premier League title chase, Strathmore Scorpions whipped winless Jomo Kenyatta University of Agriculture of Technology (JKUAT) 4-0. Denise Bila, Jeriah Onsare, Lynn Wendy and Ashley Audrey were the scorers.

The Standard Digital


---

Noelle Frost withstood a 4th-quarter frenzy to lead Maryland field hockey past Penn State

David Suggs



Goalkeeper Noelle Frost stands with her teammates before Maryland field hockey's 5-0 win over New Hampshire on Sept. 1, 2019. (Julia Nikhinson/The Diamondback)

As goalkeeper Noelle Frost made her way to the goalmouth for the fourth quarter Friday with Maryland field hockey holding a commanding 3-0 lead, "Rest in Peace" — the menacing theme song for pro wrestling legend The Undertaker — blared across the stadium, underscoring the Terps' dominance up to that point.

But the song's ominous tone instead set the stage for a frantic fourth frame, where Frost took over with an impressive six-save display to propel No. 4 Maryland to a tightly contested 3-1 victory over Penn State.

It was yet another top-drawer performance from the shot-stopper, who has had a breakout senior season for the Terps.

"Noelle is a Terp," coach Missy Meharg said. "She's scrappy. She's mentally scrappy, she's physically scrappy."

Prior to Friday's game, Frost enjoyed a bit of a whirlwind week, earning Big Ten Defensive Player of the Week honors Monday after impressive showings against Virginia and James Madison in last weekend's Terrapin Invitational.

"I remember when I was an underclassman, I never said it out loud," Frost said on Tuesday, "But I always [thought] 'God, I want to get this award.' I've always wanted to help my team in such a substantial way that it shows that it means something. Honestly, it means a lot to me."

The accolades continued to pile up, with Frost earning the NFHCA Division I Defensive Player of the Week on Wednesday.

The Glenwood native took that award-winning form into Friday's battle with the Nittany Lions. Through the first three quarters, Frost made a single save, with Penn State struggling to break through the Terps' back four.

Despite the lack of chances, Frost guided the Maryland defense from her post, instructing her defenders and midfielders on the positioning and movement of the opposition's attack.

"I see all the players," Frost said, "I will communicate to [Bodil Keus] where her girl is, then we'll move from there."

But as the Nittany Lions began to enjoy more influence in the final third of the pitch, Frost came to life. The senior was called upon numerous times, especially as the typically stout Maryland defense struggled to cope with Penn State's penalty corner routines, ceding a season-high seven corner attempts in the final frame alone.

"The first three quarters, we kept up our focus," Keus said, "In the fourth quarter, we [made it] difficult. We need to get back to our basics and do the simple things."

Nittany Lion midfielder/defender Madison Hutson found the net from a penalty corner routine with six minutes left, ensuring a tight battle down the stretch would ensue.

But Frost was equal to Penn State's attacks, making a series of diving saves to her right to keep the lead at two.

"As goalkeepers, once they hit it, we're just dropping to the ground and just covering the space," Frost said. "I know Bodil has everything to the left of my feet, and I'll take the rest of the bottom of the cage."

And ultimately, Frost's standout fourth quarter exhibition was just enough for the Terps, who were able to fight off the late Nittany Lions rally. And after struggling for game time in her first three seasons at Maryland, the senior netminder is showing off her true quality for the 7-1 Terps in her final year.

"She's very humble and very hard-working," Meharg said, "and she's doing exactly what it is she worked so hard to do."

The Diamondback


---

No. 23 Penn State field hockey remains winless with conference loss to Maryland

Ryan DePhillips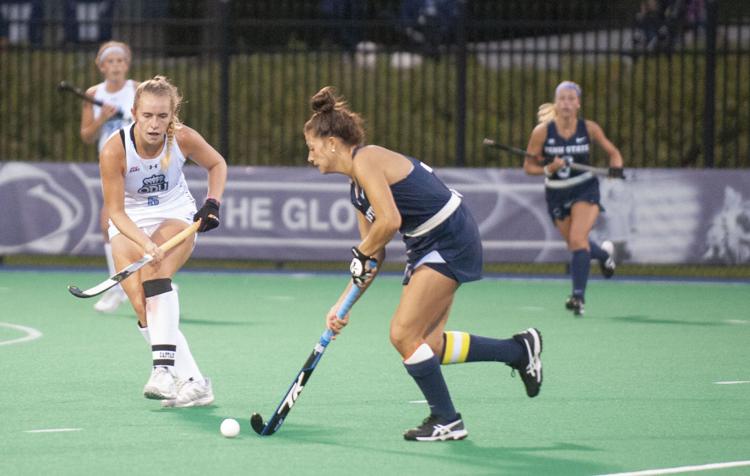 Captain Maddie Morano (7) dribbles the ball looking for an open teammate during the home opener against Old Dominion at the Field Hockey Complex on Friday, Sept. 13, 2019. Old Dominion defeated No. 17 Penn State 2-1. Lauren Magnotta

Through six games, Penn State remains winless.

"Maryland is a good team and we played tentative early on," Char Morett-Curtiss told GoPSUSports after another heartbreaking lost.

With only seven minutes to play, midfielder junior Madison Hutson scored on the rebound off of a second consecutive penalty corner to cut the lead by two. Unfortunately for the squad, No. 3 Maryland held on 3-1 to give the No. 24 Nittany Lions their sixth straight loss and first loss in Big Ten play.

Unlike most games where the offense struggled to get shots off, the team totaled 14 shots. However, the young squad managed only to convert on one of them and just barely squibbed off two shots in the first half.

The most threatening opportunity came within the first five minutes of the game off a penalty corner. However, Terrapins senior goalkeeper Noelle Frost made an impressive save to keep the game scoreless.

"We were much more aggressive in the second half and it showed with a better fourth period," Morett-Curtiss said. "We have to learn to be aggressive as a team, working together, and to be more dangerous inside the 25."

Part of the team's struggle to score was Frost's resiliency in front of the cage. She and Nittany Lions' freshman goalkeeper Brie Barraco matched each other with eight saves a-piece.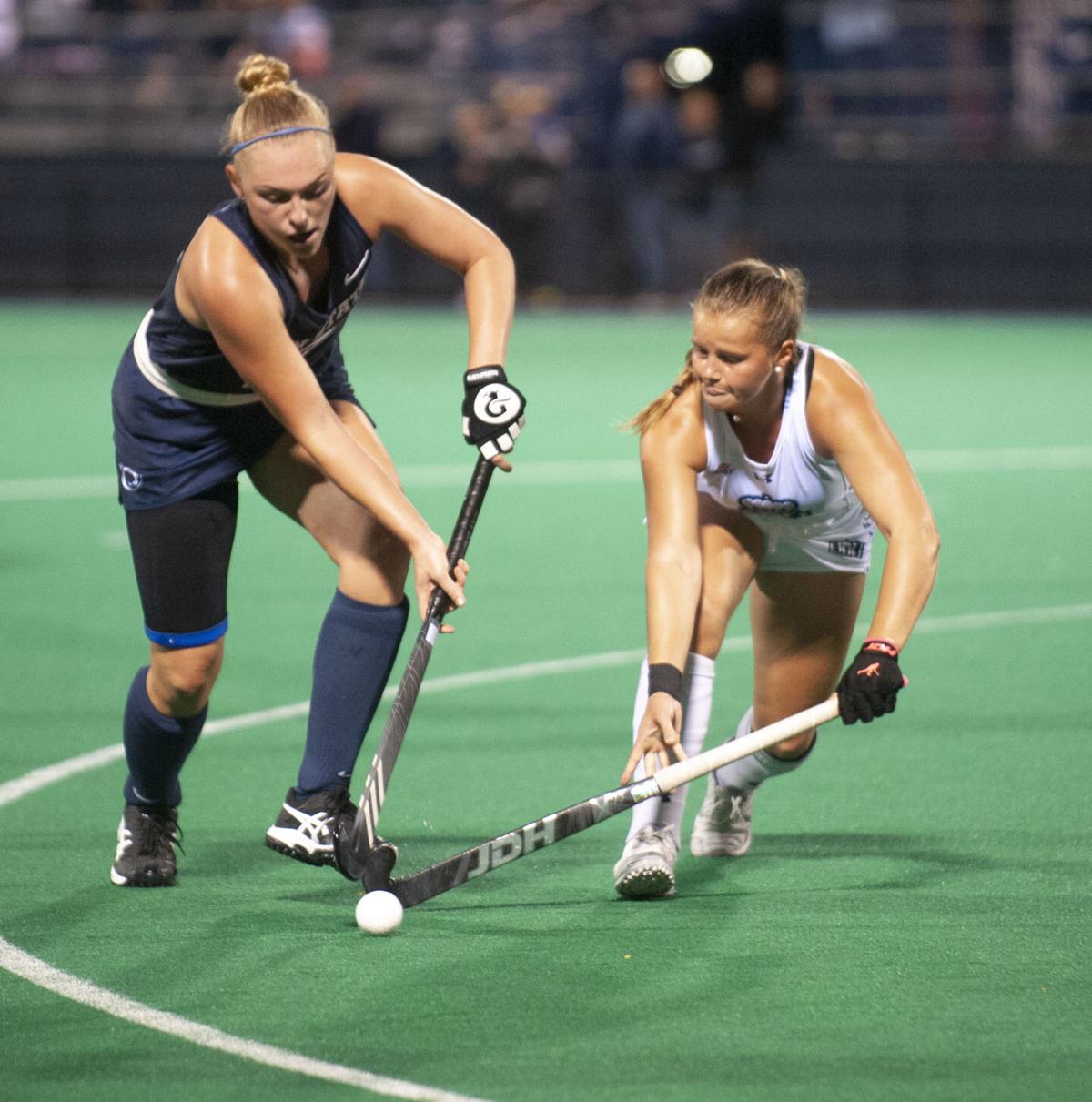 Defender Anna Simon (17) dribbles the ball through her opponent during the home opener against Old Dominion at the Field Hockey Complex on Friday, Sept. 13, 2019. Old Dominion defeated No. 17 Penn State 2-1. Lauren Magnotta

The Terrapins looked to gain the lead late in the first period off a series of shots. However, with the combined effort of Barracco, Hutson, and sophomore midfielder Anna Simon, the squad kept the game scoreless.

With the blue and white unable to get things going on offense, Maryland's offense took advantage. The Terrapins put a lot of pressure on Barraco with nine total shots in the first half, most of them in the second period.

Under nine minutes to go in the half, Barraco made the most impressive save of the night within hopping distance of the cage. The Terrapins then scored off of the rebound and added another goal a few minutes later to put Morett-Curtiss' squad in a 2-0 hole.

Things didn't get better for the squad as its Big Ten foe scored once again midway in the third period, despite a series of impressive saves by Barraco.

Despite being behind, Barraco, Simon, and sophomore forward Grace Wallis provided extra momentum to get the squad playing better on both sides of the ball in the fourth period.

After the ball juggling on both sides of the field, the Nittany Lions finally took advantage off of Hutson's penalty corner goal.

For the remaining part of the game, it was all Penn State. The only problem was, they could not convert on two pivotal penalty corner opportunities.

Despite an already tough season and an even tougher loss, Morett-Curtiss believes the team is on the brink of achieving better luck.

"There were some positives tonight for us," Morett-Curtiss said. "Both Anna Simon and Grace Wallis played very well and there were other things that we can point to as steps in the right direction."

The squad piled on a staggering 12 shots in the second half, but the season-long struggle has been to finish on their scoring opportunities.

The blue and white will have an easier matchup against California on Saturday. The squad will be home but will played at a neutral site in Lancaster Pennsylvania.

Daily Collegian


---

Penn field hockey falls to No. 15 St. Joe's for fifth consecutive loss

The Quakers outshot the Hawks but were unable to find the goal

By Justin Dechiario



Sophomore midfielder Gracyn Banks lead the Penn offense with six shots, however it was not enough to get the Quakers on the board versus St. Joes. Credit: Christian Walton

Even though the end result was not what the team wanted, Penn women's field hockey played with toughness Sunday afternoon.

The Quakers stayed in Philadelphia for their contest at No. 15 Saint Joseph's, where they lost by a score of 3-0.

The Hawks (6-1) got the scoring started in the 11th minute on a strong run to the net. The first quarter was quiet after that as the score remained 1-0 going into the second. St. Joe's came out hot in the second quarter on a diving goal from junior forward Jordan Olenginski to take a 2-0 lead. The Hawks would later tack on a third goal in the final period to finish the scoring.

Despite the loss, the Quakers (0-5) outplayed the Hawks for stretches of the game and had more opportunities on goal and with corners.

"We've really been focusing on taking more quality shots, and I think we did really well with that today," sophomore midfielder Gracyn Banks said. "We could have done a little better marking tight in our circles and finishing on our offensive opportunities."

Junior forward/midfielder Jordan Thies played a solid game, as she was able to fire two of four shots on goal. The four total shots were two fewer than her total from her Penn career previously. Banks, who played the whole game, led the team with six shots, one of which was on goal.

The Quakers fired 18 shots and collected eight corners compared to the Hawks' nine shots and three corners. Penn outpaced St. Joe's in many facets of the game, and the group will look to use that as a confidence booster for the remainder of the season.

"I think it shows us that we absolutely have what it takes to win these games," Banks said. "We just have to work harder and work together to turn the shots into goals."

The schedule does not get much easier after this, as the Quakers still have games against four ranked opponents in No. 14 Harvard, No. 25 Boston, No. 10 Delaware, and No. 6 Princeton.

If the Red and Blue are able to learn and grow from these tough tests, they might have a chance to pick up some big wins later in the season.

"We will definitely benefit from playing ranked teams," Banks said. "Playing tough opponents will only make us stronger, especially with Ivy League play starting up next weekend."

Penn will try to get its first win of the season when it plays against Cornell at home on Sept. 28. Although a win hasn't materialized yet, the most important part of the season is still to come for the Red and Blue.

The Daily Pennsylvanian


---

UNC field hockey ties program record for consecutive wins with victory over Louisville

By Mollie Brewster



UNC junior midfielder Eva Smolenaars (21), embraces senior midfielder Yentl Leemans (18). Senior forward Marissa Creatore(33), senior forward Catherine Hayden (8) and sophomore forward Erin Matson (1) join the group hug. UNC beat Louisville 4-1. This marked their 29th consecutive victory.  Morgan Pirozzi

For its 29th consecutive victory and first ACC win of the season, the No. 1 North Carolina field hockey team defeated No. 7 Louisville 4-1 on Friday. The win tied a program record for consecutive wins.

"It is amazing to be a part of this program, literally a dream come true," sophomore Erin Matson said. "We don't really think about the 29-0, we take it one game at a time which is why I think we have gotten this far."

The Tar Heels (6-0, 1-0 ACC) have dominated both offensively and defensively this season, outscoring their opponents 18-1 in their last three games. With Friday's win, they gave Louisville its first loss of the season.

"I was very proud of this team," head coach Karen Shelton said. "We expected a tough battle, and we got one. I feel as if the scoreboard doesn't tell the whole story of the game."

The Tar Heels went up 1-0 after sophomore Riley Fulmer came off the bench to score in the first quarter. They were able to maintain the lead for the rest of the game, as Matson added two more goals for North Carolina before the half.

"I build a lot off of my teammates energy," Matson said. "When I'm feeling good and getting connections with everybody, then I feel like I can just go out there and play and not really second guess myself."

Matson has scored in six of North Carolina's seven games this season. She won the NFHCA National Offensive Player of the Week award and the ACC Offensive Player of the Week award in the same week earlier this season. A huge contributor to the offense's success, Matson also leads North Carolina in goals this year.

At halftime, both the Cardinals and the Tar Heels had seven shots and four penalty corners. By the end of the game, Louisville had outshot North Carolina, 16-12, but UNC was able to capitalize on its chances. Junior Eva Smolenaars was able to score one more for UNC before the Cardinals put their first score on the board in the final three minutes of the game.

"It feels good to win another game in Karen Shelton Stadium and also get the first ACC one out of the way," Matson said.

On the opposite end of the field, the Tar Heels have only allowed seven goals this season after Friday's win. With a completely new defensive line this year, North Carolina has not been phased.

"We rely on our defense a lot, this year is one where we are building a lot on our defense and learning a lot each game," Matson said.

Junior goalkeeper Amanda Hendry and senior goalkeeper Alex Halpin have already combined for two shutouts this season, and were minutes away from a third today.

"My defense is helping me out a bunch. They're doing a great job on the corners, I'm just doing what I should be doing with the saves," Hendry said. "Honestly, I'm not getting that much action, which is awesome."

Shelton continued to emphasize that despite the program's historic winning streak, UNC is still giving each opponent the respect they deserve and not getting too far ahead.

"There were some amazing moments in that game, some that we scored on, some that we didn't score on," Shelton said. "I feel good about our group — as long as we stay humble and hardworking, we keep getting better. We take it game by game. We always want to win the next game, so if we can keep that going I'll be thrilled."

The Daily Tar Heel


---

No. 5 field hockey downs Syracuse 2-0 in ACC opener

The Cavaliers improve to 6-1 on the season as Coach Madison gets win No. 400

By Muhammad Amjad



After a slow first half, the Cavaliers scored two goals to seal Coach Michele Madison's 400th win. Courtesy Virginia Athletics

The Virginia field hockey team travelled to Syracuse Friday to open up ACC play at J.S. Coyne Stadium. The No. 5 Cavaliers (6-1, 1-0 ACC) topped the No. 19 Orange (6-2, 0-1 ACC) 2-0, using a strong defensive effort to start conference play on a high note.

Virginia was unable to generate significant chances in the first half. The Cavaliers shot just once in the first quarter and twice in the second quarter as Syracuse defended their home field well throughout the first half.

However, Virginia was much more aggressive in the third quarter, as the Cavaliers kept the ball in Syracuse's half for nearly the entire period. Ultimately, Virginia converted its only shot on goal in the third quarter for a score.

Freshman back Cato Geusgens — a rising phenom for the Cavaliers — netted a well-executed goal from assists by sophomore midfielder Greer Gill and senior back Anzel Viljoen.

Just three minutes later, Viljoen scored a goal of her own to put Virginia up 2-0. Coming off of a penalty corner, Viljoen fired a quick strike through the Syracuse defensive front to seal the game for Virginia.

For both teams, this was the first match in what is shaping up to be another year of stiff ACC competition, as the conference currently has seven teams in the top 25 of the Coaches' poll.

Rankings were not the only thing on the line during this game, however, as history was also made.

Field hockey Coach Michele Madison won her 400th game, becoming just the ninth coach in Division I history to achieve the feat.

Madison, grateful for the wins, gave most of the credit to her staff and players.

"There are a lot of great players in those 400 wins," Madison said. "A lot of great coaching staffs. I feel very fortunate that I've had the people that I have had in my life to be successful. I am truly blessed to have the career I have had."

Since taking over in 2005, Madison has become the winningest coach in Virginia field hockey history.

Nonetheless, there's one thing that has eluded Madison's trophy shelf for 14 successful years — a national championship at Virginia.

In pursuit of that first trophy — and Madison's 401st win — Virginia hosts in-state rival James Madison Tuesday. The game will start at 6:00 p.m. at Turf Field and will be broadcasted on ACC Network Extra.

The Cavalier Daily


---

Ohio loses 7-0 at Duke

Eli Feazell



Ohio's Karynne Baker tries to keep the ball away from Drexel's Puk Thewessen during the Drexel and Ohio matchup on Aug. 30, 2019. (FILE) Hannah Ruhoff

After a tough and thrilling comeback victory against Appalachian State, the Bobcats had an even tougher challenge when they traveled to Durham, North Carolina, to take on undefeated No. 2 Duke.

Ohio held its own against a previously ranked opponent in a 4-1 loss to No. 23 Boston earlier in the season, and for the early goings in its game against the Blue Devils, it looked like that would happen again. 

Unfortunately, that appearance shrank, and Duke proved to be too much in the Bobcats' 7-0 loss on Sunday. The seven goals scored by Duke were the most allowed by Ohio all season, and this was also the first time the Bobcats were shut out this year.

It was a quiet first quarter for both teams. Both Ohio and Duke failed to score a goal, which suggested a possible defensive matchup. Most of the second quarter saw dominant defensive play as well; that changed with less than three minutes left in the half when Duke's Leah Crouse scored the first goal of the game. One minute later, Hannah Miller scored another goal for the Blue Devils and left the Bobcats down 2-0 at halftime. 

The offensive success Duke had in the first half wasted no time in carrying over into the second half.

Noor van de Laar scored a goal that increased the deficit for Ohio to 3-0. The Blue Devils then scored two more goals in the third quarter and gave Duke a dominant 5-0 lead at the start of the fourth quarter.

Ohio wasn't a stranger to improbable comebacks on its weekend road trip, however. It was down by three goals to the Appalachian State and ended up leaving with a 6-5 win. That hope for a comeback in Durham, however, quickly faded after the Blue Devils scored two goals a minute apart.

It was the first time that the Bobcats were held without a goal since a 5-0 loss to Miami in the 2018 Mid-American Conference Tournament semifinals. Ohio has more opportunities against ranked opponents this season, too. It hosts No. 12 Ohio State on Oct. 6. 

Before that October home game, however, the Bobcats close out their third consecutive road game when they travel to MAC rival Kent State on Sept. 28.

The Post