All the news for Saturday 24 August 2019

Belfius EuroHockey Championship (Women) 2019 - Day 8
Antwerp, Belgium

Results

23 Aug 2019     RUS v BLR (Pool C)     5 - 0
23 Aug 2019     BEL v IRL (Pool C)         1 - 2
23 Aug 2019     ENG v NED (Semi Final 2)     0 - 8
23 Aug 2019     ESP v GER (Semi Final 1)     2 - 3

24 August is a rest day

Pool C Standings
| Rank | Team | Played | Wins | Draws | Losses | Goals For | Goals Against | Goal Difference | Points |
| --- | --- | --- | --- | --- | --- | --- | --- | --- | --- |
| 1 | Ireland | 2 | 2 | 0 | 0 | 13 | 1 | 12 | 6 |
| 2 | Russia | 2 | 1 | 0 | 1 | 6 | 4 | 2 | 3 |
| 3 | Belgium | 2 | 1 | 0 | 1 | 5 | 3 | 2 | 3 |
| 4 | Belarus | 2 | 0 | 0 | 2 | 0 | 16 | -16 | 0 |
---

Dutch prove way too strong for England in EuroHockey semi final




England's women were put to the sword by the Netherlands in the semi finals of the EuroHockey Championships.

The Dutch scored eight unanswered goals in a totally one-sided encounter in Antwerp.

1-0 down at the end of the first quarter, England then conceded seven in 40 minutes and had no answer to a rampant Dutch team.

Credit must go to the Netherlands for a truly dominant display, while Mark Hager's English team must now pick themselves up from huge disappointment as they face a bronze medal match on Sunday.

Only the winners of these Euros qualify for the Tokyo 2020 Olympics, so both Great Britain's women's and men's team will now play in two-legged Olympic Qualifiers on home soil in October / November.

Match report

Both sides got into decent positions in the first ten minutes, but soon enough the Dutch took control of proceedings, Laurien Leurink firing home from a penalty corner after Maddie Hinch made the initial save.

One behind at the end of the first quarter, England still had a foothold at this point, but once Lidewij Welten scored an excellent second, the Dutch were in control.

Caia van Maasakker made it 3-0 just before the break with a superb drag flick, and Marloes Keetels and Xan de Waard added another two goals between them in the third quarter as the Dutch continued to dominate.

Hinch made a couple of good stops in the England goal, but the defensive line were unable to cope with wave after wave of attack and conceded another three in the final 15 minutes. van Maasakker added a second corner before Welten got her own second of the match, and then Leurink doubled her tally on the night to round off the scoring.

There was no getting away from the fact that England were comprehensively beaten, and although the Dutch are World champions and the globe's number one ranked side, the scoreline was hugely disappointing for our team.

Now though, the women must dust themselves down for a bronze medal match on Sunday. The important fixtures will continue later in the year as well; with only the winners of this tournament qualifying directly for the Tokyo Olympics, both our women's and mean's teams will now play in two-legged Olympic qualifiers on home soil in late October / early November. The draw takes place in roughly three weeks' time.

England 0
Netherlands 8

Starting XI: Hinch, Unsworth, Toman, Ansley, Pearne-Webb (c), Evans, Rayer, Owsley, Townsend, Martin, Petter
Subs used: Balsdon, Defroand, Petty, McCallin, Howard, Hunter
Unused: Tennant

England Hockey Board Media release


---

England women thrashed by Netherlands in semi-final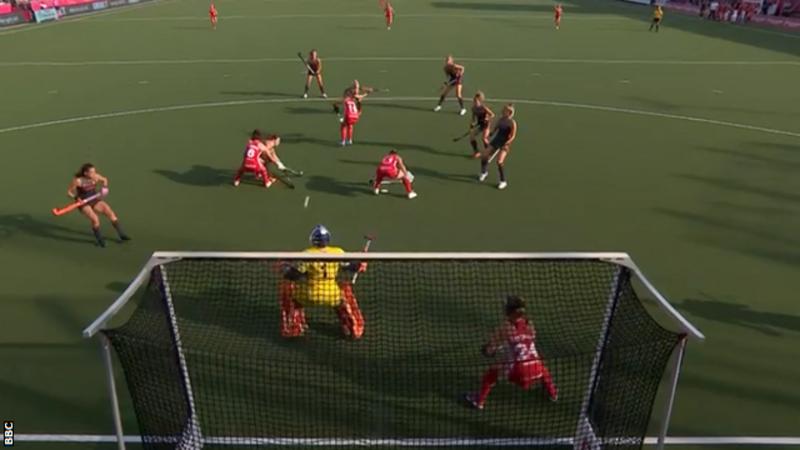 Caia van Maasakker scored a wonderful drag flick to put the Dutch 3-0 up in the second quarter

England women were thrashed 8-0 by defending champions the Netherlands in the EuroHockey Championships semi-finals.

They conceded three first-half goals before shipping five in the final two quarters in Antwerp, Belgium.

The Netherlands, chasing their 18th European title, face Germany in Sunday's final.

England's defeat means Great Britain miss out on automatic qualification for the Tokyo 2020 Olympics.

The reigning Olympic champions will now play a two-legged qualifier at home in November, which they must win to reach Tokyo.

"That was probably the lowest point of my career so far, it's a tough one to swallow," goalkeeper Maddie Hinch told BBC Sport. "We've got some work to do. We're just not learning and we were nowhere near."

They still have a chance to win a bronze medal when they face Spain in Antwerp on Sunday in the third-place match, which is live on the BBC Sport website at 12:20 BST.

England, who were European bronze medallists two years ago, picked up two wins and a draw as they topped Pool B in the group stages.

BBC Sport


---

Ireland v Belgium, Women's Euro Hockey Champs Match Report



Photo: Koen Suyk/ World Sport Pics

Hot and humid conditions today in Antwerp saw the Irish Women's squad beat the hosts 2 – 1 with goals from Bethany Barr and Anna O'Flanagan.

Belgium started strongly, getting the first chance of the game from Boon. McFerran saved well, but Belgium secured a penalty corner shortly after this to keep the pressure on. The shot went wide, although it wasn't long before Gerniers was back in the Irish circle forcing McFerran out to defend. Shirley McCay was on hand to help protect the Irish goal and prevent Belgium taking the lead. Ireland seemed to come more into their own after this as Nikki Daly chased the ball towards the a poorly defended Belgian goal. D'Hooge ran out to meet her and defended well to prevent Ireland getting on the score board.

The opening goal came 11 minutes in from a penalty corner to Ireland. McCay inserted and Upton deflected back to her. She shot in towards the goal and gave Bethany Barr the opportunity to knock it in nicely behind D'Hooge to give Ireland the lead. The score remained 1 – 0 to Ireland in the opening quarter despite attempts from both sides.

The second quarter saw a string of penalty corners awarded to Ireland but none converted. Belgium continued to fight to get on the scoreboard, with Gerniers slipping the ball to Boon in the circle who had a shot on McFerran who saved well. They continued applying pressure right up to half time, with Ireland lucky in their defence once or twice to reach half time 1 – 0.

Ireland were back with renewed energy in the second half with a number of attempts at the Belgian goal. Picard made her presence felt, frustrating attempts by Mullan and Duke to add to Ireland's lead. Belgium secured an equaliser before the end of the third quarter, with Gerniers crossing to Ballenghein who slipped it in behind McFerran.

Both sides seemed to bring everything to the last quarter. Weyn's threatened to give Belgium a lead at one point but she shot wide and the sides stayed level. Bethany Barr and Katie Mullan defended well from a Belgium penalty corner as both sides continued to fight hard in the heat. With 90 seconds left on the clock, Shirley McCay shot into the circle and found Daly who deflect to O'Flanagan to finish. The video umpire was called upon to confirm there was no back stick involved and the goal was granted. Full time, Ireland 2 – 1 Belgium.

Speaking after the match, Head Coach Sean Dancer said, "It was a game we played quite well in. We probably deserved to be another goal up at half time.

"Belgium played really well in the second half; we probably went to sleep in a few areas, so they certainly got back into the game.

"It was really cut-throat to the end, and I suppose for me what was pleasing is that the girls kept fighting and we were good enough to score a goal in the last minute."

The Women will face Russia in their final match of the tournament at 8AM Irish time, while the Irish Men's squad plays their final match tomorrow at 14:45 Irish time against Wales.

Women's Pool C: Ireland 2 (B Barr, A O'Flanagan) Belgium 1 (Ballenghien)

Ireland: A McFerran, N Evans, K Mullan, S McCay, E Tice, B Barr, C Watkins, L Colvin, A O'Flanagan, Z Wilson, D Duke
Subs: R Upton, G Pinder, N Daly, H Matthews, E Murphy, S Hawkshaw, A Meeke

Belgium: S Limauge, J Vandermeiren, E Puvrez, L Versavel, B Nelen, A D'Hooge, S Vanden Borre, P Leclef, L Hillewaart J Boon, A Ballenghien,
Subs: A Raye, A Fobe, A Gerniers, E Sinia, AS Weyns, M Struijk, E Picard

Irish Hockey Association media release


---

O'Flanagan snatches vital late winner to all but assure Euro top tier status



Anna O'Flanagan celebrates her winning goal. Pic: Koen Suyk/ World Sport Pics

All-time top scorer Anna O'Flanagan added another vital goal to her memorable collection to earn Ireland a 2-1 win over Belgium that all but secures safety for the 2021 edition of the European Championships.

It came with just 80 seconds to go against the hosting Red Panthers, stunning a half-full stadium as the home fans stayed away with no semi-final to look forward to.

For O'Flanagan, she gambled, ghosting in behind the last defender as Nicci Daly's touch flipped into her path after a remarkable Shirley McCay pass, volleying in by Aisling D'Hooghe.

The striker joked the ball should never have come her way as the Irish bench implored McCay not to risk taking on her high tarriff backhand cross, suggesting a clean strike was a one in a hundred chance.

Belgium went to video, perhaps shocked at how perfectly it flew into the middle, giving the crowd a slo-mo glimpse of a lovely piece of skill.

It crowned a topsy-turvy game in which Ireland started slow, adjusted their press to dominate and take the lead via a smart corner move.

Belgium had produced some stirring stuff in the first few minutes with Jill Boon whipping a backstick shot at goal while Alix Gerniers and Louise Versavel were causing danger. Shirley McCay was required to clear another out from the goalmouth before Ireland got their bearings on the counter.

Barr gave them the lead in the 11th minute from a clever corner move, Roisin Upton switching to the injector McCay whose cross was tipped in by Barr.

A trio of Irish corners were blocked – one of which was given as a stroke but then reduced to a corner by video – before Belgium came back into contention. Boon's sharp pick-up and shot on the turn tested Ayeisha McFerran and the forward against found only the goalkeeper's pads from a clever leading run and first time touch.

The second half continued in an open fashion with Ireland having three shots in succession before Boon renewed her rivalries with McFerran. Deirdre Duke was found brilliantly by Pinder but D'Hooghe saved well while an Anna O'Flanagan corner went over.

The equaliser came in the 43rd minute as Gerniers drove around the circle and in the right channel before crossing, finding Ballenghien for a simple finish, 1-1.

It left the game on a knife-edge going into the final quarter where the Belgian hosts made most of the play, especially when Nikki Evans was shown a yellow card.



Nicci Daly just about denied by Aisling D'Hooghe. Pic: Frank Uijlenbroek / World Sport Pics

Ireland survived that spell and duly found a winning goal with just over a minute remaining when McCay delivered a perfect cross from the left wing into the centre. Nicci Daly's touch lifted the ball into the path of O'Flanagan who touched in the winner.

It puts Ireland with a point of equaling their best ever finish in Europe, fifth, the new target after the semi-final dream slipped away on Wednesday.

"We had a point to prove; we were really close to getting into a semi-final for the first time for Ireland," O'Flanagan said.

"We missed so narrowly but now we want to get fifth in the tournament. When it went to 1-1, we had to dig deep and were resilient. We knew a chance would come and we had to take it."

It was also important to show they belong at this level with expectactions significantly raised since last summer's World Cup silver.

It is something the side is acutely aware of and so a pressurised win against a top ten side was needed.

"We have a new ranking now; when you are 16th, its ok to play above that. Now, its really important for us to play at our ranking and we've done that at this tournament.

"Doing that at this tournament at that new level, it's really promising. We narrowly missed out against number four and five in the world but have beaten a team around us. That's what we need to in October's Olympic qualifiers as well."

Coach Sean Dancer, meanwhile, added it was important to perform in a high pressure environment: "We haven't spoken too much about [relegation]. It's all about performance and trying to get better every game, execute under pressure.



Ireland celebrate on the final whistle. Pic: Frank Uijlenbroek / World Sport Pics

"We're getting there but there is room for improvement. The qualifying games at the end of the year are cut throat and we have to be better. This is part of steps forward we need to be making.

"The tournament is very tough but a great opportunity to keep learning. It is very hard to replicate games like this and getting through a situation like this is really good."

Hannah Matthews agreed, adding that having this kind of gritty win under their belts will be a big psychological boost.

"Number one target would have been to qualify from this tournament but, long term, that is the big focus. We have to use these experiences. It is so hard to get these high pressure games organically so we really want to have them in the memory bank when we go there, knowing you could pull it out of the bag.

"The results in the group were really disappointing but, in the context of the whole year, we've done really well with some consistent performances as a squad. Big picture, this is a good tournament for us."

The Irish men, meanwhile, have a stressful day ahead of them. They could be relegated if England and Scotland draw in the first game on Saturday morning in Pool C.

A win for either will open the door for Ireland but they must win against Wales, potentially by a couple of goals, to stay afloat.

Belfius EuroHockey Championships

Women's Pool C: Belgium 1 (A Ballenghien) Ireland 2 (B Barr, A O'Flanagan)

Belgium: A D'Hooghe, S Limauge, J Vandermeiren, E Puvrez, L Versavel, B Nelen, S Vanden Borre, P Leclef, L Hillewaert, J Boon, A Ballenghien
Subs: A Raye, A Fobe, A Gerniers, A-S Weyns, M Struijk, E Picard

Ireland: A McFerran, N Evans, K Mullan, S McCay, L Tice, B Barr, C Watkins, L Colvin, A O'Flanagan, Z Wilson, D Duke
Subs: R Upton, G Pinder, N Daly, H Matthews, S Hawkshaw, A Meeke, L Murphy

Belfius EuroHockey Championships (Irish time; Wilrijkse Plein, Antwerp)

Saturday, August 23

Men

Pool C: Ireland v Wales, 2.45pm

Sunday, August 24

Women

Pool C: Ireland v Russia, 8am

The Hook


---

O'Flanagan goal seals dramatic late win for Ireland against Belgium

Ireland bounced back from missing out on the semi-final to beat Belgium 2-1 in a dramatic European Championships relegation Pool C clash.

Anna O'Flanagan's late goal settled an exciting game and gave Sean Dancer's side all three points.

Beth Barr's goal had put Ireland ahead in Antwerp before Ambre Ballenghien's third-period equaliser for Belgium.

The win means Ireland now need only one point against Russia on Sunday to retain their top-tier status.

Having seen their semi-final hopes dashed following a 1-1 draw with Germany, Ireland rode early pressure from Belgium to take the lead through a penalty corner after 11 minutes, with Beth Barr poking home from close range from Shirley McCay's pass.

While Ireland countered well, the quality of goalkeeper Ayeisha McFerrin shone through at the other end as she produced a string of fine saves to thwart the home side.

Deirdre Duke would have netted a second for the Green Army if not for the heroics of Belgium goalkeeper Aisling D'Hooghe.

Although Belgium had rarely threatened with circle entries, Niels Thijssen's side showed their resilience when Alix Gerniers found Ballenghien, who made no mistake at the far post and restored parity with a minute remaining in the third period.

Belgium looked the more dangerous of the two sides in the fourth period but, with just over a minute left on the clock, McCay's dead-eyed delivery allowed O'Flanagan to seal all three points ahead of Sunday's clash with Russia.

"We were disappointed to miss the semi-final so it was really important for the girls today," said O'Flanagan.

"We dug deep - we knew it was going to be tough but we finished on a good note. We're a tough squad - we've been through a lot together so we know how to dig it out and we never give up."

BBC Sport


---

Belfius EuroHockey Championship (Men) 2019 - Finals
Antwerp, Belgium

Fixtures (GMT +2)

24 Aug 2019 13:30     ENG v SCO (Pool C)
24 Aug 2019 15:45     IRL v WAL (Pool C)
24 Aug 2019 18:00     GER v NED (3rd/4th Place)
24 Aug 2019 20:30     BEL v ESP (Final)

Live streaming via http://www.eurohockeytv.org

Pool C Standings
| Rank | Team | Played | Wins | Draws | Losses | Goals For | Goals Against | Goal Difference | Points |
| --- | --- | --- | --- | --- | --- | --- | --- | --- | --- |
| 1 | Scotland | 2 | 1 | 1 | 0 | 7 | 5 | 2 | 4 |
| 2 | England | 2 | 1 | 1 | 0 | 4 | 3 | 1 | 4 |
| 3 | Ireland | 2 | 0 | 1 | 1 | 4 | 5 | -1 | 1 |
| 4 | Wales | 2 | 0 | 1 | 1 | 4 | 6 | -2 | 1 |
---

Proud to have led India to success in maiden stint as captain, says Harmanpreet

The relatively young team managed to lift the Olympic Test event crown defeating New Zealand in the final.



Indian hockey captain Harmanpreet Singh in action in the men's final against New Zealand in Tokyo on August 21, 2019. Photo Credit: Kiyoshi Ota

Drag-flicker Harmanpreet Singh is a proud man after having led India to success in his maiden stint as captain of the national team in the just-concluded Olympic Test event in Tokyo.

World no. 5 India rested some senior players and fielded a relatively young team for the Olympic Test event but still managed to lift the crown, defeating New Zealand 5-0 in the final on Wednesday.

"It was a fantastic opportunity for everyone involved in the team to showcase what they can do. With some experienced players rested for the tournament, we had a fairly younger squad, but it was a great chance for the youngsters to do well and I am really pleased with the way everyone stepped up.

"The team performed well against teams like Japan, Malaysia and New Zealand, and it was an immensely proud moment for me to have led the Indian men's hockey team for the very first time," said the 23-year-old Harmanpreet, who captained India in the absence of Manpreet Singh.

India had a great start to the Olympic Test Event as they registered a 6-0 win against Malaysia in their opening match before losing to New Zealand 1-2 in their second match.

But the Indians came back strongly in their last round-robin match to defeat hosts Japan 6-3 and secure a place in the final.

Harmanpreet scored two goals in the tournament and both his strikes came against New Zealand -- the first in the 1-2 loss in round-robin match, while the other was in the final.

"Scoring is something that I have really worked on since the junior days. To be able to help the team in scoring some important goals at crucial junctures in a match is something that motivates me even further," Harmanpreet said.

"I have worked on my drag-flicking with the coaches, and finally it is showing on the field as well and I am really pleased, but I will continue to keep working."

Harmanpreet made his debut for the senior team in May 2015 against Japan during a Test Series in Bhubaneswar and went on to become one of the youngest players in the Indian side that played at the 2016 Rio Olympic Games.

Since then, the 23-year-old has taken part in most major tournaments for India, including two FIH Champions Trophy held in 2016 and in 2018, Commonwealth Games and Asian Games in 2018, and the World Cup last year.

"It was a great experience for me to have played at the last Olympics, but we came up short. However, the team is now quite focused on qualifying for the 2020 Tokyo Olympics, and once we manage to do that, the hard work will continue to happen as we want to achieve something huge with this current team," Harmanpreet signed off.

The Hindu


---

U21 women's hockey team lose 3-0



Action from the friendly series between Bangladesh U-21 women's team and Sports Authority of India Academy in Dhaka Thursday BHF

The display by the Bangladesh women was much better compared to the two previous matches of the series where the home side suffered identical 6-0 losses
 
Bangladesh U-21 women's hockey team put in a fighting display but still conceded a 3-0 loss against Sports Authority of India Academy in the third match of the six-game friendly series Friday at Maulana Bhasani National Stadium in Dhaka.

The display by the Bangladesh women however, was much better compared to the two previous matches of the series where the home side suffered identical 6-0 losses.

Bangladesh shipped two goals in the first half, one in the third quarter and none in the fourth and final quarter, thanks to some dogged defending.

Sakshi opened the scoring with a field goal in the 13th minute before Lalowan Pui doubled the lead in the 25th minute.

Lalrutafeli Mesabi completed the scoring in the 40th minute.

The friendly series is part of Bangladesh's preparation for next month's Women's Junior AHF Cup in Singapore.

Dhaka Tribune


---

Friends School Kamusinga dethrone St Anthony's Kitale

By Elizabeth Mburugu



Jimmy Weboli (left) of St Luke Kimilili and Sam Mugabo of College Gisenyi, Uganda during18th edition of East Africa Secondary Schools Sports Games at the St Constantines International School in Arusha, Tanzania on Thursday, 22 Aug 19, 2019. [Jonah Onyango, Standard]

Friends School Kamusinga are the 2019 Federation of East Africa Secondary Schools Sports Association boys hockey champions.

Kamusinga edged out arch-rivals St Anthony's Kitale 1-0 to reclaim the crown they last won in 2016. Captain Shadrack Kipkoech's 57th-minute goal sealed Kamusinga's sixth East Africa regional title.

Kipkoech, who avenged his team's loss at the national finals, said they were not ready to fall to St Anthony's Kitale for the second time in one year.

"We were motivated to work harder because we had missed the national title and were not ready to play second fiddle to them again."

The Kenyan girls were, however, unlucky as Uganda's Kakungulu Memorial upset St Cecelia Misikhu 2-1 in the finals at the Twiga Club. It is the first time Kenyans have lost the title since the inception of the games. St John's Kaloleni completed the podium after beating compatriots Nyamira 1-0 in play-offs.

Kenya also surrendered the girls' football and hockey crowns yesterday. Kenyan champions Nyakach Girls High School and Itigo Girls High School lost their respective football semi-finals yesterday on post-match penalties to Ugandan opposition.

Nyakach went down 4-3 to Kawempe Muslim Secondary School as Itigo lost 9-8 to Mukono High School in the other last-four clash.

Itigo had played to a barren draw against Mukono High while Nyakach were held to a 2-2 stalemate in regular time, setting the stage for spot-kicks.

Kenya won the title last year through Kwale Girls Secondary School, who failed to reach the regional games. The two schools will battle for the bronze medal today as the Ugandans play for the title.

In the girls' primary schools contest, Kenya's Nyanza select team bagged the trophy after overcoming three other teams to top the standings in the round-robin format.

The Kenyan girls who were making their East African debut won all their matches. 

The Standard Digital