All the news for Friday 23 August 2019

Belfius EuroHockey Championship (Men) 2019 - Day 8
Antwerp, Belgium

Results

22 Aug 2019     WAL v SCO (Pool C)     2 - 4
22 Aug 2019     ENG v IRL (Pool C)         2 - 1
22 Aug 2019     NED v ESP (Semi Final 2)     3 - 4
22 Aug 2019     BEL v GER (Semi Final 1)     4 - 2

Pool C Standings
| Rank | Team | Played | Wins | Draws | Losses | Goals For | Goals Against | Goal Difference | Points |
| --- | --- | --- | --- | --- | --- | --- | --- | --- | --- |
| 1 | Scotland | 2 | 1 | 1 | 0 | 7 | 5 | 2 | 4 |
| 2 | England | 2 | 1 | 1 | 0 | 4 | 3 | 1 | 4 |
| 3 | Ireland | 2 | 0 | 1 | 1 | 4 | 5 | -1 | 1 |
| 4 | Wales | 2 | 0 | 1 | 1 | 4 | 6 | -2 | 1 |
---

EuroHockey classic for the ages: Belgium beat Germany in Antwerp epic

By Rod Gilmour



Belgium seal a EuroHockey final place PICS: World Sport Pics

So, a handball in a major sporting semi-final went against Germany as Belgium memorably, brilliantly and ruthlessly reached their third EuroHockey final in four editions, played out in front of a raucous home crowd who bayed for more – and got four. This was Belgium-mania.

Germany were 2-0 up, leading with classic German efficiency, hurting Belgium against the run of play. Before the tide turned in a super third quarter. Before Germany capitulated under the wave of late circle penetration to earn a shot at a first continental title against Spain on Sunday, a day Antwerp may well be deserted after this epic.

Nicolas de Kerpel told The Hockey Paper afterwards: "It wasn't that we had to change at half-time. It was a little wake up call and to win the 50-50 battles and once the crowd came behind us, it was unstoppable and this was the most craziest experience I've ever had."

And for the crowd, too. After Spain's dismantling of Holland, and the opening quarter here, there was the prospect of both world finalists falling short of the final. But that Bhubaneswar win has instilled some resolve in the Belgian camp.

They hit the post early in the contest and then saw Christopher Rhur and Florian Fuchs give Germany a cushion at the break.

Belgium's early PC salvos weren't firing – Alexander Henrickx wasn't on song – which kept the multiple Euro champs in the hunt, as did Viktor Aly in Germany's goal. But a penalty stroke decision went against them.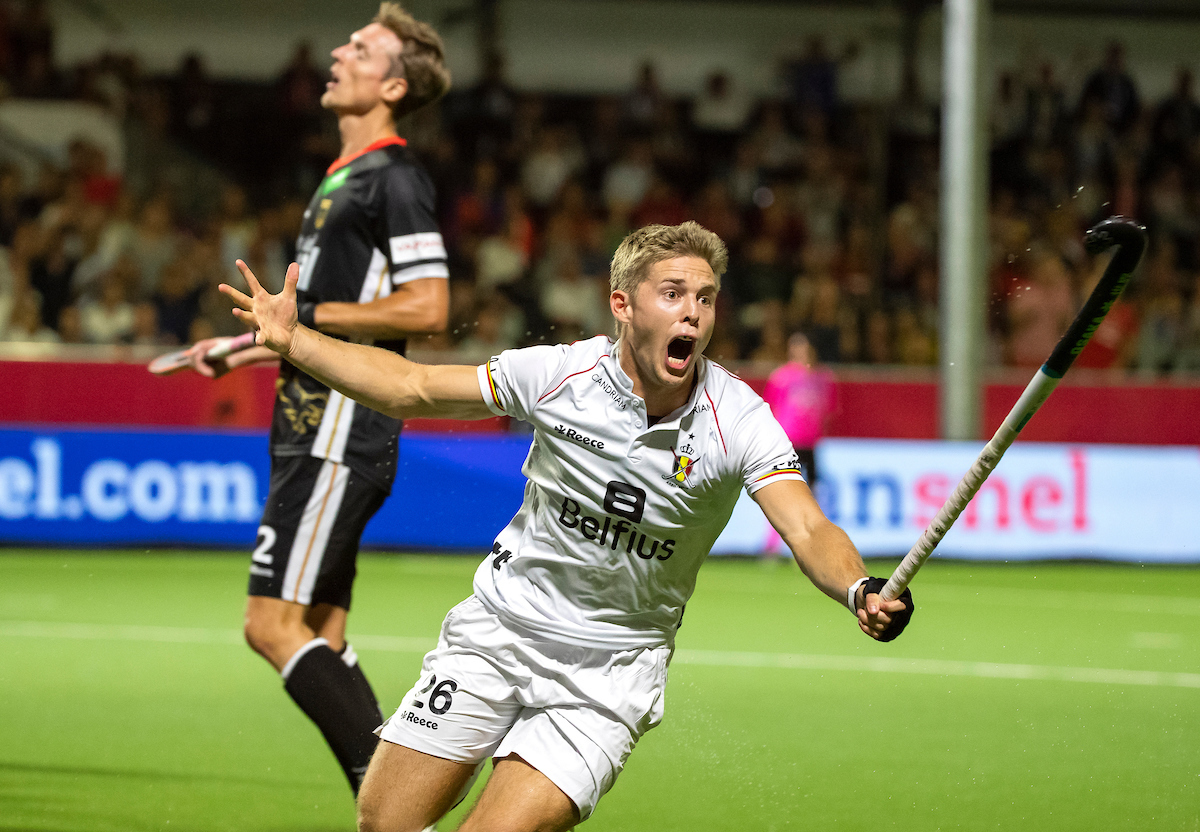 Victor Wegnez celebrates in style PIC: World Sport Pics

Belgium edged possession, circle entries and penalty corners through the match. And finally pressure told when Tom Boon finally found the backboard in the 42nd minute. Cue hysteria.

Germany still had resolve and a PC at the other end nearly regained the two-goal cushion. But a replay showed a German hand on the injection trap and the crowd responded with jeers.

The atmosphere had been raised and Belgium immediately broke up field, winning a PC and de Kerpel netted with six minutes left. The circle was now as much a magnet as a tourist to Belgian chocolate.

The players were abuzz. Victor Wegnez won a corner and punched the air like a crazed boxer might after a heavyweight knockdown. There was time for acrobatics in the Belgian circle as Germans went airborne with a loose ball.

But Wegnez scored moments later to more cacophony. It was a stunning reverse strike. The game was up. But not before another crazed Wegnez run. And when Cedric Charlier tapped into an open net, German shoulders dropped and ushered in one of the most memorable of EuroHockey matches. Incredible.

Belgium 4 Germany 2

We will have full reports, colour and analysis in our September issue. Subscribe now!



The Hockey Paper


---

England and Scotland earn first wins of 2019 EuroHockey Championships, Wales in danger of relegation



Scotland Beat Wales At #EHC2019

England and Scotland's men both secured their first wins of the 2019 EuroHockey Championships in Antwerp to ease fears of relegation.

The bottom two teams from each initial group have now entered Pool C to determine who finishes between fifth and eighth at the tournament, with the bottom two sides being relegated to the second tier for the 2021 event.

A 4-2 win over Wales now sees Scotland move onto four points – with their draw against Ireland being carried over – as they look to retain their place in the competition.

England's men also find themselves on four points after a narrow 2-1 over Ireland, leaving their counterparts and the Welsh in the relegation spots with just one point each.

A draw with each other on Saturday would be enough for both England and Scotland to stay up, while Wales will be hoping one beats the other and they beat Ireland by a significant margin in order to stop themselves dropping back down to the EuroHockey Championships II.

Wales 2 (0)
Dolan-Gray (40', FG), Prosser (60', PC)

Scotland 4 (2)
Golden (2', FG; 53', FG), Falconer (12', FG), Parkes (35', FG)

In the second Home Nations derby of the tournament, it was Scotland who secured the crucial victory as they overcame Wales in a gripping game under sunny skies in Antwerp.

GB EDP star Cameron Golden gave the Blue Sticks the perfect start as he scored his first goal of the tournament in the second minute.

Craig Falconer then produced a sublime finish – his second of the event – to double Scotland's lead in the 12th minute before Nicky Parkes made it three shortly after half-time.

Owain Dolan-Gray then pulled one back for Wales but with just seven minutes to go Golden produced some magic to score his second of the game with a wonderful solo effort.

Wales had the last say as Lewis Prosser scored from a corner in the final minute and they will be hoping to take that momentum into Saturday's crucial final game against Ireland.

England 2 (2)
Wallace (11', FG), Roper (12', PC)

Ireland 1 (1)
Robson (21', FG)

Having not made the semi-finals in this competition for the first time since 2007, England felt like they had a point to prove against an Irish side they beat 4-2 at the 2018 Men's Hockey World Cup.

They made a fine start too as Zach Wallace and Phil Roper scored just a minute a part at the end of the first quarter – with Ashley Jackson playing a major part in both goals – to give them an early lead.

Ireland's Michael Robson then beat George Pinner with a very deft finish in the 21st minute to set up an exciting second half.

Both teams had chances to score further but ultimately both defences proved too difficult to crack as they game became very physical, with plenty of bumps and scrapes.

England held on for victory though as they look to try and secure a fifth-placed finish.

They will do that with victory over Scotland at 12:30 BST on Saturday 24 August, while Wales will be hoping to pull off a major upset by beating Ireland at 14:45 BST that same day.

Great Britain Hockey media release


---

Men dig deep to earn important win over Ireland in EuroHockey



England celebrate in the EuroHockey Championships

England's men dug deep to earn an important win over Ireland in the EuroHockey Championships.

Goals in the first quarter from Zach Wallace and Phil Roper secured victory, as Michael Robson's effort for Ireland proved ultimately to only be a consolation.

It was a physical, gritty game but two moments of English quality were decisive; Ashley Jackson playing a significant part in both goals. Danny Kerry's team also had to show their defensive side, holding firm in the final quarter as Ireland pushed for an equaliser.

Having finished third in their initial pool and missing out on a semi final, England are in Pool C along with Scotland, Wales and today's opponents. This win means that a positive result against Scotland on Saturday will ensure Kerry's men remain in the top flight of the next EuroHockey Championships in two years' time.

Full report

Phil Roper had the game's first effort of note, firing in a cracking strike, only to see it blocked by brave Irish defending.

Then with twelve minutes on the clock, England scored an excellent goal. Ashley Jackson went on an incisive run down the right, finding Sam Ward in the circle. Ward looked up and decisively picked out Zach Wallace closing in to make it 1-0.

And just moments later it was 2-0, Ireland initially defending the penalty corner, only for Jackson to pick out Phil Roper for a super finish across his body.

Into the second corner and Ireland were beginning to get a foothold, and Michael Robson halved the deficit when he found space and fired home from a couple of metres inside the D.

The contest was becoming slightly feisty with plenty to play for, but there were no further goals before the break.

Late in the third quarter, an absolutely sensational pass from Jackson created space for Chris Griffiths to shoot on the reverse just inside the D, but the Irish 'keeper was able to palm it away.

The final quarter continued to be physical, and although down to ten men Ireland fashioned a corner in the last two minutes, only to be well denied by Henry Weir's brave running.

That proved to be the final action, and England had battled to a very valuable victory. They now face Scotland at 12:30pm UK time on Saturday and a positive result will ensure they play in the next EuroHockey Championships.

England 2
Wallace (12', FG)
Roper (13', PC)

Ireland 1
Robson (21', FG)

Starting XI: Pinner, Creed, Weir, Dixon (c), Ames, Sloan, Gall, Calnan, Roper, Jackson, Ward
Subs used: Willars, Waller, Martin, Griffiths, Sorsby, Wallace
Unused: Gibson

England Hockey Board Media release


---

Ireland v England, Men's Euro Hockey Champs Match Report




England set the pace in the opening quarter getting two passed Mark Ingram in the 11th and 12th minute. The opening goal of the game came from Zachary Wallace while the second goal came from a penalty corner moments later. The initial shot came from Ward but was saved by Ingram, the rebound saw Roper get the deflection from a pass back into the circle.

Michael Robson had Ireland's first opportunity of the second quarter when he received a well-aimed aerial from Daragh Walsh. The ball went wide from his shot as England goalkeeper Pinner ran out to meet him along with three English defenders. The score remained Ireland 0 – 2 England as Stuart Loughrey took a shot on the goal which also went wide. Although, it wasn't long before Eugene Magee managed to get the ball in to the English circle and provide Robson with another opportunity. It went around Pinner nicely and hit the back of the goal to bring Ireland back into the game.

Despite the change in score, England continued to hold the majority of possession with a solid defence ending the first half Ireland 1 – 2 England.

Jamie Carr came on in Ingram's place in the third quarter, making to excellent saves from shots from Roper and Griffiths. Despite putting more pressure on England in the third quarter Ireland had few opportunities, sending the ball wide of the goal on more than one occasion.

Ingram was back on for the final quarter, saving well from an attack by Roper. With four minutes left on the clock, Conor Harte received a Yellow Card bringing Ireland down to 10 men. Ingram was brought off to increase outfield players, but strong English defence prevented Ireland adding to the score in the final quarter.

Speaking after the match, Eugene Magee said "We're very disappointed after that result today.

"England are a strong side. We had some good phases of play, unfortunately our end product wasn't good enough today.

"We'll pick ourselves up, go again, recover well and look forward to Wales."

The Irish men will now face Wales in their final match of the tournament on Saturday at 14:45 Irish time. Both teams will be hoping to avoid relegation. England face Scotland in their final match at 12:30 Irish time, the result of which will is significant for both Ireland and Wales. An England Scotland draw guarantees relegation, while a win for either gives both Ireland and Wales a chance to avoid joining the lower tier.

The Irish women's squad will take on Belgium tomorrow in their Pool C match at 14:45 Irish time.

Ireland 1 (M Robson) England 2 (Z Wallace, P Roper)

Ireland: J Jackson, J Bell, E Magee, K Shimmins, S O'Donoghue, M Robson, B Walker, D Walsh, P Gleghorne, C Harte, M Ingram
Subs: J Carr, T Cross, S Murray, J Duncan, L Cole, S Loughrey, S Cole

England: G Pinner, D Ames, H Wier, A Jackson, I Sloan, S Ward, P Roper, A Dixon, B Creed, J Gall, W Calnan
Subs: H Gibson, O Willars, H Martin, C Griffiths, J Waller, T Sorsby, Z Wallace

Irish Hockey Association media release


---

Slow start leaves Green Machine's A status on the brink



Goalscorer Michael Robson appeals a decision. Pic: Frank Uijlenbroek / World Sport Pics

Ireland's men go into Saturday's final EuroHockey Championship tie with Wales in a perilous position with their chances of avoiding the drop largely out of their hands after a 2-1 loss to England.

Two goals in the first quarter from Zach Wallace and Phil Roper made the difference and while Ireland fought back via Michael Robson's goal, it was not enough to turn the tide.

It leaves them occupying one of the two relegation places with a win not guaranteed to be enough. Should England and Scotland draw, Ireland and Wales will be down – if there is a winner, Ireland will have a chance to survive on goal difference.

Shane O'Donoghue said of the result: "It's difficult to put into words. It's very, very disappointing. We knew it would be a tough encounter, no matter what way the game went.

"All we can do is make ourselves proud in the last game and get those three points. It will come down to England-Scotland and hopefully England can do us a favour. We have to finish the tournament strong, make ourselves proud and what will be will be."

Wallace put England 1-0 up in the 11th minute following a sublime piece of work on the right sideline from Ashley Jackson, breaking out of three tackles to create an overload. His pass found Sam Ward on the baseline and he laid on the perfect ball for Zach Wallace to score.

A minute later, it was 2-0. Mark Ingram got a solid boot to Ward's drag-flick but Jackson retrieved the ball and fired it back into the circle where Phil Roper deflected in from around the flick spot.

Ireland, though, slowly worked their way back into the game with Michael Robson going very close when he caught Daragh Walsh's overhead. And he took his chance in the 21st minute from Eugene Magee's incisive pass, giving Robson the chance to tip the ball past George Pinner.

The third quarter was tense with Jackson seeing  a drag-flick deflected around the post by Jonny Bell. Jamie Carr palmed away a Chris Griffiths shot but, otherwise, chances were at a premium.

The last 15 minutes saw Ireland press on and hold most of the possession but they could not find their way through a condensed, disciplined English defence who left very few chinks in their armoury, particularly in one-on-one duels.

Ireland's last-ditch hopes were dealt a blow, too, when Conor Harte was shown a yellow card for a foul on Will Calnan which was initially given as a corner. A video review annulled the corner for a back-stick prior to Harte's tackle but the suspension remained due to the rough nature of the challenge in the umpire's eyes.

One penalty corner in the last two minutes did come from O'Donoghue but was charged down and England had their vital win.

O'Donoghue lamented the side's slow start, similar to the games against Germany and the Netherlands.



Stephen Cole Frank Uijlenbroek / World Sport Pics

"It's something we have tried to improve game on game, making sure our deep defence is in place. It did give us a mountain to climb, going two goals down in the first quarter.

"We lost that 15 minutes, no doubt about it, and it has been a recurring theme this tournament, something we have to find some solution to or it will be the B division."

Belfius EuroHockey Championships

Men's Pool C: England 2 (Z Wallace, P Roper) Ireland 1 (M Robson)

England: G Pinner, D Ames, H Weir, A Jackson, I Sloan, S Ward, P Roper, A Dixon, B Creed, J Gall, W Calnan
Subs: O Willars, H Martin, C Griffiths, J Waller, T Sorsby, Z Wallace, H Gibson

Ireland: M Ingram, J Jackson, J Bell, E Magee, K Shimmins, S O'Donoghue, M Robson, B Walker, D Walsh, P Gleghorne, C Harte
Subs: J Carr, T Cross, S Murray, J Duncan, L Cole, S Loughrey, S Cole

Umpires: P Vazquez (ESP), A Ortiz (ESP)

The Hook


---

Ireland's top level status at risk after loss to England

Zach Wallace and Phil Roper netted as Shane O'Donoghue's were beaten in Antwerp

Stephen Findlater



Phil Roper netted the second for England in their win over Ireland. Photo: Charles McQuillan/Getty Images
 
Ireland's hopes of avoiding the drop down to the second tier of European hockey hang by a thread after an early English double condemned them to a 2-1 defeat in Antwerp.

For a third time this week, they left themselves a mountain to climb in the first quarter as Zach Wallace and Phil Roper created a 2-0 lead.

Michael Robson's superbly taken goal got one back before half-time but Ireland were unable to pierce a watertight English defence in the second half despite large swathes of possession.

"It's difficult to put into words," Shane O'Donoghue said after another deflating performance.

"It's very, very disappointing. Hopefully England can do us a favour. We have to finish the tournament strong, make ourselves proud and what will be will be."

Against both Germany and the Netherlands, Ireland found themselves a couple of goals behind inside eight minutes.

This time out, they lasted until the 11th minute but the warning signs were there when Lee Cole had to force a chance off the line. And England powered into the lead when Ashley Jackson bullishly drove through a few tackles on halfway to create a big overload before picking out Sam Ward.

His cross was turned in by Wallace. A minute later, Mark Ingram got a healthy boot out to save from Ward but Jackson retrieved the ball and returned it with interest into the circle where Phil Roper touched home.

Like the previous games, a combination of England sitting back and Ireland finding their feet made for a much better second quarter. Robson almost caught the opposition unawares from Daragh Walsh's long overhead, teasing George Pinner off his line, but his push slipped wide.

In the 21st minute, the former Annadale man had his goal as the English defence parted for the flanks while Eugene Magee found him darting through the middle. A delicate slip deceived Pinner and the Green Machine were back in the mix.

The second half, though, proved an exercise in frustration. Ball possession was one thing but they were unable to eliminate a defender one-on-one and it meant they spent the game skirting around the edges of the circle rather than entering.

England were largely content to try and counter and with Chris Griffiths stinging the palm of Jamie Carr.

And Ireland were forced to finish the tie with ten men in strange circumstances when Conor Harte was sin-binned for a rough tackle. The foul had seen a penalty corner awarded but a video review over-turned the decision for an earlier English back-stick.

Ireland argued the card should not stand but such decisions do not fall under the remit of video umpires and so he had to stay on the sideline.

They did eventually win a penalty corner in the last two minutes but England read the move and charged down O'Donoghue's effort and the game was up.

England 2 Ireland 1

England: G Pinner, D Ames, H Weir, A Jackson, I Sloan, S Ward, P Roper, A Dixon, B Creed, J Gall, W Calnan.
Substitutes: O Willars, H Martin, C Griffiths, J Waller, T Sorsby, Z Wallace, H Gibson.

Ireland: M Ingram, J Jackson, J Bell, E Magee, K Shimmins, S O'Donoghue, M Robson, B Walker, D Walsh, P Gleghorne, C Harte.
Substitutes: J Carr, T Cross, S Murray, J Duncan, L Cole, S Loughrey, S Cole.

Umpires: P Vazquez (ESP), A Ortiz (ESP).

The Irish Times


---

England beat Ireland in relegation pool

England beat Ireland in crucial relegation play-off

England claimed their first win of the 2019 Men's EuroHockey Championships as Phil Roper's goal earned a 2-1 victory over Ireland in Belgium.

Danny Kerry's side failed to reach the medal stages after a 2-2 draw with Spain on Tuesday and fell into the relegation pool in Antwerp.

But they started quickly against Ireland, with Zach Wallace and Roper on target in the first quarter.

Michael Robson struck for Ireland in the second quarter but England held on.

England midfielder David Ames said: "The last few days have been quite frustrating and demoralising but we are delighted to get a win over a really good Ireland side.

"We came into the tournament with expectation to get a medal. We thought we played well in the first few games but it's such fine margins. So we had to regroup - do we want to sulk? I thought we played good hockey for large parts today."

Ireland's Eugene Magee said his team were "very disappointed" by the result.

"We had some good phases of play, unfortunately our end product wasn't good enough today," said Magee.

Scotland and Wales also dropped into the relegation pool, with the bottom two sides being eliminated from the top tier of European hockey.

Kerry's side are back in action against Scotland on Saturday (12:30 BST) and a win or a draw would ensure they remain in the top flight of the next EuroHockey Championships in 2021.

Ireland must beat Wales in their final game on Saturday to have any chance of avoiding relegation although a draw between England and Scotland will guarantee a drop into the second tier for the Irish even if they beat the Welsh.

BBC Sport


---

Scotland men beat Wales in Belfius EuroHockey Championships in Antwerp



World Sport Pics

Scotland men recoded their first victory of the Belfius EuroHockey Championships, and their first in a European Championships since 2005, with an excellent 4-2 win over Wales in Antwerp. A double from Cammy Golden and goals from Craig Falconer and Nick Parkes gave the Scots three vital points as they battle to avoid relegation in Pool C of the tournament. It also means a draw against England on Saturday would see Scotland retain its position in the top tier of European hockey.

Scotland got off to a quick start and took an early lead through Cammy Golden; a routine kick by Wales' goalkeeper went straight to Golden in front of goal and he picked his spot in the bottom right corner for 1-0.

The Blue Sticks dominated the opening quarter after really settling into the contest from the early goal. Then came another worldy by Craig Falconer, following his previous wonder goal against Ireland, to make it 2-0 to Scotland. The ball found Falconer at the top of the D and he fired a rocket into the top right corner.



Craig Falconer scored 2-0. Frank Uijlenbroek / World Sport Pics

Scotland enjoyed more pressure at the start of the second quarter but were denied a third goal when they were crowded out on the Welsh line.

Nick Parkes made it 3-0 for Scotland early in the second half with a lovely finish across the goalkeeper. He picked up the ball himself and drove into the D before unleashing a shot into the far corner.

Towards the end of the third quarter Wales pulled one back through Owain Dolan-Gray to make it 3-1.

Before long there was a second goal of the match for Cammy Golden, and what a goal it was. He went twisting and turning on the baseline and scooped the ball into the net to make it 4-1.

A late goal for Wales saw Lewis Prosser strike on the fourth attempt at a penalty corner after three Tommy Alexander saves, meaning a final score of 4-2 to Scotland.

Scotland Captain Alan Forsyth said, "Today we got the result we deserved. The Netherlands and Germany games gave experience against quality opposition for a new squad, and I'm extremely proud of the performances against Ireland and Wales.

"We know each other well and games against Wales are always a battle, but it was a really good game. The win is huge. We're not here just to take part, we're here to compete. We've done well in two out of the four games, and we're looking for another big performance in the last game against England."

Scottish Hockey Union media release


---

Scotland boost hopes of avoiding relegation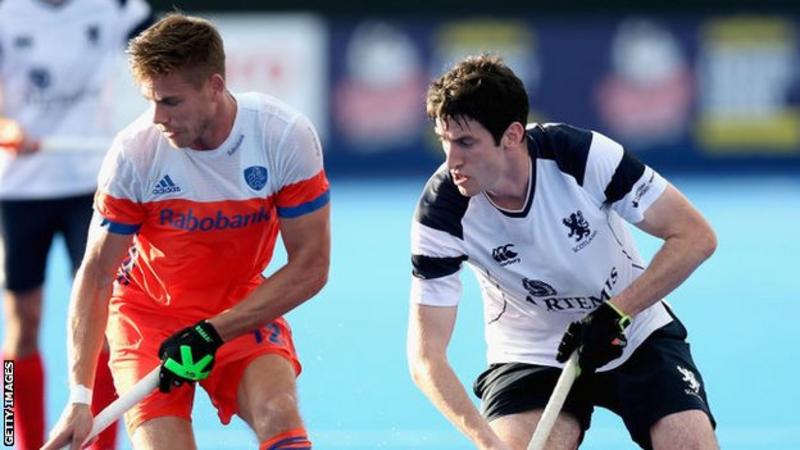 Nicky Parkes (right) put Scotland 3-0 ahead against Wales. Getty Images

Scotland's hopes of avoiding relegation from the top tier of European hockey were boosted by a 4-2 win over Wales.

The Scots face a battle with the other sides from the British Isles at the EuroHockey Championships to avoid being in the bottom two in Pool C.

They face England on Saturday having already drawn 3-3 with Ireland.

Wales drew with England in their opening game and remain on one point, with England meeting Ireland later on Thursday.

BBC Sport


---

Belfius EuroHockey Championship (Women) 2019 - Semi Finals
Antwerp, Belgium

Fixtures (GMT +2)

23 Aug 2019 13:30     RUS v BLR (Pool C)
23 Aug 2019 15:45     BEL v IRL (Pool C)
23 Aug 2019 18:00     ENG v NED (Semi Final 2)
23 Aug 2019 20:30     ESP v GER (Semi Final 1)

Live streaming via http://www.eurohockeytv.org

Pool C Standings
| Rank | Team | Played | Wins | Draws | Losses | Goals For | Goals Against | Goal Difference | Points |
| --- | --- | --- | --- | --- | --- | --- | --- | --- | --- |
| 1 | Ireland | 1 | 1 | 0 | 0 | 11 | 0 | 11 | 3 |
| 2 | Belgium | 1 | 1 | 0 | 0 | 4 | 1 | 3 | 3 |
| 3 | Russia | 1 | 0 | 0 | 1 | 1 | 4 | -3 | 0 |
| 4 | Belarus | 1 | 0 | 0 | 1 | 0 | 11 | -11 | 0 |
---

England v Holland, EuroHockey: Hollie Pearne-Webb ready for battle

By Rod Gilmour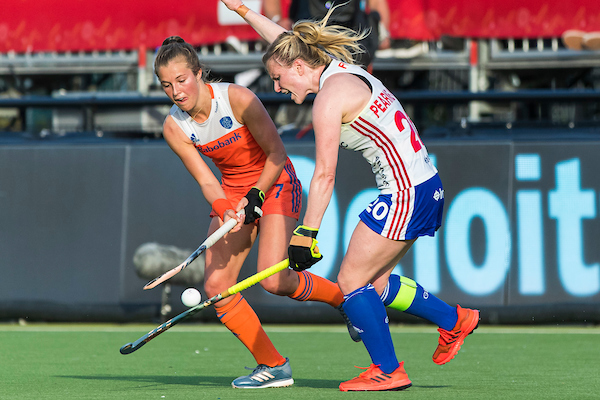 Hollie Pearne-Webb puts in another shift against Holland PIC:WorldSportPics

While assessing England's European tilt and their bid to regain the trophy they won so thrillingly in London four years ago, Hollie Pearne-Webb looked beyond the Wilrijkse Plein Stadium here and cast her eyes towards the Crowne Plaza hotel in the distance.

It was there that England stayed during their 2013 Euro sojourn. They beat Holland that day in a semi-final shoot-out, a match Pearne-Webb played in. But England's captain didn't dwell on that hockey omen as a catalyst for success on Friday night – they are staying in the same hotel – as they attempt to go one step closer to the Olympic ticket to Tokyo.

Instead, the 28-year-old trainee accountant dismissed the statistical numbers stacking up against England and revealed that the world champion Dutch are beatable and may have lost some of their lustre since walking to the 2018 World Cup.

These two rival nations have met at this stage or the final in the last four editions, with both sides winning twice. England have won just two of their last 10 matches since 2010, while their last victor in normal time came in 2003.

However, England's two victories have come at the EuroHockey – both in shoot-outs – their last in the 2015 final and then in the 2013 semi-final.

"It's the mental thing that we have with them, where we will never roll over and always be in it regardless of the score line and time in the game," she added.

"The top seven or eight sides can now beat anyone," added Pearne-Webb. "They aren't walking over sides like they have done but we need to respect them. The Dutch realise the gap is closing from the Pro League results and here. It makes it more exciting and more crucial."

Although they are world-class finishers inside the circle and have a midfield rock, Pearne-Webb stated that it's the defence which is the key to Alyson Annan's side.
A physical fight

"They see them as a finishing side but their main strength is their team defence," she said. "They don't really have an area as a weakness. Maybe it's GB and England in that we are always going to be in for a physical fight and never give up.

"It's the mental thing that we have with them, where we will never roll over and always be in it regardless of the score line and time in the game.

GB played some of their best Pro League hockey against Holland as Mark Hager's tenure began to take hold. The two games were largely even affairs, suggesting that the mental stranglehold still exists since two of GB hockey's finest nights, in 2015 in London and a year later in Rio.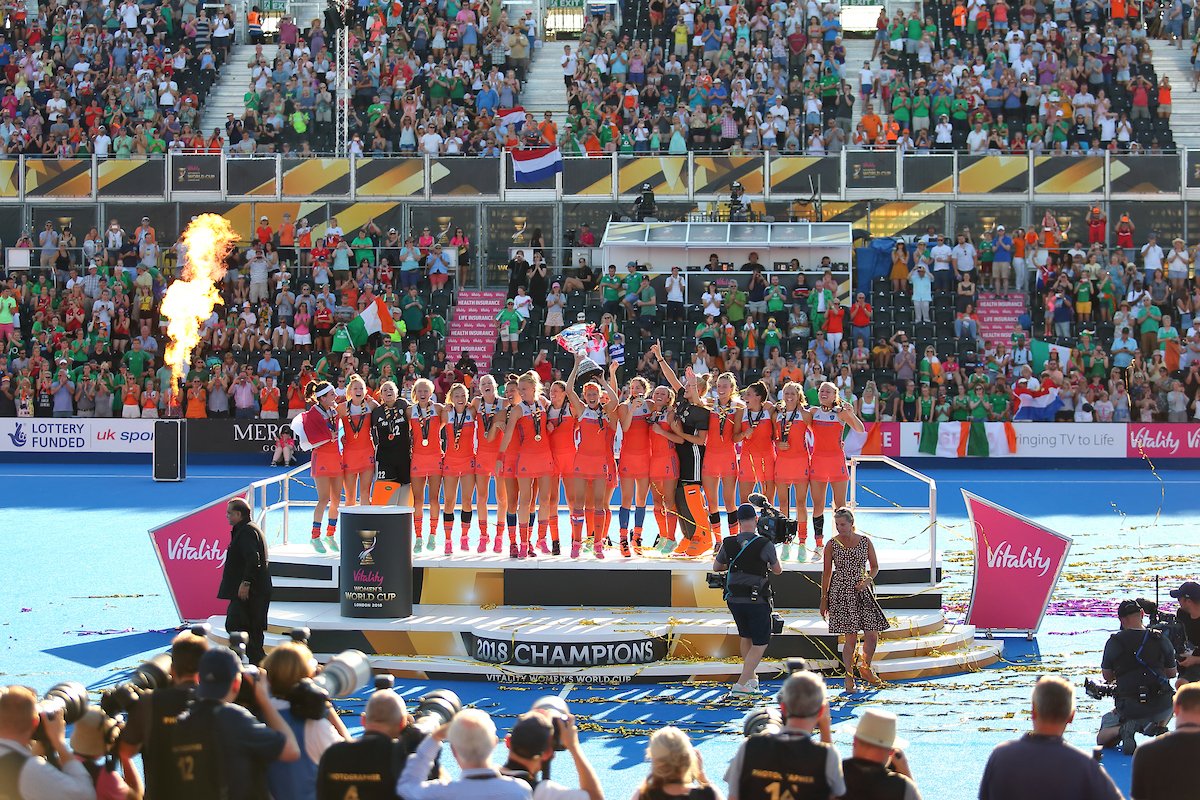 Holland celebrate successful world defence in 2018 PIC: England Hockey

"We are a team who never fear the Dutch when we reach them at this stage and other teams might avoid them," she said. "They aren't walking over sides like they have done but we need to respect them.

"It's not a 'gosh, we've got them', we revel in the challenge as the world No 1 side. It will be a fight."

Germany will take on Spain in the second semi-final. The world bronze medallists, coached by Englishman Adrian Lock, continue to defy the rankings under increasing funding problems.

Spain will be right up for the battle after the men reached their first final since 2007 in Manchester following a thoroughly deserved 4-3 win over Holland.
Inspired by leader Danson

Hollie Pearne-Webb revealed that England will have Alex Danson in their thoughts after the talismanic forward and usual captain sent good luck messages ahead of their semi-final clash.

Pearne-Webb has led England and GB teams since Danson's traumatic brain injury last year.

"Alex has been great even though she is recovering and she needs certain things for herself to get back to hockey," she added. "She's been a tremendous help and is always there on the end of a phone."

"She's been great even though she is recovering and she needs certain things for herself to get back to hockey, she's been a tremendous help in the process of her being injured and me taking over.

"I would never attempt to be like her, as she is an incredible person all round. It's similar with Kate and Helen Richardson-Walsh and I've had a really good support network."

We will have full reports, colour and analysis in our September issue. Subscribe now!



The Hockey Paper


---

SAHA urge SASCOC to "do the right thing" by sending hockey teams to Tokyo 2020

By Liam Morgan



South Africa's participation in the hockey events at Tokyo 2020 remains in doubt ©Getty Images

South African Hockey Association (SAHA) chief executive Marissa Langeni wants the country's National Olympic Committee to "do the right thing" and allow at least the men's team to compete at Tokyo 2020.

The nation's participation in the men's and women's Olympic hockey tournaments remains in doubt because of controversial selection criteria established by the South African Sports Confederation and Olympic Committee (SASCOC).

Both South African teams secured a spot at next year's Olympic Games at the International Hockey Federation (FIH) African Olympic Qualifier in Stellenbosch on Sunday (August 18).

But question marks linger over their attendance at the Games, as SASCOC has strict regulations on athlete qualification criteria.

The same conditions saw SASCOC refuse to enter the men's and women's hockey teams - as well as the women's rugby sevens side -to the Rio 2016 Olympic Games, despite all three having qualified.

SASCOC has separate additional conditions for the hockey teams at Tokyo 2020, fuelling suggestions the organisation will deny the men's and women's squads a place at the event in the Japanese capital.

Under the regulations, continental qualification "will only be considered if the team wins the continental qualification event and has attained a top two finish at the Hockey Series final or [if it is] attained directly through the FIH Olympic Qualification Event".

South Africa finished second at a men's FIH Hockey Series final event, while the women's side was fourth.

It could be enough for the men's squad, but the women appear set to miss out.

Langeni said the SAHA would meet with SASCOC to discuss the issue, particularly regarding the men's team, which has met the additional criteria set out by the organisation.

She added that the national governing body was "exploring one more avenue" to ensure the women's side met the criteria.

"Now that the team have qualified through the FIH process we will be further engaging SASCOC on the way forward," Langeni told Sport24.

"We have met the FIH criteria and, specifically in the men's, we've met the additional criteria set by SASCOC.

"The opportunity to attend an Olympic Games is massive for South African hockey on the world stage.

"Over the years both teams have shown that they have the competitiveness to play on the world stage.

"It would be detrimental to our sport if any of our teams were not given that opportunity and given the fact the we missed out in 2016, it would not bode well.

"I'm hopeful that SASCOC will do the right thing and that, given that the men have met the criteria, they will consider them for being part of team South Africa."

SASCOC appears to be remaining firm at this stage, with Debbie Alexander, chairperson of the SASCOC high performance commission, telling Sport24 the NOC would not send "athletes who cannot hold their own on the international stage".

"We want to take the best of the best to the Olympics," Alexander added.

Inside the Games


---

South African 2019 Senior IPT – hockey tournament

Free State Hockey will be hosting a total of 34 Provincial A and B teams for this Tournament. The event will be hosted at the Astro Turfs of the UFS and St. Michaels. This is the last opportunity for players to stake their claims for team selection to the 2020 Olympic Games in Japan.

This is a golden opportunity for every local player and hockey enthusiast(Young and old) should come and support. Come and watch previous and current National Men's and Ladies as well as the current National U/ 21 teams in action. A total of 108 games will be played during the week. Games will commence at 08h30 from Monday to Saturday. The last games will start at 19H00 with the finals on Saturday.  Prize giving will commence after the Men's final 

Our aim as hosting Province is to make this an unforgettable event for players, administrators and supporters. We have taken the bold decision to "live stream" all games on the "A" field during the week.

Come and watch games full of excitement played by your local stars.

Click here to view the match schedules:  https://saha.altiusrt.com/competitions?view=upcoming

OFM


---

Oltmans looks at the bright side after disastrous trip

By Jugjet Singh



NSTP/ASYRAF HAMZAH

THE Malaysian hockey team will return today from a disastrous Four-Nation tournament in Tokyo but coach Roelant Oltmans feels it was well worth the investment and the trip as Malaysia have a bright chance of qualifying for next year's Olympics.

After playing nine matches in Europe, with a high of beating Germany 4-2, the Malaysian team went to Japan, losing 6-0 to India, 3-1 to Japan and 3-1 to New Zealand before a 6-1 hammering by Japan in the bronze play-off.

In Europe, Malaysia paraded their best 20 players but made eight changes in Tengku Ahmad Tajuddin, Razie Rahim, Faizal Saari, Fitri Saari, Adrian Andy Albert, Najib Abu Hassan, Joel van Huizen and Arif Syafie Ishak for the team to Japan.

And their replacements were Hafizuddin Othman, Nabil Fiqri, Luqman Nul Hakim Ahmad Shukran, Najmi Farizal Jazlan, Amirol Aideed Arshad and Ashran Hamsani.

Oltmans said the Tours of Europe and Japan were arranged with an aim to select the best players for the Olympic qualifier in October, and he was aware of the risk of not performing well at the tail end.

"From the start, we knew that we will face risks at the tailend of the Tour because it will demand a super effort to maintain a consistent physical as well as mental strength.

"All the players, however, did not pick up injuries in Europe and Japan, and they knew that the Tours were arranged as part of a selection process to pick the best for the Olympic qualifier.

"They were not only tested in tactical aspects, but mental as well as physical and we now have good data and information on the best teams in the world as well," said Oltmans.

He also explained what happened in the four straight defeats in Tokyo.

"The Tokyo team had 12 players who played nine matches in Europe and they had to get used to seven hours of jetlag inside three days and two nights, something that is almost impossible to adjust to in such a short time.

"That is one of the reasons the team did not do well in their opening match against India (lost 6-0) and in their last match against Japan (lost 6-1). The players gave their all in the first half and displayed their best performance in the tournament but it sapped their enegry in the seccond half and we were hit hard.

"Even though we let in too many goals, more than I expected, but I believe from all the information we gleaned from the arranged Tours, the Malaysian team have a bright chance of qualifying for the Olympics."

New Straits Times


---

Indian hockey teams were willing to adapt and improve

Men's coach Reid wants to broaden the player base not only for selections but also in leadership.

Uthra Ganesan



Return of the champs: The triumphant Indian men's and women's teams after their arrival on Thursday. 

The Indian men's and women's hockey teams won their respective contests at the Olympic Test Event in Tokyo but the learnings for both sides were more about understanding themselves.

And both proved willing to adapt and improve. If the men bounced back from a disappointing last-minute loss to New Zealand in the group stages to win the final with a comprehensive 5-0 scoreline, the women remained undefeated all through, including a last-minute equaliser against World No. 2 Australia.

Experimenting

The main difference between the two sides was whereas the women played to full strength, the men's side experimented with resting a few seniors and playing youngsters and seniors returning from injury to get a better idea of the squad in the lead-up to the Olympic qualifiers later this year.

"One of the objectives of this tour was to try and broaden the player base not only for selections but also in leadership. What I saw of Harmanpreet (captain) and Mandeep Singh, of leading the group, it was very good.




"Another objective was to give S.V. Sunil the opportunity to prove himself for November and I think we have been able to do that," men's chief coach Graham Reid told The Hindu on the teams' return here on Thursday.

He also insisted that the loss to NZ was a blessing in disguise. "Part of me was happy, almost, that we had that (loss) because it provides them an opportunity to look inwards and understand how to not let that happen again.

"That 5-0 win against NZ in the league phase would have put a different perspective on the final. We were able to analyse the things that happened in the last 5-10 minutes and get into the heads of the guys and learnt some things," Reid admitted.

No giving up

While the men had a blip, the women learnt to never give up irrespective of the opposition.

"The team's mental toughness was really good. We know now that we are much fitter and stronger than before, so we had to hold on and not give up till the very end. Hockey has changed a lot, every second counts and we have seen a lot of teams scoring winners in the very end," captain Rani Rampal said when asked about the team's fightback against Australia and the equaliser through penalty corner in the dying seconds.

She added that staying undefeated in the tournament had raised the team's confidence.

"It gives us confidence that if we perform well in every game and focus on our jobs, we can beat any team at any time," she said.

The Hindu


---

Merzban 'Bawa' Patel: Dronacharya Award arrived earlier than expected

The hockey coach says the award is like "icing on the cake."



Merzban Patel... "Today I can spot a [good] player point blank."   -  Nandakumar Marar

Merzban Patel had expected the honour of the Dronacharya Award to arrive, but not so early. The hockey coach bagged the prestigious award for grassroots work.

The 69-year-old Patel, better known as 'Bawa' in Mumbai hockey, has nurtured a few future Olympians at a young age. He feels he was more of a mentor to the upcoming players. He has, in his three-decade career as a coach, mentored Olympians Adrian D'souza, half-back Viren Rasquinha, and other internationals like the Walmiki brothers — Devendra and Yuvraj.

Patel, along with Rambir Singh Khokhar (Kabaddi) and cricket coach Sanjay Bhardwaj, will be conferred with the award at the sports awards ceremony in New Delhi next week.

More than coaching

"Coaching is not [just] about coaching. More than coaching it is the gap of the tongue (communication) that is required, how you motivate the boys [and] their parents. Parents are pillars behind the boys who are coming up," Bawa told PTI  at the Mumbai Hockey Association's Mahindra Stadium.

"You have to be after them like our own son. You have to go after them, [asking] 'why haven't you come for practice?' You have to ask parents where they have gone. A coach should have that type of discipline," he said.

Bawa said he followed this mantra to become a successful grassroots coach despite having himself played hockey at a modest level. "I have not played big hockey. I am a gully hockey player. For me to [produce] so many players, this is the secret [of my success] — reducing the gap between the tongue, motivation, contact with the parent, contact with boys, imparting other values in life apart from hockey, and keep seeing that the players follow the practice and do not stop after SSC [examinations]," Bawa elaborated.

'Not a big surprise'

Throughout the conversation, Bawa insisted that he was 70 per cent mentor and 30 per cent coach to the players.

Bawa feels that the award has come early to him. "Dronacharya Award is [like] icing on the cake. But I have got numerous awards so this has not come as a big surprise because one or the other day I had to get it. The criteria was strong, so today or tomorrow it had to come, but it came a little earlier than I expected [it to].

It is a very big occasion, he gushed.

He credited Bombay Republican founder Balramakrishna Mohite, who was running his club with his own money, for giving him an opportunity to start his career. "Today what I am is entirely due to Balramakrishna Mohite, founder of Bombay Republican Sports Club, to which I am attached. I learnt from going to matches. I started helping [Mohite] and after a couple of years I picked up what is coaching. Today I can spot a [good] player point blank," he said.

Bawa has made trips to Delhi in the past but this one would surely be special for the unassuming Parsi gentleman.

Sportstar


---

Punjab CM Amarinder Singh, Bishan Bedi call for Indian hockey legend Balbir Singh Sr. to be conferred with Bharat Ratna

Chandigarh: Former India cricketer Bishan Singh Bedi tweeted in chorus with Punjab CM Captain Amarinder Singh's suggestion to bestow the Bharat Ratna to Balbir Singh Sr. Tweeting a copy of Captain Amarinder Singh's letter, Bedi appealed to PM Narendra Modi saying that "it will be his greatest contribution to India sports".

Punjab chief minister Amarinder had written to Modi, seeking the country's highest civilian honour — the Bharat Ratna — for hockey legend Balbir Singh Sr. Captain Amarinder, in his letter to PM Modi, called the 95-year-old legend, "an outstanding sportsperson of his era".

"I wish to draw your attention to the subject cited (award of Bharat Ratna to Balbir Sr) and request to award Bharat Ratna to Shri Balbir Singh Sr, one of the most respectful and outstanding sportspersons of India since Independence," wrote Captain Amarinder.

"Shri Balbir Singh has been an outstanding sportsperson in the field of hockey and was part of the Indian team that won gold medals in Olympic games of 1948, 1952 and 1956. He was also the captain of the Indian team in the 1956 Olympics."

"As a recognition to his contribution, Shri Balbir Singh (Sr) has already been awarded the Padma Shri in 1957. I strongly recommend and request you to consider awarding Bharat Ratna to Shri Balbir Singh (Sr)," he further wrote.

One of the country's best sportspersons, Balbir Sr was the only Indian in a list of 16 legends chosen by the International Olympic Committee (IOC) across the modern Olympic history. His world record for most goals scored by an individual in the men's hockey final in an Olympic Games still remains unbeaten. He had scored five goals in India's 6-1 victory over the Netherlands in the gold medal match of the 1952 Helsinki Games. He was also the manager of India's World Cup-winning team in 1975. He was conferred with the Padma Shri in 1957.

The list of Bharat Ratna awardees for this year consisted of three names: former India President Pranab Mukherjee, Assamese singer and music composer Bhupen Hazarika and social activist Nanaji Deshmukh. The last sportsperson to receive the Bharat Ratna was Sachin Tendulkar who received the award in 2014.

Firstpost


---

Knowledge sharing in Lima




The Pan American Games, held in Lima, Peru, proved a fantastic backdrop for the PAHF/FIH Academy Level 3 Coaching Course, which was held from 8-11 August.

While the candidates spent much of their time immersed in discussions and presentations covering all elements of coaching, there was additional inspiration in the form of the thrilling action on the pitch.

As one candidate reported back: "I loved the mix of different hockey cultures – hearing about other coaches' day-to-day reality, their approach to the game, what they run into.

"The group did a great job creating an atmosphere of being open and approachable, we all became friends really quickly. I am truly happy I participated, it was great for my knowledge and my network. Another aspect I enjoyed was the fact that our tasks were focused on the games – it felt like I really got a deep dive into different tactics."

There were 22 candidates on the course, representing a huge range of PAHF national associations. These included: Argentina, Brazil, Canada, Chile, Costa Rica, Guyana, Peru, Trinidad and Tobago, Uruguay, USA and Venezuela.

The course covered a wide range of coaching techniques, including communication skills, presentation of ideas and how to engage the players in discussions and decision-making. It also looked in depth at things such as video analysis and defensive and offensive strategies.

The Educator team also represented a wide range of nations and came with an impressive curriculum vitae of coaching and playing experiences. Among the Educators were Rodolfo Chiche Mendoza, FIH Master Coach, FIH Academy Trainer and former head coach of the Argentina national women's team; Craig Parnham, USAFH Head of Coach Education, FIH Academy Trainer, former head coach of USA women, Mike Joyce, Executive Director of the Hockey Foundation, FIH Academy Trainer; and Olympic silver medallist and FIH Academy Educator, Laura Del Colle.

The FIH Level 3 Coaching Course is stage three of a five stage global coaching pathway. The four day course focuses on developing competencies for coaches operating at a top domestic and junior international level.

Reflecting on the course, Mike Joyce said: "Attendance was of a very high standard with 22 candidates including Olympians and Olympic and international coaches.

"International multi-sport events such as the Pan American Games provide a fantastic platform for Level 3 and higher courses. The opportunity to observe, analyse and present on elite international hockey is extremely important and beneficial.

"Collaboration between the FIH, The Hockey Foundation and PAHF to enable courses like this to take place is extremely important for growth of the game and for increasing the performance level of nations in Pan America. This is a core objective of Hockey4LIFE, hockey`s global development programme."

President of PAHF, Albert 'Coco' Budeisky said: "The coaching course carried out in Lima, allowed us to share knowledge and experiences with potential Pan-American coaches that we hope will bear fruit in the coming years."

And one of those coaches, the silver-medal winning goalkeeper, Laura del Colle had this simple but powerful message: "Knowledge shared is power multiplied."

#Hockey4Life

FIH site