All the news for Thursday 25 July 2019

USA Well Represented Along Sidelines and Technical Table at Pan American Games




LIMA, Peru – There are five days left until the opening match of the 2019 Pan American Games, and although all focus should be on the red, white and blue on the pitch, there will also be five other individuals running the sidelines or managing the games from the United States. Mike Lipka (Moorpark, Calif.) and Kim Scott (Hamilton, N.J.) will serve as technical officials while Mary Driscoll (Palmyra, Pa.), Benjamin Peters (Carnegie, Pa.) and Gus Soteriades (Hilliard, Ohio) will be umpires.

"We are very proud and excited for all of our Technical Staff and Umpires attending the Pan American Games," said Steve Horgan, USA Field Hockey's Director of Umpiring. "They have all logged countless hours of dedication and professional development to gain the experience to be appointed to such an important Olympic Qualifying Event. We also appreciate all that they do to represent USA Field Hockey to the Pan Am region and the world. All the best of luck to them and our teams for a very successful Pan American Games."

Lipka, an International Hockey Federation (FIH) International Panel technical official, last served as a judge during the inaugural women's FIH Pro League season. Before that he was a technical official at the 2018 men's and women's Central American and Caribbean Games and a judge for the 2018 U.S. Women's National Team vs. The Netherlands series in January as well as the 2017 men's and women's Pan American Cups.

"It is always an honor to be selected to represent the United States as a technical official in any competition and I am grateful to be selected to do so again at the 2019 Pan American Games," said Lipka. "The Pan American Games is one of the highest-level tournaments in our sport and I am ecstatic to be a part of it. I am very thankful for all who have and continue to support me, as well as those behind the decision to appoint me to this prestigious competition."

Scott, an FIH Advancement Panel technical official, is familiar among USWNT test series and was also a judge during the recent women's FIH Pro League season. Prior to that, her last international appointment was the 2018 Summer Youth Olympic Games in Argentina in October. Before that she was a technical official at the 2018 men's and women's Central American and Caribbean Games in Columbia, 2017 men's and women's Central American and Caribbean Games Qualifier in Jamaica and 2016 women's Junior Pan American Championship in Trinidad and Tobago.

"I really can't express enough how excited I am for this opportunity," said Scott. Four years ago, I was road tripping to Toronto to watch the games just as a hockey fan. Now I get to experience it all as a part of the Third Team. Being a part of the games takes the experience to a new level and I can't wait to take in every moment of it. The competition for both sides is fiercer than ever and there will for sure be a lot of great hockey played"

Driscoll, an FIH Advancement Panel umpire, has become a respected official on the international scene. She got her start in 2013, and her experience has grown to include Youth Pan American Championships, FIH Hockey World League Round 1 events, the Hawke's Bay Cup, women's Pan American Cup, multiple test series and the Four Nations Women's Ibaraki International Tournament in Japan. She was recently an umpire at the 2019 women's FIH Series Finals in Hiroshima, Japan, where she had the honor of officiating the final match between India and the host nation.

"I am truly grateful for the opportunity to represent the United States at the Pan American Games in Lima," said Driscoll. "I have enjoyed all my experiences umpiring thus far, and I can't wait to see what lies ahead!" 

Currently an FIH Advancement Panel umpire, it has been just over a month since Peters' last appointment as an umpire at the 2019 men's FIH Series Finals in Le Touquet, France. Prior to that he was an official at the 2018 U-18 European Championship in Spain, 2018 South American Games in Bolivia, 2017 Sultan of Johor Cup in Malaysia, 2016 men's Junior Pan American Championship in Canada and 2015 FIH Hockey World League Round 2 in California.

"It's an honor to be selected to represent the USA on the umpiring panel," commented Peters. "It takes a lot of physical and mental preparation to be performing at your best. Without hard work and determination no one can succeed."

Soteriades, an FIH International Elite Panel umpire, also officiated at a recent edition of the men's FIH Series Finals but he traveled to Bhubaneswar, India. He has been an umpire for more than 17 years and officiated at many significant international competitions. Those include the men's Indoor Hockey World Cup, FIH Hockey World League Round 1 events, South American Odesur Games, men's indoor and outdoor Pan American Cups, Central American Caribbean Games and Asian Games. Soteriades currently has officiated 95 international matches and is five shy of receiving the Golden Whistle.

"I don't think that if you sat either Catherine Brown or Roque Viegas down, when I first started, and asked if I'd be lucky enough to do four of these [Pan American Games], the three of us and Nostradamus wouldn't have seen this coming," commented Soteriades.

"They've all been special to be at my first one with Roque, Pat Hays, the second with Amy Baxter and Steph Judefind, the third with Grant Hundley, and this one with this crew will have a ton of memorable moments, and renewed friendships like Peter, who was my roommate at my Junior World Cup," continued Soteriades. "To be able to continue share the pitch with the Pedro Ibarras, Scott Tuppers, and Kwan Browns is really special, and something I don't disrespect. It has taken a lot of dedication and a lot of work with an expanding team."

"My mom, siblings and their spouses, my longtime friend and trainer/'counselor' Steph McConnell, Jennifer Noiles and my huge team at Mayo Clinic Sports Medicine, and those that inspire me when the workouts get tougher," added Soteriades. "They have all helped push my stubborn self when I've thought of taking a day off, and the work has paid off."

Looking for a way to support all representatives of the United States at the Pan American Games and grow the game of field hockey? You can click here to make a gift today, and throughout competition in Lima, while leaving a comment with your gift to cheer on your favorite umpire, technical official or the U.S. Men's or Women's National Team. All notes will be sent to the team, technical officials and umpires.

For all information regarding the Pan American Games, including full schedule, rosters, news and more, check out the official PAG Event Program by clicking here.

#AllEyesOnLima

USFHA media release


---

England women going for EuroHockey gold ahead of 'huge' summer

By The Hockey Paper



England's Suzy Petty in action

England's Suzy Petty is expecting a "huge" rest of summer of hockey as Olympic qualification ramps up.

A GB squad has finished preparations in Japan to test weather concerns and came away with indifferent performances from their matches with the Japanese national team.

Now they will turn their attentions to playing as an England squad ahead of the EuroHockey Championships, with Wednesday marking exactly one year to go until the Tokyo Games.

And Petty knows the task in hand. "It is a real pressure to qualify and that's why I don't really like talking about it," Petty told British media. "We don't have any other opportunity to qualify. It's either the European Championships – if you win that, you go – or it's this Olympic qualifier match.

"We haven't had a chance to qualify yet, so we're going out to the Euros to win. If we don't do that, though, we have to go to the next step. It's huge. There are two matches back-to-back, Saturday then Sunday, and whoever wins goes."

Petty added that England were going for gold in Antwerp next month, the winner being guaranteed a berth for Tokyo and afforded the luxury of bypassing the pressure cooker environment of the Olympic play-offs in the autumn.

"It has been tough, we've had our challenges and we have had a change of coach, but with a year to go we know what we need to do," she told the Daily Mail.

"We haven't had the best results over the last six months. But we now know what the one per cent we need to change is.

"We are going for the gold, but we know it is going to be really tough and we have a lot of work to do."

Failure to qualify for Tokyo 2020 will likely mean GB Hockey's funding will look bleak for Paris 2024.

Don't miss our Euro preview! Subscribe by July 30 to receive your copy!



The Hockey Paper


---

Lottery of Olympic hockey qualification



Members of the Team GB Olympic hockey team on stage at Trafalgar Square during the Olympic and Paralympic athletes heroes' return in London.

Working out autumn's Olympic play-off matches is anyone's guess – until rubber-stamped in September

Twenty-four nations – 12 men's and 12 women's teams – will battle it out at Tokyo 2020 to follow in the footsteps of the 2016 gold medalists: Argentina (men) and Great Britain (women).

Japan's men's and women's teams have already qualified as hosts while the qualification process is still ongoing to see who will join them.

– All four winners of the remaining continental championships, which will be staged in Pan America, Africa, Europe and Oceania between July and September this year, will secure a direct berth to the Olympic Games Tokyo 2020.

– The remaining seven places will be decided by the FIH Hockey Olympic qualifiers scheduled to take place at the end of October and early November. These events consist of teams that qualified via the FIH Pro League and the FIH Series Finals, with the line-up being completed by the highest ranked teams who did not qualify via either route.

The seven highest-placed nations after the continentals, who are not champions of their respective continental titles, will host the Olympic play-offs.

Australia, Argentina and South Africa will likely be crowned Oceania, Pan American and African champions from the continental championships.

Regarding Europe, Belgium, Netherlands, Germany or England will be seen as favourites across men and women.

That leaves several top nations to face the play-off, if we take world champions Belgium as automatic qualifiers in the men's competition.

So it will likely see the Netherlands, GB, Germany, New Zealand, Spain, Pakistan, China, Korea and perhaps Egypt will take part in the autumn play-offs, which will see the top-ranked in the world rankings come September take on the bottom-ranked at home, then second-ranked against second-lowest and so on. France, Malaysia, Canada and India have qualified via the FIH Series Finals.

It means that bottle necked middle-ranked teams could be in for a very tricky, two-legged affair. Ireland against Canada, anyone?

In the women's race for Tokyo 2020, Netherlands, Australia, Argentina and South Africa will be favourites to progress from the continental championships.

That leaves GB women, Germany, New Zealand, Spain, Ireland, Belgium in the mix for hosting home play-offs, with Korea, India, Canada and Spain also having qualified courtesy of the FIH Series Finals.

Never has a world ranking leap felt more important this summer. But it won't be until the end of the Oceanic Championships in September will we know the full schedule.

Don't miss our Euro preview! Subscribe by July 30 to receive your copy!



The Hockey Paper



---

Indian hockey captain Manpreet Singh says team has mapped out plan for better performance in Olympic qualifiers



File image of Manpreet Singh. Image courtesy: Hockey India

Bengaluru: The Indian men's hockey team captain Manpreet Singh on Wednesday said the eight-time champions are focussed on qualifying for next year's Tokyo Olympics with just a year left for the start of the showpiece event.

The final countdown for Tokyo Games started on Wednesday with exactly 12 months remaining for the quadrennial event to start. The 2020 Olympics will be be held from 24 July to 9 August next year with the preliminary rounds of hockey for both men and women scheduled to start on 25 July.

"We have a countdown chart as well and we frequently keep on reminding ourselves about how many days are left for the qualifying and how many days before the first hockey match at the 2020 Tokyo Olympics. We are on our toes to qualify," Manpret said.

The skipper said the constant reminder also provides a boost to players to improve upon their individual games and ensure they are doing their best for the nation's cause.

"It's not just us players but the coaching staff too remind us about how many days are left for 2020 Tokyo Olympics and the goals we need to achieve ahead of this milestone event," Manpreet said.

"We have set short goals to work on our grey areas, besides, which team we intend to play against at the upcoming tournaments such as Olympic Test event, Belgium Tour and what implications this would have on the Qualifying event in November. We have mapped out every detail to ensure we do better."

Manpreet said remaining injury-free is another aspect which the players need to take care of in the run up to the Olympics.

Meanwhile, the Indian women's team skipper Rani Rampal said they are determined to book their Tokyo tickets to make the world realise that qualifying for 2016 Rio Olympics was not a fluke.

"We have all made personal sacrifices to ensure the team is put ahead of everything else and we are working towards one goal which is to qualify for the Olympics," Rani said.

"It's very important for us to reinstate that qualifying for Rio Olympics was not a one-off incident and that hockey fans can expect the women's team to create good results at major competitions."

Rani also lauded the recent success of country's track and field athletes Hima Das and Dutee Chand, saying their achievements are a testament to the fact that Indian women are rising at the world level.

Competing in 200m and 400m races, Hima won five gold medals inside 20 days in various meets across Poland and Czech Republic, while Dutee Chand bagged a historic gold at the 100m sprint at World University Games in Napoli, Italy recently.

"The recent performances of Hima Das and Dutee Chand proves that Indian women are rising to the occasion and are working towards making India a dominant contingent at the world level," she said.

"Their performances inspires us too. It's important to have such positive results in the build up to our Olympic qualification event.

Firstpost


---

Tokyo 2020 Olympics: Medals made from recycled mobile phones and electronic junk

Jay Cannon



The silver, gold and bronze medals displayed at the Tokyo 2020 medal design unveiling ceremony. ATUSHI TOMURA/GETTY IMAGES

With the opening ceremony for the 2020 Summer Olympics in Tokyo one year away, the medals are one thing organisers won't need to worry about finishing in time.

The Tokyo 2020 Medal Project sparked the collection of just over 72,000 tonnes of mobile phones and small electronic devices around Japan, which will be used in the crafting of every gold, silver and bronze Olympic and Paralympic medal awarded to athletes at next year's games.

About 5000 medals will be given out between the two games, according to Tokyo 2020.

Among the massive haul of electronics was over 6 million mobile phones, the project's website reported.

As a result of the two-year donation drive, Tokyo 2020 announced that 100 per cent of the metals used to make the shiny awards will be extracted from materials found in donated electronics and phones.



The Tokyo Skytree illuminated in the colours of the Olympic rings. JAE C. HONG/AP

The nearly 7 million kilograms of donated electronics was reduced down to about 32kg of gold, 3500kg of silver, and 2200kg of bronze.

Following a process of dismantling, extracting and refining, the metals will be fused into the brainchild of Olympic medal designer Junichi Kawanishi, who was granted the design opportunity after winning a competition held by Tokyo 2020 that drew over 400 entries.

The design of the medals was released by Tokyo 2020 on Wednesday.

The medals, which are 85 millimetre in diameter, feature the Greek goddess of victory Nike in their design along with the Olympic symbol, Reuters reported.



Tokyo 2020 Olympic medals unveiled during the One Year to Go Olympic ceremony in Tokyo. KOJI SASHARA/AP

​Kawanishi said he wanted the circular design on the front of the medals to represent the globe and reflect light.

"By receiving light from various angles ... I thought about the cheers from the public and those thoughts are reflected," he told reporters.

Project organisers hope the nationwide electronics drive will help establish a theme of resourcefulness for the Tokyo games. Conversely, Olympics of years past have been known for hurried construction projects that later yielded massive, abandoned stadiums.

"We hope that our project to recycle small consumer electronics and our efforts to contribute to an environmentally friendly and sustainable society will become a legacy of the Tokyo 2020 Games," the organisation's website says.

Stuff


---

Melissa Trivic Retires From International Umpiring

Mitch Wynd




Fifteen years after umpiring a test match between Australia and China, one of Australia's highest ranked international female umpires, Melissa Trivic, has retired from international umpiring.

In an international career matched by few, Trivic accumulated 100 senior caps through appointments to the most important championships, tournaments and matches over the past 15 years. Her career progressed from test matches, four nation tournaments and Olympic qualifiers to appointments to the Commonwealth Games in 2010, World League Semi Finals in 2013 and 2015, World Cup in 2014, and the Olympic Games in Rio in 2016.

Hockey Australia (HA) will formally recognise and celebrate her achievements later in the year when Trivic will umpire her last national match in Perth during the Hockey One League.

HA CEO Matt Favier said her contribution to hockey, here and internationally was remarkable.

"Trivic is recognised internationally for her talents and her longstanding commitment to our sport. We're so grateful for all that she has done for hockey – getting to the very top takes commitment, skill and shows incredible dedication on both her and her family's part.

On behalf of the hockey community, I would like to thank her for all she has done for our sport and congratulate her on her achievements," said Favier.

Trivic will continue to be involved in local hockey, saying she simply "loves the sport too much" to hang up the whistle entirely.

"I feel very proud of my achievements and am extremely grateful to have had the opportunity to be involved in the sport I love at the highest level. I made some great friendships and had a blast along the way. The memories and laughs are endless," she said, struggling to name only one highlight of her international career.

"Umpiring at the Women's World Cup (Den Hague 2014) was definitely something I had strived for. This was beaten as my career highlight by being appointed to an Olympic Games – my ultimate goal.

"Umpiring the European derby Holland vs Germany in Rio was a real honour, however my favourite match was the quarter-final GB vs Spain. Such intense pressure and excitement with the teams fighting for a semi-final place," Trivic said.

Achieving what few before her have done, Trivic credits her family for enabling her to follow her passion and notes that the international opportunities haven't come without sacrifice.

"For a huge chunk of my professional career I ensured I held jobs that afforded some flexibility for me to chase my goal, allowing me to attend one to two tournaments per year. It did mean though, that career advancement stalled during this time, especially as I was juggling hockey, work and a young family.

"Fortunately, I have an extremely supportive husband, mum and in-laws that unreservedly stepped up and followed my colour-coded calendars for the duration of tournaments, making sure both boys were always at school on time and taken to after school activities. They were amazing and without them I couldn't have traveled the world doing what I love," she says.

Asked what advice she'd give aspiring international umpires, she has no hesitation:

"Be a sponge and absorb all the advice and feedback you get along the way. Focus on the things you can control; your performance and attitude. And don't take any match for granted, treat each match with the respect it deserves, and know that it's a privilege every time you step on the field.

"Being a great umpire takes passion, desire and humility. I think we're all driven to be the best we can be, but the very best umpires are those who understand that the game is not about them, but rather that they are there to simply serve the game," she said.

Melissa Trivic was Hockey Australia's Women's Official of the Year in 2011 and 2016.

Hockey Australia media release


---

Indian visitors scent Sikh Union hockey titles

By VICTOR OTIENO           



Sikh Union's Francis Esakuri (left) vies for the ball with USIU's captain Muthii James during their Sikh Union Club Astroturf Inauguration Tournament match at Simba Club in Nairobi on July 24, 2019. PHOTO | SILA KIPLAGAT |  NATION MEDIA GROUP

The Sikh Union Club Astroturf Inauguration tournament entered its third day yesterday with visitors Sports Authority of India (SAI) inching closer to walking away with both the men's and women's titles.

SAI men are scheduled to lock horns with Kenya's Green Sharks on Thursday in the first semi-finals, an encounter which promises to be a tough one as both sides have been outstanding in the games they have played before.

In their last game before qualifying for semi-finals, which pitted them against United States International University of Africa (USIU-A), SAI had to wait until in the third quarter to break the deadlock, before they sealed their 2-0 victory with a late goal in the final period.

Green Sharks advanced to the semi-finals after running rout over Arusha 5-0, the goal scorers being Abraham Mumo, Nimrod Bisonga, Felix Abdalla , Samuel Namonyo and Daniel Bunyasi.

The second semi-finals of the men's event will be between Sikh Union and Kenya Police. The hosts took advantage of their home ground and beat USIU-A 3-1, who despite having lost to SAI qualified for the quarters having emerged the best team in the groupings.

Netted a hat-trick

In the women's category, which has four teams participating and is being played in round-robin format, SAI ladies tops the standing on 6 points after winning all the two matches they have played to date.

After recording a bright start at the tournament on Monday with a 4- 0 victory over USIU-A, skipper Fanai Lalawpuii starred for the visitors when she netted a hat-trick, as they thrashed Orange Leonas 9-0 on Wednesday.

Record Kenyan champions Telkom sit second on three points having played one match only.

Today, Telkom will take on USIU-A, before winding their fixtures of the tournament against SAI Ladies on Friday, after which a winner will be crowned.

Daily Nation


---

Ihsanullah's double strike helps PIA beat PAF in National Hockey

Anwar Zuberi



KARACHI: PIA's Ihsanullah (third L) shoots to score during the National Hockey Championship match against PAF at the Abdul Sattar Edhi Hockey Stadium on Tuesday.—Tahir Jamal/White Star

KARACHI: Ihsanullah struck a brace, both on penalty corners, to steer his team PIA to an emphatic 3-1 victory over Pakistan Air Force (PAF) as 65th retired Air Marshal Nur Khan National Hockey Championship commenced at the Abdul Sattar Edhi Hockey Stadium on Tuesday.

Ihsan slammed his goals in a span of 15 minutes (34th, 49th) as former champions PIA were kept at bay by airmen in the first three quarters.

PIA's third goal came through the efforts of Shazeb Khan.

The airmen reduced the deficit through Shebaz in 59th minute after missing a few sitters.

Except for PIA-PAF match, all other four encounters turned out to be one-sided.

In an earlier match, Sindh humbled Islamabad 5-0 to earn full points in pool C match.

Waseem hit twice in the 18th and 50th minutes while Sardar Chandio (22nd), Faheem (44th) and Noman (47th) scored once apiece.

Islamabad earned no less then eight penalty corners but failed to avail any of them.

At the outset, Khyber Pakhtunkhwa taught a lesson to Gilgit scoring an overwhelming 11-0 victory.

The KP team was on a goal-scoring spree against their opponents. They netted three goals in first quarter and went on to add half-a- dozen goals to their tally to enjoy 9-0 lead at halt time. The remaining two goals came in the fourth and last quarters.

Saeed, Ismail and Amir Farooq shared six goals amongst themselves while Yasir, Shah Fahad, Farman, Irham and Zareem, one each, scored for winners.

In yet another one-sided fixture, Port Qasim Authority (PQA) sent Balochistan packing by tennis score (6-0) in pool D.

Ali Rehman found the net twice in 10th and 50th minutes while Haris (7th), Sabiul Hasan (20th), Bilal (34th) and Mehtab (58th) off PC, scored for PQA.

Punjab opened its account in pool B imposing to 7-0 victory over Fata. The winners led 4-0 at breather.

M. Arsalan and Ashfaq Ahmed scored two goals apiece while Arsalan Arshad, Ali Raza and Habibur Rehman struck once for winners.

Meanwhile, mismanagement prevails as the cash-strapped PHF has embarked upon the venute with no penny in its kitty. The players and media had tough time even to get drinking water.

Wednesday's fixtures:

At 9am: SSGC vs Islamabad.
At 11am: Army vs Gilgit.
At 1pm: MPCL vs Fata.
At 3pm: Navy vs Balochistan.
At 5pm: NBP vs Police.

Dawn


---

Army hammer Gilgit 30-0 in Noor Khan Hockey C'ship

Mohsin Ali

ISLAMABAD - Pakistan Army hammered Gilgit 30-0 in the 65th Muhammad Noor Khan National Hockey Championship 2019 match played at Abdul Sattar Edhi National Hockey Stadium, Karachi on Wednesday.

Army was scoring goals one after another while Gilgit was looking such a meager spectator in the match. Had Army not missed a couple of golden chances, the score line could have been more than four dozens. The federation must take notice that why such a weak team was selected by Gilgit Hockey Association. The basic aim of conducting the national championship is to find fresh talent, not to create new national records. What is the purpose of allowing such weak sides, which couldn't pose any serious challenge to the opponents.

The Pakistan Hockey Federation (PHF) has announced that four matches would be held every day but on the second day, five matches were played. In other matches, mighty SSGC thrashed Islamabad 13-0, MPCL outclassed Fata 13-0, Navy thrashed Balochistan 6-0 and in the last match of the day, NBP beat Police 5-1.

PHF President Brig (R) Khalid Sajjad Khokhar was personally present at the occasion while Punjab Hockey Association (PHA) Secretary Col (R) Asif along with other federation officials and spectators were there to buck up their favourite teams and players.

It was complete mess on part of the PHF, who although had any army of officials deputed for the national championship, yet none was ready to accept responsibility and provide details to the sports journalists.

When this scribe contacted PHF President Brig (R) Khalid Sajjad Khokhar and informed him about the pathetic attitude of the federation's officials, who were not ready to provide details of the matches and passing on the blame on others, Brig Khokhar took notice of the situation and all of a sudden same officials, who were making lame excuses, have started providing the results and other updates to the journalists.

The Nation


---

The greatest pleasure of my life was playing for my flag: Hockey great Balbir Singh

Hockey legend Balbir Singh Sr. has lost and found many things in life. But it's his stolen medals that rankle the most. At the age of 93, the former India captain still harbours a childlike enthusiasm for hockey

By Siddhant Kalra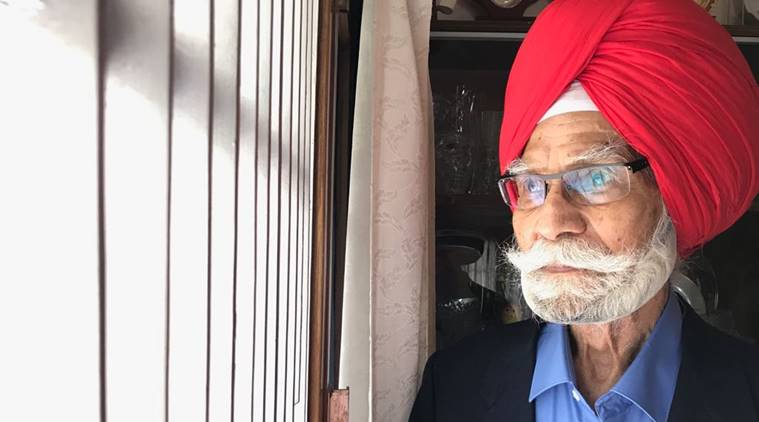 Balbir Singh's childlike enthusiasm for hockey belies his age of 93. (Source: Express Photo by Siddhant Kalra)

As a child, Balbir Singh Sr. could never sit still. Almost every single hour in the day was spent playing pranks, climbing trees or just running around. But, come evening, the boisterous child would sit in silence and watch older kids play hockey near his house in Moga.That young boy in pre-Partition India grew up to be the hockey legend, Balbir Singh Sr. "She [hockey] found me at the age of five and since then, I have loved her, respected her and worshiped her," says Singh Sr., whose childlike enthusiasm for the sport belies his age of 93.

Balbir Singh Dosanjh was born on October 10, 1924 to Karam Kaur and Dalip Singh Dosanjh. His father was a freedom fighter and educationist, who travelled extensively and was frequently in and out of jail. As a result, Balbir's early childhood was spent at his maternal village, Haripur Khalsa. At the age of five, his father moved the family to the small town of Moga for the sake of Balbir's education. Little did he know that Balbir would spend his time daydreaming about scoring goals rather than studying. "My father was strict and unshakeable in his values. But he never put a limit on doodh and jalebi, which I loved," he says. But when he failed his Class X exams, his father sought the help of a friend who lectured at Sikh National College, Lahore. Having seen Balbir's game, the lecturer offered him full scholarship and a spot in the hockey team. Singh Sr.'s father, with no money to afford college otherwise, agreed.

The Sikh National College team was promoted to the first division soon after Balbir's inclusion. He was soon poached by the rival Khalsa College. Balbir became captain of the Khalsa College team, which remained all-India champions under his command between 1942 and 1945. Sir John Bennet — the inspector general of Punjab Police at the time — was impressed by Balbir's game and commanded his officers to ensure his recruitment to Punjab Police.

But Balbir had grown up detesting the police, which had jailed his father and other freedom fighters on multiple occasions. So he ran away to Delhi and joined the Central Public Works Department team in 1945. But one day, he found officers with handcuffs at his doorstep. He was arrested, taken to Jalandhar and presented before Bennet. "He asked me, 'Do you want to play hockey for Punjab or go to jail?' I chose hockey". He ran away multiple times in protest, but was handcuffed and brought back every time.

The undivided Punjab team, which hadn't won the nationals in 14 years, got lucky in 1946, when Singh joined. Playing under Colonel AIS Dara and alongside Shah Rukh — two of his closest friends from the future Pakistan team — Balbir won the national championships for Punjab again in Bombay, 1947. But the team returned only to find their homes bloodied and burning.

Just the previous year, Balbir had married Sushil, his college sweetheart from Lahore. When the team arrived at the Lahore railway station in 1947, it was the future Pakistan captain, AIS Dara, who drove Balbir to his wife in Model Town. On the way, the car was stopped by mobs a couple of times, presumably because of Balbir's turban. Dara stepped out and spoke to them, while he sat in the car, unaware of everything. After a heart-breaking farewell to the house, Sushil came away with Balbir to Ludhiana.

In Ludhiana, Balbir resumed his duties with the Punjab Police and witnessed the horrors of Partition. "Brothers and sisters, who lived so lovingly before, were killing each other. It was shocking how human beings can change so suddenly. Good people are those who retain their humanity even in a climate of hate," he says.

The contours of the undivided Punjab team also changed with Partition. Many players from the team donned the colours of Pakistan. "The same players with whom I passed every waking hour, were gone. Azam, Maqbool Hashmat, Aziz, Masood, Dara, Anwar, Shah Rukh were such great friends of mine. They all left."

Balbir would go back to Pakistan many times later in life. The most memorable visit was when he accompanied the Indian contingent during the India-Pakistan series in 2005-'06. "I met Shah Rukh again and it was overwhelming. We spoke as if we had separated just yesterday. The language was the same, the person was the same," he says.



In the 1948 London Olympics, the first for independent India, Balbir Singh got his hammered in six of nine goals. (Source: 1947 Partition Archives)

When asked how many goals he must have scored in his career, Balbir chortles. "To give you an idea, the Indian team played 16 matches in Singapore in 1954. They scored 121 goals, out of which he scored 83. In the Australia-New Zealand tournament the following year, he scored 141 out of 203 in just 37 matches," says Prof. SK Gupta, his friend and a sports historian. However, his effortless goal-scoring didn't always ensure him a place in the squad.

In the 1948 London Olympics, the first for independent India, Balbir got his chance in the second game and hammered in six of nine goals. But in the following game against Spain, he was pulled back before stepping onto the pitch. In the next game against Holland, he was just about to bully-off when he was called back. Indian fans in London expressed their dismay at his unjust exclusion, which forced the management to include him in the final against hosts and former rulers, Britain. Balbir lapped up the opportunity and scored two of the four Indian goals. Britain didn't score. "When I saw the tricolour unfurled at Wembley, I was overcome with joy. It was the greatest pleasure of my life, playing for my flag instead of the Union Jack."

India had scored 13 goals in all in London, a number Balbir swears by. In the 1952 Helsinki games, he donned jersey number 13. He was warned by a Finnish fan that it would bring him bad luck. He promptly replied that 13, tera in Punjabi, was a word for God, and narrated the story of Guru Nanak chanting tera, tera, tera in a divine trance. The fan didn't make much of the story, but Balbir set the unbeaten record for most goals in an Olympics final, with five of the six goals against Holland. The Helsinki Olympics were also the 13th Olympic Games (excluding the two cancelled due to war).

In 1960, Balbir was in the fittest condition of his life and was still scoring goals in a flurry. But despite being in prime shape, he was appointed to the selection committee. He didn't protest. India lost the final that year. The then chief minister of Punjab, Partap Singh Kairon (being guarded by ASP Balbir Singh at the time) was asked how India's streak ended. He replied, "How would they have won? The man who could have won it for us is here guarding me".

In 1964, Balbir took on the responsibility of coaching the Olympic squad. He brought the team into its finest form, but, just a night before flying to Tokyo, he was instructed to stay back in India and was replaced by a new coach. India won gold at the Olympics, but Balbir's contribution was never acknowledged. Despite the humiliation, he responded to every request to coach the Indian team and won India's solitary World Cup in 1975.

The gravest injustice came in 1985. He was approached by a representative from Sports Authority of India (SAI) to hand over all his medals and memorabilia for a sports museum. Unsuspectingly, he acquiesced and handed over 36 medals, his 1956 Captain's blazer and hundreds of rare photographs. It was only in 2008 that his family realised that no museum of the sort had been set up and all his belongings were lost. Multiple inquires and many years later, there's still no sign of them. "It felt like a part of me had died when I found out," he says ruefully.

After trying the RTI route since 2012, the family recently discovered that SAI never had Balbir's belongings. Earlier this year, SAI and its academic wing NIS, promised to file an FIR about Balbir's belongings. Instead, they filed only a missing article report which does not warrant a police investigation. In a meeting this week, SAI and NIS promised to file an FIR yet again.

Looking back, Balbir says he is filled with gratitude, both for the people in his life and to hockey herself. But he finds it difficult to mask his disappointment, even through all his calmness. Asked about his most treasured accolade, he points to the smallest trophy in the room — his first ever from a local tournament in Moga. "I was 10 at that time and used to play full-back or goalkeeper. In that tournament, the centre forward spot was open in my cousin's team and there was no one to fill it. By chance, I played there. As luck would have it, I scored lots of goals and never looked back."

Siddhant Kalra is an independent writer and researcher for the 1947 Partition Archives. This interview is part of that project.

Roll of honour
* As a player, he won three Olympic golds.

* As coach and manager, he helped the Indian team win two Olympic golds and the only World Cup victory to date.

* He was recognised as one of the 16 most iconic Olympians of all-time at the 2012 Olympics — the only Indian and hockey player on the list.

* Led the Indian contingent as the flag bearer in two consecutive Olympic Games (1952 and 1956)

Indian Express