All the news for Wednesday 24 July 2019

Scott Tupper named Team Canada's Lima 2019 Opening Ceremony flag bearer



Scott Tupper, has been named Team Canada's Lima 2019 Opening Ceremony flag bearer. (Photo: Christopher Morris / COC)

Vancouver native Scott Tupper is one of the most accomplished field hockey players in the world and arguably one of the greatest Canada has ever seen. Since making his first international appearance in 2005, Tupper has played more than 300 games for Canada – the fourth athlete in Canadian field hockey history to do so. Over his 14 years as a member of the men's national field hockey team, of which he has been captain for eight, he has seen it all.

But the call he received two weeks ago came as a surprise for the 32-year-old.

The Canadian Olympic Committee (COC) officially named Tupper as Team Canada's Lima 2019 Opening Ceremony flag bearer on Tuesday. He will lead a delegation of 477 athletes and 119 coaches into Estadio Nacional del Perú on Friday, July 26.

"I was a little bit shocked, flattered and excited," said Tupper. "It's an incredible honour, and for the COC to give me the opportunity, I'm immensely grateful"

Now that he has had time for the news to sink in, he's ready to make most of the opportunity.

"I certainly had a few nerves the first day or so, but I'm very proud and feeling privileged to have the honour. While it's an individual distinction, it's indicative of our team's past success and I'm really looking forward to representing our program and our country at the Opening Ceremony."

Among his athletic achievements, Tupper is a two-time Olympian (Beijing 2008, Rio 2016), three-time Pan American Games medallist (2007 gold, 2011 silver, 2015 silver) and five-time Pan American All Star – one of only two athletes in the Pan American region to have received five consecutive nominations.

It's his commitment off the pitch however that caught the attention of Team Canada's Lima 2019 Chef de Mission Douglas Vandor, who sits on the Flag Bearer Selection Committee and was the one to break the news to Tupper.

"It was an honour for me to call Scott and give him the news that he was going to be the flag bearer for Canada at the Opening Ceremony of the Lima Games," said Vandor. "Not only has he had outstanding performances at three consecutive Pan American Games, but his involvement with his sport off the field as a coach and mentor to Canada's next generation of athletes made him the perfect choice."

Tupper coaches at the club, academy and junior national levels and is always willing to give his time at workshops and training camps. In 2018, he was appointed to the International Field Hockey Federation's Athletes' Committee in recognition of his respect for his sport and his peers.

In what will be his fourth Pan American Games appearance, Tupper knows he doesn't have many Games ahead of him, making the development of the next generation of field hockey players all the more important to him.

"I've been fortunate to learn from a lot of great coaches during my time in the Canadian program and I think it's important to pay it forward," explained Tupper. "I enjoy helping out with the NextGen group so that they can move on and take their place on the national team soon, and continue to carry the program forward."

"I've been privileged to play for Canada for a long time. I look forward to one day cheering on a new group of athletes and seeing them have success on the international stage."

Tupper believes the Field Hockey Canada program is headed in the right direction too.

"I think the future is bright. We have a broad base of players at the U-21 level and they come from all over the country. Quebec has a strong junior program now that has been winning gold at the national championships recently, while when I was a junior the province didn't have teams. It's great to see, and I hope we can have a strong national team for many years to come because of it."

For Team Canada, the Lima 2019 Pan American Games, which kick off with the Opening Ceremony on Friday, not only represent a vital step in the development of next generation athletes but are in the Tokyo 2020 qualification process for 22 sports including field hockey. The Games are also the biggest stage for athletes competing in non-Olympic sports including bowling, racquetball, roller sports, squash, taekwondo (poomsae), waterski and wakeboard.

"It's such an exciting time when all the athletes from across Canada, from all the different sports, congregate in one place," said Vandor. "Bringing such a team together and having the entire delegation in one place makes you so proud to be Canadian."

"The Opening Ceremony is truly a special way to kick off the Games and Scott is going to make us all proud by carrying the maple leaf and leading the team into the stadium."

Field Hockey Canada media release


---

Status on broadcast of hockey competitions at Lima Pan American Games




The Pan American Games are now less than one week away, and anticipation is building for all involved. Many fans are asking about the TV and streaming schedules to make sure to catch as much action as possible.

Unfortunately, however, and sadly for hockey fans all over the Americas (and elsewhere in the world), the field hockey competition broadcast will be very limited (semi-finals and Finals only) and there will not be any on-line streaming…

This deeply disappointing news has started to spread in the last few weeks and has triggered surprised and angry comments from the field hockey community. Fans are now used to following international competitions from around the world, sometimes on TV, more often on their computer. How is it possible that our continental quadrennial flagship competition, a direct Olympic Qualifier, will have limited broadcast, and not be streamed?

In the Pan American Games, PAHF only controls the technical aspect of the competition, just like the FIH only controls the field-of-play at the Olympic Games. Everything else is dictated by the "Franchise Holders" (IOC for the Olympics, Pan Am Sports for the Pan American Games) and by the Organizing Committee. Everything else, including the broadcast rights…

Pan Am Sports contracted Brazilian company Record TV to be the "Host Broadcaster", meaning they are in charge of producing the raw TV feed from the various venues. These feeds are in turn sold to those broadcasting companies which have paid the broadcast rights. It is then up to the authorized national broadcasters to pick up the feed and include it in their programming.

As before the 2015 Pan American Games in Toronto, PAHF has tried for months to resolve the situation. PAHF President Alberto "Coco" Budeisky had numerous discussions with the Organizing Committee, Pan Am Sports and Record TV, offering to pay for the production of on-line streaming. But in the end, PAHF had to accept that there are too many financial and legal obstacles, and no possible reconciliation between our desire to showcase our sport and the financial interests at stake.

PAHF deeply regrets this situation. We will have an extended Communications team on-site in Lima (three experienced communications officers and a dedicated photographer) in an effort to cover the hockey competitions on the PAHF web site and social media channels, as much as possible, given the constraints of a multisport event such as the Pan American Games.

Pan American Hockey Federation media release


---

Tokyo 2020: one year to go!




Lausanne, Switzerland: In exactly 365 days, the Games of the XXXII Olympiad will be officially opened, with the 2020 Olympic hockey events getting underway 24 hours later in the brand-new Oi Hockey Stadium of Tokyo, Japan.

Twenty-four nations – 12 men's and 12 women's teams – will battle it out to follow in the footsteps of the 2016 gold medalists, namely Argentina (men) and Great Britain (women).

Who will join Japan's men's and women's national teams, who have qualified both as hosts and Asian champions? The qualification process, which is identical for the men's and women's event, works as follows:

- All four winners of the remaining continental championships, which will be staged in Pan America, Africa, Europe and Oceania between July and September this year, will secure a direct berth to the Olympic Games Tokyo 2020

- The remaining seven places will be decided by the FIH Hockey Olympic qualifiers scheduled to take place at the end of October and early November. These events consist of teams that qualified via the FIH Pro League and the FIH Series Finals, with the line-up being completed by the highest ranked teams who did not qualify via either route

The Tokyo 2020 tournaments will be held at the brand-new Oi Hockey Stadium, equipped with the most environmentally friendly and sustainable hockey turf yet produced by FIH Official Supplier, Polytan. The stadium will be inaugurated at the Ready Steady Tokyo Hockey Test event taking place next month in Japan's capital city.

"I'm so much looking forward to the Tokyo Olympic hockey tournaments in a year's time! Our colleagues and friends from TOCOG and the Japanese Hockey Association, with our support, will put together remarkable events. I'm very thankful to the Japanese authorities for having delivered such an outstanding hockey stadium which will remain as a great legacy for Japanese hockey after the Games" stated FIH President and IOC Member Dr Narinder Dhruv Batra.

Hockey made its Olympic debut at the 1908 London Games.

#Tokyo2020
#RoadToTokyo

FIH site


---

Mark Hager under pressure as GB in danger of missing Tokyo Olympics



Great Britain head coach Mark Hager talks to his players during their FIH Pro League match against New Zealand in London last month. GETTY IMAGES

Former New Zealand women's hockey coach Mark Hager is under pressure in his new role.

Hager left the Black Sticks following a review into the team's culture and took over as Great Britain women's coach in January as they prepared to defend their Rio Olympic title in Tokyo next year.

But a poor run of form under Hager has brought concerns that they may not qualify for the 2020 Olympic Games.



Mark Hager congratulates New Zealand's players after their win over Great Britain in Christchurch. GETTY IMAGES

The side lost twice to Japan in the past fortnight and have scored just three wins from 16 games in the new FIH Pro League.

"We aren't even speaking about Tokyo at the moment," Great Britain player Suzy Petty told the Daily Mail.

"It has been tough, we've had our challenges and we have had a change of coach, but with a year to go we know what we need to do. We haven't had the best results over the last six months. But we now know what the one per cent we need to change is."

​Hager's first match in charge of GB was against the Black Sticks and resulted in a 5-1 defeat in Christchurch in February.

Great Britain finished eighth in the nine-team FIH Pro League won by the Netherlands, with three wins, three draws and 10 losses. The Black Sticks were sixth, with six wins and 10 defeats.



Mark Hager has had a rough start as Great Britain women's head coach. GETTY IMAGES

Great Britain can qualify for the Tokyo Olympics either by England winning next month's EuroHockey Championships in Belgium or Great Britain winning on aggregate at a two-match qualifying event at the end of the year.

Hockey New Zealand's inquiry into the culture of the women's team under Hager's guidance was fuelled by a misdirected email he sent out criticising the attitude of some players. Some Black Sticks players said they were afraid to speak up under Hager's command while others praised him.

Hager led the New Zealand women's team to gold at the 2018 Commonwealth Games, beating England in a semifinal penalty shootout before defeating Australia in the final.

Stuff


---

England's Suzy Petty hopes to help GB hockey team make it to Olympics

Hockey star admits she's feeling pressure as qualification for the 2016 gold medallists rides on success in upcoming European Championships

Paul MacInnes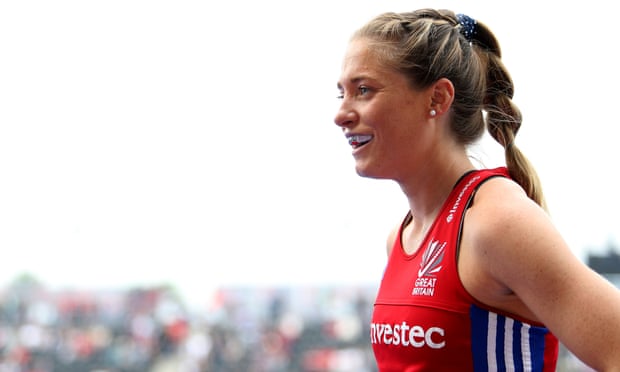 Suzy Petty will play for England in the European Championships in a bid to secure Olympic qualification for Great Britain. Photograph: Christopher Lee/Getty Images for FIH

Suzy Petty is in an unusually stressful position. The 27-year-old has forced her way into the Great Britain women's hockey team. As they are the Olympic champions one might think they should be getting set for Tokyo but, thanks to the condensed, fraught nature of qualification for next year's Games in hockey, the next few weeks are likely to be the most nerve-racking of her sporting life.

"It is a real pressure to qualify and that's why I don't really like talking about it," Petty says. "We don't have any other opportunity to qualify. It's either the European Championships - if you win that, you go - or it's this Olympic qualifier match.

"We haven't had a chance to qualify yet, so we're going out to the Euros to win. If we don't do that, though, we have to go to the next step. It's huge. There are two matches back-to-back, Saturday then Sunday, and whoever wins goes."

To complicate matters further, Petty will go to the European Championships representing England. Any qualification for the Games by that route, with the tournament beginning on 16 August, will be done by a part on behalf of the whole. The Olympic play-offs, however, would be contested as Team GB.

"At the moment, as England, we do see ourselves as the GB team," Petty says. "As an England team we feel the pressure of qualifying. But we're a GB programme, so we have talked about those two games. We've had past athletes who have been through the process come in and talk us through their experiences."

The programme Petty mentions is another important factor. Funding from UK Sport is, as with every Olympic discipline, dependent on success. Victory over the course of the summer is imperative not just to confirm the champions' attendance in Tokyo but to safeguard the health of the sport.

"We're very focused on keeping our funding," says Petty, "as in, we need to do well in Tokyo and we know that. The centralised programme has just been the making of the sport. We're very conscious that we're so privileged to be out there. It's made us better as a team and we're conscious that we want to give all the kids coming through the opportunity to become a full-time athlete.

"Then obviously there's the part of inspiring all the kids [who won't turn pro]. We actually played at the Stoop two weeks ago and got 12,000 people, which just shows how far hockey has come in the past few years. It was really amazing and I think, as a squad, we do all that we can to make sure the kids see and want to engage with the sport."

Petty's own personal ambitions don't spring to the fore when she speaks; she is happy to put the collective first. But she knows what a special opportunity an Olympics presents after seeing her housemate, Laura Unsworth, triumph in 2016.

"I lived with Laura before she went to Rio," Petty says. "I think when you're not part of it and you're just watching on television you think, 'Oh, the Olympics are on; that's really cool.'

"But when you have actually packed someone's bags and gone to the airport with them and four weeks later they come back with a medal – and a gold one at that – it changes things. It's something you don't actually think is attainable but, when you're that close, you think, 'Goodness, I could actually do this.' To do that, to take part in something I watched when I was two or three years old and to go with such a great group of girls, that would make it really special."

The Guardian


---

Ireland Men to take on Scotland in two match series.




The Green Machine travel to Glasgow for a two match series against Scotland this weekend, with matches scheduled for 3pm Saturday and 12pm Sunday.

The squad is as follows:

    Mark Ingram
    David Fitzgerald
    Jonathan Bell
    John Jackson
    Lee Cole
    Paul Gleghorne
    Matt Bell
    Peter McKibbin
    Stuart Loughrey
    Tim Cross
    Shane O'Donoghue
    Stephen Cole
    Daragh Walsh
    Kirk Shimmins
    Sean Murray
    Michael Robson
    Matthew Nelson
    Ben Walker
    Jeremy Duncan
    Johnny McKee

The Men's squad will then prepare for an invitational four nations in Barcelona from the 1st to the 4th of August where they will play England, Malaysia and Spain, as part of their preparations for the 2019 EuroHockey Championships which get underway from the 16th to 25th of August in Wilrijkse Plein, Antwerp. You can find more information on the tournament at //www.belfiuseurohockey.com/en/

Irish Hockey Association media release


---

Former Kookaburra selected in Irish panel for Scottish series



Tim Cross (left) in action for Tilburg last season: Picture: World Sport Pics

Former Australian international Tim Cross is set for a first Irish appearance this weekend as he was confirmed in Alexander Cox's side for the upcoming two-game series with Scotland in Glasgow.

He lined out for the Kookaburras eight times, including at the Sultan Azlan Shah Cup in 2015, but has since spent enough time away to be eligible to switch to Green Machine.

Cross is an Irish passport holder and has been based in the Netherlands where he plays with Tilburg in the Hoofdklasse. There, he met up with Cox to discuss the potential of trying to break into the side.

This weekend's double-header will act as a trial of sorts for the 28-year-old in a series against one of Ireland's direct rivals at next month's European Championships.

It is a small buck in the trend of players coming up through the Irish system before declaring for England – and subsequently Great Britain – with Iain Lewers, David Ames, Mark Gleghorne and Ian Sloan having beaten that path.

Most recently, Banbridge's Kyle Marshall lined out last weekend for the England Under-21s in the European Junior Championships.

On the flip side, Tom Kavanagh – whose family hails from Bray – is another who grew up in Australia and trialled with Ireland in the lead-up to the 2012 Olympic qualifiers. His brother, Fergus, went on to win bronze at those games for Australia.

The squad is, otherwise, a youthful one. Lisnagarvey defender Peter McKibbin is another potential debutant. He is among an array of changes from June's FIH Series Finals squad with Mark Ingram, David Fitzgerald, Stu Loughrey, Kirk Shimmins, Jeremy Duncan and Jonny McKee all coming back in.

David Harte, Jamie Carr, Conor Harte, Luke Madeley and Neal Glassey are rested. The games will take place at Glasgow Green on Saturday (3pm) and Sunday (12pm).

Soon after, Ireland will head to Barcelona for a four nations tournament with England, Malaysia and Spain before the Euros comes into focus from August 16th.

Ireland squad versus Scotland (July 27-28, Glasgow Green): Mark Ingram (Crefeld), David Fitzgerald (Monkstown), Jonathan Bell (Lisnagarvey), John Jackson (Bath Buccaneers), Lee Cole (Royal Oree), Paul Gleghorne (Crefeld), Matthew Bell (KHC Dragons), Peter McKibbin (Lisnagarvey), Stuart Loughrey (Hampstead & Westminster), Tim Cross (Tilburg), Shane O'Donoghue (KHC Dragons), Stephen Cole (Royal Oree), Daragh Walsh (KHC Leuven), Kirk Shimmins (Pembroke), Sean Murray (HC Rotterdam), Michael Robson (Crefeld), Matthew Nelson (Crefeld), Ben Walker (Three Rock Rovers), Jeremy Duncan (Herakles), Johnny McKee (Banbridge)

The Hook


---

HGC snap up Indian pair as van Ass moulds new look squad



©: Frank Uijlenbroek / World Sport Pics

HGC have signed a pair of Indian internationals to their line-up for the upcoming 2019/20 season which will include an EHL KO16 trip to Barcelona in October.

Attacking midfielder Devindar Walmiki and defender Harjeet Singh will link up with the Wassenaar club who are making their return to the EHL for the first time since winning it in 2011.

Walmiki, 27, was part of the Indian selection for the Rio Olympics in 2016 and also played competition in Germany two years ago. He has 48 caps.

Harjeet, meanwhile, is 23 and was the captain of the Indian side that won the Junior World Cup in 2016. He has also won 52 caps for the national side and has a Bollywood film was made about him: "Harjeeta".

They are the latest newcomers to an overhauled panel from the line-up that finished third in the Netherlands last season with coach Paul van Ass returning to the club in style.

Big names like Ashley Jackson, Max Plennevaux and Tanguy Cosyns have all moved on after one year of service. They will be repleaced by Argentinean Maico Casella, Floris de Bie from SV Kampong, Thomas Vis from SCHC and Vincent Langenhuijsen from Tilburg.

Euro Hockey League media release


---

Devinder Walmiki, Harjeet Singh to play in Euro Hockey League for Dutch club HGC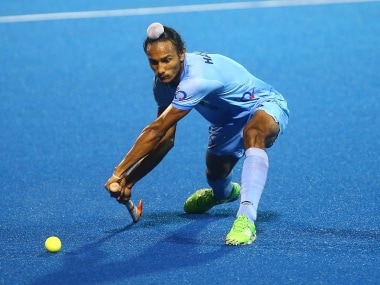 File image of Harjeet Singh. Image courtesy: Hockey India

New Delhi: Indian hockey players Devinder Walmiki and Harjeet Singh have been signed up by Dutch club HGC for the 2019-20 season during which they will feature in the upcoming Euro Hockey League matches.

Walmiki and Harjeet, both midfielders who are not a part of the national team right now, will join the club which is returning to the EHL for the first time since winning it in 2011.

They will make their debut on 4 October in Barcelona.

The 27-year-old Walmiki was part of the Indian squad for the 2016 Olympics and has 48 caps to his credit.

The 23-year-old Harjeet was the captain of the Indian side that won the junior World Cup in 2016. He has 52 caps for the national side.

"They are the latest newcomers to an overhauled panel from the line-up that finished third in the Netherlands last season with coach Paul van Ass returning to the club in style," the club said in a statement.

Incidentally Van Ass is a former coach of the Indian team. The Dutchman had an eventful tenure of few months with India.

He was appointed in 2015 on a three-year contract but was forced out within months after a bitter public spat with the then Hockey India President Narinder Batra.

Van Ass had stated that he was fired from the job for coming in the way of Batra berating players for their performance after a match.

Batra now heads the International Hockey Federation (FIH).

Firstpost


---

Secret of Indian team's fitness: No sweets, spicy food, says Rani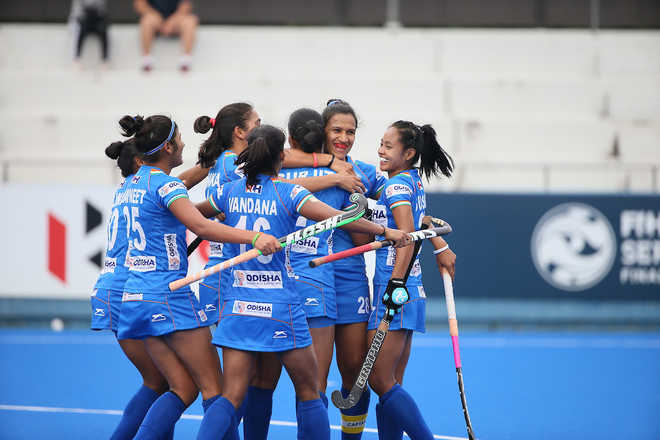 The women's hockey team won the gold medal in the FIH Series Finals in Japan last month. file photo

The Indian women's hockey players have been told to not indulge in their favourite spicy dishes and sweets as part of a strict diet aimed at maximising their chances of qualifying for Tokyo Olympics. High on confidence after its title win in FIH Series Finals in Hiroshima last month, the women's team is practising hard for the final Olympics qualifier, to be held in November.

Captain Rani Rampal saidclaims that this is the fittest Indian team in a long time and praised scientific adviser, Wayne Lombard, for this change. "I can say that this is the fittest Indian women's hockey team I have ever seen. Wayne has been working very hard on each individual and the team. We all are following his diet plans and the results are for everyone to see. He says that if we want to do well on field, we have to take healthy diet," Rani said.

"We have stopped eating sweets, chocolates, spicy and oily food. We are taking low carbs and a balanced diet and feeling better," she said.

They do cheat but not on regular basis. "I was craving for rajma chawal made by my mother when we came back from Japan. He allows us to cheat on our diet plan once in a while but not on regular basis," she said.

India's best performance in Olympics came at the 1980 Moscow Games when they finished fourth. That was also the Olympics debut for women's hockey. The team then had to wait for 36 years to qualify for the Olympics and finished 12th in Rio in 2016. "Rio was a learning experience for us. We could not perform at that level but learnt a lot. We have been playing very well after that. All the girls are excited and highly motivated to perform this time," she said.

The Tribune


---

Bring back Asian style: Thakur

'Take the help of formers players to help the National team'

Ashwin Achal



Plainspeak: Deepak Thakur who coaches IOCL says India will be well served by merging its styles of play. Photo Credit: G.P. Sampath Kumar

At his peak, Deepak Thakur was a feared forward. Using lightning speed and deft stick work, Thakur gave defenders a horrid time. In general, his Indian team of the noughties played a free-flowing style of hockey. This is in contrast with the 'European style' used now, where the emphasis is on possession and precision technique.

Thakur believes that the 'Asian style' of his era still has its place in modern hockey, and that the Indian team should utilise the services of his former teammates like Prabhjot Singh, Gagan Ajit Singh and Dhanraj Pillay to refine these skills.

'Second pattern'

"Today, all international sides employ the European style of play. When all teams are playing like this, you need a second pattern to break their game-play. This is where you need to be adept at Asian-style skills like dodging, return-passes, and stick work.

"If you can develop these aspects of your game, you will be able to break open the defence.

"This Asian style is missing now, which is hurting Indian hockey," Thakur, the IOCL team coach at the Bengaluru Hockey Association Super Division hockey championship here, said.

"Former players like Prabhjot Singh, Dhanraj Pillay and Gagan Ajit Singh were masters of Asian style hockey. They should be brought in to coach the National team in some capacity. This will be hugely beneficial, as we can get the best of both worlds," Thakur added.

Professional approach

The Arjuna awardee is happy that a more professional approach has entered the sport.

"Money is being invested now. Though top facilities are not available at the grassroot level, it is good that it has come to the elite level.

"Everything is a lot more professional now — players earn good money, and we also have video analysts, physiotherapists and so on," Thakur said, "If we had these facilities during our playing days, we could have won Olympic and World Cup medals."

On his electrifying attacking partnership with Prabhjot Singh and Gagan Ajit Singh, Thakur said, "The reason why we were so good together on the field was because we shared a close bond off the field.

"The three of us came up through the junior ranks at the same time.

"And during our senior India days, we spent a lot of time together. In those days, we did not have much entertainment.

"So we played cards together, chatted, and kept each other company.

"This sort of team bonding is missing now, with most players busy with their smartphones."

The Hindu


---

England Hockey Summer Masters Championships concludes at Oxford Hawks Hockey Club




The second year of the England Hockey Summer Masters Championships concludes at Oxford Hawks Hockey Club on 28 July.

The final 20 teams, from an original 86 entrants, will compete in 10 finals spread across three age groups and two genders. The finals schedule is confirmed below.

Pitch 1
Men's Over 40s Tier 1 (10:00) – Norton v West Herts
Women's Over 40s Tier 1 (11:30) – Harrogate v Cambridge City
Men's Over 30s Tier 1 (13:00) – Timperley v Havering
Women's Over 30s Tier 1 (14:30) – Brooklands Poynton v Oxford Hawks
Men's Over 50s Tier 1 (16:00) – Worcester v Taunton Vale

Pitch 2
Men's Over 50s Tier 2 (10:00) – Wakefield v St Albans
Men's Over 40s Tier 2 (11:30) – Huddersfield Dragons v Hampstead & Westminster
Women's Over 40s Tier 2 (13:00) – Clitheroe & Blackburn Northern v Surbiton
Men's Over 30s Tier 2 (14:30) – Sheffield University Bankers v Leicester Westleigh
Women's Over 30s Tier 2 (16:00) – Leamington v Westberries

The routes to the finals and progress of all the teams so far in this seasons Summer Championships can be found here*.

To check the results of the finals from the weekend, visit our website here*.

A reminder that the Women's Over 50s Summer Championships was contested under a different format, a one-day festival of hockey, at Nottingham Hockey Centre on 09 June. A report of the day, including the results, can be found here.

*Set the search parameters to '2018-19' and 'Summer Champs' to filter the different competitions.

England Hockey Board Media release


---

Thirsty hockey players wander outside Karachi stadium in search of water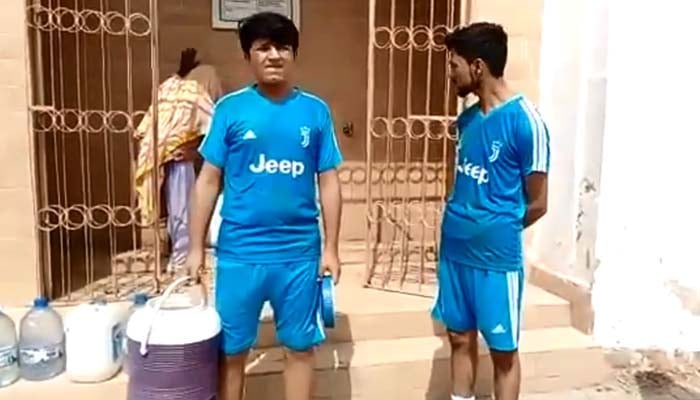 A hockey player holds an empty water cooler while another looks on at the dispensation plant. — Photo courtesy: Zeeshan Ahmed

A video of two hockey players wandering outside Karachi's Abdul Sattar Edhi Hockey Stadium in search of water during the Pakistan National Hockey Championship has gone viral.

The two players, sporting light blue kits, were spotted by AAP News reporter Zeeshan Ahmed with an empty water cooler at what appears to be a water dispensation plant adjacent to the stadium.

When asked why they were outside the stadium when action was happening inside it, one of the players said: "There is no water inside. The match is taking place but we are here for the water. The players inside need water."

"It is [the management's] responsibility. When we ask them they tell us that water is coming. This was half an hour ago. What can we say."

With no water at the plant, the two players were forced to return back to the stadium empty-handed.

The Noor Khan National Hockey 2019 kicked off in Karachi on Tuesday (July 23). It is set to feature 20 teams from all over Pakistan, according to the Pakistan Hockey Federation (PHF) website.

'No potable water, electricity'

Reports and videos circulating on Twitter suggest that the event has been marred with a plethora of mismanagement issues.

"We got here after a 32-hour journey," another participant said. "We had thought that the PHF must have made some decent arrangements but unfortunately there was nothing of this sort.

"There is no potable water here and whatever water there is, is saline water. We cannot even bathe with it let alone drink. We have to walk 2-3kms just to drink water and bathe. The facilities that players should get, especially when the players pay a fee to participate in this tournament, we aren't getting any of that."



An injured player is being taken to the hospital on a motor cycle. — Photo courtesy: Zeeshan Ahmed

"The powers that be should look into this. This is such a massive tournament; it's the 61st national championship so we should also get the facilities.

"Then there is the outage problem. We got here yesterday and power went out at two in the morning and this is almost noon, it still hasn't come back.

"We have a match at 3pm. We are not at all prepared mentally. We are sleep deprived, we have water and food problems. When we are facing these issues how would we play?"

'Living among lizards, cockroaches'

Another player corroborated the problems, adding that "[PHF Secretary] Asif Bajwa should think about this and should have made arrangements in advance. We arrived here in a coach late at night, then we could not sleep due to electricity and now this."

A third player echoed the others' sentiments, saying: "We have been forced to stay at a place where even the animals can't stay.

According to PHF website, Olympian Abdul Hanif Khan is the tournament director of the National Hockey Championship.

"We will decide about the cash prizes and other incentives in next couple of days, as we are expecting sizable sponsorship from the private sector. We are trying to conduct the tournament in a befitting manner," President Brig (R) Khalid Sajjad Khokhar had said last week when announcing the tournament.

GEO Super TV


---

SAI Ladies humble Oranje Leonas, USIU

By Elizabeth Mburugu



Police's Govan Mbeki and Tanvir Memhi (left) of Arusha, Tanzania, during the AstroTurf Tournament at Sikh Union, Nairobi on Tuesday, July 23, 2019. [Jonah Onyango, Standard]

Guests Sports Authority of India (SAI) Ladies yesterday continued their good show with a second win against home girls Oranje Leonas in the ongoing Nairobi Sikh Union Club Astroturf Inauguration tournament.

SAI had opened their campaign with a 4-1 win over United States International University of Africa USIU-A Spartans. The Indians were too good from the onset dominating the Kenyan girls.

Six minutes is what captain Fanai Lalawmpuii needed to put the visitors on the lead after outclassing Oranje defence and goalkeeper Natasha Hakim.

Lalawmpuii, who bagged a hat-trick, added two goals in the 15th and 20th minutes while Edula Jydthi, Mary Lotia and Tanya scored one goal each to give their side a commanding 7-0 half time lead.

Chauhan Manisha and Pooja Kumari scored one goal each in the second half to seal their victory.

Oranje Leonas' coach Tom Olal remained positive despite the loss saying it was a great opportunity for the development players to play against a team from India. "They are in the tournament to learn and I believe that even though they lost, they achieved our objective. India is a high ranked hockey-playing country and for our development side to play them is in itself a huge achievement," Olal said.

Against Spartans, Kumari bagged a brace while Manisha and Madugula Bhavani scored one goal each for the guests. Naomi Kemunto scored Spartans consolation goal.

In men's contest, Kenya Police clobbered Arusha 13-0 in their opening Group B match. Titus Kimutai hit five goals past Arusha Keeper Juma Shabhai who was put under pressure by the cops from the opening whistle. Vincent Odindo netted a brace while Robert Masibo, Willis Okeyo, Samuel Wokila, Samson Kibirir, Oliver Echenje and Moses Cheplaiti scored one goal each.

In another Group B encounter, Greensharks thrashed Arusha 5-0. Twiga goalkeeper Shabhai remained throughout the match as the Kenyans mounted frequent attacks. Felix Abdalla, Daniel Bunyasi, Abraham Mumo, Nimrod Bisonga and Samuel Namonyo netted one goal for Sharks against their neighbours. Hosts Sikh Union suffered a humbling 1-6 loss to their guests Sports Association of India (SAI) in Group A.

The Standard Digital


---

Cannock sports clubs' future unclear as home goes on sale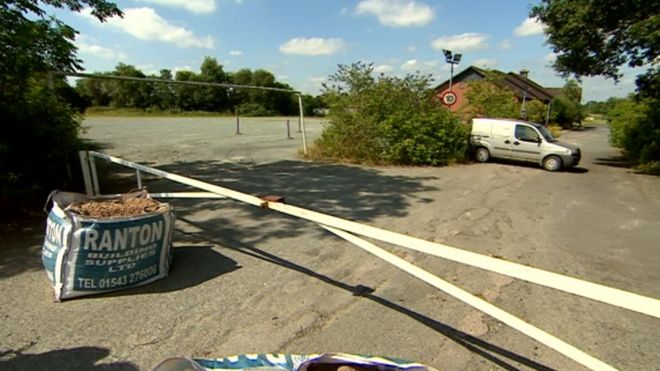 Access to the Morris Ground has been blocked for about a month

An English town's longstanding cricket and hockey clubs are facing an uncertain future as their home goes up for sale.

The Morris Ground in Chase Park, Cannock, is going under the hammer on Wednesday as the body that runs it has gone into receivership.

Sport England said the sale was the result of financial difficulties over the last five years.

Both Cannock Cricket Club - formed in 1860 - and Cannock Hockey Club play home games at the site.

About 1,000 people use the venue where there are also bowls and football facilities, squash courts and a gym.

It is owned by the overarching Cannock Cricket & Hockey Club and it is that body, not the individual sports clubs, which has gone into receivership.

The process is being managed by Duff and Phelps, which has been contacted for comment.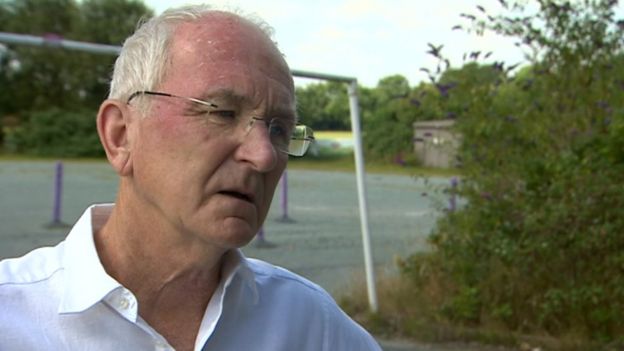 David Robinson says the lack of a home ground is costing the cricket club money

David Robinson, chairman of Cannock Cricket Club - for which ex-England batsman Kevin Pietersen once played - said there had been no access to the ground since 28 June, and it was on sale with a guide price of £295,000.

The cricket club is fundraising to keep going as without a home, Mr Robinson says, it is having to pay to use other clubs' grounds, while additionally losing money it would otherwise make from people using facilities.

Mr Robinson says there are also concerns a buyer may not want to keep it as a sporting site.

"The fear is... we just don't know where we are going," he said.

"We need to see ourselves to September, then see who purchases it and see how we might be able to move forward."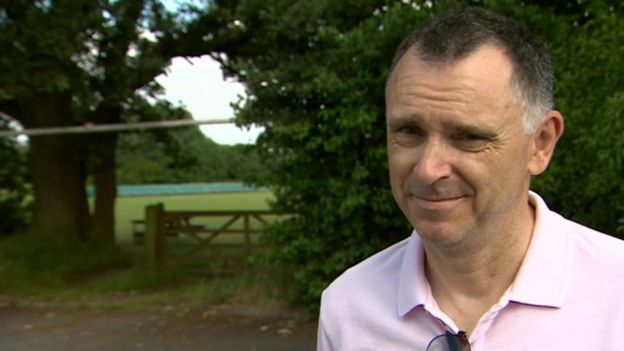 Chris Mayer played hockey in the 1996 Olympics

Chris Mayer from Cannock Hockey Club, who represented Great Britain in the 1996 Olympics, said: "It is devastating - the fact we don't know what the future is, is very upsetting.

"There has been a hockey club in Cannock for 114 years, and we don't know if there is going to be a hockey club come September.

"We are very hopeful, and we have got places lined up, but it is not the same as having your own home."

Sport England said it was "disappointed" the site was on sale.

"We look forward to having a constructive dialogue to ensure that the successful bidder recognises the need to maintain and enhance the existing sports usage at the site as part of their future plans," it said.

BBC Sport


---

Cream of schoolgirls hockey talent on display at Collegiate

 

Sidne Adams (front) and Cate Cook will be in action for Woodridge in the SPAR Eastern Cape Schoolgirls Hockey Challenge provincial finals at Collegiate on Saturday and Sunday. Photo: Full Stop Communications

The cream of young talent in the Eastern Cape will be on display when the SPAR EC Schoolgirls Hockey Challenge provincial finals take place at Collegiate in Port Elizabeth on Saturday and Sunday.

Following registration at 2.30pm on Saturday, the five regional winners will meet in round-robin matches, culminating in the provincial decider at 11.35 on Sunday morning.

The teams who will be competing are Woodridge (PE Coastal), York (South Western Districts), DSG (PE North), Queenstown Girls' High (East London Inland) and Clarendon (EL Coastal).

Having won the PE Coastal tournament with a tense victory over Collegiate, Woodridge coach Maxime Bird said they were expecting a tough competition but we were looking forward to the opportunity.

"As the teams are all regional winners it will be really strong," she said. "But we know that there is always a good vibe at these finals and it's a great chance for the players to reconnect with their friends from other regions.

"We understand the competition will be intense, but we are going there to play the game we love. Someone has to win and someone has to lose, so we just want to go out to play and to enjoy."

Bird added that instead of placing emphasis on individual players, their strategy would be on an overall team effort.

"They each bring something different to the game but they all have a job to do, so it's all about working as a team."

The matches in the provincial finals are limited to 30 minutes, which means coaches try to adopt a specific strategy for the abbreviated period.

"Obviously with the short game time it is imperative to attack early and score goals," said Bird.

"The strategy does depend on how the players are feeling on the day and how the opposition are performing.

"Each match is different and as important as the next, so we take each fixture as it comes and adapt accordingly."

DSG coach Chris Hibbert said they realised the pressure would be on but were geared up to manage the process.

"We will have fun and try to get the girls to learn how to cope with a high-pressurised, result-focused environment, so that they can grow from the experience," he said.

"We believe we have good goal-scoring ability and, in players like Torva Sharwood and Enya Kemp, we will always be asking questions of the opposition defences.

"We also have some exciting young players coming through and a number of EP U16 players in our team. Players like Nikki du Toit, Indipile Ndamase, Josie Apps and Chelsea Lennett will need to step up to the standard required this weekend in order for us to be competitive."

He also paid tribute to SPAR and the tournament organisers for making an event of this nature possible.

"It's a fantastic event to have in the Eastern Cape, which has grown from strength to strength," added Hibbert.

"DSG are very excited to be attending the provincial finals for the second time in its four-year history."

SPAR EC sponsorship and events manager Alan Stapleton said they were anticipating another high-quality tournament, which incorporated all their values.

"We are really excited about this provincial event and looking forward to the finals at the weekend," he said.

"We expect there will be great rivalry among the teams, but with the event being split over two days, there is also a chance to strengthen the bonds of friendship and that is where the true value of sport lies."

Fullstop Communications media release for SPAR EC Schoolgirls Hockey Challenge


---

Haydn Townsend appointed as Marketing & Sponsorship Exco Member




The South African Hockey Association has announced that Haydn Townsend has been appointed as the Marketing and Sponsorship Exco Member with immediate effect. Townsend succeeds Luntu Ntloko who has resigned from the position to focus on a new chapter of her career.

Haydn Townsend is the current Chief Executive Officer of Wunderman Thompson SA with over 25 years of experience in multi-faceted marketing skills including brand management, digital, social and sponsorship.

Some of the work that Haydn has been involved in that you may have seen over the years includes the SASOL sponsorship of the Springboks, the Vodacom Rugby as well as work with Investec Private Banking.

Haydn Townsend has played hockey at the highest level, playing for SA Schools and making the SACOS XI during the pre-unification era.  Hockey has always been in his blood and he hails from a hockey family of 4 boys who were all firm fixtures at both provincial and national level.  Post-unification he continued to play at provincial level and was part of the first unified SA national camps.  He is still actively involved playing both League and Masters.

"Hockey has always been a part of my life and I am honoured to be able to give back to the sport that has given me so much, especially at a time where the brand needs serious reinvention.  Globally, the product has become a huge spectator sport and has unlocked the entertainment value for the fans.  We need to raise our game on this front", says Townsend.

The South African Hockey Association would like to thank Luntu for the contribution she made in the short time she was with the board. We wish her well in her future endeavours. The SA Hockey Association wish further to offer our support and well wishes to Haydn as he embarks on this new element of his career.

SA Hockey Association media release


---

PHF Congress endorses Asif Bajwa as new secretary

MOHSIN ALI

ISLAMABAD: Pakistan Hockey Federation (PHF) Congress meeting was held on Tuesday at Abdul Sattar Edhi National Hockey Stadium, Karachi under the chair of President Brig (R) Khalid Sajjad Khokhar on Tuesday.

Talking to The Nation soon after the congress meeting, Brig Khokhar said: "It was very fruitful congress meeting as 71 out of 111 members attended it while a few members were absent due to death of Olympian Khawaja Junaid's father. All the participants were focused on one task and that is to take Pakistan hockey back to old glory days.

"The congress endorsed the name of Olympian Asif Bajwa as new PHF secretary, while the Congress and Executive Board authorised president to form four committees in consultation with the secretary. The committees including disciplinary, constitutional, selection and audit will be announced in few days time," he added.

He said that Olympian Manzoor Junior, celebrated gold medalist captain of 1984 Los Angeles Olympics, has been named as chairman selection committee with Olympians Ayaz Mahmood, also 1984 gold medalist, Khalid Hameed, also 1984 gold medalist, and Waseem Feroz, 1994 world cup gold medalist, as members.

 To a query regarding complaints of Islamabad hockey team players, the PHF head said: "It was due to KESC that Karachi was facing load shedding problem and all could not sleep due to humidity. The federation had made back up plan as well and all was settled down.

"We can't fight with nature or all of a sudden things but we can manage things and I am here to ensure the holding of the championship in a professional way, as it will give the country future stars of hockey, who will serve the game and the country for the years to come," he added.

When asked about Olympian Samiullah's outburst at Asif Bajwa and serious financial allegations on the federation, Khokhar said: "It was all baseless and had no ground reality. We had made our accounts crystal clear to all, auditors had given their report and there is not a single penny's embezzlement. Asif Bawja has taken over the role as a secretary to run the federation in a professional way and also to bridge gap between players and the stakeholders.

"Bajwa had served Pakistan hockey for years and was secretary in the past as well. Rather than mud-sledging, we must join hands for the cause of hockey. I am arranging the 65th Muhammad Noor Khan National Hockey Championship from my own resources. We didn't get a single penny's help from the government or private sector yet. I am hoping for sponsors to step forward.

"I want government and especially IPC Minister Dr Fahmida Mirza to spare some time and invite PHF for a meeting to let us share our side of story. It is very easy to criticise someone, but it is very hard to understand what I have done for hockey and players for the last three years," he added.

"I have time and again offered Olympians and past legends to step forward and bring suggestions for the betterment of hockey in general and players in particular. But no one bothered to come up with positives, rather majority of them just created hurdles. Anyways, I once again request PM Imran Khan to take some time off from his schedule and invite us for a meeting.

He is a world cup winner and entire sports fraternity has pinned high hopes on him," Khokhar concluded.

The Nation


---

Former Olympian Khawaja Aslam laid to rest




LAHORE - Former hockey Olympian Khawaja Muhammad Aslam who died here on Tuesday morning was laid to rest in Defence Housing Society graveyard.

Kh Aslam, 96-year-old late, was a versatile sportsman and apart from being a former hockey Olympian, he was a former first class cricketer, who participated in Quaid-e-Azam trophy cricket tournament besides being the national record holder in 400m in athletics. Kh Alsam, who died after a brief illness, was also known as a famous writer, who wrote over 100 books on different topics of sports and national issues.

He was a charismatic personality and most importantly a diehard lover of Prophet Muhammad (PBUH) and wrote nearly 900 Naats to show respect and affection to Prophet Muhammad (PBUH). He left behind a talented family of sportsmen and women.

His eldest son Khawaja Muhammad Junaid is a former Pakistan hockey captain and an Olympian, who served the game in many roles. His two sons, Khawaja Muhammad Awais and Khawaja Muhammad Bilal, are also international hockey players. Kh Aslam's two daughters are former international hockey players and third daughter being the national player in netball.

Meanwhile, Pakistan Hockey Federation (PHF), Pakistan Olympic Association (POA), Punjab Minister for Sports, Youth Affairs and Tourism Rai Taimoor Khan Bhatti, Director General Sports Punjab Adnan Arshad Aulakh and others condoled the sad demise of veteran former hockey Olympian Khawaja M Aslam.

POA President Lt Gen (R) Syed Arif Hasan and Secretary Muhammad Khalid Mehmood, PHF President Brig (R) Khalid Sajjad Khokhar and Secretary Asif Bajwa and the entire sports fraternity conveyed their heartfelt sympathies to the members of the bereaved family and prayed to Allah Almighty to grant them courage to bear this irreparable loss with equanimity. They also prayed that the departed soul may rest in eternal peace.

They also acknowledged the services of late Kh Aslam for the cause of sports and said: "He will always be remembered for his outstanding contribution for hockey in Pakistan and raising national flag in international arenas.

His services as Athletics Federation of Pakistan (AFP) Secretary and as a sport leader for the national sports is indeed a milestone for nation and sports fraternity."

The Nation