All the news for Sunday 14 July 2019

2019 Test matches: SGP v HKG (M) - FInal Test
Singapore

9 Jul 2019     SGP v HKG     2 - 1
10 Jul 2019     SGP v HKG     3 - 0
12 Jul 2019     SGP v HKG     5 - 3
14 Jul 2019     SGP v HKG     6 - 4

FIH Match Centre


---

Scotland men defeated by Austria in Vienna




Scotland men were defeated 4-0 by Austria in Vienna in the second of two matches ahead of the Blue Sticks' appearance at the EuroHockey Championships in Antwerp. The matches are preparation games for Scotland; the first result was a very close 3-2 win for Austria.

The game was played following a heavy thunderstorm and it was a tough start to the match for Scotland – Alexander Bele scored an early goal for the Austrians to put the home side into a 1-0 lead after just two minutes.

Four minutes later and the game went to 2-0 when Austria doubled their advantage. Dominic Uher struck the back of the Scotland net from a penalty corner to give the home team a great start to the contest.

The Blue Sticks were always playing catch-up after the first quarter but dominated play, and expressed themselves well on the pitch.

In the final quarter the Scots had a succession of chances to get in the scoresheet but just couldn't find the back of the net.

Austria then went 3-0 ahead in the final quarter and it was Bele again who got the strike – his second of the contest.

A late strike by Bartosz Szmidt gave the Austrians a fourth goal to round off a 4-0 win at home to Scotland.

Scotland men's Head Coach Derek Forsyth said, "It was a very challenging environment today, and a difficult game to play. We played some really good hockey but couldn't put the ball in the back of the net.

"We made some mistakes and conceded goals, but 4-0 isn't a fair reflection of the game. However it's not the score line that matters at the moment, it's the performances, and we played well. We had more circle entries, more corners, more shots on goal, but lacked some composure to convert them. It's a young team we have out here and this will be good experience for them."

Scottish Hockey Union media release


---

Scotland women lose to World Cup silver medallists Ireland in Stormont




Scotland women played a battling 2-0 defeat against World Cup silver medallists Ireland in Stormont in the first meeting of a three-match test series. The matches are preparation for Scotland who play in Women's EuroHockey Championship II in Glasgow on 4-10 August.

Top ten ranked Ireland are also deep into preparations for competing in the EuroHockey Championships in Antwerp.

Scotland were missing several players including Charlotte Watson; Sarah Robertson and Amy Costello who are all playing for GB Women in Japan.

It was a very close and competitive first half where both sides played with good energy and intensity. Ireland created the clearer opportunities and prompted Amy Gibson into making a good save for Scotland.

The third quarter was where Scotland began to cause the Irish problems at the back. A call for a penalty stroke was turned down, and some good defending stopped the Scots finishing off a good attack from a free hit.

It would be Ireland who scored however; Deirdre Duke opened the scoring midway through the third quarter with a great finish into the bottom corner.

Nicola Cochrane made her first appearance after returning from GB Women and was also called into action, making a good save.

In the final quarter a penalty corner off the post and in by Lizzie Colvin made it 2-0 towards the end of the match.

Scotland women's Head Coach Jen Wilson said, "It was a good battle. We defended well and matched Ireland for intensity and energy, and also had some really good play of our own.

"The third quarter saw us make significant impact and there's a lot of positives to take from that period of play. There's still more to come from this team, and progress to be made in some areas. We'll look to deliver for longer spells in the next match and improve against a top side."

Scottish Hockey Union media release


---

Malaysia gunning for top spots in Indoor Asia Cup

By Jugjet Singh

MALAYSIA will be gunning for the women's gold and men's silver at the Indoor Asia Cup, which starts tomorrow, in Chonburi, Thailand.

The finalists of the tournament will qualify for the 2021 Indoor World Cup.

The men, ranked 24th in the world, are in Group A with Iran, Thailand, Bangladesh and the Philippines.

And the World No 33 women's team are in Group B with Thailand, Taiwan and Singapore.

In the last Asia Cup in 2017, the men failed to make semi-finals, while the women won silver.

When men's team manager Amin Rahim was asked about his team's composition: "Mana ada lagi? (We don't have a big pool).

The current 12 are our indoor players who played in the last Asia Cup and the 2017 Kuala Lumpur Sea Games."

Iran are the favourites to win their eighth straight men's gold while Kazakhstan are the favourites in the women's event.

"This tournament will be used to gauge my players ahead of the Philippines Sea Games (Nov 30-Dec 11)," Amin added.

At the KL Sea Games, Malaysia won gold in the men's event and bronze in the women's category

New Straits Times


---

EuroHockey Junior Championship Women 2019 - Day 1
Valencia, Spain

Results 13 July

IRL v RUS (Pool A)     0 - 1
ESP v FRA (Pool A)     3 - 1

Fixtures (GMT +2)

14 Jul 2019 17:45     NED v FRA (Pool A
14 Jul 2019 19:00     ESP v RUS (Pool A)

FIH Match Centre


---

The Netherlands the side to catch in Junior EuroHockey Championships in Valencia



©: Frank Uijlenbroek / World Sport Pics

The EuroHockey Junior Championships get underway in Valencia this weekend with a 17 teams battling it out across the women's and men's competitions for continental glory and potential places at the Junior World Cup.

The women's competition gets underway on Saturday evening on the Spanish coast with the tournament expanded to nine nations this time around.

That is due to a viral infection in the Spanish camp two years ago which left the tournament unable to be completed. In the circumstances, the EHF decided not to have any relegation while Belarus and Russia were both promoted, bringing the entry list to nine.

It means the Dutch head up a group of five, starting their campaign on Sunday against France before playing Ireland, Russia and the hosts Spain during the week.

The Oranje arrive with five of their 2017 vintage still available with co-captain Freeke Moes a star attraction, playing five times in the FIH Pro League already in 2019.

Their panel has five players from AH&BC Amsterdam's squad that won European and Hoofdklasse gold last season – Noor de Baat, Felice Albers, Floor de Haan, Zoe van den Barselaar and Ilse Kappelle – while Den Bosch's Danique van der Veerdonk, Rosa Fernig and Noor Omrani are others who could feature in EHL Women next Easter.

The tournament starts on Saturday evening with Ireland facing Russia while France take on Spain with both games streamed live on www.eurohockeytv.org.

The top two sides will reach the semi-finals while the bottom side in this five-team group will be relegated directly.

Pool B begins on Monday with Germany hosting Belarus and England – led by Holly Munro and with top goalkeeper Miriam Pritchard between the posts – facing Belgium.

The men's competition begins on Monday, too, with Germany facing France first up. The Germans have a wealth of experience at this level wth the likes of Teo Hinrichs, Linus Muller, Niklas Bosserhoff, Jan Schiffer, Mario Schachner and Thies Prinz all playing EHL hockey. The main French threat comes from Timothee Clement and Adrien Coffigniez.

The Dutch face Austria after England meet Poland before the big game of day one pits Belgium against Spain. The Spaniards won a recent Six Nations tournament but there is a wealth of talent on display in both sides.

Waterloo Ducks' William Ghislain is an obvious one to watch for the Belgians with Sam Cortes a star turn for the Spanish.

Euro Hockey League media release


---

33 core probables named for Indian women's national coaching camp

The players have been asked to report to chief coach Sjoerd Marijne for the four-week camp, which will conclude on August 11.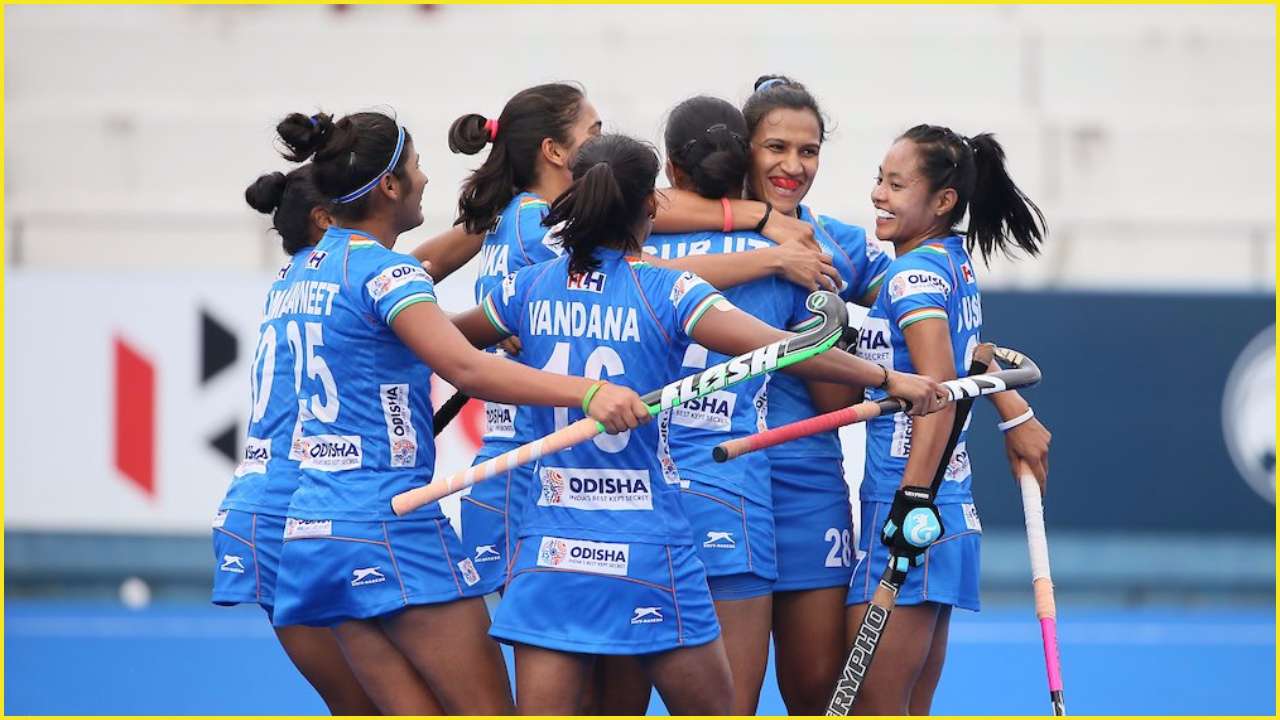 Women's Hockey India @Twiter:

Hockey India on Saturday named 33 core probables for the Indian women's national coaching camp, commencing on Monday at the Sports Authority of India, Bengaluru.

The players have been asked to report to chief coach Sjoerd Marijne for the four-week camp, which will conclude on August 11.

After the conclusion of the camp, the team will travel to Japan for the 2020 Tokyo Olympics Test event, which will be played among India, hosts Japan, Australia and China, starting August 17.

"We will use this upcoming national coaching camp to evaluate our performances at the FIH Women's Series Finals Hiroshima 2019, and identify the areas for improvement," said coach Marijne.

"If you win, everything looks good, but it is important to keep a critical eye on your own performance to take the next step in the right direction. We have a few focus points where we want to improve, and the next four weeks will be utilised in making the improvements," he added.

Marijne said that the upcoming event in Japan will be a good test for his team.

"Our aim is to use the matches against Australia, China, and hosts Japan to improve our own play and prepare well for the FIH Olympic Qualifiers 2019.

"I am very curious to see how we will play against Australia, but before that, we will be focusing on stepping up our training in the next four weeks," he said.

"To play these matches, we will need good fitness, and that is something which will be important for us in the camp as well. These matches give us the chance to test a few things which we can use in the FIH Olympic Qualifiers later this year," the coach explained.

Core probables list:

Goalkeepeers: Savita, Rajani Etimarpu, Bichu Devi Kharibam

Defenders: Deep Grace Ekka, Reena Khokhar, Suman Devi Thoudam, Sunita Lakra, Salima Tete, Manpreet Kaur, Gurjit Kaur, Rashmita Minz, Mahima Choudhary and Nisha

Midefielders: Nikki Pradhan, Monika, Neha Goyal, Lilima Minz, Sushila Chanu Pukhrambam, Chetna, Reet, Anuja Singh, Karishma Yadav and Sonika

Forwards: Rani, Lalremsiami, Vandana Katariya, Navjot Kaur, Navneet Kaur, Rajwinder Kaur, Jyoti, Sharmila Devi, Amandeep Kaur and Priyanka Wankhede.

Daily News & Analysis


---

Wits hockey goes all the way to the top



Wits University are the 2019 University Sports of South Africa tournament men's hockey winners after they beat Stellenbocsh University on 5 July. Photo: Supplied

BRAAMFONTEIN – What a difference four years can make, just ask the Wits University hockey teams.

After five days of the highest level of university hockey, Wits University did enough to return to their campus with a trophy and a promotion.

On 5 July, the Wits' men's hockey team won the 2019 University Sports of South Africa (USSA) tournament while the women's team were promoted to the A-division after winning the B-division. Coaches Ricky West (men's) and Piete Coetzee (women's) were ecstatic with the team's performances and achievements. The men's side beat Stellenbosch University in penalties to win the title.

West, who has been leading the team for the last four years, reflected on their most recent achievement. "We started in the B-division four years ago and won that in the first year. To get a USSA A-division win within such a short period is a testament to the qualities of players and the quality of the programme we have here at Wits."

He went on to say that the team went into the tournament with the goal of ensuring it's impossible for other teams to score against them. The plan worked perfectly as they only conceded two goals, one in the group stages and the last in the final.

One of the Wits hockey players who stood out was Chad Futcher. He was named the player of the tournament as well as top goal scorer of the tournament. Futcher went into the tournament with a heavy heart but ultimately pushed himself to perform at the highest level.

Futcher explained, "It was a big surprise to be named the most valuable player and top goal scorer but it really meant so much to me because of the circumstances leading up to the tournament. My dad passed away the morning we had to leave for the tour, so I stayed to handle all that came with it. But later that day, I decided to leave for the tour because he would've wanted me to go and not let the team down either."

West applauded both teams for being able to reach the top in their respective tournaments. "I am incredibly proud of the group of players that we have. We got some youngsters in, so the future is looking good too," he said.

Wits will now turn their attention to the league as they will be looking to retain their title. Last year they won the league for the first time in their 50-year history and will look to defend it with all they have.

The Northcliff and Melville Times


---

Your view: State school v private school hockey

By The Hockey Paper




A recent report, Elitist Britain 2019, looked at more than 5,000 people in the country's top professions and their educational background and concluded that "a lucky few" were given the most opportunities.

The report stated that half of the medal-winning hockey team at Rio 2016 attended fee-paying schools, although the report was short of other detail in hockey as a whole compared to rugby, football and cricket.

Former GB coach Bobby Crutchley said on Twitter: "This is one of my biggest worries for hockey. I feel it is getting continually harder for state school kids to compete, when it comes to representing GB & England", which sparked a notable response.

Totally agree with this – I'm involved in taking hockey to Schools locally to build links but the schools have limited financial, equipment and staffing resources. Clubs need to provide schools/teachers with help to inspire as EH seem happy with current Private School status quo.
Robin Swindin

As a state school head, huge hockey fan/watcher I can see the huge untapped sporting potential in the state sector in areas of deprivation. Poor facilities, negative cultural capital restrict. Clubs forming strong links with state schools, high profile role models visiting help.
Phil Bailey

You get into a fee paying school you get a good chance of making England juniors. It's hard for you to be dislodged after. That's not to say these players are not very talented but it's a small group relative to the size of the population.
Brian Field

Case study for this would be @SandbachHockey an abundance of talent to harvest from yet the player pathway favours privilege. A State school achieving significant national success whilst limited by access to low quality facilities
Andy Clifton

Don't miss our Euro preview! Subscribe by July 29 to receive your copy!



The Hockey Paper