All the news for Wednesday 19 June 2019

FIH Men's Series Finals Le Touquet-Paris Plage 2019 - Day 5
Le Touquet (FRA)

Results and Fixtures (GMT +2)

18 Jun 2019    UKR v KOR (Pool B)     2 - 8
18 Jun 2019    SCO v EGY (Pool A)     3 - 2
18 Jun 2019      IRL v SGP (Pool A)         11 - 0
18 Jun 2019     FRA v CHI (Pool B)         3 - 0

19 June is a rest day

20 Jun 2019 15:30     SCO v CHI (QF)
20 Jun 2019 18:00     KOR v EGY (QF)

Live streaming and full game replay on https://fih.live (May be Geo blocked if there is TV coverage)

Final Pool Standings

Pool A
| Rank | Team | Played | Wins | Draws | Losses | Goals For | Goals Against | Goal Difference | Points |
| --- | --- | --- | --- | --- | --- | --- | --- | --- | --- |
| 1 | Ireland | 3 | 2 | 0 | 1 | 16 | 4 | 12 | 6 |
| 2 | Scotland | 3 | 2 | 0 | 1 | 10 | 6 | 4 | 6 |
| 3 | Egypt | 3 | 2 | 0 | 1 | 7 | 4 | 3 | 6 |
| 4 | Singapore | 3 | 0 | 0 | 3 | 0 | 19 | -19 | 0 |
Pool B
| Rank | Team | Played | Wins | Draws | Losses | Goals For | Goals Against | Goal Difference | Points |
| --- | --- | --- | --- | --- | --- | --- | --- | --- | --- |
| 1 | France | 3 | 2 | 1 | 0 | 13 | 2 | 11 | 7 |
| 2 | Korea | 3 | 2 | 1 | 0 | 12 | 4 | 8 | 7 |
| 3 | Chile | 3 | 0 | 1 | 2 | 3 | 8 | -5 | 1 |
| 4 | Ukraine | 3 | 0 | 1 | 2 | 5 | 19 | -14 | 1 |
---

Irish Men beat Singapore 11-0 to secure a Semi-final on Saturday

Ireland's Leading Goal Scorer passes the 100 Goal Marker as Ireland beat Singapore 11-0 to secure a Semi-final on Saturday




After a disappointing meeting with Egypt on Sunday the Irish Men's squad picked themselves up to defeat Singapore 11-0. 26-year-old Shane O'Donoghue, Ireland's all-time leading goal scorer, not only provided a hat-trick for himself by the third quarter but also surpassed the 100 international goal mark, making him the first Irish Hockey player to do so, as Ireland top Pool A and secure a semi-final spot for Saturday.

Shane O'Donoghue put Ireland on the scoreboard within the opening minute of the game from a penalty corner. The Irish Men dominated possession in the opening quarter with goals from Conor Harte and Matthew Nelson making it 3-0 to Ireland before the first quarter whistle blew.

The goals kept coming in quarter 2 with Magee and Walker passing around the Singapore circle to provide Stephen Cole the opportunity to finish. A backhand from Shane O'Donoghue gave youngster Ben Walker a chance to touch the ball into the goal to bring Ireland to a 5-0 lead.

Ireland continued to dominate possession throughout the match against a noticeably weaker Singapore, with another five goals in the 3rd quarter. O'Donoghue secured a hat-trick for himself by the third quarter and reached 101 international goals for himself for Ireland. Both Stephen Cole and Conor Harte managed to put away their second goals of the match, while Luke Madeley also got a drag flick from a penalty corner behind Singapore's Sandran bringing the third quarter to a close with a 10-0 lead to Ireland.

After a sweeping move up the field and several shots at the goal, the closing minute of the game saw Lee Cole make the final result Ireland 11-0 Singapore.

Speaking on the result, Head Coach Alexander Cox said, "We knew we needed to score at least four goals today to top the table. We scored 11 which is a good result.

After the big disappointment of losing to Egypt we needed to show ourselves that we are capable of reaching the qualifier play-offs for Tokyo. We did that today. We did so because we were focused from the start and stayed focused until the end.

Now we need to prepare ourselves for a big game coming up."

Today's result means the Irish men have topped their Pool and will move straight to the semi-final stage on Saturday, with their opponent to be decided on Thursday from the 2nd Pool B v 3rd Pool A cross-over match. Saturday's match will be live streamed on the FIH website at: https://fih.live/view/event/48386

Ireland 11 (S O'Donoghue 3, C Harte 2, S Cole 2, L Cole, M Nelson, L Madeley, B Walker)
Singapore 0.

Ireland: D Harte, J Jackson, J Bell, E Magee, S O'Donoghue, S Murray, B walker, D Walsh, C Harte, L Cole, S Cole
Subs: M Bell, L Madeley, N Glassey, M Robson, P Gleghorne

Singapore: B Asali, E Marican, J Grewal, D Vijayan, S Noor, A Zul'kepli, F Johari, M Cheong, B Kahar, N Ng, G Sandran,
Subs: W X Wee, A Ibrahim, N Kumar, Z Zulkarnan, H Vijayan, N Teo, S Muhammad

Irish Hockey Association media release


---

O'Donoghue hits century mark as Ireland take full advantage to top FIH Series group



Shane O'Donoghue celebrates his 100th international goal. Pic: France Federation de Hockey

Shane O'Donoghue's historic hat trick helped Ireland on their way to the all-important top spot in Le Touquet, putting them within one win of a confirmed Olympic qualifier place.

The former Glenanne man's triple saw him pass 100 goals his country in an 11-0 mauling of Singapore saw Ireland leap above both Scotland and Egypt, availing of a big helping hand from the Scots.

Crucially, first in the group allows the Green Machine to advance straight to the semi-finals, avoiding Thursday's quarter-finals. Both semi-final winners will earn a place in next October's qualifiers for Tokyo.

As Ireland arrived in the ground, they received their big boost when they saw Scotland nab a last minute winner against Egypt which opened up the chance of taking first place on goal difference.

The target was a four-goal win and it took little time to eat into that target as O'Donoghue whizzed home the opening goal after just 45 seconds from a penalty corner.

They certainly were not hanging about as a full press terrified the world number 35 side and Conor Harte was on the board in the fourth minute and Matthew Nelson slid in a third soon after.

Stephen Cole finished off the important fourth from a selfless Ben Walker pass; Walker subsequently stole the fifth goal on the line from what would have been O'Donoghue's 100th for Ireland.

He did not have long to wait for that to arrive, though, as he dragged in another corner two minutes after half-time for 6-0 and scored another before the end of the third quarter for good measure, bringing his total to 101.

After that, it was only really a time for statistics as Ireland were completely dominant. Stephen Cole scored a second, scoring more in this game than he had in his 64 previous caps, this time taking in a corner at the stopper position and firing home with a crisp hit.

His brother Lee would finish off the scoring in the final minute – that made it the first pair of brothers to score for Ireland in the same game since the Black brothers did it twice in four days back in 2002 in a 13-0 win over Malta and an 11-0 against Finland.

Harte got a second while Luke Madeley also dragged in a corner but they did finish two goals short of 13, the all-time record win for Ireland's men achieved against Malta and also versus Fiji in 2013 in Delhi. The tie was also a memorable one for Matthew Bell who was presented with his 100th cap on the day.

They now get to relax on the Pas-de-Calais coast for a couple of days before finding out who they meet in the final four.

** Interview with Shane O'Donoghue to follow in the next day or two

Men's FIH Series Finals
Pool A:
Ireland 11 (S O'Donoghue 3, C Harte 2, S Cole 2, L Cole, M Nelson, L Madeley, B Walker)
Singapore 0

Ireland: D Harte, J Jackson, J Bell, E Magee, S O'Donoghue, S Murray, B Walker, D Walsh, C Harte, L Cole, S Cole
Subs: M Bell, L Madeley, M Nelson, N Glassey, M Robson, P Gleghorne, J Carr

Singapore: G Sandran, B Asali, E Marican, J Grewal, D Vijayan, S Noor, A Zul'kepli, F Johari, M Cheong, B Kahar, N Ng
Subs: A Ibrahim, N Kumar, Z Zulkarnan, H Vijayan, N Teo, S Muhammad, W X Wee

The Hook


---

Ireland hammer Singapore to top group and reach semi-finals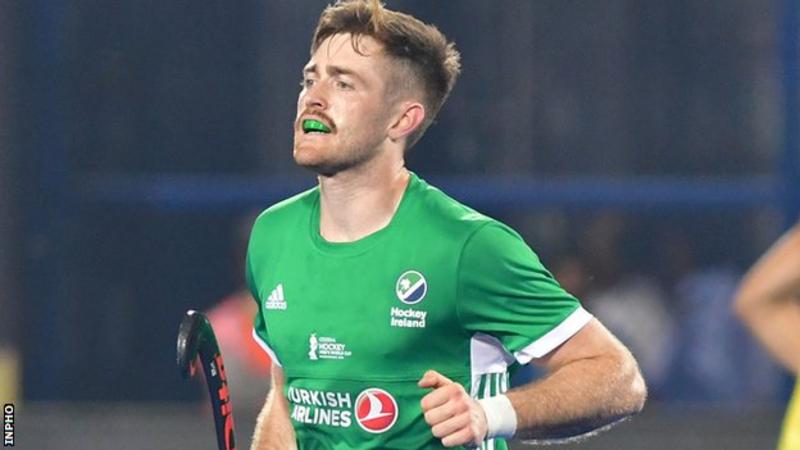 O'Donoghue scored his 99th, 100th and 101st Ireland goals in the Singapore win

Ireland stepped up their Olympic qualification bid by beating Singapore 11-0 in France to reach the semi-finals of the FIH International Series.

The win means Ireland topped the group after Scotland beat Egypt in Tuesday's earlier match in Le Touquet.

Shane O'Donoghue scored a hat-trick to bring his international tally to 101, with Stephen Cole and Conor Harte both hitting a double.

Matthew Nelson, Lee Cole, Luke Madely and Benjamin Walker also scored.

Ireland's semi-final will take place on Saturday and they will learn who their opponents will be after Thursday's crossover matches.

Alexander Cox's side, who are the highest-ranked team in the series, will advance to an Olympic play-off later this year if they reach the final of the tournament.

Scotland had earlier beaten Egypt 3-2 thanks to a last minute goal. Ireland had lost to Egypt on Sunday after opening the tournament with victory over Scotland.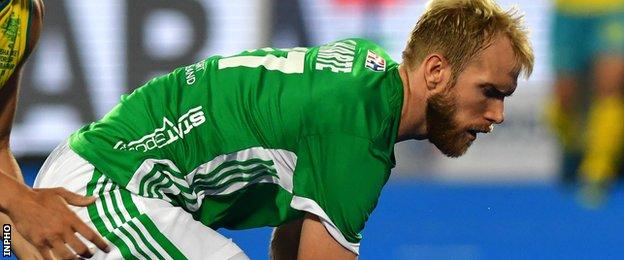 Conor Harte scored Ireland's second and 11th goals

"It was a big improvement from us today after such a disappointing result against Egypt on Sunday," said O'Donoghue.

"To secure such a comprehensive victory and have so many players scoring was a a huge positive for us. Now we will rest up before preparing for the semis."

O'Donoghue opened the scoring for Ireland with a goal from a penalty corner after just 45 seconds and Harte doubled the lead three minutes later.

Nelson finished off a well-worked passing move made it 3-0 at the end of the first quarter and Cole made it four with a counter-attack strike.

O'Donoghue thought he had scored his 100th goal in the 25th minute but Walker got a touch to the ball on the line before it went in, giving his side a five-goal lead at half-time.

O'Donoghue made sure of his 100th two minutes into the third quarter and completed his treble after Cole and Madely scored two inside a minute.

Harte made it 10-0 with another penalty corner goal before Cole rounded off the scoring in the final minute.

BBC Sport


---

Scotland men defeat Egypt with sensational late winner




A sensational late winner by Kenny Bain gave Scotland men a 3-2 win over Egypt in their final Pool match of FIH Series Finals in Le Touquet. The result puts the Scots in at least the quarter finals as they progress in the tournament.

Scotland got off to a quick start and took charge of the opening quarter. Their closest chance for a goal in the opening stages came after some good play by Cammy Golden gave Kenny Bain a half chance but his strike went wide of the goal.

In the second quarter Egypt took the lead through a lovely drag flick by Amr Ibrahim into the top right corner to make it Scotland 0-1 Egypt.

Scotland pegged Egypt back and got a deserved equaliser before half time. A swift attack down the left was finished off by Golden sliding in at the far post to level the scores. Scotland 1-1 Egypt.

In the second half the Blue Sticks were playing some slick hockey as they went in search of goals.

Duncan Riddell put Scotland 2-1 ahead against Egypt when he finished off a lovely penalty corner routine finished at a tight angle. Riddell was himself the injector and after a quick exchange at the top of the D it was Riddell who picked his spot at pace.

Soon after the second there was a great chance to go 3-1 ahead but the ball bounced off a Scottish stick in the Egyptian D, and was cleared.

A late rally by Egypt in the final quarter brought them an equaliser. Another quality Ibrahim drag flick flew into the top left corner to make it 2-2.

There were just 40 second left on clock when Scotland scored a sensational winner. From a penalty corner, another nice routine at the top of the D let Bain smash it against the backboard to make it 3-2.

Goal scorer of Scotland's winner Kenny Bain said, "Egypt are a good team. We didn't know much about them as we hadn't seen them in a long time. We knew they were good, we knew they had some really talented players and a system that was going to be difficult to play against. We dealt with it well; though we made it a bit hard for ourselves at times with missed opportunities, but the good thing is that we're making them.

"We have a really young talented team and what was amazing is that they looked really mature at the end phase there. To get the corner, the composure Cammy Golden showed was incredible, and I'm always ready when the nerves are on and we pulled it off. We're really happy."

Scottish Hockey Union media release


---

FIH Women's Series Finals Hiroshima 2019 - Day 5
Hiroshima (JPN)

Results and Fixtures (GMT + 9)

18 Jun 2019     URU v POL (Pool A)     0 - 0
18 Jun 2019     IND v FIJ (Pool A)         11 - 0
18 Jun 2019     JPN v MEX (Pool B)     6 - 0
18 Jun 2019     RUS v CHI (Pool B)         5 - 2

19 June is a rest day

20 Jun 2019 15:45     POL v JPN (QF)
20 Jun 2019 18:00     CHI v URU (QF)

Live streaming and full game replay on https://fih.live (May be Geo blocked if there is TV coverage)

Final Pool standings

Pool A
| Rank | Team | Played | Wins | Draws | Losses | Goals For | Goals Against | Goal Difference | Points |
| --- | --- | --- | --- | --- | --- | --- | --- | --- | --- |
| 1 | India | 3 | 3 | 0 | 0 | 20 | 1 | 19 | 9 |
| 2 | Poland | 3 | 1 | 1 | 1 | 6 | 5 | 1 | 4 |
| 3 | Uruguay | 3 | 1 | 1 | 1 | 5 | 4 | 1 | 4 |
| 4 | Fiji | 3 | 0 | 0 | 3 | 0 | 21 | -21 | 0 |
Pool B
| Rank | Team | Played | Wins | Draws | Losses | Goals For | Goals Against | Goal Difference | Points |
| --- | --- | --- | --- | --- | --- | --- | --- | --- | --- |
| 1 | Russia | 3 | 2 | 0 | 1 | 12 | 4 | 8 | 6 |
| 2 | Chile | 3 | 2 | 0 | 1 | 12 | 6 | 6 | 6 |
| 3 | Japan | 3 | 2 | 0 | 1 | 9 | 4 | 5 | 6 |
| 4 | Mexico | 3 | 0 | 0 | 3 | 0 | 19 | -19 | 0 |
---

India beats Fiji 11-0 to reach semifinals

Gurjit Kaur converted four penalty corners and Monika scored a brace as India beat Fiji 11-0 in the final Pool A fixture of the FIH Women's series finals at Hiroshima.

Team Sportstar



India completed a 11-0 rout of Fiji to advance to the semifinals of the FIH women's series finals at Hiroshima.   -  Twitter

Penalty-corner specialist Gurjit Kaur scored four as the India women's hockey team defeated Fiji 11-0 and advanced to the semifinals of the FIH Women's Series Finals at Hiroshima on Tuesday.

India, the top-ranked side, had already assured top spot in Pool A before the match began, courtesy a goalless draw between Poland and Uruguay, who finish second and third in the group, respectively.

Lalremsiami opened the scoring for India in the fourth minute and the Fiji goalkeeper saw four more goals go past her by the end of the first quarter. Gurjit Kaur scored the last of those from a penalty corner in the final minute of the quarter. She converted three more penalty corners in the second quarter and gave India an 8-0 lead at the half-time break.

The third and fourth quarters saw more resilience from Fiji as it restricted India to scoring just three more goals. However, it never threatened India going forward.

Skipper Rani Rampal scored India's second goal but missed a penalty stroke in the second quarter. Monika chipped in with two goals. Vandana, Lilima Minz and Navneet scored a goal each as India completed a 11-0 rout of Fiji.

India will face the winner of the crossover match between Uruguay and the team that finishes second in Pool B, in the semfinal.

In the last Pool B match of the day world no 25 stunned world no 16 Chile 5-2 to finish at the top. India will face the winner of the cross over match between Chile and Uruguay in the semifinal on Saturyday, while Chile Russia will face in the winner of the cross over match between Poland and Japan in the second semifinal.

Sportstar


---

FIH Women's Series Finals Valencia 2019 - Day 1
Valencia (ESP)

Fixtures (GMT +2)

19 Jun 2019 11:00     BLR v NAM (Pool A)
19 Jun 2019 13:00     ITA v THA (Pool B)
19 Jun 2019 17:00     RSA v WAL (Pool B)
19 Jun 2019 19:00     ESP v CAN (Pool A)

Live streaming and full game replay on https://fih.live (May be Geo blocked if there is TV coverage)

FIH Match Centre


---

Supergroup South Africa set for Spanish Exam




No sooner had the dust settled on the FIH Hockey Series Finals in India than South African hockey eyes switched to Spain for the Valencia based Hockey Series Final. The tournament is a Road to Tokyo Olympic Qualifying event, where the top 2 teams progress to the Olympic Qualifying Matches later this year.

For South Africa's Hockey Women, there is the added incentive that SASCOC will be using the event as a measure on the competitiveness of the side for inclusion in the Tokyo Olympics, with the goal of a top 2 finish to keep Olympic dreams alive.

Before they headed off to Spain, the team were given a fantastic send off by Supergroup at Bryanston Country Club, where Supergroup CEO Peter Mountford urged the team to take the opportunity and "Make it Count!" This has quickly become a mantra for the team ahead of the tournament with #MakeItCount featuring prominently in the individual's social media profiles.

Supergroup South Africa have been in Spain for almost a week preparing for the tournament that starts tomorrow. It's the first major tournament for Robin van Ginkel as head coach as well as the first for the team under the leadership of Erin Hunter. The beginning of the process offers exciting opportunity and the likes of Bianca Woods, Hannah Pearce, Nomnikelo Veto and Robyn Johnson will look to take full opportunity after recently making their debuts.

South Africa will open their tournament with a game against Wales today at 17:00. They will then take on Italy at 19:00 tomorrow before ending off the group stage against Thailand on Saturday at 11:00. The team that finishes first in the pool will progress straight to the semi-finals while 2nd and 3rd will move to the Quarter Final stage.

The Italians will prove a tough encounter after their impressive showing at the World Cup last year where they made it to the crossover stage. Roberta Carta is a fantastic coach who oversaw victories over China and Korea at the World cup and with Chiara Tiddi they have superb experience in the camp as they look to qualify for the Olympic Games for the first time.

Wales earned their place in this tournament by finishing third at the FIH Open Series in Lithuania. Although they cannot qualify for the Olympic Games due to England being the nominated country Great Britain's Olympic Qualification pathway, the ranking points up for grabs will be enough motivation for the Welsh squad.

The last team in the South African pool are Thailand who finished second at the FIH Open Series in Malaysia. Kornkanok Sanpoung showed her goalscoring prowess in that competition and will be pivotal if Bae Young Wook's team are to cause an upset in Spain.

In the other pool the hosts Spain are joined by Canada, coached Giles Bonnet the ex-South African coach, Belarus and fellow African side Namibia.

You can stream all the games at FIH Live. The links for each game in the group stage is below:




FIH Hockey Series Finals – South African Fixtures

19 June - Supergroup SA vs. Wales – https://fih.live/view/event/48845
20 June - Supergroup SA vs. Italy - https://fih.live/view/event/48848
22 June - Supergroup SA vs. Thailand - https://fih.live/view/event/48948
24 June – Crossovers
26 June – Semi-Finals
27 June – Final

Supergroup South Africa Squad

Erin Hunter (captain), Phumi Mbande (Vice-captain) (GK), Stephanie Baxter, Quanita Bobbs, Kara Botes, Dirkie Chamberlain, Lisa Deetlefs, Lilian du Plessis, Celia Evans, Tarryn Glasby, Robyn Johnson, Marizen Marais, Mmathshepo Modipane (GK), Kristen Paton, Hannah Pearce, Izelle Verster, Nomnikelo Veto, Bianca Wood

Pictures - Hockey 24 Seven / Rayder Media

SA Hockey Association media release


---

Canada's young stars look to make a mark at the Hockey Series Finals



Elise Wong and Anna Mollenhauer. Feature photo: Kevin Underhill

Many field hockey players grow up dreaming of playing at the international level for their country. This week, Anna Mollenhauer and Elise Wong will have that opportunity.

After playing USPORTS and NCAA hockey respectively, Mollenhauer and Wong have been given the opportunity to play for Team Canada at the 2019 Hockey Series Finals in Valencia, Spain. Both Wong and Mollenhauer have test-tour experience but the Hockey Series final will be their first major competition with the senior national team. Being the youngest of the Canadian players participating in the tournament, Mollenhauer is eager, and ready to take the next step, and represent her country on the international stage.

"The chance to wear the Maple Leaf, It's always an amazing opportunity," said Mollenhauer. "It's very exciting to be here. It's an amazing learning experience."

Although she is excited for this tournament, she is also looking forward to more opportunities down the line in her career with Field Hockey Canada assuming all goes well.

"The Olympics have always been a dream of mine. But really at this point, I'm just looking forward to the opportunity to play at the national team level and the chance to keep improving," said Mollenhauer during an interview at training camp two weeks ago. "Maybe one day, go to a multi-sport event. I'd really like to do that."



Elise Wong. Yan Huckendubler



Anna Mollenhauer. EmmaVanMol



EliseWong. Kevin Underhill

Elise Wong (top/bottom) and Anna Mollenhauer (middle) are prepared and excited to get started at the 2019 Hockey Series Finals in Valencia, Spain. Photos/Kevin Underhill, Emma Van Mol, Yan Huckendubler

A current University of Victoria player, Mollenhauer is looking to build on her family's legacy, while creating a name for herself. Her mother, Nancy Mollenhauer, is a former team Canada player herself, and a 2015 inductee to the Canadian Field Hockey Hall of Fame. Although competing at the highest level is a tough challenge, Anna has the support and backing of her family.

"It's definitely nerve-wracking playing in this new environment. The level is a huge step up from university to the national team," said Mollenhauer. "I always like to talk to my parents before games to help calm me down. It's a lot of mental focus as well as the physical preparation."

Wong, on the other hand, played NCAA field hockey at Princeton University, and is thankful for the opportunity she had in the United States, but is ready for the increase in competition playing at the international level.

"I'm very grateful to have played four years of NCAA hockey with Princeton, they have been great developmental years for me," said Wong. "It's been a great help to have played with great coaches and players, and it prepared me well for this."

Being two of the youngest players on this team, they are both looking to begin their journey with Team Canada, and it all starts with the Hockey Series Finals. Although this will be their first big taste of international hockey, they have a veteran support group that will aim to get the best out of their two young players.

"Growing up, I looked up to a ton of the players on the team," said Mollenhauer. "It's kind of a surreal experience being able to play with them and train with them on a daily basis. It's really exciting and a huge honour and privilege being able to represent my country."

Defensive veteran Dani Hennig has 183 international caps for team Canada, and feels that Mollenhauer and Wong are ready to make this leap to the big stage.

"The two of them really performed well during those last few weeks in Europe and our test-series in Scotland," said Hennig during an interview at UVic training camp at the beginning of June. "They slotted in with the group really well and complemented the team's style of play well and definitely earned their spot."

The tournament gets underway tomorrow at 10am PDT when Canada goes up against the host nation Spain. Both Mollenhauer and Wong will look to get a good start at their first major international tournament for team Canada.

Click here for up-to-date viewing information, match recaps and more during the FIH Hockey Series Final. Watch all the games live here.

Field Hockey Canada media release


---

2019 FIH Pro League (Men) - 19 June

19 Jun 2019 19:30 (GMT +2)    NED v ARG (RR)     SV Kampong, Utrech
19 Jun 2019 20:30 (GMT +2)     BEL v AUS (RR)     Wilrijkse Plein Antwerp, Antwerp

Live streaming and full game replay on https://fih.live (May be Geo blocked if there is TV coverage)

FIH Match Centre


---

2019 FIH Pro League (Women) - 19 June

19 Jun 2019 18:30 (GMT +2)     BEL v AUS (RR)     Wilrijkse Plein Antwerp, Antwerp

Live streaming and full game replay on https://fih.live (May be Geo blocked if there is TV coverage)

FIH Match Centre

---

Australia Face Pre-Finals Test In Antwerp

Mitch Wynd




With qualification for the FIH Pro League finals secured, Australia faces an immediate test against a quality Belgian team in Antwerp on Wednesday.

The Kookaburras and Hockeyroos secured their finals places with victories over Germany in Krefeld on Sunday, the men winning 2-1 and the women 3-1.

When Australia last played Belgium – in Melbourne during March, the visitors won both matches in the double header (1-4 men, 1-2 women).

The match will be Savannah Fitzpatrick's 50th cap for the Hockeyroos.

After the victory in Germany, the Hockeyroos are in third place with 30 points from 14 matches and a points percentage of 71.43.

Meanwhile, the Kookaburras got themselves back onto the winners' list after a shootout defeat to Great Britain and a regulation time defeat to Spain.

They remain on top of the FIH Pro League standings with 26 points from 12 matches and a points percentage of 72.22.

Both matches will be televised live on Kayo Sports and FOX SPORTS 503 on Thursday morning, starting from 2:30am (AEST) for the Hockeyroos and 4:30am (AEST) for the Kookaburras.

Follow both @Kookaburras and @Hockeyroos for live match updates.

Thursday 20 June – Wilrijkse Plein Antwerp, Antwerp

Belgium v Hockeyroos – 2:30am AEST
Belgium v Kookaburras – 4:30am AEST

Hockeyroos 19-member squad:

Athlete (Hometown, State)

Jocelyn Bartram (Albury, NSW)
Edwina Bone (Orange, NSW) *Plays for ACT
Lily Brazel (Sydney, NSW) *Plays for VIC
Emily Chalker (Crookwell, NSW)
Jane Claxton (Adelaide, SA)
Kalindi Commerford (Ulladulla, NSW) *Plays for ACT
Madison Fitzpatrick (Cabarita Beach, NSW) *Plays for QLD
Savannah Fitzpatrick (Cabarita Beach, NSW) *Plays for QLD
Rebecca Greiner (Bundaberg, QLD)
Jodie Kenny (Wamuran, QLD)
Rachael Lynch (Warrandyte, VIC)
Ambrosia Malone (Burleigh, QLD)
Georgina Morgan (Armidale, NSW)
Kaitlin Nobbs (Newington, NSW)
Brooke Peris (Darwin, NT)
Grace Stewart (Gerringong, NSW)
Renee Taylor (Everton Park, QLD)
Sophie Taylor (Melbourne, VIC)
Mariah Williams (Parkes, NSW)

Kookaburras 21-member squad:

Athlete (Hometown, State)

Jacob Anderson (Mackay, QLD)
Daniel Beale (Brisbane, QLD)
Tim Brand (Chatswood, NSW)
Andrew Charter (Canberra, ACT)
Tom Craig (Lane Cove, NSW)
Matthew Dawson (Killarney Vale, NSW)
Blake Govers (Wollongong, NSW)
Jake Harvie (Dardanup, WA)
Jack Hayes (Wollongong, NSW)
Jeremy Hayward (Darwin, NT)
Tim Howard (Wakerley, QLD)
Tyler Lovell (Perth, WA)
Trent Mitton (Perth, WA)
Eddie Ockenden (Hobart, TAS)
Flynn Ogilvie (Wollongong, NSW)
Lachlan Sharp (Lithgow, NSW)
Josh Simmonds (Melbourne, VIC)
Matthew Swann (Mackay, QLD)
Corey Weyer (Biggera Waters, QLD)
Jacob Whetton (Brisbane, QLD)
Aran Zalewski (Margaret River, WA)

Hockey Australia media release


---

Hinch expecting Stoop to capture nation's hockey imagination



Hinch v Germany FIH Pro League

HOCKEY history will be made as iconic rugby stadium Twickenham Stoop hosts Great Britain's FIH Pro League double header against New Zealand later this month.

Following unprecedented demand for tickets, Great Britain Hockey struck an agreement with Harlequins to host men's and women's matches back-to-back on Sunday 23 June 2019. 

Ground-breaking technology will see an artificial pitch laid on top of the existing grass surface, meaning twice as many supporters will pack into the Stoop to see the national sides in action.

"We're all so excited to play in such a massive stadium," said GB women's goalkeeper Maddie Hinch, who saved four penalties in a shootout to help her side earn Olympic gold at Rio 2016.

"Hockey has been in such a great place since Rio. People know the sport, they play it, they aspire to be like some of my teammates.

"This is another showcase to get people talking about hockey again.

"There's nothing better than playing at home. For us, it's literally like a 12th man when you've got that crowd roaring everything you do.

"It just gives you that extra bit of energy, determination, not to just get the win for ourselves as a team but to get the win for the guys that have paid the money to be there and have supported us.

"We will give it everything out there and we're very excited for the prospect of the whole event.

The sport's exponential growth has seen youth participation grow by 80% since London 2012, with over 110,000 tickets sold for the Vitality Hockey Women's World Cup.

A record number of tickets have already been sold for the 14,800-capacity stadium at the Stoop – although seats are still available – meaning it would be the biggest crowd to watch hockey in Britain since the London 2012 Olympics.

The men, under Danny Kerry, who led the women to gold at the Rio Games, have performed superbly in the inaugural tournament.

They sit third in the table as the business end of the season awaits and are well in the hunt for a place top four, leading to the Grand Final in Amsterdam, Netherlands at the end of the month.

Hinch says the women, who sit seventh in the Pro League, will go all out to end their campaign on a winning note with new coach Mark Hager's insider knowledge to the fore.

"New Zealand are a fantastic team," said the GB stopper. 

"They tend to play a really attacking style of play, very fast and quick. We have Mark Hager, who used to coach New Zealand, on our side so that's an interesting scenario.

"He'll know that team inside out, and they'll know him. It gives the game an extra bit of edge.

"I'm looking forward to it and I expect end-to-end hockey. I expect the games to be tight, and that's what we want for the fans.

"There will be plenty of goals, hopefully not too many go in the back of our net!"

Great Britain Men and Women face New Zealand in a unique FIH Pro League double-header at the Twickenham Stoop on Sunday, 23 June. Tickets still available here.

Great Britain Hockey media release


---

Ansley: There is no decision, just be there




Hockey meets rugby on Sunday 23 June as Great Britain's men and women play their final FIH Pro League games against New Zealand in a double header match at Harlequins' Twickenham Stoop Stadium

With the biggest attendance since the 2012 Olympic Games expected, Tickets are still available for a historic day which will see hockey played inside a rugby stadium for the first time in the UK.

Ahead of the landmark occasion, GB trio Giselle Ansley, Anna Toman and Amy Tennant all encouraged supporters to secure their tickets for what looks set to be an unmissable day:

"There is no decision, just be there." Said Ansley, "If you watched the Netherlands match on tv and you want a piece of the action then please come and support us on Sunday, it's set to be a fantastic weekend with both the men's and the women's games, so it should be really good."




After playing out a gripping match against the Netherlands in front of a packed Lee Valley Hockey and Tennis Centre last time out, Toman is looking forward to playing in front of an even bigger crowd against New Zealand on Sunday:

"If you saw what happened in the Netherlands match, I think Sunday will be even better. I think the crowd has been absolutely fantastic, the roar when we go forward has been brilliant so if we can get another 5,000 in at The Stoop it will really help us out as a squad so please get your tickets."




Having produced several stunning saves during that match against the Dutch last time out, 'keeper Tennant also spoke of the excitement levels watching live international hockey brings:

"If you've never watched a live game before it's so fast and so good, the atmosphere is incredible. There's still tickets available so please get them as we really appreciate your support."

Tickets for the double header are available t0 purchase by clicking HERE

Great Britain Hockey media release


---
The Hockey Paper launches 'Watch Your 1s' campaign to lift domestic game
With 'Big Stadia Hockey' and history set fare for The Stoop on Sunday, this week we launch our campaign and competition to boost attendances at 1st XI level and reinvigorate match day atmospheres in the domestic game.
'Watch Your Hockey 1s' will begin for the 2019/20 season in a bid to raise the profile of club hockey.
Our aim is to gain more regional and national exposure, while our manifesto calls for club members and general sports fans to watch the men's and women's first teams and to make hockey a vibrant, atmospheric spectacle throughout the season.
The #watchyour1s campaign is geared towards all UK clubs, from Premier Division down to regional teams, from Bowdon Hightown HC down to Bodmin HC. Our campaign calls for clubs to offer enticing match day excitement alongside the top sides' action.

With some leagues starting later in the month and clubs playing away on the opening day, we want to highlight the best initiatives throughout September, be it derby clashes or fundraising events around watching the first teams.
We will be releasing competition and criteria details over the coming weeks. There will be prizes for the best overall work achieved by clubs, which includes examples of vibrant match atmospheres, periphery initiatives on the day and being able to highlight regional media awareness.
We will pick the best winners in one of our autumn issues and we are also urging hockey lovers and clubs to subscribe to our print newspaper to grow the game.
Our campaign will also work in conjunction with England Hockey's HockeyFest, which urges clubs to open their doors and celebrate the start of the hockey season.
The benefits of hosting a HockeyFest event are clear. Launched in 2015, with over 1000 events and 500 clubs participating, research says that 96 per cent of players would like to take part in a HockeyFest again, while each club has gained on average 14 new members by hosting an event.
 HockeyFest has a number of club strategies at its core, including being friendly, welcoming and social. Some clubs host mini tournaments, skills challenges and workshops for on pitch fun, while you can have BBQs, bake sales or picnics as part of a fundraiser.
But you can also use a HockeyFest event as a welcome to the new season. The Hockey Paper is urging clubs to sign up to HockeyFest and organise events with our #watchyour1s campaign and competition in mind.
England Hockey said: "Clubs are the heartbeat of hockey and England Hockey fully supports the Hockey Paper's initiative linking HockeyFest, the work being done by the Hockey Museum on club heritage and encouraging clubs to #watchyour1's.
"Our regular club player surveys and insight makes it clear that players love their clubs for being friendly, welcoming and social and these initiatives endorse this. Building a great social experience around a match day with your clubs own role models at the heart of it is a great approach that a number of clubs already do really successfully."
Star names have also backed The Hockey Paper's campaign, including Barry Middleton, the former GB captain and caps record holder.
He said: "Getting people going to watch and be involved is a good idea to me. It's how we bridge the divide between watching the international and the domestic game that's one of the challenges for the clubs.
"We are behind the European clubs in having the facilities to make people want to be there and making it an event, rather than just the die hard being there. The more we can embrace that the better."
Sign your club up for HockeyFest and keep your eyes peeled for #watchyour1s on social media.
---

Malaysian Women's hockey team will continue to receive funding till end of the year

By K. Rajan

PETALING JAYA: The Youth and Sports Ministry and the National Sports Council (NSC) are considering to continue funding the women's hockey team until the end of the year.

This came in light of the Malaysian Tigress' impressive outing at the FIH Series Finals in Ireland where they finished third last week.

However their hopes of qualifying for the 2020 Tokyo Olympic Games took a dent as they failed to enter the final.

But, the world No. 22, still have a chance to book their ticket if they can be among the four top ranked non-qualified teams after the qualifying rounds.

The Malaysian Hockey Confederation president Datuk Seri Subahan Kamal thanked the Youth and Sports Ministry and the NSC for their support and reckoned that the team deserve it due to their recent track record.

"The funding is initially for them to reach the next round of the Olympic qualifiers but now they are looking at extending it until the end of the year," said Subahan yesterday.

"Just four years ago the team were the whipping boys but look at them now. They have beaten higher-ranked oppositions and have gained respect.

"Things are certainly looking good as we also have a larger pool of players now.

"We actually spent more money on them than the men. Last year we spent RM2mil to expose them on the international stage and it's starting to bear fruit.

"The funding will also keep the team's momentum going and help expose players especially the youngsters to a higher level of competition which is vital for their development."

New Straits Times


---

Picture perfect: hockey takes centre stage in Zimbabwe




Schools across Zimbabwe in Africa are combining sport and art in celebration of Olympic Day on 23 June.

Pupils of all age groups are being encouraged to design a poster as the Zimbabwe Hockey Association (ZHA) pulls out all the stops to raise awareness among children of both the message and ideals of the Olympic movement as well as the inclusivity of hockey as a sport for all.

The competition has already opened and children up and down the country have been tapping into their creativity to come up with original and inspiring works of art.

The winning entries in the various age groups will win new hockey sticks, while the schools that field the most entries will win a coaching course, run by experienced coaches and provided by the ZHA.

The winning posters will be on display on 23 June, at various venues around the country, to coincide with Olympic Day and the winners will also be shown on various social media channels.

There will also be hockey tournaments taking place at five venues across Zimbabwe: Chiredzi, Bulawayo, Mutare, Kadoma and Harare.

At the Harare event, the Zambian national men's and women's teams will be playing international matches and also getting involved in some coaching.

Coinciding with the hockey tournaments, there are also a number of hockey-related coaching courses that will take place on 22-23 June across the five regions of Zimbabwe – again, these events are designed to raise awareness of the sport and demonstrate that anyone from any background or gender can play hockey.

These courses are a chance for aspiring coaches to work alongside experienced mentors, as well as introducing a whole new generation of people to the sport as players.

In addition, the ZHA is also raising awareness about AIDs and HIV, which is a huge health issue in the country. NGOs have been invited to the events to talk to the participants about healthy lifestyles. There will also be an opportunity for coaches, teachers and parents to get some up-to-date information on safeguarding children in a sporting environment.

The message from the Zimbabwe Hockey Association is that hockey provides a happy, healthy environment for participants and truly is a sport for all. "By promoting hockey awareness and giving away hockey sticks and coaching courses it is hoped that more school and players will start to get involved in hockey nationwide," said a spokesperson from the Zimbabwe Hockey Association.

The International Olympic Committee's (IOC) Olympic Day is a world-wide initiative that aims to promote the values of the Olympic movement, as well as get people active and help them discover new sports. The day is underpinned by three pillars central to the Olympic ideals: to move, learn and discover. And, through the work of our continental federations and national associations, hockey is a sport that has embraced Olympic Day wholeheartedly.

#OlympicDay

FIH site


---

Phil Gillanders – A valued volunteer in Tauranga




Phil Gillanders has invested a massive amount of his time into helping grow the game of hockey at the Tauranga Hockey Association. So much so that in May of 2019 Phil was rewarded with the 2019 Volunteer of the Year award at the Hockey New Zealand Annual Awards Dinner.

In recent years Tauranga Hockey has seen an increased number of players at the junior hockey level which Phil has played a large part in. Last year he coached three different teams at primary and intermediate level as well as coaching the Tauranga Under 13 development team. Phil is down at the turf every Saturday morning setting up the turfs and supporting the junior umpires. Needless to say he is a valued member of our hockey community and a volunteer who has made an impact on the game.

We recently spoke with Phil about his motivations and involvement in hockey through volunteering.

Q – How long have you been involved with hockey?

Phil – I have been involved with hockey for 35 years. I have umpired at all levels for around 10 years (including Intercity Prems and National Masters). As my children have become involved in hockey, I have had a greater involvement in youth hockey including being the Golden Sands School Hockey Coordinator, Coach and Umpire for the last 7 Years.

Q – What do you most enjoy about the sport?

Phil – I love seeing the passion and enthusiasm of young players and umpires. It is a great reminder of why I Iove hockey.

Q – What challenges do you often face in your roles?

Phil – I think the major challenge for hockey is cost, I see a lot of players drop off from primary to intermediate and then another large drop off from intermediate to high school grades. It would be great if hockey could get significant funding like other sporting codes in New Zealand to make it more accessible to more players.

Q – What have been some of the most rewarding things from your time involved in the sport?

Phil – I have found coaching over the past two years to be the most rewarding, seeing the Under 13 Development Boys develop and having fun has been amazing.

Q – What support do you get from the local community?

Phil – The support from our local Papamoa community is amazing. I have been fortunate to have had many supportive and encouraging parents throughout my coaching roles who share belief that kids should be allowed to play and enjoy hockey without too much input from the sidelines. I am also very fortunate that my employer (Findatruckload) are very understanding and flexible around my hours of work. Without their support I would not be able to have such a large involvement in hockey. I am also very fortunate to have worked with many other fantastic volunteers in the Tauranga Hockey Community.

Q – What did it mean to win the Volunteer of the Year award

Phil – Surprised and very humbling, as a kid my parents volunteered for so many areas in Hamilton and I guess their ideals rubbed off on me. This award wasn't for me but for my family, my hockey widow wide Lynley and my kids that at times don't really see me much unless being coached by me.

Q – What do you enjoy about coaching?

Phil – Making sure all players have fun while continuing to grow as players. It is a fantastic moment when they click as a team with everyone working together to their full potential.

Q – When did you start playing hockey?

Phil – I have played hockey since I was 12, I stopped playing three years ago due to a knee injury. My highlight was playing for all three Fraser High School teams in one weekend. I also as a goalie won a penalty shot competition at the end of a drawn competition in a men's reserve competition in Hamilton.

The 2019 National Volunteer Week runs from June 16-22 to celebrate the collective contribution of the 1.2 million volunteers who enrich New Zealand every year. We have hundreds of volunteers throughout the hockey community from those that help out at events to the many volunteer umpires, coaches, managers, administrators and board members. We appreciate everything that they do to make Hockey the sport that it is in New Zealand.

Hockey New Zealand Media release


---

European Hockey Federation launches gender balance charter




Hockey continues to be a ground-breaking sport when it comes to equality, with the European Hockey Federation (EHF), in its 50th year, announcing the launch of a new Gender Balance Charter.

The Charter, Equally Amazing, promotes fairness and justice in the sport. Being representative of all within hockey fairly and equally, the EHF Charter aims to ensure everyone, at every level from the boardroom to the pitch, gets access to the same opportunities, no matter gender, age, race, religion or skill level.

EHF President Marijke Fleuren is seeking to ensure that hockey is at the forefront of promoting and sustaining gender balance within sport, calling for the 43 National Associations across Europe to commit to the Charter at the EHF General Assembly in Antwerp on 16th August.

The EHF is leading by example, calling for the election of three females onto its Executive Board in August as it is inviting the Associations to commit to achieving a minimum of 30% from each gender on their Boards.

Speaking about the launch of the Charter, Marijke Fleuren commented: "The European Hockey Federation is committed to upholding the highest governance principles, which for us includes supporting and leveraging the talent of all those involved in hockey."

Marijke Fleuren added: "Hockey is considered a role model to other sports in the area of gender balance area, and with the support of all 43 countries within the federation, we will continue to make strides towards becoming an #EquallyAmazing sport in every way."

The EHF has already taken steps to promote gender balance with the introduction of The European Hockey Female Leadership Forum (EHFL) and expanding the current Euro Hockey League (EHL) to include the top women's clubs in Europe.

The launch of the Charter will be supported by content-led campaign of the same name, #EquallyAmazing, to drive engagement and profile. The campaign features advocates from across the sport, from athletes, coaches, umpires, youth panel members through to board members who share the same values in promoting gender balance and driving change to the sport.

Sally Munday, CEO of England Hockey (and new CEO of UK Sport) commented: "I think the gender balance Charter is really important. If you look across Europe, there are different national associations that are in different places with the balance of men and women. The reality is, we don't want all women or all men – we want a combination of different genders. Hopefully, the Charter will invite people to look at the way their board or organisation is structured and encourage them to diversify. What is proven globally is that balanced businesses, boards and organisations make better decisions."

Laurine Delforge, International Field Hockey Umpire commented: "I was proud to make history with Michi Meister and to be one of the first female umpires appointed by the EHF to umpire the men's game. We are all doing the same role, we are all as passionate about hockey and we are all facing the same challenges. We are the same - the Charter will help to endorse this key message."

Hein Siemerink, Treasurer of the Pinoké Hockey Club commented: "Hockey is a sport for men and women. Diversity brings different opinions, different experiences and different angles in the boardroom that can contribute to greater outcomes. The sport will benefit from the Charter and the new #EquallyAmazing Program."

Maddie Hinch MBE, International Field Hockey Player commented: "#EquallyAmazing is so important for the future generations of the sport because it gives equal opportunities at every level, whether that is the boardroom, grassroots, or even just playing on the pitch itself."

For more information, please visit www.eurohockey.org and EHF social media channels - Instagram: @eurohockeyorg | Facebook: @EuroHockeyorg | Twitter: @eurohockeyorg

#EquallyAmazing

Euro Hockey League media releas