All the news for Tuesday 18 June 2019

FIH Men's Series Finals Le Touquet-Paris Plage 2019 - Day 4
Le Touquet (FRA)

Fixtures (GMT +2)

18 Jun 2019 11:15     UKR v KOR (Pool B)
18 Jun 2019 13:30     SCO v EGY (Pool A)
18 Jun 2019 15:45     IRL v SGP (Pool A)
18 Jun 2019 18:00     FRA v CHI (Pool B)

19 June is a rest Day

Live streaming and full game replay on https://fih.live (May be Geo blocked if there is TV coverage)

Pool standings

Pool A
| Rank | Team | Played | Wins | Draws | Losses | Goals For | Goals Against | Goal Difference | Points |
| --- | --- | --- | --- | --- | --- | --- | --- | --- | --- |
| 1 | Egypt | 2 | 2 | 0 | 0 | 5 | 1 | 4 | 6 |
| 2 | Scotland | 2 | 1 | 0 | 1 | 7 | 4 | 3 | 3 |
| 3 | Ireland | 2 | 1 | 0 | 1 | 5 | 4 | 1 | 3 |
| 4 | Singapore | 2 | 0 | 0 | 2 | 0 | 8 | -8 | 0 |
Pool B
| Rank | Team | Played | Wins | Draws | Losses | Goals For | Goals Against | Goal Difference | Points |
| --- | --- | --- | --- | --- | --- | --- | --- | --- | --- |
| 1 | France | 2 | 1 | 1 | 0 | 10 | 2 | 8 | 4 |
| 2 | Korea | 2 | 1 | 1 | 0 | 4 | 2 | 2 | 4 |
| 3 | Chile | 2 | 0 | 1 | 1 | 3 | 5 | -2 | 1 |
| 4 | Ukraine | 2 | 0 | 1 | 1 | 3 | 11 | -8 | 1 |
---

FIH Women's Series Finals Hiroshima 2019 - Day 4
Hiroshima (JPN)

Fixtures (GMT +9)

18 Jun 2019     URU v POL (Pool A)     0 - 0
18 Jun 2019     IND v FIJ (Pool A)         11 - 0
18 Jun 2019     JPN v MEX (Pool B)     6 - 0
18 Jun 2019     RUS v CHI (Pool B)

19 June is a rest Day

Live streaming and full game replay on https://fih.live (May be Geo blocked if there is TV coverage)

Pool standings

Pool A
| Rank | Team | Played | Wins | Draws | Losses | Goals For | Goals Against | Goal Difference | Points |
| --- | --- | --- | --- | --- | --- | --- | --- | --- | --- |
| 1 | India | 3 | 3 | 0 | 0 | 20 | 1 | 19 | 9 |
| 2 | Poland | 3 | 1 | 1 | 1 | 6 | 5 | 1 | 4 |
| 3 | Uruguay | 3 | 1 | 1 | 1 | 5 | 4 | 1 | 4 |
| 4 | Fiji | 3 | 0 | 0 | 3 | 0 | 21 | -21 | 0 |
Pool B
| Rank | Team | Played | Wins | Draws | Losses | Goals For | Goals Against | Goal Difference | Points |
| --- | --- | --- | --- | --- | --- | --- | --- | --- | --- |
| 1 | Chile | 2 | 2 | 0 | 0 | 10 | 1 | 9 | 6 |
| 2 | Japan | 3 | 2 | 0 | 1 | 9 | 4 | 5 | 6 |
| 3 | Russia | 2 | 1 | 0 | 1 | 7 | 2 | 5 | 3 |
| 4 | Mexico | 3 | 0 | 0 | 3 | 0 | 19 | -19 | 0 |
---

Gurjit Kaur scores four as India beats Fiji 11-0

After impressive victories against Uruguay and Poland in its opening two matches, India will face Fiji in its last Pool A encounter. Catch the live updates from the match here.

Team Sportstar



The India women's hockey team during a practice session ahead of the FIH Women's Series finals.   -  PTI

Hello and welcome to Sportstar's live coverage of the India versus Fiji at FIH Women's Series Finals in Hiroshima. I am Amal and I will take you through the proceedings today.

Q4

FULL TIME and India beats Fiji 11-0. The semfinals are up next for top-ranked side, India, which finishes top of Pool A with 9 nine points and a goal difference of +19.

The winner of the crossover match between Uruguay and the team that finishes second in pool B will face India in the semifinal.

The Pool B matches between Chile and Russia, and Japan and Mexico are on June 18.  Chile leads the Pool with 6 points, while Russia and Japan are on 3 points each. Russia is second because of its superior goal difference.

57' GOAL! India leads 11-0 as Navneet joins the party with a powerful strike into the net.

51' GOAL! What a shot, Lilima Minz! It's a reverse hit (what's also known as a tomahawk) from the edge of the circle and it darts into the far corner. That, I think, is the best goal I've seen in this match, and there have been 10.

India has missed quite a few chances this quarter, and the last. Coach Marijne had emphasised that India's Conversion rate needs to improve.

48' Fiji has improved considerably as the match has progressed, especially in defence. That's the second penalty corner it has thwarted this quarter and it even manages a good counter off it. The passing in the final third lets it down.

Q3

After scoring 8 goals Q1 and Q2, India's looked more reserved in the third. The Indian women have managed just the one goal and Fiji seems to have found some rhythm in its play, albeit rare.

45' India gets a chance to take the score to double digits from a PC but it's a missed chance.

44' Fiji has been finding its rhythm and seeing more of the ball recently. The Indian women are still in total control.

38' Fiji's defence has looked stronger this quarter and it has been successful to keeping India's scoring down to just one goal so far this quarter. The Indian women, too, seem to be trying to new things rather than being more direct.

33' GOAL! India tries out a different strategy from the PC this time and it comes off. A goal for Monika. Now is the time to experiement, may be the advice from coach Sjoerd Marijne. A 9-0 lead now.

It's been a reserved start to the third quarter from India but it has won another penalty corner.

Q2

It's been a similar story in the second quarter as well. India has scored four and missed quite a few chances as well, the most significant being skipper Rani Rampal's penalty stroke miss. With an 8-0 lead after two quarters, the Indian women are cruising.

30' The final five minutes of the second quarter has seen a lull in the goalcoring. That's the longest period we've gone without a goal and most of it is down to Fiji enjoying their best spell in the game. They've kept possession and won tackles but there's just not been enough skill to make those forward plays and create goalscoring chances.

25' Woah! We seem to have even some football going down there. I say that because I've just seen a sliding tackle from a Fiji player, in the area. She must have slipped, but it's a penalty stroke. And Rani Rampal misses it!

22' GOAL! Ahh, this time Fiji's unfortunate. It's a PC and Gurjit Kaur tries to flick it into the top corner. The goalkeeper gets a touch on it, but the power behind the shot takes it in anyway. 8-0 to India.  A fourth for Gurjit.

21' GOAL! It's a fourth goal from a...seventh penalty corner? I've lost count. Anyway, it's a hat-trick for Gurjit Kaur and 7-0 to India.

20' Fiji sees the other end of the court since a breif foray into India's half in the last quarter. Nothing comes out of it, though.

18' We have another GOAL! India leads 6-0 with an early goal in the second quarter. The drag flick expert, Gurjit Kaur, scores her second.

Fiji was never going to be much of a challenge for India. What's to be seen is how ruthless they'll be. Are the Indian women looking to break their previous record of 24-0 against Nepal in 2016?

Q1

And that's the end of the first quarter. No surprises here. India has been dominant in its last pool A fixture. A 5-0 lead after the first quarter.

15' 5! A second goal from a penalty corner, as Gurjit Kaur converts with ease with 30 seconds left in the first quarter. Fancy another one before the clock runs down, India?

12' Ditto, GOAL! If it keeps going like this, I might just copy-paste 'GOAL!' in every update I make.  Vandana this time.

11' GOAL! Someone has opened the taps finally, and goals are flowing. India leads 3-0 as Monika dribbles through a crowded D and flicks it past the goalkeeper.

10' There it is. GOAL! Fourth time's the charm as captain Rani Rampal scores from the fourth penalty corner. It's executed perfectly this time.

9' It's a third penalty corner for India and yet another missed opportunity. The shot is straight at the keeper and blocked.

6' India wins its second penalty corner. It's a poor one and a waste of good opportunity. It's still as you expect, quite one-sided, with India hogging most of the possession and play.

5' Penalty corner to India. It's not 2-0 yet, it's blocked by the keeper, but expect to see quite a few goals today.

4' GOAL! India takes the early lead and it came off a Fiji player. Lalremsiami hoodwinks the Fiji defense and the ball takes a touch off a Fiji player and is into the goal through the goalkeeper.

1' And we're under way in the first quarter. And India has already created a couple of chances up front. Fiji's 'keeper is alert to the danger.

We are just 10 minutes away from the start and before that here's India's starting XI.

India's Starting XI

Rani (C), Gurjit, Deep Grace, Nikki, Savita (GK), Lalremsiami, Navneet, Sunita, Sushila, Lilima, Neha

The Preview

The Indian women's hockey team, which started its campaign at the FIH Women's Series Finals with two impressive victories against Uruguay and Poland in its opening two matches of the tournament, will now be playing Fiji in its last Pool A encounter on Tuesday.

India, ranked ninth in the FIH rankings, is also the top-ranked team taking part in the tournament, and will look to secure a semifinal berth with a victory against Fiji at the Hiroshima Hockey Stadium.

Conversion rate needs to improve, says Marijne

Chief coach Sjoerd Marijne is satisfied with his team's performances in the first two matches against Uruguay and Poland respectively, but believes that there is still room for improvement.

"There is no doubt that the team has played well in the first couple of matches, but we want to be performing at the highest level possible, and I believe that there is still room for improvement. Our conversion rate can definitely be higher and if that happens, it will be easier for us to win the matches," said Marijne.

FIH Series Finals: Gurjit brace helps India to 5-0 win over Poland

"What has impressed me in the first two matches has been the fact that we have created good field opportunities, and have also been able to earn more penalty corners. The team is enjoying themselves on the pitch, and that is good to see as a coach that your players are enjoying each other's company," he added.

The 45-year-old Dutchman also feels that his team is now combining well.

"The most important aspect for me is to see how the players enjoy playing together, and how they combine on and off the field. When you keep trying to combine on the field, it results in everybody getting an opportunity to play and perform as well," he said.

Sportstar


---

Conversion rate needs to improve, says Marijne

At number nine, India is top ranked side in the tournament and has conceded just one goal in two matches played so far. It beat Uruguay 4-1 before blanking Poland 5-0.



Sjoerd Marijne, chief coach of the Indian women's hockey team alongw with skipper Rani Rampal at the SAI in Bengaluru.   -  SPECIAL ARRANGEMENT

Tackling a lower-ranked Fiji should not be problem for the Indian hockey team at the FIH Women's Series Finals but chief coach Sjoerd Marijne says the job will get easier if his side could improve its "conversion rate".

At number nine, India is top ranked side in the tournament and has conceded just one goal in two matches played so far. It beat Uruguay 4-1 before blanking Poland 5-0.

A victory against World No. 44 Fiji in its last Pool A match will ensure a semifinal place for the Rani Rampal-led Indian side on Tuesday.

"There is no doubt that the team has played well in the first couple of matches, but we want to be performing at the highest level possible, and I believe that there is still room for improvement. Our conversion rate can definitely be higher and if that happens, it will be easier for us to win the matches," said Marijne.

"What has impressed me in the first two matches has been the fact that we have created good field opportunities, and have also been able to earn more penalty corners. The team is enjoying themselves on the pitch, and that is good to see as a coach that your players are enjoying each other's company," he added.

The 45-year-old Dutchman said his team is now gelling well.

"The most important aspect for me, is to see how the players enjoy playing together, and how they combine on and off the field. When you keep trying to combine on the field, it results in everybody getting an opportunity to play and perform as well," he said.

The chief coach said the team is focused on winning all the matches and won't take any opponent lightly.

Sportstar


---

Canada looks for top-two placement at FIH Series Finals in Valencia

Team Canada departs for next step towards Olympic qualification



Feature Photo: Emma Van Mol

The long-awaited time has arrived. Field Hockey Canada's Women's National Team departs next week for Valencia, Spain for the FIH Hockey Series Finals. The goal: simple. Finish in the top two at this tournament and move one step closer to the Olympics. Getting here: not so simple.

The team started their journey with a tournament victory last year in the Hockey Series Open. They then took off to Belgium for eight months of centralized training and competition. Successful test tours to Spain, China and most recently Scotland has the team in peak form heading into Valencia. The top two finishers from next week's tournament will advance to the final stage of Olympic qualification.

Dani Hennig, veteran defender for Canada said the team feels prepared and very ready to tackle next week's challenge.

"This past year we spent in Belgium, the focus has been about this tournament, Pan Ams and hopefully the two-game qualifier," Hennig said. "Now we get to the fun part. We get to actually put all our hard work to the test. We've been playing really well, and we know we have to bring it on the day."

According to head coach, Giles Bonnet, the team has made tremendous progress in the past 12 months and have put themselves in the best position heading off to Spain.

"Our objectives over the past year was skill acquisition and getting our players to play in more competitive games," Bonnet said. "I think we've made the steps we've needed in those areas and the team is feeling very confident."

The team wrapped up a week-long training camp in Victoria, BC this week. According to Hennig, it was refreshing to be on home soil, training for the first time in many months.

"There's little things about being at home in Canada, it's really refreshing," she said. "It's a perfect reset after a long-hard training block away. It's good for us to come home, get in a good place mentally so we can take the next step."

UVic's own Anna Mollenhauer, daughter of FHC Hall of Fame inductee, Nancy Mollenhauer, was selected for the final roster heading to Valencia. This tour will be her first major competition for the senior national team. She said, at this stage in her career, she's doing her best to absorb everything and improve every time she hits the field.

"Between university and the national team, the level a huge step up," Mollenhauer said. "It's definitely nerve-wracking. I just try to learn as much as I can. I like to focus on the basics; just trying to make sure my receptions and passes are good, then I can elevate from there."

View the full touring roster below for the 2019 Hockey Series Final Valencia. For recaps, results, photos and live streaming information, keep checking in on our event page. Canada's first match is against Spain on June 19.

ROSTER
PLAYER NAME    CAPS
Amanda Woodcroft    110
Anna Mollenhauer    4
Brienne Stairs        158
Dani Hennig        183
Elise Wong        8
Hannah Haughn    174
Holly Stewart        87
Kaitlyn Williams    132
Karli Johansen        128
Kate Wright        211
Lauren Logush        44
Maddie Secco        122
Natalie Sourisseau    136
Nikki Woodcroft    55
Rachel Donohoe    71
Sara McManus        170
Shanlee Johnston    110
Steph Norlander    109

Field Hockey Canada media release


---

Korea crash Irish party but Green Army reflect on Olympic qualifier spot after joyous week



Player of the tournament and top goalscorer Anna O'Flanagan. Pic: Jonathan Porter/PressEye

When Jina Kang clipped home the killer goal with six seconds on the clock, an eerie quiet fell over a sold out Banbridge as the game was up in pursuit of FIH Series gold, a slightly deflating end to a joyous week for the Green Army.

The cheers soon rose again and the deflation did not last too long with the primary target of an Olympic qualifier place assured with a strong chance of it being a home date late in October into the bargain.

"We had our eyes set on winning this tournament and the ranking points that come with it," Gillian Pinder said afterwards.

"Of course, it is disappointing but we are still qualifed for that playoff and still have pretty big fish to fry in the Europeans in August. It's not the end of the world but it is a disappointing end to a really good week."

"We can reflect on a golden ticket for October," Roisin Upton added. "It has been a fantastic setup and such an enjoyable week being able to host a tournament like this in Ireland."

In addition to the title, the value of this tie was to boost ranking points which would have boosted the chances of hosting that qualifier.

But Korea were different gravy to anything else Ireland faced this week as the cruise control of the last four outings was replaced by a gun-fight.

Ireland were wary throughout of the Asian side's long overheads which they managed early on but struggled with when the game became stretched in the closing stages.

The step up in quality was evident early on. Ayeisha McFerran had been a spectator for most of the event but she was called on frequently in a cracking first half.

The 2018 world goalkeeper of the year had to boot clear a number of chances before the big break as Korea gave as good as they got.

Ireland, for their part, were picking exquisite angles for their long passes with Roisin Upton and Shirley McCay's vision a feature while Zoe Wilson relished her role in stepping out from the back.

From one, Chloe Watkins drew an incredible save from Soo Ji Jang's out-stretched toe while the Korean keeper also slid out to deny player of the tournament Anna O'Flanagan.

Upton had a goal ruled out from a penalty corner with Chloe Brown deemed to have obstructed the first runner in the 21st minute.

Both Upton and interim coach Gareth Grundie lamented the lack of video referral at this event, a staple in competitions of this magnitude. It was a turning point.

"I didn't think there was much wrong with the goal we scored but not having video referral had an impact," said interim coach Gareth Grundie.

"We sent a few emails [about video reviews] when they announced it wasn't happening because we were worried about it given it's such a high importance event. Credit to Korea, after that, they came at us a bit more."

The third quarter initially saw Ireland make most of the play before it became ragged with Korea coming back strong with Lena Tice twice called on to save off the line.

And they broke the game their way 24 seconds into the final stanza as a long overhead caused commotion from tip off as Hyunji Kim eventually wriggled free to lift over McFerran for 1-0.

With four minutes to go, Hyejeong Shin slipped in Eunbi Cheon to apply a first time finish. Ireland have fought back against Korea from worse positions, notably with two final minute goals at the 2016 Hawkes Bay Cup, and Nicci Daly's effort gave hope with 85 seconds left.

Korea, though, had the last laugh when a pitch length overhead was missed by everyone except Jina Kang who finished into an open net.

It was interim head coach Gareth Grundie's last game in the role with Sean Dancer taking on the role for the Olympic qualifier to be played in October or November.



Chloe Watkins on the attack. Pic: Jonathan Porter/PressEye

"It would have been nice to finish with a 100% record," Grundie said of his time in charge. "The girls have been brilliant, very receptive and supportive as have the rest of the staff. I am looking forward to learning more from Sean in the build-up to the Euros in August. Back to assistant now!

"Head coach is something I'd love to do in future but I probably need a bit more experience.

"We caught them a little bit with our press and did well taking down their aerials. We knew that would be a main threat; they adapted, picked off our weaknesses so we changed again and were really on top in the third quarter. This is the standard we want to play, if not above, and it was a good challenge."

Nonetheless, he is quietly confident the side have done enough to gain a home draw for the Olympic qualifiers. Plenty of water has to pass under the bridge, not least those Europeans but a solid performance there should set up another big weekend out for the side in the autumn.

And the players are relishing the chance to grow their fanbase further in the future.

"Warming up and the PA was on the speaker getting people to move in," Pinder said. "We don't get that in hockey. Banbridge did a brilliant job. The stadium looks great; it was so well run and we are just disappointed we didn't deliver the goods.

"It was brilliant this week," Upton added. "We couldn't have wished for more. The setup here in Banbridge was phenomenal with the tented village. The weather has been bad all week and the crowds still came out. We can only hope to host more of these, particularly if we get our home base in Dublin, that will happen."

Women's FIH Series Final
Ireland 1 (N Daly) Korea 3 (H Kim, E Cheon, J Kang)

Ireland: A McFerran, R Upton, K Mullan, S McCay, B Barr, C Watkins, L Colvin, N Daly, H Matthews, A O'Flanagan, Z Wilson
Subs: C Brown, L Tice, G Pinder, S Hawkshaw, D Duke, A Meeke, E Buckley

Korea: S J Jang, Y Lee, H An, E Cheon, J Kang, E Cho, Y Lee, H Jang, H Cho, H Shin, S Lee
Subs: J Seo, S J Choi, S Kim, E Yu, H Kim, S Kang, Y Choi

The Hook


---

From battling depression to proving himself all over again, Ramandeep Singh's unfinished story of redemption

Anish Anand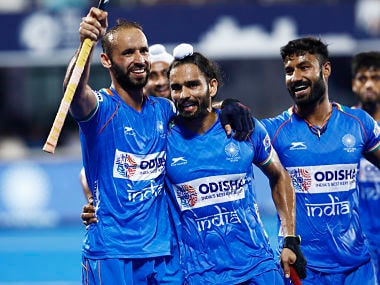 A smiling Ramandeep Singh (L) after scoring against Japan. Hockey India

Bhubaneswar: Ahead of the FIH Men's World Series in Bhubaneswar, Ramandeep Singh had his back to the wall. He was making a comeback to the national team after missing the action for almost a year. He suffered a chondral fracture in his right knee during India's match against Pakistan at the FIH Men's Champions Trophy in June last year, and that was expected to rule him out of action for two years.

It was a crucial year for the Indian men's hockey side, with the team set to play at the Jakarta Asian Games and later the men's World Cup in Bhubaneswar. Ramandeep missed both the tournaments. Fighting his way out of injury and making a 'quick' recovery, the Indian forward returned to the field during Senior Men's National Championship for Punjab, but suffered a stress fracture in his ankle. A career-threatening injury and the frustration of missing key tournaments had pushed Ramandeep into depression.

Playing at the Kalinga Stadium in the just-concluded FIH World Series, Ramandeep had hoped that the bad days are well behind him. He did all he can to get himself fit for the event in Bhubaneswar. The start was slow, the goals were not coming for the forward despite India scoring heavily against the likes of Russia and Uzbekistan. Akashdeep Singh, who scored a hat-trick against the Uzbeks, supported his strike partner after the match, saying it's difficult to make a comeback after back-to-back injuries, and Ramandeep's time will come.

His time came in the semi-final. A match-winning performance saw him score two crucial goals against Japan and helped India make it to the Olympic Qualifiers.

"When you are making a comeback after a year, it takes little time to combine, because the structure changes and there are new players as well. And also, you need a bit of confidence," Ramandeep said after India beat South Africa in the final of the FIH World Series in Bhubaneswar.

Ramandeep says he was playing good but the goals were not coming. He knew it was just a matter of time, and was happy to score goals against Japan in a tricky semi-final.

"Happy to perform when the team needs the most. In Asian Games, we scored heavily but lost an all-important semi-final. Semi-finals are the most important games. The game against Japan was a crucial game for us. The pressure was high because we have to make it to the Olympic qualifiers, we played as a team and we played good hockey to beat Japan."

Ramandeep was confident that India would clear the group stages, but the knockout matches are always tricky. He was also confident about his skill-set, but he wanted to prove himself in crunch situations. Overall, he is satisfied with his efforts in the tournament.

"Japan was not an easy game. I knew we will not face much hurdles in our Pool matches, but the knockouts are tricky. I was confident about my skills, but I wanted to prove them (again). It's not easy to make a comeback after two back-to-back injuries. I worked really hard. I thank Hockey India, SAI and all my coaches who believed in me and now I can say that I have proved myself."

After the semi-final triumph, India did go a step further, beating South Africa comfortably in the final. An upbeat Ramandeep is finally at peace after a turbulent year in which he spent quite a few dark days, recuperating at SAI Centre in Bengaluru and at his home. In order to fight the depression, Ramandeep took to reading and constantly spoke to a former India international, who he considers as his big brother.

"Yes, I read quite a few motivational books because I had a difficult injury. One in a million suffer this kind of injury. I went into depression. I was performing good but then I missed major tournaments because of the injury. At that time, you need some motivation," Ramandeep said.

"I used to speak with Kanwalpreet Singh Chahal. He's a former hockey player who played quite a few matches for India. He's currently a SP (Superintendent of Police) in Punjab Police. He's like a brother to me. He motivated me a lot. He also suffered a knee injury and had to quit playing, so he understood my condition. He told me I had to continue playing."

The injury trouble hit the Indian forward at a worst possible time. Apart from missing big tournaments, Ramandeep was also gutted because he was at the peak of his sporting prowess. He knows it will take some time to get back to the previous fitness levels, but he's leaving no stone unturned to get back to his best.

"As you saw, I played an entire tournament, so fitness-wise, I'm ready to play. But I have to work harder in the next national team camp. When I got injured last time, I was at my peak. Now, I'm trying to get back to that level. The more matches I play, I feel like regaining my best."

It doesn't take a lot of time for things to change in India hockey. After the World Cup, Indian men's hockey team is now under a new coach Graham Reid. Ramandeep understands that his role in the current national setup has changed and he's up for the challenge.

"Earlier, we used to play with three strikers. Now, we play with two strikers up front and two attacking midfielders. So yes, my role has been slightly changed. Now, I have to do the defensive duty as well and also try to make assists. I have to combine with forward players like Akashdeep and Mandeep. And I think we did that really well throughout the tournament," Ramandeep said.

The win in the final ensured India get the maximum rankings points from the tournament and will now gear up for the two-legged Olympic qualifier, set to be played in October and November. Ramandeep will know that his redemption story has just started. He will aim to help his team qualify for the Olympics first and then try to for the ultimate glory in Tokyo next year.

Firstpost


---

Field Hockey Canada announces Pan American Games Men's National Team roster

Pan American Games 2019: Olympic qualification on the line in Lima

VANCOUVER — Field Hockey Canada, in partnership with the Canadian Olympic Committee, officially announced the athletes nominated to represent Canada in the men's field hockey competition at the 2019 Pan American Games. Field hockey will take place July 29 to August 10, 2019 in Lima, Peru.

The Pan American Games are part of the Olympic pathway with the winning team automatically qualifying for Tokyo 2020. Canada's Men's National Team enters the competition as the reigning silver medallists, having lost to Argentina at TORONTO 2015.

Canada's field hockey team has a history of reaching the top of the podium at the Pan American Games. They have four gold medals, with their most recent coming in 2007, which qualified them for the Olympic Games Beijing 2008. Since 2007, they've earned two consecutive silver medals and will be looking to earn their fifth gold in August to take that vital Pan American spot at the Olympic Games.

The Men's National Team is fresh off a tournament victory in Malaysia at the FIH Hockey Series Finals. The team defeated China, Italy and Malaysia in the elimination rounds to claim the gold medal and a spot in October's final Olympic qualification series.

Head coach Paul Bundy was happy with how the team performed under pressure in Malaysia. He is confident with the team they have selected and is looking forward to the opportunity to keep the team's winning ways going at the Pan American Games.

"It's always good to win a tournament and particularly in the Olympic qualifying process," Bundy said. "Now our sights turn to the Pan American Games; it's the most important tournament of the quad."

Reigning Olympic champion Argentina is the tournament favourite. Currently ranked fourth in the world, Argentinian squads have won three of the last four Pan American Games. Bundy knows that the tournament is going to be challenging and knows it will be a great test of character for the team.

"Argentina is the Olympic champion and other Pan Am teams are playing well right now. We know this will be a difficult tournament and need to prepare well," he said. "The objective is clear: to win and qualify directly for Tokyo." Not getting ahead of himself, he added, "we will need to play one game at a time and be smart in the way we play through to the crossover games and put ourselves into the finals."

Susan Ahrens, Field Hockey Canada CEO and former international field hockey player, knows how important these multi-sport events are and is excited to support and follow the teams as they go through the competition.

"The Pan American Games are an amazing multi-sport games. This year's Pan American Games is particularly significant as both of our national teams are serious gold medal contenders," Ahrens said. "The Canadian men's team is coming off the back of winning an FIH tournament and I know they are going to do everyone proud with their performance in Lima. I wish them the best of luck. We are proud of our staff and all our athletes and look forward to cheering them on to success!"

Canada's Lima 2019 women's field hockey team will be announced in early July.

Field Hockey Canada would like to thank the Canadian Olympic Committee, Own the Podium, Sport Canada and our other partners for their continued support of field hockey in Canada.

ROSTER
| PLAYER NAME | CLUB TEAM | HOMETOWN | CAPS | POSITION |
| --- | --- | --- | --- | --- |
| Adam Froese | India Club | Edmonton, AB | 179 | MID |
| Balraj Panesar | UBC Thunderbirds | Surrey, BC | 60 | DEF |
| Brandon Pereira | United Brothers | Surrey, BC | 50 | DEF |
| Brenden Bissett | Vancouver Hawks | New Westminster, BC | 120 | MID |
| David Carter | United Brothers | Vancouver, BC | 182 | GK |
| Gordon Johnston | Vancouver Hawks | Vancouver, BC | 161 | DEF |
| Iain Smythe | Vancouver Hawks | Vancouver, BC | 191 | FWD |
| James Kirkpatrick | West Vancouver FHC | Vancouver, BC | 81 | MID |
| James Wallace | UBC Thunderbirds | Vancouver, BC | 31 | FWD |
| John Smythe | Vancouver Hawks | Vancouver, BC | 102 | DEF |
| Keegan Pereira | HTC Mullheim | Toronto, ON | 163 | FWD |
| Mark Pearson | West Vancouver FHC | Delta, BC | 264 | FWD |
| Oliver Scholfield | Vancouver Hawks | Vancouver, BC | 53 | FWD |
| Scott Tupper | West Vancouver FHC | Vancouver, BC | 296 | DEF |
| Sukhpal Panesar | United Brothers | Surrey, BC | 133 | MID |
| Taylor Curran | West Vancouver FHC | North Vancouver, BC | 169 | MID |

TEAM STAFF

Paul Bundy – Head Coach
Gregg Clark – Assistant Coach
Kelly Vanry – Touring Manager
Guy Robertson – IST/Physio
Paul Mounter  – Video Analyst
Dr. Navin Prasad – Medical Doctor

Field Hockey Canada media release


---

Pinner excited to make history at The Stoop




On Sunday 23 June Great Britain face New Zealand at Harlequins' Twickenham Stoop Stadium in the final home games of the FIH Pro League with the men commencing the day at 2pm before the women's match at 4:30pm – both games will also be shown live on BT Sport.

It will be the biggest attendance since the London 2012 Olympic Games with tickets still available for a historic day that will see hockey played in a rugby stadium for the first time in the UK using ground-breaking new technology - click HERE to get your tickets.

Ahead of the landmark day, GB men's goalkeeper George Pinner revealed his excitement at the venture:




"It's really exciting, being able to put a pitch down in a stadium like The Stoop is something that we've not been able to see in this country before. This is on another level in terms of the technology so it's going to be fantastic for hockey in this country to see that happen. By all accounts tickets are selling well and I think it'll be a great experience as a player.

"I think it'll be brilliant, our support at Lee Valley Hockey and Tennis Centre has been incredible across the FIH Pro League and I think it's got better game on game. I'd love to have The Stoop looking full and to hear the crowd from the first minute really cheering us on. It's a bit of a cliché but having that 12th man would be fantastic."




The team has been involved in some gripping matches during the FIH Pro League campaign, notably coming from 4-1 down to beat Spain 6-5 earlier in the league, with Phil Roper and Sam Ward sitting joint second in the top scorers list as the team has demonstrated it's attacking strengths.

Ahead of Sunday's match, Pinner spoke about the excitement levels the team has brought with the side still holding hopes of a top four finish should other results go their way:

"Our game is attacking, it's on the front foot, if you speak to anyone who's been to any of our home matches, even the ones we've lost, they have not been dull affairs.

"There's a lot of excitement in the squad. Competition for places is great at the moment, we've got some real depth, so training has been a really good quality and very competitive because everyone wants to be in that 18-man squad.

"There's also other things on it, we could potentially still qualify for that top four but as a team the focus is on playing well to get picked then playing well to deliver a really good performance for people to cheer about.

"We're approaching the game in the same way regardless of what the result could mean for us in terms of our finish in the FIH Pro League. Most importantly for us, it's been a great competition for us, both in terms of results and the attendances of support we've had. We just want to keep that going and end with what will hopefully be our best performance, our best crowd and who knows what else it could bring with it.

"To anyone considering whether to go to The Stoop on Sunday I'd say please do come and give us a try. I think anyone that has watched us in the FIH Pro League before, even if they're new to hockey, has come away saying that it was a great afternoon's hockey, so please do come and support us on Sunday."

Tickets for the game are available to purchase by clicking HERE

Great Britain Hockey media release


---

Burras Finish Fourth in U21 Eight Nations Tournament after Tough Match Against Belgium

Mitch Wynd




The Australian U21 men's team, the Burras, are leaving Europe after a week of playing some of the top hockey nations.

The men, led by Head Coach and former Kookaburra player Ben Bishop, faced Belgium in a tough bronze medal match on Sunday.

Two goals, both by Australia's Michael Francis, were matched by the Belgians, sending the teams into a shoot-out competition which saw Belgium take home the medal 2-2 (4-3). Germany beat Spain to claim gold in a match umpired by Australian Jim Unkles (pictured below).




Australian Goal Keeper Christian Starkie was voted Goal Keeper Of The Tournament.

Ben Bishop said that while they had hoped to return with a medal, the team had played well and learnt much from the experience.

"It was a tough way to finish, but I've been so proud to see how each of the players have applied themselves throughout the tournament.

"We have had some invaluable experiences, both on and off the field. The tough competition from some incredible teams has given us great focus on where we need to develop, particularly around our abilities in ball execution and being consistent performers throughout a match," said Bishop, adding he had no doubt the tour helped a number of players get closer to their ambition to represent Australia as a Kookaburra.

The tournament, played in Madrid (Spain) from June 10 to 16, included some of the strongest hockey nations with Great Britain, Belgium, the Netherlands, India, Germany, Austria and Spain giving the Australians plenty of international game practice.

The team 18-man strong team, led by Bishop, Assistant Coach Brent Livermore and Team Manager Andrew Smith consists of players from around Australia:

(Name, surname, state)

Cade BANDITT QLD
Jonathan BRETHERTON VIC
Tom BROWN NSW
Nathan EPHRAUMS VIC
Harrison FARRELL QLD
Michael FRANCIS QLD
Dane GAVRANICH WA
Sam GRAY NSW
Liam HART QLD
Tom HARVEY WA
Ehren HAZELL NSW
Max HENDRY VIC
Brayden KING WA
Dylan MARTIN NSW
Sam MCCULLOCH TAS
Alistair MURRAY WA
Daine RICHARDS NSW
Christian STARKIE WA
Ben WHITE VIC

Hockey Australia media release


---

Grand Masters chase European success in Belgium



Scotland O60 Men

Whilst the Scotland senior men's and women's teams are competing in the FIH Series finals, four of our more 'experienced' national teams along with two Thistles teams will be taking part in their European Championships and Trophy Tournament in Antwerp, Belgium from 19th to 29th June.

Scotland will have national teams competing at O60, O65 and O70 in the men's competition along with an O60 team in the women's event. The Thistles will be competing at O60 and O65 in the Trophy Tournament.

The O60's finished the recent 4 Nations in Aberdeen in strong form having held England to a 1-1 draw and go into their event with some confidence. As with all the age groups though, they face a tough ask to qualify for the semi-finals. Their first match against Netherlands is followed the following day with a match up against Spain who beat the Scots 1-0 in the World Cup quarter final last year in Spain. After a rest day, the O60 then face a strong Irish squad who have beaten the Scots in both the Celtic Cup and 4 Nations already this year and will have an eye on the semi-final place themselves. The O60 finish their pool matches against an improving Italian side who will be looking to make up for their defeat in the 2017 Europeans in Glasgow.

Coach Adam McInnes has a strong O60 squad though and a semi-final place will be their target. Good performances in key games could see them achieve it.

In the O65's competition there are nine teams with one group of five and the other of four teams. Scotland have ended up in the pool of four and face our Celtic friends Wales in their first match. The Welsh have benefited from a number of 'promotions' from their O60 squad and beat Scotland in the Celtic Cup soundly by 6-1. A stronger and more determined Scotland side took their revenge in Aberdeen winning that fixture by 2-1 so this first match is looking like a cracker to start. A good start against Wales for Ian Wilson's side will set them up for their next game against the hosts Belgium which could see a semi-final place in their grasp before their final group match against Netherlands.

The top two in the group play again with the pool match result and the play off taken to decide first and second place for the semi-finals.

Due to injuries and unavailability, the O70 team travel to Belgium with a smaller (in number rather than stature) squad than they would have liked. They will however have been heartened by their progress in their competitions this year under coach Sandy Keith. The O70's have a tough draw with a small squad facing Germany in their first match before taking on the might of the Netherlands the next day before facing Ireland in their final group match. With good results so far this year against the Irish (two wins) the Scots will be looking to get a result against the Germans to try and gain a semi-final place.

Having lifted the bronze medal at the World Championships in Barcelona last year the O60 women's team will be looking to at least medal again in the Europeans.

The squad which boasts players from 60 to 76 play in a four competition in which most of the teams have a 'slightly' lower age profile. Scotland face Wales, who are fielding a team for the first time, in their first match where Liz Pettigrew's charges will be looking to get a fast start.

The Scots then play the Netherlands who they beat last year in Spain for the bronze medal in a cracking match before they finish their pool against World Champions, England. With the top two teams playing off for the gold medal, the Scots will be keen to go at least one better than last year.



Scotland Women's Masters O60 (photo Liz Pettigrew)

Thistles will be looking to repeat their excellent performances in the O60 World Cup Tournament Trophy last year at O60 level and reach the final of the European version. While they may be too strong for Alliance in their first game, a match up with England LX who beat them 3-0 in Aberdeen will provide an early opportunity to reverse that result. Their final game against Germany could set them up for a semi-final place.

The Thistles O65 make their debut at this year's Europeans showing the increasing demand for tournament hockey at this age. A really tough group awaits them with matches against the Australian touring side, Southern Cross Blue followed by Argentina and Germany before they play their last match against England LX.

It is undoubtedly a success that Scotland is fielding six teams in this year's European Competition and all the teams, like their senior counterparts later in the summer, will be looking to bring home medals.



Thistles Silver medal winning team from 2018

Scottish Hockey Union media release


---

U.S. Masters Teams Set to Compete in 2019 Grand Masters Hockey European Trophy




ANTWERP, Belgium - The U.S. Men's and Women's Masters Teams are set to compete among more than 70 international squads in different age categories from June 19 to 29 in the highly coveted Grand Masters Hockey (GMH) European Trophy. Taking place at the KHC Dragons in Antwerp, Belgium, USA will be represented by an O-60 team in the men's and women's divisions, with the men's team being coached by Ian Wilson (Glasgow, Scotland) and the women's side by Ashley Johnston (Phoenixville, Pa.).

U.S. O-60 Men's Masters Roster:

Peter Bale (Portland, Ore.), Andy Cannon (Atkinson, N.H.), Chamkaur Gill (Placentia, Calif.), Dieter Hillert (Encinitas, Calif.), Peter Jones (Stamford, Conn.), Todd Koch (Quakertown, Pa.), Sankar Ramani (Fremont, Calif.), Alexander Rooks (Belmont, Mass.), Mahesh Saraswat (Northridge, Calif.), Alva Serrette (Lagrange, Ga.), Jaswinder Singh (Woodland, Calif.), Manmohan Singh (Aliso Viejo, Calif.), Jeff Starfield (Marblehead, Mass.), Arvinder Virdee (Scottsdale, Ariz.), Donny Watson (Glasgow, Scotland), Lawrence Zappone (Colorado Springs, Colo.)

Nine athletes on the O-60 men's team represented the red, white and blue at the 2018 FIH Grand Masters World Cup in Barcelona, Spain. Bale, Gill, Hillert, Jones, Ramani, Serrette, M. Singh, Starfield and Zappone helped USA finish as the highest Pan American country in 13th. As an entire unit, USA will go up against Ireland, Southern Cross, The Netherlands and Welsh Dragons in Pool A. Their opening match is set for Thursday, June 20, 2019 at 6:30 a.m. ET against The Netherlands.

U.S O-60 Men's Masters Schedule:

Thursday, June 20        USA vs. Netherlands        7:30 a.m. ET
Saturday, June 22        USA vs. Welsh Dragons     4:00 a.m. ET
Monday, June 24        USA vs. Southern Cross        12:45 p.m. ET
Tuesday, June 25        USA vs. Ireland            7:45 a.m. ET

U.S. O-60 Women's Masters Roster:

Diane Angstadt (Middletown, Pa.), Deb Atkins (Quarryville, Pa.), Jane Cygan (Quakertown, Pa.), Loretta Di Pietro (New Haven, Conn.), Sandra Galea-Martinez (Lakeside, Calif.), Cathy Jackson (Wilmington, Del.) Anne Keating (New York, N.Y.), Linda Kreiser (Middletown, Pa.), Lorraine Lewis (Bethesda, Md.), Susan Mota (Flemington, N.J.), Jeri Myers (Parkesburg, Pa.), Janet Powers (Towson, Md.), Pat Rudy (Mill Hall, Pa.), Pam Sherry (Collegeville, Pa.), Debra Wile (The Villages, Fla.), Josephine Worthington (Owings Mills, Md.)

Five rostered athletes took part in the 2018 EXIN Masters World Cup in Terrassa, Spain as members of the U.S. O-55 Women's Masters Team. Angstadt, Aktins, Keating, Kreiser and Lewis all helped USA to a sixth-place finish.

The women sit in a pool with Alliance, England LX and The Netherlands LT. They will have crossover pool matches with the two teams that sit in the 65+ pool, Alliance 65 and England LX 65, along with one team from the European Cup side, England National 60.

U.S O-60 Women's Masters Schedule:

Thursday, June 20        USA vs. Netherlands        11:15 a.m. ET
Saturday, June 22        USA vs. England            1:00 p.m. ET
Monday, June 24        USA vs. England National 60    12:45 p.m. ET
Tuesday, June 25        USA vs. England 65        11:15 a.m. ET
Wednesday, June 26    USA vs. Alliance             10:30 a.m. ET

For more information regarding the GMH European Trophy including the full schedule, results, rosters and more, check out the official event page by clicking here.

USFHA media release


---

Plennevaux to return to Leo after two years on the road



©: Frank Uijlenbroek / World Sport Pics

Max Plennevaux will return to Royal Leopold after two years on the road following a year with Real Club de Polo and one with HGC.

The 25-year-old has been in lively form since being co-opted back into the Belgian national team for the Pro League for the first time since 2017.

And he hopes his move back to the Belgian champions will boost his chances of sustaining his place with the Red Lions.

"My return is dictated largely by the schedule of the national team and preparation for the Tokyo Olympics next season," said the top scorer of the 2016-2017 Belgian season to the Hockey Belgium website.

"I wanted to move on to am extremely professional environment. Leopold was therefore the best option for me. I had actually been contacted by many Belgian and Dutch clubs but I was never that far into discussions except with Leuven. I knew what I needed and Leo could give me the perfect setting to continue my evolution. In addition, I have never hidden my desire to return to Uccle."

Kane Russell and Manu Brunet will move on from Leo but Plennevaux – who grew up with Waterloo Ducks – is happy to be back at the club he played for from the age of 17.

"This group has gained in maturity and experience from playing with those two players of great talent. But their departure will allow the youth of the club to assume even more responsibilities and continue to win.

"The team can also count on strong personalities like Dimitri Cuvelier, Tanguy Zimmer and Dorian Thiery, who have already proved their qualities last season, allowing the Leo to win the title. "

Euro Hockey League media release


---

UJ's USSA squad aim to learn from Varsity Hockey

 

University of Johannesburg's Kristen Paton will have an important part to play in their bid for the women's title at the University Sport South Africa hockey tournament in Stellenbosch from July 1 to 5. Photo: Luke Thorrold

The University of Johannesburg women's hockey team will be aiming to improve their finishing skills when they challenge for the University Sport South Africa title next month.

The annual tournament, which incorporates men's and women's sides, will take place at Stellenbosch University from July 1 to 5.

Earlier this year UJ competed in the women's Varsity Hockey tournament and hockey manager Elize le Roux said they would try to implement some of the lessons learnt there in the USSA event.

"The one big thing that came out was that we need to make our opportunities count," she said. "We were close in many games, but just lacked a bit of finishing.

"We know we need to stay focused on our game-plan and execute it for the full period of the match."

A year ago the UJ teams finished fifth (men) and sixth (women) as they went through a rebuilding phase.

"It wasn't our best, but we had young players and the opposition in this tournament is always tough," added Le Roux.

"We are working towards making the semifinals and the ladies showed what they could do in the six-team Varsity Hockey, almost making the top four. Several results went down to the wire.

"For the men a top four spot would be realistic, but we still have a relatively youthful squad as we continue to build, so we will have to work hard for this."

Le Roux said events such as USSA played important roles for both the varsity and the players on an individual level.

"We rely on good results to build our structure for hockey and, of course, we are competitive and like to win," she said.

"But we manage our performance cycles around our intake and strength of players.

"We also want students to get the best exposure and student experience with events like these. Good results at a USSA event can help to secure the future of hockey at UJ."

She added that the tournament provided a good barometer of their strength in relation to other varsities.

"It's always handy to measure yourself against your contemporaries in a competitive environment, with all eight teams having a chance of doing well.

"For the women, the Varsity Hockey positions can give you an indication, but with players over 25 eligible for USSA, it will be tough all-round.

"Successfully getting through your pool matches is essential to having a chance later in the week as there is no quarterfinal option. So the results are important from day one."

The men's team, under the coaching of Garreth Ewing and Lance Louw, will have players such as Taylor Dart, Courtney Halle, Kyle Lion-Cachet, Andile Ndlovu, Spencer Botes and Che February leading the way.

Botes was the top goal-scorer at this year's U21 interprovincial.

Women's coach Tsoanelo Pholo will have a key role to play as she strives to lift the women's outfit into the top four, with national representative Kristen Paton also an important member of the squad.

But Le Roux emphasised that nothing short of a team effort would be enough to reap any success for either squad.

Fullstop Communications media cease for University of Johannesburg Hockey


---

Gary Fraser – "His rapport with visiting teams is legendary"



Visiting World Cup Silver Medallists, Ireland Women's team

Gary Fraser is someone that you will often see around the hockey turf during a Vantage Black Sticks test match or even the local Ford NHL tournament. He has liaised with several visiting teams over the years and is involved in all areas of trying to help Hockey New Zealand run its events and tournaments. Some may say he is a man of many talents, jack of all trades, an all-round good guy. In our eyes he is a Superstar Volunteer!

Hockey NZ Events Manager, Richard Palmer, has worked with Gary over the last 7 years at numerous Hockey NZ events and says "Gary is a people person who goes out of his way to assist others and make their hockey experience at all levels easy and enjoyable. Gary's assistance to us manifests itself in many forms – Meeting International teams at airports at any time of the day or night, driving equipment to and from venues, picking up product and equipment, putting up signage, taking care of ice baths, manning posts such as parking or entry points when numbers are short – just to name a few of the areas he has helped out with in the past.

He's always smiling and ready to lend a hand. Nothing is too much trouble. No matter how menial the task it gets done quickly and efficiently.

All this in his own time, which is willingly and generously given with no thought of remuneration. His rapport with visiting teams is legendary and he quickly becomes their go-to person making their stay as simple and enjoyable as possible.

This rapport also extends to our staff and he has assisted most of us at some point. It is hard to imagine running an event without Gary being heavily involved."

We spoke to Gary about what has kept him involved in hockey for such a long period of time and how he manages to balance his volunteer work with his full time job at the Ports of Auckland.

Q – How long have you been involved in hockey?

Gary – I've been involved with hockey for well over 45 years now. From playing at school, playing premiers for St Lukes / SLAM, being a committee member, junior club captain and coaching rep teams at North Harbour.

Q – What do you most enjoy about the sport?

Gary – I love the sport because anyone can play it from an early age until the age of 60+. It is also a sport that you can be involved in even after you stop playing. Hockey is a sport where you make friends all over the world.

Q – What are the roles that you most enjoy about being part of hockey?

Gary – From Club Captain for 10 years of SLAM Juniors to Rep Coaching different age groups at North Harbour all these roles have been rewarding. I have over the last 10 years organised the transport for three International Tournaments, Olympic Qualifying, Sir Owen Glenn Champions Trophy and Sentinel Homes World League Finals. But my favourite role is being a Team Liaison.

Q – What have been some of the most rewarding things that have happened in your time involved in the sport?

Gary – Winning Auckland Premierships, two National Inter club titles, Rep coaching award from North Harbour.

I  also met the Dutch team at Auckland International Airport for the World League Final, some of the team members have become friends as I have looked after them before. Someone mentioned it was my Birthday, so they sang happy birthday in the arrival lounge. Two hours later I was out meeting the USA team and the same thing happened all over again. Very special.

Q – What support do you get from the local community?

Gary – I have been with North Harbour for quite a few years now and they are always there when I need something done for a team I am looking after. I enjoy also working with the staff at Hockey New Zealand.

Q – What first got you involved in hockey?

Gary – I was playing rugby at Avondale College and went for the 1st muster, being quite small at the time and some big boys trialing, it was a great time to try another sport, so I took up hockey . A few years later I am winning the Auckland Premier Competition and two National Club knock out titles with guys who had won gold medals at the 1976 Olympics.

Q – How do you manage to balance your time volunteering with a full time job?

Gary – I work down at the Ports of Auckland as a Vessel planner on shift work. That flexibility allows me to look after international teams when they visit. When I am needed I will take leave so I can cover tournaments.

Hockey New Zealand Media release


---

Prague celebrates hockey's diverse appeal




The value of team work, innovation within sport, championing diversity, celebrating the sport's international dimension – hockey is going into hyperdrive on 23 June in the capital of the Czech Republic, Prague.

The International Olympic Committee's (IOC) Olympic Day is a world-wide initiative that aims to promote the values of the Olympic movement, as well as get people active and help them discover new sports. The day is underpinned by three pillars central to the Olympic ideals: to move, learn and discover. And, through the work of our continental federations and national associations, hockey is a sport that has embraced Olympic Day wholeheartedly.

The national hockey association in the Czech Republic is pulling out all the stops to celebrate Olympic Day and its values as it encourages children and their parents to get involved in a host of hockey-related activities.

Schools from all over the Czech Republic have been invited to join in a massive hockey tournament in Prague. There are competitions for all ages, including for the parents who come along to support their children.

The idea behind the celebrations is to demonstrate that hockey is for everyone, there are no gender, economic or age barriers to getting involved in the sport.

Running alongside the main tournament, there will be a Beach Hockey tournament. This represents innovation within the sport. The message: you don't need a state-of-art artificial turf to play hockey, a pitch marked out on the beach can be equally fun and exciting.

The Czech Republic Hockey Association is also using the occasion to showcase the diversity and global nature of hockey. International schools will be competing in a tournament, running alongside the schools competition.

"We are including the International schools as a way of introducing the sport to the kids and their parents living here. Firstly, it allows the students to experience hockey but it also helps them to find an activity that can help them to settle down and make new friends through sport. We will be running games, activities and "funky hockey" to really engage with these students."

While the focus will be on the hockey, there will also be a host of other events, fun games and activities on the beach and around the schools tournament. Adding a soundtrack to the day will be a DJ, belting out tunes as people of all ages discover the universal appeal of hockey.

#OlympicDay

FIH site


---

Clean Sport Partnership between FIH, JHA and JADA for Inspiring the Next Generation, ahead of the Tokyo 2020 Games




The International Hockey Federation (FIH), the Japan Anti-Doping Agency (JADA) and the Japan Hockey Association (JHA) successfully organised a comprehensive clean sport education session at the FIH Women's Series Finals event in Hiroshima, Japan, 17 June 2019.

The programme was delivered on one of the rest days during this FIH Women's Series Finals event. Team members from the eight participating countries, including the coaches, physiotherapists or doctors, visited the clean sport education booth and tried out as a team the advanced Anti-Doping Quiz which was mainly composed of case study scenarios. The participants worked in their teams to reach a collective answer. This approach led the athletes to reflect upon their knowledge and how it can be applied to their behaviour and decision making.

Another highlight of the programme was the interaction among athletes, young athletes, and spectators. Camila Caram (FIH Athlete Committee) and Yuka Yoshikawa (Coca-Cola Red Sparks team) both of whom are all hockey role models to the next generation as well as Juri Takayama (JADA Athlete Committee, who represented Japan both in softball and skeleton) wrote their "TRUTH" messages at the education booth. These messages included what they believe are sporting values or what they have learnt through sport that they wish to pass on to the next generation. Camila wrote: "Have a courage to risk it all!", while Juri echoed as: "Never give up, keep going and face any challenges".

The athletes' TRUTH messages are displayed at the competition venue during the FIH Series Finals in Hiroshima to encourage spectators to broaden their own perspectives in sport.

As a further, exciting element of the initiative, a "Real Champion" session was held. Young athletes, their parents and coaches, from the local Buena Vista Hockey Club based in Hiroshima, were invited to listen to the personal stories and the true values of sport as outlined by the champion athletes. After hearing from these role models, the youngsters from the local hockey club voted on the best message that had been written in the booth by the eight team captains.

The partnership between FIH and JADA started in 2016 with "PLAY TRUE Relay". FIH Athlete Committee Chair at the time, Marsha Cox from South Africa, was interviewed for one of the Tokyo 2020's legacy projects led by JADA. Given FIH's education programme is still developing, JADA was consulted to help develop and jointly deliver the education programme. The programme's aim is to increase the anti-doping knowledge and its application and, more importantly, to help athletes understand and support hockey's status as a clean and fair sport.

The partnership between the FIH, JADA and JHA in Hiroshima brought a positive outcome, with particular focus on increasing the athletes' engagement in maintaining the integrity of the sport as well as achieving the FIH's mission – a global game that inspires the next generation.

Initiatives for protecting and developing a clean sport and for fostering the future generation through sporting values will be continued by the FIH and its Member Associations as Tokyo 2020 approaches and beyond.

"PLAY TRUE 2020" – JADA's Tokyo 2020 government-led legacy project, will continue to engage more clean athletes through extending the partnership with the international sport federations and through the "PLAY TRUE Relay" project (see more: https://www.playtrue2020-sp4t.jp/ptrelay/).

FIH site