All the news for Wednesday 12 June 2019

FIH Men's Series Finals Bhubaneswar Odisha 2019 - Day 7
Bhubaneswar (IND)

Fixtures (GMT +5:30)

12 Jun 2019     UZB v MEX (7 / 8 Place)     3 - 4
12 Jun 2019 17:00     JPN v POL (QF)
12 Jun 2019 19:15     RUS v RSA (QF)

13 June is a rest day

FIH Match Centre


---

India and USA make a point in Bhubneswar

s2h Team

Visiting India after two and half decades, American men are making a mark here in the Bhubaneswar FIH Series. The States' team, captained by an Indian origin player, had two continental champions in its pool. Both champions teams Japan and South Africa have wider pool of players to choose from, and strong competitive environ to warp their players than what the States' men team do. It was therefore expected they will face tough time to qualify for the semis either directly or through cross-over. However, they tamed both the champions teams here in Bhubaneswar to leave an indelible mark.

USA started their campaign with a bang, upsetting the apple cart of African Champions. The first day shocker was not turned out to be a fluke, as they followed it with a majestic 2-2 draw against Japan on the last day of pool. In between, their Pan American colleague Mexico 9-0. With an amazing 11 goal difference -- half of India's but second highest here -- the States team topped the pool though it had equal points with Japan.

Japan therefore was forced to play cross-over.

In the other pool, India's dominance was written all over the place. Though India beat both Russia and Uzbekistan on identical 10-0 goal margin, there is some room for scepticism.

The struggle of India against Poland -- which it ultimately won 3-1 thanks to an extraordinary game by its captain Manpreet Singh -- speak of Indian team's wonted habit of inconsistency. This view gained more currency as India had only a couple of months ago thrashed the Poles 10-0 at Ipoh. The quick change of score line did dent its image.

India need to prove its mettle in the semi-final. It is within their grasp.

Having known what happened to Malaysia in the second of FIH Series recently, caution and focus should be the guiding spirit of In

Stick2Hockey.com

---

FIH Women's Series Finals Banbridge 2019 - Day 5
Banbridge (IRL)

Results and fixtures (GMT +1)

11 Jun 2019     MAS v CZE (Pool A)     3 - 1
11 Jun 2019     IRL v SGP (Pool A)      11 - 0
11 Jun 2019     KOR v FRA (Pool B)     1 - 0
11 Jun 2019     UKR v SCO (Pool B)     0 - 4

12 June is a rest day

13 Jun 2019 15:45     MAS v FRA (Cross-over)
13 Jun 2019 18:00     SCO v CZE (Cross-over)

Final Pool tables

Pool A
| Rank | Team | Played | Wins | Draws | Losses | Goals For | Goals Against | Goal Difference | Points |
| --- | --- | --- | --- | --- | --- | --- | --- | --- | --- |
| 1 | Ireland | 3 | 3 | 0 | 0 | 21 | 2 | 19 | 9 |
| 2 | Malaysia | 3 | 2 | 0 | 1 | 16 | 3 | 13 | 6 |
| 3 | Czech Republic | 3 | 1 | 0 | 2 | 7 | 11 | -4 | 3 |
| 4 | Singapore | 3 | 0 | 0 | 3 | 0 | 28 | -28 | 0 |
Pool B
| Rank | Team | Played | Wins | Draws | Losses | Goals For | Goals Against | Goal Difference | Points |
| --- | --- | --- | --- | --- | --- | --- | --- | --- | --- |
| 1 | Korea | 3 | 3 | 0 | 0 | 9 | 1 | 8 | 9 |
| 2 | Scotland | 3 | 1 | 0 | 2 | 6 | 5 | 1 | 3 |
| 3 | France | 3 | 1 | 0 | 2 | 4 | 5 | -1 | 3 |
| 4 | Ukraine | 3 | 1 | 0 | 2 | 3 | 11 | -8 | 3 |
---

Irish Women dominate play in Havelock Park to secure Semi-final




Through to Saturday's semi-final, an 11-0 win saw the Irish Women dominate play for the entire game with Singapore rarely managing to bring play down into the Irish half of the pitch. The majority of the game comprised of free moving, attacking hockey from the host nation, keeping Singapore under pressure throughout.

The first chance of the game came from Roisin Upton with a drag flick that went wide. However, Megan Frazer put Ireland on the score board shortly after, with an Upton pass to O'Flanagan setting her up nicely to get the goals rolling. The next goal came from Katie Mullan as little as 2 minutes later. Gillian Pinder was next to add to the goals 2 minutes later again stealing the ball from the Singapore defence and knocking it with a reverse stick. Ireland ended the first quarter with a 3-0 lead having held the majority of possession.

Roisin Upton got her next chance from a PC. Inserted by Watkins and deflected by O'Flanagan, Upton managed to slot the ball in passed the Singapore's Felissa Lai. Less than a minute later a similar play from Watkins and O'Flanagan allowed Lena Tice to slap one into the back of the net making it 5-0 to Ireland.

Sarah Hawkshaw wasn't long making it 6-0 with a nice deflection in the circle, before Upton came back to claim her second goal of the game, also from a PC, with an expertly executed drag flick from an O'Flanagan deflection. The half-time whistle blew with a 7-0 lead to the Green Army.

A lovely interception from Zoe Wilson in the third quarter led to a chance for Ali Meeke in the circle, although this ended slightly wide. While Ireland remained the dominant team and seemed comfortably in control, a number of lost opportunities were evident as Ireland failed to add to their goal tally in this period. However, Megan Frazer was on fire in Midfield running circles around Singapore giving the 800 or so school children in attendance a real show of skills for them to savour.

A Wilson shot in the final quarter was defended by Goalkeeper Felissa Lai, but Hannah Matthews was on hand to secure the rebound to get the goals going again for the final quarter. Shirley McCay provided a lovely deflection giving lead tournament goal-scorer Anna O'Flanagan the chance to slot one into the net. McCay took her 281st cap today, making her the most capped Irish player, male or female, in any sport. A position she previously held, she takes the title back from Eugene Magee of the Men's team.

Katie Mullan's gave the home crowd an impressive strike with the power and precision to bury the ball in the bottom corner of the goal, putting Ireland's goal count into double digits. While Zoe Wilson provided an 11th goal in while the crowd was on the countdown from 3.

Speaking on the match, Interim Head Coach Gareth Grundie said "I'm pleased with the way we approached the game today.

We started again with real attacking intent, creating plenty of chances and scored a few nice goals.

We're delighted to top the group and go through to the semi-finals on Saturday."

Thursday's matches will see Malaysia who were 2nd in Pool A take on France who were 3rd in Pool B. While Scotland who were 2nd in Pool B will take on the Czech Republic.

Saturday 15th of June will see Singapore play Ukraine for 7th and 8th position. Safely topping Pool A Ireland will play in the first semi-final of the day, which will get underway at 13:15, taking on the winner of Scotland v Czech Republic. Korea will then play the winner of Malaysia v France in the second semi-final later that afternoon.

Ireland: A McFerran, R Upton, S McCay, M Frazer, E Tice, G Pinder, B Barr, C Watkins, S Hawkshaw, Z Wilson, D Duke

Subs: E Buckley, K Mullan,L Colvin, N Daly, H Matthews, A O'Flanagan, A Meeke.

Singapore: P Maligaya, N A Abdull, I Chan, P Ho, N S Saban, H Johana, L M Toh, L Tan, F Lai, R Sanip, G Leck

Subs: Y T Liu, J NG, X Chua, S Wong, C Chia, S NG, M Francis

Irish Hockey Association media release


---

Ireland ease through to move within one win of Olympic showdown ticket



Ireland's post match team talk. Pic: Billy Pollock

The Green Army marched into the semi-final of the FIH Series Finals with the minimum of fuss as their 11-0 win over Singapore at Banbridge puts them one win away from a guaranteed direct Olympic qualifier tie next October.

In truth, this was as much of a mismatch as the world ranking would suggest as Ireland – world number 8 – blew apart a side rated 35th.

Seven first half goals saw Ireland threaten to break their all-time goalscoring record. The scoring slowed after half-time, leaving the 13-0 success over Finland in the 1991 European Championship qualifiers in place, but it was very much a case of job done.

Megan Frazer opened the scoring seven minutes in with a simple volley after Roisin Upton's initial drag-flick. It was Frazer's first international goal in almost three years which encompassed her series of cruciate ligament issues.

A quality near post touch from Katie Mullan and a beautiful backhand shot from Gillian Pinder by the 11th minute pretty much made the game safe.

Singapore spent the game protecting their circle but to little avail, conceding 10 penalty corners before the break from which Upton scored twice while Lena Tice slammed in another. Sarah Hawkshaw made it two goals in two games for the 7-0 interval lead.

The third quarter was scoreless before Anna O'Flanagan, Hannah Matthews, Mullan and Zoe Wilson added the extras down the closing stretch.

"We started with a good intensity and energy, moved the ball quickly and got ourselves ahead," interim coach Gareth Grundie said of the performance. "It is more about trying to stick to the style of hockey that we want to play – a high paced, fast tempo game where we encourage ourselves to dictate the tempo.



The fans line up to meet the Irish team. Pic: Billy Pollock

"Singapore made it difficult in the third quarter, got numbers back but we upped the energy in the last quarter."

Ireland now await their final four opponent which will be determined on Thursday evening when the quarter-finals play out. It gives the side a precious chance to rest up for three days for the business end of the competition, particularly for a player like Upton who has been lining out with heavy strapping on her right leg.

"It is keeping me in one piece!" the Limerick woman joked. "Whatever it takes! This is phase one complete now – we have waited a long eight or nine months since the World Cup for this round of qualifiers. Having three days off gives us a great chance to regroup."

"We broke this tournament down into two phases; that's phase one done and we hit all our targets," Shirley McCay said after her 281st cap, putting her back on top as the national record holder ahead of Eugene Magee.

"Now we reset and wait to find out who we play in the semi-finals on Saturday where every energy will be focused to make sure we are ready.

"They are baby steps but this tournament is massive for us, especially on home soil with so many kids out to watch us. We aim to win it and go from there!"

She played in the forward line at times, something she also did against the Czech Republic for a spell. Speaking about those rare forays forward, she added: I have been really enjoying it, having a bit more impetus a bit further up the pitch.

"I am just happy to be playing – I would have played further forward in my youth and I sometimes feel the older you get, you tend to drop backwards but I do like playing up there. We are playing teams where we have a bit more of the ball and more attacking threat than what we are used to so it's nice to pose a bit of a threat!"

O'Flanagan, meanwhile, was used in deeper role rather than at the fulcrum of the attack while Emma Buckley made her ranking tournament debut as a half-time sub in goal for Ayeisha McFerran.

"We are always looking to improve so we picked a few areas to practice," Grundie added. "It is more about trying to stick to the style of hockey that we want to play – a high paced, fast tempo game where we encourage ourselves to dictate the game."

Thursday's quarter-finals will feature Scotland and the Czech Republic for the right to play Ireland in the semi-final. Malaysia will come up against France with Korea awaiting in the other semi-final tie.

That was due to Korea's narrow win over the French, scoring two minutes from the end for a 1-0 success. Scotland were set the task of beating Ukraine to go through while a three-goal success would see them leap from bottom to second. They duly went one better with a 4-0 victory earning them their quarter-final place.

FIH Series Finals, Pool A
Ireland 11 (R Upton 2, K Mullan 2, M Frazer, G Pinder, S Hawkshaw, L Tice, H Matthews, A O'Flanagan, Z Wilson) Singapore 0

Ireland: A McFerran, R Upton, S McCay, M Frazer, L Tice, G Pinder, B Barr, C Watkins, S Hawkshaw, Z Wilson, D Duke
Subs: K Mullan, L Colvin, N Daly, H Matthews, A O'Flanagan A Meeke, E Buckley

Singapore: F Lai, P Maligaya, N A Abdull, I Chan, P Ho, N S Saban, L M Toh, L Tan, R Sanip, G Leck
Subs: J Ng, S Wong, C Chia, S Ng, M Francis, X Chua, Y T Liu

Women's FIH Series Finals
Pool A: Ireland 11 (R Upton 2, K Mullan 2, M Frazer, G Pinder, S Hawkshaw, L Tice, H Matthews, A O'Flanagan, Z Wilson) Singapore 0; Malaysia 3 Czech Republic 1
Standings: 1. Ireland 9pts (+19) 2. Malaysia 6pts (+13) 3. Czech Republic 3pts (-4) 4. Singapore 0pts (-28)

Pool B: Korea 1 France 0; Ukraine 0 Scotland 4
Standings: 1. Korea 9pts (+8) 2. Scotland 3pts (+1) 3. France 3pts (-1) 4. Ukraine 3pts (-8)

The Hook


---

Ireland hit 11 against Singapore to top pool and reach semi-finals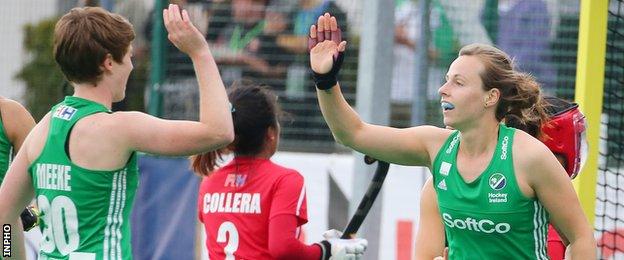 Frazer scored her first goal of the series in Tuesday's win

Ireland hammered Singapore 11-0 to make it three wins from three and secure their place in the last four of the FIH Series Finals.

Roisin Upton and captain Katie Mullan both scored twice as Ireland finished top of Group A, having previously beaten Malaysia and Czech Republic.

Megan Frazer, Gillian Pinder, Lena Tice, Sarah Hawkshaw, Hannah Matthews, Anna O'Flanagan and Zoe Wilson were also on target.

Singapore finished bottom of the pool.

The two series finalists will secure an Olympic play-off tie later this year.

Malaysia were second with Czech Republic third, and they both go through to Thursday's crossover matches for a place in the semi-finals.

Frazer hit an early opener for Ireland in Banbridge when she finished the rebound after an Upton drag flick was saved by by visiting keeper Felissa Lia.

Mullan doubled the lead after a cross from O'Flanagan before a fine reverse stick strike by Pinder gave the Irish team a 3-0 lead at the end of the first quarter.

Ireland's dominance continued in the second quarter and Upton got on the scoresheet with a drag flick from a penalty corner.

Another penalty corner led to Tice increasing the lead further, with Hawkshaw soon making it 6-0.

Upton got her second of the day to give Ireland a seven-goal advantage at half-time, finishing well with another drag flick that was too well placed for Lia to keep out.

The Irish side had plenty of possession during the third quarter without scoring, with the visitors continuing to struggle to get out of their defensive third.

Matthews made it eight for Ireland when she was on hand to score from close range after Wilson's shot from a penalty corner was blocked by the keeper.

O'Flanagan, who hit four goals in the win over the Czechs, added her name to the list of Irish goalscorers with a trademark deflection into the roof of the net from a clever Shirley McCay pass.

Mullan registered the 10th when she buried a low shot into the bottom corner and Wilson rounded off the scoring with just two seconds left on the clock.

BBC Sport


---

Czech-mate! Malaysia still in the running for semis after upset

KUALA LUMPUR: The Malaysian women's hockey team kept their semi-final hopes alive when they upset higher-ranked Czech Republic 3-1 at the FIH Series Finals.

With the win over the world No. 19, Malaysia, who are ranked 22nd, finished runners-up in Group A with two wins and a defeat.

Malaysia lost to No. 8 Ireland 2-1 before they bounced back to trounce Singapore 12-0 on Sunday.

Malaysia will play in the crossover match against the Group B third-placed team (France or Ukraine) tomorrow to qualify for the last four.

In yesterday's match at the Banbridge Hockey Club in Ireland, Malaysia had a slow start in the first quarter and only managed one attempt at goal.

But they played a more organised game in the second quarter to earn three penalty corners in six minutes.

However, skipper Siti Amarina Ruhani and Nuraini Abdul Rashid, who scored a hattrick against Singapore on Sunday, failed to convert.

In the 28th minute, Malaysia finally took the lead.

Czech defender Jindriska Reichlova's clearance in the semi-circle was intercepted by Norfaiezah Saiuti who then slammed the ball into the top of the net.

However, their rivals equalised off their first penalty corner which was converted by Adela Lehovcova in the 47th minute.

And in the very same minute, Malaysia regained the lead from a penalty corner converted by Fazilla Sylvester Silin.

Malaysia kept up the pressure and sealed the match in the 54th minute when Nuraini's free hit was easily deflected into goal by Fatin Shafika Mohd Sukri.

National coach K. Dharmaraj said the girls achieved their target of finishing in the top two of their group.

"It was a well-deserved win. The girls took their chances well.

"We have two more hurdles – the playoff and the semi-finals. I believe my players will not disappoint," said Dharmaraj.

Malaysia must enter the final to qualify for the 2020 Tokyo Olympic Games playoff matches in October.

The Star of Malaysia


---

Scotland beat Ukraine to take second spot in their Pool in Banbridge




A fantastic performance by Scotland women saw them beat Ukraine 4-0 and take second spot in Pool B of the FIH Series Finals in Banbridge. The win means Scotland face Czech Republic on Thursday for a chance to play in the semi-finals.

It was a bright start to the contest for Scotland as they pegged the Ukrainians back from the first whistle. Lucy Lanigan had Scotland's first opportunity with a turn and shot from the top of the D, but it was kicked clear by the goalkeeper.

The first penalty corner of the match went to Scotland half way through the first quarter and Bex Condie's deflected shot hit a foot on the line and Scotland was awarded a penalty stroke. Fiona Semple stepped up to hit it and struck it low against the leg guards of the goalkeeper. Ukraine let off the hook.

Scotland piled on the pressure as the quarter progressed and won a succession of penalty corner without converting any into a goal.

At the start of the second quarter Scotland took a deserved lead. They played a slick exchange on the left to let Sarah Jamieson charge into the D before sending a lovely finish on the reverse stick into the back of the net. 1-0.

Minutes later the Tartan Hearts doubled their lead. A nice penalty corner routine was deflected home by Fiona Semple to give Scotland a two-goal advantage.

It should have been 3-0 when Charlotte Watson zipped into the Ukrainian D past three defender and somehow Watson and Emily Dark were denied a finish on the line, and the danger was cleared.

Scotland had the ball in the back of the net through Lanigan early in the second half but it was ruled out and Lanigan denied the goal.

There would be a third goal soon enough and it was Charlotte Watson who made it 3-0 for Scotland when she finished off a swift counter attack down the left. A good low finish saw the ball slide past the goalkeeper for a great goal.

In the final quarter Nikki Alexander-Lloyd made it 4-0 for Scotland in the final quarter with a powerful reverse shot from the left of the D.

Watson again went powering into the Ukrainian D searching for a fifth but her shot fizzed low across goal past the right post. It finished 4-0 and a deserved win for an impressive Scotland.

Scotland Head Coach Jen Wilson said, "We've had this win coming. The girls' have battled against a variety of things over the last couple of games and I'm proud of them. They've stuck to the game plan, they've stuck to delivering what's been asked of them, and they really deserved that result today – I'm absolutely delighted for them."

Scottish Hockey Union media release


---

Scotland Men's squad announced for FIH Series Finals in Le Touquet




The Scotland men's squad has been announced for the FIH Series Finals in Le Touquet, France from June 15th – 23rd.

The Blue Sticks will face Ireland; Singapore and Egypt in the Pool stages before the business end of the tournament and crossover matches that could see them play Ukraine; Korea; Chile; or hosts France.

Michael Bremner is set to win his 100th cap for Scotland at the tournament, while Andy Bull; Callum MacKenzie; and Craig Falconer will play their first tournament for Scotland. The squad also sees the return of Ed Greaves from long-term injury.

The tournament in Le Touquet is the first part of a huge summer of competitive action for Scotland men.

In August Scotland will compete at the Belfius EuroHockey Championships against Germany; Ireland; and the Netherlands in the Pool. In 2017 Scotland won EuroHockey Championship II in Glasgow to earn the right to compete in the tournament, held in Antwerp.

Scotland Head Coach Derek Forsyth said, "We're looking forward to the tournament. There's lots of new faces in the squad, some playing their first tournament for Scotland, and it will be a good opportunity for them to test themselves against good opposition."

Squad

Tommy Alexander (UFC Hamburg)
Russell Anderson (Brooklands)
Kenny Bain (Hurley)
Michael Bremner (UHC Hamburg)
Andy Bull (Royal Beerschot)
Gavin Byers (UFC Hamburg)
Callum Duke (Hillhead)
Murray Collins (Loughborough University)
Craig Falconer (Reading)
David Forrester (Montrouge)
Cameron Golden (Grove Menzieshill)
Ed Greaves (Loughborough University)
Rob Harwood (Western Wildcats)
Callum MacKenzie (Cardiff Met)
Aidan McQuade (Grove Menzieshill)
Nick Parkes (Surbiton)
Duncan Riddell (Grange)
Robbie Shepherdson (Grange)

Schedule for Pool A

Saturday 15 June | 10:15 | Ireland v Scotland
Sunday 16 June | 10:15 | Scotland v Singapore
Tuesday 18 June | 12:30 | Scotland v Egypt
TBC | Crossover matches

Scottish Hockey Union media release


---

2019 FIH Pro League - 12 June

2019 FIH Pro League (Men)

12 Jun 2019 21:00 (GMT +2)    GER v BEL (RR)     Crefelder Hockey und Tennis Club, Krefeld

2019 FIH Pro League (Women)

12 Jun 2019 18:30 (GMT +2)     GER v BEL (RR)     Crefelder Hockey Club, Krefeld
12 Jun 2019 19:30 (GMT +2)     NED v NZL (RR)     HC 's-Hertogenbosch, 's-Hertogenbosch
Live streaming and full game replay on https://fih.live (May be Geo blocked if there is TV coverage)

FIH Match Centre

---

GB hockey star Martin excited for family reunion at Stoop double-header

By Sportsbeat

Hockey sensation Hannah Martin never thought she would have the chance to represent her country, let alone line up on the same pitch as her own brother.

The former Ipswich School student, who made her international debut in February 2017, will represent Great Britain at Twickenham Stoop less than three hours after her brother Harry when the British men's and women's teams face New Zealand in a double header on the final day of the new FIH Pro League tournament on Sunday 23 June.

Hockey clearly runs in the family with Harry representing Great Britain at London 2012 and Rio 2016 and Hannah, who has always been proud to follow his footsteps, cannot wait for them to share the same turf at the home of Harlequins later this month.

"It's such a special occasion for me and my family," she said.

"I've always looked up to my brother growing up. He's always been my idol, so I feel so lucky to be playing alongside him at the top level.

"I never thought we would be playing one after another at a venue like the Stoop. It was just a dream for us when we were younger, but we are so fortunate to share a job daily.

"He's been in the programme for eight or nine years, so I always look to him when I need guidance and it's just so great to have him around."

"We watch each other's games and often share advice between us. It's so nice having him for support, it's a really special time for us both."

Despite sitting third from bottom in the standings, Great Britain women's hockey only lost one of their first four FIH Pro League home games this season – 3-1 to United States in March.

A record number of tickets have already been sold for the 14,800-capacity stadium at the Stoop – although seats are still available – meaning it would be the biggest crowd to watch hockey in Britain since the London 2012 Olympics.

And while Hannah believes playing in front of a capacity crowd of almost 15,000 will help to inspire her side to another success on home soil, she is also confident the double header event will prove a triumph for the growth of the sport.

"I'm really looking forward to taking on New Zealand. We played out our first Pro League fixture out there against them and lost so we are determined to improve on the away result," she added.

"A home crowd is so important. It can be key in avoiding defeat on home soil.

"There's nothing like playing at home. You just hear a roar of noise every time you go and attack – it really adds that twelfth player on the pitch. You just feel invincible.

"It's great to play back-to-back because you get the crowds down for both games and hopefully that will create a real buzz at the Stoop.

"Hopefully staging the match at the Stoop will help attract more people from this side of London over to hockey."

Sportsbeat 2019


---

2019 8 Nations Invitational Tournament (U 21) M - Day 2
Madrid

11 Jun 2019     GBR v AUT (Pool A)         0 - 1
11 Jun 2019     GER v BEL (Pool A)        3 - 2
11 Jun 2019     NED v IND (Pool B)         3 - 2
11 Jun 2019    ESP v AUS (Pool B)         3 - 1

Pool standings
Pool A
| Rank | Team | Played | Wins | Draws | Losses | Goals For | Goals Against | Goal Difference | Points |
| --- | --- | --- | --- | --- | --- | --- | --- | --- | --- |
| 1 | Germany | 2 | 2 | 0 | 0 | 8 | 3 | 5 | 6 |
| 2 | Belgium | 2 | 1 | 0 | 1 | 7 | 5 | 2 | 3 |
| 3 | Austria | 2 | 1 | 0 | 1 | 2 | 5 | -3 | 3 |
| 4 | Great Britain | 2 | 0 | 0 | 2 | 2 | 6 | -4 | 0 |
Pool B
| Rank | Team | Played | Wins | Draws | Losses | Goals For | Goals Against | Goal Difference | Points |
| --- | --- | --- | --- | --- | --- | --- | --- | --- | --- |
| 1 | Spain | 2 | 2 | 0 | 0 | 10 | 2 | 8 | 6 |
| 2 | Australia | 2 | 1 | 0 | 1 | 5 | 3 | 2 | 3 |
| 3 | Netherlands | 2 | 1 | 0 | 1 | 4 | 9 | -5 | 3 |
| 4 | India | 2 | 0 | 0 | 2 | 2 | 7 | -5 | 0 |
---

India Jr men's team lose 3-2 to Netherlands

Despite an early setback India played an attacking game and looked for an equaliser



India vs Netherlands @HockeyIndia

India's junior men's hockey team lost a hard-fought game 2-3 to the Netherlands in a group stage encounter at the 8-Nations U-21 Invitational campaign here on Tuesday.

In the first quarter, it was the Netherlands who snatched the initiative early with Jim van de Venne scoring in the 5th minute. Despite the early setback India played an attacking game and looked for an equaliser.

But the teams went into the break separated by the single goal.

The game took off in the second quarter with both teams attacking with vigour and their defensive qualities being pushed to the brink. It was India who scored first when Vishnukant Singh got the equaliser in the 23rd minute.

But within three minutes, the Netherlands restored their lead as van de Venne converted a Penalty Corner to get his second goal of the game.

The teams went into half-time with Netherlands leading 2-1.

After the break, both sides played with more intensity and high speed but again the Netherlands managed to score a goal through Derck de Vilder in the 32nd minute.

India, however, did not let their shoulders drop and kept the pressure up. Their play yielded results soon as Koen Bijen picked up a green card in the 36th minute, leaving the Netherlands a player short on the field. India capitalised on the advantage almost immediately with Sudeep Chirmako capping off a superb move to reduce the deficit to one goal in the 37th minute.

India went into the final quarter in an attacking mode but the Dutch defence was more than up to the task, and despite a Valentijn Charbon yellow card in the final minute, the Netherlands had the last laugh.India play Spain next in a group stage encounter on June 13.

Daily News & Analysis


---

Butali go top as Jaguars gore Wazalendo

By AYUMBA AYODI



Telkom's Elinah Chebet (left) vies for the ball with Pauline Ayieko USIU-A during their Kenya Hockey Union women's Premier League match at City Park Stadium in Nairobi on June 8, 2019. Telkom won 2-1. PHOTO | SILA KIPLAGAT |  NATION MEDIA GROUP

Champions Butali Sugar Warriors moved into the summit of the Kenya Hockey Union men's hockey Premier League last weekend.

The champions beat Nairobi Simba Union 3-1 to leapfrog Wazalendo, who were stunned 2-0 by Western Jaguars away in Kakamega on Saturday.

Former champions Kenya Police dropped vital points after they were forced to 2-2 draw by stubborn United States International University -Africa (USIU-A) on Saturday at City Park.

Second half goals from Conrad Wafula (42nd) and Robinson Omutekete (58th) were enough to see Western Jaguars shock Wazalendo and uphold their giant-killing instincts at Eregi Teachers College on Saturday.

The victory saw Jaguars move into second place in the league with 13 points but proved costly to Wazalendo, who not only lost their unbeaten run but also dropped from the top to third with 12 points.

Jaguars, who had previously stunned former champions Nairobi Simba and Strathmore University Gladiators, have four wins, a draw and a loss while Wazalendo have four wins and one loss.

Western Jaguars stayed at the top of the table for a day before Butali's win over Nairobi Simba on Sunday at City Park.

Moses Ademba opened the scoring for Butali Sugar with a field goal in the 25th minute before Constant Wakhura made it 2-0 in 49th minute from a penalty corner.

Ian Shama brought Nairobi Simba back into the match with a field goal in the 53rd minute only for Amos Barkibir to finish it off for Butali with three minutes to full time.

Butali Sugar, who are now the only unbeaten side this season, moved back to the top with 13 points from four wins.

USIU-A were in control of the game to lead 1-0 against Police from Lawrence Makhatsa's fourth minute goal off a penalty corner.

The varsity lads then made two substitutions in the 31st minute which brought their tempo down thus allowing Police to come back into the game firing in two goals in quick succession through Samson Kibirir and Samuel Oungo in the 45th and 46th minutes respectively.

However, the varsity students rallied back to restore parity in the 57th minute when James Muthii scored from open play.

The results saw Police drop one place to fourth with 11 points drawn from three wins, two draws and a loss while USIU-A remained sixth with six points from a win, three draws and two losses.

SHARKS FIFTH

Greensharks are fifth with nine points.

In the women's Premier League, champions Telkom escaped with a slim 2-1 victory against USIU-A to uphold their lead with 11 points from three wins and two draws.

USIU-A stayed second with seventh points, beating Lakers, who have similar points on better goal difference.

It was until the 48th minute of the game when Telkom broke the deadlock with Lilian Aura's winner to carry them three points. Elizabeth Chebet put Telkom ahead in the 15th minute from a field goal before Veronica Maua levelled for the varsity side from a penalty corner in the 27th minute.

Telkom were almost made to look ordinary when USIU-A threw away seven short corners and a penalty stroke.

Daily Nation


---

In Memoriam of Audrey Laidlaw (nee Mayne), Former South African Women's Captain

(9 May 1931 - 8 June 2019)

Audrey, widow of Stan and beloved mother of Mark, Kerry and Craig, passed away in hospital on 8 June 2019. She never recovered fully from a hip replacement procedure in June of 2018 and although she remained fiercely determined, she unfortunately lost much of her independence in the last year of her life.

She was born in Pietermaritzburg and attended Pietermaritzburg Girls' High School. As a schoolgirl she displayed an amazing natural hockey talent. After matriculating, Audrey soon represented Pietermaritzburg and the Natal Women's teams as she was regarded as an outstanding young player. She captained these teams from 1957 until she retired. In her early twenties she was an automatic selection to the National Team, and represented South Africa in 1953, 1954, 1956, 1959, and 1963. (She was unavailable for selection in 1961.) In 1959 and 1963 Audrey's leadership skills were recognised and she was named as Captain of the South African Women's Hockey Team. She announced her retirement at the end of the 1963 season, at the pinnacle of her success.  She had just led South Africa to a famous 3-1 victory over England, in front of 65,000 spectators at the Wembley Soccer Stadium, in London; this was indeed the highlight of her career.

Not only was Audrey an excellent hockey player, who incidentally never stopped working at her skills, but she was respected as a great human being and was popular both on and off the field. She was admired, for her outstanding achievements and excellent qualities, by all who knew her.

Audrey was a tireless administrator, during her playing years and after her retirement as a player. She was a Provincial and National Selector from 1965 until 1975. In 1970 she held the position of Manager of the South African Women's Team.

Her sense of fun and her humour, at all times, were unrivalled. She was a beautiful and loving friend. We were privileged to have her in our lives, and as her friends and members of the hockey fraternity, we join together to mourn the loss of a great friend. Rest in peace, Auds.

Shelagh Bowness
(Life-time friend and team mate: Natal: 1958-1974; South Africa: 1969, 1971, 1973, 1974 (Capt); National Umpire and Selector)

SA Hockey Association media release


---

Tributes for SA hockey's former captain, selector and 'gracious lady'

Nompilo Kunene



Shelagh Bowness (left) with her friend, the late Audrey Laidlaw, who was the former captain of the national hockey team. PHOTO: GHS

Pietermaritzburg-born  former South African hockey team captain, Audrey Laidlaw, died at the weekend.

Laidlaw (88) died at a local hospital on Saturday. The date for her funeral has not been decided.

According to her lifelong friend and former hockey team-mate, Shelagh Bowness, Laidlaw had never fully recovered from a hip replacement procedure done in June last year, and although she remained fiercely determined, she unfortunately lost much of her independence after the procedure.

Laidlaw attended Scottsville Primary and Pietermaritzburg Girls' High School.

As a schoolgirl, Bowness said, Laidlaw displayed an amazing natural hockey talent.

After matriculating, Laidlaw represented Pietermaritzburg and the Natal Women's teams. She captained these teams from 1957 until she retired.

In her early twenties she was an automatic selection to the national team, and represented South Africa in 1953, 1954, 1956, 1959, and 1963. In 1959 and 1965 Laidlaw's leadership skills were recognised and she was named as captain of the South African women's hockey team.

She announced her retirement at the end of the 1965 season, at the pinnacle of her success, as she had just led South Africa to a famous 3-1 victory over England. That match was played in front of 65 000 spectators at the Wembley football stadium in London. Bowness said this was indeed the highlight of Laidlaw's career.

Laidlaw was also a provincial and national selector from 1965 until 1975. In 1970 she held the position of manager of the SA women's team.

Laidlaw, widow of Stan, is survived by three children, who are currently overseas.

Bowness said Laidlaw was not only an excellent hockey player, but she was also respected as a great human being and was popular both on and off the field.

"She was admired, for her outstanding achievements and excellent qualities, by all who knew her.

"Her sense of fun and her humour, at all times, were unrivalled. She was a beautiful and loving friend. We were privileged to have her in our lives, and as her friends and members of the hockey fraternity, we join together to mourn the loss of a great friend. Rest in peace, Auds," said Bowness.

Another friend, Janet Edwards, sent her condolences to Laidlaw's family. She said Laidlaw will be sorely missed at their monthly lunches.

"I always called her 'Oh Gracious Lady' because of the lovely person she is," said Edwards.

Charmaine Koekemoer, from Pietermaritzburg Girls' High School, said the school was proud of all Laidlaw's achievements and honoured by the mentoring role she played in the local and national hockey fraternity.

"She was an incredible woman who was dedicated to the cause. She was also one of the most amazing mentors. A true lady, always well-dressed and well-kept," said Koekemoer.

News24