All the news for Tuesday 11 June 2019

FIH Men's Series Finals Bhubaneswar Odisha 2019 - Day 6
Bhubaneswar (IND)

Results and Fixtures (GMT +5:30)

10 Jun 2019 08:45     USA v JPN (Pool B)     2 - 2
10 Jun 2019 17:00     RSA v MEX (Pool B)     6 - 0
10 Jun 2019 19:00     IND v UZB (Pool A)     10 - 0

11 June is a Rest day

12 Jun 2019 08:45     UZB v MEX (7 / 8 Place)
12 Jun 2019 17:00     JPN v POL (QF)
12 Jun 2019 19:15     RUS v RSA (QF)

Final pool standings
Pool A
| Rank | Team | Played | Wins | Draws | Losses | Goals For | Goals Against | Goal Difference | Points |
| --- | --- | --- | --- | --- | --- | --- | --- | --- | --- |
| 1 | India | 3 | 3 | 0 | 0 | 23 | 1 | 22 | 9 |
| 2 | Russia | 3 | 2 | 0 | 1 | 15 | 13 | 2 | 6 |
| 3 | Poland | 3 | 1 | 0 | 2 | 7 | 6 | 1 | 3 |
| 4 | Uzbekistan | 3 | 0 | 0 | 3 | 1 | 26 | -25 | 0 |
Pool B
| Rank | Team | Played | Wins | Draws | Losses | Goals For | Goals Against | Goal Difference | Points |
| --- | --- | --- | --- | --- | --- | --- | --- | --- | --- |
| 1 | United States | 3 | 2 | 1 | 0 | 13 | 2 | 11 | 7 |
| 2 | Japan | 3 | 2 | 1 | 0 | 7 | 3 | 4 | 7 |
| 3 | South Africa | 3 | 1 | 0 | 2 | 6 | 4 | 2 | 3 |
| 4 | Mexico | 3 | 0 | 0 | 3 | 1 | 18 | -17 | 0 |
---

South Africa dismiss Mexican challenge and qualify for Quarter Finals



Picture - Hockey India

South Africa and Mexico took on each other for the first time in a winner takes all group stage game at the FIH Hockey Series Final in Bhubaneswar in India. Both teams knew that if they failed to win their tournament would be over but for placement games.

With the pressure cranked up to its highest level, South Africa took only 32 seconds to open the scoring, the quickest goal of the tournament. Matt de Sousa won South Africa a penalty corner and was on hand to deflect past Jose Hernandez. It was the only goal of an opening quarter in which South Africa exerted immense pressure but did not take enough of their chances.

The second quarter followed the same pattern and once again South Africa scored early as Nicholas Spooner benefitted from another penalty corner variation and deflected home. As the half time hooter sounded South Africa were feeling confident, however a two-goal lead is never enough in International Hockey.

Once again it was an early goal in the quarter that took the wind out of Mexico sails. Bili Ntuli, who was causing massive challenges for the Mexican defence, was on hand to finish after Hernandez saved from Richard Pautz.

South Africa finally bucked the trend in the final quarter when they scored as many goals in the quarter as in the previous three. Austin Smith netted from a penalty corner before Richard Pautz produced a sensational upright deflection for the goal of the game. There was still time for Keenan Horne to get on the scoresheet and South Africa to seal a 6-0 win.

South Africa will be pleased with getting a few goals on the scoresheet and how much more dangerous the penalty corners looked. Six different goal scorers will also please the management team.

The South Africans will now play Russia in the cross over Quarter Finals on Wednesday 12 June at 15:45. The winner of the game will play United States of America in the Semi-Finals on Friday 14 June.

South Africa 6 (de Sousa 1', Spooner 17', Ntuli 32', Smith 50', Pautz 53' & Horne 58')
Mexico 0

SA Hockey Association media release


---

India storm into semis with Uzbekistan win, but dismal penalty corner conversions continue to trouble

Sundeep Misra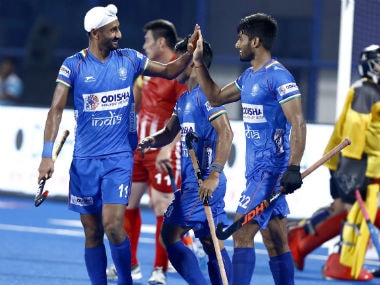 Mandeep Singh (left) celebrates a goal with Varun Kumar against Uzbekistan. Image: Twitter/@TheHockeyIndia

Amid another double-figure scoreline, a faltering penalty corner battery and a forward-line that could do with some fluency, India spanked the 43rd-ranked hockey nation, Uzbekistan, 10-0 to top Pool A and move into the semi-finals of the FIH Men's Series Finals in Bhubaneswar. Such scorelines are a reason to celebrate. It was, however, a match in which one could count the number of chances missed rather than the ones put away. And that could provide some depressing reading. To look at the positives, one agrees with coach Graham Reid that "opportunities are being created" and that "it takes time to bring a team together." Hopefully, one understands that "bringing a team together" means understanding the 'Graham Reid' philosophy.

These are early days under Reid even if the team has enough pedigree combined with experience; seven players have 100-plus internationals with four on 50-plus. Yet, you do get the feeling that there is a lack of intensity moving into the 3rd and 4th quarter. Against Poland, India couldn't score in the 4th quarter. Against Uzbekistan, India got two goals in the 4th Quarter after leading 8-0. One can put it down to fatigue and playing a match in which not much, or anything, was at stake. But the same should hold for the other team where, like the Polish goalkeeper, the Uzbek custodian Marsel Askarov must have saved at least six shots on goal.

If there is anything that should worry the management, it is the amount of missed goals or chances that the team fritters away. Good teams wallop the opposition. Maybe the opposition like Poland have improved. India thrashed them 10-0 in the Azlan Shah but could only win by a 3-1 margin here. Akashdeep Singh, who got a hat-trick against the Uzbeks, explained: "You can't take any team lightly and think we can get an easy game."

It looked like an easy game, to begin with. The Uzbek defence was in all sorts of trouble as Mandeep Singh, Simranjeet Singh, and Akashdeep Singh used their subtle skills to prise them open. Four penalty corners went up in smoke — either shot out or the goalkeeper saved them. Interestingly, the PCs that went in were either carpet shots or placed perfectly into the corners. With the number of PCs India get, their scorers should be way ahead on the list with multiple hat-tricks. This is where Graham Reid needs to look and understand as to why we haven't yet got the PCs moving even with Chris Ciriello looking at that department.

India shot into the lead in the 4th minute when Varun Kumar flicked in nice and easy, all along the turf. The 6th PC went wide. It was on the 7th PC that India got its second goal — a Varun flick rebounded off the goalkeeper's glove and Akashdeep lurking nearby shot home a reverse hit. In the 15th minute, India had their 8th PC as Amit Rohidas flicked it high into the net. India led 3-0 at the end of the 1st Quarter.

In the first 15 minutes, India had 8 PCs. In the next quarter, the 2nd, India would only get two PCs with one conversion and three field goals. Varun got the 4th with a lovely run down the right flank and then on the line squeezing a shot into the Uzbek goal from almost zero angle. Akashdeep made it 5-0 and then off the 9th PC, Rohidas saw his flick saved but the rebound fell to Nilakanta who whacked it in. India led 6-0 in the 27th minute. A 10th PC was wasted before Ramandeep created an opportunity for Mandeep to slot in for India's 7th goal in the 30th minute.

At the break, India led 7-0.

India had just one PC in the 3rd quarter. It was domination without rewards. India did move into Uzbek territory with ease. But the strategy to dispel them and create space inside the striking circle wasn't working. Neither was the tactical acumen, to get more PCs, effective. Vivek Sagar shot from the top of the circle; Mandeep fell over himself in trying to cut past two or more defenders; Simranjeet couldn't find space while Akashdeep did enough to be on the scorers' list thrice.

Ramandeep injected for the PCs and did the leg work for the others but couldn't find anything for himself. After three matches, he still must come onto the scoreboard and it must be bothering the Indian forward who came back into the Indian after a year off with a knee injury. He is doing the hard work and putting in the yards. But the soul of a forward needs goals to be satiated. Now, he must be tortured. With a semi-final and a possible final in front, Ramandeep needs to keep his wits and not feel the pressure.

Akashdeep came to his rescue in the post-match conference when it was pointed out that Ramandeep hasn't been scoring. "We have a good understanding both on and off the field," said Akashdeep. "After a year's lay-off, it does get difficult. I am sure he will do better in the next two games."

India's 8th goal arrived at the end of the 3rd quarter off a midfield move by Amit Rohidas who seeing the space given, moved up, passed to Sumit who then set up Gursahibjit Singh with a through which was tapped in. Only one goal came in the 3rd quarter. The pace had slowed considerably. India seemed to have lost the intensity or probably playing an opponent who wasn't being a catalyst to increase the level of the match was a factor.

The 4th quarter yielded two goals. In the 53rd minute, a one-to-one play with Mandeep, and then Akashdeep smashing in the 9th goal with a tennis-like shot. Simranjeet set up Mandeep who got his second goal of the match in the 60th minute. Getting a double-figure would have felt better for the team. In their first match of the tournament, they had beaten Russia by ten goals.

Before the semi-final on 14 June, India have three days' rest and that could be positive or negative looking at the work ethic of the team. Graham feels the boys get to rest. "But we will be upfront," he said. "The team will stay sharp and train well."

The three-day break might also give them time to look at a melange in terms of the PC routine. Now, it doesn't seem to be working. India have had 26 PCs and only ten conversions. In a top-level tournament, it might be above average. Not against this opposition.

Another area is the goalkeepers. Both P Sreejesh and Krishan Pathak haven't had much to save. Even in the match against Poland, it was a quiet day at the office for both. In a semi-final or a final with a little more thrust, they could be caught off hand like Pathak was against Poland. Graham Reid said, "The goalkeepers put pressure on each other. It's good they get a quarter each as they are then switched on."

On the opportunities, Reid explained, "We get good 3-4 opportunities in the first five minutes. We need to start quickly and avail them."

There is always a period of adjustment for all — Graham Reid and the players. By the time the tournament comes around to those crucial days — semi-final and final — bits and pieces of the puzzle would have been put together.

Firstpost


---

Lacklustre India steamrollers Uzbekistan

USA books a direct ticket to the semifinals on basis of goal difference

Uthra Ganesan



In control: Akashdeep Singh scored thrice, as India swamped Uzbekistan to finish on top of its pool. Photo Credit: BiswaranjanRout

It was expected to be a cakewalk and India duly made it one, thrashing minnow Uzbekistan 10-0 in its final Pool B game of the Hockey Series Finals here on Monday.

The host finished firmly on top of its pool with the result and would now await the winner of the cross-over game between Japan and Poland in the semifinal.

Slow start

It was an inconsequential game but despite the huge gap in rankings and stature — India is fifth while the Uzbeks 43rd — the host started slowly, which meant it scored only three goals in the first 15 minutes, all through penalty corners. But it also wasted four of them, and a handful of open chances.

The second quarter was better, India finally started getting its basics in place and slammed in four more.

Through the first 30 minutes, the ball entered the Indian circle once, when it sped away past a bored P.R. Sreejesh, who took turns with Krishan Pathak under the bar every quarter but had little to do except stroll inside the circle to stay alert.

The second half was more of the same, a sedate 3rd quarter and decent fourth one but even though it mattered not, the number of goals scored would not have made coach Graham Reid happy.

More disappointing was the completely lackadaisical manner in which the Indians went about their jobs.

Lacking coordination

There was little co-ordination, there were glaring basic errors in passing and trapping and the forwards were more often than not out of position.

The Uzbeks, predictably, were all about defence but despite that, left enough gaps for India to walk through and score.

The defence had little to do for India and the midfield was almost up into the Uzbek third of field but the sharpness was just not there.

It would be easy to defend the performance as dependent on the opposition but the best sides stay within their structure and plan regardless of everything.
Ried's challenge

Getting India in that zone would be Reid's challenge, more so given that the team would now have a three-day break before its next game.

Japan draws with USA

Earlier, USA booked a direct ticket to the semifinals despite a 2-2 draw with Japan in Pool B by finishing on top of the pool.

Tied on points, USA edged ahead of the Asian Games champion on goal difference and can now wait out the cross-over game between South Africa and Russia to find its semifinal opponent.

USA went ahead twice through the game but Japan managed to fight back, getting the equaliser a minute from time to secure a point.

The other Pool B match saw South Africa, second-highest ranked here but struggling for form, finally open its account with an easy 6-0 win against Mexico.

The results:

 Pool A: India 10 (Akashdeep Singh 3, Mandeep Singh 2, Varun Kumar 2, Nilakanta Sharma, Amit Rohidas, Gursahibjit Singh) bt Uzbekistan 0.

Pool B: USA 2 (Deegan Huisman 2) drew with Japan 2 (Kenta Tanaka, Suguru Hoshi); South Africa 6 (Austin Smith, Keenan Horne, Richard Pautz, Matthew De Sousa, Nicholas Spooner, Nqobile Ntuli) bt Mexico 0.

The Hindu


---

Akashdeep Singh' hat-trick helps host India thrash Uzbekistan 10-0 and storm into semifinals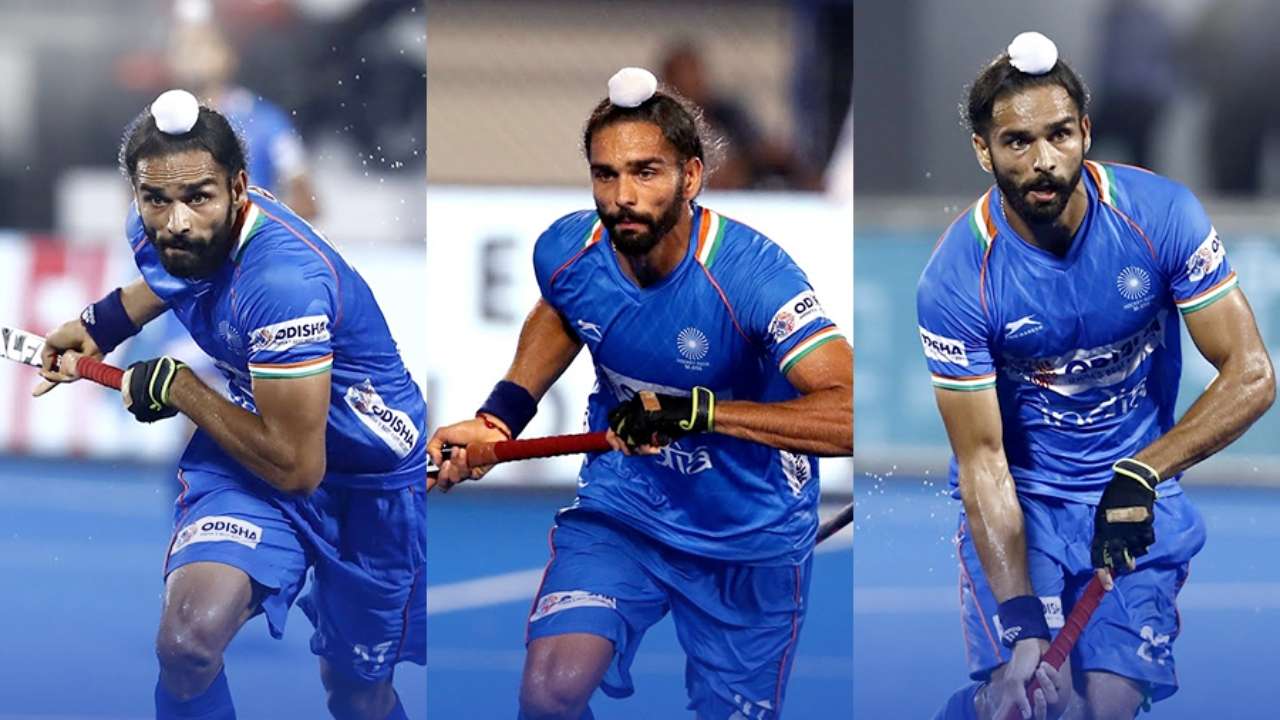 Akashdeep Singh, Hockey India

Akashdeep Singh slammed a hat-trick as favourites India scored goals at will to thrash Uzbekistan 10-0 and storm into the semifinals of the FIH Series Finals hockey tournament here Monday.

Akashdeep's goals came in the 11th, 26th and 53rd minutes, while Varun Kumar (4th, 22nd) and Mandeep Singh (30th, 60th) scored a brace each for India.

Amit Rohidas (15th), Nilkanta Sharma (27th) and Gursahibjit Singh (45th) were the other goal-getters for the winners.

India finished atop Pool A with an all-win record and will play the winner of the cross-over match between Japan and Poland in the semifinals on Friday, while USA, who topped Pool B, will take on the winners of the other cross-over game between Russia and South Africa.

The last Pool A match turned out to be a mismatch as the Indians controlled the proceedings from start to finish.

The action was all in the Uzbekistan half as India attacked in numbers from the word go and secured as many as five penalty corners in the first four minutes, the last of which was converted by Varun to hand lead to the home team.

Next was Akashdeep's turn to register his name in the scoresheet as he scored from a rebound from another short corner in the 11th minute.

Four minutes later, Rohidas converted a penalty corner to make the scoreline 3-0 in India's favour.

It continued to rain goals in the second quarter as India scored four more to go into the breather with a handsome 7-0 lead. Varun scored his second in the 22nd minute from a field effort before Akashdeep found the Uzbek net with a reverse hit two minutes later.

Young Nilkanta was not to be left behind as he scored from a rebound in the next minute from India's next short corner.

Mandeep completed the first half rout, pushing in from close range after being fed by Ramandeep Singh.

India dominated after the change of ends but could score just once in the third quarter when Gursahibjit guided the ball into the net in the 45th minute after receiving a through pass from Sumit.

Thereafter, Aksshdeep completed his hat-trick before Mandeep scored another at the stroke of the final hooter to round off the drubbing.

It was a no contest at all as Uzbekistan failed to threaten India's goal even once in the entire 60 minutes.

India's domination can be gauged from the fact that they earned as many as 12 penalty corners as against the rivals' none.

The Indians had 23 shots on goal while the Uzbeks had none.

Daily News & Analysis


---

Skipper Manpreet Singh wants to avoid errors in knockouts; coach Graham Reid seeks to convert chances

Anish Anand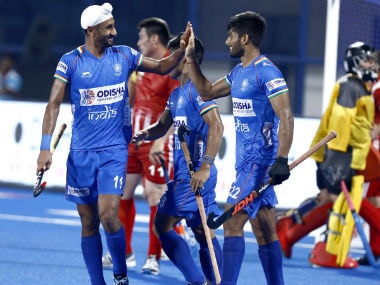 Indian players celebrate after scoring a goal against Uzbekistan. Twitter: @TheHockeyIndia

Bhubaneswar: After scoring 10 goals against the Uzbeks, Indian men's hockey team have topped their Pool with three back-to-back victories and ensured they directly qualify for the semi-final of the FIH World Series.

The results of India's Pool matches were more or less expected considering the wide ranking difference that exists between the teams. The tricky part begins now as Graham Reid's side will look to avoid setback against Japan or Poland in their road to the final.

Knockout matches don't give second chances and one small error can cause the downfall. Indian men's hockey team captain Manpreet Singh is keen to avoid errors and wants to take the game away from their opponents as soon as possible.

"If you commit a mistake in the group stages, at least you'll get a chance to rectify it in the next game. But mistakes in a knockout match can prove costly. Like at the World Cup, we committed few errors in the quarter-final against the Netherlands and it did cost us. So, the general idea is to avoid mistakes and score as soon as possible," Manpreet said to Firstpost after Indian team's victory against Uzbekistan.

Coach Reid also spoke about the importance of starting on a strong note and converting the chances. In the previous matches, despite the scorelines, Indian team has not been very clinical when it came to scoring. The problem is not with creating chances, but making most of the opportunities.

"I often talk to the team that we will get good two or three opportunities in the first five minutes. The idea is to trying to make sure we get those opportunities. We are aware of it, we always want to start quickly and crack opportunities to get the scoreboard pressure (on the opponents)," Reid said during the post-match press conference.

"Of course, we always want more goals. Those things take time to get better and we are working with the strikers to get in better positions. I was happy with a lot of movements which was happening today and I am happy that we are creating opportunities and that's always important."

Striker Mandeep Singh, who scored two goals in the victory against the Uzbeks, said that the team wanted to clear the group stage without any hurdles and now they will focus on the semi-final and will train to expose their opponent's weakness.

"Our initial focus was on clearing the Pool stage. We wanted to clear the three-match hurdle and now we will focus on the semi-final. We will wait and see who makes it semi-final. If it's Japan or Poland, we will train to exploit their weakness," Mandeep said.

Since India have directly made it to the semi-finals, they now have to wait for three days to play their next match. Talking about the time-gap, Reid insisted motivation of the players will not flinch and the team will look make most of the free days.

"It's actually good for me, I think it's actually important for me to work on stuff. We will be having a fairly good session tomorrow. I don't think motivation will be a problem in the semi-final, the boys will be up for it and I guarantee you that. From the point of view of the three-day break, it is what it is. We have to utilise it in the best way. Stay sharp, train well but not too much in the last two days," Reid said.

Reid also said he will use the days to scout Indian team's opponents in the semi-final.

Final Pool standings

Pool A

India – 3 wins with 9 points – qualifies for the semi-final.
Russia – 2 wins and 1 defeat – qualifies to play crossover match.
Poland – 1 win and 2 defeats – qualifies to play crossover match.
Uzbekistan – 3 defeats in 3 matches – set to play playoff match for the 7th-8th spot.

Pool B

Unites States – 2 wins and a draw – qualifies for the semi-final after higher goal difference.
Japan – 2 wins and a draw – qualifies to play crossover match.
South Africa – 1 win and two defeats – qualifies to play crossover match.
Mexico – 3 defeats in 3 matches – set to play playoff match for the 7th-8th spot.

7-8th spot match (12 June)

Uzbekistan vs Mexico at 8.45 am.

Crossover fixtures (12 June)

Japan vs Poland at 5 pm.
Russia vs South Africa at 7.15 pm.

Semi-Finals (14 June)

USA vs Russia or South Africa at 5 pm.
India vs Japan or Poland at 7 pm.

Firstpost


---

A tricky semifinal tie awaits India in Bhubaneswar

By Subhashish Majumdar




The Indians men's hockey team assured themselves of a semifinal place after they disposed off an Uzbek side, which failed to plug the gaps in the left flank exploited to the hilt by Graham Reid's chargers in the last pool match of the FIH Series Finals in Bhubaneswar.

As a result of the repeated forays, the Indians earned no less than eight PCs in the first quarter, three of which made their way past goalkeeper Askarov. It was followed by four goals from open play in the second quarter.

Rinat Mamatkazin's chargers, who were unable to stem the flow of the Indian attacks in the first half, recovered admirably to restrict the hosts in the third quarter with some smart interceptions.

The distinct lack of understanding and anticipation between the Indian strikers came to the fore yet again as the crosses zipped across the goalmouth well past the outstretched sticks of every blue shirt in the vicinity.

Heavy touches from the defenders and midfielders – including one from the skipper himself resulted in the hosts losing possession time and again in an amateurish fashion, but the Uzbeks simply lacked the firepower to exploit the carelessness of Reid's boys.

A lone goal resulted at the end of the third quarter, during and after which Manpreet and co. seemed to have lost their tempo. Such a style of play does not augur well for the knockouts – particularly the all-important semifinal that the Indians need to win at all costs to advance to the decisive phase of the qualifiers.

Akashdeep Singh's hat-trick was the only highlight of the evening, by the end of which ten goals materialised from 63 circle entries that resulted in 23 shots on goal – not the kind of statistics that the hosts would be particularly proud of.




The enormity of the task on hand is certainly amplified by the nature of the opposition, given that the Indians will face the winner of the Japan-Poland clash in the semifinal – and both teams have run the hosts close in the recent past.

The Indians managed a narrow 3-2 win over Siegfried Aikman's side in the semifinals of the Asian Champions Trophy late last year, and the coach of Samurai Japan was emphatic that his team was distinctly unlucky to have lost by a 0-2 margin against India at the Azlan Shah Cup earlier this year.

Few expected Poland to challenge the might of the home side, but Karol Sneizek's men did precisely that last Friday – and will fancy their chances against the same bunch in a high-pressure semifinal given the undeniable vulnerabilities that have plagued the Indians in knock out situations when the stakes are high.

Both the goalkeepers, Sreejesh and Krishan Pathak, have been mostly untested thus far but will need to be at their best on Friday – and hope that the Indian defenders rise to the occasion when it matters the most.

The Bridge


---

Army keeping field hockey alive in soccer-crazy Poland, says coach

With only around 2000 players playing field hockey in Poland, it is the Polish armed forces which is instrumental in keeping the sport alive in the European nation.

Just like India, the Polish army too has been supporting many sports in their country and one of them is field hockey.

WKS Gunwald Poznan is the most popular hockey club in Poland which last month won their fifth consecutive league title and credit for their success goes to the Polish army which has been supporting the club.

In fact, nine players of the 18-member Poland squad presently playing in the FIH Series Finals here are army men from Gunwald Poznan club.

"Hockey is not so popular sport like here in India. It's one of the small sports in Poland. Soccer and volleyball are the most followed sport. We have just 2000 players who play hockey," Poland coach Karol Sniezek told PTI on the sidelines of the FIH Series Finals.

"The army has a big role to play in keeping field hockey alive in Poland. They are supporting one club, WKS Gunwald Poznan in the Polish league. The army supports the best players in Poland, not only hockey but other sports as well.

"We have nine players in this team from the army. They work for the army and get more time to play hockey," said Sniezek, who is also the coach of Gunwald Poznan club.

He said even though hockey is a small sport in Poland, the army has been working relentlessly for its growth.

"Few players play outside of Poland but 80 per cent play in the Polish league. Hockey is a small sport in Poland but the army is doing everything to grow the sport," Sniezek said.

Sniezek said Poland players need more exposure trips to big hockey playing nations to make a mark in the sport.

"We are ranked 21st in the world but we have talent. If you can remember in 2000 Sydney Olympics we scored a last minute goal to send India out of the tournament with a 1-1 draw. So, it's not that we can't play but we need more support," he said.

"We mostly have small camps and then sometimes we go abroad to play against Netherlands clubs and other small clubs in Europe. But we need more tours for the players to grow," Sniezek signed off.

Poland will take on Asian Games champions Japan in the cross-overs Wednesday for a place in the semi-finals of the ongoing FIH Series Finals, a tournament from which two places are up for grabs for the FIH Olympic Qualifiers to be held later this year.

Business Standard


---

Pro League tournament is killing hockey, says Japan men's team head coach Siegfried Aikman

Anish Anand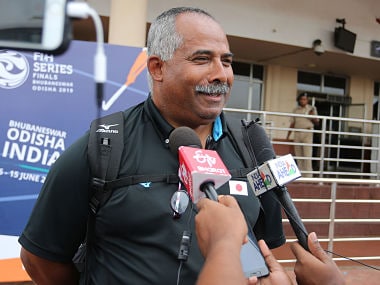 Siegfried Aikman. Image Courtesy: Hockey India

Bhubaneshwar: There was a moment during Japan's match against South Africa that encapsulated head coach Siegfried Aikman's personality. The Dutchman is usually pensive in the dugout, but when things are not going as per the plan, he doesn't think twice before showing his frustration.

Japan were leading by a goal in the first half, and were doing well to deny South Africa any sort of freedom in the attacking half. But Aikman was not happy with the play and he showed his emotions by throwing his hat down in anger. He ensured the players on the bench get a view of his exasperation.

"We have some appointments in the team. Players know what to do. If they repeatedly don't do it, I get frustrated. And it's about discipline. If we want to make the next step, we have to show that discipline, especially on those valuable moments. My players on the bench, they have to see that I'm not happy because if they don't see it, they won't change their behaviour," Aikman told Firstpost after Japan beat South Africa 2-0 in their Pool B match.

Under Aikman, Japan won gold at the Asian Games in Jakarta last year, thereby qualifying for the Tokyo Olympics. Being the hosts, Japan had already booked a spot in the Olympics, but the Asian Games gold medal justified their place in the elite tournament.

But Aikman, who has been coaching Japan since 2017 in his second stint with the country, is not happy with the direction international hockey is heading. He doesn't mince words when asked about FIH Pro League and its impact on the game.

"My thoughts on the Pro League is that matches are fantastic but it is eating hockey. It's killing hockey. With the ranking points, it doesn't encourage countries to invest because the top eight are Pro League teams and we will get fewer points, " Aikman said.

"Which tournaments do we have? And then in the future, it will be an invitational tournament. Who do they invite to come? The top teams, so how do we get points to close the gap?" Aikman asked.

The FIH Pro League was introduced this year where top eight teams compete in a round-robin format with home and away matches. The tournament started in January and will run till the end of June with top four teams qualifying for the semi-finals. The event also serves as a qualifier for the 2020 Tokyo Olympics with the four best teams making to the final round of qualifiers and it also has more ranking points.

"I don't know which brilliant mind made this plan but the person should be banned from hockey because it's making hockey less popular. And by the way, all the countries can't pay all the costs of Pro League because, in the past, you pay the money and play in the tournament. But now you have to travel for months. Where do we get the money? Hockey is a small sport," Aikman said in an irritating tone.

India refused to participate in the first edition as the federation thought the chances of making it to the Olympics are higher with the FIH World Series event. But in April this year, Hockey India confirmed that the men's team will join the league next year.

While Pro League gives the opportunity to teams to play quality opponents for a period of six months, there's a strong case that other lower-ranked teams miss out on chances to improve and develop. The fact that it's an invitational tournament and there's no guarantee that the lower-ranked teams will feature in the future Pro League events. This makes elite-level hockey an exclusive club and Aikman says as it is.

"It is. It is. And that's why I said it's killing hockey. It's a Trojan horse," Aikman said.

"How can you do that with an invitational tournament? What right does India have to join and others don't? Money? Is that it? If you want to do it, do it on a proper basis, but don't invite the country just because of the money."

With South Africa struggling with form, Japan were the favourites to top their Pool in Bhubaneswar and qualify directly for the semis. They had to win their match against the US team that beat higher-ranked South Africa in the first match and then thrashed Mexico 9-0.

But things didn't go as per plan for Aikman as Japan drew their match against the US and will now have to play the crossover match against the third-ranked team in Pool A to make it to the semis. Before the match, Aikman stressed on the importance of not taking any opponents lightly and how not always the best team ended up winning the match.

"I never take an opponent lightly. In nowadays hockey, you just can't. A lucky strike and you're out. I saw South Africa vs USA, South Africa was much better but then USA scored and South Africa were desperately looking for an equaliser and then the next goal came (USA beat SA 2-0). That's hockey, that's the sport and that's what makes the sport so exciting."

As expected, Japan dominated the proceedings but it was the US team that scored the first goal. Pressure was on Japan as they had to win the match and a draw will push them to the second place in their Pool. The US team scored once again in the final quarter to take lead and thereby making it tougher for Japan to clinch the match. Aikman's side equalised in the final minute of the match but now they have to play one more tricky match to qualify for last-four.

Firstpost


---

Odisha's flawless hosting of big-ticket event sets template to manage cyclones and sports

Jitendra Nath Misra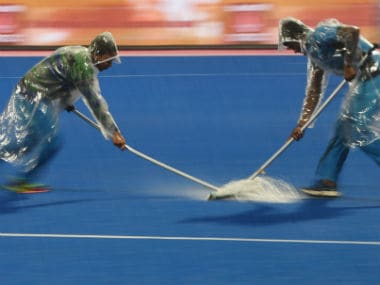 Despite being ravaged by Cyclone Fani, Odisha is back on feet, hosting FIH Series Finals. AFP

Cyclones have been Odisha's manic tormentors. Remember 1999? This time around Odisha could tame Fani. Even the usually sceptical The New York Times eulogised, "Government authorities in Odisha, along India's eastern flank, hardly stood still. To warn people of what was coming, they deployed everything they had: 2.6 million text messages, 43,000 volunteers, nearly 1,000 emergency workers, television commercials, coastal sirens, buses, police officers, and public address systems." An essay on the Australian website, The Conversation, stated, "Odisha's ability to put such an effective disaster management plan in place and save thousands of lives is a template that the world can learn from."

After the early applause, the Indian media shifted focus to rehabilitation. Given the scale of devastation, this doubtless required stupendous effort. Governments can't do it all, but Indians are culturally inclined to back off from self-help. The government soldiers on, but where are our charitable instincts?

There is another area where the Odisha government got it right. The creation of world-class sporting infrastructure has been touted as a springboard for transformation. Doubters might call this the usual ploy of politicians. But Fani has turned perceptions upside down. It could have flattened Odisha's sporting aspirations. The opposite happened. The stadia and high-performance centres of Bhubaneswar withstood Fani's pulverisation. These structures are not Disneyland fantasies. In a country where bridges and homes collapse like ninepins because of shoddy construction, please note.

Fear of nature's fury sets off panic and rumours. The Hockey Series Finals almost became a victim of Fani. But that didn't happen. Odisha's Sports Secretary Vishal Dev says, "This (the Hockey Series Finals) was to show the world the resilience of Odisha and its people and that we hounoured our commitment to host the event in a befitting manner." The tournament would send out a very positive signal against despondency, he asserts.

The tournament is happening even while the state reels under Fani. Without reliable alternate means, the government's human resource has shielded failure. The task was difficult. As Dev says: "You need a lot of manpower. All our officers were deployed in cyclone-affected districts and for election duties. By June the 10th we got our bearings." We can assume that manic zeal might have driven the team behind this tournament.

The accumulated experience of hosting sporting events, too, helped. Dev says the organisation of the Asian Athletics Championships 2017 in 90 days gave invaluable insights into meeting tight deadlines. The drill was repeated for the Hockey Series Finals. In Bhubaneswar, I see no banners or decorations, just a functional order. More philosophically, this tournament displays the simplicity of the brave, the poignant offering of a calm and confident government, amid the sorrow and destitution around it. There is no celebratory feeling, as we saw at the World Cup in December. Just doing the event in adversity is the statement.

More broadly, Odisha is trying to put in place events, infrastructure, rewards and interventions to realise its sporting aspirations.

Bhubaneswar stole a march over rivals by hosting the FIH's three elite tournaments in four years. Beyond hockey, Bhubaneswar's CV for 2018 alone read an ISL game, the ITF Tennis Super Cup, the Asian Women's U-17 Rugby Championships and the National Athletics Championships.

Unless there are facilities to train, sporting events turn into legacies that, without a context, fade away. More sustainable is drawing in elite athletes to train. With the involvement of Abhinav Bindra, Pullela Gopichand, Anil Kumble, and Gagan Narang, high-performance centres have been established in Athletics, Swimming, Shooting, Football, Hockey and Badminton. The state has 16 sports hostels with 1,250 athletes, covering 12 disciplines, with focus on football and hockey. The Odisha-SAI Regional Badminton Academy was established in 2017. 17 synthetic hockey pitches will be installed in Sundargarh.

At the inauguration of the High-Performance Centres in February, I heard paeans. "If there was ease of work for any sport in the country, Odisha would be number one," said Gopichand. "All athletes thank you (the chief minister) for making Odisha the number one sporting state in India," went Kumble. Col HS Chauhan, president of the Indian Mountaineering Foundation, said Bhubaneswar had "one of the best" sports climbing centres in India, adding, "the state administration is even more dynamic than the centre in the promotion of sport."

Odisha Mining Corporation has sponsored the Indian men's and women's hockey teams for five years. Odisha Industrial Infrastructure Development Corporation and Mahanadi Coalfield sponsored the Hockey India franchise, Kalinga Lancers, being the only central or state government bodies to do so.

The government has announced a cash award of Rs 1 crore for winning an Olympics gold medal. According to official figures, cash awards worth Rs 8.83 crores have been disbursed to 1,116 athletes, and equipment worth Rs 2.17 crores have been purchased in the last four years. 60 athletes have been appointed to the Odisha Police. In 2016, Srabani Nanda and Dutee Chand were appointed in OHPC and Odisha Mining Corporation.

To take the sport to underprivileged communities, 131,000 participated in the Tribal Sports Meet 2017. Under the Financial Assistance for Advanced Training and Coaching scheme, each athlete will be assessed by a committee, for an annual grant of Rs 5,00,000.

Facts and figures matter, but data can tie us in tangles. For take off, cultures need triggers, not statistics. Strong leadership, political stability and vision are the usual ingredients. The late president, Dr Abdul Kalam, wrote about this in his book Ignited Minds. Odias may finally be waking up to challenge the trope of underachievers stacked against them.

Mahendra Misra, the venerable Odia publisher, once astutely observed that Odisha was undone by communication grids. One gets into a train at Howrah, sleeps through the night as it passes Odisha, and wakes up in Andhra Pradesh, leading to Chennai, the hub of the Chola country. Kalinga's greatness could not shift over to modern Odisha, because the British colonial project intervened. Odisha thus became the hinterland for the more storied Bengal. Creating a sports hub gives Odisha a chance to lead.

Jitendra Nath Misra is a former ambassador. He advises the government of Odisha on sports and teaches at Jamia Millia Islamia University, New Delhi.

Firstpost


---

FIH Women's Series Finals Banbridge 2019 - Day 4
Banbridge (IRL)

Fixtures (GMT +1)

11 Jun 2019 12:00     MAS v CZE (Pool A)
11 Jun 2019 14:00     IRL v SGP (Pool A)
11 Jun 2019 16:00     KOR v FRA (Pool B)
11 Jun 2019 18:00     UKR v SCO (Pool B)

12 June is a rest day

Pool standings
Pool A
| Rank | Team | Played | Wins | Draws | Losses | Goals For | Goals Against | Goal Difference | Points |
| --- | --- | --- | --- | --- | --- | --- | --- | --- | --- |
| 1 | Ireland | 2 | 2 | 0 | 0 | 10 | 2 | 8 | 6 |
| 2 | Malaysia | 2 | 1 | 0 | 1 | 13 | 2 | 11 | 3 |
| 3 | Czech Republic | 2 | 1 | 0 | 1 | 6 | 8 | -2 | 3 |
| 4 | Singapore | 2 | 0 | 0 | 2 | 0 | 17 | -17 | 0 |
Pool B
| Rank | Team | Played | Wins | Draws | Losses | Goals For | Goals Against | Goal Difference | Points |
| --- | --- | --- | --- | --- | --- | --- | --- | --- | --- |
| 1 | Korea | 2 | 2 | 0 | 0 | 8 | 1 | 7 | 6 |
| 2 | France | 2 | 1 | 0 | 1 | 4 | 4 | 0 | 3 |
| 3 | Ukraine | 2 | 1 | 0 | 1 | 3 | 7 | -4 | 3 |
| 4 | Scotland | 2 | 0 | 0 | 2 | 2 | 5 | -3 | 0 |
---

Dharmaraj hails youngsters' performance in Singapore rout

By T. Avineshwaran

PETALING JAYA: The Malaysian Tigress are certainly making an impression in the FIH Series Finals hockey tournament at the Banbridge Hockey Club in Ireland.

After putting up a brave fight in their 2-1 defeat against world number eight Ireland in their first Group A match, the Malaysian team were in the mood for goals as they put 12 goals past Singapore.

For coach K. Dharmaraj he is happy to see his team, especially the youngsters, putting up excellent performances in both matches.

"Ireland are a big team, and they are also playing at home. We were undeterred and gave our best against a side who is 14 places higher than us in the FIH rankings," he said.

"We matched them in whatever way we could and created some good plays too. Against Singapore, we didn't go into the match looking for lots of goals.

"We just played our game. After Ireland thrashed the Czech Republic 8-1, we just needed a single goal to win. However, the girls defied expectations and gave a virtuoso performance against Singapore."

In the match against Singapore, Nuraini Rashid scored a hattrick (12th, 28th and 35th minute), while Siti Zulaikha Husain continued her goalscoring form in the tournament by scoring two (42nd and 47th).

The remaining goals were scored by Hanis Nadia Onn (9th), Surizan Awang Noh (19th), Kirandeep Kaur (21st), Nurmaizatulhanim Syafi (39th), Fazilla Sylvester (44th), Norfaezah Saiauti (51st) and Norsharina Shabuddin (60th).

Dharmaraj said he is happy with Nuraini's performance as the team's main drag-flicker but was even more encouraged by the performances of the youngsters.

"They are performing well this time around because they are not working individually but as a team. These girls are beginning to realise that if the team were to move forward, they have to work on their harmony and chemistry as a team."

Malaysia will complete their Group A fixture against world No. 19, the Czech Republic, today.

"We will play with pride and honour against them. The Czech Republic are higher ranked than us, but the victory against Singapore is a good morale booster."

Group winners qualify for the semi-finals while the second and third-placed teams of each group will play in cross-over ties for the remaining two semi-final spots.

The finalists of this tournament will secure a playoff spot to qualify for the 2020 Tokyo Olympics.

The Star of Malaysia


---

2019 FIH Pro League (Men) - 11 June

10 Jun 2019 19:30     GER v ESP (RR)     3 - 1     Crefelder Hockey Club, Krefeld
12 Jun 2019 21:00 (GMT +2)     GER v BEL (RR)     Crefelder Hockey und Tennis Club, Krefeld
Live streaming and full game replay on https://fih.live (May be Geo blocked if there is TV coverage)

Unofficial Pool Standings
| Rank | Team | Played | Wins | Win Draws | Loss Draws | Losses | Goals For | Goals Against | Goal Difference | Points | Percent |
| --- | --- | --- | --- | --- | --- | --- | --- | --- | --- | --- | --- |
| 1 | Australia | 10 | 7 | 0 | 2 | 1 | 30 | 21 | 9 | 23 | 76.7 |
| 2 | Netherlands | 11 | 5 | 2 | 1 | 3 | 32 | 24 | 8 | 20 | 60.6 |
| 3 | Germany* | 12 | 4 | 3 | 1 | 3 | 29 | 28 | 1 | 20 | 55.6 |
| 4 | Belgium | 10 | 5 | 1 | 2 | 2 | 36 | 26 | 10 | 19 | 63.3 |
| 5 | Great Britain | 12 | 5 | 1 | 1 | 5 | 31 | 29 | 2 | 18 | 50.0 |
| 6 | Argentina* | 11 | 5 | 0 | 1 | 4 | 25 | 28 | -3 | 17 | 51.5 |
| 7 | Spain | 11 | 0 | 5 | 0 | 6 | 25 | 38 | -13 | 10 | 30.3 |
| 8 | New Zealand | 11 | 0 | 0 | 4 | 7 | 24 | 38 | -14 | 4 | 12.1 |
* A cancelled match contributes 1 point to each team's results that is not shown in the tables as a cancelled match
The FIH inexplicably and confusingly use a system not used in any other sports League in the World, of making the Percentage more important than Points until the end of the League when they will revert to Points only. Fieldhockey.com prefers to use the conventional Points and so the Unofficial Pool Standings on this site are reflected in this manner.

FIH Match Centre

---

Germany men climb into top four with victory over Spain




Goals from Constantin Staib, Niklas Wellen and Timm Herzbruch were enough for Germany to secure all three points against Spain, earning a 3-1 home win over the Red Sticks to move into the top four as the race to qualify for the FIH Pro League Grand Final continued.

The victory in Krefeld has resulted in Die Honamas climbing up to fourth in the FIH Pro League standings, level on points with third-placed Netherlands but with a lower win percentage due to having played more matches. A top four finish in the FIH Pro League comes with tickets to this month's FIH Pro League Grand Final in Amsterdam and also the FIH Olympic qualifiers, which take place later this year. Spain join New Zealand as teams that can no longer qualify for the Grand Final, with six teams - Australia, Belgium, Netherlands, Germany, Argentina and Great Britain - still in the hunt for the four berths.

Sitting seventh in the FIH Pro League standings, Spain (FIH World Ranking: 9) came into their clash with Germany (WR:6) knowing that they had to avoid defeat, and preferably win, if they were to keep alive any mathematical hope of reaching the FIH Pro League Grand Final. The Red Sticks had ever reason to feel confident that they could get a positive result at Crefelder Hockey und Tennis Club, having beaten Germany in a shoot-out after the two sides had contested a thrilling 4-4 draw in the reverse fixture in Valencia earlier this year.

Germany were in charge for the vast majority of the first two quarters, deservedly taking the lead when Constantin Staib finished off a pass from the excellent Florian Fuchs before Spain levelled thanks to a terrific penalty corner drag-flick from Josep Romeu, arrowing his effort just inside the left post. Die Honamas took the score to 2-1 on the stroke of quarter time when Benedikt Fürk touched Tom Grambusch's defence-splitting pass onto both posts before Niklas Wellen - who plays his club hockey at Crefelder - tapped into an unguarded goal.

Although veteran Spain striker Pau Quemada forced a good save from Germany goalkeeper Victor Aly early in the second period, the home side applied relentless pressure throughout the quarter and were unfortunate not to add to their goals tally.

Spain gave an excellent showing after half time and came close to levelling through a beautifully executed penalty corner routine, only for shot-stopper Aly to make a superb stick save by diving to his right to tip Alvaro Iglesias' shot around the post.

The Red Sticks replaced goalkeeper Quico Cortes with an outfield player in the final minutes, but their attempt to salvage something from the game backfired when Timm Herzbruch passed into an empty net to score his fourth goal in as many games to give Germany all three points.

Referencing the fact that Germany coach Stefan Kermas had asked for his team to show more energy and fight on the field than in yesterday's draw against New Zealand, Player of the Match Niklas Wellen said: "I think we did exactly what we intended to do today. We talked a lot about the energy level, because yesterday we were not satisfied with that. But I think we did a great job. We really were working hard in the defensive tackles and making our way back, so I think we can be happy with that performance today." 

The race for that all-important top four finish in the FIH Pro League continues with three matches on Wednesday 12 June, with Germany's women and men taking on Belgium in Krefeld while the Netherlands women entertain New Zealand in s-Hertogenbosch.

FIH Pro League - 9 June 2019
Crefelder Hockey und Tennis Club, Krefeld (GER)

Result: Men's Match 44
Germany 3, Spain 1

Player of the Match: Niklas Wellen (GER)
Umpires: Raghu Prasad (IND), Jonas van ''t Hek (NED) and Ayanna McClean (TTO - video)

#FIHProLeague

Official FIH Pro League Site


---

Maddie Hinch calls for 'smarter thinking' from Great Britain

Rod Gilmour



Olympic champion Maddie Hinch recently returned to the international set up Credit: Getty Images

"We are a nation that's classically proud of ourselves in our defence, and how hard we are to beat, and that has slipped away from us recently."

So said a forthright Maddie Hinch in the aftermath of Great Britain's 4-2 defeat to Australia on Sunday, their third game in their last four conceding four goals.

The 30-year-old, returning for her first batch of matches in Great Britain colours since last summer, had a point. During Britain's Olympic qualification tournament and Rio campaign, they played 16 matches and leaked 10 goals. In their last four Pro League matches they have shipped 14 goals alone.

"It's the sloppiness and naivety around our reaction to goals and momentum shifts in games which is killing us at the minute," she added.

"All of us, including myself, have to step up and do better going forward. We have to believe in ourselves a bit more. We aren't in the fight defensively and we have to think smarter."

The test continues against Holland on Saturday when the world champions return to London for the first time since winning the 2018 World Cup.

Hinch will don the helmet against players she knows well, having played a full season in the revered Dutch Hoofdklasse after leaving the GB central programme.

"We've showed we can score goals, play hockey and compete with these teams," Hinch added of GB's attacking play. "With the Dutch, you're so aware of how good they are. But you have to be up for the fight."

We need to be more ruthless, says Hager

GB coach Mark Hager will hope to welcome back Lily Owsley from injury this weekend. GB's top scorer, with four Pro League goals, has been sidelined with a groin problem, with Hager forced to shift some half backs as midfielders in the process.

While this will be seen as a major boost ahead of the Holland game and their final match at The Stoop the week after, the Australian still stressed the need to be more disciplined at the back. "A lot of it is down to our one on one defending, being more ruthless and winning those contests," he said. "Hollie Pearne-Webb is doing so much for us defensively and we aren't supporting her enough."

GB's teenage kicks

On Friday, we saw a passage of play which underlined Britain's continued willingness to nurture young talent in this inaugural Pro League. It came in their defeat to Germany, but not before Esme Burge, 19, cut through two German defenders, weaved into the circle and laid a perfect pass for 18-year-old Izzy Petter to angle a shot high into the net. "They are exciting young players," said Hager. "Esme got us up at 3-2 [against Germany] and today she gave us the spark and got the ball in the circle."

Munday stays clear of funding

There was an interesting side note from Great Britain Hockey's recent board meeting minutes. Convening in March, Sally Munday, the outgoing chief executive who will join UK Sport in the same role in the autumn, confirmed that she will not be involved "in any way with any funding decisions relating to hockey in her new role."

The Telegraph


---

What Great Britain's men need to do to finish in the top four



Adam Dixon celebrates in the FIH Pro League

With two games left to play, Great Britain's men's team are in with a shout of reaching the top four in the inaugural FIH Pro League.

If they do finish in the top four, they will progress to the Grand Final in the Netherlands and will then be in with a chance of winning the first ever FIH Pro League trophy.

The table is determined firstly by points, then games won, followed by goal difference, then goals scored. If those are all tied, it will be on the aggregate of the games between the teams, then field goals then cards shown.

Britain are currently fourth in the table if determined by points to date, but both Argentina and Germany have games in hand, so we are looking to stay ahead of them first and foremost.

To see the latest League Table click here to go to the official FIH website.

Here are the permutations for the final two weeks of the league:

If Britain win both games, we would make the top four if:
Germany take four points or fewer from their remaining two games AND Argentina take six points or fewer from their remaining two matches.

Or Germany take four points or fewer AND Argentina take seven points AND Britain's goal difference remains superior to Argentina's.

There are also permutations that could involve the Netherlands, Belgium or possibly Australia but these will become clearer after the next round of matches, particularly as Britain face the Dutch on Friday night in a crucial match at Lee Valley Hockey and Tennis Centre.

If Britain take five points from their two games, we would make the top four if:
Germany take three points or fewer from their two remaining games AND  Argentina take five points or fewer from their three matches.

Or Germany take three points or fewer AND Argentina take six points, but they would need to have only won one game in normal time AND for our goal difference to remain superior.

If Britain take four points from their two games, we would make the top four if:
Germany take two points or fewer from their remaining games AND Argentina take five points but we maintain our superior goal difference

Or Germany take two points or fewer from their remaining games AND Argentina take fewer than five points.

If Britain take three points from their two games, we would make the top four if:
Germany take one or zero points from their remaining games AND Argentina take four points but we maintain our superior goal difference

OR Germany take one or zero from their remaining games AND Argentina take fewer than four points. However if Argentina win a game in normal time but Britain do not, they would progress on games won.

Fixtures, all UK time (GMT +1)
Wed 12 Jun Germany v Belgium 8pm
Fri 14 Jun Great Britain v Netherlands 7:30pm (Lee Valley Hockey and Tennis Centre)
Sun 16 Jun Spain v Argentina 12pm
Sun 16 Jun Germany v Australia 1:30pm
Wed 19 Jun Netherlands v Argentina 6:30pm
Sun 23 Jun Belgium v Argentina 12:30pm
Sun 23 Jun Great Britain v New Zealand 2pm (Twickenham Stoop)
Fri 28 Jun Grand Finals semi finals
Sun 30 Jun Grand Finals 3/4th and final

Great Britain Hockey media release


---

Hockey's 2012 spectator legacy to surpass one million fans at the Stoop



Crowds at the FIH Pro League

Hockey's supporter legacy from the London 2012 Olympic games will surpass one million fans when Great Britain play two historic games at the Twickenham Stoop in just under two weeks' time.

Hockey was one of the most-watched sports at the London games, with more than 630,000 tickets sold, and since then the home nations have hosted the Vitality Hockey Women's World Cup, EuroHockey Championships, Champions Trophy, Investec Internationals, World League and numerous domestic finals in England, the Commonwealth Games in Scotland and EuroHockey II in Wales, with more than 320,000 supporters through the gates at those events.

With the global FIH Pro League now well underway - culminating in a double header at the 15,000 capacity Twickenham Stoop on Sunday 23 June - the number of fans who have paid to see the sport from 2012 onwards will surpass one million.

In the ten years prior to 2012, an estimated 25,000 tickets were sold for international hockey events in England; and to now be surpassing one million fans in only seven years highlights the rise in the sport's popularity since the London Olympics.




Chief Executive Sally Munday said, "First and foremost, I would like to thank everyone who has supported our fantastic sport from 2012 onwards. We all knew that an Olympics in London would leave an incredible legacy, and to reach one million people watching live hockey in this country is a very significant milestone.

"Most of all, it is testament to the hockey family; our clubs and players for turning hockey into a genuine spectator sport, as well as our staff, contractors, partners and Hockey Makers for their tireless work on behalf of the sport.

"We have made a concerted effort to ensure that hockey events offer a full experience for our fans; world class hockey on the pitch, the chance to meet the players, play on the pitch after the game, value for money, the best possible fan experience and a culture of evolving our events based on customer feedback.

"We're very excited about the FIH Pro League, we've had a number of great matches at Lee Valley Hockey and Tennis Centre already, and then we finish this year's league with the double header at the Stoop, which is yet another step forward for our game."




Dame Katherine Grainger, Chair of UK Sport, said: "It's fantastic to see, seven years on, that the legacy of London 2012 continues to deliver an impact for British sport. Hockey has really capitalised on the momentum that success in London and Rio created for their sport, and delivered major events that both showcase the sport at it's best and engage and inspire new fans.

"It's fitting as we celebrate the 25th birthday of The National Lottery this year to also be marking milestones like this in sports where the investment of National Lottery funding has had such a transformational effect."




Mims Davies, Minister for Sport and Civil Society said, "In 2012 we rightly committed to use the power of both the Olympic and Paralympic Games to inspire and engage a new generation of fans, grow sports like hockey and vitally boost the participation numbers across the nation.

"Seven years on, the difference is clear for all to see as we are delivering on this promise. The hockey family has done truly fantastic work to maximise the legacy of 2012 and reach this important milestone."

New Zealand's men and women come to the Twickenham Stoop on Sunday 23 June in an historic double header, and work is well underway on the base to support the installation of a new temporary pitch in time for the matches, which will also be live on BT Sport.




England Hockey and partners are investing in new innovative pitch technology which will make it possible to play in the 15,000-capacity home of Harlequins Rugby Club. Tickets are on sale now from only £11.50 for U18s and £34 for adults; prices include entry to both fixtures.

England Hockey have been able to host major international events in conjunction with a number of partners; including UK Sport and the National Lottery, Lee Valley Regional Park Authority, the FIH, Mayor of London's Office and London Legacy Development Corporation.

The hockey pitch technology at the Twickenham Stoop has been developed in conjunction with a number of partners including FIH, Polytan, Polypipe, Sports Turf Research Institute, Harlequins and Sport England.

Great Britain Hockey media release


---

2019 8 Nations Invitational Tournament (U 21) M
Madrid

Fixtures (GMT +2)

10 Jun 2019 10:00     BEL v GBR (Pool A)     5 - 2     Official     Club de Campo 1
10 Jun 2019 12:00     GER v AUT (Pool A)     5 - 1     Official     Club de Campo 1
10 Jun 2019 14:00     IND v AUS (Pool B)     0 - 4     Official     Club de Campo 1
10 Jun 2019 16:00     NED v ESP (Pool B)     1 - 7     Official     Club de Campo 1

11 Jun 2019 10:00     GBR v AUT (Pool A) - Somontes 1
11 Jun 2019 12:00     GER v BEL (Pool A)     - Somontes 1
11 Jun 2019 14:00     NED v IND (Pool B)     - Somontes 1
11 Jun 2019 16:00     ESP v AUS (Pool B)     - Somontes 1

Pool standings
Pool A
| Rank | Team | Played | Wins | Draws | Losses | Goals For | Goals Against | Goal Difference | Points |
| --- | --- | --- | --- | --- | --- | --- | --- | --- | --- |
| 1 | Germany | 1 | 1 | 0 | 0 | 5 | 1 | 4 | 3 |
| 2 | Belgium | 1 | 1 | 0 | 0 | 5 | 2 | 3 | 3 |
| 3 | Great Britain | 1 | 0 | 0 | 1 | 2 | 5 | -3 | 0 |
| 4 | Austria | 1 | 0 | 0 | 1 | 1 | 5 | -4 | 0 |
Pool B
| Rank | Team | Played | Wins | Draws | Losses | Goals For | Goals Against | Goal Difference | Points |
| --- | --- | --- | --- | --- | --- | --- | --- | --- | --- |
| 1 | Spain | 1 | 1 | 0 | 0 | 7 | 1 | 6 | 3 |
| 2 | Australia | 1 | 1 | 0 | 0 | 4 | 0 | 4 | 3 |
| 3 | India | 1 | 0 | 0 | 1 | 0 | 4 | -4 | 0 |
| 4 | Netherlands | 1 | 0 | 0 | 1 | 1 | 7 | -6 | 0 |
---

Indian junior men's team loses 4-0 to Australia

The first period was a tightly fought one with both teams matching each other toe to toe. Despite both creating a host of half-chances, a few fell clear and they went into the break locked in a stalemate

India's junior men's hockey team started off their 8-Nations U-21 Invitational campaign with a 4-0 loss to Australia in their Group B encounter here Monday.

The first period was a tightly fought one with both teams matching each other toe to toe. Despite both creating a host of half-chances, a few fell clear and they went into the break locked in a stalemate.

The second quarter followed a pattern where India were happy to play on the counter and pressed Australia regularly. In a somewhat ill-tempered quarter, Australia's Dylan Martin was awarded the first green card of the game, giving India a man advantage.

The team though couldn't make it count, and soon had a man of their own penalised, Maninder Singh shown a green card for an illegal intervention on the goal line. From the ensuing penalty stroke, Australia took the lead, Nathan Ephraums scoring to give them the lead in the 25th minute. They took the single goal lead into half time.

Despite a fight back by India in the period after halftime, Australia consolidated the lead halfway through the third quarter with Ephraums scoring in the 44th with another penalty stroke to double the lead.

India were forced to throw everything forward in the final quarter, and they did so with aggression. The team won a PC within the opening minutes of the quarter but Cade Banditt in the Australian goal, parried to keep India at bay. With India forced into attack, Australia exploited the spaces, Liam Hart (53') and Ehren Hazell (60') scoring to ensure their victory.

Daily News & Analysis


---

Indian women lose 1-4 to Belarus

India's junior women's hockey team went down 1-4 to Belarus senior team.

High on confidence having won the Cantor Fitzgerald U21 International 4-Nations title, India kicked off the proceedings at a very fast pace.

Within the opening minutes, India won a Penalty Corner and Gagandeep Kaur made no mistake in converting it to give an early lead.

After that goal, Belarus pulled up its socks and hit back with a PC of its own. Sviatlana Bahushevich converted to restore parity.

After a frenetic first quarter, both teams settled down in the second and the pace of the game dropped considerably.

Belarus won the first PC of the period and Krestsina Papkova scored the goal to give the team a 2-1 lead.

The third quarter started with India hoping to take more control of the game in midfield but Belarus scored via another PC conversion in the opening minutes of the period with Yuliya Mikheichyk extending the lead to 3-1.

In a productive period, Belarus scored another one to take it further to 4-1.

India tried hard to score a goal but despite creating chances it struggled to convert and reduce the deficit.

India ramped up the pressure in the final quarter hoping to score goals and put the rival under pressure, but in the end Belarus' defence held strong to win the match.

Sportstar


---

EHL line-up for new look 2019/20 season taking shape



©: Frank Uijlenbroek / World Sport Pics

The road-map for the new look Euro Hockey League has been laid out as the new EHL Men and Women hits the turf for the 2019/20 season.

The first step along the road sees EHL Men's KO16 run from October 4-6, 2019 at Barcelona's Pau Negre Stadium.

This tournament changes for the 2019/20 season and takes on a straight knock-out format, replacing ROUND1.

It will feature 16 clubs from 11 different countries. This includes Germany's Rot-Weiss Koln and Mannheimer HC; Belgium's Beerschot and Herakles; Netherlands' SV Kampong and HGC; Spain's Real Club de Polo de Barcelona; England's Hampstead & Westminster and Surbiton; France's Saint Germain and CA Montrouge; Russia's Dinamo Kazan, Scotland's Grange, Ireland's Three Rock Rovers as well as the champions from Belarus and Austria who will be confirmed in due course.

The draw for the KO16 will take place in July. The champions from Germany (Uhlenhorst Mulheim), Netherlands (HC Bloemendaal), Belgium (Royal Leopold) and Spain (Club Egara) all receiving byes to the FINAL8.

The FINAL8 will take place over the Easter weekend with the venue to be decided in due course.

EHL Women will make its debut over the course of the Easter weekend, too, at the same venue.

The line-up for this competition is already complete. Dutch sides AH&BC Amsterdam – winners of the 2019 EuroHockey Club Cup – and Den Bosch, Germany's Club an der Alster and UHC Hambur, Spain's Club de Campo, England's Surbiton, Ireland's Pegasus and Belarus's HC Minsk.

All entries are subject to confirmation and entry by their national federations.

Euro Hockey League media release


---

Cardiff & Met win Trophy final shoot-out to see off Stroitel Brest



©: Alexander Wagner

Cardiff & Met won an incredible final quarter shoot-out with SC Stroitel Brest to win the men's Euro Hockey Trophy in Wettingen, Switzerland 4-3 after six goals came in the closing 12 minutes.

After a scoreless first half, Jack Rhodes broke the deadlock from a penalty corner five minutes into the second half, staying that way until a crazy final quarter amid a deluge of rain.

Aliaksandr Radzivinovich equalised from a corner before Jack Pritchard made it 2-1 to Cardiff within a few seconds with a clever corner deflection move.

Again, the lead only lasted a short while as a reverse-stick cross from the left fell to Vitali Zyschchyk at the back post to tap into an open goal.

He scored again in the 51st minute for 3-2 when Stroitel Brest stole the ball off the last defender, laying off the ball to Zyschchyk who used the wet pitch well to slide on the turf and into the goal.

Pritchard brought it back to 3-3 in the 53rd minute from a stroke after a slightly messy corner ended up hitting a foot on the line.

And the game was won with 106 seconds to go courtesy of Ieuan Davis's low bullet into the backboard to make it 4-3.

Brest had three corners in the last minute but all were charged down and Cardiff had their victory.

Earlier in the day, Rotweiss Wettingen earned third place with a 4-3 win over OKS SHVSM Vinnitsa while Austria's WAC beat Casa Pia Atletico Clube 2-1 for fifth.

In the first game, Glenanne beat Bohemians 9-3 with their last six goals coming in the last ten minutes after the side had been level at 3-3.

The impact of this on the EHL ranking table confirms France will have two clubs in next season's Euro Hockey League while there will be one team for each of Russia, Scotland, Ireland, Belarus and Austria with Poland missing out for the first time.

Euro Hockey League media release


---

Glens and Brennan sign off with great flourish in Wettingen



Joe Brennan in action against Rotweiss Wettingen

Joe Brennan signed off on his playing career with a rare goal as he slammed home a penalty corner rebound for Glenanne to start a remarkable run of six late goals to earn a 9-3 win over Bohemians Prague on Monday morning.

It earned a seventh place finish from the eight-team EuroHockey Trophy competition after a tough weekend for the Tallaght club.

And things were not going to plan against the Czech side either as they trailed 1-0 at half-time to Krystof Bodnar's penalty corner.

Goals from South African duo Shannon Boucher and Brad Venter swapped the lead but a second Bodnar corner tied things up at 2-2.

Jason Rogan's backhand effort from mid-circle put Glenanne 3-2 up at the end of the third quarter but the Czechs were difficult to shake off as they levelled at 3-3 with time running out.

Bohs exchanged goalkeepers for the closing minutes and the oncoming Jiri Bartak was to concede six in his 11 minute cameo.

Brennan swept home a penalty corner rebound in the 50th minute in what was the player-coach's his last game before retirement.

It kick-started a remarkable run of goals with Gary Shaw scoring an eight-minute hat trick as Eddie O'Malley and Clive Kennedy also chipped in.

In other years, the seventh place finish would lead to relegation but a reformatting of European club competition this year means Ireland will remain at the same level for the 2019/20 season. It means Lisnagarvey will play at Trophy level in 2020 while Three Rock will be at the Euro Hockey League KO16 in October in Barcelona.

For Brennan, it closes the book on a super career during Glenanne's golden period, winning the Irish Senior Cup – with both the Glens and Three Rock – as well as the old All-Ireland Club Championships and the EY Hockey League regular season in 2018.

Men's EuroHockey Club Trophy, seventh place playoff
Glenanne 9 (G Shaw 3, S Boucher, B Venter, E O'Malley, J Rogan, C Kennedy, J Brennan) Bohemi-ans 3 (K Bodnar 2, T Vohnicky)

The Hook


---

Champions Butali return top of Kenya Hockey Union men's Premier League standings

By Elizabeth Mburugu



Butali Warriors' Zack Aura in past action at City Park. [Jenipher Wachie, Standard]

Champions Butali Warriors returned to the summit of the Kenya Hockey Union men's Premier League standings following a weekend victory over rivals Nairobi Sikh Union.

Butali triumphed 3-1 over the 2012 winners in one of the most anticipated matches in Kenyan hockey. The clash is formerly known as the Simba derby when the two sides Kisumu Simba and Nairobi Simba battled to prove the real lion. Kisumu rebranded to Butali after gaining sponsorship from Butali Sugar Millers while Nairobi changed to Sikh Union and in 2014 and since then the millers have dominated the derby.

Moses Ademba, Constant Wakhura and Amos Barkibir scored for Butali whereas Ian Shama netted Sikh Union's consolation goal. The win saw the defending champions recapture the top spot with 13 points same as Western Jaguars who had ended Wazalendo's winning streak in Kakamega. Butali are on top thanks to their superior goal difference. 

Butali have played five matches winning four and dropping two points in a 3-3 draw with United States International University of Africa (USIU-A). Captain Kenneth Nyongesa said a victory against Sikh Union was crucial in enhancing their chances of retaining their title. "They (Sikh Union) are former champions and winning against them is a step closer to defending our title," Nyongesa said.

Wazalendo dropped from the top spot to third with 12 having failed to maintain their good run away to Jaguars. Kenya Police are fourth with 11 following their 2-2 with USIU-A. Police garnered their points from six outings. Winless Strathmore University Gladiators are stuck at the bottom with one point from five matches.

Reigning women Premier League champions Telkom opened a four-point gap between them and second-placed USIU-A Spartans who they beat 2-1 at the weekend. Telkom have so far dropped for crucial points this season in two draws. Spartans are tied on seven points with third-placed Lakers while Amira Sailors and Strathmore Scorpions are fourth and fifth respectively.

Park road Badgers lead the chase for a promotion to the men's top tier with 24 points from eight matches. Badgers who were demoted after failing to excel last season remain unbeaten and have only conceded three goals. The Technical University of Kenya are second with 18 points while Kenya College of  Accountancy University (KCAU) are third with 17.

The top six places in the Super League are occupied by sides that are seeking to return to the top tier having been demoted in the past. Mombasa Sports Club (MSC), Mvita XI and Kenyatta University who have all tested the Premier League but could not sustain their stay at the top are fourth, fifth and sixth.

Dan Onyango of Parklands and Conrad Wafula of Jaguars lead the men's Premier League scorers with six goals each while Scorpions' Gilly Okumu tops the women with five.

Selected results
Butali 3 Sikh Union 1
TUK 1 Bungoma Farmers 0
KU 0 KCAU 1

The Standard Digital


---

Namibia's hockey future looks bright



The Khomas Futures team that beat Erongo 5-1 and suffered a narrow 4-3 defeat to the Khomas All Stars team.

THE Bank Windhoek National Indoor Hockey League hosted three exhibition matches over the weekend at the Windhoek Show Grounds in Windhoek.

The exhibition matches comprised of the best Bank Windhoek National Indoor Hockey League male players from the Khomas and Erongo regions.

A first of its kind, the aim of the exhibition was to showcase Namibian hockey and its development. The players took the matches seriously and they entertained the crowd with top class hockey skills and tricks to the appreciation of the spectators.

The Khomas All Stars and Erongo Regionals Men's Indoor Hockey teams faced each other in the first exhibition match of the day. The Khomas All Stars, made up of players from the national team, started the match on a high note and inflicted a 5-1 defeat on the Erongo side.

The second match, between Khomas All Stars and Khomas Futures, had the spectators on their feet due to its high-paced play. The thrilling match ended in a 4-3 win for Khomas All Stars who looked pleased to have heard the final whistle.

Khomas Futures, made up of upcoming hockey stars, went on to win their last game of the day as they swept aside the Erongo Region team with a 5-1 victory.

"Although the coastal team lost all their fixtures, the end result shows that there is improvement of hockey at the coast. We are proud of them," said Namibia Hockey Union's (NHU) president, Marc Nel.

Nel added that the NHU intends to roll out the exhibition matches at every end of the season and grow the game in terms of regional participation which will also include a women's league.

"Congratulations to the NHU for putting up yet another exciting initiative. The standard of hockey has improved tremendously and we are proud to have been a part of the incredible journey of this sport in Namibia," said Bank Windhoek's head of corporate affairs, Hayley Allen.

At the end of the exhibition tournament, spectators gave a standing ovation to all the hockey players for putting in great performances during the exhibition encounters.

Next on the hockey calendar is the much anticipated Bank Windhoek National Outdoor Hockey League, scheduled to kick off in early July.

The Namibian