All the news for 1 April 2019

2019 FIH Pro League (Men) - Result 31 March

ARG v ESP (RR)     3 - 2

Unofficial pool standings
| Rank | Team | Played | Wins | Win Draws | Loss Draws | Losses | Goals For | Goals Against | Goal Difference | Points | Percent |
| --- | --- | --- | --- | --- | --- | --- | --- | --- | --- | --- | --- |
| 1 | Australia | 7 | 5 | 0 | 1 | 1 | 22 | 15 | 7 | 16 | 76.2 |
| 2 | Argentina* | 6 | 3 | 0 | 0 | 2 | 13 | 13 | 0 | 10 | 55.6 |
| 3 | Belgium | 4 | 2 | 1 | 1 | 0 | 14 | 9 | 5 | 9 | 75.0 |
| 4 | Germany* | 5 | 2 | 0 | 1 | 1 | 10 | 9 | 1 | 8 | 53.3 |
| 5 | Spain | 7 | 0 | 4 | 0 | 3 | 20 | 23 | -3 | 8 | 38.1 |
| 6 | Great Britain | 3 | 2 | 0 | 0 | 1 | 12 | 9 | 3 | 6 | 66.7 |
| 7 | Netherlands | 5 | 1 | 1 | 1 | 2 | 15 | 16 | -1 | 6 | 40.0 |
| 8 | New Zealand | 7 | 0 | 0 | 2 | 5 | 15 | 27 | -12 | 2 | 9.5 |
* A cancelled match contributes 1 point to each team's results that is not shown in the tables as a cancelled mach
The FIH inexplicably and confusingly use a system not used in any other sports League in the World, of making the Percentage more important than Points until the end of the League when they will revert to Points only. Fieldhockey.com prefers to use the conventional Points and so the Unofficial Pool Standings on this site are reflected in this manner.

FIH Match Centre


---

2019 FIH Pro League (Women) - Results 31 March

ARG v CHN (RR)     1 - 0
USA v GBR (RR)     1 - 3

Unofficial pool standings
| Rank | Team | Played | Wins | Win Draws | Loss Draws | Losses | Goals For | Goals Against | Goal Difference | Points | Percent |
| --- | --- | --- | --- | --- | --- | --- | --- | --- | --- | --- | --- |
| 1 | Argentina | 8 | 5 | 2 | 0 | 1 | 13 | 6 | 7 | 19 | 79.2 |
| 2 | Australia | 8 | 4 | 1 | 0 | 3 | 14 | 12 | 2 | 14 | 58.3 |
| 3 | Netherlands | 5 | 4 | 0 | 0 | 1 | 10 | 3 | 7 | 12 | 80.0 |
| 4 | New Zealand | 9 | 4 | 0 | 0 | 5 | 17 | 16 | 1 | 12 | 44.4 |
| 5 | Belgium | 4 | 2 | 0 | 1 | 1 | 4 | 4 | 0 | 7 | 58.3 |
| 6 | China | 8 | 2 | 0 | 1 | 5 | 13 | 16 | -3 | 7 | 29.2 |
| 7 | Germany | 4 | 1 | 0 | 2 | 1 | 8 | 7 | 1 | 5 | 41.7 |
| 8 | Great Britain | 4 | 1 | 1 | 0 | 2 | 6 | 11 | -5 | 5 | 41.7 |
| 9 | United States | 6 | 0 | 1 | 1 | 4 | 6 | 16 | -10 | 3 | 16.7 |
The FIH inexplicably and confusingly use a system not used in any other sports League in the World, of making the Percentage more important than Points until the end of the League when they will revert to Points only. Fieldhockey.com prefers to use the conventional Points and so the Unofficial Pool Standings on this site are reflected in this manner.

FIH Match Centre


---

Double home success for Argentina while Great Britain women win on the road




Argentina's national teams claimed home wins against China women and Spain men respectively while Great Britain's women recorded an impressive away victory over USA on Sunday (31 March).

A brilliantly improvised penalty corner strike from Silvina d'Elia gave Argentina's women a second successive 1-0 win over China, with their result at the Estadio Mundialista in Rosario complementing the same score-line achieved in Changzhou ten days ago to help the Pan American giants narrow the gap on the Netherlands at the top of the FIH Pro League standings. Great Britain's women were also triumphant on Sunday, with Lily Owsley scoring twice as the Olympic champions earned a 3-1 success over hosts USA at the Spooky Nook Sports Complex in Lancaster, Pennsylvania.

In the men's competition, Olympic champions Argentina overturned a two goal deficit to record a 3-2 victory over Spain in dramatic fashion. Goals from Matias Paredes, Lucas Toscani and a penalty stroke from Maico Casella completed a comeback which has moved Los Leones into the top four of the standings.

The opening two quarters of the Argentina (FIH World Ranking: 4) versus China (WR:10) women's match were far closer than home fans would have liked, with the Asian giants frustrating Las Leonas in first 30 minutes. The hosts created the better of the scoring opportunities but could not find a route past Ye Jiao, a goalkeeper who has impressed throughout the inaugural edition of the FIH Pro League.

Argentina, who continue to miss talismanic attacker Delfina Merino through injury, scored what proved to be the winning goal in the third quarter, and it was a strike worthy of winning any match. Silvina d'Elia saw her initial penalty corner flick blocked before producing a moment of inspired brilliance, touching a high ball into space and cracking a backhand half-volley into the bottom right corner to break the deadlock. Agustina Albertarrio wasted an excellent opportunity to double the advantage late on, but it mattered little as the defensively outstanding Argentina comfortably claimed another three points.

Remarkably, it is now 266 minutes since Argentina last conceded in the FIH Pro League, having recorded four successive clean-sheet wins since a 34th minute strike from Dutch ace Pien Sanders saw Las Leonas lose 2-1 against the Netherlands in Buenos Aires on 24 February.

"We are really happy to win this game at home", said goal-scorer and Player of the Match Silvina d'Elia, before looking ahead to next weekend's match against Great Britain. "We are in the 'way' [process] of making a really good team and it is going to be a really important next game for us, but we will try to win again."

It would prove to be a day of double celebration for Argentina's home fans, although it certainly did not feel like it for the first three quarters of the men's match between Los Leones (WR:4) and the Red Sticks of Spain (WR:9). The Spaniards were by far the better team in the first half, deservedly opening up a 2-0 lead thanks to a fortunate strike from Enrique Gonzalez that deflected into the goal via the stick of Argentina defender Ignacio Ortiz before Juan Catan dived at full stretch to touch home a blistering cross from Pau Quemada.

Quemada had two glorious chances to further extend the advantage in the third period, with Gonzalez also missing before Argentina veteran Paredes scored two seconds before the end of the quarter to give his team a life-line. Lucas Toscani crashed a sensational volley into the roof of the Spanish net to level the scores at 2-2, with the winner coming from Maico Casella's perfectly executed penalty stroke after a Player of the Match Paredes was fouled with the goal at his mercy.

"In the last quarter we played better, we had opportunities and we scored which is why we won, but we didn't play really good today", said Paredes. "I think we have to improve. Today we played really bad, while in Australia [3-2 defeat] and New Zealand [1-2 win] we played better, but we have two weeks to gain some more points and be there in the final four."

The third and final match of the day took place at the Spooky Nook Sports Complex in Lancaster, Pennsylvania, where USA (WR:12) hosted Olympic champions Great Britain (WR:2). The home favourites made the first impression on the scoreboard midway through the second quarter, with Mackenzie Allessie adding the finishing touch to a well rehearsed penalty corner routine. USA's lead lasted just five minutes, with Lily Owsley producing a cool body swerve to move past American shot-stopper Kelsey Bing to restore parity at half time.

Owsley made two significant contributions in the third period, providing the assist for Emily Defroand to pounce from close range before getting a crucial touch on a penalty corner routine as Great Britain established a 3-1 lead that proved to be enough for all the points. It was Great Britain's first win of the FIH Pro League, and will give the team great confidence ahead of their upcoming meeting with Argentina in Rosario.

"To win is unbelievable", said Owsley, who was named Player of the Match. "It's been a long time coming and it means the world to us to get three points. It's been a tough journey, a tough transition since the World Cup, and I feel exhilarated and relieved."

The FIH Pro League continues next weekend with Rosario's Estadio Mundialista hosting the men's and women's fixtures between Argentina and Great Britain on Saturday (6 April), while Belgium's women take on China on Sunday (7 April) in Brussels.

FIH Pro League

31 March - Rosario, Argentina

Result: Women's Match 27
Argentina 1, China 0
Player of the Match: Silvina D'Elia (ARG)

Umpires: Laurine Delforge (BEL), Alison Keogh (IRL) & Ben Goentgen (GER - Video)


Result: Men's Match 22
Argentina 3, Spain 2
Player of the Match: Matias Paredes (ARG)

Umpires: Jakub Mejzlik (CZE), Ben Goentgen (GER) & Laurine Delforge (BEL - Video)


31 March - Lancaster, USA

Result: Women's Match 28
USA 1, Great Britain 3
Player of the Match: Lily Owsley (GBR)

Umpires: Michelle Joubert (RSA), Irene Presenqui (ARG) & Ayanna McClean (TTO - Video)

#FIHProLeague

Official FIH Pro League Site


---

USWNT Falls 3-1 to Great Britain in Second Home FIH Pro League Game of the




LANCASTER, Pa – A brisk, windy evening awaited the No. 12 U.S. Women's National Team and No. 2 Great Britain on the pitch for their FIH Pro League match Sunday evening at Spooky Nook Sports in Lancaster, Pa. After testing each other on both sides of the field, USA struck first in the second quarter to take an early lead. Great Britain, looking for their first FIH Pro League win, responded by scoring three unanswered goals to prevail 3-1.

After exchanging offensive chances to open the first quarter, Great Britain was first to gain a circle entry. From the right baseline, Lily Owsley pushed the ball toward the goal but was quickly stopped by goalkeeper Kelsey Bing (Houston, Texas). Linnea Gonzales (Bel Air, Md.) responded with USA's first entry in the 6th minute before a Great Britain defender made the tackle. Still trying to find an opportunity against each other, the two squads exchanged offensive chances before Erin Matson (Chadds Ford, Pa.) was given a green card in the 11th minute. USA defended well during the disadvantage as possession remained evenly split through the end of the frame.

USA opened the second quarter with a shot in the 20th minute by Kathleen Sharkey (Moosic, Pa.) that hit the outside of the goal. Moments later, USA set up for their first penalty corner of the game. On the attempt, Ali Froede's (Burke, Va.) sweep was deflected in by Mackenzie Allessie (Mount Joy, Pa.) to give USA a 1-0 lead in the 22nd minute. The red, white and blue kept the pressure on Great Britain's defense in the following minutes earning multiple circle entries but could not find a clear shot. A free hit by Great Britain near the 25 yard line was intercepted by Alyssa Manley (Lititz, Pa.) on the pass attempt. Laura Hurff (Newark, Del.) then settled on the loose ball and sprinted downfield, entered the circle before giving it on to Allessie but USA could not register a shot on goal. Great Britain quickly responded, moving upfield and setting up Owsley who powered through USA's defense to score in the 27th minute. With momentum in their favor, Great Britain kept the pressure on USA, gaining multiple circle entries and nearly made a go-ahead goal as a cross came to Owsley but was unable to finish on a diving Bing, keeping the score 1-1 at halftime.

Coming out of the break, Amanda Magadan (Randolph, N.J.) charged down the near sideline before passing along to Allessie. Great Britain was waiting to tackle the play, denying a circle entry as the visitors moved back upfield. In the 34th minute after a baseline run, Emily Defroand followed up on a rebound past Bing to give Great Britain their first lead of the game. Moments later, on their first penalty corner attempt, the initial drag went off Magadan as Great Britain requested a video referral. The call on the pitch stood, giving possession to USA and Great Britain lost their referral for the remainder of the game. Despite this, Great Britain did not lose a step in dominating ball control in the quarter as they continued to put pressure on USA's defense. Earning another penalty corner in the 40th minute, it was Owsley once again finding the goal on a tip off the drag option, extending her team's lead 3-1. USA was quick to respond in the following minutes. In the 44th minute, Magadan found herself alone along the far sideline. She fed a backhand cross to a waiting Gonzales one-on-one with her defender in front of the goal, who redirected it wide. In the final minute of the quarter, Magadan sent a sweep on goal that was saved by goalkeeper Sabbie Heesh before Gonzales earned a penalty corner for USA. The final attempt of the quarter was misplayed by Magadan, but USA would head into the last frame with an advantage thanks to a green card to Tessa Howard.

USA began the fourth with two back-to-back penalty corners in the 47th and 48th minute but could not capitalize on either one. Great Britain countered with a penalty corner, but was stopped by Bing in the 50th minute. Moments later, Bing made another save off her glove but set up another penalty corner attempt by the visiting team that was shot wide of the goal. Still pressing USA's defense, Great Britain continued to get into the circle and create scoring opportunities. As the clock ticked down, USA was able clear up field but were unable to connect closer to the goal. One final effort rang in the 57th minute when Magadan crossed the ball into the circle for a waiting Manley who could not connect.

Following the game, Great Britain's Owsley was named Player of the Match, for scoring two goals in tonight's match.

The U.S. Women's National Team has a few days rest before traveling to Brussels to play Belgium on Wednesday, April 10.

USFHA media release


---

Lily Owsley scores twice as Great Britain seal win over USA

Great Britain are currently seventh in the FIH Pro League standings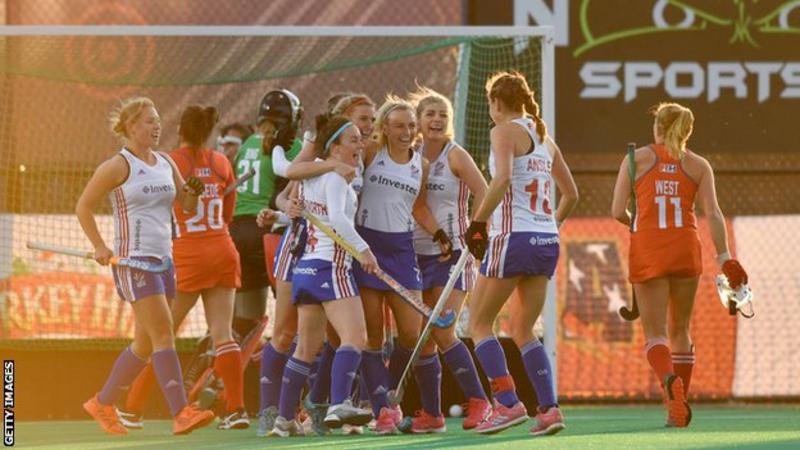 GB celebrate a Lily Owsley goal

Lily Owsley scored twice on her 50th appearance for Great Britain as the Olympic champions beat the United States 3-1 in the FIH Pro League.

Mackenzie Allessie opened the scoring for the hosts in Pennsylvania but Owsley pulled GB level just five minutes later.

Emily Defroand gave Mark Hager's side the lead with her first international goal, with Owsley providing the assist.

Owsley then wrapped up victory with her second goal from a penalty corner.

The victory was GB's first in the competition, following defeats by New Zealand and Australia and a draw with China - though they claimed a bonus point in the latter by winning the shootout.

"To win is unbelievable," said Owsley, who took her tally to 12 goals for GB. "It's been a long time coming and it means the world to us to get three points.

"It's been a tough journey, a tough transition since the World Cup, and I feel exhilarated and relieved."

GB's next FIH Pro League fixture is against Argentina in Rosario on 6 April.

BBC Sport


---

Watch: South Korea Captain Scores One Of The Most Extraordinary Penalties Ever Seen In Hockey

South Korea captain Lee Nam Young produced a moment of magic against India in the final of the Sultan Azlan Shah Cup.

Santosh Rao



Click to Watch: South Korea Captain Scores One Of The Most Extraordinary Penalties Ever Seen In Hockey

South Korea caused a major upset when they beat favourites India 4-2 in the shootout to lift the Sultan Azlan Shah Cup hockey title after the five-time champions conceded an equaliser in the final quarter of the summit clash in Malaysia. The shootout, however, will forever be etched in the minds of hockey fans around the globe. South Korea captain Lee Nam Young produced a moment of magic in the shootout when he scooped the ball over the head of young Indian goalkeeper Kishan B Pathak to seal the title for his country.

The clip of Lee Nam Young audacious penalty has gone viral. Here is arguably the best penalty ever scored on a hockey field:

Going into the title clash, World No.5 India were clear favourites to lift their sixth Sultan Azlan Shah title against the 17th ranked Koreans. And the Indians started in well, taking the lead early through Simranjeet Singh's field strike in the ninth minute.

The Koreans, thereafter, kept the Indian forward line under tight vigil, while also pressing hard in search of the equaliser.

South Korea's efforts finally paid dividends in the 47th minute when they were awarded a penalty stroke. The Indians went for the video referral but the penalty decision stayed and Jang Jong Hyun made no mistake in drawing his side level.

Two minutes from the hooter, India earned a penalty corner but failed to take advantage as the match went into shootout.

In the shootout, the Indians missed their first, fourth and fifth attempts and converted just two, while the Koreans just missed their third strike to win the thrilling contest 4-2 and lift the crown for the third time in the history of the invitational tournament.

NDTV Sports


---

Pressure turned them into bronze

By Jugjet Singh




IPOH: Pressure turns charcoal into diamond, and so some 'inspirational words' from Malaysian Hockey Confederation (MHC) president Datuk Seri Subahan Kamal turned a losing side into bronze medalists.

After winning against Poland and Japan, Malaysia took a slide when they were beaten by South Korea and India and lost a chance to play in the Azlan Shah Cup final.

Subahan did not mince his words, or his disappointment, when he lambasted the players and officials, saying that the MHC had given them everything possible and its payback-time.

After the South Korea and India defeats, Subahan had said: "No more excuses, no more statistics to back up a defeat, no more 'we played well but lost'.

"I don't want to hear all this from the coach (Roelant Oltmans) when we play in the Series Finals in KL.

"I want results. And it should start on Friday when we play Canada, and again on Saturday if both teams qualify for the bronze medal bracket," said Subahan.

His prodding saw Malaysia beat Canada 3-2 and 4-2 to win a rare second bronze in the Cup.

However, everybody expected Malaysia to play in the final of the Azlan Shah Cup, and the MHC even had hoped of finally breaking the gold medal jink since 1983.

But it turned out to be just another tournament for the generous hosts, as South Korea claimed their third Azlan Shah Cup gold, India silver and Malaysia bronze.

In the beginning, the hosts beat Poland and Asian Games champions Japan with easy, setting the fans salivating for a miracle.

But this bunch cracked when it mattered most against India and South Korea, and this has been happening for ages.

When Malaysia are under no pressure to deliver, they will even beat the best in any tournament, like they did against Canada in the last pool match.

But when it matters most, the Malaysian team always falters.

But inspired by the warning from Subahan, the failure script was thrown out of the window, and it became a success story, albeit on a smaller scale.

Hopefully Mr President will be on their minds again when they start their pre-Olympic Qualifier, the FIH Series Finals in Kuala Lumpur on April 26 to May 4.

The other teams in this pre-Olympic Qualifier are not big guns and Malaysia even has the advantage as hosts.

Group A is made up of Canada, Austria, Wales and Belarus.

Malaysia are in Group B with China, Brazil and Italy.

An appearance in the final against Canada, and a possible gold medal by beating them for the third straight time, is what MHC and Malaysia needs going into the final Olympic Qualifier in November.

Jugjet's World of Field Hockey


---

Same old, same old

By Aftar Singh




KUALA LUMPUR: Stop giving excuses and start delivering.

Former national coach C. Paramalingam is fed up with hockey coaches giving the same old lame excuse after a match or a tournament.

Paramalingam has hit out at national coach Roelant Oltmans (pic) and his players after Malaysia dished out an inconsistent performance in the Sultan Azlan Shah Cup in Ipoh, which ended on Saturday.

The national team was set a target of lifting the Cup by the Malaysian Hockey Confederation (MHC) but finished third after defeating Canada 4-2.

The hosts have yet to win the title since its inception in 1983.

Malaysia opened their campaign with a 5-1 win over Poland, edged Asian Games champions Japan 4-3 but lost the next two matches to India's second stringers (4-2) and South Korea (2-1).

In the last round robin match, Malaysia beat Canada 3-2.

In the match against India and South Korea, Oltmans had said that the players created a lot of goalscoring chances but failed to deliver.

Malaysia earned nine penalty corners in both matches but only converted a goal in each match.

"It is the same old excuse we have been hearing from foreign coaches. Roelant was hired to develop hockey in Malaysia and should not be giving excuses," said Paramalingam, a former Olympian.

"When are we going to learn as we keep making the same mistakes either due to poor finishing or defensive errors.

"The penalty corner set-pieces have also been a letdown in tournaments," added Paramalingam.

"Roelant should focus more on grassroot development. Let the local coaches handle the national team as some have done a better job than the foreigners.

"Stephen van Huizen guided Malaysia to win our first silver medal in the 2010 Guangzhou Asian Games," said the 85-year-old, who represented Malaysia for 10 years from 1960 to 1970.

He was the national coach from 1974 and his last assignment with the national team was in the 1984 Los Angeles Olympics.

Malaysia's next assignment is the World Series at the National Hockey Stadium in Bukit Jalil from April 26 to May 4.

It is the qualifying tournament for the 2020 Tokyo Olympics and judging by their performance in Ipoh, it will be tough for Malaysia to book their ticket.

Malaysia have not featured in the Olympics since Sydney 2000.

The Star of Malaysia


---

Olympic qualifiers first challenge for Reid: Gomes

Somaya feels the Australian style of play could come into effect

Hockey Olympian Marcellus Gomes sees the qualifiers for the 2020 Tokyo Games as the first major challenge for new national men's coach Graham Reid.

Reid, an Australian, is set to take over as the coach of the senior men's team following the exit of Harendra Singh from the post after the last World Cup in Bhubaneshwar.

"The most important thing for him is to ensure that the team qualifies (for the 2020 Tokyo Olympics) and the qualifying round is important," he said.

M.M. Somaya felt that with Reid set to take charge, the Australian style of play could come into effect which would help the national team.

"Graham Reid is an experienced coach and he will probably get some of the Australian style of play and that (could be) beneficial," said Somaya.

The Hindu


---

ROUND-UP: English Men's Hockey League

East Grinstead secured the fourth and final play-off spot after beating the University of Exeter 2-0 in the Men's Hockey League Premier Division.

Simon Faulkner gave the home side the lead in the 46th minute with a goal from free play before Ross Stott cemented the win with another goal in the same fashion just one minute later.

The win confirms that East Grinstead will join Surbiton, Hampstead & Westminster and Beeston in the end of season play-offs on 13-14 April at the Lee Valley Hockey and Tennis Centre in London.

Table toppers Surbiton ended their season with another win, this time at Wimbledon.

Tom Sorsby gave the away side the lead in the 63rd minute and Dave Beckett secured the points with a goal from open play in the last minute.

Second-placed Hampstead & Westminster were also victorious, winning 2-1 at Brooklands MU.

Kei Kaeppeler gave the away side the lead in the ninth minute before David Flanagan hit back for Brooklands in the 44th. But Will Calnan secured the victory with a goal from open play in the 57th minute.

Elsewhere, Reading had play-off hopes heading into the weekend, but although they beat Holcombe 3-1 East Grinstead's victory meant Reading miss out on the play-offs.

Matt Richards scored a brace for Reading and Fred Newbold also found himself on the scoresheet. Matthew Symonds scored for Holcombe in the 47th minute, but it wasn't enough.

Beeston also secured three points on the final day of the season after winning 3-1 at bottom of the table Sevenoaks.

Gareth Griffiths gave the away side the lead in the 16th minute before Ali Taylor hit back for Sevenoaks in the 45th. Alex Blumfield regained the lead for Beeston in the 48th minute and Joe Sharp sealed the points with a goal from open play in the 53rd.

Men's Conference East

Brighton & Hove versus Teddington ended 1-1 in the Men's Conference East as both teams clinched the point they needed to secure Division One hockey for next season.

Robbert Schenk gave the home side the lead in the 25th minute before Charlie Brooke equalised for Teddington on 58 minutes.

City of Peterborough will have to go through play-offs to secure their Division One spot for next season, despite winning 2-1 at Cambridge City.

Ben Read and Ross Ambler both scored for City of Peterborough and Brennan Alexander Parker was on the scoresheet for Cambridge City.

Elsewhere, Old Georgians versus Canterbury ended 2-2, Richmond won 5-2 at Old Loughtonians and Oxted won 3-1 at home against Southgate.

Men's Conference North

Preston secured seventh place and a spot in the Division One play-offs with a 0-0 draw against Belper in the Men's Conference North on Sunday.

Doncaster missed out on a chance to finish seventh as they lost 3-1 at home against Loughborough Students.

Fergus Gibson gave the away side the lead in the 29th minute before Ed Greaves added a quickfire brace with goals coming in the 32nd and 34th minutes to make it 3-0.

Matt Gibson scored a consolation for the home side in the 62nd minute but it was in vain as Doncaster were condemned to defeat.

Elsewhere, the University of Durham won 7-1 at home against Alderley Edge with Max Van Laak scoring a hat-trick, and Leeds won 7-2 at home to Bowdon.

A hat-trick from Adam Laitt helped the University of Nottingham win 7-1 at home to Sheffield Hallam.

Men's Conference West

Fareham secured seventh place and their spot in the Division One play-offs with a 2-0 win at home against Oxford Hawks in the Men's Conference West.

Niall Stott scored a brace to secure the win for the home side with both his goals coming from open play in the 48th and 62nd minutes.

The University of Bristol missed out on a chance to finish seventh as they lost 5-1 away at the University of Birmingham.

Christopher Way scored four goals for the home side and Cuthbert Shepherd added another to seal the win for the side who finished in sixth place.

Thomas Minall scored a consolation for the University of Bristol in the 25th minute.

Elsewhere, Olton & West Warwicks won 8-3 at home against Havant, Cardiff & Met beat Isca 3-2 and Team Bath Buccaneers were 3-1 victors at Chichester.

RESULTS:

Men's Premier Division: Brooklands Manchester University 1, Hampstead & Westminster 2; East Grinstead 2, University of Exeter 0; Reading 3, Holcombe 1; Sevenoaks 1, Beeston 3; Wimbledon 0, Surbiton 2.

Men's Conference East: Brighton & Hove 1, Teddington 1; Cambridge City 1, City of Peterborough 2; Old Georgians 2, Canterbury 2; Old Loughtonians 2, Richmond 5; Oxted 3, Southgate 1.

Men's Conference North: Doncaster 1, Loughborough Students 3; Leeds 7, Bowdon 2; Preston 0, Belper 0; University of Durham 7, Alderley Edge 1; University of Nottingham 7, Sheffield Hallam 1.

Men's Conference West: Chichester 1, Team Bath Buccaneers 3; Fareham 2, Oxford Haws 0; Isca 2, Cardiff & Met 3; Olton & West Warwicks 8, Havant 3; University of Birmingham 5, University of Bristol 1.

England Hockey Board Media release


---

Irish Mens EY Hockey League Weekend Round Up

Cork C of I landed their first EYHL win since November 2017 to give their hopes of remaining in the national division a real boost as they won 3-2 at Cookstown.

John Jermyn, Stephen Parker and Thomas Chalumeau handed them a 3-0 lead which Cookstown began to eat into with Callum Anderson and Mark Crooks trimmed the advantage to just one but C of I held on for the three points.

The result halves their gaps to Cookstown and YMCA and they now face back-to-back games against Monkstown to try and record another win to get give them real hope.

At the top, the leading quartet all won to strengthen their claims for an EY Champions Trophy spot. Lisnagarvey are already there courtesy of late goals in each half at Monkstown to win out 2-0, Andy Williamson and James Lorimer getting the goals.

Three Rock Rovers put big daylight between them and Pembroke with an 8-1 win in the battle between fourth and fifth place in the table. Rovers led 5-0 at half-time with Luke Madeley scoring a pair of drag-flicks. The Rathfarnham club were 8-0 up before Pembroke scored through Harry Spain late in the tie.

Glenanne eked out a 2-1 win over YMCA at St Andrew's as Cedric Jakobi scored twice from penalty corners in the second half. Earlier, they had been wasteful in front of goal with Stephen Brownlow missing a stroke but they  eventually made use of their 10 penalty corners.

At 2-0, YM fought back with Sam Hyland scoring a stroke to set up a rousing last 10 minutes but they could not find an equaliser.

Banbridge ran up an 8-0 win over out-of-form Annadale who have not won in their last seven games. Eugene Magee, John McKee and Josh Moffett scored a brace each. They remain in equal second with two games to go, three points off Lisnagarvey.

EY Hockey League: Banbridge 8 (J Moffett 2, J McKee 2, E Magee 2, A Tinney, Z McClelland) Annadale 0; Cookstown 2 (C Anderson, M Crooks) Cork C of I 3 (J Jermyn, S Parker, T Chalumeau); Glenanne 2 (C Jakobi 2) YMCA 1 (S Hyland); Monkstown 0 Lisnagarvey 2 (A Williamson, J Lorimer); Three Rock Rovers 8 (L Madeley 2, A Empey 2, M English, D Walsh, H Morris, J Mullins) Pembroke Wanderers 1 (H Spain)

Men's EYHL – extended match reports

Cookstown 2 (C Anderson, M Crooks) Cork C of I 3 (J Jermyn, S Parker, T Chalumeau)

Cork C of I scored their first EYHL win since November 2017 as they held on for a big 3-2 win over Cookstown at Steelweld Park, giving their hopes of a potential great escape a massive boost.

They built a 3-0 lead and while Cookstown fought back, they could not find a finishing touch for what would have been a vital point for them. The Cork side had won here a couple of weeks ago in the Irish Senior Cup and they took that confidence into this tie, controlling a lot of possession, going close through Simon Wolfe and then ahead through a trademark John Jermyn flick from the short corner set piece.

The Tyrone club improved in the second quarter but Cork were creating the better chances, Jonny Bruton going close and Philip Brownlow forcing a great double save out of Josh McCabe in the home goal.

They went two up when a hopeful Bruton reverse hit into the circle was deflected home at the back post by the unmarked Stephen Parker for 2-0. Minutes later Cork made it 3-0 through Thomas Chalumeau. He picked up the ball with his back to goal but rolled his marker and fired home with an excellent finish.

Cookstown started to close the gap when Callum Anderson cleaned up a corner rebound. Minutes later Mark Crooks made it 3-2. The excellent Matty Rollins found the winger in the circle and Crooks made no mistake on the reverse. Crooks and Greg Allen went close but two yellow cards in the closing stages stalled their momentum in the final quarter.

Monkstown 0 Lisnagarvey 2 (A Williamson, J Lorimer)

Lisnagarvey remain the team to catch as a goal late in each half saw them record a tough 2-0 victory away from home. Jason Lynch made some key defensive interventions in the first four minutes as Garvey started well with shots from James Lorimer and Andy Williamson going lcose before Geoff Cole tested James Milliken from an awkward angle.

Ollie Kidd's rebound was cleared off the line by David Cole to end the first quarter, a feat matched by Guy Sarratt in the second quarter. Indeed, there was a barrage of corner chances from Garvey before the opening goal came in the 31st minute. Kidd beat a number of defenders before laying up for Andy Williamson to finish.

It remained that way for the third quarter with Keith Kenning clearing off the lin while David Fitzgerald did well from a couple of corners. Monkstown had a lot of pressure in the last quarter with Aran Rooney winning a corner shot for Guy Sarratt but it was charged down.

They went to a kicking back with five minutes to go but the plot backfired as Garvey won a corner which Lorimer dragged in for 2-0 with two minutes to go.

Glenanne 2 (C Jakobi 2) YMCA 1 (S Hyland)

Glenanne got back to winning ways after one point from their last nine as two Cedric Jakobi goals got them by the challenge of YMCA at St Andrew's.

For long periods, the Glens were left frustrated as they won numerous penalty corners and a stroke but could not convert, Stephen Brownlow shooting wide from the spot, a similar fate to many of their corners. Brad Venter had one disallowed for backstick, too.

They went in front from their sixth penalty corner of the tie with a classy switch-flick in the 40th minute for 1-0. Another couple of set pieces came and went before Sam Hyland was sent to the bin for a stick tackle and Jakobi found the net once more.

YM were reduced to nine when Will Powderly followed Hyland on a yellow but they rode out that tricky spell and got back in the game from the penalty spot via Hyland. It came from Thom Ritchie racing onto a long overhead and his switch to Ben Campbell was stopped in its tracks by a chop.

Ritchie missed out from a golden chance to make it 2-2, deflecting over the top while a last minute corner from Grant Glutz was tipped away by former YM man Iain Walker between the posts.

Three Rock Rovers 8 (L Madeley 2, A Empey 2, M English, D Walsh, H Morris, J Mullins) Pembroke Wanderers 1 (H Spain)

Three Rock Rovers eased to an impressive win over to put seven points between them and fifth placed Pembroke – without the services of Keith O'Hare – in the chase for the EY Champions Trophy places.

Harry Morris had them one up inside the first five minutes as Rovers made most of the play from the outste but they were initially frustrated in their pursuit of a second. It arrived in the 25th minute when Luke Madeley slipped past the first runner and pushed by the impressive Simon Thornton.

Mark English added a third soon after from a Daragh Walsh turnover, feeding Ross Canning whose cross from the left was guided home from close range. Madeley scored another corner and Ali Empey made it 5-0 at half-time after another swift attack down the baseline.

John Mullins – on his return from injury – from a pitch length move with Jack McAllister cracking the ball into the circle with the deflection going into the roof of the net. Daragh Walsh slammed in the next for 7-0 at three quarter time.

Empey finished off from Canning's cross before Pembroke got a consolation via Harry Spain's corner second phase, his shot just about beating Irish Under-16 goalkeeper Ben Whelan's attempt to stop.

Banbridge 8 (J Moffett 2, J McKee 2, E Magee 2, A Tinney, Z McClelland) Annadale 0

Four first half penalty corner goals saw Banbridge blow away Annadale and keep up their pursuit of leaders Lisnagarvey. Eugene Magee continued his hot streak from corners to start the scoring in the sixth minute and they added three more  goals before half-time with Tinney making it 2-0 in the 22nd minute. That kickstarted a run of three goals in four minutes with Magee's second and Jonny McKee's first making it 4-0 at half-time.

Bann's rhythm was disrupted by three yellow cards in a ten-minute spell either side of the break with Eddie Rowe, Josh Moffett and Peter Brown all sitting out a spell.

But they finished in rousing fashion with four goals in the last 11 minutes. Josh Moffett finished off after a spectacular run from Jamie Wright and McKee added another from David Rae's instigation. Moffett makde it 7-0 and Zach McClelland completed the scoring in the 69thminute.

Irish Hockey Association media release


---

Irish Womens EY Hockey League Weekend Round Up

Muckross won their first ever women's EY Hockey League match to give their hopes of avoiding relegation a massive boost, winning 2-1 against Ards at Londonderry Park.

It was built around an excellent first 20 minutes as Sophie Barnwell opened the scoring in the first quarter from play. And they were two to the good early in the second quarter when Jessica Holland got on the end of a penalty corner.

The Dubliners' tails were up and they had another couple of corners repelled as they maintained their 2-0 lead into half-time. Further Muckross set pieces in the third quarter could have made the game safe before Ards forged a rousing fightback and they got back into the game four minutes into the final quarter via Brenna McEwen's goal.

They had continuous pressure after that but Muckross held out for a famous win, holding off a final hooter corner. The result lifts them to four points, one behind Ards who currently occupy ninth place which brings with a relegation playoff game rather than a direct drop to the provincial leagues.

Muckross are back in action on Thursday when they face UCD at Belfield, a tie they were originally 3-1 down in the first half before the fog forced the game's cancellation.

In EY Hockey League Division 2, Catholic Institute and Monkstown met in a refix in Pool B with the winner likely to assure themselves top spot. As it was, it ended a 1-1 draw meaning the determination of the group winner will be decided when Insta go to Dungannon on April 6.

In a great contest, Leah Clery had the best of the chances in the first three quarters before Town went in front in the closing phase via a Chloe Watkins stroke. Laura Foley equalised off the back of great work from Jane Kirby for the draw.

Women's EYHL results

EY Hockey League: Ards 1 (B McEwen) Muckross 2 (S Barnwell, J Holland)  

EYHL 2, Pool B: Catholic Institute 1 (L Foley) Monkstown 1 (C Watkins)       

Irish Hockey Association media release


---

Garvey and Three Rock through to mouthwatering ISC final



Andy Williamson scored the clinching goal for Lisnagarvey. Pic: Adrian Boehm

The in-form Lisnagarvey and Three Rock Rovers set up an eye-catching Irish Senior Cup final as they completed a pair of brilliant wins each over a hectic double weekend.

Garvey's was the far tougher schedule as they followed up Saturday's hard-fought 2-0 league success against Monkstown with an equally battling 3-1 success against Glenanne.

James Corry opened the scoring with a corner flick on the swivel before Jerome Saeys tied things up at the second attempt of of a set-piece. A great counter effort from Andrew Edgar meant Garvey had the edge for most of the second half, sealing the deal via Andrew Williamson's corner.

It keeps them in the frame for a possible treble with a Champions Trophy playoff place assured and they lead the EYHL table by three points with three rounds to go.

It is quite the performance from Erroll Lutton's troops who saw Sean Murray, Paul Gleghorne, Michael Robson and Neal Glassey all depart for pro teams last summer.

The trust in the rising teenage stars at the club has been repaid in spades with numerous teenagers stepping up to the level admirably.

For Rovers, they are in blistering form, making it 10 wins in succession in all competitions. Following the 8-1 dismissal of Pembroke on Saturday, they backed that up with a 5-0 win over Cork C of I in Garryduff.

Luke Madeley got his third of the weekend with Ben Walker, Mitch Darling, Kevin Mullins and Daragh Walsh also weighing in.

Men's Irish Senior Cup – Semi-Finals: Cork C of I 0 Three Rock Rovers 5 (L Madeley, B Walker, M Darling, K Mullins, D Walsh); Lisnagarvey 3 (J Corry, A Edgar, A Williamson) Glenanne 1 (J Saeys)

The Hook


---

Cork Harlequins set up repeat of 2003 Senior Cup final against Loreto



Cork Harlequins' Emma Barber. Pic: Adrian Boehm

Cork Harlequins put an end to Pegasus's hopes of an EYHL-Irish Senior Cup double as Emma Barber's single goal knocked out the runaway league leaders at the semi-final stage.

The Belfast side, badly missing Shirley McCay, who instead had to attend Ireland training, seldom looked like repeating their 3-0 win in the corresponding league game eight days earlier.

In a game of very few chances, defences were on top with Cliodhna Sargent, a commanding figure for the Munster side. Pegasus had two penalty corners late in the first-half and Cork keeper Becky Maye denied Stephanie Thompson from one of them.

Quins grabbed the vital goal in the 56th minute when Michelle Barry forced a set-piece, Barber drove the ball low into the net with a straight strike.

Sargent had to go off shortly afterwards with what looked like a serious knee injury but the Quins defence held firm in the face of some late pressure after Pegasus had taken off their keeper, Megan Todd.

It sets up a repeat of the 2003 final against Loreto as the Beaufort side overcame the absence of a wealth of front-line internationals to edge by Railway Union in a shoot-out to set up an Irish Senior Cup final date with Cork Harlequins.

It was left to their young guns but they went close to nicking the win in normal time when Sarah Evans clipped the post. No matter, Mia Jennings, Christina Hamill and Sara Twomey scored their shoot-outs to win the day, overturning a Jacqui Potter Cup semi-final defeat to the same opponent.

In the Irish Hockey Trophy, Cork C of I came back from a goal down to beat NUIG 2-1 with Ciara Sexton scoring in the last minute of the first half and then again in the last two minutes.

Greenfields will be the opposition in the final as they came back from 2-0 down at half-time to draw 2-2 at Portadown and then went on to win the shoot-out.

Irish Senior Cup – Semi-Finals: Loreto 0 Railway Union 0, Loreto win shoot-out 3-1; Pegasus 0 Cork Harlequins 1 (E Barber)

Irish Hockey Trophy – Semi-Finals: NUIG 1 (C Timon) Cork C of I 2 (C Sexton 2); Portadown 2 (A Black 2) Greenfields 2 (K Dunleavy, A Collins), Greenfields won shoot-out 1-0

The Hook


---

Final day drama as Edinburgh University crowned Scottish National League 1 champions



Photo by Terry Morgan

In the final scheduled day of National League 1, Edinburgh University won the women`s title while Grange, already champions, lost their unbeaten record, and other placings were also settled.

Edinburgh University won their fifth consecutive women`s National League 1 crown in some style with a 9-1 win over Hillhead. Hanna McKie was top scorer with four, there were two each for Zara Malseed and Amy Brodie while Bridie Marlow got the other.

Challenger Clydesdale Western fell out of the title race when they were beaten 2-1 at home by Dundee Wanderers. It looked promising for Western when Jen Eadie put them ahead in the opening exchanges, but by the interval Sophia Free had levelled after some slack defending. Wanderers were now in the ascendancy and it was left to Scotland striker Charlotte Watson to provide the winner.

Western Wildcats finished in fourth place after a 2-1 win over Watsonians. A penalty corner deflection by Lucy Lanigan gave the Edinburgh side a slender first half lead. Western Wildcats clawed their way back into the contest with second half strikes by Molly Godfrey and Erin Stevens, it might have been more but for several good saves by Lucy Camlin in the Watsonians goal.

Grove Menzieshill finished in sixth place, two points behind Watsonians, after an eight goal victory over Grange. Katie Stott scored twice while the rest were individual strikes.

Grange lost their unbeaten record in the men`s National League 1 after going down 1-0 to Grove Menzieshill on Tayside. Jamie Golden got the only goal of the contest with a tennis-style lob over the keeper towards the end of the first half. Grange, who have already won the league title, might have saved the occasion but Dan Coultas missed from the spot with two minutes left.



Photo by Steve Forrest

Grove Menzieshill now finish in second spot, a point ahead of Western Wildcats who beat Watsonians in a 6-5 thriller. In the latter contest Western Wildcats romped into a three goal lead – Hamish Galt opened at a penalty corner, Fraser Calder added a second, while in a bizarre third Adam McKenzie meandered from the right back position to guide the ball home at the left hand back post. Ben Allen pulled one back for Watsonians before the interval.

In the second half Fraser Moran, Calder again and Andrew McConnell added to the Wildcats` tally while Ali Dougal, Jamie Cochrane twice from the spot and David Clarke replied for the Edinburgh side.

Uddingston perhaps believed they had squandered their chance of finishing in the top four when they went down 3-2 to Kelburne. Ben Carroll and Brad Hughes were on target for the Lanarkshire side but a double from Jack McKenzie and another by Corey Duff sealed the points for the Paisley outfit.

However, relief was at hand when rivals Edinburgh University were held to a 4-4 draw by Hillhead, and consequently fall out of the race for fourth place. Hillhead raced into a three goal half-time lead through Michael Sherry at a penalty corner, Graeme Campbell and Matt McIntyre.

But back came the students and strikes from Matt Taylor from the spot, Costas Stylianou, Ian Moodie and Jack Jamieson put them back into contention. In the final analysis it took an overtime penalty corner conversion from Fraser Ward to level the score and frustrate the students` aspirations. There is certainly a thin dividing line between success and disappointment.

The other big score of the day was at Titwood where Clydesdale beat Gordonians 10-1.

Scottish Hockey Union media release


---

Legertons fires Police past Dames

by Nigel Simon



Paragon's Felicia King, centre, has her path to goal blocked by the Shandy Carib Magnolias duo of Kaitlyn Olton, right, and Brittney Hingh in their T&T Hockey Board Women's Championship Division match at the National Hockey Centre, Orange Grove Road, Tacarigua on Saturday night. Magnolias won 3-0. Photo: ANTHONY HARRIS.

For­mer na­tion­al for­ward Wayne Leg­erton and his younger sib­ling, Shane Leg­erton, Akim Tou­s­saint and Jor­dan Reynos all scored two goals each to lead a re­vamped Po­lice to an 11-1 spank­ing of Notre Dame in the T&T Hock­ey Board Men's Cham­pi­onship Di­vi­sion at the Na­tion­al Hock­ey Cen­tre, Or­ange Grove Road, Tacarigua on Sat­ur­day.

The trio of Solomon Ec­cles, Kade Lue Sue ad Justin Be­har­ry added one each for Po­lice in the lop­sided win while Dil­lon Camp­bell got the lone re­ply for the Dames, who are in a re­build­ing stage af­ter years of dom­i­nance.

Al­so on Sat­ur­day, Fa­ti­ma stunned Paragon 2-1 in the oth­er Men's Cham­pi­onship match with a na­tion­al play­er, An­drew Vieira and Roshane Hamil­ton get­ting a goal each for the win­ners to can­cel out Joel Daniel's re­ply.

In the Women's Cham­pi­onship Di­vi­sion, T&T in­ter­na­tion­als, Brit­tney Hingh with two goals, and Sa­van­nah De Fre­itas guid­ed Shandy Carib Mag­no­lias to a 3-0 de­feat of Paragon.

And in the lone Trin­i­ty Women's Di­vi­sion match, Shandy Carib Mag­no­lias al­so won, 1-0 over Paragon.

On Fri­day, in the Mixed Vet­er­ans Di­vi­sion, Queen's Park de­feat­ed Malvern 5-0 led by two goals from Raphael Govia and one each from Reiza Ho­sein, Gary Chin and Jer­azano Bell.

The Trinidad Guardian


---

Jaguars overwhelm Gladiators

By Elizabeth Mburugu



Western Jaguar Kelvin Machinji (left) and Park Road's Collins Omachi fight for the ball during the men's Hockey Premier League. [File]

Western Jaguars launched their Kenya Hockey Union men's Premier League title campaign on a high after beating former champions Strathmore University Gladiators 2-0 in Kakamega.

Conrad Khafwafwa was outstanding for Jaguars netting a brace to see his side, which survived relegation last season begin with victory over 2016 champions. Jaguars are hoping to avoid a repeat of their 2018 poor show that saw them evade demotion after winning their last league match.

Jaguars coach Peter Okova said he got the start he wanted and his aim this season is to keep winning so they can avoid battling relegation like they did last season.

"We wanted a good start to the season and I'm glad we had our way. We want a better campaign this year because we don't want to go through the same experience we had last season. We want to work very hard so that we don't have to worry about maintaining our spot in the top league but rather concentrate on a good finish," Okova said.

It was a bad start for Strathmore, who are seeking to reclaim the title they lost to Kenya Police in 2017. They have not been at their best in the last two seasons and needed maximum points in their opener to get their chase on the right track.

Four minutes is all substitute Khafwafwa needed to break the Gladiators defence and send the ball home past goalkeeper John Wekesa for Jaguars' 1-0 lead seconds to the break of the first quarter.

Strathmore gave their all in the second quarter making frequent attacks, but their efforts to restore parity bore no fruit as the Jaguars backline protected goalkeeper Gilbert Okanga.

Gladiators captain Festus Onyango, Paul Omariba, Basil Wamalwa and Job Ogeso intensified their hunt for an equaliser but could not find their way back into the game.

For all their good defending in the second and third quarters, Strathmore were powerless to prevent Khafwafwa from completing his brace seven minutes from full time.

In the men's Super League (SLM), Technical University of Kenya (TUK) extended their unbeaten run after edging Kisumu Youngsters 2-1 at City Park.

The win saw TUK, who are seeking a return to the top tier league take the number one spot on the standings with 12 points. The Youngsters, who suffered their first loss this season are second with nine points while Parkroad Badgers are third.

The Standard Digital


---

'I've led a full life, no regrets at missing out on Padma Shri'

1964 Olympics and 1966 Asiad gold medallist Gurbax Singh says fortunate to have done it all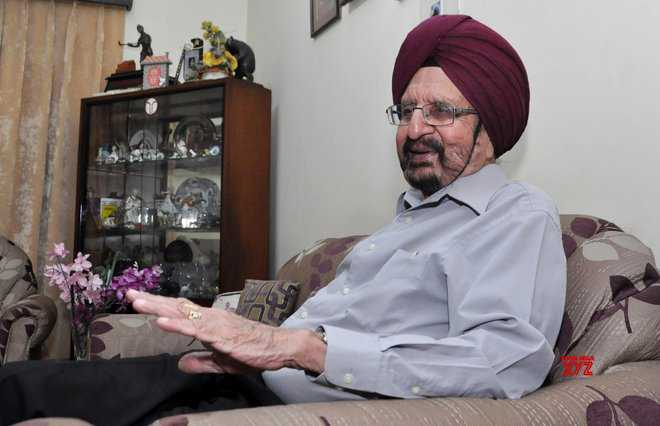 Gurbax Singh at his Kolkata home. At 83, Gurbax still goes to work every day. He is a director at a car dealership. IANS

"God has been very kind to me." At 83, that is how Olympics gold medallist and former India hockey captain Gurbux Singh looks back at his life. Far away from the spotlight, Gurbux is leading a quiet life in a posh South Kolkata neighbourhood, enjoying the occasional conversations with the media that look back at his illustrious career that made him the toast of the nation.

"My family regrets that players who were extras in my team got the Padma Shri but I did not get it. I don't regret that," Gurbux said, carefully taking out his 1964 Tokyo Olympics gold medal to be photographed for this article.

"I am still very much involved with the game. I follow the game regularly. I was at the World Cup (in Bhubaneswar last year) from the quarterfinal to the final," said Gurbax. "I am happy in that space. I have watched hockey for 50 years from close quarters, first as a player, then as a manager, coach and journalist. I have done it all, and I keep on saying God has been extremely kind. God has been very kind also because I am a rare player in the world to have played all his hockey with the spectacles on."

Big gold medals

After moving to Calcutta, as it was known then, in 1956 to join his brother-in-law's automobile spare parts business, Gurbux captained India to the Asian Games gold in 1966, besides being a key player in reclaiming the gold medal from Pakistan in the 1964 Tokyo Olympics.

In between, he played in 25-26 editions of the Beighton Cup, leading three club sides — Customs, East Bengal and Mohun Bagan — to 12 title wins. He was awarded the prestigious Arjuna Award in 1966. "I was given third-class (train) fare from Calcutta to Delhi and received the award from (President) Zakir Hussain," Gurbax recalled. "There was no money, it was just the award and the certificate. We did not even get a blazer or tie then."

Gurbux worked with Overseas Impex Corporation from 1965 to 1995. Since then, he has been a director at a car dealership in the city. "I don't have to do a lot. I usually instruct somebody how to go about the work... If my boss is there, we have lunch together," he said.

Gurbux's day begins at 6am and one of the first persons he looks for after getting up is his gardener. "I look after all the plants (in the apartment), which must be in thousands. I have got about 250 plants of my own here," gushed the hockey legend, jumping out of his chair and bringing tomatoes to show this correspondent. "I nurse them, applying the seeds and all that. If you see my tomatoes... from America I brought the seeds!"

After work, he's back home by lunch time and his activities for the day are over. "Then in the evening I talk to my daughters... Three are in America and one is in Chennai. I have got four daughters and one son. I have nine grandchildren and three of them are married," he said with a happy smile. Gurbux often visits his daughters in the US.

Peshawar boy

Born in pre-Partition Peshawar on February 11, 1936, Gurbux was associated with the Bengal Hockey Association (BHA) as its secretary for over 18 years. "I resigned in 2012 because of the age factor. I'm still on the hockey sub-committee of the West Bengal government and regularly attend their meetings," he said.

Though Gurbux says he has been "fortunate enough to have done everything", he has two regrets.

"One of my regrets is I haven't succeeded in getting Bengal an astroturf. The reason behind this is the government's apathy towards the sport," he said. "I have time and again said that if we have an astroturf for five years, our boys will be in the camps for Indian team."

The other regret is the bronze medal finish in the 1968 Olympics in Mexico, where he was the joint captain along with Prithipal Singh. "We cried on and off the ground. We did not go for the Port of Spain tour that was scheduled right after the Olympics, we came back heartbroken," Gurbax recalled.

Gurbux was the national selector and manager of the Indian World Cup team in 1973, and coach of the side for the 1976 Montreal Olympics. He also coached the French team in 1974-75. "I am not in favour of changing coaches too often. We are catching up but it is very slow, it will take time," Gurbux says about the current crop of Indian players.

Gurbux, an avid stamp collector and photography enthusiast, told the story of his life in his autobiography, My Golden Days. In words and pictures, his story lives on.

The Tribune