All the news for Sunday 31 March 2019

2019 FIH Pro League (Men) - 31 March

31 Mar 2019 18:00 (GMT -3)    ARG v ESP (RR) Estadio Mundialista, Rosario

Live streaming and full game replay on https://fih.live (Geo blocked if there is TV coverage)

FIH Match Centre


---

2019 FIH Pro League (Women) - 31 March

31 Mar 2019 15:30 (GMR -3)    ARG v CHN (RR) Estadio Mundialista, Rosario
31 Mar 2019 18:00 (GMT -4)    USA v GBR (RR) Spooky Nook Sports, Lancaster

Live streaming and full game replay on https://fih.live (Geo blocked if there is TV coverage)

FIH Match Centre


---

FIH Pro League Scouting Report: USWNT vs. Great Britain




In anticipation of the U.S. Women's National Team's upcoming FIH Pro League match, here is a scouting report you'll want to review before the starting whistle.

Game Day: Sunday, March 31, 2019

Time: 6:00 p.m. ET

Location: Spooky Nook Sports, Lancaster, Pa.

Live Stream: Don't miss a second of the FIH Pro League action and watch the USWNT take on Great Britain this Sunday! The FIH has signed a four-year media rights agreement with Bleacher Report Live for the territories of Canada and the United States. Bleacher Report Live is operated by Turner Sports, a division of WarnerMedia. The platform, which is Turner's live sports streaming service, will be the primary destination for all fans to watch FIH Pro League matches.

FIH Pro League single games are available paid per view for $2.99 per match or $19.99 for the FIH Pro League 2019 Season Pass (all matches). Click here for the FIH Pro League live stream landing page.

Opponent: Great Britain

FIH World Ranking: 2

Head to Head: These two teams have battled it out several times in recent years on some of hockey's biggest stages. In their last meeting at the Rio 2016 Olympic Games preliminary round, after USA led 1-0 heading into the final quarter, Great Britain tied the game off a penalty corner in the 53rd minute before following up with the game-winning goal moments later by Alex Danson on a redirect play to win it 2-1. A few months prior, USA and Great Britain met at Queen Elizabeth Olympic Park in London in the 2016 Women's Hockey Champions Trophy. Deadlocked 0-0 after the first half, USA scored twice to win 2-0 against the host nation.

In 2015 the two squads met in a four-game test series in Marlow, England where USA finished with two ties and two losses.



Head to Head


(since 2013)




3 Previous Matches
1 Draws

 

1

Won

1
5

Total Goals

4
What You Need to Know: The Olympic champions of Rio 2016 have set their sights on defending their title at Tokyo 2020, and a strong showing in the inaugural edition of the FIH Pro League would be an important step along the road toward achieving that goal. With Olympic gold medal-winning Head Coach Danny Kerry switching to the England and Great Britain men's program, David Ralph stepped up from Assistant Coach on an interim basis. However, it was recently announced that former Australian international Mark Hager had left his position as Head Coach of New Zealand's Black Sticks to become the head coach of England and Great Britain's women. The initial FIH Pro League squad contains six players who were on the podium at Rio 2016: defensive trio Hollie Pearne-Webb, Giselle Ansley and Laura Unsworth, midfielder Susannah Townsend and forwards Sophie Bray and Lily Owsley. While fellow Olympic gold medalists Alex Danson and ace goalkeeper Maddie Hinch are both taking a break from international hockey, there are plenty of other wonderful players on the roster, including Hannah Martin, a pacey attacker with enough skill to hurt any team in the world.

While the majority of the Great Britain squad is made up of players who represent England, there is also a trio of Scots selected in the shape of Sarah Robertson, Amy Costello and goalkeeper Nicola Cochrane.

Recap of Great Britain's Previous Game: Great Britain's women claimed their first points of the FIH Pro League thanks to a shootout victory over host nation China in Changzhou. The Olympic champions took a 3-2 win in the one-on-ones, giving the Europeans a bonus point in addition to the point both teams earned when regular time ended with the score locked at 2-2.

China and Great Britain came into this match, the first FIH Pro League fixture to take place in Asia, searching for their first points in the competition, with both nations having suffered defeats in Oceania at the hands of New Zealand and Australia.

No. 10 China enjoyed the better of the first period and took a deserved 1-0 lead over No. 2 Great Britain into the quarter-time break thanks to a late strike from Liang Meiyu, who produced a brilliant volley to fire home after an initial save from goalkeeper Amy Tennant.

The Rio 2016 Olympic Games champions looked like a completely different side in the second period and hit back with two goals in quick succession. Twenty-year-old Lizzie Neal restored parity with a cool finish on her backhand, guiding her sweep-shot inside the right post for her first international goal before Giselle Ansley put Great Britain into a 2-1 lead when her unstoppable penalty corner drag-flick sailed into the top right corner.

There was no change to the score in a relatively cagey third quarter, although Tennant was twice called into action when Yong Jing and Zhong Jiaqi threatened.

In a bid to salvage the match, China replaced their goalkeeper with an outfield player with six minutes to go. It was a tactic that almost backfired when Great Britain went close twice, the second of which saw Player of the Match Lily Owsley crash a backhand shot into the side-netting with three minutes remaining.

However, a rare mistake from the excellent Anna Toman with two minutes left to play resulted in a penalty corner to China. It was a chance that the home side would not waste, with Gu Bingfeng hit a penalty corner into bottom left corner to deny the visitors all three points and force a shoot-out.

The one-on-ones proved to be the perfect place for Toman to atone for her earlier error, scoring the winning goal after Amy Tennant produced a superb goalkeeping display to deny Zhang Jinrong, Wang Na and He Jiangxin. 

Great Britain's Roster: Click Here

USFHA media release


---
2019 Sultan Azlan Shah Cup - Finals
Ipoh (MAS)
Results 29 March

IND v POL (RR)     10 - 0
KOR v JPN (RR)     4 - 2
MAS v CAN (RR)     3 - 2

Finals (GMT +8)

JPN v POL (5/6th Placing)     6 - 1
MAS v CAN (3/4th Placing)     4 - 2
IND v KOR (Final)     1 - 1 (Shootout 2/5 - 4/5)

Final Positions

1. Korea
2. India
3. Malaysia
4. Canada
5. Japan
6. Poland

Final Pool standings
| Rank | Team | Played | Wins | Draws | Losses | Goals For | Goals Against | Goal Difference | Points |
| --- | --- | --- | --- | --- | --- | --- | --- | --- | --- |
| 1 | India | 5 | 4 | 1 | 0 | 24 | 6 | 18 | 13 |
| 2 | Korea | 5 | 4 | 1 | 0 | 16 | 9 | 7 | 13 |
| 3 | Malaysia | 5 | 3 | 0 | 2 | 15 | 12 | 3 | 9 |
| 4 | Canada | 5 | 2 | 0 | 3 | 14 | 17 | -3 | 6 |
| 5 | Japan | 5 | 1 | 0 | 4 | 9 | 12 | -3 | 3 |
| 6 | Poland | 5 | 0 | 0 | 5 | 3 | 25 | -22 | 0 |
---

Korea upset India for third Azlan Shah Cup crown

By Jugjet Singh



India celebrate scoring in the 10th minute against South Korea in the final of the Azlan Shah Cup in Ipoh on Saturday. PIC BY EFFENDY RASHID

IPOH: South Korea played smart hockey to take the Azlan Shah Cup final into a shootout and then a stylish goal from skipper Lee Nam Young saw them lift the title for the third time here on Saturday.

The match ended 1-1, just like the pool stage, but in the end Korea won the shootout 4-2.

Nam Young took the final shootout, and charging in, he lifted the ball over the goalkeeper for the sweet victory.

India took an early lead off Simranjeet Singh in the ninth minute.

Undeterred, Korea never stopped pressing, while also keeping India in check, and they were finally rewarded in the 47th minute when they won a penalty stroke. Jang Jung Hyun almost tore the netting for the equaliser.

Korea won the tournament for the first time in 1996 and shared the gold with India in 2010.

Final placing

1 South Korea, 2 India, 3 Malaysia, 4 Canada, 5 Japan, 6 Poland.

Awards

Fairplay (Raja Ashman Shah Trophy): Japan;

Man-of-the-Final: Jang Jung Hyun (Korea);

Top scorer: Mandeep Singh (India) and Jang Jung Hyun (seven goals each);

Best Goalkeeper: Kim Jae Hyeon (Korea);

Player-of-the-Tournament: Surender Kumar (India).

New Straits Times


---

South Korea beats India 4-2 on penalties to lift Sultan Azlan Shah Cup

By Aftar Singh




KUALA LUMPUR: South Korea defeated India 4-2 in a penalty shootout to lift their third Sultan Azlan Shah Cup in Ipoh on Saturday (March 30).

The teams were locked 1-1 in regulation time in the final at the Sultan Azlan Shah Stadium.

India took the lead through Simranjeet Singh in the ninth minute but failed created many chances and did not make use of the four penalty corners they earned in the match.

The Koreans, parading a number of season campaigners, fought back and equalised through a penalty stroke converted by Jang Jong-hyun in the 47th minute.

Both teams went all out to get the winning goal but failed to do so.

In the shootout, Ji Woo-cheon, Lee Jung-jun, Jung Man-jae and skipper Lee Nam-yong scored for Korea while India's goal was netted by Birendra Lakra and Varun Kumar.

The Koreans won the tournament in 1996 and were joint champions with India in 2010.

ROLL OF HONOUR
Top scorer: Mandeep Singh (India) and Jang Jong-hyun (S. Korea); seven goals each
Man of the match in final: Jang Jung-hyun (S. Korea)
Best goalkeeper: Kim Jae-hyeon (S. Korea)
Player of the tournament: Surendra Kumar (India)
Fairplay: Japan

The Star of Malaysia


---

India's exuberance falls short against experienced South Korea in another frustrating final defeat

Sundeep Misra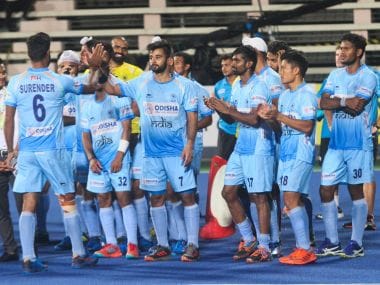 Indian hockey team watch on after defeat to SOuth Korea inthe final of the 2019 Sultan Azlan Shah Cip. Twitter@TheHockeyIndia 

By the time the night ends and dawn breaks over Ipoh, the Indian hockey team would have understood where it all went wrong against South Korea in the Sultan Azlan Shah final. Indian management has been quite obsessed with 'young legs', but it ironically was not the 'ageing' but 'mature' legs of the South Koreans who outsmarted India. In all probabilities, it was India's final to lose, but the South Koreans were able to claim victory through a 4-2 shootout victory.. But give the devil it's due; the Korean coach Shin Seok Kyo, as wily as they come, knew that the deeper his team went into the match with the scores level, India's young flock would find it hard to stay focused.

That moment of vulnerability came in the 47th minute. Amit Rohidas had the ball with an acre of space on his right. But instead of flicking, hitting or just running wide and scooping it away, he went inside with Cho Sukhoon and Kim JungHoo cutting down space. Cho plucked the ball away and it rolled away for JungHoo who was on it in a flash. Desperate to retrieve the situation, Rohidas wrapped the stick around JungHoo's legs. It was a stroke. India still went for a referral and lost. Jang Jonghyun, usually doesn't miss with strokes. And his flick to the right of Krishan Pathak did the damage. With the scores level at 1-1, Korea took the battle to the Indian half. Yet, India created chances and would have closed the game with their 5th PC towards the end. But the flick was too wayward. Korea had studied the corners and ran well, forcing Varun to either flick straight or ensuring he went wide. It was a great example of how experience can win you a big final.

It was anybody's game in the shoot-out. Kim Jaehyeon saved twice; his fantastic glove work to keep out Sumit Kumar's goal-bound reverse was extra-ordinary – outstretched right glove barely touching the ball but enough to send it into the side netting. Luck does play a role too. And when Jung Manjae was stopped by Pathak, umpire Steve Rogers ordered a retake. Pathak wanted a referral saying Manjae prevented him from effecting a save. The video replay clearly showed that Manjae stepped on Pathak's stick not allowing him to clear the ball. But in an extra-ordinary decision, the video umpire ordered a retake. Manjae scored and Korea were ahead 3-2. After Sumit Kumar's failure came at the right juncture for the Korean captain, a goal would give Korea the title. Lee Namyong pulled off a fine goal. He went in, lifted the ball up and tipped it over the onrushing Pathak. The ball looped and went into the goal. It was extra-ordinary skill, a goal, that would be constantly played over videos to be seen by coaches and a lesson for juniors in understanding what skills means.

A distraught Surinder Kumar, man-of-the-tournament, said, he would gladly exchange his medal for a team title. "It should never have reached the shoot-out stage. We should have killed the match in the first half itself." The same sentiment resonated from Coach David John and Manager Chris Ciriello.

Korea didn't have age on their side; neither were they eager to out-run opponents who could kill them on the break and on the flanks. Predictably, they slowed the pace down. But very intelligently, on virtually every free hit, they took time and rotated. India never got into a rhythm. Slowly, the trap that Korea laid was also spun by India by not taking those opportunities in the first two quarters. Three penalty corners went up in smoke. And at least six good chances, out of which three were goal-bound. In the first two quarters, India had possession of 59 and 69 percent, which should have been enough to close out a match. In fact, after the first goal in the 9th minute, it looked like a few would follow subsequently.

The first goal was created out of sheer pace and control – Mandeep Singh to Sumit Kumar and back to Mandeep who gave it to Simranjeet whose deflection went into goal through the legs of the Korean goalkeeper. In the second quarter, it was all Simranjeet. The Koreans had no clue how to handle him. But the support for the Indian forward wasn't good enough. Time and again, he went past 3-4 Korean players, but the final finish wasn't good enough. Sumit Kumar, Shilanand Lakra, Mandeep, Vivek should have picked up the rebounds and closed the game down.

The surprising bit was the possession and rotation from India. By not taking few risks, they did play into Korea's hands who were happy playing from the back. It gave them the time to settle down and ensured that India's 1-0 score-line went all the way to the 4th quarter.

By the time the 3rd quarter started, India were feeling the pressure and Korea were holding the ball, slowly working themselves into the match. With 55 seconds to go in the 3rd Quarter, India had their 4th PC and they should have made it count. It was an indirect attempt with Rohidas selling a dummy and Varun firing it in. But he hit Vivek instead.

It was a cat and a mouse game in the 4th quarter. Korea stepped up the pace. They had kept themselves preserved. India faltered. Korea forced an error and the game was level.

A look at the last ten matches between these two sides would have given an indication where the match was headed. Six had been draws, out of which two India had won in the shoot-out. Two were won with a score-line of 1-0 and 2-1. And only two matches were won with big margins – the 5-3 win at the 2018 Asian Games and the 4-1 at the 2018 Asian Champions Trophy.

Chris Ciriello said the team didn't take their chances. "We couldn't shift the ball yet had more circle entries. We need to take our opportunities. We need to work hard and realise the mistakes." In terms of the experience gained, Chris believes it will help in the future. "We now play Australia in a five-Test series. We will get there, but just need a bit more experience."

David John, India's High-Performance Director and the coach here admits Korea were the smarter team. "We had more play and more opportunities. But Korea managed their area very well and they are smart and experienced."

After being asked whether Sreejesh would have been a better bet in the shoot-out, David pointed to the Champions Trophy and the Asian Games shoot-out which had Sreejesh and India still lost. "Krishan Pathak was good in the tournament and there is very little to choose between the two. It's his development too."

David was upset about India's failure to win in finals which is becoming a habit. "We have a lot of younger players and I don't like to finish second. The team doesn't like being second. I hope tonight is a big learning experience for the team."

It would take some courage from the team to go over the match stats. India had 34 circle entries compared to Korea's 13. India had 11 shots on goal to Korea's 3. Yet, the team was hustled into the shoot-out with a 1-1 regulation time score-line. Look closer and defeats too would have a silver lining. Numbers cannot always define the win-loss ratio of a team that so strongly relies on youth. Long after this Saturday night recedes, calmness restored, the team would look at the positives, not as individuals but as a collective unit out to create a future for themselves as a group.

Firstpost


---

Korea lifts Azlan Shah Cup 2019

s2h Team

South Korea emerges again as a strong force in Asia after it outwitted higher ranked India in the Azlan Shah Cup final today in Ipoh, Malaysia. Simranjeet Singh struck for India in the ninth minute of the game only to see it evened out 39 minutes later through a skilful penalty stroke negotiation by Jonghyun Jang. In the shoot out, India lost out 2-4.

With this victory, cash-starved Korea send notice to other Asian powers of their happy return. Korea has been out of medals contention in most Asian events inlcuding the latest editions of Asian Games and Asia Cup.

For quite sometime, Korea has been losing to India with slenderest of margin. Even in Ipoh, it showed enormous gumption in scoring equalizer 53 seconds before the hooter.

India scored a early goal today in the all important final only to see it annulled 13 minutes before the final time.

India and Korea jointly held the Cup almost a decade earlier on the same venue.

Stick2Hockey.com


---

Korea stuns favourites India to lift title

Hosts Malaysia finished third after beating Canada 4-2 in the third-fourth place classification match.



Indian team player vies for the ball during Sultan Azlan Shah Cup hockey tournament match in Ipoh against Korea. Photo Credit: PTI

South Korea stunned favourites India 4-2 in the shoot-out to lift the Azlan Shah Cup hockey title after the five-time champions conceded an equaliser in the final quarter of the summit clash in Ipoh on Saturday.

Going into the title clash, world no. 5 India were clear favourites to lift their sixth Azlan Shah title against the 17th ranked Koreans.

And the Indians started in the right earnest, taking the lead early through Simranjeet Singh's field strike in the ninth minute.

The Koreans, thereafter, kept the Indian forward line under tight vigil, while also pressing hard in search of the equaliser.

Korea's efforts finally paid dividend in the 47th minute when they were awarded a penalty stroke. The Indians went for the video referral but the penalty decision stayed and Jang Jong Hyun made no mistake in drawing parity for his side.

Two minutes from the hooter, India earned a penalty corner but to no avail as the match went into shoot-out.

In the shoot-out, the Indians missed their first, fourth and fifth attempts and converted just two, while the Koreans just missed their third strike to win the thrilling contest 4-2 and lift the crown for the third time in the history of the invitational tournament.

For India, Mandeep Singh, Sumit Kumar Junior and Sumit missed from the one-on-one penalty shoot-out situation, while experienced Birendra Lakra and Varun Kumar, converted their chances.

Defending the goal in the shoot-out for India was young Kishan B Pathak in place of experienced P R Sreejesh.

Hosts Malaysia finished third after beating Canada 4-2 in the third-fourth place classification match.

The Hindu


---

Stats Speak:  After 23years Korea beats India in shootout

India won 7 and lost 6 titles in shoot out

By B.G. Joshi (Sehore- Bhopal, India)

Most memorable Indian triumph against Korean was in Bangkok Asian Games (1998). Captain Dhanraj Pillay's team won the Asian Hockey Gold medal after 32 years and a direct entry in Sydney Olympics (2000).

Overall India-Korea faced each other on 5 occasions in shoot out, India wins 3 and Korea 2. Since inception of tie breaker rule in 1970, India won 7 and lost 6 titles in shoot out.

Details are given below:
Table -1:  India-South Korea in Shoot out
| | | | | | |
| --- | --- | --- | --- | --- | --- |
| Year | Tournament | Match | FT Score | TB/SO Score | Result |
| 1996 | Atlanta Olympics | Classification | 3-3 | 3-5 | Korea Won |
| 1998 | Bangkok  Asian Games | Final | 1-1 | 4-2 | India Won |
| 2015 | Ipoh Azlan Shah Cup | Bronze Medal | 2-2 | 4-1 | India Won |
| 2016 | Kuantan Asian CT | Semi Final | 2-2 | 5-4 | India Won |
| 2019 | Ipoh Azlan Shah Cup | Final | 1-1 | 2-4 | Korea Won |
 Table-2:  India won 7 and lost 6 titles in shoot out
Venue

Tournament

Opponent

FT Score

TB/SO Score

Result

Indian

GK

Amsterdam

World Cup

Netherlands

2-2

2-4

Lost

Charles Cornelius

Nairobi

Marshall Cup

Pakistan

2-2

3-0

Won

Mark Patterson

Vienna

Alps Cup

Austria

1-1

5-4

Won

Ashish Ballal

Kuala Lumpur

Azlan Shah  Cup

Germany

2-2

5-4

Won

AB Subbaiah

Bangkok

Asian Games

South Korea

1-1

4-2

Won

Ashish Ballal

Dhaka

PM Intl. Gold Cup

Pakistan

3-3

3-2

Won

Jude Menzes

Dhaka

South AsianGames

Pakistan

1-1

3-4

Lost

Mrinal  Choubey

Ordos-China

Asian Champions T

Pakistan

0-0

4-2

Won

PR Shreejesh

Incheon

Asian Games

Pakistan

1-1

4-2

Won

PR Shreejesh

London

Champions Trophy

Australia

0-0

1-3

Lost

PR Shreejesh

Hamilton

Invitation Tourney

Belgium

4-4

0-3

Lost

PR Shreejesh

Breda

Champions Trophy

Australia

1-1

1-3

Lost

PR Shreejesh

Ipoh

Azlan Shah  Cup

South Korea

1-1

2-4

Lost

KB Pathak
 Fieldhockey.com


---

Oltmans' boys win bronze in Ipoh

By Jugjet Singh



Malaysian players celebrate after the 4-2 win over Canada to take third spot in the Azlan Shah cup in Ipoh. PIC BY EFFENDY RASHID

KUALA LUMPUR: Malaysia won a rare Azlan Shah Cup bronze when they defeated Canada 4-2 in Ipoh on Saturday.

In 1996, Malaysia won their first bronze by edging Britain 4-3 on penalty strokes after a 2-2 draw in regulation time.

The achievement should inspire Malaysia to do much better in the FIH Series Finals in Kuala Lumpur on April 26-May 4.

When Malaysian coach Roelant Oltmans was asked about the positives his team will take into the Series Finals, he was short and sharp.

"Wait and see, wait for the tournament to answer your question," he said.

The other teams in the Series Finals, which doubles up as an Olympic qualifier, are not big guns and Malaysia have the advantage as hosts.

Group A is made up of Canada, Austria, Wales and Belarus.

Malaysia are in Group B with China, Brazil and Italy.

And it looks like Malaysia will play Canada again if both teams enter the final.

Mark Pearson scored a field goal in the 14th minute, and the capacity crowd went silent until Nik Aiman Nik Rozemi equalised off a 23rd-minute penalty corner.

Azrai Aizad Abu Kamal (29th), Tengku Ahmad Tajuddin (30th) and Faizal Saari (45th) made sure the bronze did not slip out of their grasps.

James Wallaca narrowed the gap in the 59th minute, but the clock died on Canada's comeback aspirations.

Malaysia failed against South Korea and India, but retained some pride when they beat Canada twice in a row.

Penalty corners were a big letdown in both crucial matches to take Malaysia higher up in the tournament.

"We did have a good conversion rate in the other matches, but could have done better in the Korea and India matches.

"We will work on it, and Taeke Taekema (former Dutch flicker) will be back with goalkeeper coach Martijn Drijver (also from the Netherlands) before the Series Finals," Oltmans added.

RESULTS:

Third-Fourth: Malaysia 4 Canada 2;

Fifth-Sixth: Japan 6 Poland 1.

New Straits Times


---

Malaysia fight back from a goal down to take third place




KUALA LUMPUR: Malaysia came back from a goal down to defeat Canada 4-2 to finish third in the Sultan Azlan Shah Cup.

Canada, who lost 2-3 to Malaysia in the round robin match on Friday, took the lead through skipper Mark Pearson in the 14th minute at the Azlan Shah Stadium in Ipoh yesterday.

In the second quarter, Malaysia stormed back to score three goals in seven minutes.

Nik Muhd Rozemi Nik Aiman equalised through a penalty corner in the 23rd minute. Muhd Azrai Aizad Abu Kamal, who was named man of the match, gave the hosts the lead in the 29th minute off a field goal and Tengku Ahmad Tajuddin Tengku Abdul Jalil (pic)scored another field goal a minute later.

Malaysia continued to dominate the match and increased the lead in the 45th minute off a penalty corner when Faizal Saari's low drag flick sailed past goalkeeper David Carter. It was Faizal's sixth goal in the tournament.

Canada managed to reduce the deficit in the 59th minute.

James Wallace made a solo run on the left before beating two defenders to score past goalkeeper Hairi Abdul Rahman.

The Canadians have a chance to avenge their defeat as they will be heading to Kuala Lumpur next month for the World Series at the National Hockey Stadium in Bukit Jalil from April 26 to May 4.

The World Series is the qualifying tournament for the 2020 Tokyo Olympics.

The Star of Malaysia


---

ROUND-UP: Investec Women's Hockey League



East Grinstead scorer Sophie Bray in amongst the Clifton Robinsons defence. Credit Peter Smith.

A dramatic late fightback saw Buckingham clinch the fourth and final play-off spot in the Investec Women's Hockey League Premier Division on Saturday, but their 3-2 win condemned Slough to a fight against relegation.

Lauren Thomas struck first for Buckingham but Philipa Newton and Laura Bailey scored either side of the half to give hosts Slough a lifeline.

But Phoebe Richards scored on 67 minutes from open play, and Lottie Porter put her side ahead with a 68th minute penalty stroke to clinch the win.

Slough's hopes of avoiding the relegation battle rested on the University of Birmingham losing to Beeston, and for several minutes it looked likely to happen with Beeston leading for much of the first half thanks to Rebekah Walker's ninth minute strike.

But the University of Birmingham hit back with goals from Philippa Stewart and Amelia Andrew to take a 2-1 win and condemn Slough to finish ninth.

Holcombe wrapped up top spot in the Premier Division with a slender 1-0 win over bottom side Canterbury, setting up a semi-final clash with Buckingham in the play-offs.

Already relegated, Canterbury fought well but eventually succumbed to Heather McEwen's penalty corner.

Surbiton did all they could to push Holcombe, beating Bowdon Hightown 4-0 away from home.

Izzy Petter, Jenna Woolven (2) and Georgie Twigg all got on the scoresheet for Surbiton who will face a home tie against East Grinstead in the play-offs.

Sophie Bray netted a hat-trick for East Grinstead in their 3-2 win over Clifton Robinsons who were also in the hunt for fourth place.

Clifton Robinsons were 2-1 up thanks to Natasha Marke-Jones and Claire Thomas but couldn't make it last. Clifton's Thomas and East Grinstead's Sophie Bray finish the regular season as joint top goalscorers with 18 goals.

Investec Women's Conference East

Hampstead & Westminster secured the Investec Women's Conference East title in style, beating Ipswich 4-0 on Saturday.

Goals from Hayley Turner, Lucy Hyams, Jasmine Clark and Amy Askew gave them the win which seals a spot in the promotion play-offs.

Meanwhile, Wimbledon had to settle for second spot despite winning 5-0 at home against Bedford. Crista Cullen scored twice for them, with others coming from Eliza Brett, Fiona Semple and Fi Burnet.

St Albans battled to a 2-2 draw at higher-placed Cambridge City which secures their place in Division One for next season following the league restructure.

Elsewhere Horsham will have to go through the play-offs to secure their place in Division One for next season, their 2-1 loss to Sevenoaks meaning they finish seventh.

And Southgate battled back from two goals behind to draw 2-2 with hosts Harleston Magpies.

Investec Women's Conference North

Champions Loughborough Students finished their regular league fixtures on a high, winning 6-1 at Sutton Coldfield.

Beth Peers scored twice in their win, while other goals came from Madeleine Pearce, Lucy Millington, Maria Andrews and Alice Rolfe.

Kelly Baxter scored two for Ben Rhydding in their 3-1 win over hosts Leeds, Rachel Doherty scoring their other goal while Louise Corkill bagged the Yorkshire side's only strike.

Elsewhere, Brooklands-Poynton were 5-1 winners over bottom of the table Timperley. Libby Bird scored two of the away side's goals, with others coming from Beth Alexander, Jackie Eden and Annie Mills.

Leicester were 2-0 winners over Belper, while the University of Durham beat Lancashire outfit Fylde 3-1.

Investec Women's Conference West

Olton & West Warwicks will have to battle through play-offs to secure their place in Division One for next season after a series of draws on the final day of the Investec Women's Conference West.

They could've climbed up to fourth and a guaranteed place in the second tier of hockey following next season's restructure, but a 0-0 draw at Exe left them relying on other results to go their way.

However the match between rivals Reading and Isca also ended in a draw, with Jo Ellis and Kim Sheldon scoring in a 1-1 draw which ensured both those clubs stay in the top six and Olton must face play-offs against the seventh-placed teams in the other Conferences.

Elsewhere, Swansea City were the big winners, beating Oxford Hawks 5-0 with goals from Sarah-Jayne Thorburn, Amy Burton, Beth Fisher, Livvy Hoskins and Izzy Webb.

Champions Stourport were 3-1 winners over Gloucester City, while Trojans beat Barnes 2-0.

* Tickets for the Investec Women's and Men's Hockey League Finals are on sale now!

Taking place at Lee Valley Hockey and Tennis Centre on Sat 13 and Sun 14 April, the country's best teams do battle.

Tickets for a single day start at just £2 for under 18s and £13 for adults. For both days it's from £8 for under 18s and £20 adults – fantastic value to watch elite domestic players in action.

RESULTS:

Investec Women's Hockey League (Saturday, 30 March 2019):

Investec Women's Premier Division: Bowdon 0, Surbiton 4; Canterbury 0, Holcombe 1; Clifton Robinson 2, East Grinstead 3; Slough 2, Buckingham 3; University of Birmingham 2, Beeston 1.

Investec Women's Conference North: Fylde 1, University of Durham 3; Leeds 1, Ben Rhydding 3; Leicester 2, Belper 0; Sutton Coldfield 1, Loughborough Students 6; Timperley 1, Brooklands-Poynton 5.

Investec Women's Conference West: Exe 0, Olton & West Warwicks 0; Reading 1, Isca 1; Stourport 3, Gloucester City 1; Swansea City 5, Oxford Hawks 0; Trojans 2, Barnes 0.

Investec Women's Conference East: Cambridge City 2, St Albans 2; Hampstead & Westminster 4, Ipswich 0; Harleston Magpies 2, Southgate 2; Horsham 1, Sevenoaks 2; Wimbledon 5, Bedford 0.

England Hockey Board Media release