All the news for Monday 21 January 2019

Spain earn shoot-out bonus on opening day of FIH Pro League



©: Manuel Queimadelos Alonso/getty Images

Spanish star Xavi Lleonart hailed their opening game in the FIH Pro League as "an incredible game" as they came back from 2-0 with two minutes to go to draw with Belgium before winning a bonus point shoot-out.

Speaking at the conclusion of the contest, the man of the match said: "I think it was an incredible game. We started really well. Yes, we conceded two goals but we still really believed in our team.

"We showed that our level can be the same as the Belgian team, so we are really happy and really excited about playing in this competition."

Spain, keen to make up for their disappointing pool stage elimination at the Odisha Hockey Men's World Cup Bhubaneswar 2018, were outstanding against the winners of that event, with Belgium shot-stopper Vincent Vanasch making numerous key saves to stop the Red Sticks from taking the lead in the early exchanges.

Spain were probably the better team for most of the first two periods of the match, although Belgium would certainly have broken the deadlock were it not for some top class saves from Quico Cortes, who twice denied the ever-dangerous Tom Boon while Tanguy Cosyns also blazed a shot wide of the target.

Despite the entertainment, the opening two periods remained score-less. However, that all changed in the third period when Belgium's Max Plennevaux struck brilliant backhand strike on the half-volley to give the Red Lions a 1-0 lead midway through the period after Spain failed to effectively clear the danger.

When Belgium doubled their lead with five minutes remaining thanks to a penalty corner drag-flick from Alexander Hendrickx, it seemed that Spain's chances of claiming something from the match had ended.

However, the Red Sticks never stopped believing and deservedly pulled a goal back with just over two minutes of the match remaining thanks to Ignacio Rodriguez, who guided Pau Quemada's low penalty corner flick between the legs of Vanasch to halve the deficit.

Sensing that the comeback was on, Spain immediately replaced goalkeeper Cortes with an outfield player in a bid to overload the Belgian defence.

It was a tactic that paid off with just ten seconds remaining, as Enrique Gonzalez flicked into the Belgian net to level the scores and force a shoot-out in which Cortes excelled.

The vastly-experienced Spanish goalkeeper did not concede in the shoot-out, with Josep Romeu and Alvaro Iglesias scoring for the Red Sticks to give Spain two points from the opening match of the FIH Pro League, with Belgium taking one point from the encounter.

Euro Hockey League media release


---

FIH Hockey Pro League starts its six-month journey with minimal fuss

By The Hockey Paper



Spain and Belgium played the inaugural Pro League opener PIC: FIH.live

A familiar sporting feel played out on Saturday as the FIH launched its self-titled Pro League tournament.

On the chilly continent, the sun was beating down, referee commentary was heard on the TV coverage and players were simply getting on with the task in hand. One could be forgiven for thinking we were in the midst of a Six Nations rugby clash in Rome or Paris.

BBC rugby commentator Eddie Butler even provided the voiceovers on the FIH pre-show. Yet, this was where the similarities ended. Swap presenter John Inverdale for the more-than-capable British Olympians Sam Quek and Simon Mason and we were watching the opening gambits ahead of the Pro League game between Spain and Belgium, the world champions.

Instead of the six-week Six Nations' jamboree, we were also witnessing the start of a six-month international hockey fest. Near to 150 games will be played out until the end of June to determine the inaugural Pro League winner. Big incentives too, with $250,000 in prize money across both men's and women's tournaments.

"In the beginning we have to keep it free, we have to keep it simple," Thierry Weil, the FIH chief executive, said before Saturday's opener. "It's only geoblocked in the country where the broadcaster will show it live."

Therein lay the confusion if you were a Great Britain fan looking to get an early taste of the action ahead of the men's rather perplexing opener in Valencia on Friday, at 10am UK time.

According to the FIH, subscription broadcaster BT Sport have acquired the media rights "with the intention of broadcasting as many Pro League matches as possible. When they do not show a Pro League match live, it will be on FIH.live."

Judging by the fuzzy geo blocked screen in the UK on Saturday, free looks like it will not apply to Great Britain from here on in.

Thankfully, The Hockey Paper's mobile subscription has a three-month service to BT Sport and a hasty sign-up proved sufficient to watch the entertaining 2-2 draw.

With the FIH hierarchy present in Valencia, there was still minimal fuss over the coverage.

The pre-live show was pre-recorded, with the ever-present Quek and Mason giving us an indication that the Pro League will hopefully be the shot in the arm needed for international hockey outside of the World Cup and Olympics.

There was little TV fanfare at the Estadio Betero, barring the introduction of the umpire audio throughout the match. This didn't add much to proceedings, given the muffled audio was akin to listening to a radio conversation between a navy vessel directing in a fighter plane.

Still, it did add gloss to the fact that hockey has no delays due to whinging players.

And when Spain Enrique Gonzalez struck in the dying seconds to level at 2-2, it seemed a well-appointed ending to the authoritative coverage. However, it took several moments to realise that we had, of course, a shoot out to decide the extra point.

The shame for those without a BT Sport subscription was that there were no highlights to be found on FIH.live as of Sunday night. Hockey fans were left to sift through the 'Hockey Heroes TV takeover', broadcasting live from the stadium.

With a fixed camera focusing on the three presenters due to rights, there was little interaction with the viewer when it came to describing the exciting crunch of the game. Still, there are six months to improve this offering.

With so many matches to come, time will also tell how the FIH best package the action, goals and skills to bring to a wider audience and make the concept understood. And, more importantly, talked about.

The Hockey Paper


---

China take 2 - 0 lead in series against Canada



Stephanie Norlander and Shanlee Johnston both crossed the 100th cap threshold. Photo: Tristan Urry

Panzhihua - Hongge Training Center, China - Two Canadian players reach 100 caps during their second match in a Six Game Series against China

Stephanie Norlander and Shanlee Johnston both crossed the 100th cap threshold playing for Canada during their second match against China at the Hongge Training Center in Panzhihua.

"Playing my 100th cap for Canada was a pretty special feeling, it's always an honour to rep the red and white but today I felt extra proud to play for Canada and alongside such great teammates" said Norlander.

"When it comes down to it I always try to prepare for every game the same way, staying focused on the game plan and how I can play my role. It's always special to be able to play for Canada, but mostly today I felt so privileged to be able to play alongside this group, and to have been able to play 100 games for my country" added Johnston.

Canada, currently ranked 21st in the world saw tough competition with China, currently ranked 10th and the second match ended with a score or 3 - 5 placing China with two wins in this six game series so far.

"China is a great team to play, they are skilled, fit, disciplined, and peaking for their pro league competition. A very tough team, but a team we need to learn how to beat" said Johnston

"I think China is a strong side, they are well organized, structured, and do a good job capitalizing on their counter attacks. I think we have the capacity to beat this team, however, we need to sharpen up a few things" added Norlander.

The two teams will take Monday off for recovery and training and play the third match of their series on Tuesday at 4:10pm Panzhihua local time.

Field Hockey Canada media release


---

3 Nations Invitational (M) Chile - Final Day
Chile

ARG v CHI (RR)     5 - 0

Final pool standing
| Rank | Team | Played | Wins | Draws | Losses | Goals For | Goals Against | Goal Difference | Points |
| --- | --- | --- | --- | --- | --- | --- | --- | --- | --- |
| 1 | Argentina | 4 | 3 | 0 | 1 | 16 | 6 | 10 | 9 |
| 2 | Japan | 4 | 3 | 0 | 1 | 14 | 9 | 5 | 9 |
| 3 | Chile | 4 | 0 | 0 | 4 | 4 | 19 | -15 | 0 |
---

Hockey Stars Nominee Lynch Excited For FIH Pro League

Ben Somerford




Warrandyte product Rachael Lynch says she's thrilled to be nominated for the International Hockey Federation (FIH) Goalkeeper of the Year which will be announced on February 14.

The 32-year-old Hockeyroos goalkeeper is one of five candidates shortlisted for the gong in the FIH Hockey Stars awards.

"It's a real honour," said Lynch who starred for Australia in 2018 at the Commonwealth Games, World Cup and Champions Trophy. "I'm very flattered."

She didn't concede one goal at the Commonwealth Games until the gold medal match, while her shootout heroics in the World Cup quarter-finals against Argentina sent Australia into the last four.

Lynch is one of six Australians to be nominated for major awards as part of the Hockey Stars.

"It's great to see so many Aussies in there as well," she said. "Rosie Malone is in as well for Rising Star.

"Lots of the boys are in there. It's great to see so hopefully everyone can vote for us."

Lynch's Melbourne fans may get the opportunity to see her live in action next month, when the Hockeyroos take on the Netherlands and Belgium at the State Netball Hockey Centre on Saturday-Sunday 2-3 February in the new FIH Pro League.

The new FIH Pro League sees nine of the world's best teams face off in the world's first global home-and-away sporting league.

The Kookaburras and Hockeyroos will play eight matches each in Melbourne, Hobart, Perth and Sydney in February and March, before eight overseas matches all over the globe in April-June, before the finals in the Netherlands in late June. All matches will be broadcast on FOX SPORTS in Australia.

The FIH Pro League has effectively replaced the Champions Trophy and World League as an entertainment product which will provide – for the first time ever – a regular calendar of must-see events played in packed stadia across the world and throughout the year.

"We're all excited about Pro League," Lynch said.

"We don't really know how it's going to play out. The opportunity to play Holland in 3 weeks' time in Melbourne, what a great start to the year for us."

The Hockeyroos returned to training on Monday 14 January following a month-long break, where Lynch spent time back in Warrandyte before a holiday and coaching clinics in Tasmania.

She said she was relishing the opportunity to link up with her teammates again.

"We've had a long break so it's exciting to come back and spend some time together," she said.

"We're back in sunny Perth which is always nice. We're all enthusiastic."

Tickets for the FIH Pro League matches in Melbourne are on sale through ticketbooth.com.au at great value, from $30 for adults.

Hockey Australia media release


---

Pakistan drops 11 players from World Cup side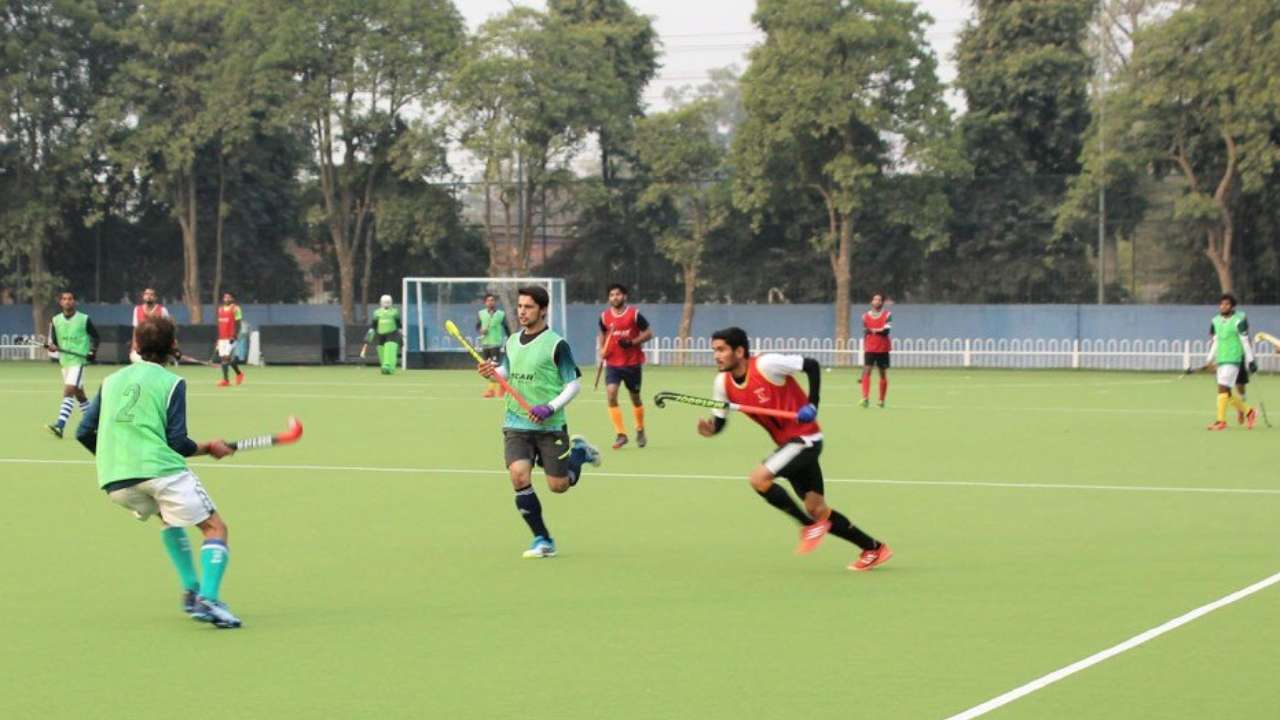 Pakistan hockey team practicing , Pakistan Hockey (PHF) ‏Twitter handle

Pakistan selectors Sunday effected a wholesale change in the country's hockey squad for the FIH Pro-League series beginning next month by dropping 11 players, including captain Muhammad Rizwan, who were part of the team's disastrous campaign in the recent World Cup.

After trials held in Islamabad, chief selector Islahuddin Siddiqui announced Sunday that captain Muhammad Rizwan (Sr) and 10 other players, mostly seniors, were dropped from the team.

Midfielder Ali Shan will lead the new-look 18-member Pakistan squad for the Pro-League series in Argentina, Australia, New Zealand, and European countries in the coming six months.

The 25-year-old has so far represented the country in 135 international matches.

Pakistan had finished 11th without winning a single match at the 16-nation World Cup held in Bhubaneswar during November-December last year. Then manager Hasan Sardar had held the senior players responsible for the team's miserable show in the mega event.

Interestingly, the participation of Pakistan in the Pro-League series is still yet not certain due to financial issues.

Serious doubts remain over whether they will be able to fly to Argentina and then to Australia and New Zealand as the sports minister has made it clear that to get more grants the Pakistan Hockey Federation (PHF) has to first submit a comprehensive plan to the government.

The PHF has asked for another grant of 120 million rupees to cover the expenses of sending the team to the Pro-League matches and for allowances of players and officials.

Islahuddin said the players dropped include Mazhar Abbas, Irfan Senior, Mohammad Tauseeq Arshad, Rashid Mahmood, Ajaz Ahmed, Ammad Shakeel Butt, Irfan Junior, Rizwan Senior, Tasawwar Abbas, Umar Bhutta and Mohammad Zubair.

Goalkeeper Imran Butt had already announced retirement after the 2018 World Cup.

The new faces named in the national team include Waqar Ahmed, Amjad Ali (both goalkeepers), Rizwan Ali, Amjad Ali Khan, Moin Shakeel, Azfar Yaqoob, Rana Waheed, Akmal Hussain, Atiq Arshad.

The chief selector said the changes were necessary to build a new Pakistan squad with the Olympics in mind.

The Pro-League matches featuring nine countries -- Belgium, Australia, Netherlands, Argentina, Germany, England, New Zealand, Spain, and Pakistan -- also serves as a qualifier for the 2020 Tokyo Olympics with the four best teams qualifying for the Olympic qualification matches to be staged during 2020.

Pakistan opens their Pro-League campaign with back-to-back matches against Argentina on February 2 and 3 in the central Argentinian city of Cordoba.

Pakistan Squad: Waqar Ahmed, Amjad Ali, Aleem Bilal, Mubashar Ali, Rizwan Ali, Amjad Ali Khan, Abu Bakar Mahmood, Moin Shakeel, Azfar Yaqoob, Ali Shan (captain), Faisal Qadir, Atif Mushtaq, Atiq Arshad, Rana Waheed, Junaid Manzoor, Ghazanfar Ali, Ali Aziz, Shan Irshad.

Standbys: Salman Razzaq, Adeel Lateef, Rana Sohail, Mohammad Qamar, Akmal Hussain, Taimour Malik, Samiullah, Emmaduddin.

Daily News & Analysis


---

EuroHockey Indoor Junior Championship (W) 2019 - Day 3
Tarnowskie Gory, Poland

Results 20 January

BLR v UKR (Pool C)     5 - 1 (3 - 0)
CZE v POL (Pool C)     1 - 4 (1 - 1)
TUR v SUI (3rd/4th Place)     0 - 3 (0 - 1)
RUS v AUT (Final)             5 - 2 (3 - 1)

Final Placings

Russia           1
Austria           2
Switzerland    3
Turkey           4
Belarus         5
Poland           6
Czech Republic 7
Ukraine           8

FIH Match Centre


---

EuroHockey Indoor Junior Championship II (W) 2019 - Day 3
Sveti Ivan Zelina, Croatia

Results 20 January

CRO v WAL (3rd/4th Place)     0 - 2 (0 - 0
SWE v SVK (Final)               5 - 1 (2 - 1)

Final placings

Sweden         1
Slovakia        2
Wales           3
Croatia         4

FIH Match Centre


---

Tenaga hammer Thunderbolts

By Jugjet Singh

KUALA LUMPUR: Tenaga Nasional thrashed TNB Thunderbolts 7-1 in the Premier Division of the Malaysia Hockey League (MHL) on Sunday.

Noor Firdaus Rosdi opened the floodgates in the eighth and 12th minutes while Firhan Ashaari (21st, 56th), Amirul Hamizan (23rd), Nik Muhammad Aiman (32nd, 57th) added the other goals.

Thunderbolts responded through Syazwan Syafiq in the 38th minute.

"LIke I said, there will not be any brotherly love even though we are both under one umbrella. We started of slowly, but in the end the goals flowed in and there was a better performance from my players," said Tenaga coach Nor Saiful Zaini.

Tenaga play Maybank on Friday, before ending their first round against Terengganu Hockey Team (THT) two days later.

"Next weekend will be tough, but we aim to collect six points before starting our second round campaign," said Nor Saiful.

Meanwhile, NurInsafi player Jiwa Mohan will face the MHL technical committee on Monday for his negative statements recently.

The former international touched on the drastic drop in the number of teams in the MHL and for this, the committee might refer him to the Malaysian Hockey Confederation disciplinary board.

RESULTS

Men: UiTM 0 NurInsafi 2, TNB Thunderbolts 1 Tenaga Nasional 7

FIXTURES

MONDAY— Women: Liaoning HC v PSHA - MSSPP (National Stadium Pitch 1, 6pm), KL Wipers v Terengganu Ladies (National Stadium Pitch 1, 4pm), UniTen v Tengku Mahkota Ismail (National Stadium Pitch 1, 8pm).

New Straits Times


---

Tenaga's Noor Firdaus shows he's national material with brace

By Aftar Singh



Going for it: Tenaga Nasional's Syarman Mat Tee (left) vying for the ball with TNB-Thunderbolt's Firhan Ashaari during the MHL match at the National Hockey Stadium in Bukit Jalil yesterday. — GLENN GUAN/The Star

KUALA LUMPUR: Youngster Muhd Noor Firdaus Rosdi has all the flair to become a national hockey player.

The 18-year-old forward made heads turn with his tenacity and skills en route to scoring two superb goals in Tenaga Nasional's 7-1 win over TNB-Thunderbolt in the Malaysia Hockey League (MHL) at the National Hockey Stadium in Bukit Jalil yesterday.

With the big win, Tenaga have nine points from three wins and a draw.

Noor Firdaus got off to an explosive start when he gave Tenaga the lead in the eighth minute from close range and four minutes later, he fired home the second goal from the top semi-circle.

Boosted by the fantastic start, Tenaga kept piling on the pressure and continued the goal spree through Muhd Firhan Ashari (21st, 56th), Nik Muhd Aiman Nik Rozemi (32nd, 57th) and Amirul Hamizan (23rd).

Thunderbolt pulled one back through Muhd Syazwan Syafik Basir in the 38th minute.

Noor Firdaus was delighted that he played his cards right to score two goals.

"My dream to become a national player looks to be on the right track," said Noor Firdaus, who was a member of the Malaysian team who won gold in the Youth Olympic Games in Buenos Aires, Argentina, last October.

"I just need to keep scoring in the MHL to help Tenaga win our second title," added Noor Firdaus, who was in the team when Tenaga won the Tan Sri P. Alagendra Cup on Jan 6.

Nur Insafi finally won their first match by defeating Universiti Teknologi Mara (UiTM) 2-0 at the UiTM pitch in Shah Alam yesterday.

Former international Ismail Abu gave UiTM lthe ead in the 26th minute and doubled the score through Nur Rahul Hrsikesa Thaitchana Muruthi in the 51st minute.

The Star of Malaysia


---

Great drama in Scottish Men's Indoor National League 1 as semis approach




Grove Menzieshill and Grange are in a strong position to make the men`s indoor National League 1 championships semi-finals from Pool A, but there is an incredible contest in the other group with champions Inverleith falling to third place and Western Wildcats along with Dundee Wanderers above them with one game remaining in the competition.

Grove Menzieshill made Pool A their own with a 4-2 win over nearest challengers Grange to open up a six point cushion.

But it was a penalty corner conversion by Dan Coultas that gave the Edinburgh side a lead in only four minutes. But within three minutes the Taysiders were level when Albert Rowling scored from the spot – and that was the score at the interval.

Another set piece strike by Coultas not long after the restart put Grange ahead for the second time in the match. But in the final quarter Grove Menzieshill asserted their authority, Gavin Tomlinson equalised, then Ross McPherson and Rowling again sealed the three points for the Dundonians.

Clydesdale moved up to the same points total to Grange with an 8-6 win over Kelburne. The Paisley side held the advantage by 3-2 at the interval, but Clydesdale piled in six goals in the second half, Struan Walker was top scorer with a hat-trick.

Grove Menzieshill then proceeded to confirm their final pole position in their pool with an 11-2 win over Kelburne in their second outing.

There was a whiff of an upset when Chris Caldwell and Jack McAllister gave the Paisley side a two goal lead in only three minutes. But the goal simply stirred the Taysiders into action and they proceeded to score 11 times during the course of the rest of the action.  Albert Rowling was top scorer with a hat-trick and there were two goals each for Ben Cromar, Gavin Tomlinson and Jamie Golden.

With a 6-4 win over Clydesdale in their second match Grange have virtually secured second spot in the pool and a place in the semi-finals.

But it was Clydesdale who made the early running with goals from Struan Walker and Chris McFadden. However, it was the Edinburgh side that reached the interval 4-2 ahead through Dan Coultas, Hamish Imrie and a double by Callum Milne.

Grange confirmed their superiority with further second half strikes by Frank Ryan and Coultas again for a commanding 6-2 lead, Clydesdale doubled their tally through Dean Baber and Walker, but this proved little more than a consolation.




The Western v Inverleith tussle failed to resolve much at the top of Pool B, the sides finished 3-3 and share seven points with the former retaining a small goal difference advantage.

Inverleith held sway for most of the first half but succeeded in squandering two penalty corner opportunities to take the lead. All seemed well on the Edinburgh front when Aidan McCrossan and then Stephen Dick at a penalty corner put them two up in the closing minutes of the first half. But in the final minute the Western Wildcats clawed their way back into proceedings with a spot conversion by Adam McKenzie.

Seven minutes into the second half Rhury Smith levelled for the Western Wildcats. However, the points seemed to be heading Inverleith`s way when Dick put them 3-2 ahead from the spot with just over a minute remaining. Penalties seemed the order of the day, in the final minutes McKenzie again scored from the spot for 3-3. Yet Inverleith had a belated chance to steal the points at an overtime penalty corner, but the occasion was lost and a share of the points was the final outcome.

Dundee Wanderers took advantage of the draw to move within a point of both Western and Inverleith with a powerful 9-2 victory over Dunfermline Carnegie.

Wanderers moved into a four goal lead in the first half through Bobby Ralph, Sean Dowie, Callum Ross and Elliot Sandison, Steven Glass replied for the Fifers. The second half had a similar pattern, Wanderers` tally advanced to nine with Ralph completing his hat-trick, Dowie got his own second and there was a double from Cammie Bell.

However, the drama made its appearance in the second games of the day, it started with Inverleith`s 3-2 defeat by Dundee Wanderers. The result pushed the Taysiders into second spot, two points ahead over the champions and only a point adrift of the Western Wildcats.

Bobby Ralph opened for Wanderers in only six minutes and then proceeded to spend the next few minutes in the sin bin with a yellow card.

Kyle Taylor levelled for Inverleith in the second half, Elliot Sandison put Wanderers 2-1 up with a penalty corner conversion, only for Aidan McCrossan to bring back Inverleith to 2-2 with four mintues to go. The Dundonians` winner almost inevitably came from Ralph in the last two minutes when he slipped the ball under the Inverleith keeper for the three points.

Western Wildcats` tussle with Dunfermline also had its dramatic denouement, but in the end the Auchenhowie pack triumphed 4-3 in the end to top Pool B.

Western Wildcats charged into a 3-1 lead at the interval, Andrew Doyle opened for the Fifers, but Hamish Galt, Scott Menzies and Adam McKenzie were on target to give the West District side the advantage.

Doyle again and then Sam Goldie with 30 seconds remaining brought the contest back to a 3-3 draw and a share of the points looking inevitable. Undaunted, the Western Wildcats romped to the other end and Joe McConnell found the net with five seconds left for a dramatic 4-3 victory.

Scottish Hockey Union media release