All the news for Sunday 20 January 2019
2019 FIH Pro League (Men)
ESP v BEL (RR)   2 - 2 Shoot out 2 - 0

Click here for details

Watch live streaming https://fih.live/
---

Drama in Spain as FIH Pro League era begins

By FIH




The Estadio Betero in Valencia was the stage as an exciting new era of international hockey began on Saturday (19 January), as the men of Spain faced newly-crowned world champions Belgium in the opening match of the FIH Pro League.

The match between the Red Sticks and the Red Lions – the first of 144 FIH Pro League matches that will be played in the lead-up to the June's Grand Final event in Amsterdam, Netherlands – proved to be something of a thriller, as the hosts fought back from 2-0 down by scoring twice in the final three minutes to force a draw, before winning the subsequent shoot-out in dramatic style thanks largely to the goalkeeping heroics of Quico Cortes.

The match in Valencia was the perfect way to start the ground-breaking home and away league, a competition that will see over 20 venues across 11 nations playing host to 144 international matches, providing a global spread of world-class hockey, across multiple time-zones, from January to June. It is a competition that is very much seen as a genuine game-changer for the sport.

With two high-quality, attack-focussed teams going head-to-head, the fans that had made their way to the Estadio Betero had every right to expect a hugely entertaining match, and they were not to be disappointed. Spain, keen to make up for their disappointing pool stage elimination at the Odisha Hockey Men's World Cup Bhubaneswar 2018, were outstanding against the winners of that event, with Belgium shot-stopper Vincent Vanasch making numerous key saves to stop the Red Sticks from taking the lead in the early exchanges.

Spain were probably the better team for most of the first two periods of the match, although Belgium would certainly have broken the deadlock were it not for some top class saves from Quico Cortes, who twice denied the ever-dangerous Tom Boon while Tanguy Cosyns also blazed a shot wide of the target.

Despite the entertainment, the opening two periods remained score-less. However, that all changed in the third period when Belgium's Maxime Plennevaux struck brilliant backhand strike on the half-volley to give the Red Lions a 1-0 lead midway through the period after Spain failed to effectively clear the danger.

When Belgium, who currently sit at the top of the FIH Hero World Rankings, doubled their lead with five minutes remaining thanks to a wonderful penalty corner drag-flick from Alexander Hendrickx, it seemed that Spain's chances of claiming something from the match had ended. However, the Red Sticks never stopped believing and deservedly pulled a goal back with just over two minutes of the match remaining thanks to Ignacio Rodriguez, who guided Pau Quemada's low penalty corner flick between the legs of Vanasch to halve the deficit.

Sensing that the comeback was on, Spain immediately replaced goalkeeper Cortes with an outfield player in a bid to overload the Belgian defence. It was a tactic that paid off with just ten seconds remaining, as Enrique Gonzalez fired into the Belgian net to level the scores and, with no draws in the FIH Pro League, force a shoot-out in which Cortes excelled.

The vastly-experienced Spanish goalkeeper did not concede in the shoot-out, with Josep Romeu and Alvaro Iglesias scoring for the Red Sticks to give Spain two points from the opening match of the FIH Pro League, with Belgium taking one point from the encounter.

Speaking at the conclusion of the contest, Man of the Match Xavi Lleonart of Spain said: "I think it was an incredible game. We started really well. Yes, we conceded two goals but we still really believed in our team. We showed that our level can be the same as the Belgian team, so we are really happy and really excited about playing in this competition."

The FIH Pro League continues on 25 January with Spain men in action once again, when they take on Great Britain at the Estadio Betero at 1100 Central European Time (UTC +1).

Keep up to date with all the latest news on the FIH Pro League via the event website and through FIH social media channels - Facebook, Instagram and Twitter.

Result: FIH Pro League (Men)
19 January 2019 - Match 1

Spain 2, Belgium 2 (2-0 After Shoot Out)
Man of the Match: Xavi Lleonart (ESP)

#FIHProLeague

Official FIH Pro League


---

Selectors name Pakistan squad for FIH Pro League



Ali Shan has been named Captain of the side

After conclusion of two-day trials at the National Hockey Stadium Lahore, an 18-member Pakistan hockey team for the FIH Pro League was named here Saturday.

The trials were watched by the national selection committee comprising Islahuddin Siddiqui (chief selector), Ayaz Mahmood, Qasim Khan and Mussaddiq Hussain (members). Pakistan Hockey Federation (PHF) president Khalid Sajjad Khokhar and acting secretary general Muhammad Ikhlaq Usmani were also present.

Ali Shan has been named captain of the side.

Hockey hopes to begin a new with the kick off of world body's ambitious annual Pro League, a new competition which aims to transform the sport and reduce its dependence on the Olympic Games for exposure. The league will feature nine national teams in the men's and women's competitions, playing each other home and away over a six-month period followed by semi-finals and a final. Argentina, Australia, Belgium, Germany, Britain, the Netherlands and New Zealand will play in the men's and women's leagues with Pakistan and Spain completing the lineup in the men's and China and the USA in the women's.

India, eight-times men's Olympic champions, are not taking part, having pulled out 18 months ago as the federation did not believe it would benefit the women's team and did not want only the men's team to take part.

Pakistan team:

Waqar Ahmad (goalkeeper), Amjad Ali (goalkeeper) Aleem Bilal, Mubashar Ali, Rizwan Ali, Amjad Ali, Abu Bakar Mahmood, Moin Shakeel, Azfar Yaqoob, Faisal Qadir, Atif Mushtaq, Ali Shan (c), Atiq Arshad, Rana Waheed, Ghazanfar Ali, Shan Irshad, Ali Aziz and Junaid Manzoor.

Stand-byes: Adeel Latif, Salman Razaq, Rana Suhail, Saran Bin Qamar, Taimoor Malik, Sami Ullah, Ammad ud din, Akmal Hussian

Manager-Head Coach: Saeed Khana

Coaches: Rehan Butt and Danish Kaleem.

The Daily Times


---

China take first Test against Canada



Photo: Tristan Urry

Panzhihua - Hongge Training Center, China - Canada celebrates two players' milestones during their first match of a six game series in China and reflects on their historic 2018 milestones.

Canada started off their first match in 2019 by celebrating two players' milestones. Amanda Woodcroft received her 100th Cap wearing red and white during a tough match against China, currently ranked 10th in the world.

"It has been such an honour to play 100 games for Canada. I started playing for Canada in 2013 and have learned so much from each and every teammate and coach I have had since then" exclaimed Woodcroft.

Canada was beaten 3 - 2 during their first match against China. Kate Wright and Stephanie Norlander scored the two goals for Canada, both in the third quarter.

"Though we did not get the result we were looking for in the first game, I am confident that we will bounce back stronger and keep pushing hard during the rest of this six game series. We will take key learnings from this first game and implement the necessary changes to get a result in game two" said Woodcroft.

Saturdays' match was a very important milestone for one of the newest players on the senior team, Elise Wong, who has been working with the program since summer of 2018 and was very excited to wear the Canadian uniform internationally for the first time.

"This has been a dream of mine since I first watched my brothers playing hockey from the sidelines and picked up a stick for myself, and I'm very excited to continue my hockey career.

It was an incredible experience to put on the Red and White for the first time and play for Canada. I felt so grateful for every minute and for every opportunity to play with my teammates" said Wong.

Canada saw some impressive results in 2018 and looks to continue that trend in 2019. In 2018, 34 matches that were played with a total of 18 wins, 13 ties, 3 losses with an average score: 3.91 – 1.35 per game against some of the top teams in the world.

During their last tour of 2018 in Spain, team captain Kate Wright made history by being the first woman to play 200 matches for Canada. "Kate is an outstanding leader so it is fitting that she is the first recipient of this prestigious milestone." said head coach Giles Bonnet.

"Kate is a role model for the team both on and off the field . She doesn't ask anything that she is not prepared to do herself . She puts her body on the line every-time she is on the field" added Bonnet.

"I am honoured and humbled to be the first woman in Canadian hockey history to reach 200 caps. It has been quite the journey to get to this milestone. One filled with ups and downs, success and disappointment and everything in between. I am grateful to have such supportive parents (Mike and Diane Gillis), who have been following me around the globe to cheer me on since game number one. My teammates inspire me and push me every day to be the best player that I can be. It is an exciting time for the Women's National Team as many players are reaching major milestones. It shows we are growing and gaining experience together." said Wright.

2018 was a tremendous year for Canada with 14 other players receiving noteworthy caps. Dani Hennig, Hannah Haughn, Sara McManus, and Brie Stairs celebrated 150 caps. Natalie Sorisseau, Kaitlyn Williams, Karli Johansen, and Maddie Secco celebrated 100 caps. Holly Stewart, Rachel Donohoe, Alex Thicke, Kathleen Leahy, and Nikki Woodcroft achieved 50 caps in 2018.

Canada and China play again on Sunday at 4:20 pm local time for the second game of their six game series.

Field Hockey Canada Team media release


---

3 Nations Invitational (M) Chile - Day 5
Chile

Result 19 January

ARG v JPN (RR)     3 - 1

Pool standings
| Rank | Team | Played | Wins | Draws | Losses | Goals For | Goals Against | Goal Difference | Points |
| --- | --- | --- | --- | --- | --- | --- | --- | --- | --- |
| 1 | Japan | 4 | 3 | 0 | 1 | 14 | 9 | 5 | 9 |
| 2 | Argentina | 3 | 2 | 0 | 1 | 11 | 6 | 5 | 6 |
| 3 | Chile | 3 | 0 | 0 | 3 | 4 | 14 | -10 | 0 |
---

Hockey India not to play ball to Harendra Singh's demands

By Rutvick Mehta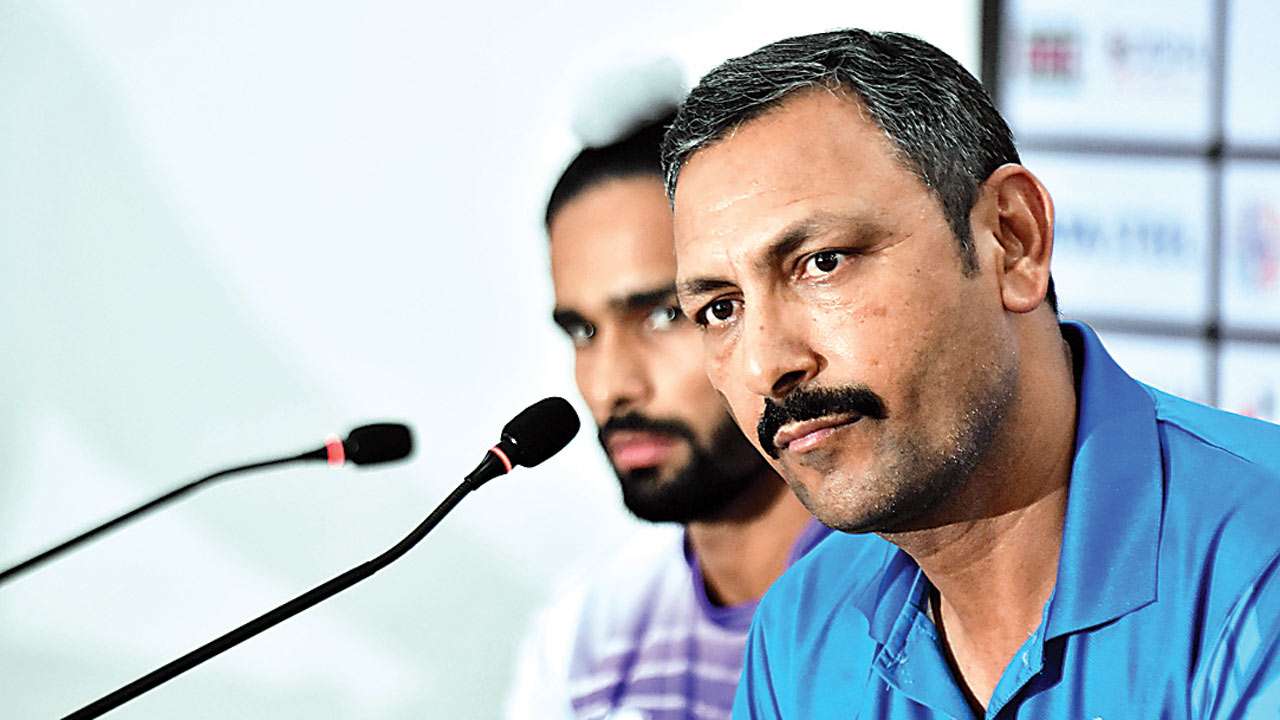 Harendra Singh, AFP

There seems to be no end to the stand-off between Harendra Singh and Hockey India (HI), an impasse that all but signals a full stop to the ousted senior men's team coach's stint with Indian hockey.

With Harendra – who was "adviced" by a HI committee earlier this month to return as junior national coach after below-par results with the senior side in the Asian Games and the FIH World Cup – setting some demands for taking up the role, HI is in no mood to play ball.

The 2016 Junior World Cup-winning coach has reportedly laid down a few ground rules for his return, which includes a free hand in selection matters and a salary on par with foreign coaches.

HI, however, feel it is "laughable" for someone who has been effectively "demoted" to set demands like these.

"If you're heading a company, and if an employee who you want to demote bargains with you like this, will you want to keep him? Nobody will do that, and even we will not," a top HI official said on condition of anonymity.

"On the one hand he hasn't delivered results as a coach what we, and he himself, expected when he took over the senior team, and on top of that he wants us to agree to whatever he wants. It doesn't work like that," he added.

The official said that the national federation will soon convene a meeting to arrive at its final decision, adding that HI has not held talks with Harendra yet.

A high performance and development committee of HI had, on January 9, recommended Harendra's return as junior coach but that scenario looks increasingly unlikely.

In a home World Cup marred by off-field drama and controversies coupled with India's quarterfinal exit, HI felt Harendra was not in "control" of the players as the head coach of the senior men's team, a role he was asked to take up early last year after being shifted from the senior women's side.

The federation even questioned his selection of players, with Indian Olympic Association (IOA) president Narinder Batra – a former HI boss – saying "indiscipline and groupism" had crept into the team in a long Facebook post without naming Harendra.

It is also learnt that Jude Felix, the current coach of the India colts whose contract runs till May this year, has till date not been contacted by anybody from HI to apprise him about the current situation or his future.

Daily News & Analysis


---

Black Sticks review further harmed the team culture it sought to remedy

Dana Johannsen



The departure of long-serving Black Sticks coach Mark Hager has been met with widespread disappointment in the hockey community. STUFF

ANALYSIS: A version of the same question is being widely asked among hockey circles this week: How did it come to this?

The departure of long-serving women's Black Sticks coach Mark Hager, who is taking up a role with Great Britain as Hockey NZ continue to draw out the outcome of an independent review into the women's programme, is at once both inexplicable and inevitable.

Inexplicable because the incident that sparked a full-scale review into the Black Sticks environment was fairly innocuous, and inevitable because against the backdrop of high profile welfare scandals last year in the national track cycling and women's football programmes, opponents of Hager took advantage of the political climate in New Zealand sport to enforce a reckoning of their own.

The findings of that review were originally due to be released in November, but was pushed back until later this month.

In the face of delays and a lack of public support from the national body following media reports of his axing, Hager accepted a job offer from Great Britain early in the new year. One source close to Hager told Stuff the job offer had been on the table since November, and he had twice turned it down.

Observers are now questioning Hockey NZ's leadership in the saga, with many believing a wide-ranging review to be an ill-considered and disproportionate response to issues that could have been solved by promoting a more open dialogue between players and administrators.

When you unravel the mess that led to Hager walking away, it all began with an email whoopsie.

During last year's World Cup campaign Hager inadvertently sent an email, in which he singled out "struggling" players, meant for team management, to the entire team.

While it was a careless error and it wouldn't have been pleasant for those players singled out, particularly in the middle of a major tournament, the criticisms contained in the email were ordinary conversations you would expect in high performance environment.



Hager took over a team ranked well outside the top 10 in the world and led them to two Olympic fourths, two World League finals, a Champions Trophy bronze, and gold at last year's Commonwealth Games. ALISHA LOVRICH/PHOTOSPORT

When the email blunder came to light, Hockey NZ responded with a statement saying the matter had been "dealt with immediately by the senior player leadership team and [Hager], who took full responsibility for the incident".

But opponents of Hager seized on the headlines generated by the incident as an opportunity to air other grievances. Former Black Sticks goal-keeper Amelia Gibson, spoke out about a "negative culture" within the squad, which she said prompted her to retire. 1News reported comments from other "junior players" who claimed they were mistreated by Hager.

Based on this limited testimony, the Black Sticks were held up as another example of toxic culture festering in elite sport, with many conflating the player welfare scandals in cycling and women's football last year with what was going on in hockey.

Hager's inflexible approach also played a part in his downfall.

The 55-year-old Australian demanded total commitment from his players, expecting the athletes to train as fulltime professionals on barely a semi-professional wage. He was unsympathetic to players trying to juggle work and study commitments, which was particularly tough on athletes that were on the fringe of the national team, who did not know if they were going to be selected from one tour to the next.

Critics of Hager's argue he relied on the players' unwavering desire to represent New Zealand, at the expense of their career opportunities and holistic welfare.



Mark Hager demanded high standards of his players. GETTY IMAGES

This led to a combative relationship with the Players' Association, who have been accused of driving the campaign against Hager. One hockey insider told Stuff he believed Hockey NZ chief executive Ian Francis displayed inexperience and poor leadership in allowing the organisation to be boxed into a corner by the players' association. Another observer claims the national body "jumped at their own shadow" and hastily enacted a wide-ranging review when the complaints did not warrant it.

NZHPA executive manager Glen Sulzberger, denied his organisation had any agenda.

"It was because of feedback to us from players that I guess the review was instigated," he told Stuff.

"We've always been pretty up front that there are some players who support the environment, others who don't. We've never had a view, or tried to cast a view otherwise."

Asked if the Players' Association had a good working relationship with Hager, Sulzberger responded:

"I can't really comment about that at the moment while the review is still in place."

Hager's exit has been met with widespread disappointment among past and present players, with senior Black Sticks players Stacey  Michelsen and Sam Charlton the public face of the that disappointment.

Fronting media following the announcement last weekend, both said they were "saddened" by the news and defended Hager's approach.



Several past and present Black Sticks players, including Sam Charlton, have defended Hager's demanding environment. Phil Walter

"He was a coach who really demanded high standards and that's something that I think is really important in high performance sport," Charlton said. "I don't think we would have got to where we were, had he not challenged and encouraged us the way he did."

There is frustration too among the players that the problems have been framed in some quarters as a gender issue. Senior players are said to be mortified to read some of the backlash against the team in social media and comments sections suggesting female athletes are too sensitive and can't handle harsh criticism.

This has created further division among the players, who continue to blame those who spoke out or "leaked information" to the media for saga.

The fall-out suggests the drawn out review has done further damage to the very environment it sought to remedy.

Stuff


---

EuroHockey Indoor Junior Championship (W) 2019 - Day 2
Tarnowskie Gory, Poland

Results 19 January

UKR v RUS (Pool B)     0 - 7 (0 - 5)
AUT v CZE (Pool B)     3 - 3 (2 - 2)
BLR v TUR (Pool A)     2 - 3 (1 - 1)
SUI v POL (Pool A)         0 - 0
POL v UKR (Pool C)     4 - 2 (2 - 1)
BLR v CZE (Pool C)     8 - 0 (5 - 0)
TUR v RUS (Semi Final 1)     1 - 6 (0 - 4)
AUT v SUI (Semi Final 2)     6 - 1 (2 - 0)

Pool standings
Pool A
| Rank | Team | Played | Wins | Draws | Losses | Goals For | Goals Against | Goal Difference | Points |
| --- | --- | --- | --- | --- | --- | --- | --- | --- | --- |
| 1 | Turkey | 3 | 2 | 0 | 1 | 9 | 9 | 0 | 6 |
| 2 | Switzerland | 3 | 1 | 2 | 0 | 5 | 3 | 2 | 5 |
| 3 | Belarus | 3 | 1 | 1 | 1 | 9 | 6 | 3 | 4 |
| 4 | Poland | 3 | 0 | 1 | 2 | 5 | 10 | -5 | 1 |
Pool B
| Rank | Team | Played | Wins | Draws | Losses | Goals For | Goals Against | Goal Difference | Points |
| --- | --- | --- | --- | --- | --- | --- | --- | --- | --- |
| 1 | Austria | 3 | 2 | 1 | 0 | 15 | 7 | 8 | 7 |
| 2 | Russia | 3 | 2 | 0 | 1 | 13 | 8 | 5 | 6 |
| 3 | Czech Republic | 3 | 1 | 1 | 1 | 13 | 13 | 0 | 4 |
| 4 | Ukraine | 3 | 0 | 0 | 3 | 8 | 21 | -13 | 0 |
Pool C
| Rank | Team | Played | Wins | Draws | Losses | Goals For | Goals Against | Goal Difference | Points |
| --- | --- | --- | --- | --- | --- | --- | --- | --- | --- |
| 1 | Belarus | 2 | 2 | 0 | 0 | 14 | 2 | 12 | 6 |
| 2 | Poland | 2 | 1 | 0 | 1 | 6 | 8 | -2 | 3 |
| 3 | Czech Republic | 2 | 1 | 0 | 1 | 6 | 12 | -6 | 3 |
| 4 | Ukraine | 2 | 0 | 0 | 2 | 6 | 10 | -4 | 0 |
---

EuroHockey Indoor Junior Championship II (W) 2019 - Day 2
Sveti Ivan Zelina, Croatia

Results 19 January

SWE v SVK (Pool A)     2 - 2 (0 - 0
WAL v CRO (Pool A)     1 - 2 (1 - 2)
SWE v WAL (Pool A)     6 - 1 (2 - 1)
CRO v SVK (Pool A)     2 - 2 (2 - 1)

Pool standing
| Rank | Team | Played | Wins | Draws | Losses | Goals For | Goals Against | Goal Difference | Points |
| --- | --- | --- | --- | --- | --- | --- | --- | --- | --- |
| 1 | Sweden | 3 | 2 | 1 | 0 | 13 | 7 | 6 | 7 |
| 2 | Slovakia | 3 | 1 | 2 | 0 | 6 | 5 | 1 | 5 |
| 3 | Croatia | 3 | 1 | 1 | 1 | 8 | 8 | 0 | 4 |
| 4 | Wales | 3 | 0 | 0 | 3 | 3 | 10 | -7 | 0 |
---

Tenaga put brotherly love on hold

By Jugjet Singh

KUALA LUMPUR: There will be no brotherly love when Tenaga Nasional take on TNB Thunderbolts in the Premier Division of the Malaysia Hockey League (MHL) on Sunday.

This was the warning issued by Tenaga coach Nor Saiful Zaini who is looking for consistency in the next three matches before they try to bounce back in the second round.

Tenaga are third in the league with six points from two wins after three matches, while Terengganu Hockey Team (THT) and Universiti Kuala Lumpur (UniKL) are ahead by a point.

"We made too many mistakes and missed too many shots at goal in second half against UniKL. We lost the lead, and lost 3-1 by letting in late goals.

"We can't afford this anymore as I am looking for wins starting with the match against Thunderbolts.

"Thunderbolts will have to prove themselves against us, as there will be no brotherly love in this match even though they are our juniors.

"We need to assert ourselves in this match, followed by Maybank and then THT to end our first round without dropping anymore points," said Nor Saiful Zaini.

In the Women's MHL, Terengganu Ladies finally stopped Liaoning HC's march with a 4-2 win at the Batu Buruk Stadium in Kuala Terengganu.

Liaoning are a club from China who have three national players.

India's Jaswinder Kaur was the toast for Terengganu with goals in the 15th, 27th and 39th minutes while Juliani Din nailed the fourth in the 48th minute.

Liaoning got their goals off Chen Yiming (15th) and Liu Xinyu (33rd).

RESULTS

Women: Blue Warriors 6 PSHA-MSSP 0, Tengku Mahkota Ismail 1 KL Wipers 0, Terengganu Ladies 4 Liaoning HC 2.

TODAY

Men: UiTM v NurInsafi (UiTM Stadium, 5pm), TNB Thunderbolts v Tenaga Nasional (National Stadium Pitch I, 6pm), Maybank v Terengganu HT (National Stadium Pitch I, 8pm).

WOMEN'S STANDINGS

P W D L F A Pts

TERENGGANU 4 4 0 0 25 4 12
BLUE WARRIORS 5 3 0 2 19 4 9
PKS UNITEN 4 3 0 1 10 2 9
LIAONING HC 4 3 0 1 11 4 9
TG MAHKOTA ISMAIL 5 2 0 3 5 15 6
KL WIPERS 4 0 0 4 0 10 0
PSHA-MSSPP 4 0 0 4 0 31 0

New Straits Times


---

Terengganu reign supreme in league, thanks to top-scorer Jaswinder and Co

By Atar Singh



Police Blue Warrior's Fatin Haimah Zaki (right) jumps to avoid the ball from PSHA's Salina Abdullah (left) during the National Women's Hockey League at the Jalan Duta Hockey Stadium. - GLENN GUAN/The Star

KUALA LUMPUR: Indian striker Jaswinder Kaur delivered when it mattered most in the National Women's Hockey League by scoring a hattrick in Terengganu's 4-2 win over Liaoning Club of China at the Batu Buruk Hockey Stadium in Kuala Terengganu.

The Saturday's win ensured the East Coast team remained at the top of the seven-team standings.

Terengganu have scored a 25 goals and conceded four in four matches.

For the Chinese Club, it was the first defeat and the first time they have conceded goals in the league.

Liaoning Club started well by taking a lead in the fifth minute through Chen Yiming.

But Jaswinder levelled the score in 15th minute before she netted another goal in the 27th minute to give Terengganu the 2-1 lead.

Liaoning Club equalised in the 33rd minute through Liu Xinyu but Jaswinder responded again to score her third goal off a penalty corner in the 39th minute.

And finally national player Juliani Mohd Din completed the rout for Terengganu with another goal in the 48th minute.

Terengganu skipper Siti Noor Amarina Ruhani said the Chinese club gave them a run for their money.

"But we did exceptionally well to make good use of our chances to maintain our unbeaten run. Jaswinder played well," said Siti.

"The victory has put us in good position to stay on track for the league title," added the national skipper.
 
RESULTS
POLICE BLUE WARRIOR 6 PSHA-MSSPP 0
TERENGGANU 4 LIAONING CLUB 2
SSTMI 1 KL WIPERS 0

STANDINGS
                                 P W D L F A Pts
TERENGGANU       4 4 0 0 25 4 12
POLICE BLUE        5 3 0 2 19 4 9
LIAONING CLUB    4 3 0 1 11 4 9
PKS-UNITEN          4 3 0 1 10 2 9
SSTMI                    5 2 0 3 5 15 6
KL WIPERS           4 0 0 4 0 10 0
PSHA-MSSPP       4 0 0 4 0 31 0

The Star of Malaysia


---

Maybank's Haziq reveals his biggest fear about playing in the MHL

By Aftar Singh

KUALA LUMPUR: Maybank midfielder Muhd Haziq Samsul can't help fearing he may aggravate his hamstring injury in the Malaysia Hockey League (MHL).

The Trolak-born Haziq missed three major tournaments last year – the Commonwealth Games in Gold Coast in April, Asian Games in Jakarta in August and World Cup in Bhubaneswar, India, due to the injury he suffered in 2017.

Haziq, who has been playing in the MHL since 2011, admits that he's injury-prone.

"I've suffered enough agony for missing a number of major tournaments last year because of my right hamstring injury.

"I pray that 2019 will be an injury-free year for me. I want to continue playing for the national team and to do that, I need to play well in the MHL to impress the national selectors," said Haziq, who joined the Tigers this season.

Haziq made his MHL debut in 2011 and played for Universiti Kuala Lumpur (UniKL) for four seasons before joining KL Hockey Club (KLHC) in 2015.

KLHC, however, have decided not to feature in the MHL this season.

Haziq said that he started his career as a forward but he also can play in midfield.

"I play as a midfielder for Maybank and I'm quite satisfied to have scored two goals in the MHL.

"I want to help Maybank finish in the top four and qualify for the semi-finals of the overall cup," said Haziq.

Maybank had a good start in the Premier Division by winning their first two matches by defeating Nur Insafi 5-1 and TNB-Thunderbolt 3-1.

But the Tigers face a stern test against Terengganu, powered by six foreign players.

Haziq said Maybank, comprising all local players, are relishing the challenge of trying to tame Terengganu.

"We have a young team and will be more than happy if we can snatch a point against them.

"We also have to watch out for their South Korean penalty corner specialist Jang Jong-hyun, who was the top scorer in the MHL in 2017," said Haziq.

The Star of Malaysia


---

Loreto and Alex advance to Jacqui Potter final four; quarter-final reaction



Loreto's Sarah Evans. Pic: Adrian Boehm

Loreto and Old Alex ensured all four of the Jacqui Potter Cup semi-finalists hail from the EY Hockey League as they joined Railway Union and UCD in the final four.

Loreto pulled clear of Glenanne in the second half with a 4-0 result after an initially close-run battle. Jess Meeke picked out the top corner for the only goal of the first half against her former club during a phase in which the Glens had their chances.

The second half, though, saw the Beaufort side push on with Sarah Evans scoring a cracking reverse while Aoife Taaffe added a third soon after. Sarah Clarke made no mistake from a penalty corner rebound off her initial shot.

"Glenanne are improving all the time and they made it very difficult for us," Loreto coach Paul Fitzpatrick said afterwards.

"Either team could have been in the lead early on. Our second goal finally gave us that bit of breathing room."

He was able to welcome back a trio of Irish Under-21 stars while Sinead McGirr and Anne Marie Byrne stepped up from the seconds for the tie.

For Fitzpatrick's counterpart David Keogh, his summation was: "Happy with the performance; disappointed with the result."

Their focus, though, is on closing the gap to the leading trio in Leinster Division One to have a shot at the EYHL2.

"We need to start getting the results against the likes of Monkstown and Corinthian and we are confident of doing that. When you look at where the side were last year and where they are now, both mentally and physically, it's completely different.

"We have a direction and know what we want to do. The girls have put in a massive effort and are doing everything we possibly can to get up to the next level."

The other tie to be completed saw Old Alex win 3-0 against Pembroke II with Erika Hinkson and Aine Connery putting them 2-0 up before Emma Russell completed the win.

For Alex coach Ivan Ovington, he was delighted to get through a "tricky tie" as his side awaits the return of Lisa Jacob and Emma Duncan after a lengthy spell out injured.

Nonetheless, they had a reasonably positive start to life in the EYHL before Christmas following their promotion.

"We have done well so far but are still learning. It has been a big step up from Division One in Leinster to the EYHL. There are plenty of things we still need to learn which will hopefully help us pick up a few results as we go through the second half of the season.

Pembroke II coach Dave Loughrey said it was a useful exercise for his side despite the outcome.

"I don't think the difference in standard was evident. Two of the goals were probably slightly against the run of play. They got a well-taken goal in the second half but I think we showed our potential and am delighted to have gone three rounds in the cup against first eleven teams. Our focus is on the Irish Junior Cup and the league so this was a good warm-up for us."

In the shield, Zoe Watterson's single goal sees Avoca beat Genesis 1-0. Railway Union eliminated Our Lady's 3-1 while Muckross II had a strong 3-0 win at Three Rock.

Doubles from Lucy Small and Niamh Delaney earned North Kildare a 4-1 win at Clontarf and their county counterparts Naas are also through after a 3-0 success against Dublin North.

** Interviews conducted by Dublin City FM's Declan Hughes

Jacqui Potter Cup, quarter-finals: Loreto 4 (J Meeke, S Evans, A Taaffe, S Clarke) Glenanne 0; Pembroke II 0 Old Alex 3 (E Hinkson, A Connery, E Russell)

Jacqui Potter Shield, first round: Avoca 1 (Z Watterson) Genesis 0; Old Alex II 1 Monkstown II 2; Railway Union II 3 (P Friend-Pereira, M Reidy, K Sullivan) Our Ladys 1; Three Rock Rovers 0 Muckross II 3 (C Shillington, S Sparling, F McNulty); Clontarf 1 North Kildare 4 (L Small 2, N Delaney 2); Naas 3 (R Farrell, R McMullen, O Brennan) Dublin North 0

The Hook

---

Pierre, Olton emerge top hockey players

by WALTER ALIBEY



Defence Force's Mickell Pierre, left, who was named the T&T Hockey Board (TTHB) "Sportsman of the Year" is with Kaitlyn Olton, who collected the women's award for her sister Amy of Shandy Carib Magnolias and Douglas Comacho, president of the TTHB, at the board's awards ceremony at the National Racquet Centre in Tacarigua, yesterday.

Mick­ell Pierre of De­fence Force and Amy Olton of Shandy Carib Mag­no­lias were vot­ed hock­ey's "Sports­man and woman of the Year" re­spec­tive­ly at the T&T Hock­ey Board (TTHB) awards cer­e­mo­ny at the Na­tion­al Rac­quet Cen­tre in Tacarigua, on Sat­ur­day.

Both were cho­sen in the top five men and women play­ers of the year af­ter lead­ing their teams to the ti­tles in the Cham­pi­onship Di­vi­sion Out­door League.

Apart from Pierre, the top five men play­ers al­so in­clud­ed Jor­dan Viera, Sha­keel Daniel, Michael O'Con­nor and Teague Mar­cano while among the women, Aman­da George from Ven­tures, Dana-Lee De­gannes, Saman­tha Olton and Ter­isa Leza­ma joined Amy as the top women's play­ers for last sea­son.

Team Paragon took home the Na­tion­al In­door Knock­out ti­tles for men and women, as well as the Men's Open Di­vi­sion third place tro­phy. The Open Di­vi­sion men ti­tle was tak­en by Queen's Park Crick­et Club while Ven­tures se­cured the women's equiv­a­lent.

Dou­glas Ca­ma­cho, pres­i­dent of lo­cal hock­ey, had great news for the large gath­er­ing, shar­ing that hock­ey's wait for the resur­fac­ing of the Na­tion­al Hock­ey Cen­tre in Tacarigua is com­ing to an end.

Ca­ma­cho said, "The new turf could be laid down by April once there are no more hic­cups."

The fra­ter­ni­ty was made to wait for two years for the new turf to be pur­chased from Ger­man sup­pli­er Poly­tan, al­though monies had been set aside to buy it.

"The Sports Com­pa­ny of T&T fi­nal­ly trans­ferred the amount of mon­ey need­ed to start the project of ship­ping the as­tro­turf, lift­ing up the ex­ist­ing mat and re­plac­ing it with the new one," he said.

It is un­der­stood the en­tire process is cost­ing the gov­ern­ment $1,356,000 and that the fi­nal pay­ment is ex­pect­ed to be made when the turf has been put down.

Ca­ma­cho in his speech to scores of awardees said he is pre­dict­ing that as soon as the Car­ni­val sea­son ends, work on the sur­face will be­gin. How­ev­er the com­ple­tion of the project will de­pend on the weath­er con­di­tions, Ca­ma­cho said, not­ing that hot and dry con­di­tions are need­ed for the mat to be tak­en up and put down.

Mean­while, the old turf will not be dis­posed of, as the sport is set to ben­e­fit fur­ther from the for­ma­tion of two as­tro­turf pitch­es in To­ba­go and at the Po­lice Bar­racks in St James. Ca­ma­cho said his hock­ey board has al­ready held talks with Jo­mo Pitt, Sec­re­tary of Sport and Youth Af­fairs at the To­ba­go House of As­sem­bly and Com­mis­sion­er of Po­lice Gary Grif­fith for the old mat to be split in­to two and used to resur­face a fa­cil­i­ty in the sis­ter-isle, as well as the Po­lice Bar­racks for de­vel­op­ment pur­pos­es.

With the theme of yes­ter­day's func­tion, "Re­flec­tions of the Goalline", Ca­ma­cho at­tempt­ed to give an ac­count of hock­ey's his­to­ry and the suc­cess­es it has achieved to date.

He said, "The 1967 T&T team that won the Pan Amer­i­can Games sil­ver medal in Cana­da still re­mains one of the coun­try's great­est achieve­ments."

The TTHB has al­ready out­lined its itin­er­ary from now un­til 2022 and it in­cludes a bid to host the Pan Am Cup in 2021. If they are suc­cess­ful, fans may see both the men and women hock­ey teams against the best in the Pan Am re­gion.

HO­N­OUR ROLL

Pri­ma­ry Schools (Girls): 1 Mu­cu­raopo Girls RC 'A', , 2 St John's Girls RC/Diego Mar­tin Girls RC, 3 Mu­cu­rapo Girls RC

Pri­ma­ry Schools (Boys): 1 Dun­ross Prepara­to­ry, 2 In­ter­na­tion­al School/Es­he's Learn­ing Cen­tre, 3 Diego Mar­tin Boys RC

SEC­ONDARY SCHOOLS

Girls: 1 Holy Name Con­vent, 2 St Fran­cois Girls, 3 St Joseph Con­vent (POS)

Boys: 1 Fa­ti­ma Col­lege, 2nd St An­tho­ny's Col­lege, 3 St Mary's Col­lege

SCHOOLS U-20

Girls: 1 Holy Name Con­vent, 2 St Joseph's Con­vent (POS), 3 South East Port-of-Spain

Boys: 1 Fa­ti­ma, 2 St Mary's, 3 St An­tho­ny's Col­lege

TTHB LEAGUES

Open­ing Day win­ner Men De­fence Force

Open­ing Day win­ner Women - SC Mag­no­lias

OUT­DOOR LEAGUE:

Mixed Vets: 1 Malvern, 2 QPCC, 3 Fa­ti­ma

Most Goals- Raphael Govia (QPCC) 16 goals

Trin­i­ty Women: 1 Paragon, 2 Har­vard Check­ers, 3 Po­lice

Most Goals- Sha­nia Ga­jad­har (Paragon) 5 goals

Trin­i­ty Men: 1 Shape, 2 QPCC, 3 Malvern

Most Goals- Daniel Smith (Shape) 6 goals

Na­tion­al Out­doors: U-19 (Fe­male): 1 SC Mag­no­lia, 2 Paragon, 3 Raiders

Most Goals- Kait­lyn Olton (SC Mag­no­lia) 11 goals

U-19 Men: 1 Paragon, 2 Shape, 3 Carib

Most Goals- Kelon Skeritt (Paragon) 16 goals

Mixed Vets: 1 Fa­ti­ma, 2 QPCC, 3 De­fence Force

Most Goals - Melis­sa John­son (QPCC)- 11 goals

Trin­i­ty Di­vi­sion Women: 1 Notre Dame, 2 SC Mag­no­lia, 3 Po­lice

Most Goals- Rac­quel Dow­den (SC Mag­no­lia) - 3 goals

NA­TION­AL IN­DOORS:

Trin­i­ty Di­vi­sion (Men): 1 Shape, 2 Carib, 3 Notre Dame

Most Goals - Shel­don De Lise (Shape) 14 goals

Open Di­vi­sion (Women): 1 Ven­tures, 2 Paragon, 3 SC Mag­no­lia

Most Goals - Arielle Williams, Brit­taney Singh, Aman­da George - 6 goals

Open Di­vi­sion (Men): 1 QPCC, 2 De­fence Force, 3 Paragon

Most Goals - Akim Tou­s­saint (Paragon) 13 goals

Na­tion­al In­door KO Se­ries (Men/Women): 1 Paragon

OUT­DOOR LEAGUE:

Cham­pi­onship Div (Women): 1 SC Mag­no­lia, 2 Malvern, 3 Har­vard Check­ers

Most Goals- Daniel­la Mar­tin (Malvern) 9 goals

Cham­pi­onship Div (Men): 1 De­fence Force, 2 Malvern, 3 Petrotrin,

Most Goals- Jer­ry Bell (QPCC) 10 goals

The Trinidad Guardian


---

Khelo India Youth Games 2019: Haryana beat Jharkhand to win girls U-17 hockey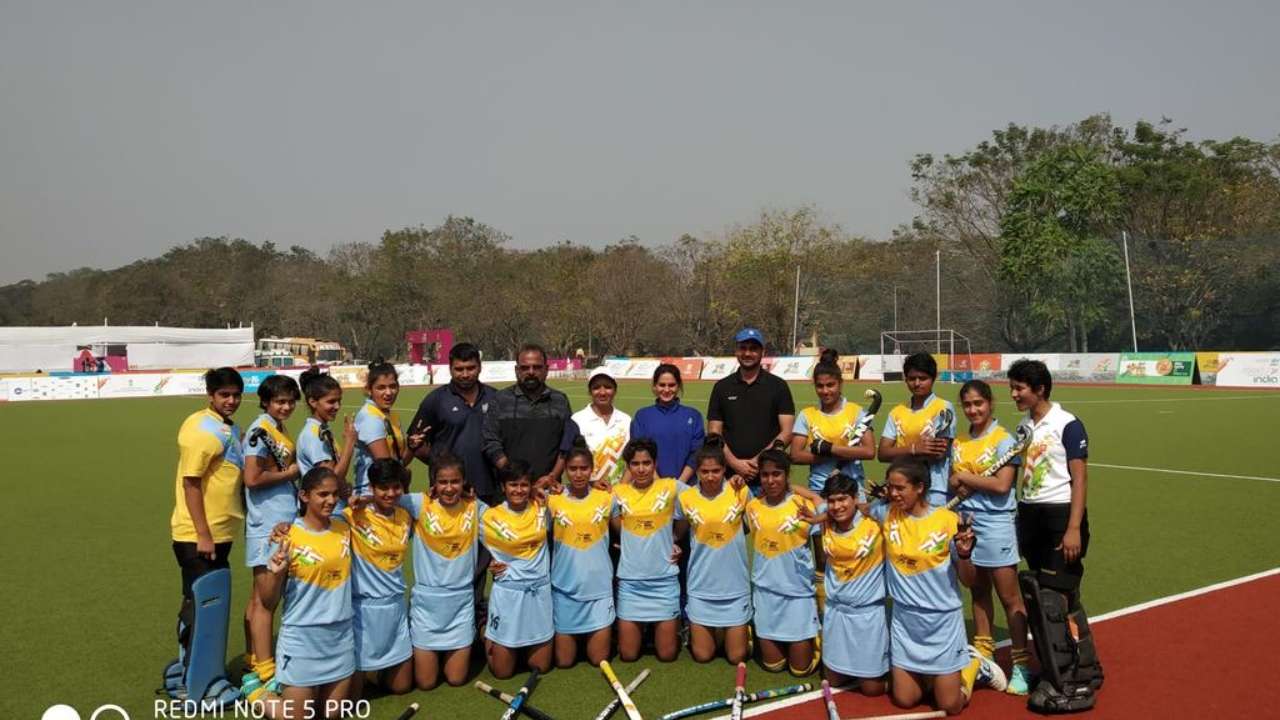 Haryana Under-17 girls' hockey team win against Jharkhand at Khelo India. Photo Ritesh Ranjan

Riding on striker Deepika's brace, Haryana survived the last quarter scare before beating Jharkhand 2-1 to win the Under-17 girls' hockey competition at the Khelo India Youth Games in Pune on Saturday.

Earlier in the morning, Odisha warded off a determined Punjab challenge to emerge 3-2 winners and claim the bronze, a media release said.

In the final, Jharkhand muffed several chances and paid the penalty.

They dominated the first quarter and had a fair share of ball possession in the second quarter but again failed to make use of the advantage.

The Haryana girls defended well and made incisive counter moves which rattled the Jharkhand defence.

Four minutes into the second half, Deepika gave Haryana the lead with a superb field goal and three minutes later she made it 2-0 with another opportunistic strike.

Just before the final whistle, Prini Kandir made no mistake in converting a chance that came her way to reduce the deficit for Jharkhand, but it was a case of too little, too late, the release added.

Daily News & Analysis