All the news for Monday 26 November 2018

Wanglibao Hockey Champions Trophy Changzhou Wujin 2018
Changzhou (CHN)

Final results

JPN v GBR (5th/6th Place)     1 - 2
ARG v CHN (3rd/4th Place)     6 - 0
NED v AUS (Final)     5 - 1

Final Placings

1. Netherlands
2. Australia
3. Argentina
4. China
5. Great Britain
6. Japan

FIH Match Centre


---

Unstoppable Netherlands sweep to seventh Hockey Champions Trophy title




The Netherlands extended their winning streak to 43 as they swept imperiously to victory in the Wanglibao Hockey Champions Trophy Changzhou Wujin. The victory also ensured the team remained at the top of the FIH Hero World Rankings – a position they have held since October 2011.

Australia put up a staunch defence and are a team that is definitely building in stature, confidence and maturity but they were no match for the Netherlands in this form.

The first Netherlands goal came from Xan de Waard. The midfielder latched onto a ball that had rebounded off goalkeeper Ashlee Wells' pads after a fierce shot from Margot van Geffen.

Just a few minutes later the athlete voted Best Player of the Tournament, Eva de Goede, scored a cracker of a goal to double her team's lead.

These were the only goals in the first half but the stadium of hockey fans was treated to a stunning display of swift passing hockey and sumptuous ball skills.

The Australian team defended with their usual grit and, in players such as Rose Malone, Brooke Peris and Maddy Fitzpatrick, it is clear that the team has a bright future, but for the second quarter it was all about the Netherlands.

As Maxime Kerstholt sprinted the length of the pitch with yellow-shirted players giving chase, it was just one more piece of evidence that Head Coach Alyson Annan has created a team that is going to be difficult to defeat for the foreseeable future.

The third quarter came alight as Australia took the game to the Dutch. A sustained period of pressure saw the Hockeyroos rewarded with a penalty corner. Maddy Fitzpatrick made no mistake as she shot past Anne Veenendaal and gave her side more impetus to attack.

For a few minutes there was a glimmer of hope for the Australia side but then Lauren Stam stepped up to slam home a penalty corner and restore the Netherlands advantage.

The fourth quarter saw both teams putting on a fine display of attack and defence. Aerial balls crossed the pitch and were controlled with audacious skill; Jodie Kenny led the Australia defence with courage and young players such as Laura Nunnink and Margot Zuidhof attacked with impunity.

Kerstholt's ceaseless running paid off when she struck home her teas fourth goal and then Maria Verschoor was on hand to put away the rebound after a great initial strike from Rising Star Marijn Veen.

"We really try to always keep things simple," said Head Coach Alyson Annan. "It's not always easy but that's what we do. The ball moves faster than a person, so we just pass quickly.

"When you have a team of players with different abilities, a lot of different characters, then it is a question of balance," said Head Coach Alyson Annan. "We are always challenging ourselves to be the best we can be. We focus on our performance, not that of our opposition."

Just as they dominated the tournament, so the Netherlands were recognised in the individual awards. Eva de Goede was voted Best Player and teenage sensation Marijn Veen took both the Rising Player and top goal scorer award, with five goals to her credit.

China's Ye Jiao was the deserved winner of the Best Goalkeeper award.

The FIH Hero World Rankings were updated at the end of the competition. Great Britain/England remain in second position by virtue of their win over Japan. China move to tenth after their fourth place finish. Australia remain at number three, with Argentina at four. Japan are ranked 14th in the world.

To see the full women's FIH Hero World Rankings, click here.

Result:

Netherlands v Australia 5-1 (2-0)

Individual awards:

Best Player - Eva de Goede (NED)
Best Goalkeeper - Ye Jiao (CHN)
Rising Player - Marijn Veen (NED) Five goals
Top Goalscorer – Marijn Veen (NED)

For all the results, news and images from the Wanglibao Hockey Champions Trophy Changzhou Wujin, click here.

FIH site


---

Delightful Dutch Down Hockeyroos In Champions Trophy Final

Ben Somerford




The Hockeyroos have missed out on a record-equalling seventh Champions Trophy after losing 5-1 to Netherlands in the final of the last-ever edition of the tournament in Changzhou on Sunday night.

The third-ranked Hockeyroos were chasing their first Champions Trophy triumph since 2003 but were outplayed by an impressive world number one Dutch outfit.

The Netherlands raced to a two-goal lead inside the opening 11 minutes thanks to goals from Xan de Waard and Eva de Goede.

After a scoreless second period, Maddy Fitzpatrick gave Australia hope when she made it 2-1 with a drag flick in the 40th minute but the Dutch responded almost immediately from Lauren Stam.

Last quarter goals from Maxime Kerstholt and Maria Verschoor rounded out the victory for the 2018 World Cup winners.

The Netherlands edged Australia in all key statistics, with 9-5 shots, 2-1 penalty corners and 20-13 circle entries.

The final was the last-ever Champions Trophy match, with the historic tournament to be replaced by the new FIH Pro League next year.

Australia's first game of the new FIH Pro League is against the Dutch in Melbourne on Saturday 2 February.

The last-ever Champions Trophy success means the Dutch have won seven women's titles, equal with Argentina while Australia have six.

Hockeyroos coach Paul Gaudoin said: "We didn't play as well as we would've liked. We did some good things today but we need to understand there's another level we need to get to."

He added: "We made some chances which was pleasing compared to the first game against them (when Australia lost 3-0).

"Credit to them, they're a quality side. They don't need too many chances to put goals on the scoreboard.

"We want to play more matches against quality teams and you don't get any better than Holland at the moment. We embraced this opportunity today."

Australia started the contest well, with Emily Smith stealing the ball in the D to test Dutch keeper Anne Veenendaal inside the first minute.

The Dutch steadied and hit the scoreboard in the ninth minute when de Waard swept home a loose ball after Australia goalkeeper Ash Wells' save.

There was a lengthy umpire's referral for the goal, with uncertainty over whether the ball had touched Maria Verschoor's foot in the lead-up but it stood.

Two minutes later the Dutch added another when skipper Eva de Goede was afforded too much time and space on a break and fired a backhand shot past Wells.

Fitzpatrick tested the Dutch defence from a 12th minute penalty corner, while Australia pressed hard in the opening 10 minutes of the second quarter without any success before Wells had to save from Maartje Krekelaar.

After the main break, Brooke Peris launched a good baseline run, testing Dutch substitute keeper Josine Koning.

Minutes later, the Hockeyroos won a short corner which Fitzpatrick fired low to Koning's right and into the backboard to make it 2-1.

The top-ranked Dutch responded quickly, with Lauren Stam sweeping past Hockeyroos substitute goalkeeper Rachael Lynch from their first penalty corner in the 43rd minute.

Lynch denied Verschoor in the 49th minute but the Dutch found a way past her minutes later when Krekelaar's speculative diagonal ball eluded three Australia players and was converted by Kerstholt.

The Netherlands grabbed another when tournament top scorer Marijn Veen laid off for Verschoor to fire into the roof of the net beyond the onrushing Lynch.

The match was the Hockeyroos' final game of 2018, with the side next in action in the Pro League with tickets on sale via Ticketbooth on Friday 30 November.

Australia 1 (Fitzpatrick 40')
Netherlands 5 (de Waard 8', de Goede 11', Stam 43', Kerstholt 53', Verschoor 56')

Hockey Australia media release


---

Plenty to savour for Dutch hockey: 43 unbeaten, Marijn Veen emerges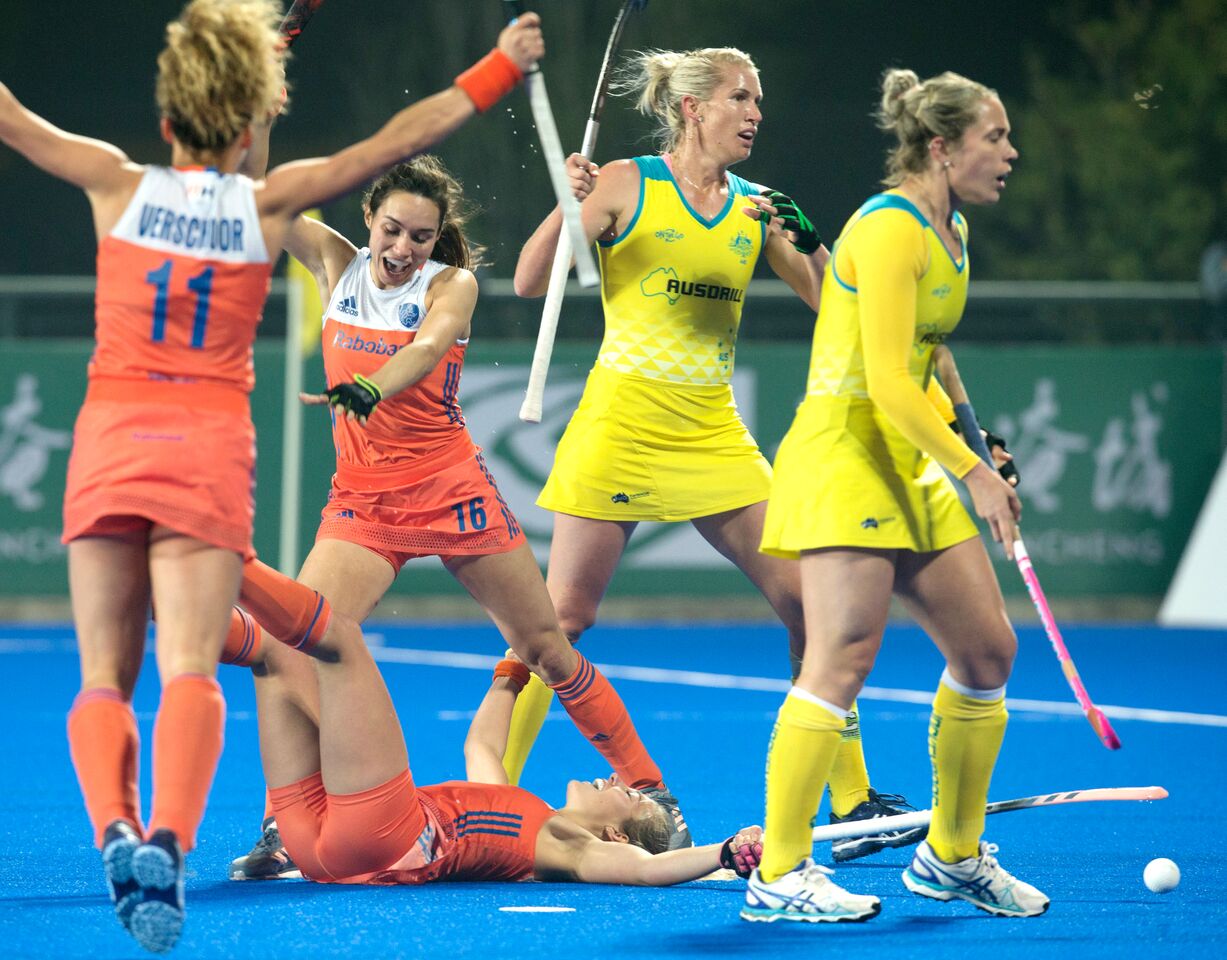 Holland ran riot in the Champion's Trophy final PIC: World Sport Pics

The Netherlands ended 2018 by remaining the world's No 1 women's hockey team in the latest rankings after a record-equalling win on Sunday.

The Dutch, who convincingly won the World Cup in the summer, won their seventh Women's Champions Trophy to level up with Argentina, with the tournament now replaced by the Pro League.

Their 5-1 victory over Australia in Sunday's final means that the Dutch have extended their unbeaten run to 43 competitive games (42 wins and one draw): the last time they lost a match was a test match against Belgium last July.

Alyson Annan's meteoric side have been the world's best side since October 2011 and after fielding plenty of new faces in China look set to continue their assault of their nearest rivals.

"It is a question of keeping things as simple as possible," said Annan.

"We challenge each other to reach new levels and we focus on ourselves and how we can keep getting better."

In China, the Dutch were led imperiously by player of the Tournament, Eva de Goede, who also scored a cracker of a goal to double her team's lead in their mauling of the Hockeyroos.

As ever, new faces emerge at every turn for the Oranje.

And over the last week, we will be seeing plenty more of Marijn Veen, the 19-year-old sensation who finished as rising player and top scorer at the tournament.

The Hockey Paper


---

Argentina restore pride with bronze medal win at Hockey Champions Trophy



FIH/GettyImages

It was super six for Argentina as they hit their stride against host nation China in the bronze medal game.

Quick goals from Delfina Merino and Maria Granatto in the opening five minutes of the bronze medal match were enough to put China on the back foot.

The intensity of Las Leonas' attack saw the host nation unable to replicate the form that initially put them in the bronze medal match.

The second quarter saw Argentina extend their lead as Granatto scored her second goal – a niftily-taken shot that she picked out of the mid-air and batted past Ye Jiao in the China goal.

China came back into the game towards the end of the second quarter with a series of penalty corners. Gu Bingfeng came close to closing the deficit but Belen Succi was alert to the danger and did enough to put the 'keeper off.

The second half followed a similar pattern. Argentina continued to probe the China defence but showed huge discipline to get the entire team behind the ball when play broke down. Lucina von der Heyde and Florencia Habif were both on top form as they broke down the China attack and drove out of defence time and again.

The goal that ended China's dream came from a sweeping movement by Argentina which saw the ball passed quickly up the pitch to the opposition's goal. Ye Jiao saved well but there was nothing the 'keeper could do about the follow-up shot from Julieta Jankunas.

Two more goals followed, as first Sofia Toccalino and then Martina Cavallero found a way through the China defence. "We played well at stages throughout this tournament and never doubted our ability to put in a performance like this but we just couldn't score the goals," said captain Delfina Merino, speaking after the game.

"Today we did and this medal – well today the bronze feels like a gold to us."

 Japan v Great Britain 1-2 (1-2)

Great Britain saved their most convincing performance for their last game of the tournament as they beat Japan 2-1 and ensured that they maintained their mantra of 'always winning their last game'.

The script looked to be going the way of the Cherry Blossoms as they took a lead against Great Britain in the fourth minute of the game. A fast move saw Kanon Mori take the ball around the back of the Great Britain defence and slip to Yuri Nagai, who made no mistake in shooting home.

Great Britain responded immediately and a incisive pass from Susannah Townsend found Anna Toman. The midfielder has really grown into the tournament and her run and pass found Hannah Martin, who needed no second invitation to shoot home.

Amy Costello scored her first goal in a Great Britain shirt from a penalty corner to give her team the lead. The corner was won after a period of intense Great Britain pressure on the Japanese goal.

It was nearly three when Great Britain had a penalty corner on the stroke of half-time. Japan were reduced to two defenders but goalkeeper Megumi Kageyama pulled off a great save from close range to keep her team's hopes alive.

The second half saw Japan up the pressure on their higher-ranked opponents and at the back of both teams' minds was the previous encounter when Japan had overturned a 2-0 deficit to force a draw. Mami Karino came closest to equalising when she was one-on-one with goalkeeper Amy Tennant. The 'keeper stood tall and deflected the shot over the post. Seconds earlier Sophie Bray had found herself as the last line of defence as she batted an attempt by Minami Shimizu off the line.

"That was just so important to finish with a win," said Amy Costello after the game. "It will make us view the tournament in a very different way."

Results Sunday 25 November:

Bronze medal match:
Argentina v China 6-0 (2-0)

5/6th place
Japan v Britain 1-2 (1-2)

FIH site


---

Martin And Costello Secure Fifth For GB At Champions Trophy



Martin Goal HCT2018 Japan v GB

Amy Costello's first goal for Great Britain ensured they finished fifth at the end of 2018 Champions Trophy.

The defender smashed home a 21st minute corner to secure the first victory of the tournament for her side after they finished bottom of the group.

Her goal came after Hannah Martin scored her second of the tournament to level the scores just seconds after Yui Ishibashi had given Japan the lead.

That equaliser was a moment head coach David Ralph believed to be pivotal in side's success in this game, giving his side the impetus and confidence needed to secure the win.

He said: "It was important for us to grab that momentum back so coming back so quickly gave us a bit of life, a bit of energy in our legs for the rest of the game.

"We are really pleased with the win - our girls deserve a lot of credit for their attitude and application.

"It's been a tough tournament for us results wise but we've made some good progress in certain areas that we are pleased with and it's also given us some other areas to focus on.

"Overall, given the amount of information the players have taken on board, their attitudes have been great and I'm sure we'll grow as a team as a result of this."

It was a slow start for Great Britain as they fell behind in the fourth minute, Ishibashi finding herself in space before slotting the ball just out of reach of Amy Tennant.

But just 20 seconds later the reigning Olympic champions were level as Anna Toman charged down the right before her cross found Martin who tucked it into the net.

Maho Segawa missed the chance to nudge in a corner rebound right in front of goal on the stroke of quarter-time before Costello gave Britain the lead in the 21st minute, smashing a corner of her own underneath Yuka Yoshikawa.

Susannah Townsend then nearly added a third before half-time but couldn't quite turn in Sarah Evans' fierce strike into the goal.

Both sides were restricted to half chances in the third quarter, Lily Owsley seeing a dinked effort cleared off the line while Hazuki Nagai's shot was well smothered by Tennant.

Townsend then produced a stunning block with six minutes remaining to thwart Mami Karino when she looked destined to score to ensure it was her team who came away victorious.

Next up for Great Britain's women is their opening fixture of the brand new FIH Pro League when they travel to New Zealand on 8 February 2019.

Japan 1 (1)
Ishibashi (FG, 4)

Great Britain 2 (2)
Martin (FG, 7); Costello (PC, 21)

Starting XI: Tennant (GK), Unsworth, Evans, Toman, Martin, Townsend, Bray, Pearne-Webb (C), Owsley, Balsdon, Costello

Subs: Robertson, Petty, Sanders, Howard, Jones, Ansley, Heesh (GK)

Great Britain Hockey media release


---

Great Britain beat Japan 2-1 to finish fifth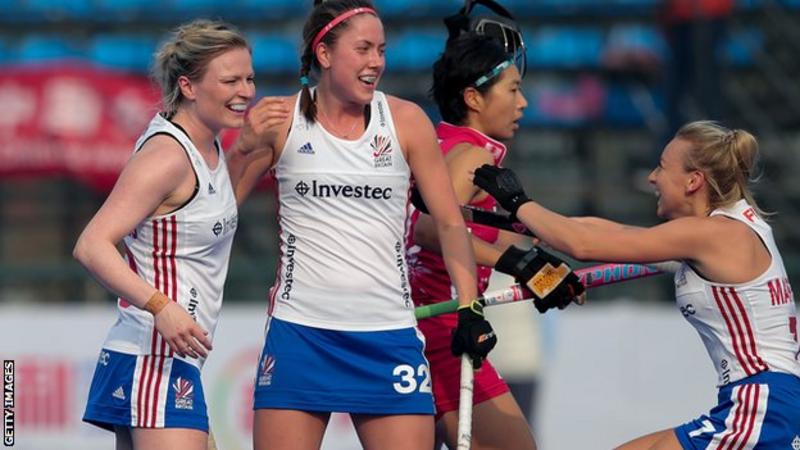 Defender Amy Costello (centre) scored her first goal for Great Britain from a penalty corner

Great Britain beat Japan 2-1 in the Champions Trophy to finish fifth at the annual tournament in China.

A Hannah Martin strike and Amy Costello's first goal for Britain secured their first win of the event.

The Olympic champions had to come from behind after Yui Ishibashi put Japan ahead in the fourth minute.

"We've had to work hard in this tournament, it's not quite gone our way but we've had some positives," said GB head coach David Ralph.

"It was important for us to grab that momentum back so coming back so quickly gave us a bit of life, a bit of energy in our legs for the rest of the game."

GB had finished bottom of the round-robin pool after two draws and three defeats, missing out on the bronze medal match following a 1-0 loss to Argentina on Saturday.

The Netherlands were too strong for Australia in the final, winning 5-1 to claim their seventh title, while the Las Leonas won bronze with a 6-0 victory over hosts China.

BBC Sport


---

David Ralph in line to lead Great Britain women towards 2020 Olympics

By The Hockey Paper



Amy Costello, right, celebrates her GB goal PIC: World Sport Pics

David Ralph, the current interim head coach, is a front runner to lead Great Britain women to the defence of their Olympic title at Tokyo 2020.

Ralph took charge for the Women's Champions Trophy, where GB finished in fifth, with Great Britain and England Hockey having completed its search for a permanent head coach ahead of the FIH Pro League.

The Hockey Paper understands that England Hockey approached Dutchman Roelant Oltmans after he left his role with Pakistan men as a potential replacement for Kerry.

Oltmans has since joined Malaysia men, but was not considering the England role.

Meanwhile England Hockey's global search didn't stretch to Indian women's coach Sjoerd Marijne, who wasn't offered an interview at Bisham Abbey.

Meanwhile Ralph oversaw a GB performance in China which offered plenty of potential in a tournament which ended on a high and a 2-1 win over Japan to avoid last place.

Amy Costello's first goal for Great Britain ensured that Japan, hosts for Tokyo 2020, finished sixth.

The defender rifled home a 21st minute corner to secure the first victory of the tournament for her side after they finished bottom of the group.

Her goal came after Hannah Martin had scored her second of the week to level the scores just seconds after Yui Ishibashi gave Japan the lead in the fourth minute.

"We've had to work hard in this tournament, it's not quite gone our way but we've had some positives," Ralph said.

"It was important for us to grab that momentum back so coming back so quickly gave us a bit of life, a bit of energy in our legs for the rest of the game."

Great Britain's women begin their FIH Pro League campaign on Feb 8.

The Hockey Paper


---

PREVIEW: USWNT vs. Belgium




LANCASTER, Pa. - Today marks the start of the U.S. Women's National Team's final series of 2018 when they host FIH Pro League opponent and No. 13 ranked Belgium. Taking place on the outside field at Spooky Nook Sports in Lancaster, Pa., this three-game series will draw a lot of attention before USA gears up for the highly anticipated FIH Pro League in February. This is an event you won't want to miss!

It has been more than six years since the last time USA and Belgium met, which was at the London 2012 Olympic Games. It was in the 11th/12th place game, where USA opened the scoring in the 7th minute of play. Belgium quickly developed their own rhythm, found the equalizer and go ahead goal off a penalty corner as the USWNT was handed a disappointing 1-2 loss to Belgium.

Tickets

Tickets for the Belgium series are still on sale and can be purchased by clicking the graph below. Only 1,000 tickets per game will be sold, so buy yours today! All tickets for the three-game series will also be available for purchase at the door.

Match Schedule
Date     Time     Tickets
Monday, November 26, 2018     6:30 p.m. ET     Get Tickets
Tuesday, November 27, 2018     6:30 p.m. ET     Get Tickets
Thursday, November 29, 2018     6:30 p.m. ET     Get Tickets
Series Pass           Get Tickets

Bringing a group? Contact Glen Hollingsworth, USA Field Hockey's Events and Club Services Manager, by email at This email address is being protected from spambots. You need JavaScript enabled to view it. to order your tickets today! Group discounts will be $1 off per ticket for groups of 10 or more, $2 off per ticket for groups of 20 or more and $3 off per ticket for groups of 30 or more.

USA Field Hockey Members should have received an email with an exclusive discount code to use when purchasing tickets. If this email was lost or accidentally deleted, please email This email address is being protected from spambots. You need JavaScript enabled to view it. with your name and membership ID number to receive the promo code.

Live Stream

Unable to physically be there? All the matches will be live streamed on usafieldhockey.com for free, broadcast locally on Blue Ridge 11 - Northern Lancaster County and Blue Ridge 113 - System Wide. Pennsylvania Cable Network will also be tape delaying the games each night at 10:30 p.m. ET as well as on Friday, November 30 at 11:00 a.m ET (Game 1), 1:00 p.m. ET (Game 2) and 3:00 p.m. ET (Game 3).

Theme Nights

To help keep the fans engaged, check out the theme nights!

Monday, November 26 - Giving Night

Donate a canned good for non-perishable food item that will be given to a local food bank. Items will be collected throughout the series.

Tuesday, November 27 - #WarwickStrong Night

Fans are encouraged to wear red to honor Warwick field hockey, the Lititz community and Keeney Family. Current USWNT athlete and Warwick graduate Alyssa Manley will be wearing jersey #33 in honor of Meghan Keeney. Athletes will be signing autographs post-game.

Thursday, November 29 - Glow Game

Lets light up the night! USA Field Hockey will be giving out free glow necklaces and bracelets to all fans. There will be halftime trivia for a chance to win prizes.

Series Rosters

USA Roster:
Kelsey Bing (Houston, Texas), Anna Dessoye (Mountaintop, Pa.), Ali Froede (Burke, Va.), Jill Funk (Lancaster, Pa.), Danielle Grega (Kingston, Pa.),  Ashley Hoffman (Mohnton, Pa.), Laura Hurff (Newark, Del.), Alyssa Manley (Lititz, Pa.), Erin Matson (Chadds Ford, Pa.), Lauren Moyer (York, Pa.), Margaux Paolino (Villanova, Pa.), Alyssa Parker (Woodbine, Md.), Kathleen Sharkey (Moosic, Pa.), Casey Umstead (Green Lane, Pa.), Caitlin Van Sickle(Wilmington, Del.), Taylor West (Pocomoke, Md.), Nicole Woods (Beverly, Mass.), Julia Young (Yorktown, Va.)

BEL Roster:
Alexia 'T Serstevens, Ambre Ballenghien, Jill Boon, Lucie Breyne, Tiphaine Duquesne, Charlotte Englebert, Alix Gerniers, Lien Hillewaert, Pauline Leclef, Sophie Limauge, Barbara Nelen, Joanne Peeters, Elodie Picard (GK), Emma Puvrez, Mathilde Raymakers, Emilie Sinia, Elena Sotgui (GK), Michelle Struijk, Judith Vandermeiren, Louise Versavel

'Our American Table'

While supplies last, the USWNT will be selling their limited-edition 'Our American Table' Cookbook on-site at the Belgium series! The recipe book is a limited-run print, created as a fundraising effort for the team. Books are also available for sale online. Don't wait long to fill your cookbook shelf or your mouth watering taste buds. Purchase one on-site for $30.00 or online for $35.00, including shipping.

FIH Pro League Tickets

Hockey is coming home! Don't miss the highly anticipated FIH Pro League coming to Spooky Nook Sports in 2019. Eight of the world's best teams will come to America to play the U.S. Women's National Team in Winston-Salem, North Carolina and Lancaster, Pennsylvania. Bundle tickets go on sale Wednesday on usafieldhockey.com. Team USA This is Where We Play.

USFHA media release


---

Hockey fever grips Bhubaneswar

City adorns an eclectic look



A brightly-lit flyover in Bhubaneswar. Photo Credit: BiswaranjanRout

Hockey fever has taken over Bhubaneswar, with the Kalinga Stadium here all set to host the 14th edition of the Men's Hockey World Cup from November 28.

Sixteen teams divided into four pools are in the fray between November 28 and December 16. Most teams have arrived in the city, which now sports an eclectic, vivid look.

The opening ceremony on November 27 is expected to showcase performances of Bollywood stars Shahrukh Khan, Madhuri Dixit and A. R. Rahman, among others.

The catchy teasers of the forthcoming World Cup Hockey anthem by Mr. Rahman have already become a hit, residents said. The musician has already visited Odisha as part of rehearsal for the opening ceremony. There is massive excitement among fans to watch their stars performing live before them.

The tickets for the opening ceremonies were sold online in a flash. For those who could not get tickets, all's not lost. The city administration has announced it will put up giant screens to telecast the event live.

The Hindu


---

Germany fit and raring to go

Fuchs says team has taken precautions against diseases

Uthra Ganesan



Focused: Florian Fuchs feels that Germany is well-prepared to put behind past disappointments. Photo Credit: Ian MacNicol/Getty images

Last year, around this time, Germany was trying to work out the best possible way to field a team. Florian Fuchs was one of who was luckily fit for competition, and the striker even managed to find humour in his team's dire straits.

On Sunday, when the Germans landed in Bhubaneswar for a third shot at the World Cup, Fuchs had his humour intact. In an interaction with The Hindu, the experienced forward laughed at the Hockey World League Finals 2017 memories, admitted the team had taken precautions and insisted his team was ready and raring to challenge for the title. Excerpts:

Coming back after a year, how much has changed?

The last time here we played with 11 players and our goalkeeper as an outfielder, so that was quite a big memory we took home! This year there have been a lot of training days. Then we had a long break because of club hockey and we didn't see each other. Now we had a more intense period of training again and I think we have a really strong team.

How differently is the team prepared this time?

In terms of diseases we have taken some precautions. We are always cautious actually in terms of sanitising and also what we eat. We have prepared in advance and have taken medicines and stuff which decreases the risk of diseases. We also have someone here look at the food and how it's prepared. We want to avoid every possibility of it happening again and want to stay healthy!

You have happy memories also from the venue, winning gold in the 2014 Champions Trophy. What hopes do you have from yourself?

Personally, I haven't thought about it, it doesn't really matter. We have come here to achieve something big, have the capability and the team for that but we also know that a lot of different factors come into play. It will be quite difficult to predict.

You were a youngster four years back under Moritz Fuerste. Now as a senior, how do you see the responsibility?

It definitely is a big responsibility but we have a leadership group, it is not just one or two guys at the top. I really like to take the responsibility and show that on pitch.

The previous two times India hosted a World Cup, Germany finished runner-up. Will it be third-time lucky?

I think we can be champions for sure. But there are a lot of really good teams here — Australia, Argentina, the Netherlands — and the last World Cup was really disappointing for us but many of us have in mind that we may not experience this again.

The Hindu


---

Germany, Ireland arrive in Bhubaneswar for men's hockey World Cup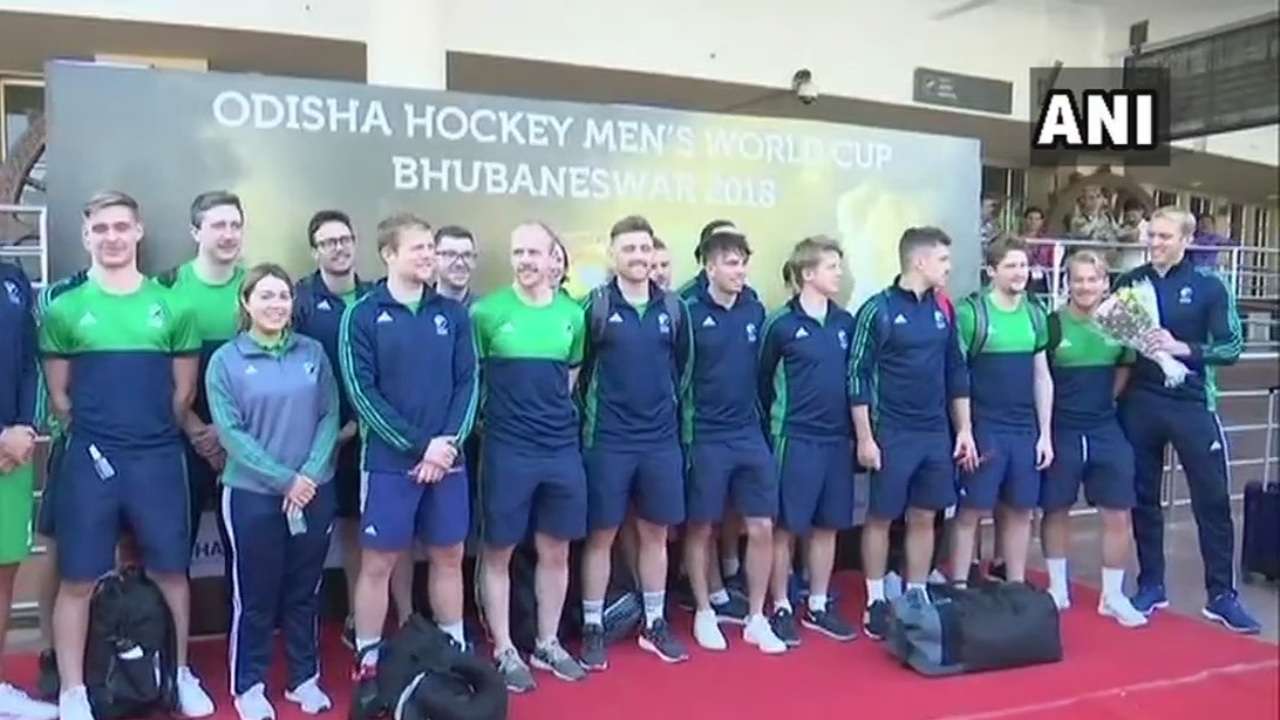 Ireland arrive for the Men's Hockey World Cup 2018 , ANI Twitter

Heavyweights Germany Sunday arrived in the city for the upcoming men's hockey World Cup, with hopes of repeating their 2014 triumph in the Final of the FIH Champions Trophy.

Though the team had a disappointing outing last year at the men's Hockey World League Final in the city, where they lost the bronze medal match to India, the German team is vying for the top spot at the prestigious event to begin on November 28.

Speaking on the team's arrival, captain Florian Fuchs said, "It feels good to be back here. We have played a couple of times here and the fans are fantastic. The energy is good. Though right now we are tired after the flight, we can't wait to get onto the pitch."

Fuchs added that the tournament will be tough and one can't predict favourites.

"We came here to achieve something and we have the capability and the team for that. It will be quite a tough tournament considering the games are stretched to the last minute and about eight teams are evenly placed," said Fuchs.

Germany are grouped in Pool D with Pakistan, Malaysia and the Netherlands. They begin their campaign against Pakistan on December 1.

Ireland too arrived on Sunday afternoon. They are grouped in Pool B with Australia, England and China.

"We have quite a few senior players as well as youngsters. Many of them have never been to India so there is a lot of excitement among the players," said David Harte, skipper of the team.

Ireland begin their campaign on November 30 against defending champions Australia.

The Canadian national team grouped in Pool C along with India, Belgium and South Africa, too arrived early in the morning.

Daily News & Analysis


---

Australia, Pakistan, Netherlands and Belgium teams arrive in Odisha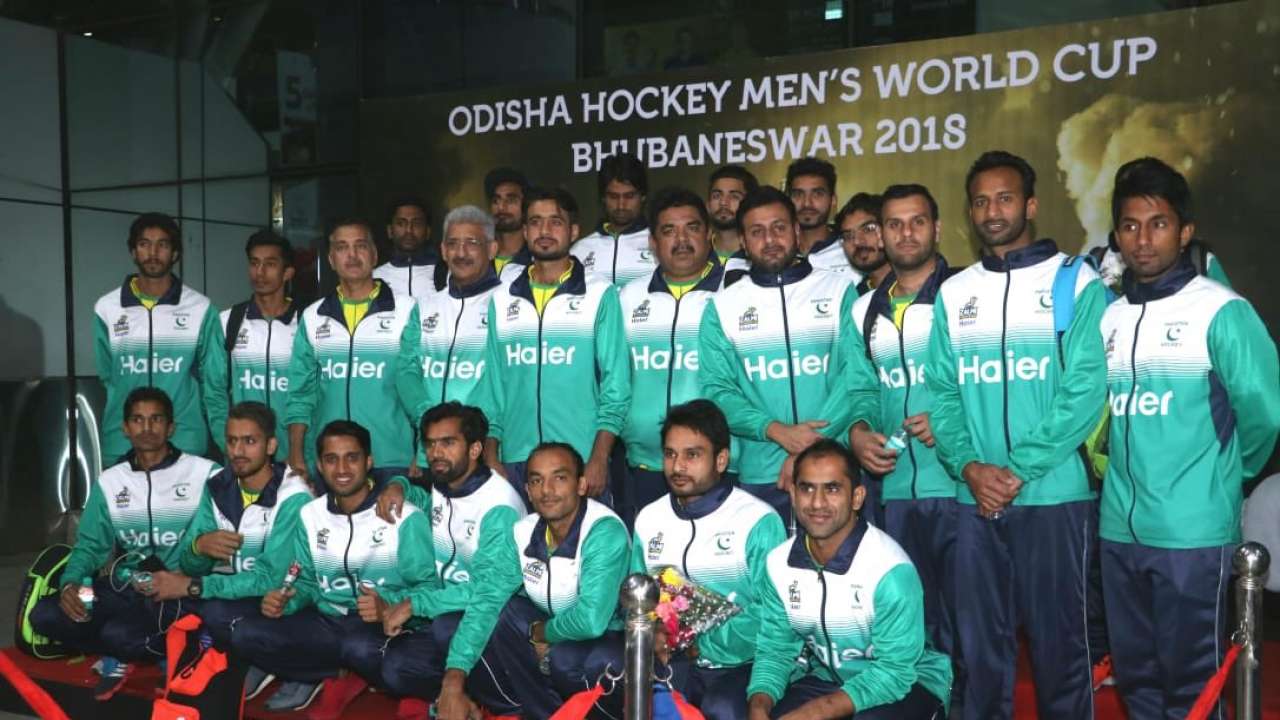 Pakistan Hockey Team , Twitter @sports_odisha

Ahead of the upcoming men's Hockey World Cup, teams representing Pakistan, the Netherlands, Australia, and Belgium arrived here on Saturday.

The Netherlands, ranked at number four globally, are grouped in Pool D, being pegged as the 'Pool of Death' with heavyweights like Germany, Pakistan, and Malaysia.

Reflecting on the same, the Dutch's head coach Max Caldas asserted: "Bhubaneswar is a great place to be and play hockey in front of an amazing crowd. We are in a tough group with strong teams. We will play Malaysia first and we need to make sure we keep our heads down and play our best every match."

Speaking on the team's excitement to be back in Bhubaneswar, their experienced player Billy Baker said: "We have won almost every match we have played this season and we have also had really tough preparations for the tournament. We are aware of the Bhubaneswar crowd who come in large numbers and we want to enjoy playing in front of them and also use their support to feel motivated."

    Team @oranjehockey arrived in the city for the Odisha Hockey Men's World Cup Bhubaneswar 2018 and recived a grand welcome from the organizers and fans. #Odisha2018 #HWC2018 pic.twitter.com/JsJEbgIXvx
    — Hockey World Cup 2018 - Host Partner (@sports_odisha) November 24, 2018

The Netherlands will begin their campaign on December 1 against Malaysia.

World number three Belgium, too, arrived after their nemesis the Netherlands and shared their anticipation to play at the iconic Kalinga Stadium again.

"We are arriving after three months of solid preparations. We are pretty much trained full time and the preparations were heavy. The guys are really fit and sharp. We are excited to get going," Belgium's skipper Thomas Briels said.

    The Belgians are capable of turning any game on its head and in the #HWL2017 finals here at Bhubaneswar, they made that clear. @BELRedLions  are in town and should worry a lot of teams #HWC2018 #Odisha2018 pic.twitter.com/vnzWrFHqNU
    — Hockey World Cup 2018 - Host Partner (@sports_odisha) November 24, 2018

Belgium are grouped with hosts India, Canada, and South Africa in Pool B and will begin their campaign against Canada on November 28.

The neighbours, too, arrived late on Saturday night.

Considering the World Cup as the target, Pakistan's coach Tauqeer Dar told reporters: "We are completely prepared. The (Hockey) World Cup is our target and we have been preparing for it from the past 6-8 months. Our team is a combination of both senior and young boys. We have even recalled a few old players because the world cup is quite tough and our group is actually a Pool of Death as it comprises of Germany, Netherlands, Pakistan, and Malaysia and only three teams will qualify."

Wishing all the teams, Dar added, "We have come to play hockey and make people enjoy this sport. I wish good luck to all sixteen teams to make this world cup a success and we want to spread a message to the entire world that India has organised a great world cup."

    The @PHFOfficial was given a warm welcome at the @aaibpiairport as they reached Bhubaneswar for #HWC2018 #Odisha2018 pic.twitter.com/53lQHzuFEA
    — Hockey World Cup 2018 - Host Partner (@sports_odisha) November 24, 2018

When quizzed about the India-Pakistan relations, Dar said, "In sports, the relations are good. We have come to play sports, so we have relations in terms of sports, which are pretty good. Our players and their (Indian) players have the sportsman spirit and are even friends. our friendships stay on good terms only. Indian team is quite good. They are also worthy contenders to win the world cup as their team has also improved. I hope they do well."

Pakistan will play their first match against Germany on December 1.

Meanwhile, pleased to have arrived in the state, Australian coach Colin Batch said: "We are very pleased to have arrived here and get ready for the World Cup. We have been preparing as a squad, but like any other team, we are not sure whether we are at our best or not. We haven't seen Ireland for a little while now. With England, we have played some good hockey. Chinese are a bit unknown. So, we will take one game at a time."

Australia will be starting their campaign against Ireland on November 30.

The prestigious men's Hockey World Cup is slated to begin from November 28 to December 16 at Kalinga Stadium in Bhubaneswar in Odisha.

Daily News & Analysis


---

Pakistan are in India to win, says Tauqir

By Jugjet Singh



Malaysian hockey players departs for Bhubaneswar, India. Bernama Photo

KUALA LUMPUR: Four-time champions Pakistan certainly have great pedigree, but have been plagued by problems leading up to the World Cup, which starts on Wednesday, in Bhubaneswar, India.

However, they managed to sort out everything just in time, and arrived in India via the Wagah Border between Lahore and Amritsar on Saturday.

Pakistan are in Group D with Malaysia, Netherlands and Germany.

National coach Roelant Oltmans will surely be banking on beating his former team Pakistan to advance to the next round in the World Cup.

After the Indonesia Asian Games in August, where Pakistan finished fourth, Oltmans sent in his resignation and wrote to Pakistan HF: "I'm responsible for the performance and the results of the team, but I feel that the circumstances at present don't create an environment where we can get the best out of the team.

"I don't think PHF will be able to change the circumstances to a level that is required from my point of view."

And Pakistan's loss was Malaysia's gain as the Malaysian Hockey Confederation (MHC) president Datuk Seri Subahan Kamal immediately grabbed the champion coach who has won gold in the women's and men's World Cups as well as Olympics for the Netherlands.

Tauqir Dar was appointed as coach and when Dawn.com asked him if his team are ready to beat at least one opponent in Group D to advance, he said: ""No, not just one match. Rather our target is to win all three matches to top the pool," the coach vowed.

"These players have beaten Olympic champions Argentina (4-1) at the last Champions Trophy (2014 at Bhubaneswar) and played a draw against Belgium. So, don't take Pakistan easy."

At the 2014 Champions Trophy, Pakistan defeated India in the semi-finals and went down fighting against Germany in the final.

And coach Tauqir observed: "The pitch in Bhubaneswar is slow and it does not suit European teams. Therefore, it will be a plus point for Pakistan."

Oltmans has his eyes on Pakistan as well: "We lost to them (4-1) at the Asian Games (group stage) and drew 4-4 at the Asian Champions Trophy. I call that progress."

For the record, Pakistan were world champions in 1971 (Barcelona), 1978 (Buenos Aires), 1982 (Mumbai) and 1994 (Sydney).

New Straits Times


---

Unfazed by 'Group of Death', Pakistan assistant coach Rehan Butt optimistic of team's chances

Shantanu Srivastava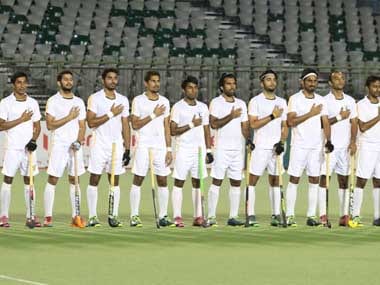 Pakistan are pooled with Germany, Holland, and Malaysia. Twitter@asia-hockey

Bhubaneswar: Former Pakistan captain and a dreaded forward of his time, Rehan Butt is confident that his team will survive 'Group of Death' at the Hockey World Cup 2018 that starts in Bhubaneswar on Wednesday.

Four-time champions Pakistan are the last Asian team to lift the Cup, when, under the leadership of Shahbaz Ahmed, they prevailed over The Netherlands in a tense final in Sydney in 1994. They, however, failed to qualify in the 2014 edition, and are pooled with Germany, Holland, and Malaysia in the current event.

"Pakistan have won four times, while Germany and Holland have won thrice each. Indeed, it is the group of death and we are working on it. We have an advantage. We have played Malaysia twice recently (in the Asian Champions Trophy) and we won on both occasions," Butt, a three-time Olympian, said after Pakistan's practice match against France on Sunday.

"We were here a long time ago... the atmosphere and the stadium will be really good. It's a really heavy and slow pitch. So it's very difficult. In Oman (at the Asian Champions Trophy) and in Pakistan, we trained on a fast pitch. One or two practice sessions (in the next few days), and hopefully it will be fine after that.

"First, we are focussing on winning the match against Malaysia. If we get past them, then we have a shot at the quarter-finals. Pakistan are ranked 13, realistically, (in our group) Germany and Netherlands have the big chance of making it to the quarterfinals," he added.

Further, the three-time Champions Trophy bronze medallist said that Germany's absence from big events in recent past may go in Pakistan's favour, who open their campaign against the European side on 1 December.

"Germany haven't played a big tournament in the past two years. Most probably that will work for us. The format is such that we need to win one match in the pool and then play in the crossover."

Pakistan's assistant coach conceded that the team will continue with the philosophy of former coach Roelant Oltmans, who resigned in September after a six-month tenure that witnessed below-par results in Champions Trophy and Commonwealth Games. The Dutchman is currently the Head Coach of Malaysia.

"We started with Roelant (Oltmans) at the Commonwealth Games. Unfortunately, Roelant has quit after Asian Games. But we are working with Roelant's pattern till World Cup," he said.

Team's main target, Butt said, is to finish in top-8 and focus on Olympic qualifiers. Pakistan last played in Bhubaneshwar in the 2014 Champions Trophy, but the focus was more on an unsavoury incident between some Pakistan players and sections of the crowd after their win over India than on their silver medal. Butt said the team is not dwelling on the past and is keen to focus on hockey.

"That incident must have been a result of some misunderstanding, though I was not here when it happened. I'd prefer we leave it behind and focus on hockey. So far, our experience in India has been very good and I am sure it will remain this way."

Goalkeeping, PC conversions critical

The former Pakistan captain listed goalkeeping and short-corner conversions as key focus areas for his team going into the competition. Imran Butt, Rehan's younger brother, is his team's primary custodian, and the latter said that a 50 percent efficiency under the bar will be enough for a positive result.

"I'd like to add that Pakistan will do well at this World Cup only if our goalkeeper performs to at least 50 percent of his efficiency. If a goalkeeper is able to do that, there are 70 percent chances of his team's win. Similarly, statistics show that if a team converts 40 percent of their short corners, they win 75 percent of the time. If Pakistan can improve their penalty corner conversions, I am sure they will have very good results at this World Cup. The attitude of our drag-flickers was quite good at the training camp that we had before coming here.

"The success at the Asian Champions Trophy — that we shared with India — has done a world of good to team's confidence, and I am sure our opening game against Germany will go a long way in deciding our progress," he concluded.

Firstpost


---

Pakistan look to make impact at World Cup

Anwar Zuberi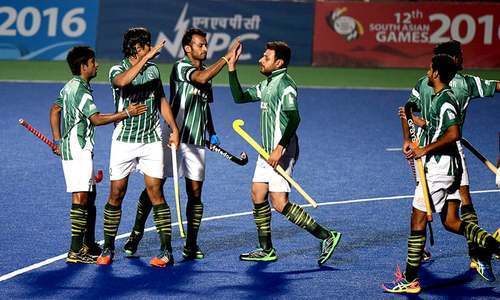 PAKISTAN has an enviable record in men's hockey World Cup, winning the crown four times since its inception at Barcelona in 1971, a feat no other hockey playing nation has achieved so far.

The journey of success started from the very first edition in the Spanish city where Pakistan reached the top of the ladder to complete a Grand Slam having already won the 1968 Mexico Olympics and the 1970 Bangkok Asian Games.

Pakistan won their second World Cup at Buenos Aires in 1978 and went on to retain the title at Mumbai in 1982 before a hostile crowd at the Wankhede Stadium.

The Mumbai triumph enabled Pakistan to repeat the Grand Slam feat returning with flying colours at the 1982 Delhi Asian Games and culminating by attaining glory at the Los Angeles Olympics in 1984.

The Green Shirts did Pakistan proud again by regaining the World Cup at Sydney in 1994. It's unfortunate that not only the title has eluded the country since then but it had to skip the last World Cup held at The Hague in 2014

The last quarter-of-a-century has witnessed a lot of ups and downs, an all-time low slump in the world rankings — 13th — due to poor planning, alleged embezzlement of funds by successive Pakistan Hockey Federation (PHF) officials besides other factors including closure of departmental teams.

Pakistan hockey has been in the news since long not for any good work but due to woes. The national game hasn't witnessed such a gloom in country's 71-year-old history.

Pakistan's hockey fraternity has been long demanding that incumbent PHF president retired Brig Khalid Sajjad Khohar and secretary Shahbaz Ahmed should be made accountable and shown the door.

One has failed to understand as to why the corridor of power in Islamabad has been giving a deaf ear or waiting for yet another debacle in India.

The Sindh government and a private sponsor have come forward to bailout the PHF by doling out handsome funds at the eleventh hour to clear the players' dues before their departure to India.

The Pakistan hockey crisis has been in the news either for horrifying defeats at the hands of minnows or frequent changes of players, officials and selectors besides putting the onus on the government for not releasing funds.

Under painful scenario has Green Shirts have reached the Indian city of Bhubaneswar where the World Cup takes place from Nov 28 to Dec 16 at Kalinga Stadium.

Thanks to the FIH for raising the number of teams from 12 to 16 that made possible for Pakistan to compete.

Statistics show Holland and Germany have won the World Cup three times apiece followed by Germany twice and India once.

The teams have been drawn into four pools and winner of each pool guarantees a place in quarter-finals.

A word of praise is due for the late retired Air Marshal Nur Khan who conceived the idea and Pakistan donated the trophy. The inaugural edition was supposed to take place in Pakistan but due to political turmoil it was relocated.

All said and done but will Khokhar, Shahbaz and selectors take the responsibility if the Green Shirts fail to rise to the occasion or will they put the blame on the government?

Pools:

A: Argentina, New Zealand, Spain, France.
B: Australia, England, Ireland, China.
C: Belgium, India, Canada, South Africa.
D: Netherlands, Germany, Malaysia, Pakistan.

Schedule:

Nov 28: Belgium vs Canada, India vs South Africa
Nov 29: Argentina vs Spain, New Zealand vs France
Nov 30: Australia vs Ireland, England vs China
Dec 1: Netherlands vs Malaysia, Germany vs Pakistan
Dec 2: Canada vs South Africa, India vs Belgium
Dec 3: Spain vs France, New Zealand vs Argentina
Dec 4: England vs Australia, Ireland vs China
Dec 5: Germany v Netherlands, Malaysia vs Pakistan
Dec 6: Spain vs New Zealand, Argentina vs France
Dec 7: Australia vs China, Ireland vs England
Dec 8: Belgium vs South Africa, Canada vs India
Dec 9: Malaysia vs Germany, Netherlands vs Pakistan

Dec 10: 2nd pool A vs 3rd pool B, 2nd pool B vs 3rd pool A
Dec 11: 2nd pool C vs 3rd pool D, 2nd pool D vs 3rd pool C

Dec 12: Quarter-finals: First pool A vs winner match 26, first pool B vs winner match 25
Dec 13: Quarter-finals: First pool C vs winner match 28, first pool D vs winner match 27

Dec 14: Rest Day

Dec 15: Semi-finals: Winner match 29 vs winner match 32, winner match 30 vs winner match 31

Dec 16: Playoff for 3rd-4th position, final.

Roll of honour:

(Tabulated under year, venue, 1st to 3rd placed teams):

1971 Barcelona Pakistan Spain India
1973 Amstelveen Holland India Germany
1975 Kuala Lumpur India Pakistan Germany
1978 Buenos Aires Pakistan Holland Australia
1982 Mumbai Pakistan Germany Australia
1986 London Australia England Germany
1990 Lahore Holland Pakistan Australia
1994 Sydney Pakistan Holland Australia
1998 Utrecht Holland Spain Germany
2002 Kuala Lumpur Germany Australia Holland
2006 Monchengladbach Germany Australia Spain
2010 New Delhi Australia Germany Holland
2014 The Hague Australia Holland Argentina

Dawn


---

Taking the hockey field, at last

Mohammad Yaqoob

Last week, Pakistan hockey team left Lahore for India via Wagah Border to participate in the premier event -- World Cup -- being held in Bhubaneswar from Nov 28 to Dec 16.

The team was in high spirit ahead of the big event after the cash-striped Pakistan Hockey Federation (PHF) cleared their dues of amounting to Rs15 million just a day before the departure. Players remained upset for weeks after not getting the dues of their last tours of Oman and and the World Cup. After the federal government turned a deaf ear to the PHF's demand for a Rs80 million grant before the World Cup, the PPP government in Sindh came to help the team and Chief Minister Murad Ali Shah released Rs100 million.

The performance of the team has been in decline since winning the World Cup last time in 1994 in Sydney. The national team got boost ahead of this year mega event after being declared a joint winner of the Asian Champions Trophy with India in Oman last month. Pakistan have won the World Cup for four times in the past. Now, it has been without any big world title to its name for the last 24 years.

This time, special functions were arranged in the honour of the team. Leading singers Ustad Shafqat Amanat Ali Khan, Ali Zafar and Waris Baig visited the training camp to improve the morale of the team enormously.

Pakistan captain Rizwan Senior said the induction of Tauqir Dar and Hasan Sardar in the team management turned the team into a family and that was a pleasant change and much-needed change before the World Cup.

"In my 10 years career, I haven't seen such a family like team management, as every player is feeling his responsibility," he said.

Pakistan will play its first match against Germany, and then against Malaysia and the last group match against Holland. The national team was accorded a warm welcome by the Indian Punjab authorities, when it entered India through the Wagah Border.

Dawn


---

Indian team to have session with loud speakers to prepare for noise at boisterous Kalinga Stadium

Amit Kamath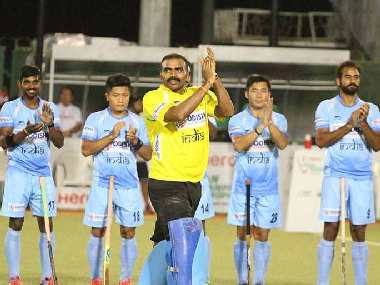 India players acknowledge fans during the Asian Champions Trophy 2018. Image Courtesy: Facebook/Hockey India

Expecting a boisterous reception for his team in each game they play at Bhubaneswar's Kalinga Stadium during the upcoming Hockey World Cup, India coach Harendra Singh plans to hold a session just before the tournament specifically to help his team counter the noise.

His solution to do so? Having a session with his players while music blares on loudspeakers. Harendra believes this will help his players work on their visual communication skills. The team will also have a small training session to work on a "code" which will help the players communicate effortlessly without words with their teammates or the bench during the fever-pitch atmosphere of a match.

"The idea is not to have just a training session this way, but also a team session where we will put on songs on the music system and then will make the players communicate. Communicating while being surrounded by so much noise is the most important thing," Harendra told Firstpost after his side thumped Argentina 5-0 in a practice game on Friday.

The Kalinga Stadium has a capacity of 15,000 and the Indian team management expects almost each seat to be filled with fans rooting for the home side during their matches.

Harendra said the session will happen either on Monday or Tuesday, while the prestigious tournament starts from Wednesday.

"The point of this is basically so that the players can learn to work on their visual signals. This will help the players to figure out how to communicate when there is a lot of noise coming from the crowd. Maybe sometimes they can lift the hockey stick to communicate where they want a pass to be made. Or other times they can just lift their hand slightly to indicate this. The idea is to communicate without saying a word. It's a code that we are creating," added the coach who has led India to a Champions Trophy silver, an Asian Games silver medal and a joint gold with Pakistan at the Asia Champions Trophy ever since he took over earlier this year.

World No 5 India have won the quadrennial showpiece event just once — in 1975. This time around, they are placed in Group C with Canada, South Africa and Belgium.

On being asked whether playing at the Kalinga Stadium under the cacophony of noise that the home support will create will put pressure or work as a shot of adrenaline for the players, Harendra said: "The size of the crowd, whether it is 10,000 or 25,000, only matters for a player when the match has not begun. Once the match starts, the focus of every player or every team is always on the ball.

"But I feel the home crowd will be a good factor for India. Even if the players are focusing on the crowd it should rather be an advantage for us because they will be our 12th man," he added.

Firstpost


---

Nothing romantic about France's status in the World Cup




KUALA LUMPUR: France are the kings of football after their World Cup triumph in July.

But in hockey, they are minnows through and through. The French are the lowest-ranked team in the hockey World Cup in Bhubaneswar, India, starting on Wednesday.

France, ranked 20th in the world, are making a return to the World Cup after a 28-year absence.

France last featured in the World Cup in Lahore, Pakistan, in 1990 and finished seventh among 12 nations.

This will be only their third appearance in the World Cup. France featured in the inaugural World Cup in Barcelona in 1971 where they finished seventh.

France, parading a talented young side in Bhubaneswar, have made commendable progress in the last few years.

They finished a creditable seventh at the World League Semi-Final in Johannesburg after qualifying for the event with a second-spot finish at the Round Two tournament in Belfast last year.

In the World Cup, France are drawn in Group A with reigning Olympic champions Argentina, New Zealand and Spain.

France coach Jeroen Delmee (pic), a double Olympic gold medallist with Holland, believes his side are capable of closing the gap on theheavyweights.

"We have a young team eager to impress in their first World Cup," said Delmee.

"To prepare for the World Cup, we played a total of 15 matches against Holland, Germany, Ireland and Canada.

"Since September, we've been training from Monday to Wednesday as two groups – one based in Brussels and the other in Paris.

"In October, we started our final preparations for India with matches against England, where we came away with one win and one defeat.

"We then had a good series against South Africa, winning three matches and losing just one. Finally, we played Belgium, losing twice.

France will be led by towering defender and penalty corner expert Victor Charlet, who is a goal-scoring threat from penalty corners.

The Star of Malaysia


---

Brothers in arms

By Aftar Singh

KUALA LUMPUR: Faizal and Mohd Fitri Saari are brothers who could not be more different from each other.

The 25-year-old Fitri is a cool and down-to-earth character while his elder brother Faizal is rather short-fused.

Faizal also has a reputation for losing his temper in matches. His fiery temperament has cost him dearly at times as he has been sent off in local competitions like the Razak Cup and Malaysia Hockey League (MHL) for confronting umpires.

But as contrasting as their personalities are, Faizal and Fitri share the same high profile in Malaysia's hockey team.

They're both pillars of the side competing in the World Cup in Bhubaneswar, India, starting on Wednesday. Fitri runs the engine room in midfield while Faizal is always on the goal hunt as a striker.

The highly-skilled 27-year-old Faizal, noted for his consistent goal scoring, is also a top-notch penalty corner drag flicker and could be one of the stars in Bhubaneswar.

He top scored in the Asian Champions Trophy in Muscat, Oman, last month by firing in eight goals – four field goals and four strikes via penalty corners – to help Malaysia win the bronze.

Faizal was also joint top scorer with India's Harmanpreet Singh at last year's Asia Cup in Dhaka, Bangladesh, with seven goals to help Malaysia finish runners-up behind India.

Faizal, according to the 25-year-old Fitri, has been a temperamental person since he was a child.

"He gets annoyed over small issues or when someone says something about his behaviour," said Fitri.

"He also doesn't listen to advice will do things his own way. But I'm used to his attitude.

"Despite being hot-headed, Faizal's the one who encouraged me to take up hockey when I was in standard six (studying at Kok Pauh Primary School in Rantau Panjang).




"School teacher Fakaruddin (Mokhtar) encouraged Faizal to play hockey when he was 10-year-old and my brother then influenced me to take it up.

"So I'm happy that I heeded my brother's advice as I went on play for my school, state and then country.

"Today, we're proud to feature in our second World Cup," added Fitri, the father of twin sons.

Faizal admits he has to learn to keep his temper in check as the tension builds up in a match.

"But I've changed thanks to Fitri's advice. He always calms me down when I lose my temper in a match.

"I've learned to control my temper and focus more on my game," said Faizal.

"Fitri and me have played many times together in tournaments and there were some good and bad memories. The bad memories include finishing last among 12 teams in the previous World Cup (in The Hague, Holland in 2014)."

Faizal, who was a big letdown at his first World Cup in 2014 where he failed to score in all six matches, vows to play consistently well and to score in every match in Bhubaneswar.

"There're high expectations on me to get the goals as I'm the country's top forward.

"The memory of the 2014 World Cup where I failed to score a single goal still haunts me. Even Fitri managed to score a goal in Holland.

"We are better prepared this time and we can give former world champions Holland, Pakistan and Germany a run for their money," added Faizal.

Malaysia will make their ninth appearance in the World Cup and they start their campaign against Holland on Dec 1 before taking on Pakistan (Dec 5) and Germany (Dec 9).

With these two brothers in arms, Malaysia can at least hope that they won't be in dire straits when they take on the big guns.

The Star of Malaysia


---

Hockey World Cup Memories: Pakistan legend Hassan Sardar revisits the high of winning 1982 edition in Mumbai

Hassan Sardar



Hassan Sardar was the leading goal-scorer at the 1982 World Cup. He interacts with the Indian media on his arrival in Bhubaneshwar. Firstpost/Shantanu Srivastava

Hassan Sardar was part of the 1982 Pakistan team that won the Asian Games and World Cup. Considered among the best centre-forwards that Pakistan ever produced, Sardar is also an Olympic gold medallist (1984). A former Pakistan captain and chief selector, he is currently the manager of Pakistan hockey team. He spoke to Shantanu Srivastava.

Winning the 1982 World Cup in Bombay was one of the highlights of my career. We had a very strong team back then, and our forward line was easily among the best in the world. I was fortunate to play with some of the legends of Pakistani hockey like Samiullah Khan, Manzoor Hussain, Kaleemullah Khan, Abdul Rashid, Hanif Khan, among others. Akhtar Rasool was our captain, and it was a great team, skill-wise.

We had prepared well for this event. Before every major tournament, such as the World Cup or the Olympics, we used to go on a 50- or 60-day European tour. We did the same in 1982. Upon returning, we had a four to six-week camp where we further improved our skills and fitness.

Given the team we had, we were quietly confident of winning the trophy. The bonding was excellent, and we knew if we play to our potential, we will win the Cup. Our biggest strength was our forwards, and I am extremely happy to be a part of that line. We believed in all-out attack; that was our style of play. We had a good defence too, but the focus was always on scoring goals, and mind you, we always went for field goals, not penalty corners.

We were pooled with West Germany, Poland, New Zealand, Argentina, and Spain. We had a good start, and we went past Argentina, Spain and New Zealand without many problems. West Germany was a strong team, but we beat them in the group stage 5-3. We went on to beat Netherlands 4-2 in the semis, while West Germany beat Australia in the other semi-final.

Since we had already beaten West Germany in the group stage, we were confident and we knew how to go about the task. We got a penalty corner in the match but the Germans protested, so we said we don't need a penalty corner to score a goal. We ultimately won 3-1, with me, Manzoor Hussain, and Samiullah scoring. I ended the tournament with 11 goals, the highest in the team.

Given the style of hockey that teams play these days, I would love to be an active player again. If this kind of hockey was played back then, our forward line would have scored a lot more. The modern game has become faster, and a lot of things go in favour of strikers; for instance, there's no off-side rule anymore. So yes, I would have fancied myself scoring many more goals.

The biggest difference between European and Asian styles of hockey has always been the pace, and I think the current Pakistan team lacks that. Europeans are fitter, hence faster. Among the Asian nations, I see only India matching those levels. They (India) reached the final of Champions Trophy this year where a lot of European nations participated, so that shows their progress.

Pakistan, on the other hand, need to work on their attack. Our forwards must look to score. Our defence is alright, but it's the forward line that needs to fire if we have to go deep in the competition. The Asian Champions Trophy game against Japan is an example. They (Japan) had conceded so many goals to India in Asian Games, but against us, their defence stood up.

However, Pakistan have been improving off late, especially after the arrival of Roelant Oltmans. The goal difference against teams like India, Germany, and Belgium has come down, and if they can improve their attack, I think Pakistan can do well. I personally would have wanted Oltmans in our camp, but unfortunately, he had to leave.

Pakistan have a tough pool at this World Cup, and I think we will be targeting Malaysia and Germany to advance to the next stage. The last time Pakistan played in Bhubaneshwar was in 2014, and of course, there was the unfortunate incident between sections of crowds and some Pakistani players. I hope returning to that venue doesn't put Pakistan under pressure. I am sure they will behave well, and the Indian crowds and media will appreciate their hockey.

Firstpost


---

2014 Hockey World Cup review: England expected … well much more



Ashley Jackson scores against Ireland (c) Ady Kerry

The Hockey Paper looks back to England's campaigns at the 2014 tournament in The Hague, which saw the men finish just outside the medals following a controversial ending

Where next for England? In the wake of the men's fourth-place finish and the women's 11th, both sides have suffered a drop in their world rankings.

That is not disastrous in itself but dropping outside the top four – the men are now five, the women six – does make for slightly more difficult draws in future tournaments. A bigger question is whether both sides have now peaked?

Starting with the men. Their fourth-place finish in the Hague after a 2-0 loss to Argentina was heartbreaking. But, aside from one poor performance against a rampant Australia, losing 5-0, they played well for much of the tournament. Their highlight was the 3-2 defeat of Belgium in what was effectively a quarter-final.

That game and the subsequent 1-0 semi-final loss to the Netherlands highlights this particular side's strength and weaknesses. England's defence was one of the best in the Hague, but they were often under pressure through failure to hold possession for long enough, compounded by poor conversion of chances.

The second-half of the Belgium game – which was 1-1 at half time – was the exception to this as England managed to out-play and out-posess Belgium for much of the half, despite all the pressure they had had to endure in the first period.

That shows the potential is there, but it will take time. The post-2012 losses from the forward/midfield line of Matt Daly, Jonty Clarke, Rob Moore, James Tindall and Iain Mackay were always going to take time to replace. And coach Bobby Crutchley, an international forward himself, knows that the capability to create and take chances is one of the hardest things to develop.

Much of the creative responsibility now falls on Barry Middleton and Ashley Jackson. Fortunately, they are both playing some of the best hockey of their careers. Both had superb tournaments and one can only speculate how good Jackson might have been if he hadn't picked up a shoulder injury in a warm-up test against Australia.

That 'Bashley' pairing does however need some help. Simon Mantell remains the most dangerous of the forwards. But aged 30, and with a career in finance beckoning, he may not be around for much longer. An injury-free Mark Gleghorne is starting to threaten again, but after that there is work to be done.

League top-scorer, Beeston's Sam Ward, has been brought into the programme, but Crutchley says he will need a lot of work to bring him up to international performance levels. Ward is a top lad and we wish him well, but to some extent he illustrates a structural problem in UK hockey – the incoming raw material to our international programme takes a long time to develop.

Our junior international men's teams consistently under perform those of our big rivals – Australia, Germany, Belgium, Netherlands, even Spain. We are then playing catch-up trying to develop players into international athletes before the demands of other careers or just age take their toll.

That is a longer-term issue that must be addressed, but, for the immediate future, there is a lot to like about this England men's side. A solid defence is a great place to start. They will have better tournaments in front of goal and, with a home European championship in 2015, they have plenty to look forward to.

The 12th man saga

England men put in an official protest following their 2-0 men's bronze-medal game loss to Argentina, after it emerged the winners had fielded 12 players for 2mins 36secs while the score was 0-0.

Of particular concern was that Argentina had withdrawn the extra player and not come clean with the technical table. If they had owned up, Argentina would have been reduced to 10 players for a period of the game when they actually scored both their goals.

The International Hockey Federation (FIH) ruled the infringement was unintentional and the result would stand, while commending England for their sportsmanship in what was a relatively low-key official protest.

The FIH imposed a one-match suspension on Argentina's captain Lucas Rey which will take effect at the next world-level event.

England Hockey chairman and head of delegation for England at the World Cup, Philip Kimberley, said, "It is most regrettable that we have been placed in this position, but we believed it was appropriate to invoke the process that exists for these situations. We feel it is important that the facts are in the public domain and to ensure that the management of games is tightened up to avoid a repetition of this situation.

"Following discussion with the management team, we owed it to the players to make this protest as we strongly feel that the game was materially affected."

Women

Analysing England women's performance represents a whole different proposition. The starting point is they were dreadful. Or perhaps, more fairly – they started slowly, were ambushed in the first game and then just spiralled downwards.

The descent to the 11th-12th game from a bronze medal four years ago seems even more bizarre given that the women's programme seems to be in quite a strong place at the moment. The junior results are better than the men (although not great), and the combination of national league, Single System, schools and universities seem to be delivering inputs to the national programme that are closer to the finished product than is happening with the men.

Going into the Hague third-ranked, England were generally seen as a side with some capable young players, a decent track record in the World League (bronze) and potential medal contenders.

It's tempting to grasp at individual moments which might have revived the flagging confidence early enough to matter. Lily Owsley hitting both posts in the second game, against China, with the scores at 0-0, springs to mind. England went on to lose 3-0 and their World Cup was over.

But it's more thought-provoking to consider why confidence was already so fragile after the surprise 2-1 loss to the brilliantly prepared USA side? England, after all, had a core of eight Olympic bronze medallists in their team. None of that cohort, with the possible exception of Ashleigh Ball, would have gone home happy with their personal performances (although Ball is now sadly sidelined for up to a year with a serious knee injury).




When teams under perform it's tempting to grasp at explanations centring around personalities and division but the honest truth is we don't know. H. L. Mencken's axiom 'For every complex problem there is an answer that is clear, simple, and wrong' springs to mind.

In pure hard facts, England turned up to a major tournament with ineffective corners, something that seems inexplicable when athletes are in full-time training. Kate Richardson-Walsh has always been a reasonable corner option, but not a first choice international drag-flicker. In the absence of that rare commodity, corners can still be dangerous – as the USA demonstrated throughout the World Cup. And while PCs aren't everything but they do bail you out when other things aren't quite happening as they should.

Richardson-Walsh herself had a competent tournament in defence rather than her usual dominant one. She says her announcement, pre-World Cup, that this would be her final year in international hockey did not affect team performance. And we have to take her world on that. She was also distraught at the non-selection of her partner Helen Richardson-Walsh for the Hague. The latter had a back operation early in the year, made it back onto the field ahead of the World Cup, but was not in the final 18.

Selection decisions can always be second-guessed. But the coaching staff know better than anyone what a vital role Helen Richardson-Walsh has played in England teams for more than a decade – Their decision would have been based only on what they thought she could contribute in Holland.

Moving the focus away from individuals, however, it is important to point out that in a strange sort of way there was far more external pressure on this World Cup side than there was on the GB Olympic squad of two years ago.

Hockey at the Olympics is big, but it is one of many. In the run-up to and during the Hague there seemed to be far more media focus on this women's side than there had been in London. Pre-tournament TV appearances, interviews and the ever-present chip-chip of social media abounded. Then all the games were on Sky and there were some ruthless post-match dissections.

From the outside, it all seemed more intense than two years ago. It might have looked different from within the fishbowl, but add in the high expectations and relatively inexperienced team and it could have felt quite warm in there.

Performance, along with participation, is a pillar of England Hockey funding and it has a key influence on the third pillar – sponsorship. That is an entirely good thing – if problems aren't fixed, in the end everbody loses. That, at least, gives confidence that any short-term issues that may have affected the World Cup will be frankly and fully addressed, albeit internally.

The longer-term issues remain!

Be part of the action with a one-off subscription to our World Cup Daily newsletter

The Hockey Paper


---

AIS Announces Men's Hockey Funding Boost

Ben Somerford

The AIS has announced decisions under its recently launched high performance investment framework to give Olympic, Paralympic and Commonwealth Games sports longer term funding stability, which includes an additional boost of $6.7 million to 12 high performance programs over the next two years.

Winter sport, women's Olympic teams and Para-athletics are among the biggest beneficiaries of funding increases, to be introduced at the start of 2019.

Olympic, Paralympic and Commonwealth Games sports will also benefit from a new longer term approach to funding. Instead of annual grants to sport, for the first time the AIS is providing longer-term funding commitments to give sports more stability and certainty to plan ahead.

Funding for a majority of priority sports will be a combination of longer-term baseline funding that enables better planning and continuity, and contestable impact resourcing that provides the system a level of agility to seize new opportunities.

Using this approach, the majority of Olympic and Paralympic sports will have current funding levels guaranteed through to the Tokyo 2020 Olympics and Paralympics. Winter sports – Olympic and Paralympic - will have full funding extended through to December 2020, and their baseline funding through to the 2022 Games in Beijing.

AIS Director Peter Conde said the investment framework provided more certainty for sports, balanced with an important element of flexibility to make performance adjustments to fund new sports and new performance initiatives.

"The AIS is making these funding changes now to increase the probability of success at the Tokyo 2020 Olympics and Paralympics but also to get a head-start on athlete pathways for the future Olympic cycles," Conde said.

"The contestable portion of funding allows the AIS and sports to respond to new opportunities in performance. The AIS has also established a Strategic Projects pool that will be invested into sports for targeted campaigns or project support ahead of the Tokyo 2020 Olympics and Paralympics.

"This funding will be complemented by new and enhanced support programs delivered by the AIS, including a strong emphasis on athlete wellbeing, applied technology and innovation, performance under pressure, and professional workforce development."

Under the framework, investment will be clearly focussed on Olympic, Paralympic and Commonwealth Games sports. Conde said success would not be measured solely by Australia's final position on medal tables at the multi-sport events.

"We will certainly continue to support Australian athletes to provide the best chance of international podium success, but the emphasis will be on the number of Australian medallists across a breadth of sports.

"This means the AIS will continue to strongly invest in Australian teams, which reflect as only one medal on a traditional medal table but ultimately produce multiple medallists. We are also supporting sports to focus on athlete wellbeing and their connection with communities."

Funding boosts to 12 high performance programs will be initiated on 1 January 2019, with three women's Olympic teams to benefit. Australian women's Football ($800,000 increase over two years) and Rugby Sevens ($605,000 increase over two years) will receive boosts, along with the women's softball team ($400,000 over two years) which returns to the Olympic program in 2020.

In a boost for winter sport, the Olympic Winter Institute of Australia (OWIA) will receive a funding increase of almost $2.3 million over the next two years and Para-Winter sport $512,500 over two years. Para-athletics will also be boosted by $600,000 over the next two years.

Other programs that will receive immediate funding boosts for the next two years include: Diving ($460,000); Shooting ($400,000); Men's Hockey ($262,500); Surfing ($200,000); Modern Pentathlon ($110,000); and Archery ($100,000).

As part of a strategic review process that will eventually cover all sports, the AIS will engage with four sports during coming months. Their funding beyond existing commitments will be confirmed in mid-2019, which is the usual funding timeframe. These sports are able-bodied athletics, water polo, volleyball, and gymnastics.

A small number of sports and organisations facing reductions in high performance funding will have a transition period, with no changes to apply until 1 July, 2019.

"Having advised these sports and organisations about our funding decisions, we are giving them time to digest the information and advise their athletes and stakeholders before public announcements are made," Conde said. "We will consult with these sports and other system partners on the transitions required as a result of these decisions. We are confident that these changes will not impact on Olympic or Paralympic podium success.

"Together with a $10 million Tokyo 2020 support fund announced by the Australian Government in December 2017 - previously distributed to sports - these changes will best position Australian athletes and teams for podium success in 2020 and beyond."

Hockey Australia media release


---

Mullan calls on Irish businesses to employ international players

By John Flack




Ireland captain Katie Mullan has urged businesses around the country to consider employing international players to allow them to combine sport and work as they prepare for the Olympic qualifying campaign.

Mullan believes the relationship would be mutually beneficial if companies could be sympathetic to the huge commitment that will be involved.

In the build-up to the World Cup, for example, many of the Irish players, who were in full-time employment, had to take around 50 days off work to fulfil their commitments. The national team played more than 20 matches ahead of the London showpiece, several of which took place outside Ireland, with trips to Spain and Germany.

Some of the players had to take unpaid leave or go part-time to be able to commit fully to the preparations while others took career breaks and gave up work completely.

    @IreWomenHockey captain @katiemullan11 "I think all the girls have learned valuable skills and developed valuable skills thought our sporting journey that could be very very useful in a lot of business environments." #sportintobusiness pic.twitter.com/VkkKNDIyxX

    — Sport NI (@SportNINet) November 14, 2018

Mullan is a case in point as she is now playing most of her hockey in Germany, having put her career on hold after graduating from UCD. She is however back home for a few weeks while the German season moves indoors and is eligible to play for Ballymoney, for whom she scored twice in last week's win over Lisnagarvey.

The 24-year-old, who has been appointed as a Sport Northern Ireland 'Sport into Business' ambassador, is currently unable to fully commit to a first job with so much hockey ahead in the build-up to the Tokyo Olympics in 2020. The Coleraine woman said: "As regards the Ireland captaincy, I'm just the lucky one who gets to wear the armband and it's such a team effort.

"There is such an incredible leadership group and a vast amount of experience in the squad and we work really well together. I think that all of the girls have learned and developed valuable skills through our sporting journey that could be very, very useful in a lot of business environments."

"They might not be there for the same number of hours as other staff but if you employ any of the girls in our squad, they would give you 110% in every minute that they were there. I just hope that employers can see the value that we could add to their business and get behind it.

"It's about being able to find the balance where we're in a position in our in our career that allows us to achieve to the best of our ability both in the sports field and in our jobs."

Belfast Harlequins midfielder Lizzie Colvin has become the latest player to pull out of an Ireland squad due to work commitments as she has had to withdraw from next week's five-day trip to Spain.

She also had to pull out of Ireland's European Championship trip to Amsterdam in the summer of 2017 for the same reason as if to illustrate Mullan's point.

The Hook


---

ROUND-UP: English Men's Hockey League



Beeston scorer Nick Park in action against Surbiton. Credit David Kissman

Beeston came from behind to win 4-3 at Surbiton and inflict a first defeat of the season on the league leaders in the Men's Hockey League Premier Division on Saturday.

Surbiton took the lead in the 32nd minute when Alan Forsyth scored his first of the day from open play.

William Marshall made it 2-0 in the 44th minute from a penalty corner before Richard Lawrence hit back via a penalty stoke in the 52nd minute for the away side.

Alan Forsyth then added his second for the home team in the 58th to make the score 3-1 going in to the final ten minutes.

But Henry Croft netted for Beeston on the hour mark before James Albery and Nick Park both scored in the 63rd to seal victory for the visitors.

Hampstead and Westminster kept the pressure on leaders Surbiton with a 2-0 victory at home to the University of Exeter.

Richard Smith opened the scoring in the tenth minute before Sam French clinched the victory with a goal in the 64thminute.

Holcombe secured a 2-1 win at home against Wimbledon.

Nicholas Bandurak opened the scoring in the eighth minute before Daniel Webster made it 2-0 in the 15th, while Ed Horler scored the only goal for Wimbledon.

Elsewhere, Brooklands Manchester University ran out 2-1 winners at home to Reading.

Mike Shaw and Alex Humphreys were on the scoresheet for the home side, while Ciaran O'Connell scored for Reading.

Sevenoaks and East Grinstead played out a 2-2 draw. Duncan Parnis and Edward Matts scored the goals for Sevenoaks and Simon Faulkner scored a brace for East Grinstead with both his goals coming from penalty corners.

Men's Conference North

The University of Durham secured an 8-1 victory at home to Preston in the Men's Conference North on Sunday, maintaining the pressure at the top of the table.

Max van Laak (3), Daniel Edwards (2), Benedict Park, James Sookias and Ross Vides were all on the scoresheet for the home side, while Steve Masterson scored a consolation for Preston.

Leaders Bowdon Hightown had to settle for a 1-1 draw at the University of Nottingham. Imre Gerrits gave the home side the lead on 38 minutes before Ben White levelled on 56 minutes for Bowdon.

Leeds were 4-1 winners at Belper, Nathan Hill, David Swarbrick, Harry Lankfer and Martin Sutherland scored the goals for the away side.

Sam Dixon was on the scoresheet for Belper after finding the net in the 49th minute from a penalty corner.

Elsewhere, Doncaster won 6-2 at home to Alderley Edge, and Loughborough Students and Sheffield Hallam played out a 1-1 draw.

Men's Conference East

Matt Daly scored four goals as Teddington won 5-4 at Old Loughtonians in the Men's Conference East.

Andrew Pett was the other goal scorer for the away side, while Mitchell Jones, Andrew McGregor, Michal Nowakowski and Atunrolaou Ashaye were on the scoresheet for Old Loughtonians.

Richmond sealed victory with the last play of the game as they ran out 4-3 winners at City of Peterborough.

Ross Ambler, Jordan Heald and Sam Blunt scored the goals for the home side.

Karan Sofat (2) and Marcus Howard scored for Richmond before Jordan Hussell scored a dramatic winner in the 70th minute from a penalty corner.

Elsewhere, Old Georgians ran out 4-0 winners at home to Southgate, Brighton & Hove won 3-2 at Oxted, and Canterbury versus Cambridge City ended 1-1.

Men's Conference West

Havant leapfrogged the University of Birmingham in to second place with a 3-1 victory at home in the Men's Conference West.

Miguel Rodrigues gave the home side the lead in the ninth minute before Federico Bertoni made it 2-0 in the 22nd minute.

Cuthbert Shepherd hit back for the University of Birmingham but Bertoni added his second in the 68th to seal victory.

Olton & West Warwicks remain top of the table after a 4-3 victory at home to Oxford Hawks.

Peter Jackson (2), Harry Sherlock and Edwin Walters were on the scoresheet for the home side, While Andy Watts (2) and Matthew Wood both scored for Oxford.

Elsewhere, Team Bath Buccaneers won 2-0 at Isca, Chichester were 2-1 winners at Cardiff & Met and the University of Bristol beat Fareham 3-2.

RESULTS:

Men's Hockey League

Premier Division: Brooklands Manchester University 2, Reading 1; Hampstead & Westminster 2, University of Exeter 0; Holcombe 2, Wimbledon 1; Sevenoaks 2, East Grinstead 2; Surbiton 3, Beeston 4.

Conference North: Belper 1, Leeds 4; Doncaster 6, Alderley Edge 2; Loughborough Students 1, Sheffield Hallam 1; University of Durham 8, Preston 1; University of Nottingham 1, Bowdon 1.

Conference East: Canterbury 1, Cambridge City 1; City of Peterborough 3, Richmond 4; Old Georgians 4, Southgate 0; Old Loughtonians 4, Teddington 5; Oxted 2, Brighton & Hove 3.

Conference West: Cardiff & Met 1, Chichester 2; Fareham 2, University of Bristol 3; Havant 3, University of Birmingham 1; Isca 0, Team Bath Buccaneers 2; Olton & West Warwicks 4, Oxford Hawks 3.

England Hockey Board Media release


---

Irish Womens EY Hockey League Weekend Round Up

Pegasus will hold a two-point advantage at the head of the women's EY Hockey League until February as their late 3-1 win over Muckross saw them steal a march on rivals Loreto.

Alex Speers was once again the key player, closing out an excellent first half of the season with a brace. She opened the scoring at Muckross Park but the bottom-placed side proved a stubborn opponent, getting back on terms via Sarah O'Loughlin.

It remained 1-1 until 10 minutes from the end when Speers got her second, bringing her tally to seven so far. Michelle Harvey then finished off a counter-attack, sealing a seventh win from eight thus far.

For Loreto, they came into the weekend ahead of Pegs on goal difference and were seconds away from keeping it that way until they were stunned late in the game by Pembroke in a 2-2 draw at Grange Road, Hayley O'Donnell scoring a final hooter slap-shot.

Sarah Clarke's piledriver and a Siofra O'Brien strike had the Beaufort side in great shape but Pembroke have also been on a good run of form. Laura Noble's third goal in two games gave them a lifeline before O'Donnell – donning the kicking-back's bib – fired home the leveller.

Ards picked up their second point of the season with a 1-1 draw against Railway Union, Caroline Adams and Kate McKenna trading scorers. It leaves Ards in ninth and Railway in eighth but seven points better off.

Cork Harlequins landed a fourth win of the campaign when they beat UCD 2-0 at Belfield with Michelle Barry and Yvonne O'Byrne on the mark. They end 2018 in fifth place.

Belfast Harlequins and Old Alex also ended 1-1, leaving them sixth and seventh respectively. The women's EYHL returns in the new year on February 2, 2019.

In EYHL Division 2, Catholic Institute were the only one of four teams with perfect records before the weekend to remain that way. They beat Monkstown 1-0 courtesy of a Christine O'Shea touch in the 20th minute.

Town remain top of Pool B but have played an extra game than the Limerick side. Dungannon's 2-0 win over Lurgan gets them back in the frame for a playoff spot.

In Pool A, Corinthian and Queen's drew 1-1, a result that ended both of their winning runs. Queen's remain top on 14 points with Corinthian on 10 with a game in hand. Trinity reignited their challenge with a 3-1 win over UCC – they play Greenfields next on December 8.

EY Hockey League: Ards 1 (C Adams) Railway Union 1 (K McKenna); Belfast Harlequins 1 (G Frazer) Old Alex 1 (A Connery); Loreto 2 (S Clarke, S O'Brien) Pembroke 2 (L Noble, H O'Donnell); Muckross 1 (S O'Loughlin) Pegasus 3 (A Speers 2, M Harvey); UCD 0 Cork Harlequins 2 (M Barry, Y O'Byrne)

EYHL Division 2

Pool A: Corinthian 1 (L Pomeroy) Queen's 1 (R Quinn); Trinity 3 (A Long 2, S Osborne) UCC 1 (A Collins)

Pool B: Dungannon 2 (L Cassells, G Mulligan) Lurgan 0; Monkstown 0 Catholic Institute 1 (C O'Shea)

Day 8 extended reports

Loreto 2 (S Clarke, S O'Brien) Pembroke 2 (L Noble, H O'Donnell)

Hayley O'Donnell fired in a last second penalty corner slap-shot to end Loreto's winning streak, earning Pembroke a strong draw. They had trailed 2-0 with 15 minutes remaining but produced an excellent fightback to keep their own good run rolling.

A brilliant one-two from Grace McLoughlin and Sarah Torrans resulted in the day's first penalty corner from which Sarah Clarke thumped home for an early lead.

Pembroke were not set to lie down, though, and won two corners of their own in an end-to-end first quarter while Liz Murphy pulled off the pick of the saves before half-time. It remained 1-0 through the third quarter before Siofra O'Brien latched onto a misread aerial from the back from Hannah Matthews, making it 2-0.

Laura Noble grasped her fourth goal of the campaign to get the game back in the mix and Pembroke threw everything at the last few minutes and O'Donnell – wearing the kicking-back's bib – took their chance when it came. For Loreto, Nicci Daly made a cameo on her return from the US.

Muckross 1 (S O'Loughlin) Pegasus 3 (A Speers 2, M Harvey)

Alex Speers and Michelle Harvey both struck in the last 10 minutes at Muckross Park to grab the Christmas number one spot for Pegasus, eventually seeing off the ever-improving Muckross.

The Dubliners got off to a good start with Sophie Barnwell's incision causing a threat and they won the first corner which Megan Todd produced a good double save from.

But they were caught cold by a counter from that corner, a long ball finding Speers in the Muckross D and she made no mistake in the 11thminute. Pegs stepped it up in the second, forcing a couple of corner saves from Rachel Barnett.

Muckross equalised, though, from a long corner that is worked around the circle to Sarah O'Loughlin who buried the chance, making it 1-1 at the end of a breathless first half.

It continued in that manner in the second with Emma Mathews charging down a corner while Niamh Gowing was just beaten in a race to the ball by Todd. Sarah McAuley and Laura Hanlon were required to keep it all square at 1-1 at the end of a frantic third quarter.

Muckross kept out another couple of corners but the key Pegs goal came in the 60th minute when Speers netted her second of the game and seventh of the campaign from a set piece.

Two minutes later, the die was cast as another lightning attack ended with Harvey making it 3-1. The pace dropped markedly as Pegasus played keep ball, closing out their seventh win of the season to date.

UCD 0 Cork Harlequins 2 (M Barry, Y O'Byrne)

Cork Harlequins made it three wins in four outings as they raided Belfield for the points for the second successive season.

The students were without Lena Tice and Bethany Barr – with Hannah McLoughlin returning – for the tie and they fell behind when Michelle Barry opened the scoring from the Cork side's second penalty corner in the 16th minute, cleaning up after Cliodhna Sargent's initial shot.

The second quarter saw both sides with chances, Quins shooting a corner wide. Ava Beatty's superb effort was saved by Becky Maye while Barry had an equally good effort denied by Clodagh Cassin.

Lorna Bateman – who came on between the posts at half-time –kept out an Ellen Curran shot at the end of a weaving run while Sargent and Emma Barber were excellent in defence. Yvonne O'Byrne got on the end of Caoimhe Perdue's bobbling ball in the D to make it 2-0 in the 48thminute.

And it remained that way through the closing quarter despite Niamh Carey's threat and Sophie Thomas's cracking reverse which Bateman saved.

Ards 1 (C Adams) Railway Union 1 (K McKenna)

Ards picked up their second point of the season to go into the winter break on two, one clear of Muckross, as they tied with Railway Union at Londonderry Park.

Three Railway corners on the first quarter hooter came to nothing while Ards were defending well with Naomi Grundie marshalling the circle well. Early pressure in the second half saw Ali Carson's shot on goal lead to a penalty corner which Caroline Adams scored for her third of the season.

They then had a golden chance to go further ahead when they won a stroke on the counter but Beck Weir saw her effort blocked by Carolyn Crampton who also kept out Francesca Brown.

The Dubliners, though, got back on terms in the closing quarter from play via Kate McKenna and then had a series of penalty corners but could not break through.

Belfast Harlequins 1 (G Frazer) Old Alex 1 (A Connery)

At Deramore, a brilliant second-half equaliser from Gemma Frazer secured Belfast Harlequins a 1-1 draw with Old Alex but the result leaves Davy Frazer's side still outside the play-off places.

Former Ireland player Aine Connery put the Dublin side in front in the 29th minute with a sweetly struck backhand shot after her side had edged the opening exchanges. But Frazer rescued Quins a point when she scored a terrific individual goal in the 44th minute, drifting in from the left to fire home a fierce shot from the top of the circle.

But the hosts were left ruing the fact they were unable to convert any of their seven penalty corners although Ireland World Cup star Lizzie Colvin was denied by a full length save from Pamela Smithwick from one of their few shots on target.

Alex deserved their draw though and, in fact, could have taken home all three points had Erika Hinkson's shot, after a great run down the left, been centimetres lower instead of hitting the junction of post and crossbar late on.

Belfast end the pre-Christmas schedule in sixth place, two points off third placed UCD. Alex are on 10 points, a good return following their promotion up the EYHL for the first time.

EYHL Division 2 round-up

Christine O'Shea's 20th minute goal saw Limerick's Catholic Institute end the weekend as the only side in the women's EY Hockey League with a 100% record of the four that existed on Friday.

She deflected in Rosie Pratt's corner shot for the only goal of the game against Monkstown at Rathdown. It came soon after Roisin Upton had hit the post.

Town did have Christine Quinlan in their line-up and she produced some excellent raking passes to try and get them going. And, after a series of corners, they did have the ball in the goal via Sadhbh Hoban-Logan but it was beaten by the whistle for a corner instead.

The win puts Insta on 12 points from their three games while Monkstown's losing bonus point means they are on 13 but with a game extra played.

The duo have six points over the chasers with Dungannon in third courtesy of their 2-0 win over Lurgan. Leanne Cassells opened the scoring before skipper Karen Elliott earn the Co Tyrone side their first win.

In Pool B, the top two shared the laurels at Whitechurch Park with Corinthian and Queen's ending 1-1. Rebecca Quinn had the Ulster students in front in the sixth minute before Lynne Pomeroy equalised with 20 minutes gone.

Queen's are on 14 points after 14 games with Corinthian on 10 points but with a game in hand in December against UCC.

Trinity reignited their campaign as they came back from a goal down against UCC to win 3-1. Aoife Collins broke the deadlock after a quick move down the right wing.

Ailish Long managed to squeeze home a shot for 1-1 at the quarter-time break. It stayed that way for the next two quarters with Susie Osborne scoring from a corner and a Long shot then found its way in for the third. Trinity host Greenfields in their fourth group game on December 8.

Irish Hockey Association media release


---

Pegasus take sole lead into winter break

Belfast side beat Muckross to make it seven wins out of eight

Mary Hannigan



Pegasus' Alex Speers scored in their win over Muckross. Photo: Rowland White/Inpho
 
After the final Hockey League games before the winter break Pegasus have sole ownership of top spot in the table having been tied on points with Loreto for the previous three weeks. The Belfast side beat Muckross to make it seven wins out of eight in the first phase of the campaign, while Loreto had to settle for a draw against Pembroke Wanderers, having led 2-0 in the final quarter.

In their previous three home games this season Loreto had won 5-0, 5-0 and 5-1 and it looked like they might be on course for a similarly comfortable afternoon when Sarah Clarke gave them a first quarter lead. It took them until early in the final period, though, to double that advantage through Siofra O'Brien, by which time the points looked safe.

But Pembroke, in fine form of late having won four of their last five games, weren't done, Laura Noble, with her fourth goal of the campaign, halving the deficit. And having taken off their goalkeeper to play with a kicking back, Pembroke piled on the pressure – pressure that paid off handsomely at the death when Hayley O'Donnell levelled from a penalty corner.

Pegasus, meanwhile, ran out 3-1 winners away to Muckross, but they were made to work hard for their points, their second and third goals not coming until the final 10 minutes. Alex Speers finished off a swift counter-attack to give them a first quarter lead, but Sarah O'Loughlin equalised before half-time. Speers finally restored the visitors' lead on 60 minutes from a penalty corner, before Michelle Harvey sealed the points two minutes later.

Cork Harlequins produced their best result of a rollercoaster of a season when they beat UCD 2-0 at Belfield to rise to fifth in the table. Michelle Barry gave them an early lead when she was first to the rebound after Cliodhna Sargent's shot had been saved by Clodagh Cassin, Yvonne O'Byrne making it 2-0 in the second half after Harlequins had withstood heavy UCD pressure.

Saturday's other two Hockey League games both ended 1-1, Kate McKenna securing a point for Railway Union after Caroline Adams had given Ards the lead, while a solo effort from Gemma Frazer earned Belfast Harlequins a draw against Old Alexandra for whom Aine Connery had opened the scoring.

Hockey League – Saturday: Loreto 2 (S Clarke, S O'Brien), Pembroke Wanderers 2 (L Noble, H O'Donnell); UCD 0, Cork Harlequins 2 (M Barry, Y O'Byrne); Ards 1 (C Adams), Railway Union 1 (K McKenna); Belfast Harlequins 1 (G Frazer), Old Alexandra 1 (A Connery); Muckross 1 (S O'Loughlin), Pegasus 3 (A Speers 2, M Harvey).

The Irish Times


---

Insta the sole 100% record still standing in EYHL2



Catholic Institute's Christine O'Shea. Pic: Adrian Boehm

Christine O'Shea's 20th minute goal saw Limerick's Catholic Institute end the weekend as the only side in the women's EY Hockey League with a 100% record of the four that existed on Friday.

EYHL Division 2 round-up

Christine O'Shea's 20th minute goal saw Limerick's Catholic Institute end the weekend as the only side in the women's EY Hockey League with a 100% record of the four that existed on Friday.

She deflected in Rosie Pratt's corner shot for the only goal of the game against Monkstown at Rathdown. It came soon after Roisin Upton had hit the post.

Town did have Christine Quinlan in their line-up and she produced some excellent raking passes to try and get them going. And, after a series of corners, they did have the ball in the goal via Sadhbh Hoban-Logan but it was beaten by the whistle for a corner instead.

The win puts Insta on 12 points from their three games while Monkstown's losing bonus point means they are on 13 but with a game extra played.

The duo have six points over the chasers with Dungannon in third courtesy of their 2-0 win over Lurgan. Leanne Cassells opened the scoring before skipper Karen Elliott earn the Co Tyrone side their first win.

In Pool B, the top two shared the laurels at Whitechurch Park with Corinthian and Queen's ending 1-1. Rebecca Quinn had the Ulster students in front in the sixth minute before Lynne Pomeroy equalised with 20 minutes gone.

Queen's are on 14 points after 14 games with Corinthian on 10 points but with a game in hand in December against UCC.

Trinity reignited their campaign as they came back from a goal down against UCC to win 3-1. Aoife Collins broke the deadlock after a quick move down the right wing.

Ailish Long managed to squeeze home a shot for 1-1 at the quarter-time break. It stayed that way for the next two quarters with Susie Osborne scoring from a corner and a Long shot then found its way in for the third. Trinity host Greenfields in their fourth group game on December 8.

EYHL Division 2
Pool A: Corinthian 1 (L Pomeroy) Queen's 1 (R Quinn); Trinity 3 (A Long 2, S Osborne) UCC 1 (A Collins)
Pool B: Dungannon 2 (L Cassells, G Mulligan) Lurgan 0; Monkstown 0 Catholic Institute 1 (C O'Shea)

The Hook


---

Three Rock Rovers continue to fight on numerous fronts




Three Rock Rovers completed their pre-Christmas outdoor schedule on the national stage with a 3-1 win over Annadale to advance in the Irish Senior Cup.

The competition was one of six trophies they won last season and they did all the damage in the second half with Harry Morris scoring either side of a Mark English effort for a 3-0 lead before Dale got one back.

They did so without Irish international trio Mitch Darling, Daragh Walsh and Luke Madeley who were en route to Bhubaneswar for the World Cup at the time.

The win puts Rovers through to the last eight of the competition with a very busy couple of months ahead.

In the New Year, they still have 13 league games to play as well as the Irish Senior Cup quarter-final, the EuroHockey Indoor Club Challenge I and the Euro Hockey League KO16 in Eindhoven at Easter.

For now, their focus goes into regional competitions. On Sunday, they won 5-1 against Kilkenny to reach the final of the regional Neville Cup – another title they are defending.

They play in another regional cup, the Mills Cup, next weekend against Clontarf before starting their Leinster indoor campaign.

Euro Hockey League media release


---

Grange retains lead in Scottish National League 1 but Grove Menzieshill can go top




Grange`s position at the top of Men's National League 1 is still intact. Western Wildcats were unable to make any real inroads into the lead after a draw with Clydesdale while Grove Menzieshill have advanced to within two points after beating Gordonians.

Wildcats fell short in their attempt to overhaul Grange at the top of National League 1 after they were held to a 1-1 draw by Clydesdale at Auchenhowie.

In the opening minutes of the match, defender David Bond donated the ball to Struan Walker and the Clydesdale striker gratefully buried the ball into the bottom corner of the net for the opener.

Clydesdale continued to dominate proceedings and further chances fell to Walker and Aidan Black but Wildcats` former international keeper Gavin Sommerville was equal to the task. Wildcats` sole chance fell to Andrew McConnell at a set piece but his effort was blocked.

Perhaps against the run of play Wildcats gained a lifeline when Rhury Smith`s pass was craftily deflected into the net by Fraser Calder for the equaliser.

Wildcats looked livelier in the second half and Clydesdale keeper Sean Mahoney made an outstanding save from a penalty corner flick by McConnell.

Clydesdale then had the chance to take the points, a good run by Walker set up three penalty corners but they came to nothing. Then the Titwood-based side were awarded a penalty but Andrew Allan`s spot effort was brilliantly saved by Sommerville.

In a frantic finish both sides strove for the winner but a share of the points was the final outcome.

Meanwhile, Grove Menzieshill emerged as the nearest challengers to Grange with a staggering 21-0 win over bottom side Gordonians. The Taysiders are now only two points behind the champions and could go top if they can see off Wildcats at Auchenhowie.

Cameron Golden notched a double hat-trick, brother Jamie got three, while there were also hat-tricks for Cyril Varghese and Paul Martin, and Albert Rowling picked up a double.

Scottish Hockey Union media release


---

Police keep title hopes alive as USIU survive chop

By AYUMBA AYODI



Police midfielder Willis Okeyo (left) vies for the ball with Nairobi Simba's Fidelis Okello during their Kenya Hockey Union men's Premier League match at City Park Stadium on November 25, 2018. PHOTO | SILA KIPLAGAT |  NATION MEDIA GROUP

United States International University (USIU) Sunday left it late to stun Greensharks 1-0 at City Park and avoid relegation from the men's hockey Premier League.

John Kabuu's cracker with two minutes left was all the students required to move to safety.

Second-placed Kenya Police kept their title hopes alive with a slim 1-0 win over stubborn Nairobi Simba in the other match played at the same venue.

Simbas' defence marshalled by legendary Inderjit "Coolly " Matharu finally wilted to Police's flurry of attacks when Calvins Kanu put the ball behind the net with seven minutes to go.

The victory pushed the wasteful USIU up one place to sixth with 27 points.

Interestingly, USIU and Nairobi Simba clash in their final duel of the season on Wednesday.

Nairobi Simba, who remain seventh with 23 points, must win to avoid relegation.

Police's victory saw them tie with table toppers Butali Sugar on 54 points.

While Butali - who enjoy a better goal difference - have two matches left, Police have three including their season-ender with the leaders.

An elated USIU coach Tom Olal said they will now have to work on their scoring after missing a glut of chances to kill the game.

"Scoring is not by chance but the commitment has to be there. We must want it and strive to get it," said Olal, who hailed his charges for the vital win.

Greensharks coach Nixon Nyaganga bemoaned a bad end to the season that jeopardised their chances of finishing in the top three.

Greensharks, who are placed fourth with 29 points, are through with the league. They have eight wins, five draws and nine losses.

Nyaganga's charges might drop further based on how Wazalendo will perform in their last two matches. Wazalendo are fifth with 29 points.

Daily Nation


---

MMU close in on Premier League Promotion

KU Titans return to Premier League

By Elizabeth Mburugu



USIU Noella Becca(l) and Kenyatta University Berlynder Kulundu fight for the ball. PHOTO: JENIPHER WACHIE

Kenyatta University students also secured return to women's top tier.

Kenyatta University (KU) Titans are the Kenya Hockey Union (KHU) women's Super League champions.

Yesterday, Titans edged their Multimedia University (MMU) counterparts 1-0 to win the trophy in the newly introduced women's second tier and also seal their place in women's Premier League next season.

KU were among four sides that were relegated last season to form the Super League alongside newcomers Lakers, Nakuru and Wolverines.

Determined to play top flight hockey in 2019, Titans put up a brilliant show throughout the season winning in seven matches, drawn four and lost once to top the league standings with 25 points.

Monique Kitui scored KU's all-important goal to register their seventh victory of the season. Titans coach Moses Kagochi said his charges had achieved their objectives.

"We set out to improve with each game and I can confidently said we have achieved our purpose. The girls were willing to learn throughout the season, they gave their all and the trophy and a return to the Premier League are the culmination of our efforts," Kagochi said.

Going forward, Kagochi said they will be looking to become better as they play tougher sides in the top tier.

"It will be a learning process for most of my players who will be featuring in the Premier League for the first time but they have promised to keep working hard."

"I want to improve on structures of the game, so my players can grow in the game. We only lost one match and learnt from the mistakes."

Lakers, who were KU's major threat, have 19 points same as fellow debutants Wolverines, who enjoy a superior goal difference in second place.

However, the lakeside players have an opportunity to battle for a second place finish when they take on Mombasa Sports Club (MSC) in their last encounter.

In men's Super League, MMU yesterday remained on course to earning a promotion to the Premier League after thumping (MSC) men at City Park.

With the victory, MMU reduced the point gap between them and league leaders Chase Sailors to one point.

Sailors, who are seeking a return to the Premier League, top the log with 42 points from 18 matches while MMU have 41 from 17 outings.

Frank Alusa, Mike Mboya and Duke Mabogi scored one goal each for MMU while Elvis Letting netted MSC's loan goal.

Despite taking the lead in the 19th minute, the visitors could only hold on until the 36th minute when the students leveled matters through Alusa.

The Standard Online


---

Matador HC impress in Perth FHE Cup debut



PIC: Matador Hockey Club players and officials.

KUALA LUMPUR: Matador Hockey Club from Malaysia finished fifth out of 10 teams at the U-16 FHE Cup in Perth recently.

Coached by Olympians Sarjit Singh and Maninderjit Singh, the Under-16 boys won five matches, drew one and lost one -- but failed to qualify for the semi-finals on goals average.

RESULTS: Japan 2 Matador HC 1, Matador HC 2 Western Australia Regional 1, Matador HC 2 Southern River 0, Matador HC 2 Western Australia Grey 1, Matador HC 1 Cirello 0, Matador HC 1 Penang 1, Matador HC 4 Western Australia White 1.

HISTORY: The FHE Cup started in Australia as a junior event in 2007. To this day we still honour the pledge, a pledge to allow younger players to experience hockey on an international and professional stage. The FHE Cup is focused around the under 16 tournament which is held on an international class water based turf.

STANDINGS
1. SSWA BOYS
2. JAPAN
3. WA GREY
4. MAJULAH
5. MATADOR
6. WA WHITE
7. CIRIELLO
8. PENANG
9. SOUTHERN RIVER
10. WA REGIONAL

Jugjet's World of Field Hockey