All the news for Sunday 25 November 2018

Wanglibao Hockey Champions Trophy Changzhou Wujin 2018 - Finals
Changzhou (CHN)

Results 24 November

JPN v AUS (RR)     3 - 1
NED v CHN (RR)     2 - 1
GBR v ARG (RR)     0 - 1

Fixtures 25 November

14:00     JPN v GBR (5th/6th Place)
16:15     ARG v CHN (3rd/4th Place)
18:30     NED v AUS (Final)

Final Pool standings
---

Australia in final despite loss to Japan. China hope to delight home fans with medal

The final day's play at the Wanglibao Hockey Champions Trophy Changzhou Wujin will see some intriguing match ups. Great Britain, the number two ranked team in the world will be looking for their first win when they play the lowest-ranked team Japan (FIH Hero World Rankings:14) in the 5/6th place play-off.

The 2016 Champions Trophy winners, Argentina, will face the host nation China in a tough encounter for bronze, while the Netherlands and Australia will play a re-match of the semi-final of the women's World Cup when they contest the gold medal.

Japan v Australia 3-1 (2-0)

It was one of the surprise results of the tournament but for the coaching staff of Japan, it was simply a case of a team learning from previous matches.

"To turn the results around we need to learn to deal with the opposition's penalty corners and to have the confidence to attack fast along the base line," was the verdict of goalkeeper Megumi Kageyama before this match against Australia. Her team heeded those wise words to take their first win of the competition.

The first goal was the result of a good passing move from the midfield to the forwards. Natsuha Matsumoto picked up the ball and evaded the Australian tackles that flew her way. She found Kanon Mori, who was able to slip the ball past Rachael Lynch in the Hockeyroos' goal.

The second goal was all that Kageyama had spoken about. Australia won a penalty corner but the Cherry Blossoms were like lightning off the line as they broke down the play. A quick pass found Yakuri Mano free at the top of the Australian circle. Lynch saved the first attempt but Mori picked up the rebound, drove the ball along the baseline and found Mano, who pushed it home.

After the break Australia turned up the pressure but Japan not only soaked up the pressure but extended their lead to 3-0 when Minami Shimizu picked up a loose ball and shot home to put the game effectively out of Australia's reach.

Australia scored a consolation goal through a penalty corner from Penny Squib but, as Emily Smith said after the game, the nerves had got to her side and they and failed to perform anywhere near their best.

"We have to learn how to cope with pressure," said the captain, adding, "This is a young side but we have to do what the Dutch do and play well when we are under pressure. We were playing well at the start of this event and we have got to get that flow back."

Anthony Farry was delighted with the way his team had approached the match and picked up on points from the previous matches.

"We were under pressure from Australia at times but we coped well and scored goals. These players are smart and are learning with each game."

Netherlands v China 2-1 (1-0)

China needed either a draw or a win to progress to the final but to be the first team to take points from the Dutch at this event was always going to be a tall ask, even for a team that is playing some of its best hockey at the moment.

The Netherlands went into the lead through a shot that was flicked high into the China goal by Maxime Kerstholt. That was the sum total of goals in the first half, although the Netherlands came close to threatening Ye Jiao's goal on a number of occasions.

"China are always tough opponents," said Pien Sanders, speaking after the game, and so it proved as the world number one team strove, unsuccessfully, to get a second goal.

The Chinese defence was finally broken by a piece of tactical genius from Head Coach Alyson Annan.

"Alyson told us that if China looked to take their goalkeeper off, we would do so too," said Sanders.

The result was 11 field players apiece and, following their coach's script, Netherlands were the faster team to take advantage of no goalkeeper. The goalscorer was Marijn Veen, scoring her fifth goal of the tournament and extending her lead in the top goal scoring stakes.

There was a consolation for China when Gu Bingfeng scored a penalty corner in the final seconds of the game.

Great Britain v Argentina 0-1 (0-1)

Argentina took on their higher ranked rivals in the match that Las Leonas needed to win in order to keep their bronze medal hopes alive.

They hit their stride quickly and Victoria Sauze was able to put her side ahead from a penalty corner within five minutes of the match starting.

Great Britain made their own chances, including three consecutive penalty corner attempts. Today however, they found Belen Succi in good form and the tall 'keeper was quick to react to the shots that were heading into the bottom corner of the goal.

The first half remained at 1-0, although Maria Granatto was unlucky to see a fierce shot fly over the crossbar and Sabbie Heesh in the Great Britain goal did well to keep an Argentina penalty corner out in the last minute of the half.

The second half saw Great Britain working hard to get back on terms. Hannah Martin and Anna Toman were relentlessly attacking down the right and the defnece were high up the pitch but there was no way through a tight Argentine defence.

"We have worked hard on our structures and the future is exciting," said Sarah Evans after the game, "but it is disappointing not to see these things pay off here. We will be going all out to make sure we finish with a win [against Japan], but more importantly that we put in a performance that we are all proud of."

"It was so important for us to win this game and make sure we play in the bronze medal match," said Rocio Sanchez after the game.

"We didn't start the competition well but we have a lot of young players so they needed a little time to grow into the team. Now, for our self-confidence, it is important that we win in the bronze medal match."

Match schedule for Sunday 25 November (all times UTC+8)

14:00 Japan v Great Britain
16:15 Argentina v China
18:30 Netherlands v Australia

#HCT2018

FIH site


---

Hockeyroos Through To Champions Trophy Final Despite Defeat

Alexie Beovich




Despite falling 3-1 to Japan in Changzhou, China on Saturday night, the Hockeyroos have qualified for Sunday's Champions Trophy Final against the Netherlands.

The Netherlands defeated China 2-1 on Saturday night which allowed the Hockeyroos to lock in their spot in the 2018 Champions Trophy Final on Sunday, 25 November.

Australia, ranked third in the world, will take on world number one Netherlands at 9:30pm (AEDT) on Sunday night live on Kayosports.com.au.

The Hockeyroos will be looking to make up for Tuesday's loss, where they were defeated 3-0 by the Dutch side.

Prior to this week's clash, Australia last played the Netherlands in the Women's World Cup Semi-Final where the Hockeyroos lost 3-1 in shootouts after being tied 1-1 at full time.

Australia have won two of their five Champions Trophy matches and drew against China on Thursday night.

The Netherlands have won all five of their matches at the 2018 Champions Trophy.

The two exciting sides will face off at 9:30pm (AEDT) on Sunday 25 November live on kayosports.com.au. 

Early goals to Japan's Yuri Nagai and Yukari Mano put Australia on the back foot early in Saturday's clash and a third unanswered goal to Minami Shimizu in the third term all but guaranteed the Japanese victory.

The Hockeyroos battled to get back into the match, creating a number of scoring opportunities, but were unable to break through Japan's strong defence until final minutes of the match.

Western Australian newcomer, Penny Squibb, made the breakthrough for Australia from a penalty corner in the 54th minute for her first international goal.

Spirited performances from Hayley Padget, Kalindi Commerford and Stephanie Kershaw were notable in the two goal loss. Kershaw's trademark bursts of speed were on display throughout the day while Padget and Commerford worked hard to get Australia into the attacking circle.

The loss means that Australia must now wait for the result of the Netherlands v China match to determine their fate. A Netherlands victory means that the Hockeyroos will play the Dutch in Sunday's Champions Trophy Final but a Chinese win or draw will mean Australia misses out.

Japan opened the scoring through Nagai in the third minute of the match when she found some space in the circle and nailed a shot into the net.

Australia tried to respond through Jodie Kenny a few moments later but her strike was deflected wide, a sign of how Japan's defence was going to perform throughout the match.

The Hockeyroos took the first Penalty Corner of the match in the sixth minute, Maddy Fitzpatrick's shot was stopped by the first runner which allowed for a Japanese counterattack.

Japan was able to run the ball the entire length of the pitch where Mano was able to find a gap and nail the field goal.

Australia almost reduced the gap on the quarter-time hooter when Edwina Bone received a pass in the circle which created a scoring opportunity, however her shot flew wide of the post.

In the dying moments of the first half, Kershaw showed off her pace and ran the ball down the entire pitch but her attack was cut off by the persistent Japanese defenders.

Japan's Shimizu was able to score her first goal of the tournament when she nailed a field goal off a deflection. The goal was referred to the third umpire over a suspected back stick but ultimately the decision was upheld and Australia lost their referral.

Multiple fourth term Penalty Corners saw Fitzpatrick and Padget almost hit the scoreboard but it was Squibb who finally broke through. She was able to convert Australia's first Penalty Corner for the tournament, finding the back of the net for her first international goal.

Australia was unable to make up the required ground in the remaining minutes and fell 3-1 to Japan.

Australia 1 (Squibb 54')
Japan 3 (Nagai 3', Mano 8' Shimizu 45')

Hockey Australia media release


---

Early Goal Enough For Argentina To Beat GB In Champions Trophy



GB v Argentina HCT2018

Great Britain will face Japan in the battle for fifth place at the 2018 Champions Trophy after a narrow loss to Argentina.

Victoria Sauze's early strike was enough to secure victory for the South American side, meaning they qualify for the bronze medal game.

Sarah Jones came closest to scoring for David Ralph's side, seeing a fierce shot brilliantly saved, but it was another day of frustration as they couldn't break through a stubborn Argentinean side.

Despite the final score, Ralph was left feeling positive after an improved showing.

"It was an intense game against a high quality Argentina team," he reflected.

"While we are disappointed with the result we feel we performed well tonight but unfortunately couldn't turn it into a positive result.

"Now we prepare for Japan, which will be another tough game for us but that's why this is a great learning experience."

Needing to win by two goals or more to keep their chances of a medal alive, Great Britain succumbed to a nightmare start as Sauze pounced in the second minute after Sophie Bray had done well to initially block an Argentina corner.

In response, Amy Costello drilled a corner just wide after Giselle Ansley had forced Belen Succi into a block, before Jones drew a world class save from the  Argentinean 'keeper in the 24th minute.

At the other end Lucina von der Heyde, Maria Granatto and Delfina Merino all saw efforts narrowly miss the target while Sabbie Heesh reacted well to keep out an Agustina Habif corner in the final minute of the first half.

The third quarter was a tight and nervy affair, with neither side creating any clear-cut chances, while in the final quarter - despite employing a kicking back for the final seven minutes - GB couldn't force an equaliser.

Great Britain will play Japan in the 5th/6th play-off on Sunday 25 November at 0600GMT, a game you can watch live on BT Sport.

Great Britain 0 (0)

Argentina 1 (1)
Sauze (PC, 2)

Starting XI: Heesh (GK), Unsworth, Evans, Toman, Townsend, Sanders, Ansley, Bray, Pearne-Webb (C), Owsley, Balsdon

Subs: Tennant (GK), Martin, Robertson, Petty, Howard, Jones, Costello

Great Britain Hockey media release


---

Great Britain lose 1-0 to Argentina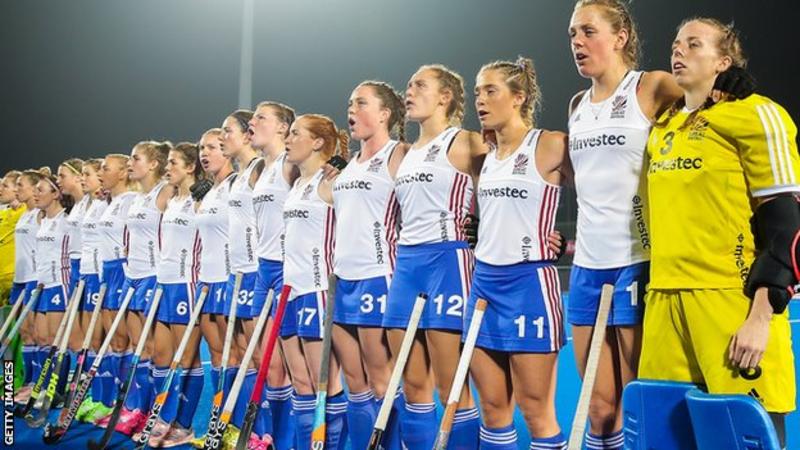 GB bid to end their disappointing campaign with a win against Japan in the fifth-sixth play off on Sunday

Great Britain lost 1-0 to Argentina in their final round-robin Champions Trophy match, ending their hopes of qualifying for the bronze medal match.

As a result, Argentina will play hosts China for the bronze, while GB face Japan for fifth place.

The Las Leonas took an early lead via Victoria Sauze and defended resolutely to restrict Britain's chances.

Sarah Jones had GB's best opening but she was denied by a brilliant save by Argentina keeper Belen Succi.

Reigning Olympic champions GB also lost to The Netherlands and Australia at the event in China.

They drew 2-2 with both the hosts and Japan, despite taking an initial two-goal lead against the Japanese.

Meanwhile, undefeated The Netherlands, who had already qualified to play Australia in the final, beat China 2-1 in their last round-robin game, while Japan secured a 3-1 victory over the Hockeyroos.

GB play Japan at 06:00 GMT on Sunday, with the bronze medal match following at 08:15 GMT and the pushback for the final scheduled for 10:30 GMT.

BBC Sport


---

Pakistan check in

Arrive in India through Attari-Wagah joint checkpost

Neeraj Bagga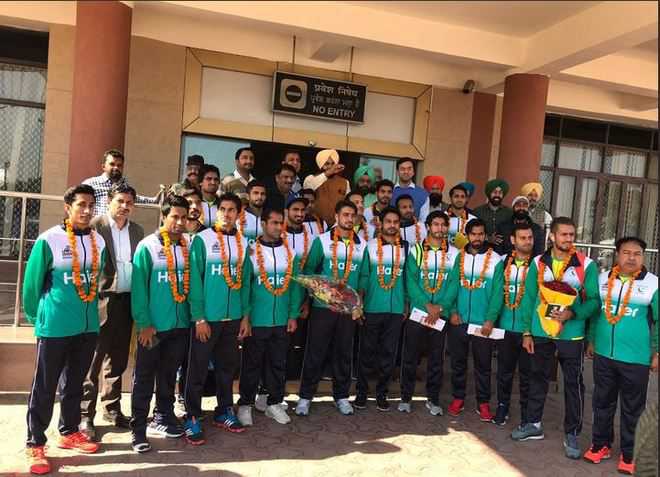 The Pakistan team crosses over through Attari, and reaches Bhubaneswar via Delhi. Tribune photo

Amritsar: The 24-member Pakistan hockey team crossed over to India through the Attari-Wagah joint checkpost to take part in the 2018 hockey World Cup starting in Bhubaneswar from November 28. Member of Parliament Gurjeet Singh Aujla welcomed the visitors at the border.

Pakistan team manager Hasan Sardar said, though Pakistan hockey team was world No. 13, its blend of youngsters and senior players could pull a surprise. He added that the players would certainly be a force to reckon with in the tourney.
Exuding confidence, goalkeeper Imran Butt said all players were keen on leaving the history behind and focusing on the World Cup, in which Pakistan had an enviable record. Pakistan have won the title four times and claimed silver twice. Pakistan are  placed in Group D alongside the Netherlands, Germany and Malaysia. The team later departed for Bhubaneswar, where it arrived in the evening via Delhi.

Bhubaneswar: Australia captain Aran Zalewski believes it will be one of the most open men's hockey World Cups in recent times and his team will have to test themselves against the best to defend the title. "World hockey is close at the moment and very competitive and any team can win. Obviously, India at home with home crowd will be very tough to beat," said Zalewski after arriving here with his team. "We have a chance to test ourselves against the best in the world as we haven't tested ourselves since the Rio Olympics so we want to do very well here," he added. It is a sort of homecoming for Australia, who had claimed the Champions Trophy in 2014 and the Hockey World League Final in 2017 here.

The Tribune


---

Pakistan waiting to turn the corner

Intensity should be restricted to the game on field: Imran Butt

Uthra Ganesan



Focussed: The Pakistan team — seen after its arrival at the Wagah border — will hope to get its act together and deliver. 

It looked like Pakistan hockey was finally beginning to improve at the Asian Games three months back under coach Roelant Oltmans but it was soon back in familiar territory.

The Dutchman quit soon after, Muhammed Saqlain left the staff midway through the Asian Champions Trophy and the team was struggling to mop up funds for the World Cup. Not surprisingly, the players felt relieved when they finally landed in Bhubaneswar late on Saturday evening.

"Yes there was a lot of mental pressure in the run-up. But we had good support from our federation. Despite all the issues, we were told to only focus on our game and not bother about other things," Imran Butt, goalkeeper and one of the seniormost players in the side, told The Hindu.

"That is easier said than done of course and the fact that we reached the final of Asian Champions Trophy was only because the boys were mentally strong enough to come back into the game. As of now, we are only focused on our matches ahead," he added.

Butt is among the key cogs in Pakistan's wheel of hope, one of the seven survivors from the team's last visit to the city and would be keen to replicate that success when Pakistan upset calculations — and host India in the semifinals — to reach 2014 Champions Trophy final.

He is also aware that hockey has changed in the intervening years. The world order has been rattled by Rio Olympics and Pakistan itself is returning to the World Cup after eight years, the last outing being in 2010, again incidentally in India.

More importantly, the last time Pakistan played at the Kalinga Stadium the team provoked the crowd with gestures and led to friction between the two federations that continues to simmer.

"I still don't agree to whatever happened, it shouldn't have. Aggression on field during the game is fine but what happened in 2014 was not right. It also affected us in the final because till then the crowd had been supporting us in non-India games but the final was like home support for Germany," said Butt.

"All I wish for is that there should not be anything like that ever again and all the intensity of players should only be restricted to the game on field."

From Lahore to Wagah via road and then transits through Amritsar and Delhi airports, the Pakistan team has travelled quite a distance to reach the World Cup venue. Butt, aware that this might well be his last chance to fulfil a dream, is hoping it ends a much longer wait for success for Pakistan hockey.

Hindu


---

Dutchman Oltmans relishing his Asian adventure ahead of World Cup

By Aftar Singh




Roelant Oltmans has 29 years coaching experience and guided the Holland women's team to the 1990 World Cup in Sydney. He then took over the Dutch men's team and led them to the 1996 Olympic gold in Atlanta and also the 1998 World Cup in Utrecht, Holland.

Oltmans also coached Pakistan from 2003-2004, India(2013-2017) before taking over as Malaysia coach.

Starsport's Aftar Singh sat down with the 64-year-old Dutchman to talk about the upcoming World Cup in Bhubaneswar, India.

Q: Why do you like to coach the Asian teams?

A: I always get approached by Asian countries. And with my experience in coaching, I always say yes to Asian teams. I love the Asian countries and also their cultures. I'm happy coaching in Asia.

Q: Pakistan were the last Asian team to win the World Cup in Sydney in 1994. Why are Asian countries finding it difficult to win the World Cup since then?

A: One of the biggest problems with Asian teams is their development programmes and competitions structure. In Europe and Australia, children start playing hockey at an early age – at five. But in Asia, the children only startat the age of 10. If you start playing at five, by the time you reach 10 you will be able to learn the skills well.

In Europe, players are already used to playing a lot of matches at an early age but in Asia, there is a lack of match exposure for young players. The players must play more together as a team rather than individually.

Q: What are the main strengths of the Asian teams?

A: The Asian players are skilful and agile. They are small-sized but they're fast in making a turn to open up the game. They must use this strength and weapon to beat their opponents. The Asian players, however, like to run with the ball more compared to the European teams as they make more passes than run with the ball. In hockey, you must know when to run with the ball and when to make a pass.

Q: After the success at the Utrecht World Cup, you switched from hockey to football and then back to hockey. Why didn't you stick with football?

A: After the achievement at the Utrecht World Cup, I was the general manager of NAC Breda, a Division One football club. I really enjoyed certain aspects of football. But in Holland, football fans can be really difficult at times as they threaten you and your family. And that's what you don't want to face. That's why I did not continue with football.

Q: In the recent Asian Games, Malaysia wasted the chance to qualify for the Olympics, squandering a 5-2 lead against Japan in the final and then losing the shootout. Why did that happen?

A: We had a discussion with the players about how to win a game and we definitely don't want to repeat the mistake in the World Cup. Two things are very important in a tournament – game management and tournament management.

The players must learn how to gauge the game. When we're leading, the players must make sure they stay in the lead by having more ball possession. And when we are trailing, they must be able to fight for the ball and create chances to win the match.

The Star of Malaysia


---

Don't Toy with Marhan

By Aftar Singh




KUALA LUMPUR: Muhd Marhan Mohd Jalil is a big Toy Story fan and loves to collect characters from the hit animated feature. But as a hockey player, he's not one that opponents can toy with.

He's the most influential midfielder in the national team. Marhan is also noted for his tough-as-nails character after enduring the pain of a serious ankle injury two years ago.

The Muar-born Marhanalmost gave up hockey after he was sidelined for four months after suffering the injury in the second leg of the TNB Cup semi-final match against Kuala Lumpur Hockey Club (KLHC).

The Sapura skipper had to miss two tournaments in 2016 – the Australian Hockey League and the Asian Champions Trophy in Kuantan.

Marhan, admired for his industry on the field, revealed he not only suffered a fracture but also had two muscle tears in his ankle.

"The injury was a blow to my hockey career as I thought that I'll never play again for the national team," recalled Marhan.




"It took me four months to recover but I never gave up as I still have the desire to play for the country. Hockey is in my blood and I want to play for Malaysia as long as I can."

Marhan's strength of character was tested again after he fractured his toe in the Sultan Azlan Shah Cup in Ipoh in March.

In the match against Argentina, Marhan was trying to save a powerful drag flick from penalty corner specialist Gonzalo Peillat when the ball hit his toe.

Marhan was out of action for more than a month and missed the Commonwealth Games in Gold Coast, Australia, in April.

"Injuries ended the careers of many national players. I'm keeping my fingers crossed that I will stay injury-free for the World Cup," said Marhan.

Boasting 231 international caps, Marhan has played against all the top European teams in tournaments.

Marhan said Malaysia face a daunting challenge in the World Cup in Bhubaneswar, India, with former world champions Holland and Germany in theirgroup. The other team in Group D is Pakistan.

"We need a good start in the opening match against Holland on Dec 1.

"We're progressing well for the World Cup after defeating a higher-ranked New Zealand 4-2 in our third Test match (at the National Stadium in Bukit Jalil on Thursday).

To relax and unwind after a hard day's training, Marhan has his Toy Story characters to keep his sense of fun alive.

"When I'm free, I spend my time collecting Toy Story characters.

"I already have more than 100 of them. I just love them all."

Call that a kids' hobby but it's sure keeping Marhan animated on the pitch.

The Star of Malaysia


---

Taste international food during Men's Hockey World Cup

Sports lovers seeking to enjoy the upcoming Men's Hockey World Cup here would have one more reason to celebrate the event - a food festival is being organised to serve them gastronomic delights from across the globe.

The International Food Festival will be a part of the Bhubaneswar City Festival, to be organised during the 3-week long mega sporting event from November 28 to December 16.

Leading hotels, restaurants and hotel and catering institutes have become partners of the event who will set up kiosks where their culinary ideas will satiate the food connoisseurs of the city, organisers said.

Altogether 16 nations from five continents are taking part in the World Cup and each partner will prepare four food items from one of these countries, four from Indian states and two street foods of Odisha.

"So, under one roof, visitors can taste the world cuisine, Indian delicacies and lip smacking street food of Odisha. They will really need a large platter," said a source in the Bhubaneswar Development Authority which is organising the event in association with the state tourism department.

The food festival will be held at the IDCO Exhibition Ground at Unit III here from December 1 to December 16.

To give a unique character to the offerings at the food festival, each stall would have a state theme, a country theme and an Odia theme, the source said.

The venue will also have several selfie-points with major international monuments such as the Eiffel Tower of Paris, the Taj Mahal of Agra and the beautiful arch of 10th Century Mukteswar temple of Bhubaneswar.

Besides food, visitors at the Bhubaneswar City Festival can also enjoy songs, music and dance of reputed artistes from across the country.

The Tribune


---

ROUND-UP: Investec English Women's Hockey League



Clifton goalscorer Catherine Macauley goes close with another attempt. Credit Peter Smith

Beeston battled back from behind to beat leaders Surbiton 2-1 and climb into the top half of the table in the Investec Women's Premier Division on Saturday.

Surbiton took an early lead in the third minute when Susie Catlin found the net from open play.

Beeston equalised in the 40th minute when Eloise Stenner scored from a penalty corner before Bridget Kiddle scored the winner in the same fashion in the 53rd minute.

Beeston held out to secure all three points and inflict only a second defeat of the season on Surbiton.

Holcombe kept up the pressure on leaders Surbiton with a 3-1 victory at home against the University of Birmingham.

Leah Wilkinson struck first for the home side when she found the net from a penalty corner in the 12th minute. Harriet Mitchell drew the visitors level in the 41st before Holcombe led again in the 43rd from a goal from Joanne Westwood.

Heather McEwan sealed the victory and all three points in the 58th minute after she scored from a penalty corner.

Bowdon Hightown secured their second victory of the campaign with a 2-0 win at home to Buckingham.

Sian French and Aine Curran were the goal scorers for the home side.

Elsewhere, Clifton Robinsons were 2-0 winners at home to bottom of the table Canterbury.

Goals from Claire Thomas and Catherine Macaulay were enough to clinch the points for the home team.

East Grinstead ran out 1-0 winners at home to Slough. Georgie Blackwood scored the only goal of the game in the 29th minute from a penalty corner.

Investec Conference West

Swansea City's 5-1 win at home against Exe in the Investec Women's Conference West on Saturday saw them keep pace with leaders Stourport.

Jess Lea opened the scoring for the home side before Livvy Hoskins added a double and Amy Burton and Katrin Gierak added a goal each, while Ruby Jarman scored the only goal of the game for Exe.

Top of the league Stourport secured another win with a 1-0 victory at Trojans with Lottie Atkinson scoring the winner in the seventh minute with a goal from open play.

Elsewhere, Gloucester City produced a good performance at Barnes winning 6-0, Isca won 2-1 at home to Olton & West Warwicks and Oxford Hawks and Reading played out a 1-1 draw.

Investec Conference North

Alice Rolfe, Ashley Mainwaring and Sophie Byrne found the back of the net in Loughborough Students' 3-0 win over Timperley to keep their unbeaten start and in the Investec Conference North.

Brooklands-Poynton climbed to third with a 2-1 win over University of Durham thanks to a double from Izzy Wray; also part thanks to Ben Rhydding and Leicester playing out a 3-3 stalemate.

Fylde edged away from the bottom two with a 3-1 win over bottom side Sutton Coldfield.

A mid-table clash between Belper and Leeds ended with the former taking all three points in a 2-1 triumph.

Investec Conference East

Hampstead & Westminster retained their place at the top of the Investec Conference East with a 3-1 win at Harleston Magpies.

Lauren Turner, Annabel Driver and Hayley Turner scored the winning goals for the away side, while Rose Winter was on the scoresheet for Harleston.

Wimbledon continued their challenge for the title and kept the pressure on Hampstead with a 5-1 win at home to Southgate.

Nicola Lloyd (2), Fiona Burnet, Millie Giglio and Eliza Brett scored the goals for the home side, while Katie Hopkisson scored a consolation for Southgate.

Elsewhere, Cambridge City performed well at St Albans winning 4-0, Horsham secured their third win of the season with a 4-2 victory at Ipswich and Sevenoaks won 2-0 at Bedford.

RESULTS:

Investec Women's Premier Division: Bowdon Hightown 2, Buckingham 2; Clifton Robinsons 2, Canterbury 0; East Grinstead 1, Slough 0; Holcombe 3, University of Birmingham 1; Surbiton 1, Beeston 2.

Investec Conference West: Barnes 0, Gloucester City 6; Isca 2, Olton & West Warwicks 1; Oxford Hawks 1, Reading 1; Swansea 5, Exe 1; Trojans 0, Stourport 1.

Investec Conference North: Belper 2, Leeds 1; Ben Rhydding 3, Leicester 3; Sutton Coldfield 1, Fylde 3; Timperley 0, Loughborough Students 3; University of Durham 1, Brooklands-Poynton 2.

Investec Conference East: Bedford 0, Sevenoaks 2; Harleston Magpies 1, Hampstead & Westminster 3; Ipswich 2, Horsham 4; St Albans 0, Cambridge City 4; Wimbledon 5, Southgate 1.

England Hockey Board Media release


---

Onyango-inspired Strathmore go third

By VINCENT OPIYO



Sikh Union's Davis Wanangwe (left) dribbles past Strathmore University's Ben Wahingo during their Kenya Hockey Union men's Premier League match on August 5, 2018 at City Park Stadium. PHOTO | CHRIS OMOLLO |  NATION MEDIA GROUP

Parklands Sports Club fell 4-1 to Festus Onyango-inspired Strathmore University Gladiators in a thrilling Kenya Hockey Union men's Premier League match at City Park Stadium on Saturday.

Onyango, who claimed a brace in last Sunday's 2-1 win over Parkroad Badgers, scored a hat-trick in the game to lift his side into third on the league standings on 32 points with a game to the end of the season.

Parklands, who scored a consolation through Peter Galinga's 45th minute field goal, have already wrapped up their season with 26 points after 22 matches.

They sit sixth on the 12-team log having posted eight wins, two draws and 12 losses this term but could go down should Nakuru Club, placed third from bottom, win their remaining two games with at least 14 goals to match Parklands' 26 points and surpass their goal difference.

"We are getting closer to our secondary objective of finishing in the top four after today's game," Strathmore coach Meshack Senge said after the match. "It's a welcome relief because we are beginning to have a proper grasp of the concepts that we've tried to work on."

Edgar Makete set the students underway with a sixth minute field goal before Onyango doubled their advantage two minutes later for a 2-0 lead at the end of the first quarter.

GALINGA ON TARGET

The Kenyan international then scored his second and Strathmore's third after finding the top of the roof with his trademark backhand on 44 minutes.

Strathmore's defence was finally breached, with Galinga reducing the deficit on 45 minutes but Onyango completed his hat-trick on 50 minutes with another field goal.

In the men's super league at the same venue, Mariach Lobode's 43rd minute field goal is all Kabarak University needed to down Mombasa Sports Club 1-0 and sign off the season on a high despite suffering relegation to the national league.

Kabarak, who join Wazalendo Masters as the two demoted teams, have finished bottom of the 11-team log on 17 points, one below Wazalendo, after 20 rounds.

Leaders Chase Sailors, Multimedia University and Mvita are chasing the single promotion slot to the top flight.

In the women's Premier League, Sliders and Jomo Kenyatta University of Agriculture and Technology (JKUAT) battled to a one-all draw earlier on.

Dia Khimasia shot Sliders ahead on 17 minutes but her field goal was cancelled by Faith Mdogo's strike on 49 minutes.

Sliders are fifth on the seven-team table with eight points similar to sixth placed JKUAT with a match to spare.

RESULTS

Men's Premier League: Strathmore University 4-1 Parklands
Men's Super League: Kabarak University 1-0 Mombasa Sports club
Men's National League: Karate Axiom 1-4 Daystar
Women Premier League: Sliders 1-1 JKUAT

Daily Nation


---

Sliders fail to see off JKUAT students

By Elizabeth Mburugu

Sliders hopes of registering a third victory in the ongoing Kenya Hockey Union (KHU) women's Premier League were dashed yesterday after they were held to a 1-1 draw by Jomo Kenyatta University of Agriculture at Technology (JKUAT) at City Park.

Sliders have had a tough season and are currently one place above relegation with eight points.

They have registered two victories, two draws and seven losses  and have one match remaining.

Coach Liner Onyango said that they faced challenges as a team that affected their performance. "We salvaged a point but we did not play well.

"We lost clear chances as well as short corners that if we properly utilised we would have secured victory.

Get the latest sports news updates. Subscribe to our SMS sports service by texting 'SPORTS' to 22840.

Not being able to train together as a team this season was our major undoing.

"We have one match remaining and we look forward to ending the season with victory," Onyango said.

Sliders took the lead in the 17th minute through Dia Khimasia.

The Standard Online


---

Joint Statement by The South African Hockey Association And The Players For Transformation Movement 18 November 2018 (Johannesburg)

The South African Hockey Association (SAHA) and the Players for Transformation (PFT) movement held a meeting today that was facilitated by Mr Barry Hendricks (2nd Vice President) from the South African Olympic Committee (SASCOC).

At the meeting, SAHA and PFT discussed various issues relating to transformation of hockey in South Africa and the way forward.

The main outcomes of the meeting were as follows:
    A Transformation Indaba for hockey will be taking place (to be facilitated by SASCOC) - the full details will be released once they are confirmed;
    A Task Team (team) has been created to accelerate the pace of transformation of hockey (at all levels – school, provincial and national) in South Africa;
    The team is comprised of representatives from both SAHA and PFT. The SAHA members are Shaune Baaitjies (SAHA Governance & Transformation Subcommittee Chairperson) and two other SAHA members to be added. The PFT members are Phumelela Mbande and Shane Johnson;
    The team will agree on the Terms of Reference by Friday, 30 November 2018; and
    The team will then have its first meeting in December 2018.
The team will then report back to their respective constituencies regarding the work of the team. It is hoped that this will result in proactive and meaningful steps towards the achievement of transformation of hockey in South Africa.

SA Hockey Association media release