All the news for Thursday 22 November 2018

Wanglibao Hockey Champions Trophy Changzhou Wujin 2018 - Day 4
Changzhou (CHN)

Fixtures 22 November

14:00      ARG v JPN (RR)
16:00     CHN v AUS (RR)
18:00     GBR v NED (RR)    

Pool standings
---

Test Matches 22 November 2018

2018 Test Matches: JPN v CAN (M) - 2nd Test
Tsukidatetakada, Kurihara city (JPN)

JPN v CAN     1 - 3

2018 Test Matches: MAS v NZL (M) (GMT +8) - 3rd Test
Kuala Lumpur (MAS)

18:00     MAS v NZL

FIH Match Centre


---

Oltmans does not want another defeat

By SAIFUL AFFENDY SAPRAN

KUALA LUMPUR: National men's hockey squad coach Roelant Oltmans is hoping for a positive result in their final friendly match against New Zealand at the National Hockey Stadium in Bukit Jalil tomorrow (Thursday) before they depart for Bhubaneswar, India for the World Cup which takes place from November 28 (Wednesday) to December 16 (Sunday).

The Dutch born coach stressed that he will be putting his strongest first-eleven for the final friendly match against the Kiwi's in efforts to carry out a final analysis of his squad.

The previous two friendly matches against New Zealand did not favour Malaysia as the national side went down 2-1 and 4-3 where there were a couple of glaring weaknesses that were identified which needed immediate attention.

"We will definitely field our strongest side but if there are any injuries then I will need to think of the best alternatives.

"We also need to ascertain the extent of the injury faced by captain Sukri Mutalib.

"The team must perform better in order to get a more positive result compared to the previous two matches before this," stressed Oltmans.

Sukri was the worse for wear when he was ploughed into by a New Zealand player during the second friendly match which saw him being substituted before he returned in the second quarter after receiving treatment.

"I am sure that all the players are eager to perform to the very best of their abilities especially with the World Cup just around the corner," said Oltmans.

Meanwhile, New Zealand coach Darren Smith is also hoping that his side can keep their winning momentum going for the third and final match.

"Last week during the first friendly match our players did quite well, and they were able to so once more during the second match. It is very encouraging to see such positive developments especially since the World Cup begins next week," said Smith.

New Straits Times


---

New Kit On The Block

By Jugjet Singh



PIC: From left -- Shukri Mutalib, Tengku Ahmad Tajuddin, Fitri Saari, S. Kumar and Joel van Huizen.

KUALA LUMPUR: The Malaysian Hockey Confederation (MHC) unveiled their new kit for the World Cup, which came with an instruction to 'have fun, and get the desired results'.

While the white and orange colours were retained, the adidas kit looked much more sporty and fierce to go with their nick name -- Speedy Tigers.

White will be for away matches, orange for home while red is for training purposes. A greyish tracksuit and bottom will be used for official functions.

Adidas had also sponsored shoes for the Asian Games in Jakarta.

"We would like to thank adidas for coming in as sponsors via Vic Sports, and these colours will not only be used for the World Cup but for all other following tournaments.

"And my message to the players heading to Bhubaneswar is to have fun and get the desired results. Even though we are in a tough group with Netherlands, Germany and Pakistan I believe the team is good enough to qualify for the next round and hopefully finish among the top-10," said MHC president Datuk Seri Subahan Kamal.

Malaysia, in Group D, must win at least one match to advance to the play-off stage. And it looks like Pakistan are the best bet to collect three points from.

The team will use their new jerseys for the first time in the Third Test against New Zealand at the National Stadium in Bukit Jalil Thursday.

Jugjet's World of Field Hockey

---

Who will top the pools at the Odisha Hockey Men's World Cup Bhubaneswar 2018?



Argentina's Matias Paredes

With the start of the Odisha Hockey Men's World Cup Bhubaneswar 2018 less than one week away, the final countdown to the global showcase is well and truly on. Ahead of the start of action at the revamped, 15,000 capacity Kalinga Hockey Stadium, we take a look at the teams who will face each other in each of the four pools.

A guaranteed birth in the competition quarter-finals is on offer to the team that finishes top of each group, with the second and third placed finishers needing to play an extra cross-over play-off match for their place in the last eight. For the teams that finish bottom of each pool, elimination beckons. Expect every match to be intense and action-packed.

Pool A: Argentina (FIH Hero World Ranking: 2), Spain (WR:8), New Zealand (WR:9) & France (WR:20)
While Olympic champions Argentina will rightly be regarded as the hot favourites to win Pool A, they will certainly not it all their own way. Los Leones (The Lions) are blessed with some wonderful player, with Lucas Vila being one of the best attackers around while Gonzalo Peillat is quite possibly the finest penalty corner drag-flicker in the game. That said, all three of the other teams in Pool A are capable of upsetting the Pan-American champions.

Spain Head Coach Frederic Soyez has stated that his team are capable of challenging for the medal positions, and his squad selection more than justifies that optimism. Vast experience comes from 200-capped athletes such as goalkeeper Quico Cortes, Sergi Enrique, Miguel Delas and Pau Quemada, while the outrageously gifted young attacker Enrique Gonzales is certainly a player capable of hurting any opponent. New Zealand's Black Sticks are another team containing plenty of world level experience, with team captain Blair Tarrant well aware that his team can match anyone on their day, whilst France – lead by towering defender and penalty corner expert Victor Charlet – will be keen to make the most of their first World Cup in 28 years.

Pool B: Australia (WR:1), England (WR:7), Ireland (WR:10) & China (WR:17)
Back at the top of the FIH Hero World Rankings after being briefly usurped by Argentina, Australia's Kookaburras are searching for a third successive World Cup triumph following their stunning victories in Delhi (2010) and The Hague (2014). Their recent record in India is impressive, especially in Bhubaneswar, having claimed the titles at both the Champions Trophy in 2014 and the Hockey World League Final in 2017. Jake Whetton, Trent Mitton, Jeremy Hayward and Blake Govers are all regular goal-scorers for the title holders. It will take a very special team to stop the side coached by former Kookaburra and 1986 World Cup winner Colin Batch.

England Head Coach Danny Kerry will certainly do everything in his power to implement a plan to overcome the Australians – he did something similar at the Rio 2016 Olympic Games when he guided Great Britain's women to gold by defeating the top ranked Netherlands team. The 400+ capped Barry Middleton remains a hugely influential player for England, while prolific striker Sam Ward gives the team a cutting edge up front. Ireland's Green Machine, who return to World Cup action for the first time since 1990, have proven in recent years that they cannot be underestimated. The 2015 European bronze medallists have a world class goalkeeper in David Harte, while Shane O'Donoghue is a dynamo at the heart of the midfield. For China, this is their first ever appearance at a men's World Cup and find themselves facing stiff opposition. However, if penalty corner expert Du Talake is firing then they have every chance of upsetting the odds.

Pool C: Belgium (WR:3), India (WR:5), Canada (WR:11) & South Africa (WR:15)
An Olympic silver medal claimed at Rio 2016 means that Belgium's Red Lions will be regarded by many as the team to beat in Pool C. A dramatic rise up the rankings in recent years sees them now rated as the third best team in the world. They blessed with numerous truly world class individuals including Rio 2016 silver medallists Cedric Charlier, Tom Boon, John-John Dohmen, Thomas Briels, Simon Gougnard, Felix Denayer, Arthur Van Doren and Vincent Vanasch, the latter two being named the respective Men's Player and Goalkeeper of the Goalkeeper of the Year for 2017 at the FIH Hockey Stars Awards. With so much talent at their disposal, Belgium should be regarded as serious contenders for the title.

However, topping Pool C will certainly not be a simple task for Belgium. Host nation India will be powered on by huge crowds during all of their matches, with Head Coach Harendra Singh keen to lead the senior side to World Cup glory as he did with the Indian U-21 team at the Junior World Cup in Lucknow two years ago. Many of those up and coming players have been selected for the senior side, with Harmanpreet Singh, Varun Kumar, Sumit, Nilakanta Sharma, Simranjeet Singh and Mandeep Singh all chosen to represent the nation on this incredible stage.

Canada, captained by defensive rock Scott Tupper, have regularly proven themselves against supposedly superior opposition and will be looking to do so once again in Bhubaneswar, as will African champions South Africa and their talismanic defender Austin Smith.

Pool D: Netherlands (WR:4), Germany (WR:6), Malaysia (WR:12) & Pakistan (WR:13)
While Netherlands and Germany are widely expected to be front-runners for that all-important first place finish, Pool D certainly has the potential to be unpredictable. The Dutch are the pool's highest ranked team and the reigning European champions, with Head Coach Max Caldas getting the best out of a talented group that many believe has the potential to lift the trophy in Bhubaneswar. They have numerous world class individuals amongst their ranks including star midfielders Billy Bakker and Robbert Kemperman, while brilliant goal-scorer Mirco Pruijser, resurgent attacker Jeroen Hertzberger and penalty corner expert Mink van der Weerden are all capable of producing game-changing moments.

Germany are another team with quality in abundance. Florian Fuchs and Christopher Rühr are world class attackers, as is rising star Timm Herzbruch, who will be keen to show his exceptional abilities after a lengthy injury lay-off. Behind the forward line are some exceptional midfielders including Tobias Hauke and Mats Grambusch, while team captain Martin Häner is a rock at the heart of the team's defence. Challenging the Netherlands and Germany are Malaysia and Pakistan, two teams that are not exactly short of talent themselves. Faizal Saari is a wonderful attacking midfielder for a Malaysia team now being coached by Roelant Oltmans, the Dutchman whose numerous accolades include winning World Cups with both the Netherlands women (1990) and men (1998). Four times World Champions Pakistan are another team with great talent and the ability to cause an upset. Green Shirts captain Muhammad Rizwan Sr will be single-minded in his ambition to ensure that his side performs to the best of their abilities in Bhubaneswar.

As well as welcoming the world's greatest hockey teams, the state of Odisha is also holding two studded occasions ahead of the start of action. On Tuesday 27 November, the breathtaking Kalinga Hockey Stadium will welcome a sell-out crowd for a very special opening ceremony that will feature a performance from Oscar-winning music maestro A R Rahman as well as appearances from prominent Bollywood celebrities. A day later (Wednesday 28 November), the 40,000 capacity Barabati Stadium in nearby Cuttack will see Mr Rahman and numerous other stars taking part in a World Cup Celebration event, where massive crowds are again expected in attendance. Following the show, India's World Cup opener against South Africa will be broadcast live to an excited crowd via giant screen in the stadium. An electric atmosphere is both stadiums is widely expected. Tickets for the World Cup Celebration in Cuttack are still available and can be purchased by clicking here.

The Odisha Hockey Men's World Cup Bhubaneswar 2018 will kick off on 28 November and end on 16 December. The Men's World Cup is played every four years.

#HWC2018

FIH site


---

World No. 1 Australia are clear favourites to lift the World Cup



Solid squad: Australia coach Colin Batch (left) said that his team are selected based on the performance in the Darwin International and Australian Hockey League.

KUALA LUMPUR: World No. 1 ranked Australia will be the team to beat in the 14th edition of the World Cup in Bhubaneswar, India, which begins on Nov 28.

The Kookaburras are gunning for their third consecutive World Cup after winning in New Delhi in 2010 and The Hague, Holland, in 2014.

Australia have won all the major tournaments in the world like the World League in Bhubaneswar last December, the Commonwealth Games in Gold Coast, Australia, in April, the Champions Trophy in Breda, Holland, in July and the four-nation Darwin International tournament in September.

They are drawn in Group B with world No. 7 England, Ireland (No. 10) and China (No. 17), who are playing for the first time in the World Cup.

Australian coach Colin Batch said that they were very excited with the team they have selected.

"The team is selected based on their performance in the Darwin International and also the in Australian Hockey League (AHL)," said Batch.

There are few changes from the Australian team played in the tournament in Darwin with AHL top scorer.

Blake Govers and Trent Mitton are back in the team after missing out the Darwin tournament from injuries.

Aran Zalewski and Eddie Ockenden will again lead the team as co-captains.

Zalewski was named as the best player in the Champions Trophy in Breda.

Batch reckons the men's World Cup this year will be an open affair.

"There were some shocking results in the Women's World Cup in London in June.

"I expect the men's competition to be very similar. Every match is going to be tough.

"Overall, it's going to be a very difficult World Cup," said Batch.

Australia will open their campaign against Ireland on Nov 30.

The Star of Malaysia


---

South Africa captain Tim Drummond says it will be a privilege to play India in first game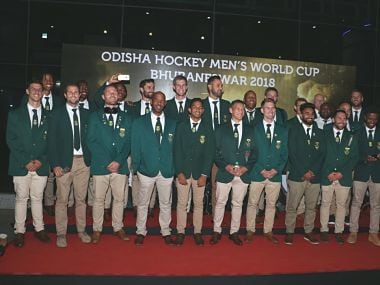 South Africa hockey team arrive in Bhubaneswar to play in the World Cup. Hockey India

Bhubaneswar: Playing hosts India in the opening match of the World Cup Hockey is the kind of challenge any team awaits, said South African captain Tim Drummond.

South Africa will be playing India in a pool C encounter at the Kalinga Stadium on 28 November.

"It will be a privilege to play India in the first match and experience the crowd. I have heard it is going to be very loud with all the cheering," Drummond said.

"Though it's not my first time in India, many of my teammates are travelling here for the first time and they are very excited to be playing in Bhubaneswar, which has great support for hockey," the South African captain added.

He is confident that they will improve from their 10th place finish during the last edition.

"South Africa's best performance in the past was finishing 10th and we will certainly be looking at improving that. Our aim is to give our best and make our country proud. We played four test matches against France before arriving here so we have had some good match practice ahead of the tournament," he added.

The team's have started arriving and Argentina, one of the formidable sides are already in the city.

Argentina's dragflick sensation Gonzalo Peillat said, "It will be a great tournament, playing in Bhubaneswar again in front of a crazy crowd. The entire team is looking forward to it and are very excited to be back."

The Olympic champions have a new chief coach in Germn Mariano Orozco, who replaced former Chief Coach Carlos Retegui in early 2018 and is a former defender for Argentina having played the Olympic Games in 2000 and 2004.

"I think we have good experience and have played quite a few tournaments in the lead up to the World Cup under new coach Orozco. We have been performing well under him," said a confident Peillat.

Firstpost


---

Dangerous and in-form Canada capable of causing upsets in marquee event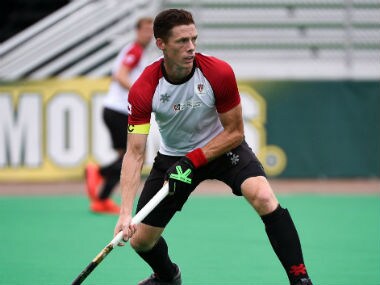 Scott Tupper-led Canada will open their campaign on 28 November. Twitter

At first glance, Canada's hockey team has little to ring alarm bells, but delve deeper, and one realises that the Red Caribous have enough arsenal to cause serious heartburn to fancier names. India, who are grouped with the 11th-ranked team along with Belgium and South Africa, would tread with some caution, if not trepidation, against Canada. After all, it was their 2-2 draw against the Scott Tupper-led side at the Rio Olympics in 2016 that ensured India met a superior Belgium team in the quarters, and despite a brave performance against the eventual silver medallists, India went down 1-3.

For players such as VR Raghunath and Sardar Singh, that loss still rankles, for India did have a team to go deep in the competition. But that's how it goes in sports, and India, still smarting from the Asian Games loss to lower-ranked Malaysia, would do well to not take Canada lightly. Even last year, Canada beat India at the Hockey World League Semi-Finals in the fifth-place playoff to secure their World Cup berth. Then, they rallied from a 1-2 deficit to score two goals in the second half to complete an unlikely win.

This year, the Paul Bundy-coached team finished eighth at the Commonwealth Games in Gold Coast, losing to New Zealand, Australia, South Africa, and Pakistan. Earlier, they played the 5-Nations tournament in Spain, where they finished third. They also hosted China and Pakistan 'A' over the summer and won eight of their 10 matches, losing just once. Now the team is coming off a successful final tour of New Zealand where they beat the Blacksticks in a four-game test series.

Having failed to qualify for the 2014 edition of World Cup, Canada will hope to leave a mark in their sixth appearance at the event. Their best finish so far has been the eighth-place result in 1998, and with the likes of Tupper, Mark Pearson and David Carter in their ranks, Canada have every reason to believe that they can match, if not better, that performance.

Canada open their World Cup campaign against World No 3 Belgium on 28 November, before locking horns with South Africa in what promises to be a grudge match, given the Commonwealth Games history. Their final group game will be against hosts India, and Tupper's team will step out on the Kalinga Hockey Stadium turf believing that they can upset a few applecarts.

Canada Squad: Balraj Panesar, Brandon Pereira, Gordon Johnston, Scott Tupper (captain), Keegan Pereira, Matthew Sarmento, Iain Smythe, James Kirkpatrick, Oliver Scholfield, Antoni Kindler, David Carter, Mark Pearson, Sukhi Panesarbc, Gabe Ho-Garcia, John Smythe, Richard Hildreth, Brednen Bissett, Jamie Wallace

Chief Coach: Paul Bundy

Firstpost


---

Divergent approach

By Aftar Singh

KUALA LUMPUR: Syed Mohamad Syafiq Syed Cholan and Muhammad Azri Hassan both play as defenders and will be featuring in their first World Cup in Bhubaneswar, India.

But the duo have a different personal interest when they don't play hockey.

Syed likes to play video games and his favourite game is car racing.

Azri likes to hang out in malls to do window shopping and also spend time at cafes.

Syed has been playing games for three years and he has a collection of video games.

Asked why Syed likes to play video games, the player from Ipoh said that playing video games helps improve the brain performance.

"When you play a car racing game, you need to think in a split second before making a decision in a game.

"If you make a wrong decision, you won't be able to play at the next level.

"Playing the game helps improve your memory and also improves your brain speed.

"It also enhance your multi-tasking skills and this is vital in a hockey match," said Syed, who is pursuing a degree in human development at Universiti Putra Malaysia (UPM).




Syed added that when playing a hockey match, one has to think fast to make a decision as hockey is played at a fast pace.

"Hockey is a power game and you need to be mentally strong to play well.

"It also involves a wide range of physical demands on players such as speed, muscle endurance, power and agility.

"Malaysia will face a torrid time in the World Cup as we will face strong opponents and higher-ranked teams like Holland and Germany.

"I have never played against Holland and Germany before and I also don't know when Malaysia last played against these two European teams.

"We will have our backs against the wall as Holland and Germany are top contenders for the title," said Syed.

Malaysia are drawn in Group D and their third opponents are Pakistan.

Azri said that he likes to spend time at shopping malls to relax his mind.

"Although I don't buy any expensive stuff in the malls, I just like to do window shopping to enjoy my free time."

He said that the Malaysian defence would face a tall order from all the three teams in their group.

"We cannot afford to make any errors in the World Cup as we will be punished dearly.

"We also cannot afford to concede penalty corners considering they have powerful drag flickers.

"They also play have skilful forwards who are deadly once in the semi-circle.

"We have to be on our toes throughout the match and this is really going to be a challenge to play consistently well in the three matches," said Azri.

Malaysia lost 1-4 to Pakistan in the Asian Games in Jakarta in August and suffered a 0-1 loss in the round-robin match in the Asian Champions Trophy in Oman last month. In the playoff for the bronze, Pakistan won 3-1 in penalty shootout after both teams were tied 4-4 in the regulation time.

The Star of Malaysia


---

How depleted Germany lifted hockey world in Bhubaneswar



India consoled Germany at full-time after brave performance PIC: Hockey India

It was a case of forced bravado which propelled Germany into the hearts of the hockey world and the Indian paying public after the World League bronze medal clash last December saw a goalkeeper score a field goal for the first time.

Bhubaneswar was the venue, host of this year's World Cup, with the World League Finals no doubt forming a key review in this year's preparations for the competing teams – at least in terms of health.

Germany had felt the full force of a 'mystery illness' more than most. For their semi-final against Australia, they had 13 fit players, with four sidelined.

Twenty four hours later, that number had wilted to 11 fit players, with six laid up at the team hotel and one flown back home.

By the time they ran out for the bronze medal match against the hosts, they had no substitutes and a goalkeeper, Mark Appel, who doubled up as a forward. India, in contrast, were at full strength.

"We had a meeting in the morning," Germany's Mats Grambusch told local media at the time. "We said, 'Guys, are we going to go for it, go for bronze?'

"And everybody said 'let's do it.' So we started working on our strategy. In the end we are nothing but proud of our performance."

And how. They earned seven penalty corners in all, the last one with four minutes remaining, with the players dead on their feet and playing enforced 80s' rules; without the luxury of subs but with the desire to play (they had been asked by the FIH whether they wanted to forfeit the match).

SV Sunil predictably gave India the lead. Then, the real story as Appel, the German goalkeeper who was virtually camped in the Indian D as a ruse, netted for the 'underdog' European outfit.

As the video above reveals, the two German TV commentators proclaiming '…MARK APPEL' in wondrous disbelief painted the picture.

In the end, Harmanpreet Singh's goal proved decisive. At the hooter, the German players fell to the ground. The Indian crowd rose to their feet and the players consoled their beaten, heroic opposition.

"Looking forward to next year, hopefully with more players," Grambusch said afterwards.

By next year, he meant this World Cup. Only this time there is to be no place for Appel in his usual position.

The Hockey Paper had made contact with the Alster stopper to talk us through his memories of last December before the German to suffer a muscle injury during their recent training session in Alicante, Spain. He was forced to pull out of the World Cup and The Hockey Paper wishes him a speedy recovery.

The Hockey Paper


---

VR Raghunath looks back at surprise 2006 call-up and lessons learnt from 2014 edition

VR Raghunath



VR Raghunath (second from right) played two World Cups for India. AFP/ File

VR Raghunath played the 2006 and 2014 World Cups for India as a fullback. He spoke to Shantanu Srivastava.

I played two World Cups, in 2006 and 2014. In 2006, I was very young, still in my teens, and I missed the 2010 edition to injury. I replaced Sandeep Singh in the squad, who missed it due to that unfortunate accident. Honestly, I was not mentally ready for the call-up in 2006. I was not among the World Cup probables, and was actually playing SAF Games when the call came. I was young, still learning. I had just made it to the national team, but I was quite nervous going into such a big event without having any time to think of it.

I think I did my best with whatever skills I had. We didn't really play well in 2006, but that experience helped me develop as a player. We finished 11th out of 12 teams, but we were not such a bad team. We had all the class players, but sometimes whatever you do is not enough. I think even if we had played our worst game, we could have won at least three-four games; we were that good. But we couldn't win even one match.

I felt we let ourselves down as a team. We could have finished somewhere between sixth to eighth. I still remember playing alongside Dilip Tirkey, who was the captain of our World Cup team in 2006. I got to learn a lot from him, I was looking up to him while I was making my way up in the team. I learned a lot about discipline from him, and how he used to take care of his fitness.

I think as a youngster I did my bit. It was a big learning curve for me. That 2006 failure taught me a lot. From 2008 onwards, we had a very good batch and we came back like a storm. From World No 13, we became World No 5. This final stretch, from No 5 to No 1 is the toughest, and that's what Manpreet and his team should aim for.

I had a shoulder injury in 2010 and missed the World Cup, and in 2011 I made a comeback to the team after helping Karnataka win the Nationals.

In 2014, we had Terry Walsh as the coach, who guided us really well. The target in 2014 World Cup was to test us for the Commonwealth Games and the Asian Games. We finished ninth, but it was a really tough process of progression in that World Cup. We were very realistic and relaxed because we knew we were not ready to win the World Cup yet. We were reasonably satisfied with our performance. We lost to Belgium, England, and Australia. We drew against Spain, and we beat Malaysia. That year, our biggest target was to get the Asian Games gold and qualify for the Rio Olympics, and we did it. At that World Cup, winning or losing hardly mattered to us. We knew we were going in the right direction.

In my life, 2014 was the best year in terms of playing good hockey. We did well in the Champions Trophy, Asian Champions Trophy, Commonwealth Games, and Asian Games. We had a really good run till Rio 2016, and I believe we could have finished in top four-five at the Olympics. We really had a good team.

It's hard to pick favourites for the World Cup. Any team can beat anyone on their day. There will be an element of surprise here and there, but India have a real chance of making it to the semis. It will be a tough road, but the team has come a really long way in the past few years.

Firstpost


---

The One and Only: Largest USA Field Hockey National Event Gets Underway Today




PALM BEACH COUNTY, Fla. – A handful of hours remain until the 37th edition of National Hockey Festival, presented by CranBarry. The annual Thanksgiving weekend tradition brings people across the United States together, making memories on and off the pitch. In 2018, more new faces, talent and experiences are set to hit the ground at the International Polo Club in Palm Beach County, Fla., for the one and only largest annual USA Field Hockey National Event. Here's just a few reasons why it is simply the best around.

Largest Gathering in the Nation

Thousands of athletes will put their skills to the test across 26 fields at the International Polo Club. Fresh cut fields under the palm trees from dawn to dusk setting the tone for the next set of pool champions. Who will be standing proudly on the medal stage in 2018?

#FHFestival18

National Hockey Festival is an annual tradition, with each and every fan able to contribute to a digital scrapbook! Use the hashtag #FHFestival18 and tag @USAFieldHockey on Twitter and Instagram to show your followers, friends and family that field hockey under the palm trees and Thanksgiving sun is the best! You can also take a piece home with you thanks to Photoboxx. Get any of your social media posts printed the hashtag #FHFestival18 in a free art-style polaroid to take home with you at the USA Field Hockey Tent.

Vendor Village

One of the largest gatherings of field hockey gear in the country can only be found at the National Hockey Festival. Anything from new socks to sticks, backpacks and more will be available from various merchants all weekend long. That includes CranBarry, official presenting sponsor, and Harrow Sports, the official licensee, and various games for additional prizes. Stop by early and often for Festival exclusive gear, apparel and accessories from each and every vendor to be found.

Event Program

There's a lot to keep up with at Festival. That's why USA Field Hockey has made it as simple as possible for attendees to keep track of. All your answers are covered in the USA Field Hockey online event program. Find all the latest information, downloadable map and more by clicking here.

USFHA media release


---

Give us a job: Irish hockey heroines need help from work to reach Olympic Games

By John Flack



Honoured: Ireland captain Katie Mullan (right) and most capped player Shirley McCay with Lord Mayor of Belfast Deirdre Hargey at a special reception for the team yesterday at City Hall

Ireland captain Katie Mullan has called on businesses around the country to consider employing international players to allow them to combine sport and work as they prepare for the Olympic qualifying campaign.

Mullan believes the relationship would be mutually beneficial if companies could be sympathetic to the huge commitment that will be involved.

In the build-up to the World Cup, for example, many of the Irish players who were in full-time employment had to take around 50 days off work to fulfil their commitments.

The national team played more than 20 matches ahead of the London showpiece, several of which took place outside Ireland, with trips to Spain and Germany.

Some players took unpaid leave or went part-time to commit fully to the preparations, while others took career breaks and gave up work completely.

Mullan is a case in point as she is now playing most of her hockey in Germany, having put her career on hold after graduating from UCD.

However, she is back home for a few weeks while the German season moves indoors and is eligible to play for Ballymoney, for whom she scored twice in Saturday's win over Lisnagarvey.

The 24-year old, who has been appointed as a Sport Northern Ireland 'Sport into Business' ambassador, is currently unable to fully commit to a first job with so much hockey ahead in the build-up to the Tokyo Olympics.

The Coleraine woman said: "As regards the Ireland captaincy, I'm just the lucky one who gets to wear the armband as it's such a team effort.

"There is an incredible leadership group and a vast amount of experience in the squad and we work really well together.

"I think that all of us have learned and developed valuable skills through our sporting journey that could be very useful in a lot of business environments.

"They might not be there for the same number of hours as other staff, but they would give you 110% when they are.

"It's about being able to find the balance that allows us to achieve in the sports field and in our jobs."

Belfast Harlequins midfielder Lizzie Colvin has become the latest player to pull out of an Ireland squad due to work commitments as she has had to withdraw from next week's five-day trip to Spain.

She also had to pull out of Ireland's European Championship trip to Amsterdam in the summer of 2017 for the same reason, as if to illustrate Mullan's point.

Meanwhile, Colvin's club will be in action tonight as they begin their Denman Ulster Shield campaign at Ballymoney.

Harlequins hope to have their other World Cup silver medallist, Zoe Wilson, back on board when they host Old Alex on Saturday after she missed the defeat to Loreto with a hamstring injury.

Pegasus should see off Muckross in Dublin while Ards will be aiming for a first win of the season when they host Railway.

In the IHL's second tier, Queen's will be out to make it four wins from four when they take on Corinthian, while Dungannon face their local rivals Lurgan.

Belfast Telegraph


---

Hockey hopes for golden future in Zimbabwe




For one weekend in December hockey players will be royalty in the City of Kings as the Hockey Series Open (HSO) travels to Bulawayo in Zimbabwe.

The men's and women's tournament is one more step along the developmental pathway for a nation that has a golden hockey heritage but has been in a bit of a wilderness since its women's team famously won Olympic gold at the 1980 Moscow Olympics.

Sarah Bennett is one of the eight committee members for the Hockey Association of Zimbabwe (HAZ), which is committed to putting the African nation back on the map of key hockey-playing nations. She took time out from her technical official duties at the Wanglibao Hockey Champions Trophy Changzhou Wujin, to talk about hockey's future in her home nation.

Zimbabwe's future lies in growing from the schools and colleges upwards. The girl's squad recently qualified for the Junior World Cup and many of the team also gained international experience playing in the Youth Olympic Games in Buenos Aires.

"We have a new development plan, for the first time ever we held an indoor hockey test series and we have also taken the concept of the Pro Series Indoor (PSI) and that seems to be working. There is no doubt that the sport is growing in popularity," says Bennett.

Much to the HAZ's delight, schools across the country are also buying into hockey as a sport that should be on the curriculum.

"There are more than 100 government schools in Harare that have hockey on the curriculum. We support the schools by running courses for all levels of coaching and umpiring – from basic to advanced level."

An exciting development for hockey in the capital city is HAZ's proposal to get the Magamba Hockey Stadium in Harare refurbished to the same international standard as the world class facility at the Khumalo Hockey Stadium in Bulawayo. If this vision is realised then Zimbabwe would have two potential hockey centres and could really start to push to host international fixtures in world class facilities.

HAZ has also been awarded Olympic Solidarity by the national Olympic Committee and, on the back of that, a new coach will be arriving later in the month to help drive standards of hockey coaching upwards.

Another very positive move, and one that perfectly fits the FIH 'equally amazing' message is the appointment of Zimbabwe's first female minister of Youth, Sport, Arts and Recreation. Kirsty Coventry is a sporting legend, having won gold, silver and bronze medals for the Zimbabwe swimming team at the Athens and Beijing Olympic Games.

"Kirsty Coventry is passionate about sport, so having achieved what she has achieved, she knows what is needed to raise levels and reach the standard that is required to compete internationally," says Bennett.

In addition to her role at the Ministry, Coventry was also Zimbabwe's Chef de Mission for the Buenos Aires Youth Olympics and sits on the IOC and the Zimbabwe Olympic Committee.

"She [Coventry] will clean up sport in Zimbabwe," says Bennett, "in fact, she has already begun that process. Sports will need to become accountable and compliant. I am pleased that hockey is one of the sports that is recognised for already being compliant."

Zimbabwe hockey has a long way to go before it is back in the halcyon days of the 1980s but the signs are there. It is recognised by its Olympic Committee; it has a clear development strategy that is showing results; and it has a number of people in place who are able to guide the sport onto the global stage.

For Bennett and the committee, getting international experience at both playing and organisational level is vital. Bennett is one of a several Zimbabweans who have been or currently are FIH officials at global events.

"It is definitely valuable for our officials to get an FIH appointment," says Bennett. "Local officials rely on it to keep up with the game. Our teams and our officials are not always up to speed with international developments because we don't compete internationally, so it is vital that we get these appointments and feed back."

It is not simply a lack of international experience that is stymying Zimbabwe's progress. Finance, or the lack of it, is a perennial problem. It is not just limited facilities, they rely on equipment donations from overseas and they are battling for resources with other sports.

But the forthcoming Hockey Series Open event is a bright spot on the horizon, which also emphasises what the future could look like.

"The HSO is providing a very positive image," says Bennett, who will be part of the team working to deliver the event.

"The stadium in Bulawayo will be packed and there will be a vibrant, sporting atmosphere. The schools will have just closed, it is a weekend, the place will be buzzing. There will also be interest from local companies. Anywhere in Africa, if you are hosting you will get buy in from local companies. Our message is that Zimbabwe hockey is open for business."

#HockeySeriesOpen

FIH site