All the news for Friday 23 November 2016

Wanglibao Hockey Champions Trophy Changzhou Wujin 2018 -n Day 4 results
Changzhou (CHN)

ARG v JPN (RR)     4 - 0
CHN v AUS (RR)     0 - 0
GBR v NED (RR)     0 - 4

Friday 23 November is a rest day

Fixtures 24 Novembern(GMT +8)

14:00     JPN v AUS (RR
16:00     NED v CHN (RR
18:00     GBR v ARG (RR)

Pool standings
---

Las Leonas find their groove at Hockey Champions Trophy




The Netherlands booked their place in the final with a game in hand after they beat the world number two side and Olympic champions Great Britain on the fourth day of the Wanglibao Hockey Champions Trophy Changzhou Wujin.

in earlier matches, reigning Champions Trophy holders Argentina finally recorded a win, keepng alive their hopes of a bronze medal.

Australia and China remain in contention for a place in the final after they played out a goalless draw.

Argentina v Japan 4-0 (2-0)

There was a glint in captain Delfina Merino's eye as she said: "Today is the day, I can feel it." The Argentina captain's words proved prescient as the world number four team finally found their form and scored four goals in a rout that left Japan on the bottom of the table and moved Argentina into fourth position and still in contention for the bronze medal match on Sunday 26 November.

The first few minutes were evenly matched. Japan, on a good day, are fast and unpredictable with their movement and passing and so it was for the opening few salvos of this match.

In defence, Hazuki Nagai was a rock, reading the game well and distributing cleanly to her midfield. Energetic as ever, Yu Asai and Minami Shimizu were causing problems for the Argentina midfield and the forwards were picking up on any loose balls and challenging Belen Succi in the Argentina goal.

The tide turned in the 19th minute when Argentina won a penalty corner after a wave of attacking pressure on the Japanese goal. The initial shot rebounded and fell to Eugenia Trinchinetti, who whirled round, shot and scored.

Seconds later Maria Granatto seemed about to make it 2-0, but she looked for the spectacular finish as she latched onto a pass and her shot sailed high over both Megumi Kageyama's head and the goal.

The second goal followed shortly when Julia Gomes crossed into the circle and Julieta Jankunas was on hand to guide the ball home.

The second half saw Japan start brightly again but ten minutes into the half, Argentina won a penalty corner and Agustina Gorzelaney was on hand to strike home for her first goal for the senior team.

The fourth goal was a rocket of penalty corner from Jankunas. Her shot flew into the top right-hand corner of Megumi Kageyama in the Japanese goal to give her team an unassailable lead.

"We did not come here to just get an 'experience' said goalkeeper Kageyama. "We are here to compete at this level." The 'keeper, who has enjoyed an impressive tournament, said her team would be looking for the win in their next game [against Australia on 25 November].

"One of the things we have really picked up on is the speed that some of the teams attack along the baseline. We will be working on that and also on defensive penalty corners."

For Merino, the match was a chance for the new-look Argentina side to re-group and re-set their goals.

"Sure, it has been frustrating but we still have a chance to bring a medal home to Argentina and that will be our new goal. Our motivation to win when wearing the Leonas shirt is huge, so we will be going flat-out to win bronze."

China v Australia 0-0

There was a distinctly nervous edge to Australia as they stepped out onto the pitch against the host nation China. A win for the Hockeyroos would see them book a place in Sunday's final. A win for China and it would all go down to the wire and the final round robin matches to see who would join Netherlands in the finals.

China have been impressive throughout the competition and the first half was a fine example of how they have developed an attacking flair to complement their defensive capabilities.

Marshalled from the back by the excellent Cui Qiuxia, the China team poured forwards and put the Australian team under wave after wave of pressure.

Australia created their own chances but Ye Jiao in the China goal has been on good form and gave little chance to the forwards in gold and green to maximise their opportunities.

It was China who looked closest to breaking the deadlock. As the first half counted down, Llang Meiyu came close on two occasions, narrowly missing out on a cross that had evaded Ashlee Wells in the Australia goal and then a second attempt just flying past the post. Also busy in the attacking circle was captain Peng Yang, whose darting movements were creating confusion in the defence.

The best chance came with seconds until the half-time whistle. Cui Qiuxia had moved out of her central position and drove down the right. Her cross found Liang Meiyu but the forward was thwarted by a great save from Wells.

The second half continued in the same vein. China were under the cosh for much of the half as Australia poured forwards. Stephanie Kershaw fired in a cross that Rebecca Greiner deflected over the crossbar; Emily Smith just missed out as she dived onto a loose ball in front of the goal and Jodie Kenny was denied any joy on her penalty corner attempts.

The tough and uncompromising Chinese defence weathered these storms and many more and, in response, created their own chances.

The best chance occurred when Zhang Xiaoxue drove out of defence and found Zhong Mengling high up the pitch. The crowd held their collective breath as the forward gathered the ball, but the movement of Australian 'keeper Rachael Lynch was enough to force the player to shoot wide.

Speaking after the game, Karri McMahon said: "We knew it was going to be like this against China. We created the chances but their defence is always solid and we just couldn't find a way through. We are doing all the right things in defence and attack but the final bit hasn't clicked yet – hopefully, it will all come together in our last two games. This is our last event of the year and we want to go out on a high."

Great Britain v the Netherlands 0-2 (0-4)

The Netherlands continued to show their class as they tore into a Great Britain side that looked shell-shocked for the first quarter of the game.

The opening goal was scored after Margot van Geffen drove into the circle and drew goalkeeper Amy Tennant off her line. The ball bounced around between Ginella Zerbo and Marijn Veen and it was Veen who finally managed to push it home: the goal moves the 19-year-old to the top of the competition's goal scorers, ahead of team mate Caia van Maasakker.

A sumptuous move saw Laurien Leurink gain possession just ahead of her own 23 metre area. She played a perfectly-weighted ball to Margot Zuidhof, who was waiting high up the pitch, but the striker was unable to slip it past Tennant.

Zuidof made no mistake however with the second goal. The ball was played into the circle by van Geffen, who was causing all sorts of problems for the Great Britain defence. Zuidof was on hand to slip the ball into the goal and double her team's lead.

After half-time it continued to be one-way traffic. Over the course of the event, the Netherlands have sometimes not looked their best but against the world number two side they lifted their game to the next level.

It was a point emphasised by van Geffen: "We certainly played better than in earlier games but we still have some areas to improve. But our passing and movement was good."

Ginella Zerbo scored the third. She received the ball at the top of the circle and switched to her reverse. The ball flew sweetly into the net and Great Britain were left scratching their heads on how to deal with this orange wave of pressure.

The fourth goal was scored by Zuidof, again, a result of good build-up play, which created space among the Great Britain defence.

It was not all bad news for Great Britain. As midfielder Sarah Jones said: "We had passages of good play, where we really followed our game plan. But we are a new squad and we are learning all the time. These are a great group of players and we are all working together to create something very special. We have our values and that keeps us together and moving forwards."

"I am learning every day," said Marijn Veen after the game. "The more experienced players are helping and it is so exciting to be around this squad."

Friday 23 November is a competition rest day

Match schedule for Saturday 22 November (all times UTC+8)

14:00 Japan v Australia
16:00 Netherlands v China
18:00 Great Britain v Argentina

FIH site


---

Hockeyroos Draw But Remain In Pole Position For Final

Ben Somerford




The Hockeyroos have missed a chance to book a spot in Sunday's Champions Trophy final but remain in the box seat after a 0-0 draw with hosts China PR in Thursday's group game.

Australia could have clinched their place in the decider with victory but had to settle for a draw, although three points against Japan in their final group game on Saturday will be enough to make the final.

China had the better of the first-half chances but the Hockeyroos pressed hardest in the second half, coming close on numerous occasions in the last quarter.

Jodie Kenny's drag flick and Rebecca Greiner's deflection were Australia's best chances, as they finished with the advantage in all statistical areas including 8-7 shots and 17-13 circle entries.

Hockeyroos captain Jodie Kenny said: "China defended very well tonight. We threw everything we had at them.

"It was quite end-to-end in that last quarter. It was a shame we couldn't slot one away."

The result leaves Australia in second spot on the standings, one point clear of China who play world number one and leaders Netherlands on Saturday.

The match started off slowly, with few chances in the opening 15, until Peng Yang forced a good low save from Australia keeper Ash Wells.

Gold Coast's Rosie Malone scuffed an 18th minute chance while newcomer Greiner tested China goalkeeper Ye Jiao twice in one play.

China had their moments in the first half with Chen Yang's close-range deflection going wide, while Zhong Mengling missed an open goal from Ou Zixia's 29th minute cross.

Bundaberg product Greiner deflected Steph Kershaw's drive over the top in the 38th minute before Australia won their first penalty corner of the match in the 44th minute.

Jodie Kenny's drag flick from the subsequent short corner was blocked with China launching a quick counter-attack which saw Zhang Xiaoxue's shot go marginally wide.

An Australian 48th minute penalty corner led to a flurry of chances from Maddy Fitzpatrick and Edwina Bone but China scrambled the danger away.

Ye Jiao also saved Kenny's 50th minute drag flick to her left as Australia searched for the winner which never came.

Australia takes on Japan on Saturday from 5pm AEST live on kayosports.com.au.

Australia 0
China PR 0

Hockey Australia media release


---

Dutch Too Strong For Great Britain In Champions Trophy



GB v Netherlands HCT2018

Great Britain were dealt their second defeat of the 2018 Champions Trophy as they lost to The Netherlands.

The world champions delivered a dominant display to keep up their 100% record in the tournament, finding the net in each quarter.

Marijn Veen began the scoring with her fourth of the tournament while Margot Zuidhof bagged a double.

Ginella Zerbo also scored the pick of the goals early in the second half to ensure her side will be in Sunday's final, while Britain lie fifth in the table with one group game remaining.

In the first meeting between the sides since the Rio 2016 final it took the Dutch just three minutes to score, Veen slotting the ball home after Amy Tennant had kept out Zerbo's initial effort.

The Reading goalkeeper was then called into action to keep out a diving Zuidhof in the 12th minute before Maria Verschoor put the ball wide after a brilliant pass from Caia van Maasakker found Zerbo down the left.

Zuidhof wouldn't be kept quiet for long though and doubled the lead in the 17th minute with a cute turn and finish.

The pressure was relentless from the world number one side though, with Sabbie Heesh firstly saving a shot from Zuidhof before she and Tennant blocked van Maasakker corners either side of half-time.

There was no stopping Zuibo's brilliant effort from the top of the circle in the 36th minute though as she rifled a shot into the goal before Zuidhof added another ten minutes later after great work down the right by Laura Nunnink.

Great Britain never gave up though and threatened the Dutch circle in the final quarter, forcing Josine Koning into three saves, while at the other end Heesh did well to keep out a final minute corner with her foot.

The match also saw Hollie Pearne-Webb win her 150th combined international cap.

Argentina will be Great Britain's opponents in their final group game, with David Ralph's side needing a win to keep their hopes of winning a bronze medal alive. You can watch that game on Saturday 24 November at 10am on BT Sport.

Great Britain 0 (0)

Netherlands 4 (2)
Veen (FG, 3); Zuidhof (FG, 17; FG, 46); Zerbo (FG, 36)

Starting XI: Tennant (GK), Unsworth, Toman, Martin, Townsend, Jones, Ansley, Bray, Pearne-Webb (C), Owsley, Costello

Subs: Evans, Robertson, Petty, Sanders, Howard, Heesh (GK), Balsdon

Great Britain Hockey media release


---

Netherlands beat Great Britain 4-0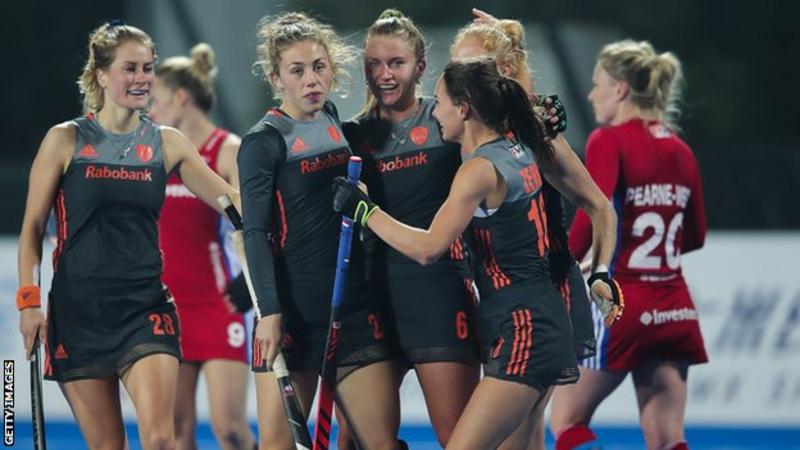 The Netherlands have won all their games at the tournament in China

Great Britain suffered their second defeat of the Champions Trophy in China with a 4-0 loss to the Netherlands.

Goals from Marijn Veen and Margot Zuidhof gave the six-time champions a comfortable half-time lead.

After the break, Ginella Zerbo smashed in a third on the reverse, before Zuidhof scored her second of the game at the start of the fourth quarter.

Olympic champions GB - who beat the Netherlands in the Rio 2016 final - had just three shots throughout the match.

The match marked captain Hollie Pearne-Webb's 150th international cap for Great Britain and England.

GB remain without a win at the tournament after drawing with China and Japan as well as defeat to Australia.

They face Argentina in their final round-robin match on Saturday with pushback at 10:00 GMT.

GB need to win to stand any chance of reaching the bronze medal match, while the Netherlands have guaranteed their place in the gold medal final having won all their games in China so far.

BBC Sport


---

No 1 Dutch smash Britain to reach women's field hockey final

CHANGZHOU, China (AP) — The world champion Netherlands clinched a berth in the Women's Champions Trophy final after brushing aside Britain 4-0 on Thursday.

The Dutch pressure was relentless as they scored in each quarter and achieved a third straight clean sheet.

Marijn Veen claimed her fourth goal of the field hockey tournament after three minutes, Margot Zuidhof bagged the first of her pair with a nice turn and finish, Ginella Zerbo rifled in from the top of the circle, and Zuidhof finished off a great move down the right by Laura Nunnink.

Australia missed a chance to join them in the final after drawing with host China 0-0.

China made more of the running in the first half — notably Zhong Mengling missing an open goal near halftime — and Australia in the second half to finish on top in shots and circle entries.

Australia remained second overall and one point ahead of China in the standings. The Hockeyroos can reach the final by beating Japan on Saturday when the round robin concludes. China meets the Netherlands.

Japan was humbled 4-0 by Argentina which, after scoring one goal from a bagful of chances in its previous three games, finally executed.

Julieta Jankunas scored two, and Eugenia Trinchinetti's and Agustina Gorzelany's goals revived the titleholders' hope of finishing the tournament with a bronze medal. They play Britain on Saturday.

The New Zealand Herald


---

Holland and Australia in line to meet in Champions Trophy final




Great Britain's bid to keep alive their Women's Hockey Champions Trophy hopes faltered to a superior Netherlands side on Thursday night.

A double from Margot Zuidhof guided the Dutch to a 4-0 win and GB now face Argentina on Saturday morning with the winner likely to secure a place in the bronze medal match – unless Japan beat Australia.

Marijn Veen opened the scoring before Zuidhof grabbed her first as the Dutch built a 2-0 lead at half time.

Ginella Zebro fired in the third before Zuidhof completed the scoring in the final quarter.

The Netherlands were ahead inside just three minutes when Veer found the back of the net.

GB failed to clear their lines and Veer collected, kept her cool and flicked on the reverse into the empty goal.

A fine flowing team move then doubled their lead in the second quarter. Attacking down the left the ball eventually was laid back to Zuidhof who spun and sent the ball into the backboard.

Zebro grabbed the third with a well struck hit on the reverse before Zuidhof scored her second from close range to make it 4-0 in the final quarter.

Earlier Australia and China drew 0-0, with the Hockeyroos still favourites to qualify for the final provided they can beat Japan.

The Hockey Paper


---

Hockeyroos Happy To Go Down To The Wire

Ben Somerford




Hockeyroos leader Jodie Kenny says the fact her side's Champions Trophy finals fate won't be decided until their final group game against Japan on Saturday may be a good thing.

Australia could have sealed a spot in Sunday's final against the Netherlands with victory in Thursday's clash with hosts China PR but it ended 0-0.

Despite the draw, the Hockeyroos remain in the box seat, sitting second in the standings, one point ahead of China with one game to play, leaving destiny in their own hands.

If Australia defeats Japan on Saturday, they're assured of a spot in the final, while a draw or loss could actually be enough, if China loses their final group game against world number one Netherlands.

Kenny said the situation would ensure there'd be no potential let-up from the Hockeyroos.

"We were really pushing for the win tonight to reassure a spot in that final," Kenny said.

"It's probably not a bad thing. It means we've got to put everything out in that next game.

"We can't relax and we need to keep producing good quality hockey.

"It'll put us in good stead for the grand final should we make it."

Kenny along with newcomer Rebecca Greiner both came closest to scoring in Thursday's scoreless draw.

The Queensland defender, who is competing at her fourth Champions Trophy, added that she'd been impressed by the side's three debutants during the tournament.

"Beck Greiner is doing really well," Kenny said.

"Greta Hayes and all the newbies are finding their feet and their positions in the team."

Meanwhile, Hockeyroo Karri McMahon said the side were searching for the final piece to the puzzle after failing to score in the past two games.

"We created the chances but their defence is always solid and we just couldn't find a way through," McMahon said.

"We are doing all the right things in defence and attack but the final bit hasn't clicked yet – hopefully, it will all come together in our last two games.

"This is our last event of the year and we want to go out on a high."

The Hockeyroos face Japan from 5pm AEDT on Saturday live on kayosports.com.au.

Hockeyroos 2018 Champions Trophy schedule (all times AEDT):
Saturday 17 November 7pm – Australia 2 Argentina 1
Sunday 18 November 5pm – Australia 2 Great Britain 0
Tuesday 20 November 5pm – Australia v Netherlands
Thursday 22 November 7pm – Australia v China
Saturday 24 November 5pm – Australia v Japan
Sunday 25 November – Finals

Hockey Australia media release


---

2018 Test Matches: MAS v NZL (M) - 3rd test
Kuala Lumpur (MAS)

16 Nov     MAS v NZL     1 - 2
20 Nov     MAS v NZL     3 - 4
22 Nov     MAS v NZL     4 - 2

FIH Match Centre


---

Malaysia finally beat Kiwis in last test match

By Jugjet Singh

KUALA LUMPUR: New Zealand equalised twice before Malaysia went into overdrive to beat them 4-2 in the third test at the National Hockey Stadium in Bukit Jalil earlier today (Thursday).

However, the Kiwis had already won the series as they beat Malaysia 2-1 and 4-3 in the two previous test matches.

Earlier during the third and final test match, Malaysia took the lead off Razie Rahim thanks to a second minute penalty corner, but New Zealand were not to be outdone and duly equalised off Kane Russell in the 10th minute.

Tengku Ahmad Tajuddin then restored Malaysia's lead when he connected with a cross in the 26th minute, but right after the restart of the fourth quarter, George Muir scored the equaliser.

And the Kiwis second goal was scored when they were playing without a goalkeeper.

Malaysia looked a little lost as 11 New Zealand players all went on the offensive, but Faizal Shaari (49th) and Nik Aiman Nik Rozemi (56th) made sure of the three points by scoring when the Kiwis took out their goalkeeper for Power Play.

Malaysia and New Zealand will next head to Bhubanesawar, India for the World Cup which will be held from Nov 28-Dec16.

Coach Roelant Oltman's men are in Group D with together with European powerhouses Netherlands, Germany and Asian archrivals Pakistan.

"I am pleased with the defensive structure shown during the third and final game, but there was a lapse in concentration on our part when New Zealand scored their second goal off a rather soft attempt.

"Otherwise, these three tough test matches (against the World No 9 ranked team) have somewhat prepared us for the tough teams that we will face in Group D," said Oltmans.

Malaysia were guilty of making a couple of simple mistakes when passing and stopping the ball, but otherwise the national senior side played a much more convincing game compared to the earlier two test matches.

The national players will play a friendly against France as a final warm-up match in Bhubanesawar before a tough encounter against the Netherlands on Dec 1 (Saturday).

New Straits Times


---

Vantage Black Sticks vs Malaysia Game 3 Recap



Black Sticks captain, Arun Panchia

The Vantage Black Sticks and Malaysian Men met in game 3 of their test series. This was the last hit out for both these sides before they begin their journey for the Odisha Men's Hockey World Cup. The Vantage Black Sticks were riding high having taken the first two matches of the series and are starting to string together some nice combinations in time for the Odisha Men's Hockey World Cup. 

The game was played in fantastic conditions inside the Malaysia National Hockey Stadium. Malaysia started the game strongly and were rewarded with a penalty corner after a ball into the circle was raised off one of the Vantage Black Sticks players stick. Malaysia took the opportunity that saw Razie Rahim drag flick a goal low left past the Vantage Black Sticks goalkeeper.  The Vantage Black Sticks struck back through a Kane Russell drag flick after an Arun Panchia reverse stick cross caught a Malaysian players foot. Both teams had a number of further opportunities but couldn't break the deadlock. 

Malaysia came out strong in the second quarter and created several opportunities, including a drag flick that pinged off the post. Eventually they were rewarded with a quick counter attack that was finished with a diving deflection by Tengku Tajuddin past Vantage Black Sticks goalkeeper George Enersen. Malaysia went into the sheds at half time with a 2-1 lead. 

The 3rd quarter saw both sides construct several opportunities. The Vantage Black Sticks switched goal keepers at half time and Richard Joyce was called upon to make some great saves. In the dying seconds of the 3rd quarter Marcus Child sent a ball across the circle and a diving George Muir looked for a deflection, but the Malaysian goalkeeper was up to the challenge. We ended the 3rd quarter with no change to the score line. 

The Vantage Black Sticks started the 4th quarter with an increased focus and energy and were rewarded almost instantly when Aidan Sarikaya sent a ball into an unmarked George Muir who did a reverse flick past the Malaysian goalkeeper to make the score 2-2 and set up an exciting final quarter. The Vantage Black Sticks looking to try something pulled their goalkeeper and Malaysia quickly countered and put a field goal in through Faizal Saari to get the lead back.  Malaysia then extended their lead on another counter attacking goal when Aiman Rozemi powered a goal into the back of the open Vantage Black Sticks goal. This was the way the game finished with Malaysia taking the win 4-2. 

Coach Darren Smith said "We had a valuable 10 days in Malaysia with 3 competitive test matches against a strong Malaysian side. In all 3 test matches both sides had an opportunity to win the match. Tonight Malaysia held possession better than what we did and this put them in a good position in the game. We equalised at the start of the 4th quarter with the goalkeeper off and kept him off after tying the game. Unfortunately this is where we conceded a couple of late goals. Although we take some valuable experience from this week and the preparation has been invaluable as we look towards the World Cup and our first game against France". 

The Vantage Black Sticks now head to India where they will take part in the Odisha Men's Hockey World Cup. Their first match is Friday 30th on Sky Sport 4 at 2:30am. 

Malaysia 4 (Razie Rahim 2', Tengku Tajuddin 26', Faizal Saari 49', Aiman Rozemi 56')
Vantage Black Sticks 2 (Kane Russell 10', George Muir 46')

Hockey New Zealand Media release


---

Malaysia end Hockey World Cup preparation with victory




After losing two matches in a row, the Malaysia men's hockey team finally recorded a 4-2 win over world's number nine New Zealand in the final test match at the National Hockey Stadium on Thursday.

Two field goals by Faizal Saari and Nik Aiman Nik Rozemi in the fourth quarter gave Roelant Oltmans' side an important win before leaving for the 2018 World Cup campaign in Bhubaneswar, India, after going down 1-2 and 3-4 to the same side in the previous two matches.

The Speedy Tigers shocked the opponents with a second-minute lead through Razie Abdul Rahim's penalty corner before New Zealand equalised eight minutes later through a Kane Russell penalty corner.

In the second quarter, a field goal by striker Tengku Ahmad Tajuddin Tengku Abdul Jalil put Malaysia back in front and a high defensive discipline was shown to maintain a 2-1 lead up to the third quarter.

The Black Stick fought back in the fourth quarter of the game and scored their second through a George Muir field goal in the 46th minute, but three minutes later Faizal Saari struck Malaysia's third before Nik Aiman field goal sealed a 4-2 victory for the home side in the 56th minute.

Speaking to reporter after the match, Oltmans hailed his team's performance and effort as they managed to minimise the mistakes made in the last two matches.

"We capped the defend structure very well... we didn't allow them to create much chances and at the same time we had some very good breaks. I think we could have created more opportunities to score.

"Overall, this game was much better than the first two matches. I am pleased with the progress we made in the series ahead of the World Cup and it was a quite a good game against a team like New Zealand," he said.

Malaysia are set to face an uphill task at the World Cup, scheduled from November 28 to December 16, after being drawn in Pool D with former champions Pakistan, the Netherlands and Germany.

At the previous World Cup in The Hague, Netherlands in 2014, Malaysia finished last in the 12-team tournament.

Stadium Astro


---

2018 Test Matches: JPN v CAN (M) - 3rd Test
Tsukidatetakada, Kurihara city (JPN)

20 Nov     JPN v CAN     3 - 2
22 Nov     JPN v CAN     1 - 3
23 Nov     JPN v CAN     1 - 0

FIH Match Centre


---

Stats Speak:   Bhubaneswar World Cup (WC)-Know the teams

By B.G.Joshi (Sehore-Bhopal, India)



Heartbeat for Hockey-campaign by Bollywood Superstar Shahrukh Khan, courtesy Stick2hockey.com and bharatiyahockey.org.

Hockey fans all over the World would like to know about the all 16 teams of 14th World Cup commence from Nov 28. In spite of beautiful FIH's media kit the following compilation are useful, here it is:

Pool A

1.0 Argentina (ARG): World Ranking (WR)-2, Coach-German Orozco, Captain-Pedro Ibarra, Current Titles- Olympic Champions (Rio de Janerio-2016);Pan Am Cup(Lancaster-2017), 
In WC: Appearances (App)-12; Matches Played(MP)-84; Won(W)-32*; Drawn(D)-10; Lost(L)-42*; Goals For(GF)-142; Goals Against(GA)-172, Best Finish(BF): 1 Bronze Medal(Hague-2014),Biggest Ever Wins(BEW)-beat Ghana 6-0 in 1975, Worst Defeat (WD)-lost  to Pakistan 0-7 in 1978,Records-Jorge Lombi (10 goals)was joint top scorer in 2002,* in tie breaker 1 win vs. Korea  in 1994 and 1 loss vs. India in 1994.

2.0 Spain (ESP): WR-8, Coach-Fredric Soyez, Captain-Delas Miguel, Current Titles-Nil, 
In WC: App-13; MP-91; W-45*; D-13; L-33*; GF-171; GA-139, BF: 2 Silver Medals(1971,1998), BEW-beat Belgium 5-0 in 1973, WD-lost  to Australia 0-6 in 1986,Records-Ignacio Escude (10 goals)was top scorer in 1990,*1win in 1994 and 2 loss(2006,14)in tie breaker/shoot out.

3.0 New Zealand (NZL): WR-9, Coach-Darren Smith, Captain-Blair Tarrent, Current Titles-Nil, 
In WC: App-9; MP-63; W-24*; D-7; L-32; GF-113; GA-143, BF: 7th (1973,75,82,2014), BEW-beat Japan 8-1 in 1973, WD-lost  to Pakistan 3-12 in 1982,Records-Steve Edwards scored in 11 seconds(fastest goal of WC) vs. Korea in 2014,*3 wins in tie breaker/shoot out vs. Japan(2002);South Africa(2010) and Spain(2014).

4.0 France (FRA): WR-20, Coach-Jeroen Delmee, Captain-Victor Charlet, Current Titles-Nil, 
In WC: App-2; MP-13; W-6; D-1; L-6; GF-13; GA-20, BF: 7th (1971,90), BEW-beat India 2-1 in 1990, WD-lost  to England 0-4 in 1990.

Pool B

1.0 Australia(AUS): WR-1,Coach-Colin Batch, Captain-Eddie Ockenden and Aran Zalewski #,  Current Titles(5)-Reigning World Cup  Champions(2014);Champions Trophy Champions(2018);World League Champions(2017);C' wealth Champions(2018);Oceania Cup Champions(2017),
In WC: App-12; MP-86; W-64; D-5; L-17*; GF-276; GA-103, BF: 3 Gold Medals(1986,2010,14),BEW-beat South  Africa 12-0 in 2010, WD-lost  to Netherlands 2-6 in 1998,Records-Ric Charlesworth (7 goals) and Jay Stacy(12 goals)were top scorer in 1986 and 1998 respectively,*1 loss in tie breaker vs. Germany in 1982.

2.0 England (ENG): WR-7, Coach-Danny Kerry, Captain-George Pinner,  Phil Roper and Ian Sloan #, Current Titles-Nil,
In WC: App-12; MP-87; W-41; D-11; L-35; GF-163; GA-150, BF: 1 Silver (1986), BEW-beat  Cuba 7-0 in 2002, WD-lost  to Netherlands 2-6 in 1982,Records-Nil.

# will be captain by rotation.

3.0 Ireland (IRL): WR-10, Coach-Alexander Cox, Captain-David Harte, Current Titles-Nil,
In WC: App-2; MP-15; W-1; D-2; L-12*; GF-14; GA-41, BF: 12th (1978, 90), BEW-beat Italy 3-0 in 1978, WD-lost to Pakistan 0-9 in 1978, Records-Nil,*1 loss in tie breaker in 1978.

4.0 China (CHN): WR-17, Coach-Kim Sang Ryul, Captain-Guo Jin and Du Chon #, Current Titles-Nil,
In WC: Debut.

Pool C

1.0 Belgium (BEL): WR-3, Coach-Shane McLeod, Captain-Thomas Briels, Current Titles-Nil,
In WC: App-5 MP-36; W-9; D-3; L-24*; GF-64; GA-110, BF: 5th (2014), BEW-beat Spain 5-2 in 2014, WD-lost to Netherlands 1-8 in 1994, Records-Nil,*1 loss in tie breaker in 1994.

2.0 India (IND): WR-5, Coach-Harendra Singh, Captain-Manpreet Singh, Current Titles-Asia Cup Champions (2017); Asian Champions Trophy Champions (2018 jw),
In WC: App-13; MP-91; W-39*; D-11; L-41*; GF-186; GA-178, BF: 1Gold (1975), BEW-beat Ghana 7-0 in 1975, WD-lost to Germany 0-7 in 1978, Records-Nil.*1 win (1994) and 1 loss (1973) in tie breaker.

3.0 Canada (CAN): WR-11, Coach-Paul Bundy, Captain-Scott Tupper, Current Titles-Nil,
In WC: App-5; MP-35; W-6; D-7; L-22; GF-52; GA-94, BF: 8th (1998), BEW-beat  India 4-1 in 1998, WD-lost  to South Korea 2-9 in 2010,Records-Nil.

4.0 South Africa (RSA): WR-15, Coach-Mark Hopkins, Captain-Tim Drummond, Current Titles-Africa Cup of Nations (2017),
In WC: App-5; MP-35; W-6; D-9; L-20*; GF-56; GA-111, BF: 10th (1994,2010), BEW-beat  Malaysia  6-2 in 2014, WD-lost  to Australia 0-12 in 2010,Records-Nil,*1 loss in tie breaker in 2010.

Pool D

1.0 Netherlands (NED): WR-4, Coach-Max Caldas, Captain-Billy Bakker, Current Titles-European Nations Cup(2017),
In WC: App-13;MP-93; W-59*; D-11; L-23*; GF-245; GA-140 BF: 3Gold (1973,1990,1998), BEW-beat Italy 8-0 in 1978, WD-lost to Australia 1-6 in 2014, Records- Most goals in a single match-5 by Taeke Taekema vs. India in 2006; 5 by Taco van den Honert vs. Belgium in1994, Most goals in a tournament-15 by Paul Litjens in 1978.* 2 wins(1973 SF and Final) and 1 loss(1994)  in tie breaker.

2.0 Germany(GER): WR-6, Coach-Stefan Kermas, Captain-Martin Haner, Current Titles-Nil,
In WC: App-13;MP-93; W-55*; D-16; L-22*; GF-227; GA-135, BF: 2 Gold (2002,2006), BEW-beat India 7-0 in 1978, WD-lost to Pakistan 1-5 in 1975, Records- Most consecutive  11 semi finals(1973 to 2010). *2 wins (1982, 2006) and 2 losses (1973, 1994) in tie breaker. West Germany (1971-1990) records merged in Germany.

3.0 Malaysia (MAS): WR-12, Coach-Roelant Oltmans, Captain-Sukri Mutalib, Current Titles-Nil,
In WC: App-7;MP-51; W-12; D-8; L-31; GF-70; GA-129 BF: 4th (1975), BEW-beat Spain 4-2 in 1982,WD-lost to Australia 0-8 in 1998, Records-Nil.

4.0  Pakistan(PAK): WR-4, Coach-Tauqeer Dar, Captain-Rizwan Senior, Current Titles- Asian Champions Trophy Champions (2018 jw),
In WC: App-12;MP-85; W-53*; D-7; L-25; GF-233; GA-135, BF: 4 Gold (1971,78,82,94), BEW-beat New Zealand 12-3 in 1982, WD-lost to England 2-5 in 2010, Records- Most Titles-4(1971, 78, 82, 94), Most Gold Medals- 3 by Akhtar Rasool in 1971, 78, 82, Youngest Gold Medalist –Shahid Ali Khan: 17 years 17 days, GK in 1982, born Dec 26, 1964, Most Team Goals in tournament-38(1982),* 2 wins(1994 SF and Final) in 1994 in tie breaker.

Fieldhockey.com


---

Six of the best - rising stars to watch at the Odisha Hockey Men's World Cup Bhubaneswar 2018



Spain's Enrique Gonzalez

With numerous Olympic gold medallists, World Cup winners and FIH Players of the Year on show, the Odisha Hockey Men's World Cup Bhubaneswar 2018 is an event containing the very best that the sport has to offer. Established stars like reigning FIH Player of the Year Arthur Van Doren (Belgium), Olympic champion Lucas Vila (Argentina) and double World Cup winner Eddie Ockenden (Australia) are just three of many superstars that will light up the 15,000 Kalinga Hockey Stadium, there is also a new generation determined to leave their mark on this global showpiece. Here is a look at six athletes who could make a big impression in Bhubaneswar.

Maico Casella – Argentina
Age: 21   Caps: 35
The youngest member of the current Argentina squad, Maico Casella was a star performer for the Under-21 team at the Uttar Pradesh Hockey Junior World Cup 2016 in Lucknow, India and has developed into a key component of the senior team. The 21-year-old forward looks at ease playing up front with Olympic gold medallists Matias Paredes and Lucas Vila, who are clearly using their vast experience to aid the development of this gifted young forward. 

Jake Harvie – Australia
Age: 20   Caps: 39
The grandson of former Kookaburra and triple Olympian Gordon Pearce, whose four brothers – Harvie's great-uncles – also represented the national team, defender Jake Harvie is a young man with hockey in his blood. He has taken to the international scene brilliantly, showing class and composure in the Australian defensive line to help the team claim title successes at the Odisha Men's Hockey World League Final Bhubaneswar 2017, the Gold Coast 2018 Commonwealth Games and the Rabobank Hockey Champions Trophy 2018 in Breda, Netherlands. It is an impressive haul of silverware for a man still very much at the start of his senior international career. With Australia aiming to win a third successive Hockey World Cup title, it has the potential to get even better before the year ends.

Timm Herzbruch - Germany
Age: 21   Caps: 54
A member of the bronze medal-winning Germany team that competed in the Rio 2016 Olympic Games, Timm Herzbruch is a terrific attacking talent and someone with an exceptionally bright future. He was named U19 Player of the Tournament at the Uttar Pradesh Hockey Junior World Cup 2016 in Lucknow, India, and excelled for Germany's senior team in 2017 before suffering a serious knee ligament injury. After a lengthy lay-off, Herzbruch is back to his best and could be a superstar in Bhubaneswar.

Dilpreet Singh – India
Age: 19   Caps: 36
India Head Coach Harendra Singh has selected numerous athletes who were part of the squad he guided to Junior World Cup Glory two years ago in Lucknow. Although Dilpreet, who had only just turned 17 at the time, was involved in Lucknow, he is another fine example of how Harendra's faith in India's youth continues to reap rewards. Dilpreet is an instinctive goal-scorer, as proven by the nine goals in six matches he scored at the 2017 Sultan of Johor Cup U-21 invitational event in Malaysia. That performance earned him a call-up to the senior side, and a year later, he stands on the verge of being India's youngest player at the home World Cup in Bhubaneswar.

Jorrit Croon – Netherlands
Age: 20   Caps: 56
In 2016, Netherlands Head Coach Max Caldas caused a stir when he selected 17-year-old attacker Jorrit Croon in his squad for the Olympic Games in Rio de Janeiro. Some saw it as a gamble, but Croon's terrific performances only served to highlight Caldas's brilliant eye for talent. With over 50 senior international appearances and a European title success under his belt long before his 21st birthday, he is proving himself to be a huge asset to the Dutch team and looks likely to do so for many years ahead.   

Enrique Gonzalez – Spain.
Age: 22   Caps: 73
The rise of this precociously talented young attacker has certainly caught the eye. At 22, he is already an influential on-field presence for the Red Sticks senior team. Blessed with frightening pace and wonderful stick skills, Gonzalez made a big impression at the Uttar Pradesh Hockey Junior World Cup 2016 in Lucknow, India, being named Player of the Tournament despite Spain finishing sixth. He is a player capable of causing problems for any team.


As well as welcoming the world's greatest hockey teams and players, the state of Odisha is also holding two studded occasions ahead of the start of action. On Tuesday 27 November, the magnificent Kalinga Hockey Stadium will welcome a sell-out crowd for a very special opening ceremony that will feature a performance from Oscar-winning music maestro A R Rahman as well as appearances from prominent Bollywood celebrities. A day later (Wednesday 28 November), the 40,000 capacity Barabati Stadium in nearby Cuttack will see Mr Rahman and numerous other stars taking part in a World Cup Celebration event, where massive crowds are again expected in attendance. Following the show, India's World Cup opener against South Africa will be broadcast live to an excited crowd via giant screen in the stadium. An electric atmosphere is both stadiums is widely expected. Tickets for the World Cup Celebration in Cuttack are still available and can be purchased by clicking here.

#HWC2018

FIH site


---

Kookaburras Depart Chasing Third Straight World Cup Title

Ben Somerford




The world number one Kookaburras will fly out for India today as they attempt to win a third straight World Cup title in the event to played in Bhubaneswar from November 28 to December 16.

Australia are one of the favourites for the title, having won the Champions Trophy, Commonwealth Games, Oceania Cup and World League Final titles over the past 18 months.

The Kookaburras, who are also 2010 and 2014 World Cup champions, are grouped with Ireland (ranked 10th), England (seventh) and China (17th) in Pool B.

Australia's first game is against on Ireland on Friday 30 November from 10:30pm AEDT.

Tasmanian defender Josh Beltz and WA forward Tom Wickham will travel with the team as shadow players, in the case of injury.

Kookaburras coach Colin Batch said the side wasn't feeling the pressure as reigning back-to-back champions and naturally wanted to do well but were only focused on the pool stage.

"It's always difficult," Batch said.

"We want to do well in the tournament. Everyone wants to win. We're no different.

"But there's a lot of work to do before we think about claiming this title.

"Our first game is against Ireland. We're not thinking too much further in advance of there.

"There's a number of players who we need to get our playing level up and to provide good scouting of the teams we'll play against."

The Kookaburras will arrive in Bhubaneswar on Saturday morning, following a solid three-week block of training.

"Just before you leave there's always lots of things to do, not just hockey things," Batch said.

"We've got a number of players finishing exams. People rushing around getting themselves organised. It hasn't been quite settled but the training has been really good.

"The guys are really looking forward to going away to India. Our preparation has been good.

"We want that to continue. We know we've got a week or so in India before we actually play.

"We've still got quite bit to get across and improve. We'll be ready for our first game against Ireland."

All matches will be televised LIVE on FOX SPORTS.

Kookaburras' 18-member team for the World Cup:

Athlete (City, State)

Daniel Beale (Brisbane, QLD)
Timothy Brand (Chatswood, NSW)
Andrew Charter (Canberra, ACT)
Tom Craig (Lane Cove, NSW)
Matthew Dawson (Killarney Vale, NSW)
Blake Govers (Wollongong, NSW)
Jake Harvie (Dardanup, WA)
Jeremy Hayward (Darwin, NT)
Tim Howard (Wakerley, QLD)
Tyler Lovell (Perth, WA)
Trent Mitton (Perth, WA)
Eddie Ockenden (Hobart, TAS)
Flynn Ogilvie (Wollongong, NSW)
Matthew Swann (Mackay, QLD)
Corey Weyer (Biggera Waters, QLD)
Jake Whetton (Brisbane, QLD)
Dylan Wotherspoon (Murwillumbah, NSW) *Plays for QLD
Aran Zalewski (Margaret River, WA)

Kookaburras' 2018 World Cup schedule (all times AEDT):

Friday 30 November 10:30pm – Australia v Ireland
Wednesday 5 December 12:30am – Australia v England
Friday 7 December 10:30pm – Australia v China
Monday 10 December – Crossovers
Wednesday 12 December – Quarter-Finals
Saturday 15 December – Semi-Finals
Sunday 16 December – Finals

Hockey Australia media release


---

England forward Sam Ward ruled out of Hockey World Cup

By Rod Gilmour




Forward Sam Ward became the latest player to be ruled out of a major competition through England Hockey's concussion protocols on Thursday.

Ward admitted to being "absolutely gutted" after being sidelined for the men's World Cup, which starts next week in India, with the news being seen as a huge blow for Danny Kerry's side in their pursuit of a first world title.

Ward is considered one of England's central figures after netting his 50th international goal last month.

The 27-year-old picked up "light concussion" in training – he had missed the recent 4 Nations tournament in Valencia – and will be replaced by in-form East Grinstead forward Liam Ansell, who flies out to Bhubaneswar on Saturday.

Ward said: "I'm absolutely gutted to miss out, but completely respect that with the nature of the injury it has to be allowed the right amount of time.

"I am certain the boys will go and do us proud and I wish them all the best."

Shona McCallin and Nicola White have been ruled out for most of the year with concussion, while women's captain Alex Danson hit her head on holiday and missed the ongoing Champions Trophy in China.

England's first men's World Cup game is against China next Friday.

The Hockey Paper


---

Ansell replaces injured Ward in World Cup squad



Sam Ward ruled out

Forward Sam Ward has been ruled out of England's squad for the Odisha Men's Hockey World Cup, and will be replaced by Liam Ansell.

Ward picked up a light concussion in training, and as per England Hockey's protocols he will unfortunately not be available for the event in Bhubaneswar, India, which starts next week.

Ward said, "I'm absolutely gutted to miss out, but completely respect that with the nature of the injury it has to be allowed the right amount of time.

"I am certain the boys will go and do us proud and I wish them all the best."

East Grinstead forward Ansell will now fly out to India to join up with the rest of his team-mates.

England's first game takes place against China on Friday 30th November at 2:30pm. We also take on Australia and Ireland in our pool, and all games are live on BT Sport.

England Hockey Board Media release


---

First-timers China have mountain to climb, but can draw inspiration from Japan

Considering the fact that China is hosting the next Winter Olympics in 2022 in Beijing, it must come as little surprise that all the buzz around the word hockey in the nation right now is around the variant of the sport played on ice.

Yet, the exploits of the field hockey players from the country will take centre-stage when the FIH Hockey World Cup begins in Bhubaneswar next Wednesday.

After all, this is the first time in the history of the team that it has qualified for the Hockey World Cup. Unfortunately, having been placed in a group which includes the likes of Australia, England and Ireland, they are not expected to go too far. Yet, the team currently ranked 17th in the world can draw heart from the recent exploits of Japan, who are 16th and had a fairytale run to clinch the Asian Games gold medal at Jakarta-Palembang only a couple of months ago.

The team has won a silver medal at the 2006 Doha Asiad besides having two bronzes at the Asia Cup in 1982 and 2009. But the men's team's silver at the Asiad in Qatar was overshadowed by the women's team bringing back gold.

It can be said that the women's field hockey team of China has been more successful than their men's counterpart. At Beijing Olympics exactly a decade ago, the women's team even won a famous silver medal, while the men's team crashed out without even registering a victory.

It's a little-known fact that a variation of the sport — called Beikou — used to be played in the Inner Mongolia region as many as 1,000 years ago.

And while the variation's reach was severely limited to the Inner Mongolia region, it is likely that should the Chinese team make a splash at the World Cup, the sport could find wider acceptability in the world's most populous country.

The Chinese will start their campaign against England on 30 November (Friday) before facing Ireland on 4 December (Tuesday) and Australia on 7 December (Friday).

China squad: Guo Xiaoping, Ao Zhiwei, Guan Quyang, Ao Suozhu, E Wenhui, Ao Yang, Meng Dihao, Su Jun, Meng Nan, Su Wenlin, Su Lixing, Du Chen, Du Talake, Guo Zixiang, E Wenlong, Wang Caiyu, Ao Weibao, Guo Jin

Firstpost


---

Best of the best: Australia or Pakistan?

Errol D'Cruz

Which is the greatest team in World Cup hockey history? It boils down to comparing the exploits of Pakistan and Australia in the 1982 and 2014 events respectively. Both teams made nonsense of the field on those occasions. Pakistan went on the rampage in conditions that suited them in Mumbai -- sweltering heat and lush green natural grass surfaces at the BHA and Wankhede stadiums. Thirty-two years later, Australia did likewise in The Hague, The Netherlands. There were significant differences though – the surface was artificial at the Kyocera and Greenfields stadiums and Pakistan were absent, failing to qualify.

Pakistan beat Germany in the final 3-1 to aggregate 38-12 from seven matches. Australia routed the hosts Netherlands in their final 6-1. Their goal record at the end of a campaign of total domination read 30-3.

There was no victory margin less than two goals for either side. Pakistan topped their pool with a goal record of 31-9. Led by Akhtar Rasool, the solid centre-half, the Green Shirts beat Germany 5-3, Poland and Spain 4-1, Argentina 6-1 and clobbered New Zealand 12-3.

They then beat the Netherlands 4-2 to make the final where they had things much their way against Germany struggling to cope with the intense heat.

Australia won their pool beating England 5-0, Malaysia and India 4-0, Spain 3-0 and Belgium 3-1 to run up a 19-1 goal record.

In the semifinals they brushed aside Argentina 5-1 and after trailing by a goal – just like Pakistan did in the 1982 final – came back to crush the Netherlands and make it the most one-sided World Cup final ever. There were further similarities. Both Pakistan and Australia retained titles and would have notched hat-tricks had they won the final preceding their back-to-back titles.

Pakistan lost to India 1-2 at Kuala Lumpur 1975, Australia to Germany 3-4 at Moenchengladbach 2006. In 1982, Hassan Sardar was the spearhead in an explosive forward line that comprised Manzoor Jr, Samiullah Khan, Hanif Khan and Kaleemulah Khan.

Curiously, though, they did not meet Australia, the pre-tournament favourites. The Aussies had come to grief in a penalty shootout against Germany in the semifinals.

In 2014, the Australians epitomized the competence that their coach Ric Charlesworth exuded. The icon was part of the Aussies' first ever World Cup triumph at London 1986 and won it as a coach in Delhi 2010. In the Aussies' ranks were seven-goal hero Chris Ciriello who scored a hat-trick in the final from drag flicks. Captained by iconic defender Mark Knowles, they also fielded livewire forward Jamie Dwyer of over 300 caps.

Kieran Govers, Glenn Turner and Mathew Swann added to the misery of rival defences at The Hague and although falling short of the goal tally of the Pakistanis 32 years earlier, 11 goals in the medal rounds makes for mind boggling reading.

Australia still have a chance of registering hockey's first-ever World Cup hat-trick after having reached the final four times in a row starting with the 2002 Kuala Lumpur edition.

The closest any team has come to clinching a hat-trick was when twice-champions Germany bowed to Australia in the 2010 Delhi final 1-2.

The Aussies have won the World Cup three times. Pakistan, a record four.

Deciding on the best team in World Cup history, however, may be a futile exercise given the separate set of conditions, not to mention the sea changes in rules and the nature of the game in the intervening 32 years. Australia were devastating at The Hague. True to their wont, they attacked and defended in numbers, were relentless in search for goals and clinical in the D.

For the neutrals, the torrid weather, the surface and the huge advantage they brought Asian teams in Mumbai may discount Pakistan fans' claims.

But coming close to scoring 40 goals and doing it with finesse and style may have left no doubt to those fortunate – and old enough – to have watched the 1982 World Cup that the tag belongs to Pakistan.

Stick2Hockey.com


---

Beat Belgium, top the pool for a shot at World Cup: John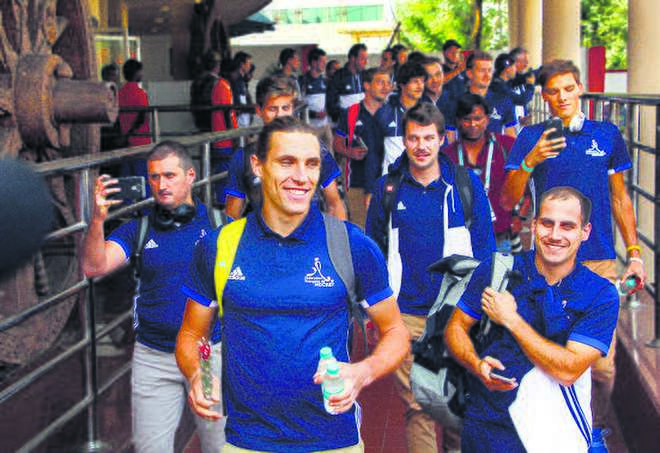 The French hockey team arrives in Bhubaneswar on Thursday. PTI

Hoping to regain the title after 43 years, India will have to top their pool to have a realistic chance of breaking their World Cup jinx, said High Performance Director David John.

Ranked fifth, India are placed in Pool C alongside current Olympics silver medallist and world No. 3 Belgium, South Africa and Canada. John said India will need to beat Belgium in the pool stages to avoid the cross-over round and directly qualify for the quarterfinals to enhance their chances.
"We have a very balanced team and conditions are also in our favour. There are tremendous expectations from us and we know that. But we need to top our pool. We need to beat Belgium and avoid cross-overs," John said.

India will open their campaign against South Africa on November 28 before squaring off against Belgium and Canada on October 2 and October 8, respectively.
Citing an example from the women's World Cup where India had to play the crossovers after finishing third in their pool, the High Performance Director said an extra game plays a big part in such a long tournament. "So we need to avoid cross-overs and win against Belgium," he said.

Only last month, John was dropped from the men's senior selection panel for showing "bias" against the senior players and preferring the juniors, but Hockey India selectors seemed to have heeded to the Australian's views while selecting the World Cup side. "It's not a young team, it's a mixture of youth and experience. We now have depth in the side. We do not have Rupinder but Varun (Kumar) is there to take his place. Dilpreet (Singh) has come of age in the absence of Ramandeep. So we now have the bench strength," John said. Asked about the bias allegation, John only said: "We need to look forward and create adequate bench strength keeping in mind the 2020 Olympics."

The Tribune


---

'United' India can lift hockey World Cup after 43 years, says Ajitpal



Finance Minister Arun Jaitley along with former hockey players, Mushtaq Ahmed, Harbinder Singh, Zafar Iqbal, Ajit Pal Singh, Rajender Singh releases a coffee-table book on the history of Indian hockey, in New Delhi. PTI

A united India, "on and off the field", has the capability to recreate history and lift the men's hockey World Cup after 43 years, feels the country's lone World Cup-winning captain Ajitpal Singh.

India's only World Cup triumph came in the third edition of the championships way back in 1975, after a 2-1 win over Pakistan at Kuala Lumpur.
Since then the eight-time Olympic champions' best performance at the World Cup was fifth-place finishes at the 1982 and 1994 editions.

But this time around Ajitpal has high hopes from Harendra Singh's brigade and feels the world ranked fifth Indian team can do wonders if they play to its potential and remain united throughout the event.

"Our team is looking sharper, more combined, fitter. They have now learnt how to handle hockey on turf. But the team which plays together can achieve anything," Ajitpal said on the sidelines of the release of a curated coffee table book titled 'The Illustrated History of Indian Hockey: A Saga of Triumph, Pain and Dreams, authored by senior sports journalist V Krishnaswamy.

"But for that we will have to remain united on and off the field. Our target should be nothing other than winning the cup," he added.

The coffee table book was released by Finance and Corporate Affairs Minister Arun Jaitley in the presence of International Hockey Federation (FIH) and Indian Olympic Association (IOA) chief Narinder Batra, Hockey India President Mohd Mushtaque Ahmad, Secretary General Rajinder Singh and CEO Elena Norman among others.

The former hockey stalwart said anything less than semifinals would be a below-par performance for the Indians in front of their home fans.

"We should know how to handle pressure. We should finish in top four and after that it can be anybody's game," Ajitpal said.

Another hockey great Zafar Iqbal, a member of India's last Olympic gold-winning side in 1980, opined with his senior teammate and said the hosts need to play like "champions" from the word go.

"It won't be easy as all the top hockey playing nations of the world will be vying for the cup but India has a balanced team with a mixture of youth and experience," he said.

"We have the capability to play in the semis or the final but for that we should play like champions.

"Definitely there will be pressure but the team is looking confident. We are now mentally much stronger and we should play tough hockey against any team," he added.

The men's hockey World Cup will be played in Bhubaneswar from November 28 to December 16. Hosts India will open their campaign against South Africa on the opening day of the event.

The Tribune


---

Veteran Kumar doesn't believe in giving up despite hardships

By Aftar Singh

KUALA LUMPUR: Malaysia's longest serving goalkeeper S. Kumar faced three major hardships in his career – when he lost his father and son, then failed a doping test.

But the 38-year-old keeps coming back.

While many would have given up after going through the three difficult experiences in life, Kumar continues to stand tall.

He proved that he is still one of the best goalkeepers in the country when he was named for the World Cup in Bhubaneswar, India, from Nov 28-Dec 16.

And Kumar is eyeing to justify his selection by doing well in his last World Cup.

Kumar admitted there were times when he thought that his career was over, but the support from his family, friends and hockey fraternity kept him going.

He also religiously sought divine help in the midst of chaos at different stages of his difficult life and found peace.

"Any other player would have given up hockey if they had gone through what I've gone through," said Kumar, who has represented Malaysia since the 1999 Brunei SEA Games.

"The tragedies broke me apart. Then, I had to face the doping ban ... it was such a tough period for me."

He lost his father and No. 1 fan S. Subramaniam in 2010 while Kumar was in New Delhi for the Commonwealth Games.




Five years later, Kumar's youngest son Harshenn, 3, died at the Kuala Lumpur Hospital due to a blood infection while he was in Antwerp, Belgium, for the World League Semi-Finals.

Last year, the Tampin-born was tested positive for sibutramine – an appetite suppressant banned by the World Anti Doping Agency – after a group match against Oman in the Asia Cup in Dhaka, Bangladesh. He was banned for six months.

Glad that his career did not end in a miserable way, Kumar aims to make amends in his second and final World Cup outing.

"I'm glad that I'm still needed in the national team. Besides, hockey is an avenue to forget all my painful memories," said Kumar, who has been the mainstay of the team for about two decades.

Malaysia are in the World Cup partly because of Kumar's excellent performance when he pulled off breathtaking saves to help Malaysia finish fourth in the World League Semi-Finals in London last year.

That earned Malaysia a spot for the World Cup and Kumar was adjudged the best goalkeeper in the tournament.

"Winning the best keeper is not important, my focus is to play well between the two posts and help Malaysia finish in the top-10 at the World Cup," said Kumar, who has recovered from a minor thumb injury.

Malaysia are drawn in Group D and they will open their campaign against Holland on Dec 1 followed by matches against Pakistan (Dec 5) and Germany (Dec 9).

The Star of Malaysia


---

Hockey World Cup Memories: Tahir Zaman remembers overcoming father's demise to help Pakistan lift trophy in 1994

Tahir Zaman



File image of Tahir Zaman (left)

Tahir Zaman was part of the 1994 World Cup-winning Pakistan team. A former captain and national coach, Zaman is currently the head coach of Oman hockey team. He spoke to Shantanu Srivastava.

Winning the 1994 World Cup for Pakistan was a special achievement in my career. I still remember the comments and jibes from certain hockey experts in Pakistan. While leaving for the World Cup, we read in newspapers that we were not good enough to win a teacup, forget World Cup. Those comments triggered us. we were determined to prove our detractors wrong.

Honestly, we were not really a world-beating side when we landed in Sydney, but as we kept winning, the momentum developed. After we beat Argentina and Spain in our first two matches, we started believing. My father passed away before our first match, and I was given the offer to go home. But I remembered my father's words when I was leaving for the World Cup. He said, "You have been winning very small tournaments. It would be very nice if you return as a World Cup winner." Those words stayed with me. They kept ringing in my ears, and I decided that I won't go back without winning the World Cup. So that event has a very, very special place in my heart. By the grace of God, we won and I was happy to contribute towards the team's success.

Our manager, Rashid Jr, was like an elder brother to us, and he helped the team gel really well. We had a trainer from Holland, and he played a big role in ensuring we played disciplined hockey. Skill-wise, we were already there. Once the momentum was on our side, we really were tough to beat.

Both our semi-final (against Germany) and final (against The Netherlands) went to penalties. The turning point came in the shoot-out against Germany, when Shahbaz Ahmed took the penalty. He was reluctant to take the stroke, as he was not a regular at it. But since we had no one else to go for that shot, Shahbaz took the challenge. His stroke barely crossed the goal-line, and it was his deception that beat the German keeper. We were in the final, and that match was another thriller.

Holland were the favourites in the final, but we had a very good game, especially in the second half. We had better ball possession, more circle entries and a higher number of shots on the goal, but we were not lucky to finish the game in regulation time. Players like Floris Jan Bovelander and Jeroen Delmee do not miss penalties too often, but both missed in the final and we won the World Cup.

We had a wonderful team in 1994. Shahbaz, Wasim Feroz, and Mansoor Ahmed were all world-class players. There were fewer distractions in my playing days. These days, young players have internet, smartphones and all the technology to keep them busy. We, on the other hand, had nothing to take our attention away from hockey. There were too few mobile phones and television channels, so we slept on time and trained extra. It gave us an opportunity to master our skills and develop our game. These days, there is too much distraction and these gadgets do not allow our youth to focus. I guess if we were playing in this generation, we wouldn't have been too different either.

Back then, we played a lot of European leagues and also in Asian leagues in countries such as Bangladesh. Those were the early days of professional hockey, and playing abroad helped us develop our game immensely. I still remember Shahbaz was the highest paid foreign player in Europe. Personally, I picked a lot of things in Europe that helped me in my coaching career. It built my base as a coach.

The current Pakistan team is promising, but they have to take every match very seriously. We are in a very tough pool, and every match will be like a final. We failed to qualify in the 2014 World Cup, but this team has shown improvements, albeit in patches. The event has expanded to 16 teams this year, which actually helped us qualify.

Pakistan have brought in foreign coaches of late, and I think the officials thought maybe it's time to focus on disciplined hockey. I agree with that thought. Pakistan have always had skillful players, but they need to learn to play to a particular structure and formation. The players should know when and where to showcase their skills.

It's a time-consuming process, and I think we should be patient. Team management and officials need to be persisted with and not be removed after just a year or two. We had a foreign coach for two years in this Olympic cycle, and that certainly helped. We then switched back to a domestic coach before moving to Roelant Oltmans. There has to be some consistency with these appointments. We need to address a lot of areas, and consistency with coaches is the key. The subcontinent federations must treat subcontinent coaches the way they treat European coaches.

Firstpost


---

Book on Indian Hockey: A Peep Into the History, Pain & Triumph

Launched in the run-up to the Hockey World Cup that begins in Bhubaneswar in less than a week's time, the book is an attempt to showcase India's glorious past and trace Indian hockey's triumphs and pain all through the years.

Harpreet Kaur Lamba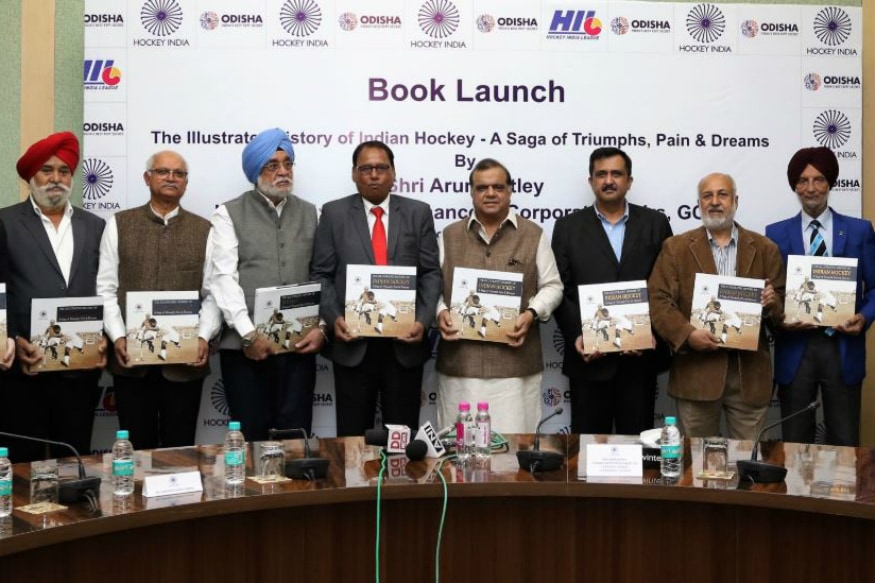 Book on Indian Hockey: A Peep Into the History, Pain & Triumph (Twitter)

New Delhi: What happened when hockey legend Dada Dhyan Chand found about his inclusion in the national team for the first time? Why did British India's first hockey captain Jaipal Singh Munda left the team before the 1928 Olympics semi-finals? India's first Hockey World Cup title in 1975, their toil and dominance through the eight glorious Olympic gold medals, the emergence of the astroturf and the decline thereafter and the resurrection to the present times… all this and much more has found its way into a documented form as Hockey India on Thursday released a coffee table book 'The Illustrated History of Indian Hockey: A Saga of Triumph, Pain & Dreams' in the capital.

Launched in the run-up to the Hockey World Cup that begins in Bhubaneswar in less than a week's time, the book is an attempt to showcase India's glorious past and trace Indian hockey's triumphs and pain all through the years.

Minister of finance and corporate affairs Arun Jaitley released the book in front of a select audience, saying it is very "important to preserve history".

"Just like the monuments, books are another way of preserving the culture and history and having an event like the World Cup in India will establish the sport in masses' hearts," Jaitley said.

As India prepare to face South Africa in their opening World Cup match on November 28, the players will look to draw inspiration from the 1975 World Cup winning team that defeated Pakistan 2-1 in the final at Kuala Lumpur, all of which has been mentioned in detail.

The book also traces the origin of hockey as a sport.

"Like most sports, it is difficult to put an exact year as to when and where hockey was first played. Yet historians, both in sport and otherwise, agree that there is evidence of a game resembling modern hockey almost 4000 years ago in ancient Egypt.

"On the walls of a tomb built around 2000 BC at Beni Hasan in the Nile Valley near Minia, about 250 kilometres south of Cairo in Egypt, is a drawing which shows two people in a position similar to a 'bully-off' in modern hockey," the author says.

"When the game was seen in some form that resembles modern hockey, it was called hurley in Ireland and shinty in Scotland."

India's performance at the Olympic Games and the World Cup (from 1908 till present times) is documented through various chapters and never-seen-before photos, highlighting how Indian hockey completed a circle. From the high of being many-time Olympic champions to failing to qualify for the 2008 Beijing Games and then trying to rebuild gradually, the book brings forth the history of the "unofficial national sport".

The first hockey player to receive the Padma Shri, Balbir Singh Senior, finds a special mention along with all the Padma Shri and Arjuna award awardees till date.

FIH president Narinder Batra and former hockey players Ajit Pal Singh, Zafar Iqbal, Harbinder Singh and Mamta Kharab were also present on the occasion.

News18


---

HI releases coffee table book

As part of its build-up to the men's Hockey World Cup beginning next week, Hockey India, on Thursday, released a curated coffee table book capturing the journey of the sport over the years.

Titled The Illustrated History of Indian Hockey: A Saga of Triumph, Pain and Dreams, the book was released by Finance Minister Arun Jaitley in the presence of FIH and IOA president Narinder Batra and Hockey India president Mohd. Mushtaque Ahmad.

Former players Ajitpal Singh, Zafar Iqbal, Harbinder Singh and Mamta Kharab were also present on the occasion.

"Preserving history is very important, we often preserve it in the form of museums. Publications like a coffee table book become very important as they are easy to read with beautiful pictures," Jaitley said.

Interesting trivia

The book includes historical and other interesting hockey trivia and traces India's performance in the sport since the 1928 Olympics and other key international events including the World Cup, Asian Games and Commonwealth Games.

The Hindu


---

Sindh govt gives Rs100m grant to Pakistan hockey




KARACHI: Sindh Chief Minister Murad Ali Shah's Advisor Murtaza Wahab has confirmed that the Sindh government has given the Pakistan Hockey Federation (PHF) a grant of Rs100 million.

Speaking to Sports Channel, Wahab said: "Cooperation between the government and the hockey federation is under way with the monetary aid being given to the PHF before the commencement of the World Cup."

When asked if the Sindh government would summon reports from the PHF regarding the expenditure of money, Wahab said: "This is not possible. It is at the hockey federation's discretion how they want to spend the money."

The PHF had earlier asked the Sindh government for Rs80 million before the World Cup which it is yet to receive. However, reports suggest that HAIER has given the hockey federation Rs90 million in sponsorship money.

On the other hand, businessman Malik Riaz's son gave the 25 players training at the camp in Lahore Rs100,000 each.

 Further, Rs1.75 million of the grant given by the Sindh government will be given to the players and the management as a daily allowance.

Hockey World Cup 2018 will feature hosts India, Argentina, Australia, Belgium, Canada, England, Germany, Ireland, Malaysia, Netherlands, Spain, New Zealand and Pakistan, and will be held in Bhubaneswar from November 28 to December 16.

The Daily Times


---

SPAR South Africa squad named for upcoming series



Picture - South African Women's Indoor Hockey Team (Facebook)

The South African Hockey Association today announces the SPAR South Africa Indoor Hockey squad for the upcoming series against the Pro Series Indoor World All-Stars in Cape Town in December. The same squad will also take part in two test series in Europe in January.

The All-Star series in December will feature a collection of the best players in the world from Germany, Netherlands, Poland, Sweden, Namibia and Zimbabwe. It offers the SPAR South Africa team another opportunity to gauge the progress on their development.

In the recent test series against African champions Namibia, SPAR South Africa were victorious 3-0, stretching an impressive undefeated run to 25 test matches. Victory in the fourth test was also the 50th test victory for Lennie Botha as coach in just his 70th match as national coach, incredibly only tasting defeat on 12 occasions. Botha himself will be excited by the opportunity of taking on the best in the world.

Cindy Hack, the most capped South African indoor hockey player, will once again be tasked to lead the team. She will be joined by fellow experienced star Jessica O'Connor, player of the tournament at the recent IPT in Cape Town. In goals the duo of Cheree Greyvenstein and Zimi Shange will continue to share the responsibility as they have done fantastically well over the past two test series.

Edith Molikoe, who debuted against Zimbabwe in August, and Jessica Lardant, who debuted against Namibia in October, both hold on to their spots, while Tegan Fourie and Jamie Southgate both are recalled after missing the Namibian series. Lilian du Plessis, who has more than 100 caps for South Africa in outdoor hockey, will look to embed herself further in the team after playing her first series against Namibia.

With a host of youngsters in the squad the experience of Kelly Reed, playing in her first series since the victorious Croatian Cup, and Amy Greaves will be vital in embedding the new players into the culture of the team. There is also a well-deserved call up for Andrea Leader. The Western Province star was fantastic in the IPT and impressed the selectors enough to get her debut cap.

Coach Lennie Botha shared his thoughts on the squad: "We are in a process of exposing more players to international indoor hockey to build up our experience and depth. We have had a great year so far, but we know the All-Stars will be a fantastic test of how far we have developed as a squad. We are looking forward to playing at Psi in front of all the kids and passionate indoor hockey fans!"

SPAR South Africa will take on the World All-Stars in a four-match series in December. The matches will all be at UCT at 18:30 on the 14th, 15th, 18th and 19th of December.

No, Name, Province, Caps

1, Amy Greaves, KZN Inland, 42
2, Andrea Leader, Western Province, 0
3, Cheree Greyvenstein (GK), SPAR KZN Raiders, 17
4, Cindy Hack (C), SPAR KZN Raiders, 72
5, Edith Molikoe, KZN Inland, 10
6, Jamie Southgate, Western Province, 15
7, Jess Lardant, SPAR KZN Raiders, 5
8, Jessica O'Connor, SPAR KZN Raiders, 70
9, Kelly Reed, SPAR KZN Raiders, 44
10, Lilian du Plessis, Southern Gauteng, 5
11, Tegan Fourie, SPAR KZN Raiders, 14
12, Zimi Shange (GK), SPAR KZN Raiders, 8

Team Staff
Lennie Botha (Coach)
Brighty Mashaba (Video Analyst)
Robyn Morgan (Manager)

SA Hockey Association media release


---

Sentinel Homes sign on as Presenting Partner for the FIH Pro League in New Zealand




Hockey New Zealand is thrilled to announce Sentinel Homes as the Presenting Partner of the FIH Pro League in New Zealand which begins on the 27th January 2019 when the Vantage Black Sticks take on the Netherlands Men and Women. 

The NZ locally owned and operated home building company's support helps deliver the event which will see 9 of the of best male and female hockey teams visit New Zealand to play in the inaugural FIH Pro League. 

The New Zealand venues will be North Harbour Hockey Stadium which will host 5 double headers starting 27th January vs the Netherlands Men and Women, 1st February vs the Belgium Men and Woman, March 8th vs the Spain Men and USA Women, 10th March vs the Argentina Men and Women and 25th April vs Australia Men and Women.

Ngā Puna Wai Sports Hub in Christchurch which will host 3 double headers on the 8th February vs Great Britain Men and Women, 15th February vs Germany Men and Women and the 17th February vs the Pakistan Men and China Women. 

Sentinel Homes have partnered previously with Hockey New Zealand and the Vantage Black Sticks when in 2017 North Harbour Hockey Stadium played host to the Sentinel Homes Hockey World League Finals for Women, where the New Zealander's finished runner's up to World Champions, the Netherlands. The success of this tournament and the future of this global event attracted Sentinel Homes to connect with Hockey New Zealand again for this tournament.   

Hockey New Zealand CEO Ian Francis stated that "having a pinnacle event like this in New Zealand is only able to happen with the support of companies like Sentinel Homes. Having Sentinel Homes on board is going to be critical to the success of this tournament and will allow us to create a world class event which will have a significant lasting impact on the sports brand and grow hockey in New Zealand".  

Sentinel Homes Managing Director Stuart Shutt stated "Being able to partner with Hockey New Zealand on this revolutionary global competition was an opportunity we couldn't pass up. Both organisations share a lot of common values and enjoy working together to bring world class events to New Zealanders doorsteps".   

The FIH Pro League - Presented by Sentinel Homes – will be a massive event for the growth of international hockey. It will see 144 matches played from January to June each year for the next four years (2019-2022) between 9 of the top male and female teams in the world. New Zealand will host 8 double headers each year in this ground-breaking global league, and will broadcast live on Spark Sports. 

General admission tickets are on sale now at www.ticketek.co.nz

More details at http://blacksticks.co.nz/2019FIHProLeague

Hockey New Zealand Media release


---

PREVIEWS: English Men's Hockey League

Sevenoaks host East Grinstead in the Men's Hockey League Premier Division on Saturday, as they aim to lift themselves off the bottom of the table before the Winter break.

With just two points to their name so far, Sevenoaks could climb up to eighth if they can secure a victory and other results go in their favour.

"It is an important game for us," said Sevenoaks captain Tim Warrington said: "We find ourselves in a pretty nasty position as we head towards the Christmas break and we need to start getting some more points on the board before we get cut adrift at the bottom of the table.

"Over the last couple of weeks most of the teams around us have picked up points, so we need to do the same to put ourselves back amongst the pack.

"We have had a really tough start to the season. Unfortunately we suffered a number of injuries that have meant we've struggled to get our best squad out week to week.

"But we've been playing some pretty good hockey though and competing well in games, and it feels like we're not far away from putting it all together and getting a positive result. Hopefully for us that will be this weekend."

In other top flight action leaders Surbiton host third-placed Beeston on Saturday evening, while Hampstead and Westminster are second and could draw level with Surbiton if they beat the University of Exeter and Beeston beat the leaders.

Holcombe will want to hang on to their spot in the top four with a win over visitors Wimbledon on Sunday, while Brooklands MU have a home game against Reading.

Leaders Bowdon go to the University of Nottingham in the Conference North on Sunday, while the University of Durham lie second and could go top if they beat Preston.

Second-placed University of Birmingham head to third-placed Havant in the Conference West on Sunday, and could go top of the pile if Olton & West Warwicks slip up against Oxford Hawks.

And in the Conference East unbeaten leaders Old Georgians have a tough home game against third-placed Southgate, while second-placed Oxted are at home against Brighton and Hove.

FIXTURES

Men's Hockey League

Saturday, 24 November 2018

Premier Division
Sevenoaks v East Grinstead 17:00
Surbiton v Beeston 18:00

Conference East
Old Loughtonians v Teddington 16:30

Conference North
Belper v Leeds 14:00

Sunday, 25 November 2018

Premier Division
Brooklands MU v Reading 12:15
Hampstead & Westminster v Univ of Exeter 13:30
Holcombe v Wimbledon 14:00

Conference East
Canterbury v Cambridge City 12:45
Oxted v Brighton & Hove 12:45
City of Peterborough v Richmond 13:00
Old Georgians v Southgate 14:00
 
Conference North
Univ of Nottingham v Bowdon 13:00
Univ of Durham v Preston 13:00
Loughborough Students v Sheffield Hallam 14:00
Doncaster v Alderley Edge 14:00

Conference West
Cardiff & Met v Chichester 12:30
Isca v Team Bath Buccaneers 12:30
Olton & West Warwicks v Oxford Hawks 13:30
Fareham v Univ of Bristol 13:30
Havant v Univ of Birmingham 14:00

England Hockey Board Media release


---

PREVIEWS: Investec English Women's Hockey League

Bottom of the table Canterbury take on Clifton Robinsons on Saturday, aiming to secure their first win of the season in the final match before the winter break in the Investec Women's Hockey League Premier Division.

Despite their position, Canterbury's form has been improving and they led against Surbiton last weekend before falling to a narrow 2-1 defeat.

A win this weekend could see them close the gap to the rest of the teams in the bottom four to just one point, and give them hope of climbing up the table when the season resumes in February.

"We took a lot of encouragement from our last performance," said Canterbury official Gill Prince. "But not only from that - we are making improvements week-on-week and hope to continue this in Saturday's game against Clifton Robinsons.

"It is crucial to win the last match and keep pace with the other teams. It is important for our confidence to go into the Christmas break within touching-distance of the teams ahead of us.

"We are looking to continue to improve our connections and processes during the indoor season and use that to strengthen our performances in the second half of the outdoor season."

Elsewhere leaders Surbiton have a home game against Beeston, while second-placed Holcombe entertain the University of Birmingham as they try to keep pace with Surbiton.

Second-bottom Bowdon Hightown have a home game against Buckingham, while East Grinstead face Slough in the other top flight match.

In the Investec Women's Conference West, runaway leaders Stourport will be aiming to make it nine league wins in a row when they go to Trojans, while second-placed Swansea City have a home game against bottom of the table Exe.

Leaders Loughborough Students have an away game at Timperley in the Investec Women's Conference North, while Leicester go to Ben Rhydding for a match that could see them go top if Loughborough drop points.

And in the Investec Women's Conference East third-placed Harleston Magpies host leaders Hampstead and Westminster, who are just three points ahead.

Wimbledon are second in the East, and could go top if they beat visitors Southgate and other results go in their favour.

FIXTURES

Saturday, 24 November 2018

Investec Women's Hockey League

Premier Division
Clifton Robinsons v Canterbury 13:00
Bowdon Hightown v Buckingham 13:45
Holcombe v Univ of Birmingham 14:00
East Grinstead v Slough 16:00
Surbiton v Beeston 16:00

Conference East
St Albans v Cambridge City 13:00
Bedford v Sevenoaks 13:30
Harleston Magpies v Hampstead & Westminster 13:30
Ipswich v Horsham 14:00
Wimbledon v Southgate 14:00

Conference North
Univ of Durham v Brooklands-Poynton 12:00
Belper v Leeds 12:00
Timperley v Loughborough Students 12:30
Sutton Coldfield v Fylde 12:30
Ben Rhydding v Leicester 13:30

Conference West
Isca v Olton & West Warwicks 12:00
Barnes v Gloucester City 12:00
Oxford Hawks v Reading 12:00
Swansea City v Exe 12:00
Trojans v Stourport 12:00

England Hockey Board Media release


---

Loreto and Pegasus continue to set a hot pace

League leaders facing a tricky test against in-form Pembroke

Mary Hannigan



Railway's Sarah Hawkshaw: included in the Ireland panel earlier this week. Photograph: Laszlo Geczo/Inpho
 
Saturday sees the eighth and final round of Irish Hockey League matches before the winter break, the competition not resuming until February.

While most of the chasing pack's end of term report might read 'must do better', Loreto and Pegasus would probably pick up an A for their efforts so far.

Loreto lead the way on goal difference having won eight more points in the campaign than at the same stage last season, their only blip so far a 2-0 defeat by UCD in October.

Pegasus, meanwhile, have only dropped points to Loreto in a 2-0 home defeat earlier this month – in the corresponding fixture 12 months ago, the Belfast side trounced their Dublin visitors 6-0, an indication of how far Champions Trophy winners Loreto have come since then.

Loreto's next challengers are Pembroke Wanderers who have won four of their last five games, having been beaten in their opening two fixtures. That run of results has them in fourth place on 12 points, just two shy of their total for all of last season's Hockey League.

Pegasus are back in Dublin on Saturday to take on a Muckross side that have struggled since their opening day draw with Ards, losing their next six games to leave them bottom of the table with the Ulster side.

Third-placed UCD host Cork Harlequins (sixth) at Belfield while Belfast Harlequins (fifth) take on Old Alexandra (seventh) at Deramore Park.

Railway Union, who had both Sarah Hawkshaw and Amy Elliott included in the Irish panel named earlier this week, will attempt to climb out of the bottom three when they visit Ards.

The Irish Times


---

Beatson Cancer Charity announced as Official Charity of Women's Super Series 2018




Scottish Hockey is proud to announce Beatson Cancer Charity as the Official Charity Partner of the upcoming Super Series competition.

The Beatson Cancer Charity Women's Super Series 2018 will be held at the Glasgow National Hockey Centre on 30th November, 1st and 2nd December 2018 and will feature three teams: Dundee Devils; Edinburgh Lightning; and Glasgow Thunder – with 54 of Scotland's best female hockey players featuring in three teams of 18 in this exciting new competition.

Entry to the Super Series is free for anyone who wants to attend.

Scottish Hockey CEO, David Sweetman, said, "I'm proud to support Beatson Cancer Charity as Scottish Hockey's charity partner for Super Series. It is a wonderful charity that has made a massive difference to patients in the West of Scotland, and it is a pleasure to have the charity on board.

"Beatson Cancer Charity Super Series will be an excellent weekend of women's hockey and I'm thrilled to have such a great partnership for such an exciting event."

Beatson Cancer Charity's CEO, Graham Soutar, said: "Beatson Cancer Charity is delighted to be chosen as Scottish Hockey's official charity partner for the Super Series competition.

"It's a free event for all the family and a chance to enjoy some outdoor activity, so we're encouraging everyone to come along.

"The charity is grateful to Scottish Hockey and Nicola Pitticas for introducing us to the sport and allowing us to be part of this fantastic weekend."

Scottish Hockey Union media release