All the news for Wednesday 21. November 2018

Wanglibao Hockey Champions Trophy Changzhou Wujin 2018 - Day 3
Changzhou (CHN)

Results 20 November

AUS v NED (RR)     0 - 3
ARG v CHN (RR)     0 - 2
JPN v GBR (RR)     2 - 2

Wednesday 21 November is a rest day

Fixtures 22 November (GMT +8)

14:00     ARG v JPN (RR)
16:00     CHN v AUS (RR)
18:00     GBR v NED (RR)

Pool standings
---

China's wall thwarts Argentina while Oranje cause Australia to feel the blues




The Netherlands (FIH Hero World Ranking:1) have moved to the top of the table as they took control of their encounter with Australia (WR:3).

After a slow start, by their standards, to the competition, this was a better performance by the 2018 World Cup winners. Australia, by contrast, were not as sharp as they had been in their previous two matches at the Wanglibao Hockey Champions Trophy Changzhou Wujin. They remain in second place in the competition.

Argentina are on zero points after the shock result of the day saw China (WR:11) beat Las Leonas (WR:4) by a 2-0 score-line. The result puts China on five points, one point behind Australia.

Japan will be delighted to have held the world number two side Great Britain to a 2-2 draw. Japan currently have one point, while Great Britain have two points to their credit.

Australia v Netherlands 0-3 (0-2)

Australia had started the competition so brightly that this match had all the makings of a really combative and thrilling encounter. Unfortunately for the Hockeyroos this was the day they failed to ignite as a team and as the Netherlands took a firm grip on the game, the team in gold and green saw their belief slipping away.

The world number one side, the Netherlands, themselves have not been at their sumptuous best in the early stages of the tournament but, as Xan de Waard said: "Today was our best performance of the competition so far and we made a lot of space for ourselves.

"Also, we are a new team and so it is taking time for everyone to get to know each other. That is beginning to happen now."

One of the stars to emerge from the new look Dutch team is teenage sensation Marijn Veen and it was the 19-year-old who scored the opening goal. The ball was played round the back and slipped into the melee of players. Two attempts on goal were kept out by the ever-agile Rachael Lynch but Veen was on hand to slap home as the ball bounced loose. Until that moment, the pressure had been equally distributed.

Both sides were playing some nice balls across and around the pitch but there were also some unnecessary risks being taken and a lot of turned over possession. With the goal, Dutch nerves seemed to settle and suddenly Australia were left chasing shadows and playing hopeful passes that were easily intercepted.

The second Dutch goal came from the reliable stick of Caia van Maasakker. A penalty stroke was awarded for an infringement in the circle and van Maasakker stepped up to score her third of the competition.

Jodie Kenny had a chance to reduce the deficit but her penalty stroke flew past the outside of Josine Koning's goal.

The third Dutch goal was a thing of beauty. Ginella Zerbo drove the ball along the baseline and slipped it to Maria Verschoor. She in turn put it back into Zerbo's path and from a narrow angle she shot home.

"We had a bad day today and you can't afford to do that against the number one side," said Paul Gaudoin, Head Coach to Australia.

"We saw the chinks in the Netherlands' armour at the World Cup in London, and if we make the final, we will be looking to exploit that."

Argentina v China 0-2 (0-2)

A first win for the host nation had the crowd cheering rapturously as China (WR:11) beat Argentina (WR:4) in convincing fashion.

Two well-taken goals, a rock solid defence and a little slice of luck were the recipe for China's victory over the Hockey Champions Trophy reigning champions.

"We knew that Argentina has a great attack," said China's captain Cui Qiuxia, "So we knew our defence had to be good. We got the goals and then our defence worked very hard to keep the Argentina team out.

"We will have to do the same against Australia in the next game. And we will need to really keep the ball moving because Australia are a team that keeps a very good structure."

Argentina's captain Delfina Merino emphasised that her team's biggest failing at this event so far has been its inability to turn pressure into goals. This was a fair summary of the final quarter of this game as Argentina peppered the China goal with shots, including numerous penalty corners and a shot from the captain herself that struck the crossbar.

Star of the show for China was goalkeeper Chen Yi who saved time and again from the wave after wave of Argentinian attack.

For China there was no such problem. Both goals came in the first half and were the result of a swift break down the right-hand side of the pitch and then a slip back to where the forwards were lurking. First to pounce was Zhang Jingrong, whose quick stick work enabled her to turn her defender and slip past Belen Succi. The second goal came 15 minutes later and was scored by Li Hong – almost a mirror reflection of the first goal.

Reflecting on the game, Merino said: "We are missing our chances. We made a lot of chances against Holland and the ball didn't go in. This game, we didn't start so actively and China took their chances but in the second half we created lots. We must work on our corners that is for sure, and for us forwards, scoring is what we do and we aren't doing that at the moment. We are a young team and we are learning but these are the immediate things we must work on."

Japan v Great Britain 2-2 (1-2)

Great Britain (WR:2) looked to be on course for a sparkling victory as they raced to a 2-0 lead over Japan (WR:14).

First Sophie Bray scored one of her typical poacher's goals, darting in to jab the ball past Megumi Kageyama in the Japanese goal. Four minutes later and Tessa Howard scored her first goal in a major international, getting on the end of a smart move and striking home with composure.

As Giselle Ansley said in a post-match interview: "We should have built on that lead," but Japan are not a team to ever stop trying and gradually the tide turned in favour of the Cherry Blossoms.

As the Japanese midfield, led by the always-industrious Yui ishibashi and Hazuki Nagai, harried the Great Britain team, so a breakthrough looked all the more likely. A save from Sabbie Heesh fell in front of Nagai and she had no hesitation in banging the ball back where it had come from. The defence could only watch as the ball flew into the roof of the net.

Great Britain were exhorted to take the game to Japan by Head Coach David Ralph in his half-time team talk but it was Anthony Farry's Japan who started on the front foot.

Nagai scored her second goal of the match. A penalty corner strike saw the player deflect the ball into the goal and bring the match onto equal terms.

The final few minutes saw Great Britain pushing for the winner. Anna Toman made some good runs down the right-hand side of the pitch and Sophie Bray was busy agitating for the ball in the Japanese circle.

It was not one-way traffic however and Japan will have been pleased to resume the form that saw them threaten the Netherlands on the first day of competition.

Speaking after the game, goal scorer Howard said: "Obviously we are disappointed not to be winning games but we are on a huge learning curve and every game is helping us build strong foundations. We might not be getting results at the moment but there is a huge sense of excitement around this squad."

"It wasn't a loss," said Ansley, "but it was very frustrating. We got off to a great start and took an early lead but then we took our foot off the pedal and they came back into the game. We wanted to really go after them (Japan) and we had to win that game, so yes, it was really frustrating."

Wednesday 21 November is a competition rest day

Match schedule for Thursday 20 November (all times UTC+8)

14:00 Argentina v Japan
16:00 China v Australia
18:00 Great Britain v Netherlands

FIH site


---

Hockeyroos Humbled By World Number One Dutch

Ben Somerford




The Hockeyroos' winning start to the 2018 Women's Champions Trophy has come to an end at the hands of the top-ranked Netherlands 3-0 in Changzhou on Tuesday night.

After a goalless opening 15 minutes, the Dutch broke the game open with two second quarter goals from Marijn Veen and Caia van Maasakker.

Australia spurned their chance to get back into the game when Jodie Kenny's 40th minute penalty stroke was saved by Dutch goalkeeper Anne Veenendaal.

The Netherlands sealed the victory in the first minute of the last period when Ginella Zerbo finished a neat move.

Australia, who remain second on the standings, are next in action on Thursday against hosts China PR from 7pm AEDT live on Fox Sports 507.

The Netherlands dominated the statistics count, with 13-1 shots, 7-1 penalty corners and 25-6 circle entries and Hockeyroos coach Paul Gaudoin acknowledged they were too good.

"They showed why they're the best in the world, we tried to challenge them but they're very, very good," Gaudoin said.

"We were disappointed with our performance but we'll learn a lot from it."

After an uneventful opening quarter, the Dutch took the lead in the 21st minute after a goalmouth scramble where Kalindi Commerford couldn't clear her lines, allowing Veen to swoop from close range.

The Dutch doubled their lead in the 28th minute when they won a penalty stroke from a short corner after Xan de Waard drove to the baseline and cut back to find Maartje Krekelaar whose goalbound shot was blocked by Jane Claxton's foot on the line.

Van Maasakker stepped up from the resultant penalty stroke and made no mistake to Rachael Lynch's left.

Australia finally got their first circle entry in the final minute of the first half, but 50-gamer Maddy Fitzpatrick's shot was blocked.

The Dutch raced down the other end and almost made it three, when Maxime Kerstholt's pass found an unmarked Maria Verschoor who fluffed her chance.

Substitute goalkeeper Ash Wells made a series of good saves from Dutch third quarter penalty corners before Australia found a route back into the match in the 40th minute.

Stephanie Kershaw drove forward and was bundled over inside the D by Lauren Stam. Australia called for a referral which was retained, earning the Hockeyroos a penalty stroke.

However, Kenny's effort high to Veenendaal's right was well saved to ensure it remained 2-0.

Zerbo made it 3-0 in the 46th minute after a nice one-two with Verschoor, firing past Wells with an angled effort.

Wells contained the damage when she saved with her outstretched left leg from Margot van Geffen's effort too.

The Morwell shot-stopper made late saves from Veen and Verschoor to keep it at 3-0.

Australia 0
Netherlands 3 (Veen 21', van Maasakker 28', Zerbo 46')

Hockey Australia media release


---

Japan Hit Back To Hold GB To Champions Trophy Draw



GB v Japan HCT 2018

Great Britain are still searching for their first win at the 2018 Champions Trophy after being held by Japan.

Goals from Sophie Bray and Tess Howard saw the reigning Olympic champions race into an early lead, the latter finding the net for the first time in international hockey.

But Japan dominated much of the rest of the game, with Hazuki Nagai scoring twice while Motomi Kawamura smashed the woodwork during the third quarter.

Despite not securing their maiden victory of the tournament, head coach David Ralph could still find plenty of positives for his side to take from the match.

"We know Japan are a good team – we went 2-0 up and played really well in the first quarter but their aggressive pressing got to us a bit.

"Like a lot of teams at this tournament, we've got some new players in our squad so we're developing.

"We're pleased with several areas of our game but we've still got some aspects to work on."

Kawamura flashed a shot wide in the third minute before Britain raced up the other end to open the scoring as Bray bundled the ball home after neat work between Anna Toman, Laura Unsworth and the East Grinstead forward.

Howard then scored in spectacular style two minutes later, showing impressive determination to force her way into the circle before slotting the ball into the corner of the goal while falling.

Bray could have made it three before the end of the first quarter but fired her shot narrowly over the crossbar before Sarah Robertson did well to charge down two 20th minute corners.

Japan now had the bit between their teeth and clawed one back shortly after, Nagai lifting the ball over Amy Tennant after good work by Minami Shimizu, who then almost equalised in the 26th minute but was thwarted by the GB 'keeper.

The Japanese pressure continued in the second half as Kawamura smacked the post before they converted their seventh corner of the game through Nagai, moments after Sarah Jones almost grabbed Great Britain's third after a swift counter by Bray.

Tennant and Giselle Ansley then combined to prevent Nagai from getting her hat-trick from another corner in the final quarter, while at the other end Lily Owsley saw an effort superbly blocked by Mayumi Ono before Susannah Townsend's final second shot was smothered.

The draw means GB currently lie fourth in the table on two points with two group games remaining.

Next up for GB it's their first meeting with The Netherlands since the Rio 2016 final at 10am on Thursday 22 November, a game you can watch on BT Sport.

Japan 2 (1)
H. Nagai (FG, 22; PC, 41)

Great Britain 2 (2)
Bray (FG, 4); Howard (FG, 6)

Starting XI: Heesh (GK), Unsworth, Evans, Toman, Martin, Robertson, Ansley, Bray, Pearne-Webb (C), Owsley, Costello

Subs: Tennant (GK), Townsend, Petty, Sanders, Howard, Jones, Balsdon

Great Britain Hockey media release


---

Great Britain draw with Japan after letting 2-0 lead slip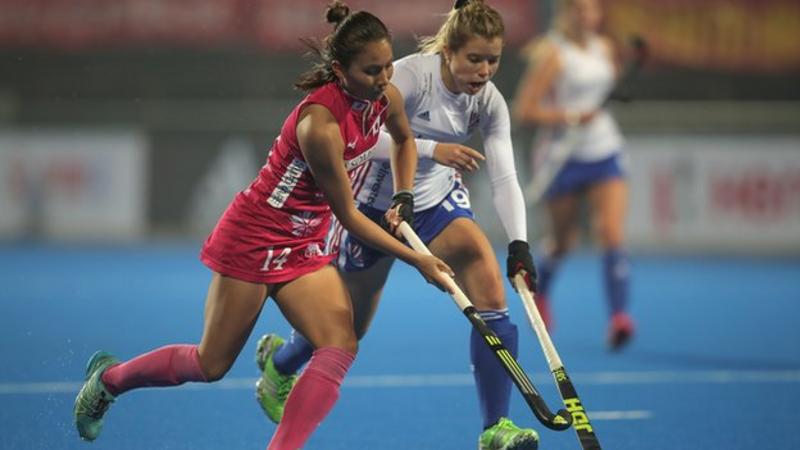 Sophie Bray managed to get herself on the score sheet

Tessa Howard's first international goal was not enough to give Great Britain victory as Japan recovered from 2-0 down to draw 2-2 at the FIH Champions Trophy in China.

Strikes from Howard and Sophie Bray and put GB into a 2-0 first-quarter lead.

But a brace from Hazuki Nagai, who scored before half-time and in the third quarter, meant the game ended as a tie.

"We've still got some aspects to work on," said head coach David Ralph.

Having already drawn with hosts China and lost to Australia, the draw against Japan means GB are without a win from their opening three games of the Champions Trophy.

Ralph's side play the Netherlands next at 10:00 GMT on Thursday.

BBC Sport


---

Hockeyroos One Win Away From Champions Trophy Final Spot

Ben Somerford




Hockeyroos coach Paul Gaudoin would love another crack at world number one Netherlands in Sunday's Champions Trophy final but isn't getting ahead of himself yet.

Australia went down 3-0 to the impressive Dutch on Tuesday, leaving the Hockeyroos in second spot in the standings with two games to play before Sunday's finals.

The Hockeyroos next face hosts China PR on Thursday from 7pm AEDT live on Fox Sports 507 and www.kayosports.com.au.

China defeated Argentina 2-0 on Tuesday to move within one point of the second-placed Hockeyroos, meaning Thursday's match will be crucial to determining finals placings.

If Australia wins, they will be guaranteed a spot in Sunday's final against the Dutch, who have won all three of their games in the Champions Trophy so far.

A draw will mean Australia's fate will come down to their final group game against Japan on Saturday.

"I hope to meet them (Netherlands) in the final ideally but we've got to deal with China and Japan first," Gaudoin said.

"We know this tournament is game by game. We know we can improve.

"Two more matches, we'll see where things are then."

The Dutch have a dominant record over the Hockeyroos over the past five years, but Australia almost stunned them in the World Cup semi-finals in July.

Georgina Morgan netted a last quarter drag flick to clinch a 1-1 draw in the World Cup semi, before the Dutch won in a tense shootout.

Gaudoin said they'd take a lot from that match and encouraged his side to have "belief" that they can beat the top-ranked Dutch.

"There's a lot of history with the Dutch team," Gaudoin said.

"There was a chink in their armour that we found at the World Cup.

"We've got to keep believing we can match it with the best in the world."

Hockey Australia media release


---

GB and Holland to renew tournament rivalry at Champions Trophy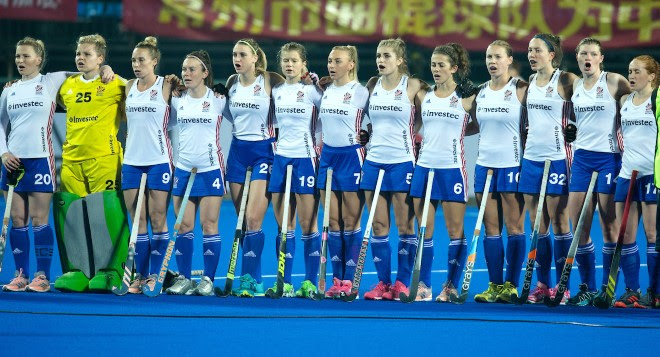 Great Britain meet the Netherlands for the first time in a major hockey tournament since the Rio Olympic women's final on Thursday.

Just like in Brazil, GB women will be underdogs when the world No 2 side go up against the Champions Trophy table toppers and world champions.

GB have yet to earn a win in China, with two draws and a defeat, while the Dutch have secured three victories.

Defender Giselle Ansley admitted to a "very frustrating" draw against Japan as the Olympic champions let slip a two-goal lead on Tuesday.

They looked to be on course for victory over the world No 14 side, as Sophie Bray and Tess Howard, with her first in a GB shirt, put David Ralph's side in the ascendancy before a double from Hazuki Nagai sealed a point for the Cherry Blossoms.

Meanwhile, Australia coach Paul Gaudoin was left upbeat for revenge after the Dutch oozed class in a 3-0 defeat.

Marijn Veen, 19, proved the latest Dutch star to emerge for the Oranje, thanks to her opening goal, but Gaudoin believes the World Cup champions can be beaten.

"We had a bad day today and you can't afford to do that against the number one side," said Paul Gaudoin, Head Coach to Australia. "We saw the chinks in the Netherlands' armour at the World Cup in London, and if we make the final, we will be looking to exploit that."

Argentina have yet to clock a point after the shock result of the day saw China beat Las Leonas 2-0. The result puts China on five points, one point behind Australia.

The Hockey Paper


---

2018 Test Matches: MAS v NZL (M) - 2nd test
Kuala Lumpur (MAS)

16 Nov     MAS v NZL     1 - 2
20 Nov     MAS v NZL     3 - 4
22 Nov 18:00     MAS v NZL

FIH Match Centre


---

Oltmans uneasy with team's performance

By SAIFUL AFFENDY SAPRAN

KUALA LUMPUR: The national hockey squad have shown improvements in their performance though it was not enough to upstage New Zealand as they lost 4-3 during their second friendly match at the National Hockey Stadium in Bukit Jalil here earlier today (Tuesday).

Unlike the first friendly match when they also went down 2-1, the Malaysian Tigers, who are in their final leg of preparations for the 2018 World Cup campaign in Bhubaneswar, India that begins on November 28 (Wednesday), played a more convincing game with neat movements, while also capitalising on two penalty corner flicks.

However, national hockey coach Roelant Oltmans was still not satisfied with his charges' performance.

"To be honest, I am not satisfied with how we defended in the first quarter. The players conceded two easy goals which should not have been allowed to happen.

"In the third quarter we got a couple of good chances to score but we failed to capitalise on them.

"In the fourth quarter we wasted a chance to score the equaliser. We also just could not cope with the pressure at the time as compared with our opponents New Zealand.

"Whatever it is there were still a couple of positives. Our forward line performed well and I am hoping that the players can perform much better in the third match," said Oltmans.

New Zealand scored through George Muir in the fourth minute, Aidan Sarikaya (20th minute), Shea McAleese (47th minute) and Kane Russell (51st minute).

Malaysia three goals were scored by Firhan Ashari in the 21st minute, Faizal Shaari (42nd minute) and Nabil Fiqri (48th minute).

The national squad will face New Zealand in their third and final friendly match on Thursday.

New Straits Times


---

2018 Test Matches: JPN v CAN (M) - 1st test
Tsukidatetakada, Kurihara city (JPN)

20 Nov     JPN v CAN     3 - 2
22 Nov 12:00     JPN v CAN
23 Nov 12:00     JPN v CAN

FIH Match Centre


---

Griffiths Gutted After Injury Rules Him Out Of World Cup



Chris Griffiths Azlan Shah 2018

Chris Griffiths has admitted feeling 'pretty upset' after injury ruled him out of a second major tournament in three years.

A regular in the England and GB teams this Olympic cycle – winning European and Commonwealth bronze medals – the forward had looked a strong candidate to make the squad heading to India for the Odisha Hockey Men's World Cup later this month.

But a foot injury - sustained in the final quarter of the final game during the recent Four Nations tournament in Valencia - has put a halt to the East Grinstead player's chances of making his World Cup debut.

This draws immediate parallels with the knee injury he suffered shortly before Rio 2016 that him out of the sport for nearly a year and, while this latest injury is much less serious, it was enough to ensure he won't be on the plane to Bhubaneswar.

"I knew straight away it wasn't going to be a fairly quick return – normally I say down for a bit but this one I stayed down for longer, started to get up but couldn't really put much weight on it," the 28-year-old recalled.

"At the time it wasn't as bad [as the previous injury] and I didn't really think about it but after the scan and hearing the news that I would not be going to the World Cup it brought back really strong memories of Rio.

"I was pretty upset to be honest, last Tuesday was quite a hard day and it has been a pretty tough week knowing that I would not be going to the World Cup because of another injury."

While missing out on yet another major event has left him frustrated once again, Griffiths also said the forthcoming FIH Pro League has given him something to look forward to and has eased the disappointment.

With Great Britain's men beginning their campaign away to Spain on 25 January, the former Loughborough Students captain is ready to put in all the necessary work to ensure he is ready for that fixture.

"With the FIH Pro League starting so soon that has helped because there is that clear focus now whereas before there wasn't anything to look forward to after Rio until the Europeans about a year later.

"But with this there is a clear focus at the end it of – the Pro League fixture against Spain. Mentally this is a good thing for me because, while I'm obviously frustrated that I won't be at the World Cup, there is that next thing to look forward to."

Griffiths also stated that he was eagerly anticipating watching his team-mates aim to win their first World Cup medal since 1986 between 28 November – 16 December and is confident they can go far in the tournament.

With Danny Kerry now in charge of the men's team and several exciting young players set to make their major tournament debut, Griffiths believes his team-mates will give their opponents a stern test and play some attractive hockey.

"I am looking forward to seeing how we are going to be playing," he said.

"Since Danny has come in we have changed how we play and having been a part of that it is exciting - we have got a completely different style and I think it is working well for us.

"So it is going to be interesting to see how we get on against different nations but it should be exciting."

England Hockey Board Media release


---

Back in the fold after 28 years, lowest-ranked France look to make their presence felt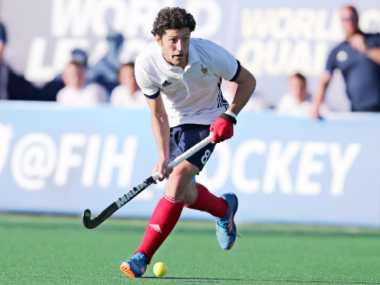 France are the lowest-ranked team at the 2018 Men's Hockey World Cup in Bhubaneswar. Image Courtesy: FFH

France have been in hibernation at the world stage in men's field hockey. The European nation's previous appearance at the Summer Olympics in hockey came way back in 1972. They last played in a World Cup in 1990 and they last earned a place in the Champions Trophy back in 1992.

However in 2018, France, ranked last (20th) in the FIH Men's Hockey standings, have managed to punch above their weight and end their World Cup exile. With the 2018 World Cup being expanded to 16 teams, France had a shot of qualifying for the Finals through the FIH World Hockey Series Semi-finals.

France were placed in Pool A of the Johannesburg leg, where they managed to qualify for the quarter-finals ahead of higher-ranked Japan. The French started the Pool with a morale-boosting 3-3 draw with New Zealand before going on to stun Japan 4-1. Despite losing 4-1 to Germany in the quarters, France managed to thump Egypt 3-0 in the 7th place playoff to sneak in a berth at the World Cup.

The French face a tall order in Group A where they are up against Olympic champions Argentina, Spain, and New Zealand, but their draw against New Zealand last year means they are not a team to be taken lightly. The Jeroen Delmee-coached outfit has been having a good run of late, having beaten South Africa, ranked seven places above them in the FIH rankings, on three occasions this year.

Delmee may not have a wealth of experience as a coach, but he was a decorated player for The Netherlands. Part of the gold-medal winning teams at the 1996 and 2000 Summer Olympics, Delmee was The Netherlands' flagbearer at the 2008 Beijing Olympics.

Victor Charlet and Timothee Clement have been among the goals lately for France and would hope to continue that run in Bhubaneswar later this month. Pieter van Straaten, Tom Genestet, Hugo Geneste, Blaise Rogeau and Francois Goyet are the other key players in the French squad.

Nobody expects France to qualify out their group, nor beat their best-ever finish (7th) at the World Cup. The Bhubaneswar event would be considered a success for the French if they can compete well in their group games and maybe cause an upset or two.

France Squad for 2018 Hockey World Cup: Artur Thieffry, Corentin Saunier, Pieter van Straaten, Tom Genestet, Hugo Genestet, Blaise Rogeau, Victor Lockwood, Charles Masson, Nicolas Dumont, Gaspard Baumgarten, Francois Goyet, Cristoforo Peters-Duetz, Jean-Baptiste Forgues, Etienne Tynevez, Victor Charlet, Aristide Coisne, Maximillien Branicki, Timothee Clement

Head Coach: Jeroen Delmee

Firstpost


---

Foodies Hairi and Ramadan hungry to make World Cup impact

By Aftar Singh

KUALA LUMPUR: Food figures strongly in the lives of two Malaysian hockey players bound for the World Cup in Bhubaneswar, India, on Nov 28.

But while one has entrepreneurial aspirations, the other is more of a passive participant.

Goalkeeper Mohd Hairi Abdul Rahman dreams of starting a foodstuff business, rearing farm livestock and also planting vegetables. But forward Mohd Ramadan Rosli just enjoys eating good food as his wife Noor­syahirah Sulaiman is a fine cook.

Hairi's desire to be in the foodstuff industry is also due to the fact that he does not hold a full time job like other national players.




"I play for Tenaga Nasional in the Malaysia Hockey League (MHL) on a year-to-year contract. I need a permanent income after I retire from playing hockey," said Hairi.

"I believe that the best way to create another source of income is by starting a business. I love to rear cattle and goats for their meat.

"There is good money in livestock as the demand is always there throughout the year for kenduris (feast) held during weddings and Hari Raya Aidil Adha.

"I also love to plant vegetables as the price goes up every year and it's also a good source of income.

"I plant all types of vegetables at the back of my home in Puncak Jalil for cooking at home to save costs," said Hairi.

As for Ramadan, any food talk is inseparable from the love of his life, Noorsyahirah. Nothing compares, he stresses, to home-cooked food.

"I love my wife for her cooking. My favourite dish is sambal sardine. I also love popiah and all types of Malay kuih.

"Every time I travel with the hockey team for tournaments overseas, I will definitely miss my wife's cooking," said Ramadan, who met Noorsyahirah when she was in Melaka to watch the Asian Junior Cup in 2012.

"We (Malaysia) not only won our first-ever Asian Junior Cup title but I also fell in love with Noorsyahirah, whom I met in Melaka," added the lanky attacker, who was named Ramadan as he was born in the holy month of Ramadan on April 1 in 1991.

Ramadan, who will be featuring in his second World Cup, is aware of the pressure on the team to reach the second round in Bhubaneswar.

"We're in the group of death with three former world champions – Holland, Germany and Pakistan.

"So, the challenge is for us to defy the odds and get the better of the three teams," said Ramadan.

Hairi is keeping his fingers crossed that he can play one full match in his first World Cup as he's the second-choice keeper after S. Kumar.

"This is my first World Cup and I'll be more than happy to play one full match. I vow to give my best if I'm given the chance," said Hairi, who was named for the World Cup after an impressive outing in the Asian Champions Trophy in Muscat, Oman, last month

"I made my international debut in the Sultan Azlan Shah Cup in 2016 and I've never played European teams like Holland and Germany before."

Hairi played in all seven matches in Oman as Kumar was sidelined by a thumb injury suffered while training.

As Hairi awaits his first taste of World Cup action, perhaps Ramadan – featuring in his second – can give him an appetiser.

The Star of Malaysia


---

FIH partners with school learning app BYJU'S




Lausanne, Switzerland: The International Hockey Federation (FIH) has signed a sponsorship agreement with Indian company BYJU'S for the upcoming Odisha Hockey Men's World Cup Bhubaneswar 2018.

BYJU'S is India's largest E-tech company and the creator of learning programs for students in grades 4th to 12th and competitive exams. Launched in 2015, BYJU'S has become the most loved and preferred school learning app for students in India. Today, BYJU'S has over 25 million students learning from the app that has been designed to adapt itself to the unique learning style of every student.

FIH CEO Thierry Weil said: "I'm delighted that FIH partners with such a successful school learning app. This will help us reach out to the youth, which plays such a key role to grow our sport. This partnership will help to make the upcoming Men's World Cup an even bigger event."

Mrinal Mohit, Chief Operating Officer, BYJU'S stated: "We are thrilled to be the global sponsors for the much-awaited Hockey World Cup 2018. This partnership celebrates our belief that sports play a big role in the overall development of an individual. This World Cup is all the more special as it is taking place in India and we hope that events like these encourages the existing and the up-coming talent to pursue hockey with even more passion."

The Odisha Hockey Men's World Cup Bhubaneswar 2018 will kick off on 28 November and end on 16 December. The Men's World Cup is played every four years.

FIH site


---

2019 National Senior Men's Squad Announced

Ben Somerford




Hockey Australia today announces the 27-member 2019 National Senior Men's Squad as the team builds towards the 2020 Tokyo Olympics.

The world number one Kookaburras will compete in the inaugural FIH Pro League from January to June next year, followed by the Oceania Cup which is the qualification event for the Tokyo Olympics.

The Selection Panel considered a number of priorities upon selecting the squad, with a long-term view to medal at the 2020 Tokyo Olympics along with achieving performance benchmarks in 2019 at the Pro League and Olympic qualification.

The Selection Panel also looked to reward impressive performances within the daily training environment and national/international matches throughout 2018.

Kookaburras coach Colin Batch said: "Our 2019 squad selection is formed with a longer view to what our squad needs to look like in 2020.

"This is the rationale behind all of our decisions, so we've added three new players."

Mackay's Jacob Anderson, Wollongong's Jack Hayes and Hobart's Jack Welch are the three new additions to the National Senior Men's Squad.

Forward pair Anderson, 21, and Welch, 21, both debuted for the Kookaburras in September's Darwin International Hockey Open and were involved in Australia's pre-World Cup training camp. Both also scored in their second match, a 5-2 win over Malaysia.

Midfielder Hayes, 24, is elevated from the National Development Squad, having scored six goals for 2018 Australian Hockey League runners-up New South Wales. He's also the cousin of ex-Hockeyroo Casey Sablowski and competed for Australia at the 2018 Indoor World Cup in Berlin.

"Jacob Anderson is a good striker who can play midfield," Batch said. "He's come up through the junior ranks in Queensland.

"We gave him some opportunities in VAAs (Visiting Athlete Agreement) this year and in the Australia A-Malaysia series. He made his debut for the Kookaburras in Darwin in September and is a good player for the future.

"Jack Welch has had a very similar build-up to Jacob. He's spent time with our group in VAAs and also debuted for the Kookaburras in Darwin.

"He was also part of the Australia A-Malaysia series. He's a penalty corner option and comes in with a lot of promise as a striker.

"Jack Hayes has also had opportunities with us in Perth. He also played in the Australia A-Malaysia games.

"We watched him closely during the AHL and there's a lot of potential there. He's gained experience playing for Australia in the Indoor World Cup and we feel he can add some strength in our midfield and as a striker."

Kieran Govers announced his retirement earlier in the week, while 26-year-old Tasmanian defender Jeremy Edwards has been omitted.

"Jeremy has been with us over the past two years and previously around the Kookaburras scene, so it's unfortunate that he misses out," Batch said.

"He's had a variety of roles, defensive midfield, attacking midfield and also in the back four. It's one of those hard decisions from a High Performance point of view that we've opted to go elsewhere.

"We've got some younger players who are playing well in his designated positions. He's achieved a lot with the Kookaburras so we want to wish him well."

Batch added: "It's the end of the road for Kieran. He did very well to come back after a disappointing 2016 and he had a few injuries during that time.

"He got himself back to 100 per cent and gave it everything. He played in the Darwin series, so credit to him.

"He's a great example to the younger players on how to be a pro, with his training ethic and commitment on the ground. He's in a different phase of his life with a young family to look after so he goes out with our blessing. We wish him well for the future."

The Kookaburras will fly out for India on Friday to compete at the 2018 World Cup where they're chasing a third consecutive title.

Upon their return to Perth, the squad will reconvene for training on Monday 14 January after a break, ahead of the Pro League which starts for Australia against the Netherlands on Saturday 2 February in Melbourne on Fox Sports.

2019 National Senior Men's Squad:
Athlete (City, State)
Jacob Anderson (Mackay, QLD)
Daniel Beale (Brisbane, QLD)
Joshua Beltz (Hobart, TAS)
Tim Brand (Chatswood, NSW)
Andrew Charter (Canberra, ACT)
Tom Craig (Lane Cove, NSW)
Matthew Dawson (Killarney Vale, NSW)
Johan Durst (Melbourne, VIC)
Blake Govers (Wollongong, NSW)
Jake Harvie (Dardanup, WA)
Jack Hayes (Wollongong, NSW)
Jeremy Hayward (Darwin, NT)
Tim Howard (Wakerley, QLD)
Aaron Kleinschmidt (Melbourne, VIC)
Tyler Lovell (Perth, WA)
Trent Mitton (Perth, WA)
Edward Ockenden (Hobart, TAS)
Flynn Ogilvie (Wollongong, NSW)
Lachlan Sharp (Lithgow, NSW)
Josh Simmonds (Doncaster, VIC)
Matthew Swann (Mackay, QLD)
Jack Welch (Hobart, TAS)
Corey Weyer (Biggera Waters, QLD)
Jacob Whetton (Brisbane, QLD)
Tom Wickham (Morgan, SA) *Plays for WA
Dylan Wotherspoon (Murwillumbah, NSW) *Plays for QLD
Aran Zalewski (Margaret River, WA)

Hockey Australia media release


---

Why KHU has delayed verdict on Police, Wazalendo duel

By AYUMBA AYODI



Kenya Police's Willis Okeyo looks to pass the ball under pressure from Wazalendo's Nelson Shikaku during their Kenya Hockey Union men's Premier League match at City Park, Nairobi on November 11, 2018. PHOTO | KANYIRI WAHITO |  NATION MEDIA GROUP

Kenya Hockey Union (KHU) is yet to decide on the controversial Kenya Police and Wazalendo duel that ended with the law enforcers chalking a massive 16-2 victory 19 days ago.

The Union's Secretary General Wycliffe Ongori said they have not received all reports from the umpires and jury, who handled the match.

"We have only received reports from one umpire and one jury but we are still waiting for two others," said Ongori, following an impromptu meeting of umpires, team managers and club chairmen on Saturday.

However, Ongori said the Union's Executive will determine on the issue within two weeks.

The game saw Wazalendo play under protest for the last 10 minutes marring an otherwise entertaining encounter pitting champions Police against the visitors.

Wazalendo protested by letting Police score at will to win 16-2 after what they clamed was poor officiating from one of the umpires.

Amos Barkibir scored all Police goals.

KHU moved to convene a meeting for umpires and technical officials last Saturday to address concerns of poor officiating and protests in the ongoing hockey leagues.

The meeting also coincided with hockey teams' chairman and team managers meeting at the same place the same day.

Ongori said that the meetings went well and those attending agreed that there was a big problem in the officiating of matches as well as in teams' management.

"We all agree that we have all failed," said Ongori. "The Union has fallen short just like the umpires and team mangers who have the rules' books but can't follow."

Ongori noted that with the current shortage of umpires, the union needs to embark on recruitment right from clubs to bridge up the gap.

Daily Nation


---

Meet and Greet Clinic at National Hockey Festival with USMNT Captain Dhadwal




PALM BEACH COUNTY, Fla. -  Boys, girls, parents and fans attending the National Hockey Festival, presented by CranBarry, will have the opportunity to attend a meet and greet clinic with U.S. Men's National Team athlete and captain, Ajai Dhadwal on Friday, November 23, at 2:00 p.m. ET on Field 12. All are welcome to attend!

Dhadwal is a midfielder for the U.S. Men's National Team and the current captain. Since joining the team in 2009, Dhadwal has earned over 90 international caps. Outside of training and competing with the U.S. Men's National Team, Dhadwal is the assistant field hockey coach at Rutgers University.

In addition to Friday's event, Dhadwal will attend the National Hockey Festival All Boys and Men's Games on Friday, November 23, at 4:15 p.m. and Saturday, November 24, at 3:15 p.m. on Field 12. He also will be helping out at the Learn to Play Clinic on Saturday, November 24 at 1:30 p.m. on Field 12.

Continue to follow and support the U.S. Men's National Team in the coming year! The team will compete in two Olympic qualifiers in 2019, the Pan American Games, July 26 through August 11, 2019, in Lima, Peru and the Hockey World League Final 3 in India.

USFHA media release


---

Two Big Thank Yous to Those That Help Make National Hockey Festival Possible




PALM BEACH COUNTY, Fla. – Less than 48 hours remain until the 37th edition of the National Hockey Festival, presented by CranBarry, returns to the International Polo Club in Palm Beach County, Fla. USA Field Hockey has been finalizing every aspect of the annual Thanksgiving weekend tradition. As the clock ticks closer to Thursday, November 22, USA Field Hockey would like to take this time to thank the following two groups, because without them this weekend could not be possible.

Festival Sponsors: CranBarry and Harrow Sports

As the presenting sponsor of the National Hockey Festival, CranBarry has played a major role in helping create 2018's events as unforgettable as ever.

Founded in 1947, CranBarry is the United States' distributor for both Grays and OBO field hockey equipment. Grays is the top field hockey brand in the world, while OBO continues to be the top field hockey goalkeeping equipment brand in the world. The sheer size of Festival every year makes the partnership a perfect match to bring action, the thrill of sports, memories, and most importantly, fun under the palm trees and sun of Florida.

As a leading manufacturer of field hockey equipment, Harrow Sports, the official licensee of Festival, also continues a long standing partnership with USA Field Hockey. With plenty of Festival branded gear, apparel and more waiting at the Harrow tent in Vendor Village, don't forget to stop by early and often. Harrow will also have an obstacle course challenges each day with CSign for more opportunities to win prizes!

You, the Best Field Hockey Fans There Are!

What's field hockey, let alone a tournament, without family? Without you, your teammates, coaches, umpires, club administrators and all-around enthusiasts, National Hockey Festival would not be a reality. USA Field Hockey is proud to continue sharing smiles, determination and the passion of the sport all across the country to its 30,000 members. From South Florida, from East to West, each and every one of you helps make this weekend possible.

Above all, thank you for helping celebrate the best sport in the world!

And thank you for helping Grow the Game, Serve Members and Succeed Internationally.

Don't miss a single thing! For all the latest information maps, rosters and more, check out USA Field Hockey's event program by clicking here.

#FHFestival18

USFHA media release


---

The nation's best defense shut out Maryland field hockey in the national championship

Led by national team member Ashley Hoffman, UNC's defense was a juggernaut this year

By Lila Bromberg



From left: Midfielder Bibi Donraadt, forward Sabrina Rhodes and midfielder Brooke DeBerdine in Maryland field hockey's 3-1 win over Harvard on Sept. 9, 2018. (Alex Chen/The Diamondback)

Bibi Donraadt dribbled into the circle and sent a cross in front of goal in the 49th minute against North Carolina, hoping to find midfielder Madison Maguire and deliver Maryland field hockey its first goal of the national championship.

Donraadt had delivered for the Terps earlier in the tournament. Her overtime goal on Friday gave the team a spot in the title game against the Tar Heels.

But Maryland trailed 2-0 entering the second half, and the North Carolina defense was determined to hold its lead. Tar Heels goalkeeper Amanda Hendry dove as Donraadt's pass skidded in, before defender Ashley Hoffman deflected it off Hendry. When Maguire got to the rebound, defender Morgan Goetz swatted the shot away.

North Carolina's 2-0 win came on the strength of its defense, not allowing a shot in the first half and then protecting the two-goal lead against a deluge of shots in the second. The unit ensured Maryland's second straight national championship appearance would also be a second straight runner-up finish.

"Hendry did a phenomenal job," Maguire said. "We had a couple good shots against her, and she smacked them away."

The Terps were unable to challenge Hendry before halftime, though. North Carolina owned the middle of the field, intercepting Maryland passes and turning that pressure into a pair of first-half goals.

The Terps turned things around in the second half, maintaining possession and using stout defense to limit the Tar Heels to three shots, but they couldn't beat the Ashley Hoffman-led defense.

Hoffman is one of the few members of the U.S. senior national team who's still in college, and she backed that up by dominating the NCAA during her four years. She's a two-time ACC Defensive Player of the Year and earned Most Outstanding Player of the NCAA tournament this year.

"[Hoffman's] probably the best defender in the country," Hendry said. "She was a key player … and really helped our team to shut down their offensive press on us, which got a lot stronger in the second half."

The Terps had nine shots in the second half — six of them on goal — and six penalty corners, but couldn't convert any of them. Hendry saved every shot that came her way to hold Maryland scoreless for the first time since Sept. 1, 2017.

After the 2017 national championship loss to UConn, coming up just short again was painful, but the Terps took solace in their strong second-half performance.

"I don't see struggles on the statsheet," coach Missy Meharg said. "I see an outcome that I'm super disappointed [with]. … Just a disappointing time for Maryland."

The Diamondback


---

Carrying Ball - Right Wing (Pass To The Left)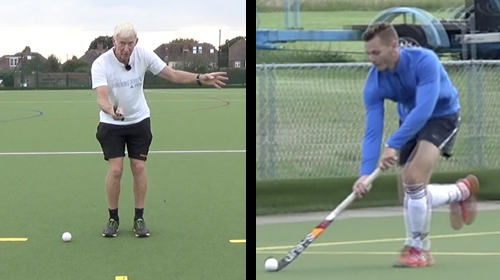 Objective: To understand the requirments of the player when dribbling with the ball down the right hand side of the field.


---

Christmas sports books: Hockey in print




It's not all coaching material; the influx of hockey stories has never been healthier. As this essential 2018 list shows, there is something for everyone this Christmas.

For kids

Lena, Max and Lars are The Hockey Kids. Aimed at primary school children, the author charts an adventure of friendship, school and, of course, hockey.
(The Hockey Kids by Sabine Hahn, from £14)

For the soul

Written by The Hockey Paper's editor, Seoul Glow tells the story of GB men's Olympic victory in Seoul, 30 years on. The author tracks down all 16 players as they recount the struggles and tales which paved the way to gold under their manager Roger Self.
(Seoul Glow: The Story Behind Britain's First Olympic Hockey Gold by Rod Gilmour, Pitch Publishing, £19.99)

For Olympic-size insight

Outspoken, courageous and funny, the gold medal-winning Olympian gives readers an insight into what it takes to become an elite sportsperson via humble beginnings in Liverpool to missing out on Olympic selection to ultimate Rio delights.
(Hope and a Hockey Stick by Sam Quek, Pen and Sword Books, £16)

For summer memories

After the success of History Makers, authors Sarah Juggins and Richard Stainthorpe are back to capture all the twists and turns, including the marvellous Irish story, at the 2018 Women's World Cup.
(Under an Orange Sky: The Story of the Vitality Hockey Women's World Cup, Pitch Publishing, £25, published Dec 3)

For anecdotes aplenty

Another author follow up, this time from long-serving coach Gavin Featherstone who comes up with another entertaining romp through all levels of the sport, including a chapter on a reverend charting his story from England Schoolboys to injury.
(Hockey in the Blood by Gavin Featherstone, Amazon, £14.95)

For character strength

A story about grief, family conflicts and first love, with a dramatic background of hockey and the 2000 Sydney Olympics. A fun and quirky read.
(No Number Nine by FJ Campbell, Troubador, £9.99)

For hockey history

The coffee table picture book of GB women's Rio Olympic win still resonates more than a year and one Christmas on after initial publication.
(The History Makers: how Team GB Stormed to a First Ever Gold in Women's Hockey, Pitch Publishing, £19.99)

The Hockey Paper will be the only British and Irish publication reporting from the 2018 World Cup – so don't miss out! SUBSCRIBE NOW to our World Cup email

The Hockey Paper